We all learn that plants need sunlight to survive in grade school, but not all plants need a ton of light to grow. Many gorgeous plants thrive without sunlight. These low-light plants fill spaces in your house that needs a bit of green; all they need is indirect sunlight or artificial light.
Maybe your living room or dining room receives little natural light, but you want some greenery to spruce it up. Many houseplants grow well with indirect, filtered sunlight, while others grow fine with lamps' artificial light. Don't let your low-light room be an excuse to avoid houseplants.
The same goes for growing plants outside!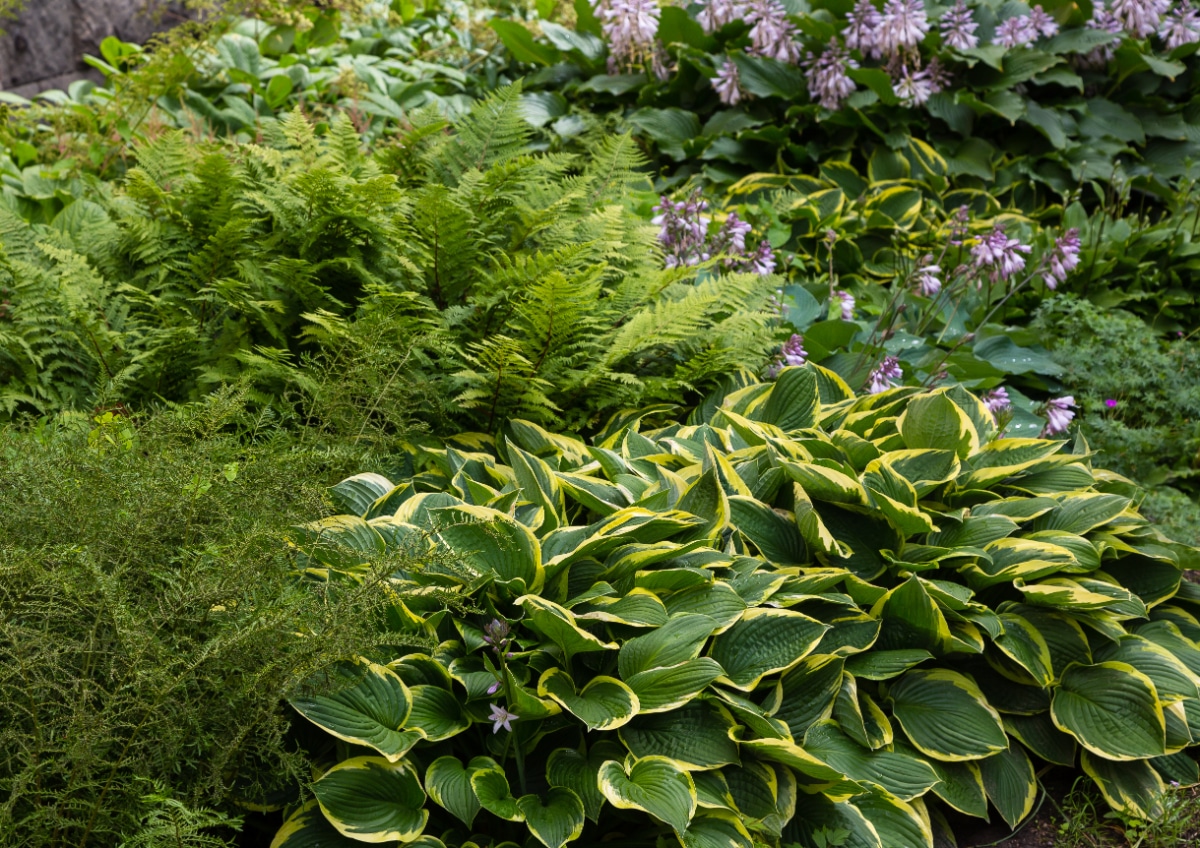 Many plants grow well in the shade and indirect light outside. Most shade-loving perennial plants grow in warmer, tropical regions but don't discount annual plants. Having shaded landscaping areas is no excuse not to grow plants; many annuals thrive without sunlight.
Here are a few gorgeous plants that thrive without sunlight.
Jump to:
Can You Grow Plants Without Direct Sunlight?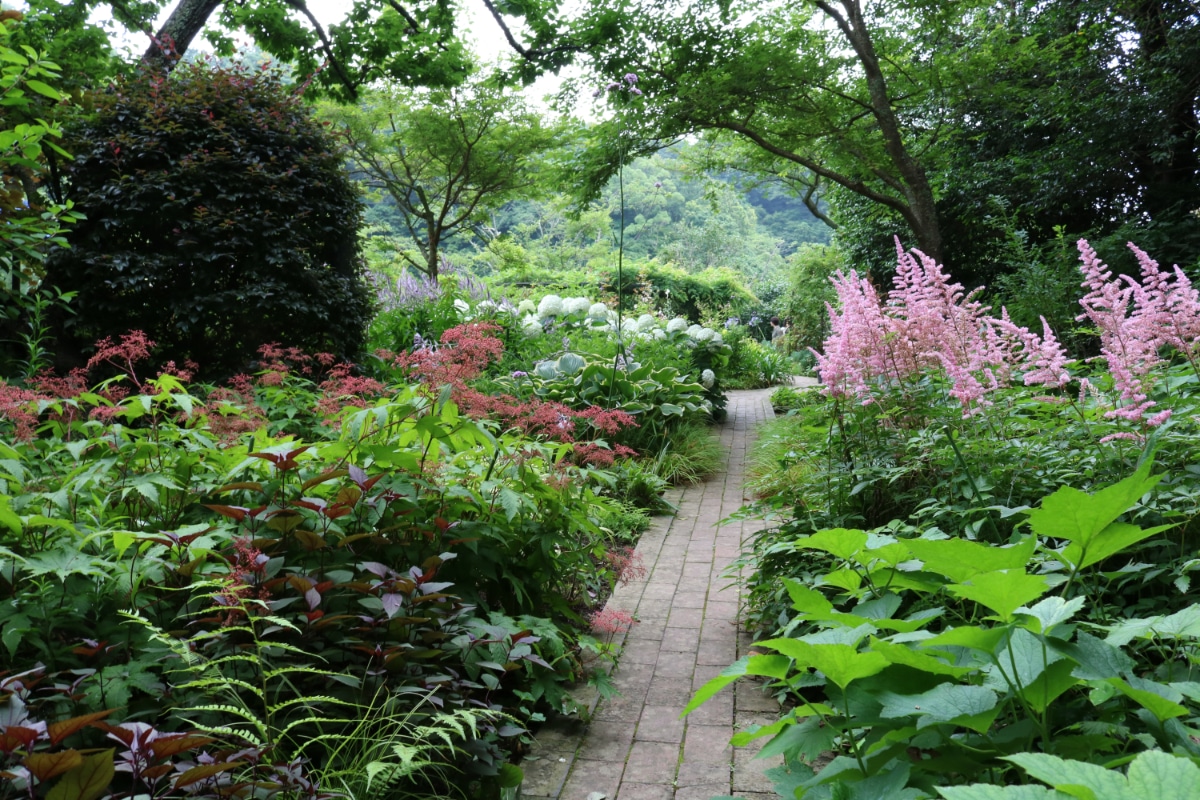 Yes, you can grow plants without direct sunlight.
When we were in school, science teachers taught us that plants needed soil, water, and sunlight to grow. We learned about the photosynthesis process that turns light into food for plants, but teachers don't tell us about the types of light and how much light plants need to live.
Most plants need some light, but the kind of light matters. Like tomatoes or zucchini plants, many plants need direct sunlight for a minimum of six to eight hours to grow. Other plants grow from artificial light without any issues, and some plants grow best in low-light situations.
Can Plants Survive with LED Lights?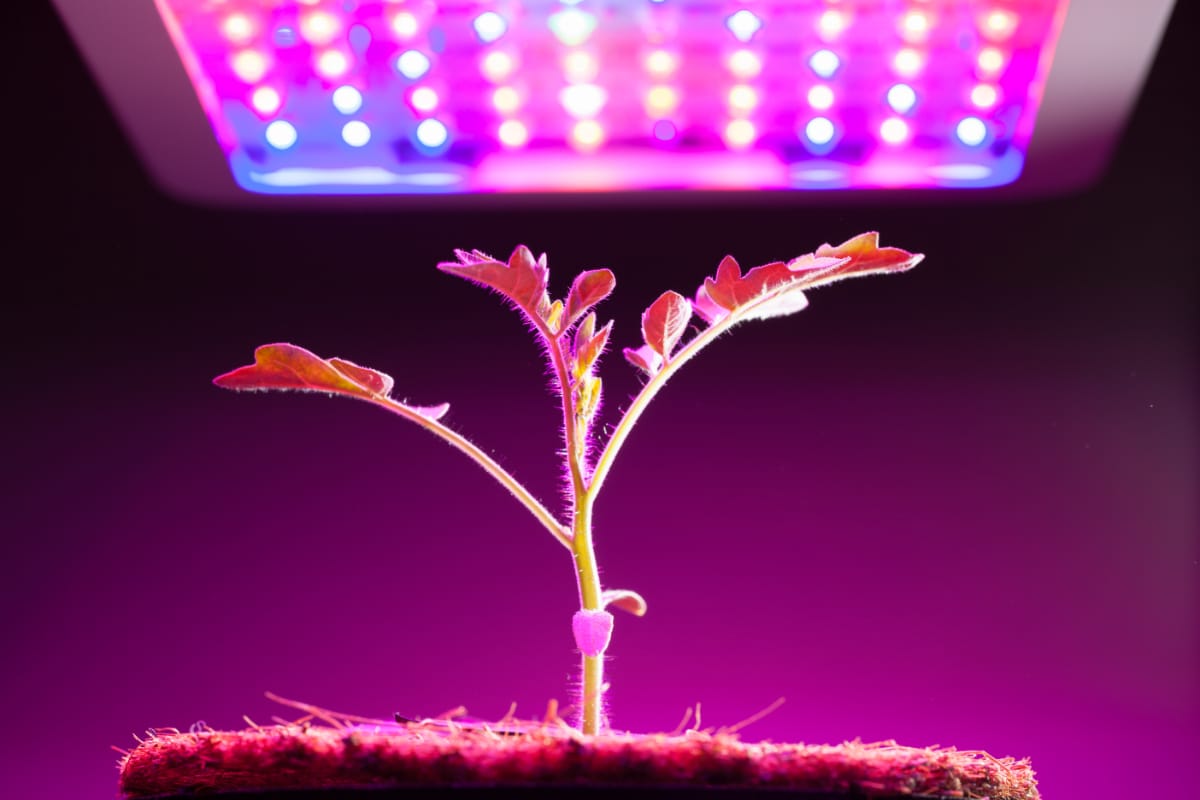 Yes, plants survive with LED lights; they work quite well, especially for smaller groups of plants. LED lights are excellent grow lights for new indoor gardeners.
One difference between LED and other types of lights is that LED lights don't give off as much heat, so if you live in a cold climate, they might not work as well. If you're using these lights to give a boost to your plants that grow inside, LED bulbs will be sufficient.
Air-Purifying Plants That Thrive Without Sunlight
1. Bromeliad (Bromeliaceae)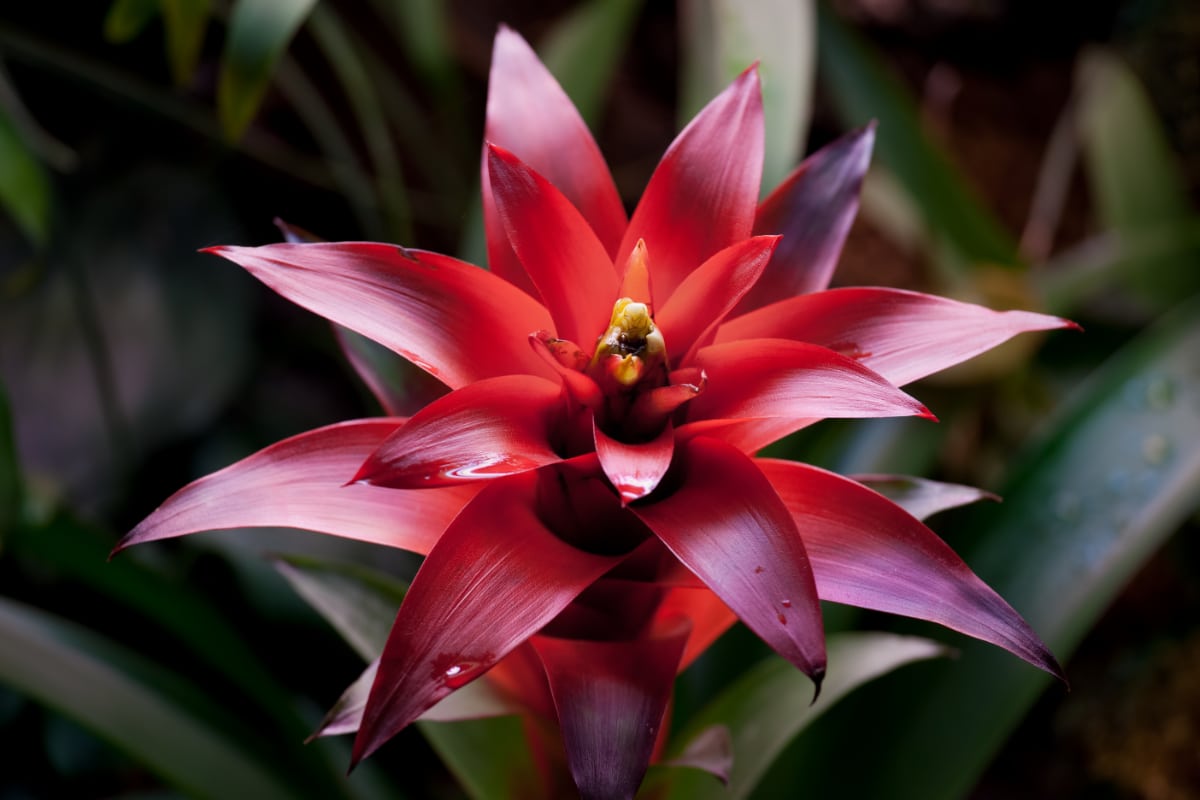 Bromeliad is a tropical plant that brings beautiful pops of color into your house. They look different than other houseplants with long, green foliage and red or pink in the center.
Most Bromeliad species grow well in bright, indirect sunlight; the light shouldn't hit the plant directly. That's why these plants grow well on shelves or a tabletop rather than on a windowsill. Too much exposure to direct light damages this plant's beautiful leaves.
2. Cast Iron Plant (Aspidistra elatior)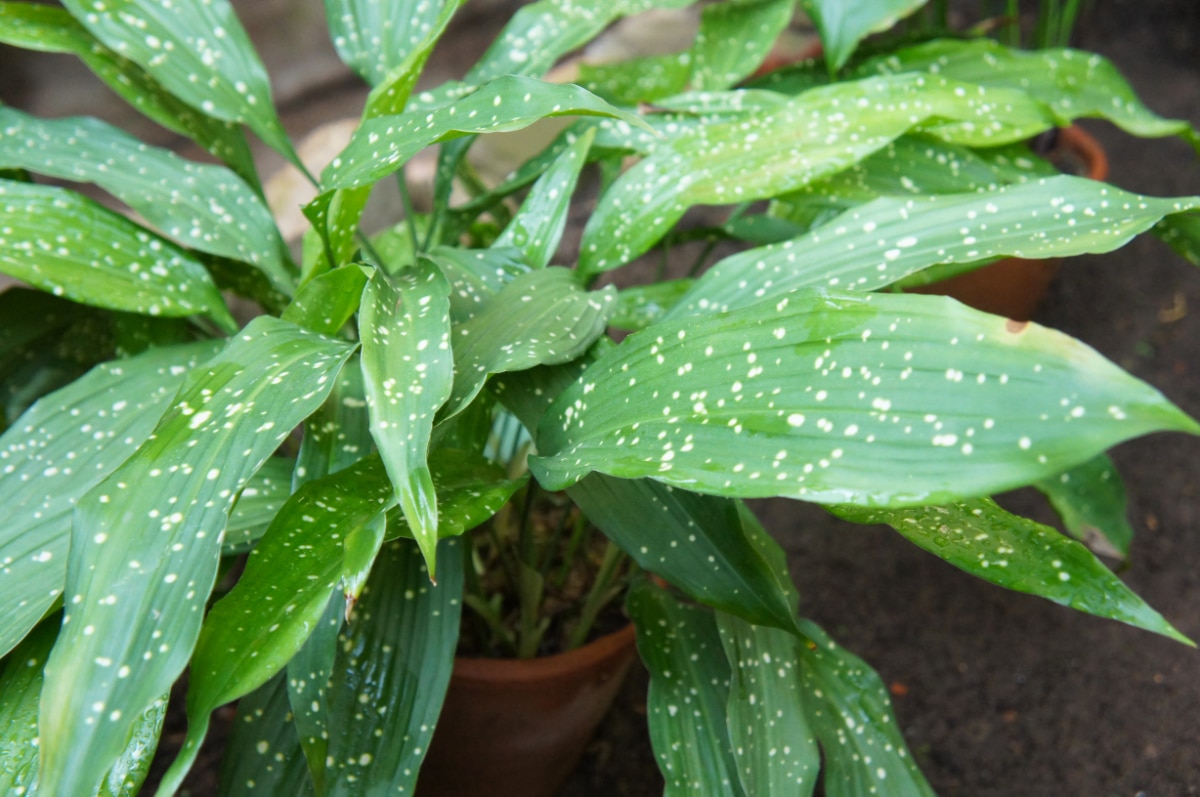 The Cast Iron Plant gets its name because it's hardy and tough to kill like cast iron. It's essentially indestructible, so black thumb gardeners need a few of these plants in their homes.
Cast Iron Plants have rich, large, green leaves that look great in the corner of most rooms. They are low-light plants that do well anywhere in your home. Direct sunlight causes the leaves to turn brown, so stick the plant on a table. The leaves gather dust, so you'll need to wipe them off frequently.
3. Chinese Evergreen (Aglaonema)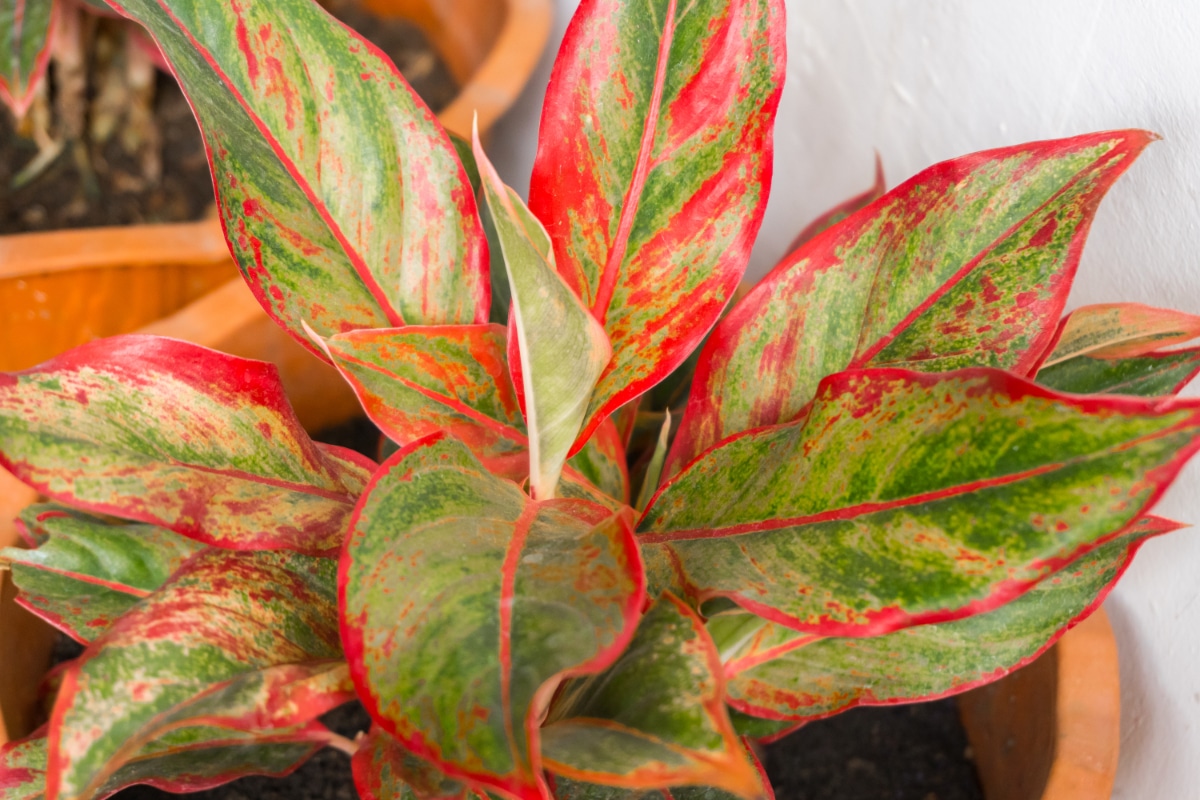 If you've yet to try growing houseplants, Chinese Evergreen plants are the perfect beginner plant; they don't need sunlight and require little maintenance.
Chinese Evergreen plants produce flowers that look similar to calla lilies. Some are compact, perfect for desks or shelves, while other types are large enough to sit on the floor next to furniture.
These plants are great for filtering the air in your home. Make sure they aren't placed in direct sunlight, or your plant will have scorched leaves.
4. Creeping Fig (Ficus pumila)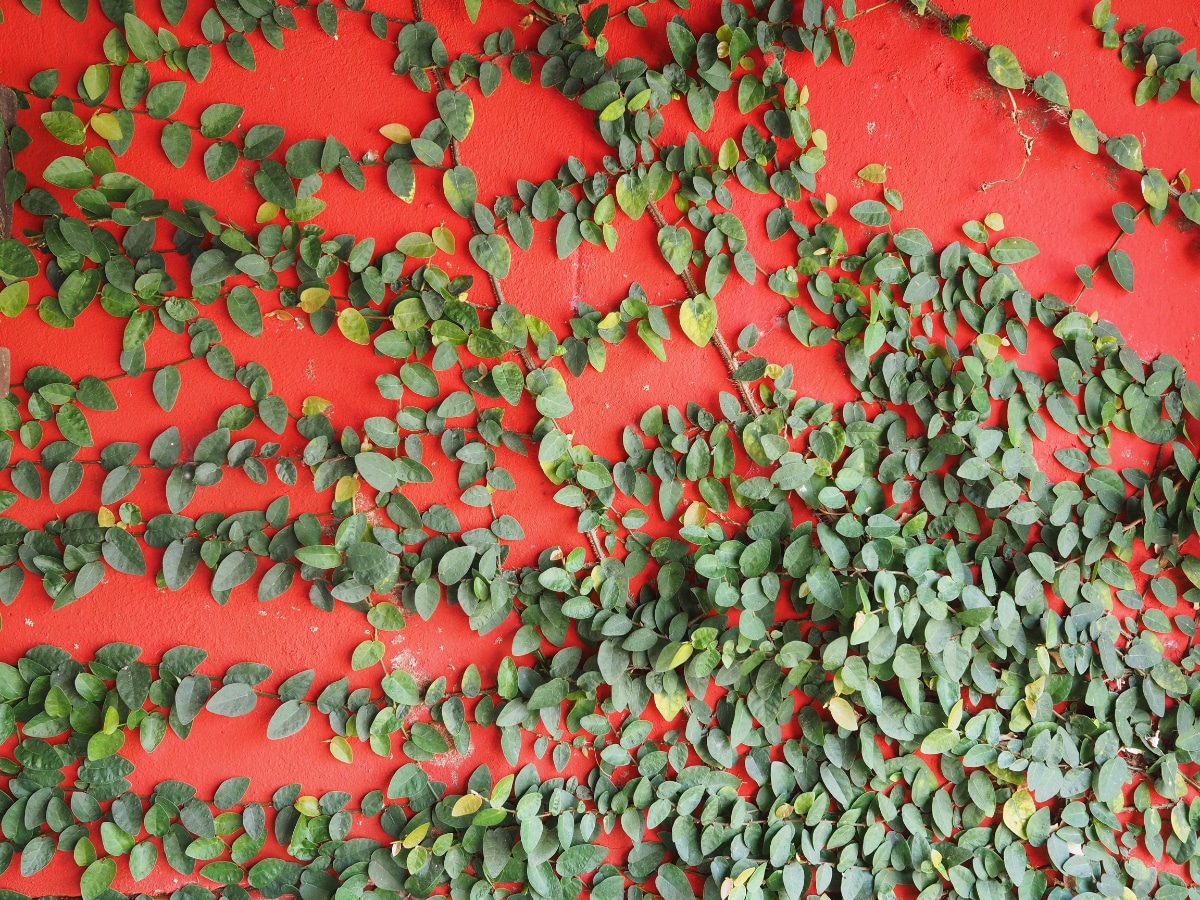 Creeping Figs belong to the same family that includes rubber trees. It's a hardy plant that grows outdoors in zones 8-11 but grows easily as a houseplant in cooler climates. This plant is known for its talent as a topiary, covering wire forms and trellises easily. It will climb over anything, including walls.
If you have a dark corner in your home, this plant will cling to the walls and surfaces. Some of the vines reach up to 20 feet long with little light or water, so it brings excitement and beauty to empty spaces in your home.
5. Dracaena (Dracaena)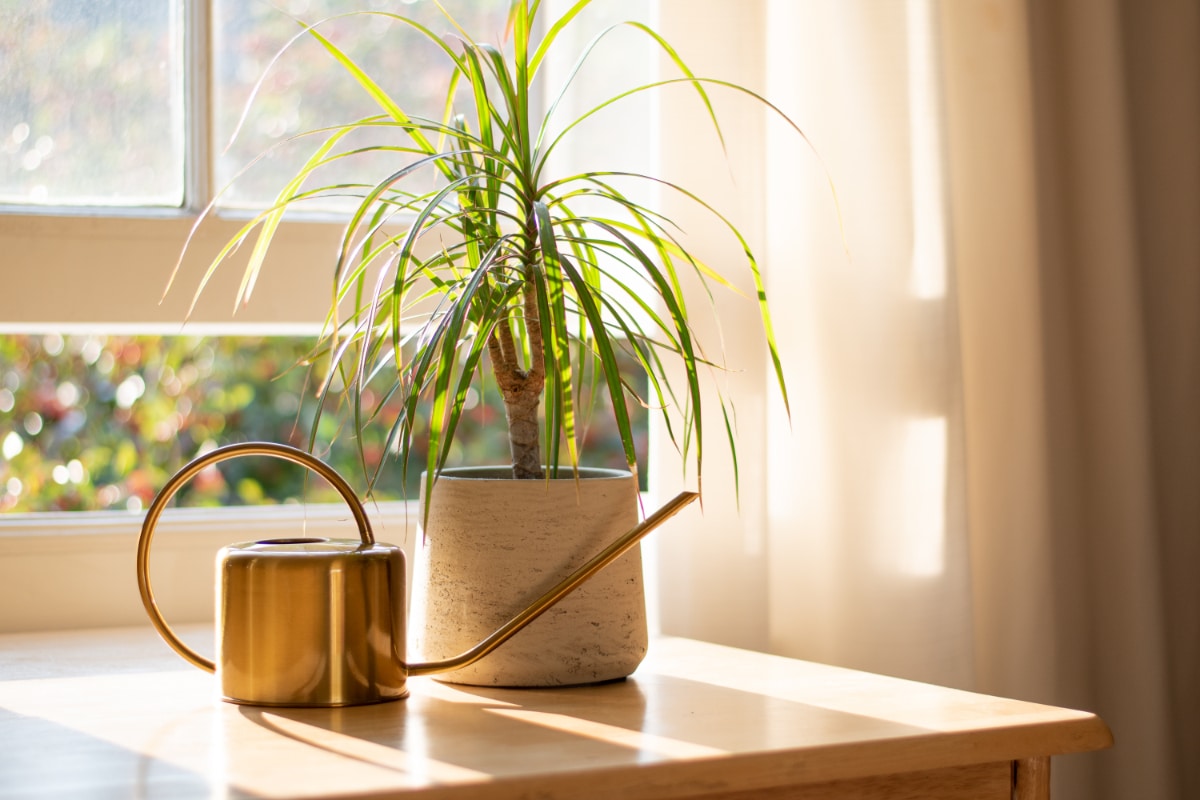 You might recognize the plant Dracaena; it's one of the most common houseplants because it requires little care. It comes in dozens of varieties, and they look great on shelves or tabletops. Some larger types look like trees and grow best in corners or beside furniture.
Dracaena plants are one of the best air-purifying plants, filtering toxins out of your home. They prefer to grow in bright, indirect light, but they survive in low light situations. The plants need humidity, which is why it grows best outdoors in zones 10-12. When growing Dracaena plants inside, mist the leaves frequently.
6. Dumb Cane (Dieffenbachia)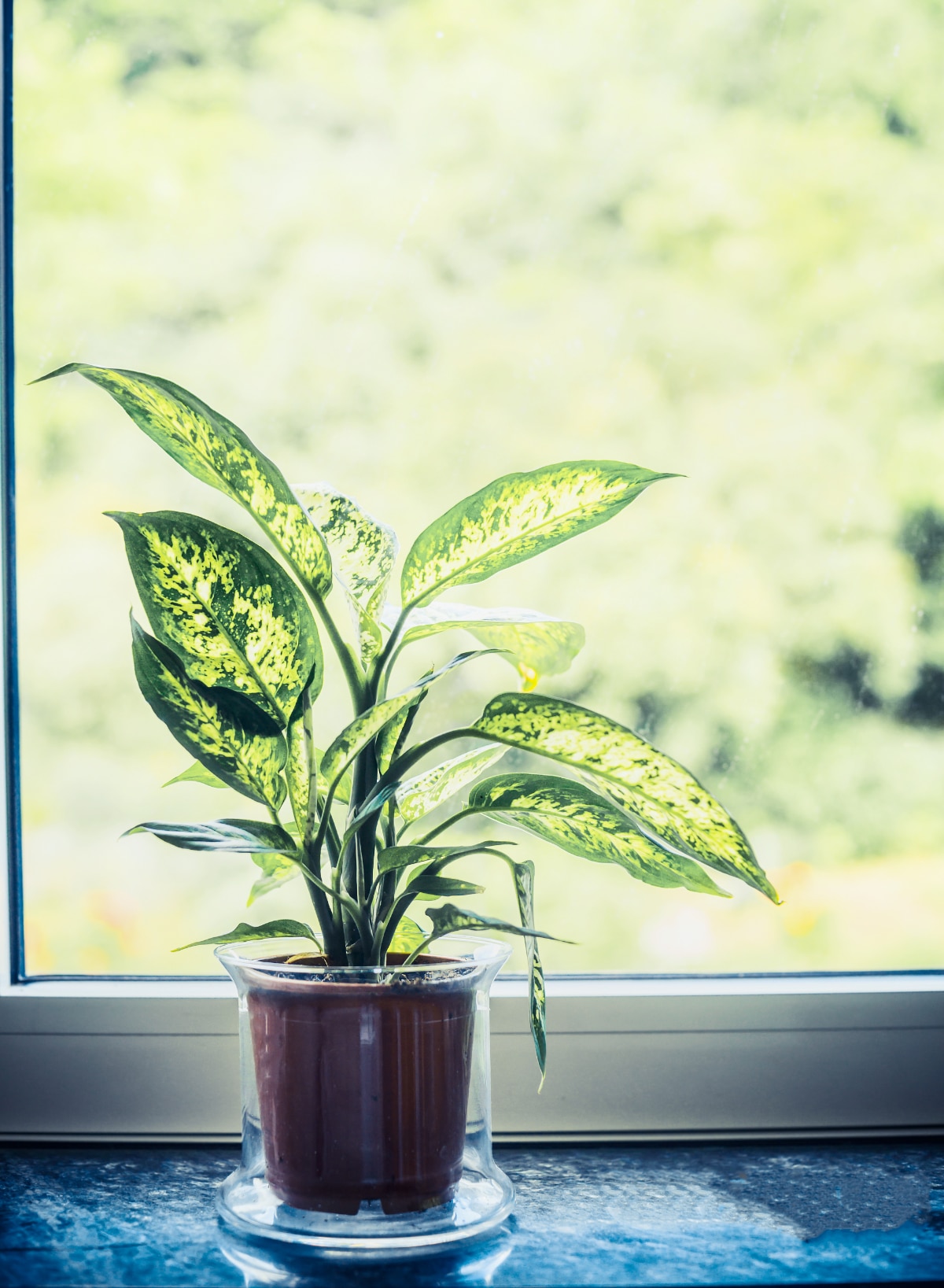 Despite the name, there is nothing dumb about these plants. Dumb Canes are gorgeous plants that thrive without sunlight. You might often see them in homes and office spaces.
It's important to know that all parts of this plant are poisonous, so if you have pets or children, this is not the plant to keep in your home. It causes swelling and itchiness.
Dumb Canes love low light or filtered light; filtered light is when the light comes through a sheer curtain or window. Keep the soil moist but not saturated.
7. English Ivy (Hedera helix)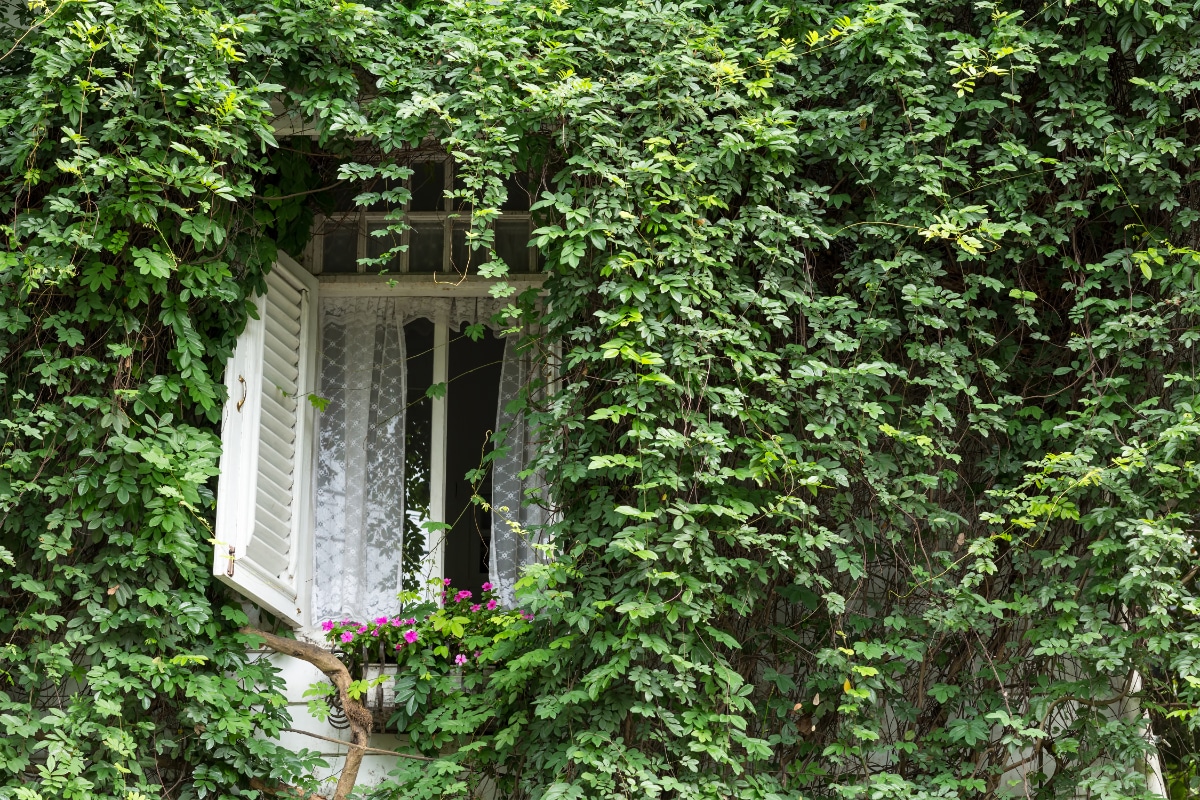 Most people recognize English Ivy as a plant that climbs up fences and walls, but this climbing plant also looks beautiful in containers inside of your home and outside. Climbing plants also act as vining plants when grown in hanging baskets or containers on tables.
Keep your English Ivy plants somewhere that they'll receive bright, indirect light. The more light the plant gets, the brighter colored the leaves will have. Plant them outside along a fence or wall that needs attention.
8. Hellebore Flowers (Helleborus x hybridus)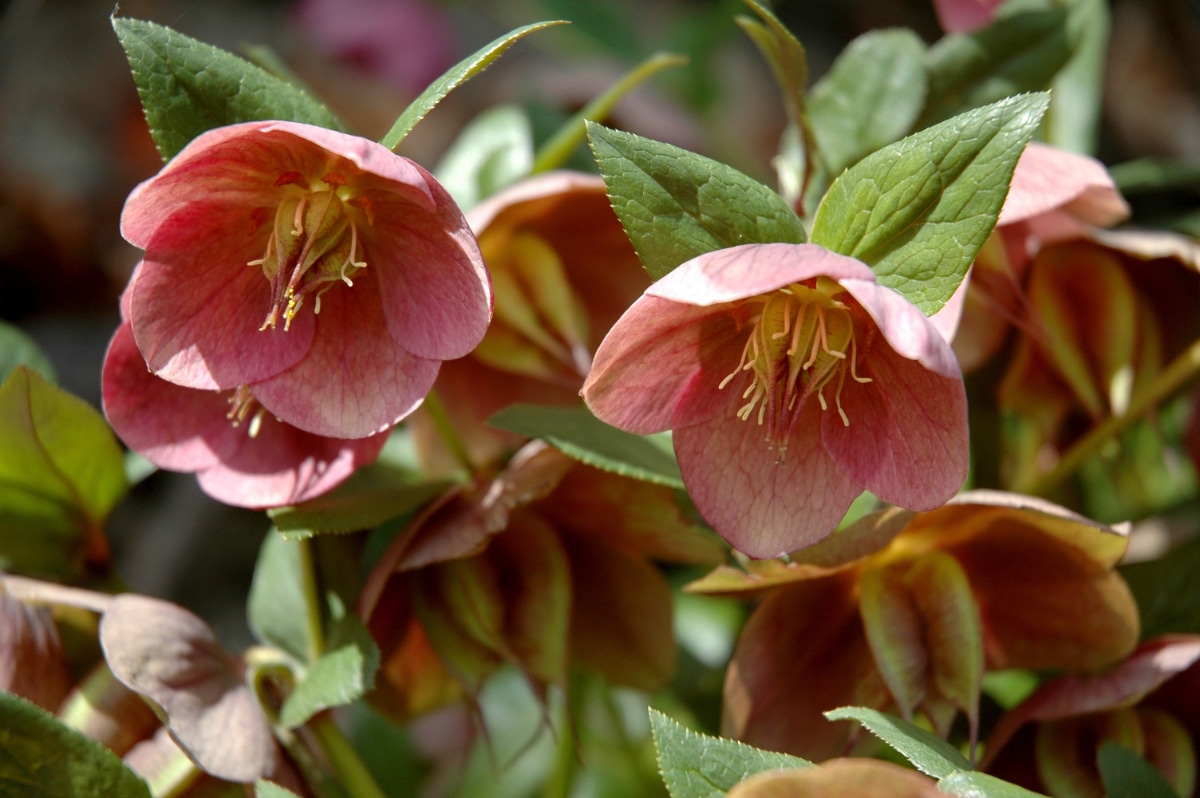 Hybrid Hellebore grows rose-like flowers in the early spring, blooming from February until May in most regions. The foliage is evergreen, even in cold regions. This plant tolerates different growing conditions but prefers partially shaded areas with well-draining soil.
Hellebores grow best when planted outside, but it's possible to grow them as flowers inside as well. For the best flowers, plant them outside on a hillside or a raised garden bed. They need plenty of water during the spring when actively producing flowers, but you can ease back the watering when the plants go dormant in the summer.
9. Impatiens (Impatiens walleriana)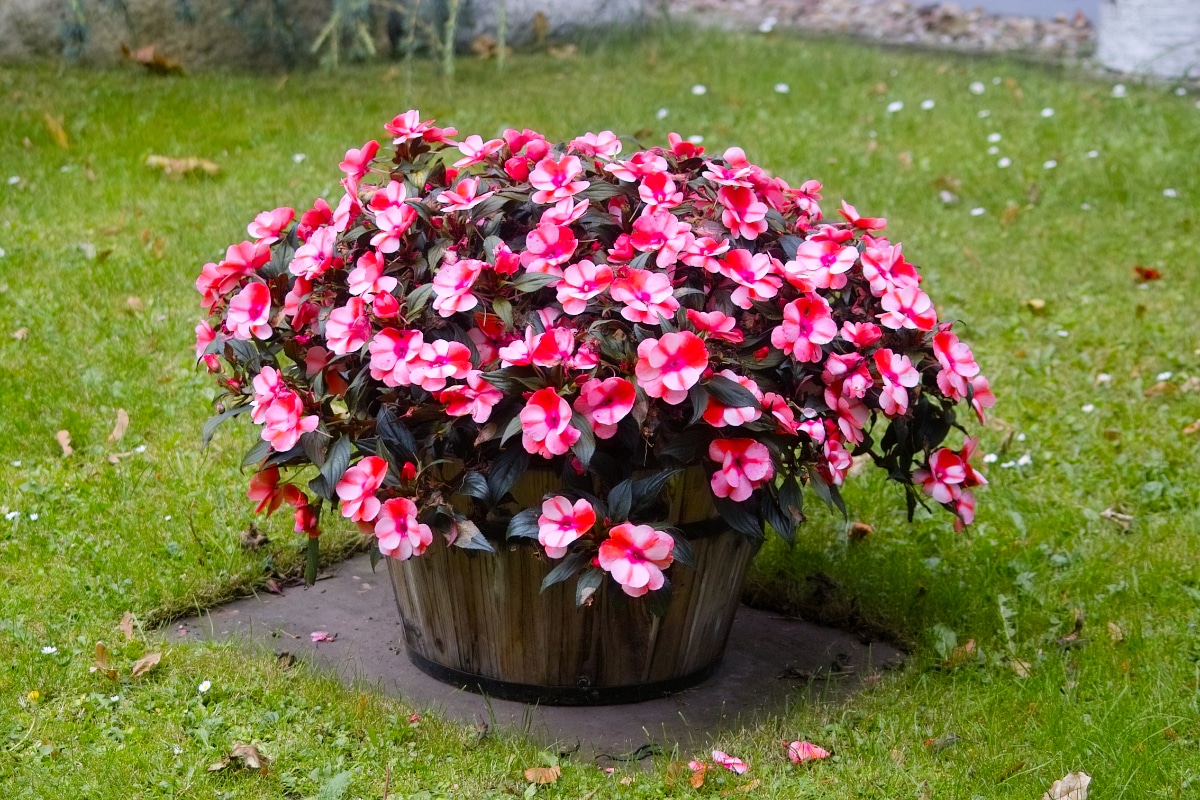 If you want an annual flower that produces full displays in the shade, Impatiens are one of the best options. While some types are more susceptible to powdery mildew, new hybrids are more disease-resistant than others.
Impatiens are great as border plants or growing in containers. They need moist but well-draining soil and partial to deep shade. They won't grow as well in full sunlight. Impatiens are nearly always grown as annuals in all but the warmest regions. The only place these flowers grow as perennials is in zones 10-12.
10. Japanese Sago Palms (Cycas revoluta)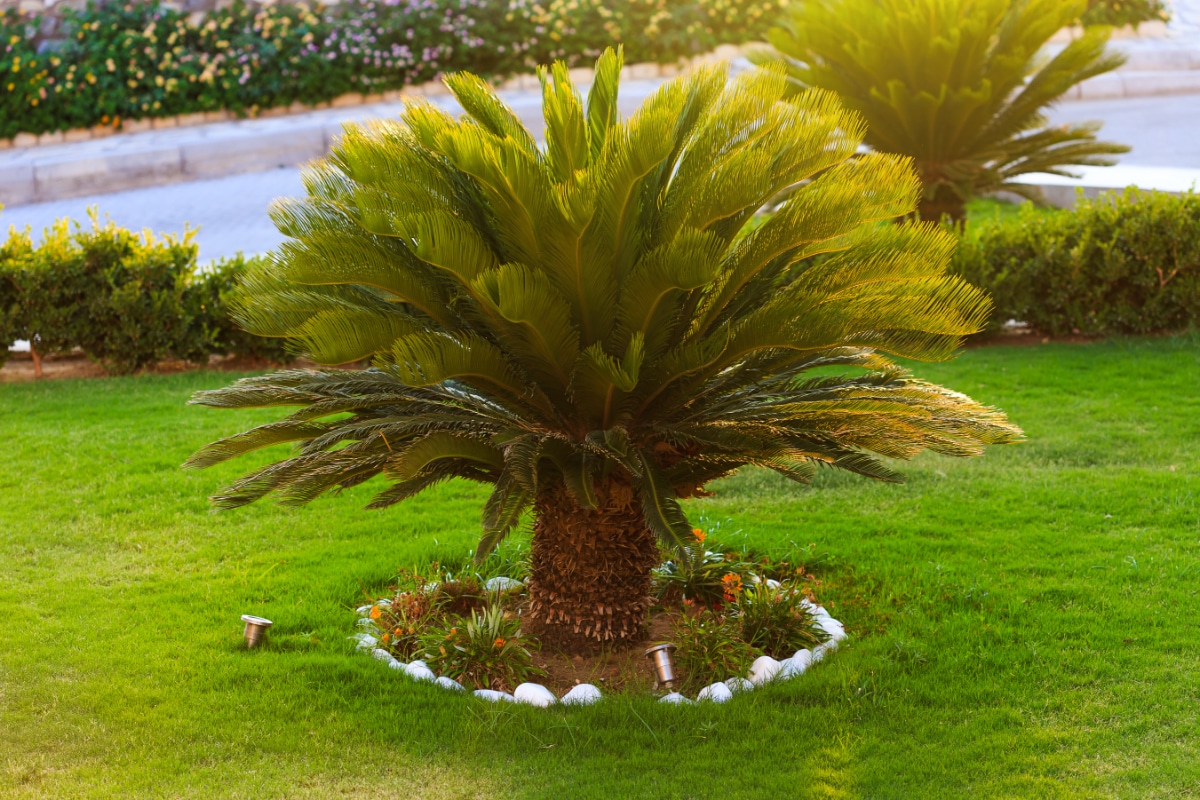 Despite their names, Sago Palms aren't truly palm trees. They're low-growing plants that have green fronds. They grow natively in warm parts of Japan and USDA zones 9-10. In cooler climates, these plants grow best as houseplants.
Sago Palms are gorgeous with feather foliage that looks beautiful inside and outside. It grows well in areas without much sun, but make sure the soil is well-draining. A container with a Sago Palm looks wonderful on a corner table.
11. Maidenhair Fern (Adiantum)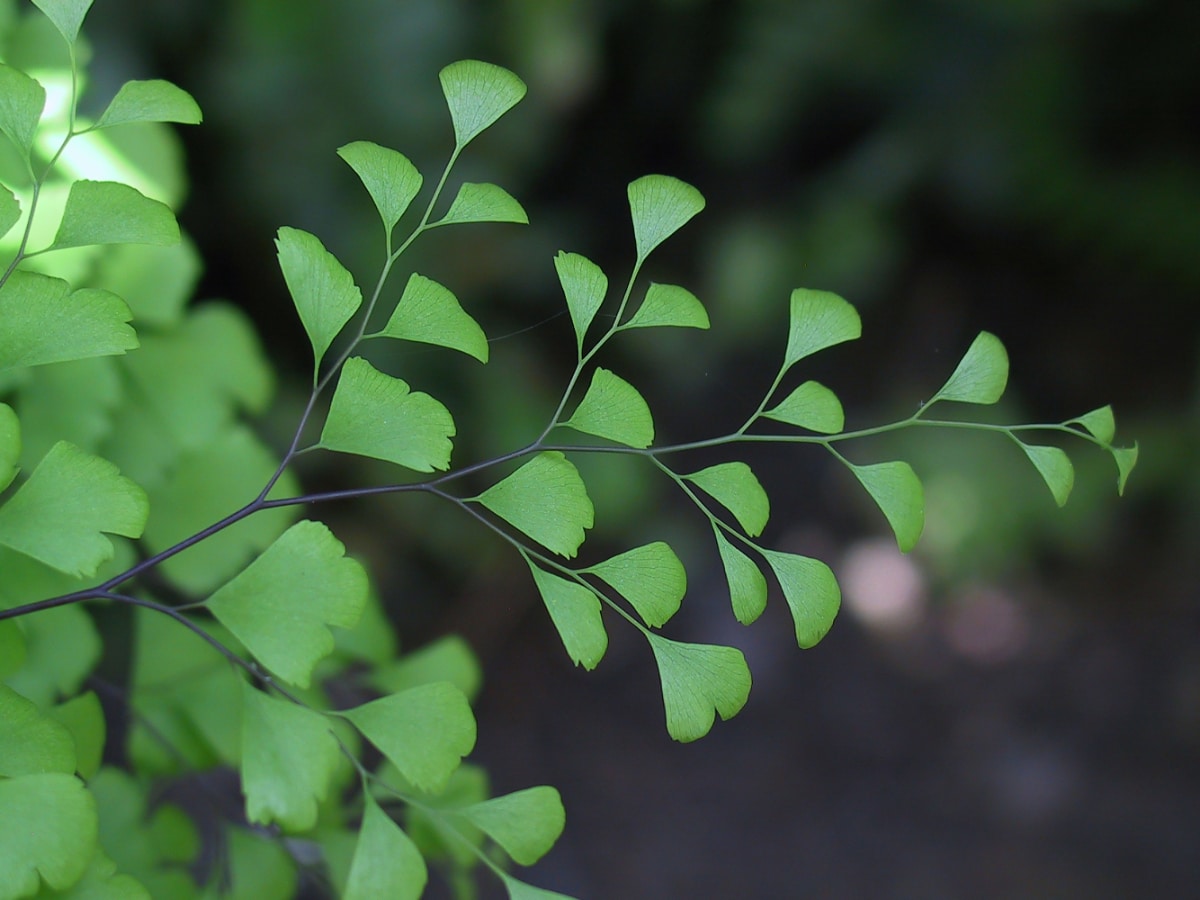 Maidenhair Fern plants are elegant and delicate, but if you have a black thumb, they are easy to kill because they have specific requirements. If you think you can handle these plants, the overall look is beautiful with lacy fronds filling containers.
When growing Maidenhair Ferns, make sure the plants have indirect, bright light, and plenty of humidity. Keep the soil moist but not saturated, and remember to mist the plant to increase the humidity in the air.
12. Parlor Palm (Chamaedorea elegans)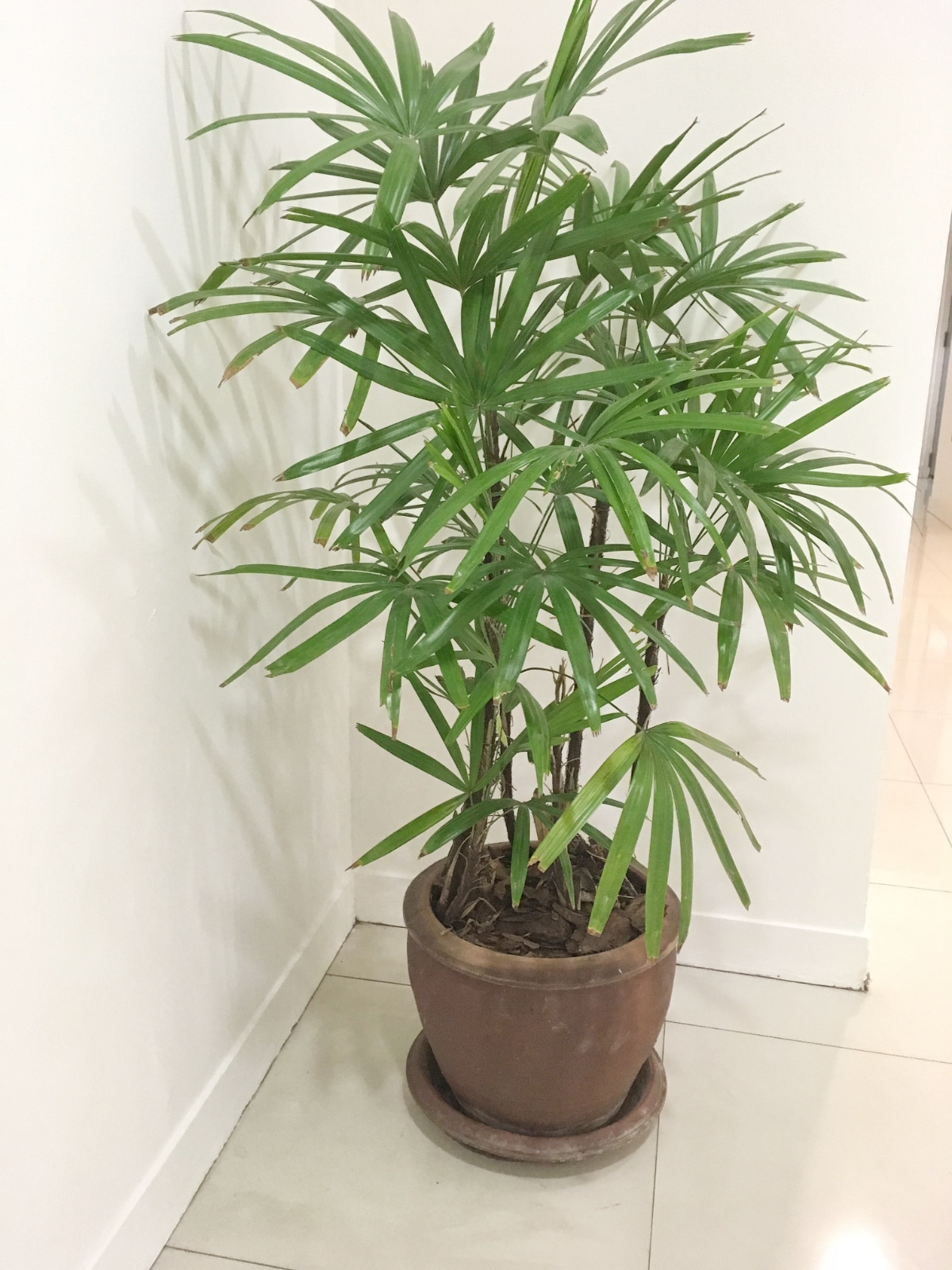 Parlor Palms have a long history; they were once considered a sign of wealth back in the Victorian era. Nowadays, people add them to rooms where they want a sophisticated feel, like living rooms or dining rooms.
Parlor Palm plants are tall and prefer to grow in low-light situations. Shady areas are better than bright areas, but they also like artificial lights. If you grow Parlor Palms outside, they need to grow in zones ten and above.
13. Peace Lily (Spathiphyllum)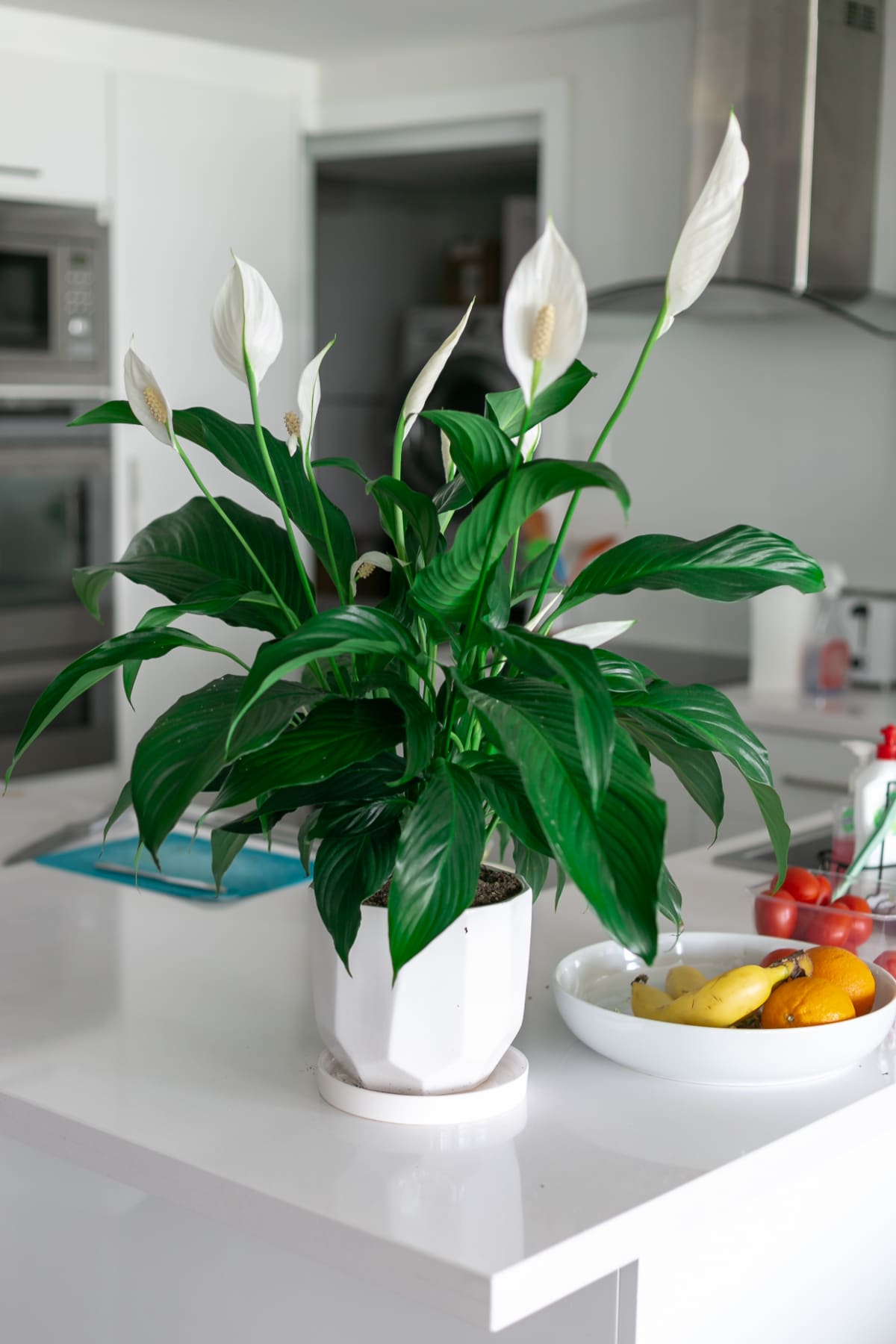 Peace lilies are one of the most recognizable houseplants. Despite the name, a peace lily isn't a true lily; the white petal is a leaf bract that grows around a yellow flower. If you take a close look, you'll notice the difference, but they look like lilies.
An average Peace Lily reaches up to 40 inches tall, so they work as a tall centerpiece on your table or as a floor plant. They grow well in low to medium light areas, but they also handle artificial light. When you provide more light, peace lilies are more likely to produce the white flowers everyone loves.
14. Peacock Plant (Calathea makoyana)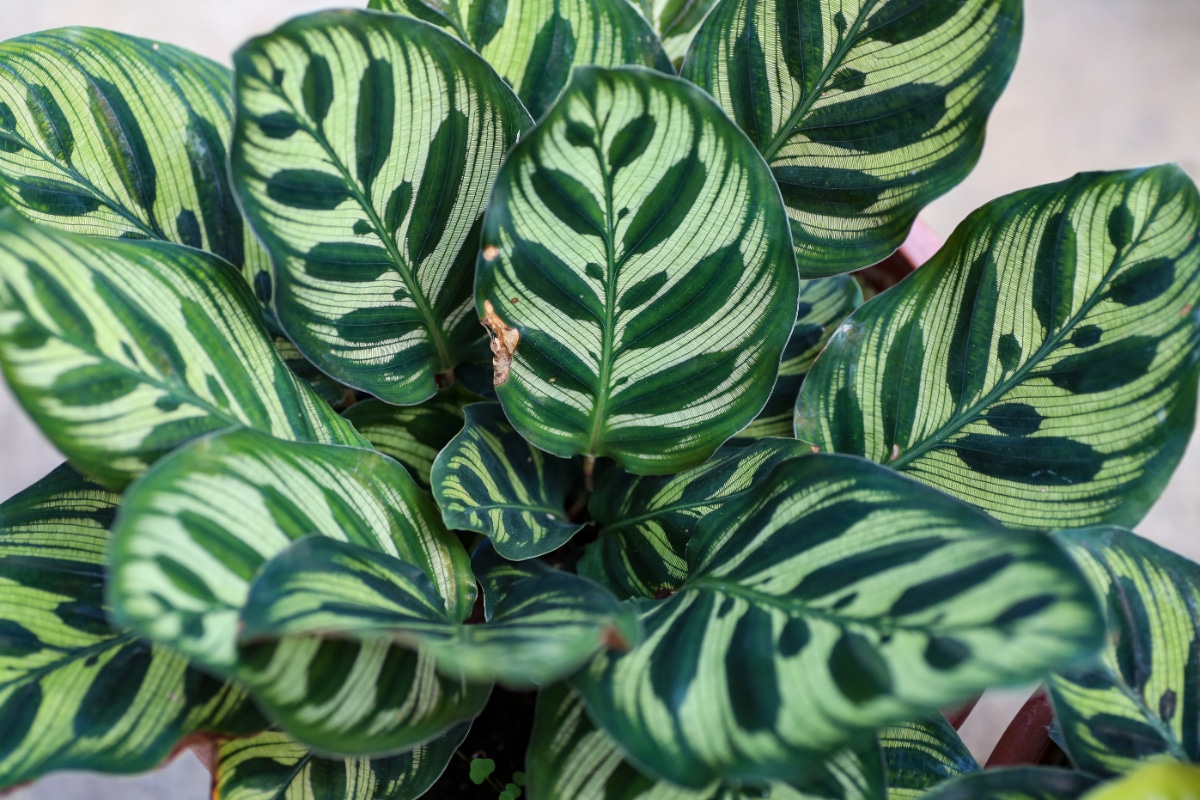 You might know this plant by other names; some refer to it as a rattlesnake plant or a zebra plant. No matter what you call it, a Peacock Plant has beautiful foliage that resembles a peacock with varying colors and hues.
Most people grow these houseplants because of their beauty; they truly stand out in a room. It's important to note that these plants are particular about their care. They need plenty of humidity and moisture. Keep these plants in low to medium light because too much light leads to pale leaves.
This is a tropical plant, so if you want to grow it outside, it only grows outside in zones ten and above. It grows indoors anywhere.
15. Peperomia (Peperomia)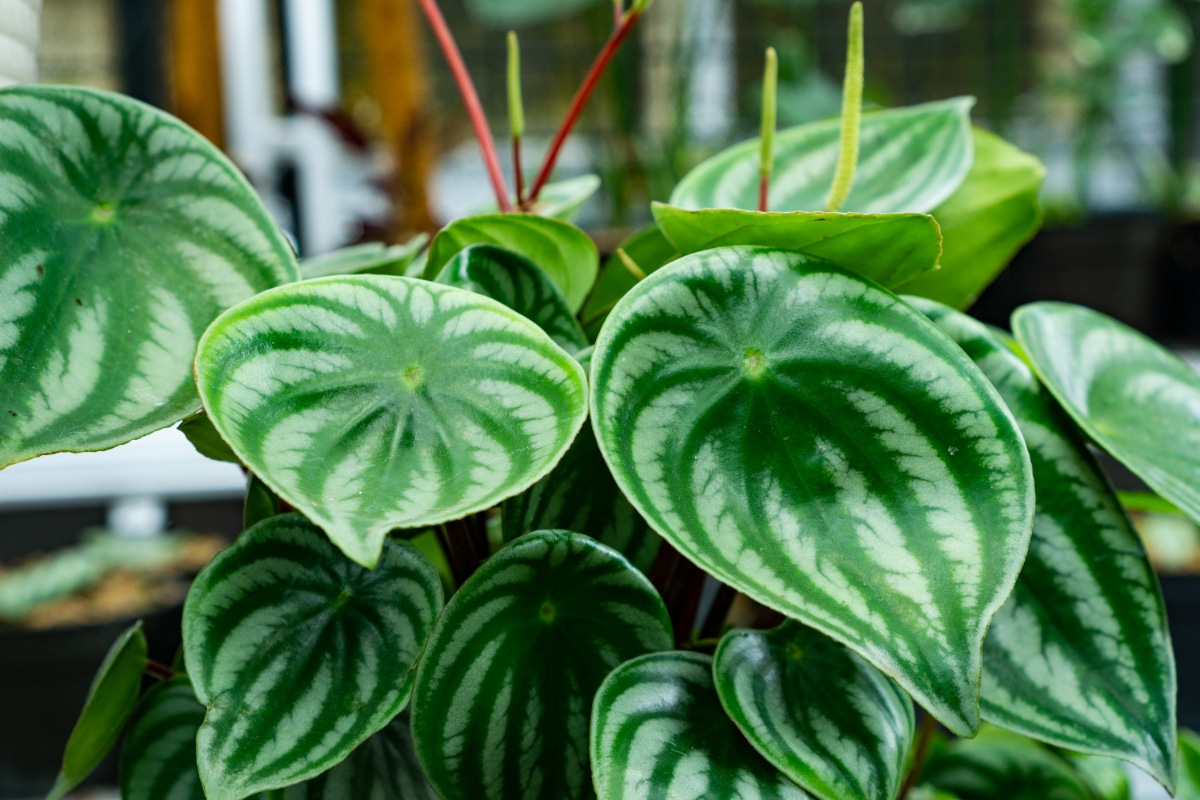 If you want a small plant to sit on your desk or table, Peperomia plants are a great choice. There are over 1,000 varieties, most originating from South and Central America.
These plants prefer dry soil, so if you forget to water a few days in a row, the plant will thrive, not suffer. The thick leaves help store water, and when they live in bright, indirect light, the leaves showcase grey, red, cream, and green colors.
Peperomia grows outside as well but only in zones 10-12. It's a tropical plant that needs plenty of humidity and cannot survive cold temperatures.
16. Philodendron (Philodendron)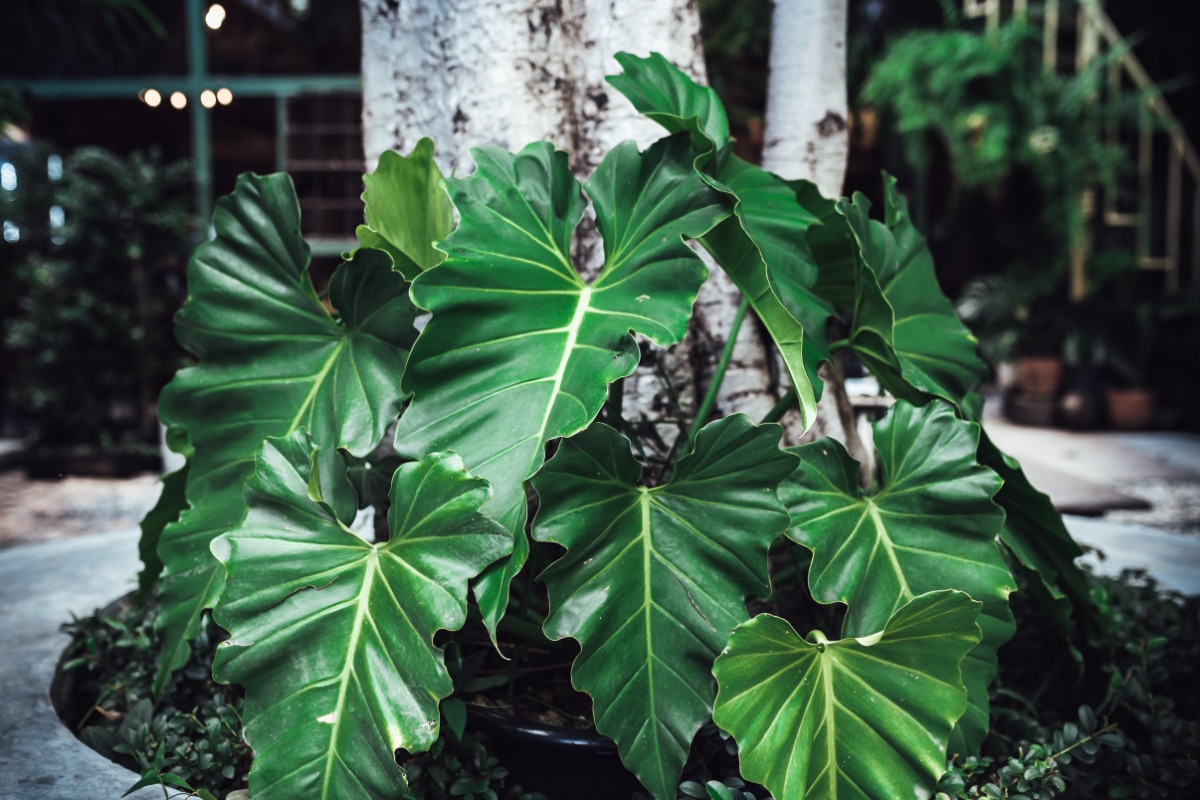 Another houseplant that is a popular choice because it has a unique look with beautiful foliage. Most people grow the Heartleaf Philodendron because it's a hardy variety that doesn't need much care or light. You also can grow climbing and non-climbing varieties that grow up to six feet with proper care.
17. Pothos (Epipremnum aureum)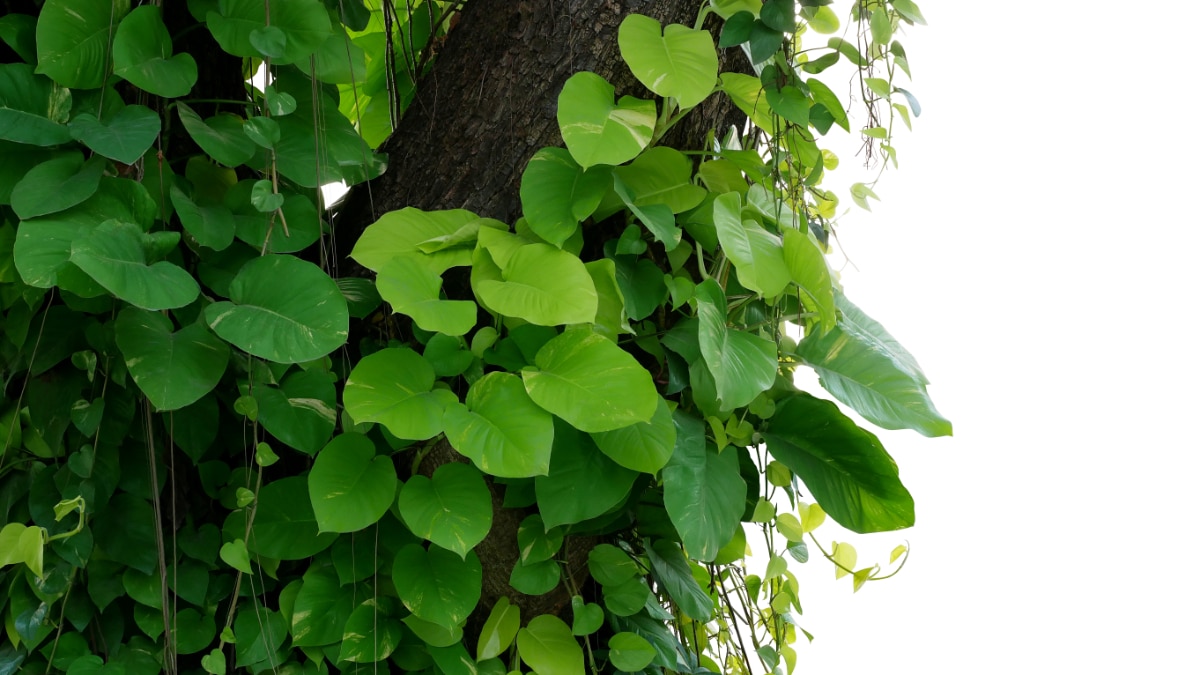 Pothos plants are great for beginners who just started their journey into houseplants. These plants are large with long vines that give any room a tropical vibe. Pothos are best grown as hanging plants or potted on a table due to their vines.
These plants prefer medium light but grow well in low light situations. If they receive too much light, the leaves start to turn yellow, but the leaves turn pale if they don't receive enough sunlight.
18. Prayer Plant (Maranta leuconeura)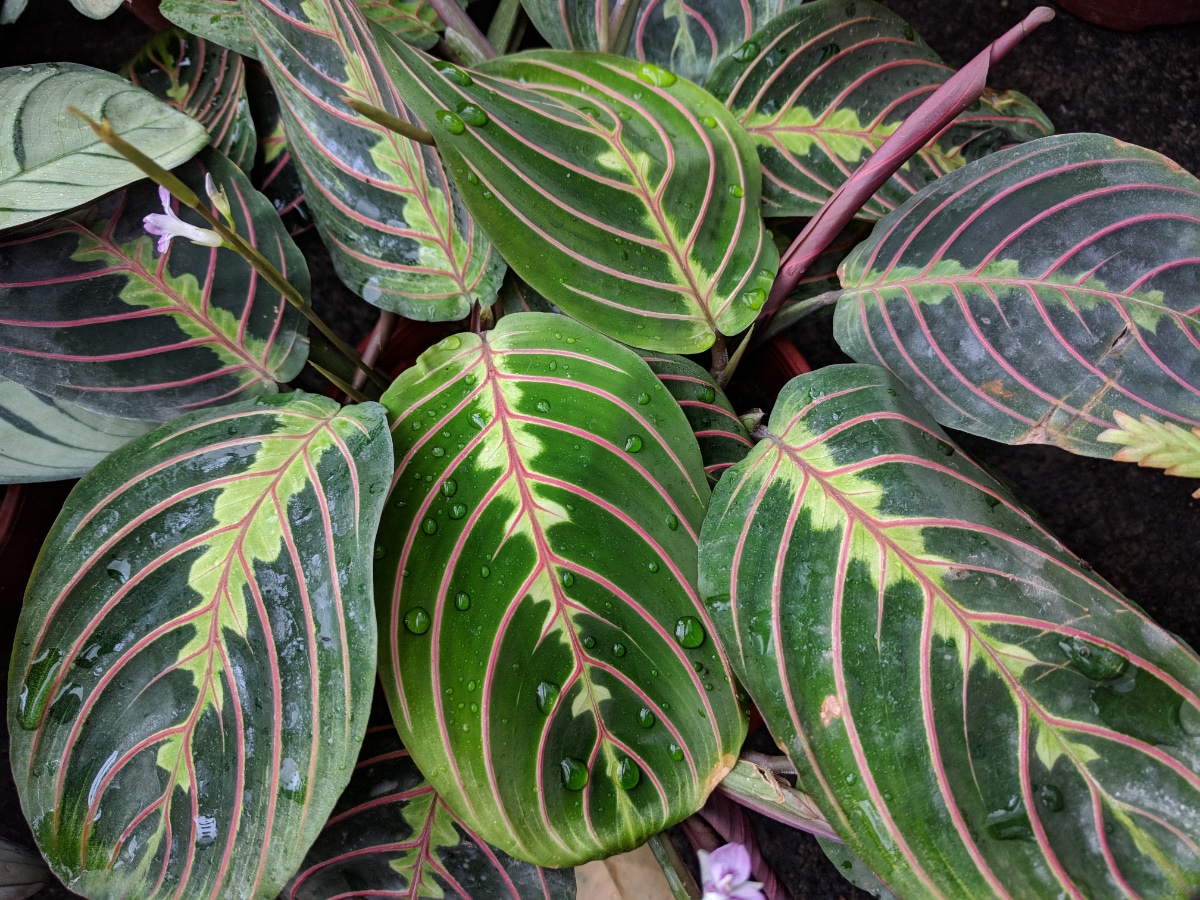 Prayer Plants are unique because the leaves fold like hands when praying when nighttime comes. It's interesting to watch, and the plants are beautiful. They have pink veins on oval, dark green leaves. Most prefer to grow Prayer Plants in hanging baskets, but they look great anywhere.
Grow these plants in bright, indirect sunlight. If the plant doesn't receive enough sunlight, the leaves will close and not reopen. Make sure you keep the soil moist and provide humidity, or the leaves will fade.
19. Snake Plant (Sansevieria trifasciata)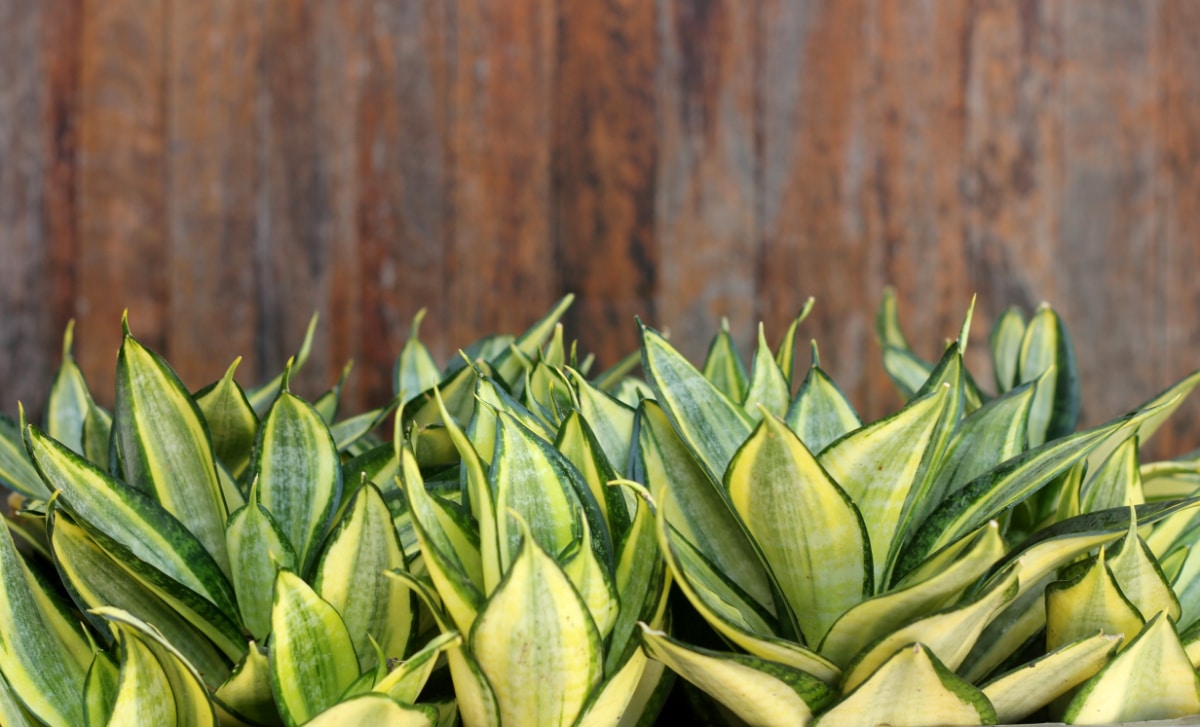 Some refer to Snake Plants as Mother-in-Law's Tongue because the leaves have a sharp point. The leaves are stripped and look similar to a snake's skin. They're tall plants known for being hardy, withstanding forgetful gardeners. Snake Plants can thrive for weeks without any care.
These plants thrive best in indirect light, but make sure you don't oversaturate the soil. Snake Plants are known for root rot, which happens when the roots are consistently soggy, and root rot is impossible to survive.
Snake Plants grow outside as well but only in zones 9-11 because they cannot handle frosts or cold weather.
20. Spider Plant (Chlorophytum comosum)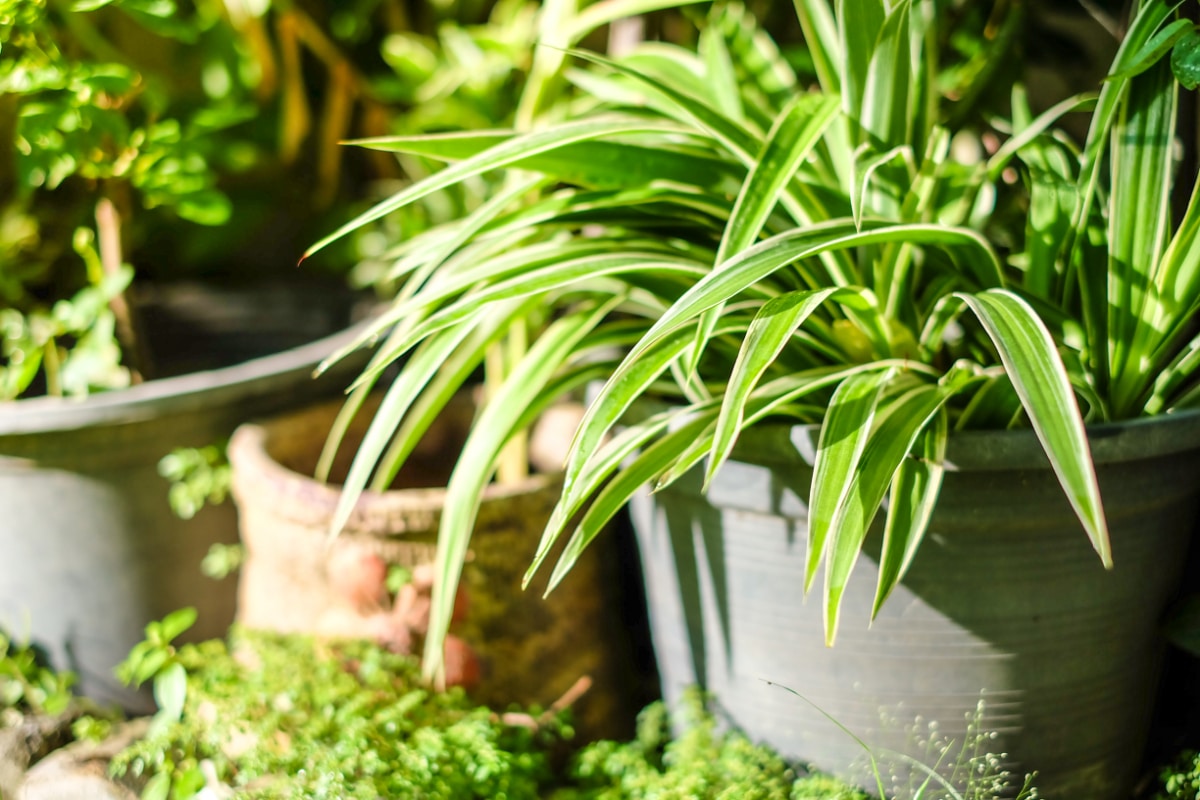 Houseplant lovers adore Spider Plants. These plants have long, skinny foliage that arches out; the legs look like spiders. Eventually, the plants produce small, white flowers, and you can repot these baby spider plants.
Spider Plants thrive in bright, indirect sunlight; they don't need much natural light. If you have a mix of artificial and natural light, these plants will thrive. It's not uncommon for these plants to have browning leaves - remove them. It's due to fluoride in our water.
21. Staghorn Fern (Platycerium)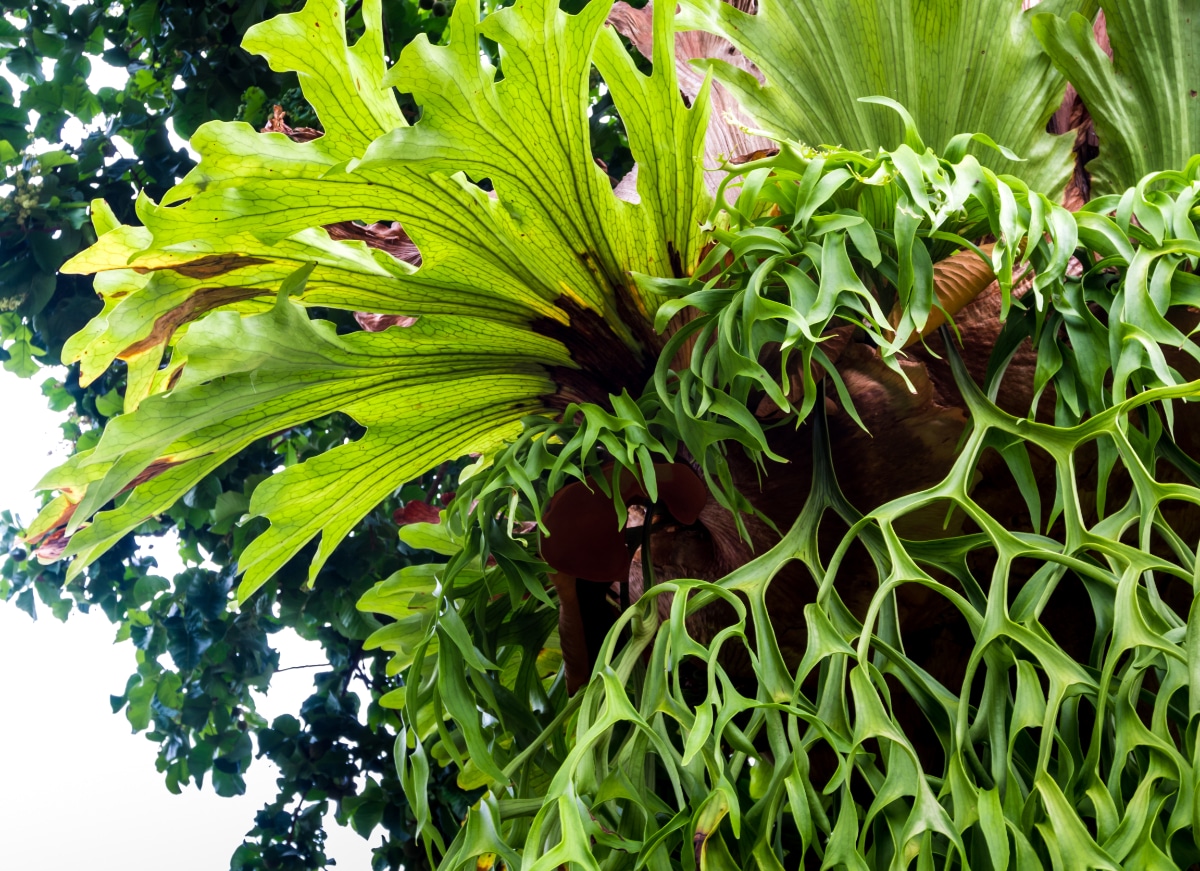 Staghorn Ferns are gorgeous plants that are picky about their care. They want to live in the best environment, and for Staghorn Ferns, that means they should be in a spot with bright, indirect, or filtered natural light. Artificial light doesn't cut it for these plants. Make sure the soil stays moist but not too damp.
If you want a low-light plant that has a unique look, give Staghorn Ferns a try. Some refer to this plant as antelope ears or elkhorn ferns because of the tall foliage that looks like ears.
22. Sword Ferns (Polystichum munitum)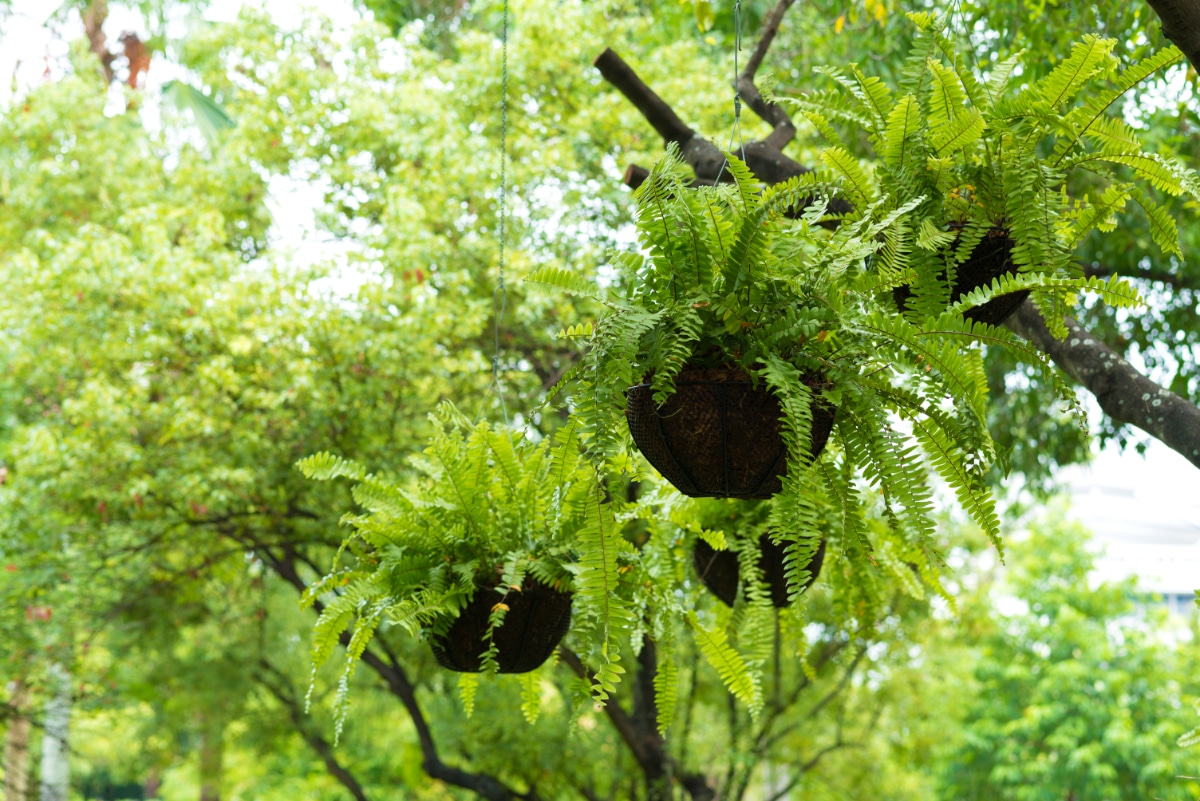 Sword Ferns are a lush, evergreen plant known for the sword-shaped fronds. When grown outside, they live in zones 3-8; they're hardy plants that don't need too much sunlight. They grow well as ground covers in areas that you need to reduce erosion.
Sword Ferns also make excellent houseplants. Like many other fern varieties, this plant doesn't need much sunlight, but it needs well-draining, slightly acidic soil and plenty of humidity. It's recommended to mist the plant regularly to keep humidity levels higher.
23. Umbrella Plants (Schefflera actinophylla)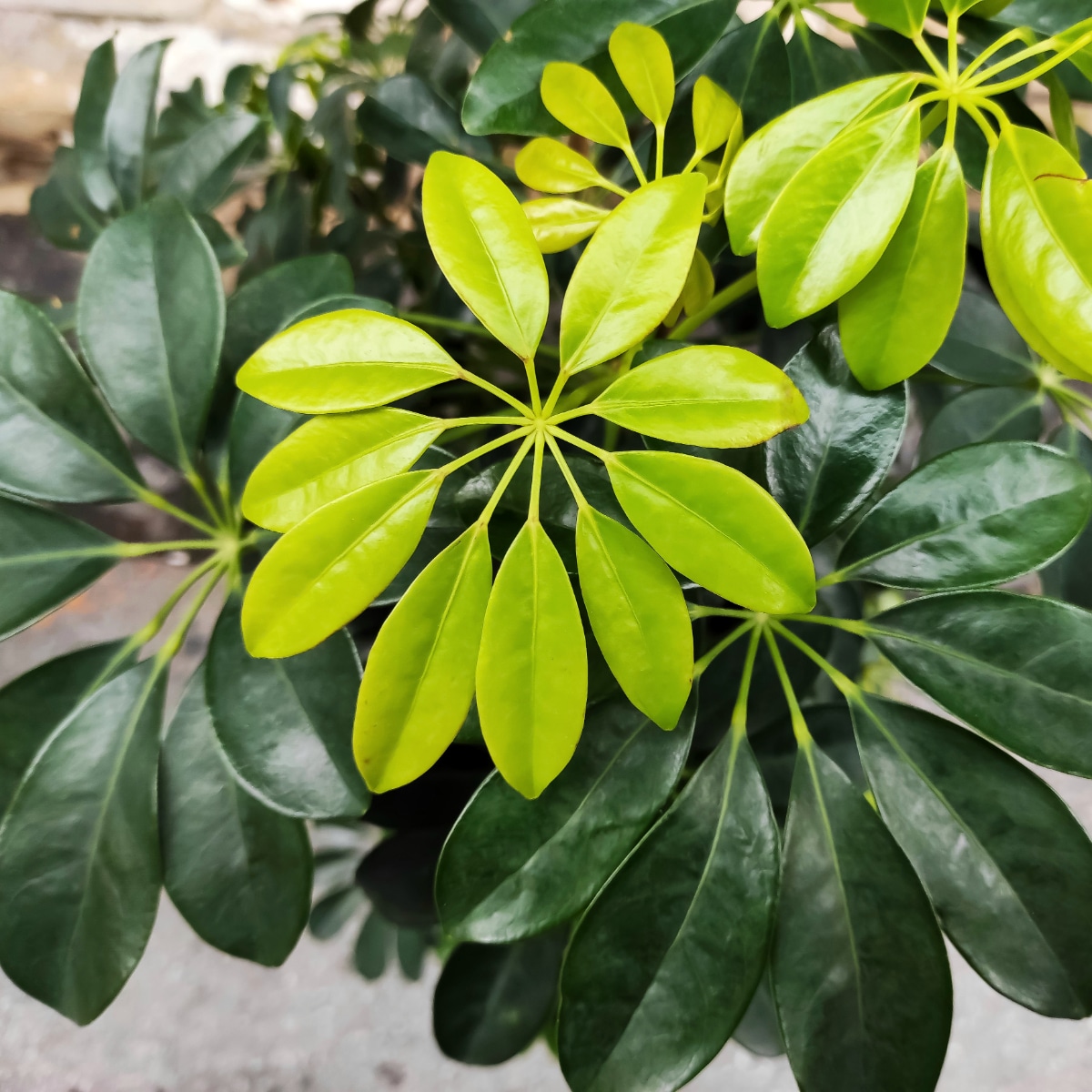 For whatever reason, Umbrella Plants rarely top the list of trendy, gorgeous houseplants, which is a shame because they're low-maintenance and have beautiful, graceful foliage. If you want to add some greenery and beauty to your room without too much work, an Umbrella Plant is for you.
These plants require little work, and they grow in any area of your home, so long as it receives a little natural light. If you want to grow Umbrella Plants outside, you need to live in zones seven and above; they need plenty of moisture and humidity to thrive. When grown outside, these plants reach up to six feet tall, but they only grow up to three feet tall indoors.
These plants aren't poisonous, but when eaten, it leads to severe irritation in the mouth and intestinal tract that lasts for weeks. If you have small children, avoid these plants in your home.
24. ZZ Plant (Zamioculcasi)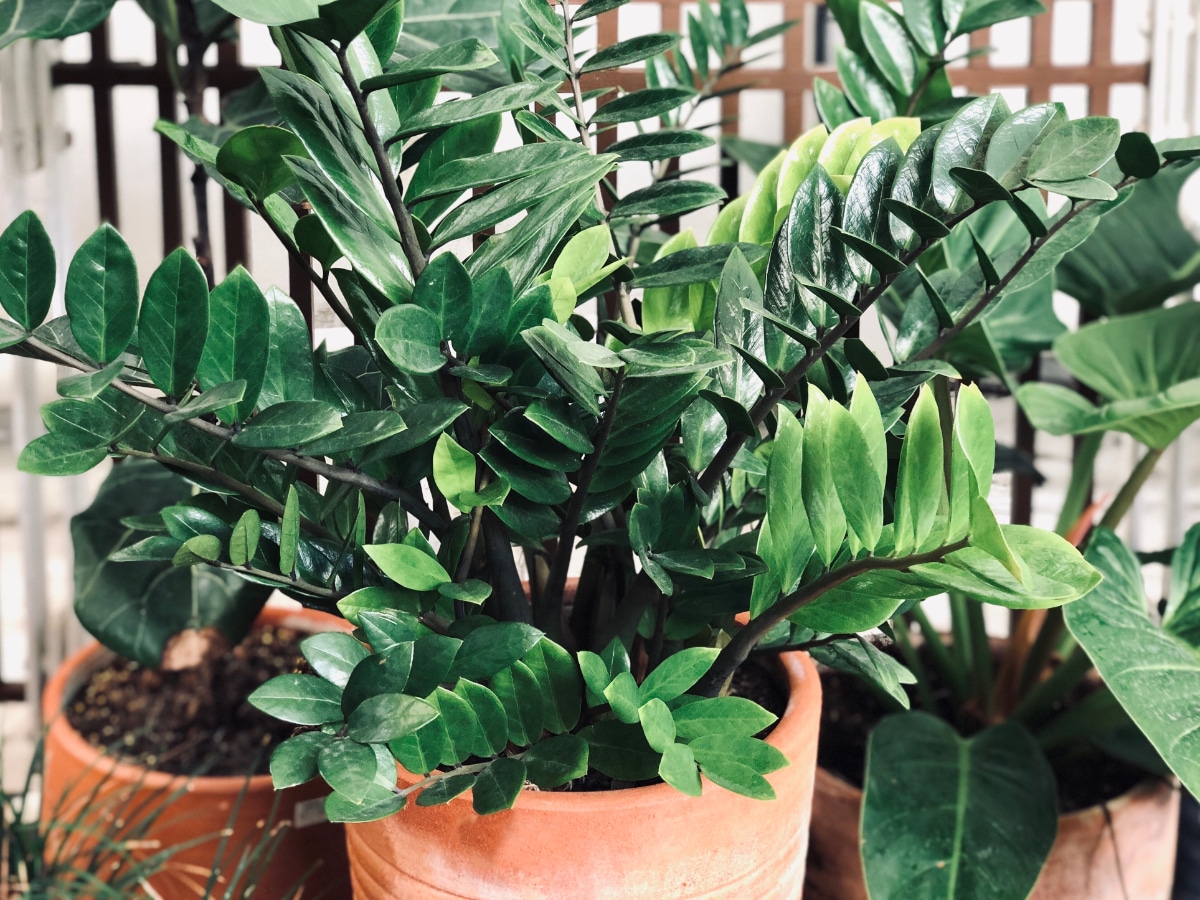 If you kill every plant that you raise, you need a ZZ Plant. Without a doubt, these plants are one of the hardiest houseplants; they're nearly impossible to kill. ZZ Plants have lush, green foliage that has a waxy, shiny look. You need one of these plants in your collection.
ZZ Plants thrive in bright, indirect sunlight, but they also live in very low-light situations. If you only provide artificial light, these plants will live. Too much light causes the leaves to curl and yellow.
Final Thoughts
No matter the lack of sunlight or natural light that your house receives, you can grow plants. There are plenty of gorgeous plants that thrive without sunlight indoors as houseplants and outside in landscaping.