If you have pets, you may struggle with finding pet-friendly houseplants to keep in your home.  After all, many popular plant species, like sago palms and peace lilies, are toxic to pets.  But, if you happen to like cacti, there's good news: most cactus plants are non-toxic.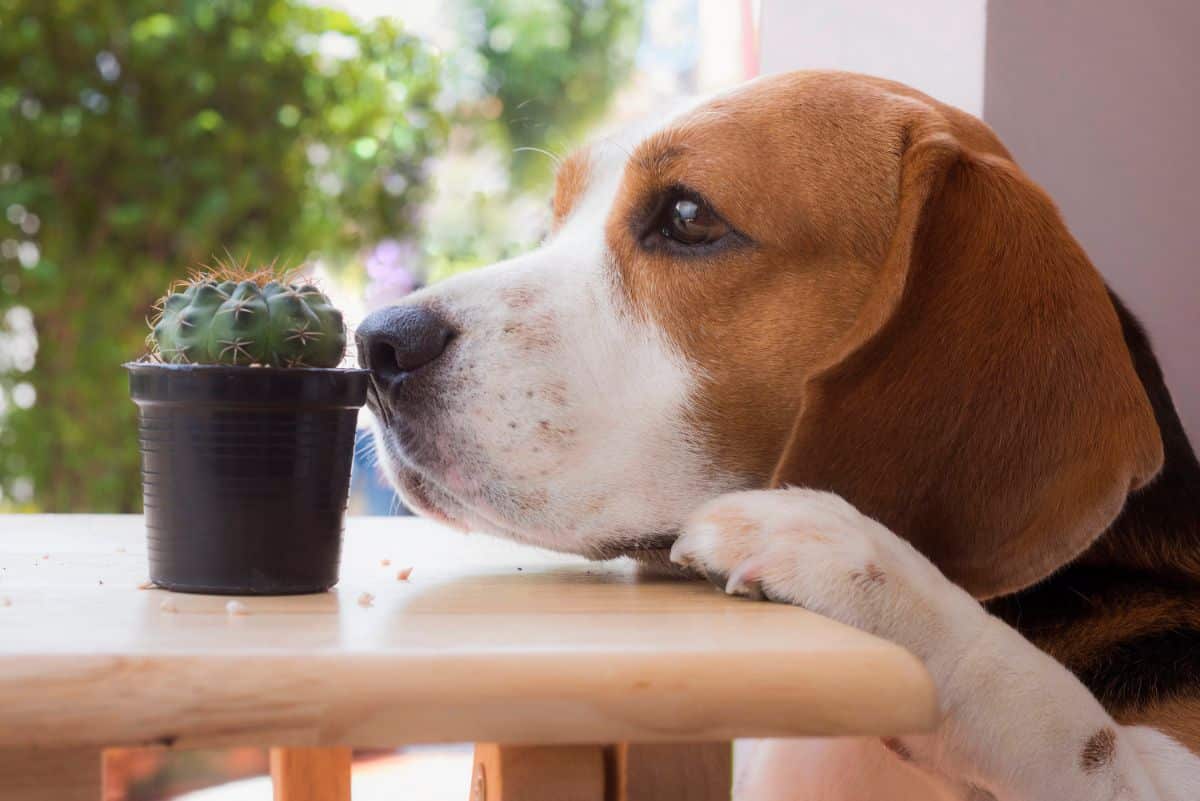 Many succulent species (like Euphorbia and aloes) naturally contain toxins which are intended to protect the plants against predator attack.  However, cacti evolved a different line of defense.  Most cacti are covered in sharp spines, so they usually don't need toxins to protect them.

Since the majority of cacti are naturally non-toxic, they are generally safer to keep in homes with pets.  That said, most cacti do have sharp spines, which can cause nasty injuries to curious pets if they're left unattended.  So, if you have pets, you'll still want to place your cacti in safe spots and out of Fido's way.

If you're ready to learn more about cacti, we've compiled this short list of our top 12 favorite cacti species for homes with pets.  These cacti are all relatively easy to care for, and they're beginners friendly too.  There are even some spine-free species for extra pet safety!
Jump to:
12 best cacti for homes with pets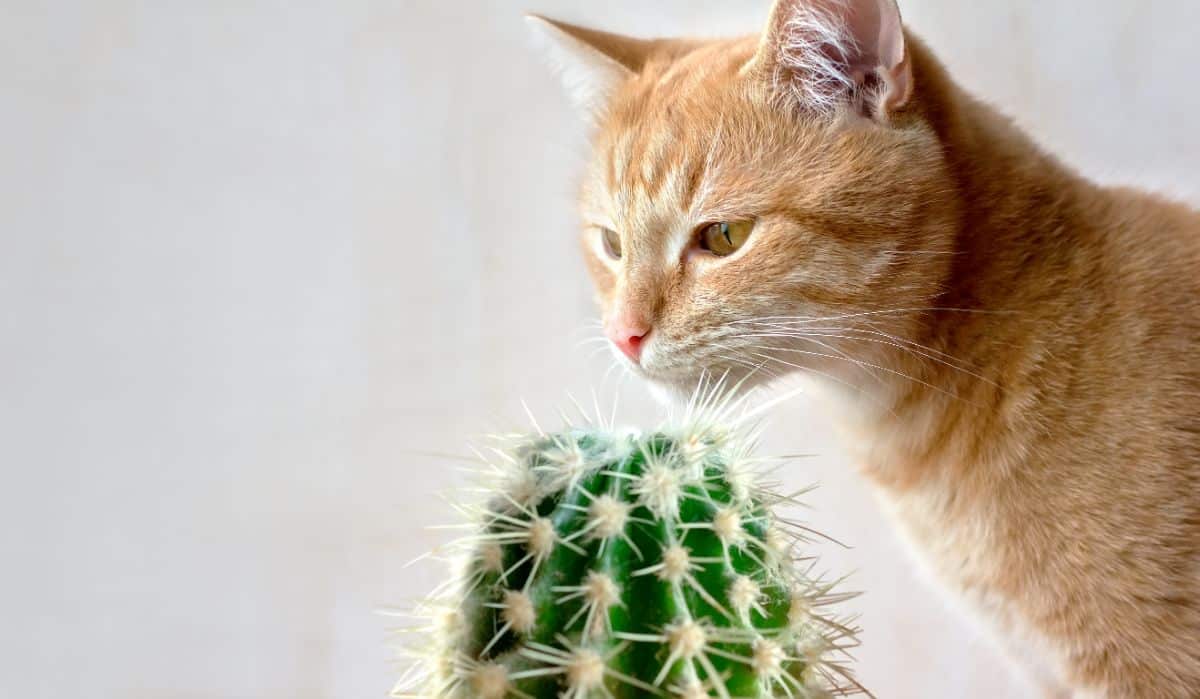 Unless you have pets that are really mischievous, most pets will leave cacti alone thanks to their sharp spines. For this reason, cacti are generally suitable for homes with pets, but we've chosen our ultimate favorite cacti species below to help you pick the best cactus for you. These standout plants are all beginner friendly and offer interesting features, like trailing growth for hanging basket displays and colorful blooms.
1. Bunny ear cactus (Opuntia microdasys)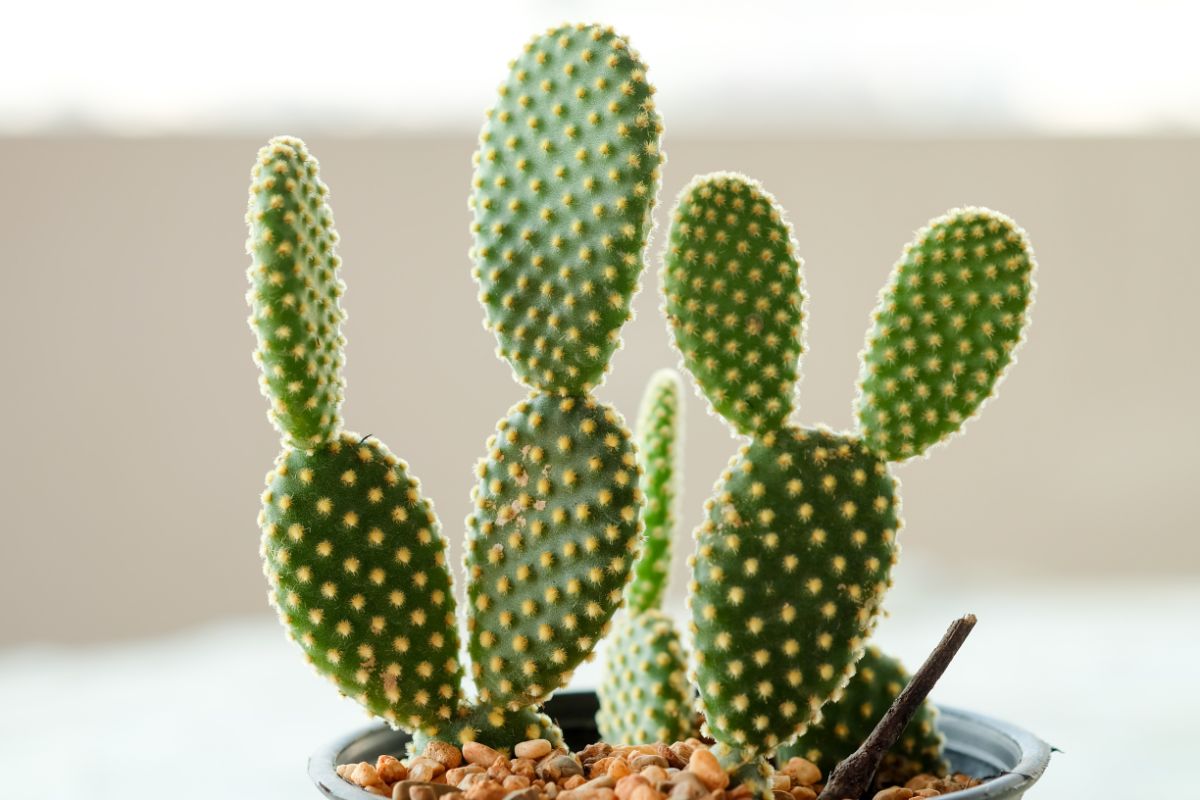 | | |
| --- | --- |
| Plant name: | Bunny ear cactus |
| Lighting: | Bright light |
| Watering: | Low |
| Spine size: | Small |
| Other features: | Both the fruit and pads of this cactus are edible. Pads can be grilled or eaten raw on salads. |
A type of prickly pear cactus, bunny ear cacti are adorable tabletop specimens that are also sometimes referred to as angel wing cacti or polka dot cacti. With flat and rounded pads, bunny ear cacti are speckled with tiny spines and make a very interesting silhouette in brightly lit windows.
Low maintenance, these cacti thrive on neglect and need minimal watering. When mature, bunny ears bloom large and frilly, pale yellow flowers. If you're lucky, those flowers will turn into purplish-red fruit, which are edible!
2. Dragon fruit cactus (Selenicereus undatus)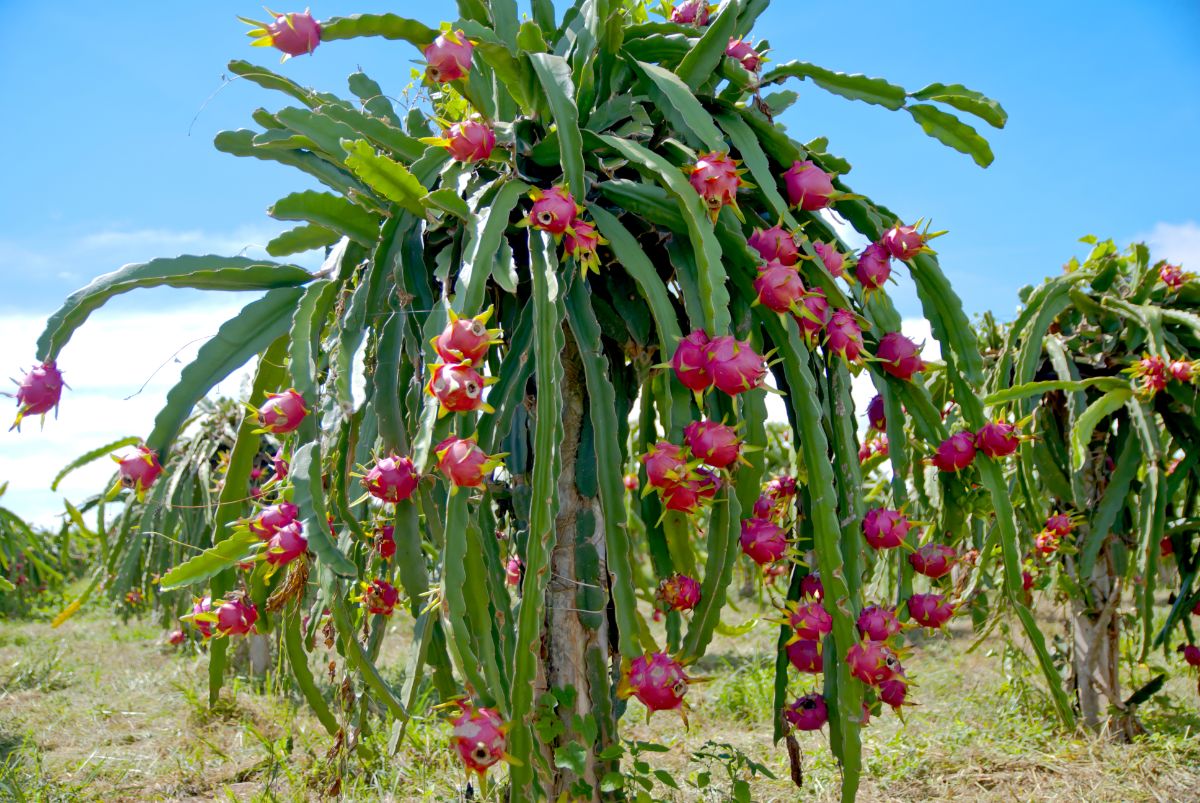 | | |
| --- | --- |
| Plant name: | Dragon fruit cactus |
| Lighting: | Bright light |
| Watering: | Moderate; prefers higher than average humidity |
| Spine size: | Usually spineless; some yellow varieties may contain small spines. |
| Other features: | Long, damaged or tangled stems should be pruned 2 to 3 times a year to prevent issues, like fungus. |
That's right, that gorgeous, pink dragon fruit you buy at the grocery store grows on a cactus! Even better, you can raise that cactus right in your own living room for homegrown, edible fruit.
A creeping cactus variety with long, trailing stems, dragon fruit is mostly spineless, though some varieties may have small prickles. Native to Central and South America, dragon fruit cacti have higher moisture needs than most cacti, but they don't need as much water as the standard tropical houseplant. However, placing your plant on a pebble tray or near a humidifier is recommended for optimal growth.
When grown from seed, this plant can take about 7 years to fruit. You can speed up this process by growing plants from nursery starts or stem cuttings.
3. Golden barrel cactus (Echinocactus grusonii)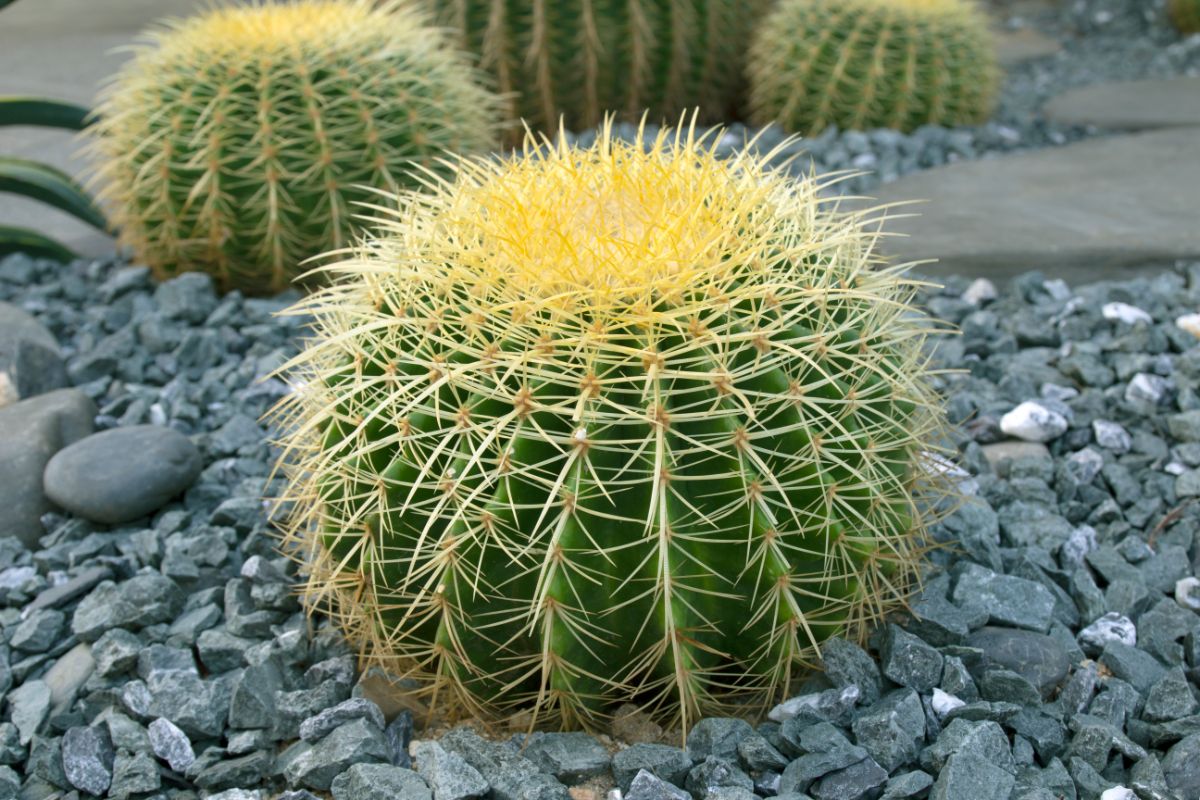 | | |
| --- | --- |
| Plant name: | Golden barrel cactus |
| Lighting: | Bright light |
| Watering: | Low |
| Spine size: | Large |
| Other features: | This cactus produces yellow flowers in late spring to summer when mature. |
Native to central Mexico, golden barrels are a classic cactus choice prized for their cheery rounded forms and yellow-toned spines. Frequently sold at big box stores and garden centers, you'll usually find pint-sized golden barrel cacti; however, they grow about 3' tall by 3' wide when fully mature.
Interestingly, as they age, golden barrel cacti often lean towards the south, which is intended to help protect them from the desert sun. This leaning can be so pronounced that, in the wild, travelers can use these cacti as natural compasses.
Spines on this cactus are no joke, so you'll definitely want to use proper protective gloves when repotting this species. Like other cacti, golden barrels prefer a well-draining potting mix suitable for cacti and succulents. They also love bright light and are super low maintenance with minimal watering needs.
4. Old man cactus (Cephalocereus senilis)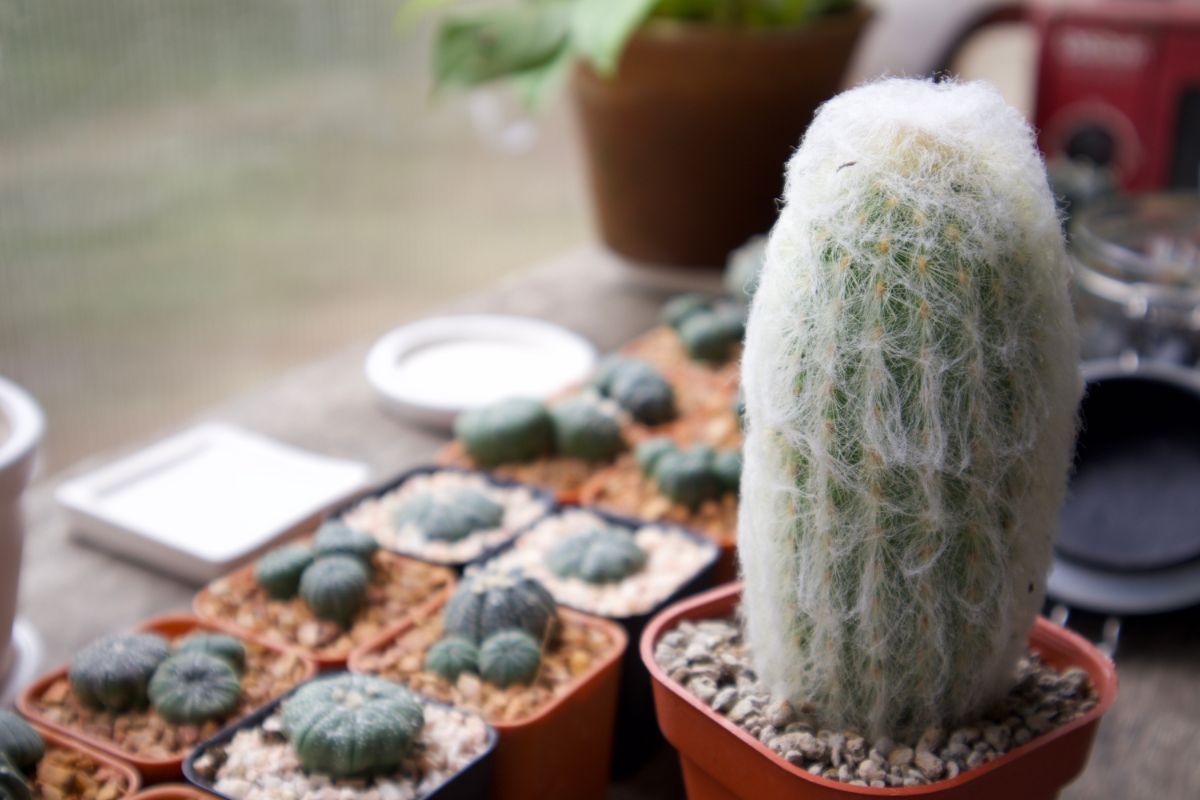 | | |
| --- | --- |
| Plant name: | Old man cactus |
| Lighting: | Bright light |
| Watering: | Low |
| Spine size: | Medium |
| Other features: | Native to Mexico, old man cactus is threatened in the wild but is a common sight at plant nurseries. |
For a unique look, old man cactus is a fun choice. This fuzzy-looking cactus is covered in white hairs, which are actually modified cactus spines. But, despite its soft look, take care because many of these cacti still have spiky spines hidden underneath that mass of fuzz!
In the wild, old man cactus can grow up to 45' high, but it is a slow-growing plant when kept in a pot. Preferring lots of bright light, like other cacti, this species is susceptible to overwatering, which can cause issues with root rot and tissue death. So be sure not to overwater!
5. Fishbone cactus (Selenicereus anthonyanus)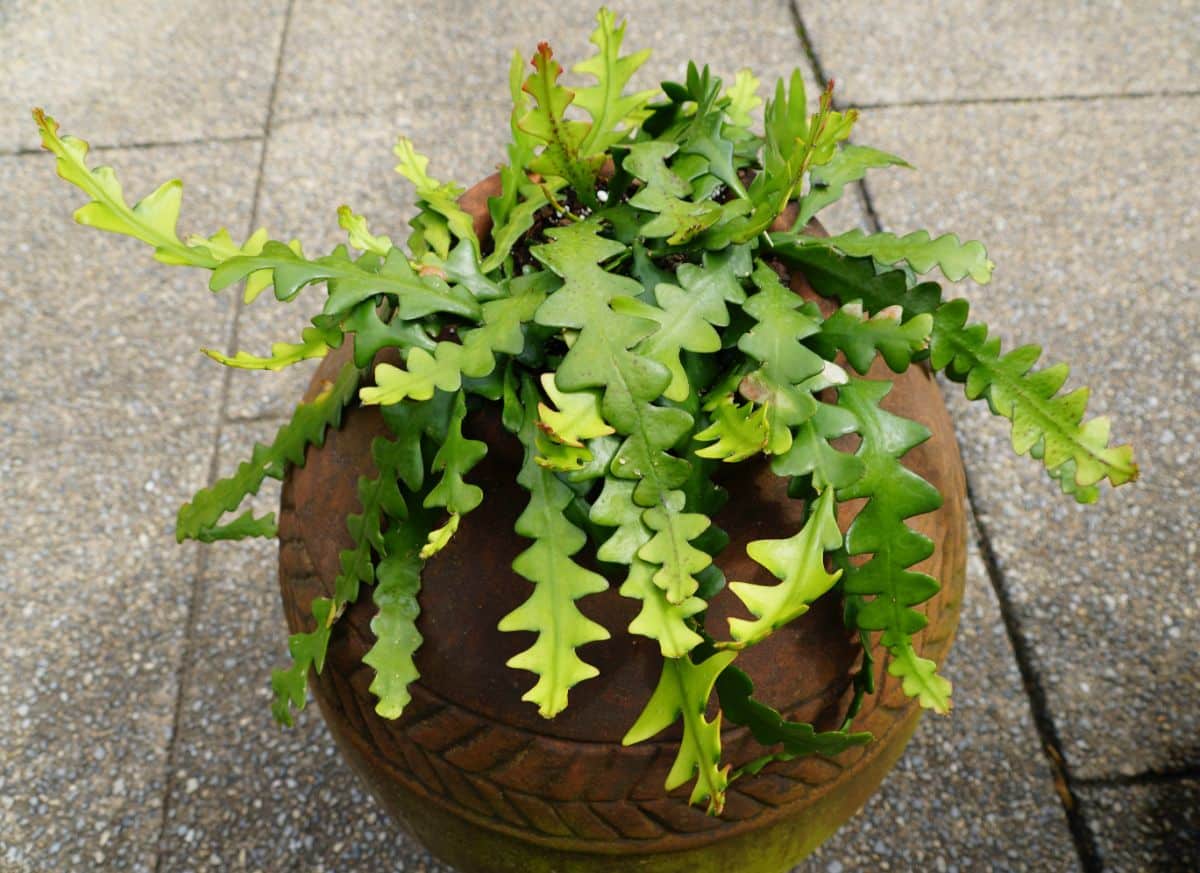 | | |
| --- | --- |
| Plant name: | Fishbone cactus |
| Lighting: | Bright, indirect light |
| Watering: | Moderate; prefers higher than average humidity |
| Spine size: | It may look smooth, but fishbone cactus does have small spines which can irritate your skin. |
| Other features: | Fishbone cactus is great for hanging baskets and is easily propagated in soil or water. |
Also known as the rick rack cactus and fishbone orchid cactus, fishbone cacti are native to the rainforests of southern Mexico. In the wild, they grow as epiphytes, anchoring themselves to trees and rocks with the help of their aerial roots.
A highly structural species, fishbone cactus adds lots of interest to hanging baskets and tabletop displays where its zigzagged stems will give tons of texture. Stems grow fast for a cactus and can easily reach about 3' long.
When properly maintained, this cactus species will flower gorgeous, large, bright pink blooms on the ends of its stems. However, these highly fragrant flowers only bloom for a single day!
As a tropical species, fishbone cactus needs more water than most cactus varieties, but it doesn't need as much water as standard tropical plants. Instead, water your plant approximately every 2 to 3 weeks, or when the top few inches of soil feels dry to the touch. It also prefers humidity levels of 60% or higher, so keeping this plant near a humidifier is recommended.
6. Saguaro cactus (Carnegiea gigantea)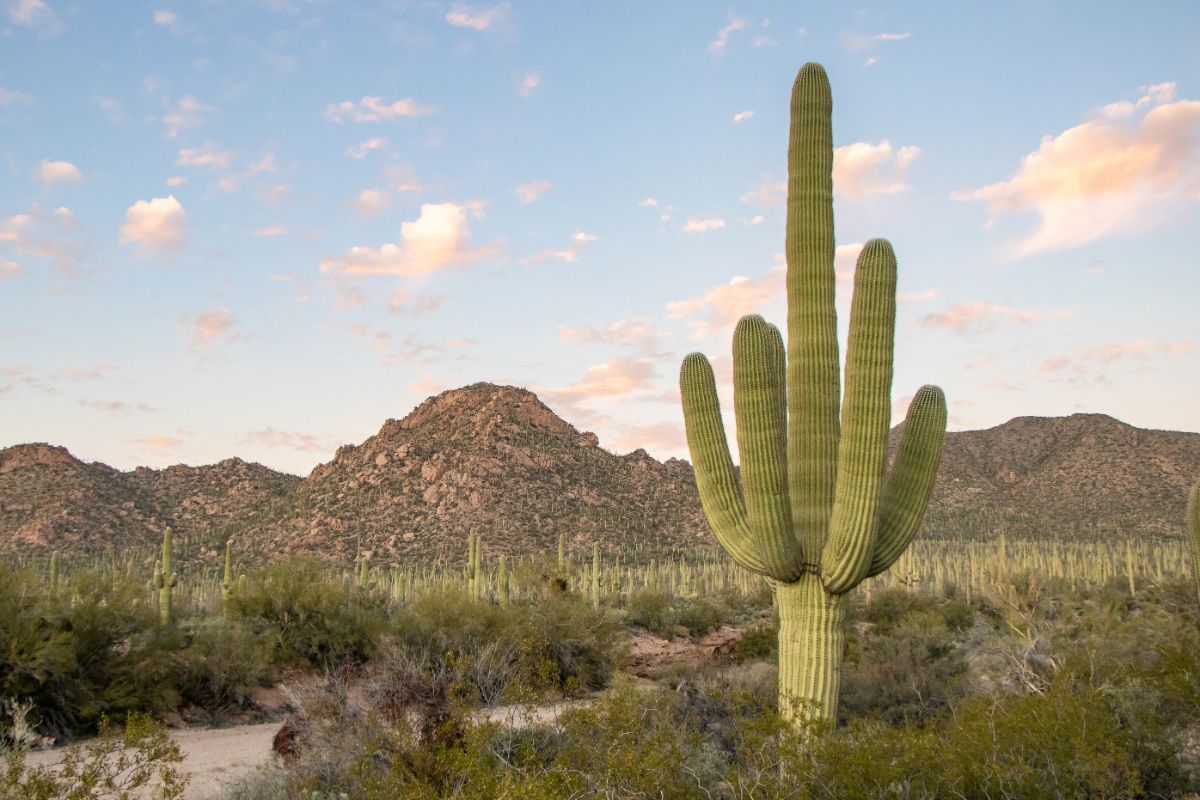 | | |
| --- | --- |
| Plant name: | Saguaro cactus |
| Lighting: | Bright light |
| Watering: | Low |
| Spine size: | Large |
| Other features: | In the wild, saguaros are an important element of desert ecosystems and provide homes for many wildlife species. |
When the average person thinks of cacti, they think of saguaros. This stately cactus species has the classic columnar shape we've come to associate with cacti. It also features large spines and a ridged trunk for excellent water storage.
Found only in the Sonoran Desert of the American southwest, saguaros are slow-growing species that grow about 1" a year during their first years of life. As they mature, they develop branching arms for a highly architectural shape and can grow up to 80' tall. They are also very long-lived, with many wild saguaros reaching well over 175 years old.
As potted specimens, saguaros usually stay a lot smaller, but they are easy to keep. Kept mostly for their strong lines, saguaros will also flower, but it can take about 35 years for them to be mature enough to produce blossoms.
7. Star cactus (Astrophytum asterias)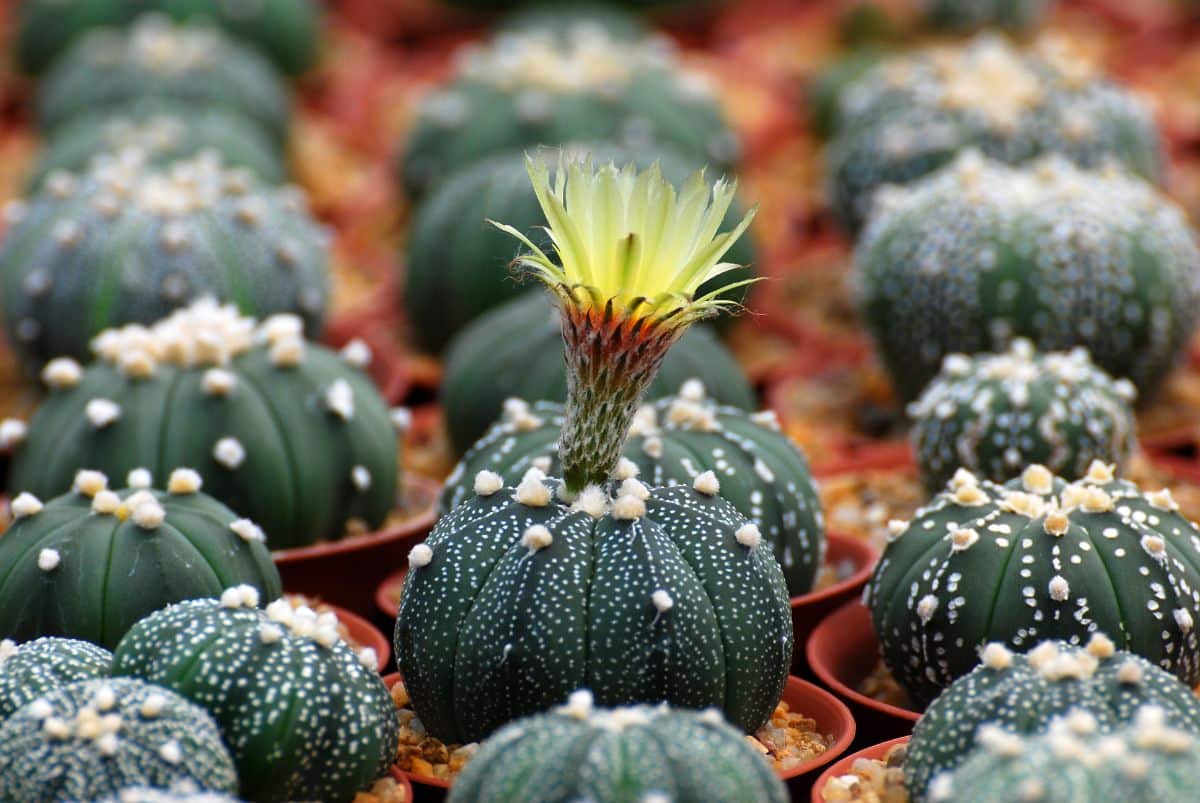 | | |
| --- | --- |
| Plant name: | Star cactus |
| Lighting: | Bright light |
| Watering: | Low |
| Spine size: | Small |
| Other features: | Star cacti have been kept as indoor plants since at least the 1840s. |
Also known as the urchin cactus, star cacti are sometimes referred to as "living rocks" due to their slow-growing nature. Found throughout Mexico and the southwestern United States, these petit cacti have lots of "wow" factor and make unusual additions to houseplant collections.
When kept indoors, star cacti stay quite small and grow to about 2.5" high. Highly lobed and rounded in form, these cacti are patterned with small, white dots, which are known as "aureoles" and contain the cactus' tiny spines.
Once fully mature, star cacti will bloom large, daisy-like flowers that come in a range of colors. Flowers are showy but only last a few days, so be sure to snap some photos while they're in bloom!
8. Moon cactus (Gymnocalycium mihanovichii)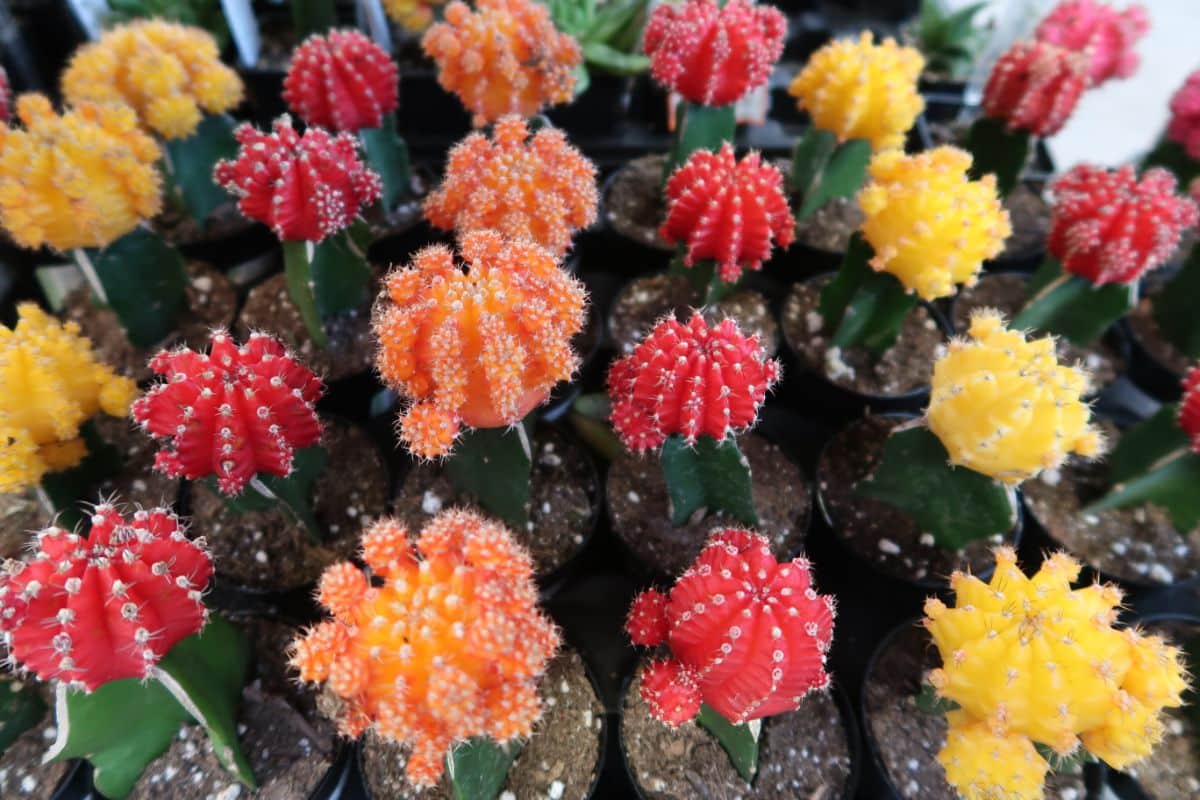 | | |
| --- | --- |
| Plant name: | Moon cactus |
| Lighting: | Bright, indirect light |
| Watering: | Low |
| Spine size: | Small |
| Other features: | Green-form moon cacti are native to South America and don't need to be grafted to survive. |
Moon cacti are some of the most common cacti around, and they're very popular with beginning gardeners. Easy to find at most plant nurseries, this cactus species was first introduced in Japan in 1948.
Moon cacti are an interesting species because they don't exist in nature. In fact, they are actually formed by grafting two different cacti species together: the colorful and globular moon cactus at the top and a dragon fruit cactus stem at the base. This grafting is done because the moon cactus top lacks chlorophyl so it can't grow on its own.
If you like color, these cacti are the perfect choice. Coming in red, orange, yellow, and pink, they are showstoppers in any cactus arrangement.
9. Bishop's cap cactus (Astrophytum myriostigma)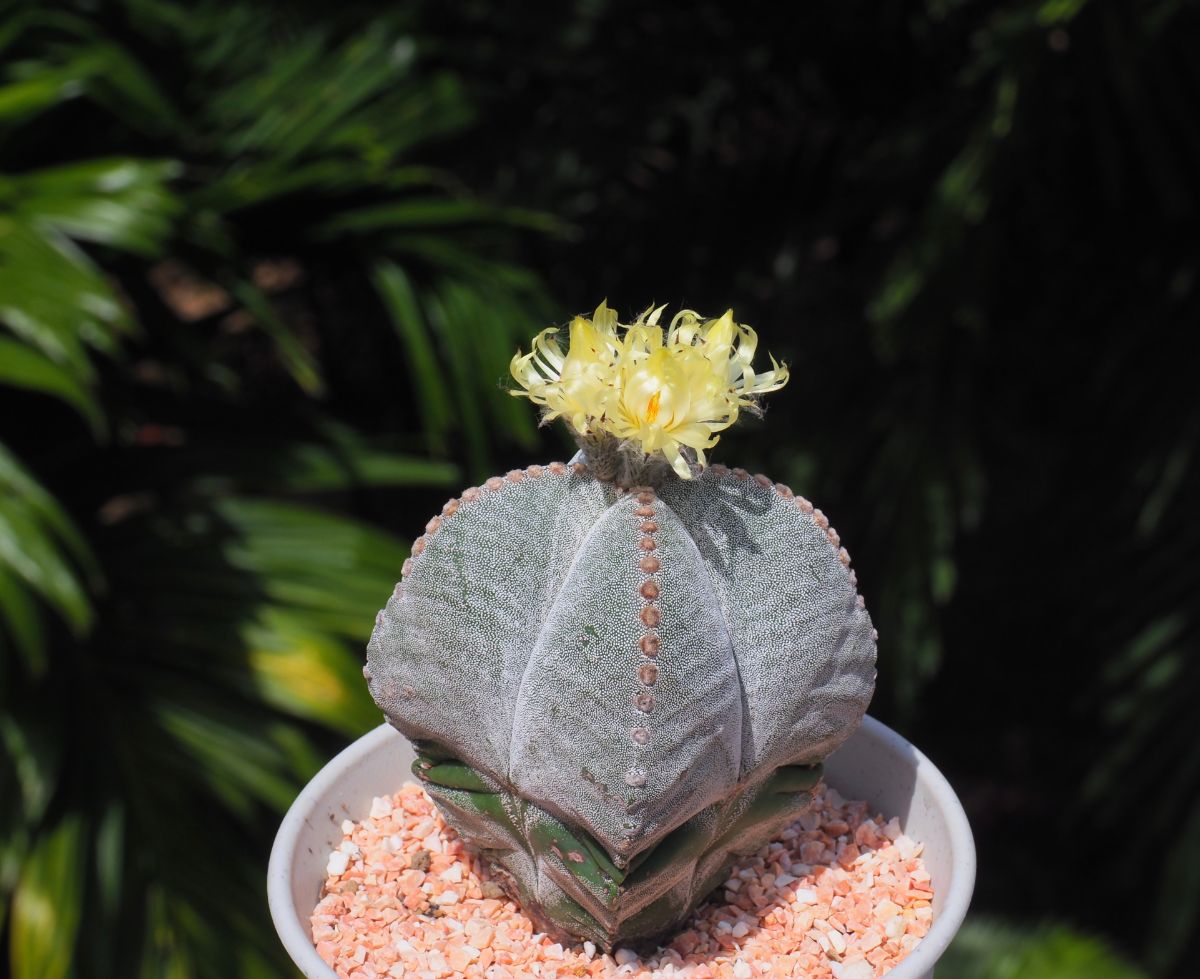 | | |
| --- | --- |
| Plant name: | Bishop's cap cactus |
| Lighting: | Bright light |
| Watering: | Low |
| Spine size: | Usually spineless |
| Other features: | These cacti are spring bloomers and may take up to 6 years to flower. |
Bishop's cap cacti are star-shaped and globular, with protruding ribs that form a shape that is said to resemble a bishop's cap. Native to the mountainous regions of Mexico, this cactus can also be found along the southern border of the United States. A favorite among plant keepers, bishop's caps are particularly great for home with pets as most of these plants are naturally spine-free.
Yellow, daisy-like flowers appear as the plant ages, and these blooms emit a pleasant, light fragrance. Capable of handling bright light when mature, protect young plants from too much light by placing them near a sheer curtain or in bright, indirect light until they get older.
10. Silver ball cactus (Parodia scopa)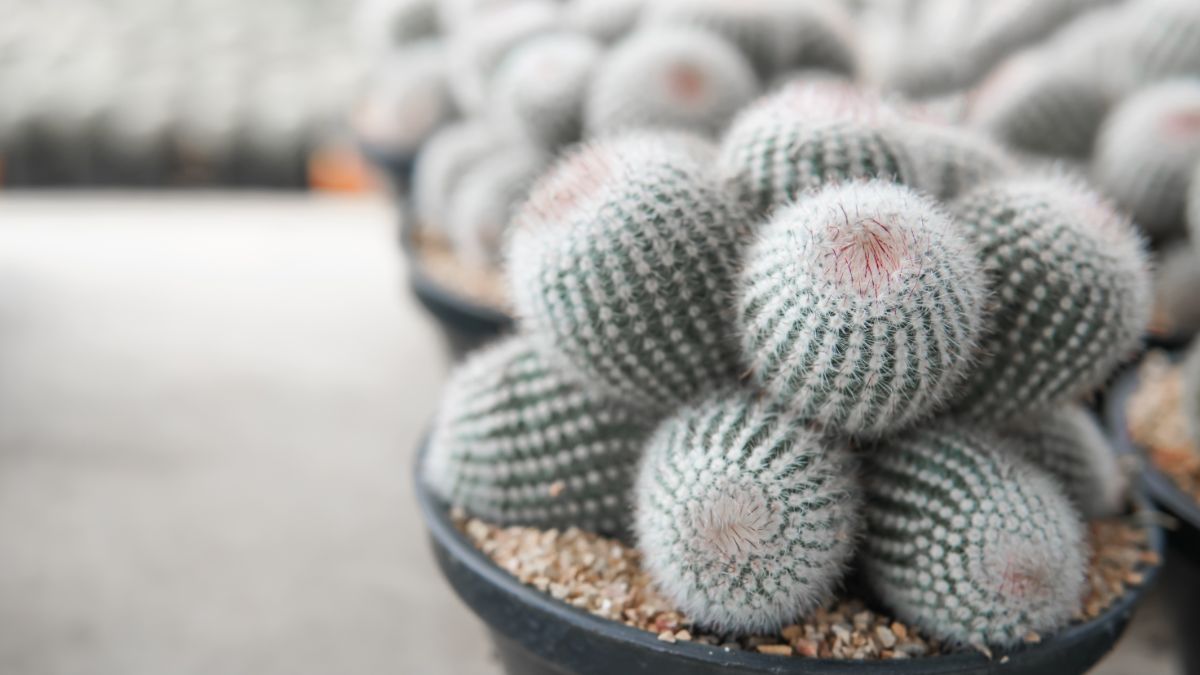 | | |
| --- | --- |
| Plant name: | Silver ball cactus |
| Lighting: | Bright light |
| Watering: | Low |
| Spine size: | Medium |
| Other features: | Wild silver ball cacti are threatened, so most storebought plants are grown from seed. |
Silver ball cacti have a nice, light color thanks to their small, yet densely clustered, silver spines. Growing in globular shapes, silver balls often cluster together, and their forms elongate as the plant ages.
Native to South America, this resilient plant is adaptable to both indoor and outdoor growing locations. Just be careful about overwatering your silver ball, as this cactus variety is particularly sensitive to oxygen deprivation, which can occur in waterlogged soil.
11. Ladyfinger cactus (Mammillaria elongata)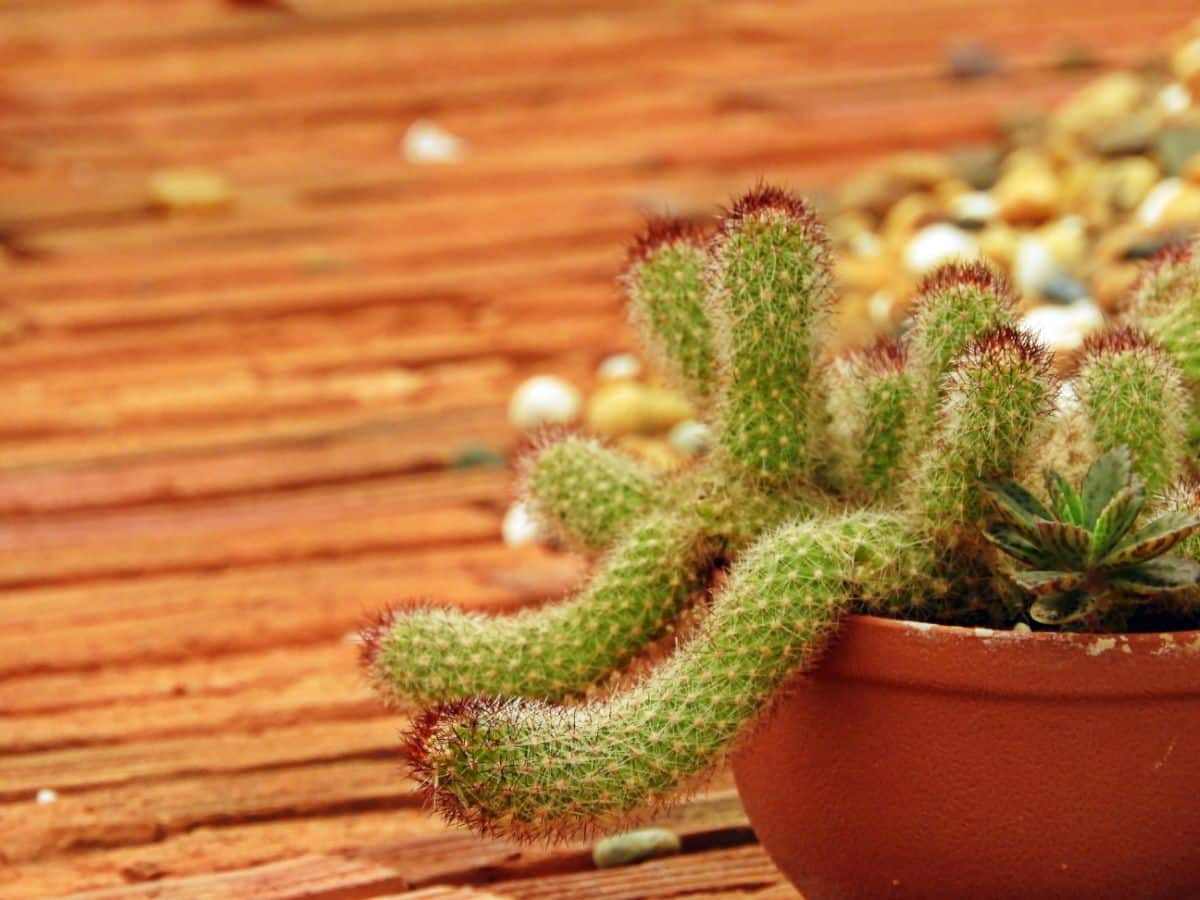 | | |
| --- | --- |
| Plant name: | Ladyfinger cactus |
| Lighting: | Bright light |
| Watering: | Low |
| Spine size: | Small |
| Other features: | There are over 200 different species of cacti in the Mammillaria family, so if you like this plant, there's lots more to choose from! |
Also known as gold lace cactus or golden star cactus, ladyfinger cacti grow in long and slender columns, which can form vertically or develop into cascading clusters in plant pots.
These cacti are covered in small brownish-yellow spines, which give them lots of color, and they bloom pink to yellow flowers in springtime. If you like this cactus, it's also easy to propagate from cuttings or grow from seed.
12. Blue columnar cactus (Pilosocereus Pachycladus)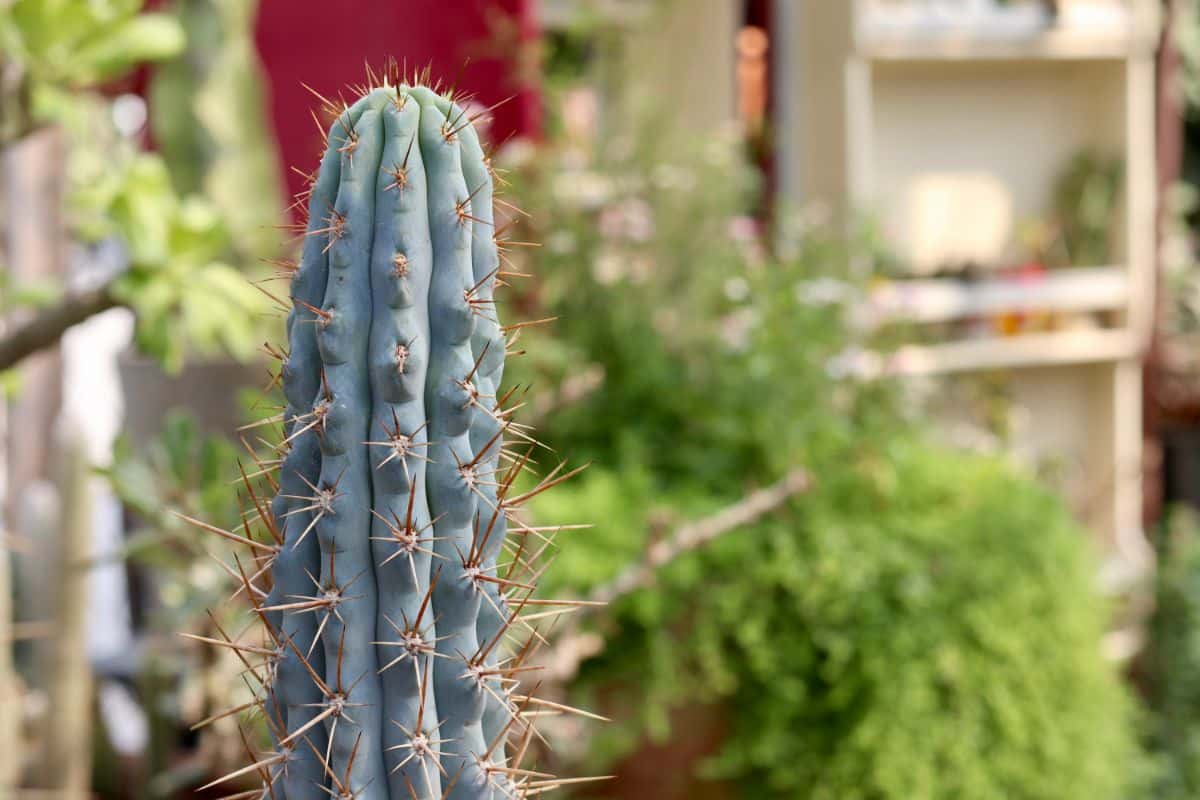 | | |
| --- | --- |
| Plant name: | Blue columnar cactus |
| Lighting: | Bright light |
| Watering: | Low |
| Spine size: | Medium |
| Other features: | In its native Brazil, the blue columnar cactus is used as traditional medicine. |
In the wild, blue columnar cacti can grow over 3' tall, but they stay around 6 to 12" as potted plants. Prized for their gorgeous bluish-green flesh, these cacti grow in nice, straight lines that are occasionally dotted by large and attractive creamy-colored flowers.
With larger spines, you'll want to take care when handling this plant. It's also a good idea to reduce watering significantly in wintertime as these cacti go dormant during the cooler part of the year.
Keeping pets away from your cacti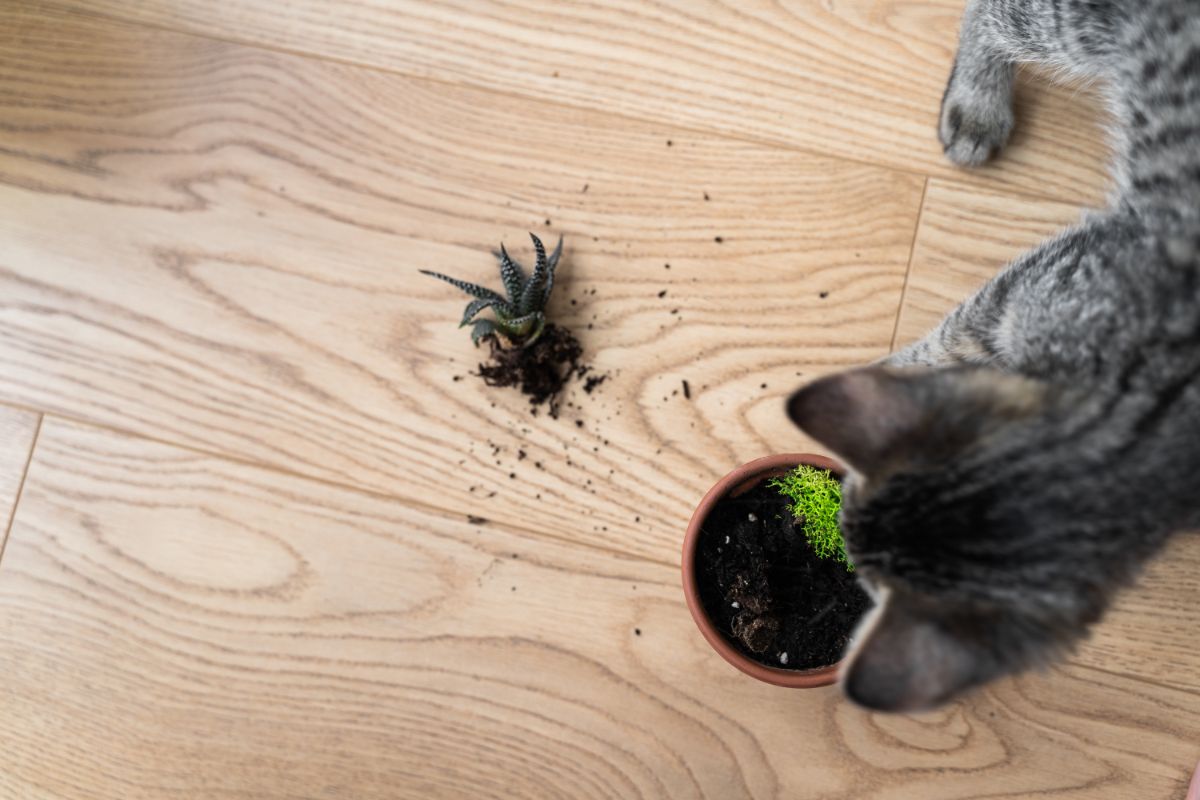 Thanks to their spines, cacti have a natural line of defense against predation, so most house pets tend to leave cacti alone. However, some pets can be quite naughty, so you may want to follow these quick tips to keep your plants (and pets) safe:
Place your cacti in out of the way locations, like on a high shelf or in a hanging basket.
Avoid placing your plants in areas your pets like to hang out, such as on a favorite windowsill.
Try out some pet repellant sprays.
Use a pet-repellant plug in.
Lay down aluminum foil or double-sided tape near your plants.
Frequently asked questions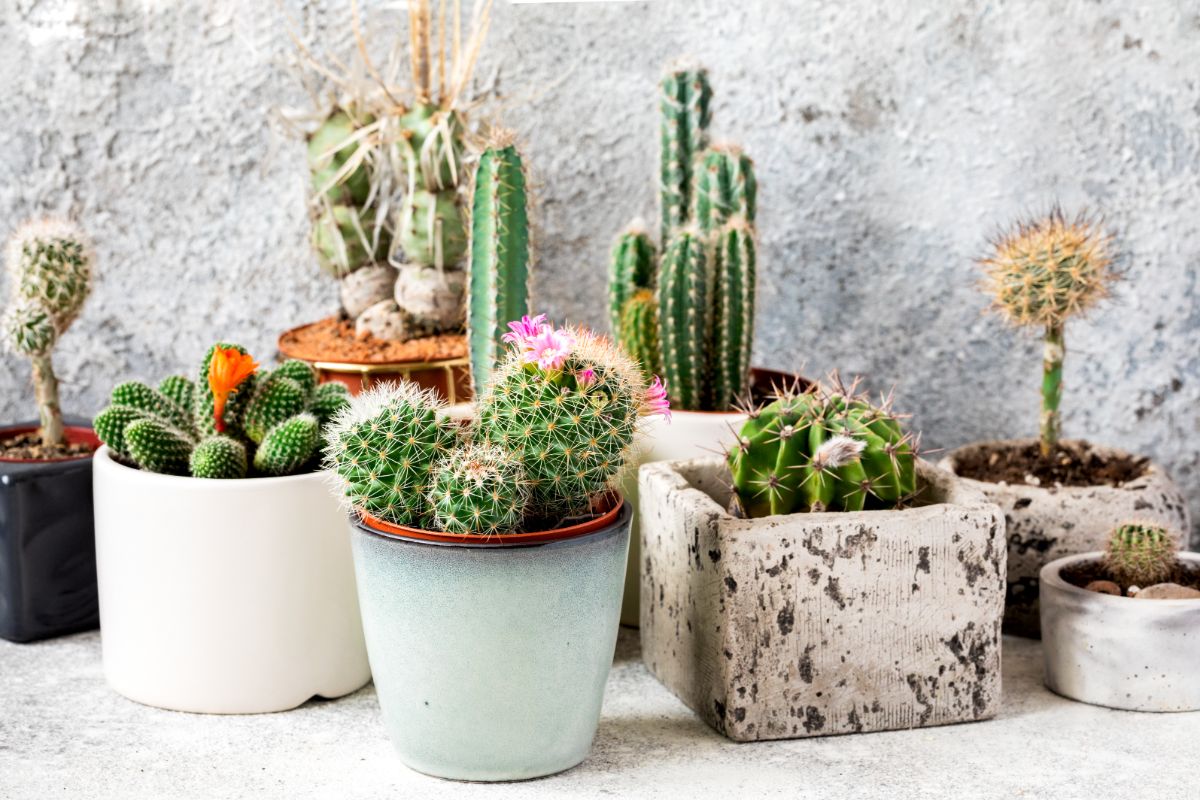 Are cactus plants toxic to pets?
Most cacti are not toxic, but they do have spines which can still do a fair amount of damage. For this reason, do your best to keep your cacti away from curious house pets to prevent them from having an encounter with sharp cactus spines.
Are cactus spines poisonous?
Cactus spines are not poisonous, but a few cactus species contain toxins that can cause skin irritation and other symptoms. Larger cactus spines can hurt a lot too, especially if they become imbedded in the skin and can cause infection. So, if you or your pet gets pricked by a cactus, be sure to remove the spine and follow proper first aid measures.
What if my dog eats a cactus?
Although most cacti are not toxic, their spines can be painful and even cause breathing issues or intestinal distress if ingested. For this reason, if you think your pet ate your cactus, call your vet.
What cacti are safe for cats?
Compared to many houseplants, cacti are relatively safe for homes with cats and dogs. Some of the best choices for pet-friendly homes are cacti with no spines, such as the spineless varieties of dragon fruit.
How to remove cactus needles from your pet?
If your pet gets stuck with a cactus spine, you'll want to remove the spine if you can. Usually tweezers will do the trick and then follow-up treatment with a pet-safe, topical antibiotic. If you're having difficulty removing the spine yourself, or the spine is in a very delicate area, give your vet a call.
What are the best cacti for hanging baskets?
Any cacti can be placed in a hanging basket, but cacti with long and trailing growth habits tend to look best. For hanging planters, try out the fishbone cactus or dragon fruit cactus which are sure to create a striking display.
Summary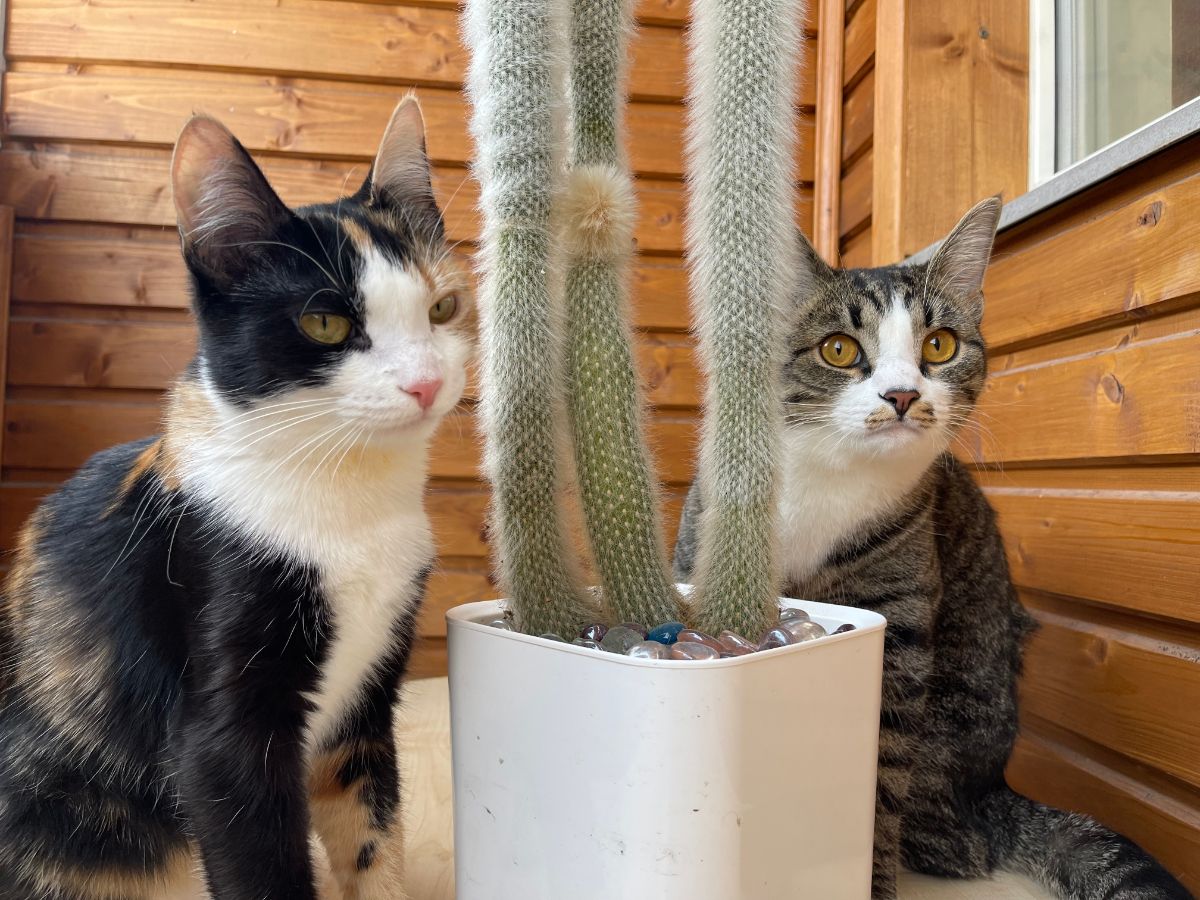 Cacti are fun plants to keep, and since most cacti are non-toxic, they are some of the safer houseplants for homes with pets. Protected by sharp spines, cacti are naturally repulsive to most pets, and they make perfect plants for beginning gardeners, frequent travelers, or anyone who is simply looking to expand their plant collection.
We hope you liked this article! If you want to read more about easy-care plants, check out this guide on other low-maintenance houseplants.