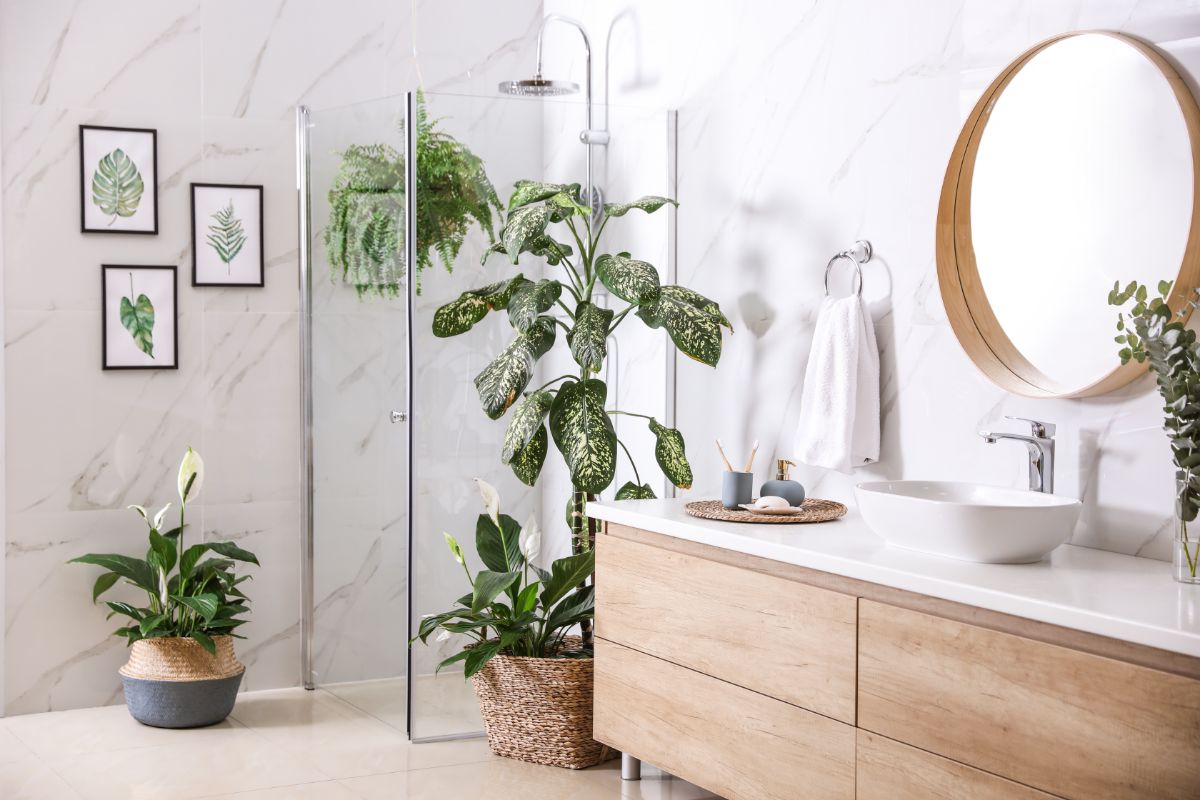 If you are a houseplant enthusiast, you know the struggle. You've already filled your living room, your bedroom, and kitchen with plants, but you still want to expand your collection. Or maybe, instead, you simply have a humid bathroom and you're looking for an easy, low-cost way to counteract moisture issues.
Whatever the reason, you want to add some plants to your bathroom space, but you've heard bathrooms can be tricky spaces to garden in. But no worries. Though bathrooms may not be the easiest rooms to keep plants in, by choosing the right plants and following a few simple tricks it is definitely possible to grow plants in even the steamiest, dimly lit bathroom.
Read on for some tips on keeping houseplants in your bathroom and our top choices for hardy houseplants that will thrive in any bathroom, no matter what.
Jump to:
Top 30 best plants to keep in your bathroom
While there are many great houseplants that are well-adapted to the unique growing conditions bathrooms provide, we've compiled a list of our top 30 favorite humidity-loving houseplants that will thrive in any bathroom space. Read on for a bit of information about each plant and why we think you'll love them as much as we do.
1. Boston Fern (Nephrolepis exaltata)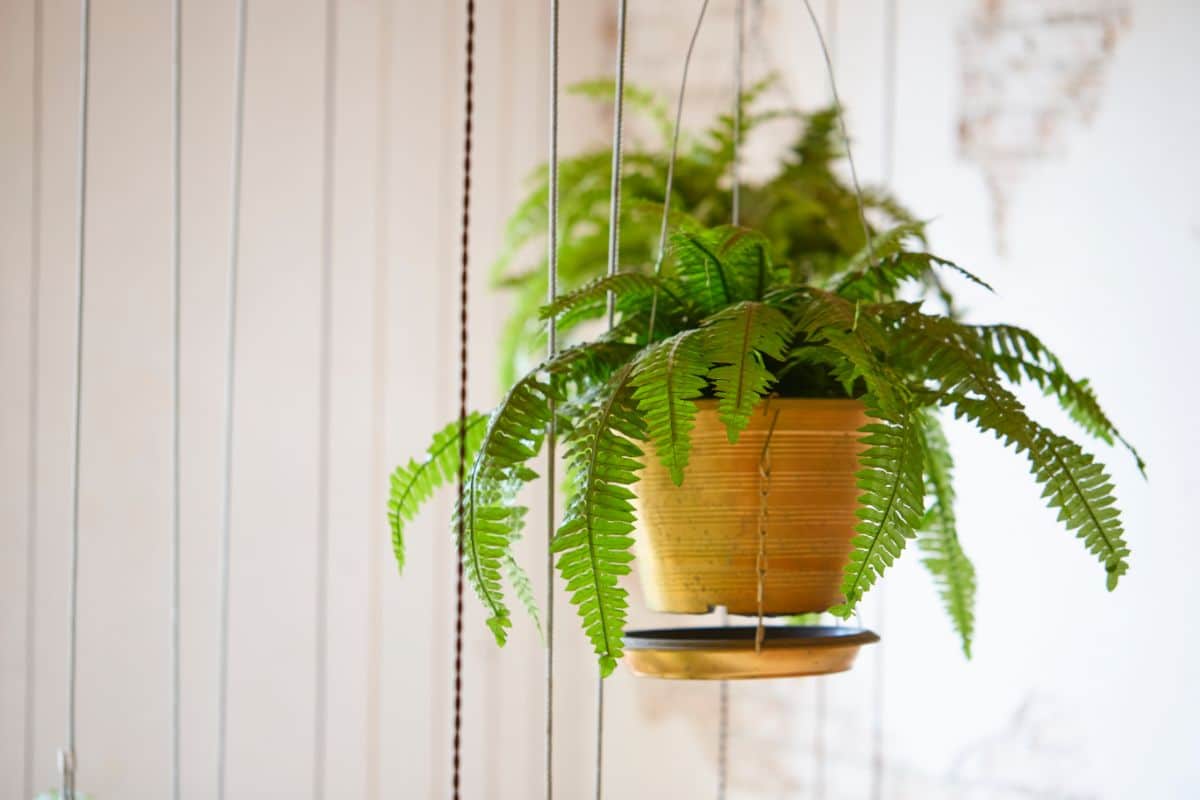 Many fern species are perfectly suited for being kept in bathrooms, with some ferns even relishing being placed in bathroom tubs and sprayed directly with showerheads from time to time. But while there are many gorgeous fern species to try in your home, the lush foliage and large size of Boston ferns make them a particularly striking specimen to keep.
Growing up to 3' tall by 3' wide when kept as houseplants, Boston ferns love high humidity and require humidity levels of above 80% for optimal growth. This makes them ideal candidates for frequently used, steamy bathrooms where they can help to counter humidity levels, reducing mold growth and mildew.
Preferring bright, indirect light, your Boston fern may begin to get spindly in inadequate lighting; however, too much bright light can cause leaf burn, so try to aim for a happy medium. As far as watering goes, keep your fern's soil consistently moist, but not soggy, during the growing season (spring and summer), but feel free to reduce waterings a bit during winter when your fern goes dormant.
Non-toxic to cats and dogs, Boston fern is a perfect bathroom plant to keep if you have curious pets as well!
2. Pothos (Epipremnum aureum)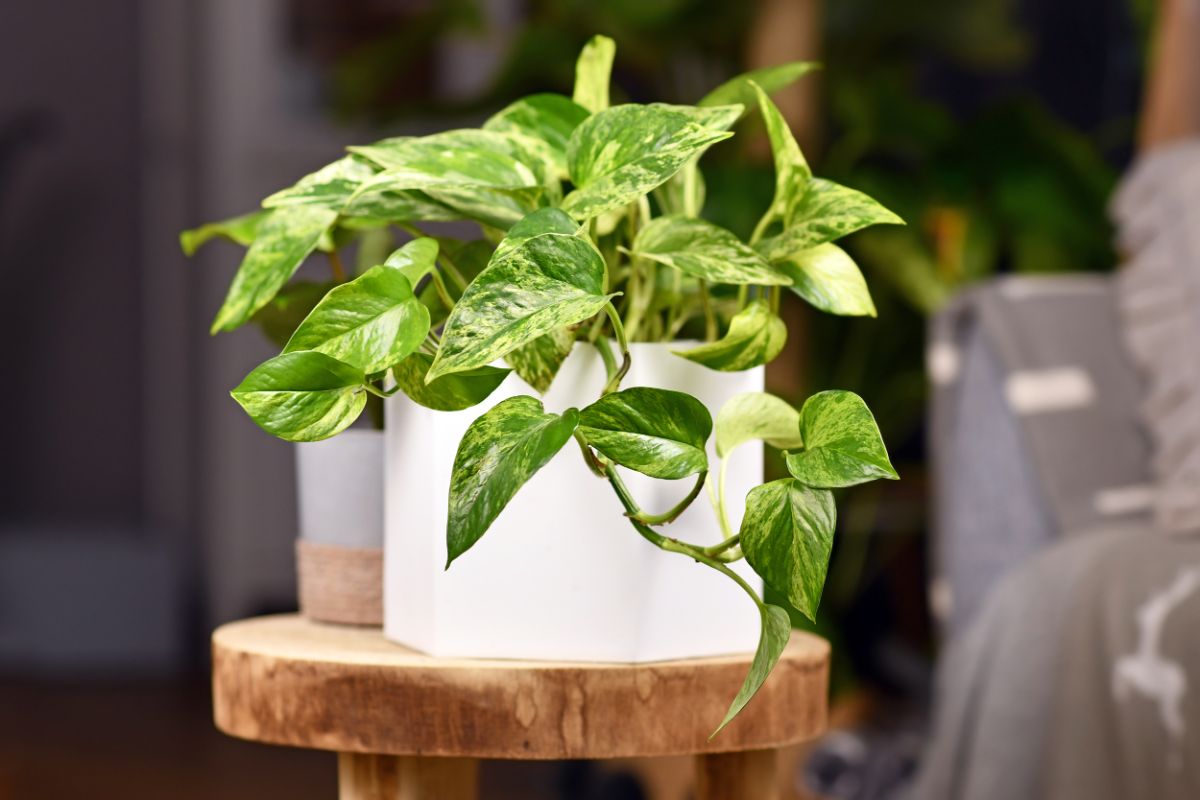 Also known as "devil's ivy," for its vigorous growth habit, pothos is a super easy, low maintenance plant to keep. But just because it's easy care, doesn't mean the humble pothos won't add a tropical flare to your bathroom space. Growing in long, trailing vines which look stunning in a hanging basket, when properly kept, pothos can grow quite large -- even up to 6 to 10' long!
If you don't consider yourself to have a "green thumb," pothos may be just the plant for you. Requiring moderate watering, water your pothos when the top 1 to 2" of soil feels dry to the touch and try to avoid waterlogged soil as these plants can be susceptible to root rot if they are kept in soggy pots. Adaptable to even low light situations, pothos can grow in bright, indirect light too, making them great choices for any bathroom.
Coming in many different striking varieties, some boast colorful or highly variegated foliage patterns. Popular varieties include marble queen pothos, neon pothos and jade pothos. If you're a fan of plants, consider getting more than one type of pothos to add interest to your houseplant collection.
Propagating easily in water, pothos is an excellent plant to keep if you enjoy sharing cuttings with friends or family. What's more, you can plant multiple cuttings of your pothos in a single pot to create a fuller, bushier-looking houseplant.
Toxic to cats and dogs, try to keep your pothos out of harm's way by hanging it high in a hanging basket or elevated shelf.
3. Air Plants (Tillandsiaspp.)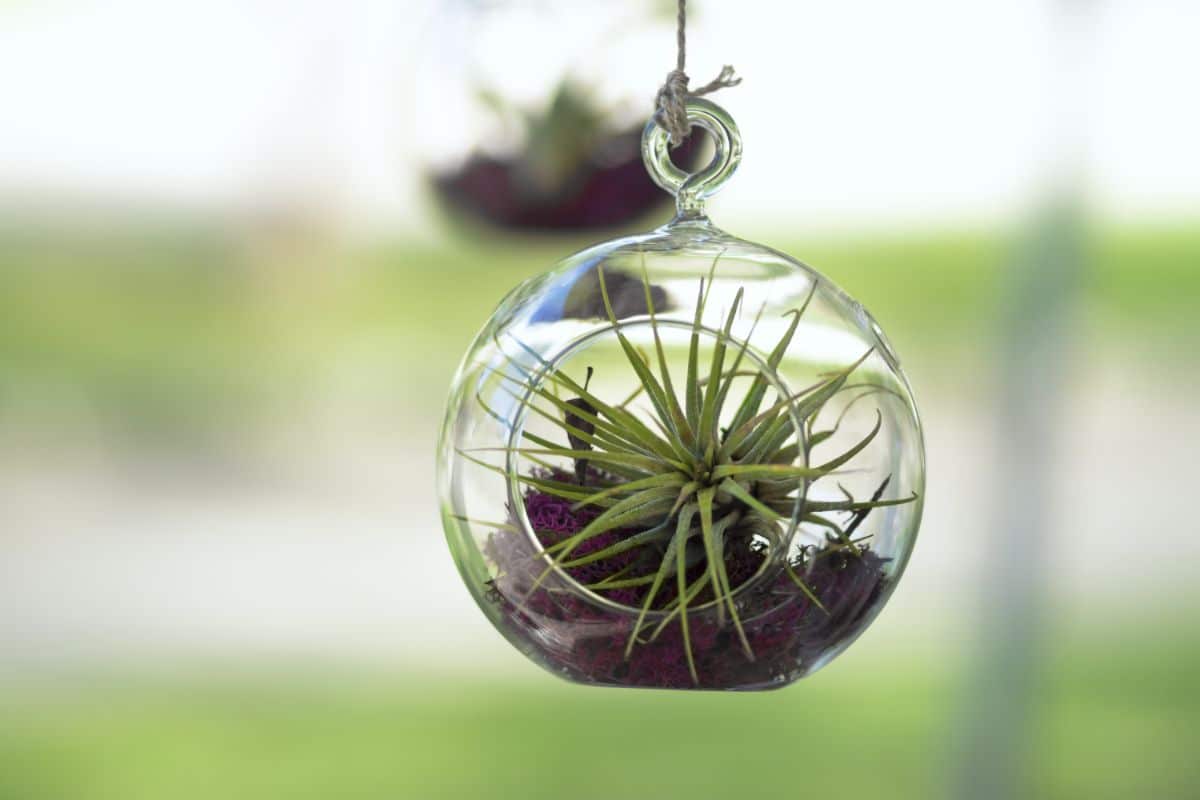 There are many different types of air plants and all of them are great choices for keeping in bathrooms. As epiphytes, air plants naturally grow high up in trees in tropical areas where they use their roots to anchor themselves to bark and branches. From this elevated perch, they happily live, receiving all the moisture and nutrients they need from the air, rather than the soil.
In a bathroom, air plants can help reduce high humidity levels in the air and, depending on how steamy your room is, your air plants may not need any additional watering. If, however, you choose to keep your plants in a guest bathroom, try regularly spritzing your air plants with a bit of water.
Preferring bright, indirect light, air plants bloom only once in their lifetime. After they bloom, many air plants will begin to produce "pups," or baby air plants, naturally growing your houseplant collection.
Non-toxic to pets, air plants look particularly striking when mounted on a bit of driftwood or hung from a hanging planter.
4. Lucky Bamboo (Dracaena sanderiana)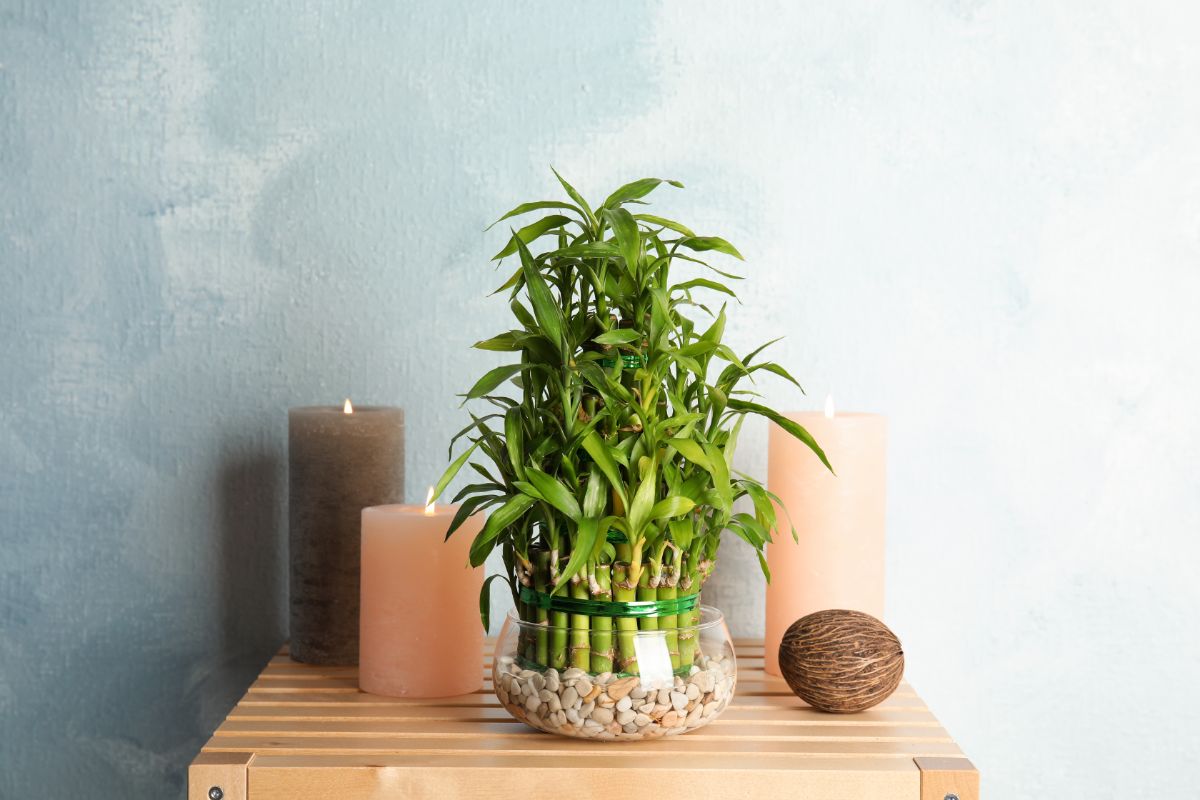 Despite its name, lucky bamboo isn't bamboo at all, although its segmented stems closely resemble bamboo. Able to grow in either water or soil, lucky bamboo is often gifted as housewarming or graduation gifts as it is believed to bring luck to your home.
Easy to care for, lucky bamboo does best in bright, indirect light, as bright light can cause leaf burn. If planted in soil, keep your soil moist, but not soggy, to prevent root rot and avoid overfertilizing your plant as these plants are very susceptible to high levels of fertilizer, which can cause plant death.
Toxic to pets, if you intend to keep your lucky bamboo in your bathroom, keep your door closed or try spraying your plant with a pet deterrent spray.
5. China Doll Plant (Radermachera sinica)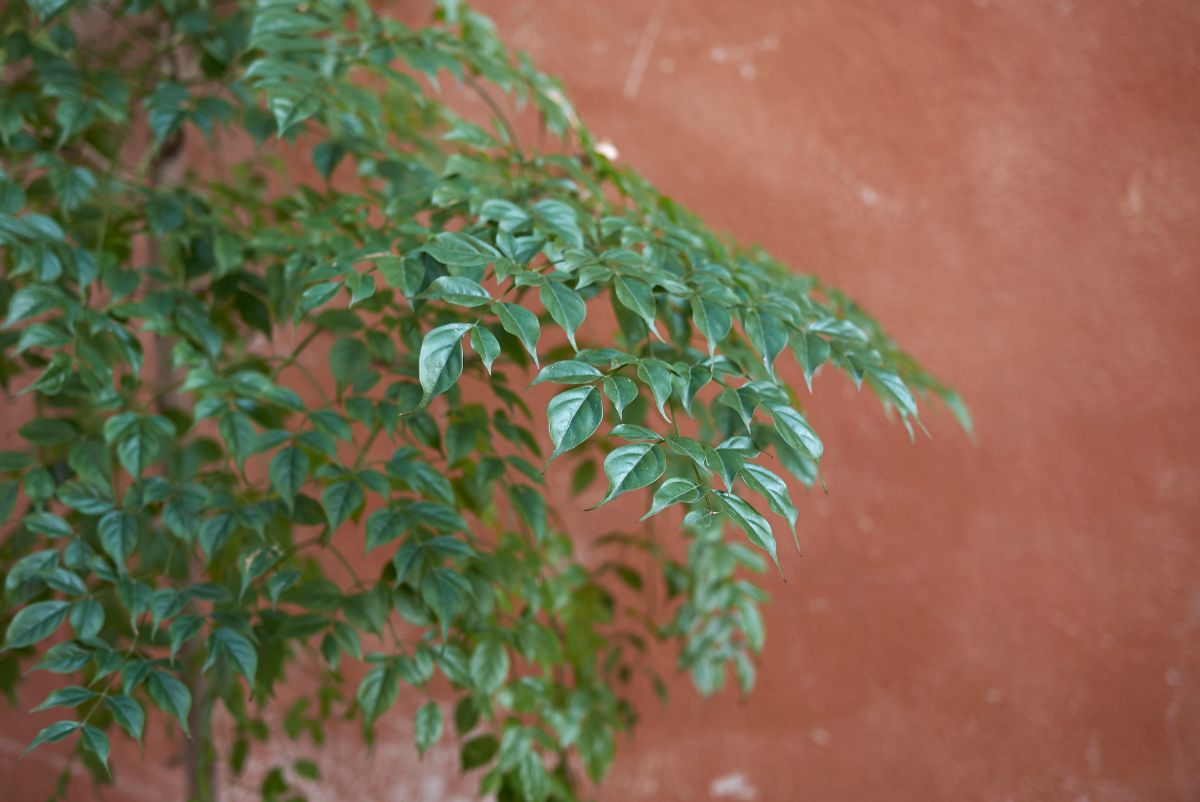 China doll plants are often hard to find, but they are definitely worth the search if you can locate one. Offering rich green, lacy foliage, these stunning plants are easy to care for and make perfect additions to any bathroom.
Keep your China doll plant in bright, indirect light and water it regularly, when the top 1 to 2" is dry to the touch. When kept happy, your China doll will reward you by growing quite quickly, reaching up to 8' tall as a houseplant.
Pet-safe, China dolls can be prone to pest infestations, such as scale or spider mites, so be sure to check your plant from time to time for any signs of trouble.
6. Pitcher Plant (Nepenthes spp.)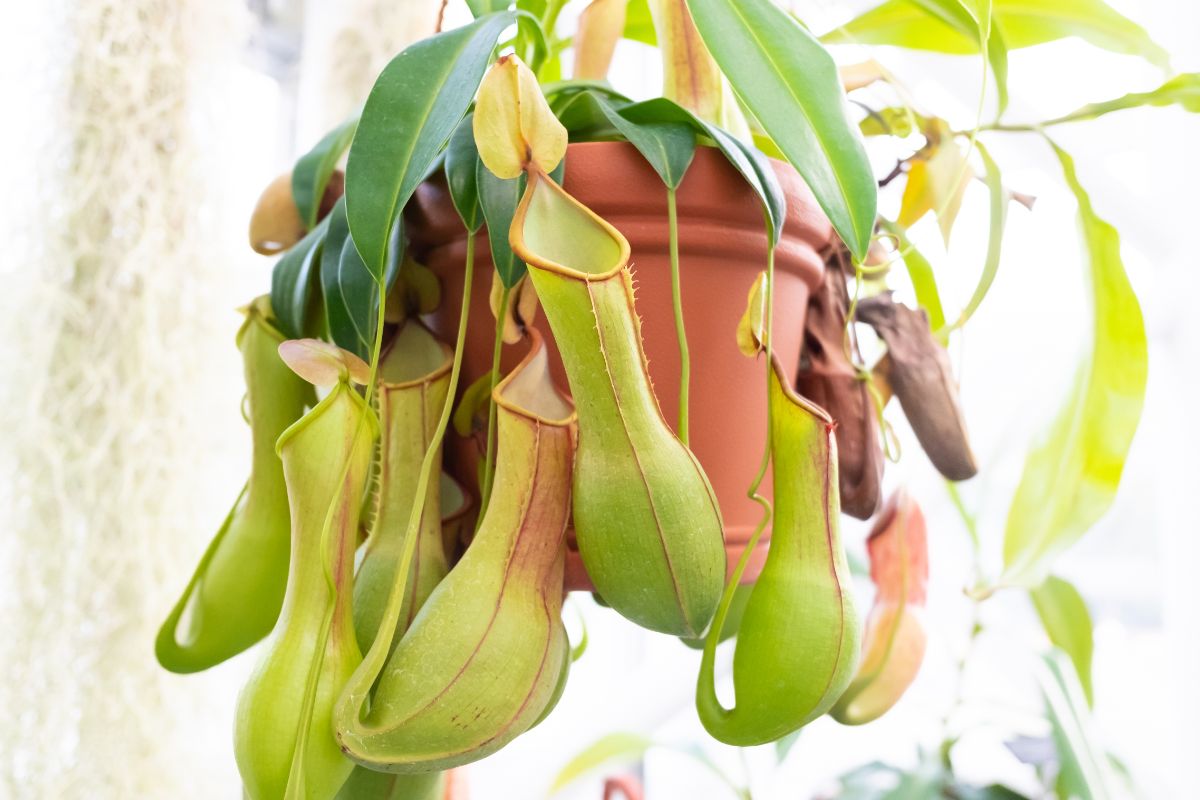 If you like funky-looking plants with an unusual flare, try adding a pitcher plant to your bathroom set up. A carnivorous plant, pitcher plants naturally attract insects to their pitchers to supplement the nutrients they need to thrive. This can be an unexpected perk of keeping pitcher plants as they will help ensure your home stays pest free.
Ideal for keeping in hanging baskets, pitcher plants enjoy bright, indirect light and need consistently moist, but not soggy, soil. Keep in mind, however, that these unique plants do not tolerate fertilizer or chemicals and do best when watered with rain or distilled water, rather than water straight from the tap.
Non-toxic to pets, higher humidity levels make pitcher plants produce more pitchers, so they are great plants to keep in frequently used, humid bathrooms.
7. Maidenhair Fern (Adiantum raddianum)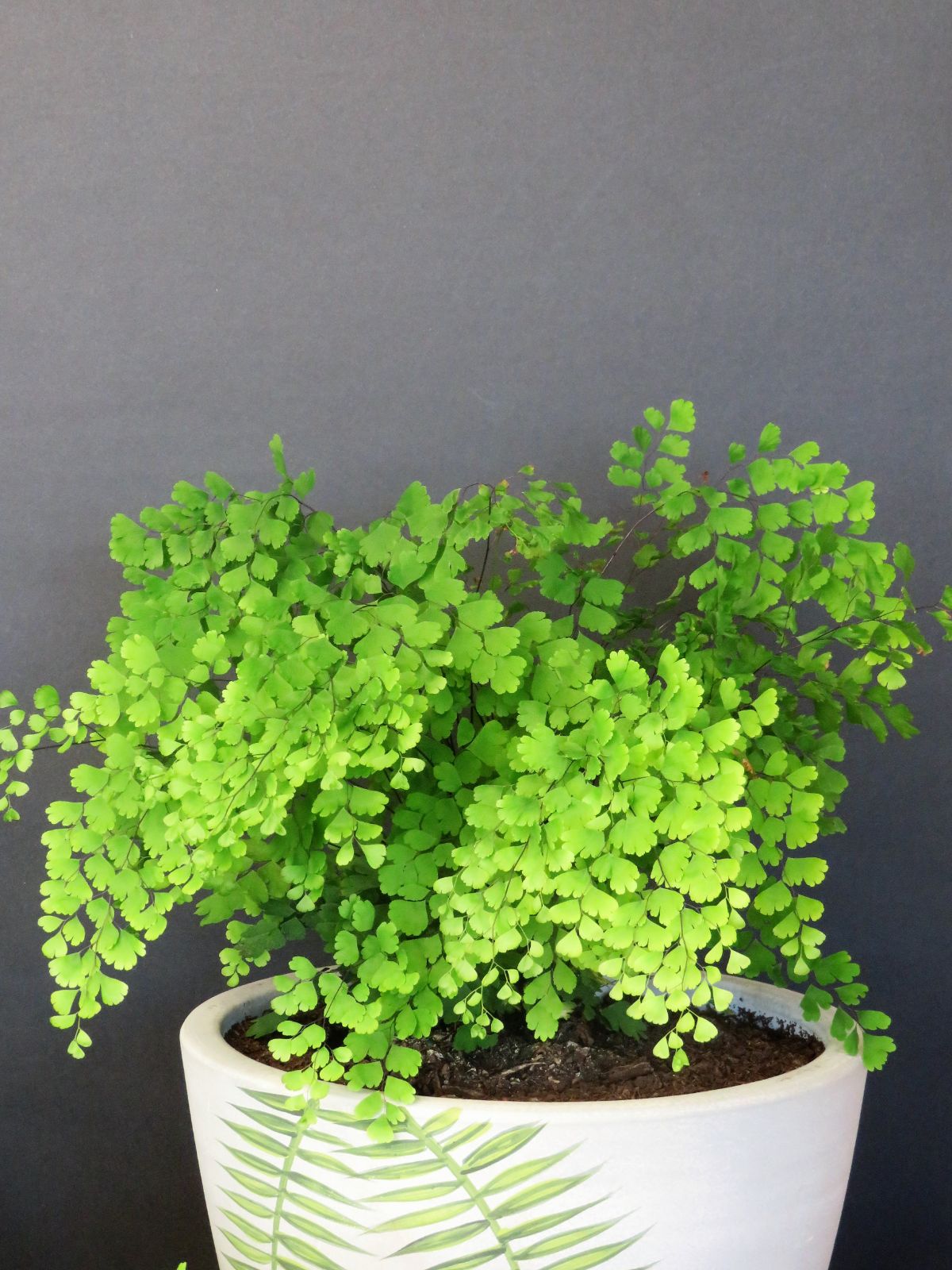 Like other ferns, the maidenhair fern is another beautiful plant that will do exceedingly well in the high humidity environment of a bathroom. Preferring consistently moist, but not soggy soil, keep your maidenhair fern well-watered and place it in a spot with bright, indirect light to avoid leaf burn.
With delicate, lacy leaves, maidenhair ferns are smaller varieties than Boston ferns and only grow about 2' tall. Non-toxic to pets, maidenhair ferns are not heavy feeders and only need minimal fertilizing with a diluted organic fertilizer on occasion.
8. Spider Plant (Chlorophytum comosum)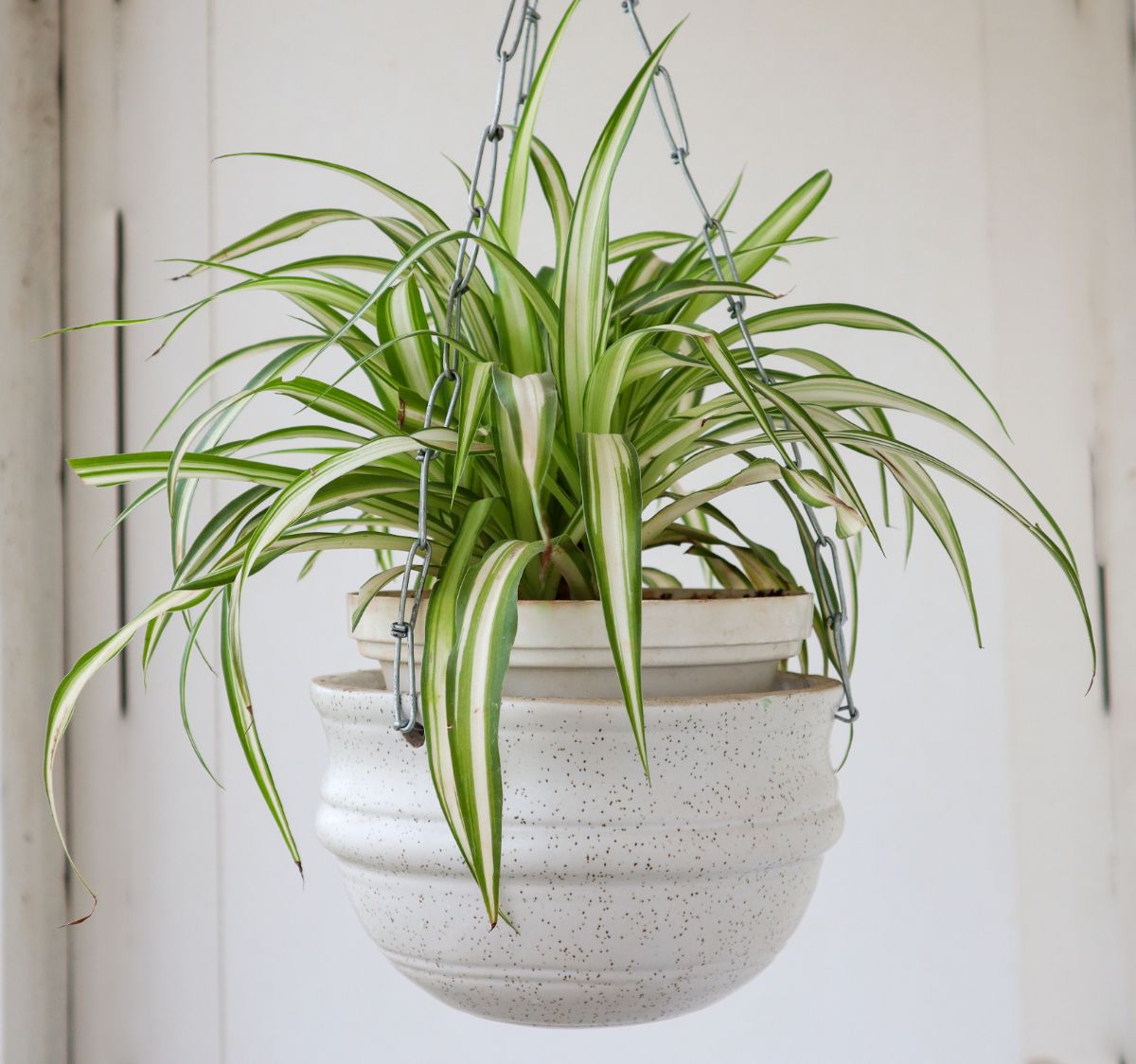 The ever-popular spider plant is a crowd favorite and it's no wonder why. This low maintenance plant is highly adaptable but prefers bright, indirect light and consistent watering, usually about once a week.
Easily propagated in water, when spider plants are well-maintained, they produce tiny white flowers which eventually turn into baby spider plants, also known as spiderettes. Great for exchanging with friends, spider plants' ability to rapidly reproduce means you'll be able to quickly expand your houseplant collection too!
Non-toxic to pets, spider plants come in solid green and variegated varieties. Just keep in mind that these plants prefer to be rootbound, so avoid frequent repotting to encourage your plants to flower.
9. Asparagus Fern (Asparagus setaceus)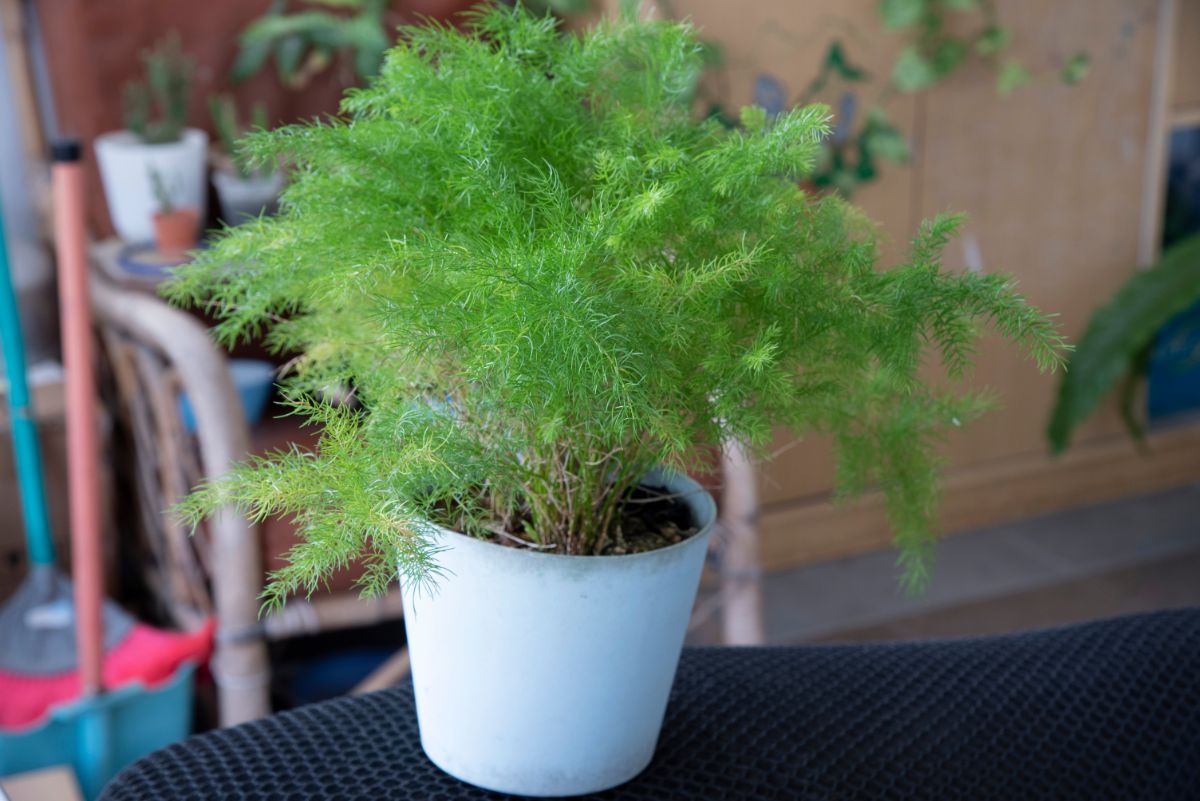 Asparagus fern isn't actually a fern, but is more closely related to asparagus or lilies, depending on which plant classification system you're using. Despite this confusion, this easy-care plant loves humidity and is an ideal houseplant candidate for bathrooms.
Asparagus ferns' feathery foliage may look soft but beware of the tiny thorns that can be found on its stems. Toxic to pets, be sure to keep this plant well out of reach, which can be easily accomplished by potting it up in a hanging basket.
Growing best in well-drained soil and moderate to bright light, asparagus ferns can grow up to 6' long and will add color and interest to your bathroom space.
10. Philodendron (Philodendron spp.)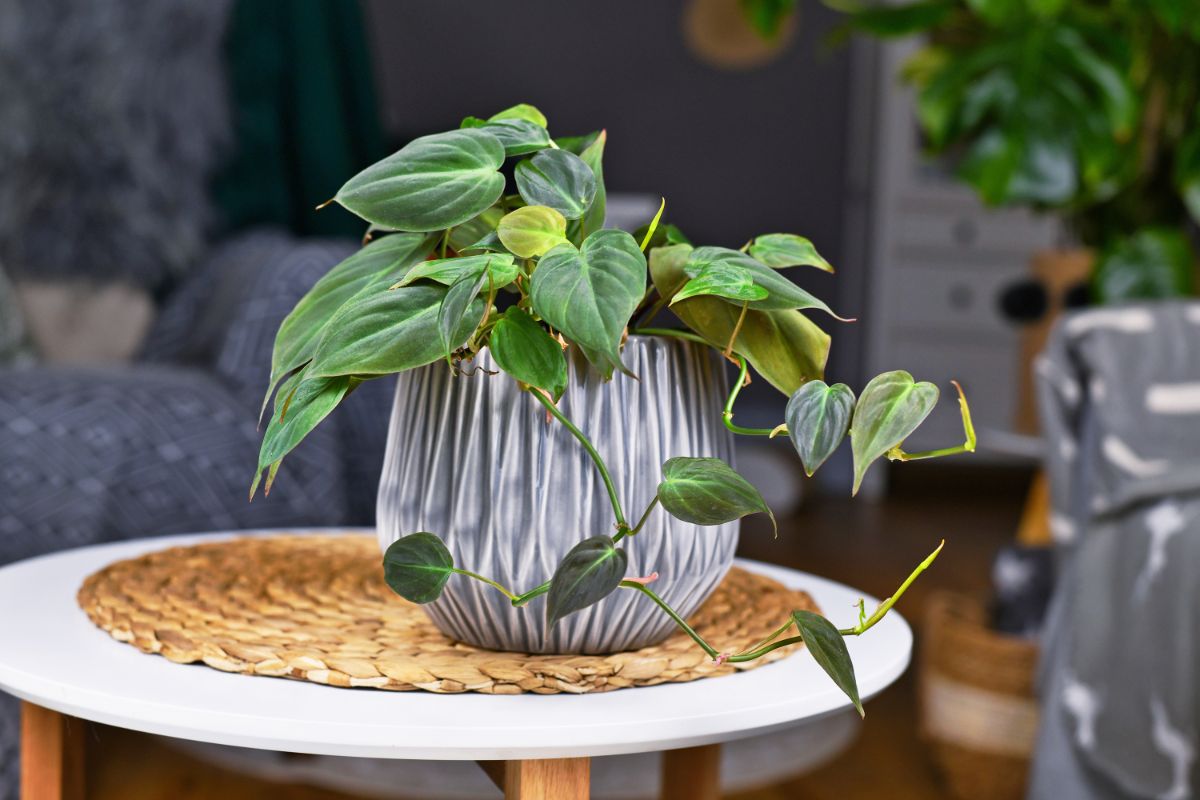 Similar in appearance to pothos, these two plant varieties are easily confused. While many philodendrons are vining species, growing up to 20' long at times, some philodendron species have a more upright growth habit and are much more compact.
Adapted to bright, indirect light, inadequate lighting can cause some leaf loss and bare stems. But not to worry, these easy-care plants don't require much maintenance, just a regular watering schedule.
While these plants are known to be toxic, they make excellent additions to any houseplant collection as long as they are kept out of reach of house pets. Coming in many different varieties, popular options include the velvet leaf philodendron and the heartleaf philodendron.
11. Cast Iron Plant (Aspidistra elatior)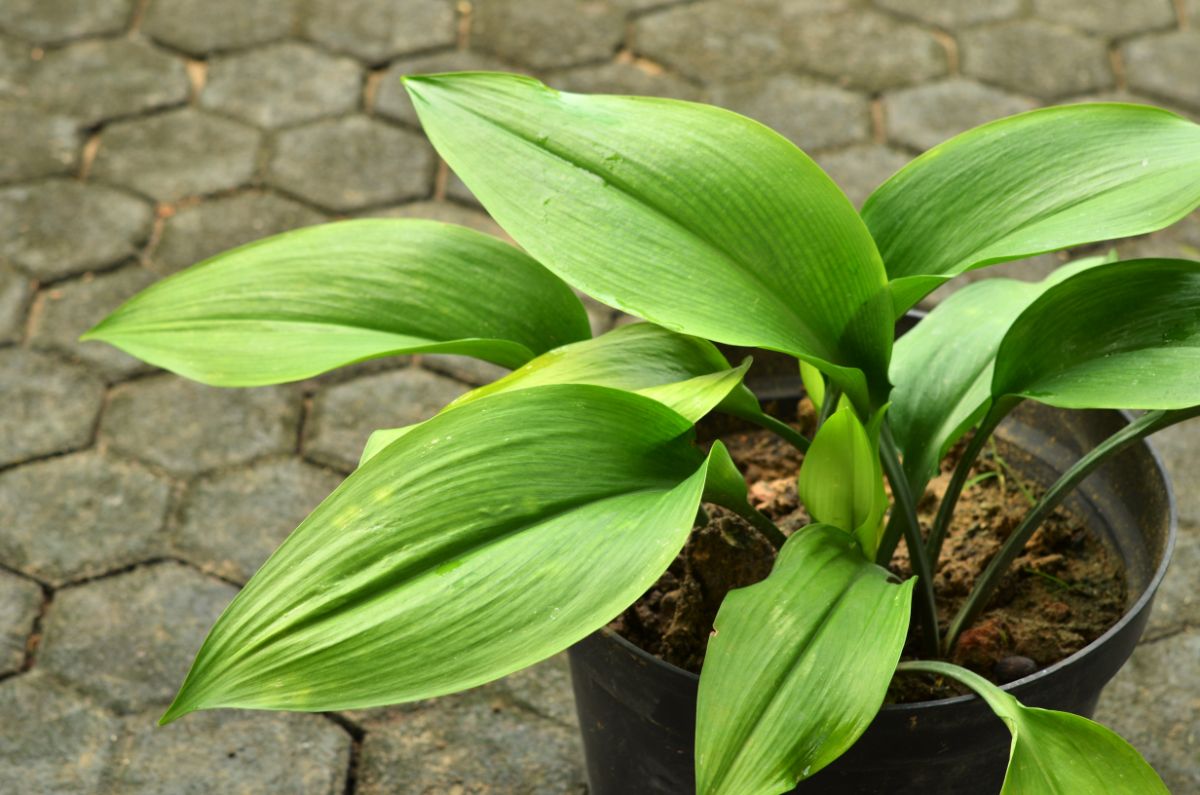 As the name implies, cast iron plants are famously indestructible and highly adaptable plants that make great additions to bathrooms, even ones with poor lighting.
Growing 2 to 3' tall, cast iron plants can tolerate low light and, as they don't require high humidity, they can be excellent choices for infrequently used guest bathrooms. Non-toxic to pets, cast iron plants will occasionally flower, but it is rare.
12. Orchids (Orchidaceae spp.)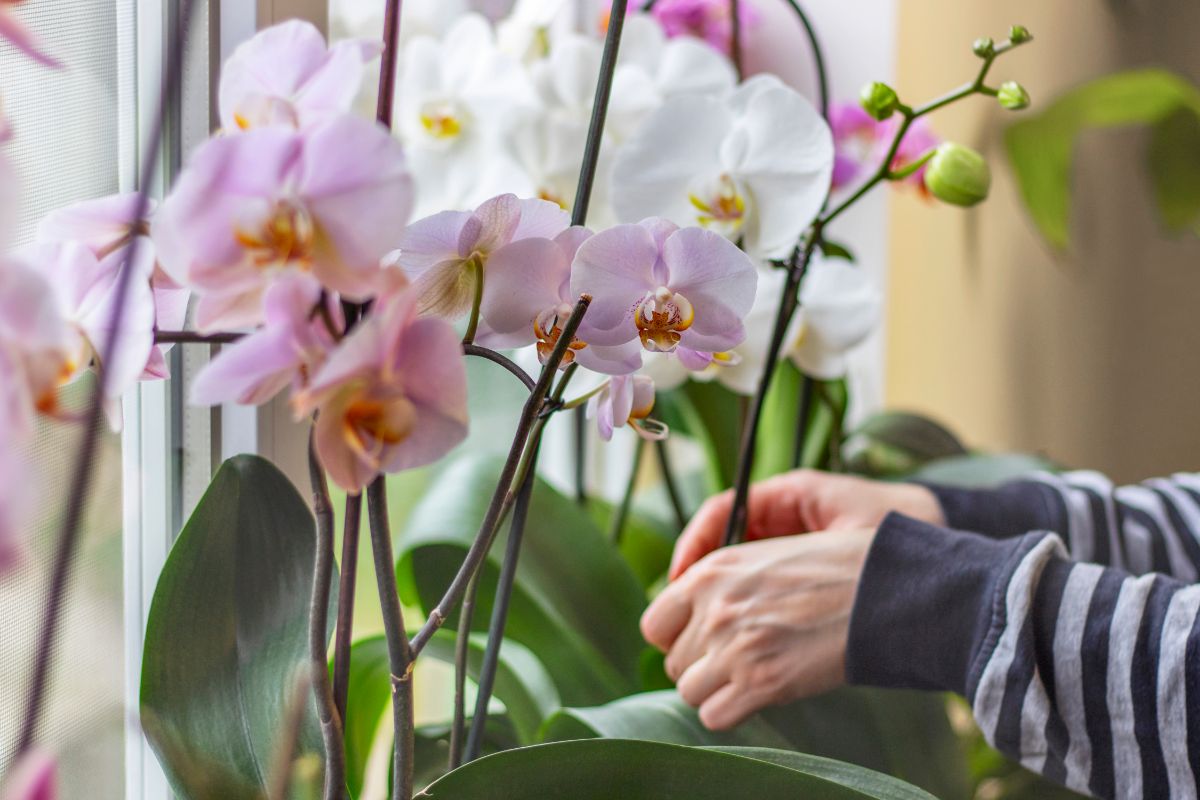 It's estimated that there are somewhere between 25,000 and 30,000 orchid varieties in existence; however, some varieties are much better suited to being houseplants than others.
While there are many orchids to choose from, a perennial favorite is the moth orchid (Phalaenopsis spp.). Easy to care for, moth orchids are epiphytes that are naturally found growing in the crooks of branches in tropical areas. Preferring high humidity and low to bright, indirect light, moth orchids do best when potted in a well-draining bark mix specially formulated for orchids. Coming in pink, purple, red and white, moth orchid blooms are surprisingly long-lasting, and are sure to add a delightful pop of color to your space.
If you have pets, orchids are great plants to keep as all orchids are non-toxic.
13. Staghorn Fern (Platycerium bifurcatum)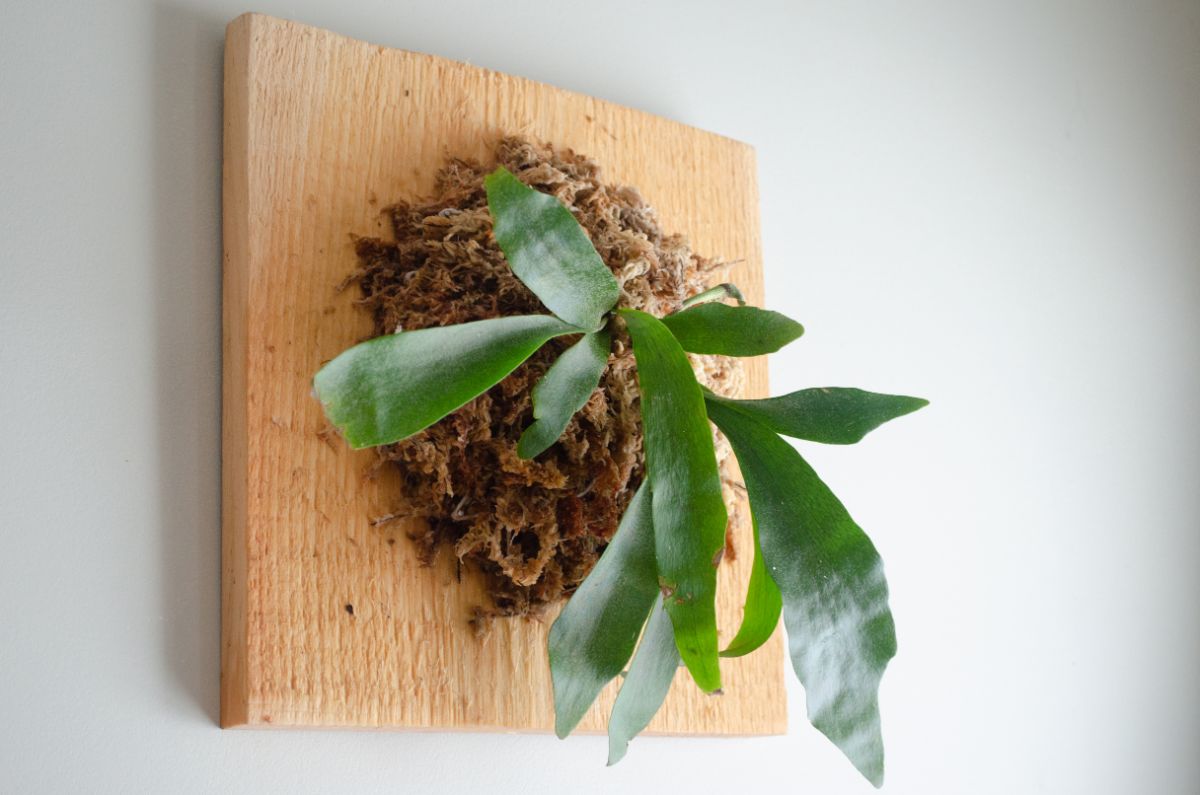 If leafy ferns aren't your style, try an oddball variety: the staghorn fern. Named for its unusual growth pattern that is said to resemble the horns of a stag, staghorn ferns are frequently grown mounted on driftwood or wooden wall mounts, which make for interesting craft projects for the DIY-minded home gardener.
Requiring high humidity levels of between 70% and 80%, staghorn ferns are perfect plants for humid bathroom spaces. Just be sure your plant is placed in bright, indirect light and provide it with regular watering too, allowing it to dry out a bit between waterings.
14. Bamboo (Bambusoideae spp.)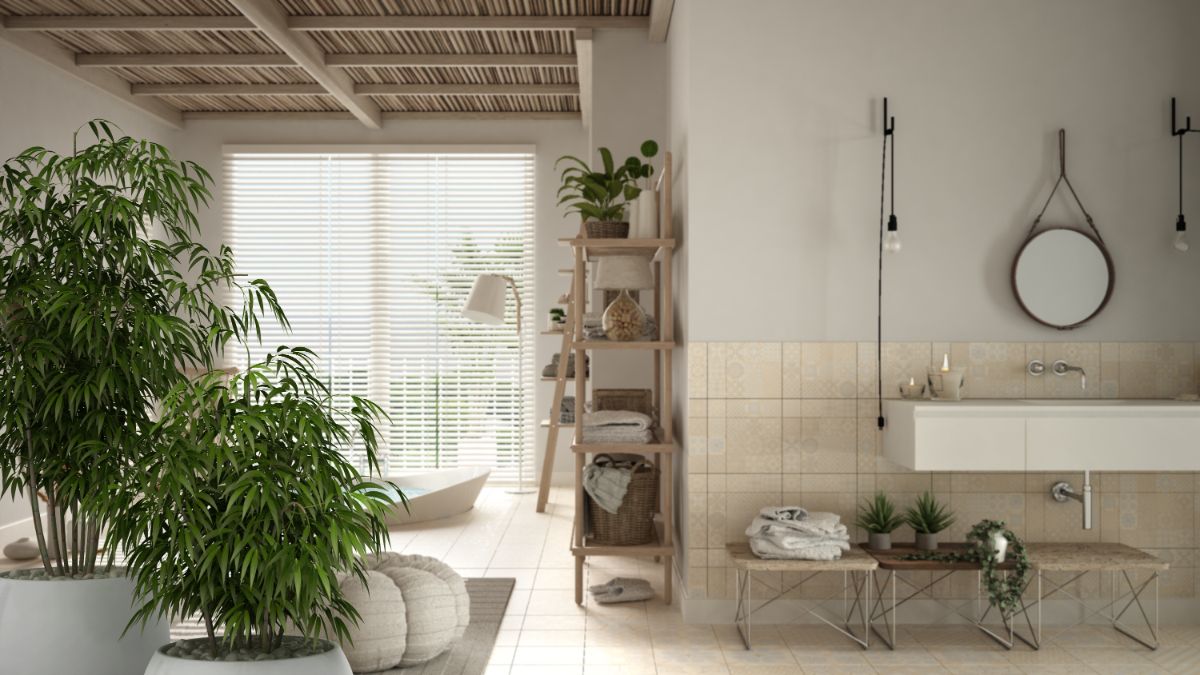 Bamboo is notorious for being invasive when grown outdoors, but did you know you can keep it as an indoor plant too? A rapid grower, bamboo's wild growth habit is someone curtailed when it's kept as a houseplant, particularly if you opt for a clumping variety, rather than running bamboo varieties that spread via rhizomes.
Due to their vigorous growth rate, indoor bamboo plants should be repotted annually and fed weekly with a nitrogen-rich fertilizer during the growing season. Beyond that, simply provide your bamboo with partial shade to full sun and pot it in a well-draining potting mix (bamboo loves sandy soil!) and you should have a happy, tropical looking bathroom plant for years to come.
Oh, and just ask the pandas: true bamboo is non-toxic too!
15. Dieffenbachia (Dieffenbachia spp.)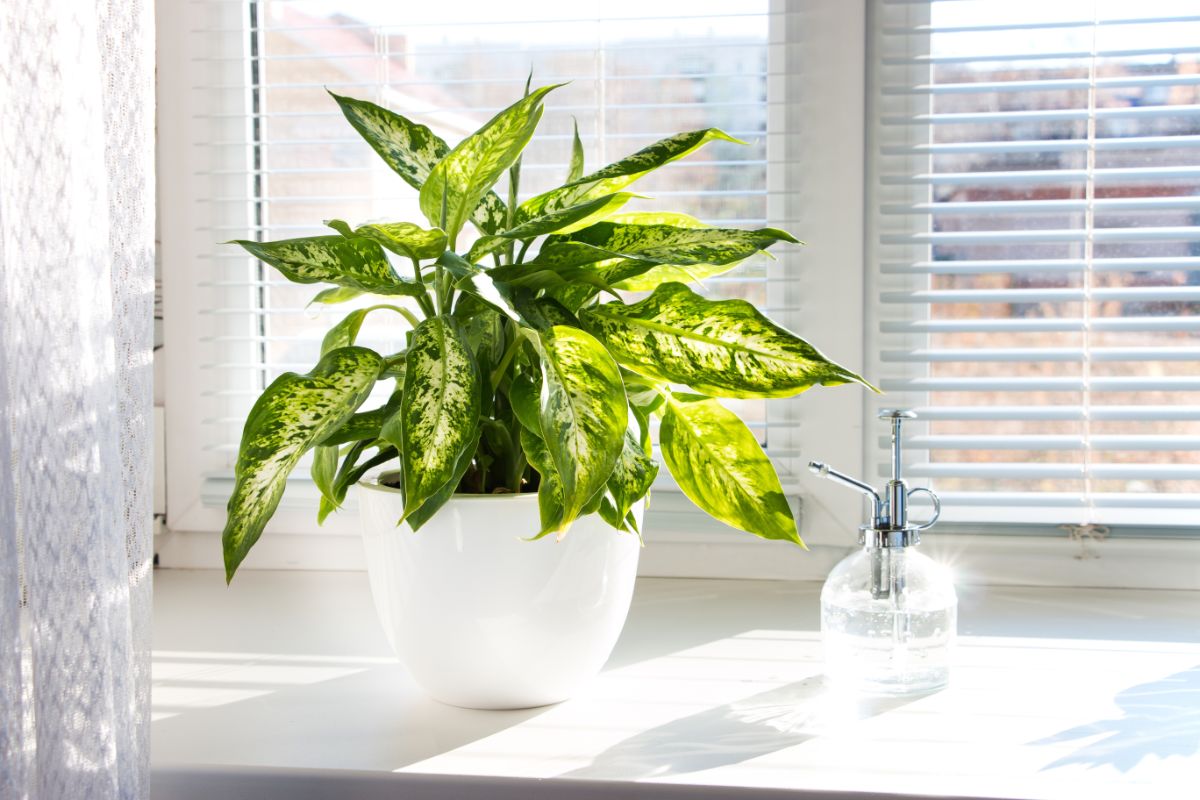 Also known as "dumb cane" for the unpleasant feeling it creates in your mouth if it's ingested, dieffenbachia are toxic to pets, but that doesn't mean they don't make great houseplants in the right space.
Low maintenance, dieffenbachia do best in bright, indirect light, where their striking white and green foliage is sure to please. If you notice your plant is starting to grow crooked, just rotate it a bit to ensure all sides get enough sunlight.
16. Weeping Fig (Ficus benjamina)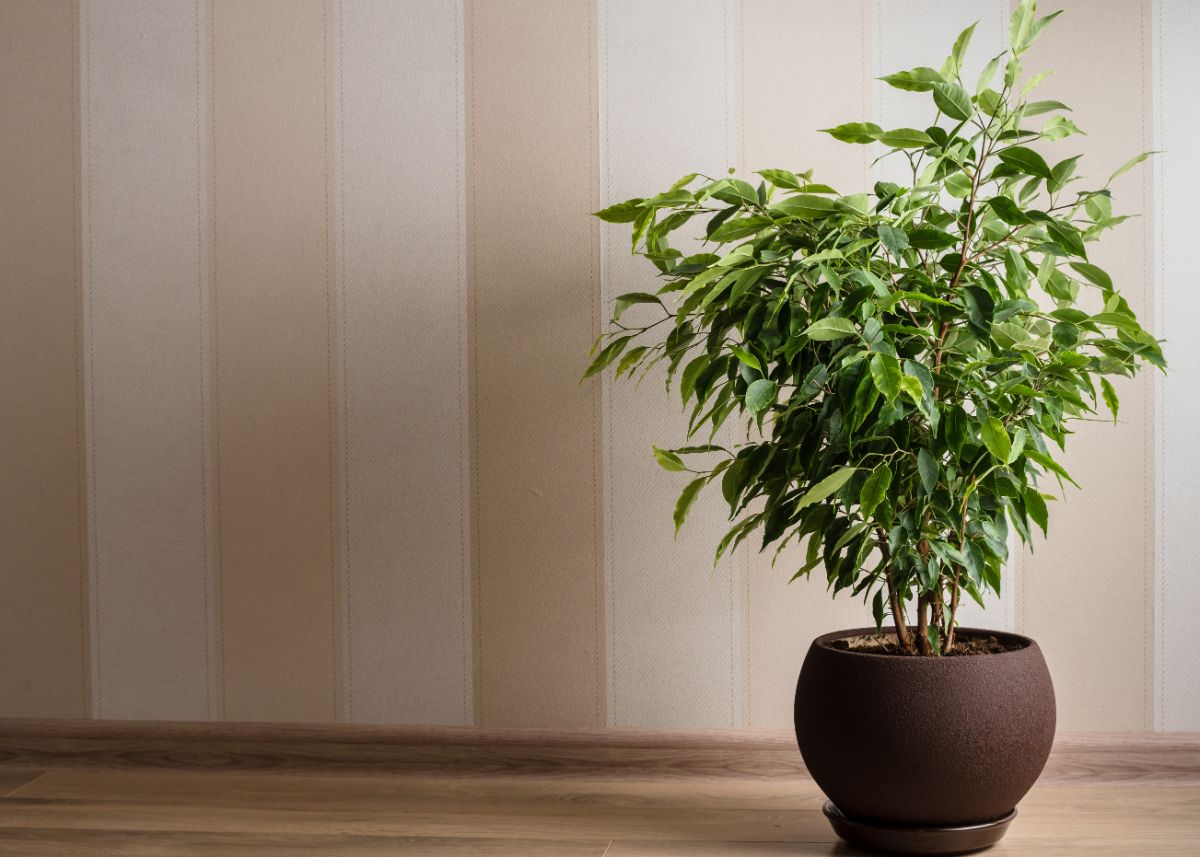 Weeping figs are actually small trees so, if you're looking for a larger plant for your bathroom, they might be the best option for you.
A bit finicky as far as houseplants go, weeping figs do not like large temperatures fluctuations, which can cause them to drop leaves, so try to protect your fig tree from cold drafts. Beyond that, care for weeping figs is quite simple: just ensure they have bright, indirect light and consistently moist, but not waterlogged, soil to ward against root rot.
Toxic if ingested, the sap from your weeping fig can cause skin irritation too so always be sure to wear gloves if you decide to prune your plant.
17. Purple Oxalis (Oxalis violacea)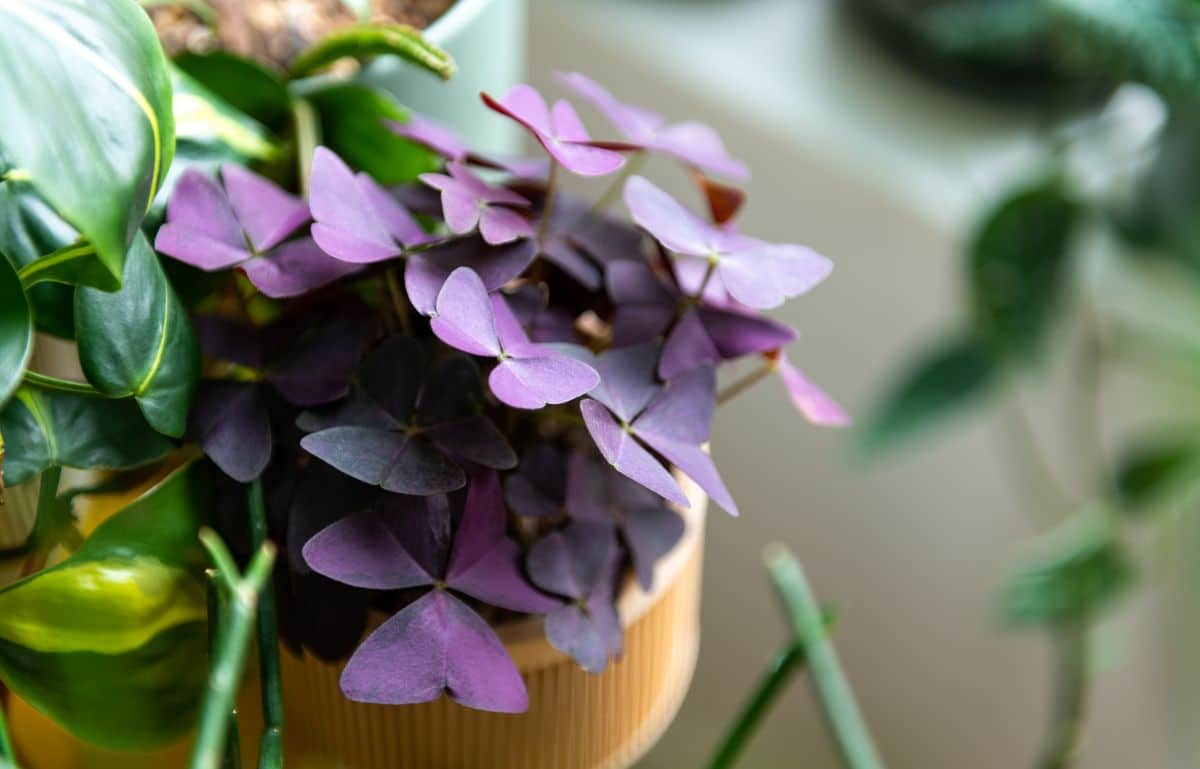 A member of the shamrock family, purple oxalis are cheery little plants famed for their gorgeous purple foliage and tiny purple blooms.
Adapted to partial shade to bright, indirect light, oxalis needs consistently moist soil as dry spells can cause your plant to rapidly wilt. As your oxalis gets more established in its pot, however, it will become more resistant to drought conditions, but do your best to keep up with consistent watering.
Toxic to pets, purple oxalis is high in oxalic acid which can cause unpleasant symptoms like mouth pain and vomiting if ingested.
18. Polka Dot Plant (Hypoestes phyllostachya)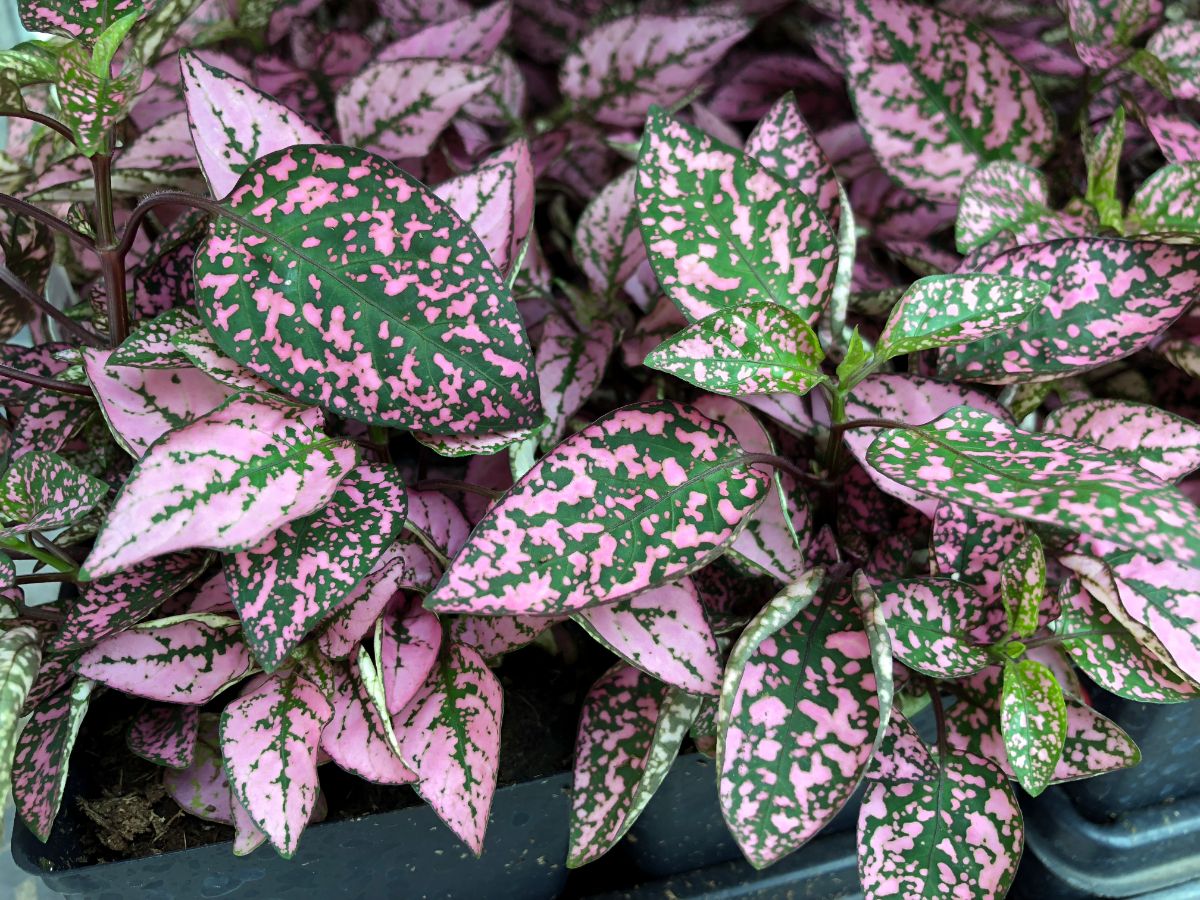 Many houseplant keepers struggle with keeping polka dot plants happy for one single reason: lack of humidity. When kept in a humid bathroom, however, these delicate little plants really come to life.
With brightly colored leaves spotted in pink, red, purple or white, polka dot plants require a humidity level of over 50%, which is higher than most household humidity levels. Humid bathrooms, on the other hand, are the perfect place to keep these little plants, just be sure their potting soil remains consistently moist to prevent wilting and provide them with bright light too.
And, not to be overlooked, polka dot plants are non-toxic to pets too, making them great, safe houseplants to keep.
19. English Ivy (Hedera helix)
English ivy may be invasive when grown outdoors, but it is a pretty and highly adaptable houseplant when grown inside. With long trailing vines and a vigorous growth habit, English ivy works well in a hanging basket or when left to dangle from a high shelf.
Requiring bright light when grown indoors, allow soil to dry out between waterings to keep your plant healthy. Also, because English ivy is highly toxic to pets, it is best to avoid this plant entirely if you have pets that like to nibble.
20. Calathea (Calathea spp.)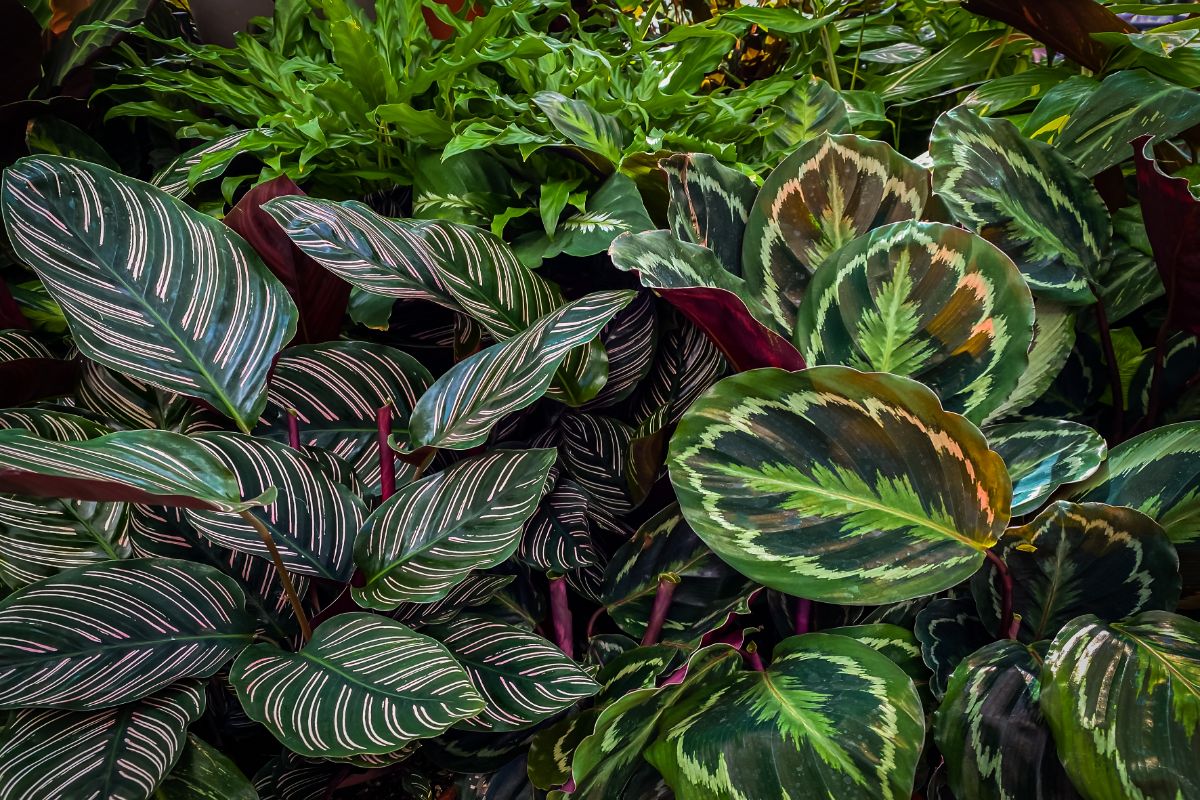 If you love colorful and patterned foliage, calathea are the plants for you. A very diverse family of plants, there are so many different types of calathea that you could create an entire houseplant collection from just this one family and the amount of variety and color would make for a showstopping display.
Easy to care for and non-toxic to pets, calathea enjoy higher than normal household humidity levels so they work well in bathrooms. Just be sure to keep them in bright, indirect light as direct light can cause leaf burn and leaf colors to fade.
21. Rabbit's Foot Fern (Davallia fejeensis)
Named for their fuzzy rhizomes that are said to look like the furry feet of rabbits, rabbit's foot ferns are another humidity-loving fern that will do perfectly in your bathroom.
Enjoying bright, indirect light and consistently moist, not soggy, soil, these ferns are non-toxic to pets and look great in hanging baskets where their fuzzy "feet" can be on full display. They are, however, sensitive to chemicals, such as insecticides and tobacco smoke, and should only be fed with a diluted liquid fertilizer to prevent burns.
22. Chinese Evergreen (Aglaonema commutatum)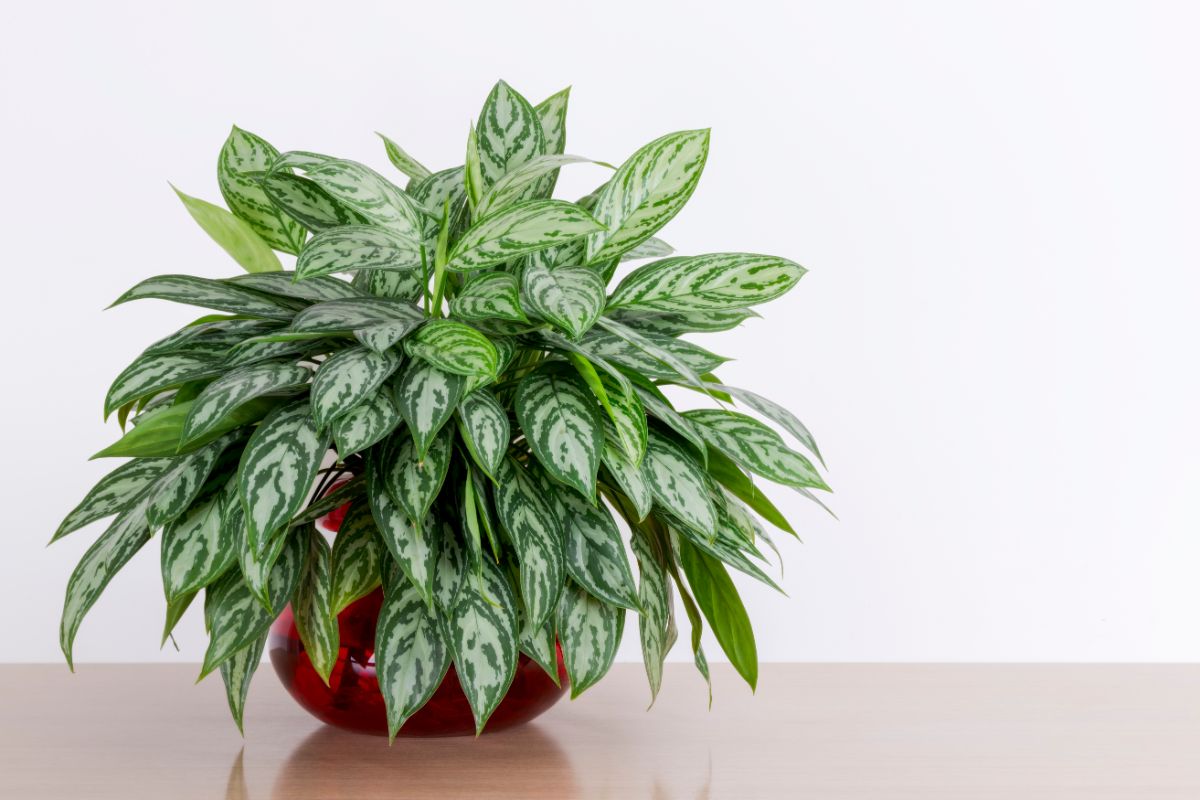 Another low maintenance plant, Chinese evergreens can grow up to 4' tall and come in both solid and variegated varieties.
Drought-tolerant, these plants don't need high humidity, so they are great for guest bathrooms, but they adapt to higher humidity bathrooms as well. Toxic if ingested, try to keep your Chinese evergreens away from cold drafts, which can cause leaf damage in severe cases.
23. Croton (Codiaeum variegatum)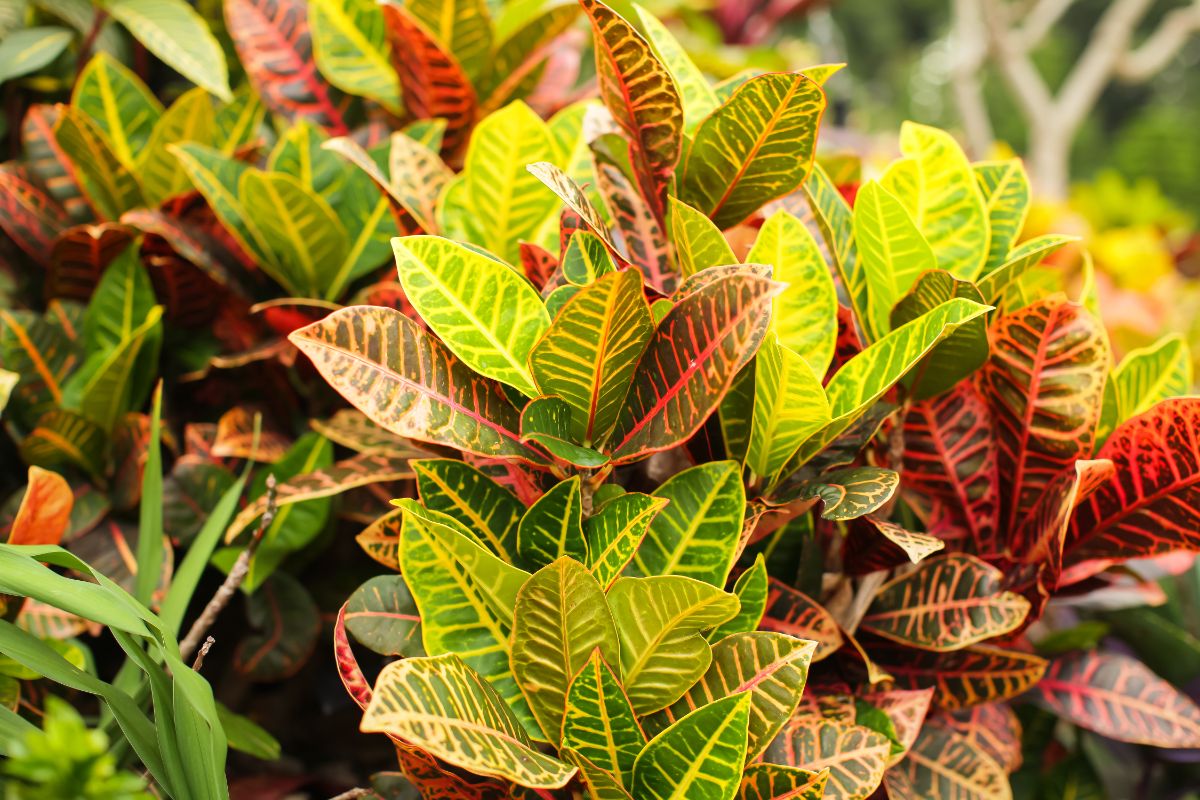 You've probably seen crotons used in outdoor ornamental planters in autumn, but did you know these colorful foliage plants make great indoor plants too and are even able to adapt to bathroom settings?
With patterned leaves with splashes of vibrant yellow, red, orange and green, these cheery plants come in many varieties, some of which can grow up to 6' tall. If you want to keep crotons happy, no need to stress. Easy to care for, just provide them with bright, indirect light and consistent moisture levels, watering only when the top 1 to 2" of soil is dry to the touch to avoid root rot.
Toxic if ingested, croton sap can also cause contact dermatitis so be sure to wear gloves if you intend to prune these beauties.
24. Peace Lily (Spathiphyllum wallisii)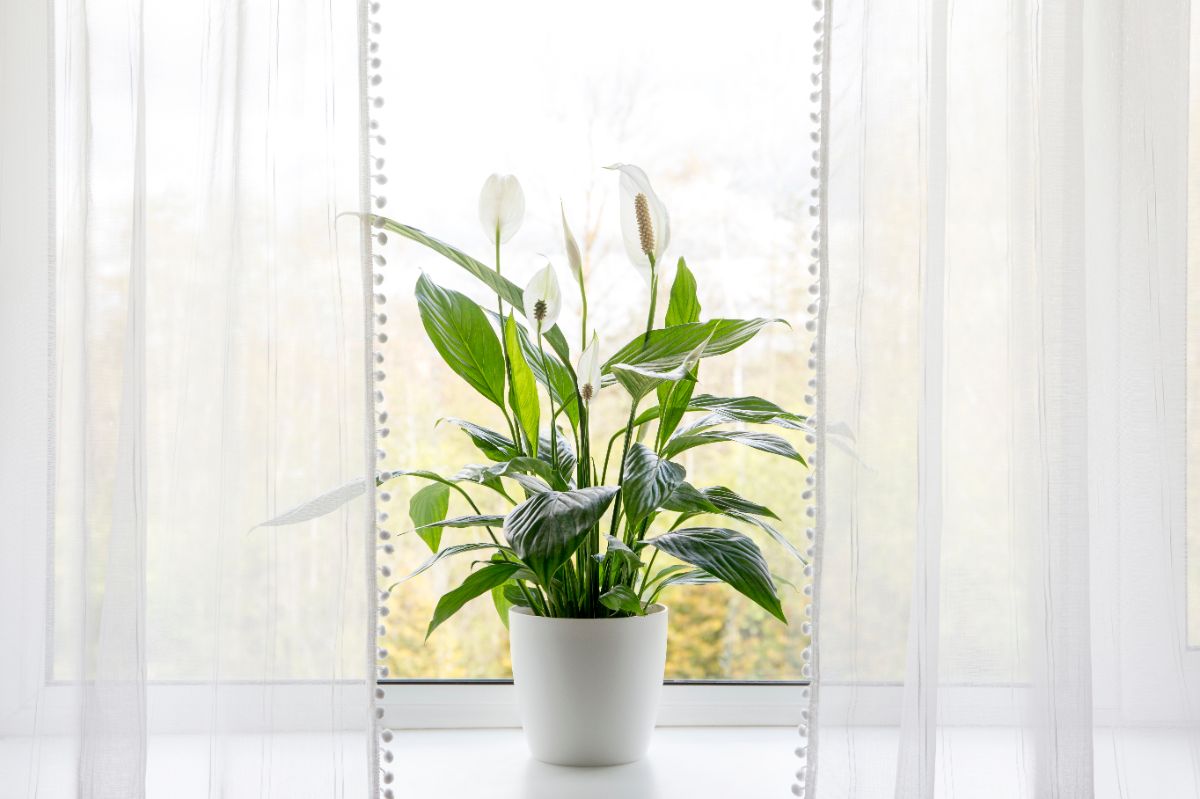 One of the best plants to add to your home if you want to improve indoor air quality, these natural air purifiers are elegant plants with dark green foliage and delicate white blooms.
As lilies, these plants are very toxic, particularly to cats, and should be avoided in homes where felines are present. If, however, you don't have pets, these gorgeous, low maintenance plants can lend a spa-like feel to your bathroom.
Adaptable to low to bright light, if you want to encourage your lily to bloom, make sure your plant is receiving lots of bright light. Prone to wilting if soil is allowed to dry out, make sure your peace lily has consistently moist, not soggy, soil and you'll have a charming plant that will bloom year after year.
25. Lemon Button Fern (Nephrolepis cordifolia)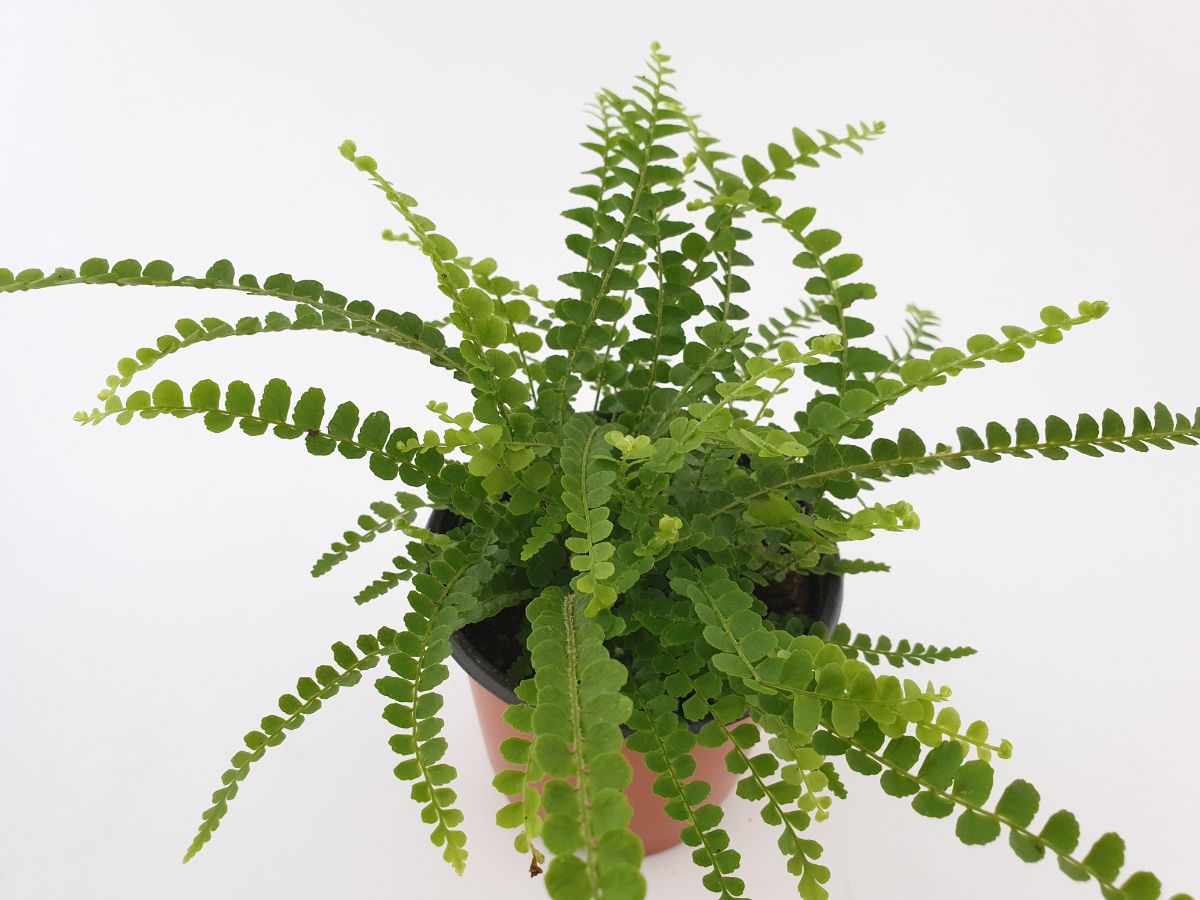 Similar in appearance to the maidenhair fern, the lemon button fern is another delicate fern that absolutely loves high humidity.
Able to tolerate a range of lighting, from low to bright and indirect sunlight, lemon button ferns only need occasional, light feeding with a diluted liquid fertilizer. As with other ferns, lemon button ferns are non-toxic plants that love consistent moisture levels, so be sure to never let your plant's soil dry out completely.
26. Begonias (Begonia spp.)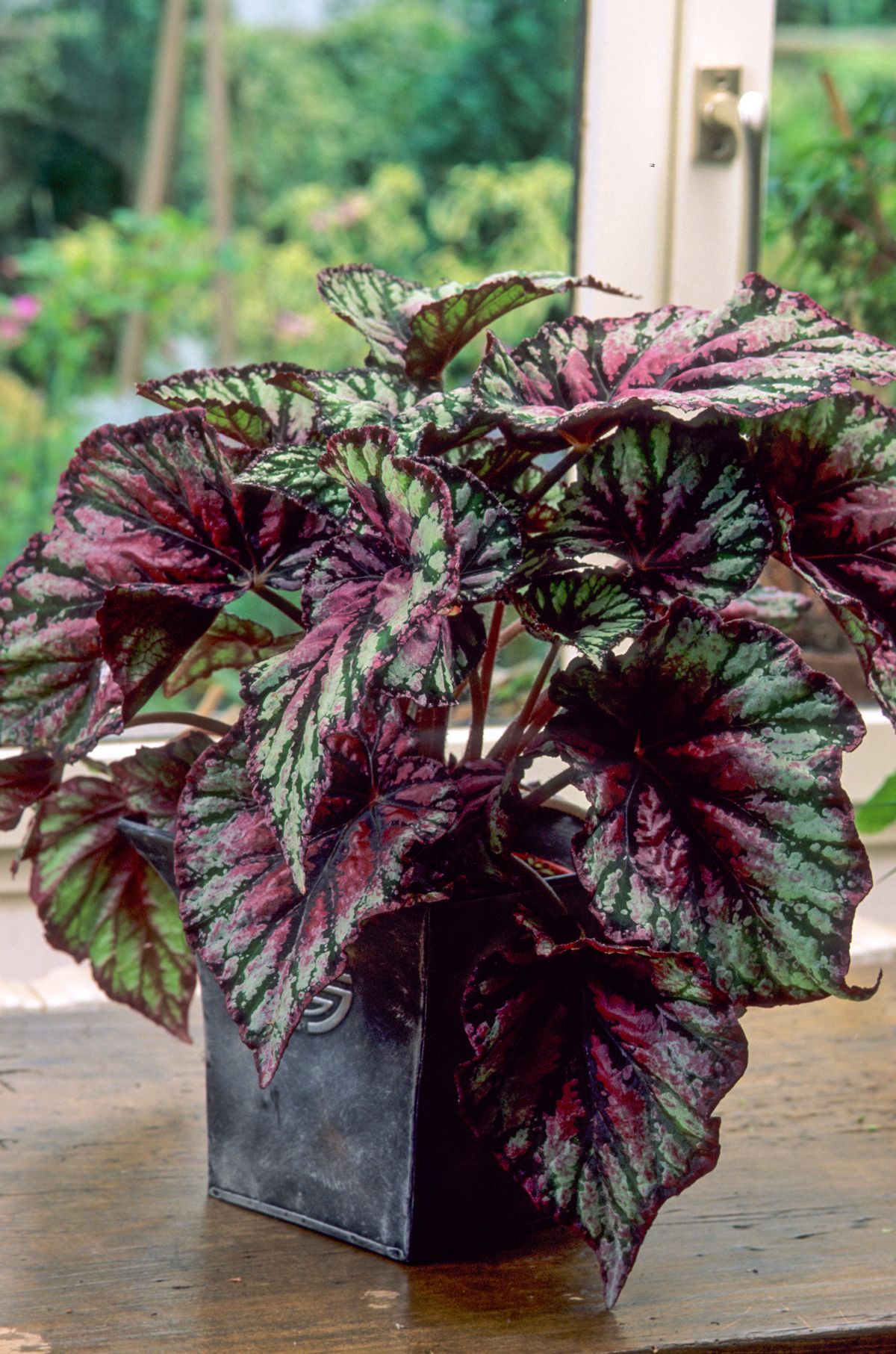 Begonias are a large family of plants, containing over 2,000 different varieties, many of which are prized for their pretty little blooms.
While there are many begonias to choose from -- some tall, some short, some with patterned or polka dot foliage and some with fuzzy leaves – rex begonia are a particularly popular variety that is known for its showy foliage.
Preferring warmth and humidity, begonias are well-suited for bathrooms. Simply provide them with bright, indirect light to encourage blooming and keep soil moist, but not soggy, to prevent root rot.
Begonias are mildly toxic to pets, however, so try to keep them away from your critters. If ingested, begonias can cause unpleasant symptoms such as mouth irritation and nausea.
27. Snake Plant (Dracaena trifasciata)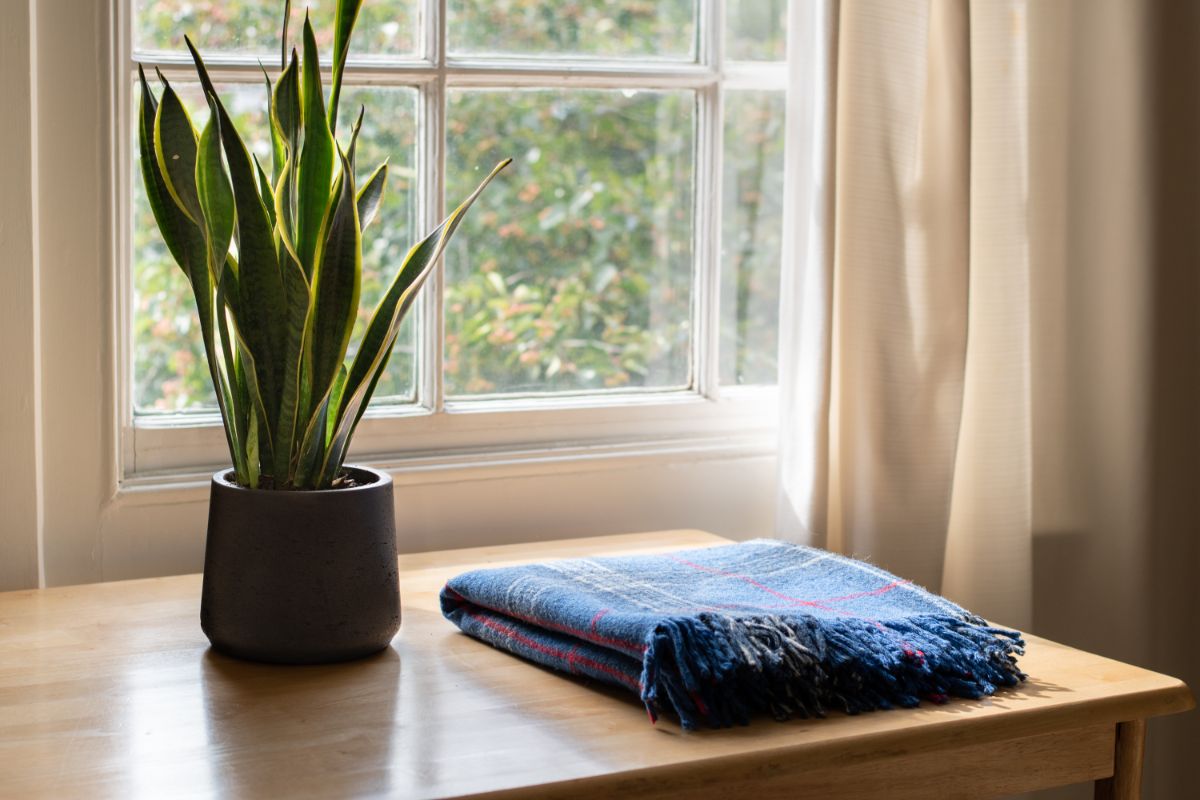 Also known as "mother-in-law's tongue" for their sharp, pointed leaves, snake plants are resilient, low maintenance plants that are great for anyone who thinks they may have a "brown thumb." Snake plants have converted more than one reluctant home gardener into a houseplant addict after all!
Actually a succulent, snake plants require very little watering and can survive with a monthly watering or less. Too much moisture is the easiest way to kill your snake plant so err on the side of caution and water less if you're in doubt.
There are several different species of snake plants to choose from with different leaf colorations and shapes, so, if you're up to it, try adding a few different types to your bathroom to make a nice contrast. With vertical growth habits, snake plants look particularly striking when paired with the softer outlines of vining plants, like pothos.
Growing up to 4' tall, snake plants can adapt to low to bright, indirect light; however, they are toxic if ingested.
28. Bromeliads (Bromeliaceaespp.)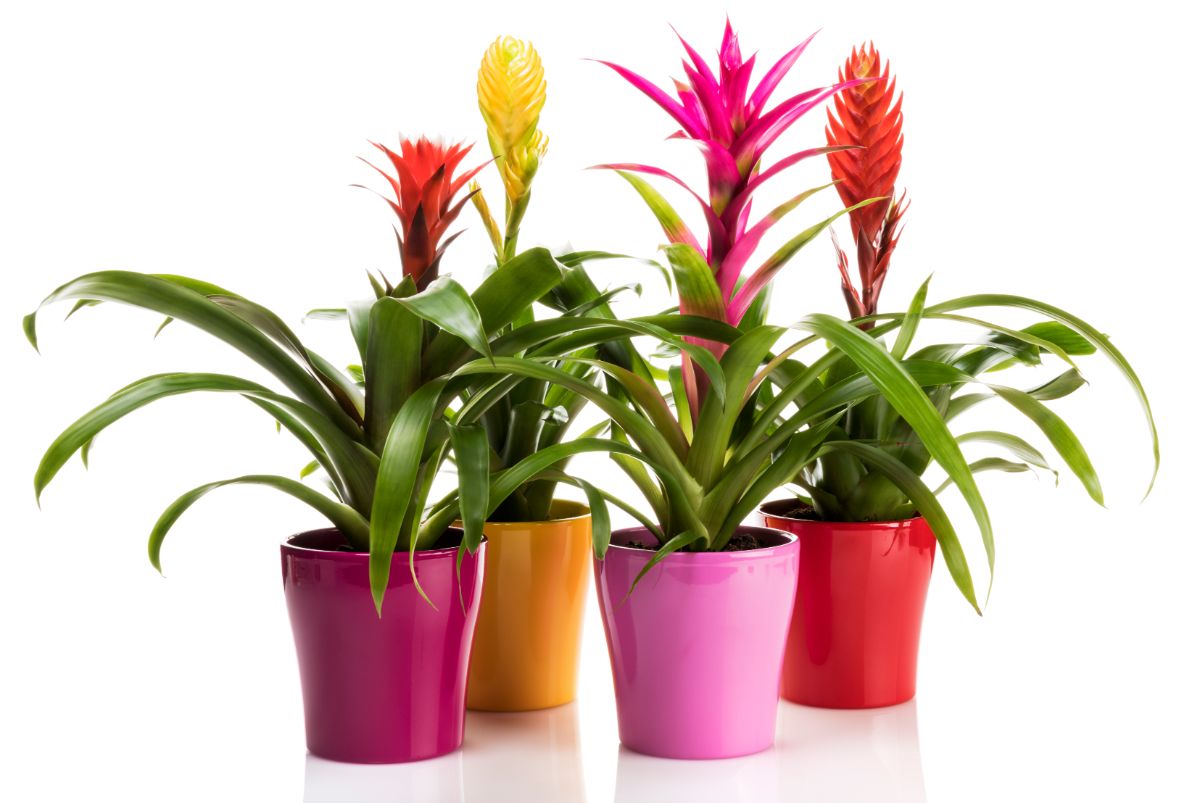 What's not to love about the showstopping colorful blooms of bromeliads? Bromeliads look like the tropics and, with vibrant foliage and bright flowers in yellow, pink and red, they are guaranteed to add a joyful affect to any bathroom.
There are lots of different species of bromeliads, many of which are epiphytes like orchids. Drawing water from the air, rather than the soil, these bromeliads are perfectly suited for humid bathrooms. Just be sure your bromeliads have good air flow, access to bright, indirect light and are fed, occasionally, with a balanced fertilizer suitable for orchids.
Non-toxic to pets, like air plants, bromeliads only bloom once. After blooming, your bromeliad will die back; however, it may produce a "pup," or new bromeliad, to keep your collection going strong.
29. Gardenia (Gardenia jasminoides)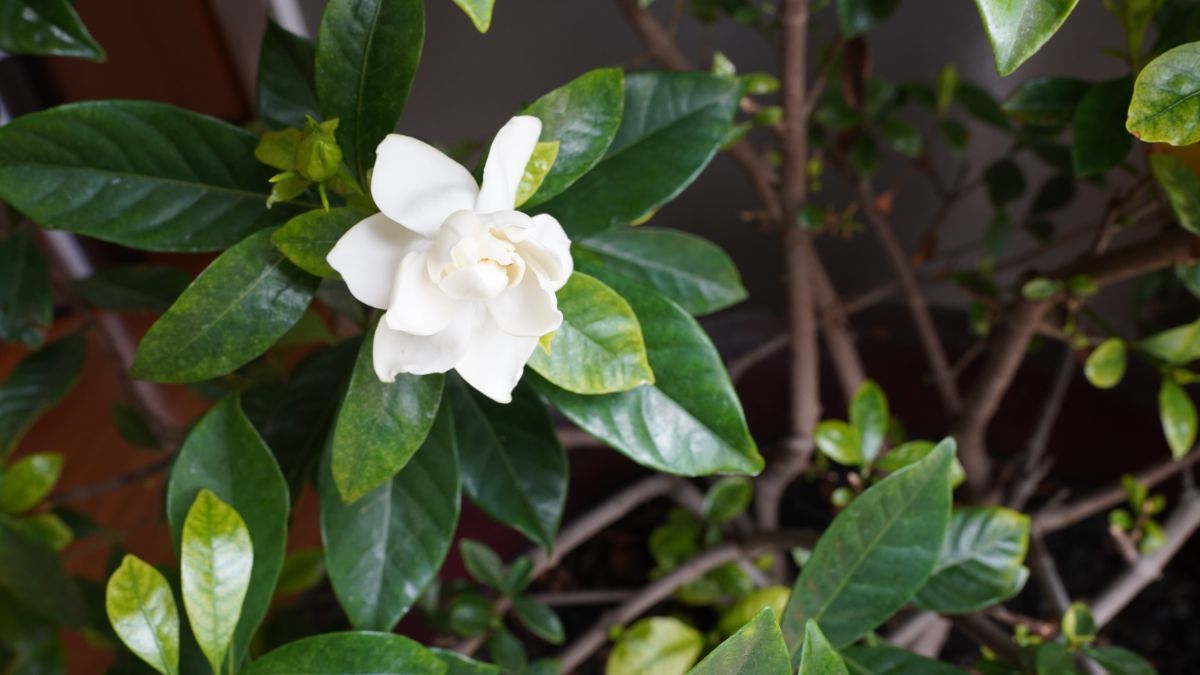 Also known as "cape jasmine," gardenias are broad-leafed evergreens that can't help but lend a tropical feel to your bathroom space.
With fragrant white blooms and glossy leaves, gardenias are not the easiest plants to keep happy indoors so beginners should avoid them (as should homes with pets as gardenias are classified as "toxic.")
Gardenias need bright light, and at least 6 to 8 hours of it, to encourage your plants to bloom, so they should not be kept in dark bathrooms. Gardenias also prefer slightly acidic soil and do not tolerate cold drafts or sudden bursts of heat.
For happier plants, try fertilizing your gardenias with a fertilizer suited for acid-loving plants, like blueberries. And, as gardenias can grow quite large (up to 6' tall when kept as houseplants), consider pruning your plants regularly to keep them from getting too large.
30. Bird's-Nest Fern (Asplenium nidus)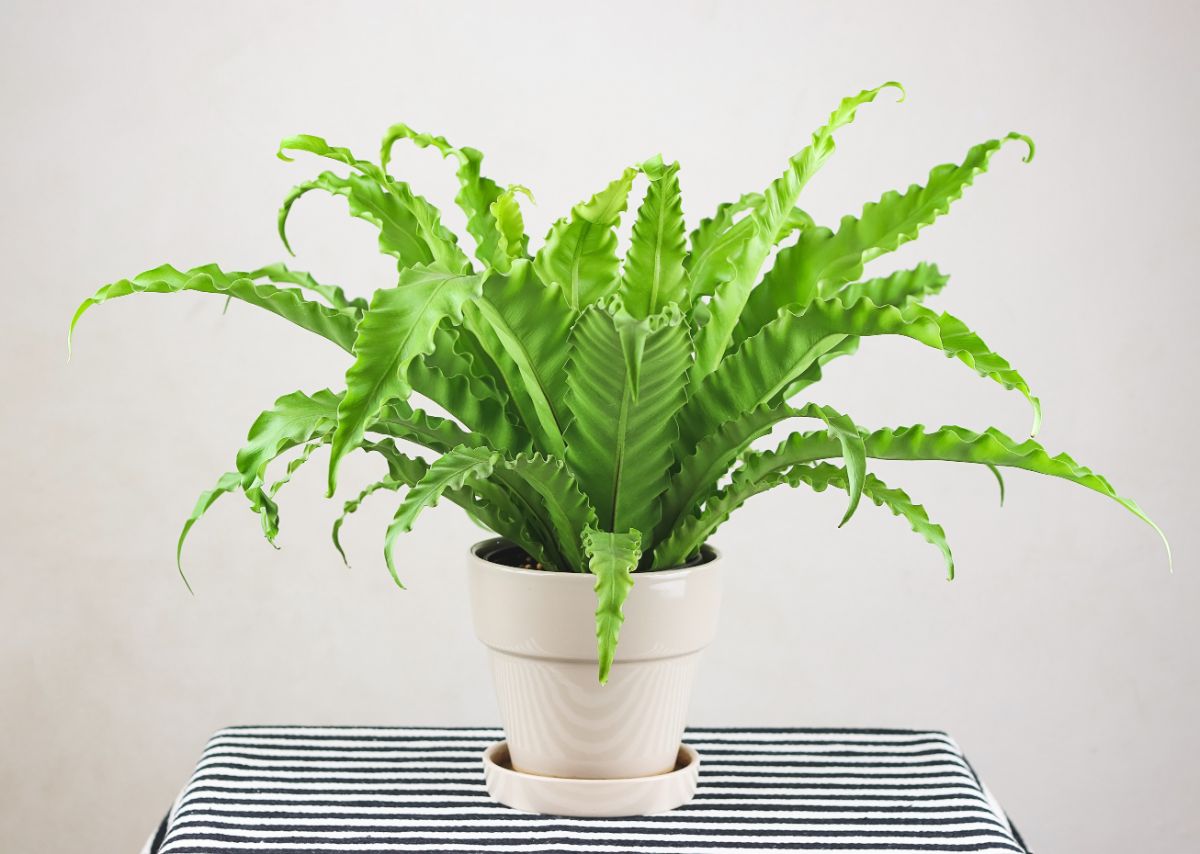 While there are too many fern species that would happily grow in steamy bathrooms to mention, we figured we'd round out our list of great bathroom plants with one final fern: the bird's nest fern.
Also known as the "crispy wave" fern, this bright green plant is famed for its sleek, wavy leaves that add interest and color to any collection.
Preferring high humidity and well adapted to most lighting situations, from low light to bright and indirect light, bird's nest ferns do best when provided with consistently moist soil and fertilized on occasion with diluted, half-strength liquid fertilizer.
Another non-toxic fern that is great for homes with pets, just avoid watering the center of your fern to prevent rot.
The challenges of keeping bathroom plants
Before we can find a solution, it can help to consider what makes bathrooms difficult areas to keep houseplants in in the first place. For most bathrooms, those difficulties boil down to three things: inadequate lighting, high humidity levels and temperature fluctuations.
Inadequate lighting
The average bathroom is a notoriously dimly lit space, often lacking in any windows or natural lighting. While some bathrooms do have windows, they are often small and frequently covered with privacy screening, curtains or blinds.
High humidity
Running your shower or drawing a long, hot bath are guaranteed to raise humidity levels in your bathroom and, the longer you run hot water, the steamier your bathroom will be. While this isn't necessarily a problem for all plants, some plants, like many species of succulents and cacti, can't tolerate high humidity levels. Even some tropical plants may suffer in high humidity bathrooms which can promote the conditions where pathogens, like downy mildew, can thrive.
Temperature fluctuations
When you're taking a hot shower, your bathroom will naturally become much warmer; however, bathroom temperatures can drop, sometimes quite dramatically, when not in use and particularly during the nighttime. Temperature fluctuations can be hard on some plants and, in some species, can even weaken plants' natural immunity or cause severe reactions like rapid leaf drop.
How to grow healthy houseplants in your bathroom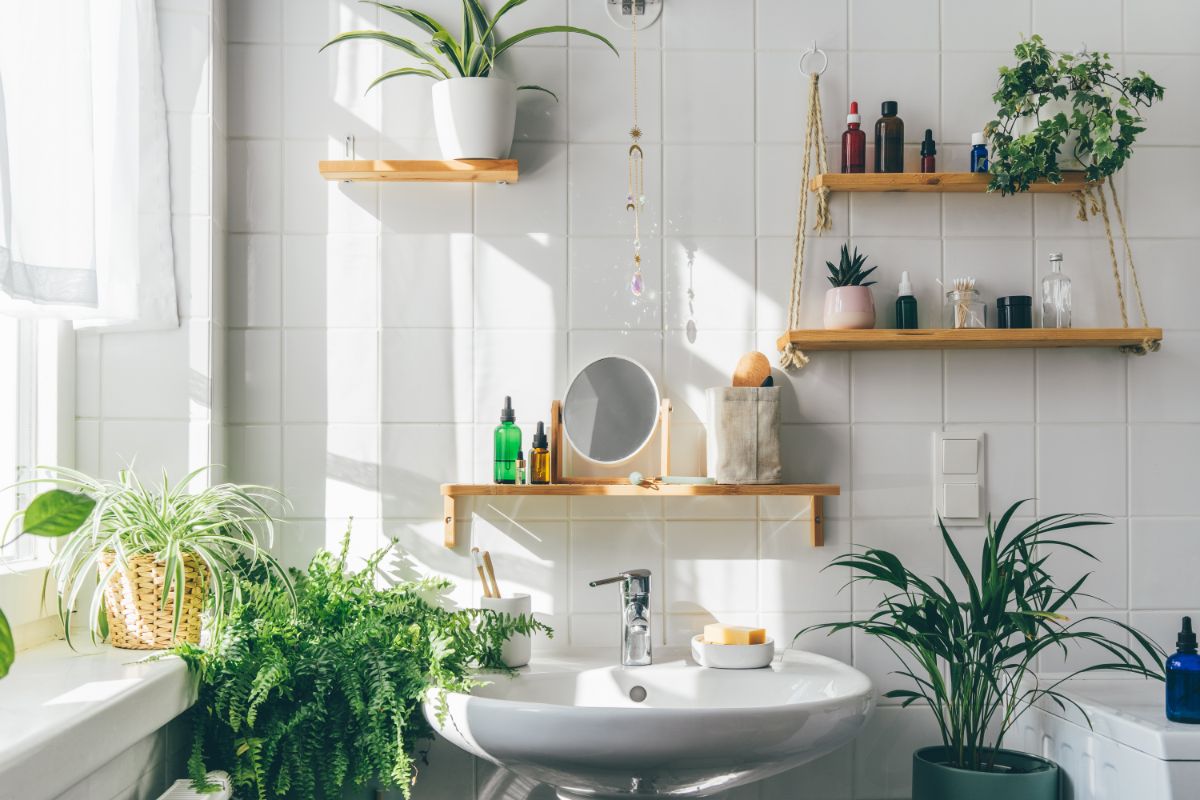 The first step to keeping plants in your bathroom is to take a good look at your bathroom space and frequency of use and be prepared to adapt it as needed.
Lighting
Most importantly, you'll want to assess the lighting in your bathroom. If you have large, south-facing windows and plenty of natural light, you are in luck because your bathroom will be able to naturally provide enough lighting for most plants.
If, however, your room only has a small window and you don't want to provide any artificial lighting, you'll be more limited in the sorts of plants you'll be able to keep. In this instance, you'll want to opt for plants that can tolerate low light situations, such as snake plants and pothos.
Finally, if your bathroom has no windows at all and you don't want to provide artificial lighting, you can grow a single type of plant: the plastic kind.
Okay, kidding. Rather, if your bathroom has no windows, you will need to provide artificial lighting. While this may sound difficult to do, there are plenty of LED grow lights and bulbs that will provide more than enough lighting to suit the needs of even the most light-loving houseplant. Just choose one that works for you and your space and you're ready to start growing plants.
Humidity
Next, you'll want to consider the specific humidity levels of your bathroom space.
Perhaps you have a bathroom that you use all the time, you have a large family, and everyone likes to take long, hot showers. In this case, you know that you'll be working with a relatively consistent level of high humidity. In this instance, you'll want to only choose plants that can tolerate high humidity, which excludes most cacti and succulents. On the other hand, those same high humidity levels create the ideal space for humidity-loving plants that otherwise may need to be kept in a terrarium or near a humidifier, such as polka dot plants and ferns.
If, however, you are looking to place a plant in an infrequently used guest bathroom, you're likely dealing with lower humidity levels, so you will want to opt for plants that don't require super high humidity. Plants like snake plants, Ficus and philodendrons all have moderate humidity needs and would be great for spaces like this.
Lastly, there is the question of potential pathogens, such as mildew, that can spell trouble for plants kept in humid bathroom spaces. To remedy this situation, be sure to space your plants out well to allow for adequate airflow and consider turning on your bathroom vent if you intend to take a hot shower.
Temperature fluctuations
There's not much you can do about the fluctuating temperatures in a frequently used bathroom. Temperatures are bound to rise when you're taking a hot shower, and then cool off again when you allow the room to air out.
The less you use a bathroom, the less temperatures are likely to fluctuate so plants, like Ficus, that don't handle temperature fluctuations well, should only be placed in bathrooms that aren't frequently used.
What are the benefits of keeping plants in your bathroom?
Well beauty of course! If you love houseplants, finding more space to keep new additions in is a perennial issue. Deciding to keep plants in your bathroom opens up that much more space for houseplants.
Beyond that, plants are natural air purifiers and can help reduce indoor air pollution while simultaneously countering high humidity levels, which can promote mold and mildew growth.
What's more, because of the close proximity to your bathroom sink or tub, watering your plants has never been easier.
But you really didn't need an excuse to buy more plants, did you? Instead, let's get right to the point: deciding which plants are best suited for your bathroom space.
Conclusion
Whether you have a small windowless bathroom or a bright, airy space, there is a plant that is perfectly suited to your needs. While bathrooms may not be the first place the average person may want to add houseplants to, it is possible. By understanding the unique growing conditions bathrooms can provide, as well as the plants best adapted to those conditions, you can choose the right plants that are sure to thrive in your space.
By harnessing the naturally high humidity levels bathrooms provide, you can not only grow the average houseplant but even more finicky varieties that other houseplant keepers struggle to grow outside of terrariums. So, get creative, try out some of the bathroom-approved houseplants in the list above and think about combining different shapes and colors for a more interesting collection. You'll add interest to your bathroom space and, with the right plants at your disposal, you can make any bathroom feel like a tropical getaway.
References:
Iannotti, Marie. "17 Best Houseplants for Your Bathroom." The Spruce. 3 June 2022. 3 March 2022.