Planting herbs and edible flowers in hanging planters, baskets, and containers is an excellent way to expand your growing space. In fact, you can grow a quite full "garden" of edible plants—including fruits and berries and hanging vegetables in hanging pots.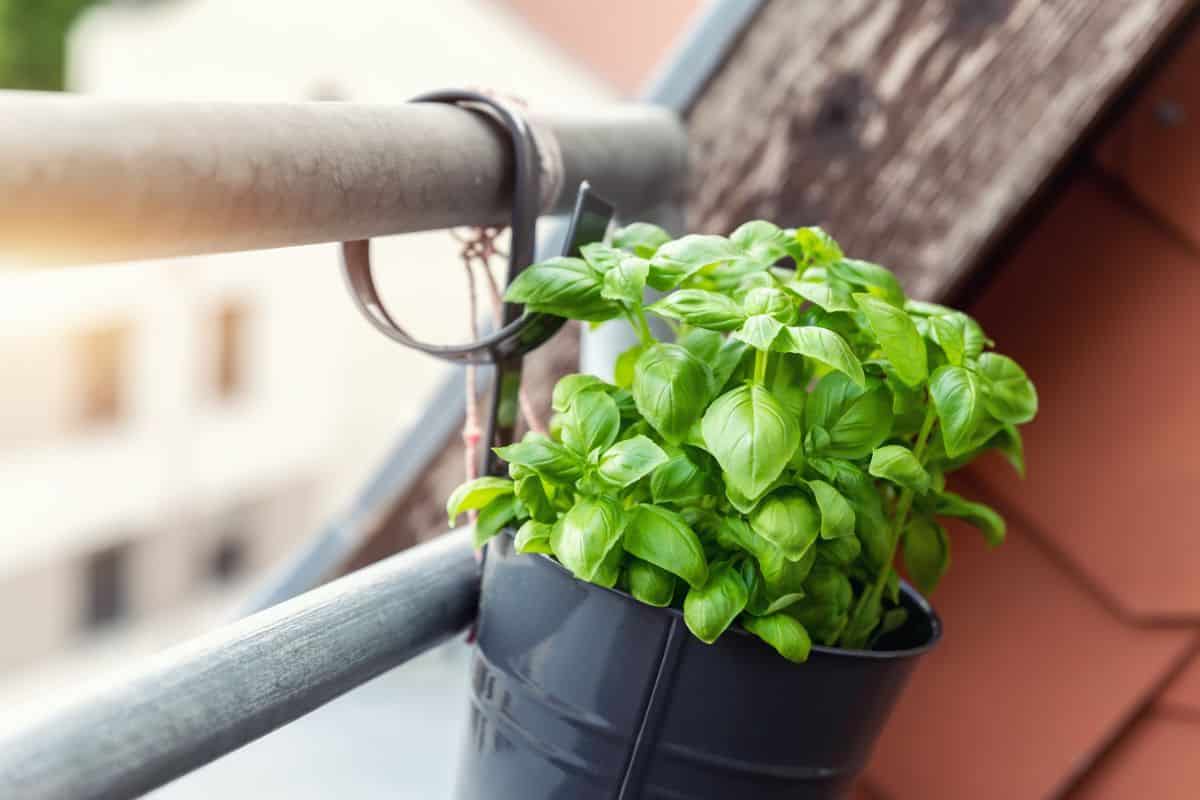 Jump to:
Why Grow Herbs and Edible Flowers in Hanging Pots?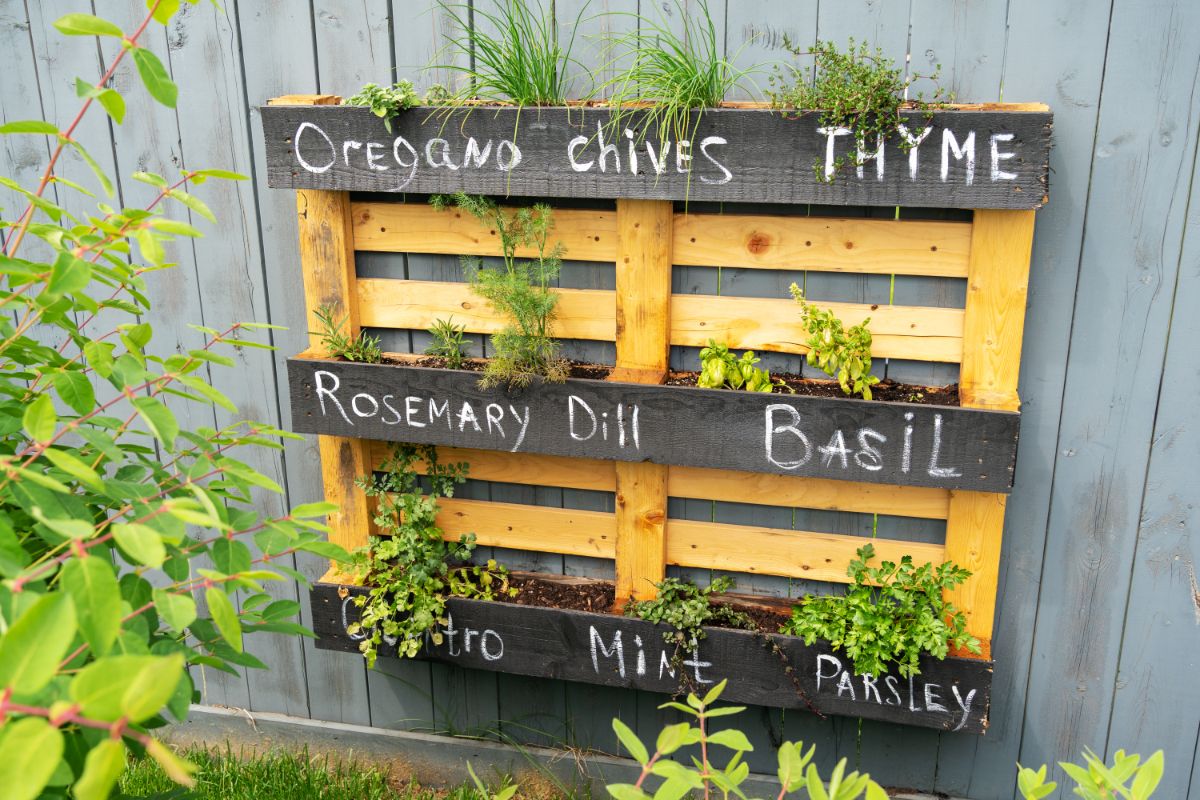 The most obvious and beneficial reason to grow herbs and edible flowers in hanging pots is to expand your available growing space. By going "up" with your planters, you suddenly gain a lot of room. What's more, you won't have to worry about having too many containers on the ground or on your porch or patio that can create a fall hazard.
There are other good reasons to grow herbs and flowers in hangers, too:
Hanging plants can be started inside early or brought inside in the late season to extend your growing and harvest window.
Most herbs and some flowers can be grown indoors throughout the winter. Hangers are easy to move inside when the weather turns.
Hanging containers are easy to maintain and do not require weeding like plants grown in the ground do.
Hangers are friendlier to people with back or knee issues, or for whom gardening in the ground is physically difficult or impossible.
Pests and disease issues tend to be less when growing in containers and are easier to spot and treat if they do arise.
Having edible hanging herbs and flowers right outside your door makes them quick and easy to pick and use.
Herbs and edible flowers attract butterflies and pollinators.
Many favorite herbs, including lavender, basil, rosemary, sage, chives, lemon thyme, and mint, repel biting insects like mosquitoes. Edible flowers often do, too, including marigolds and scented geraniums!
Aromatic herbs smell lovely, making your outdoor space a pleasant place to rest—or garden!
What Herbs Grow Well in Hanging Containers?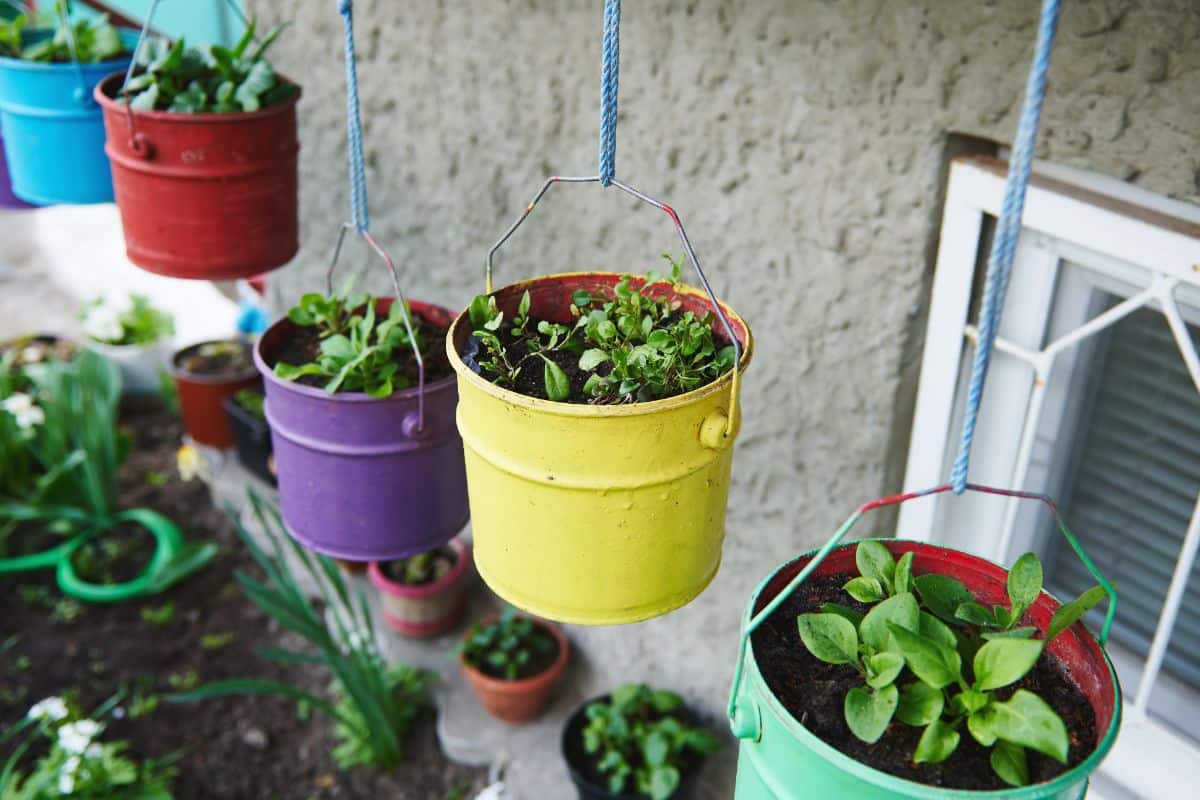 For the most part, if an herb is one that bushes, trails, or stays under around two feet tall, you can grow it in a hanging basket. Some herbs do not naturally stay that small but can be cut for use and trimmed to keep them looking nice in a hanging basket.
Some of the best herbs to grow in hanging pots are: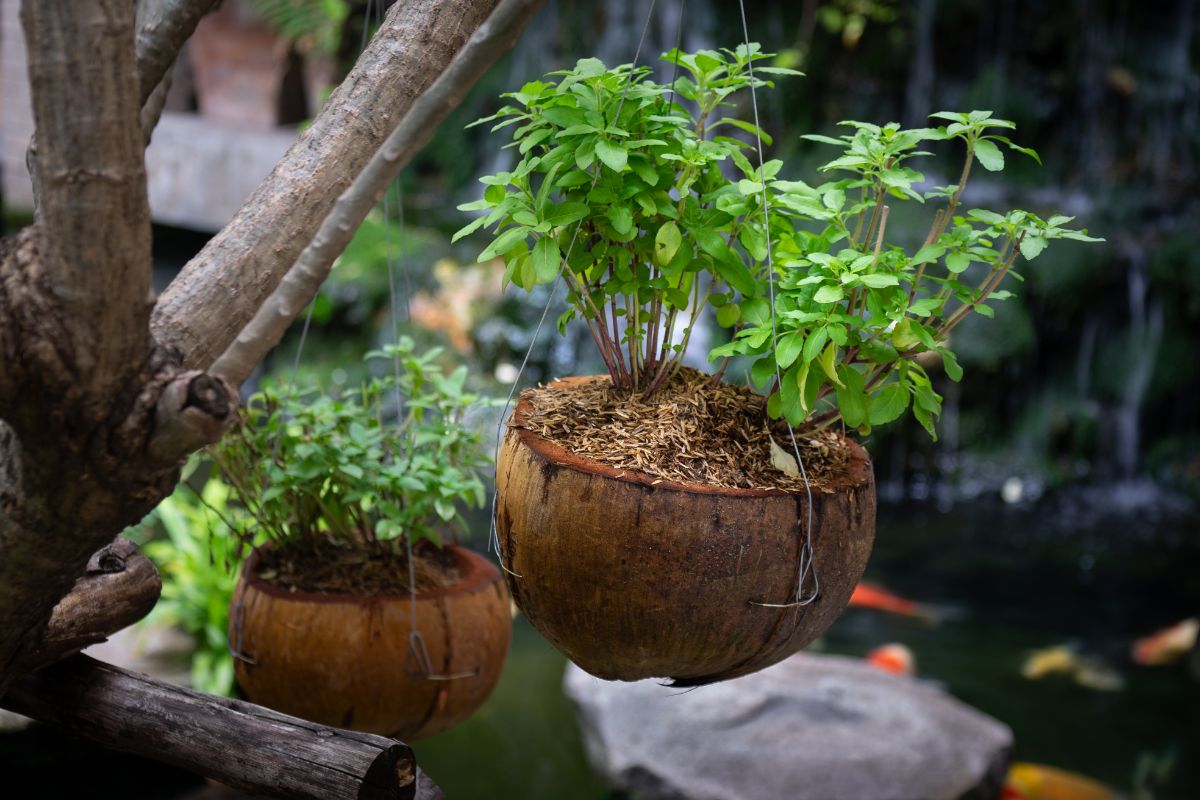 Rosemary
Dill (Choose short varieties so you can keep them under control and still harvest the flavorful flowers.)
Sage
Chives (The blossoms are edible too and deter biting insects and plant-eating insects.)
Mints (Most mints will grow tall but take well to trimming to keep them nice in hangers.)
Parsley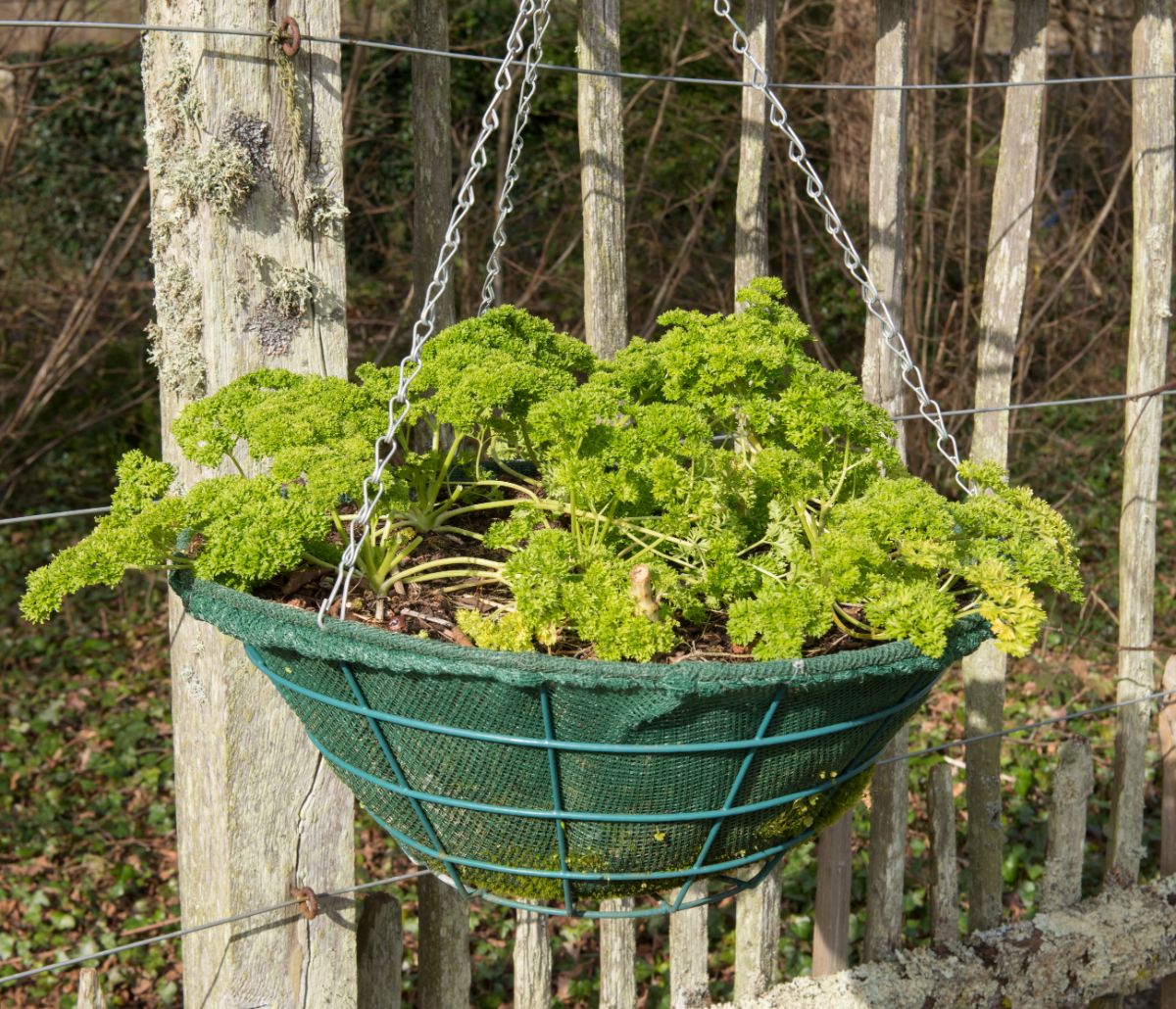 What Edible Flowers Grow Well in Hanging Containers?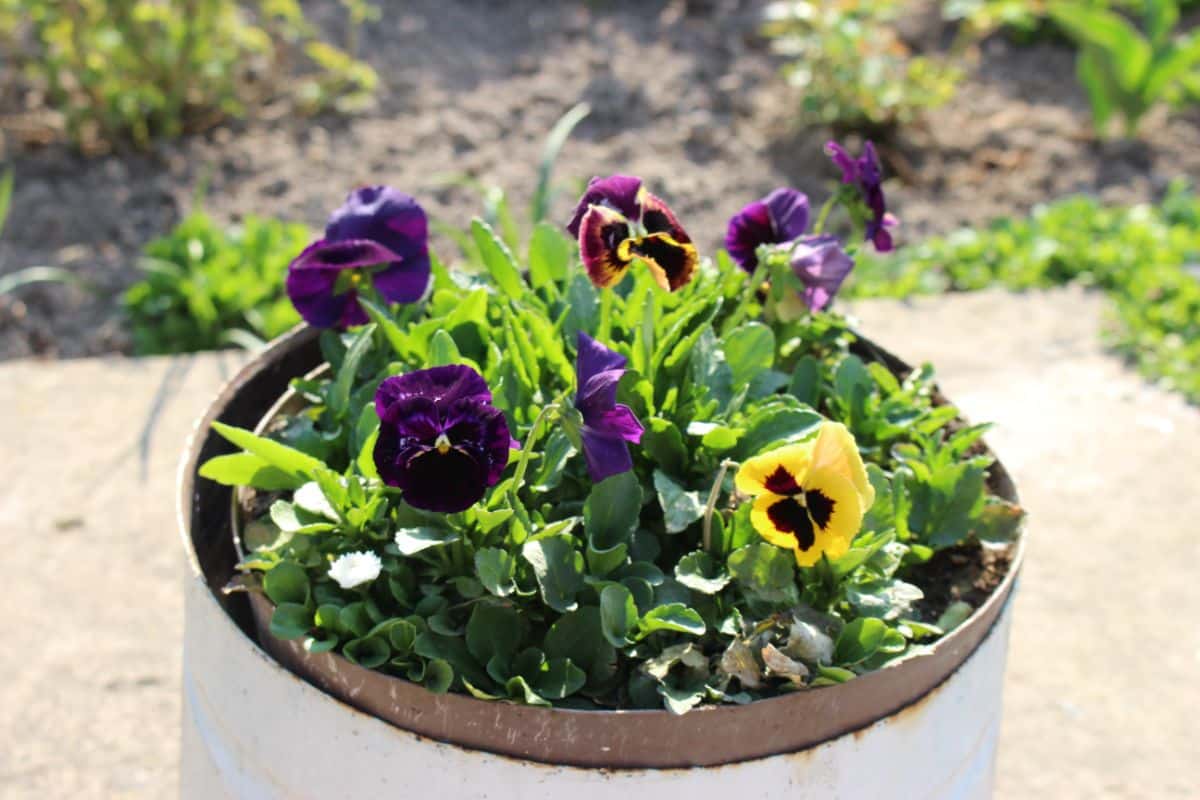 Growing edible flowers in hanging baskets should be a no-brainer. We think of hanging plants as primarily decorative. With edible flowers, you get the best of both worlds!
Edible flowers add interest to many drinks and dishes. They make lovely garnishes and can really kick your summer salads up a notch, both in taste and presentation!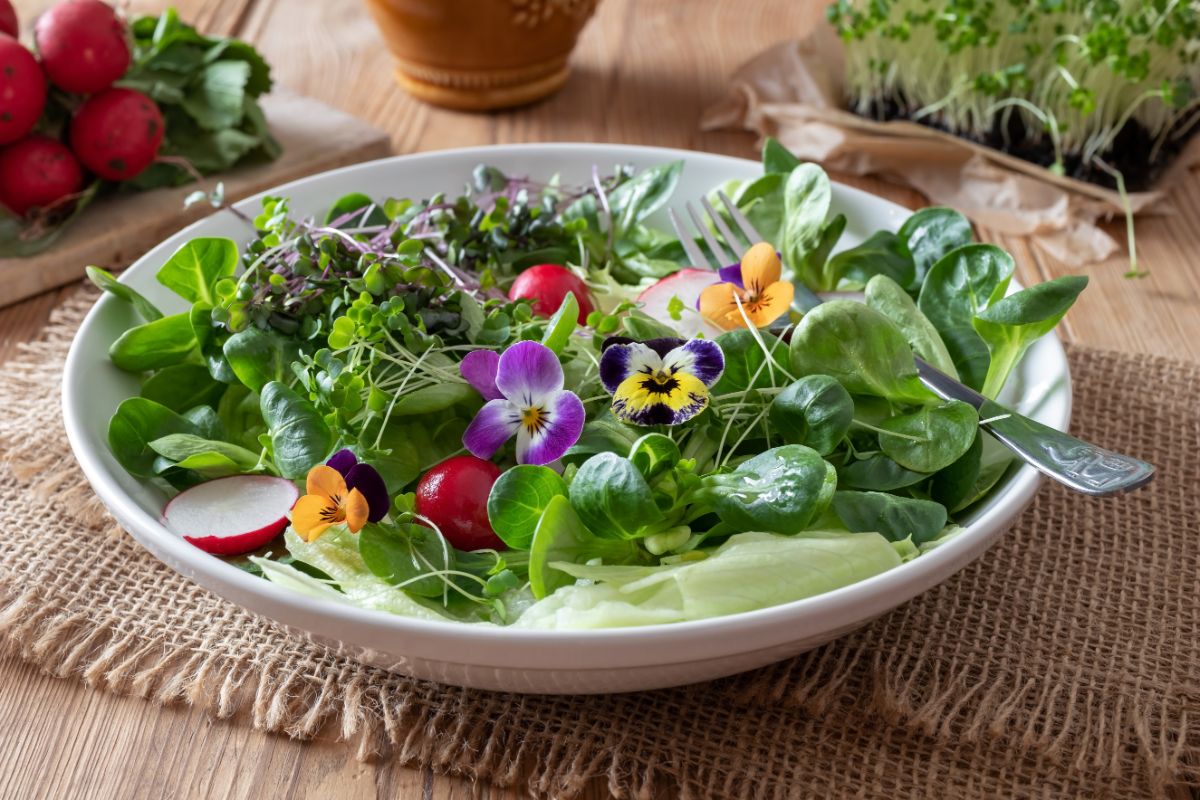 Here are several edible flowers you should grow in hanging containers:
Lavender
Nasturtiums
Tuberous begonias
Marigolds
Calendula
Impatiens
Pansies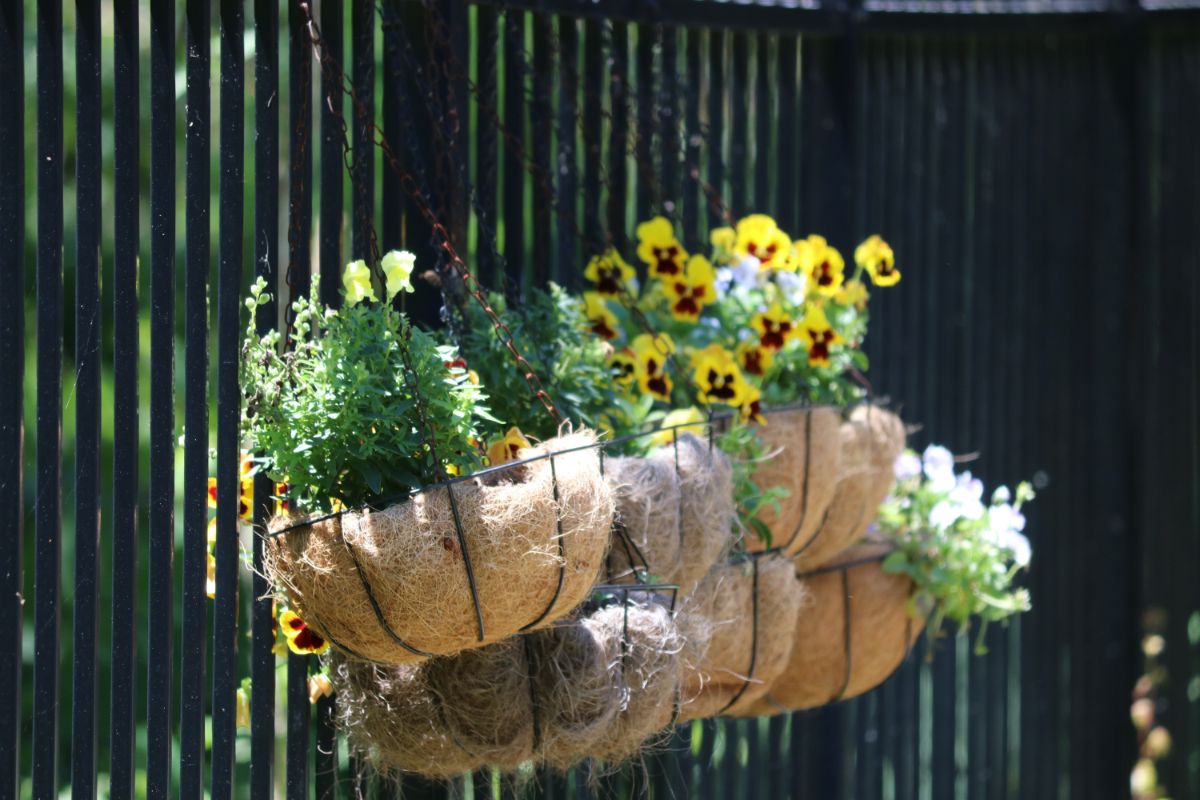 Violas
Violets (violas and violets make lovely infused vinegar that makes a nice base for dressings)
Dwarf or mini roses (These have many uses, but dried rose petals are quite nice in teas, or use fresh in iced teas and drinks. Rose hips are a very useful culinary ingredient, too, and rose hip jelly is loved by many.)
Scented geraniums (For edible purposes, stay away from the Citronelle varieties.)
Tips for Successfully Growing Herbs and Edible Flowers in Hanging Baskets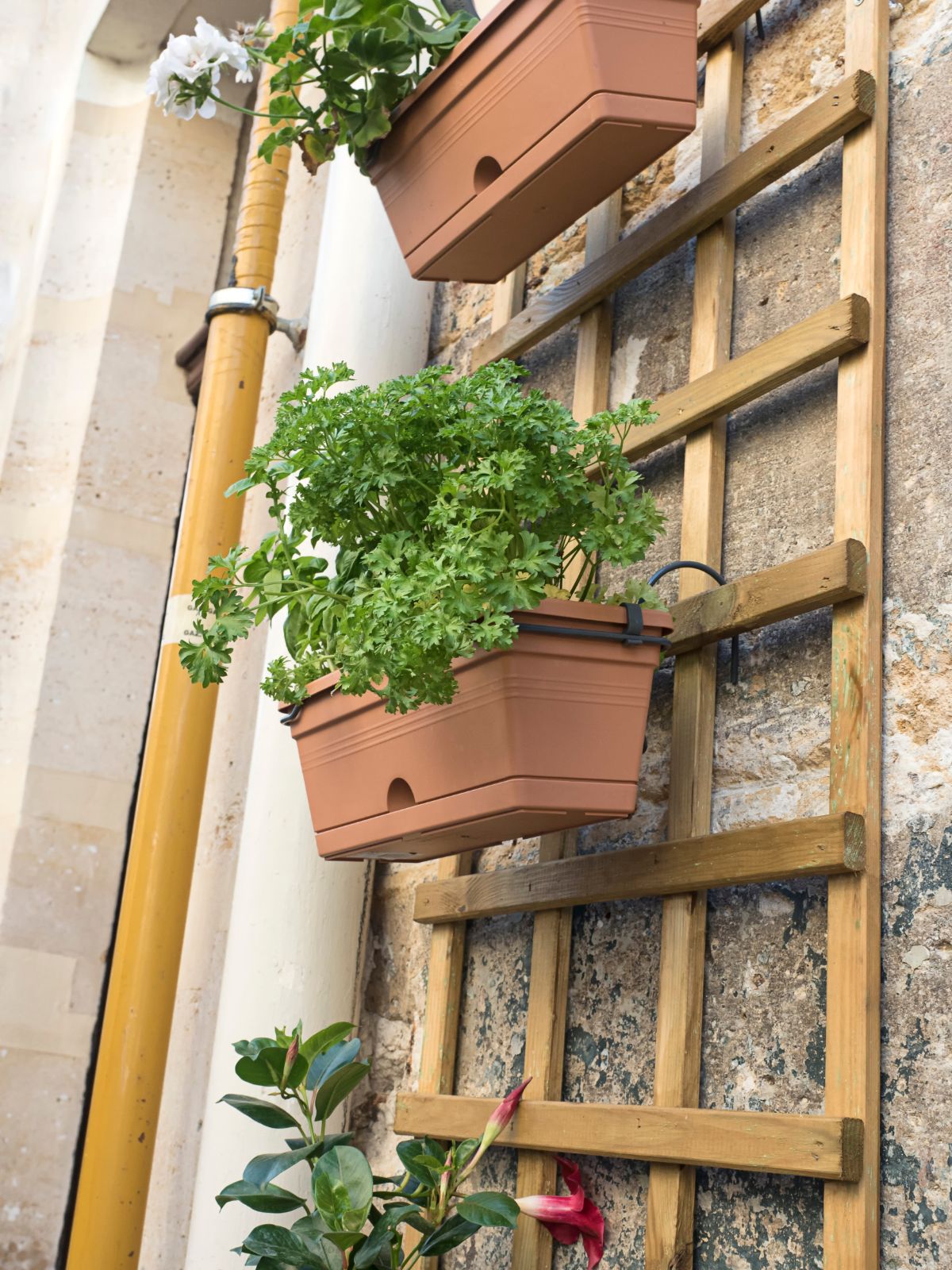 Keep plants pinched for bushing and leafy production—especially herb plants.
Pinch flowers initially, but then let them go to set blossoms.
Deadheading spent edible flowers will keep hangers looking nice and keep them producing.
Trim taller varieties like mint to keep it bushy and looking nice in hangers.
Container planting instructions apply for herb and flower varieties.
For herbs, mix in sand or perlite to lighten the soil and improve drainage. Most herbs are Mediterranean plants that don't like wet feet or high soil moisture. They'll thrive in a humid environment where they can pull moisture from the air—but that doesn't mean you shouldn't water them regularly or that you should let them dry out. Just don't water them as much as vegetables and flowers. Do water when the soil is still spongy, not dried and hard.
Flowers will not want soil that is as light or well-draining as herbs. Generally speaking, plant flowers in regular potting soil and water more frequently than in herb planters.
Many herbs have edible flowers, too, though letting them go to flower will usually change the taste of the leafy portions. However, flowering herb plants attract a great number of butterflies, bees, and pollinators, so it can be worth letting some go! Chives and alliums have edible flowers that are a treat in salads and more.
Mix and match plants in larger pots for interest, variety, and space-saving. But only mix varieties with like requirements for soil, water, and light.
Container plants require more frequent fertilizing because more frequent watering and plant demands strip nutrients from the soils, and the content is limited by what you give the plants. Plan for a weekly or biweekly fertilizing schedule.
Take light and wind factors into consideration when placing your hanging herbs and edible flowers. During severe weather, you may want to place the pots down on the ground to keep wind damage to a minimum or bring them inside.
Edible flowers and herbs may be perennials, which can either be brought indoors and grown inside or kept in a cool, protected area to overwinter as dormant plants. Make a plan for the plants that are perennials to grow again in the following year. Many plants can be kept going for several years when properly cared for—money saver!
Create Your Own Private Hanging Eden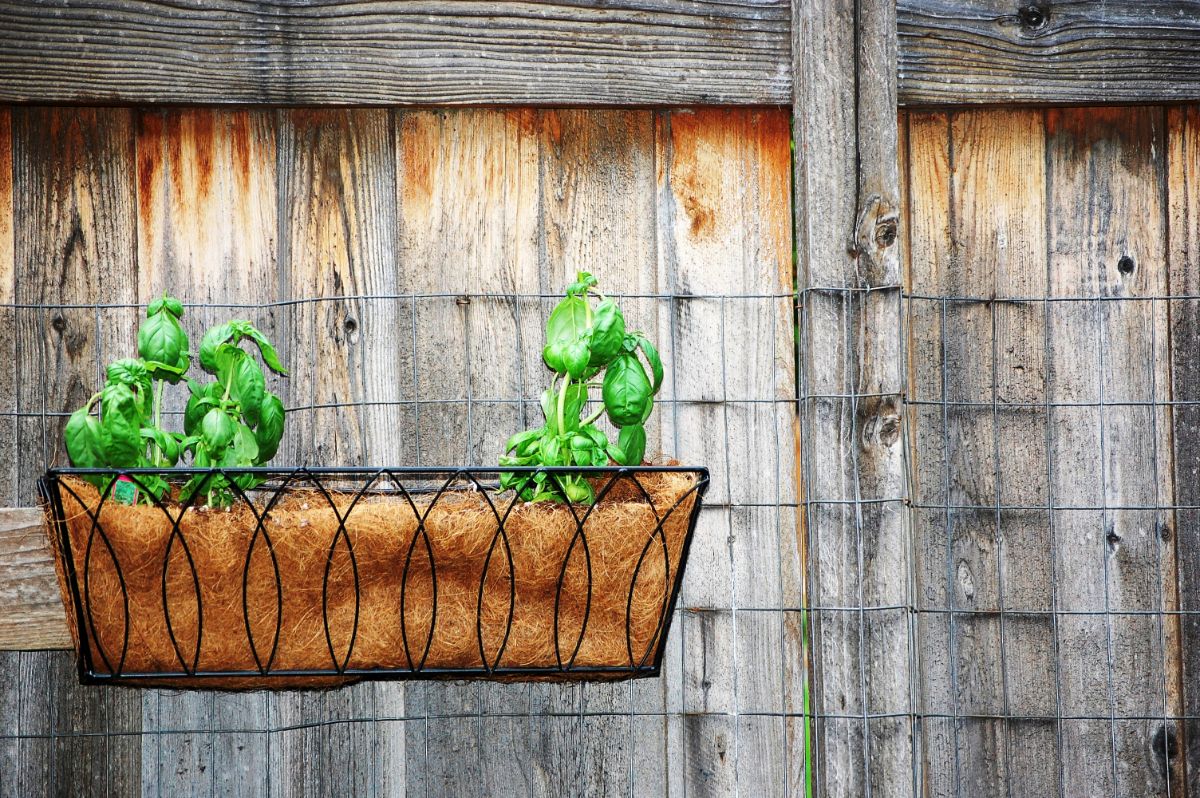 Container growing has brought gardening to people even in places where they never imagined they'd be able to grow plants for food. Hanging gardens are one way to take the concept a step further and add beauty, interest, and abundance to the home.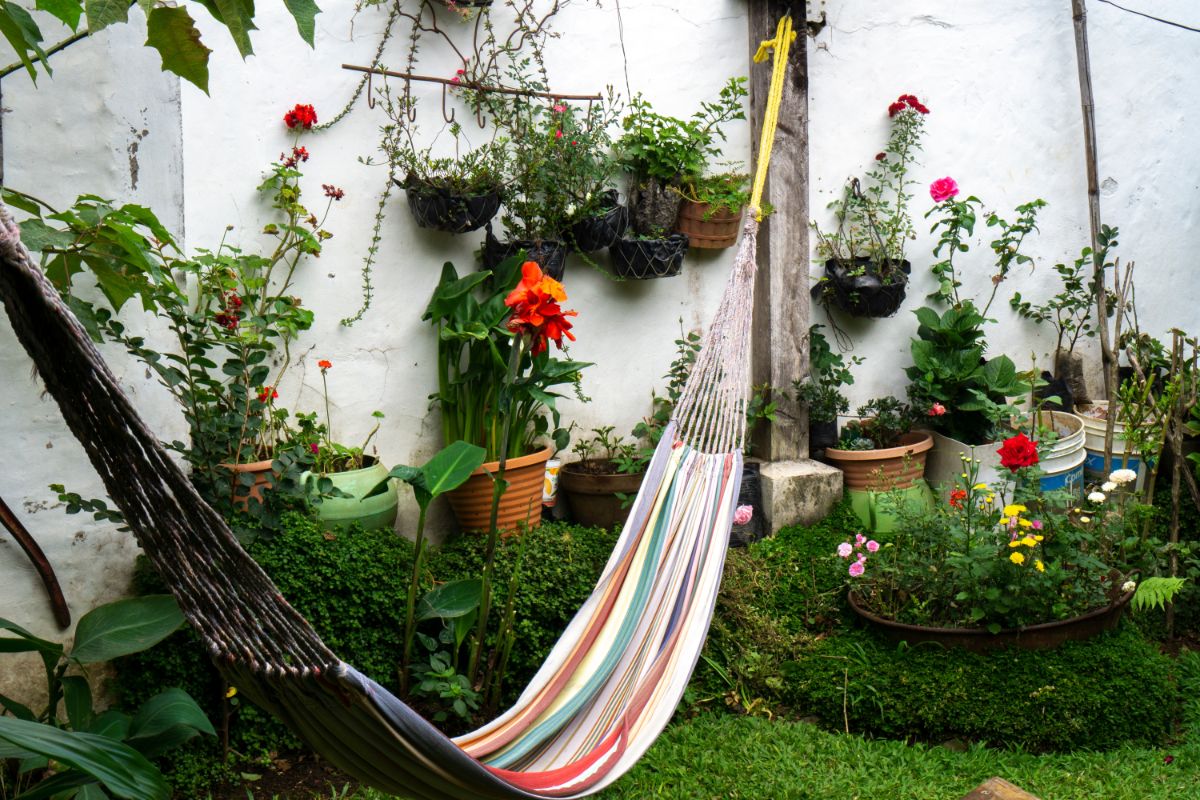 Everything from vegetables to berries to herbs and edible flowers can (and should!) be grown in hanging pots. You can create a lovely outdoor space this way, with your own Garden of Eden right outside your door!