Although I've been ordering seeds for years for my own garden, I didn't have much of an idea of what actually happens at a seed company. How do seed companies get all of those seeds, after all? How do they make sure seeds will germinate, and how do they store seeds before they ship them to gardeners?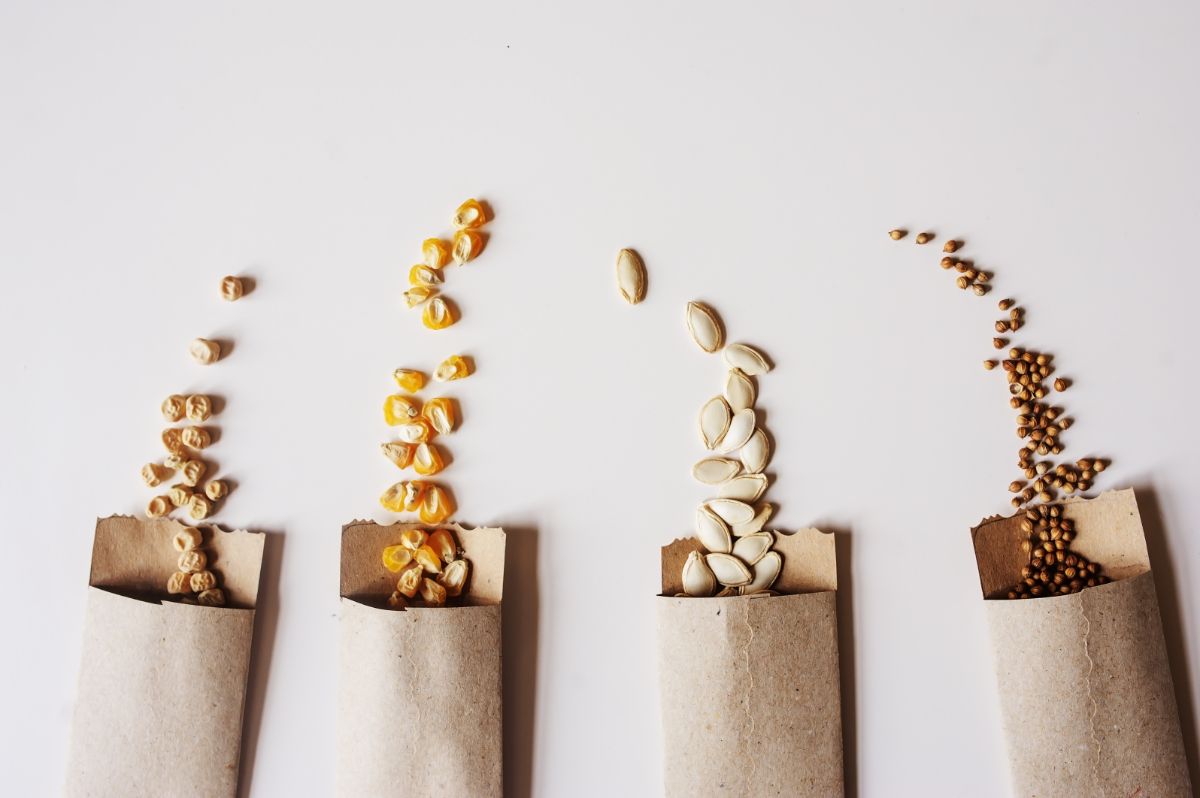 So I reached out to Fedco Seed Company to see if they would give me a behind-the-scenes tour of what actually goes on at a seed warehouse. Imagine how excited I was when they agreed to show me around!
I wanted to share everything I learned on the tour to help other gardeners get a better picture of what it takes to get healthy, viable seeds (and rootstock!) for our gardens. So I prepared this little miniature tour just for other gardeners to enjoy.
Jump to:
Potatoes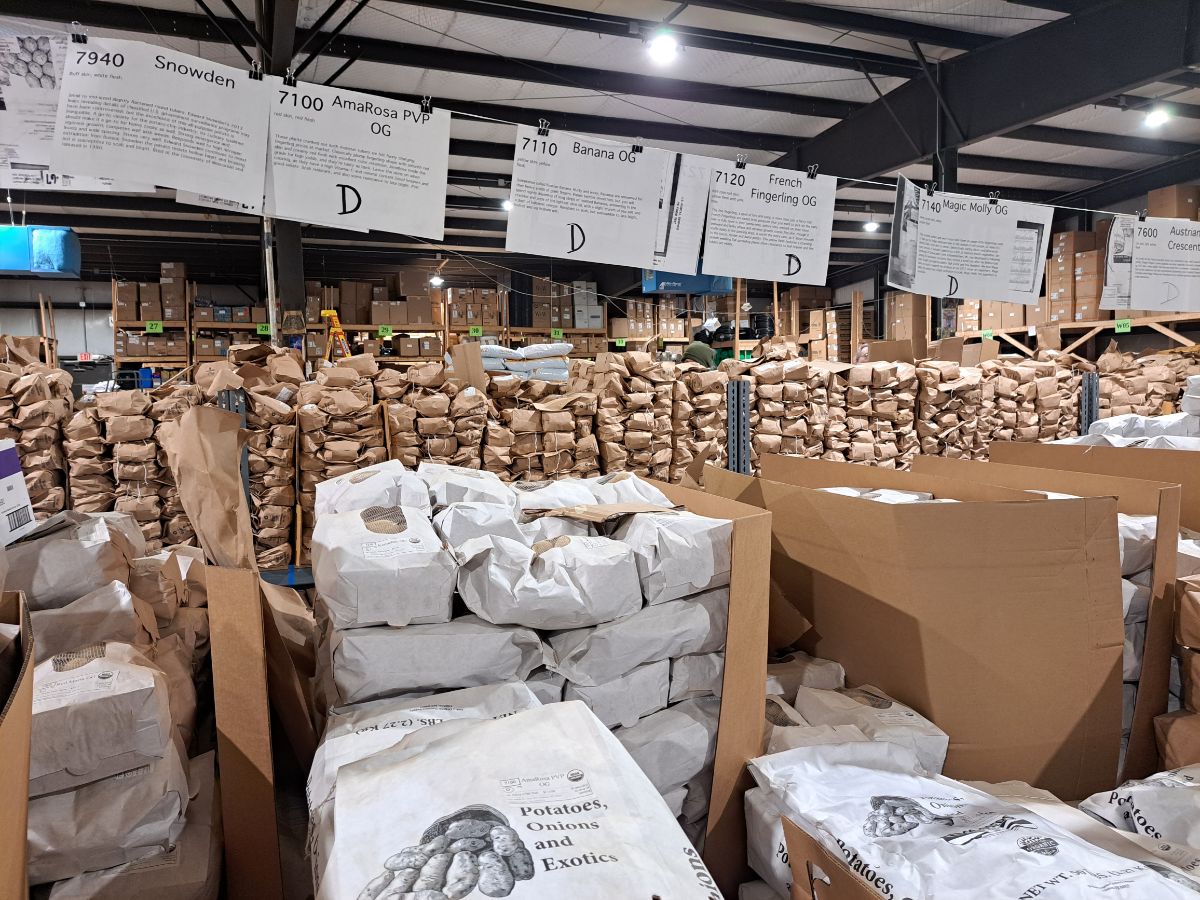 My first stop on my Fedco Seeds tour was the potato warehouse, where workers process potatoes for shipping to home growers and small farms. This section of Fedco also handles the company's stock of ginger, turmeric, sweet potatoes, onions, and shallots.
Many of the potato varieties at Fedco Seeds come from local farmers in Aroostook County in Northern Maine. In that part of the state, the sandy soil is just right for potato growing. Fedco prides itself on sourcing a wide variety of heirloom potato varieties locally, including fingerling potatoes, early-season potatoes, and large russets for autumn and winter storage.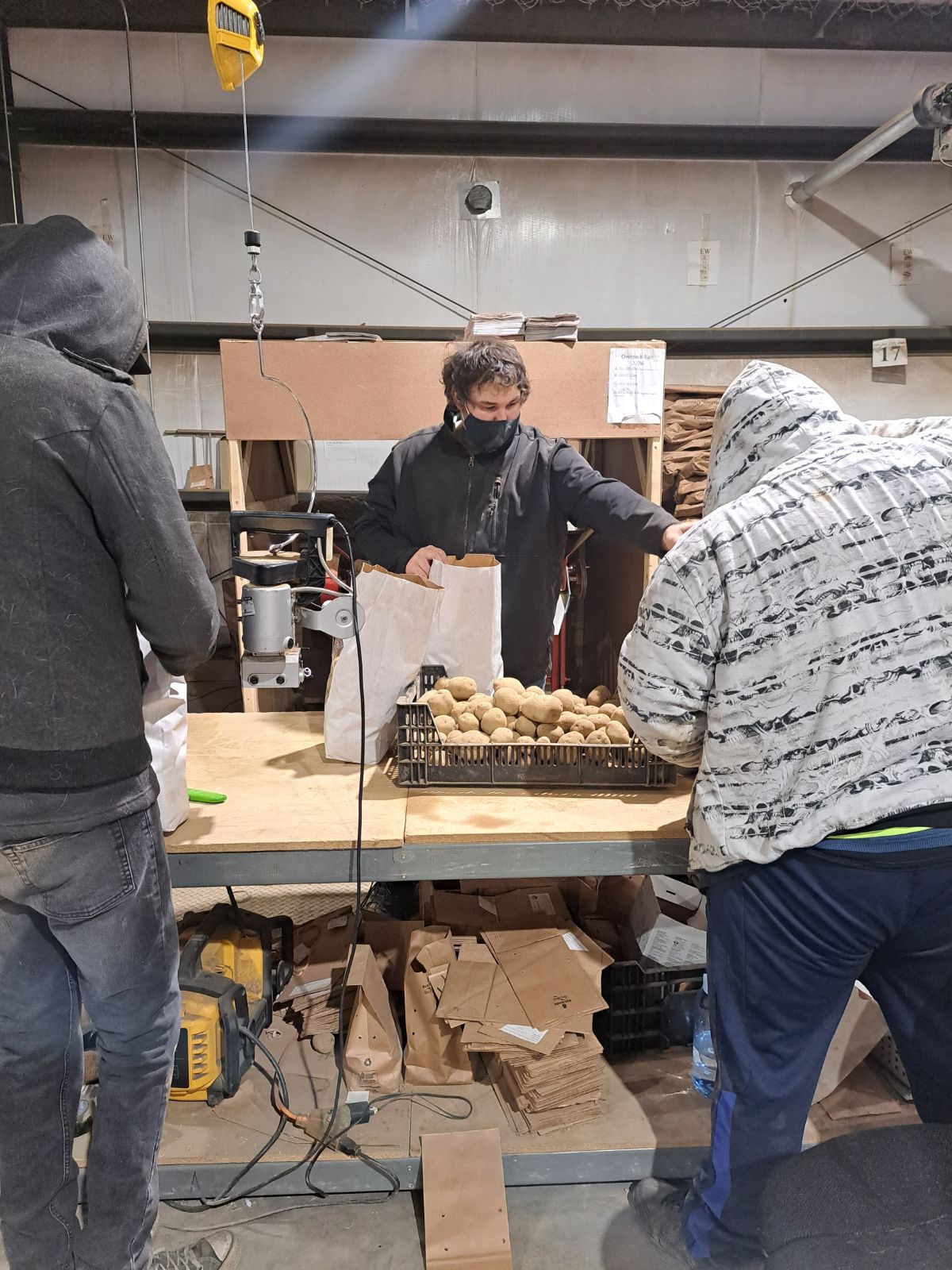 Potatoes arrive at the warehouse in large shipments, and then the spuds are repackaged by workers into smaller bags that are then shipped to gardeners. Potato bags can hold 2, 10, and 50 pounds of seed potatoes.
To ensure the quality of potatoes, the warehouse itself is kept cool, and most potatoes are shipped out as soon as the weather permits it. Orders for potatoes can be placed throughout late winter and early spring, and Fedco ships out orders in spring, just in time for potato planting.
I have to admit, scanning across the warehouse of potatoes, I'd never seen so many potatoes in my life! Bags were stacked on top of bags, and each was labeled with unique potato names, like 'La Ratte,' 'Magic Molly' and 'Pinto.' There was even a helpful pup on hand to watch over the potato-packing business.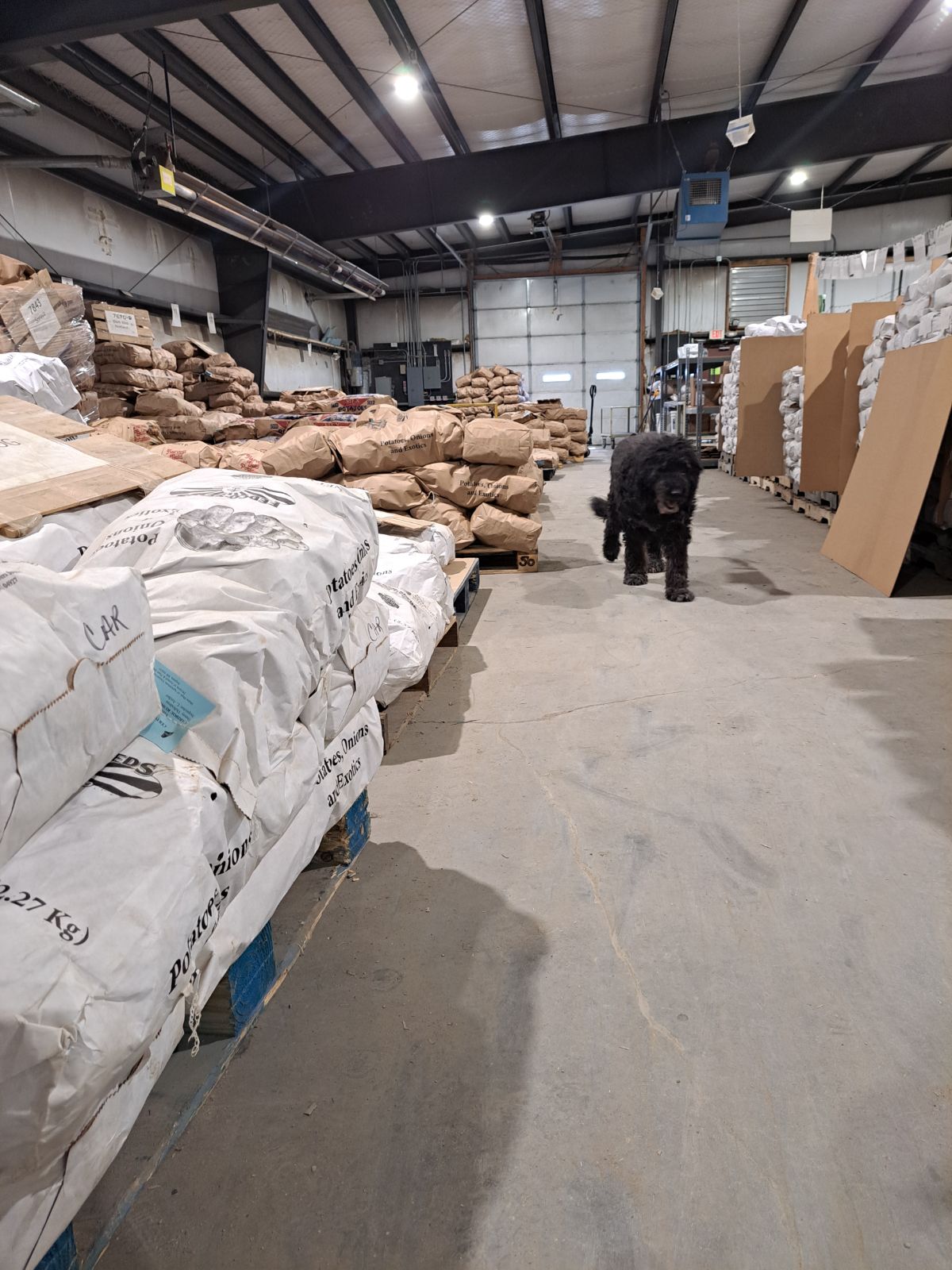 Given the opportunity to speak with a true potato expert, I asked Noah, the head of operations and product development, what his suggestions were for keeping wireworms out of the garden. In addition to soil solarization and grow bags, Noah recommended making sure all sod is removed from garden beds before planting, because wireworms love sod. That's good to know!
Seeds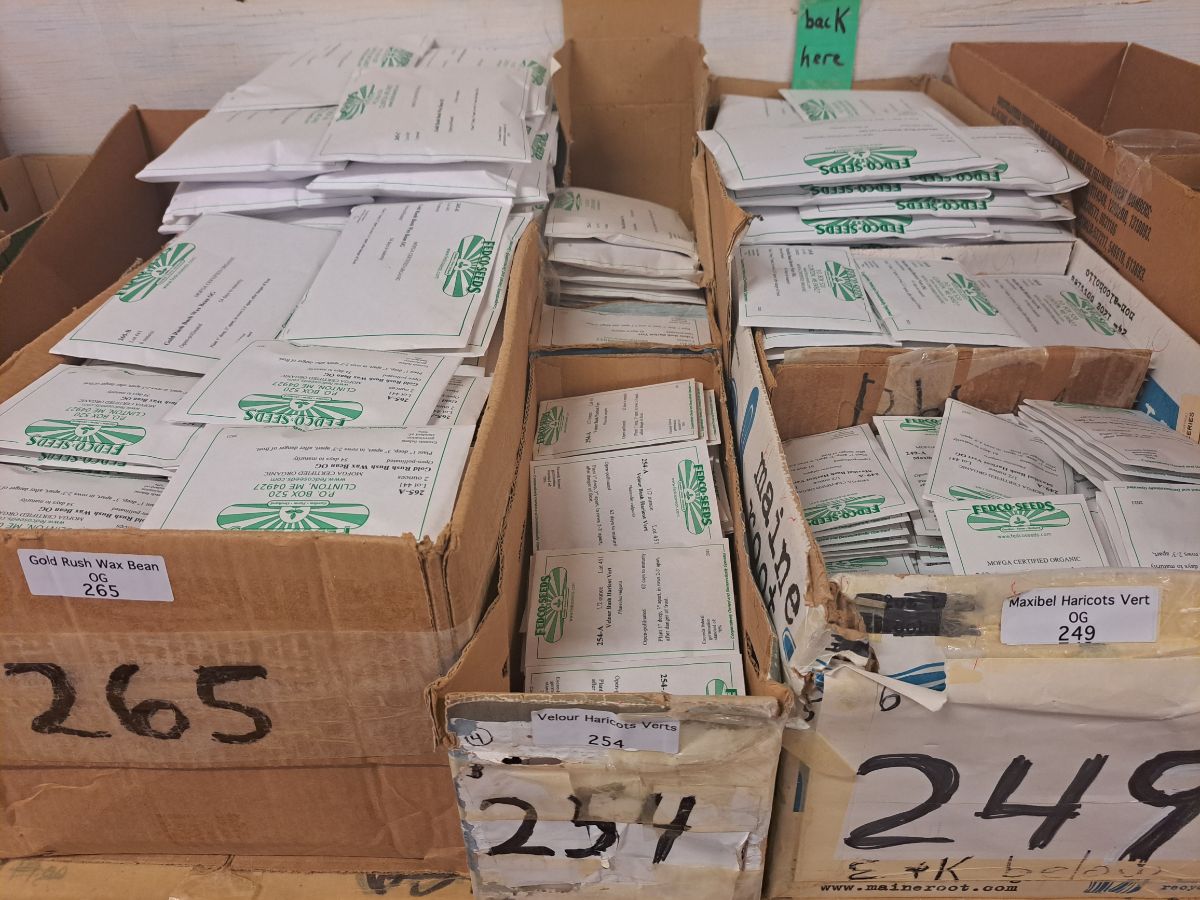 After touring the potato warehouse, we moved on to seeds. Fedco specializes in a wide variety of vegetable, fruit, and flower seeds, and they pay particular attention to sourcing organic, heirloom, and non-GMO varieties. Many seeds are also sourced from local farmers throughout the state of Maine.
First, my tour guides, Ann and Ryan, brought me to a building where seeds are tested for their germination rates. Seed companies must test their seeds every 6 months to ensure that they germinate properly and that gardeners are getting the quality seeds they pay for.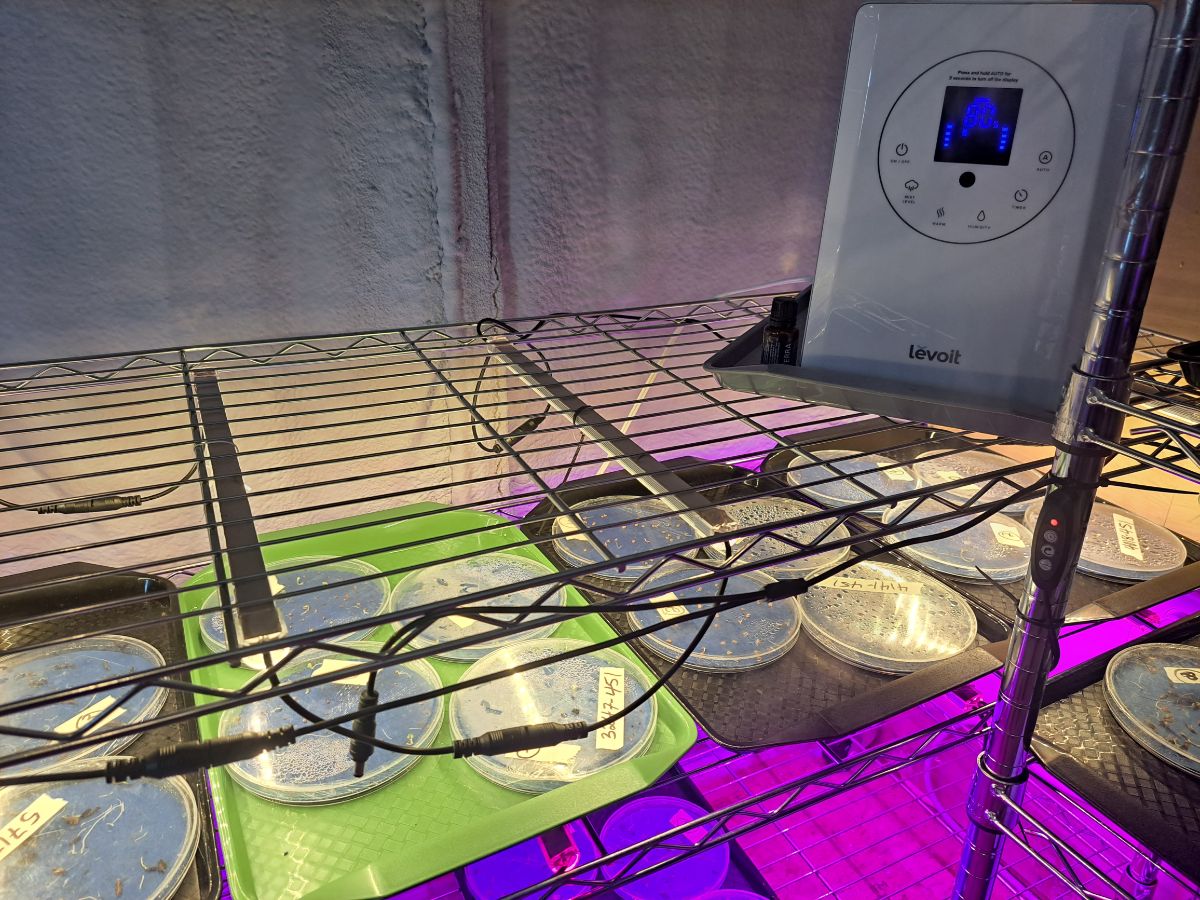 When I stepped into the seed testing room, the change was immediate. Outside, the Maine weather is still very brisk in March; however, inside the seed room felt like a sauna! The room was lit up by vivid, purple grow lights, the temperature was regulated, and there was a humidifier going to create the right conditions for seed sprouting.
Throughout the small room, a series of seeds were arranged in Petri dishes on plastic trays. On closer inspection, each of those dishes was labeled and housed a handful of small seeds at various stages of sprouting. Testing seeds is a critical part of any seed company's operations, and all the seeds at Fedco looked like they were doing great!
Once I'd snapped a few photos, we stepped back out into the frigid air and walked across the compound to the next warehouse where the seeds are actually processed for shipping.
There, in one office, editors and writers were busy drafting the text for Fedco's next seed catalog, which goes to the printers in autumn and is shipped out to gardeners in December to January.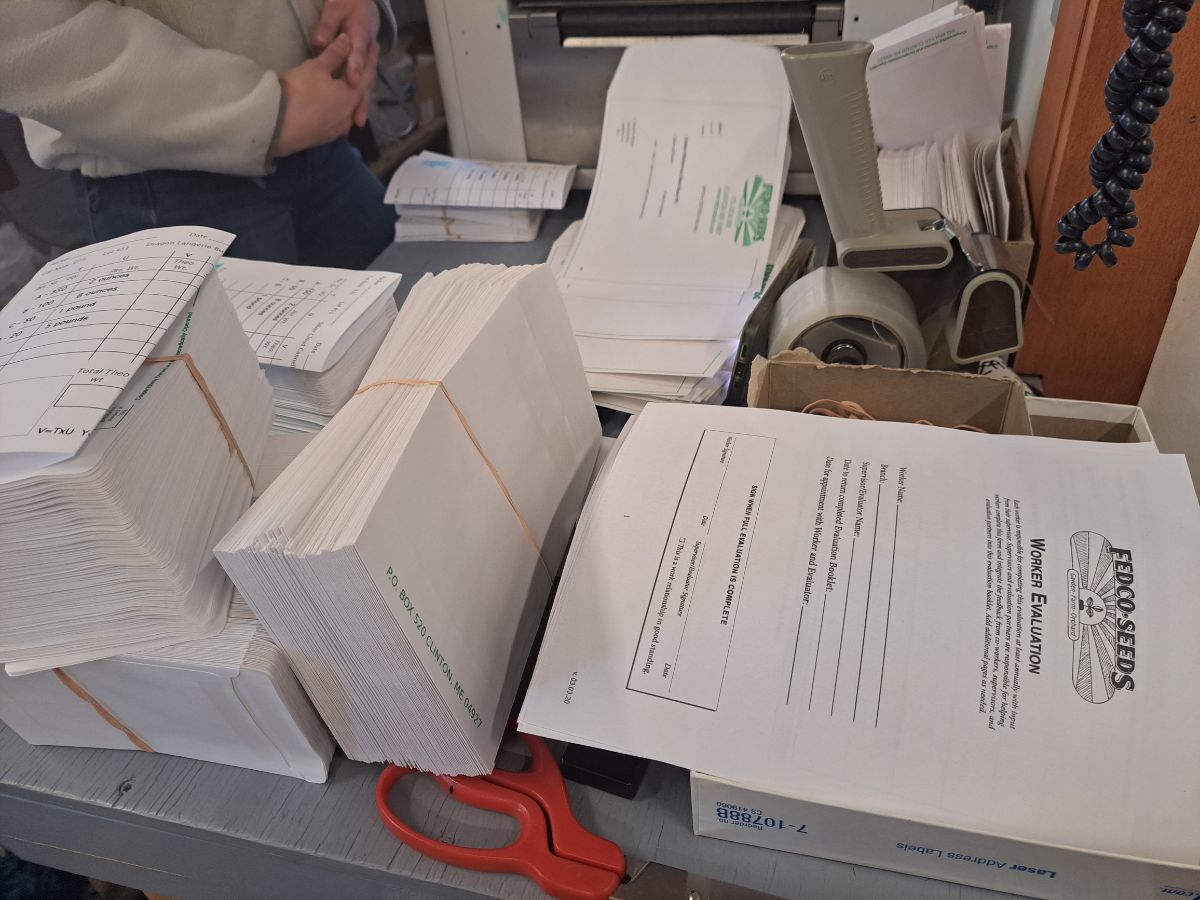 In the next office, workers were hard at work printing seed packages and filling them up with an assortment of herb, flower, and vegetable seeds. Seeds are packaged based on demand, so if there's a huge order for a certain type of tomato seeds on a given week, Fedco employees will be busily hand-packing those seeds for customers straight away!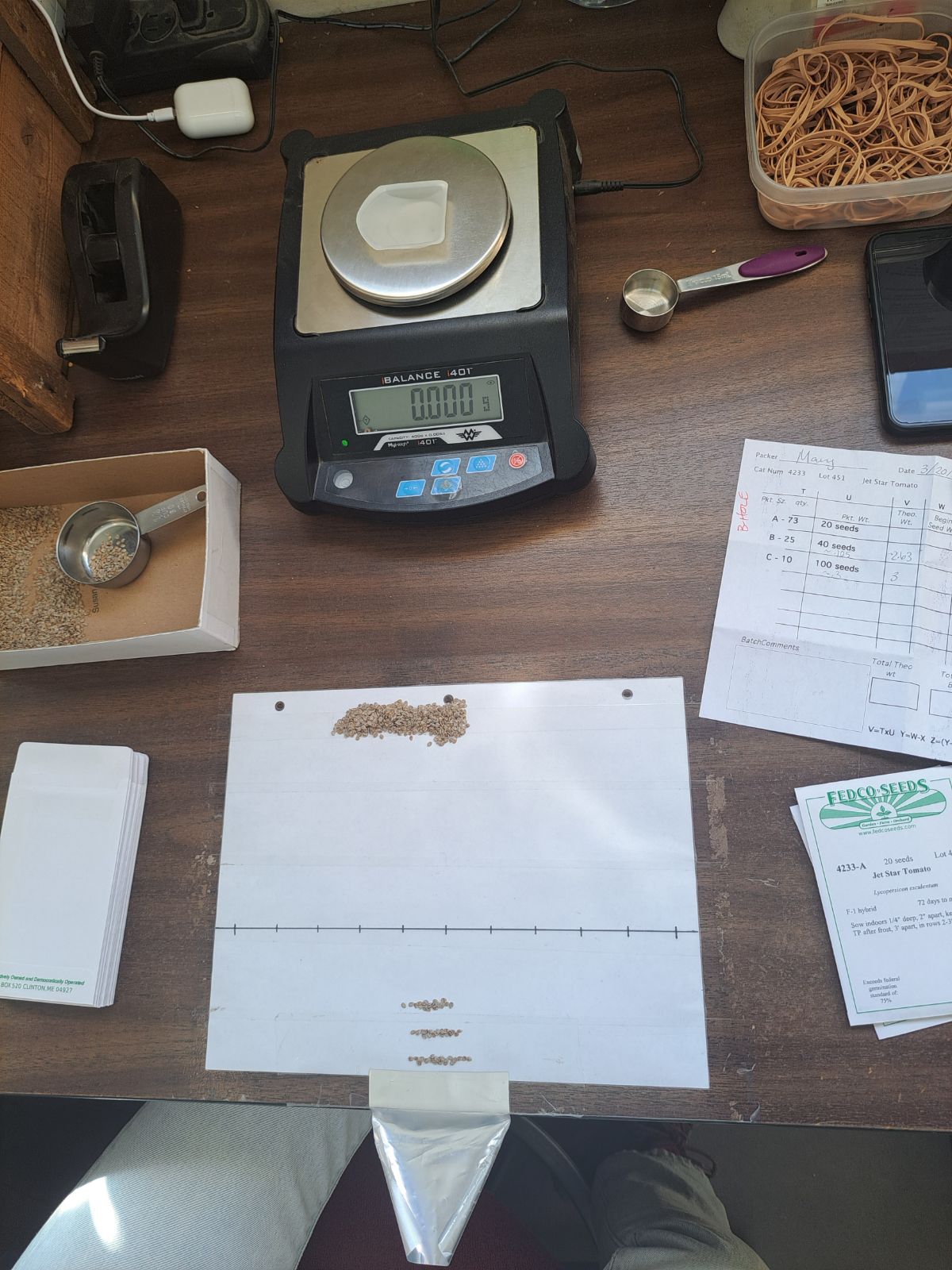 Again, I didn't really know what to expect in this part of the tour, but I was surprised to see that employees count and package seeds by hand. Some seeds were packaged by weight, but many seeds were hand counted with the appropriate number of seeds written on the seed packaging. With all those tiny seeds, it definitely looks like the sort of work you'd need great eyesight for!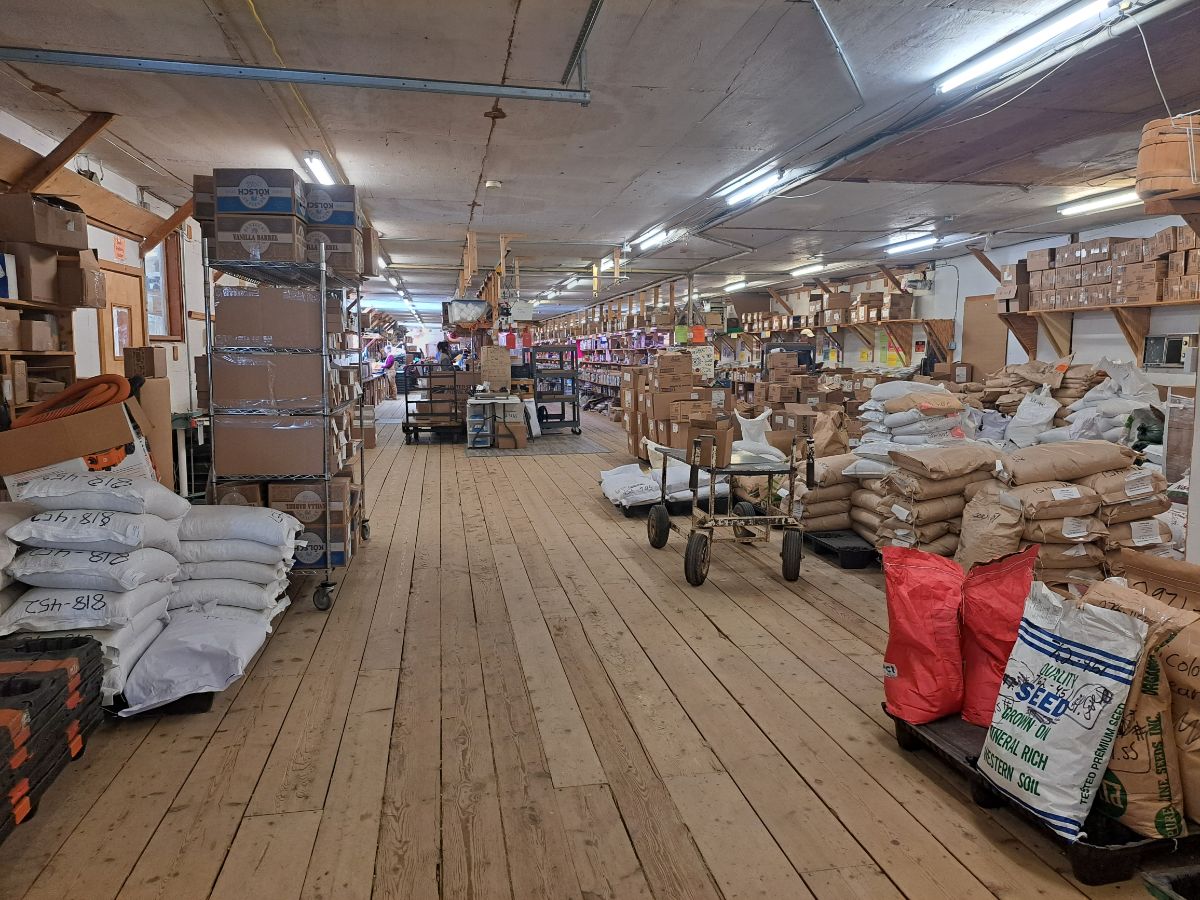 Outside of the seed packaging room, the warehouse opened up into a large, brightly lit space that was stacked with bags of fresh seeds and shelves full of boxes. Each of those boxes was filled with this year's stock of garden seeds, all in alphabetical order.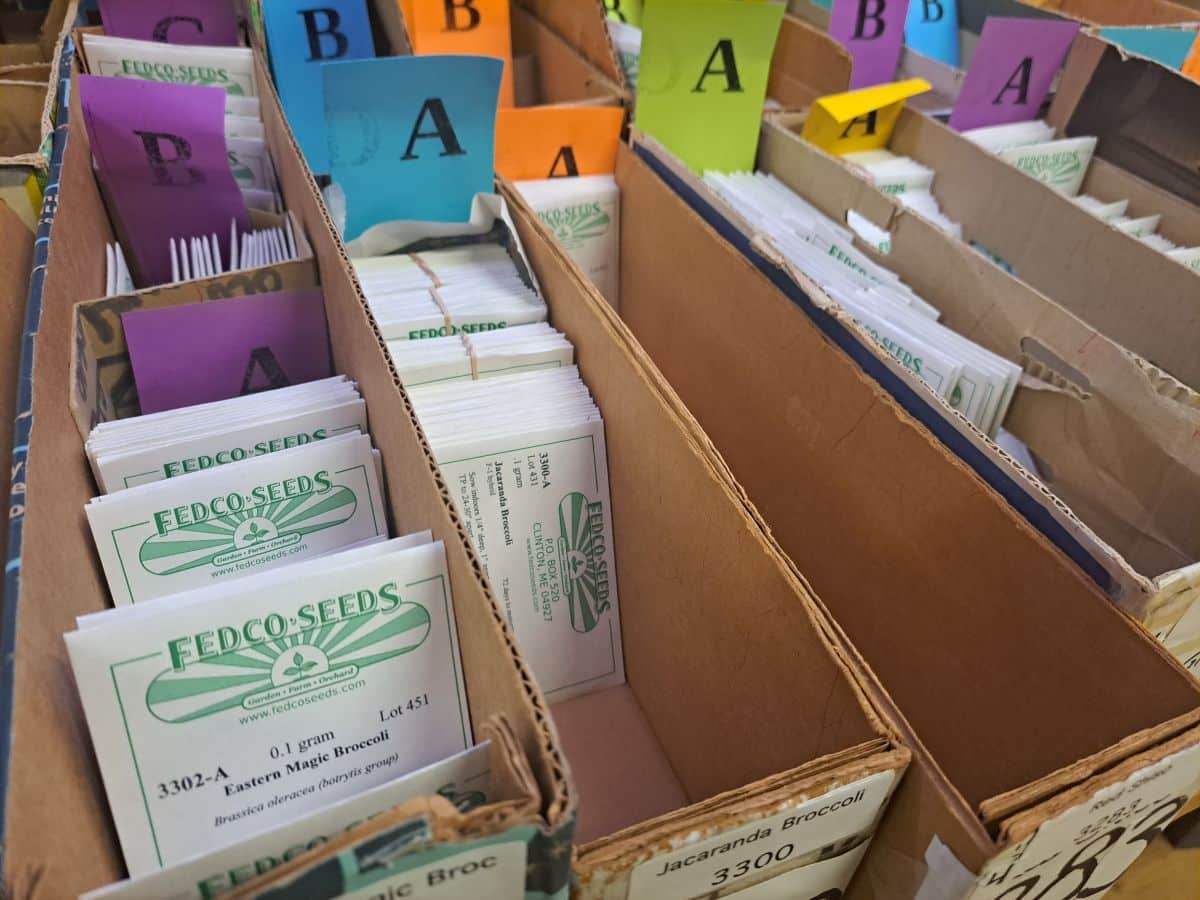 Workers with clipboards walked up and down the aisles, selecting individual seed packets to fulfill shipping orders. Each worker is given 9 orders to process at once, and then, once they find all the required seeds, they bundle the order up, print out a shipping label and place the sealed envelope in a box ready to be mailed.
As someone who has waited with much excitement to receive my own order of seeds for my spring garden, the room felt brimming with promise. So many gardens will grow from the contents of this one room!
Trees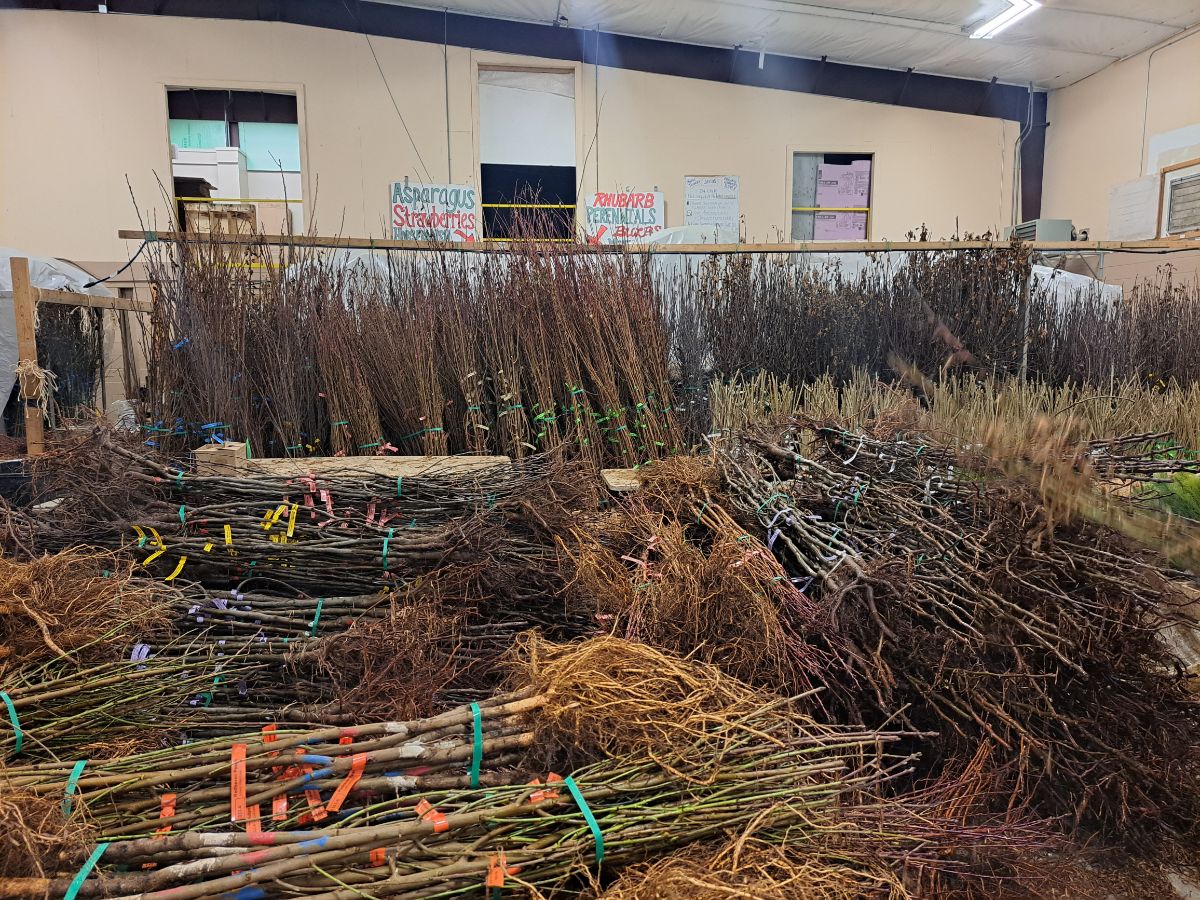 We rounded out the tour by taking a brief car ride over to Fedco's third warehouse down the road. In this spot, the company houses bare root trees and shrubs, as well as roots, crowns, and pots of medicinal plants, native plants, and edibles, like rhubarb and strawberries.
Since rootstock generally can't be planted until later in the spring when the ground thaws, when I toured the facility, shipping hadn't started yet, and workers were still busily preparing for the ordering season ahead. The room looked a bit like a miniature indoor forest, thick with trees and small shrubs arrayed in neat rows and carefully stacked piles.
In this section of the facility, temperatures are kept cool to keep trees in a state of dormancy for as long as possible. Dormant trees are easier to ship and plant in gardens, after all!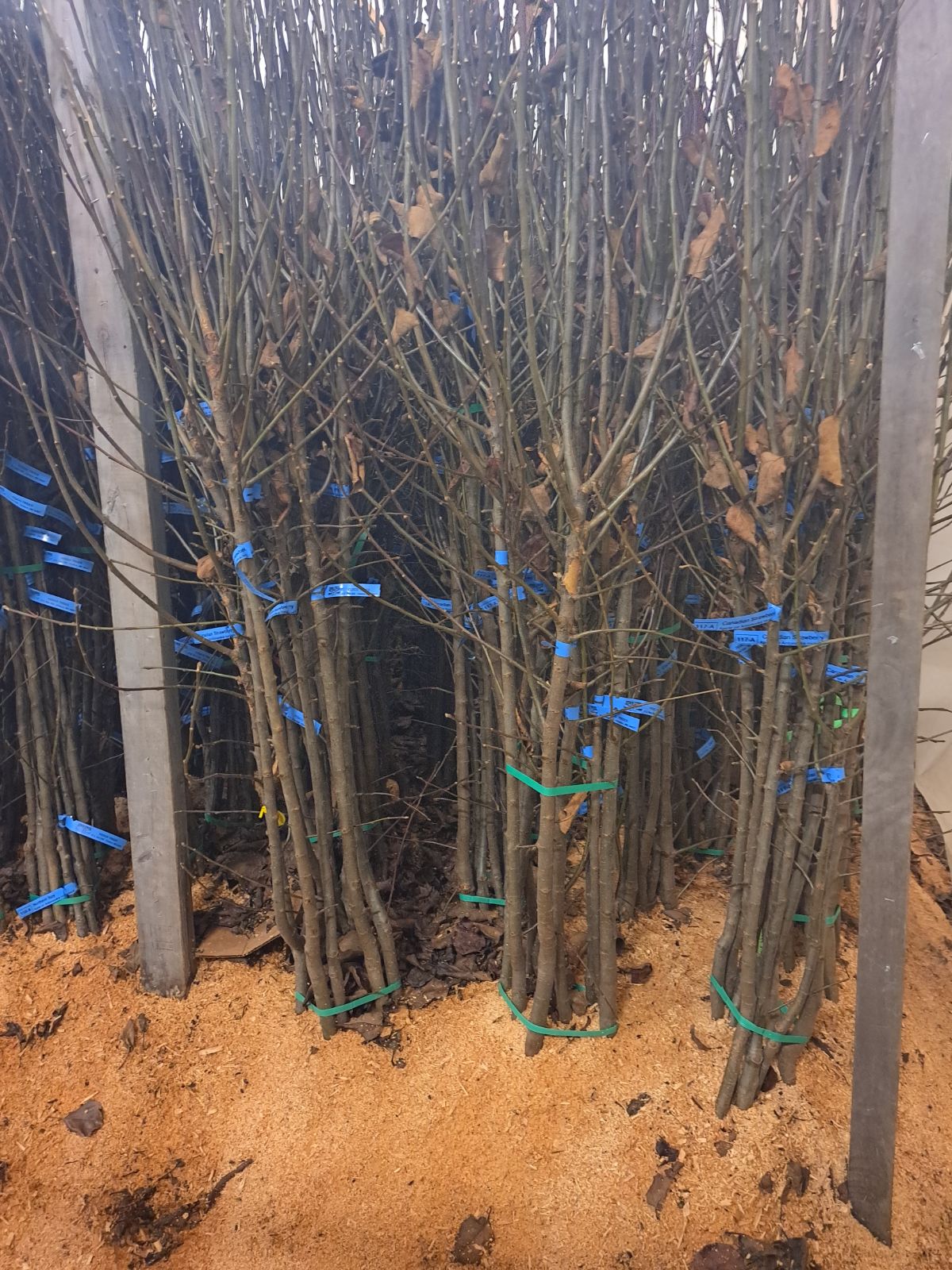 The roots of the bare trees were packed in a thick layer of damp wood shavings piled on the floor. This is an effective way to keep roots moist and store trees while they're waiting to be shipped. Workers simply water the wood shavings as needed to ensure the trees don't dry out.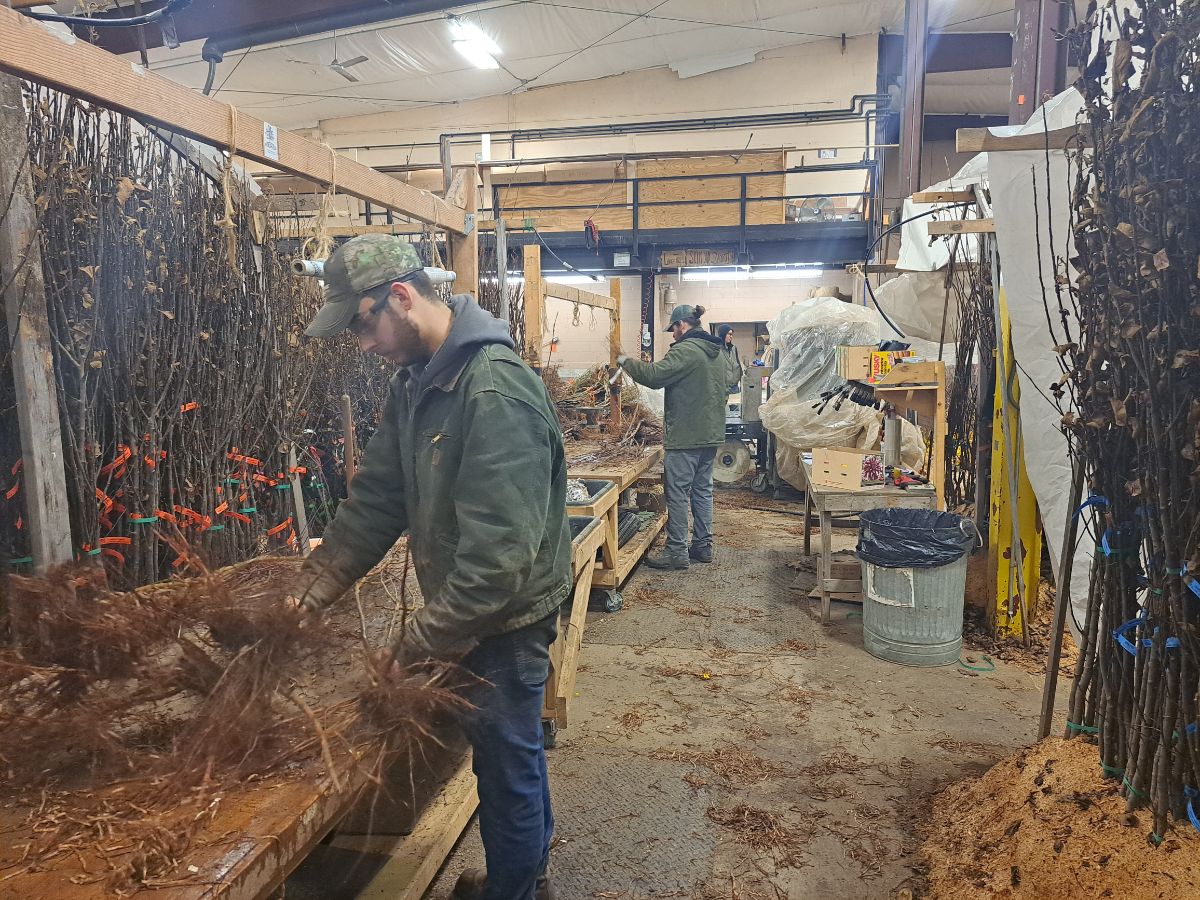 The trees and shrubs were all carefully labeled with bright tags so that workers can keep track of the stock. When orders come in, individual plants are selected, and their roots are carefully packaged in a moist, shredded newspaper for shipping. When gardeners receive their order at home, all they need to do is shake the roots free and start planting!
Putting it all together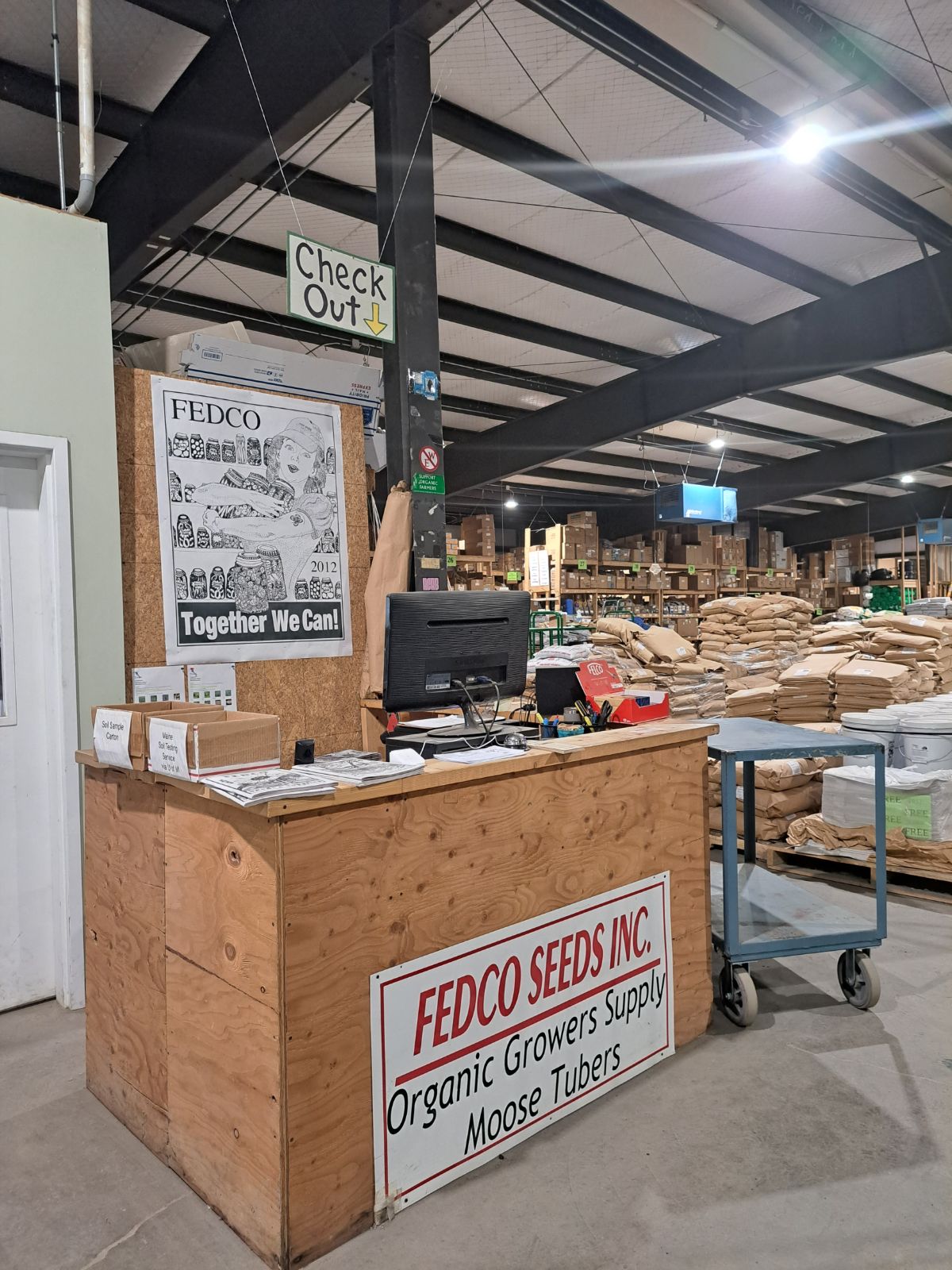 After the tour, I thanked my gracious tour guides for showing me around the Fedco facility. When I set out in the morning, I couldn't picture what actually went on inside a company like Fedco, but the tour revealed to me what an involved yet orderly process of seed ordering is.
During the height of the pandemic, seed companies were inundated with more orders than ever, and they needed to have creative and efficient systems in place to make sure they could process orders in a timely fashion. Seeing what goes on behind the scenes helped me better understand exactly how seed companies can handle so many orders all at once.
As I drove through the Maine countryside after the tour, I watched crop fields and small home gardens clip past my car window. I wondered if any of those fields supplied seed to Fedco and how many gardens relied on all those little seeds tucked neatly away in their alphabetized boxes.
Seeds have always brought with them a promise. A promise of fresh flowers and tasty veggies to come. A promise of gardens bursting with greens and harvests ready for canning, winter preserving, and delicious homemade meals.
I learned so much on this tour, and I hope you liked coming along on this adventure with me! If you'd like to learn more about how to order seeds or how to start them, check out our other beginner-friendly gardening guides.