You may have heard about these hula hoes, which are, more and more, being recommended in gardening circles. They aren't new, really; they've been around in similar forms for many years, since at least the early 1960s.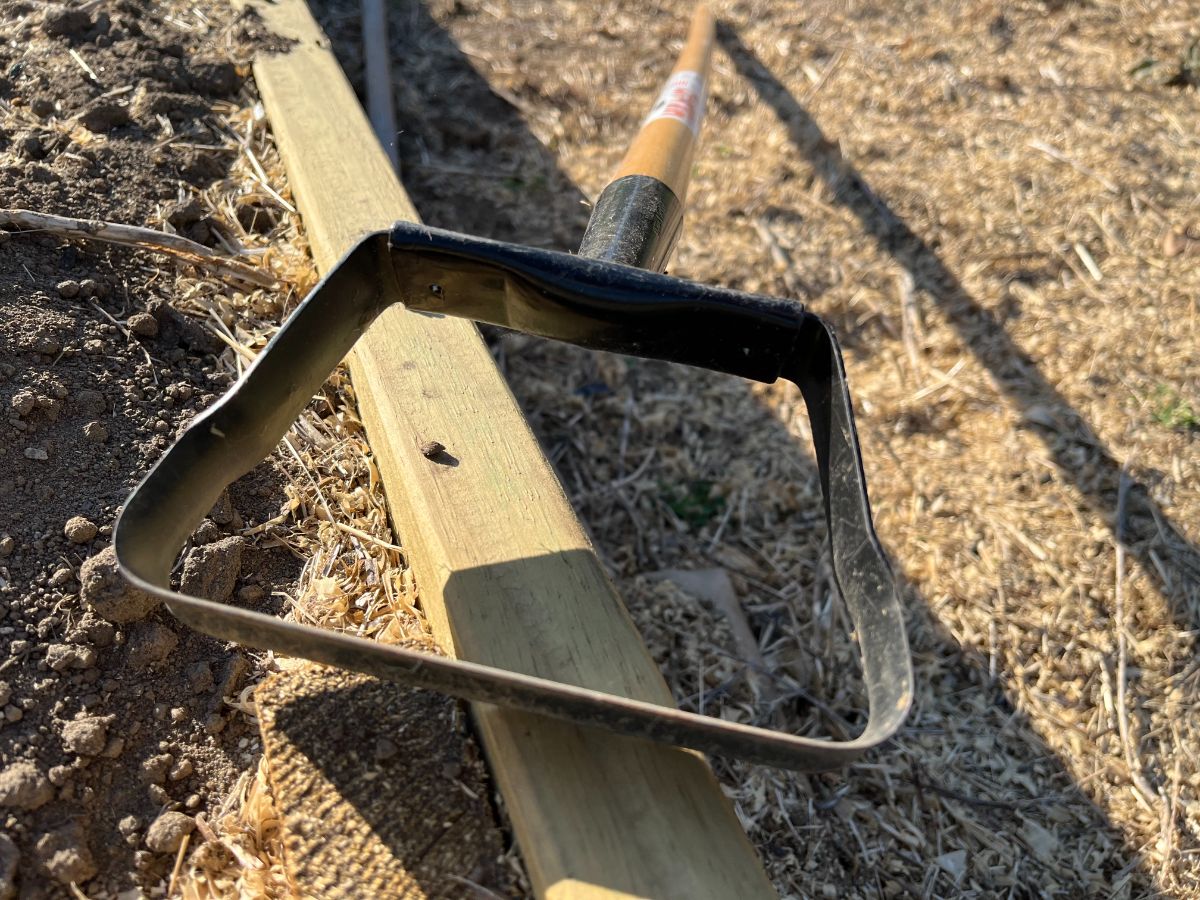 Hula hoes do, however, seem to be rising to the top of the gardening tool pile these days. The question is, should they?
Jump to:
A Real-Life Hula Hoe Review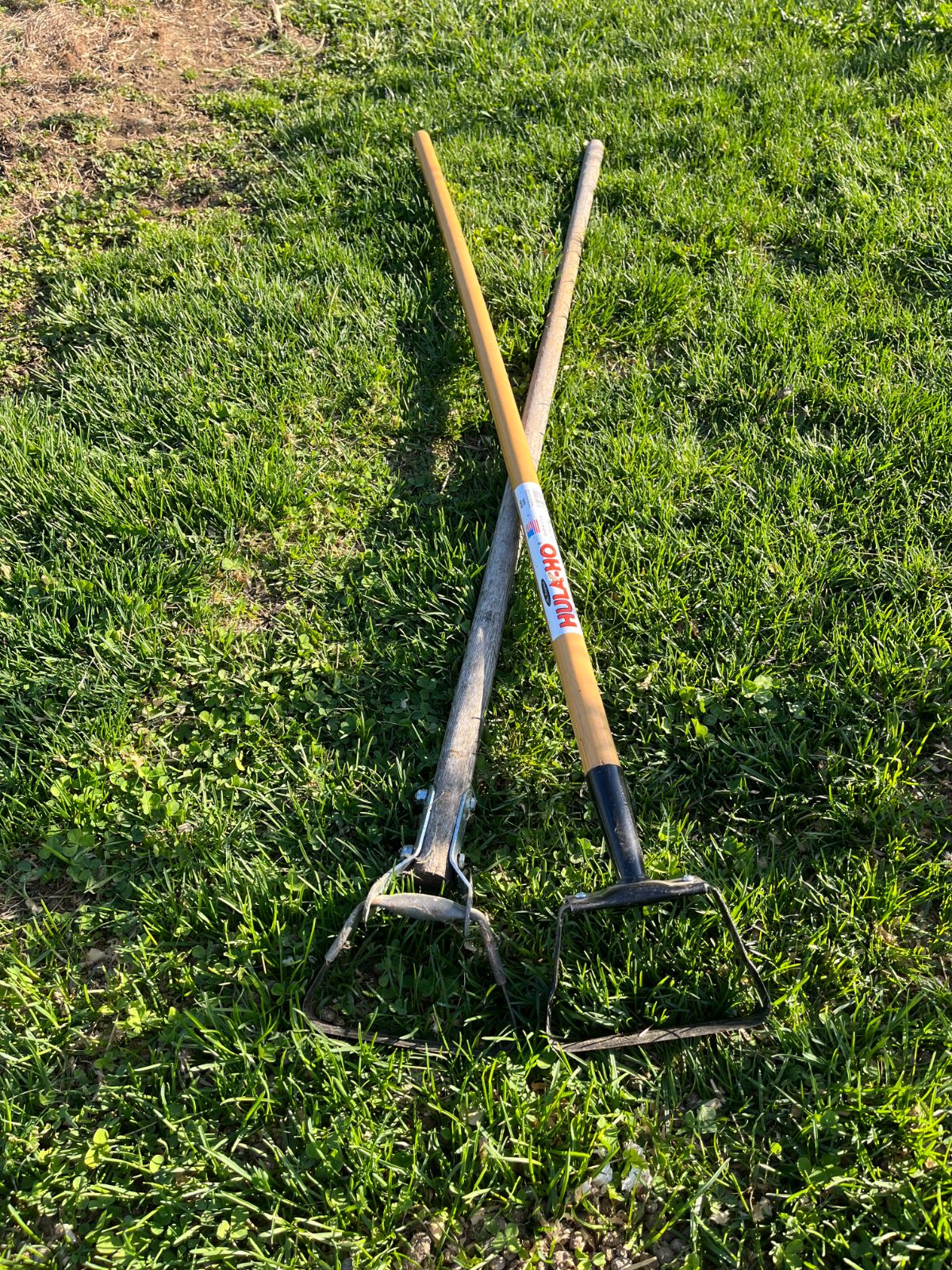 Today we are reviewing a type of garden hoe, which is really only useful for weeding. That's its purpose.
It is called a hula hoe.
Hula hoes are known by a few other names, like scuffle hoe, shuffle hoe, stirrup hoe, and the slightly differently spelled version (probably a throwback to the original), Hula-ho.
Hula hoes get their name from a combination of shape and action. The hoes have a slightly "loose" (for lack of a better term) action to them, which makes them "wiggle" when you weed with them. The looseness and wiggle are intentional; it makes it easier to push and pull the hoe through the soil.
Sale
Bestseller No. 1
Bestseller No. 2
Bestseller No. 3
All these versions are basically the same, but there are several manufacturers of hula hoes. As long as you choose a quality product, the function is not different enough to change the review. Because it is a moderately heavy-duty garden tool that is likely to see a lot of use, you really do want to buy a good one, though.
Hula Hoe: What Is It?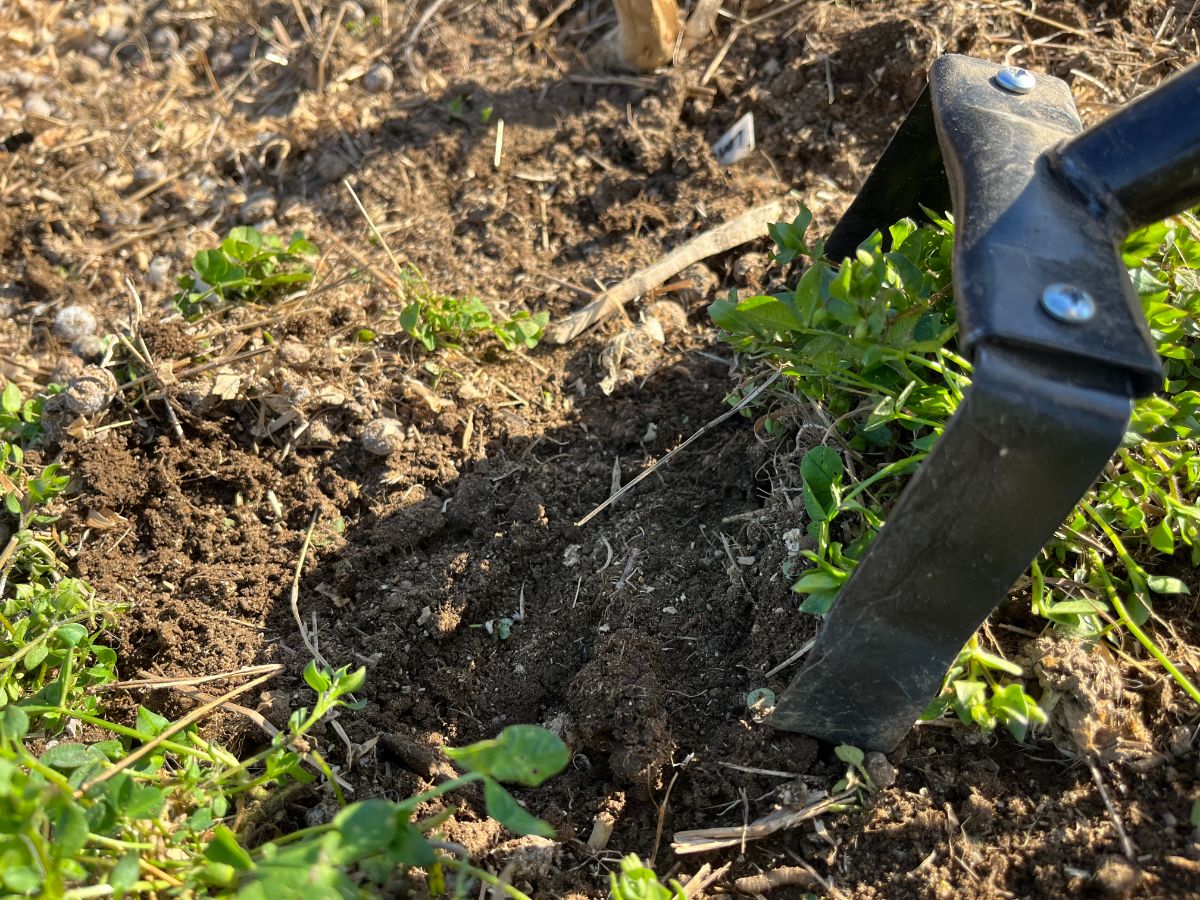 A hula hoe is a long-handled hoe, similar in this way to traditional garden hoes, with an angled metal "hoe" at the end. (Note: when you shop for hula hoes, do look for one with a hoe-like angle; some brands have a very straight angle on the hoe end, which is more awkward to use.) The difference in a hula hoe is that the hoe end is an open triangular loop.
The open triangle loop is made of a relatively thin steel that is similar in shape to the stirrups on a horse's saddle—hence one of the other names for this tool, stirrup hoe.
How Does the Hula Hoe Work?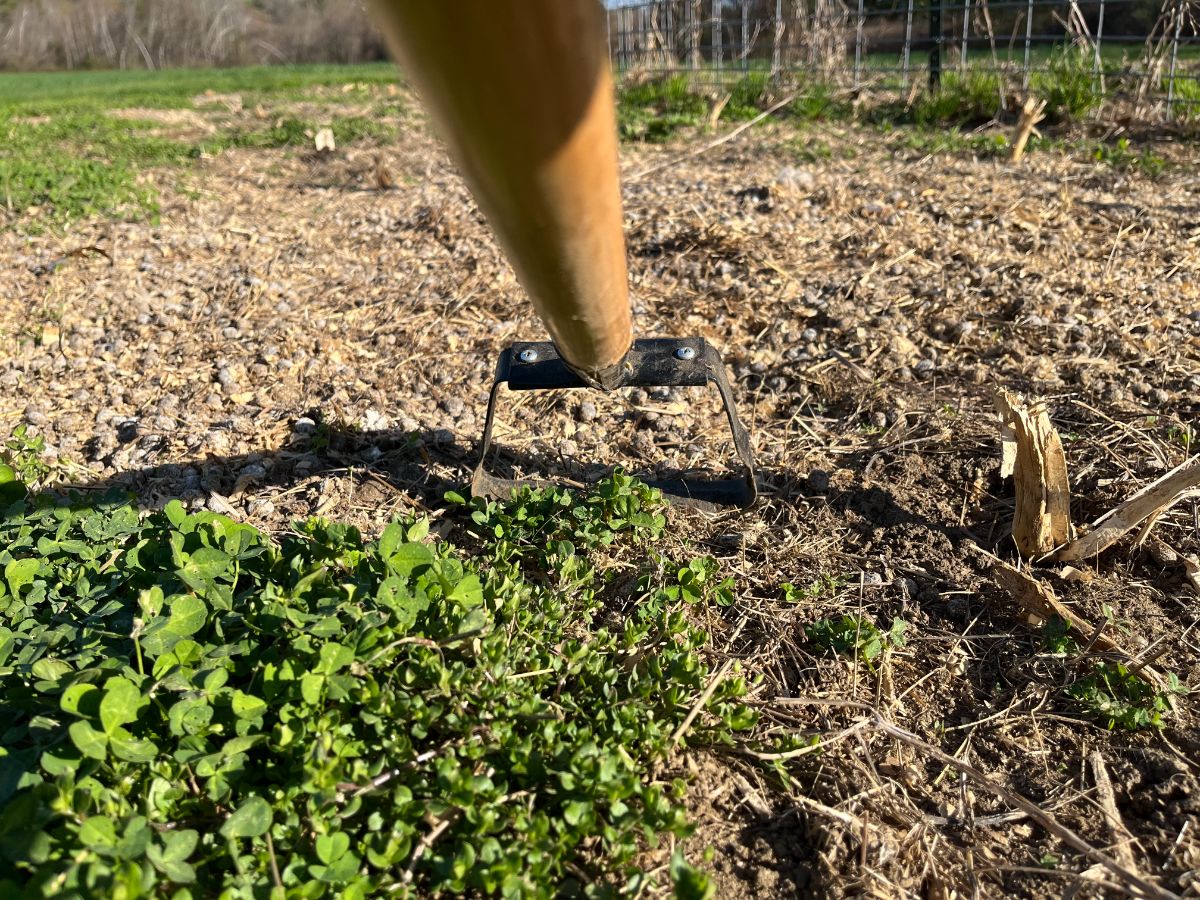 Hula hoes are designed to be pushed and pulled through the top layer of soil in your garden in a scuffling or shuffling motion (hence the other names for this hoe!). Though they don't feel very sharp to the touch (as in, not knife-sharp), they do have a sharp edge (so do be careful and don't cut yourself if you decide to try and feel it!).
The sharp edge cuts the roots from the stems of weeds, killing them in the process. It is made to cut slender stems more than it is made to uproot them.
The action is something of a push/pull sweeping motion. You don't have the repetitive lifting, digging, scraping, and pulling motion of a traditional hoe. It's one repetitive motion through the soil, moving up your row until the job is done.
Does the Hula Hoe Really Work?
The short answer? Yes. Hula hoes really do work. They're simple but effective garden tools, and once you own one, you'll wonder why you didn't buy one years before.
Rated "M" for Moderately Easy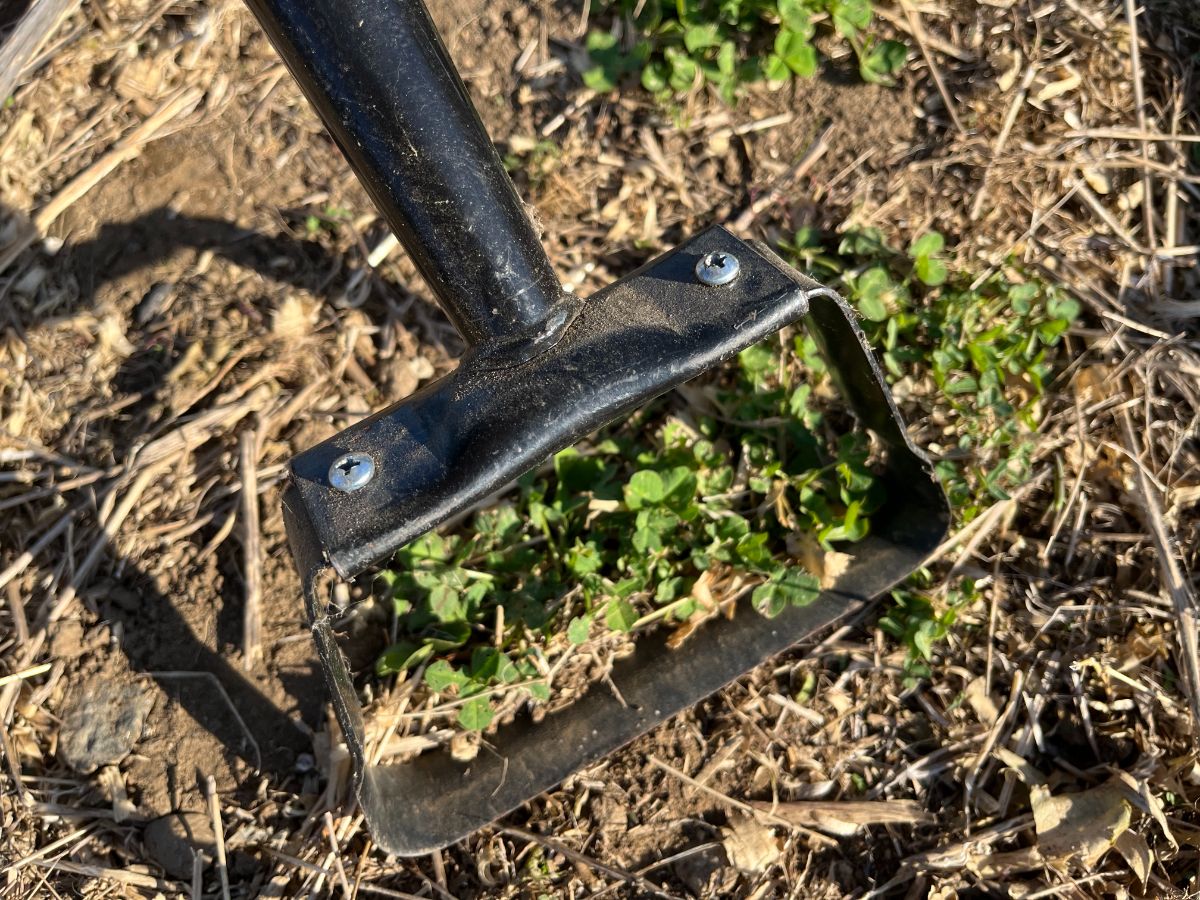 Hula hoes are easy to use. There's nothing complex, and they do lighten the work of weeding. Despite that, there is still some physical work involved in using them. So, it's tough to assign them an "E for Easy" like the sticky gnat trap stickers rating, because it doesn't get much easier than those stickers.
But as garden tools and heavy work like weeding go, it doesn't get much easier than these hoes--when used the way they should be used.
Tips for Success with the Hula Hoe
Use the hula hoe on open spaces like aisles and between un-mulched plants to keep ahead of weeds
Don't apply mulch where you plan to weed with hula hoes—it wastes the mulch, which gets jumbled around when hoeing, and gets in the way of the hoe
Establish a regular routine, like hoeing two or three rows each day, or a few days each week
Stay ahead of weeds, and don't let them get too big, or the hoe won't work on them
Hula hoes are best used when the weeds are young and slightly older than the thread stage. Weeds at the thread stage may not go deep enough into the soil yet and may just ride on top of the cut soil and not get their roots cut
Keep your hula hoe clean and clear of caked-on dirt and mud.
Store under cover and out of weather when not in use to prevent rusting on the hoe and splintering on wood handles.
Sharpen when dull (though many scuffle hoes are self-sharpening)
Clean, oil, and store for winter to keep in good working order
What are the Benefits of the Hula Hoe?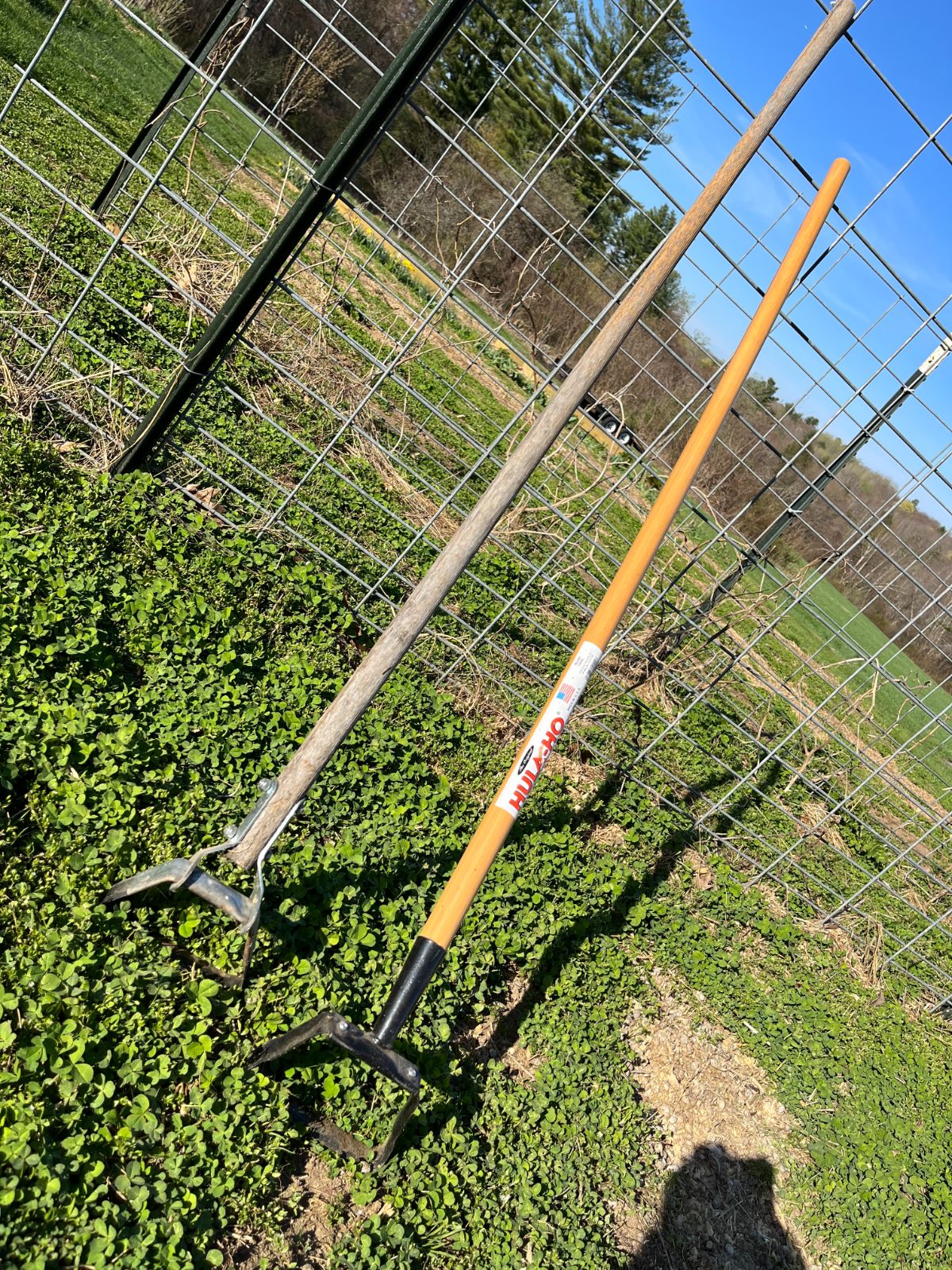 There are several good things about hula hoes (yes, I'm a fan):
They miss fewer weeds because you're not constantly lifting and repositioning—you're scuffling and sweeping through the weeds
Dirt stays where it is, laying back where it started as the hoe cuts through it, which means the dirt doesn't pile and cover up weeds to "replant" them, and it doesn't cover weeds you haven't weeded yet
Cuts and kills weeds on both the forward and backward stroke
Low amount of soil disturbance
Better for worms and beneficial microbes than motorized tillers
Low seed exposure, which means fewer newly sprouting weeds
Lightweight
Eliminates bending and crawling on the ground to weed
No fuel required
Quiet
No motors or moving parts
What's Not Great About Hula Hoes?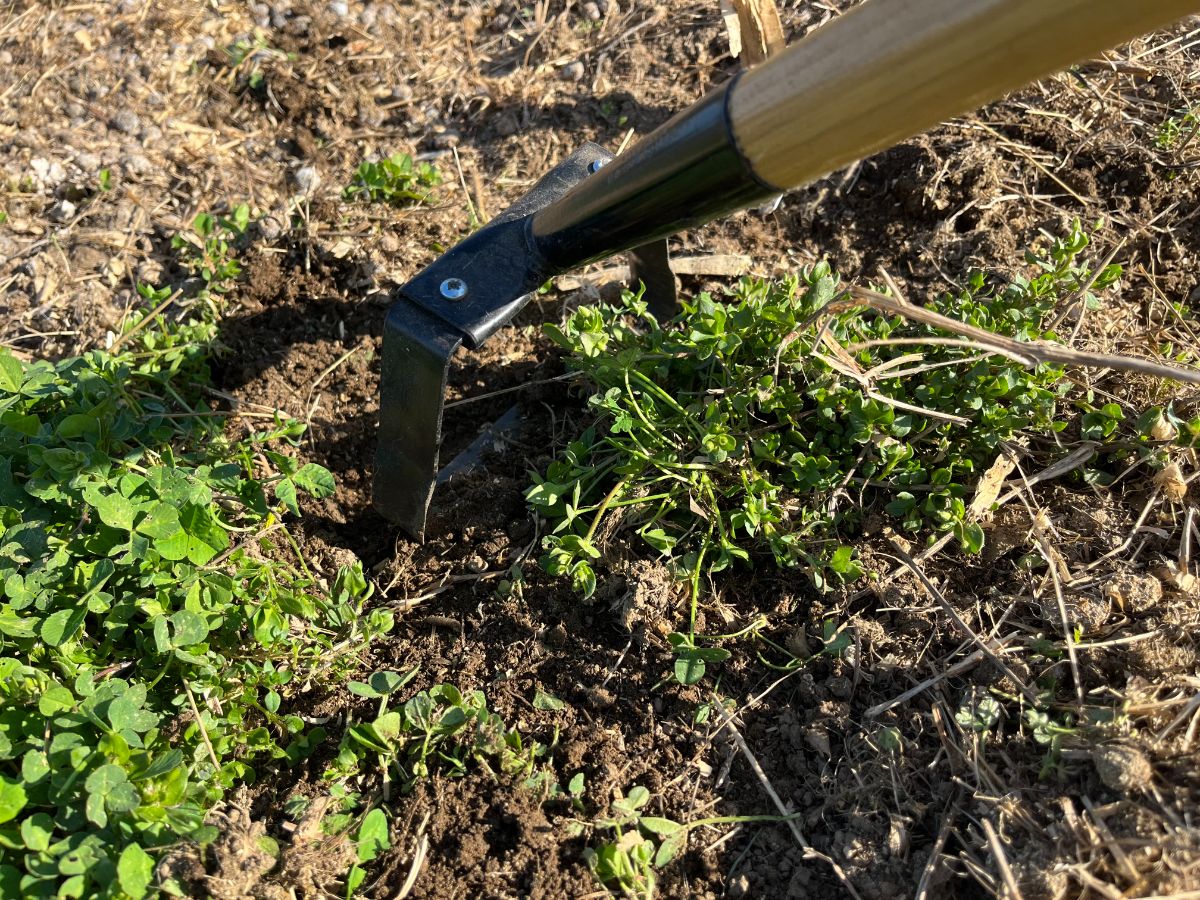 There aren't any major disadvantages to the hula ho, especially if you use it as recommended, but there are a few things that can be issues, or that you need to be aware of.
Can cut plant roots of garden plants if roots are shallow growing or far spreading
Need to take care that there is enough space between the plants and rows to fit a four-inch blade
Does not work well on mulched rows or rows with barriers like plastic, landscape fabric, or paper in them (but then again, it's not meant to—no tool really is)
Some risk of cutting if not used properly (about the same as any other misused garden tool)
Does not work well on older weeds with deep and thick roots (though a burly guy like my husband with some muscle can still power through big weeds)
Where to Buy a Hula Hoe
Hula hoes are becoming more available in local garden centers, so you may find one there, or possibly even at a big-box store garden center (though these tend to stock more trendy products, so it might be less reliable, and you may or may not want to count on finding a stirrup hoe in stock at a big-box store).
Fortunately, it is also easy—and quite reliable—to buy a hula or scuffle hoe online. Amazon offers them through many sellers, made by many manufacturers, including better name products, for a reasonable price.
What is the price range for hula hoes, and are they worth it?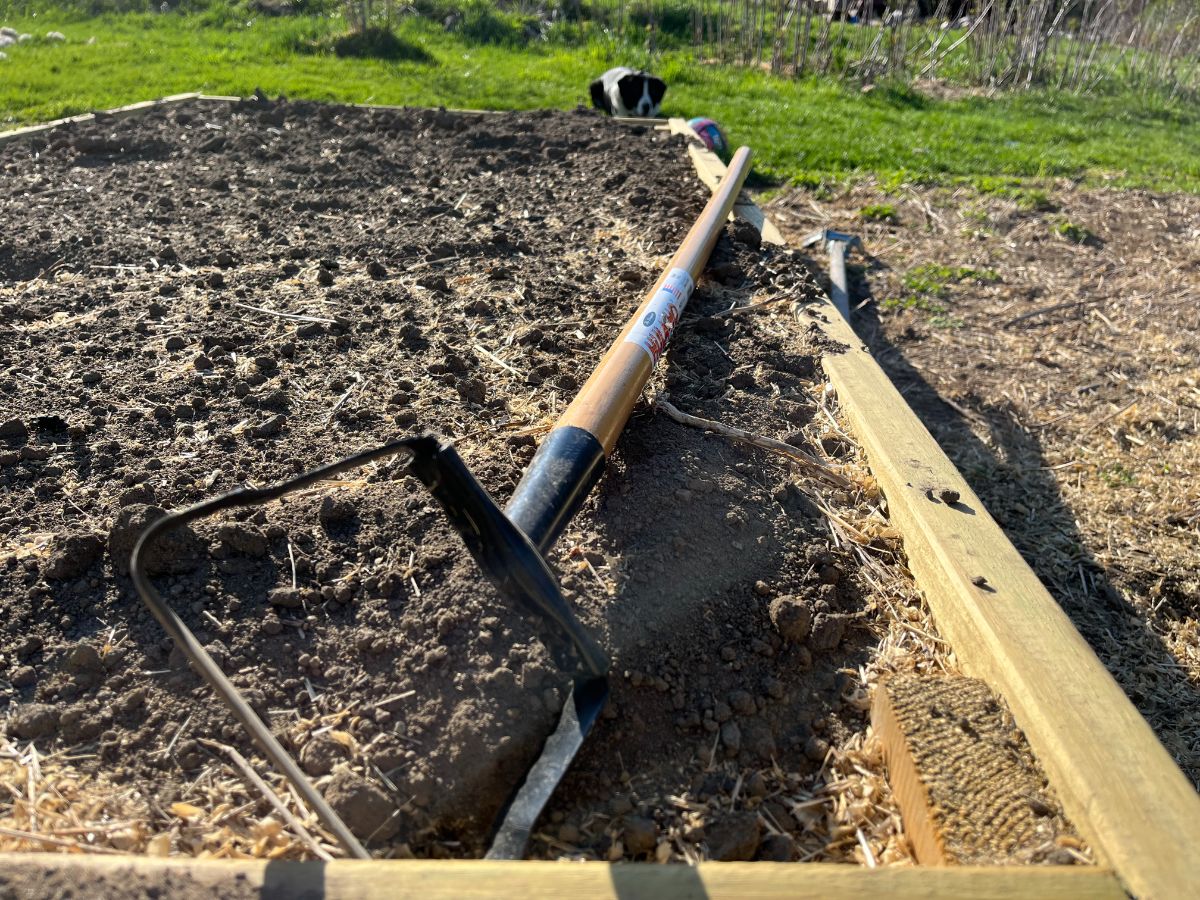 The price range for hula-style hoes is from around $20 (USD) to $50 (USD) and above. Are they worth it?
Definitely. It is even worth investing in a hoe towards the higher end of the hula ho price range. Like I said before, you want a sturdy hoe that will stay together, keep an edge, and do the job.
I've had a couple of hula hoes over my years of gardening (and I still own them all—it's nice to have more than one on hand on the off chance that someone wants to help me weed the garden!). My most recent is the Flexrake brand hula hoe. I can recommend it.
Its blade is self-sharpening while in use. Flexrake does offer a replacement blade, too, which is not a very common feature of most other hula hoes. One of the benefits of this specific hoe is that it is a little shorter than many (54 inches long), so it's a little more maneuverable for me at 5' 5".
Taller gardeners might prefer a longer scuffle hoe like the DonSail brand, which is adjustable to a length of 70 inches.
A good hula ho is like a good garden hoe, rake, trowel, or shovel—it's something that you will use every year, and something that can easily last many years if you take care of it (even with minimal care and maintenance). So, it's a tool that will pay for itself many times over the years of use—and in time saved and back pain saved when bending and weeding.
In my opinion, every gardener should invest in a hula hoe (or two). They are especially useful if you are a person who does not use a lot of barriers or mulch in your garden, and who relies more on tools and physical labor for weed management. If you weed by hand or by tool at all, you really do want to own a hula hoe.