There are many planting and gardening products making all manner of claims to make life better, easier, or more pest- or disease-free. It's hard to know what really works and what doesn't. And so, we've decided to start a new series of reviews to test out some of these products and claims. If there is an idea, project, or product you'd like us to review, please drop us a line in the comments. We'll see what we can do to prove these products true or false!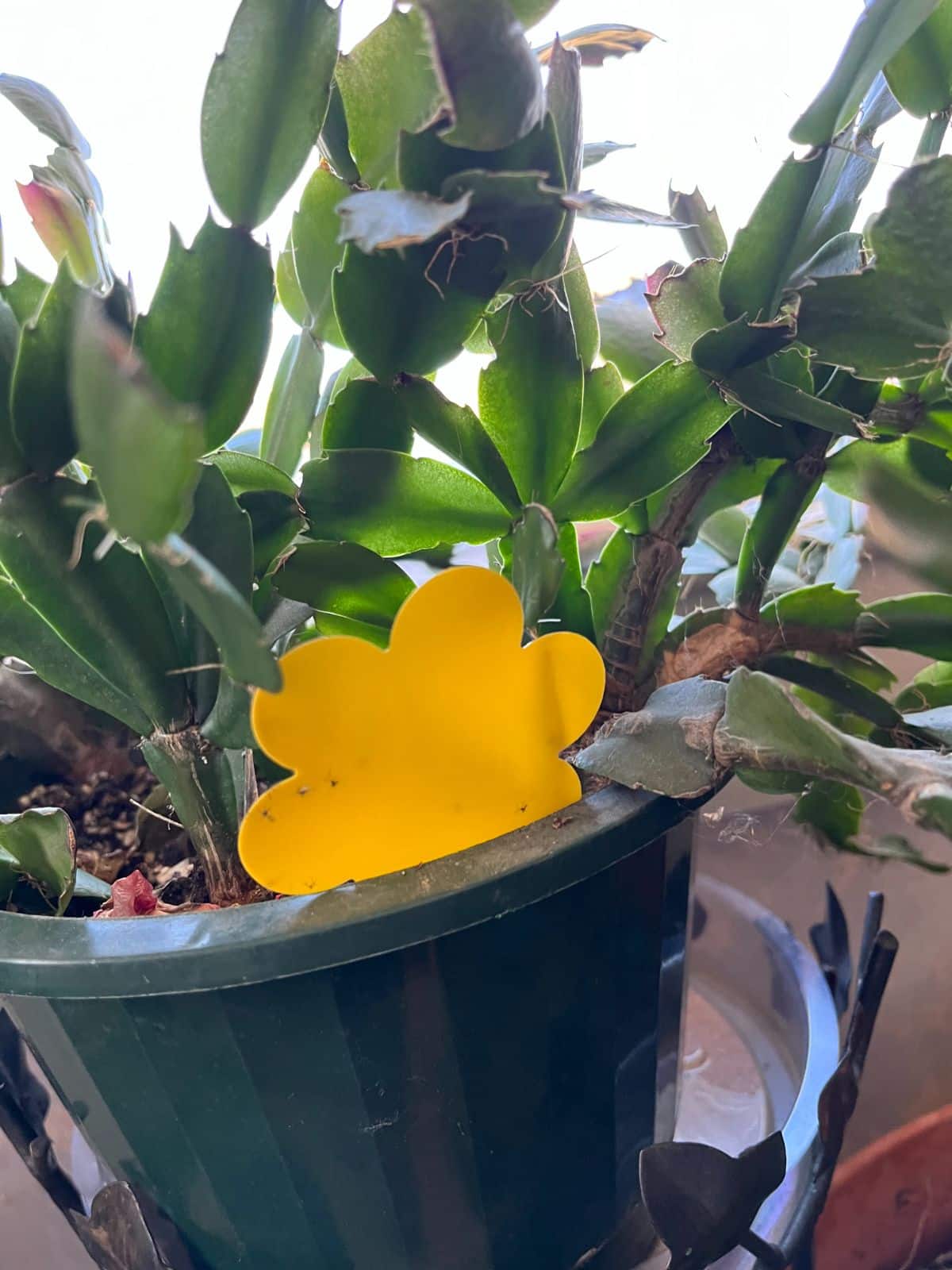 Jump to:
Sticky Soil Gnat Trap Review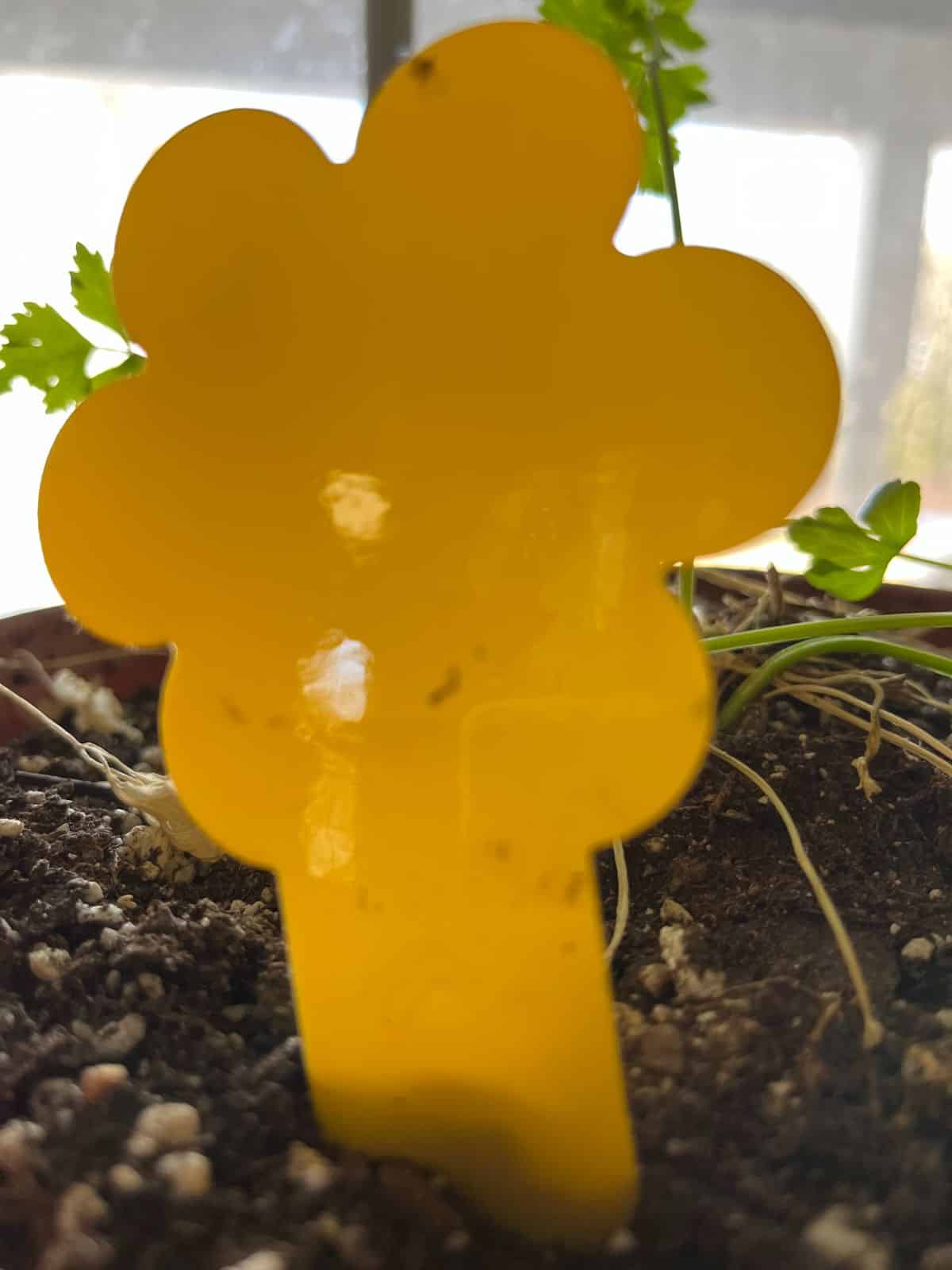 Sale
Today we're reviewing Yellow Sticky Fungus Gnat Traps.
You'll find these listed under a few names. They might be listed as soil gnat traps, fungus gnat traps, sticky fruit fly traps, or something similar. They are available from several companies. It's unlikely that one company is much different or better than another—the basic concept for these traps is the same no matter which brand you buy.
Sticky Gnat Trap/Fungus Gnat Trap: What is It?
The type of gnat trap we're reviewing today is something that has been popping up on gardening page feeds and forums a lot lately. They are very simple little things. They are bright yellow colored plastic cutouts that have a strong sticky adhesive on both sides of the cutout. Their purpose is to catch those tiny little flies that live in the soil of potted plants.
How Do These Gnat Traps Work?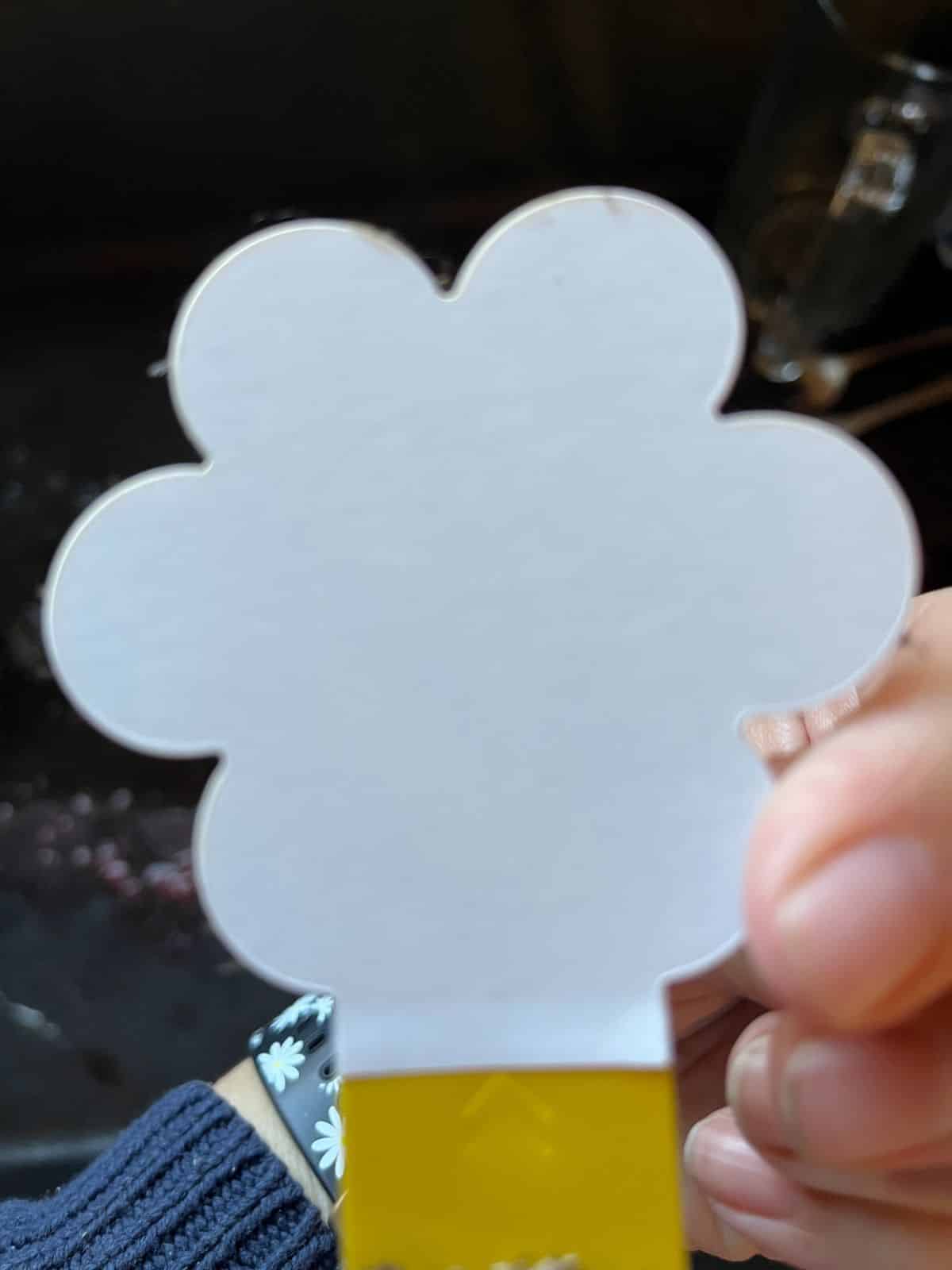 The traps that we trialed were precut traps in the shape of a flower. There are other shapes to choose from. Ours were all one piece, with the sticky adhesive part at the top and a plain plastic (non-sticky) "stake" with a point at the end that you sink into the soil of your potted plants or cell packs. They are listed for outdoor use for container plants, too.
There are other styles that have a plastic holder that you clip the sticky trap part into. Though we didn't trial those, they likely work just as well, and the holders are reusable, but for what it's worth, it's probably easier just to use the die-cut piece and not have to fool around with sticky inserts and trying to fit them into holders without getting sticky fingers or making the adhesive less effective.
The precut style that we used is two-sided. Each side has a layer of white waxy paper on it that you pull off to expose the sticky part. You can pull off both sides at once or use one side at a time. With the adhesive exposed, all you have to do is stick the trap's stake into the soil. That's it.
Those pesty little fruit flies and gnats that live in your plant soil are attracted to the yellow color of the sticky trap. When they land, they get stuck and die. There are no chemicals or odors, just glue.
Rated "E" for Easy
These sticky soil gnat traps are very easy to use. It couldn't be easier. So, this one earns our E for Easy rating. It's a simple product with a simple purpose.
Do Sticky Gnat Traps Really Work?
Yes. These silly little things really do work. There's not much more to say about them than that. Those annoying, plant disease-spreading soil and fungus gnats really are attracted to the color and really do get stuck.
In just a day or two, the surface will be dotted with tiny carcasses. You'll notice fewer and fewer flies bugging you and a serious decrease in your soil gnat population. Over the course of a few weeks, you'll notice the problem essentially disappears as new hatches are caught, and there are no parents left to lay the next generation.
The traps will last for several weeks, if not months, so you won't need to replace them often. In fact, the original traps will likely take care of the problem, and you may not need any more unless you bring in new plants or end up with a new infestation of soil or fungus gnats.
Tips for Success with Sticky Fungus Gnat Traps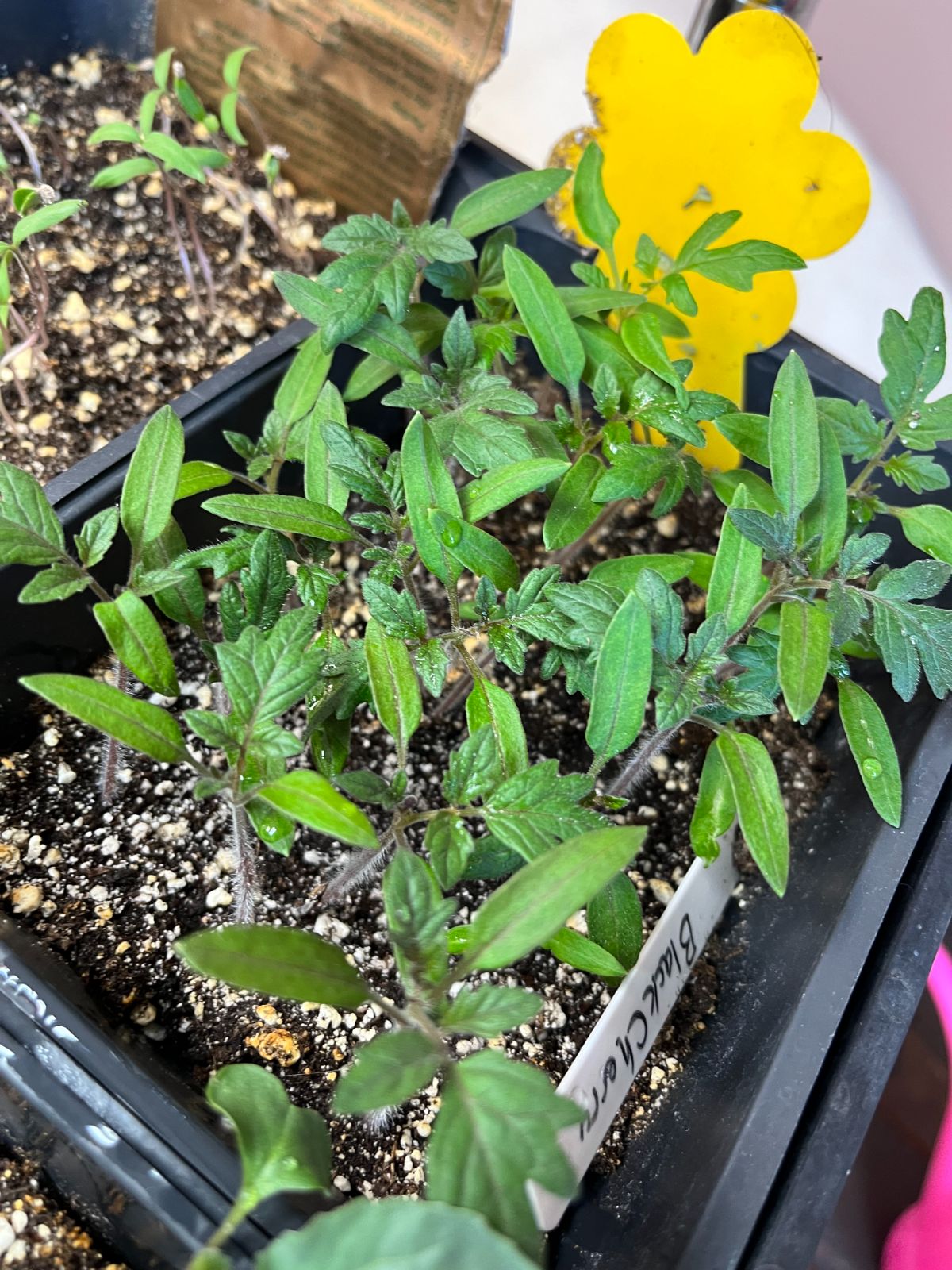 Use the traps in most or all of your pots to capture all the gnats.
Use at least one trap in a pot in every room where you have plants.
Soil gnats spend most of their time in the soil of their host plants/pots, and don't "travel" much, so you can't expect that one trap that is several feet away or in another room will trap them all. You need several strategically-placed gnat stickers for that. (Remember, the only lure is color, not scent or pheromones, etc., so the traps need to be in site of the local gnat population.)
Place traps in all the plants you are treating at the same time so that you kill all generations at once and don't leave any behind to restart your problem.
Though the adhesive seems pretty waterproof, try not to wet the stickers when watering your plants.
Try not to get too much soil on the stickers when applying them or when working with or moving your plants.
What's not Great about Sticky Soil Gnat Traps?
There really isn't much of a downside to these little traps. If there were one (and I'd say this is a stretch), it's that they're not the most attractive-looking things, and they can interrupt the aesthetics of your plants.
On the other hand, that's an easy trade for not having gnats flying around your face—or the face of your friends and visitors. Once the gnats are gone, you can remove the sticker traps.
The only other downside is that, as mentioned, you'll need to put out many traps to knock down the entire population—almost as many traps as you have plants, or at least as many as you have plants that have gnats in their soil. But the traps are cheap and easy to use, so this isn't much of a "con," either.
Where to Buy Sticky Soil Gnat Traps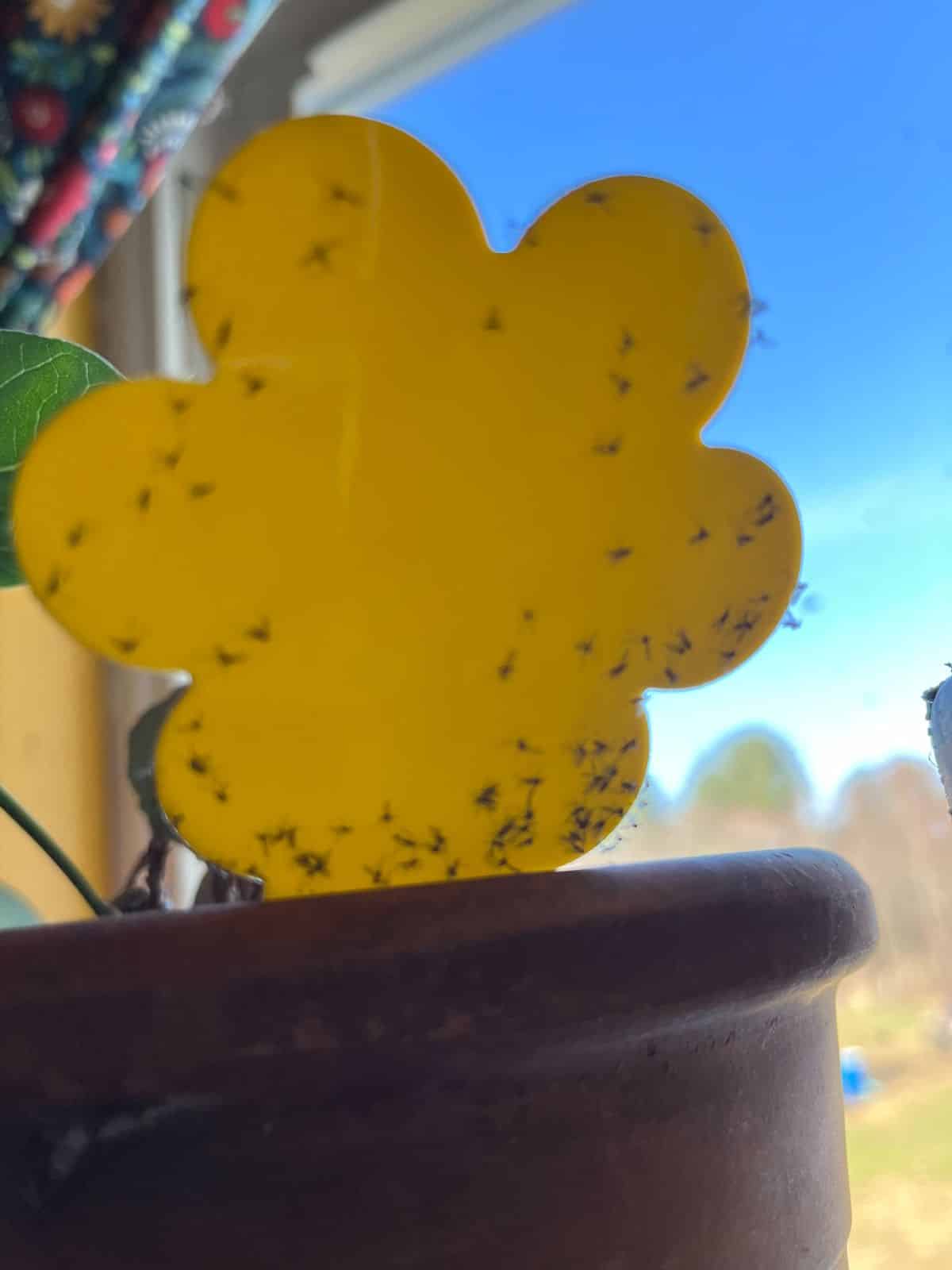 You may find these types of traps at your local garden center or where you buy plants, but it's easiest by far to just order them online. Amazon and other retailers have them. Different sellers call them different things, but if you search for something like "Yellow Sticky Gnat Traps," "Fungus Gnat Sticky Trap," "Sticky Fruit Fly Traps," "Soil Gnat Sticky Traps," or "Sticky Plant Gnat Traps," you'll find them.
You can find the style we used here (and in some fun shapes, too) here.
What is the price range for Gnat Stickers, and are they worth it?
Sale
Bestseller No. 1
Sale
Bestseller No. 2
Sale
Bestseller No. 3
Bestseller No. 4
The price range is very low for these useful little sticky traps. You can find them in packs ranging from 10 to 30 or more for between $5 and $10 (USD). That size pack will give you plenty to spread around and attack the population at once. It's a small price to pay for the sanity you save from swatting all those annoying bugs.