There are three major types of tomato blight. These include early blight, late blight, and Septoria leaf spot.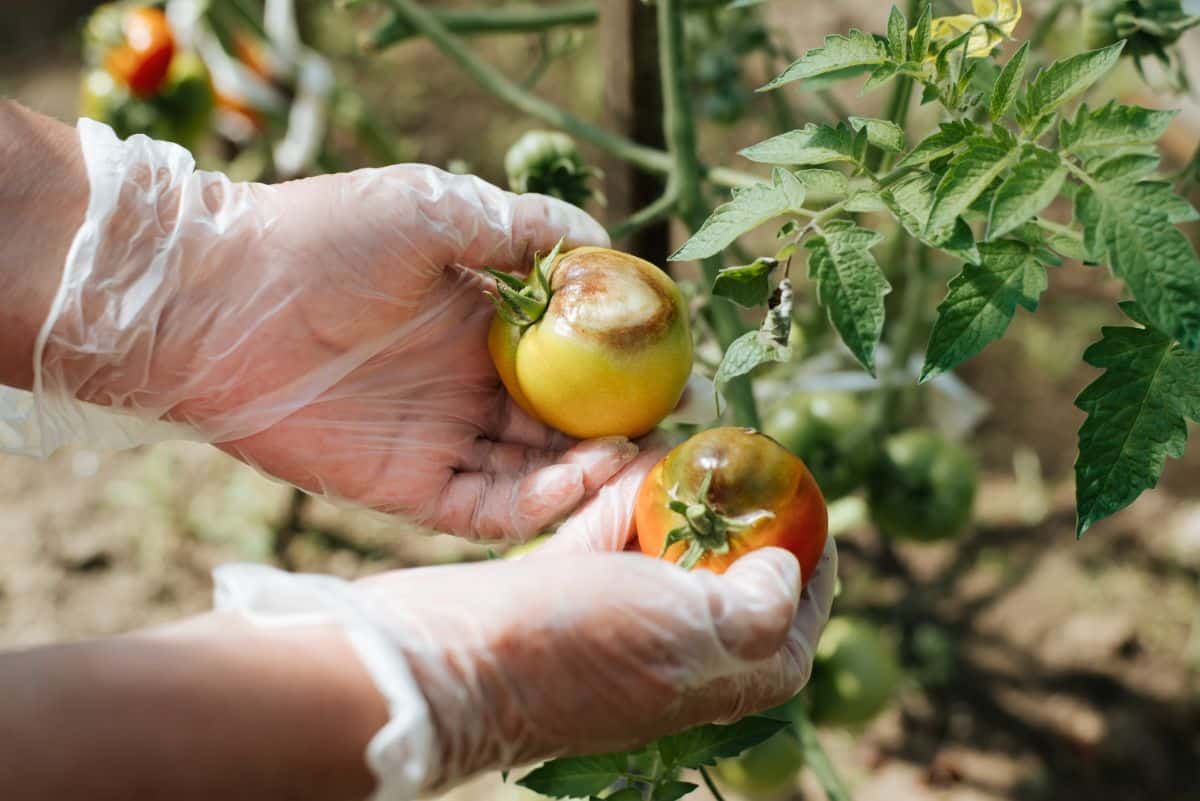 Tomato blights are characterized by spots or lesions that range in color from tan to nearly black. They may start small and as only a few spots but will rapidly spread if left unchecked. Some will appear as large brown areas (depending on the age and stage of infection). Some will appear as a sort of bullseye target with concentric rings.
The appearance differs depending on which type or types of blight your tomatoes are infected with. You may also notice yellowing and dead, drying, fragile leaf and stem material, along with other symptoms. (See the link in the summary for a link to a photo-ID pdf that helps identify and spot the differences between the types of blight and leaf spot.)
While there are differences between the three, all are fungal diseases that are spread by spores when weather conditions are favorable. So, the tips and advice given here is a good plan to cover all types of blight and give you the best chance of success in your tomato patch. The products recommended will treat all three types of this disease—so if in doubt, don't worry!
Jump to:
A Basic Understanding of Tomato Blight Disease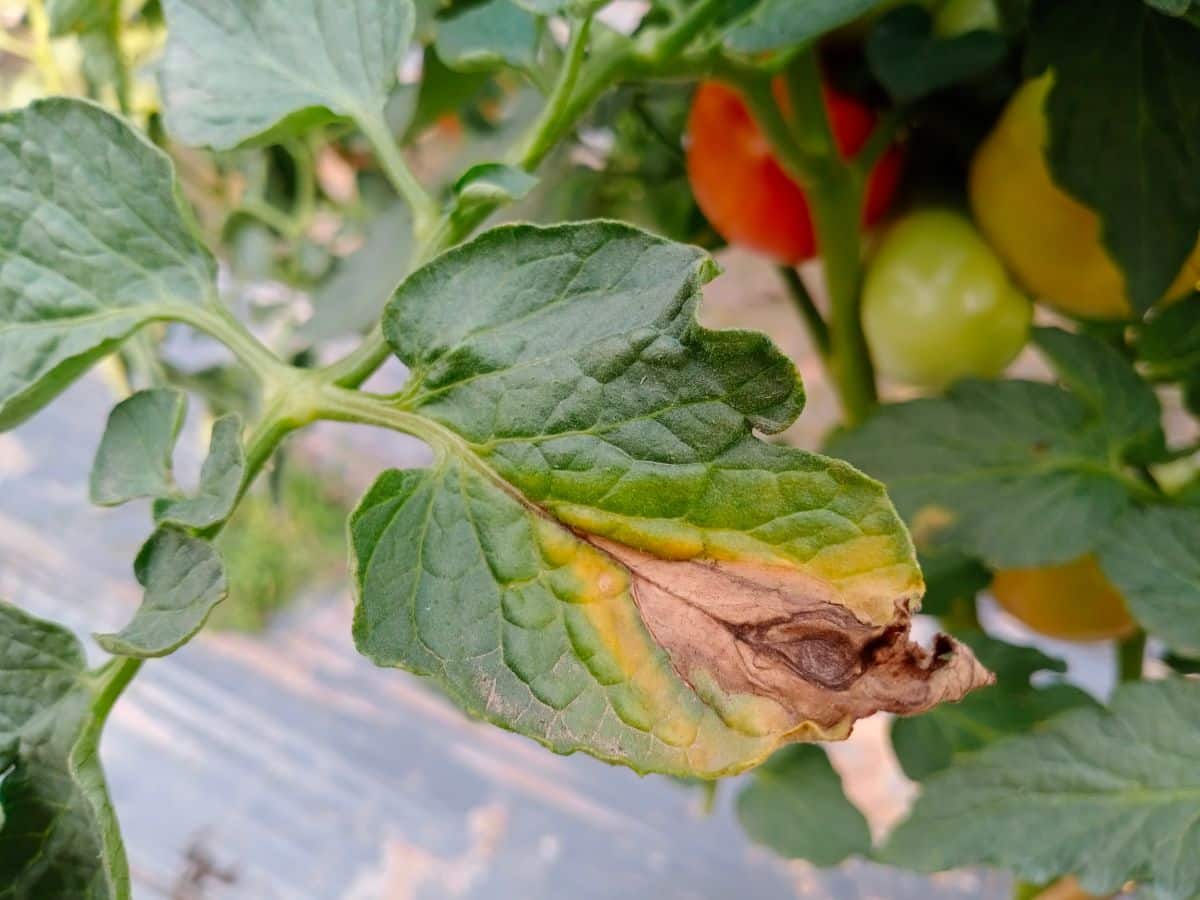 Tomato blights can affect the productivity of the plant, can damage fruit, cause fruit to drop or fail to develop, render tomatoes inedible, or they can kill the plant entirely. It is critical that you have an awareness of the potential for blight to develop and that you know what to look for, hopefully before the disease ever starts.
Prevention is important, and management is essential to protect your plants, their fruit, and your potential harvest.
It helps to know the basics of how tomato blight starts and spreads so you understand how to prevent it and how to manage it if blight does start.
Late Blight in Tomatoes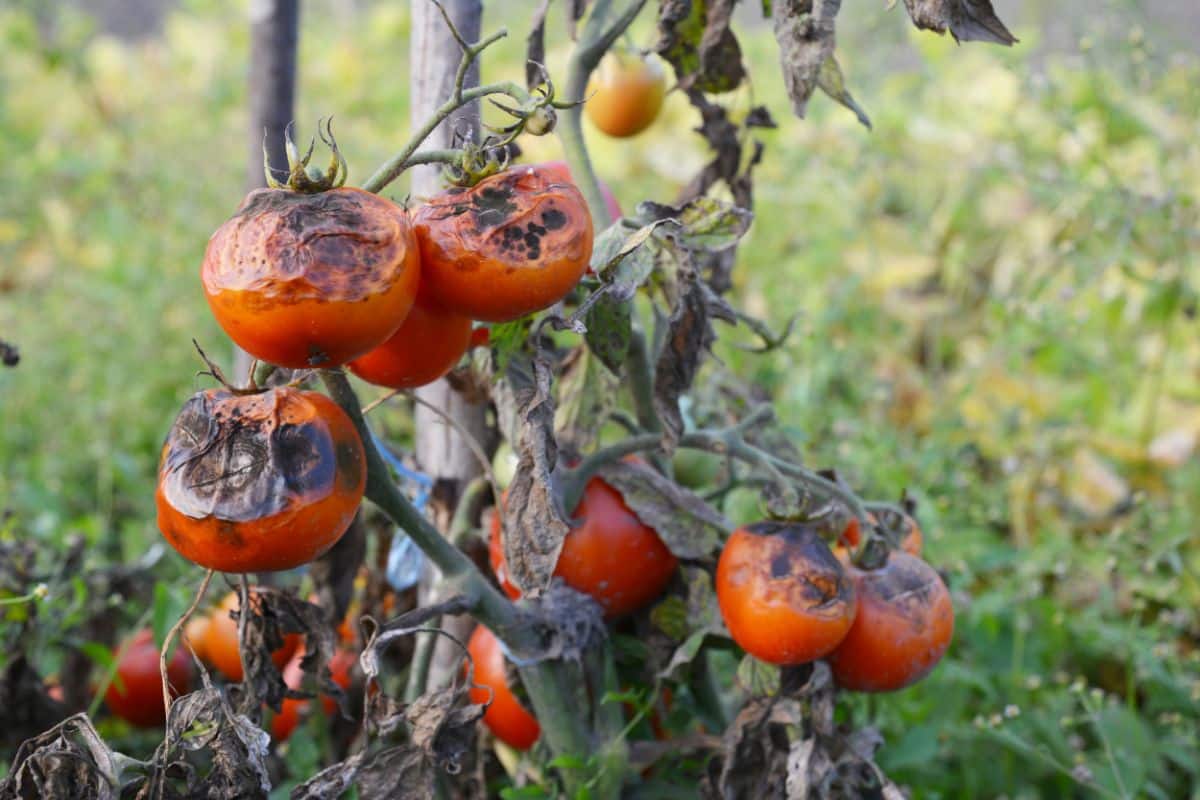 Late blight spreads from spores carried in the wind or from infected plants in the garden. The disease takes hold when conditions are right. It requires cool temperatures and high humidity, and prolonged wetness. When leaves stay wet for more than 10 hours and temperatures stay in the 60 to 70 degree Fahrenheit range (15 to 21 C), late blight takes hold.
Exposure to higher temperatures and sunlight quickly kills exposed spores; spores die in just an hour when exposed to sunlight but can survive for several hours when conditions are cloudy, which gives them more time to infect the plant. Late blight occurs all over the plant, and often from the top down or from the newest growth down and toward the center. Sometimes, it starts on the older growth because these are the larger and more exposed leaves.
Early Tomato Blight and Septoria Leaf Spot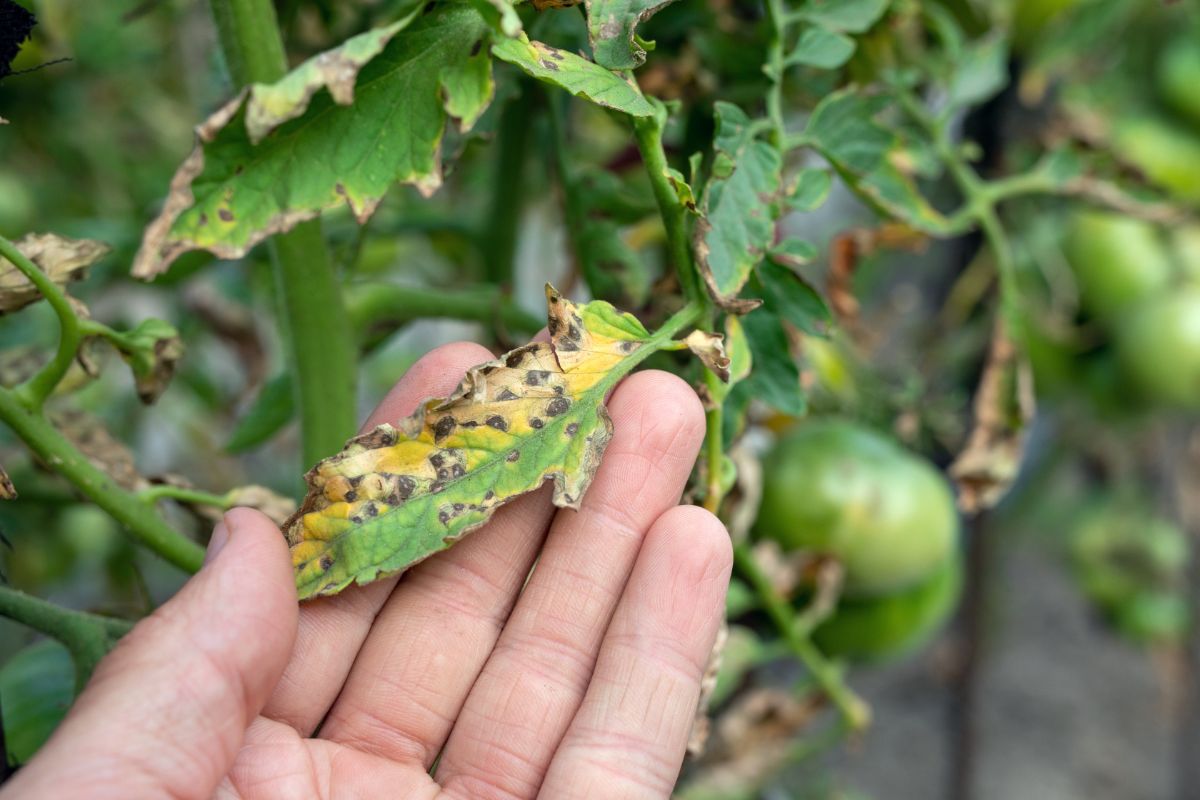 Early blight and Septoria leaf spot are soil-borne diseases. They infect plants from the ground up. The point of exposure and spread is usually when the soil that is infected with the fungal spores splashes up on the lower foliage of the plant. Other points of entry are from tools and support like tomato cages or stakes that harbor the fungal spores.
One stark difference between late blight and early blight and Septoria leaf spot is that late blight needs living plant tissue to survive, and it is killed by freezing temperatures. It does not carry in seed, while the other two can. So, people living in northern climates where freezing is a friend in the management of this disease would do well to start their own plants from clean seed or buy from a locally grown source, which ensures the disease is not transported from a warmer location where winter kill of the disease is less likely.
To What Extent Can We Manage Tomato Blight Diseases?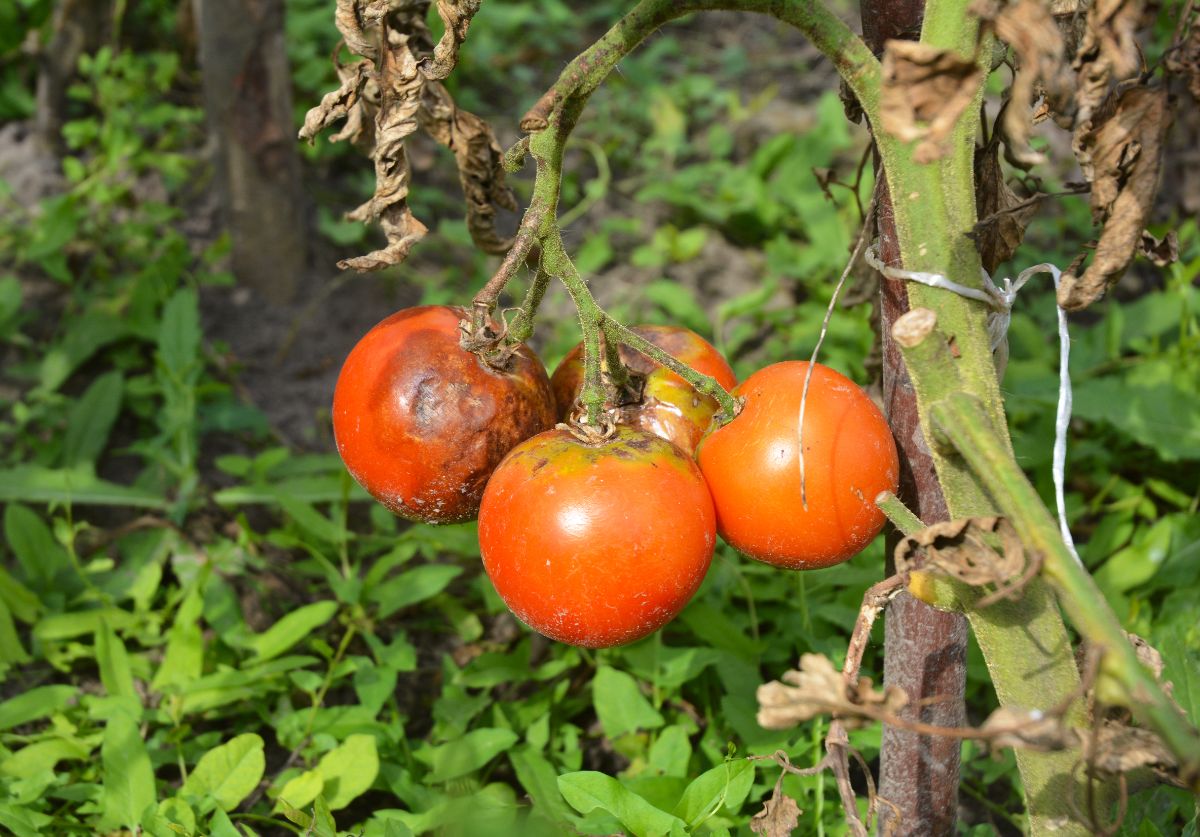 It's important to note that environmental conditions play a major role in the presence and spread of tomato blight diseases. Since we can't control the wind or the weather, we cannot always control the spread or the likelihood of whether disease spores being present. These spores carry easily on the wind between farms and gardens, large and small, and they can carry for quite a distance.
That is not to place blame since this is a natural fact, but it does help to know that sometimes there is no way to keep spores from being in your garden. You can limit the effect they have on your plants, though, through both prevention and treatment. You can still get a good harvest even in years when blight is present if you are diligent.
Tips to Prevent and Stop the Spread of Tomato Blights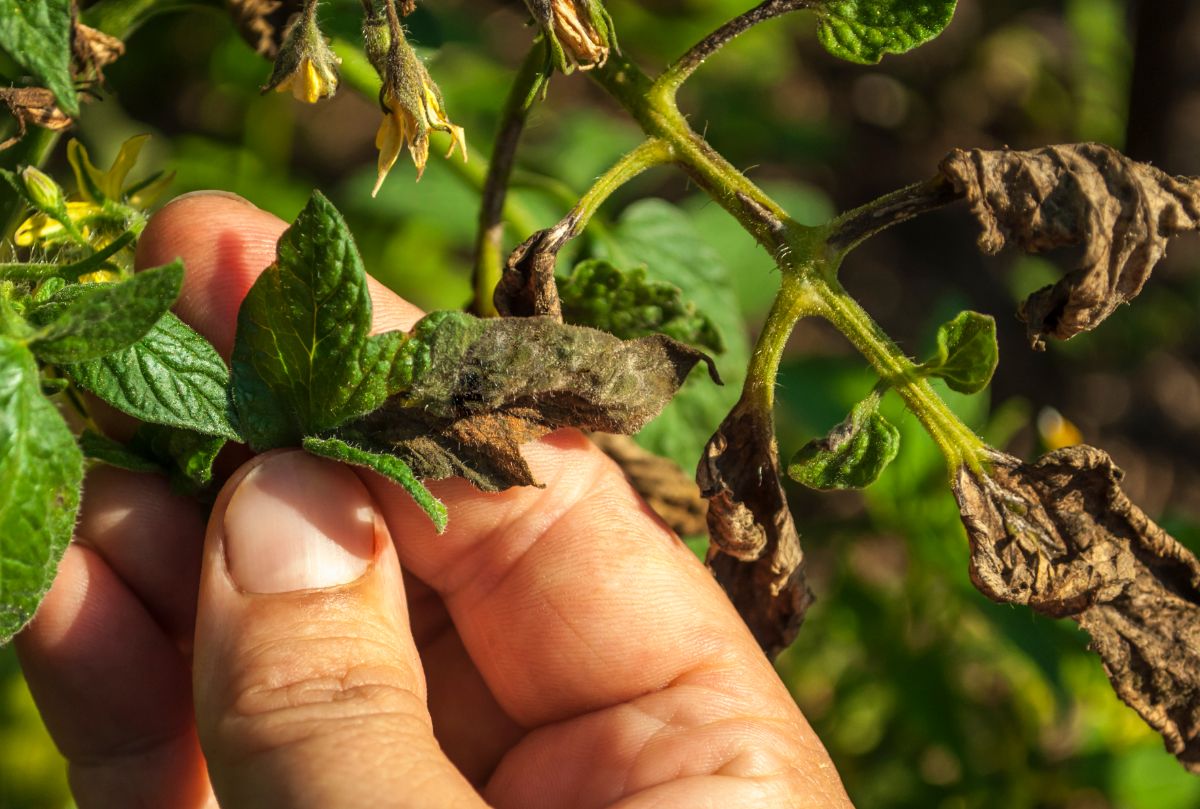 Following are the best ways to prevent blight infection, limit or stop the spread from one plant to another, help plants overcome the presence of fungal spores, and lastly, but just as importantly, treat the disease if it does start:
Grow blight and disease-resistant tomato varieties -- look specifically for varieties listed as resistant to early and late blight.
Plant tomatoes with plenty of space between the plants to allow air to circulate and allow tomato plants to dry off as quickly as possible after morning dews and rain events (keep tomato plants a minimum of two feet and up to three feet apart).
MULCH! Mulching is one of the best protections against tomato blight, especially early blight and Septoria leaf spot. A good layer of mulch creates a barrier that stops soil splash and greatly reduces contact between the plants and the soil. Straw and leaf mulch are two great options. Apply four inches deep. A layer of paper or cardboard under the mulch will further protect your tomatoes from soil contact.
Leave wide aisles between rows – wider aisles will reduce plant contact and, most importantly, increase airflow and circulation. A minimum of three-foot-wide rows is recommended.
Increase spacing between plants – if you find your plants are planted too closely and they don't have enough room for air to circulate, you may need to remove some plants. This might be hard to do, but sacrificing a few plants for the good of the whole patch is better than losing all of your tomatoes!
Prune to increase air circulation – remove excess leaves to increase airflow and reduce the surface area that can collect spores. On indeterminate tomatoes, prune suckers, and unneeded plant matter. Don't prune so hard that the plant can't photosynthesize and feed itself, though.
Always water from below -- overhead rains cannot be helped, of course, but you don't need to add to water problems with overhead watering from sprinklers or irrigation systems. Both of these keep plants wet and spread spores down the plant as the water flows.
Water early in the day—this gives plants time to dry off while the sun is out instead of sitting with water on the plants for 8 or 10 hours overnight—just the amount of time late blight spores need to multiply!
Prune when suckers are small to reduce injury, sap bleeding, and open wounds (all places where blight and pathogens can set in). Waiting to prune increases the size of cuts and the available surface to infect, and they also require more energy and resources from the plant to heal. These are resources the plant could be used to fight and cure disease.
Pinch off lower leaves early – this will keep them from touching the ground and reduce plant-to-soil contact and soil splashing onto low leaves.
Treat regularly with an antifungal product to keep ahead of blight and stop fungus from setting in. Treat weekly if blight is present. Follow label instructions.
Keep problem insects under control—especially those that feed on tomatoes and other nightshades and which travel from plant to plant. Traveling insects spread disease.
Remove and burn or bag and trash old plant debris. Early blight and Septoria leaf spot can live on dead plant tissue and increase the infection and spread in the soil. Get rid of it.
Let plants dry before picking or handling – wet plants are more likely to spread fungal spores, and you will pick up spores on your hands, gloves, and clothing more easily if they are wet.
Keep pruners and tools clean – dirty tools can easily spread spores. When you work your tomato patch, take a disinfectant with you and clean pruners between each plant. Rubbing alcohol (dip or wipe) or household disinfectant wipes are both good options.
Control weeds, especially solanaceous weeds. Solanaceous weeds can carry blight diseases, and the presence of weeds also competes with tomatoes for nutrients, which weakens them and their immune systems. Tall, thick weeds impede airflow.
Grow in a high tunnel, greenhouse, or under cover if that option is available to you. For blight-prone areas, growing under cover is a good way to stop infections from airborne spores, which can carry in wind and rain.
A Note About Blight, Fertilization, and Soil Nitrogen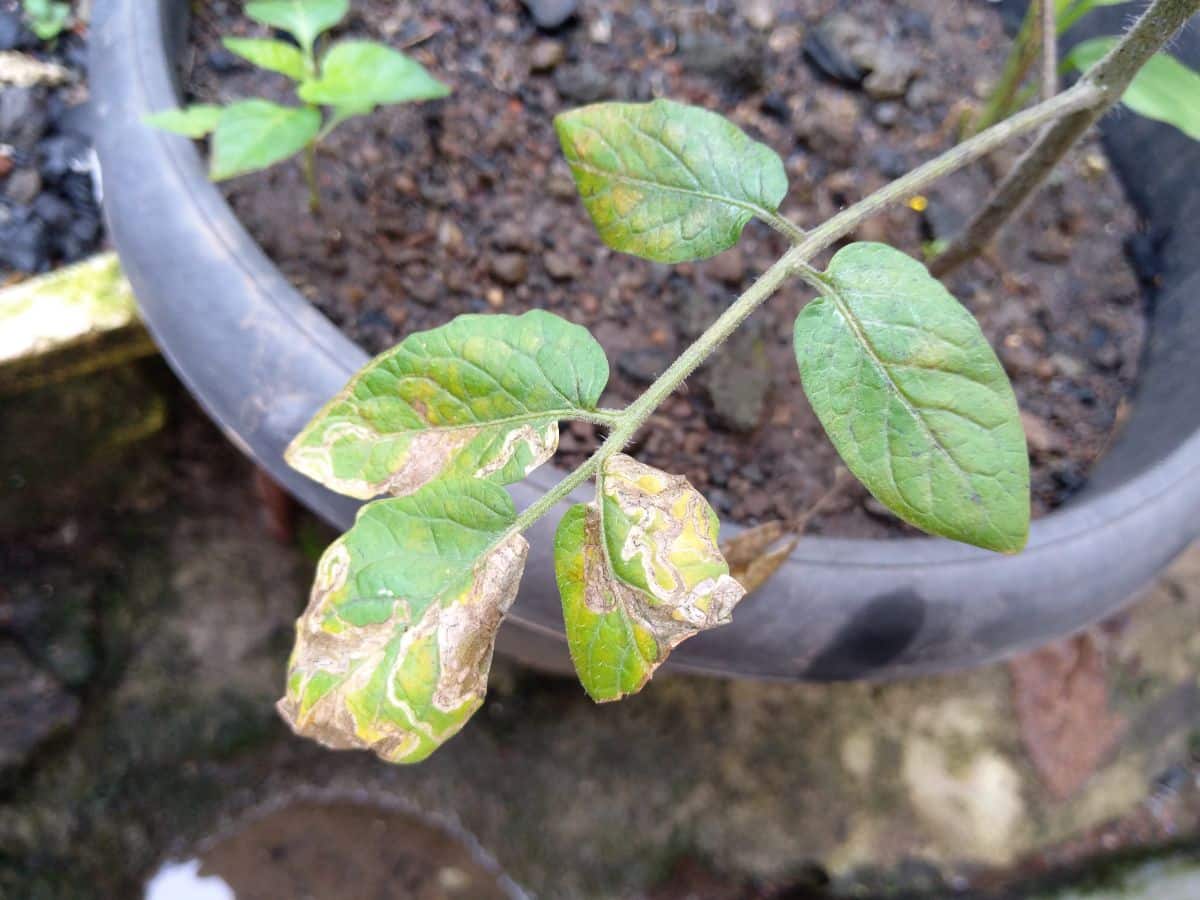 Nutrient-deficient plants are more susceptible to blight diseases. Plants need adequate nitrogen to keep them strong and healthy, which helps them to deal with the presence of spores and disease, much like the healthy, supported immune system of a human will help them overcome a common cold. Balanced nitrogen can help delay the onset of early blight and Septoria leaf spot.
That said, it is not a good idea to overdo it on the nitrogen fertilizer—experts warn that this can worsen the disease, in part because it promotes an overgrowth of green, leafy plant material, which is the primary point of infection for all types of blight. So, while you should take care to supply good nutrition for your tomato plants, you may actually do them harm if you feed them more than is recommended.
Products to Treat Tomato Blight Diseases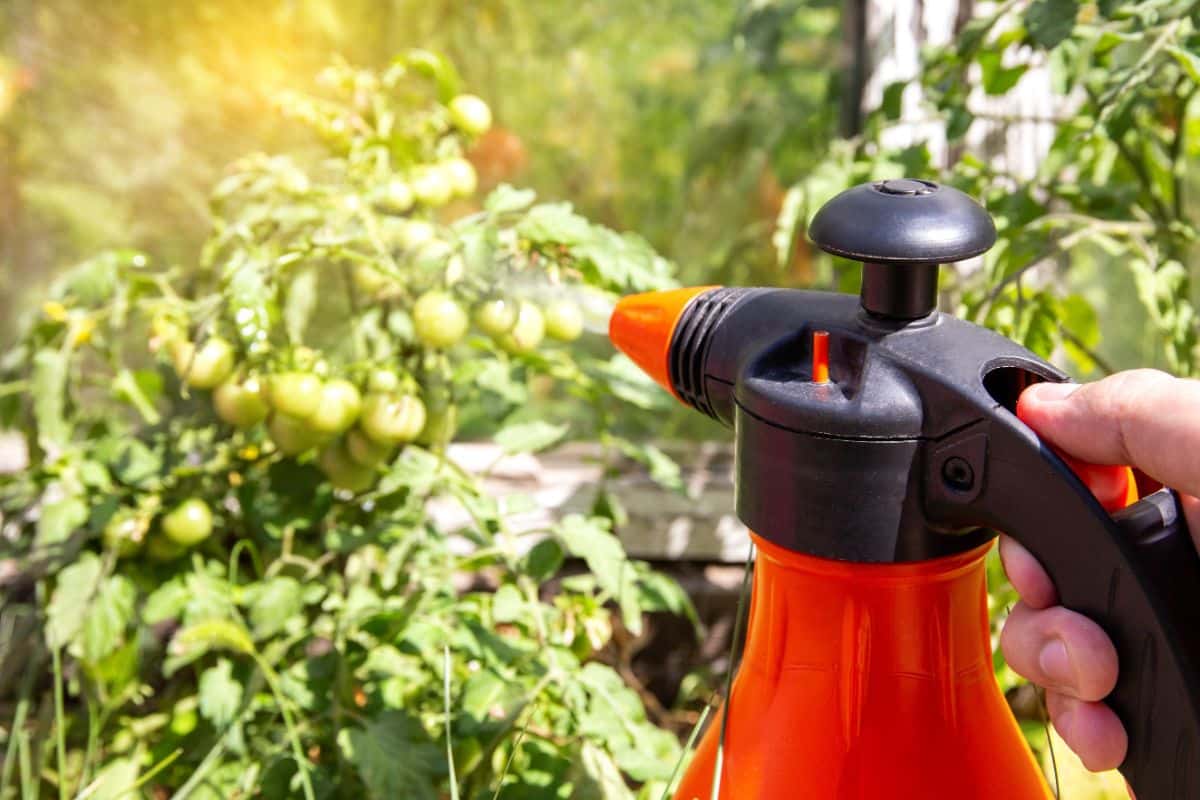 You don't need to be an expert in disease identification to treat your tomatoes for blight and fungal disease. While it helps to know or have an idea of which blight you're dealing with, it's not as important as getting out there and treating the plants—because at the end of the day, all of these diseases are caused by fungal spores, and the same types of products are good at treating each of them.
Regular spraying (according to label instructions and recommendations) with a good anti-fungal product is the best way to combat blight once it appears. There are many fungicides that can work.
In terms of organic options, copper hydroxide products are most highly recommended. Captain Jack's Copper Fungicide is an effective and affordable product. This is the product that is most highly recommended for organic gardening by leading universities and gardening experts.
Neem oil has been shown to have some effectiveness against blight, though it may be best as a preventative and as a continuous prevention/management tool applied regularly for light infections. It may also be used in combination with other treatments, alternated with those applications. One advantage of using Neem oil is that it is also a good organic pest control solution, so it can help kill harmful insects that spread spores and disease.
DIY solutions include baking soda mixes. This is a cheap and easy solution and one you probably have in your kitchen cabinet already. Baking soda will require more frequent application, though.
As always, with any type of treatment, follow label instructions for concentration and application, wear protective clothing and safety equipment if recommended, and be aware that even organic products may affect beneficial insects, bees, worms, and pollinators. Different products have different effects, so you should research the products you intend to use.
Regular Inspection, Early Detection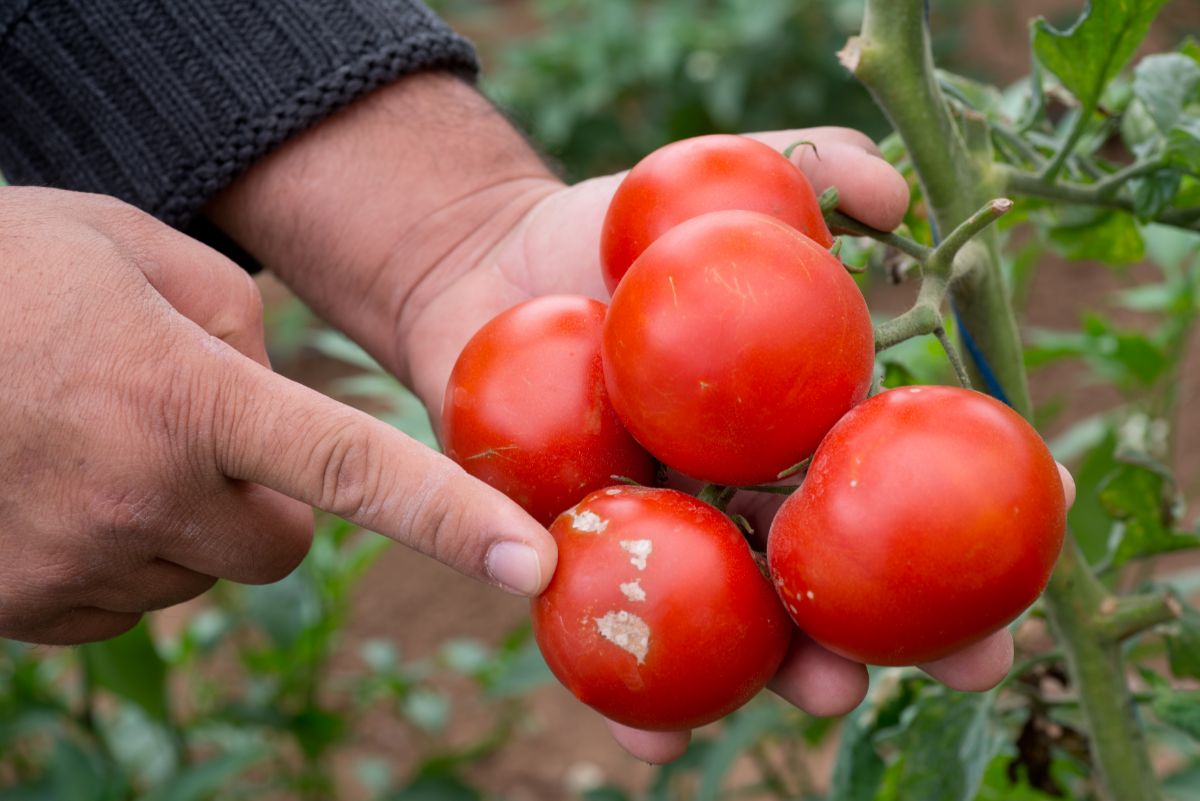 As mentioned, we can't always stop infection. If spores are going to carry to your garden on the wind and in rain, there is little you can do about it. When blight does set in, our best defense is to control it as much as possible. Even if you can't eradicate the disease, you can often slow it down enough to get a good crop of usable tomatoes.
Under the right conditions, blight can overtake a plant rapidly. If you take a wait-and-see approach to managing blight, it will probably be too late. The best advice is to check your plants regularly, look for signs of disease, and treat them if you suspect any of these blight diseases to be present. While it is a good idea to do what you can to identify the type of tomato blight you are dealing with, the products that are used to control all three types are the same.
Preventative treatment is worthwhile, too. It can help you stop diseases before they even start by killing spores before you know they are present before you start seeing lesions. Once you've decided on a product to use, consider applying it before the disease starts to reduce the likelihood of infection. This is especially important in years with frequent rain and wet weather and with cloudy conditions and cool temperatures.