Gardeners are always looking for ways to boost their garden harvest, and, when it comes to growing tomatoes, there are a lot of tricks to try. Some gardeners swear by particular fertilizers, and gardening websites are often full of tips on how to grow healthier tomatoes with soil amendments, trellising, and other tools. However, one of the oldest and most popular ways to enhance the health of tomato plants is with pruning.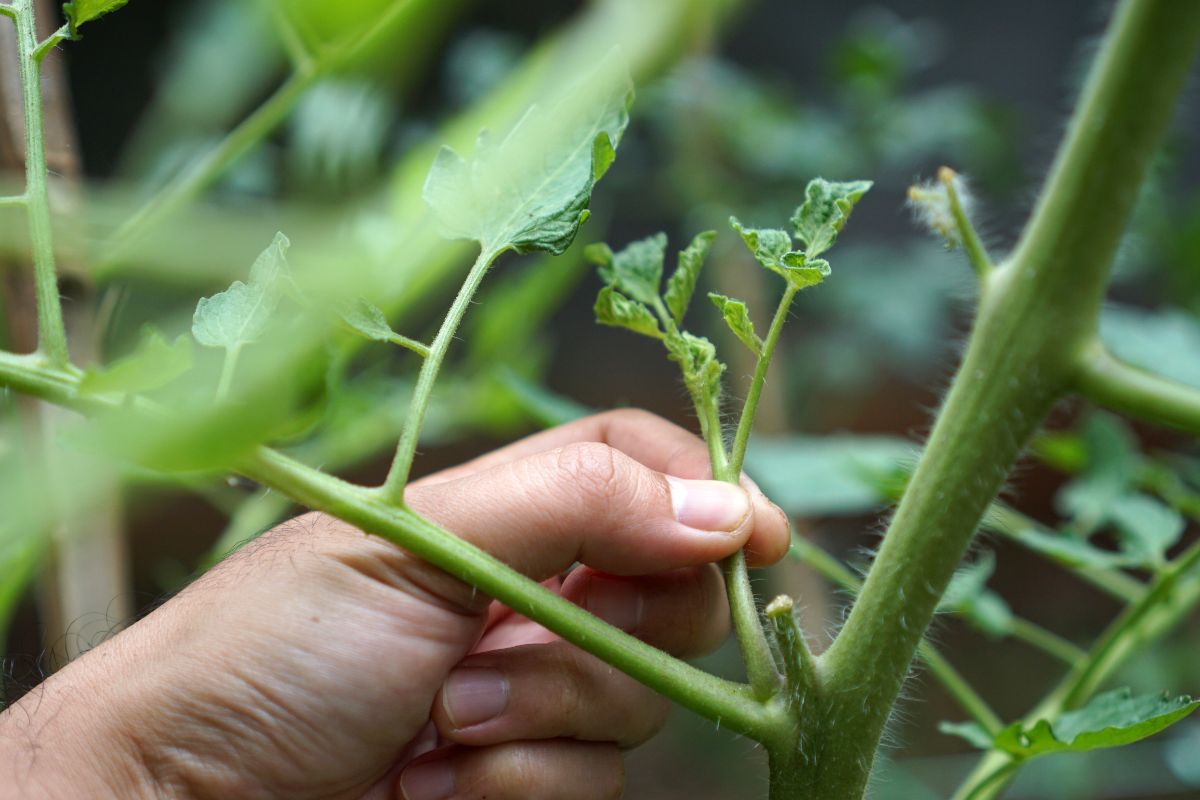 Pruning tomatoes isn't required, but it does offer certain benefits to your plants. Beyond reducing plant diseases and improving tomato flavor, pruning tomatoes can make plants easier to maintain, allowing you to fit even tall, indeterminate tomato plants in small space gardens. But how and when do you prune tomatoes, and do all tomato varieties benefit from pruning?
In this guide, we'll answer all of your tomato pruning questions and help you thin out your plants while increasing your tomato yields. Even better, pruning can help you produce even more tomato plants for your garden, and you can also use pruning to make tomatoes ripen before frosts arrive in autumn. So, if you're ready to get started, read on!
Jump to:
What tomatoes should be pruned?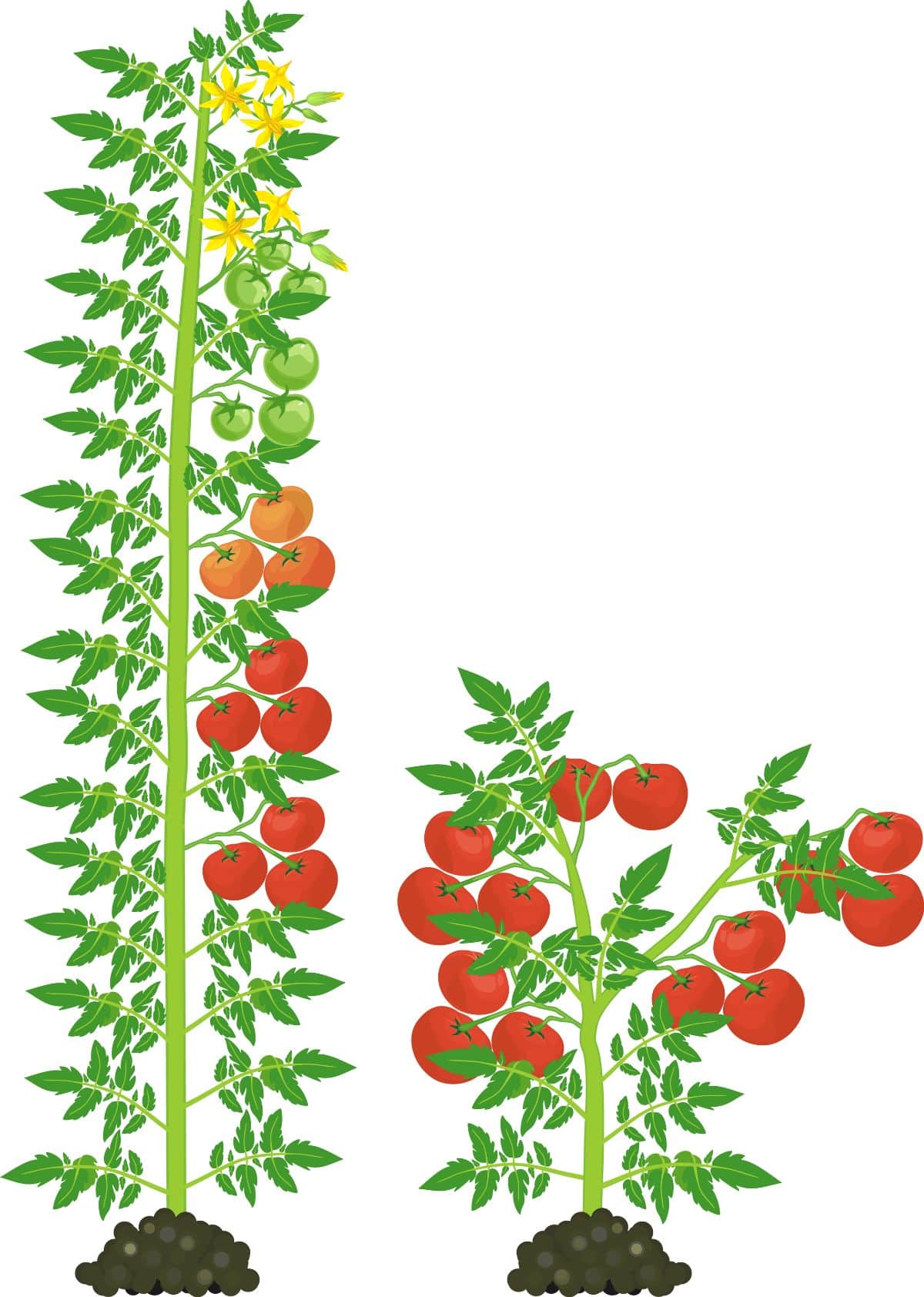 Tomatoes are usually divided into two categories: indeterminate and determinate tomatoes. Indeterminate tomatoes are larger, vining plants that continue to grow and produce fruit throughout the growing season. Determinate tomatoes, on the other hand, stop growing at a certain size and produce all of their tomatoes within a short period of time.
While you don't technically need to prune any tomatoes, indeterminate tomatoes usually do benefit from pruning. However, determinate tomatoes are often only subjected to minor pruning, or they aren't pruned at all, as pruning these tomato types can limit their fruiting and reduce harvest yields. That said, there are a few reasons why you may want to prune both indeterminate and determinate tomatoes.
Why prune tomato plants?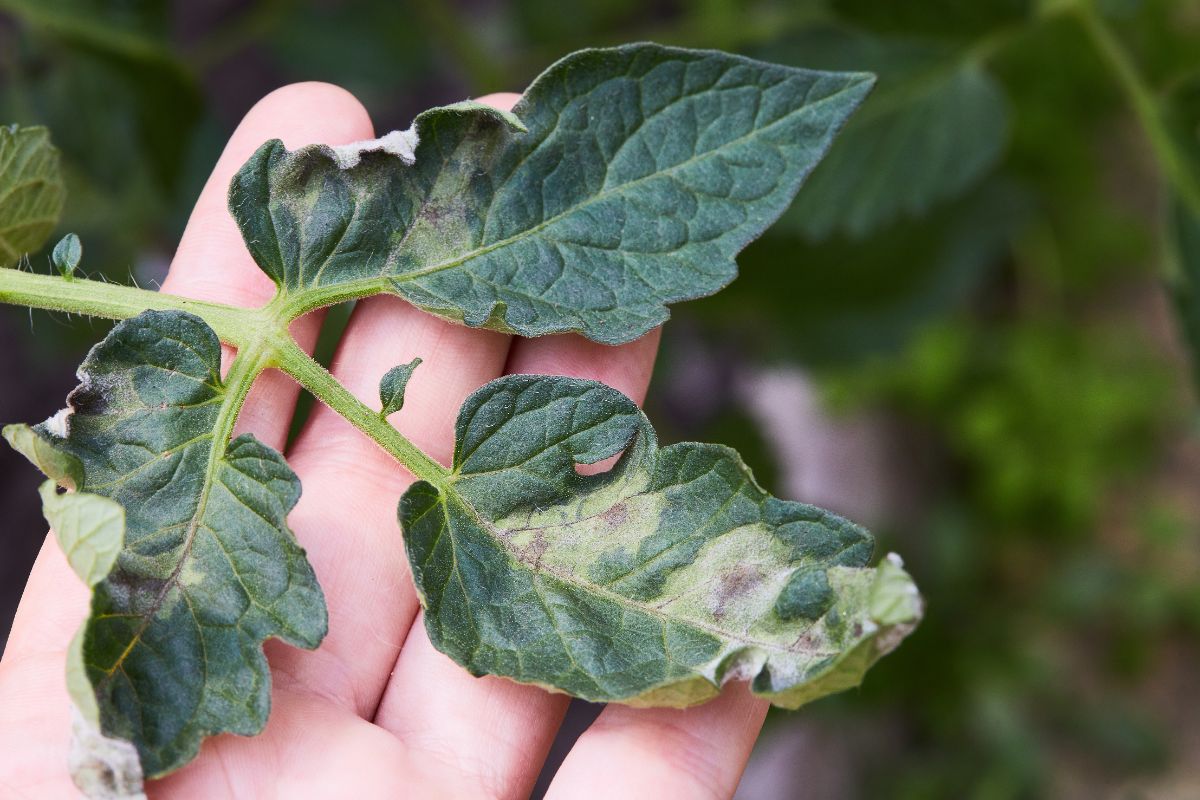 Pruning tomatoes may take a bit more work, but it offers tangible benefits, especially if you're keeping indeterminate tomatoes. From earlier fruiting to healthier plants, below are some of the main reasons why you may want to prune your tomatoes this growing season.
More space
Indeterminate tomatoes can get quite large, and they can send out a lot of side shoots and suckers as they grow, which can block the light from reaching other plants in your garden. By pruning vigorous tomato plants, you can prevent them from taking over your garden, and you can also squeeze more tomato plants in a limited garden space if you trim away their side shoots and extra leaves. Beyond that, removing some of the lower leaves of a tomato plant frees up soil space, allowing you to plant lower-growing veggies, like lettuce and radishes, in the shade of your tomatoes.
Bigger fruit
By pruning away extra branches and suckers, you can funnel your tomato plant's energy toward growing larger tomatoes. For even bigger tomatoes, you can also limit the amount of flowers on your tomato plants, which ensures that the tomatoes that do grow will be even bigger and tastier!
Earlier ripening
Tomato plants are often "topped" at the end of the season, which removes the actively growing tips on the plant and keeps the plant from growing further. This redirects the plant's energy towards its fruit and helps tomatoes ripen faster at the end of the season. If you're worried about fall frosts, this can be a great way to ensure your harvest is ready before cold weather arrives!
Easier trellising
Indeterminate tomatoes can get quite unruly, and fixing them to garden stakes and other trellising options can be a challenge. But if you prune your tomatoes down to one or two main stems, it will be much easier to affix your plant to plant supports with Velcro or garden twine.
Reduce tomato diseases
By pruning away extra leaves, you'll increase the airflow around your tomato plants and help their leaves dry out faster. This, in turn, can reduce the incidence of some tomato diseases, especially fungal diseases. Additionally, snipping away the lower leaves on tomato plants prevents the leaves from touching the soil, which can limit the spread of diseases like blight.
Fewer pests
Pruning extra tomato leaves can open up the center of your tomato plant and make the entire plant and any pests that are living on it easier to see. If you've ever struggled to find tomato hornworms or other insects on your tomato plants, removing some of the plant's leaves can make pest control much easier. It can also make it easier for beneficial predators, like birds and parasitic wasps, to find them.
Tidier plants
Indeterminate tomatoes maintain a lot of their natural wildness, which some gardeners like the look of. However, if you prefer a more manicured garden appearance, pruning your tomatoes can give your plants a more refined look, and it will also create cleaner lines in your garden design.
Propagation
Pruning tomatoes can improve the health of your existing plants, but it can also provide you with even more plants for your garden. That's because tomato cuttings can often be propagated into new plants. After rooting your tomato cuttings, you can sow the new plants throughout your garden or share them with friends!
When to prune tomatoes?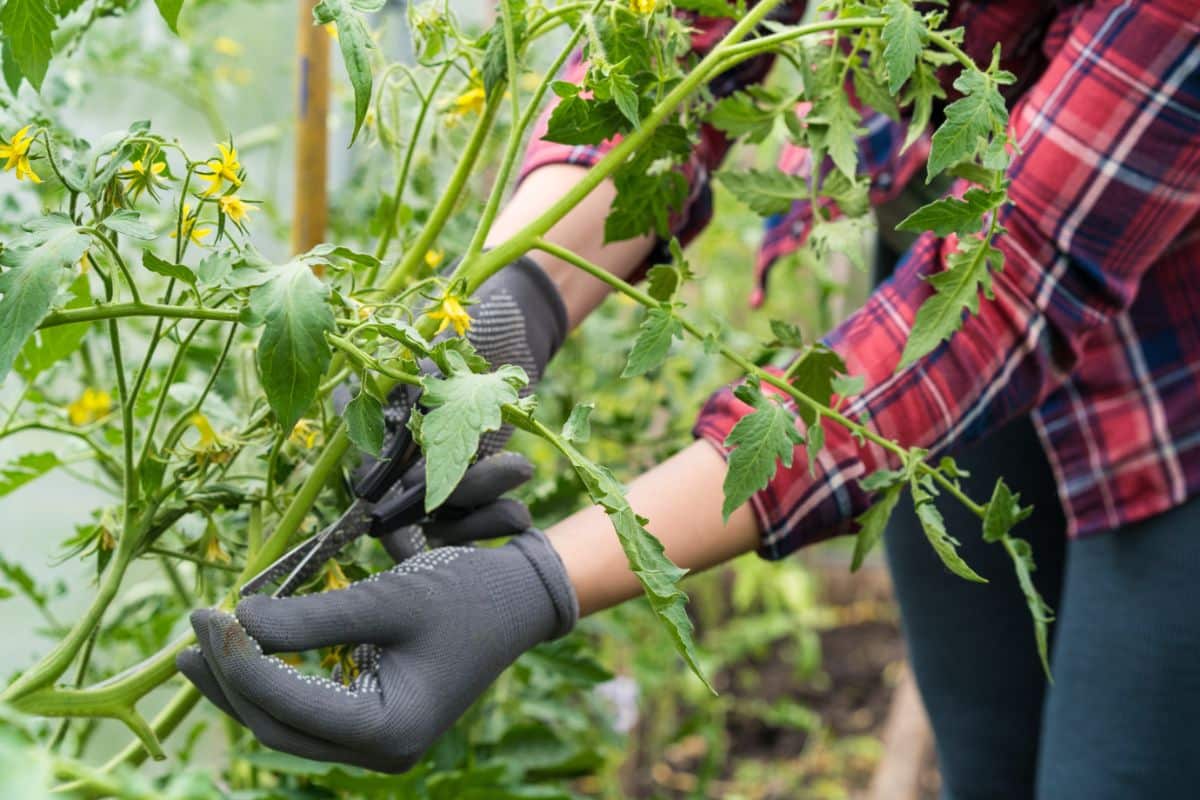 Depending on your growing style and the size of your garden, you can leave tomatoes unpruned, or you can prune them once or multiple times throughout the season. However, many gardeners prune indeterminate tomatoes regularly through spring, summer, and fall to make trellising easier.
Most often, tomato pruning targets tomato suckers, which grow quickly and divert your plant's energy away from fruit production. To stay on top of tomato suckers, consider checking your indeterminate tomato plants every 7 to 10 days during the growing season. If you see any suckers, they're easiest to remove when young, and they can be simply pinched away with your fingers.
How to prune tomatoes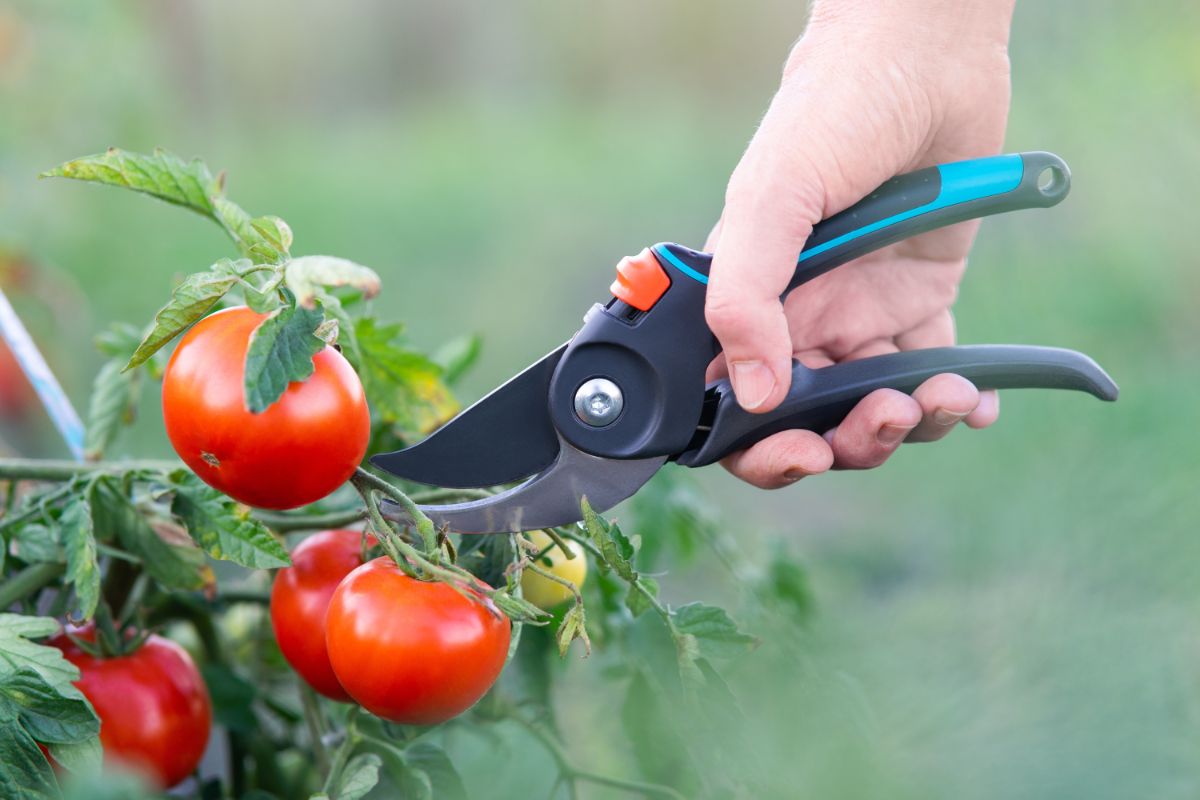 Whether you have indeterminate or determinate type tomatoes in your garden, the tomato pruning tips below can help you grow healthier plants. However, if you're ever in doubt about pruning your plants, remember that less is more. Over-pruning tomatoes can be more damaging to your plants than leaving your plants to grow naturally.
Pruning determinate tomatoes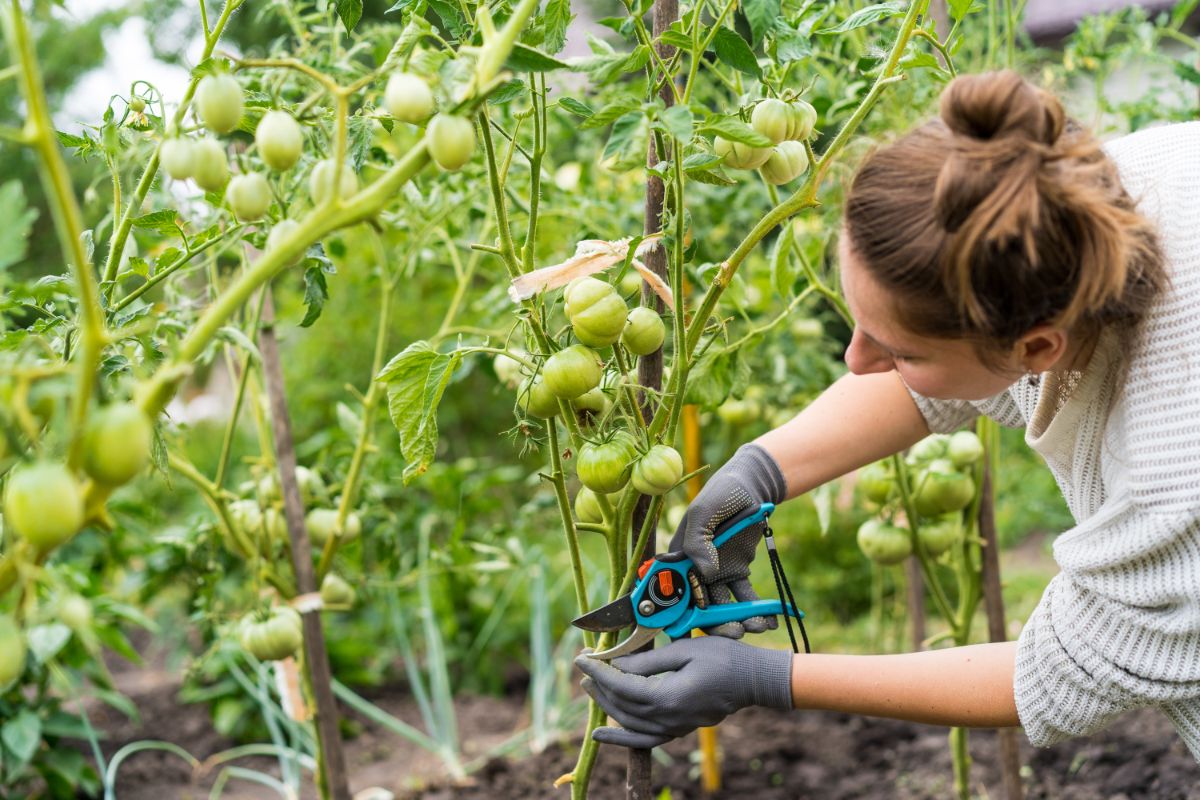 Determinate-type tomatoes grow smaller, and they stop growing once they reach a certain size, making them easier to fit into small gardens. Because they don't grow as large, determinate tomatoes often don't need much pruning, and over-pruning these plants can greatly reduce your tomato harvest. This is because these tomatoes set all of their flower buds at once, and if you prune those buds away, the plants won't regrow new flowers for fruit production.
But while you generally want to avoid pruning determinate growing tomatoes, it's a good idea to pinch away any suckers that develop on these plants between the soil line and the first cluster of tomato flowers. This will direct your plant's energy toward producing tomatoes, and it won't remove the buds your plant needs to grow more fruit.
If you're new to working with tomato suckers, tomato suckers are small branches that sprout between the main stem of tomato plants and their side branches. Often suckers grow at a 45-degree angle, and they can be pinched away with your fingers when they're small. When suckers are larger, they should be removed with garden pruners to avoid damaging your tomato plant.
Beyond snipping away the lower suckers on your determinate tomatoes, it's also wise to remove any leaves near the bottom of your plant that are touching the soil line. This will keep your tomato leaves cleaner and reduce the spread of common tomato diseases like blight.
Pruning indeterminate tomatoes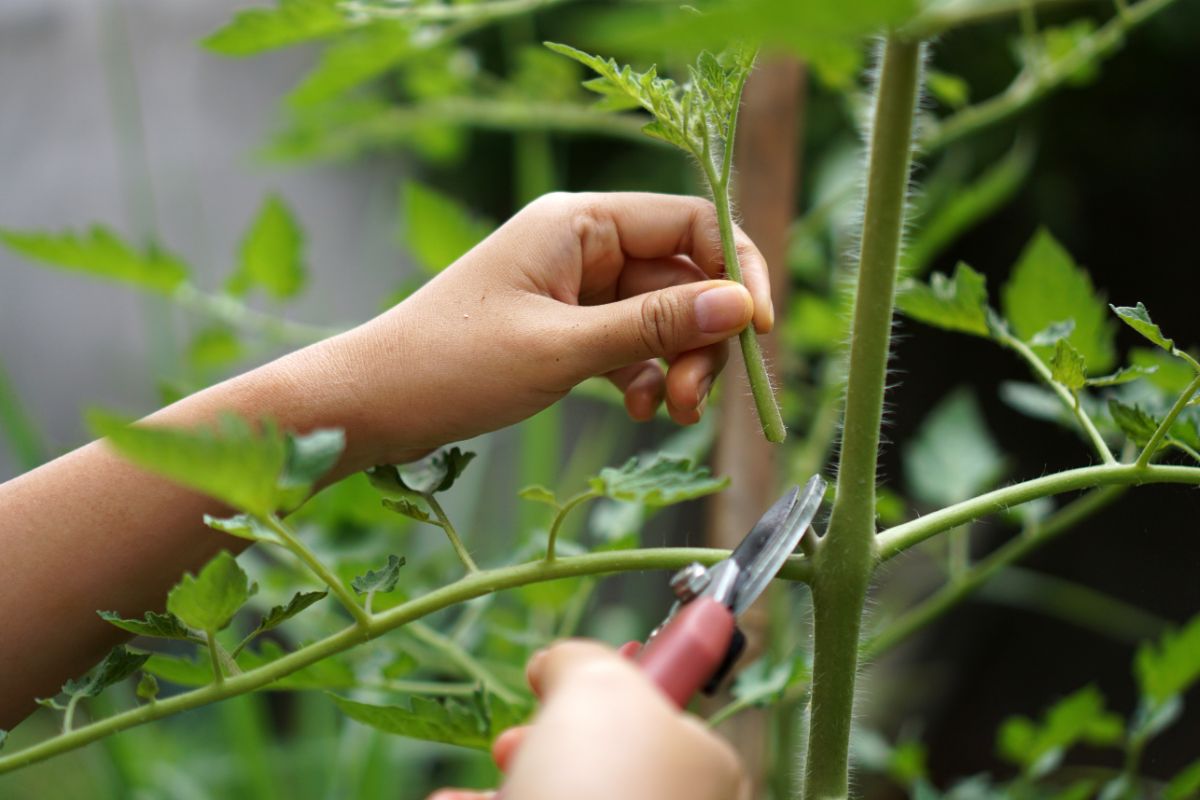 Indeterminate tomatoes can grow quite massively, and they often send out loads of suckers, which can drain the plant of energy and reduce the size of tomato harvests. Pruning indeterminate tomatoes makes plants much easier to manage, and it can allow you to squeeze large tomatoes into a small garden plot. Pruning these plants also directs your plant's energy towards fruit production, enhancing your harvest and improving the flavor of your tomatoes as well.
When it comes to pruning indeterminate tomatoes, many gardeners have their own pruning styles and techniques. Below are some of our favorite suggestions, but feel free to try out other pruning methods with your own plants. Just avoid pruning more than ⅓ of your plant's foliage at one time, as this can expose tomatoes to sunscald and cause unnecessary stress to your plant.
At planting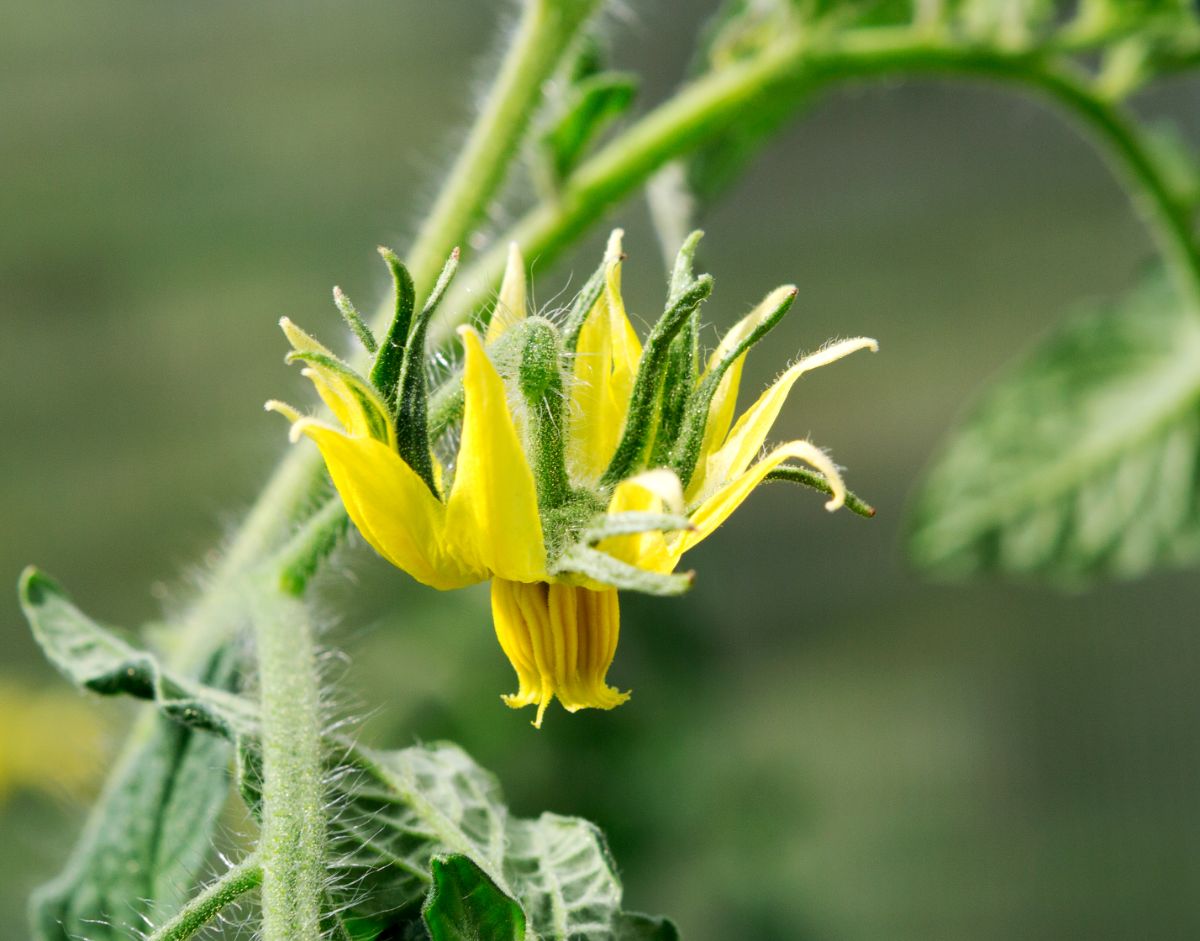 Regardless of whether you grow your own tomatoes from seed or purchase tomato starts from your local nursery, new plants will usually need to be pruned when they're transplanted into your garden.
To prune new indeterminate tomatoes, pinch away any buds or flowers that have developed before you plant your tomato. This will refocus your tomato plant's energy toward root and leaf growth and help it settle into your garden more readily.
You can also clip away some of the lower leaves on your tomato plant's stem and bury the stem deeper into the soil. This will encourage your tomato to sprout more roots, adding extra stability to your plant as it grows. More roots also mean your tomato will be able to absorb more nutrients and water, speeding up growth and improving the overall health of your plant.
Finally, if any tomato leaves are touching the soil after planting, snip away those leaves to reduce the spread of tomato diseases.
During the growing season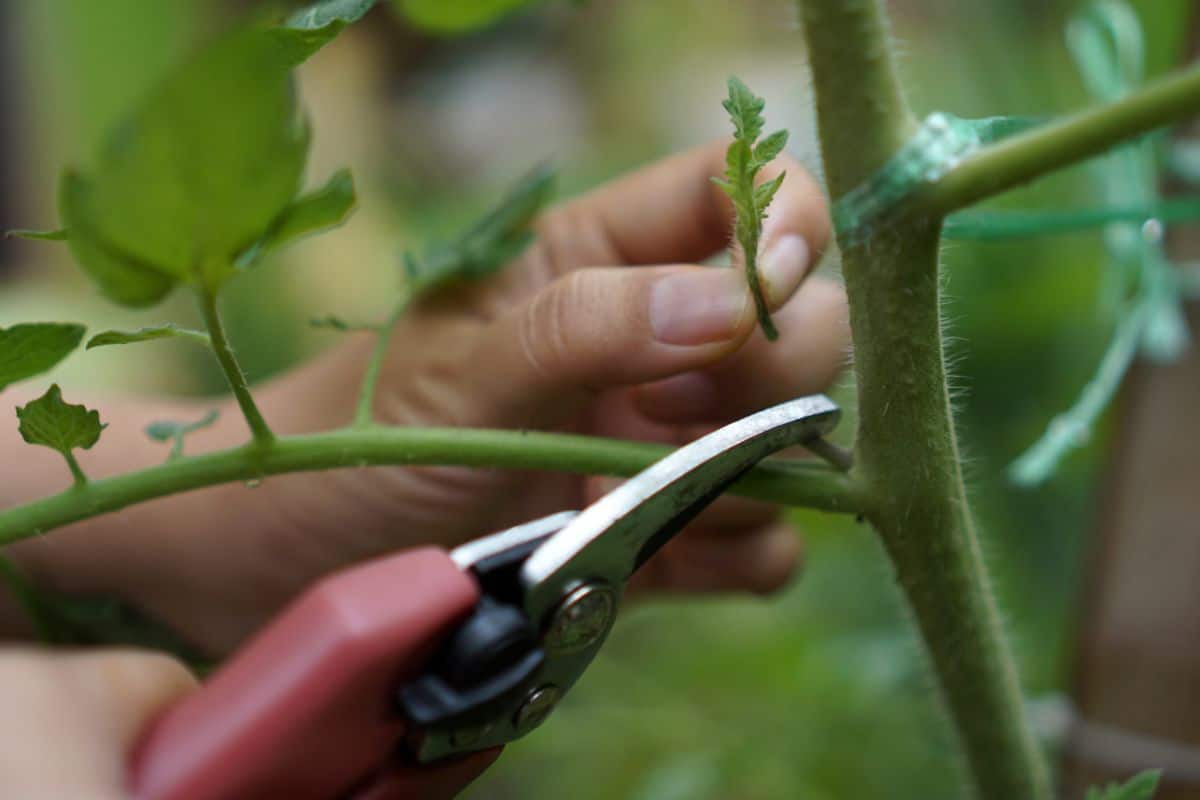 When your tomatoes are just getting established in your garden, continue to pinch off any flowers they produce until the plants are about 12 to 18" high. This will help your plants grow taller and settle into your garden faster.
Throughout the growing season, pinch away any suckers that develop between the soil line and the lowest cluster of flowers on your plant. Also, remove any lower leaves that are touching the soil to reduce the chance of plant diseases, and pluck off any yellow leaves to improve the look of your plant.
If you'd like to take your pruning further, you can pinch away more of the suckers on your tomato plants to improve airflow and shape the plant how you'd like it. Depending on the type of tomato support you're using, you can remove all but the central, main stem of the plant. Or you can leave up to 3 suckers attached to the plant's main stem and allow these suckers to thicken into larger stems, which will create a bushier tomato look.
Gardeners in cooler climates often remove the entire sucker from their tomato plants, but if you live in a hot area, you may want to take a different approach. "Missouri pruning" is typically used in warmer climates, and, with this technique, you only remove the top of tomato suckers and leave the lower two leaflets of the sucker intact. This allows the leaflets to grow and provide shade to developing tomatoes, reducing the chances of sunscald.
It's best to prune suckers when they're young since it will cause less injury to your plants. Small stems can be pinched away with your fingers, but larger stems will need to be removed with a sharp knife or pruners. Checking your tomatoes for suckers every 7 to 10 days will ensure suckers never get too large before you remove them.
At the end of the season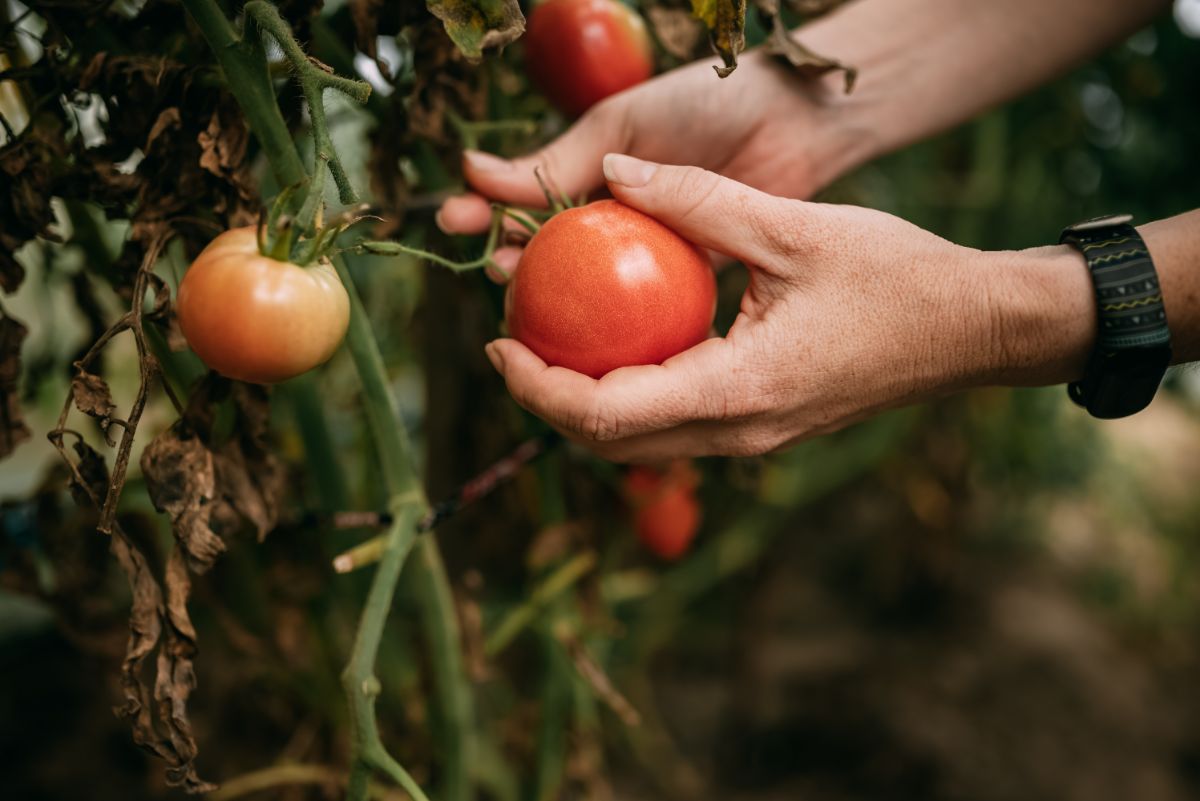 Indeterminate tomatoes often fruit through the end of summer and well into fall. However, as the season progresses, gardeners can begin to worry that tomatoes won't ripen before the cold weather arrives. This can result in a mad dash to gather green tomatoes when the forecast calls for frost.
But a well-timed pruning late in the season can help tomatoes ripen on the vine earlier and make fall harvests that much easier. This process is called "topping" tomatoes, and it's best performed about 4 weeks before your first frost date.
To top tomatoes, pinch or cut away the top growing tips of your tomato plants. This will stop the plant from growing further, and it redirects the plant's energy and sugars toward its fruit. With topping, tomatoes will ripen faster on the vine, and any green tomatoes that remain will be more likely to fully ripen if they need to be brought indoors to escape the frost.
Common mistakes to avoid when pruning tomatoes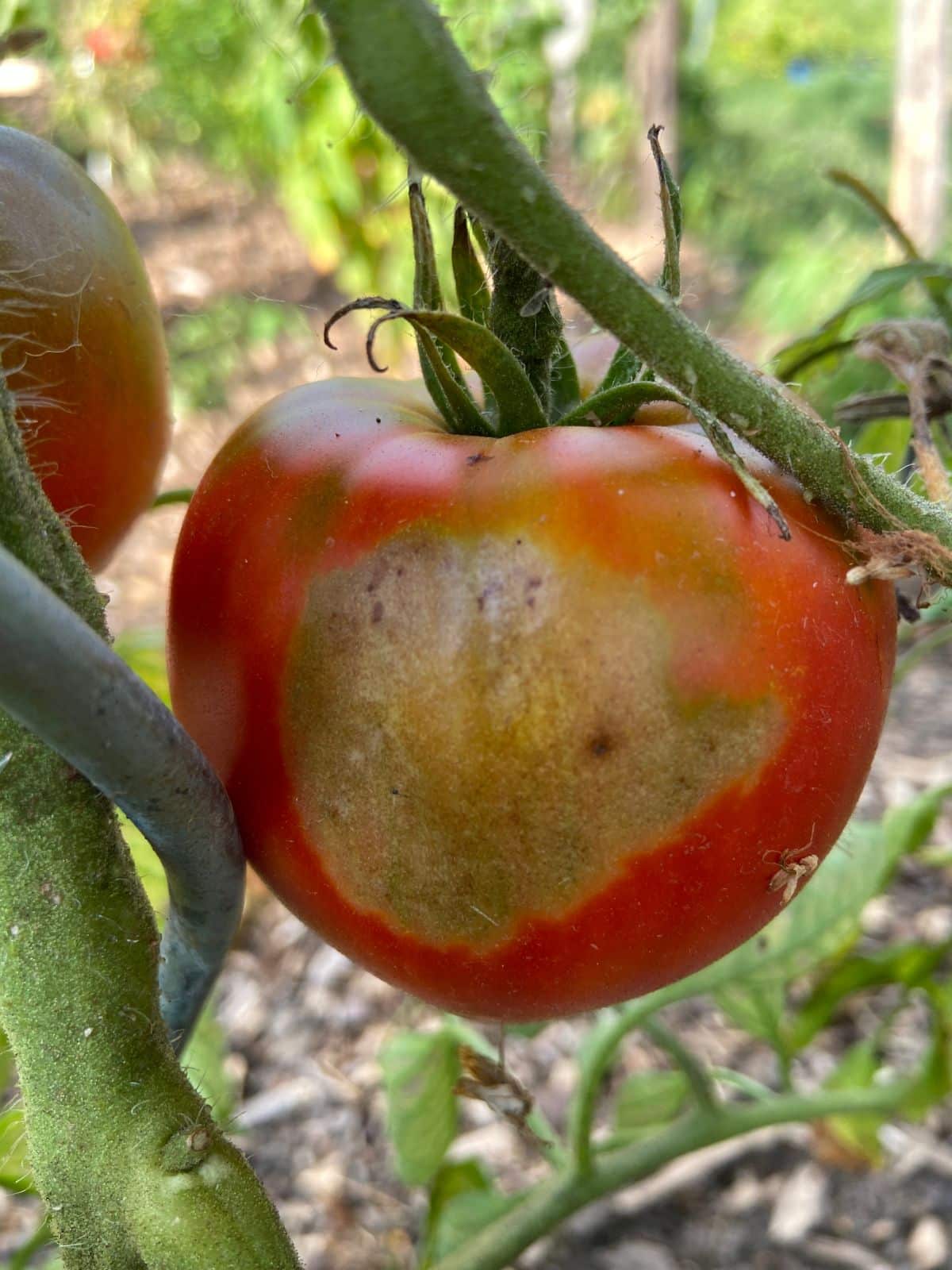 Pruning tomatoes is a relatively flexible art, and you can grow tomatoes successfully with or without pruning. However, if you want to prune your tomatoes, there are a few common pruning mistakes to avoid.
Dull garden knives and pruners won't cut through plant stems well, and they can do more harm than good. So, before pruning your tomatoes, be sure to sharpen your shears!
Plant diseases can often spread during pruning, especially if you don't disinfect your gardening tools. Wiping down your pruners with 70 to 100% isopropyl alcohol in between plants can ensure that diseases won't be transferred from one tomato plant to another.
Pruning wet tomato plants is one of the easiest ways to spread tomato diseases. That's why you'll always want to wait until your tomato plants are dry to begin pruning, and don't prune your plants in the rain.
When pruning, never remove more than ⅓ of your plant's foliage at one time. Over-pruning is quite common, and it can expose tomatoes to too much bright sun, resulting in sunscald. Over-pruning can also stress out your plant and kill it, or if you cut off too many leaves at once, you can reduce your plant's ability to photosynthesize and diminish your tomato harvest.
Determinate tomatoes should also never be pruned except to remove lower leaves that touch the ground and suckers below the first clusters of flowers. Over-pruning determinate tomatoes can drastically reduce the amount of fruit your plants will produce, and no one wants that!
Propagating tomato cuttings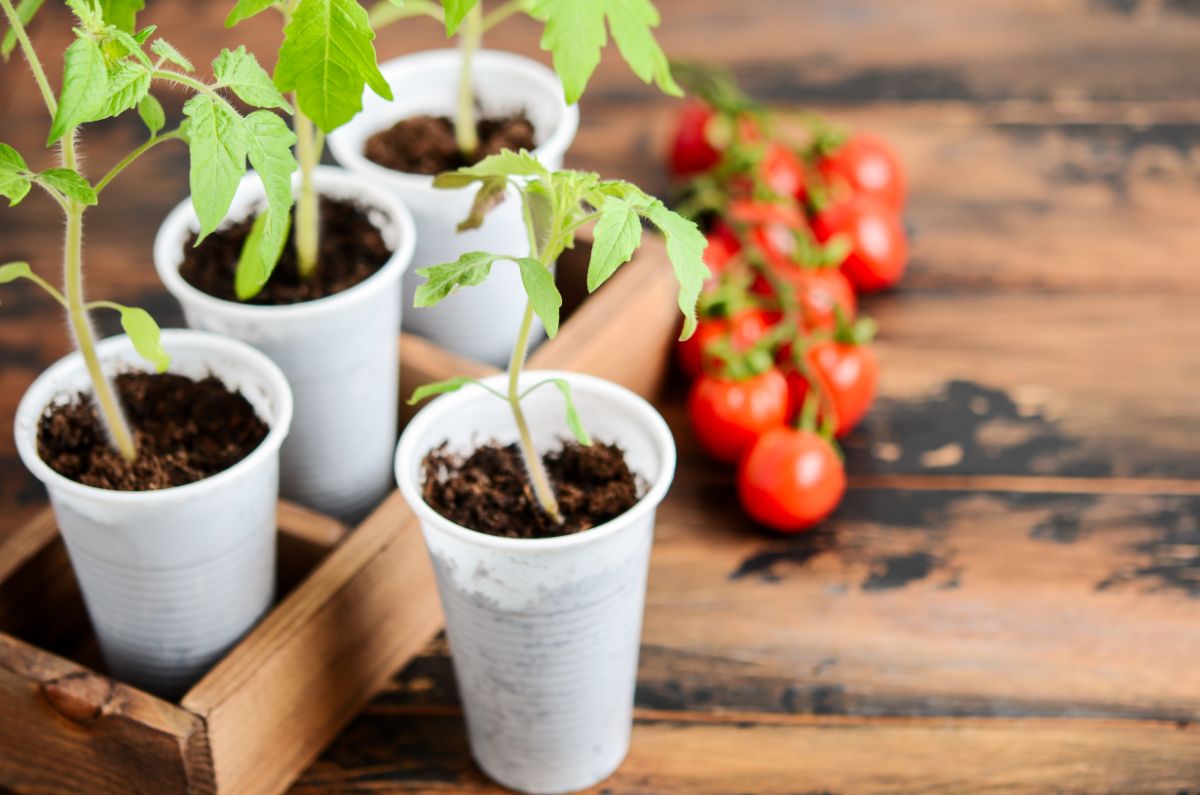 After pruning tomatoes, don't throw away the suckers! Just because tomato suckers won't benefit tomato plants doesn't mean you can't use them. In fact, tomato suckers are a great way to get more tomato plants for free.
Healthy tomato suckers can be propagated in both soil and water to make more tomato plants. To propagate tomato suckers, first, select a disease-free sucker that's about 6" long and isn't flowering. Carefully, cut the sucker from the plant with a sharp knife or pruners and then snip off the end of the sucker at a 45-degree angle.
After removing the sucker from the plant, you can place it in a jar of clean water until it develops roots. Remember to freshen up the water regularly and keep your plant in bright, indirect light until it roots.
Alternatively, you can also place your tomato sucker in a nutrient-rich potting mix and then keep the mix moist until the plant roots. Placing a clear plastic bag over the cutting while it's growing will help lock in humidity and keep the soil from drying out as quickly. For even faster rooting, you can dip your tomato cutting into rooting hormone before placing it in the soil.
After your tomato suckers develop roots, they can be transplanted into your garden and tended like other tomato plants. This is a fast and easy way to get more tomatoes, and it will give you even more reasons to prune your plants!
Frequently asked questions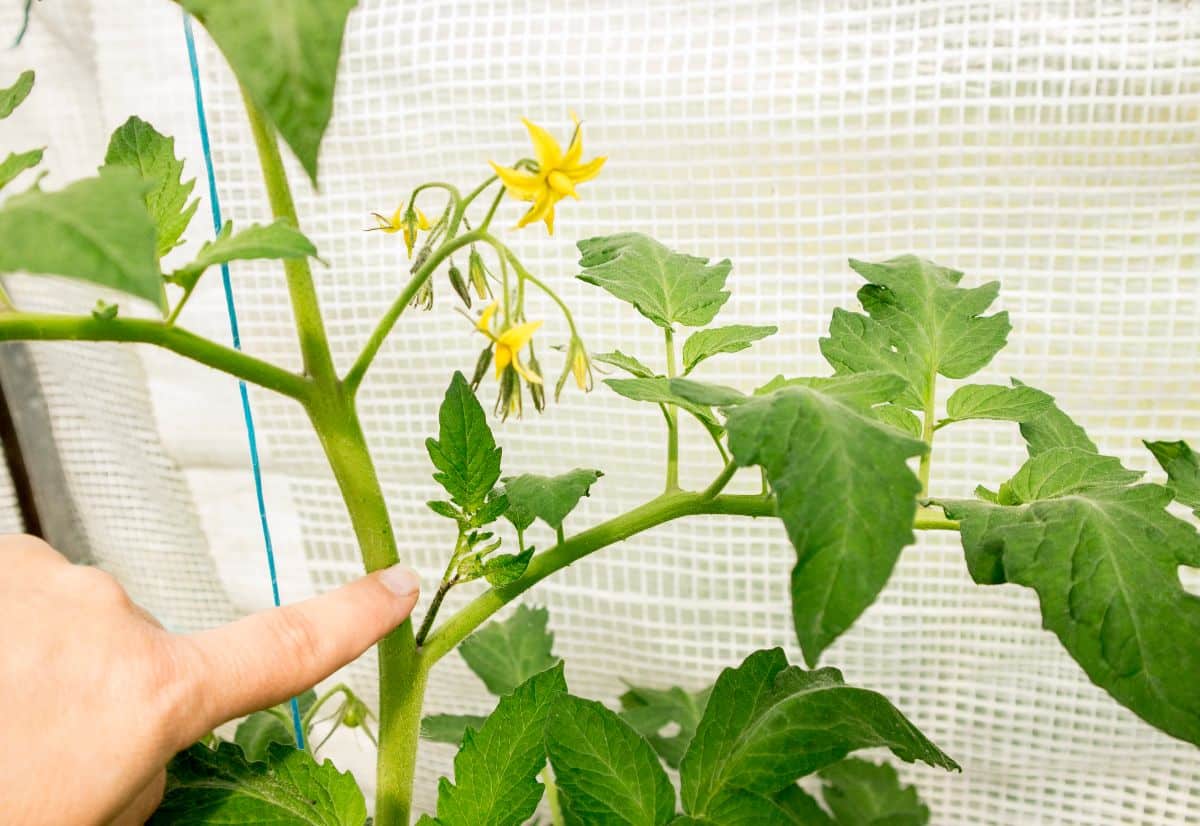 Summary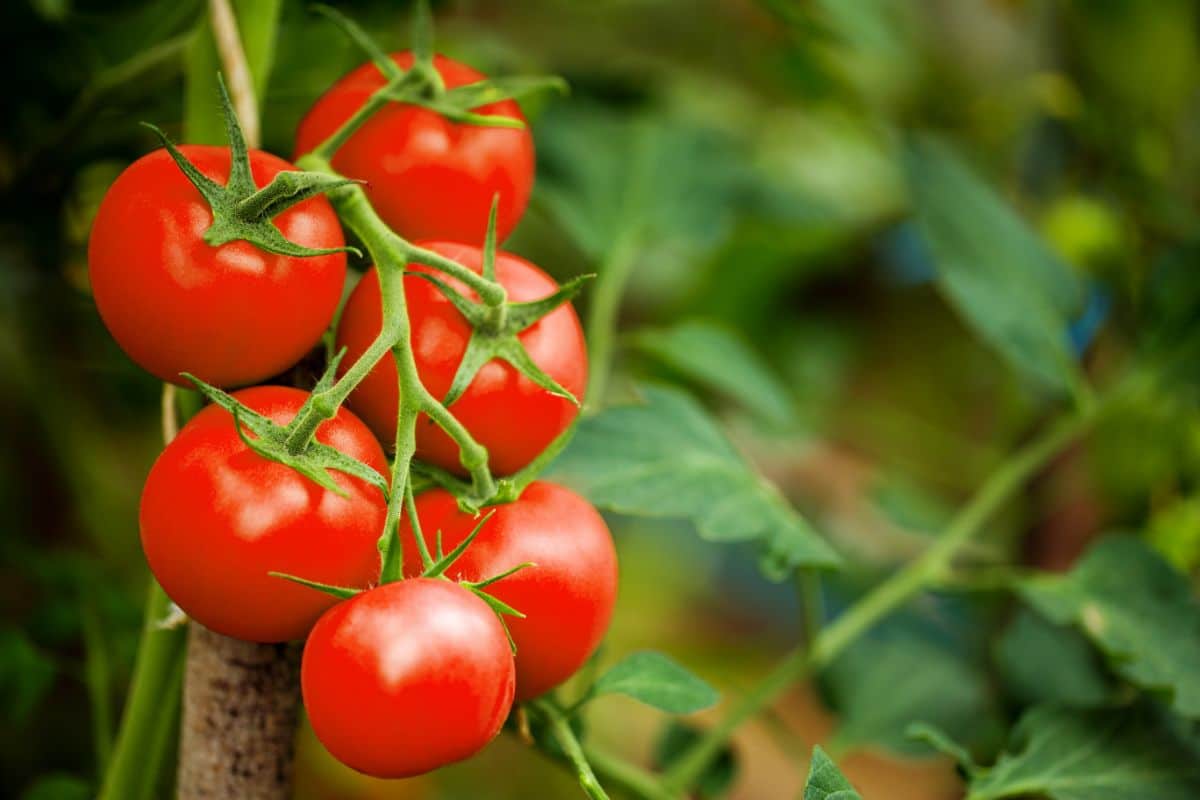 Pruning tomatoes can feel a bit intimidating at first, but like most garden chores, practice makes perfect. If you're new to pruning, go easy with it and only snip a few tomato stems at a time. You can also prune more stems away later if your plant needs it, but you'll be less likely to over-prune if you go slow.
From reducing tomato diseases to helping tomatoes mature faster in autumn, there are a lot of reasons why you may want to prune your tomatoes. But if you're looking for more ways to enhance your tomato harvest, read up on common tomato growing mistakes or boost tomato yields with homemade fertilizers using our other beginner-friendly guides.