As they grow, tomato plants usually need some type of support to keep them upright and to prevent their branches from snapping under the weight of their fruit. While determinate plants can sometimes grow without additional support, indeterminate tomatoes can get quite massive, and training them to vine over trellises can keep them from taking over your garden. Plus, tomato supports can improve airflow around tomato plants and prevent some common pests and diseases.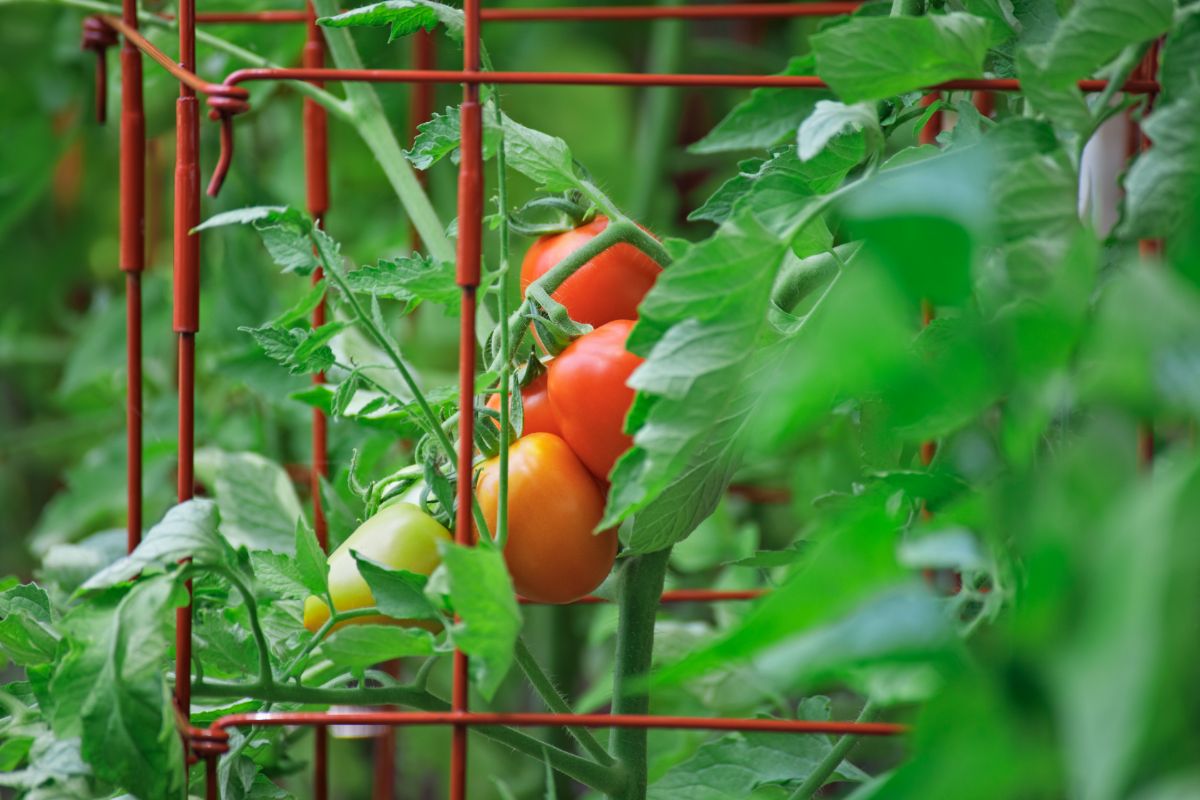 But when you're faced with tomato cages, garden stakes, and tons of trellis options, choosing a tomato trellis can feel a bit overwhelming! That's why we've compiled this list of the most popular and handy tomato supports that will work in both large and small space gardens. If you want to keep tomato plants upright and grow a larger harvest of fresh tomatoes, these tomato trellises can help.
Jump to:
10 best tomato trellis options for your garden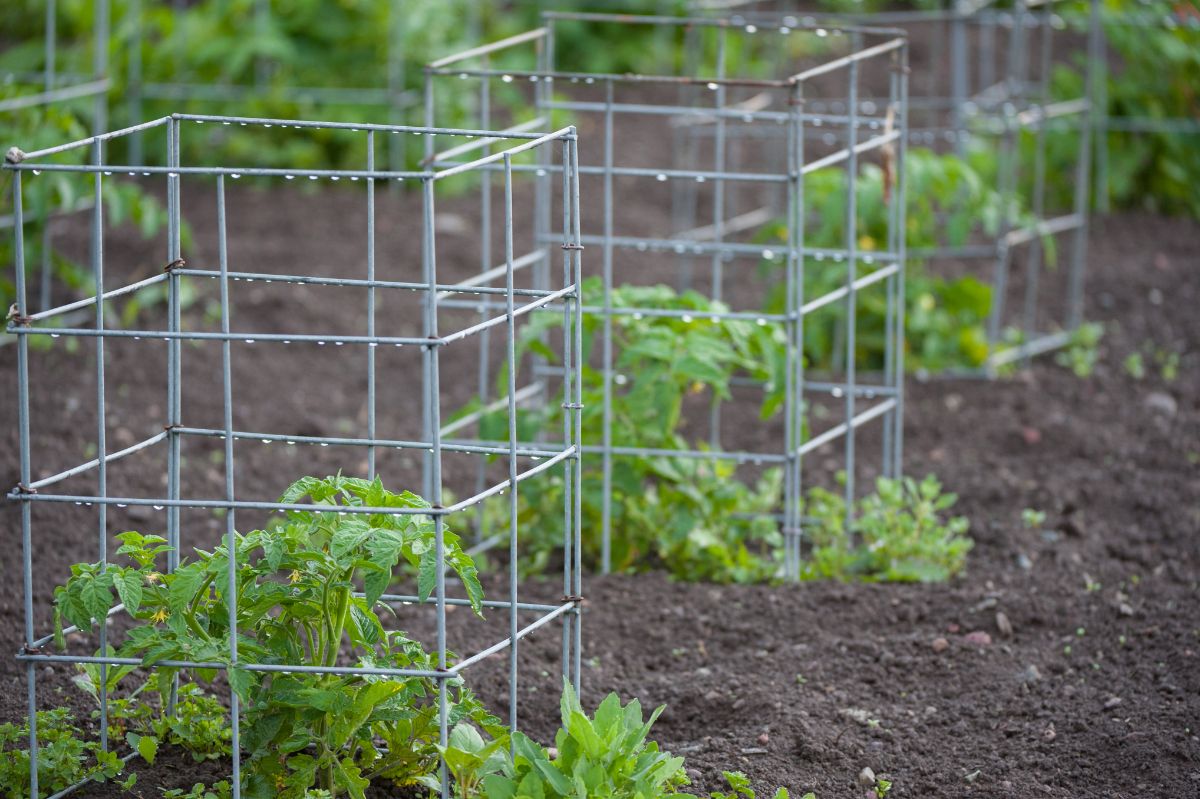 In the list below, you'll find trellises and cages for both indeterminate and determinate-type tomatoes. To help you decide which tomato trellis will work in your garden, we've noted the special features of each tomato support, and we've also provided suggestions on how to use them.
What's more, if you're growing vining plants like beans and peas, many of these tomato supports will work well for them too!
1. Tomato cages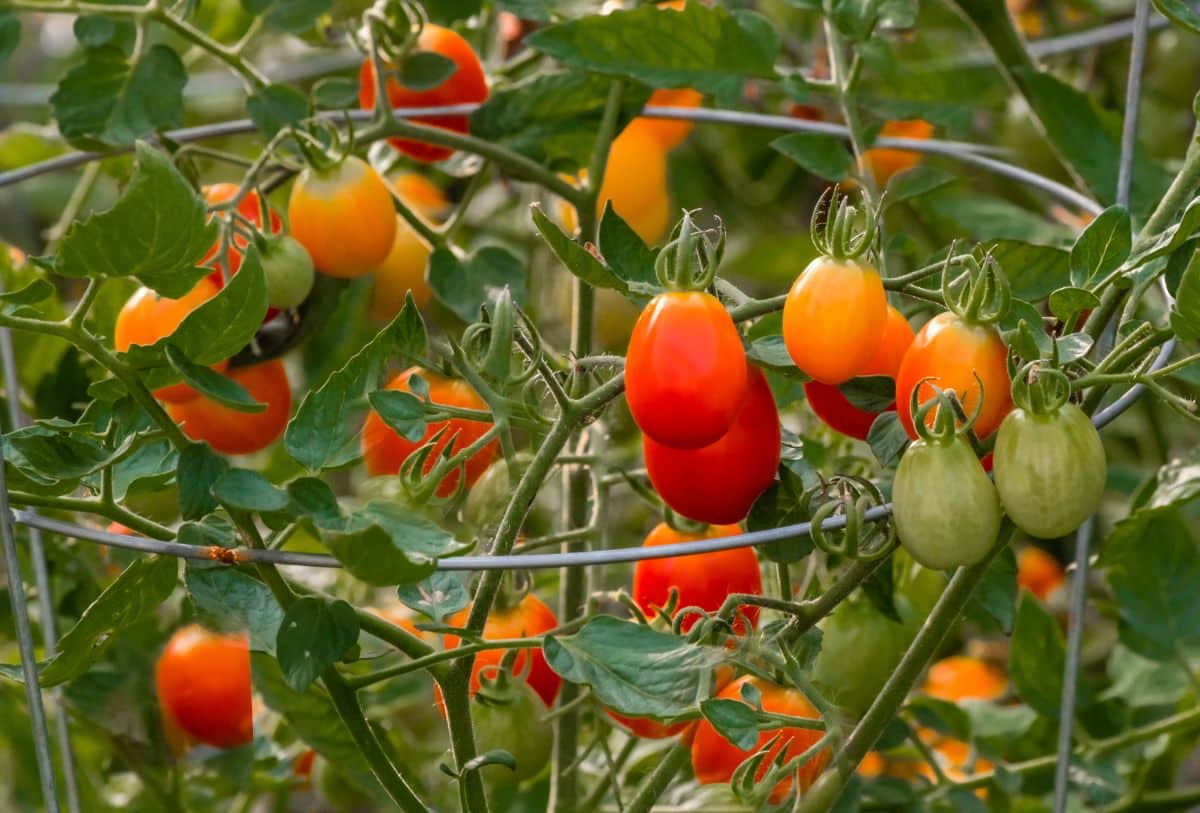 When it comes to supporting tomatoes, tomato cages are one of the most classic options, and they can be found in veggie gardens all over the world. These simple constructions can be made at home, or you can purchase them at garden centers or online. Tomato cages can also range in height, and they can be made of plastic, metal wire, or wood.
Standard wire tomato cages work quite well for most determinate type tomatoes; however, some indeterminate plants will grow and vine so vigorously that they need extra sturdy tomato cages to support them. One of the perks of using tomato cages is that they are very low-maintenance setups, and you usually don't need to prune your tomatoes when using them. Simply tuck tomato branches and stems into the cage as they grow, and let your tomato do the rest of the work!
You can use tomato cages on their own, or you can insert a bamboo pole or other stake into the center of the cage to support the tomato's main stem, although this is rarely needed. Most tomato cages will also last many years, allowing them to be used again and again. That said, tomato cages can take up more room in your garden than some other tomato supports, but their free-standing nature makes them ideal for container-grown tomatoes.
If you like the idea of working with tomato cages, check out these options:
One of the most popular choices for tomatoes, wire cages are easy to find and super durable. You can purchase them in packs of 10 or more, and they will usually last for years and years.
Sale
These handy cages are fully adjustable, and you can make them wider or taller to suit different tomato types. They are also rust-proof thanks to their durable, plastic coating.
Even the most unruly tomatoes are no match for these tough tomato cages! Made of weatherproof steel, these cages were built to last, and they come in packs of 4.
2. Florida weave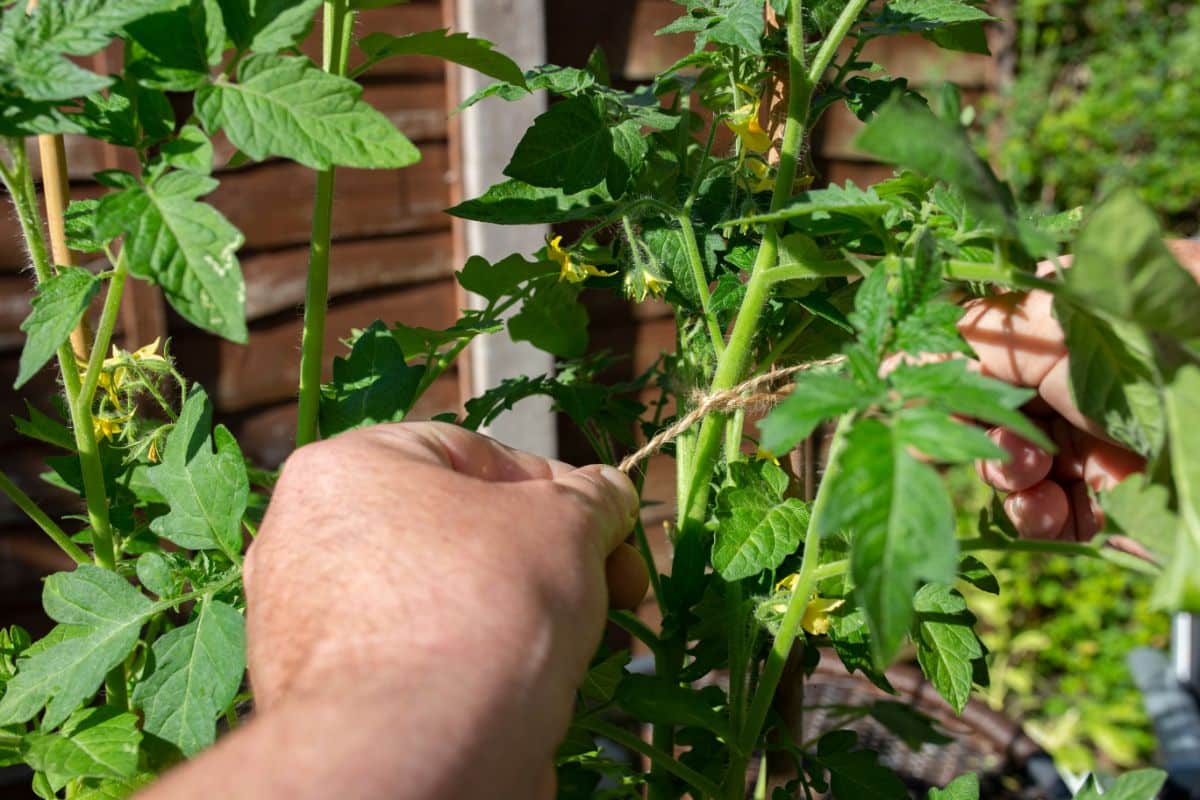 While tomato cages and other support options work well for determinate-type tomatoes, if you're growing indeterminate tomatoes, your best trellising option is the Florida weave. The Florida weave method was first developed in Florida, but its utility and convenience have made its popularity spread throughout the gardening world. Not to mention, Florida weave is potentially the least expensive trellising option you can find!
Determinate tomatoes stop growing when they reach a certain height, but indeterminate tomatoes can continue to grow throughout the season, and they can often reach over 10 to 12' tall. Considering that most tomato cages are only about 3' high, cages won't be able to do much to support these massive tomato plants! Florida weave, however, is meant to "grow" with the tomatoes themselves, so it works with any tomato plant.
In this method, garden stakes, bamboo poles, or t-posts are installed on either side of tomato plants, and then a nylon cord or jute twine is woven in between the supports and the tomatoes, essentially sandwiching the tomato in place. As the tomato grows, more twine or cord is added, allowing you to support even the tallest tomato types with ease.
The beauty of Florida weave is that it's very simple to do, and it also saves a lot of space in your garden. Plus, if you upcycle stakes, you already have (or use found sticks) with an old nylon cord, this process can be entirely free! If you'd like to learn how to use the Florida weave in your garden, check out this simple video tutorial.
3. Single stakes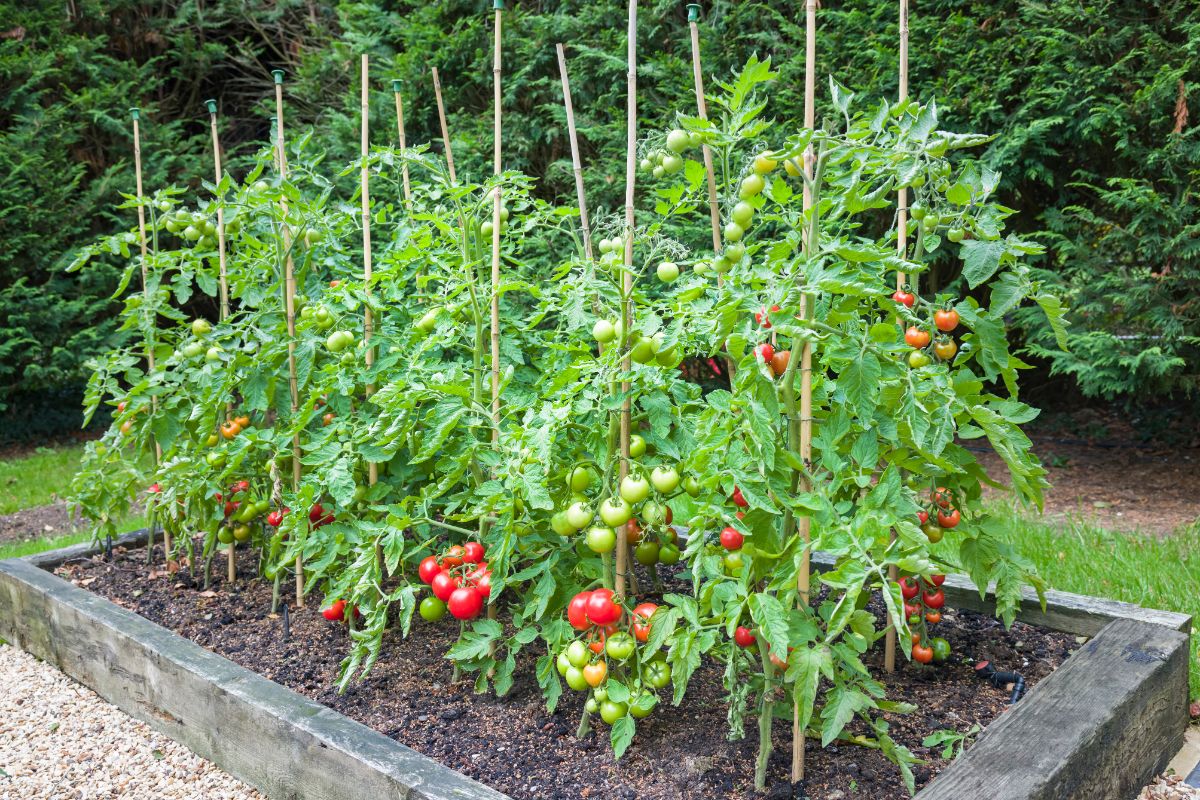 Fitting a lot of tomatoes into a small space can be tricky, but if you support tomatoes with single stakes, you can usually pack a lot of tomato plants into a limited garden. With the single-stake method, you can use either bamboo poles, metal t-posts, wooden stakes, or other supports to strengthen the main stem of a tomato plant. Then most of the other suckers or side stems are removed from the plant, which encourages the tomato to grow tall, rather than wide.
Because so many of the side branches are removed with single staking, you can grow tomato plants much closer together without worrying about their branches overlapping. This also channels the plant's energy toward vertical growth. Since indeterminate tomatoes can grow well over 10' tall, be sure to invest in tall stakes that will be able to support the entire height of your plant.
Removing tomato side branches may reduce the amount of tomatoes your plant produces, but the tomatoes that do grow will be of the best quality because the plant will be channeling all of its energy into them. Single staking can work in gardens or pots, and it's a comparatively budget-friendly option that's super adaptable to most growing setups.
As tomato plants grow, fix the stems to your supports using garden twine, tomato clips, or coated garden wire. Just be gentle with the stems, and don't tie the twine or wire so tight that it cuts into your tomato branches!
4. Trellis netting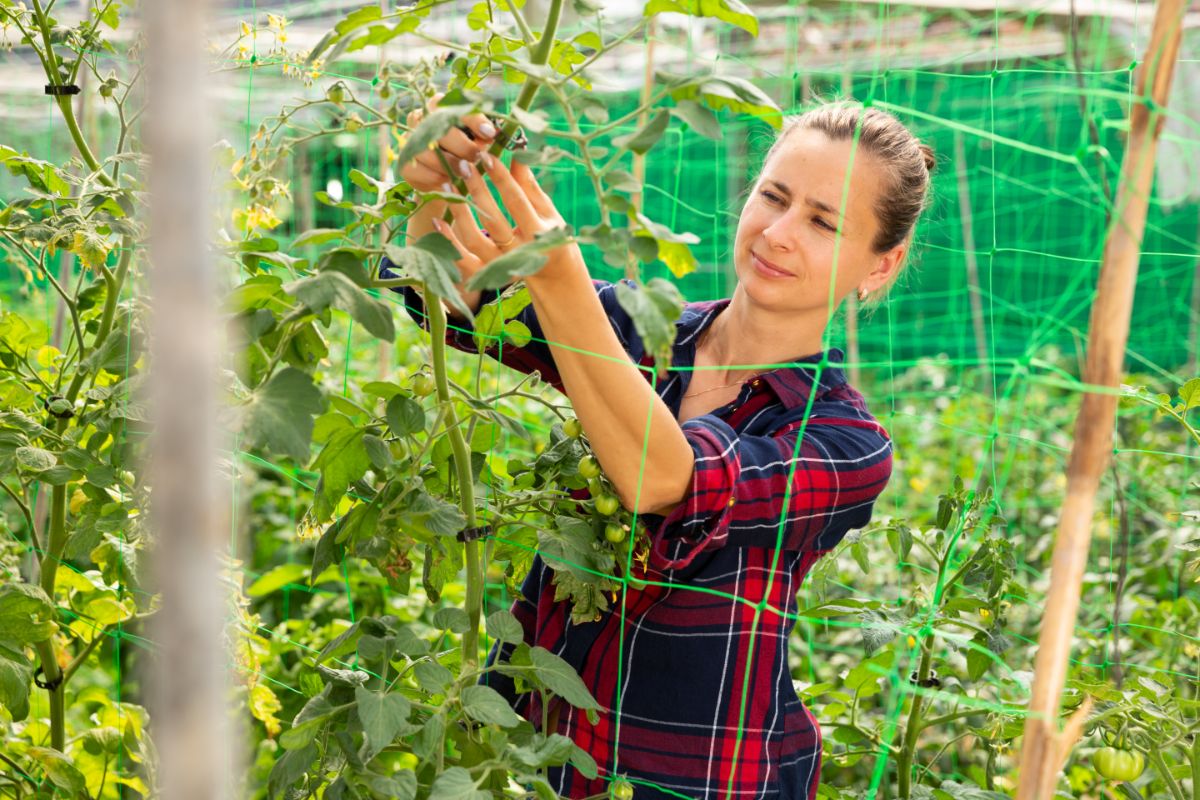 Trellis netting is most commonly used for beans, peas, and other vining plants, but it is another tomato support option. Trellis netting doesn't give the same firm support as staking, but it will hold up tomato branches, and its flexible shape makes it suitable for hard-to-reach areas and small space gardens. You can also attach trellis netting to a frame in your garden, or you can hang it from the top of a porch roof and grow tomatoes on sunny balconies or decks!
Trellis netting often measures up to 15' long, and you can hang it vertically or horizontally to suit both determinate and indeterminate growing tomatoes. Netting is usually made of nylon, which can hold up to the elements, allowing you to reuse it several years in a row. To attach tomato vines to netting, try out tomato clips, garden twine, or adjustable Velcro garden wraps.
5. Spiral stake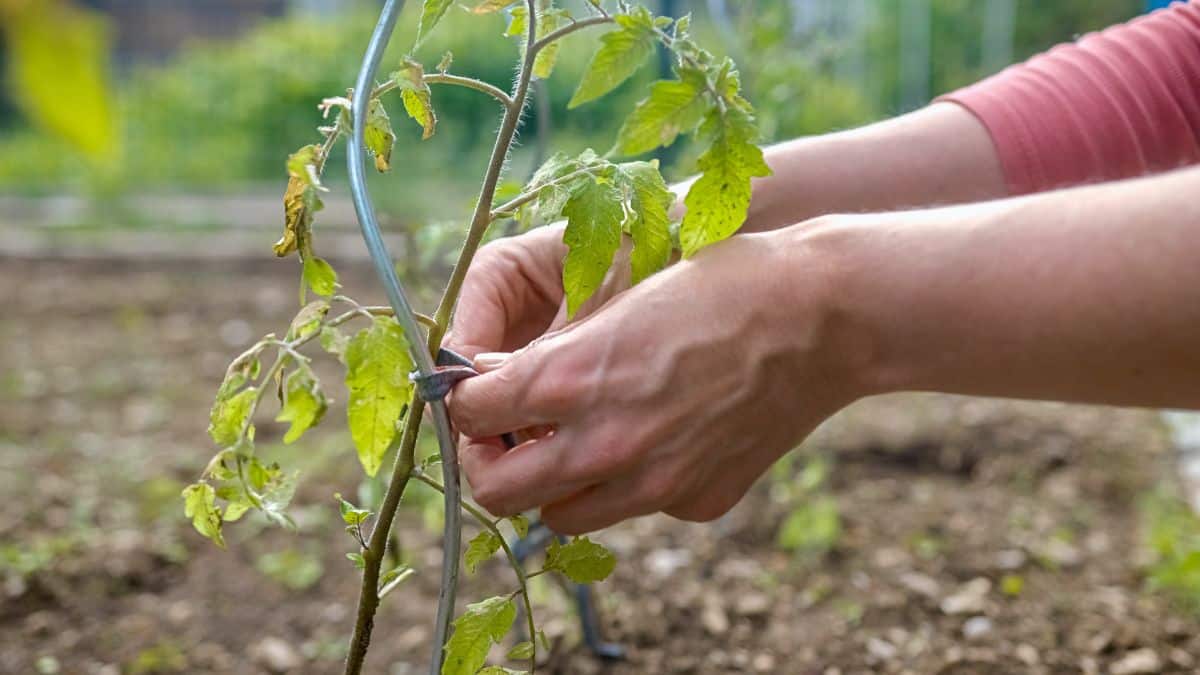 Spiral stakes are an alternative to the single-stake method, and they work best on shorter tomato varieties. These whimsical tomato supports add charm to gardens, and they come in lots of different colors. They're also sturdy and easy to use, and they can give tomatoes a bit more movement than traditional, straight stakes.
Spiral stakes are great for small space gardens, and they work well for tomatoes grown in pots too. Simply insert the stake into your soil and gently twine the tomato plant around the stake as it grows. Adding Velcro wraps, twine, or coated wire to the setup will fasten the tomato in place and make sure it doesn't go anywhere!
6. Trellis arch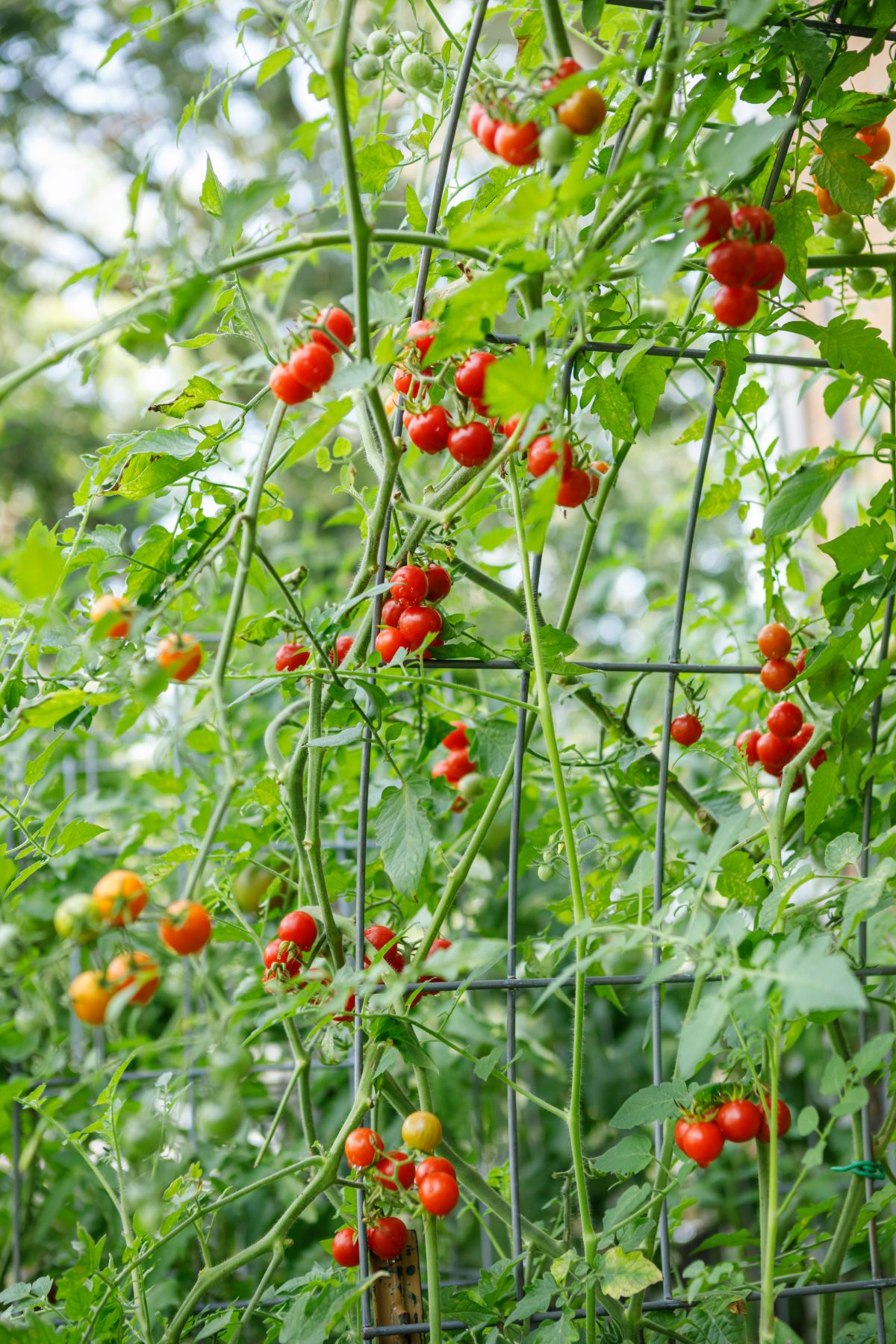 If you have a raised bed garden or a vegetable garden with gravel or mulch walkways, you can add interest and height to your beds by adding a trellis over your walking paths. These structures are usually used for vining plants, like beans, but you can also train indeterminate tomatoes to grow on them. Even better, garden archways are very sturdy, and they have enough height to support even the tallest indeterminate growing tomatoes.
Trellis arches come in many shapes and sizes, and you can find decorative archways that will blend in well with cottage garden designs and even contemporary landscapes. These trellises may be more costly to install than other options, but they are built to last and should hold up well for many growing seasons to come.
The beauty of working with garden arches is that you may be able to grow a mixture of plants on them. For example, you can train some beans and peas to grow to the top of the trellis and fix smaller tomato plants towards the bottom of the trellis with coated wire or Velcro wraps. For even better results, plant some shade-loving basil or dill around the base of the archway, which will benefit from the shade of the taller plants and repel pests from your tomatoes as well!
7. Obelisk trellis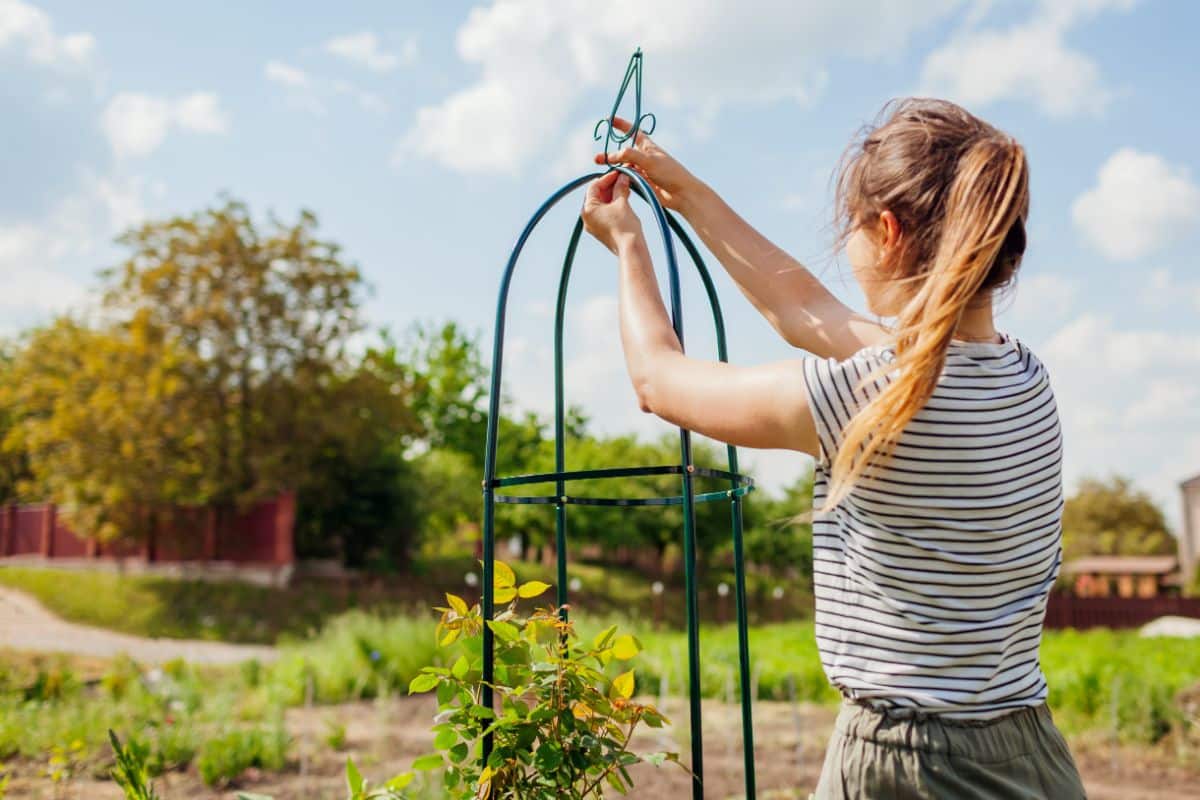 Obelisk trellises can be made by tying several stakes or bamboo poles together and planting tomatoes beneath them. But if you're looking for a more finished look, you can also find obelisk trellises online or at garden centers. These firm structures offer optimal support for tomatoes, and they come in lots of styles to suit any garden design!
Many obelisk trellises are small enough to keep in containers with tomatoes, but they will also make a big impact in your garden too. These structures add lots of height and interest to garden beds, and you can repurpose them for growing beans, peas, and other vining plants as well.
If you like the look of obelisk trellises, you may enjoy the following:
Sale
With classic lines and a dark, plastic-coated frame, this trellis looks a bit like a miniature Eiffel Tower, and it will look oh-so-charming in cottage garden designs.
Sale
Rust-proof and practical, this obelisk trellis comes in packs of two, and it is narrow enough to keep in small container pots with tomatoes. Not to mention, it has an adorable, bird finial detail on top!
8. A-frame trellis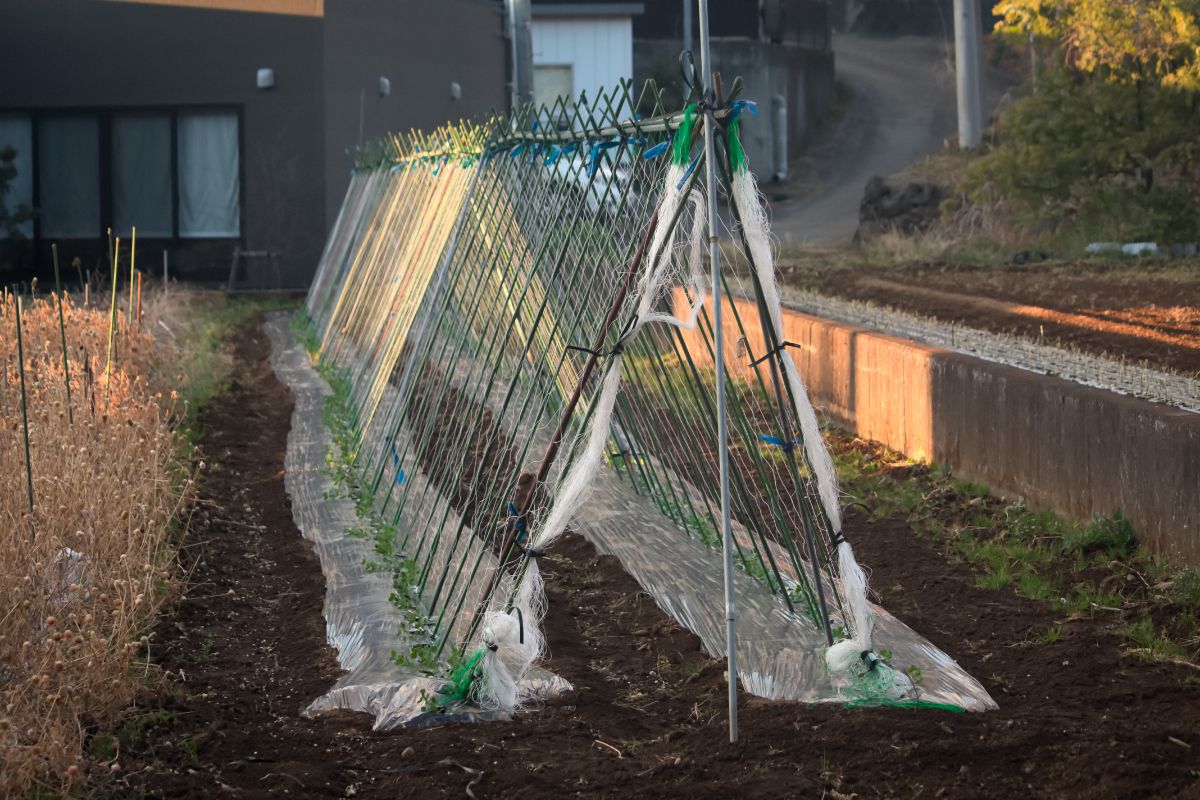 You can make your own A-frame trellises with scrap materials, like wood and chicken wire, or you can buy these structures premade for an even easier installation. Like trellis archways, A-frame trellises are sturdy and tall, helping them to support even massive, indeterminate tomatoes. Simply attach your tomato vines to the exterior of the trellis with Velcro or twine, and you'll be good to go.
Tomatoes and a variety of vining plants can be grown on A-frame trellising, and these trellises can also be used to hang trellis netting or twine to encourage tomatoes to climb. To get even more use out of this structure, try planting shade-loving herbs and veggies in the center of the A-frame and allow these plants to benefit from the extra shelter from the taller tomato plants. Spinach, lettuce, dill, and basil are all good options for growing at the center of A-frame structures, and planting them in this shady spot can slow down their bolting!
Good examples of A-frame trellises for tomatoes include:
The steel frame is coated in plastic to prevent rust and protect your plant's tender stems. Plus, this trellis is easy to install, and it's lightweight enough that you can quickly move it around your garden space.
Sale
This trellis measures 6' tall, making it a perfect size for many larger tomato plants. Made of durable steel, it won't rust either, and it can hold up to 30 pounds of veggies!
9. Cattle panel trellis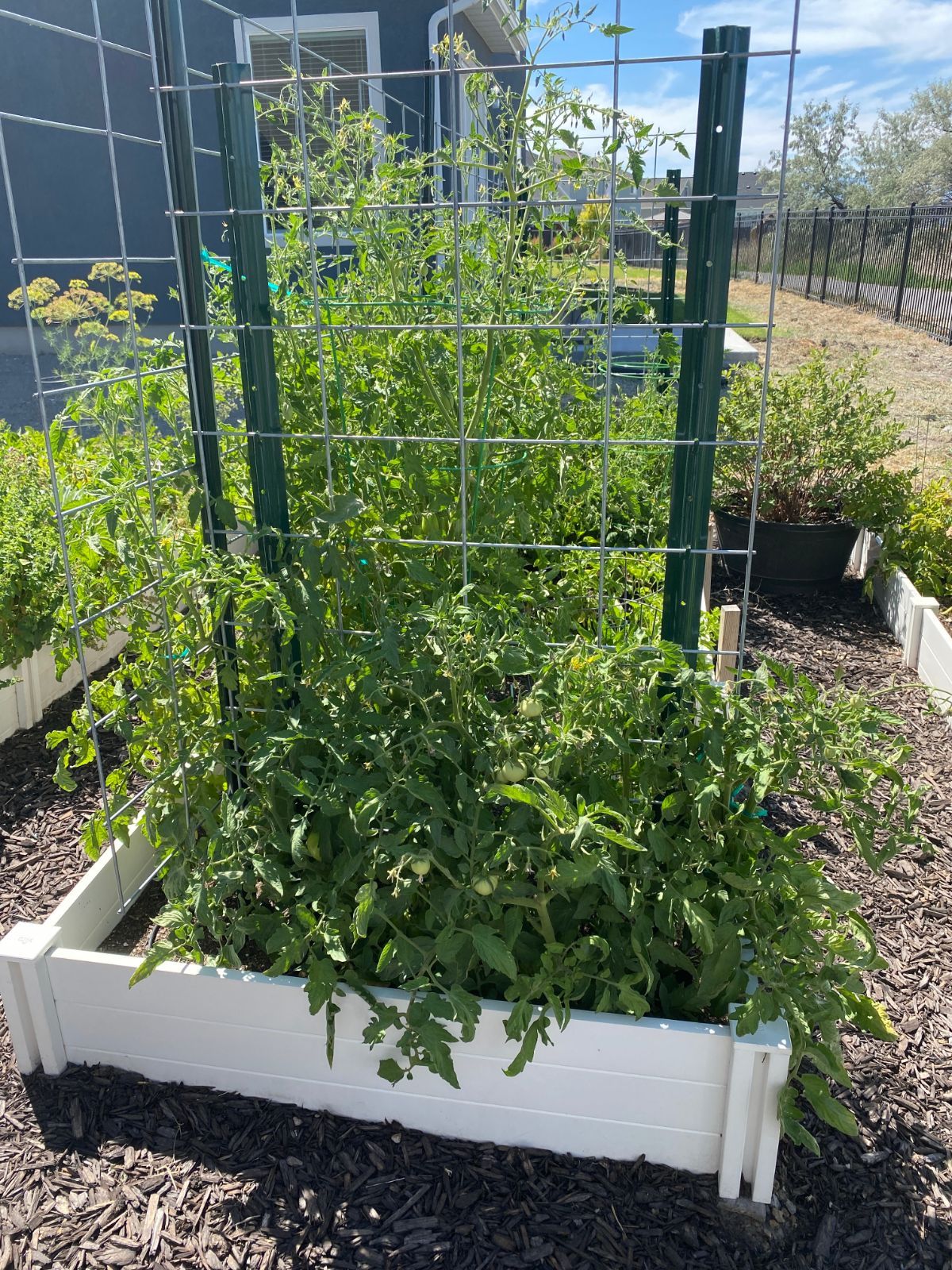 Cattle panel trellises are some of the strongest trellising options you can find, and they can even support melons and gourds, so you know they'll be able to hold up tomatoes. Cattle panels are usually available at livestock supply stores, but you may be able to find them at garden centers as well. Secure cattle panels in your garden with t-posts and then plant tomatoes and vining plants around to maximize your garden space with vertical growing.
Cattle panels are often installed horizontally to create a garden screen; however, you can also bend them into garden archways. These trellises are built to last, and they are naturally weather-proof. If you want to grow heavy, indeterminate growing tomatoes, cattle panel trellises can be a top choice, although they are usually too big to install in small space gardens.
10. Hanging baskets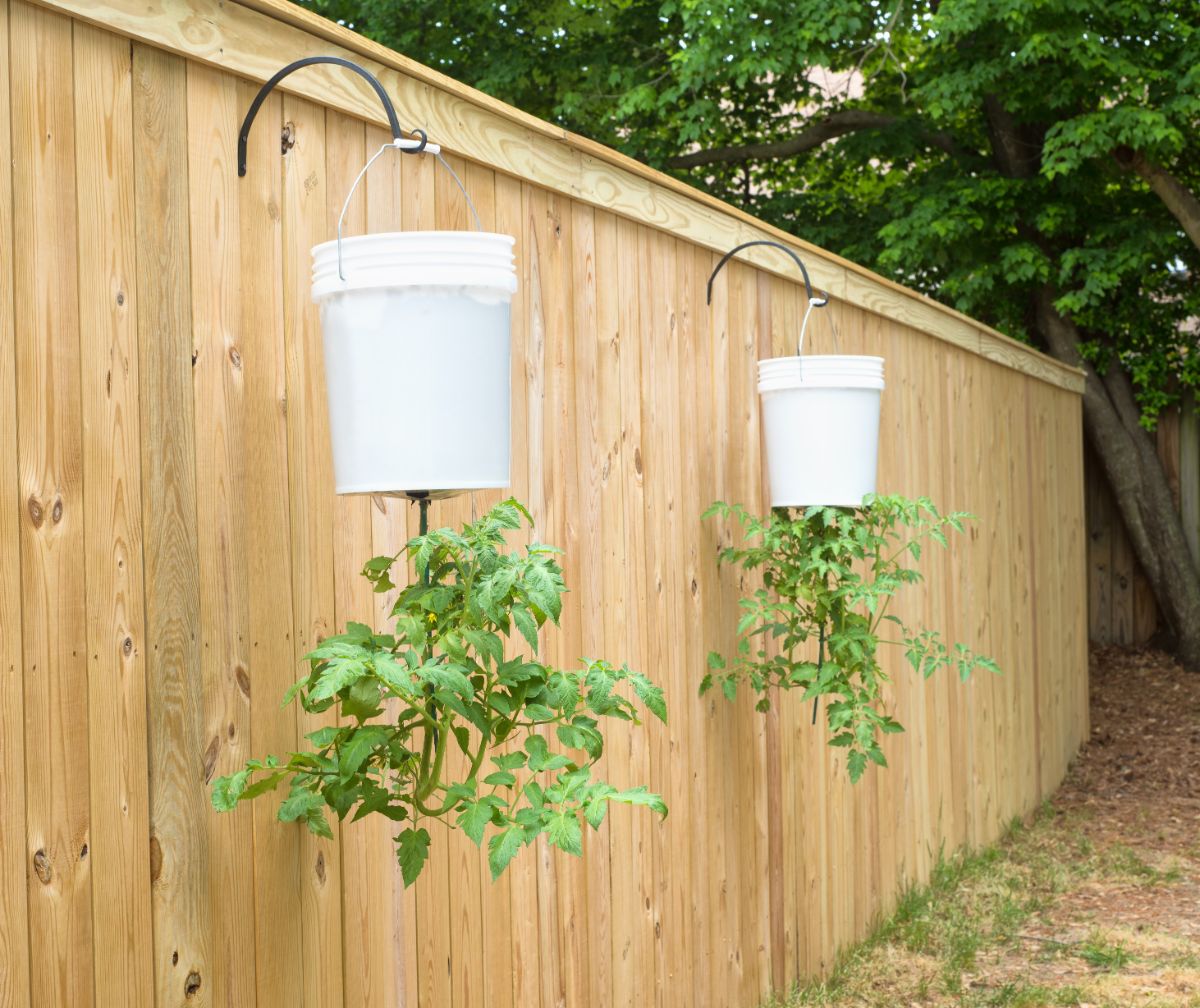 While hanging baskets aren't technically trellis, they are a great way to grow large tomato plants, and they are perfect for small spaces and even balcony gardens. Hanging buckets and baskets allow tomato vines to trail naturally, and they are particularly good for cherry tomato plants since these tomatoes produce smaller fruit that is less likely to weigh down tomato stems. These baskets are also extremely easy to install, so if you don't want to work with trellises, you can always try out hanging planters!
Hanging baskets come in all different shapes, sizes, and colors, allowing you to mix and match planters or coordinate them with your home's décor. There are also upside-down hanging planters for tomatoes, which have even more soil space for tomato roots. These unique setups allow tomato vines to cascade naturally, and they're simple to harvest from too!
Do all tomatoes need trellising?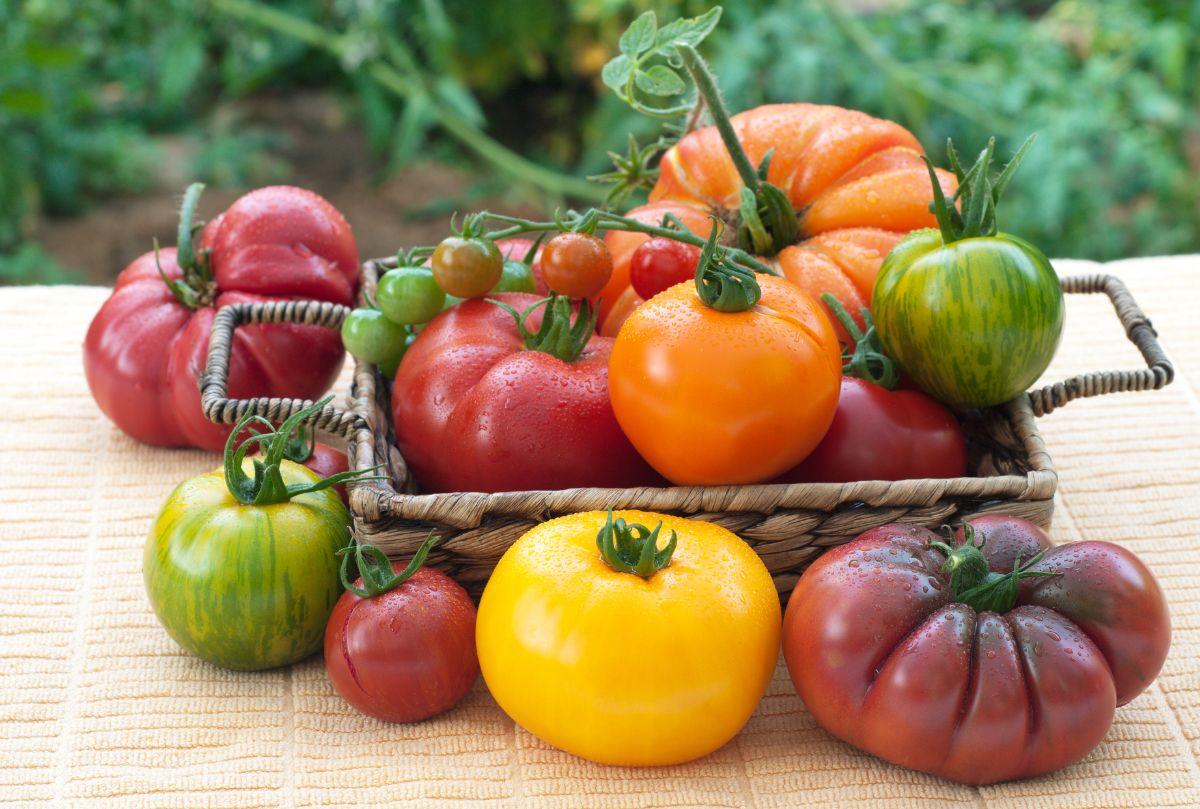 Tomatoes are usually divided into determinate and indeterminate tomato types, and both tomato varieties can benefit from trellising.
Indeterminate tomatoes grow throughout the season, and they can get quite massive. These sprawling plants can take over garden beds, but trellising keeps them more tidy. Indeterminate growing tomatoes almost always need trellising or extra support, which prevents vines from breaking under the weight of their fruit and also improves airflow around leaves.
Determinate tomatoes maintain a shorter, bushier growing habit, which makes them a top choice for small space gardens. While these tomato types may not need trellising to keep them from spreading, they can get quite top-heavy when they produce fruit. To keep vines from breaking under the weight of tomatoes, many gardeners use trellising or other supports with both determinate and indeterminate tomatoes.
Determinate growing cherry tomatoes are the tomato types that are least likely to need trellising, but even they can benefit from extra support. Trellising can keep tomato plants more compact, making it easier to grow more plants in your garden. You can also make tomato plants simpler to harvest by training their stems to grow through the holes of tomato cages or trellising supports.
Frequently asked questions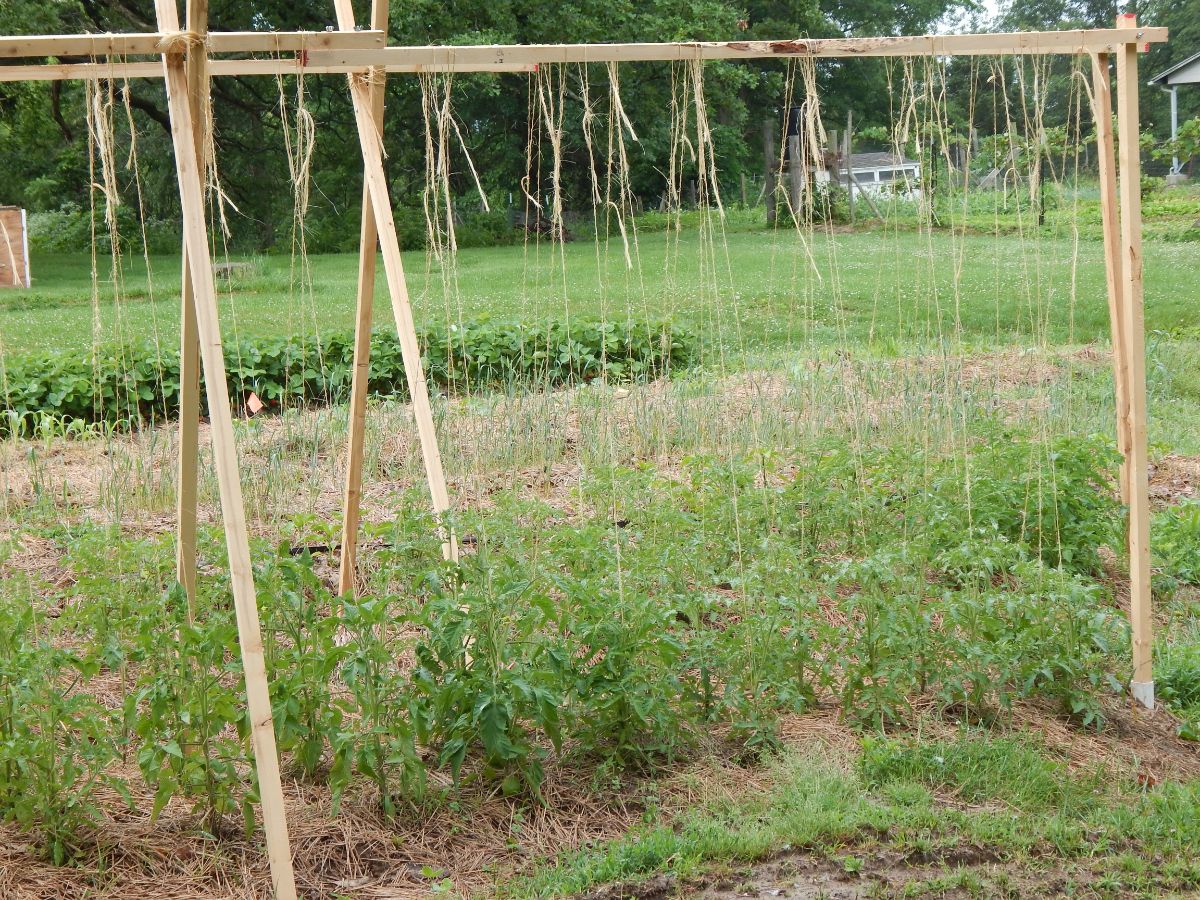 What is the cheapest way to trellis tomatoes?
Florida weave is one of the least expensive ways to trellis tomatoes, and it works for even tall, indeterminate growers. All you need to Florida weave tomatoes is a few sturdy wooden sticks or stakes and some garden twine!
What is the best height for a tomato trellis?
Determinate tomatoes stay much more compact as they grow, and they can be kept upright with a short trellis or tomato cages. However, if you want to grow indeterminate tomatoes, you'll need a tomato cage that is at least 4' tall, since tomatoes can grow on both sides of cages. If you're using stakes or poles, they should be even taller.
Is it better to cage or trellis tomatoes?
Cages and trellises are both effective ways to support tomatoes, but trellising tends to work better for indeterminate tomato types. These tall plants can rapidly outgrow short cages, and they can stretch over 10' tall.
What are the disadvantages of trellising tomatoes?
Trellising tomatoes can keep plants more compact, and it will support tomatoes as they grow, preventing broken stems. That said, trellising tomatoes can take some work, especially if you need to frequently prune tomatoes to fit in trellises. Trellising also exposes more of the tomato fruit to the sun, which can increase the chances of sun scorch.
What happens if you don't trellis tomatoes?
Trellising tomatoes has tons of benefits, and it helps to prevent broken stems and droopy plants. Without trellises, tomatoes can break under their own weight, or they can spread over other plants and overwhelm your garden. Trellising also increases airflow around your plants, which can ward against plant diseases and pests too!
Are round or square tomato cages better?
Both round and square tomato cages can be effective, but square tomato cages are usually a bit sturdier than round ones. If you're growing heavy, indeterminate tomato plants, you may want to opt for square tomato cages.
Summary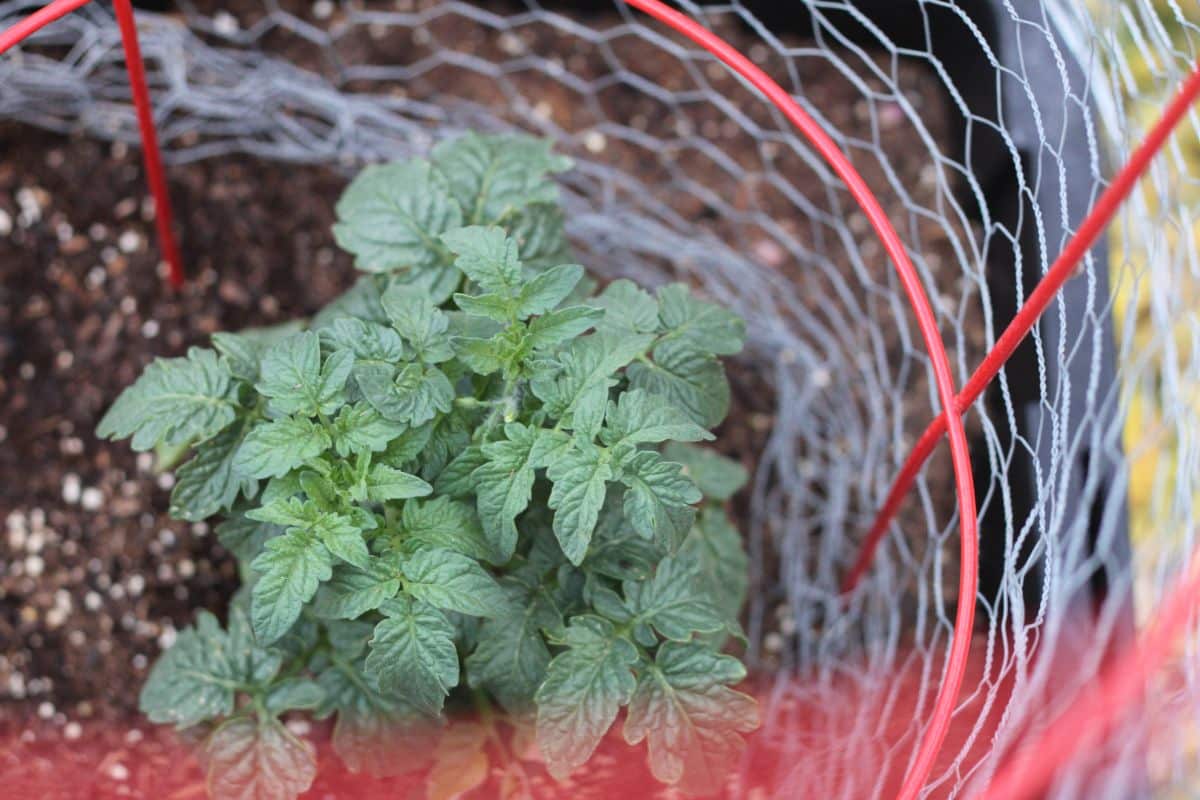 The right tomato supports can make all the difference between tomato plants that thrive and those that don't. Although trellising tomatoes is often overlooked by first-time gardeners, without proper support, tomato plants can topple over and lose branches and fruit. But the right tomato supports can keep your plants growing strong and even free up some space in your garden for more vegetables, fruit, and flowers!
Most trellising should be installed before you plant tomatoes to avoid accidentally disturbing your plant later on. For more tomato growing tips, check out our guide on the best companion plants for tomatoes, or read these hacks on how to boost your tomato harvest.