Tomatoes are one of those crops that people can't get enough of; it's better to have a bumper crop of tomatoes than not enough. If you want a high yield harvest of tomatoes, you need a few tomato growth hacks.
Nothing beats fresh, homegrown tomatoes. It doesn't matter whether or not you preserve them; there are so many recipes that use fresh tomatoes, like tomato basil salads and more.
The problem is that tomatoes are also one of the most challenging plants to grow, especially for new gardeners. They are susceptible to a range of different issues, like the blossom end rot and fusarium wilt. Tomato plants are selective about watering techniques and need more fertilizer than most plants.
Luckily, by using a few simple tomato growth hacks, you will dramatically increase your tomato harvest and decrease the possibility of your plants dying.
What Helps Tomato Plants Grow Faster?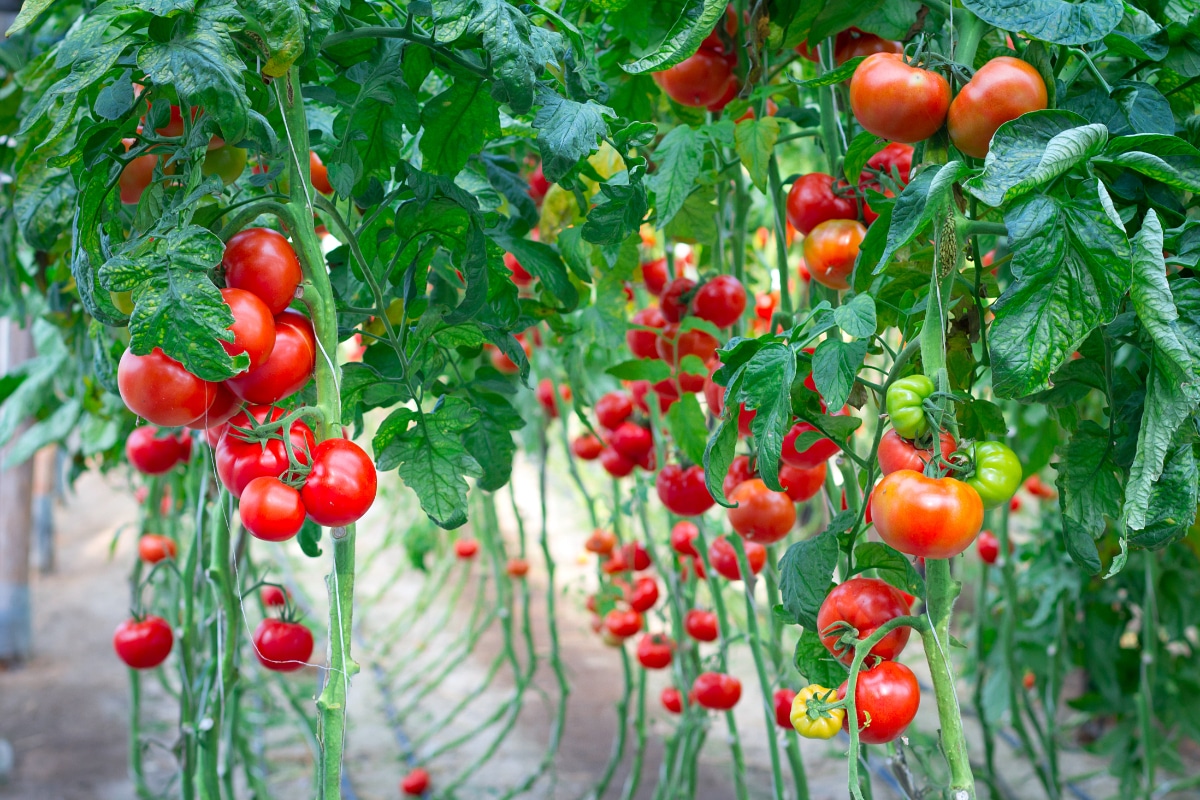 The key to helping tomato plants grow faster is nutrients and more nutrients. These plants require a steady supply of food throughout the growing season, so gardeners need to ensure their garden beds have appropriately prepared soil and timed fertilizer applications.
Everyone thinks about the macronutrients when it comes to plant growth. Nitrogen, potassium, and phosphorus are the three big ones, but let's not forget the importance of micronutrients.
Tomato plants need plenty of micronutrients, like magnesium, if you want fast-growing plants. When plants suffer from a magnesium deficiency, they end up with stunted growth because this nutrient helps plants properly absorb nitrogen and phosphorus.
It's easy to forget the little ones, but when it comes to having healthy, fast-growing plants, providing your plants with all the nutrients they need is the key.
What is the Best Fertilizer for Tomatoes?
The best fertilizer for tomatoes depends on what nutrients you already have in your soil and where they are in their growth cycle. Tomato plants rely heavily on NPK - nitrogen, phosphorus, and potassium - but the amounts of each nutrient that they need vary as they grow throughout their cycles.
When you buy commercial fertilizers, they have a number series, such as 10-10-10, which stands for each element (N-P-K). So, when you buy a 10-10-10, it means the fertilizer contains 10% nitrogen, 10% phosphorus, and 10% potassium.
There are all kinds of different number series, so you cannot buy the same one for the entire growing season.
When you first plant your tomato seedlings, they need nitrogen to encourage growth. A balanced fertilizer works well, but if you amended your soil with plenty of compost, it should be all they need initially.
When your plants start to flower and fruit, reduce how much nitrogen you give the plants and increase the potassium. Too much nitrogen causes an abundance of foliage without many fruits. Potassium leads to flowering and fruiting, so look for a fertilizer that is a 5-10-10.
Do Tomato Plants Like Coffee Grounds?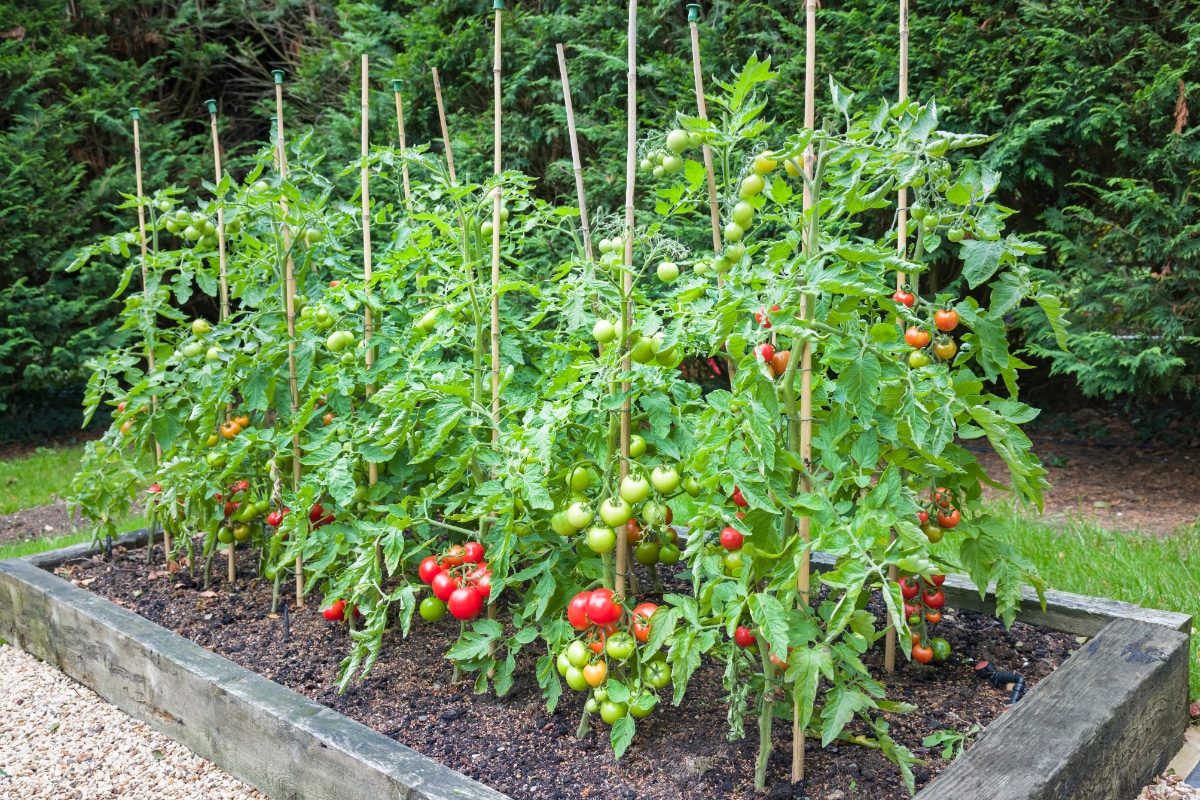 Yes, tomato plants do like coffee grounds; they contain nitrogen. You can add coffee grounds to your compost or use them directly in your garden as an organic fertilizer. Coffee grounds should never make up more than 20% of the materials in your compost, so don't overdo it.
If you prefer to use coffee grounds around your plants, spread a one-half-inch layer around the base of your tomato plants. Then, place two to three inches of organic mulch over the top of the grounds. They'll give your plant a bit of a nitrogen boost.
Another option is to sprinkle one cup around your plants' base and work it into the top three inches of soil with a trowel. This method encourages faster decomposition of the grounds, so your plants will receive the nitrogen faster.
Some people worry about changing the acidity level of their soil when using coffee grounds. It's possible to make your soil more acidic, but you'd have to use a vast amount of grounds to alter your pH range. Minimal uses will be fine.
10 Tomato Growth Hacks for a High Yield Harvest
If you want high-yielding tomato plants, you need these tomato growth hacks. Success starts from the bottom (the soil) and works its way up to the top (pruning and watering). Here's what you need to know.
1. Prepare the Soil Well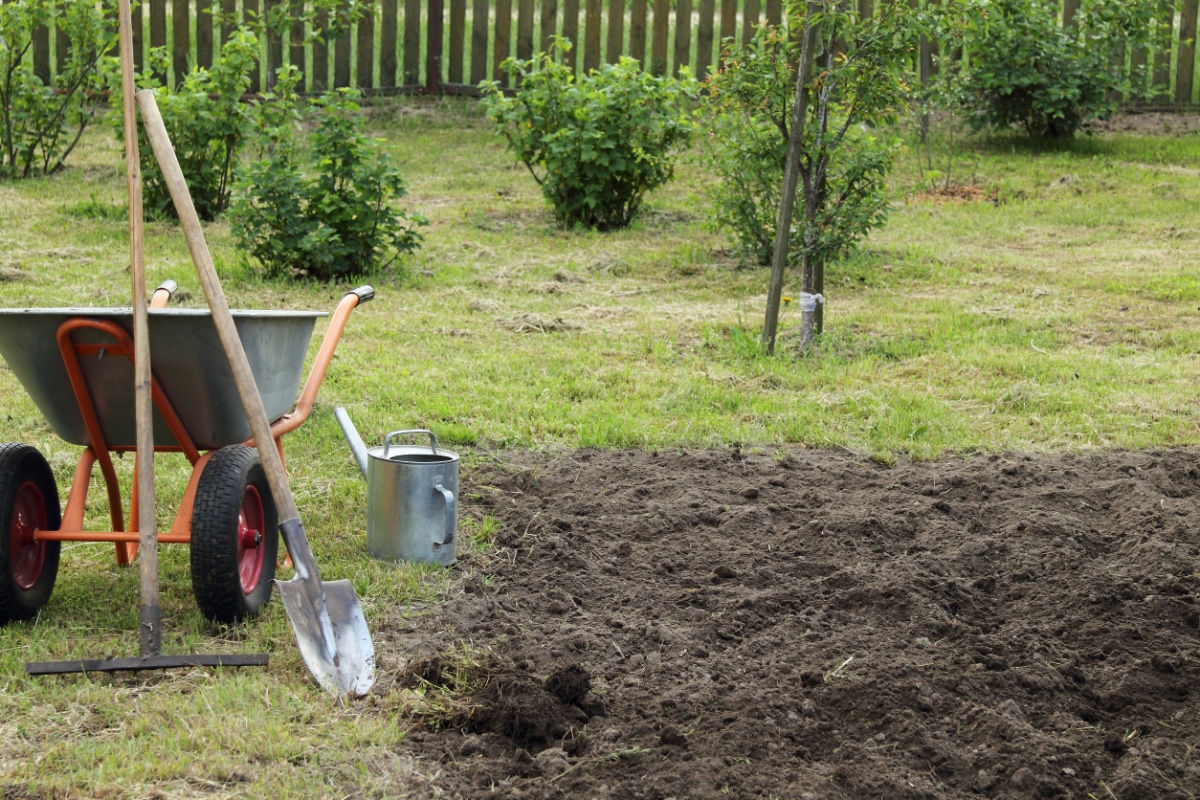 The first step to a high yield of tomatoes is to prepare the soil before planting correctly. Tomatoes love and thrive in rich, well-draining, deep soil. This soil preparation allows the roots to grow deeper and access all of the nutrients that the plant needs to grow.
It's your job to prepare the beds well in advance. Here's what you need to do.
Get a soil test done before preparing the soil. Soil tests tell you the exact nutrient composition of your garden beds, along with what nutrients lack. It also tells you the pH range of your soil, which matters for tomato plants.
Make sure your garden bed is deep enough. Ideally, the soil will be at least 12 to 24 inches deep, giving the roots room to spread out.
Add compost to your garden beds; the layer should be at least six inches deep. Compost provides your plants with most of the nutrients they need to grow, assuming that it's high-quality compost.
2. Add Calcium to the Soil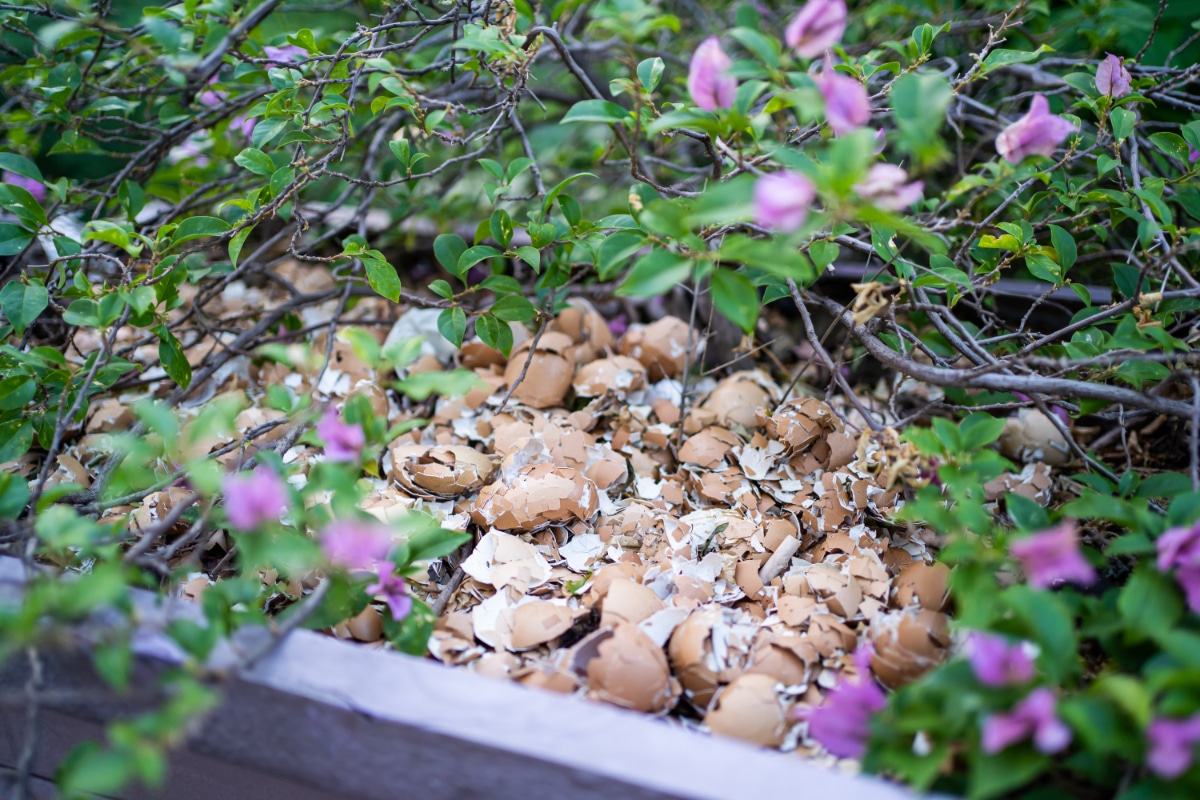 Have you ever heard of blossom end rot? It's when black or brown spots develop at the flowering end of a tomato. A calcium deficiency is the most common cause of blossom end rot, along with watering inconsistency.
It's best to test your soil before planting to check your calcium levels, but many gardeners still add eggshells to their soil. Eggshells are made up of almost 96% calcium carbonate. Save your eggshells and grind them into a powder. Then, put some of this into each planting hole when you plant your tomato seedlings.
3. Plant Them Deep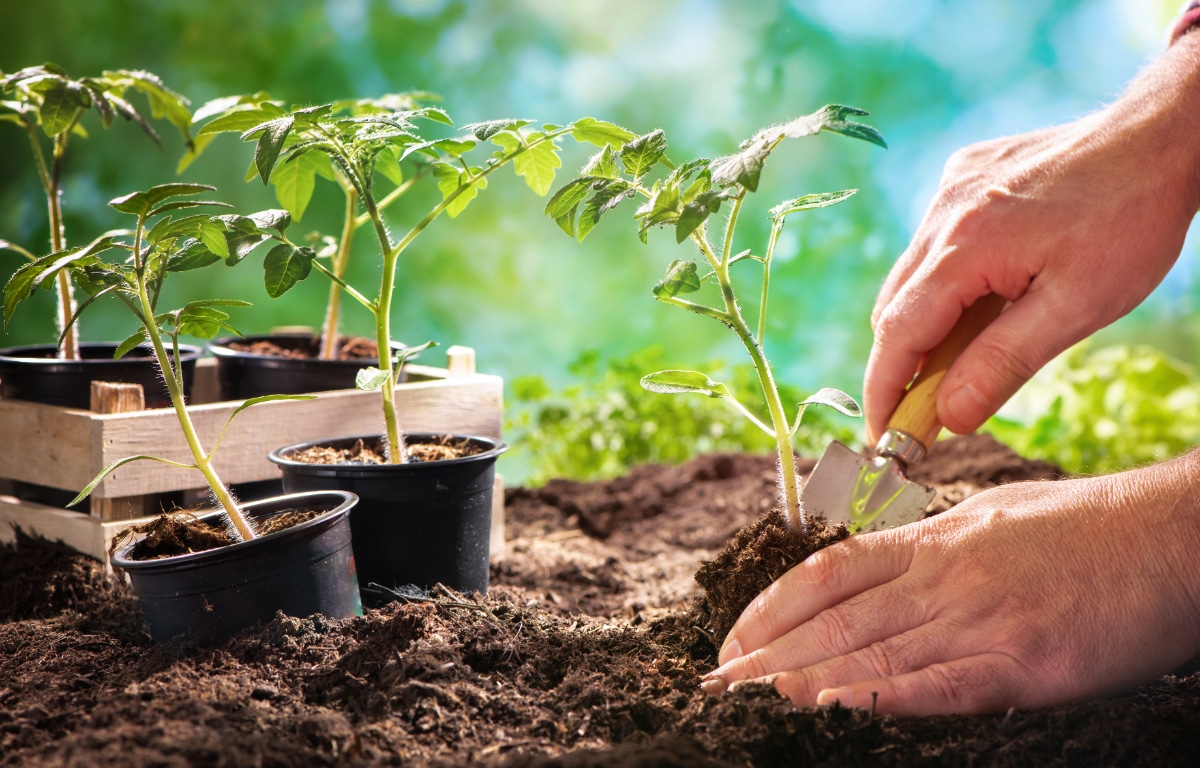 Tomato plants like to be planted deeply. Take a close look at the stems before you plant; you'll find tiny, fibrous hairs that go all the way up the stem. These aren't hairs; they're potential roots on the plant. If any of these are buried under the soil, they establish roots.
Planting your tomatoes deeply helps them establish strong, healthy roots. That means the plants absorb more nutrients from the soil, enabling the plant to produce more fruits.
When you plant tomato seedlings, pinch off the lower leaves, leaving only a few leaves at the top. Then, plant the tomato seedling deep enough that your bur the stem just below the lowest set of leaves. Make sure you don't touch the leaves with the soil, which leads to diseases.
4. Space Your Plants Well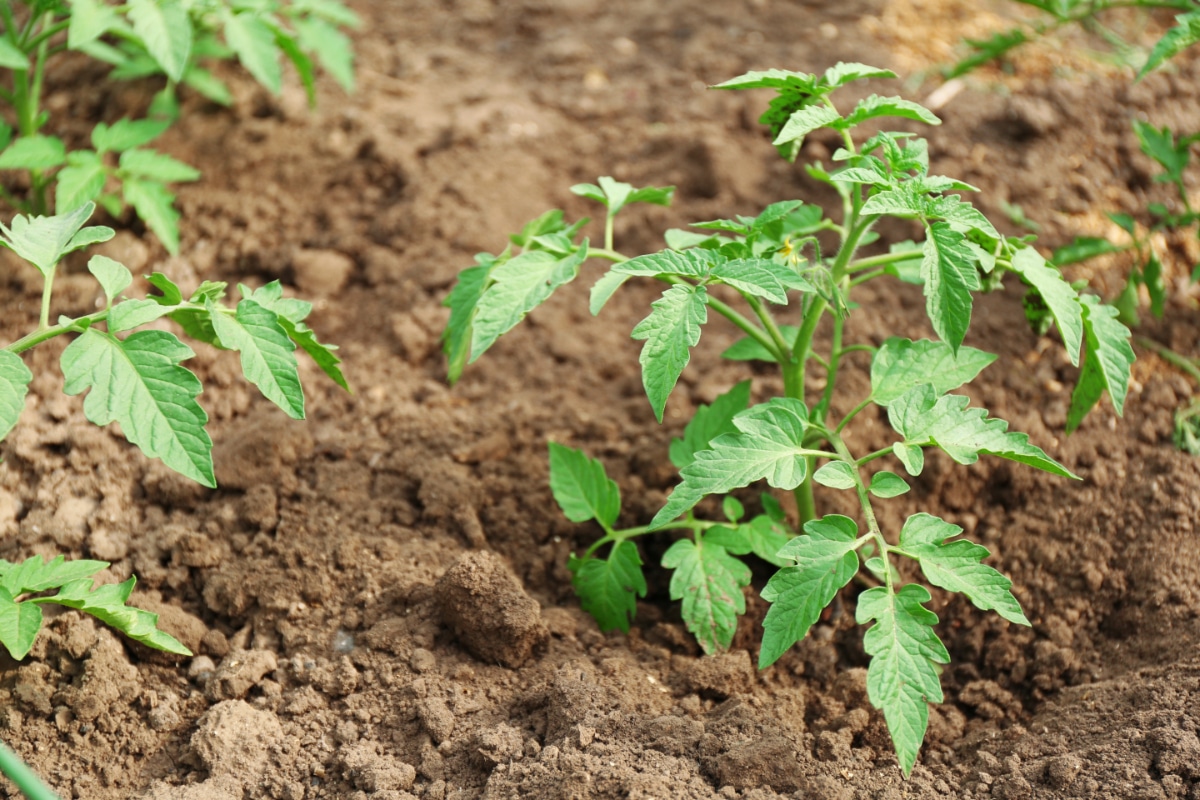 Make sure you space your plants well. The exact spacing that your plants need vary based on the type of tomato plants you grow. Indeterminate tomato plants grow larger than determinate plants, so they'll need more space.
Read the back of the seed packet before planting it into your garden. In general, two feet between plants is sufficient, but some varieties need up to three feet of distance.
Spacing your tomato plants well is essential because it allows for maximum airflow around your plants. That decreases the risk of fungal infections that thrive in warm, humid conditions. The airflow keeps your plants healthier overall, and that increases the yield of your plants.
5. Water Deeply and Consistently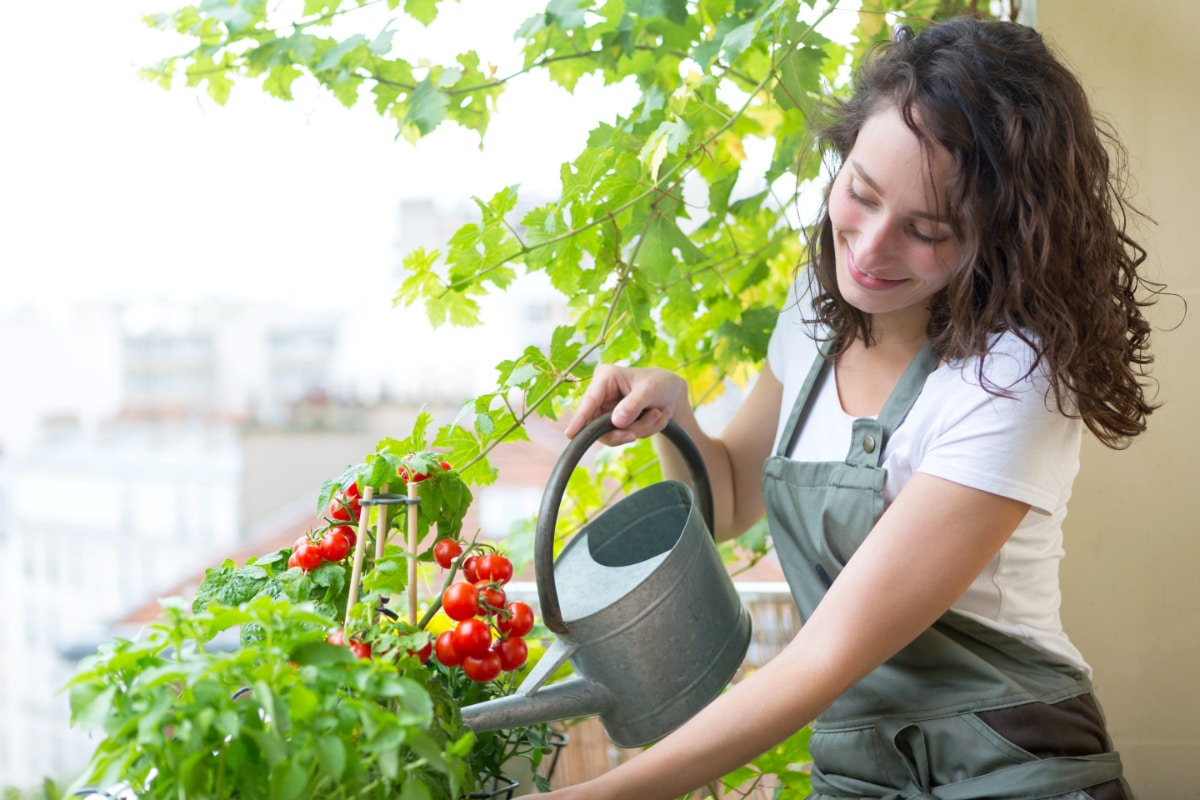 Tomato plants don't like it when they have inconsistent watering. You must have a consistent watering schedule and water deeply when it is time to water.
Watering deeply helps your plants develop a robust root system, anchoring your plants into the ground. It also allows the plants to access nutrients deeper in the ground. If the top layer of soil dries out, the roots will have access to water still.
The exact watering schedule that you use varies based on your climate and water. It's best to water your plants deeply every two to three days, giving the roots time to absorb water but not long enough that the soil dries out completely.
Water your tomato plants slowly and at the base of the plant. Tomato plants need one to two inches of water per week per square foot. That means your plants need around two gallons of water each week per square foot.
6. Keep the Leaves Dry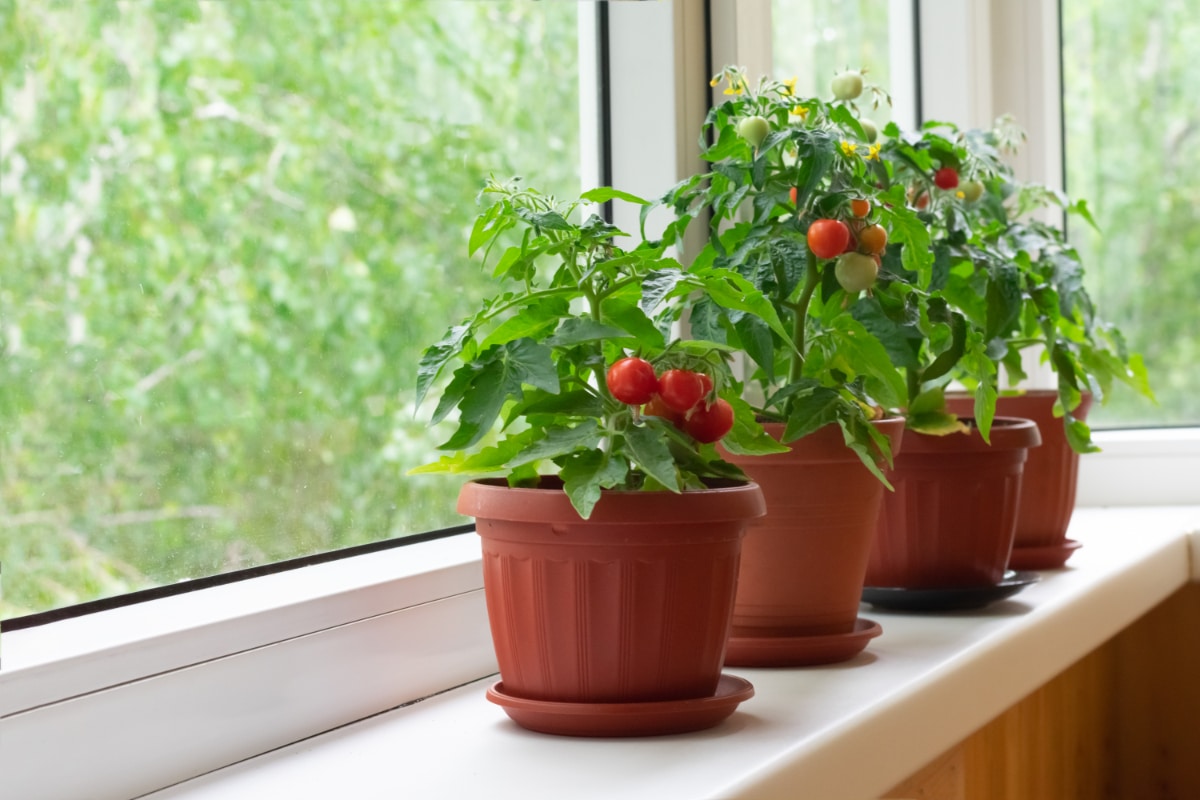 Tomato plants don't appreciate when their leaves are wet. It's impossible to stop the rain, but you can stop overhead watering. When tomato leaves consistently get wet, it increases the risk of developing blight and other diseases or infections.
Always water at the base of your plants; overhead watering is bad for your crops. You should also try to protect your tomato plants from rain. Consider putting up a shelter or growing tomatoes in a hoop house to stop water from landing on your leaves.
7. Mulch Around Your Plants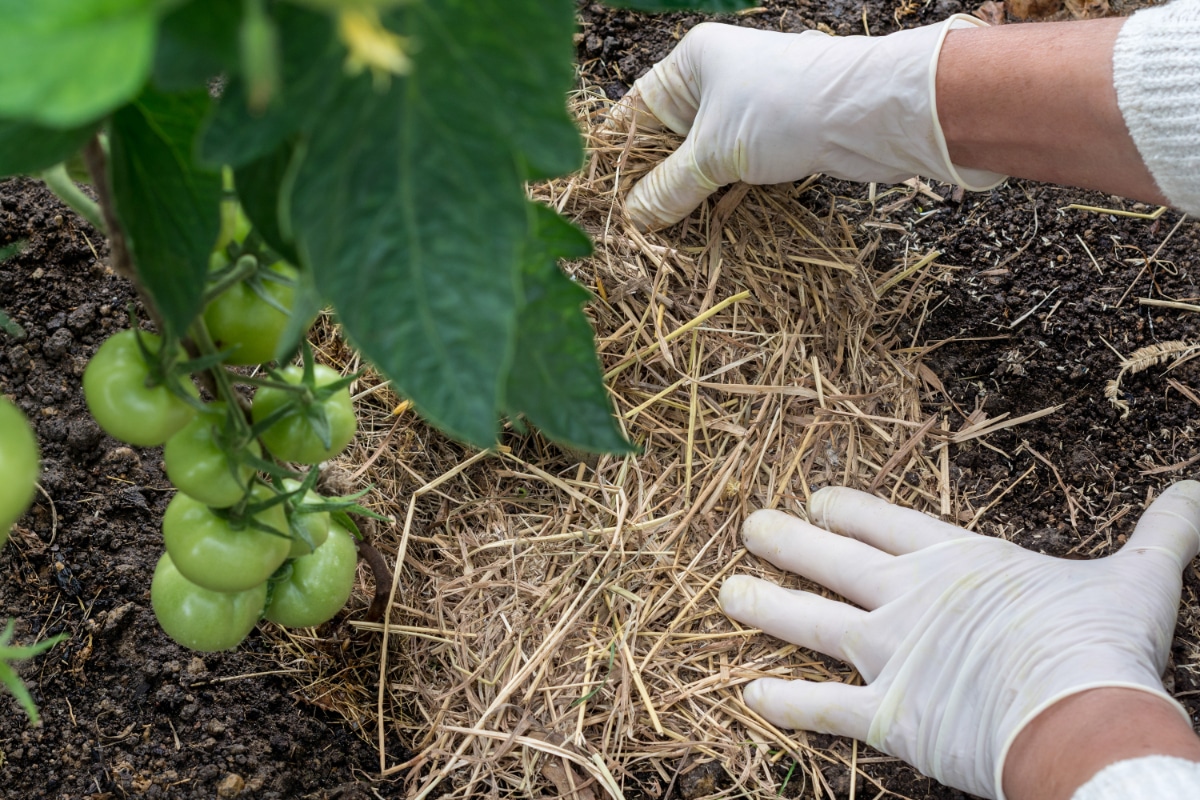 Mulching around your plants is done for more than to keep your garden looking nice. It's one of the best ways to increase your tomato harvest without doing any extra work. Try adding organic mulch around your plants, such as shredded leaves, grass clippings, and straw.
Adding mulch around your tomato plants offer several benefits, such as:
It retains moisture in the soil and reduces how often you need to water.
Suppresses weeds that might grow around the plants and compete for nutrients.
Regulates soil temperature, keeping it warmer in the spring and cooler in the summer.
Reduces soil erosion.
Stops water from splashing soil onto the leaves of the planting, which spreads bacteria and diseases.
The best time to mulch tomato plants is when you plant them but after you water. The mulch needs to be several inches thick to insulate the plants and prevent weed growth properly.
8. Provide Support - Early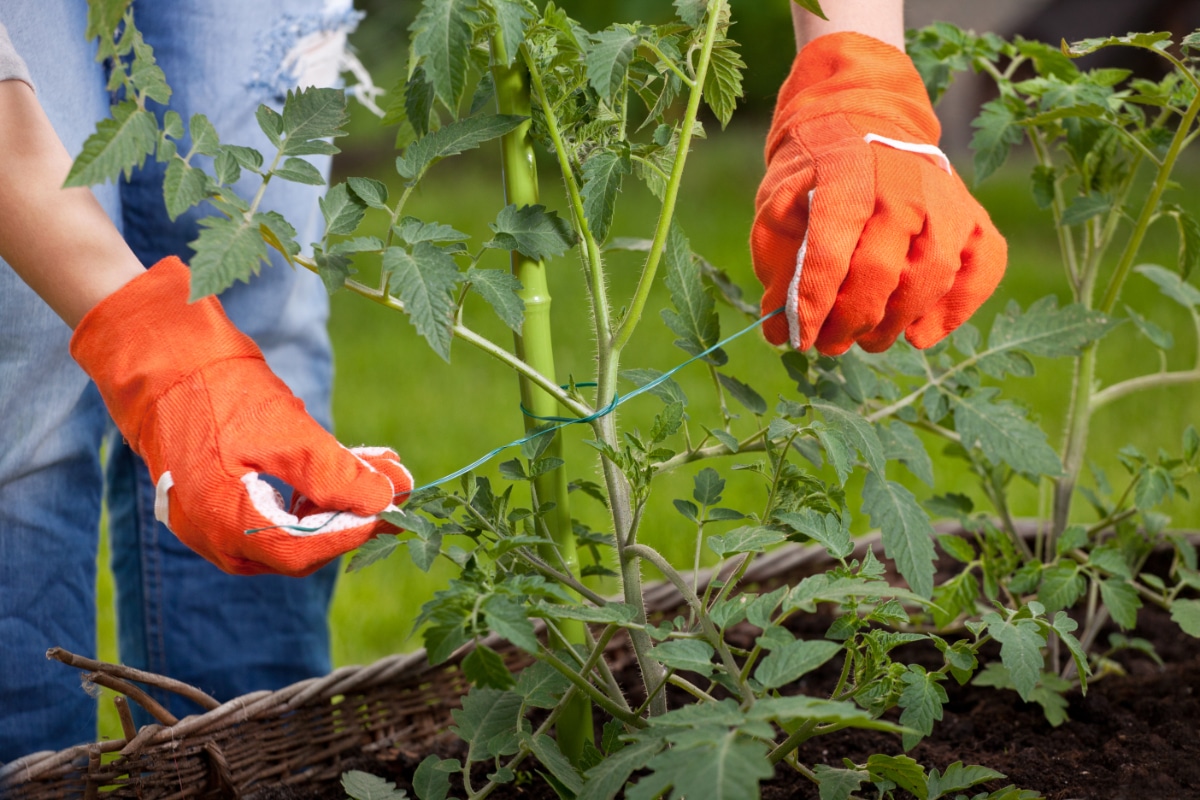 Tomato plants need support without a doubt. Some tomato plants can grow as tall as eight feet; without support, the plant will topple over, potentially breaking in half.
One of the biggest problems with tomato plants touching the ground is that it encourages the spread of diseases and bacteria. Many diseases live in soil, and all it takes is for a leaf to touch the soil, and your plant becomes infected.
Yes, it's that easy.
Tomato plants need a stake, a cage, or trellis. It's best to install the support system as soon as you place the tomato plant into the ground. If you wait to install the support system, you might disrupt the root system when you push the cage or stake into the ground.
Your harvest doubles just by using a solid support system for your plants!
9. Make Sure You Prune Your Plants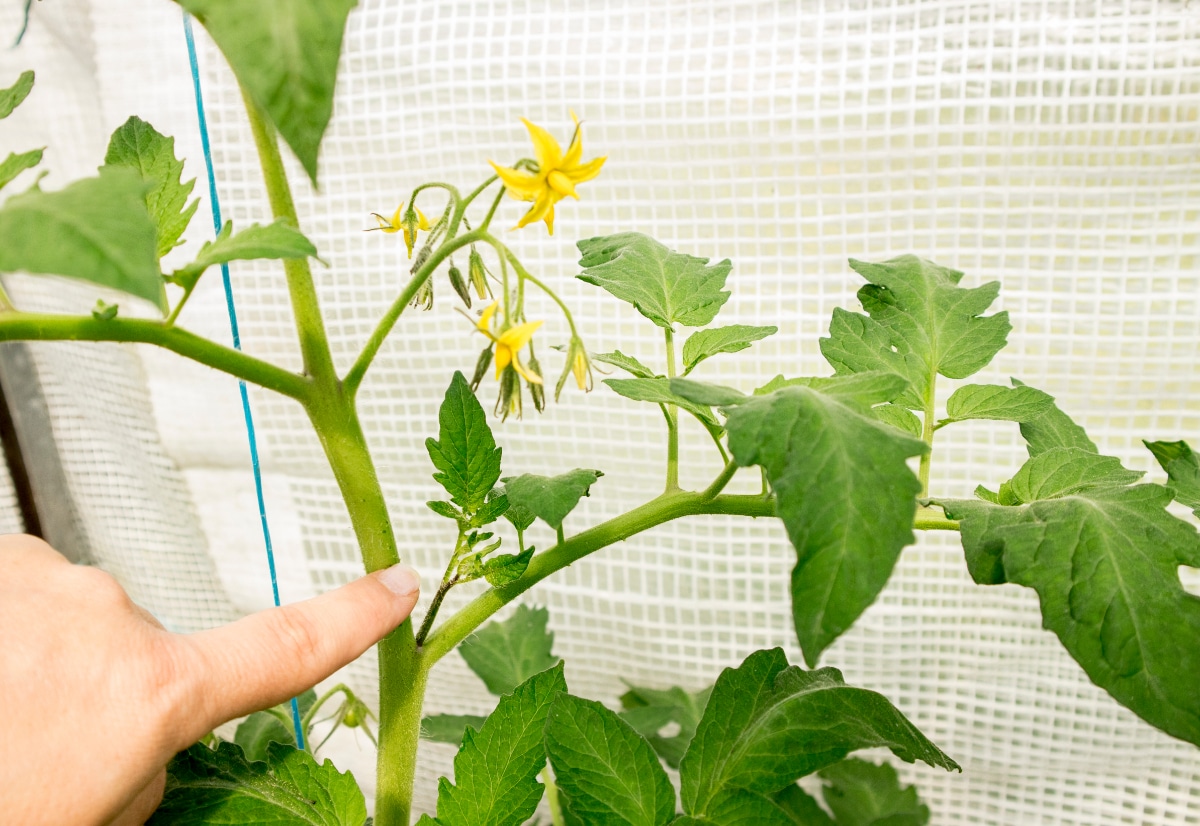 Too many people think that pruning is only for trees and bushes. Tomato plants benefit from heavy pruning, leading to larger and more productive harvests.
It starts with pinching off the lower branches. That happened when you remove the lowest branches to plant the stem deeply. It's also essential to pinch off tomato blossoms because your plant needs to put energy into root development.
The next step is removing all suckers that grow from the leaf axils. Removing all of the suckers forces the plant to push all of its energy into growth, flowering, and fruit production.
As your plant continues to grow, remove the lower branches. If they aren't producing fruit, they need to be removed so that the plant devotes more energy into fruiting. It also stops the leaves from touching the ground, leading to fungal and disease infections.
Should I Remove Some Leaves From Tomato Plants?
Yes, you can and should remove leaves from your tomato plants. How many leaves you need to remove depends on the type of tomato plant you grow.
Determinate tomato plants grow to a certain height and then stop growing; they start to fill out and produce flowers and fruits. These plants need less pruning. Your goal is to prune off any leaves that cross or cause too much crowding. Look for leaves that are damaged and diseased. Your goal with pruning is to create an open, airy plant without pests and diseases.
Indeterminate tomato plants have wild vines that go all over the plants. They continue to grow and set new fruit. It's best to train them to grow up poles, trellises, fences, or an espalier.
With this type of tomato plant, you also need to remove damaged, diseased, or crowding leaves, but you also need to trim to keep the plant at an appropriate size.
10. Fertilizer and Fertilizer More!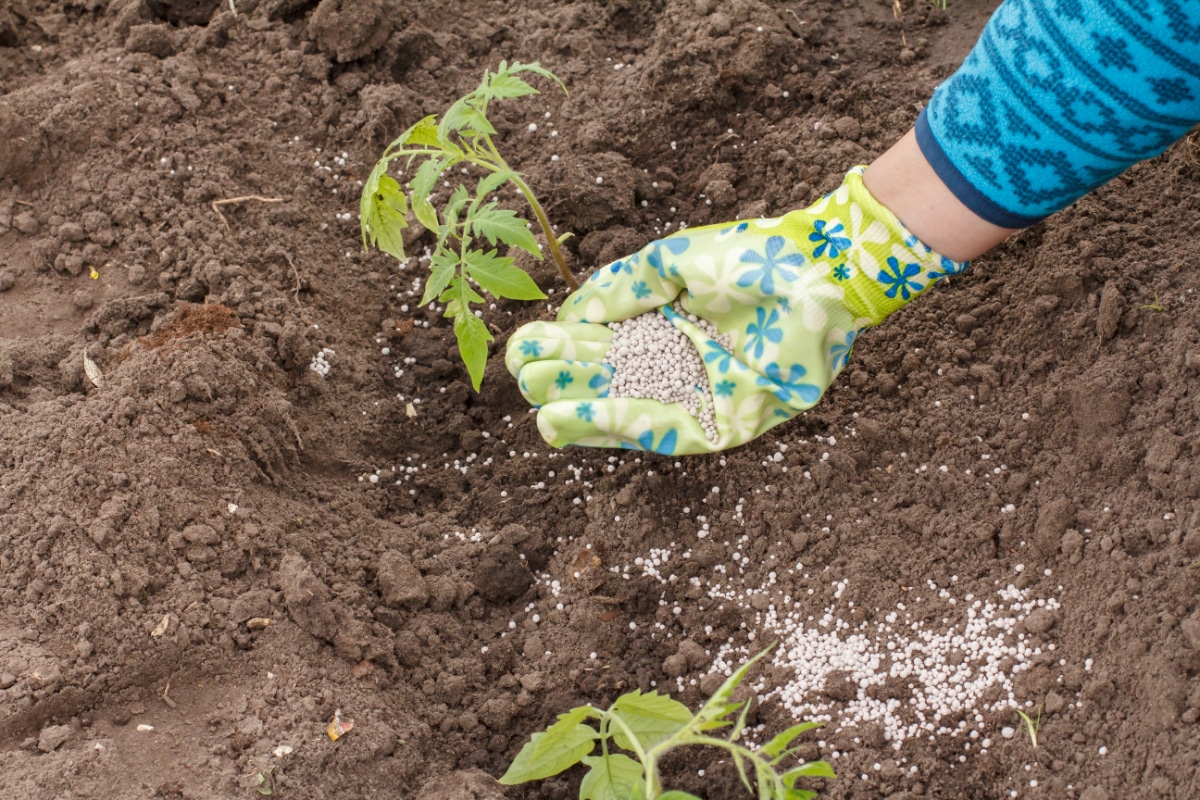 Tomato plants are heavy feeders, and they benefit from plenty of fertilization. The nutrients that your plant needs vary based on where your plant is at in the growing season.
During the first few weeks after transplanting, tomato plants dedicate time to growing roots and leaves. They need plenty of nitrogen, along with all nutrients. This is a great time to use high-quality compost and 10-10-10 NPK fertilizer.
As your plant enters the flowering and fruiting stage, gardeners have to switch to low nitrogen, high potassium fertilizer. If you continue to give too much nitrogen during this growth stage, you'll end up with all kinds of leaves without any fruits. Potassium is required for strong fruiting.
11. Use Companion Planting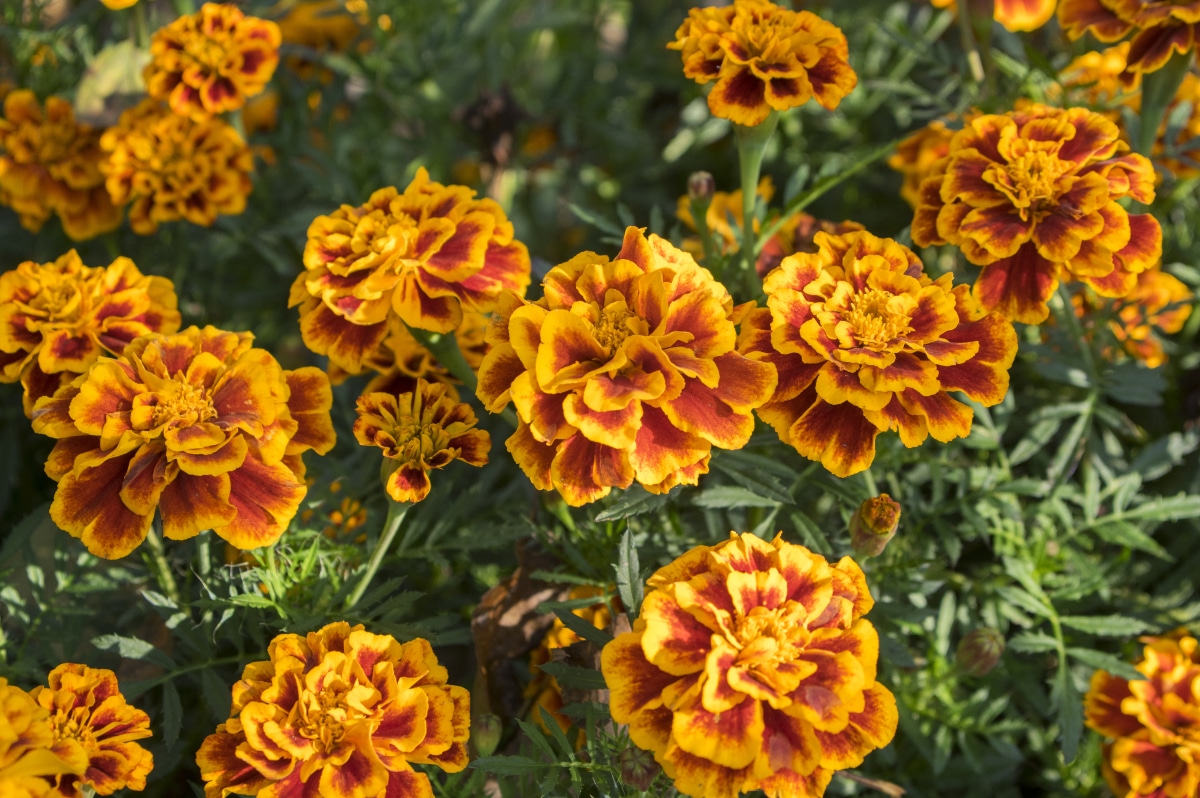 Have you ever heard of companion planting? It's a form of polyculture when you plant mutual crops together that benefit each other. Some plants deter pests and diseases, while others encourage pollinators to stop in your garden.
There is a range of benefits to companion planting, and it doesn't have to be complicated. Pick a few companion plants for tomatoes and plant them nearby; that's all you have to do.
Here are a few of the best companion plants for tomatoes.
Chives
Onions
Garlic
Peppers
Spinach
Lettuce
Arugula
Carrots
Borage
Parsley
Mint
Basil
Marigolds
Nasturtiums
What Should Not Be Planted with Tomatoes?
Companion planting is a great way to increase your tomato plant's growth naturally, but some plants shouldn't share the same space. Here are a few examples.
Broccoli
Cabbage
Corn
Kohlrabi
Fennel
Several of these plants attract pests that also damage tomatoes. For example, corn attracts tomato fruit worms and corn earworms, both of which cause holes in tomatoes. Planting kohlrabi nearby increases the risk of potato blight disease.
12. Harvest Tomatoes Frequently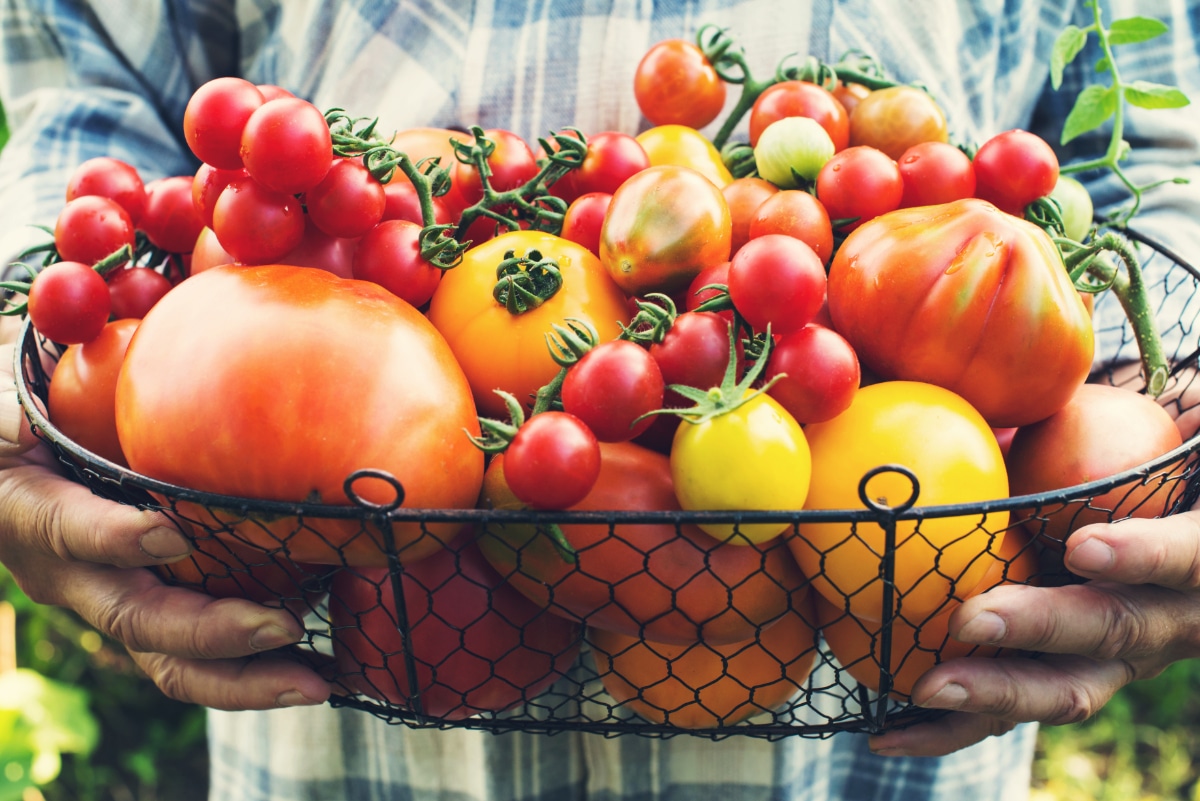 If you're wondering - does picking tomatoes make more grow on the plant - the answer is yes, it does. The more frequently you harvest tomatoes, the more energy the plant redirects to growing and ripening more fruit.
When your tomatoes start to mature and ripen, check your plants daily and harvest the nearly ready ones. Ripening tomatoes indoors is simple, and it reduces the chances of pest damage and spoiling when left in the garden.
Tomatoes are one of the few fruits that continue to ripen after being removed from the plant due to ethylene's production, a naturally occurring gas. Despite common belief, the best place to put unripe tomatoes is not on the windowsill. Instead, put green and unripened tomatoes in a paper bag or cardboard box with other tomatoes and a ripe apple.
Try These Tomato Growth Hacks
If you want a high yield harvest of tomatoes, these ten tomato growth hacks will dramatically increase how many pounds of tomatoes your plants yield. Some say that these tricks will increase your harvest by 50-75%, so make sure you give them all a try and see what happens in your garden this year!