Baking soda is a common, everyday staple that can be found in most kitchens. Also known as sodium bicarbonate, bicarbonate of soda, or by its abbreviated name, bicarb, it's a useful leavening agent for baking. Its usefulness does not stop there, though; common baking soda has numerous uses in the garden—useful for everything from insect and pest control to killing weeds, to boosting blooms.
Jump to:
Baking Soda In The Garden: FAQ's
First things first, let's address a few of the more common questions about using baking soda in the garden.
Do I Need Special Baking Soda for Gardening?
The simple answer to this question is, "No." There is no "special" baking soda for gardening. Baking soda is baking soda, whether you buy it in the baking aisle of your grocery store or at a farm and garden store. It is sodium bicarbonate, a natural compound produced from sodium carbonate; it only has one form.
While you may find baking soda for sale at various locations, promoted for various uses, and in varying sizes, all baking soda is the same, and therefore any baking soda is appropriate for use in the garden. Because you may be using it in larger quantities for garden uses, a larger bulk size may be convenient and may save you money, but any baking soda is perfectly appropriate for the uses lists here. In short, the best baking soda to use for gardening is the cheapest or easiest baking soda available to you.
Is Baking Soda Safe To Use In Food And Vegetable Gardens?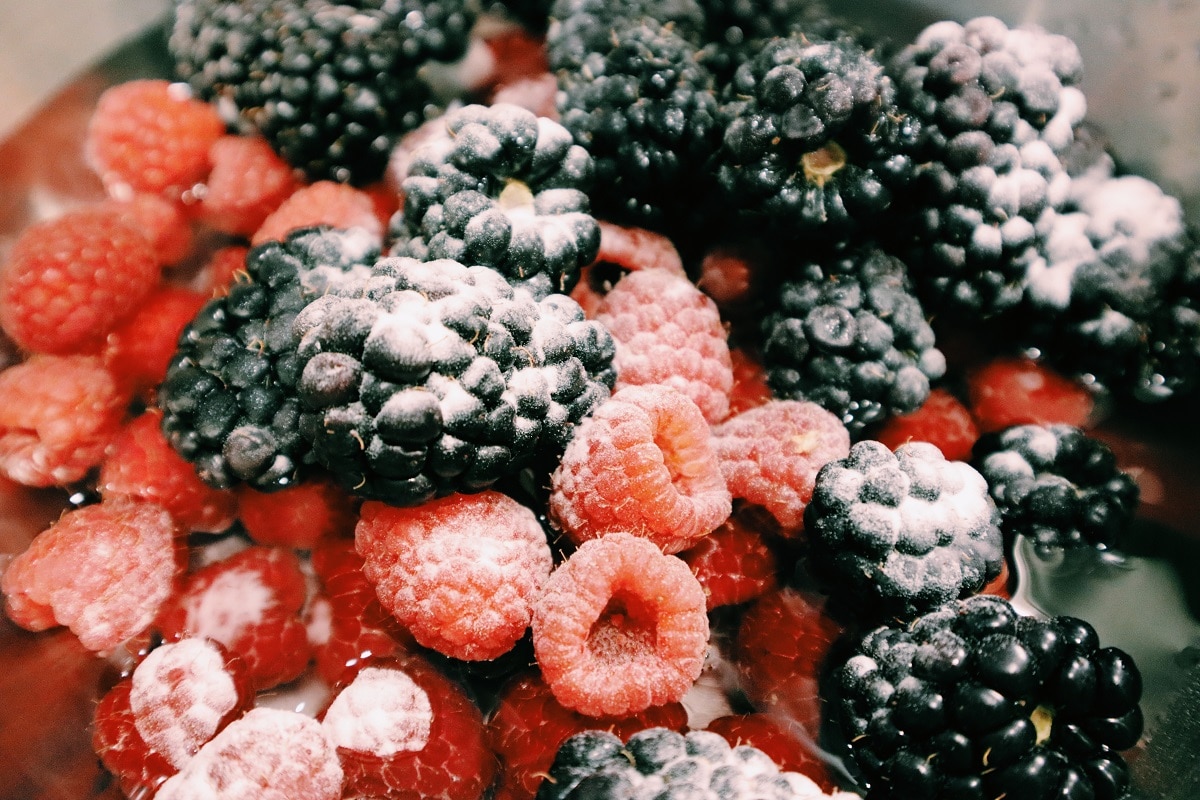 Baking soda is a consumable food product. We use it all the time in cooking and baking. It is even an ingredient that can be found in toothpaste, and one that can be used in place of toothpaste for a more natural clean. As a food product, baking soda is perfectly safe for use in your kitchen or vegetable garden. It does require some care in its use to avoid plant damage, but baking soda is not a threat to you.
How Can I Use Baking Soda In The Garden?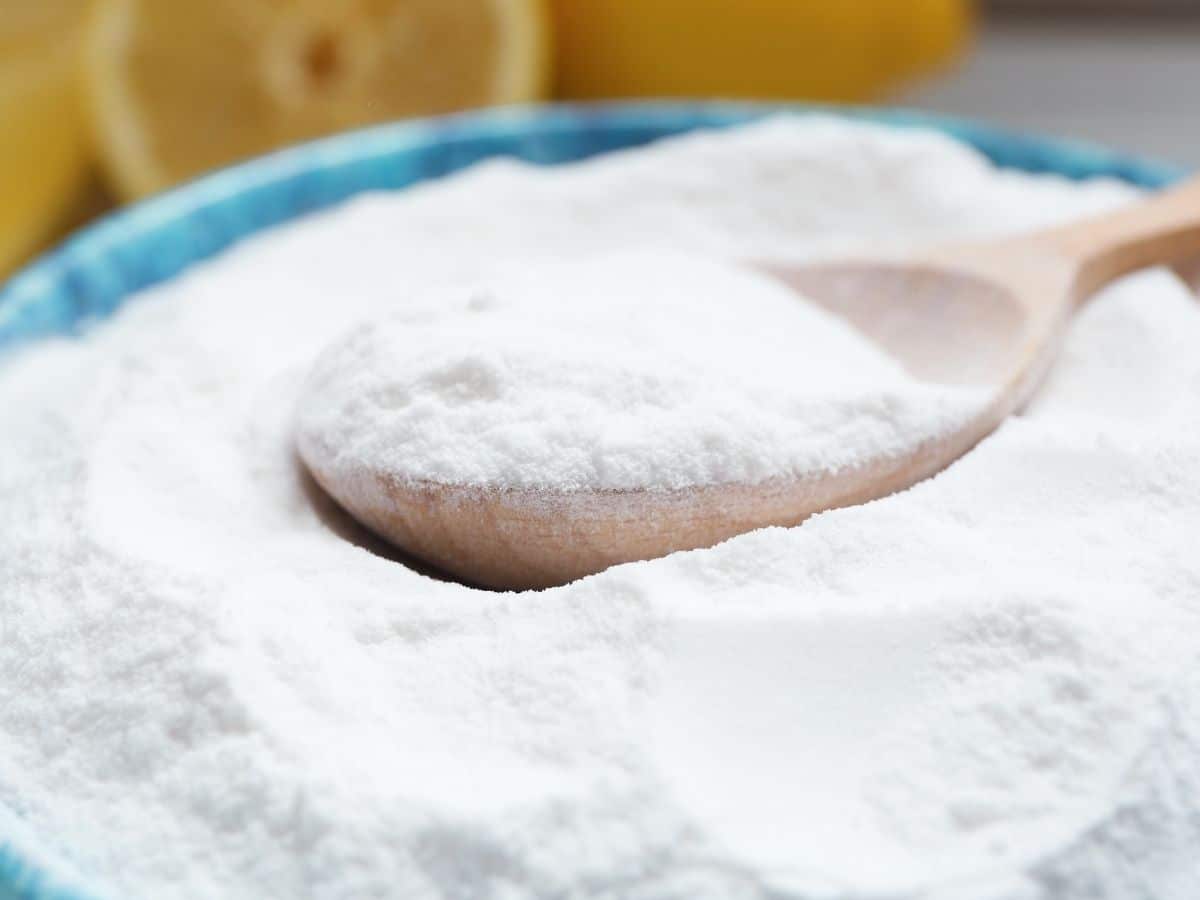 There are many excellent ways to use this safer alternative in your garden and for gardening-related tasks. Those uses include:
Baking soda as a rodent repellant
Insect control
Disease control and prevention
As a weedkiller
DIY soil test
Soil acidity reducer
Plant rejuvenator
Bloom booster
Preserve cut flowers
Clean garden tools and surfaces
Control compost odors
Garden-related muscle and skincare
Let's take a closer look at these uses.
Rodent Repellant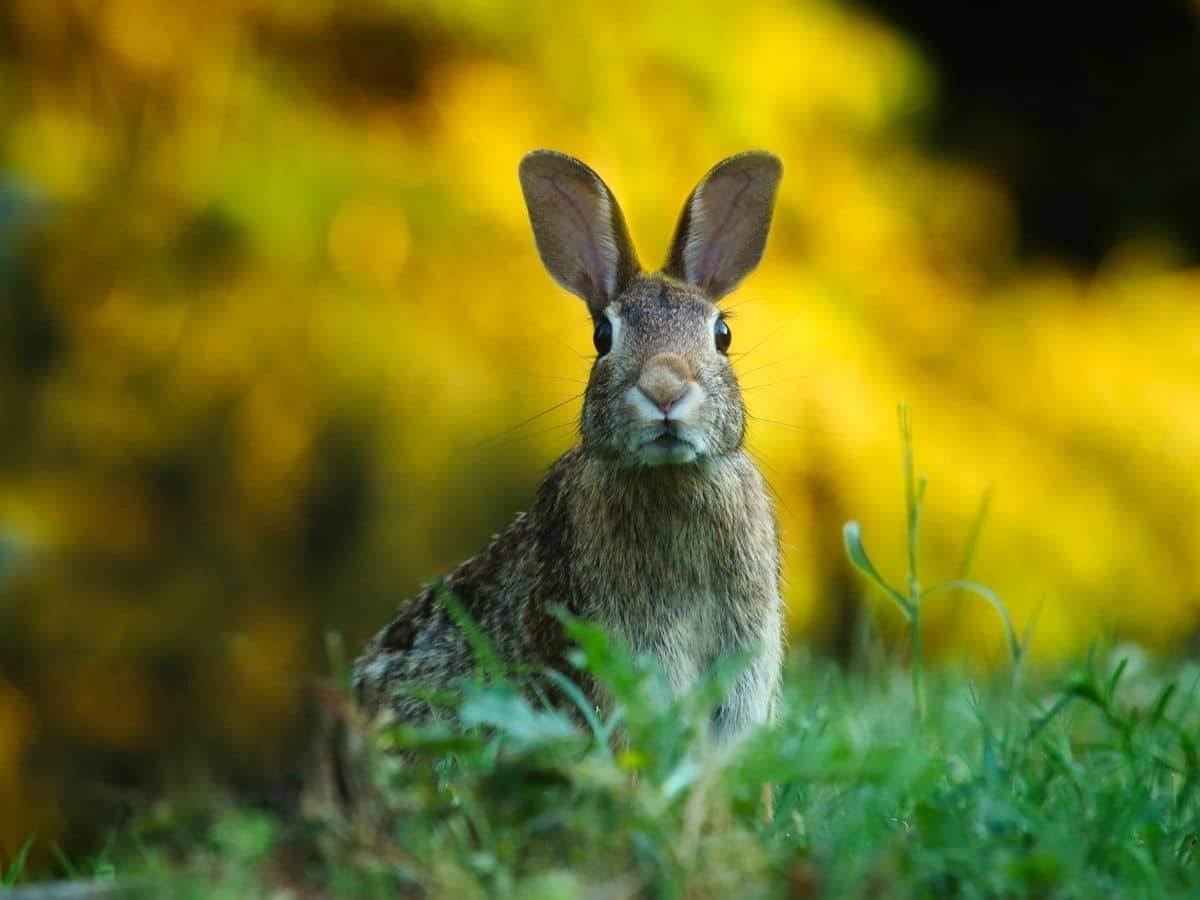 Baking soda makes a fast and easy rodent repellant for problematic visitors like rabbits.
To repel rabbits and rodents, just pour a complete ring of baking soda around the bottom of the plant. Do not pour the baking soda onto the plant, and keep the ring spaced a few inches away from the stem and any low leaves. This should dissuade rodents from feasting on your plants.
Pest and Insect Control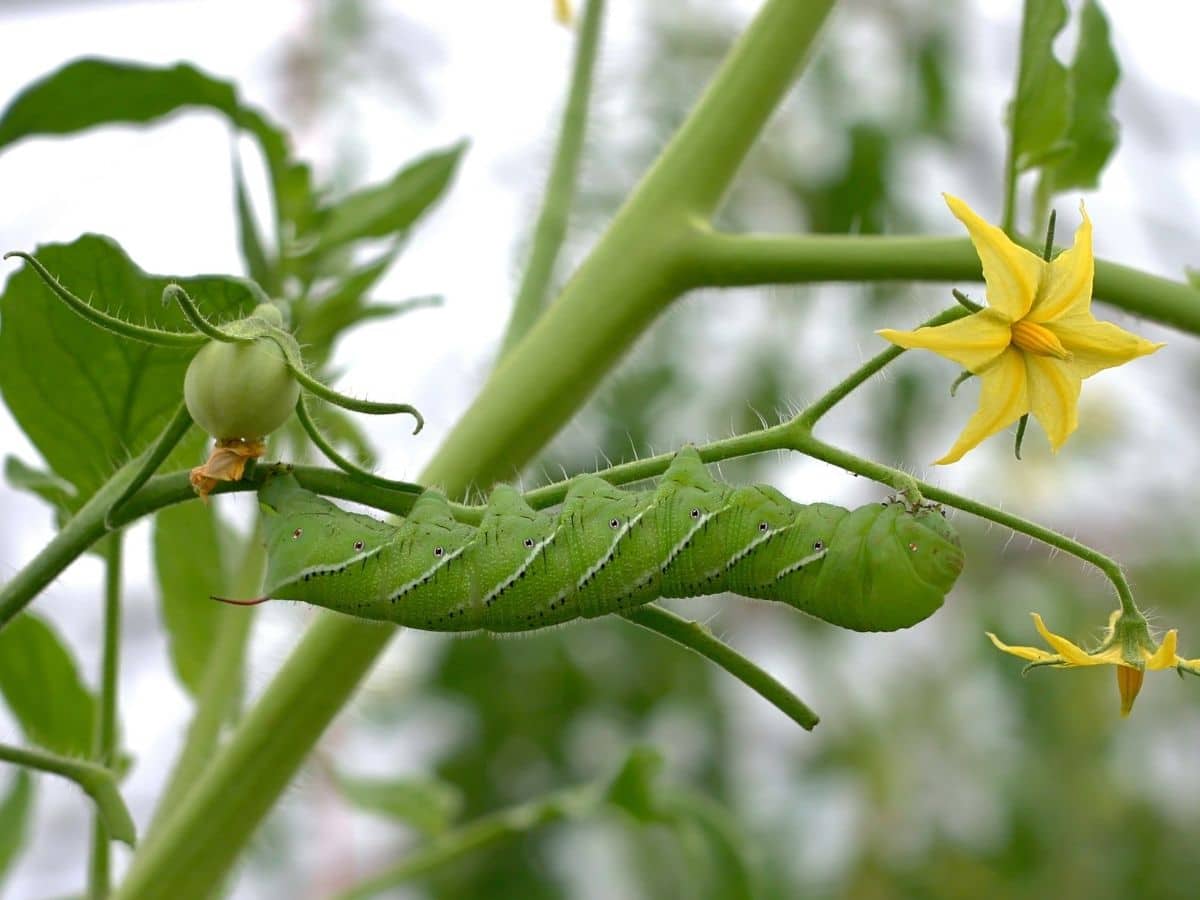 Baking soda can be used as both an effective insect repellant and as a natural insect killer. It also works to control biting and chewing insects that are common killers of vegetables and garden plants.
There are several ways in which baking soda can be used to deter or kill insects safely, without having to resort to chemical pesticides.
Baking Soda Insect Repellants
Sprinkle full-strength baking soda on garden soil in paths and around plants where insects are an issue. The best way to apply the dust evenly and without over-application is by using a flour sifter. As a soil dust and repellant, baking soda is effective against ants, roaches, silverfish, slugs, and snails. Because it is applied only to the ground, when used this way, baking soda should not pose a threat to flying pollinators or other plant-dwelling beneficial insects, such as ladybugs.
Baking Soda Mustard Oil Insect Repellant Ground Spray
-1 TBSP baking soda
-⅓ cup mustard oil
Combine the two ingredients and store the mixture in a covered, labeled container.
To use, mix two teaspoons of the oil and baking soda mixture into four cups of water. Pour into a spray bottle, then use to spray garden perimeters, paths, and around the bottoms of plants (but do not spray plants directly).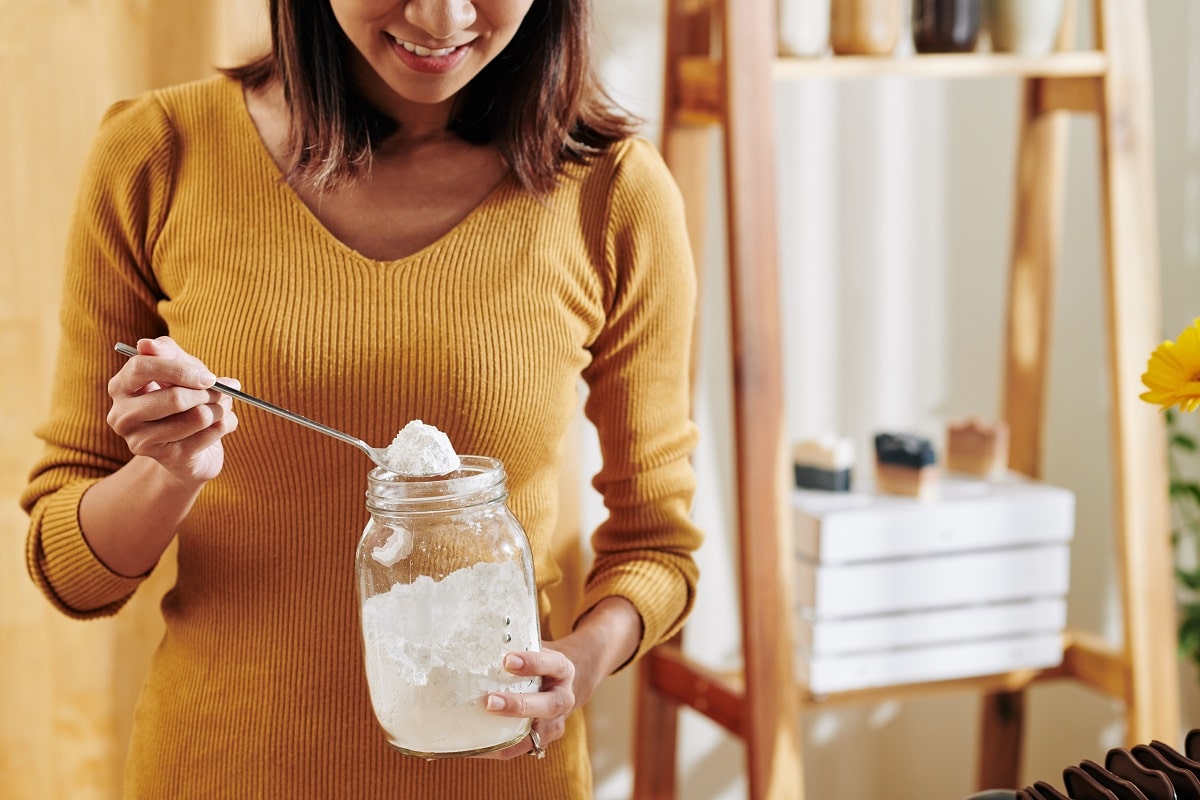 Baking Soda Insecticides
You can also dust problem insects directly with baking soda to kill them. A light dust can be applied directly to pests on plants (though it is always important to spot-test any application on one or two leaves on your plants first). Apply baking soda dust for the following insect controls, as directed:
Lightly dust tomato hornworms on tomato plants.
Pour baking soda directly onto snails or slugs on the ground (you can also pour onto slugs on plants, as long as you take care and only spot-treat, and/or do not over-apply).
Mix baking soda in a one-to-one ratio with regular flour and use it as a dust on cabbages, broccoli, cauliflower, kale, and other brassicas to kill and control cabbage worms. The flour in the mixture will help the baking soda adhere to the leaves and give better coverage and worm control.
The leaves of brassicas are tough and quite strong, so they can withstand direct application without causing major damage to the plant (and what damage may be caused is typically much less than the death and damage caused by the worms themselves). This mixture may be applied twice weekly for ongoing worm control.
Baking Soda Aphid and Mite Spray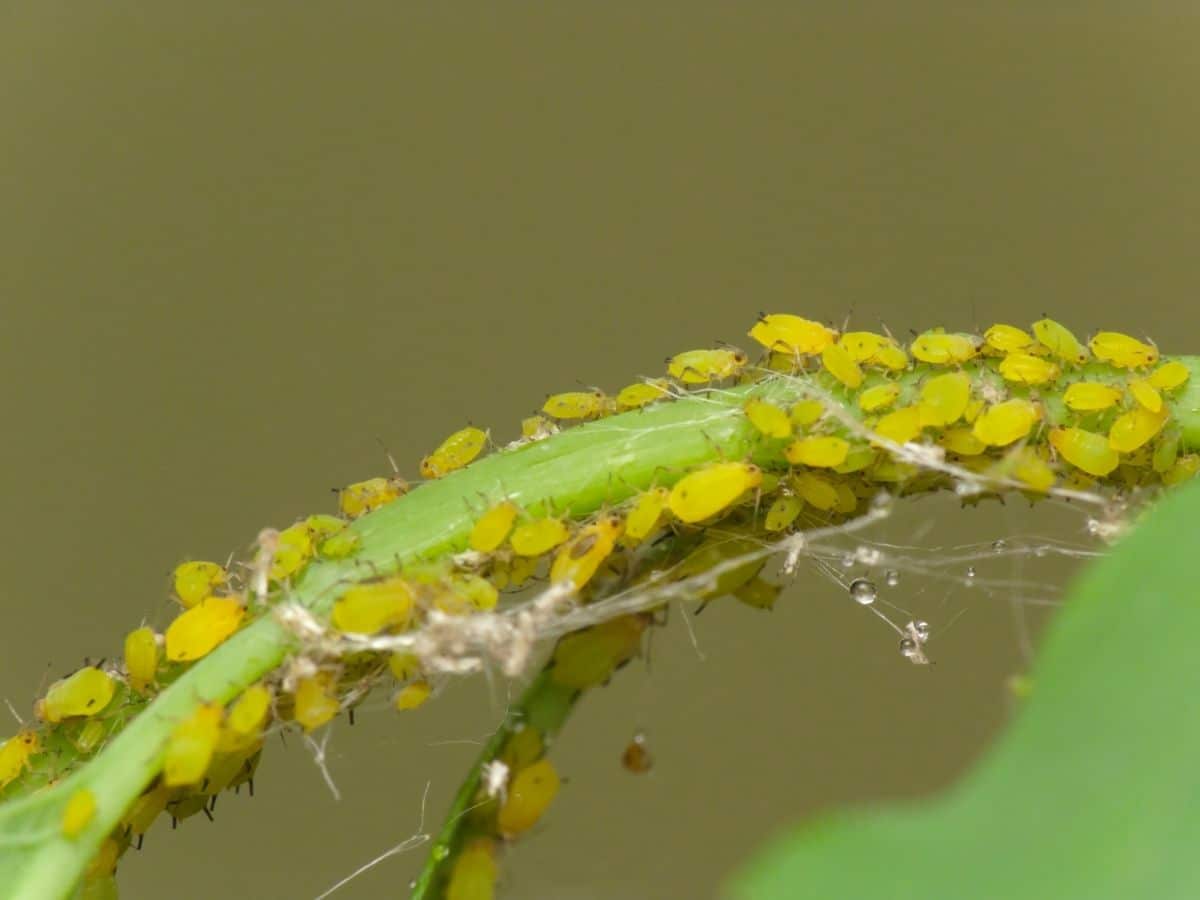 Kill aphids and spider mites with the following spray. These insects suck and chew plant stems and leaves, causing damage and death. They are also huge disease spreaders, so controlling them will also help you prevent and control the spread of fungal diseases in your garden.
-½ tsp baking soda
-2 cups warm water
-⅔ cups olive oil
-4-5 drops liquid dish soap
Combine all ingredients and mix evenly. Pour into a spray bottle and spray directly onto aphids and spider mites. This mixture is fairly gentle on beneficial insects, but it is always a good idea to avoid spraying them when you can. If you shake the plant before spraying, beneficial insects such as ladybugs, flying insects, and pollinators should fall or fly away, but the aphids and spider mites will cling to the plant and can then be sprayed.
Baking Soda Gnat Spray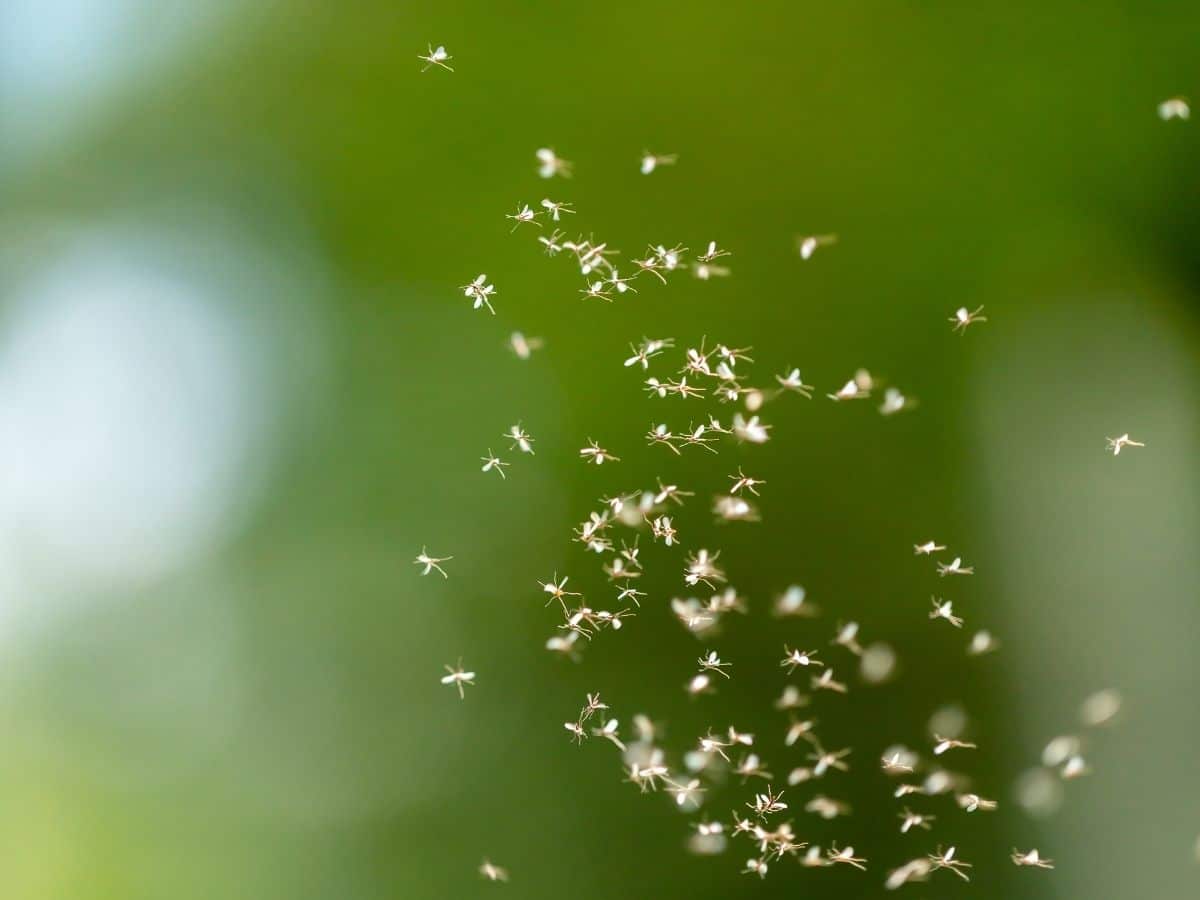 Kill those tiny, bothersome gnats that congregate in compost, pots, and garden soil. Mix the following recipe and spray it directly on gnats and soils where they hang around.
- 1 TBSP baking soda
-1-quart of water
-1 tsp liquid dish soap
Baking Soda Ant and Roach Bait Killer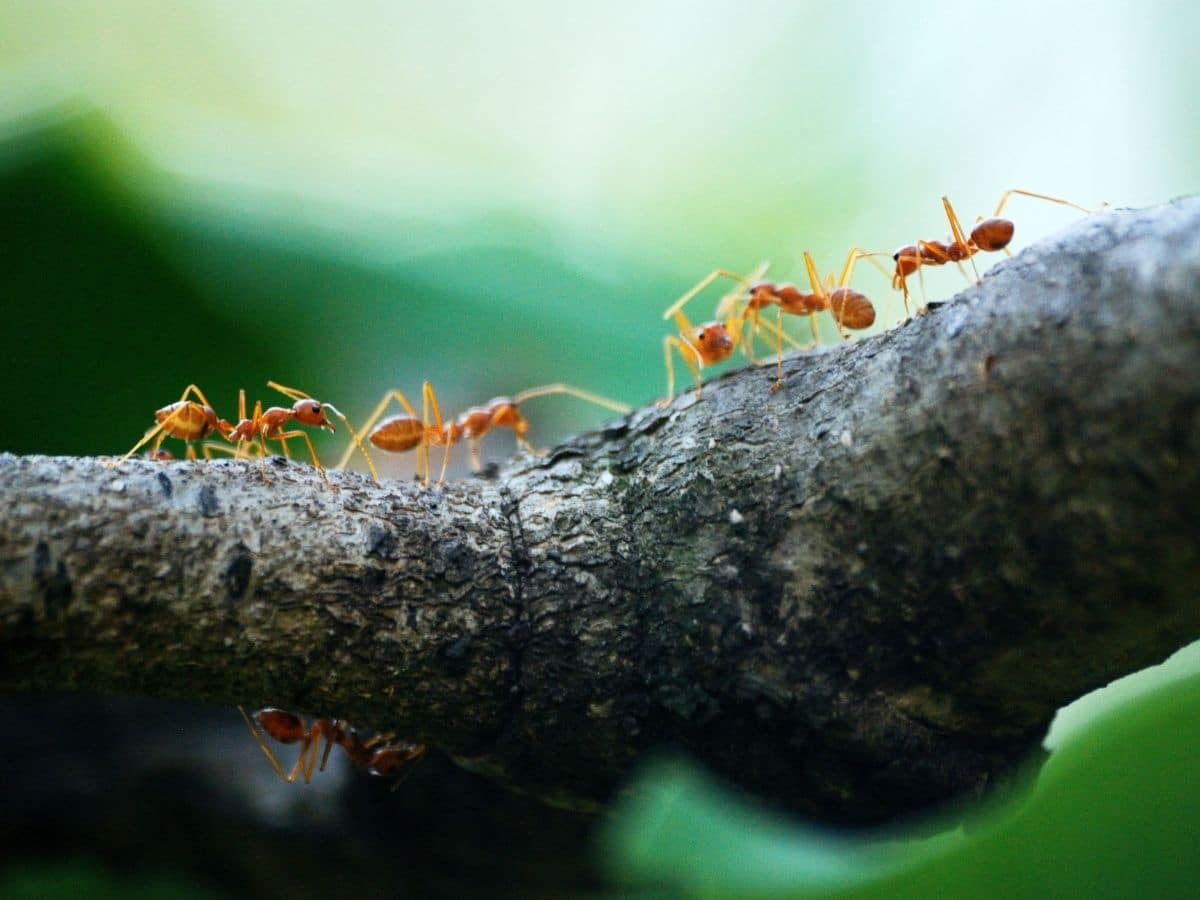 Baking soda makes an effective ant and roach killer, too.
-2 TBSP baking soda
-2 TBSP granulated sugar
-warm water
Mix the baking soda and sugar together. Add enough water to make a wet paste. Spoon the paste into caps, trimmed paper cups, paper plates, or a similar low container. Place the traps along ant and roach paths, near anthills, or places where you know they gather.
The sugar will act as a lure so the insects will eat the mixture and the baking soda will kill the ants once ingested. This mixture is safe to use around pets and in and around the home as well. Dried and crumbled bait can be sprinkled on and around anthills to help control the pests at the source.
Large-Batch Broad Spectrum Baking Soda Insecticide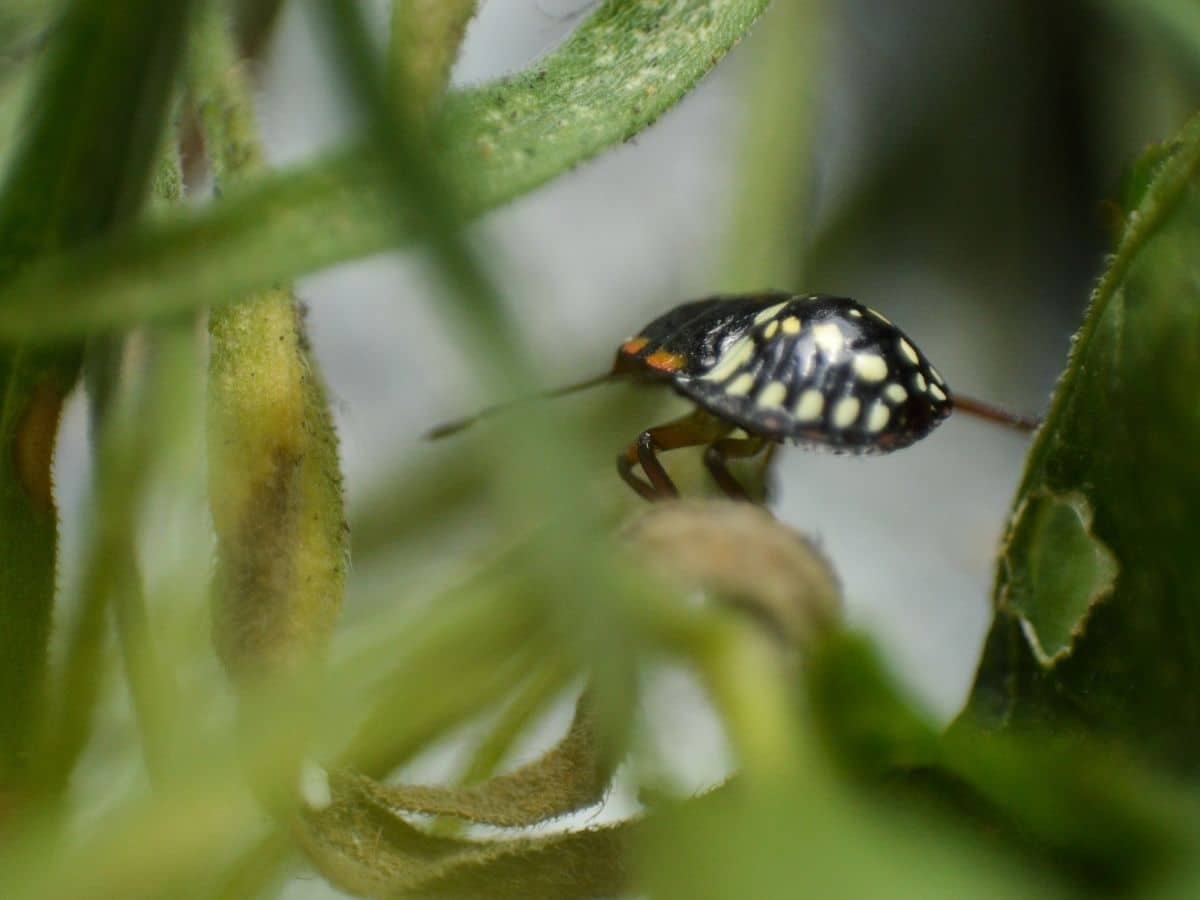 -1 tsp baking soda
-1 tsp horticultural dormant oil (may substitute cooking oil)
-½ tsp liquid dish soap
-1-gallon water
Mix all ingredients and shake or stir to combine. Let the mixture sit so soap bubbles will disperse. Pour into a hand or garden sprayer and spray target insects.
Baking soda kills insects by dehydration (the sodium in the soda being a salt). It is cleared by government agencies as a safe insect killer, including the U.S. EPA. Though baking soda in large quantities can damage plants and even cause plant death, in low solutions it is generally plant-safe when used as an insecticide. Spot testing before widespread use is wise. A solution of 1% baking soda is generally considered safe.
In these recipes, baking soda is the active ingredient, though you will notice several include an added oil or soap, such as dish soap. These ingredients work as adherents and emulsifiers to keep the baking soda in place so that it can do its work.
When used as an insecticide, baking soda preparations should be applied on a dry, cloudy, or overcast day. This will help to avoid plant dehydration, burning, and sun damage. Sodium bicarbonate is water-soluble, so it will need to be reapplied after heavy rain.
Here's another way to use baking soda to kill ants in and around the home and garden:
Pour very hot or boiling water over the anthill (use caution!). Next, sprinkle a generous layer of baking soda over the water. Wait one-half hour, then pour white vinegar onto the hill.
Here is a recipe for a scalable large-batch natural insecticide for use over large areas. Do note that, while relatively mild, it may potentially kill honeybees, pollinators, and beneficial insects if they are sprayed directly or if they ingest the baking soda and ingredients. To avoid this, do your best to avoid spraying on plants that are inhabited or being visited by beneficial insects, especially plants that have blossoms and are actively attracting pollinators.
Disease Control and Prevention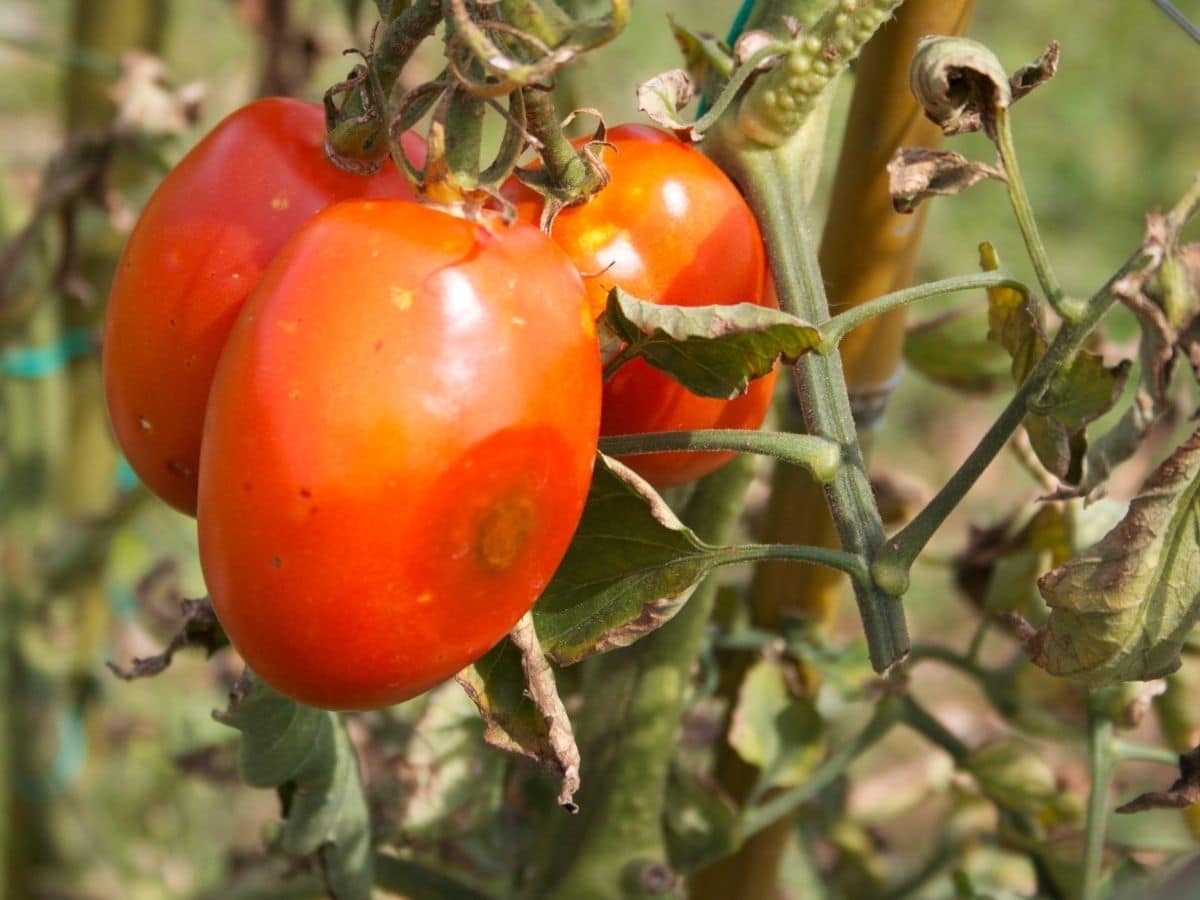 Just as baking soda is effective in cleaning molds and mildews inside the home, it can clear up diseases caused by funguses and spores in the garden, too. Some of the more common garden diseases treated with baking soda include powdery mildew, black spot diseases, leaf spot disease, and blights like the common nemesis, tomato blight.
Following are some recipes and applications for controlling mildew, spores, and fungal diseases in the garden.
Powdery Mildew and Leaf Spot Spray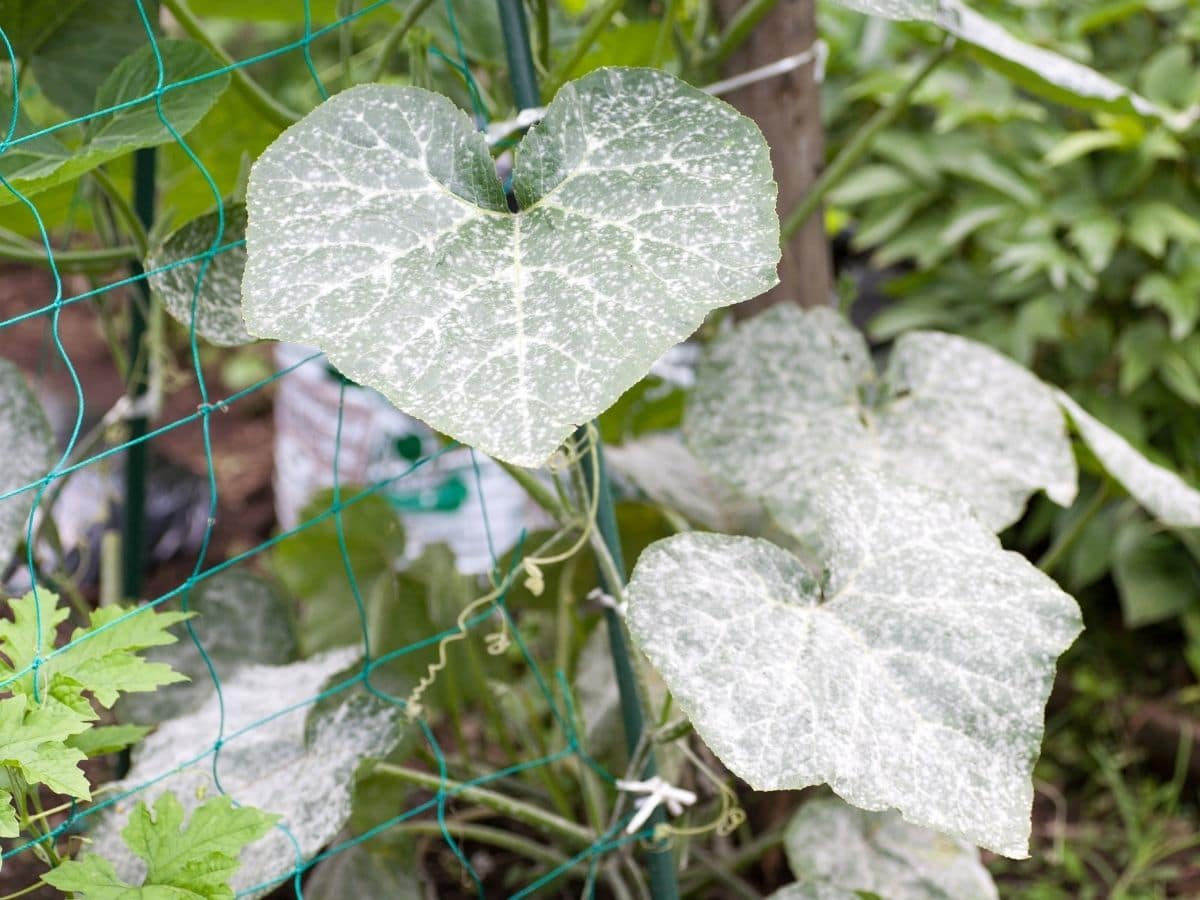 Use this spray to prevent powdery mildew from setting in when conditions are damp for a long period of time, or at the first signs of powdery mildew or leaf spot disease.
-1 tsp baking soda
-2-3 drops of liquid soap
-1-quart warm water
Combine ingredients, shake, and let sit to allow bubbles to disperse. Spray on affected plants, concentrating on the infected parts of the plant. Reapply as needed or after rains. This works by decreasing the acidity on the plant's surface and disrupting the environment in which the mildew grows.
Use this to treat black spot on roses, on grapevines and leaves, or on grapes as soon as fruit sets. This solution can also be used for powdery mildew on cucumbers, squashes, pumpkins, and flowers such as zinnias and lilacs.
Apply the spray one time each week on a cloudy or overcast day to avoid plant burning. Spot-treat a few leaves as a test before widespread use.
Another preventative option is a spray made with four teaspoons of baking soda in one gallon of water. Apply regularly to prevent disease onset.
Large-batch Baking Soda Mildew and Anti-fungal Spray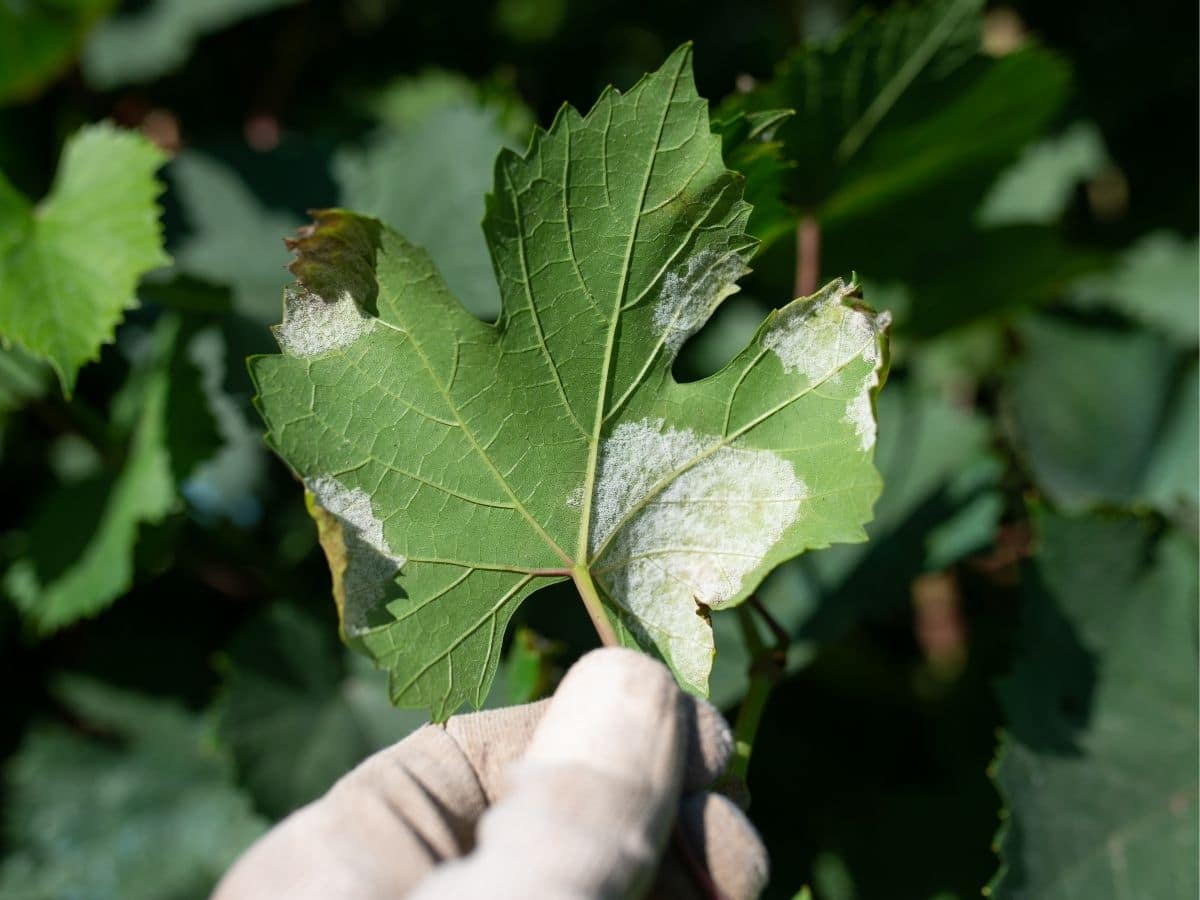 This is a second baking soda-based plant spray for the treatment of mildew and fungal disease. The added oil and soap in this recipe help the solution to adhere for longer effectiveness.
-1 TBSP baking soda
-1 TBSP cooking oil (or horticultural oil)
-1 TBSP liquid dish soap
-1-gallon warm water
Mix the ingredients together and apply using a hand sprayer or garden sprayer. Apply weekly.
Anti-fungal Tomato Spray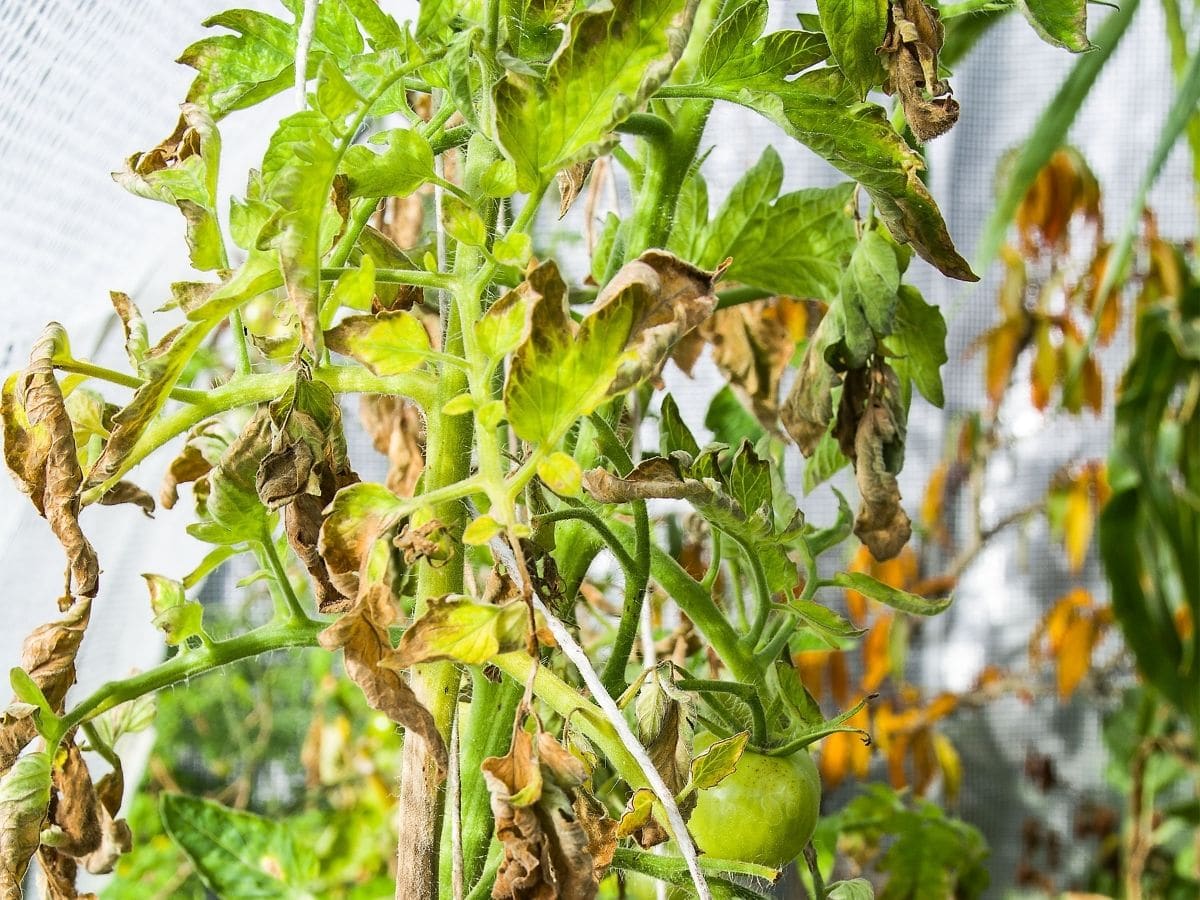 To treat tomato blight and leaf spot diseases on tomatoes, try this recipe:
-2 TBSP baking soda
-2 gallons of warm water
-2 aspirin (crushed)
Mix all ingredients together and stir until combined. Make sure the aspirin and baking soda dissolve as completely as possible in the water.
Apply to tomato plants every week to prevent and control tomato blight and leaf spot disease.
While baking soda has shown as an effective treatment for fungal-type plant diseases, it is important to know that it cannot rein in an advanced, rampant infection. Timing and dedication are key in maximizing this natural disease solution. Baking soda works best as a disease reducer and/or disease prevention. That said, there are few, if any, treatments (including chemical concoctions) that can fully "cure" plants once these types of diseases have set in, so baking soda is still a good choice, especially for its safety and economy.
The key to using any disease treatment is to control the disease and limit its effects. Plants can often withstand the presence of disease if it is moderate, and can even produce well despite it, if it can outrun the effects of the disease. To achieve this, you will need to make a plan for regular application of your chosen baking soda solution. Try to anticipate weather and conditions that might invite disease (for example, extended high humidity, frequent rains, or increased need for overhead watering that keeps plants wet). It is worth mentioning, too, that diseases such as these spread rapidly through insect infestations, like aphids and mites. Using the previous recipes to control pests is part of a good disease-control and prevention program.
Weed Killer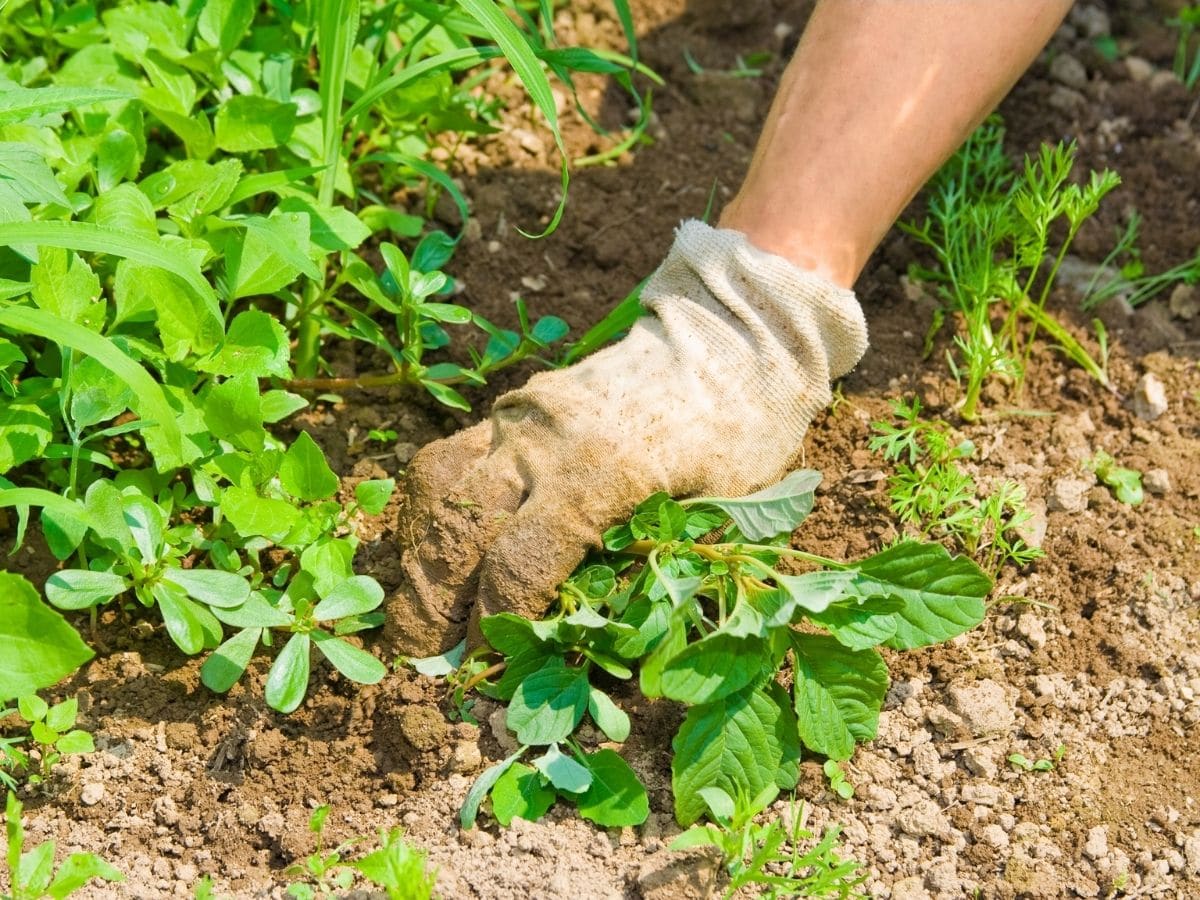 Baking soda is quite safe to use on plants that you want to save if used in safe concentrations. Used in higher concentrations, it works as a cheap, effective, and safe weed killer, too. It is especially well-known as a killer of crabgrass and small weeds, and will also prevent small weeds and seeds from sprouting and growing.
There are a couple of ways to use baking soda as a weed killer.
For crabgrass and larger weeds, thoroughly wet the crabgrass or targeted weed with a hose or watering can. Sprinkle the target plant with a heavy layer of baking soda. Doing this on a bright, sunny day will enhance the action of the baking soda, as it will help to burn and dry out the weeds.
To manage weeds and unwanted plants and grasses in walkways, paths, gravel walks, or between concrete or pavers, sprinkle baking soda liberally on weeds, in cracks and spaces, or between stones. The baking soda will kill existing small weeds and will prevent the growth of new weeds.
Avoid applying baking soda to plants or grasses that you want to keep, as the baking soda can kill them, too, when used in high doses. You may also need to reapply after rain.
As a weed killer, baking soda kills leaves and foliage. It does not generally kill the roots. With repeated application, however, you may damage the roots enough by denying them a feed source (the leaves), which can, in turn, cause the permanent death of the weed.
DIY Soil Acidity Test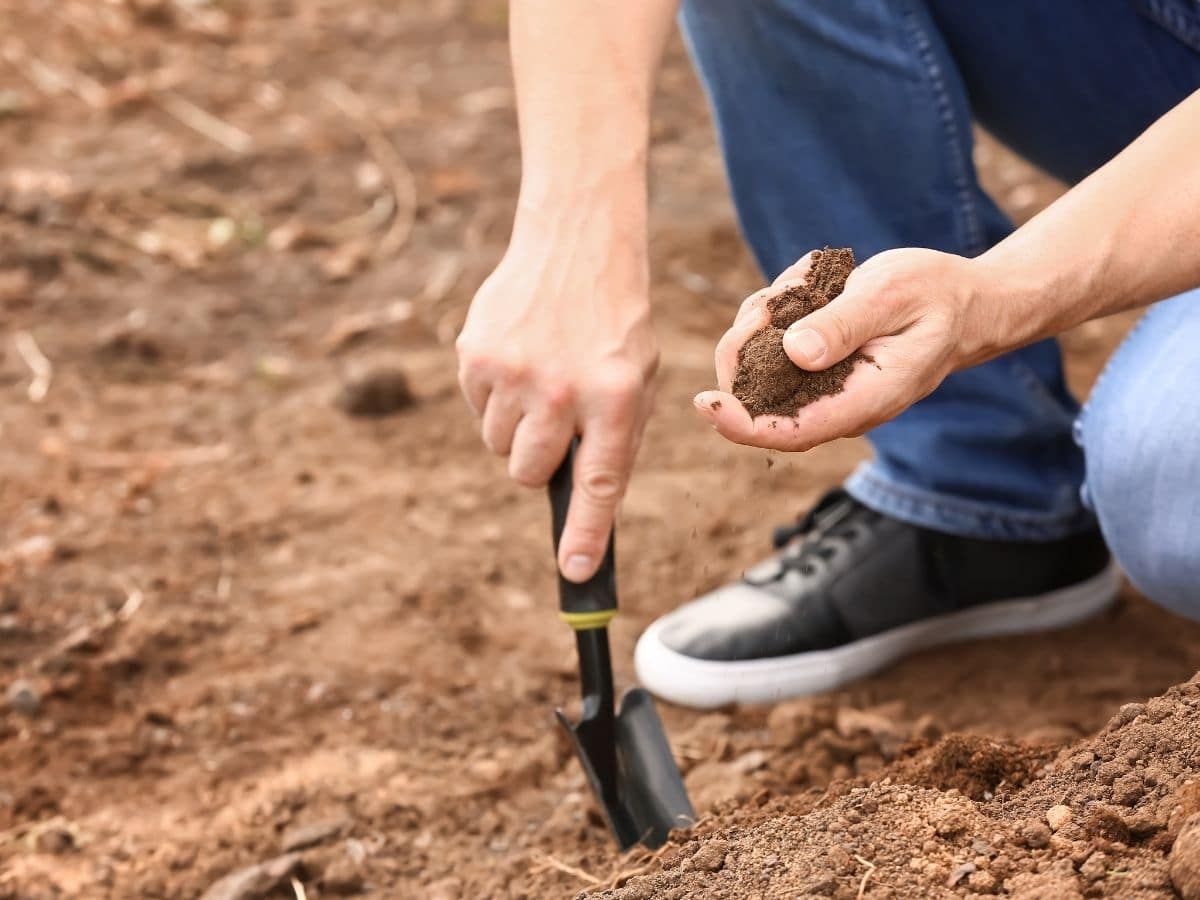 If you have a box of baking soda, you have a cheap and easy way to test for acidity or alkalinity in your soil. Why would this be useful? Because some plants need acidic soil to grow and thrive; others need neutral soil, and still others need their soil to be in the alkaline range. This simple test can give you a good idea of which of these three ranges your soil is in.
At-Home Baking Soda Soil Test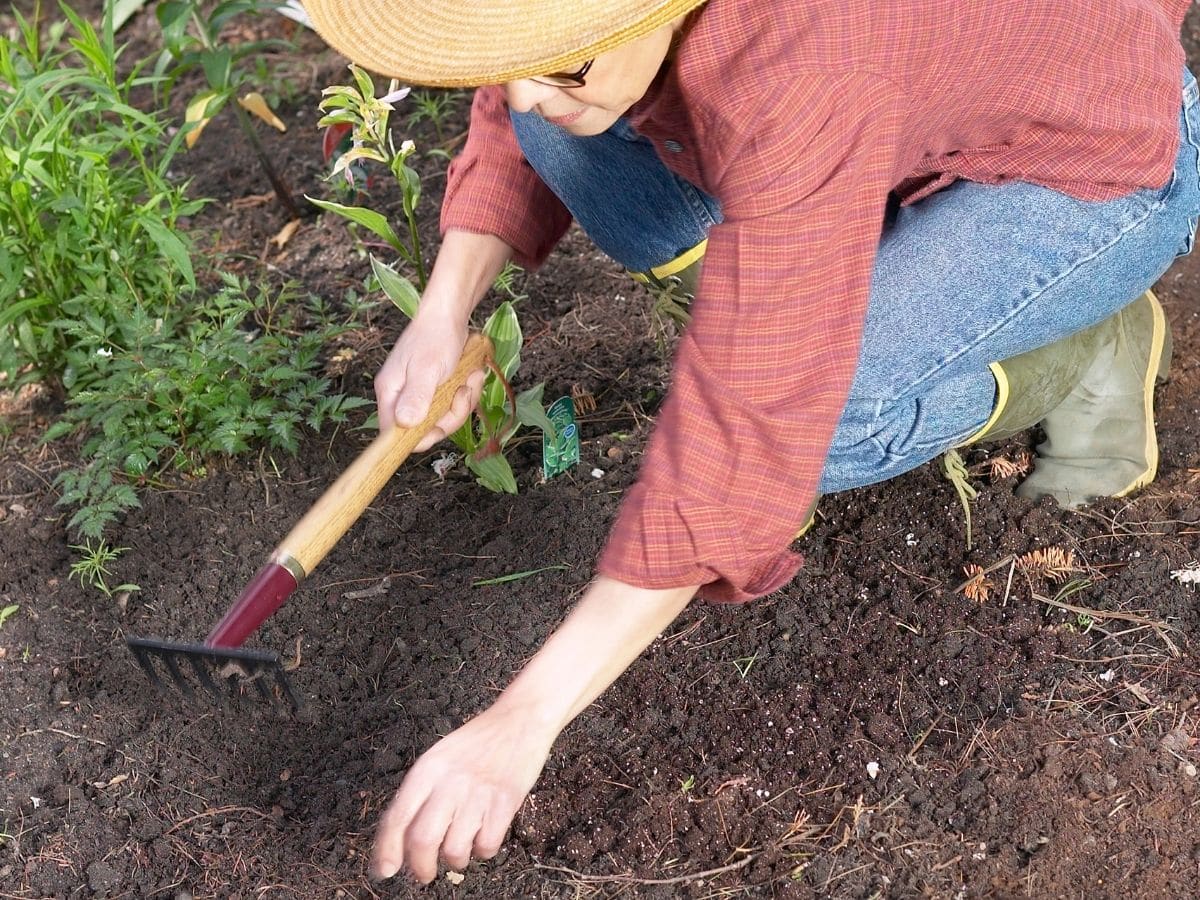 Think along the lines of the age-old grammar school experiment—the one where you combined baking soda and vinegar to create a volcano of bubbles. That reaction occurred because the acid (vinegar) reacted with alkali (baking soda). You will get this type of reaction whenever an acid reacts with an alkali. Apply this principle to the soil, and you can figure out roughly if the soil hosts more acidic components or if it holds more alkaline substances—is it "acidic" or "alkaline"?
Collect around two cups of soil. If testing a large garden bed, mix samples from a few locations. If you are interested in one particular area in the interest of growing a specific acid- or alkaline-loving plant, then only sample from the target area.
Split the sample into two one-cup samples.
To test for alkalinity: Pour one-half cup of vinegar into the soil. If the soil bubbles, it means that there are substantial alkaline substances in the soil that are reacting with the acid (the vinegar). The pH of the soil is therefore above seven.
To test for acidity: Pour one-half cup of water into the soil and stir. The soil should be quite wet and muddy. Add one tablespoon of baking soda to the soil and water, then stir. If this sample bubbles, it means there are substantial acidic components in the soil that are reacting with the alkali (baking soda). The pH of the soil is therefore below seven.
If neither sample reacts, then the soil is neutral—neither acidic nor alkaline. The pH of the soil is around seven, but neither significantly above nor below seven.
The pH scale ranges from zero to fourteen. Levels from zero to under seven are considered acidic. Seven or any decimal between seven and eight are neutral. Anything over seven is alkaline.
This test will not tell you the exact pH level, of course, but it will tell you roughly which end of the spectrum the pH of the soil falls toward. This will give you an idea if an acid-loving or alkali-preferring plant will do best in this soil, and/or if you need to amend the soil's pH to accommodate such plants.
Reduce Soil Acidity
Armed with your new-found knowledge about your general soil pH, if that soil should prove to be too acidic for the plants you plan to grow, you can use baking soda to help bring that pH level up to a neutral or alkaline range.
The process of increasing soil pH with baking soda is simple. Spread a layer of baking soda over the surface of your soil. It is helpful to work the soil into the ground a few inches. Watering will also help work the baking soda into your soil. Start with a moderate amount, wait a week or two, and then test the soil again. If further amendment is needed, work another application of baking soda into the soil. Repeat until you have achieved your desired result.
Similarly, you can use baking soda to reduce acidity in the soil surrounding tomato plants and thereby "sweeten" the soil and your tomatoes. Yes, this really will make your tomatoes taste sweeter!
To sweeten tomatoes using baking soda, simply sprinkle baking soda around the base of your tomato plant. Avoid getting the baking soda on the plant itself; this can cause burning of the plant's stems and leaves when applied full-strength.
Bloom Booster and Plant Perk Up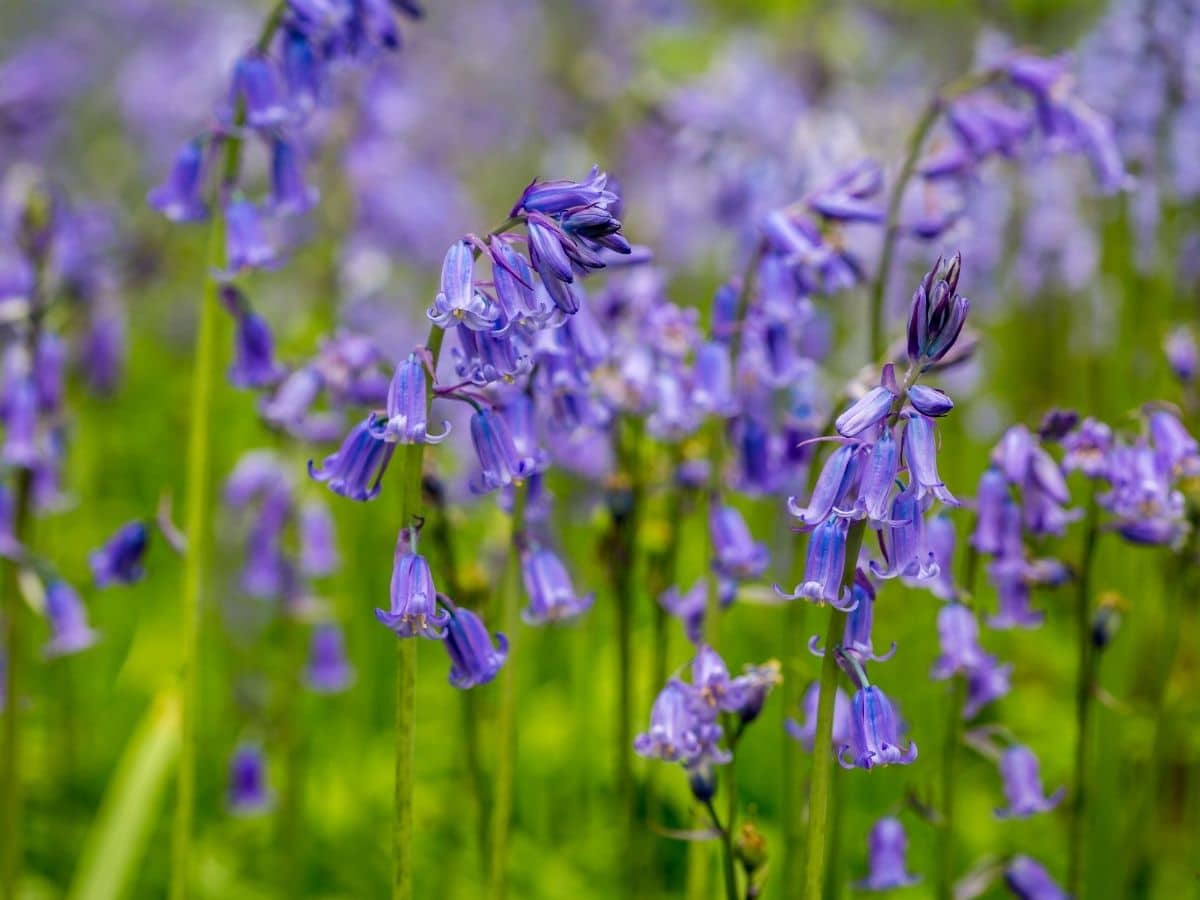 Baking soda can help perk up plants and brighten blooms, particularly for those plants and flowers that prefer alkaline soil.
The list of flowers that like alkaline soils is very long. This means that it is likely the majority of flowers in your garden beds can be easily boosted this way. Add a teaspoon of baking soda to a gallon of water in the watering can. This will help to stimulate blossoming and also helps to brighten the color of your blooms. The list of plants that benefit from this type of boost includes, but is certainly not limited to:
Begonias
Sweet William
Woolly Thyme
Geranium
Aster
Bluebells
Hydrangea
Forsythia
Crocus
Clematis
Lilacs
Baby's Breath
Yarrow
Bellflower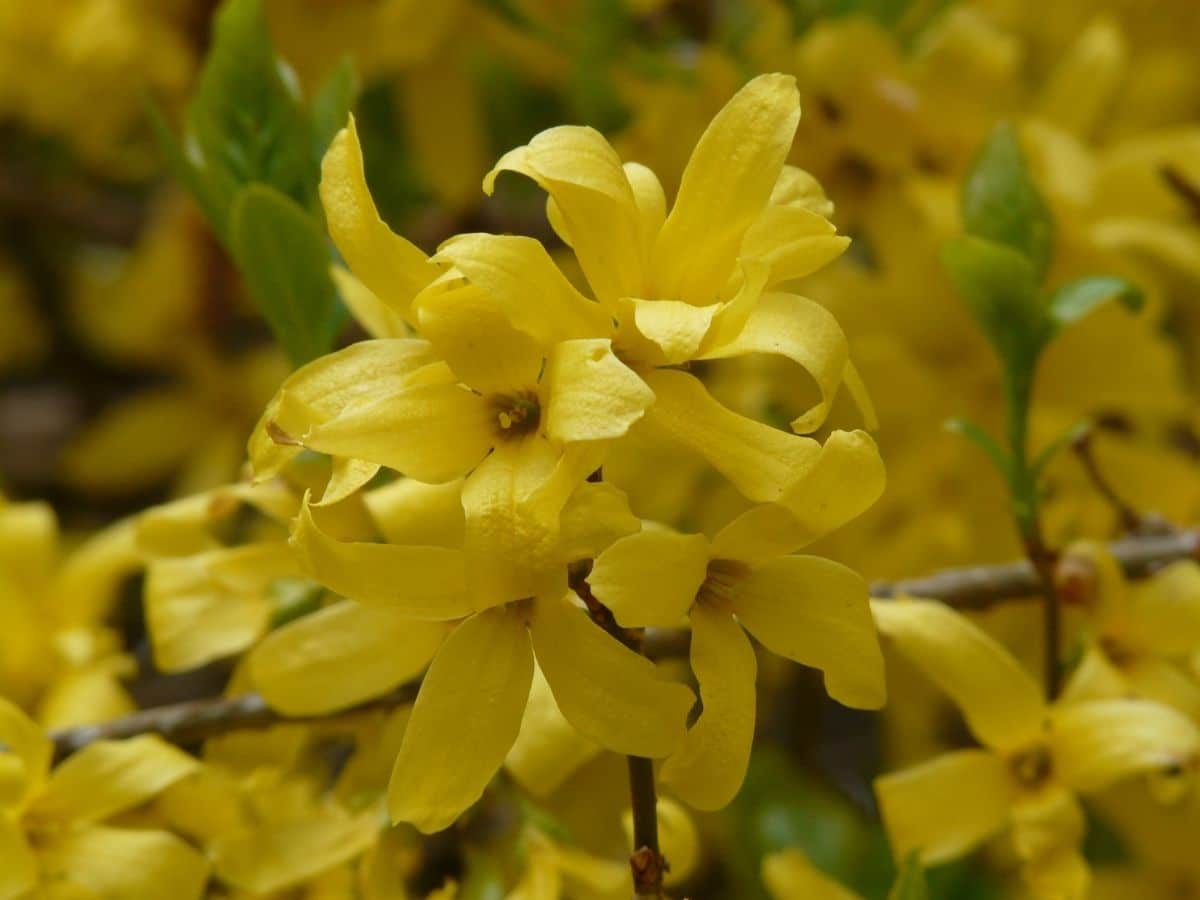 Sprinkling a bit of baking soda in the bottom of a planter can act as a slow-release booster for flowers grown in containers. Sprinkle a thin layer into the bottom of the pot before planting, then fill with soil and plant as you normally would.
Baking Soda Plant Rejuvenator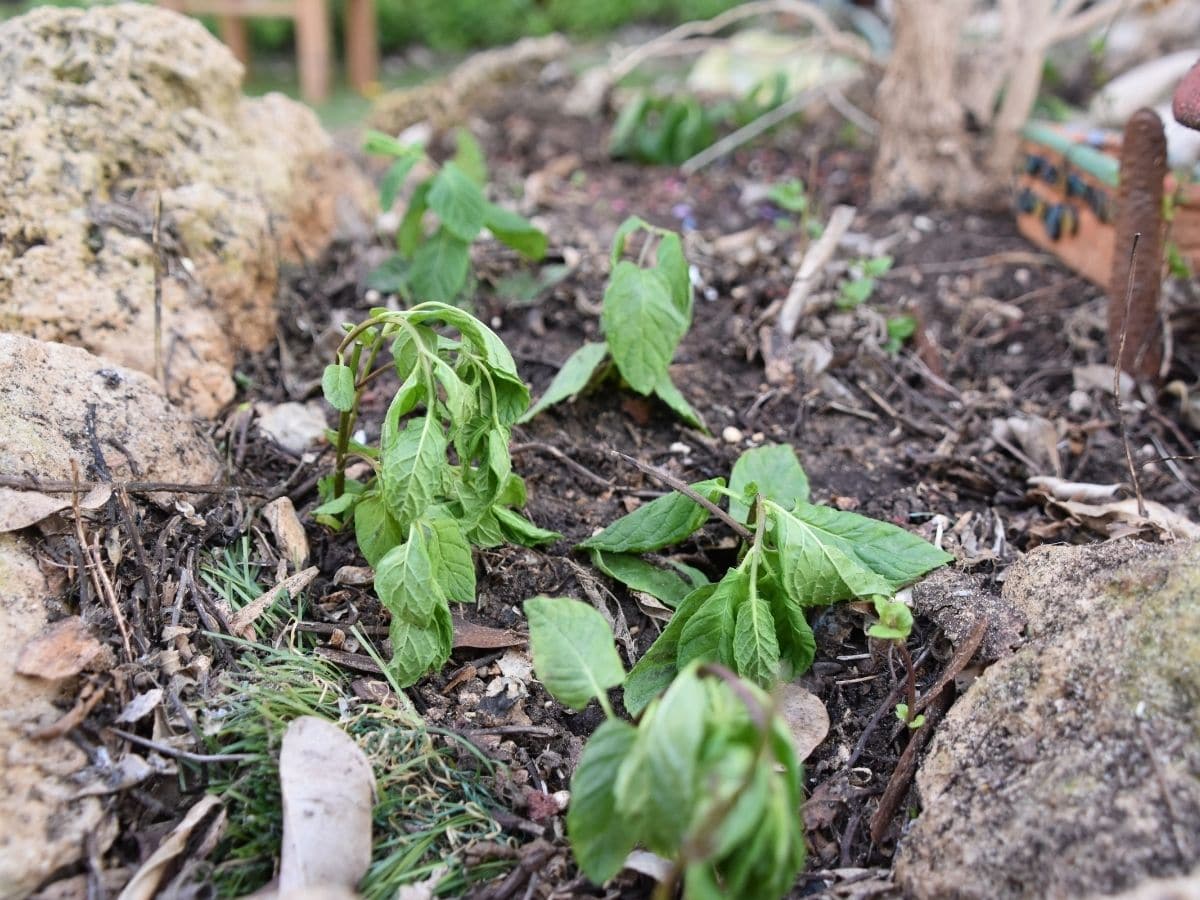 To perk up listless or heat-stressed plants, mix up this easy plant rejuvenator and use it to water your plants once a month.
-1 tsp baking soda
-½ tsp ammonia
-1 TBSP Epsom salt
-1-gallon water
Combine all ingredients, mix until dissolved, label clearly, and then safely store in a sealed container. To use, combine one-quarter cup of solution into four cups of water and then use the diluted mixture to water your plants and roses. Feed one quart of the prepared mixture to each large plant once per month. This mixture is particularly useful for roses.
Cut Flower Preserver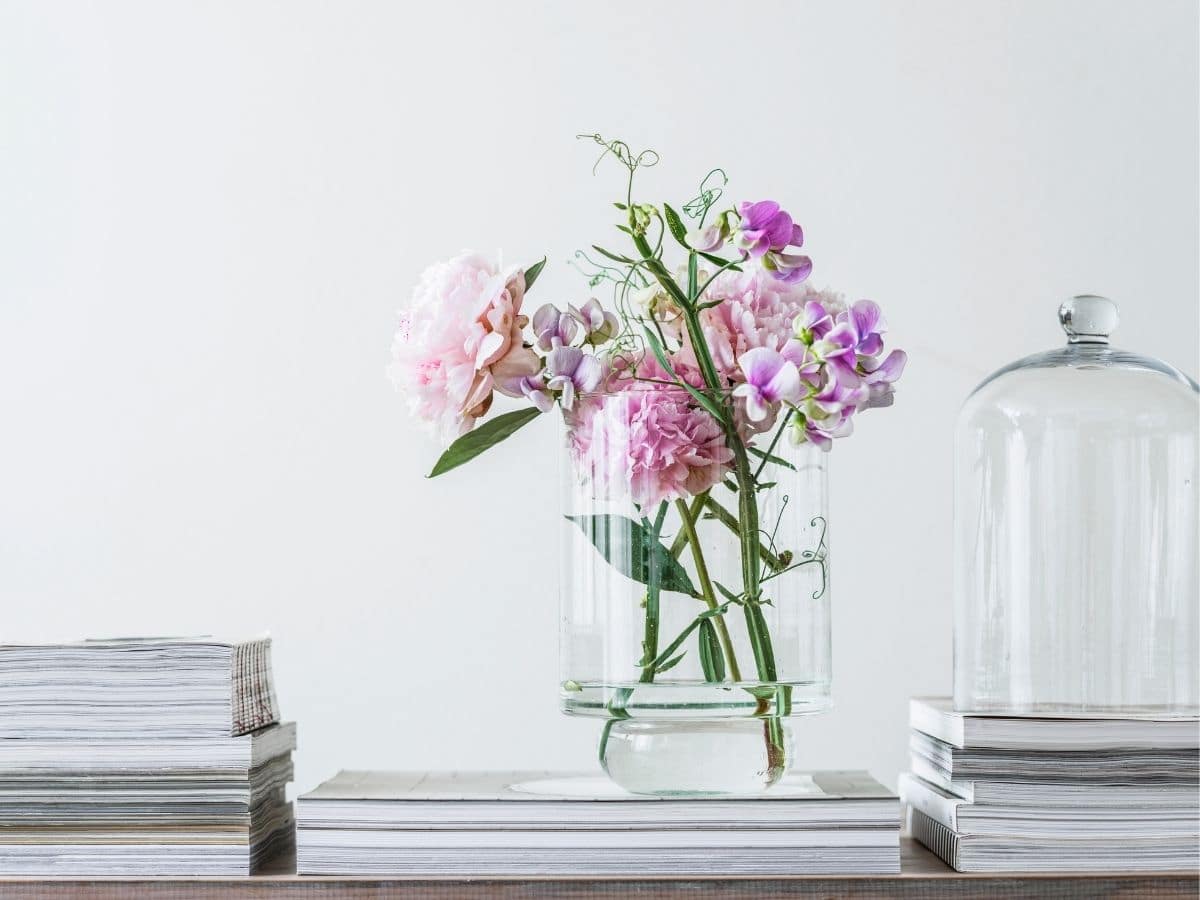 When you're ready to bring those beautiful blooms inside, baking soda can help keep them looking their best indoors, too.
Dissolve one teaspoon of baking soda in a vase of water for cut flowers. Replace the water every one to two days. This will keep your cut flowers and roses fresh, bright, and enjoyable for several days.
Cleaning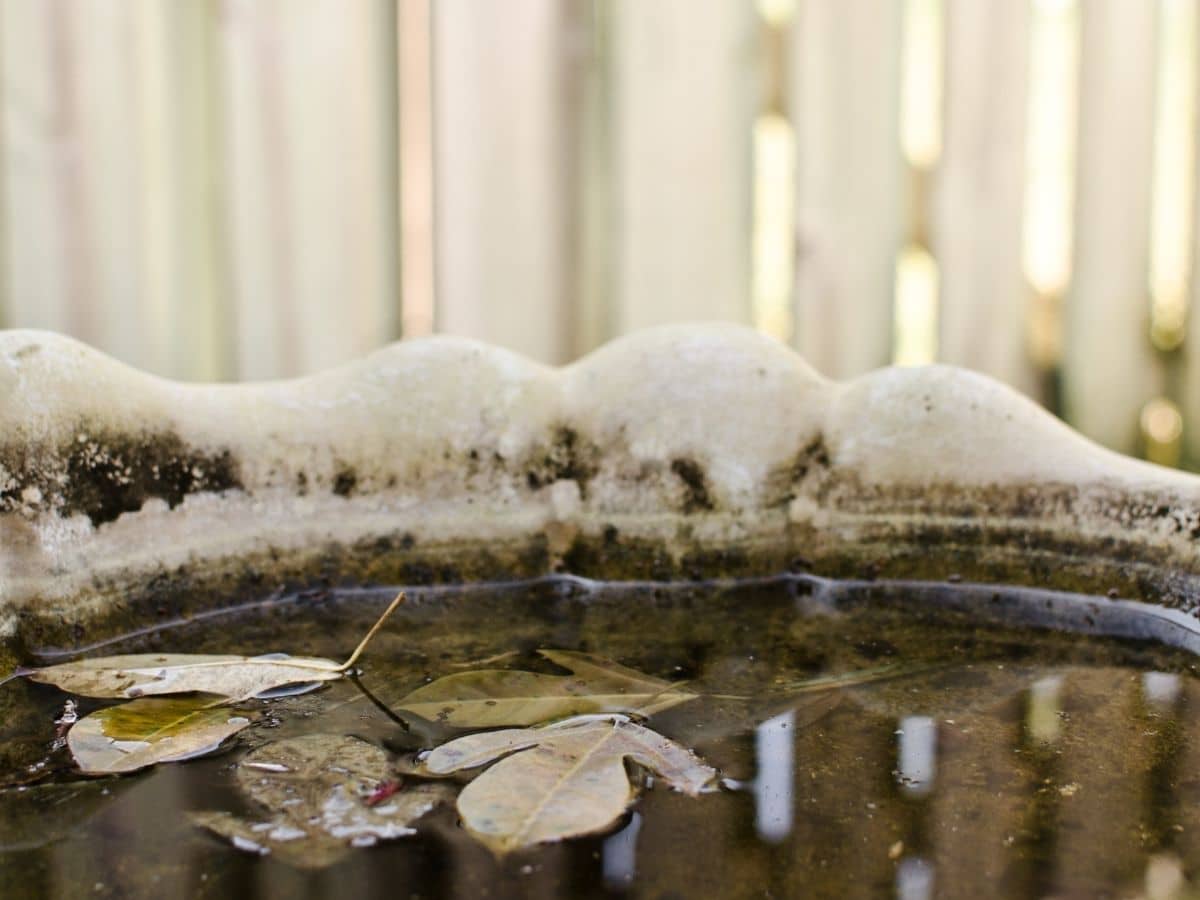 Baking soda is an ideal cleaner for almost every tool and surface in the garden. Its mild abrasiveness helps break down stains and stubborn buildup, while its alkaline action breaks down acids, dirt, and grime. There are many ways to take advantage of this in the garden:
Clean birdbaths by sprinkling baking soda on a damp rag, then use it to scrub algae and grime from the bowl. Keeping your birdbath clean will keep your visiting birds healthy.
To clean garden stones, paths, and walkways, mix two tablespoons of baking soda with one quart of warm water. Pour the mixture on the stone or path, scrub with a stiff-bristled brush, and then rinse well.
Clean garden tools by first soaking them in a pail of water to remove as much of the caked-on garden mess as possible (you may add some baking soda to the soak if you like). Spray off large chunks of mud and grime. Mix together a watery paste of baking soda and water (try a 1:1 or 1:2 baking soda/water mix). For tough spots or stains, pour some baking soda directly on the spot, let sit for five minutes, then scrub and rinse.
To clean planters and flowerpots, mix enough baking soda and liquid castile soap together to make a paste. (Castile soap is a natural vegetable oil-based soap known for creating a good lather and for its cleaning power). Use the paste to scrub your pots, then rinse pots well and let them air dry before stacking and storing.
To clean garden furniture and potting benches, mix one-half a cup of baking soda with one tablespoon of dish soap into one gallon of warm water. Use this to wipe and gently scrub outdoor furniture. Rinse clean after scrubbing.
Alternatively, for wicker or webbed chairs and furniture, sprinkle a layer of dry baking soda over the entire surface. Let it sit for 15 minutes, then scrub with a wet brush and rinse clean.
To clean oil spills and stains left behind by garden equipment, sprinkle baking soda liberally over the spot and let it sit to absorb as much of the oil as it can. Sweep up the oil-soaked baking soda, then scrub the spot with a paste of baking soda, salt, and dish soap (one part of each). Rinse the area clean when done.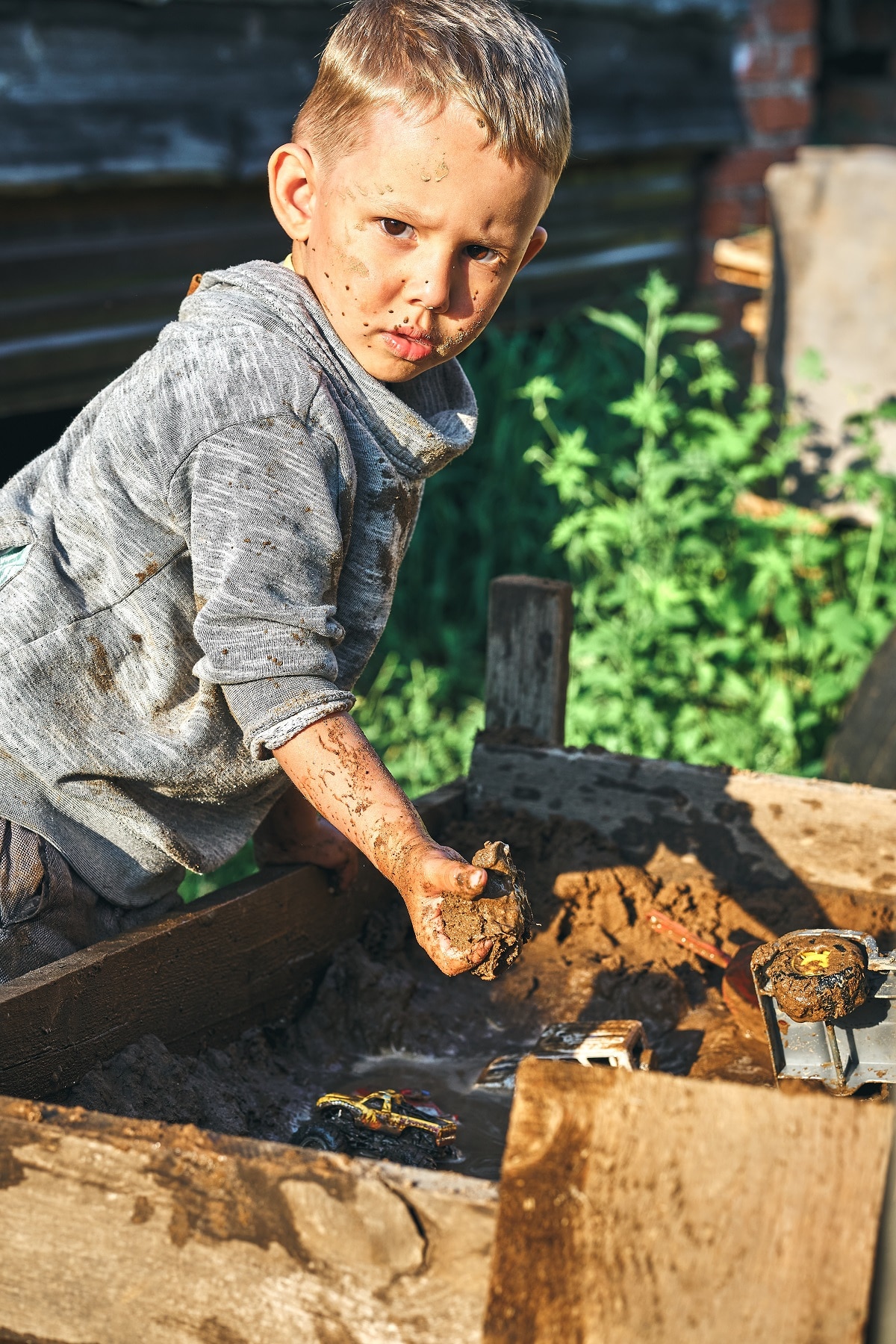 Baking soda is the ideal booster and spot treatment for getting stubborn dirt and stains out of your garden clothes as well. Add one-half cup of baking soda to each load of laundry; it will boost detergents and bleach for extra cleaning power and works as a natural fabric softener and odor-eliminator, too. Baking soda can also be worked into a one-to-one paste for spot treating and scrubbing into stubborn stains, including sweat stains (do note that baking soda will often cause dark colors to lighten and discolor, so spot testing in an inconspicuous area is advised).
For a general all-purpose garden cleanser, mix two tablespoons of baking soda into one quart of water. Use this to wipe down anything in the yard and garden. Spray or rinse the surface after use to remove residue. This can be mixed ahead to have on hand for everyday cleaning tasks.
An all-purpose scrub paste can be made by mixing one part baking soda and one part water. Use the paste for tougher cleaning jobs.
Compost Odor Control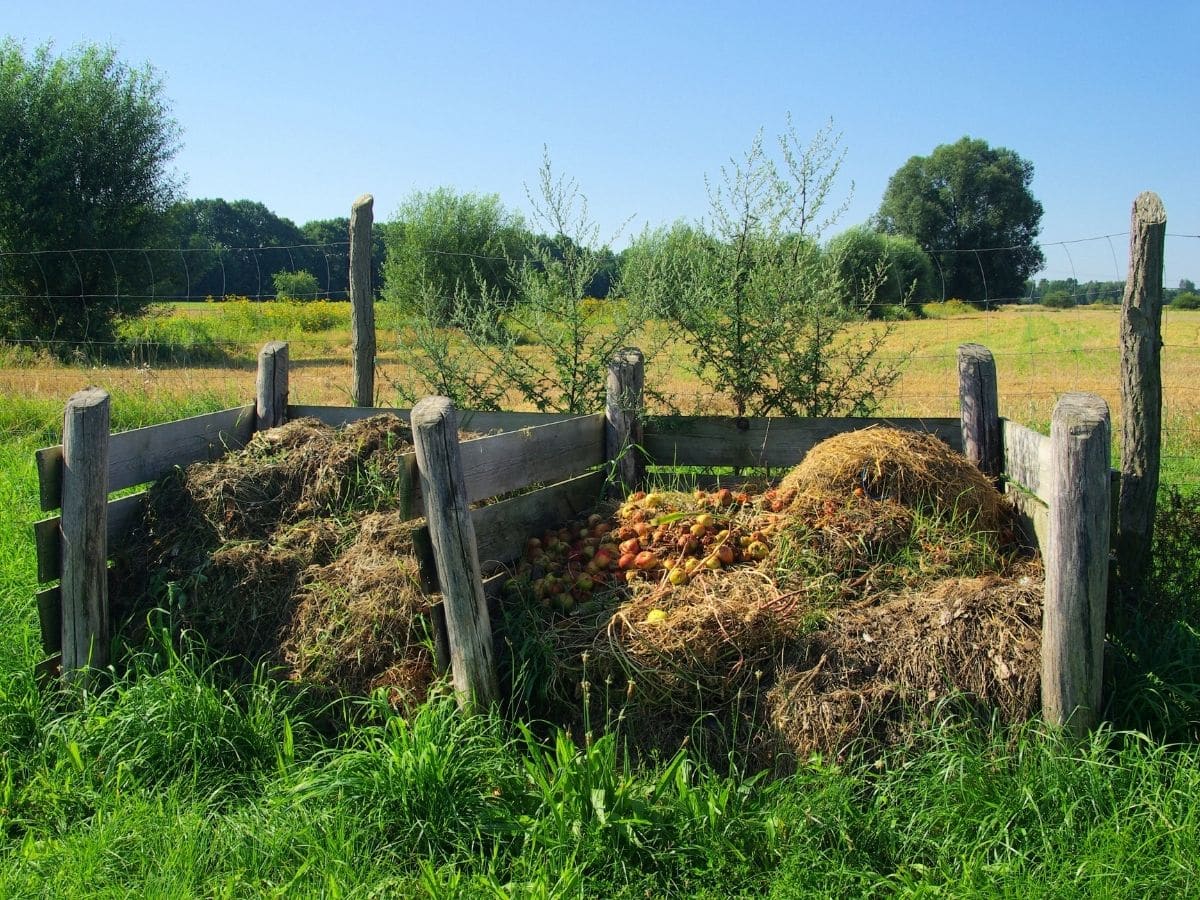 When your compost pile is getting a little too odiferous for mixed company, use baking soda to calm the smells. Sprinkle dry baking soda over, in, and around your compost heap; or, you can add one tablespoon of baking soda to a gallon of water and pour this over your pile. This won't harm the beneficial microorganisms at work, but try not to add too much baking soda or apply it too often, as overuse can upset the natural balance of your soil.
Relieve Garden-Related Muscle and Skin Problems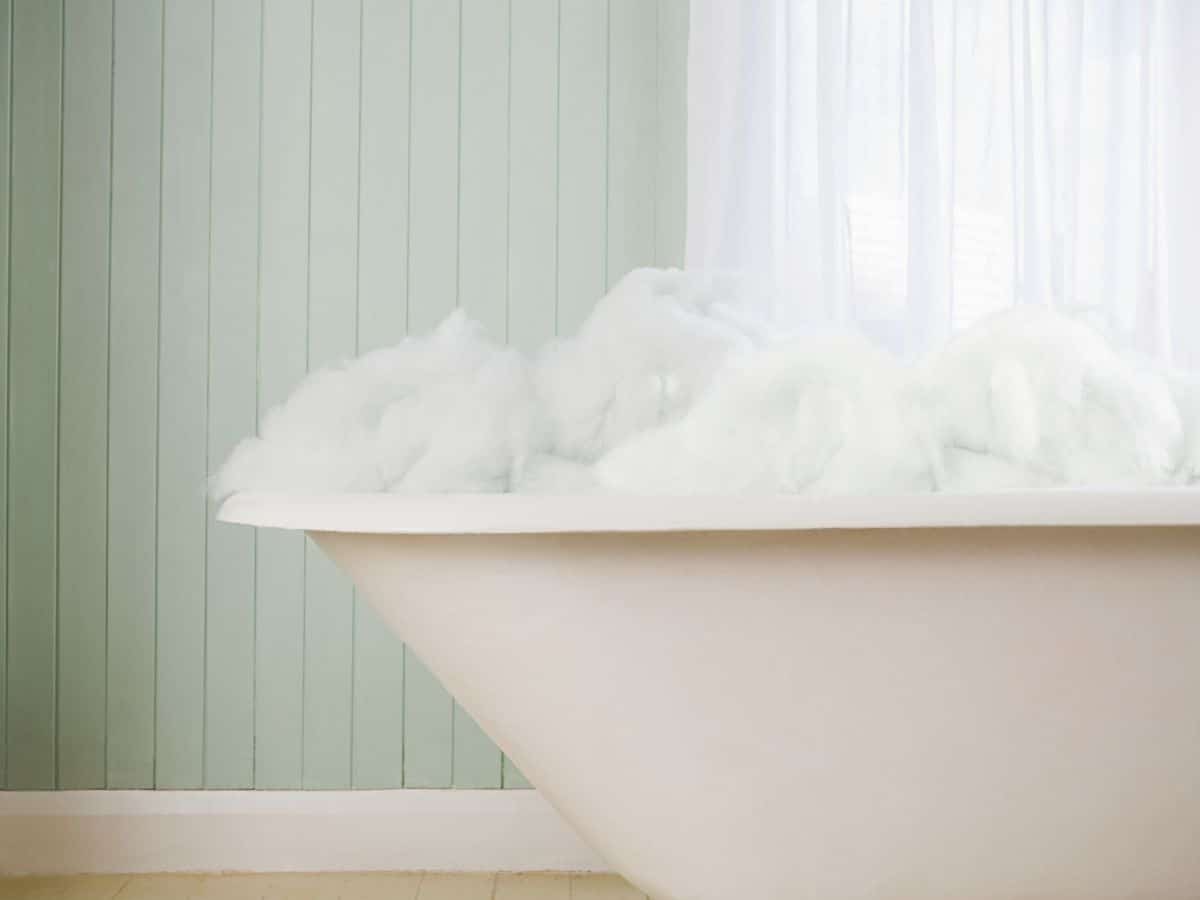 Baking soda isn't just good for your garden, plants, and tools; it's good for you, too. Baking soda is a natural way to relieve garden aches, weathered skin, and stains.
Use a pinch or two of dry baking soda to clean and deodorize garden-stained hands. This helps scrub away stains like those left behind from pruning tomatoes, weeds, and dirt. If you mix a few drops of liquid dish soap or castile soap and olive oil into the powder, you will have a great remover for anything sticky. A few drops of a favorite essential oil, lavender oil, for example, will leave you smelling wonderful (and some essential oils, lavender included, help keep bugs at bay, too!).
Add a half cup of baking soda into bath water at the end of a long, hard gardening day and relax away aches and pains. This will help reduce muscle fatigue and soreness, and also help alleviate itching, rash, and sun-damaged skin issues. Scrubbing with the water will help exfoliate dry and damaged skin (avoid direct contact with your eyes!).
A baking soda bath is a good treatment for sunburn, too. Just be sure to keep your water on the cooler to lukewarm side, so that you do not trap or increase the heat to your skin. You may also treat sunburn by making an exfoliating scrub with one part baking soda and one-part good body lotion. Apply gently to affected areas and/or use to gently scrub away peeling skin. Reapply aloe or another moisturizer after use.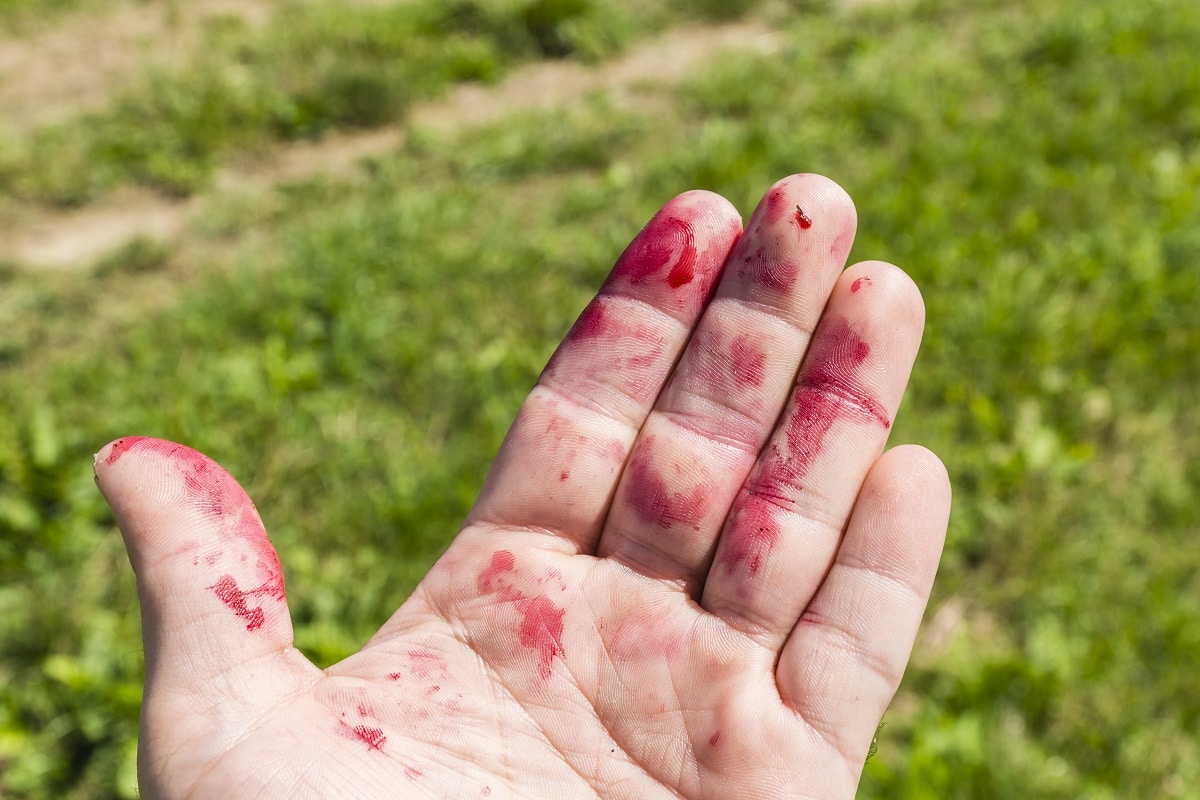 Poison ivy, that other notorious garden companion, can be treated with baking soda as well. Baking soda helps to dry out weeping patches of poison ivy on the skin, helps relieve itching, and can help exfoliate dead, broken skin the ivy leaves behind. Use one-half cup in the bath to alleviate itching and discomfort. Make a paste of one-to-one baking soda and water (or substitute apple cider vinegar for the water), and apply it to affected areas to dry up oils and weeping and reduce itching.
Finally, baking soda is a good exfoliator for any weather-beaten or plant-stained skin or rough patches, such as calloused, stained elbows and knees. Mix one and one-half cups of baking soda with one-half cup of water, apply and scrub to target areas directly. Rinse well when done.
It is always a wise idea to moisturize after using baking soda for any purpose, as the salt in the soda can be drying. A good moisturizer will restore balance to your skin for both comfort and beauty.
A Few Final Thoughts About Using Baking Soda In The Garden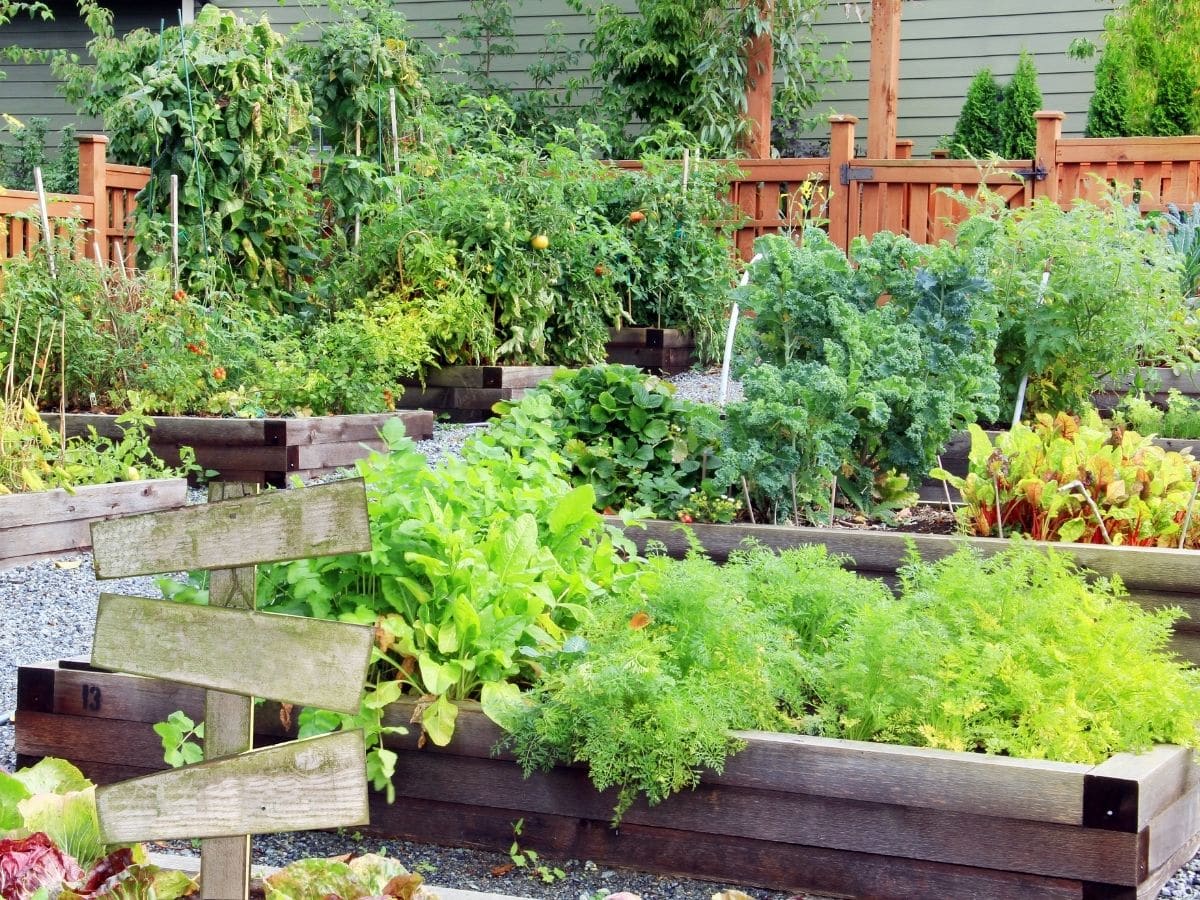 Baking soda is arguably one of the safest things you can use in your garden. As a food ingredient, it is food safe and is a gentler product than harsh chemical pesticides, insecticides, and cleaners. As with any product, though, some care must be taken to use it properly and avoid damage to plants and surfaces that are important to you.
The good news is that it is easy to use baking soda carefully. In low concentrations, baking soda poses little to no harm to wanted vegetables and garden plants. Avoid overuse, spot-test on a few leaves of each type of plant before broadcasting your treatment over a wide surface or area, and avoid letting baking soda build up on leaf and stem surfaces so that it does not cause burning, desiccation, or block much-needed photosynthesis.
Know that you will need to reapply baking soda recipes after heavy rains because it will dissolve and wash away (though this is true of most products used in the garden).
Baking soda preparations are best used as preventatives or early when a plant or soil problem is first detected. Control and limitation of pests and disease is always the best course of action in the garden.
It is also smart to alternate baking soda interventions with other natural, low-impact interventions, such as vinegar treatments. Doing so will help maintain the effectiveness of both types of treatment, reduce the likelihood of damage from overuse, and prevent a build-up resistance to your interventions.
Baking soda applications can be safely used even up to the day of harvest, though those recipes that include more harsh ingredients like soap and ammonia would be better if stopped several days before picking (as water-soluble household ingredients, though, a thorough washing will help rid your produce of these products, too).
With judicious use, baking soda can be a very cost-effective, healthy weapon to have in your garden arsenal.