Keep your cat and houseplants safe with an indoor garden just for kitty!
As much as we love our indoor cats, they can get into a lot of trouble with houseplants. Many houseplants are toxic to cats, and if you have a mischievous feline in your home, you may have trouble keeping them away from your plants.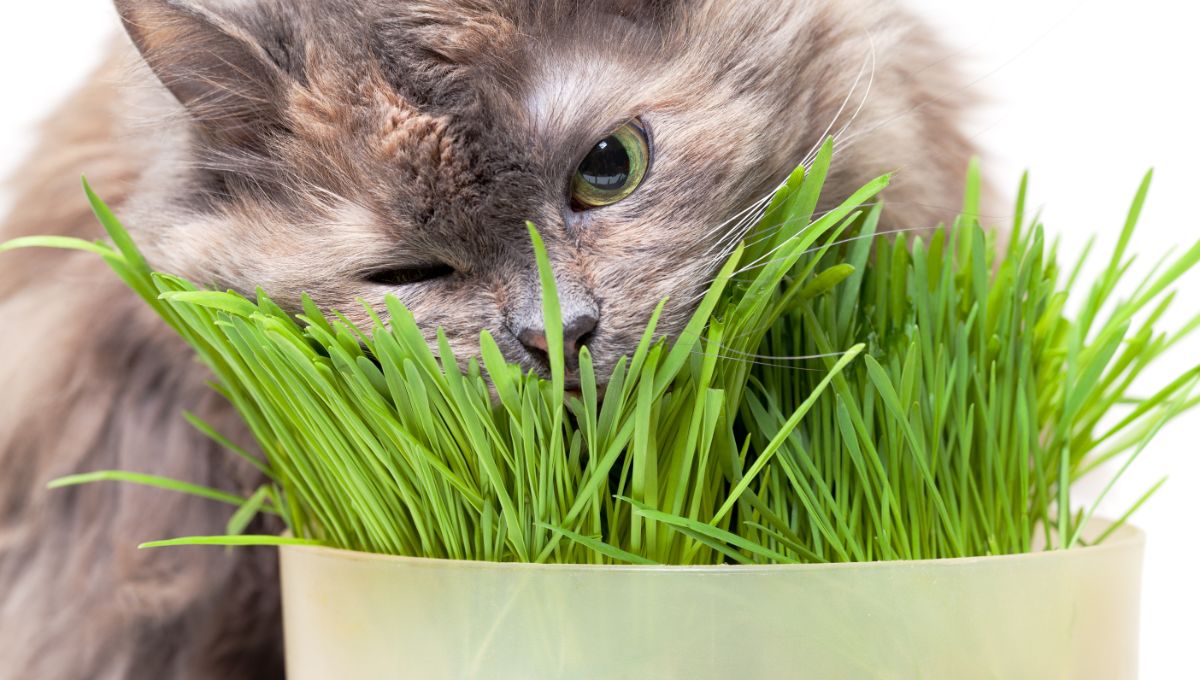 While you can keep plants in terrariums and grow cabinets or use bitter apple spray to keep your cats away, one of the best ways to protect your cats and your plants is to give your cat some plants of their own!
In this guide, we'll introduce you to 5 of the best plants to grow for your cat. With these plants in your home, your cat will be less likely to bother your houseplants, which will make both you and your cat so much happier!
Jump to:
5 plants to grow for indoor cats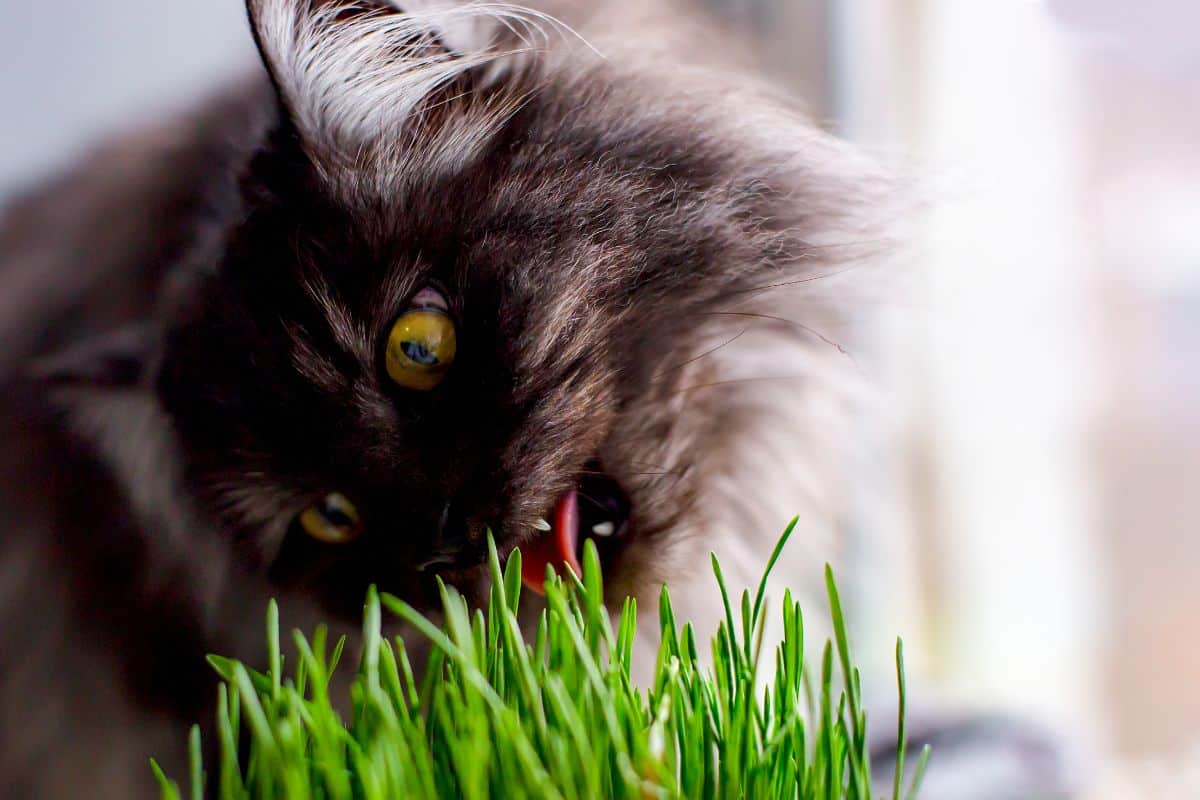 If you're looking to provide your cats with more stimulation and opportunities for play, or you simply want to keep them away from your houseplants, creating an indoor garden for a kitty is always a good idea. Below are some of the best cat-safe plants to grow that are 100% cat-approved (and easy to grow too!)
1. Catnip (Nepeta cataria)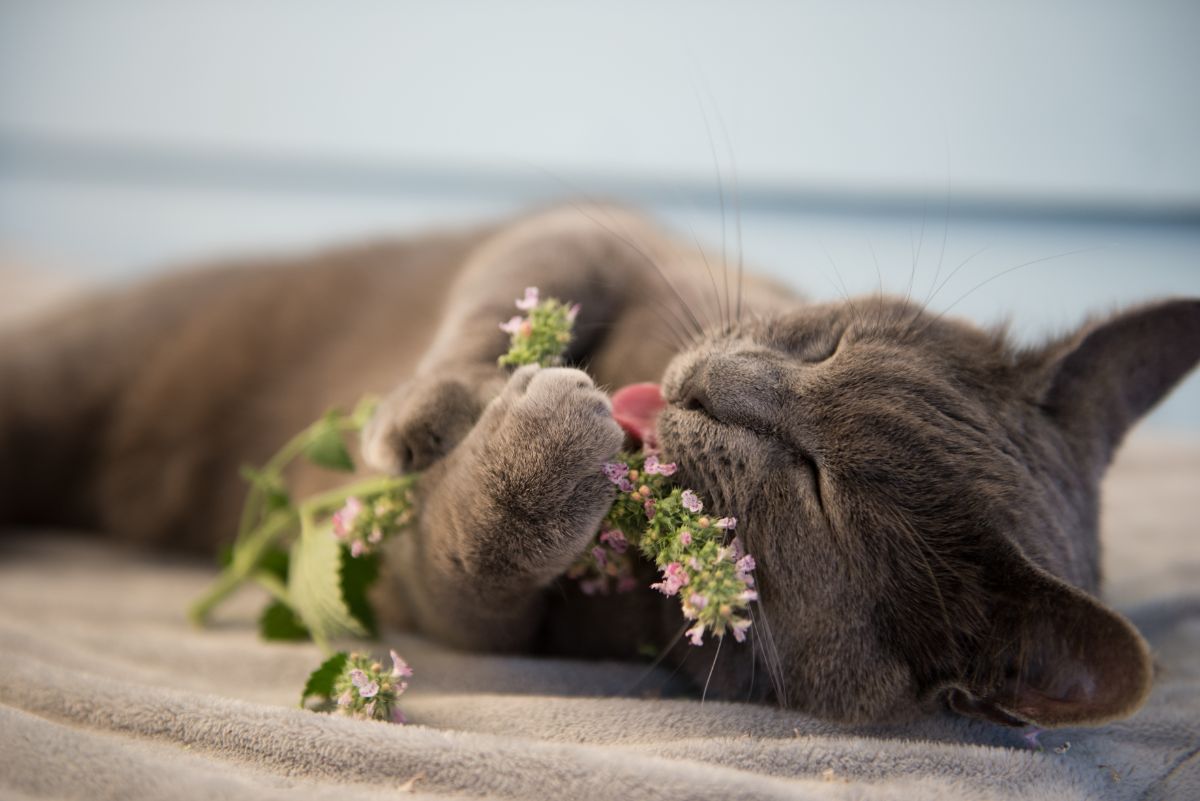 | | |
| --- | --- |
| Plant name: | Catnip |
| Light requirements: | Bright light |
| Watering requirements: | Moderate to low |
| Minimum pot size: | 8" diameter |
| What it does: | Euphoric, playful effect |
Everyone knows that cats go wild for catnip, and this stimulating herb can make kitties get crazy! An easy-to-grow plant, catnip is a member of the mint family, and it spreads rapidly when grown outdoors. However, it can also be kept in a container on a sunny window sill!
Catnip likes full sun and regular watering, but you should never water it so much that your soil gets soggy. For best growth, choose a pot that is at least 8" deep by 8" wide and prune away any flowers that appear to keep your plant more compact. Interestingly, catnip is also edible for humans and makes a comforting evening tea.
2. Cat grass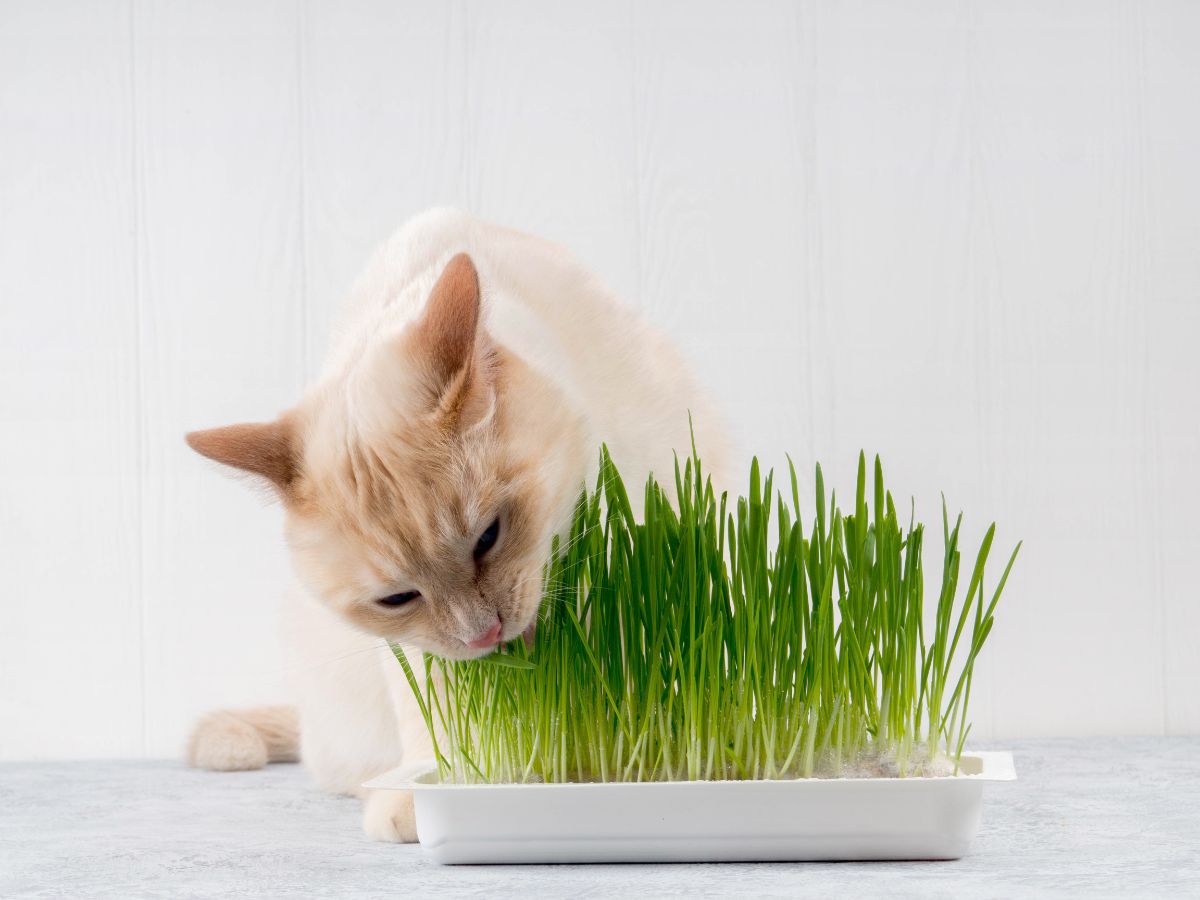 | | |
| --- | --- |
| Plant name: | Cat grass |
| Light requirements: | Bright light |
| Watering requirements: | Moderate |
| Minimum pot size: | 4 to 6" diameter |
| What it does: | Aids in digestion |
Another classic pick for your indoor "cat garden," cat grass is a must-have plant, and it's super easy to grow too. Seeds labeled as "cat grass" can actually be a number of different cat-safe grains – such as oats, barley, and wheat. If you don't want to grow cat grass from seed, you can also usually find plants for sale at pet stores.
Unlike catnip, cat grass isn't a stimulant, but it can help your cat's digestion and aid with hairballs. It also contains nutrients that may not be present in your cat's food, and it is a particularly good choice for distracting your kitty away from your houseplants. Try succession planting cat grass every week or two to make sure you always have a fresh supply ready for your furry friend.
3. Cat thyme (Teucrium marum)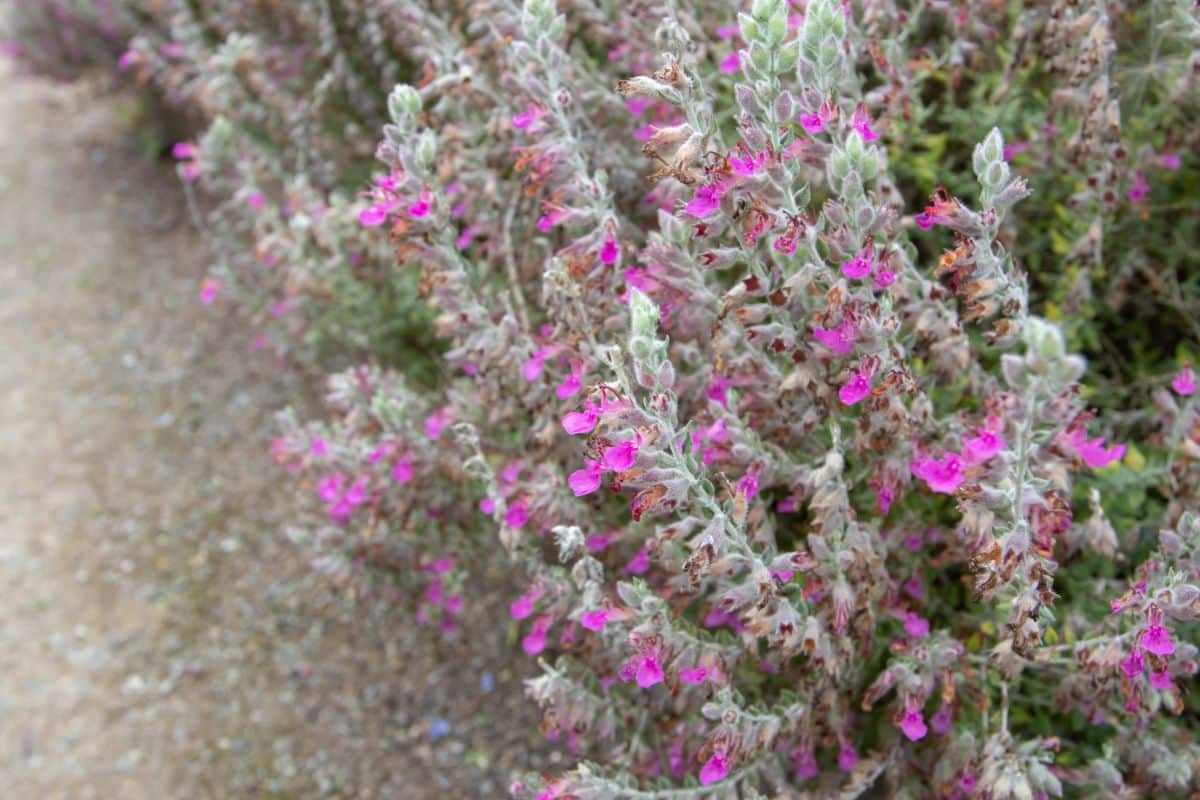 | | |
| --- | --- |
| Plant name: | Cat thyme |
| Light requirements: | Bright light |
| Watering requirements: | Moderate to low |
| Minimum pot size: | 10" diameter |
| What it does: | Euphoric, playful effect |
If your cat doesn't like catnip, you may want to try cat thyme instead. This plant is actually more closely related to germander than thyme, but most cat owners agree: cats can't resist it. This plant has soft, silvery leaves, and it blooms abundantly outdoors, but it can be kept more tidy when grown in pots.
Cats usually don't eat cat thyme, but they love to roll and nap in it. This plant has a stimulating effect on kitties and will make them want to play more, so be sure you have a cat toy ready! Cat thyme grows best in bright light and should be watered regularly.
4. Valerian (Valeriana officinalis)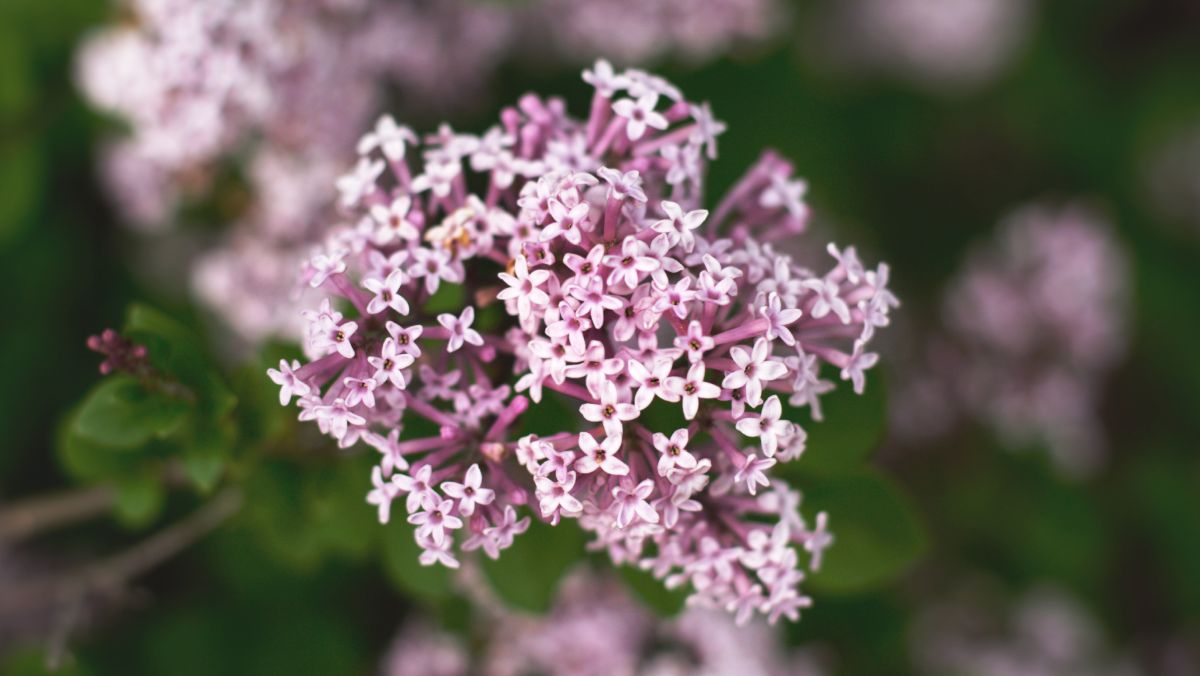 | | |
| --- | --- |
| Plant name: | Valerian |
| Light requirements: | Bright light to bright, indirect light |
| Watering requirements: | Moderate |
| Minimum pot size: | 10" diameter |
| What it does: | Euphoric, playful effect followed by sleepiness |
You may be familiar with valerian as a plant used in herbal teas, but cats love it too. Curiously, 25 to 50% of cats don't seem to react to catnip, so trying out different herbs like valerian may help you discover your cat's personal tastes. Valerian will produce an euphoric effect in your cat that is similar to catnip.
Valerian is a fragrant and sweet-smelling plant and was once used to create perfumes. Provide your plant with a large pot, plenty of sun, and regular watering. Just as with catnip, extra valerian can be dried and sewn into cat toys and other treats.
5. Silver vine (Actinidia polygama)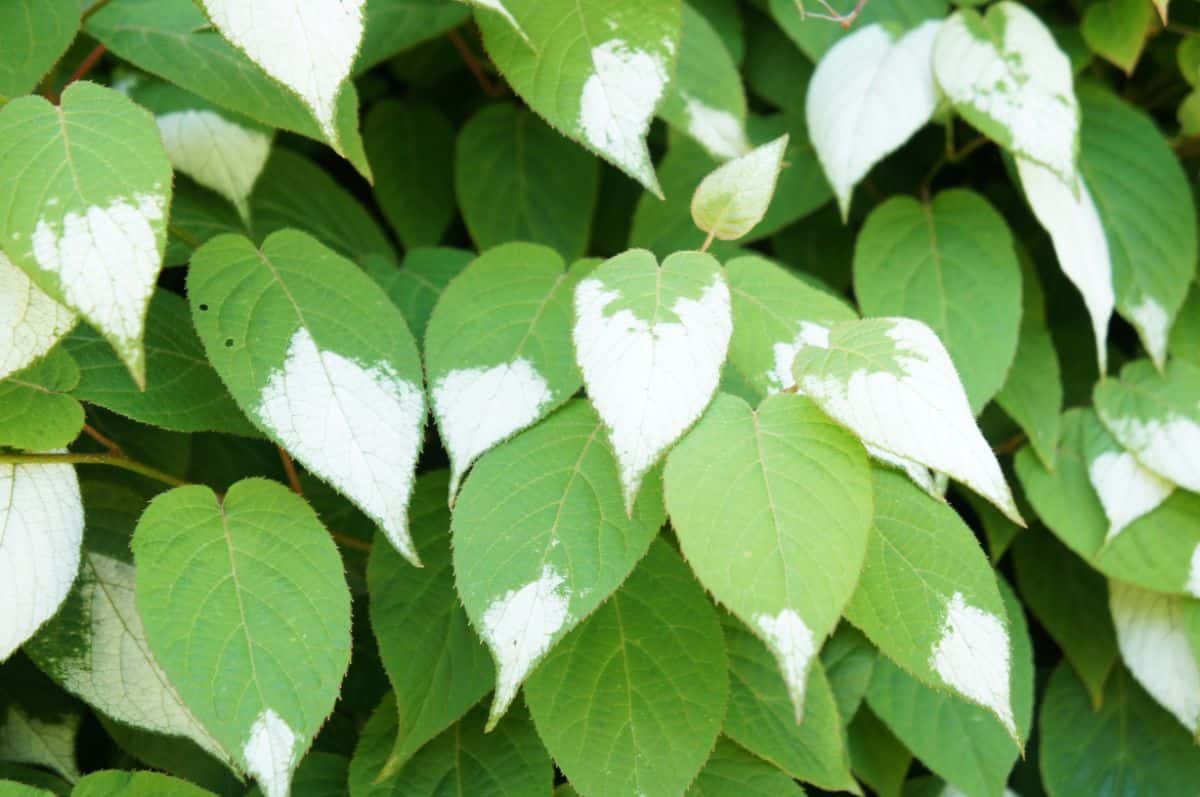 | | |
| --- | --- |
| Plant name: | Silver vine |
| Light requirements: | Bright light to bright, indirect light |
| Watering requirements: | Moderate |
| Minimum pot size: | 10" diameter |
| What it does: | Euphoric, playful effect |
Silvervine is a type of kiwifruit that's native to China, Japan, and other spots in Asia. In the wild, this plant can grow up to 20' long but will stay smaller when potted in a smaller pot and regularly pruned. As its name implies, this plant also loves to climb, so you may want to add a small trellis to your pot if you want a more vertical appearance.
More cats react to silver vine than catnip, so it's another good plant to try if your cats don't seem to enjoy catnip. Silver vine can be dried, powdered, and added to cat toys or sprinkled across your carpet for kitty's enjoyment. Silver vine sticks can also be given to cats to chew on to help with dental health and keep their teeth clean.
Choosing the right planter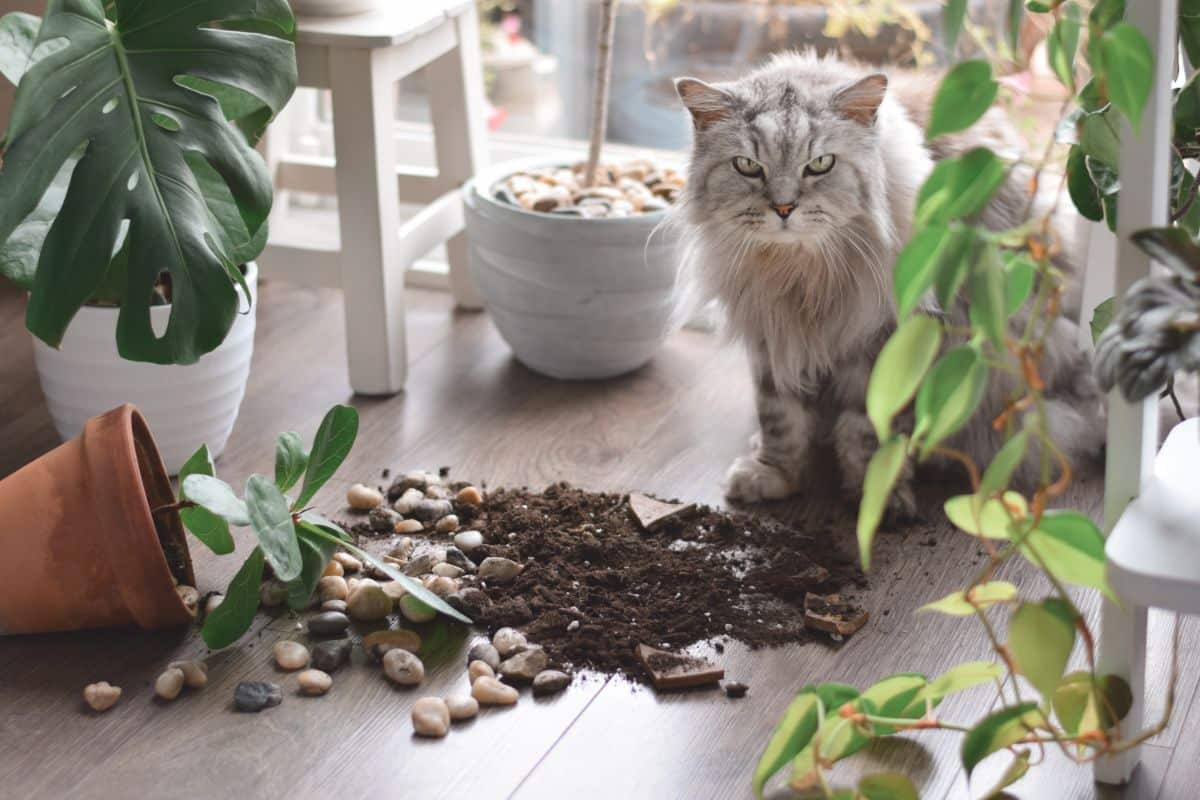 Even when you choose cat-safe plants for your cat garden, your furry friend may still be able to get into a bit of trouble… especially if you choose a breakable container.
Instead of potting up your cat garden in terracotta or ceramic, consider purchasing a less breakable planter made of plastic. Wide and low planters will be easier for cats to access, while drainage holes at the base of your planter are critical for keeping your cat garden growing successfully.
To keep your kitty safe, it's also a good idea to only use organic potting mix and to opt for all-natural soil amendments. Even organic fertilizers can be toxic to cats if eaten in large quantities, so consider making fertilizer out of banana peels or amend your soil with all-natural worm castings to give your plants an extra nutrient boost.
Frequently asked questions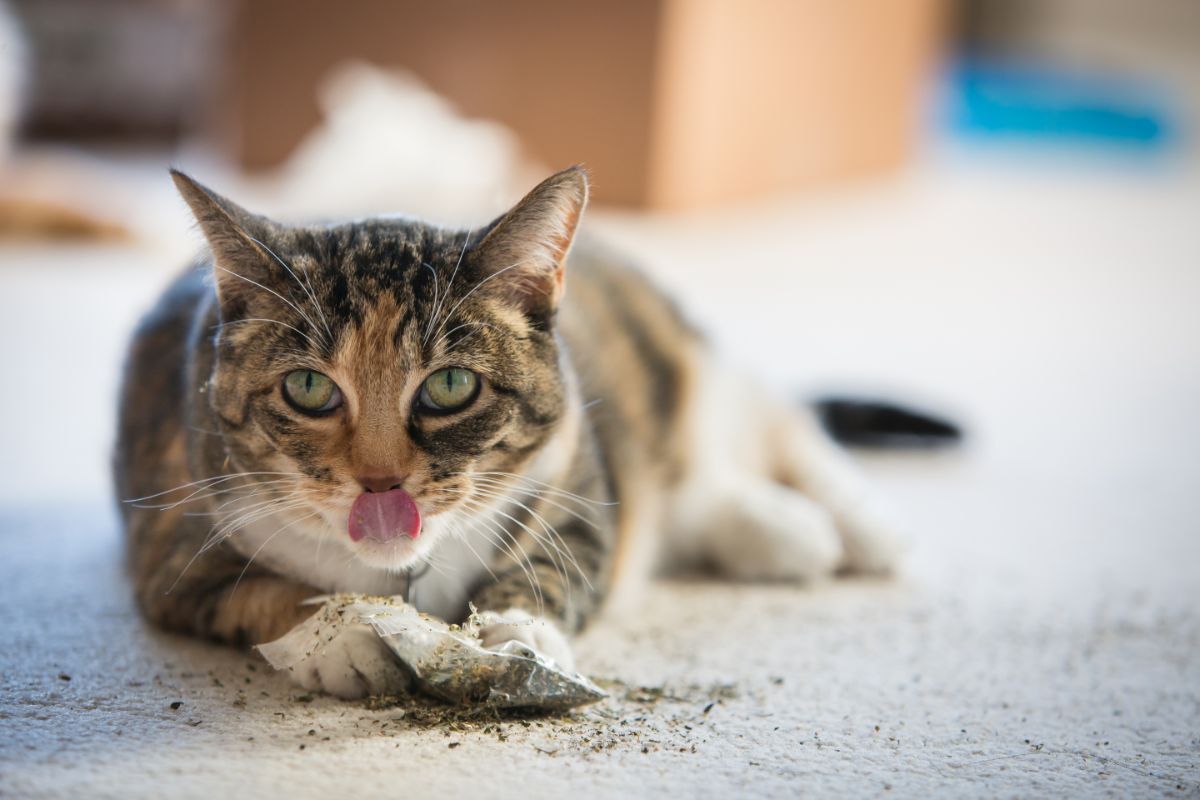 Do indoor cats need plants?
Cats are obligate carnivores, which means they only eat meat, and they don't need to eat plants. That said, nibbling on cat-safe plants like cat grass provides extra nutrients and fiber to your feline and can aid with digestion too.
Why is my cat eating my plants?
Cats will chew on houseplants for several different reasons. Often, cats that chew on plants are bored and are trying to get their owner's attention. Cats may also nibble on plants to ease an upset stomach.
How do I keep cats from eating my plants?
Providing your cat with pet-safe plants, like catnip, can help keep your cats away from your houseplants. Other ways to protect your plants include adding a motion-activated water mister, spraying your plants with bitter apple spray, moving your plants to a new location, or locating your plants inside an enclosed grow cabinet.
Can cats get sick from eating plants?
Yes. There are a number of very toxic houseplants that can make your cat sick. Plants like lilies and sago palms can have devastating effects for your feline, while other plants, like pothos and oxalis, can cause indigestion and other issues.
What does catnip actually do to cats?
Catnip mimics cats' natural hormones and can cause an excited and euphoric reaction in your feline. While not all cats react to catnip, those that do will often get more playful, roll around, and meow.
Why do cats go crazy for silvervine?
Silvervine makes cats happy! While not all cats will enjoy silvervine, cats that do display a temporary euphoric reaction.
Summary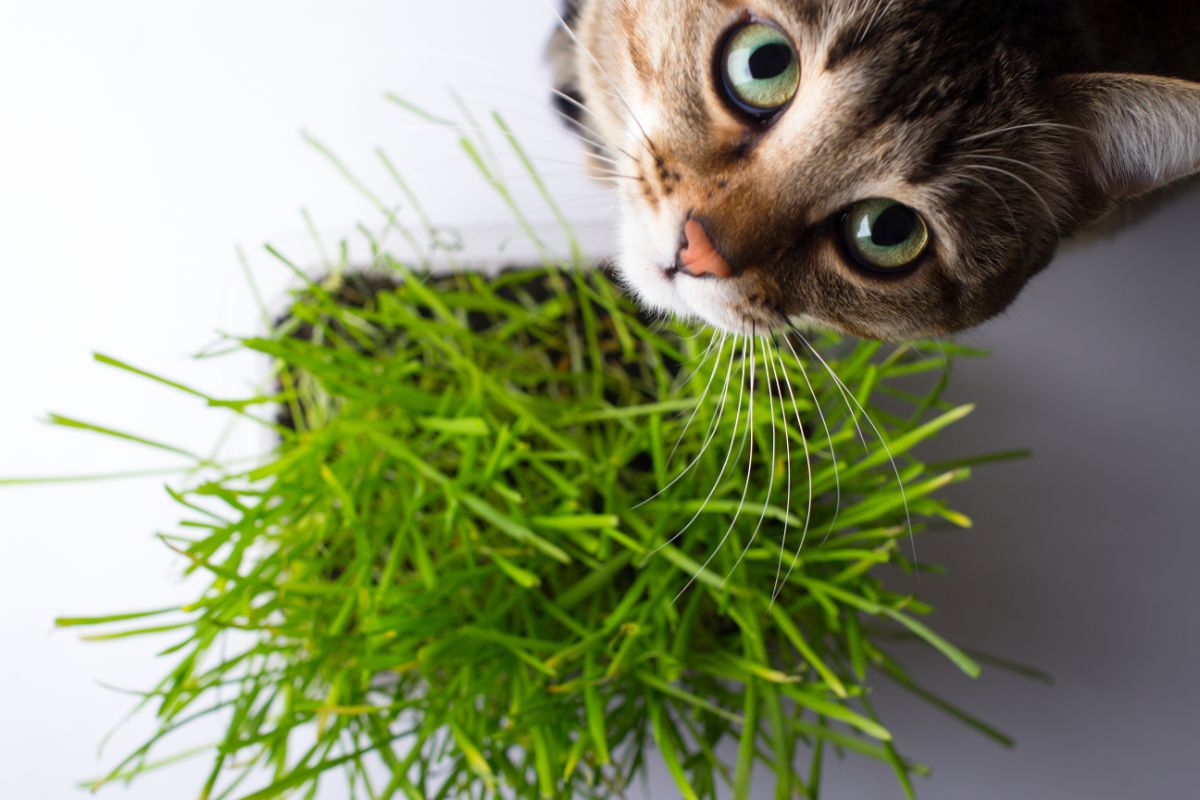 Catnip, cat grass, and other cat-approved plants will provide your cats with extra stimulation and enjoyment and some added vitamins and nutrients too. Even better, growing plants deliberately for your cats can help keep your houseplants and cats safe by redirecting your cat's attention away from more dangerous plants.
While cat-safe gardens may distract your cats from dangerous plants, for safety, it's recommended to avoid very toxic plants (like lilies and sago palms) in homes with pets. If you would like to learn more about pet-safe plants, check out our guides on nontoxic tropicals, succulents, and cacti.