Succulents are fun plants and are usually quite low maintenance for beginner gardeners. However, many common succulents are toxic, which poses a particular hazard for houseplant keepers with house pets. To help you with your search for the best succulents, we've compiled this list of the 15 top pet-friendly succulents to keep if you have cats or dogs.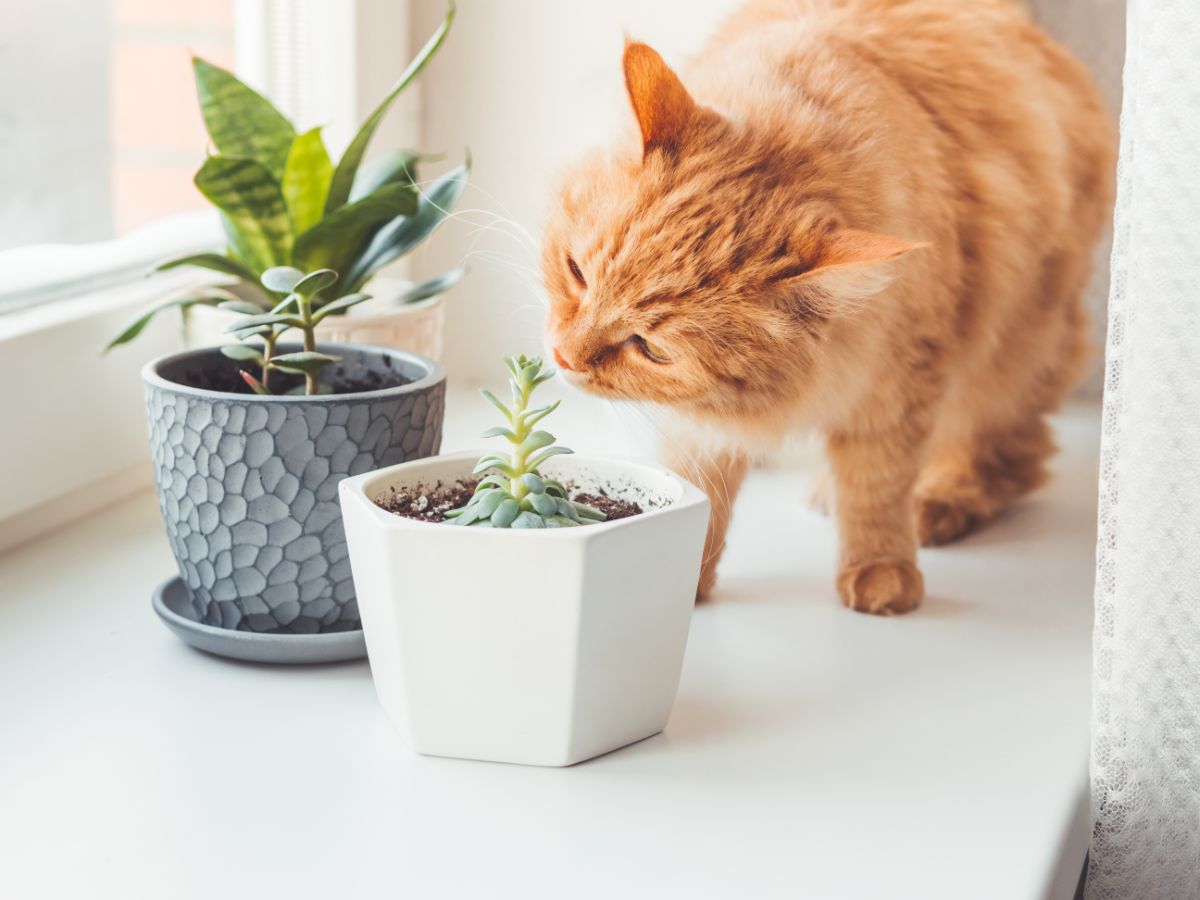 While you'll still want to be vigilant about keeping plants away from your pets to avoid damaged leaves and scattered plant soil, if your pet takes a nibble of these plants, you won't need to worry yourself sick. So, if you have furry friends, but you love succulents, read on for the top easy care plants to try in your home.
Jump to:
15 best non-toxic succulents to grow if you have pets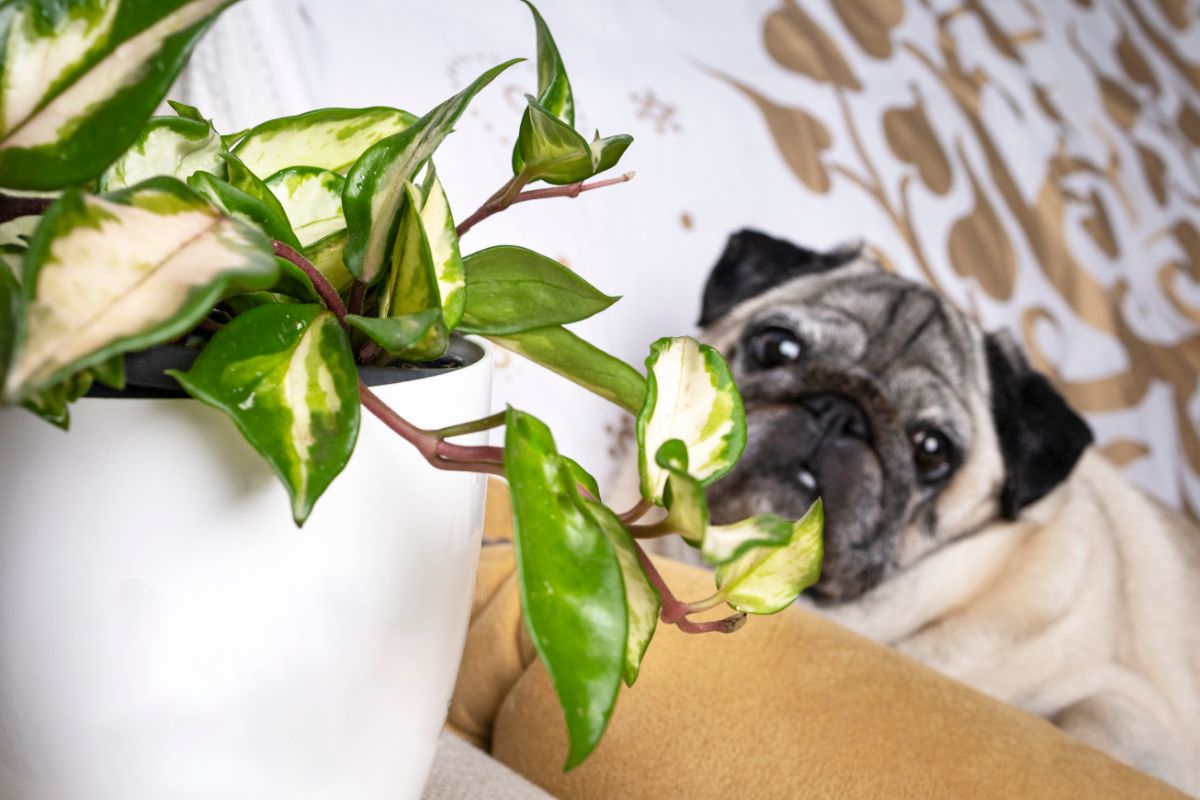 Many common succulents, like aloe and jade, are not pet-safe. But the succulents below are all non-toxic and pet friendly. For lots of variety, we chose succulents in different colors, shapes and sizes and many of these plants are low maintenance too!
1. Haworthia (Haworthia spp.)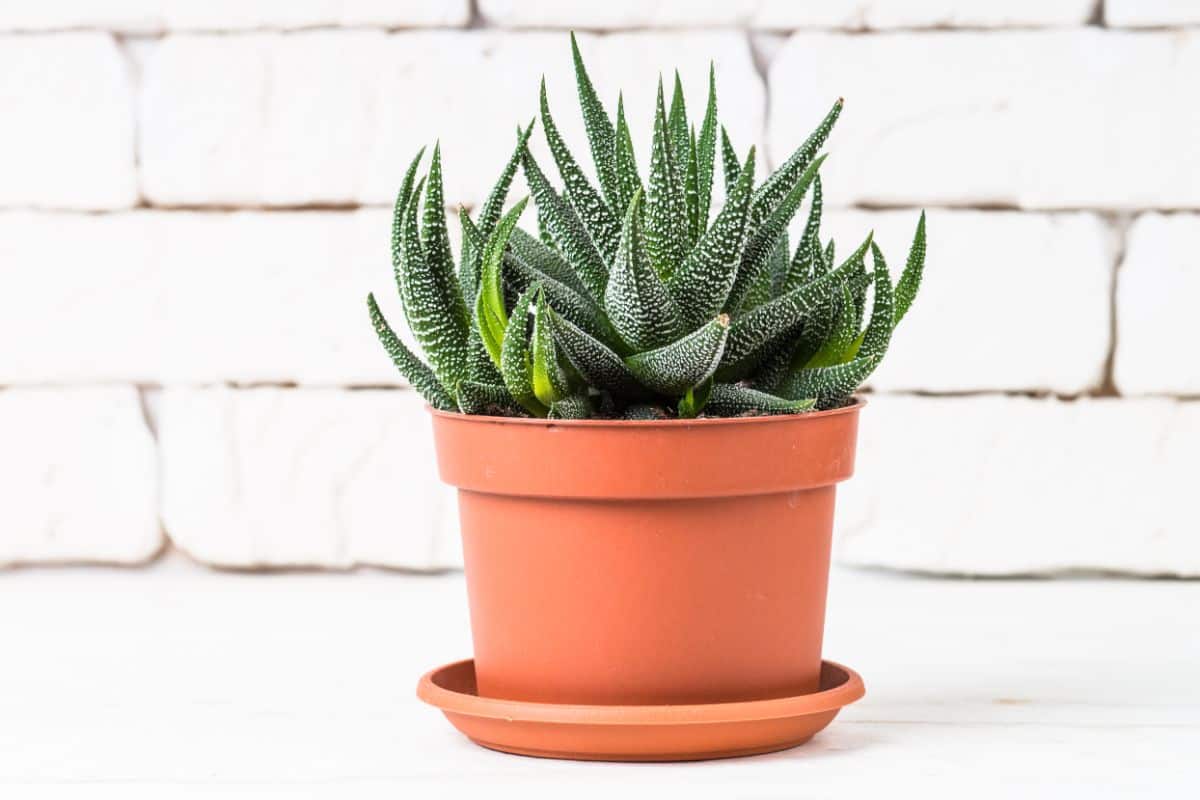 Plant name:
Haworthia
Lighting:
Bright, indirect light
Watering:
Low
Bloom time:
Summer
Popular varieties:
'Cooperi'
'Cymbiformis'
'Truncata'
If you love aloes, but you have pets, haworthia are a great solution. While aloes are toxic if ingested, haworthia are a pet-safe option with a similar spiky appearance and lots of color too.
Haworthia come in tons of different varieties, although zebra haworthia are some of the most popular on the market today. With horizontally striped, structural leaves, these plants are perfect for tabletop displays, but they look just right in planters and terrariums too. Some other must-have haworthia varieties are:
Haworthia cooperi. With fleshy, slightly translucent leaves, this haworthia cultivar is a funky plant that can't help but attract the eye.
Haworthia cymbiformis. Leaves appear in a rosette shape and can be slightly translucent too.
Haworthia truncata. Similar in appearance to lithops, this haworthia cultivar has flat leaves that grow in a stacked pattern.
Native to South Africa, haworthia are very drought tolerant but they don't do well in bright light, which can cause leaf discoloration and burn. Instead, bright, indirect light is the best choice for these easy going succulents.
2. Echeveria (Echeveria spp.)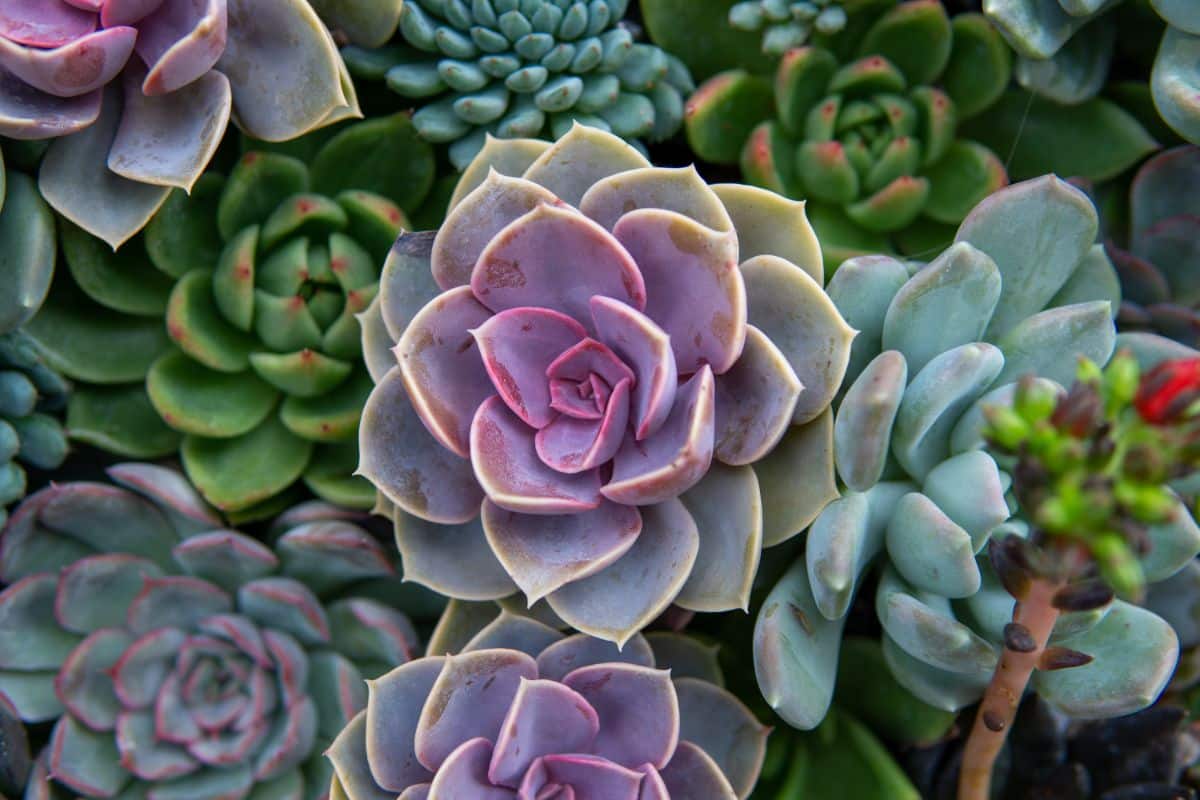 Plant name:
Echeveria
Lighting:
Bright light
Watering:
Low
Bloom time:
Late spring to summer
Popular varieties:
'Lipstick'
'Alta May'
'Black Knight'
Echeveria are some of the most popular succulents around and are prized for their gorgeous rose-shaped forms and fleshy leaves. In fact, echeveria are so popular that gardeners have been curating them for years and have created tons of colorful cultivars in a range of sizes and shapes. Some of the most interesting echeveria types you may find at your local nursery include:
Echeveria agavoides 'Lipstick' is known for its two-toned leaves with bright green centers framed with a line of deep red edging.
Echeveria 'Alta May' has ruffly, pink-toned leaves and adds tons of charm to potted arrangements.
Echeveria 'Black Knight.' With spiky, dark leaves, this stunner is a showstopper in succulent gardens.
Native to Central America and Mexico, echeveria are low-maintenance succulents that prefer bright light and minimal watering. Totally pet-safe, these pretty plants are perfect for terrariums, succulent arrangements or for potting up on their own as a tabletop plant. For a special treat, echeveria will also bloom once a year in late spring to summer with colorful flowers appearing on the ends of long, fleshy stalks.
3. Burro's tail (Sedum morganianum)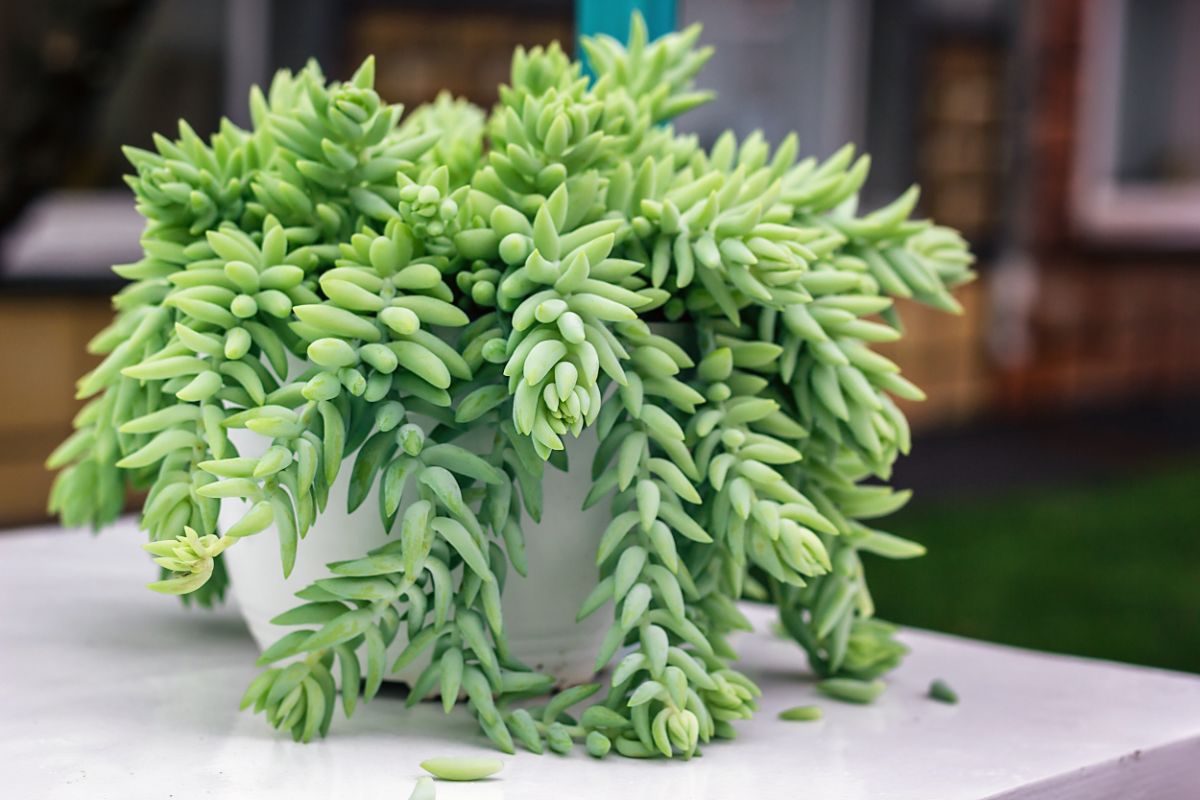 | | |
| --- | --- |
| Plant name: | Burro's tail |
| Lighting: | Bright, indirect light |
| Watering: | Low |
| Bloom time: | Summer |
| Popular varieties: | 'Sedum morganianum' |
One of the most popular succulents for hanging basket displays, burro's tail has thick, bluish-green leaves that overlap each other so that stems have a woven appearance. Leaves appear on long, draping branches that cascade gently from hanging pots, but they look striking when allowed to spill from high shelves too.
Great for indoors or outdoor planters, burro's tail are only hardy to zone 9, so if you live in a cooler region and keep plants outdoors in summer, be sure to move them inside before temperatures drop. Indoor plants rarely bloom, but outdoor specimens will produce showy pink, white or yellow flowers at the end of their branches when properly cared for.
Growing best in bright, indirect light, be sure to turn your plant from time to time to prevent legginess or sunburn.
4. Thanksgiving or Christmas cactus (Schlumbergera spp.)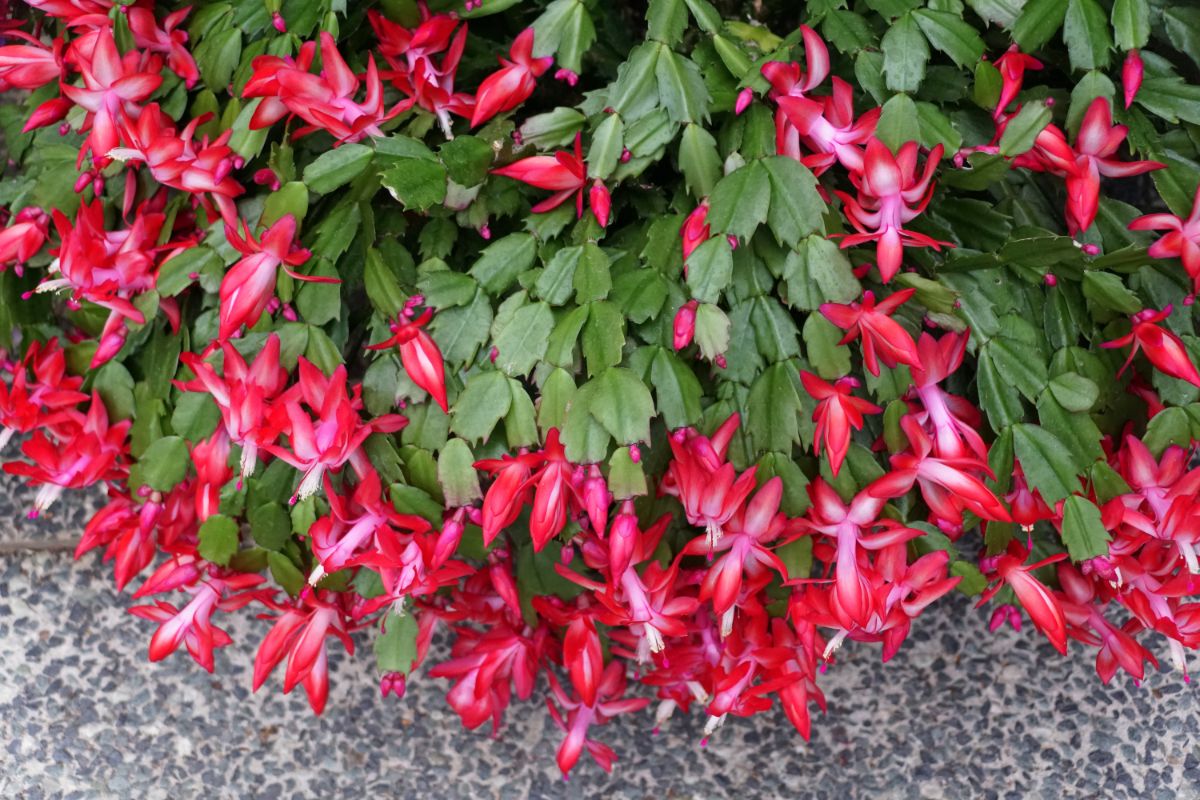 Plant name:
Thanksgiving or Christmas cactus
Lighting:
Bright, indirect light
Watering:
Low
Bloom time:
November to January
Popular varieties:
'Schlumbergera truncata'
'Schlumbergera bridgesii'
Despite their name, holiday cacti are succulents, not cacti. Naturally found in the mountainous regions of south eastern Brazil, holiday cacti grow as epiphytes, anchoring themselves to tree branches and rocks with the help of their aerial roots.
Easy to find plants, holiday cacti are low maintenance and undemanding too. Segmented leaves grow along slender branches that drape gracefully from tabletop planters or hanging baskets. These segments are easy to propagate in soil and water and make interesting holiday gifts for plant lovers too!
Thanksgiving and Christmas cacti are two closely related cultivars within the same plant family. They're named after their bloom time, with Thanksgiving cacti often flowering slightly earlier than Christmas cacti; however, they both bloom around the holidays (November to January). Flowers are colorful and hard to miss, coming in pinks, yellows, reds, purples and white.
5. Easter cactus (Hatiora gaertneri)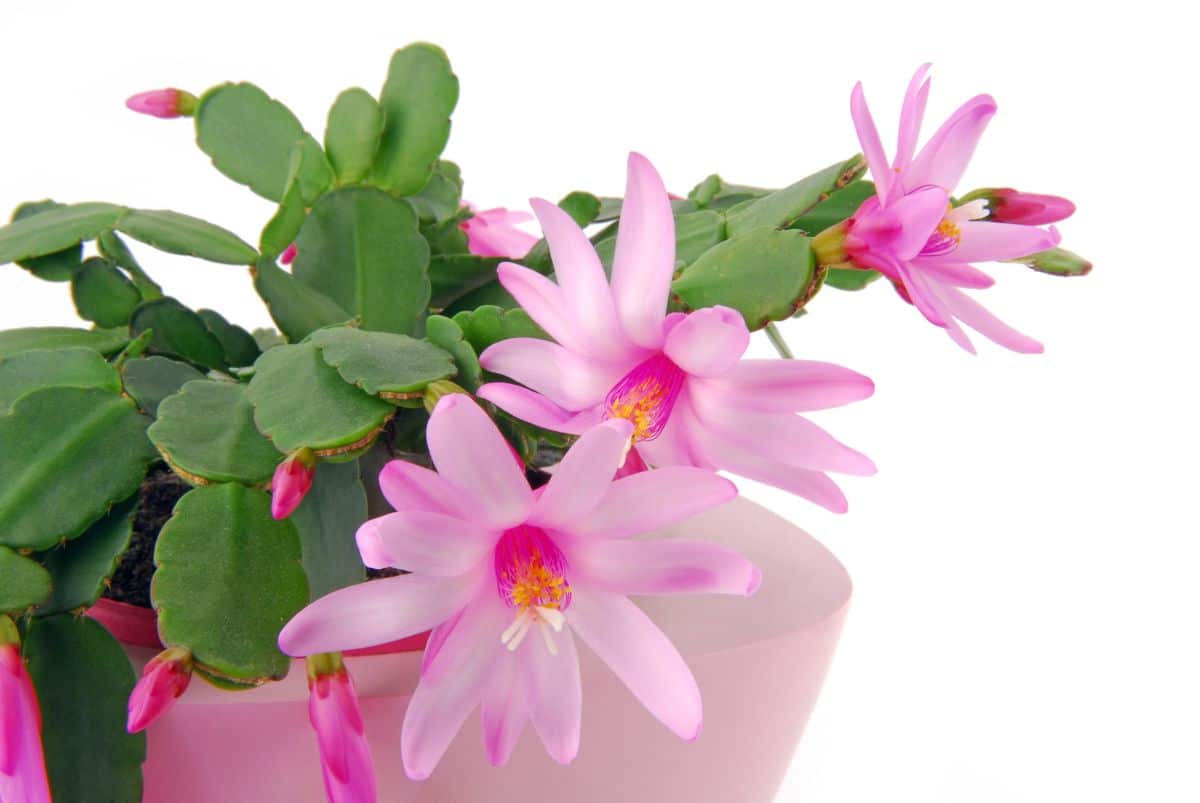 | | |
| --- | --- |
| Plant name: | Easter cactus |
| Lighting: | Bright, indirect light |
| Watering: | Low |
| Bloom time: | February to May |
| Popular varieties: | 'Hatiora gaertneri' |
While they look very similar to Thanksgiving and Christmas cacti, Easter cacti are actually in a different plant family. Also sporting fleshy and segmented leaves, Easter cacti leaves are slightly rounder and plants bloom in springtime, with flowers appearing in pinks, oranges, reds and white.
Like their non-toxic cousins, Easter cacti are pet-safe and look pretty in hanging baskets too. Ultra-drought tolerant, Easter cacti need less frequent watering during winter dormancy and prefer bright, indirect light to prevent leaf burn or blanching.
6. Hen and chicks (Sempervivum spp.)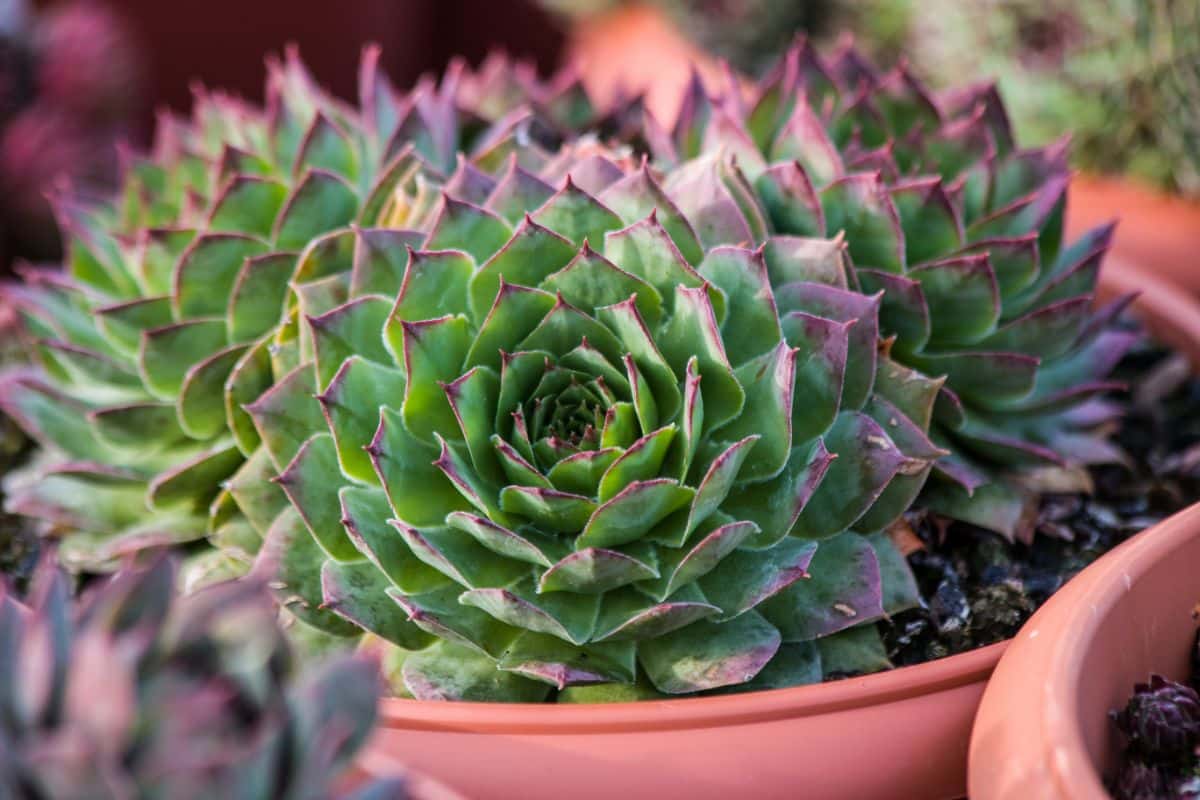 Plant name:
Hen and chicks
Lighting:
Bright light
Watering:
Low
Bloom time:
Summer
Popular varieties:
'Fashion Diva'
'Greenii'
'Terracotta Baby'
'Raspberry Ice'
Hen and chicks may look a bit like echeveria, but don't let their rose-shaped growth habit fool you – these are totally different plants. While echeveria is also beginner-friendly, hen and chicks takes it even further, as they're some of the hardiest succulents you can grow. Drought and heat tolerant, hen and chicks can even handle cool temperatures and can be grown in outdoor planters or rock gardens in areas as cool as zone 4.
Also known as houseleeks, hen and chicks grow quite quickly, producing new plants or "chicks" as they spread. A single plant will bloom just once in its lifetime, before producing a new chick and then dying back. Growing in this manner, you can keep a patch of hen and chicks going for many years.
Tolerant of even the poorest of soils, hen and chicks are great plants for brown thumbs because they are just so resilient. There are also lots of colorful cultivars to choose from.
7. Ponytail palm (Beaucarnea recurvata)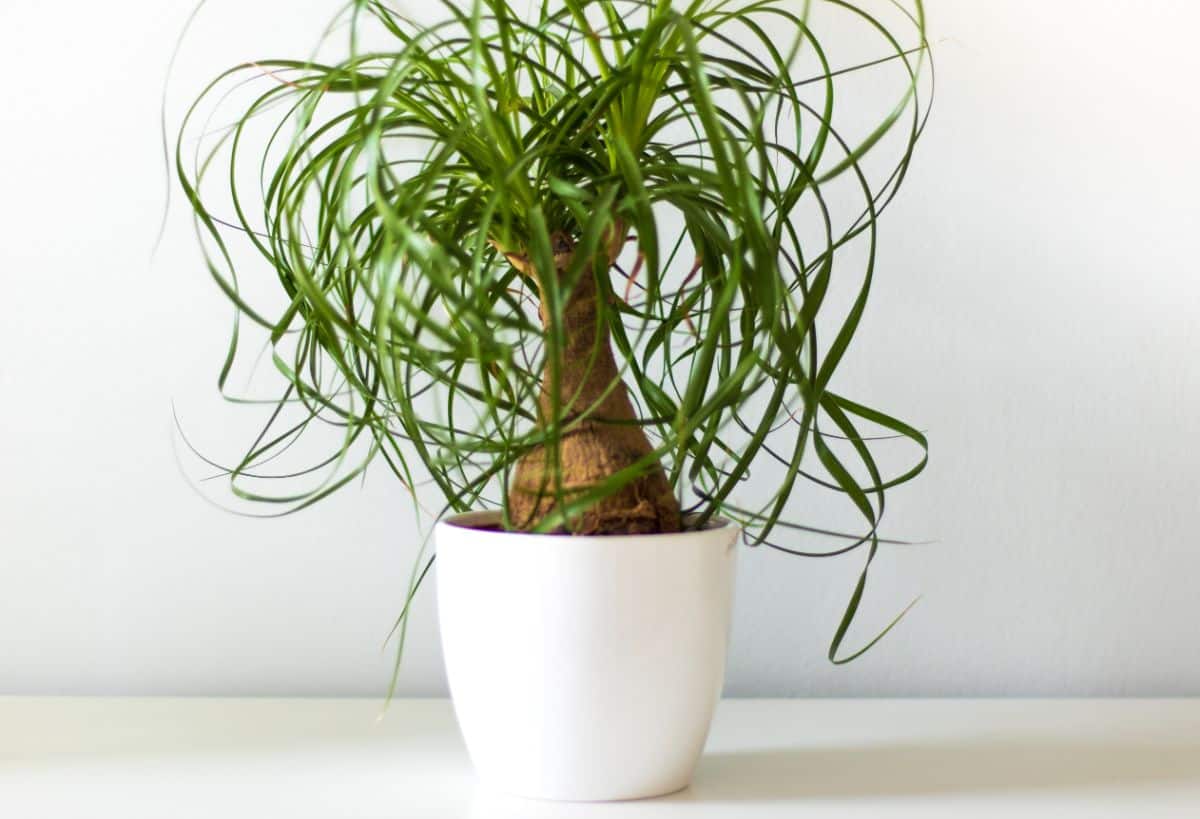 | | |
| --- | --- |
| Plant name: | Ponytail palm |
| Lighting: | Bright light |
| Watering: | Low |
| Bloom time: | Summer; flowers are rare on indoor plants |
| Popular varieties: | 'Beaucarnea recurvata' |
For something a bit different, ponytail palm is an unusual looking plant that makes an excellent addition to any houseplant collection. Despite its name, ponytail palms are not palms at all, but are actually drought-tolerant succulents that store water in their thick, bulbous trunks. Atop that trunk, a mass of curling leaves makes for a fun, almost cartoonish display that is sure to put a smile on your face.
Actually related to agaves, ponytail palms are low maintenance and require minimal watering. Growing up to 30' high in the wild, they rarely get larger than 4' tall indoors.
A slow growing plant, ponytail palms don't need tons of water and soil should be allowed to dry out in between waterings. Just provide this plant with plenty of bright light and well-draining soil and you should be good to go.
8. Aeonium (Aeonium spp.)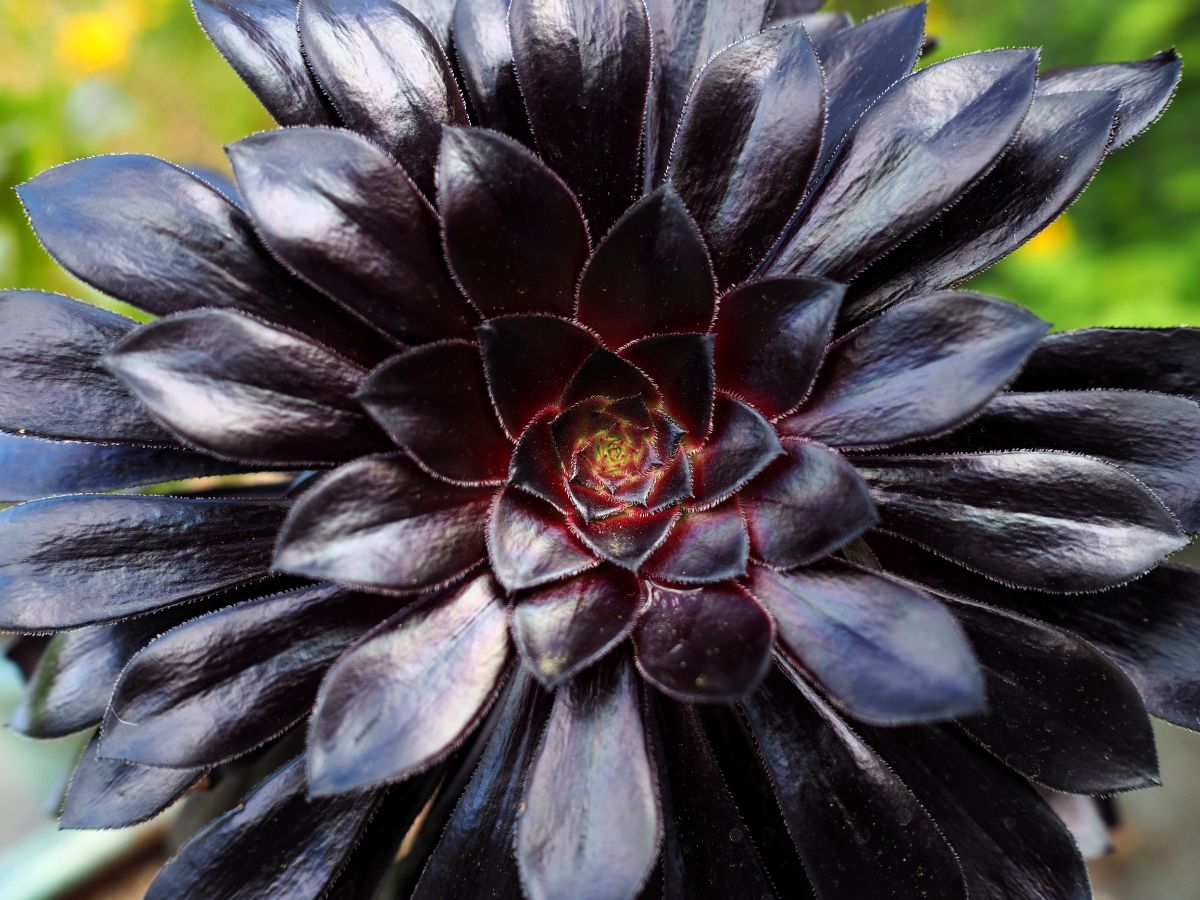 Plant name:
Aeonium
Lighting:
Bright, indirect light
Watering:
Low
Bloom time:
Late winter to spring
Popular varieties:
'Arboreum'
'Zwartkop'
'Atropurpureum'
Native to the Mediterranean and the Canary Islands, Aeonium are vibrant, rosette-shaped succulents that are a delight to keep. These low maintenance plants feature spoon-shaped leaves that come in a range of hues, including bright green, deep burgundy and multi-colored, variegated shades.
Like hen and chicks, most aeonium only bloom once in their lifetimes and then die back, but the parent plants will often produce a new plant before fading to keep their genes going. Flowers often appear on mature plants in late winter to spring for lots of visual interest in rock gardens and indoor displays.
Unlike hen and chicks, aeonium are not cold hardy and outdoor specimens should be brought indoors in winter for safe keeping. Plants come in lots of sizes, from petite 5" high tabletop plants to massive 6' tall specimens.
9. Elephant bush (Portulacaria afra)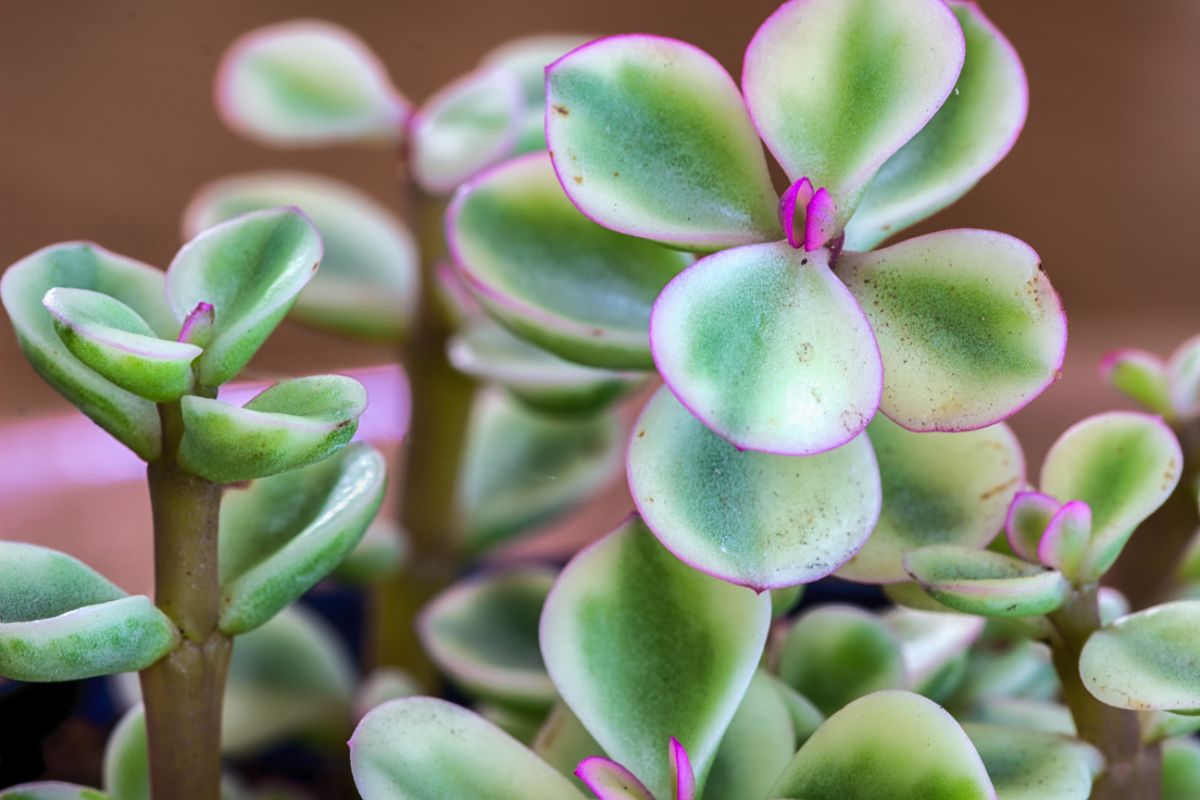 | | |
| --- | --- |
| Plant name: | Elephant bush |
| Lighting: | Bright, indirect light |
| Watering: | Low |
| Bloom time: | Flowers are very rare when grown indoors |
| Popular varieties: | 'Portulacaria afra' |
Jade plants are toxic to pets, but if you like the look, elephant bush succulents are a good, non-toxic alternative. These sweet little plants boast fleshy leaves in either solid green or variegated coloring. Leaves extend from reddish-brown stems for even more visual appeal.
Native to South Africa, in nature elephant bush succulents can grow up to 20' tall, but they usually only grow to about 2' in height when kept as houseplants. These pretty plants are named for the fact that they are a favorite snack for foraging elephants in the wild. The plant's leaves are also occasionally eaten in salads or soups and are said to impart a tangy, sour flavor.
Easy to care for, elephant bush succulents do best with bright, indirect light and minimal watering. They are also easy to propagate in spring to summer by rooting stem cuttings in either soil or water.
10. Sedum (Sedum spp.)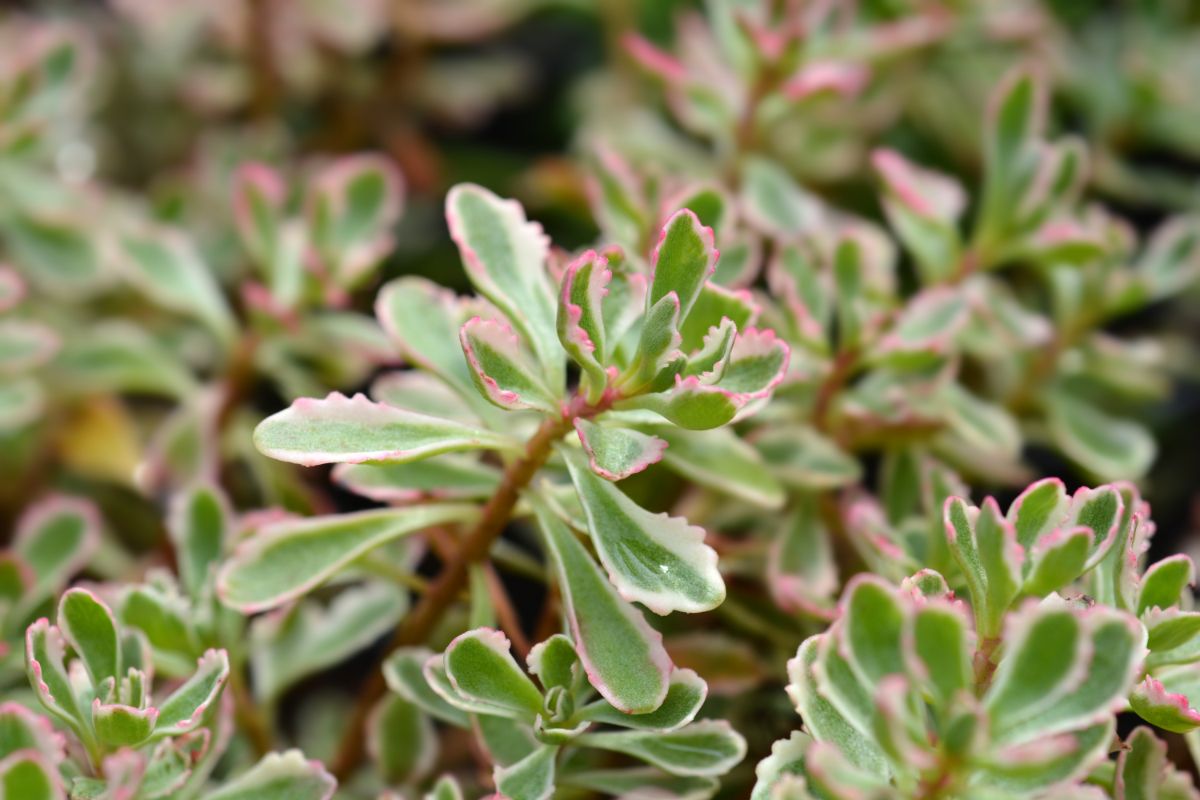 Plant name:
Sedum
Lighting:
Bright light
Watering:
Low
Bloom time:
July through late fall
Popular varieties:
'Adolphii'
'Purple Emperor'
'Frosty Morn'
'Angelina'
Also known as stonecrop, sedum are native to the Northern Hemisphere and there are hundreds of different types to choose from. Sedum are usually divided into two categories: creeping and clumping. Clumping sedums grow taller (usually maxing out at around 1 to 3' tall), while creeping varieties are often kept as groundcovers.
Highly adaptable, sedum are often planted outdoors as fall blooming plants, but they can be kept indoors in terrariums, hanging baskets and tabletop pots too. Like other succulents, sedums store water in their fleshy leaves, so they're drought tolerant and capable of handling high heat too.
Many sedum varieties can grow perennially outdoors in zones as cool as zone 4. And, while they can bloom at different times of the year, most flower between July and late fall.
11. Lithops (Lithops spp.)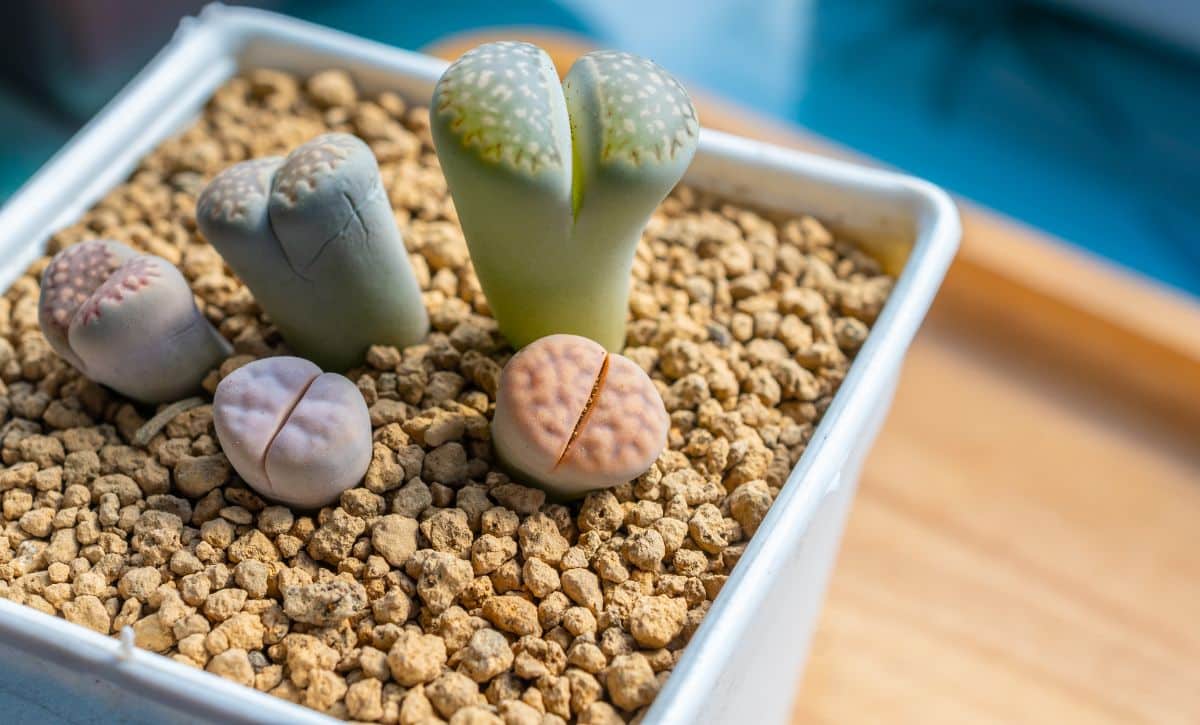 Plant name:
Lithops
Lighting:
Bright light
Watering:
Low
Bloom time:
Late summer to fall
Popular varieties:
'Localis'
'Salicola'
'Optica'
Lithops, also known as living stones, look like colorful pebbles with their thick, smooth and speckled leaves. Slow-growing and easy to care for, lithops are native to South Africa and are unique novelty plants that are wildly popular among houseplant collectors. Most of the lithops' body actually grows underground, while the above ground section of plant rarely reaches higher than 1".
Capable of tolerating very small pots, lithops are some of the best choices for small spaces and mini terrariums. Stemless, they consist primarily of fleshly leaves but will bloom in late summer to fall under the correct growing conditions. Flowers are aster-like in appearance and come in yellow, white and orange.
12. Gasteria (Gasteria spp.)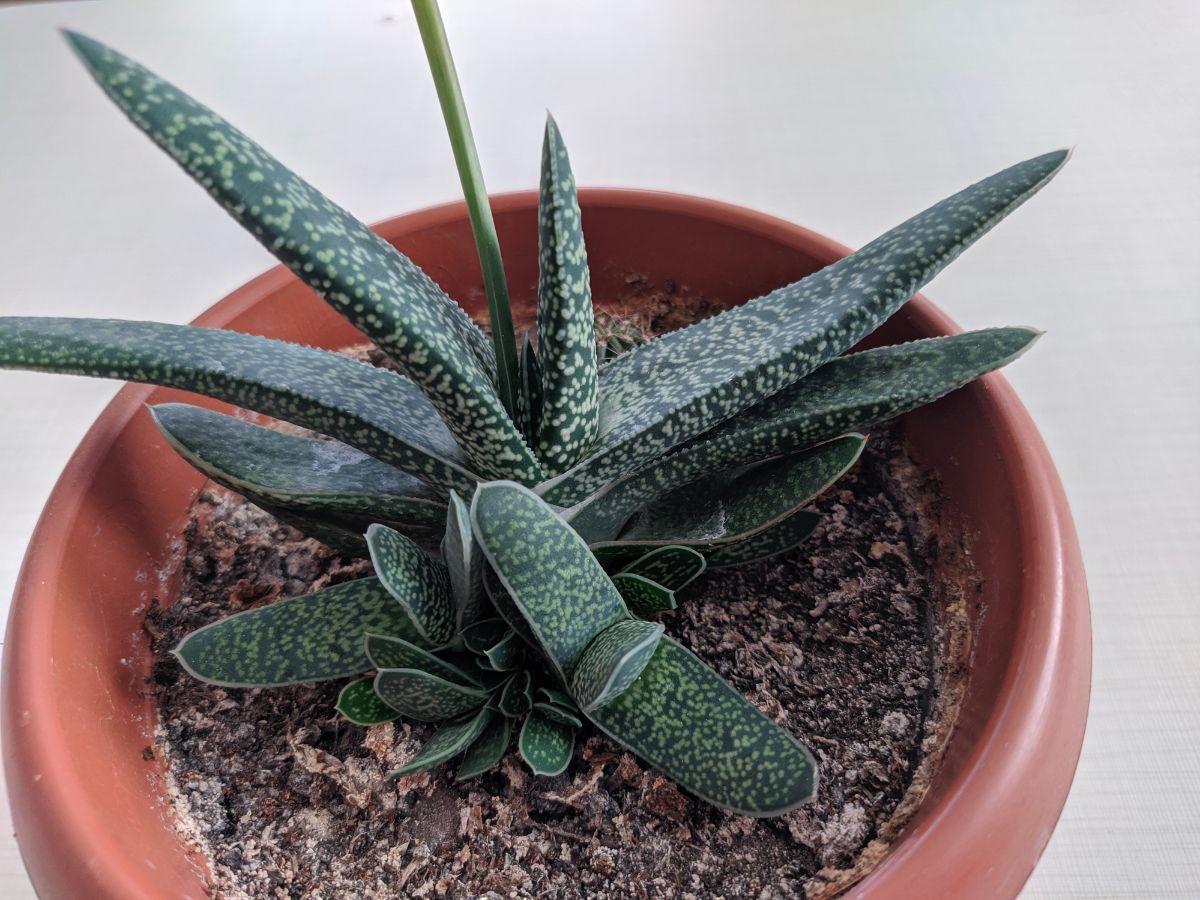 Plant name:
Gasteria
Lighting:
Bright, indirect light
Watering:
Low
Bloom time:
Winter to spring
Popular varieties:
'Little Warty'
'Rawlinsonii'
'Armstrongii'
'Pulchra'
Some types of gasteria look a lot like haworthia, with spiky and textural leaves patterned in a highly contrasting white and green. However, there are tons of gasteria species and many have flat leaves with a very distinct appearance that doesn't look like haworthia at all.
Perfectly pet safe, gasteria hails from South Africa and grows best in bright, indirect light. When properly maintained, gasteria will produce stomach-shaped flowers (hence the name 'Gasteria,' which means 'stomach' in Latin). Pinkish-green flowers appear on the underside of long, thin stems and bloom in winter through spring.
Like other succulents, gasteria prefers the "soak and dry" method of watering. When it's time to water, water deeply and thoroughly and allow all excess water to run out of the pot's drainage holes. Then only water again when the soil is good and dry.
13. Moonstone (Pachyphytum oviferum)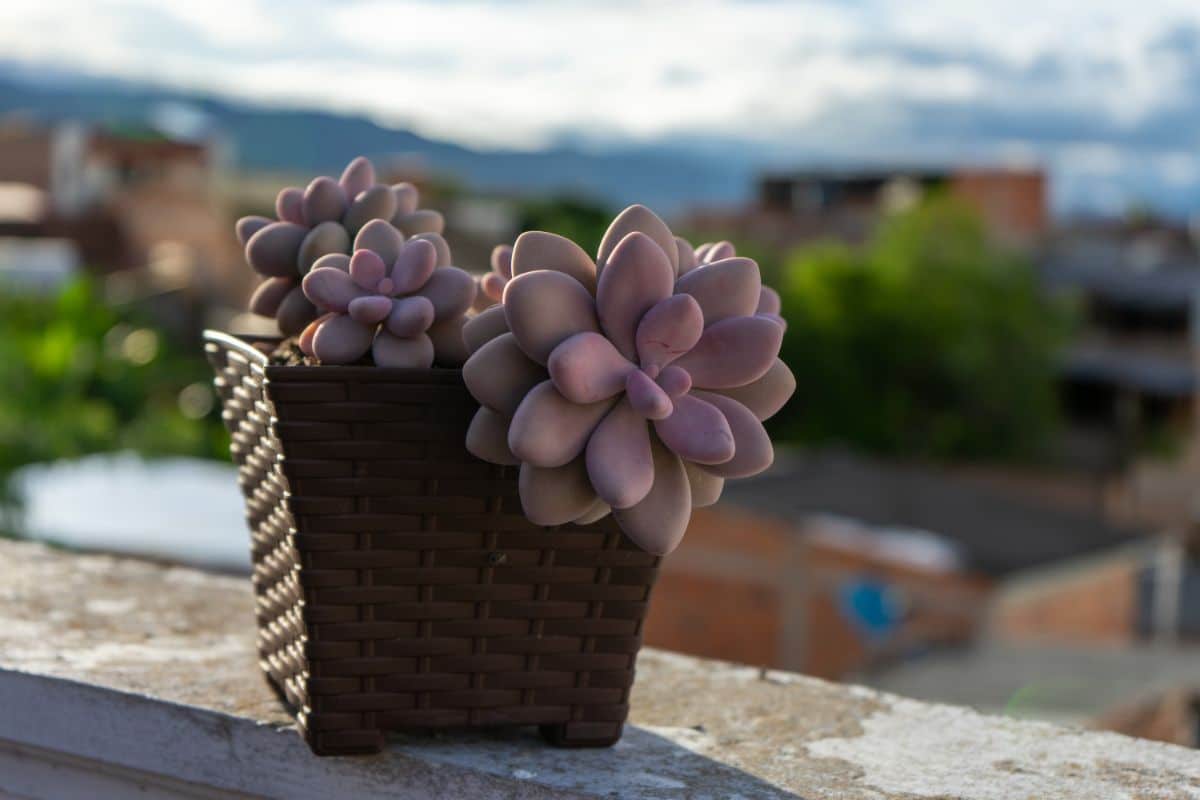 | | |
| --- | --- |
| Plant name: | Moonstone |
| Lighting: | Bright light |
| Watering: | Low |
| Bloom time: | Winter to early spring |
| Popular varieties: | 'Pachyphytum Oviferum' |
A less common plant, moonstones are another excellent choice for homes with pets. These rose-shaped succulents come in a variety of pastel colors, including blue, pink, purple, yellow, orange and gray and have egg-shaped leaves that are super cute in any collection.
More delicate than some other succulent varieties, this plant doesn't like to be handled a lot, but otherwise is pretty low maintenance. Clusters of flowers appear in winter to early spring and offer lots of bright color too.
14. Ghost plant (Graptopetalum paraguayense)
Plant name:
Ghost plant
Lighting:
Bright light
Watering:
Low
Bloom time:
Spring
Popular varieties:
'Filiferum'
'Alpenglow'
'Blue Giant'
'Debbie'
Also known as mother of pearl plants, ghost plants are relatives of jades and are native to Mexico. Small, evergreen succulents, these plants feature fleshy, triangular leaves that form in a rosette on long, trailing stems. Leaves have pointed ends and come in a variety of pastel colors including blue, pink and purple.
If you keep this plant, be prepared for adorable clusters of star-shaped flowers that appear in spring. This low maintenance, undemanding plant may not get all of the hype of other succulents, like echeveria, but it has just as much to offer!
15. Carrion flower (Stapelia spp.)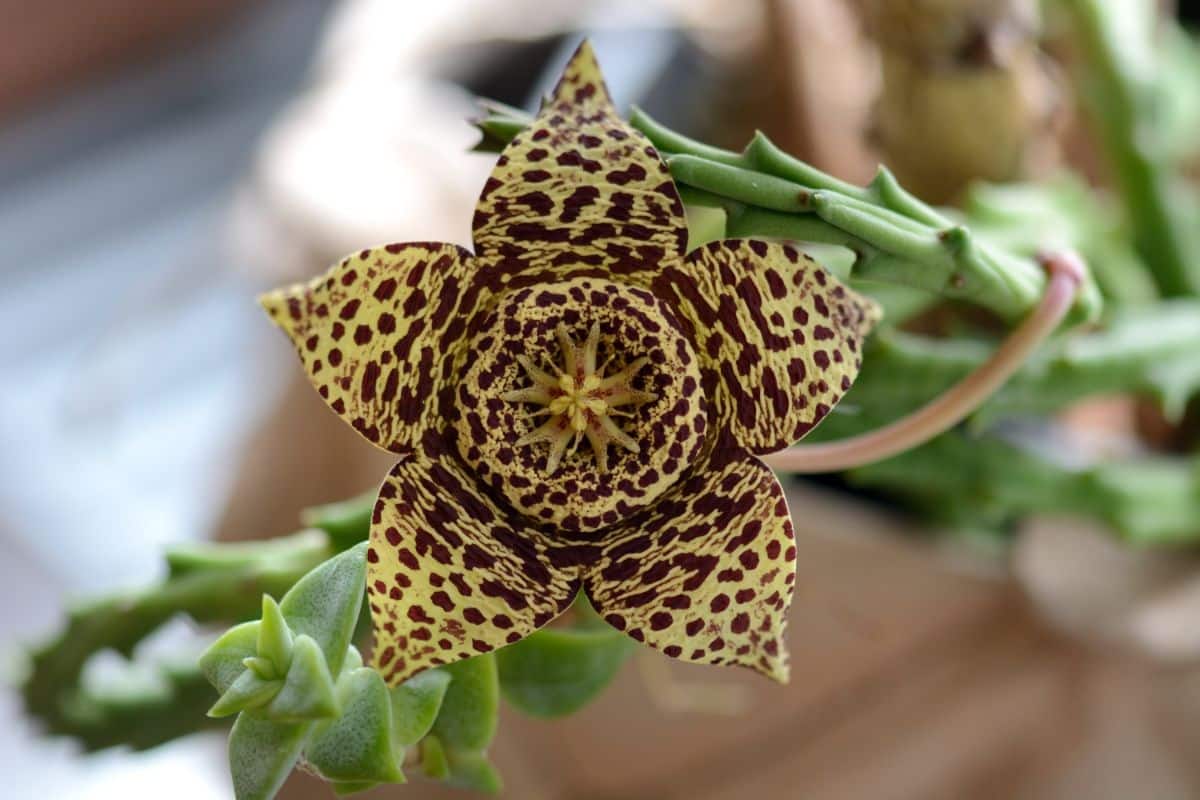 Plant name:
Carrion flower
Lighting:
Medium light
Watering:
Low
Bloom time:
Mid-summer to early fall
Popular varieties:
'Variegata'
'Hirsuta'
'Grandiflora'
'Gigantea'
Also known as starfish plants, carrion flowers may sound unpleasant, but they are surprisingly charming succulents. Star-shaped flowers are large and vibrantly colored with spotted patterning that gives a unique look to indoor displays. Flowers have a pungent odor, but the striking appearance of these plants makes them a delight regardless.
Knobby stems cascade gently from the plant's center, making this a perfect choice for hanging arrangements or tabletop planters. Like other succulents, carrion flowers need minimal watering and moisture levels should be reduced even further during winter dormancy.
Frequently asked questions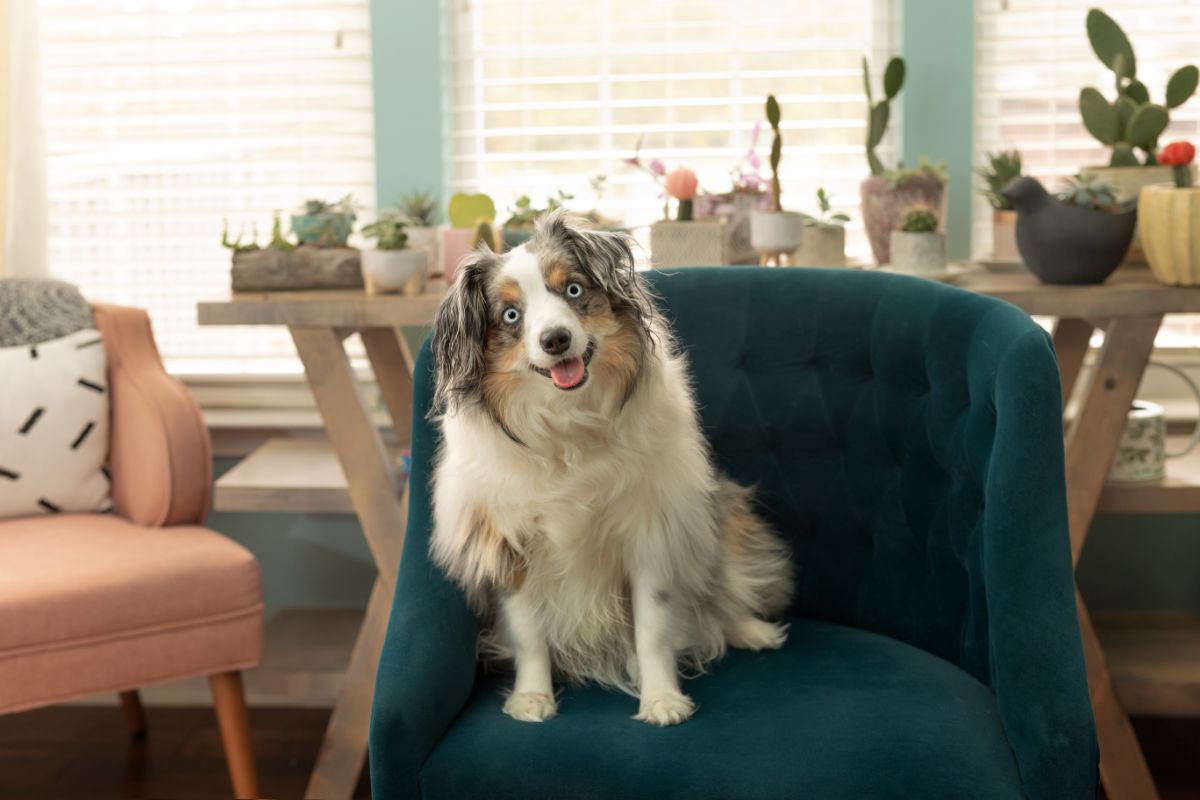 Which succulents are not pet-friendly?
Many succulents are not pet safe, including popular favorites like aloes and jade plants. Other toxic succulents include members of the Euphorbia family (like the pencil cactus, crown of thorns and African milk tree), snake plants and string of pearls.
Are echeveria safe for dogs?
Yes. Echeveria are popular succulents that are rated as non-toxic to pets by the ASPCA.
How do I know if succulents are pet safe?
The ASPCA has an extensive list covering many toxic and non-toxic houseplants and succulents. If you have a succulent that is not included on this list, we recommend you research more about the plant before bringing it into your home.
How do I keep pets off my plants?
Pets are curious creatures and often need to investigate new items. Placing new plants in out of the way locations or hanging baskets can help keep your plants safe. Spraying your plants with a pet repellant spray, covering soil with pebbles to discourage digging and adding a motion-activated mister can prevent pet damage to your plants too.
What if my cat eats a succulent?
If your cat or dog eats a succulent, it's important to properly identify the plant immediately. If the succulent is a non-toxic species, just keep an eye on your pet. If the succulent is toxic or you can't identify it, call a vet immediately.
Why does my dog keep eating my succulents?
Pets often munch on plants out of curiosity, boredom or to help settle an upset stomach. If your pet really loves pestering your plants, consider planting some pet-safe plants just for your pet. Cat grass is one great option that is 100% pet safe.
Summary
Succulents are colorful and generally easy to care for plants that are perfect for beginner gardeners and seasoned houseplant keepers. But if you have house pets, you'll need to consider pet safety before bringing any new plants into your home. With the help of this list, you'll have a better idea of some pet-friendly plants to choose from, so if you see any of these succulents on your next trip to your local plant nursery, don't be afraid to buy a few!
If you liked this piece, check out our other indoor gardening articles here.