Small-space gardeners can still grow lots of fresh and delicious vegetables right in their backyard or balcony with container gardening. These mini gardens can be located wherever you need them, including back patios, and they may even be able to be overwintered indoors with the help of grow lights. But if you're new to growing vegetables in containers, you may not know where to get started or which plants will do best in this type of environment.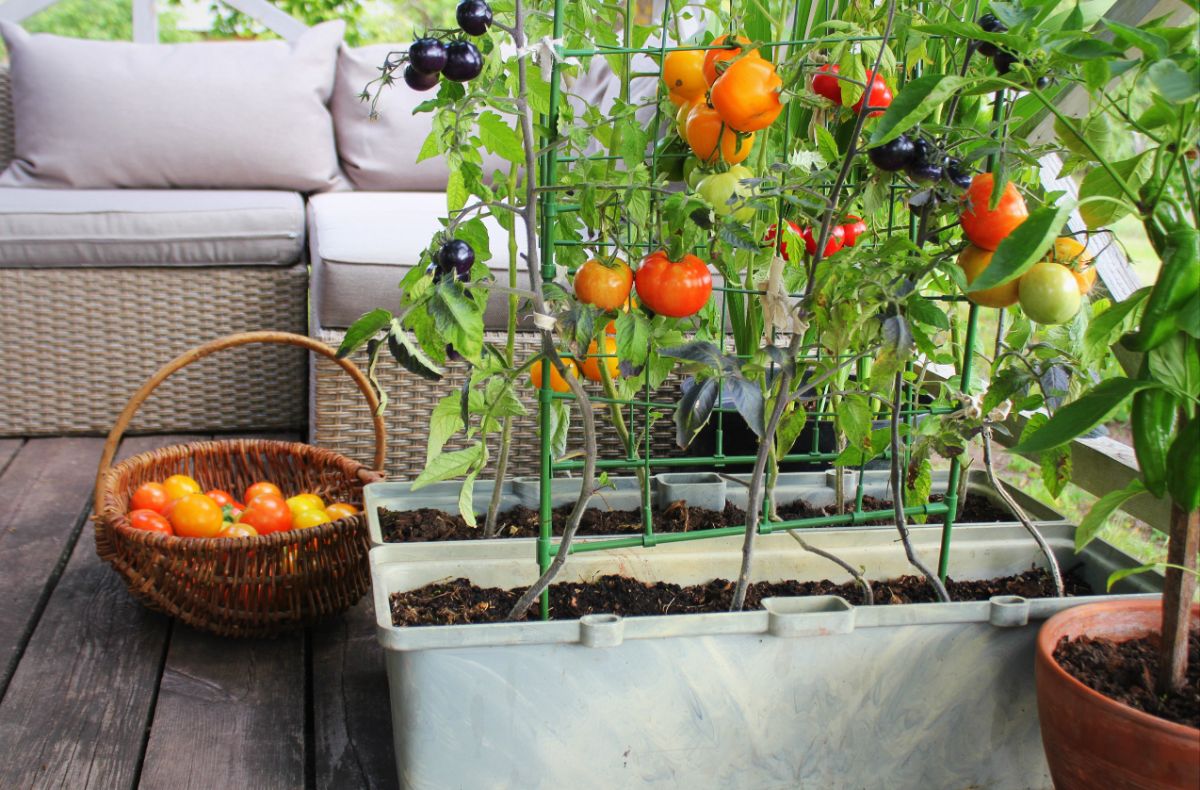 In the list below, we've compiled some of the most adaptable and easy-to-grow vegetables and fruit that will thrive in growing containers. From hanging baskets to grow bags, these plants are adaptable enough to keep in many types of containers, and they produce reliably well in small spaces too! If you've ever dreamed of growing your own fresh herbs, salads, and more, these veggies are the best ones to try if you want to get the most out of a small space garden.
Jump to:
16 high-yielding vegetables to grow in containers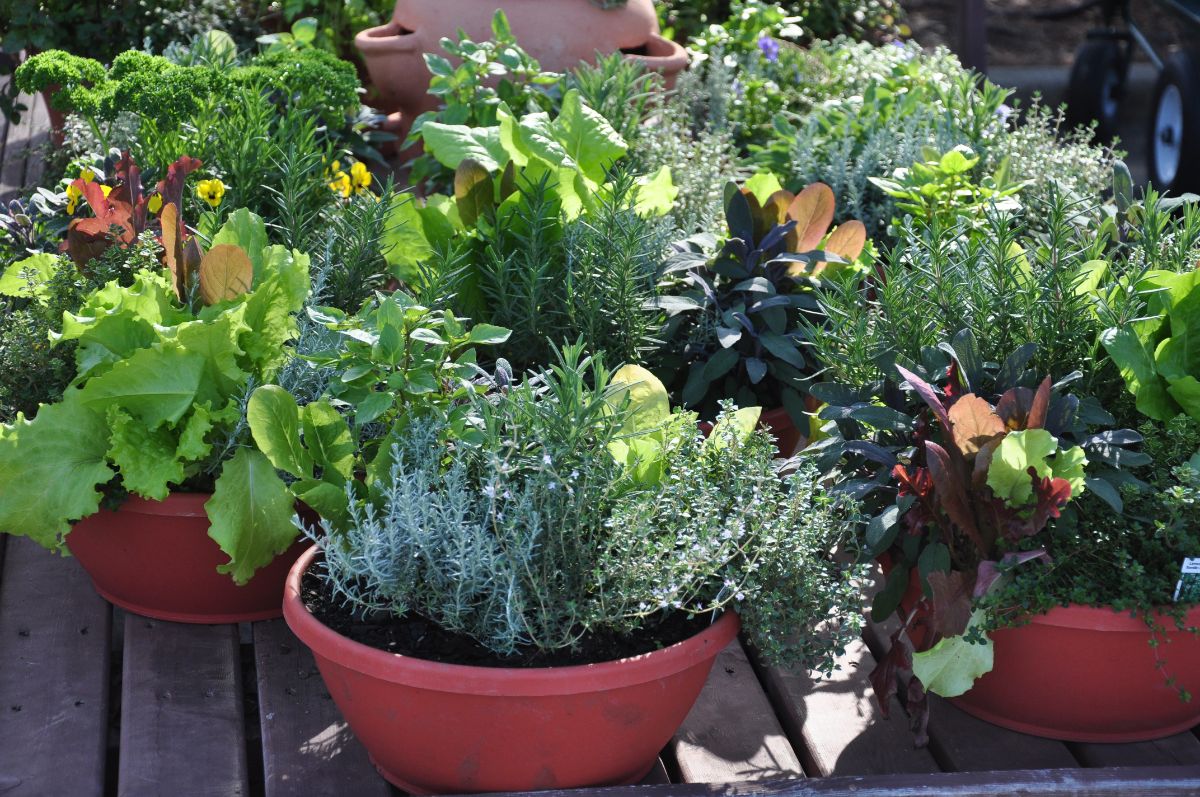 Some larger crops, like pumpkins and corn, aren't small space friendly. But many flowers, herbs, and vegetables can be grown in containers, especially if you use trellising. Below are some of the best plants to start out with if you're new to container gardening.
1. Herbs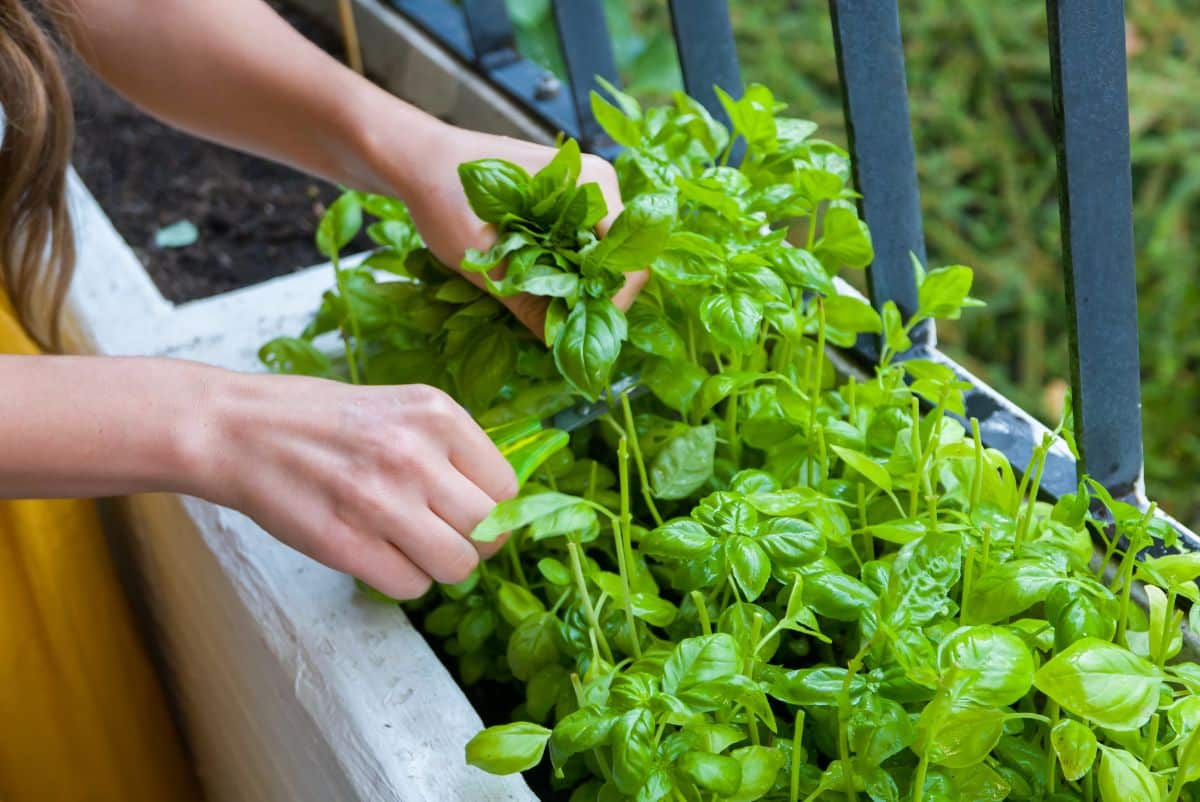 For their size, herbs are some of the most productive plants you can grow, and if you harvest more herbs than you need, you can always freeze or dry them. Plus, growing your own herbs is a smart, money-saving tip since store-bought herbs can be so expensive!
Most herbs grow compactly and are well-suited for containers. Depending on your gardening style and your available space, you can sow individual herb plants in their own pots, or you can plant several different herbs together in a single planter. Just keep in mind that woody-stemmed herbs, like lavender, usually need a lot less water than tender-stemmed herbs, so you may want to grow these two herb varieties separately.
Before choosing which herbs to grow, take stock of your kitchen cabinets and consider what herbs you actually enjoy cooking with. If you don't like the flavor of tarragon, there's no reason to use up valuable gardening space growing it!
Some of the best herbs for container growing include:
Basil
Cilantro
Dill
Parsley
Chives
Marjoram
Tarragon
Lavender
Rosemary
Thyme
2. Lettuce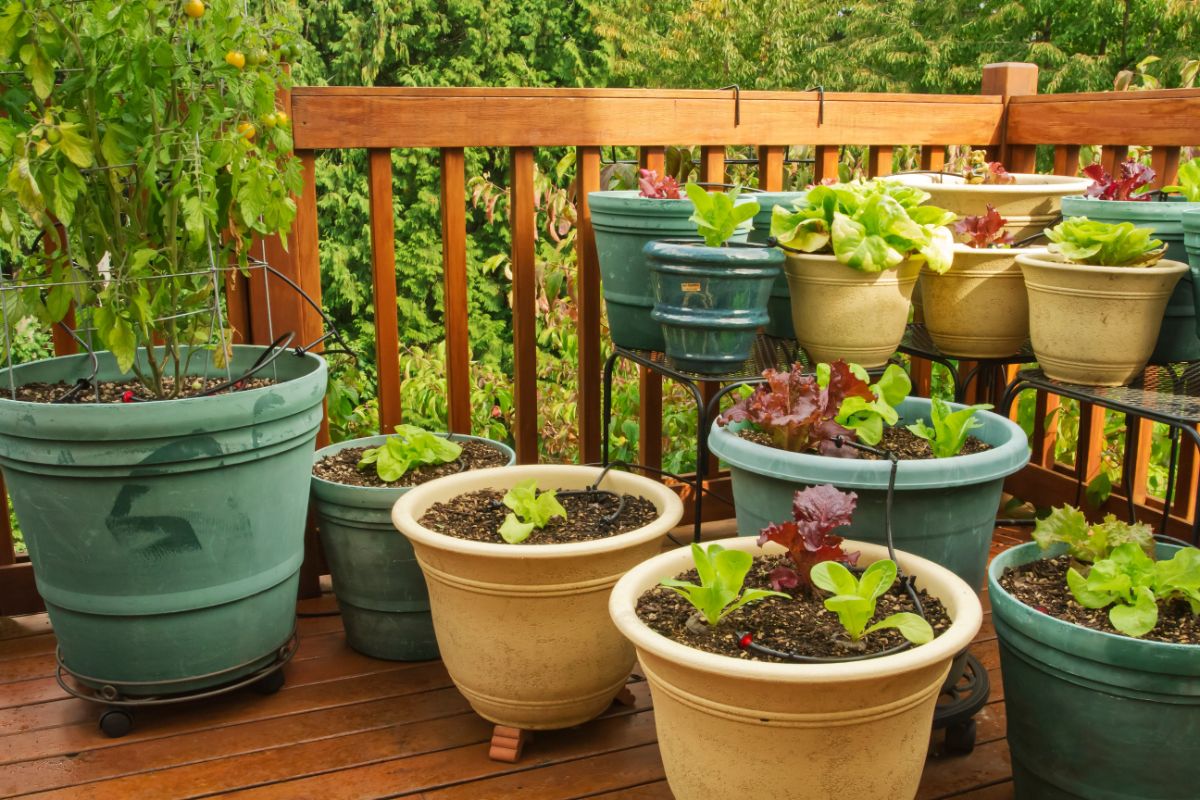 Lettuce is a fast-growing plant with a short root system, so it's perfectly suited for container growing. Different varieties of lettuce mature at different rates; however, leaf lettuce tends to be ready to harvest earlier than heading varieties. Some lettuce types can be harvested just 30 days after planting, while other lettuces may take as long as 70 days.
When choosing which type of lettuce to grow, keep in mind that some varieties are more heat-tolerant than others. If you want to prolong your lettuce harvest into summer, try out succession planting or opt for lettuce cultivars like 'New Red Fire,' which are more resistant to bolting. Also, keep in mind that lettuce loves lots of water and will need to be watered more frequently if you choose to grow it in containers.
3. Beans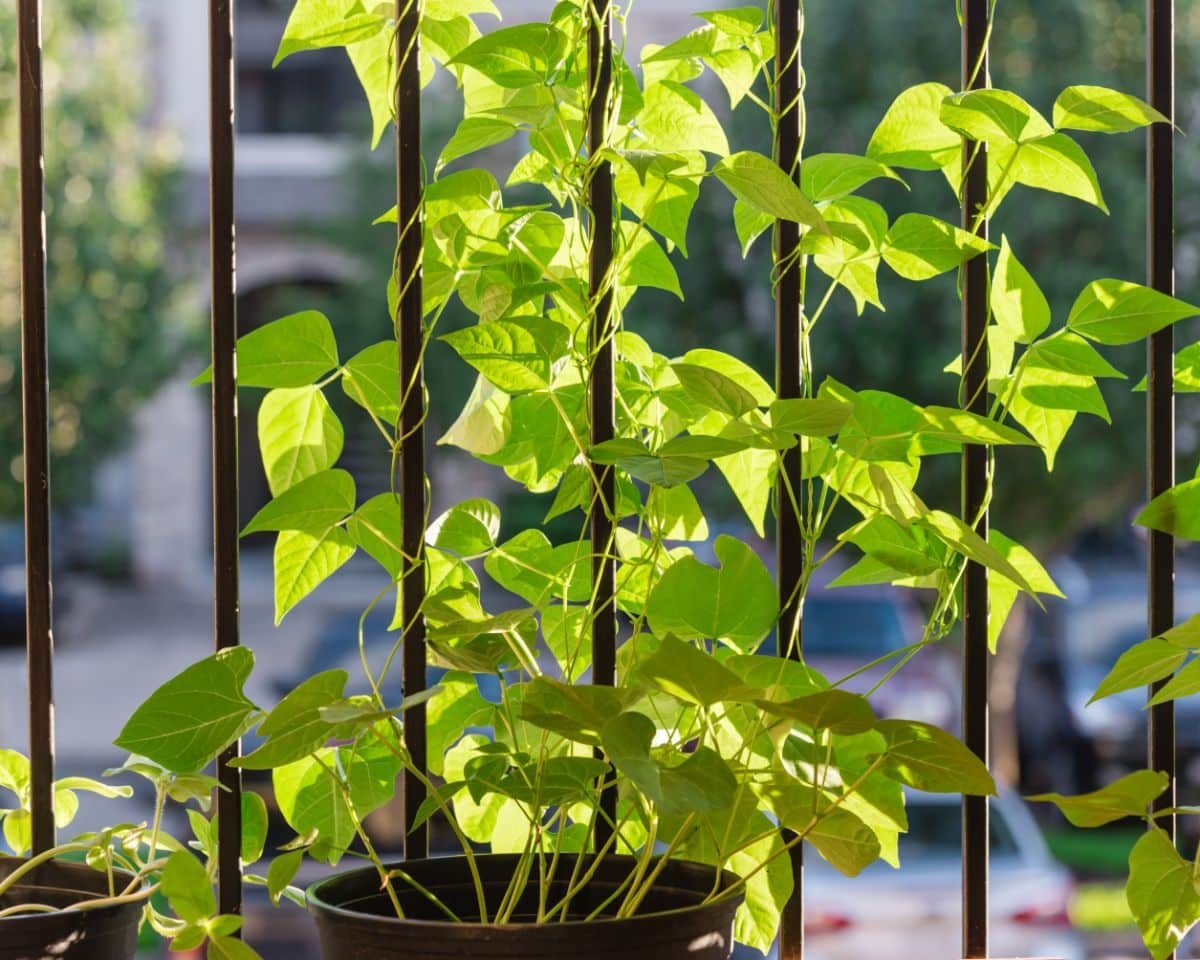 Beans are often divided into two main categories: bush beans and pole beans. Both varieties can be grown in containers, but they offer different benefits to the small space gardener.
Bush beans are shorter plants that often don't need trellising, but they have a bushier growth habit and may take up more horizontal space. Bush beans are usually ready to harvest all at once, which can be useful if you want to try out canning, but you may not get as many beans overall. 'Bush Blue Lake 274' and 'Jade' bush beans are two popular varieties that produce reliably, even in containers.
Pole beans grow longer vines, and they need trellising or supports; however, because they can be grown vertically, they are still small-space friendly. Vining bean varieties usually produce a larger harvest of beans throughout the growing season. For lots of colors, try out the 'Purple Podded' pole bean or opt for the classic 'Kentucky Wonder' pole bean for a reliably large harvest.
4. Tomatoes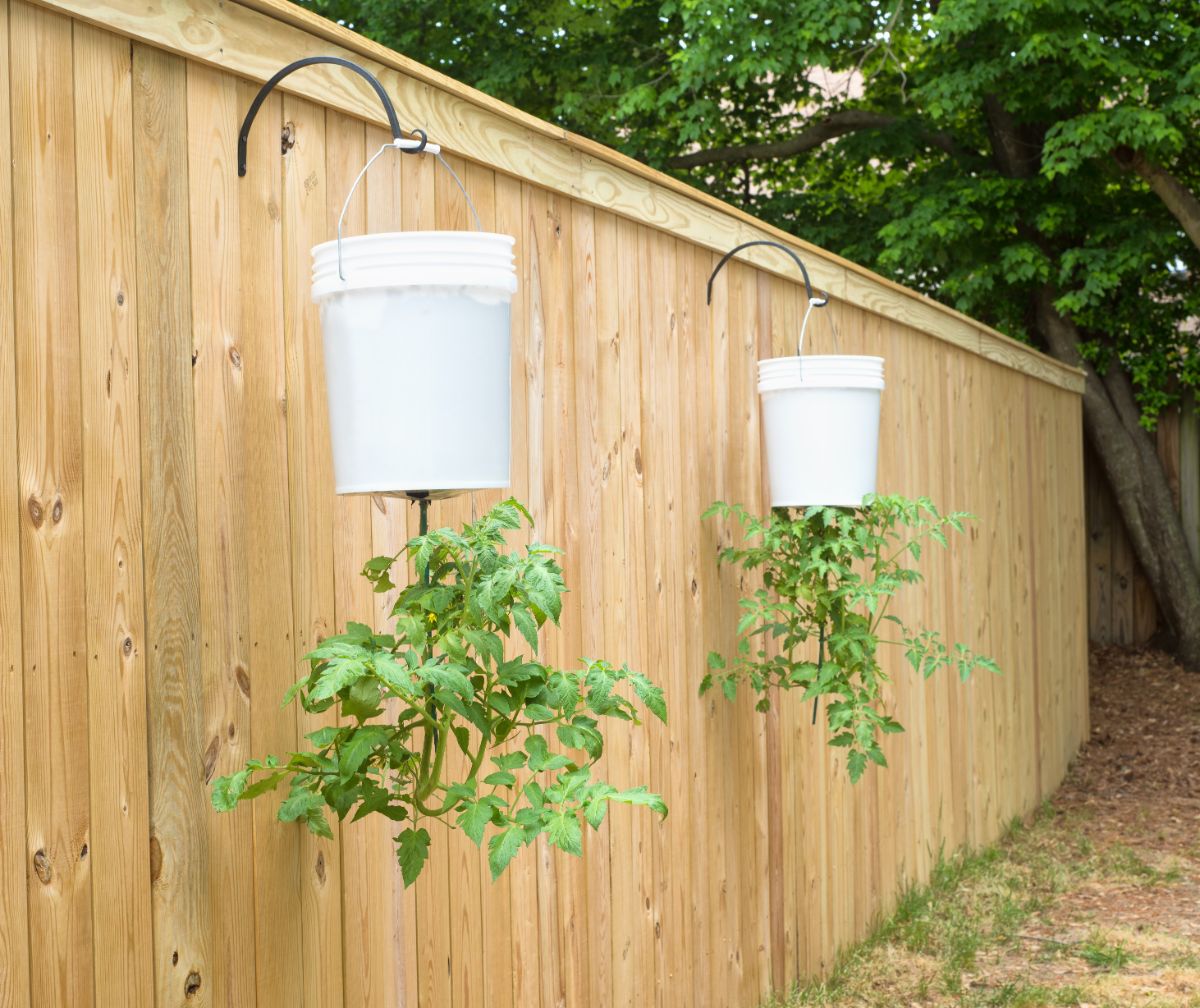 Tomatoes are some of the most popular plants to grow, but they can get quite large and are often not considered appropriate for containers. However, determinate tomato varieties stay smaller and usually don't need tomato cages. These tomato types also produce most of their fruit at once, which makes them convenient to work with for home canning.
Larger slicing and heirloom tomatoes, as well as cherry tomatoes, can be determinate plants. Some of the best tomato cultivars to grow in containers include 'Big Boy Bush,' 'Baxter's Bush,' and 'San Marzano (determinate).' Boost the productivity of your container tomatoes by making sure they get enough fertilizer and pruning them as needed.
Tip: To maximize your growing space even further, try growing tomatoes in hanging planters!
5. Cucumber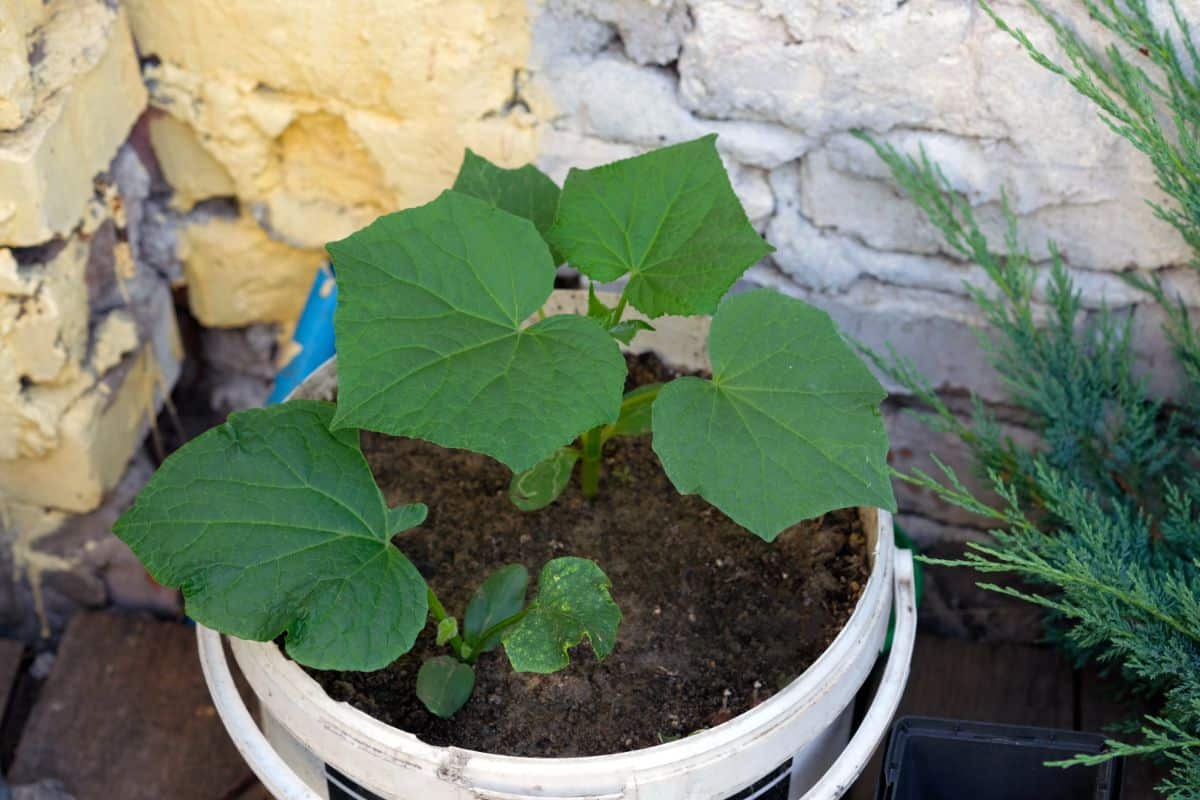 Vining cucumbers can get quite large and can quickly overwhelm small containers. But bush-type cucumbers stay much smaller and usually don't need any trellising. These cucumber types also produce their harvest in a short period of time, so you can make all your homemade pickles at once!
Smaller pickling cucumbers are usually better suited for container growing, but you can find bush-type slicing cucumbers too. Make sure you keep your cucumbers well-watered, as this will help to maintain their flavor and prevent bitterness. It's also a good idea to get into the habit of picking cucumbers regularly since their flavor will degrade when they get overly ripe and turn yellow.
6. Carrots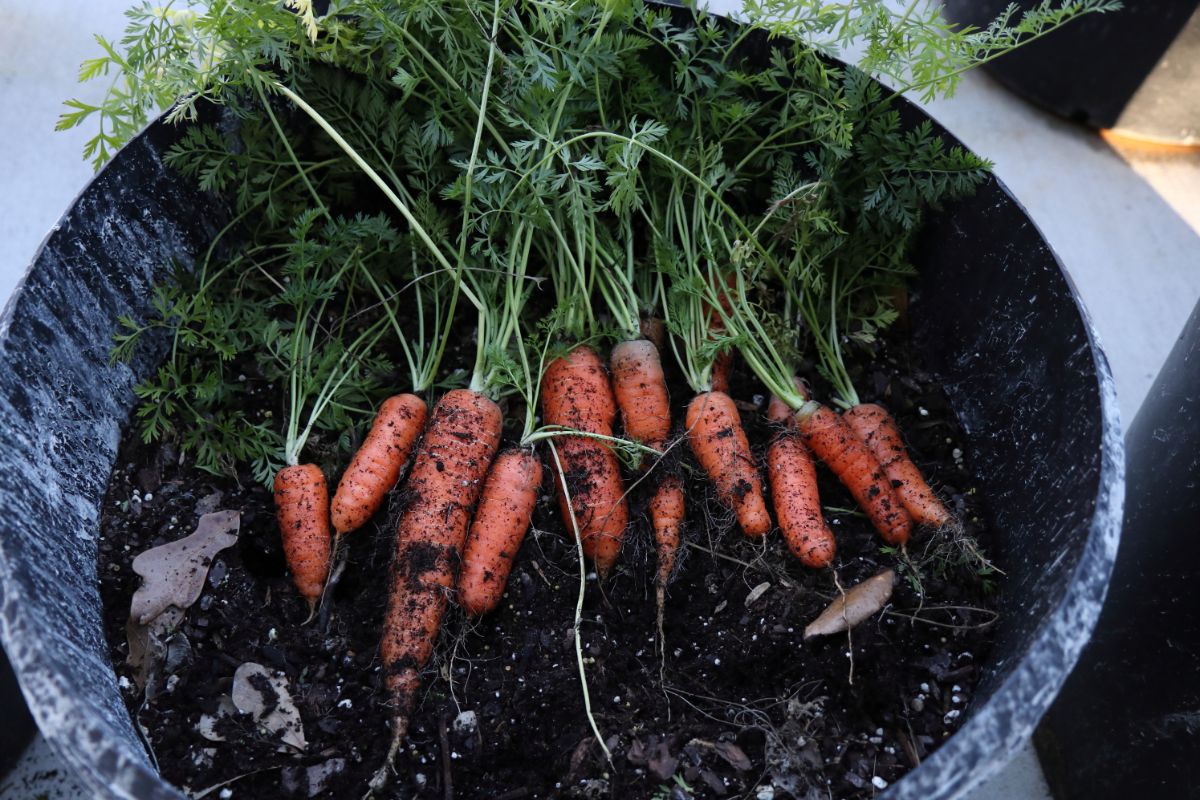 Carrots need rich and loose soil to grow properly, and they can be tricky to grow inground, especially if you have compact or rocky soil. These soil varieties inhibit carrot growth and can lead to stunted or deformed roots. Choosing to grow your carrots in containers instead can help to provide your plants with the optimal growing conditions for lusciously large carrots!
If you want to grow carrots in containers, make sure that the pots you choose are at least 12" deep. Additionally, although it may be tempting to fill up your containers with garden soil, it's better to use a raised bed potting mix, as garden soil will become compact in containers and won't support your plants' health. Growing carrots in planters is also a good solution if you have wireworms or voles in your yard because containers will protect your root vegetables from these voracious pests.
7. Radishes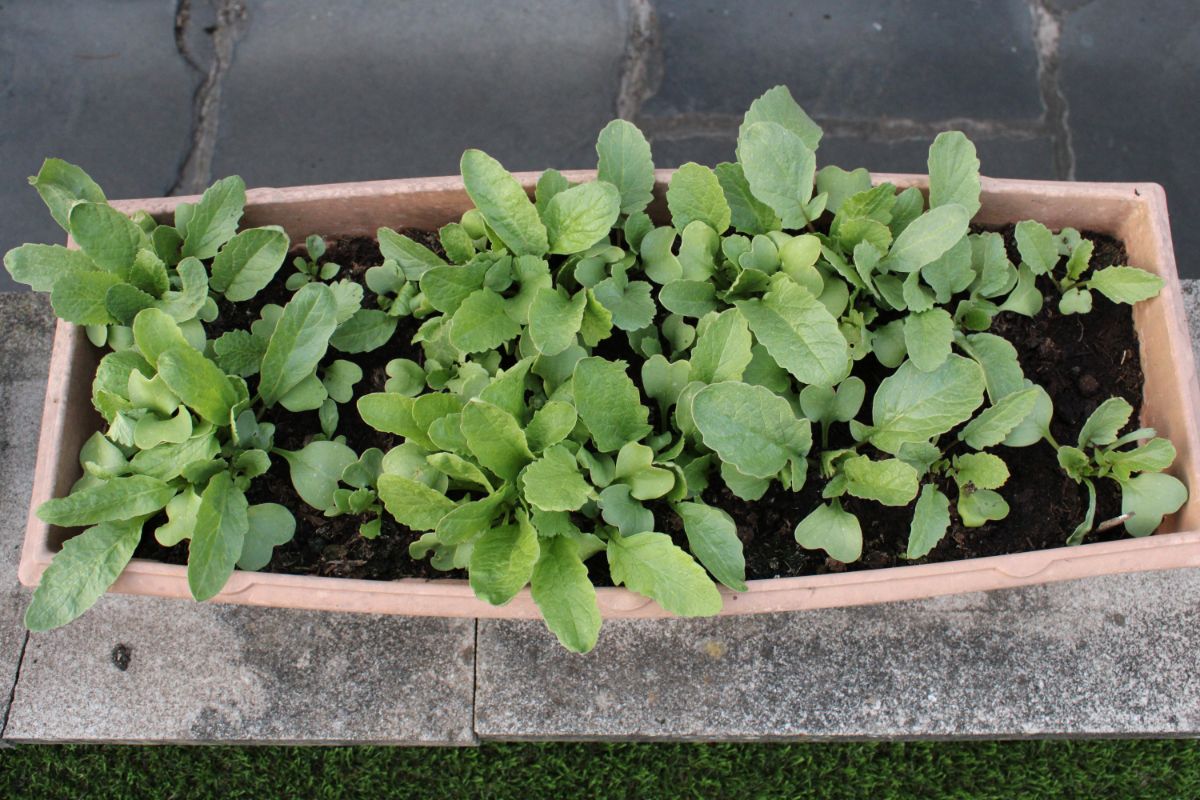 Just like carrots, radishes grow best in loose, rich soil, and growing them in containers can help ensure your roots develop well. Containers will also help protect your radishes from wireworms and voles and can make it easier to harvest your veggies too. Since radish roots are smaller than carrots, these plants can be grown in containers that are as shallow as 6".
Because radishes grow so quickly, they are a good choice for succession planting. These cold hardy veggies are also some of the first plants you can sow in spring and the last plants for autumn harvesting too. If you love classic fare, consider growing 'French Breakfast' radishes, which are scrumptious when sautéed and served with toast and a poached egg.
8. Potatoes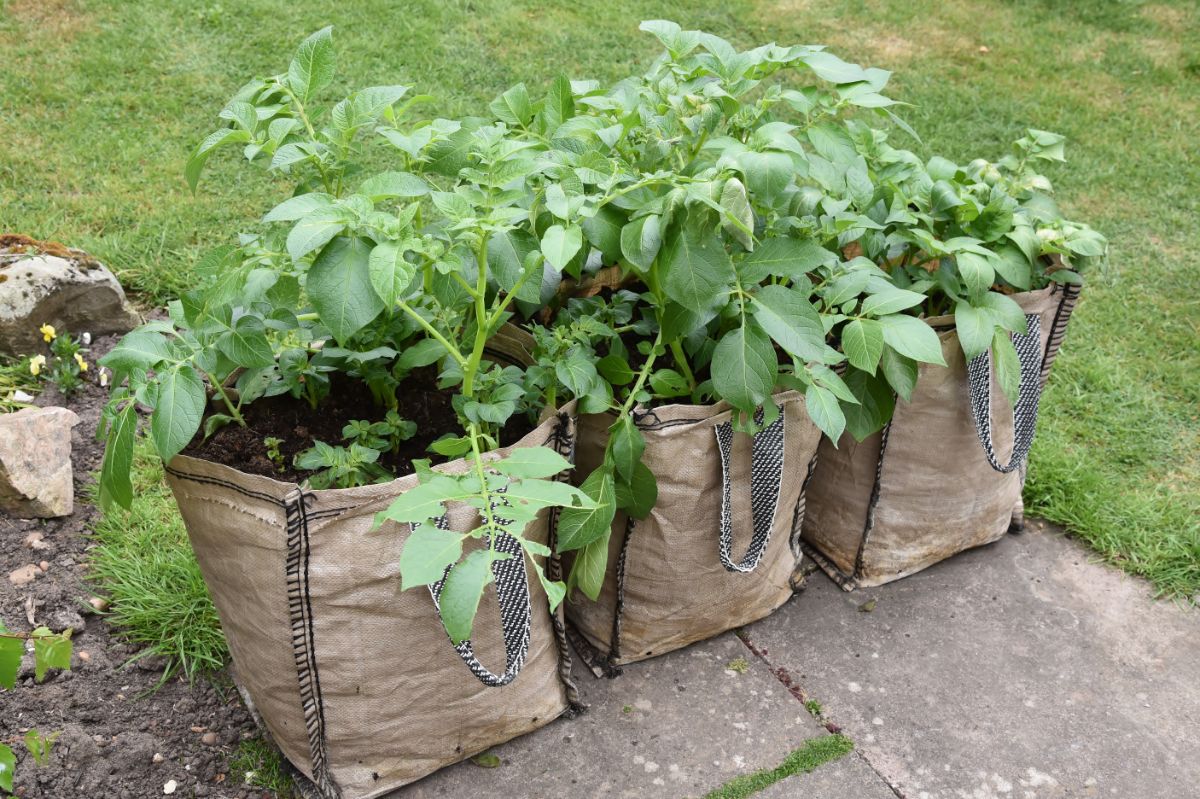 Like other root vegetables, potatoes grow well in containers just as long as you provide them with plenty of rich, loose soil. However, you'll want to test your potato soil before planting, as potatoes grow best in slightly acidic soil, which can help protect tubers against issues like scabs. For best results, aim for a soil pH of between 6.0 and 6.5.
While all potato types can be grown in containers, you'll often get a larger harvest of tubers if you choose fingerling, gem, or new potato varieties. Larger potato types, like russets, may be cramped in containers and produce a smaller yield. Container-grown potatoes are also much easier to harvest, as you can simply dump out the container on a tarp and pick out your homegrown spuds!
9. Peppers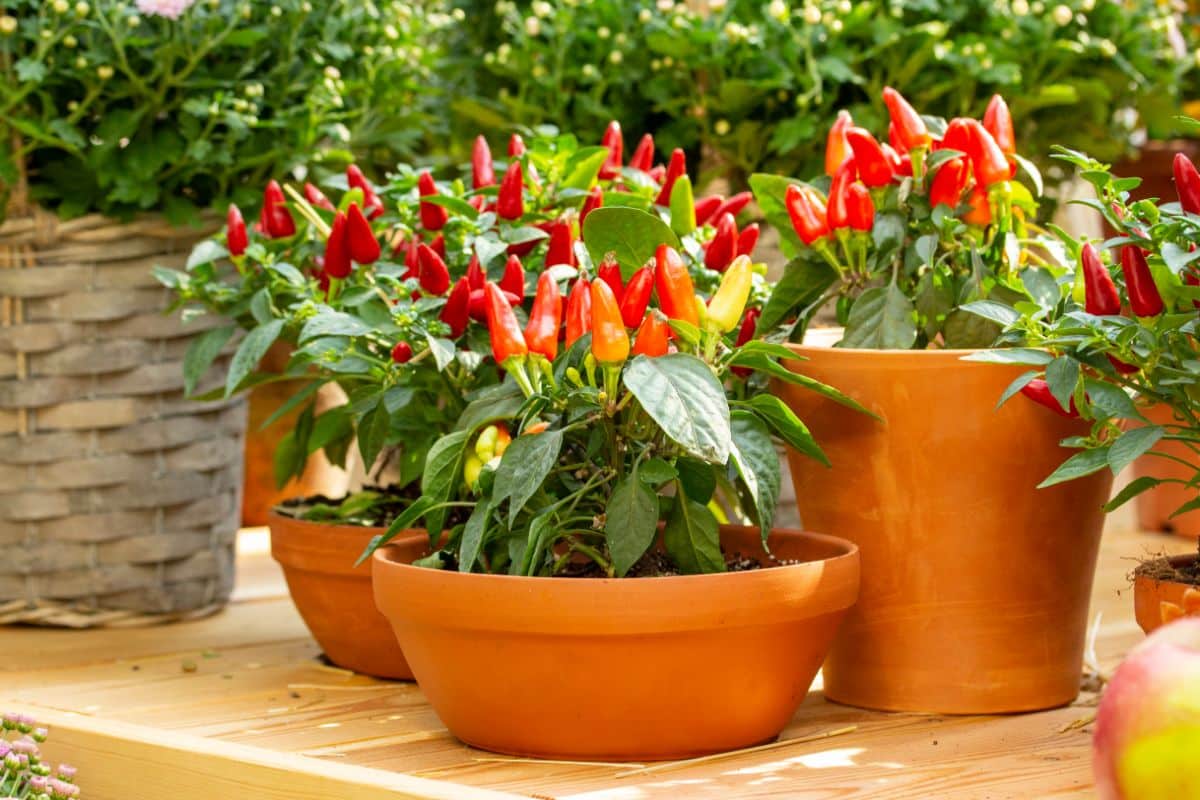 Both hot peppers and bell peppers can be grown in containers, and they make attractive ornamental plants too. As they mature, most peppers change color from green to yellow to red, which can look very pretty when planted with flowering herbs or ornamentals like zinnias. You can even try out 'ornamental peppers,' which produce fruit in orange, purple, yellow, and red!
When properly maintained, pepper plants can be very prolific and produce peppers right up until the first hard frost of autumn. If you love spicy foods, you can even consider creating your own homemade salsas or hot sauces from just a few pepper plants. To boost your pepper harvest, make sure your plants receive plenty of sun and fertilize your peppers regularly with a balanced or low-nitrogen fertilizer.
10. Peas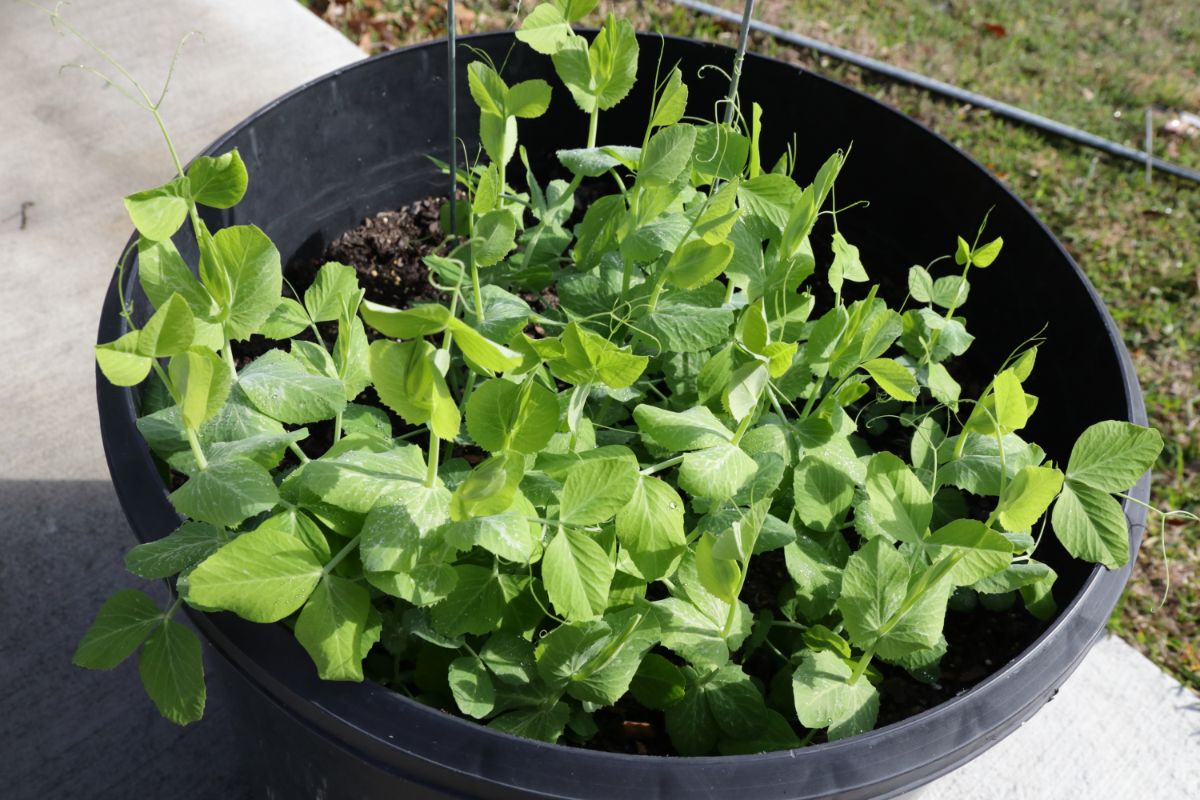 Peas are fast-growing plants that don't take up a lot of space, so they are perfect for container growing. While bush peas are available, climbing peas can work well in containers, too, since they make use of vertical space. For support, train your pea plants to grow up bamboo poles or a small, decorative trellis.
Peas grow best in cool weather, making them good plants to sow in spring, and you'll usually be able to get a quality harvest of fresh peas in about 60 days. While peas generally don't grow in summer, you can sow a second harvest of peas about 8 to 10 weeks before your first frost date. This will ensure you have plenty of fresh peas for autumn salads or winter preserves.
11. Beets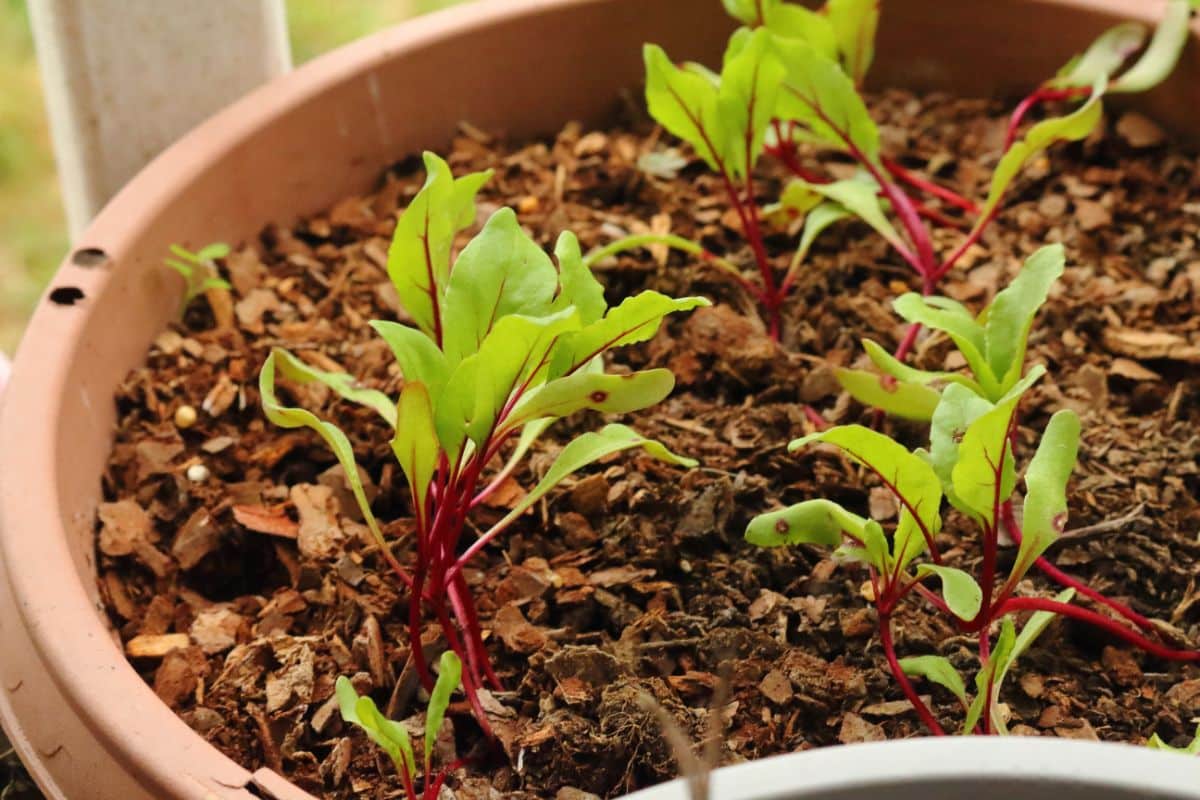 Like other root crops, beets can be grown in containers, and you can use these versatile vegetables for both their roots and their nutritious, leafy greens. Just remember to keep your beets well-watered, as dry soil can inhibit growth and result in smaller roots. Also, opt for containers that are at least 10" deep, so your beet plants will have plenty of space to mature.
While you're probably most familiar with red beets, you can try out white, yellow, or rainbow beets for even more color. Beets can be roasted or boiled, or if you've grown more beets than you can use, they also can well for winter storage. If you're looking for a fun recipe to experiment with, try making pickled beets and eggs, which are always a hit with children, thanks to their playful colors!
12. Leafy greens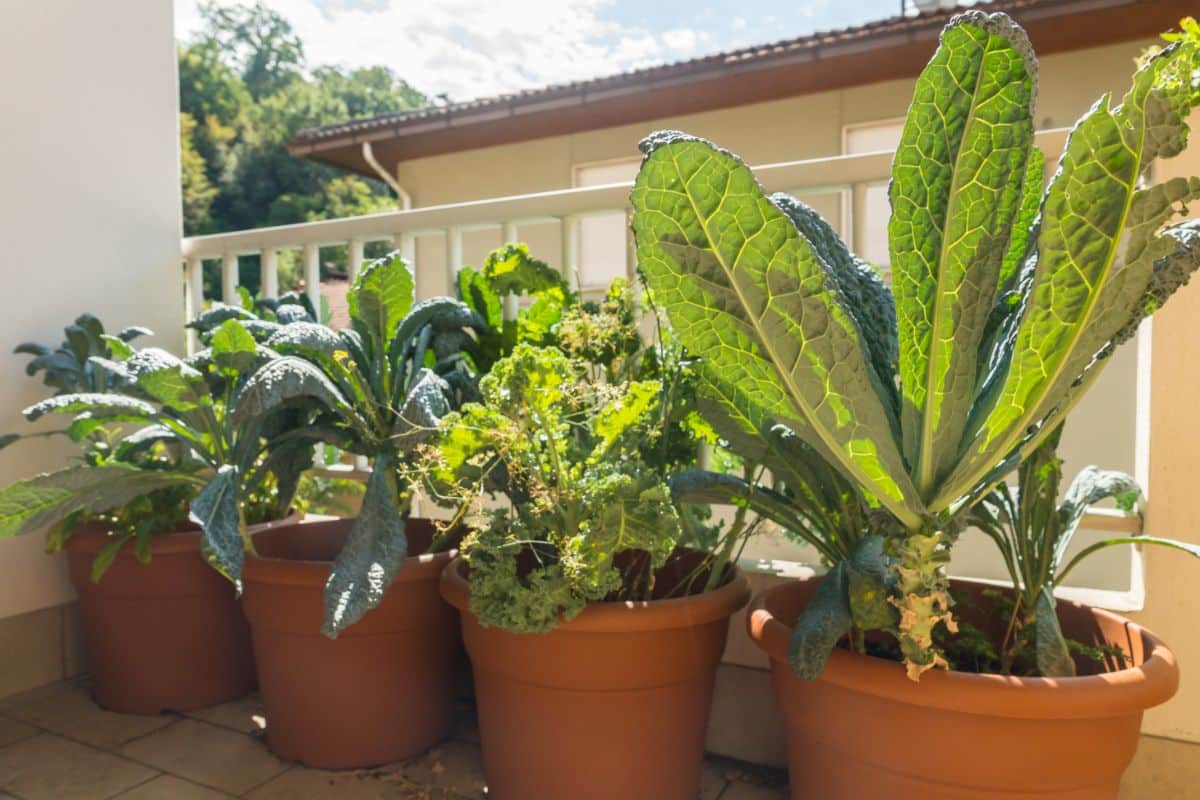 Kale, Swiss chard, spinach, bok choy, and other leafy greens are all compact plants that can grow nicely in containers. Kale and Swiss chard also have better bolt resistance than most lettuce varieties. That means that if you want to keep enjoying fresh garden salads even in summer, you may want to grow some of these plants in addition to your standard lettuces.
Leafy greens can often be targeted by pest insects and larger garden visitors, like deer and rabbits. However, if you grow these plants in containers, you can easily move your pots away from areas where pests are likely to frequent or cover up your veggies with floating row covers. With a little extra protection, cold hardy leafy greens can even grow all winter outdoors long in mild climates.
Other leafy greens to grow in containers include:
Dandelion greens
Mizuna
Collard greens
Orach
Sorrel
Purslane
Tatsoi
Watercress
13. Citrus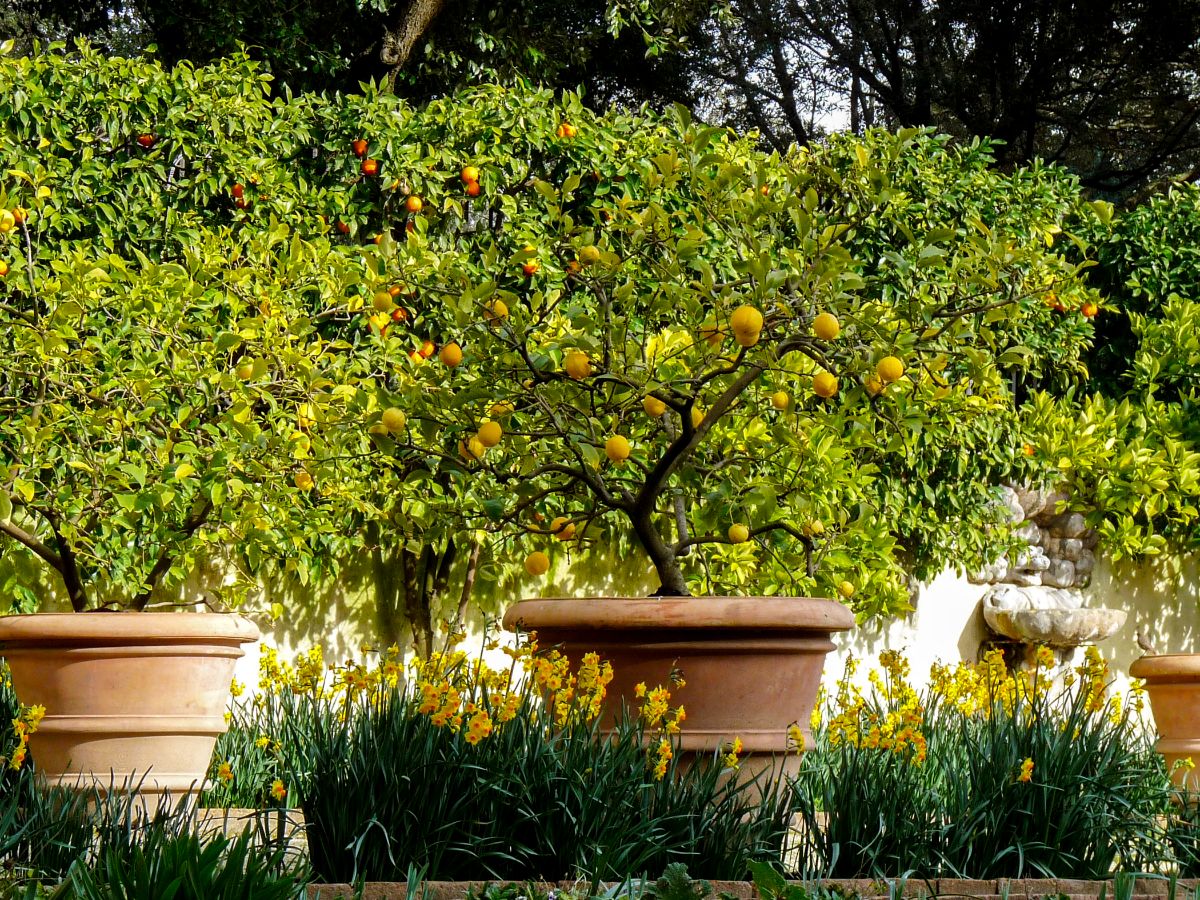 When planning out your container garden, citrus trees may not be the first plant you think to grow. But many citrus varieties are available in dwarf sizes, which can fit perfectly in small containers. This is a great option for growers in cooler climates, too, as dwarf trees can often be overwintered indoors.
Some of the best mini citrus trees to grow include key limes, Meyer lemons, and kumquats. To give your plants enough room to mature, opt for containers that are at least 5 to 10 gallons in size, although larger containers will support better root development. If you need to overwinter citrus indoors, make sure your plants get plenty of bright sun or add a grow light to your setup.
14. Eggplant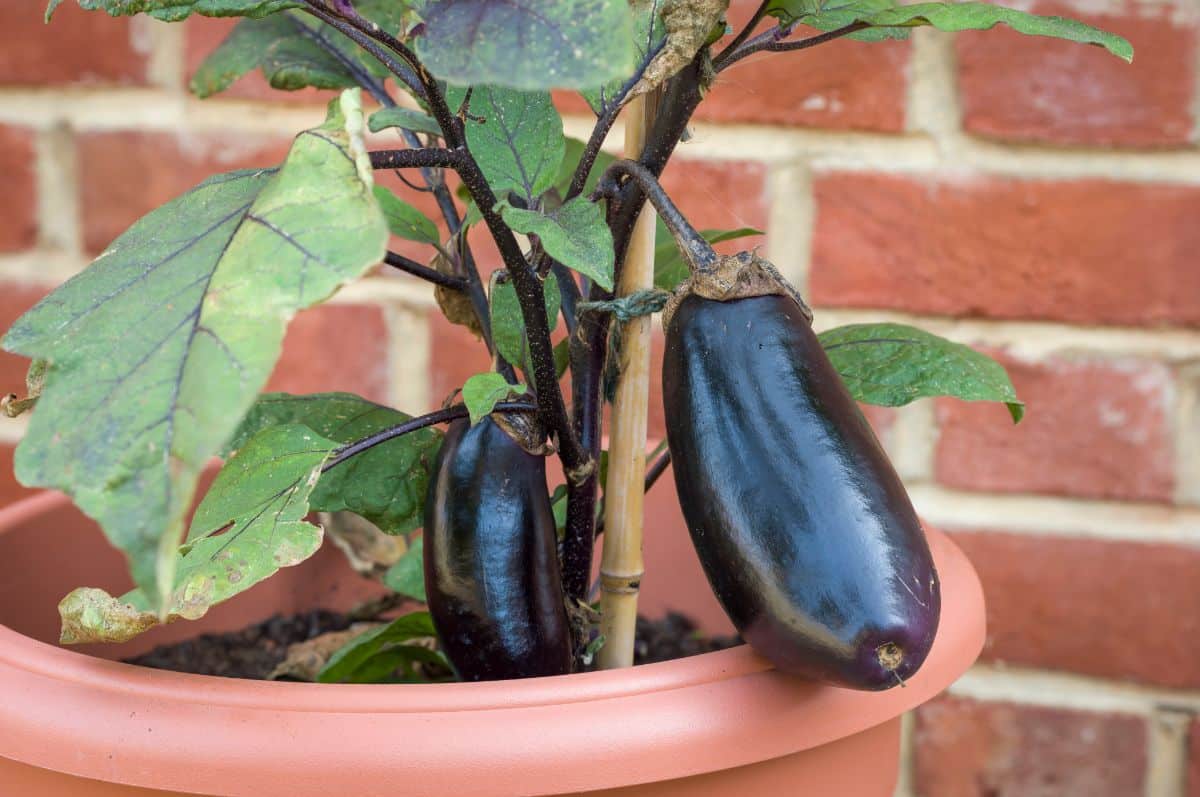 Like peppers and tomatoes, eggplants will also thrive in container gardens as long as they receive sufficient light, fertilizer, and water. Some eggplant cultivars produce smaller plants, which can be even better suited to small-space gardening. Varieties to look for include 'Fairy Tale' and 'Hansel' eggplants.
Some gardeners avoid growing eggplants because they don't know how to use them. If you're looking for inspiration, you can always try classic dishes like eggplant parmesan and ratatouille. Or, for something a bit different, whip up some homemade baba ganoush or Szechuan eggplant.
15. Sweet potatoes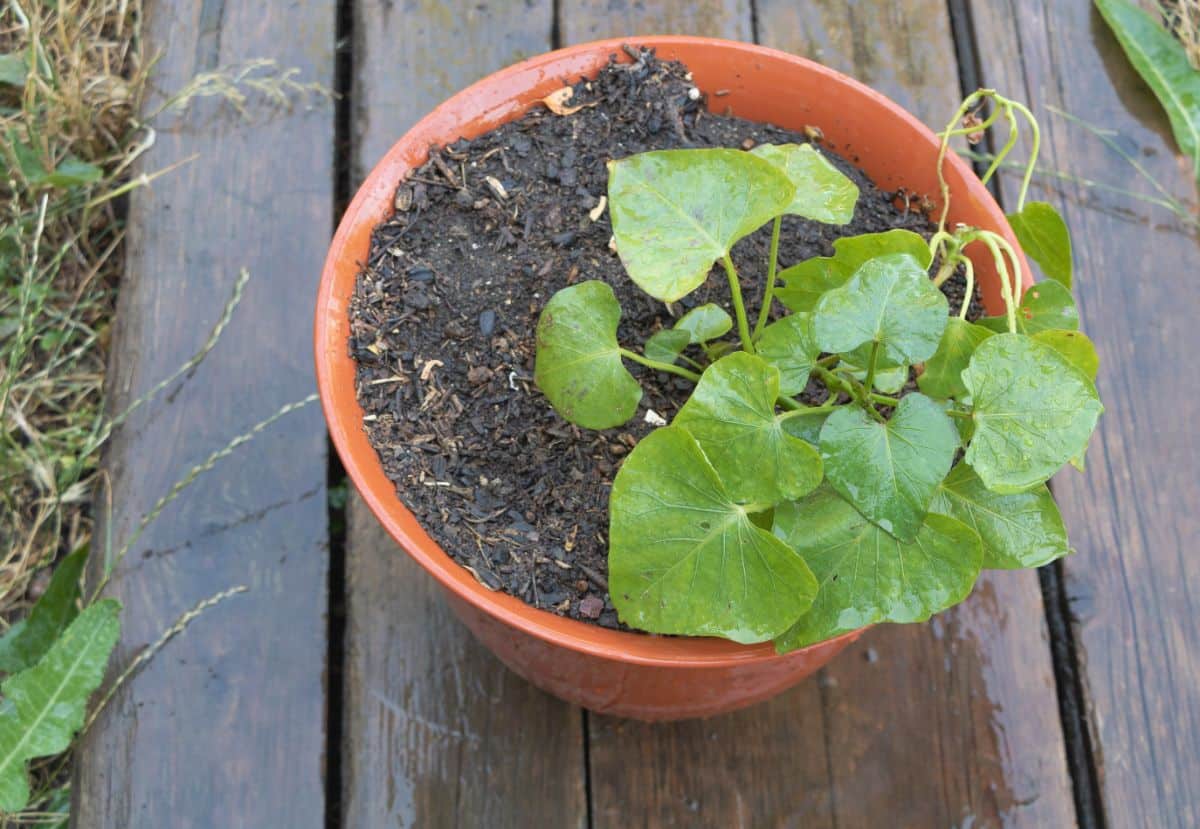 Just like regular potatoes, sweet potatoes are perfect for container growing. Not only will planters protect tubers from pests, but you can also mix together the perfect soil blend to support your sweet potatoes as they develop. While raised bed potting mixes will work with these plants, mixing in an extra dash of compost or aged manure before planting can encourage better root development and help you grow healthier plants overall.
Sweet potatoes are usually grown from slips, which can be ordered online or from your favorite seed catalog. However, if you're on a budget, you can also start your own slips from grocery store sweet potatoes. Just select organically grown sweet potatoes, as these are more likely to produce slips than conventionally grown tubers.
16. Strawberries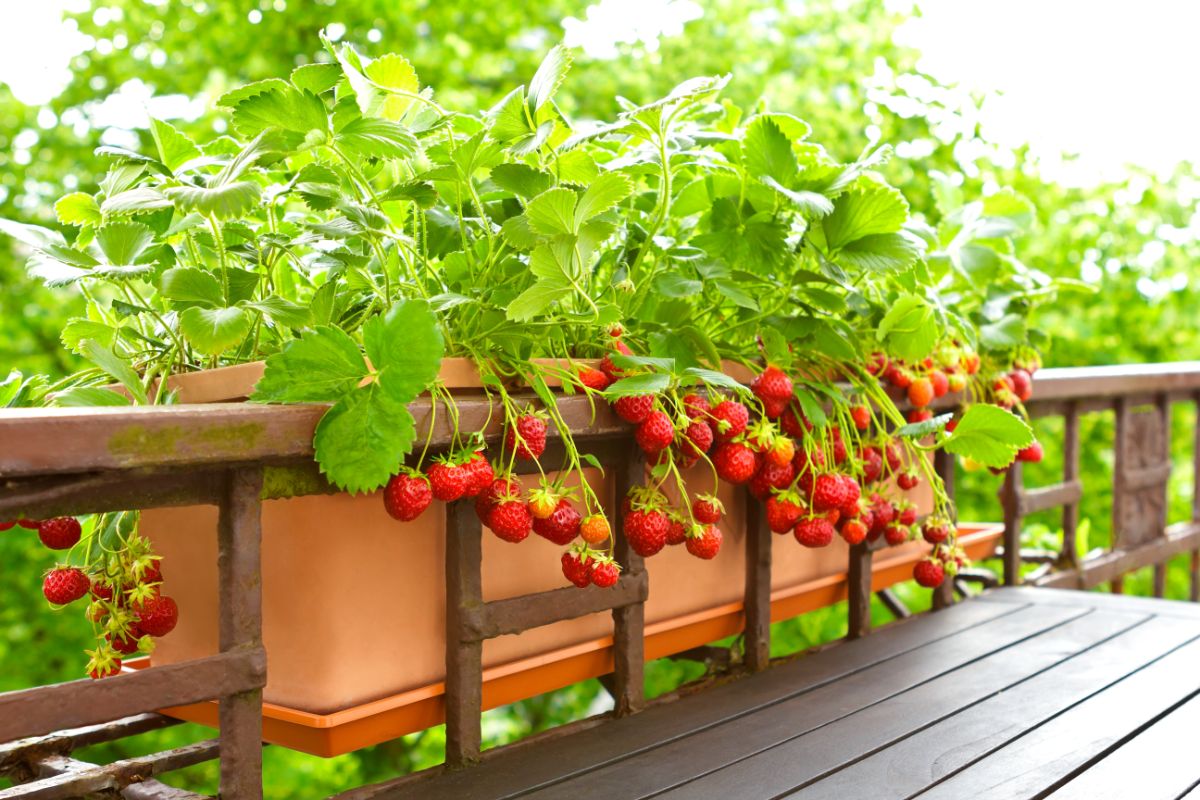 Strawberries are commonly targeted by many different pests, including chipmunks, birds, and rabbits. But growing strawberries in containers or hanging baskets can help to protect your developing fruit and ensure you get a larger harvest of unblemished berries.
Strawberries' small size has made them prime candidates for grow towers, but they also grow vigorously in traditional strawberry pots. Most strawberry plants fall into one of two categories: everbearing strawberries and June-bearing strawberries. While both varieties can be grown in containers, everbearing strawberry varieties can produce fruit all summer long, making them a fine pick if you'd like to enjoy fresh berries throughout the season.
How to get the most out of your container garden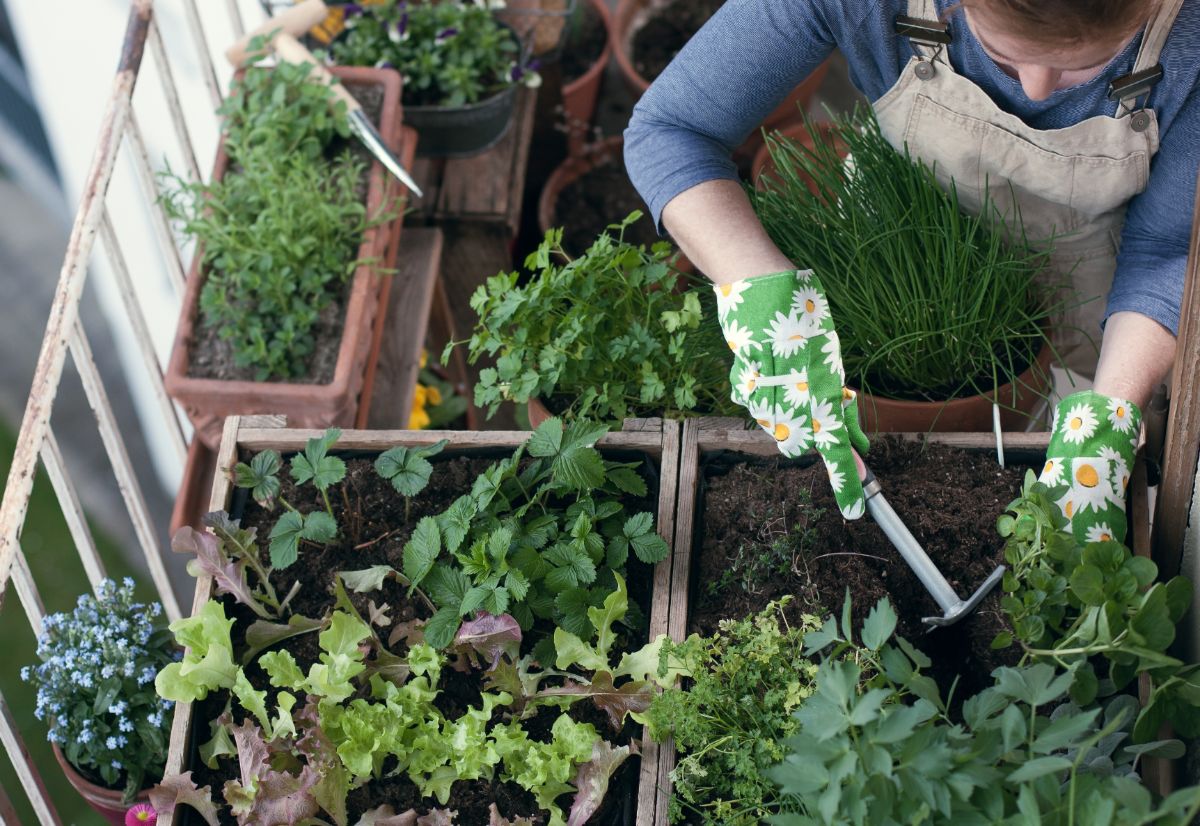 Choosing the right plants is one way to maximize the yield of your small-space container garden. But there are other ways to boost your plants' growth and encourage a larger crop of fresh fruit and veggies. Some tips to keep in mind with your container garden include:
Make sure you choose the right pot size. Plants with cramped roots won't grow as large, and they can suffer from stress. Stressed-out plants may not produce as many fruits and flowers, and your harvest size will suffer as a result.
Select safe containers. Not all containers are created equal, and some may be produced with materials that are not safe for gardening. When choosing containers for veggie growing, always make sure that they are made from food-safe materials.
Locate your containers in full sun. Most vegetables, with the exception of some leafy greens and herbs, prefer full sun. Poor lighting can stunt your plant's growth and reduce harvest sizes too.
Water often. Containers, particularly fabric grow bags, don't hold water as well as inground gardens, and they will need to be watered more frequently. While plastic containers hold water in better, if you want to grow plants in pots, get into the habit of checking your soil's moisture levels regularly, so your plants never dry out.
Think vertical. Many small-space gardeners struggle to find enough places to grow all the plants they want to keep, but they often forget about vertical grow space. Training vining plants to grow up or using hanging baskets can give you a lot more grow room and improve airflow around your veggie plants too.
Harvest frequently. Many plants, including lettuce, beans, and peas, will grow more abundantly if they are harvested often. Remember to check your plants every day or two and pick any ripe veggies you see to encourage your plants to produce more.
Use the right soil. Garden soil is not appropriate for containers as it is too dense and will compact even further when used in pots. Instead, opt for raised bed mixes or make your own soil blend.
Don't forget to fertilize. Not all vegetables need frequent fertilizer, but heavy-feeding plants (like tomatoes and potatoes) need frequent applications of fertilizer. This will help your plants grow larger and produce more edible veggies too!
Check for pests. One of the many benefits of container gardening is that planters can help shield plant roots from common garden pests. That said, pests can still occur on your plants, so you'll want to inspect them often to prevent pest damage and produce a loss.
Try out succession planting. If you're working with a small garden space, you can get more out of your garden by planting seeds sequentially. This will guarantee that your containers are never bare and you always have something growing!
Look for bush or determinate growers. Bush or determinate growing plants stay smaller and don't require trellising. This can be a lifesaver if you're working with a small balcony and you don't have space for extra support poles for your climbing beans or cucumbers.
Frequently asked questions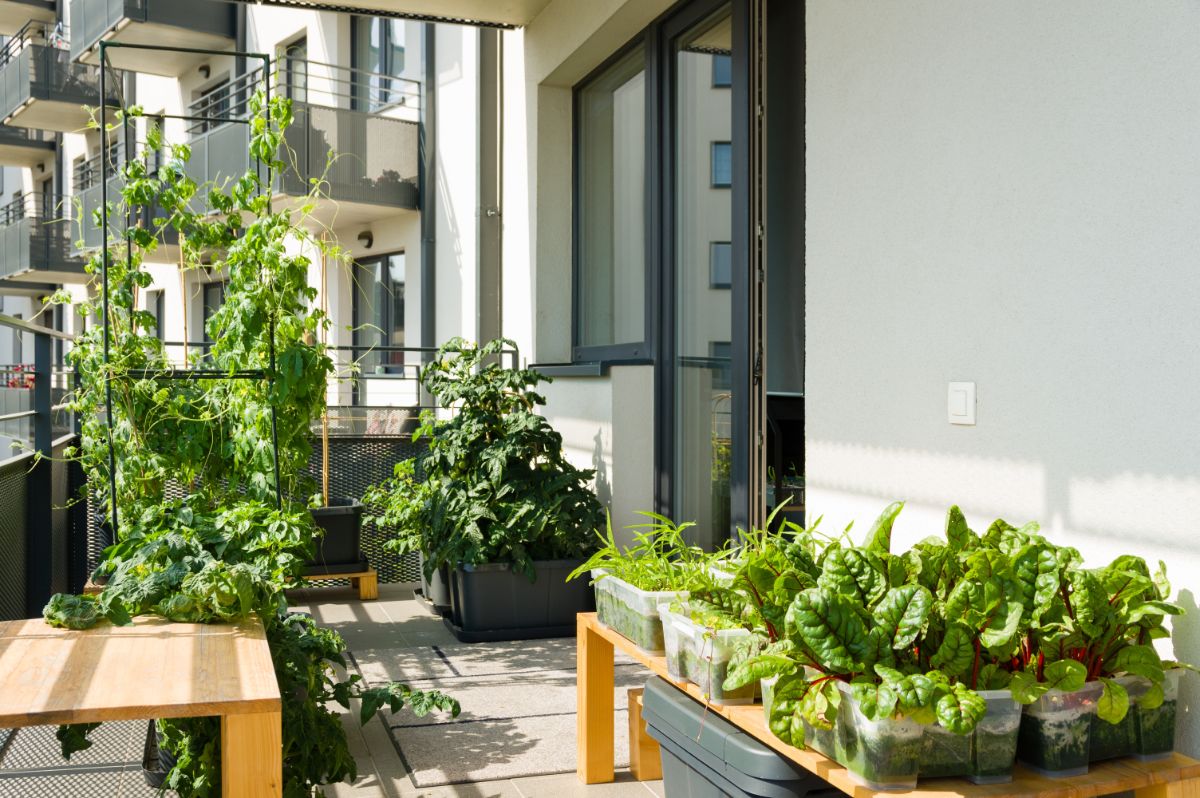 Summary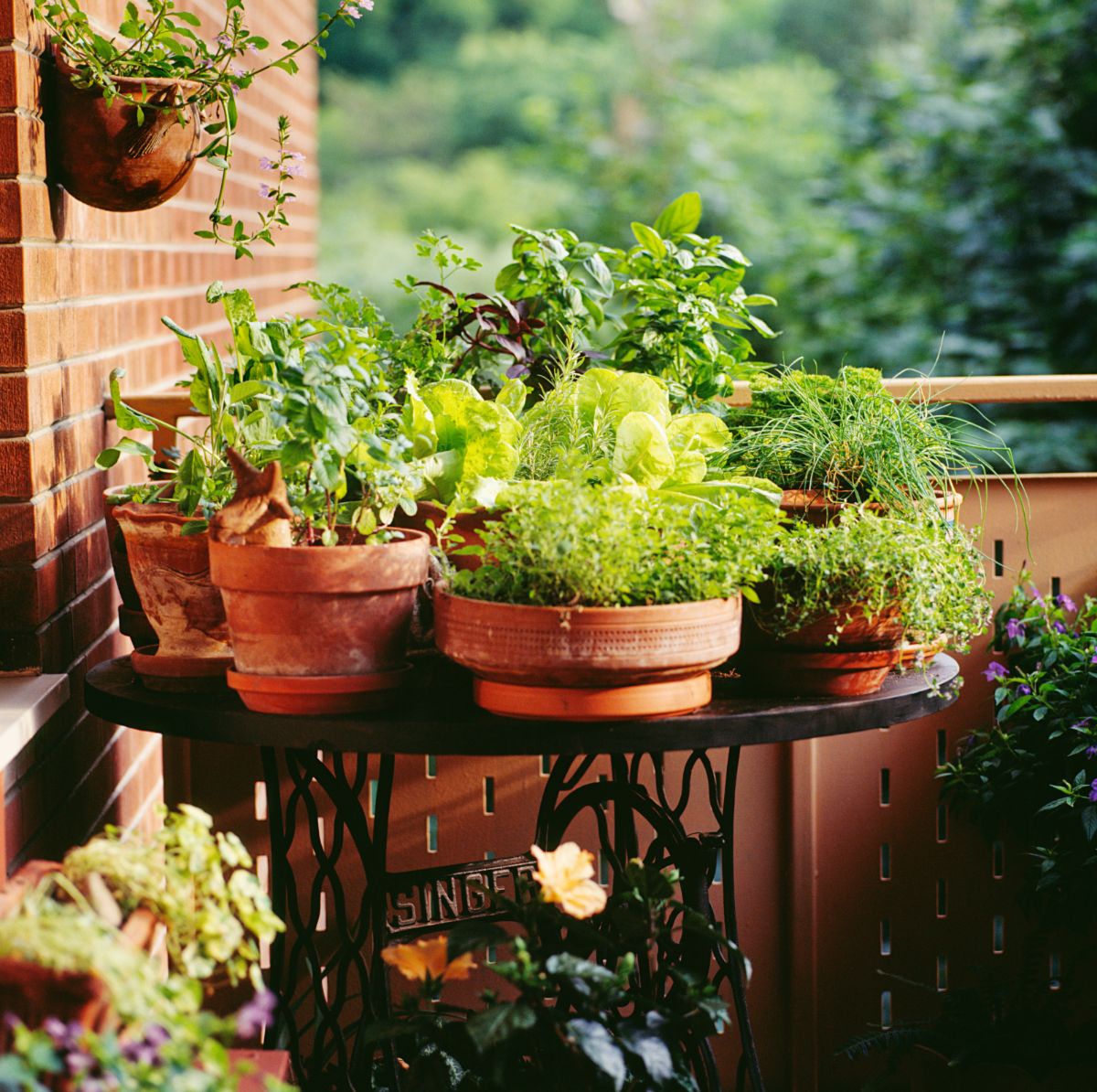 There are a lot of vegetables that can be kept in containers successfully, so if you're still having a hard time choosing which vegetables to grow, consider your weekly food budget. Planting the types of vegetables and herbs that you use a lot is one of the best ways to cut weekly grocery costs and design a container garden that works for you.
If you'd like to learn more about container gardening and fun plants to try, check out our guide on growing ginger in containers right here.