Ginger (Zingiber officinale) is a popular and flavorful spice that is used in many dishes the world over. One of the most cultivated spices in the world, ginger was also one of the first crops to ever be exported from Asia. Today, this tasty rhizome is a popular plant to grow among home gardeners and can even be kept in small gardening spaces.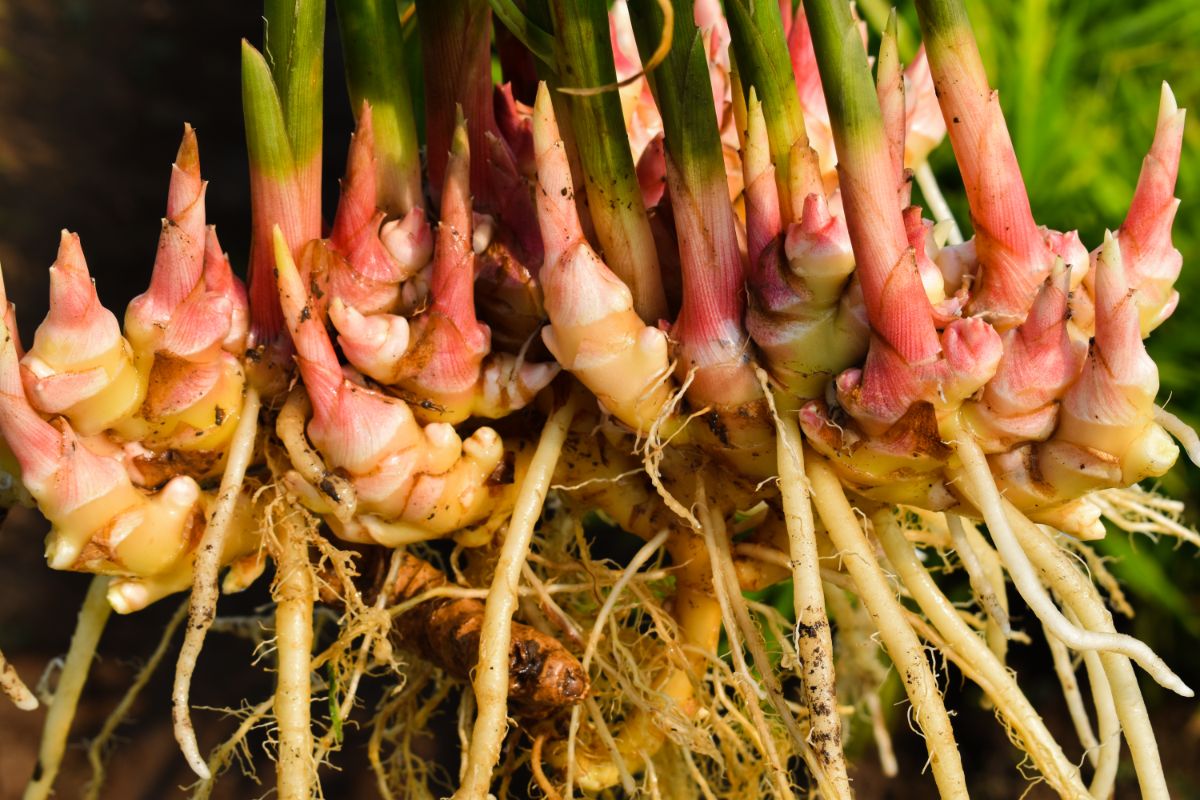 Ginger can be grown in in-ground gardens or containers; however, as this plant naturally comes from tropical regions (growing zones 9 and above), it can be more difficult to grow in cooler spots. Planting ginger in containers can lengthen your growing season, making sure you have enough time for your ginger to produce an abundance of rhizomes.
If you've ever wanted to grow your own ginger, this is the guide for you! We'll take you through all of the steps you need to grow lots of fresh and delicious ginger at home, and we'll even discuss some of the best ginger varieties to grow!
Jump to:
How to grow ginger in containers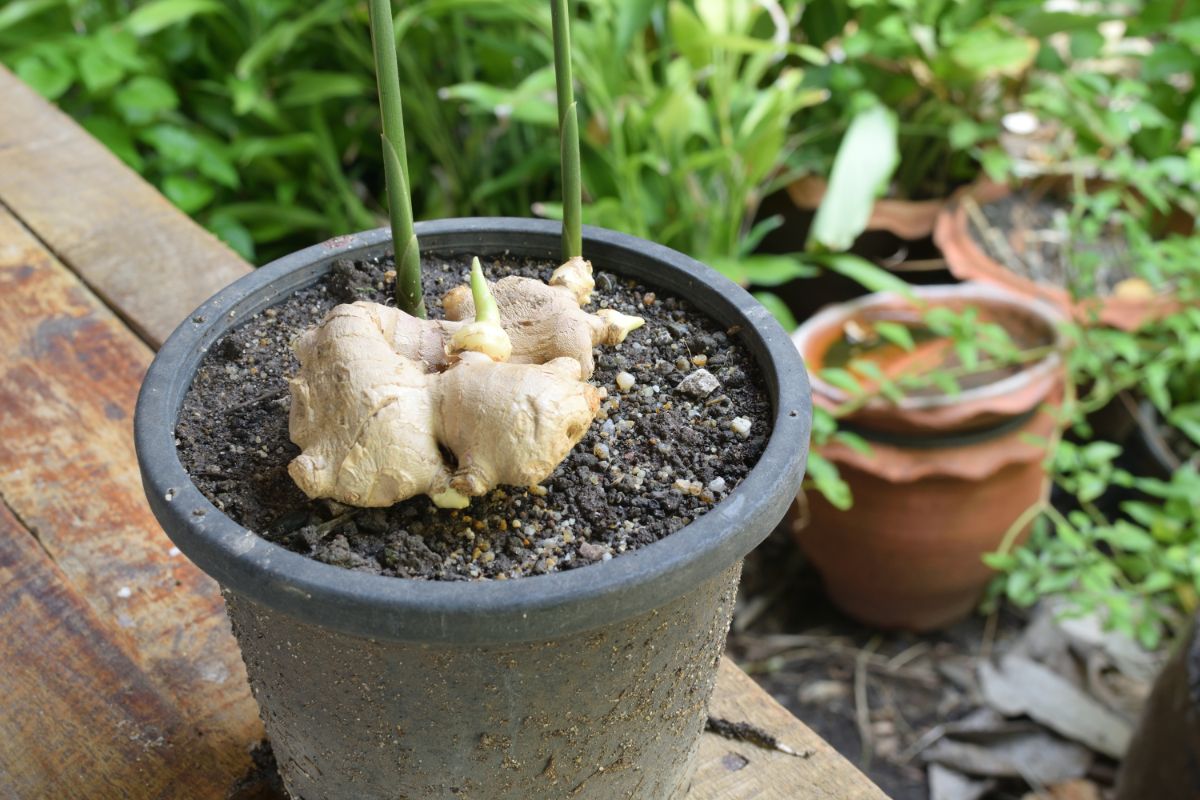 While ginger can be grown directly in your garden if you live in growing zones 8 and below, keeping your ginger in pots is usually recommended. When grown in this manner, it's much easier to protect your ginger from frost, which can kill the plant. In the fall, you can even move your ginger plants indoors and overwinter them inside for lots of mouth-watering ginger all year long.
Read on for a step-by-step tutorial on how to grow the best fresh ginger around!
Choosing your ginger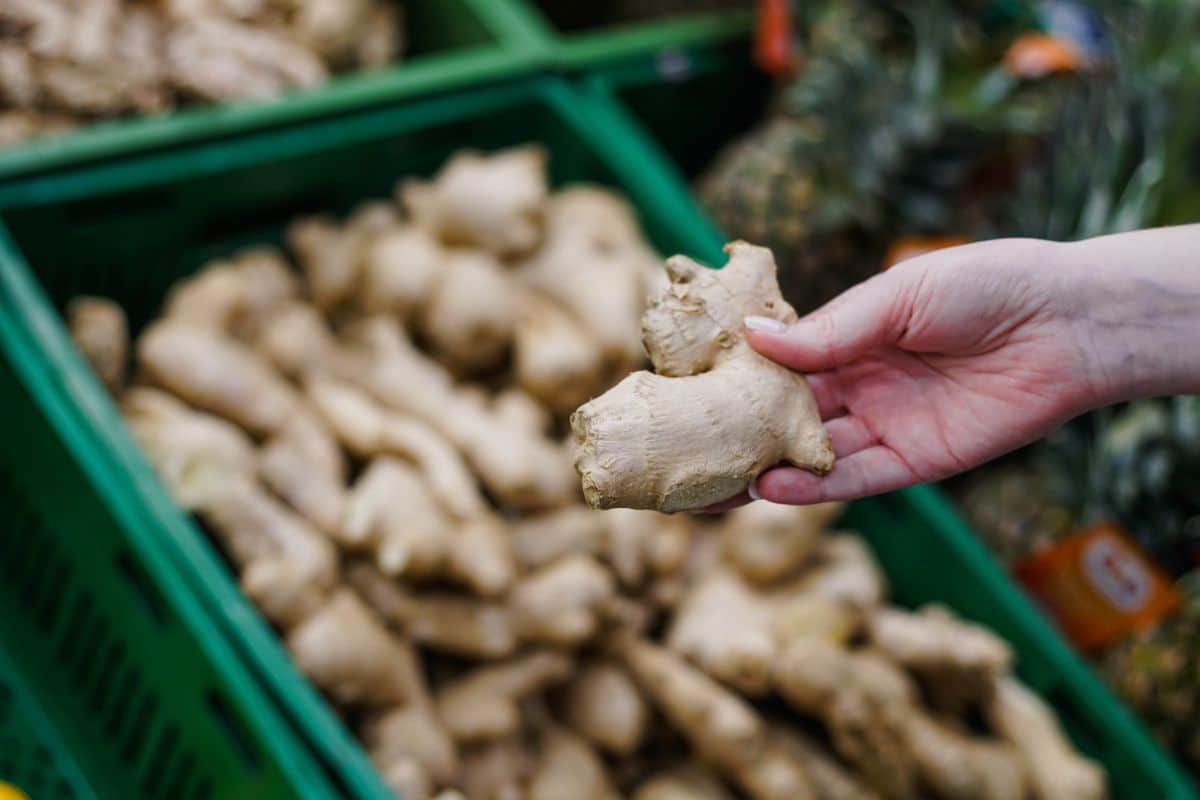 Before you can plant anything, you'll need to purchase your ginger for growing. Ginger plants grow from rhizomes, which are modified underground stems. These rhizomes can be purchased online or even found at your local grocery store or plant nursery.
If you decide you want to grow ginger from rhizomes purchased at your grocery store, try to look for organically grown ginger. While you may have success planting conventionally grown ginger, this type of ginger may have been treated with chemicals to suppress sprouting, which can inhibit growth. Organically grown ginger rhizomes are usually easier to grow.
The larger rhizome you start with, the faster your ginger plants will grow. For this reason, look for rhizomes that are fleshy, firm, and plump and about 4 to 6" long with multiple fingers.
Check your rhizomes over carefully for eyes, which are where new ginger growth will sprout from. Eyes can usually be found on the tips of ginger rhizomes and appear slightly pointed and lighter in color. The more eyes your rhizome has, the more ginger stalks it can produce.
While standard culinary ginger is easy enough to find at grocery stores and gardening centers, if you're interested in growing less common species of ginger, you'll probably need to order your rootstock online.
Picking the right pot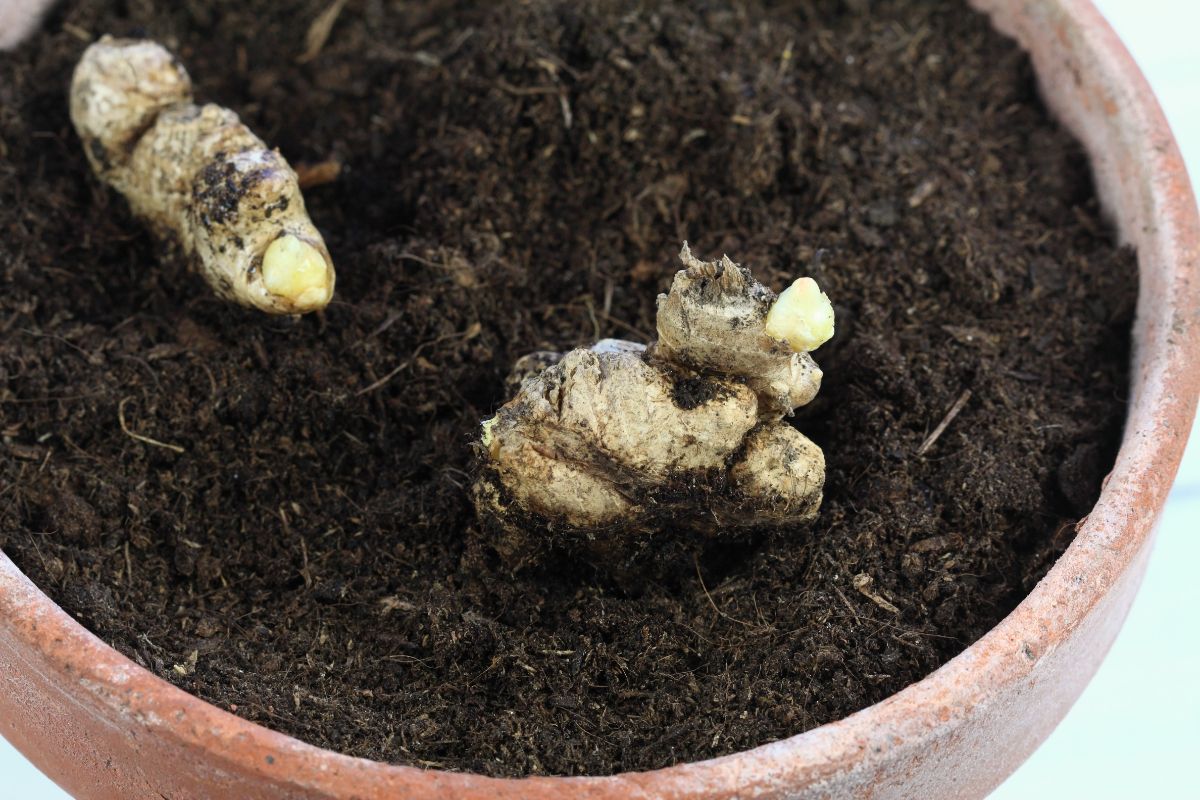 Ginger grows horizontally, so if you want a bigger harvest, opt for planting containers that are wide rather than deep. Pots should be at least 8" deep, and they can be as wide as you want. Just keep in mind that a thumb-sized chunk of ginger can mature into a 36" wide plant when mature, so bigger pots are better.
Bowl-shaped planters, like the ones made by HC Companies Stores, are one good option that should provide your ginger with lots of growing room. Rustic planter boxes, like the ones by the Windiy Store, are another perfect pick and the interior liner makes them even easier to work with. Fabric grow bags are great for growing ginger as well; just keep in mind that they may be trickier to move indoors if you intend to overwinter your ginger inside.
And, of course, be sure that any pot you choose has adequate drainage holes at the bottom to prevent waterlogged soil, which can cause your ginger to rot. If your pot doesn't already have drainage holes, you can drill a few of your own with an electric drill.
Adding soil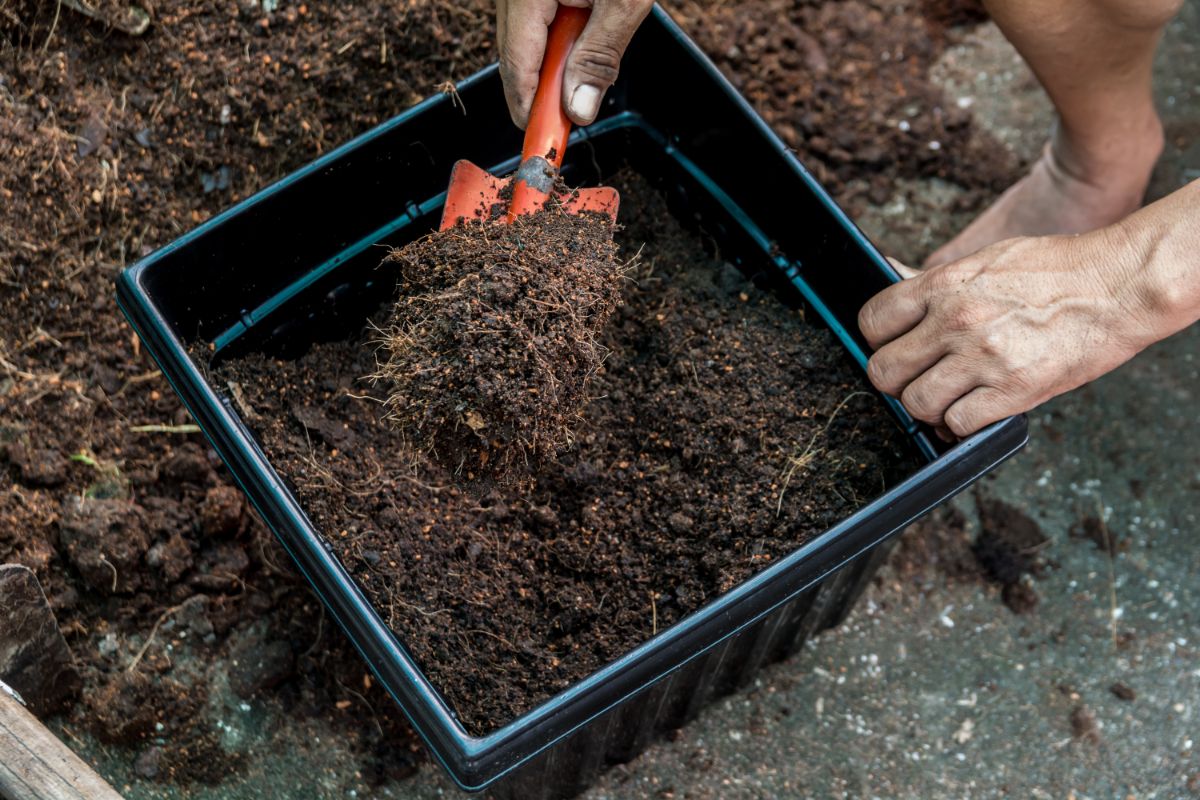 Ginger grows best in loose, rich, and well-draining soil, as compacted soil can inhibit rhizome growth. Most standard potting mixes will work well for your potted ginger; however, you can also mix in some compost, worm castings, or aged manure to help give your ginger plants a boost. After adding your soil to your pot, press the soil in lightly but don't compact it too much.
Soil with a pH of between 5.5 and 6.5 is ideal for growing ginger.
Dividing your rhizomes (optional)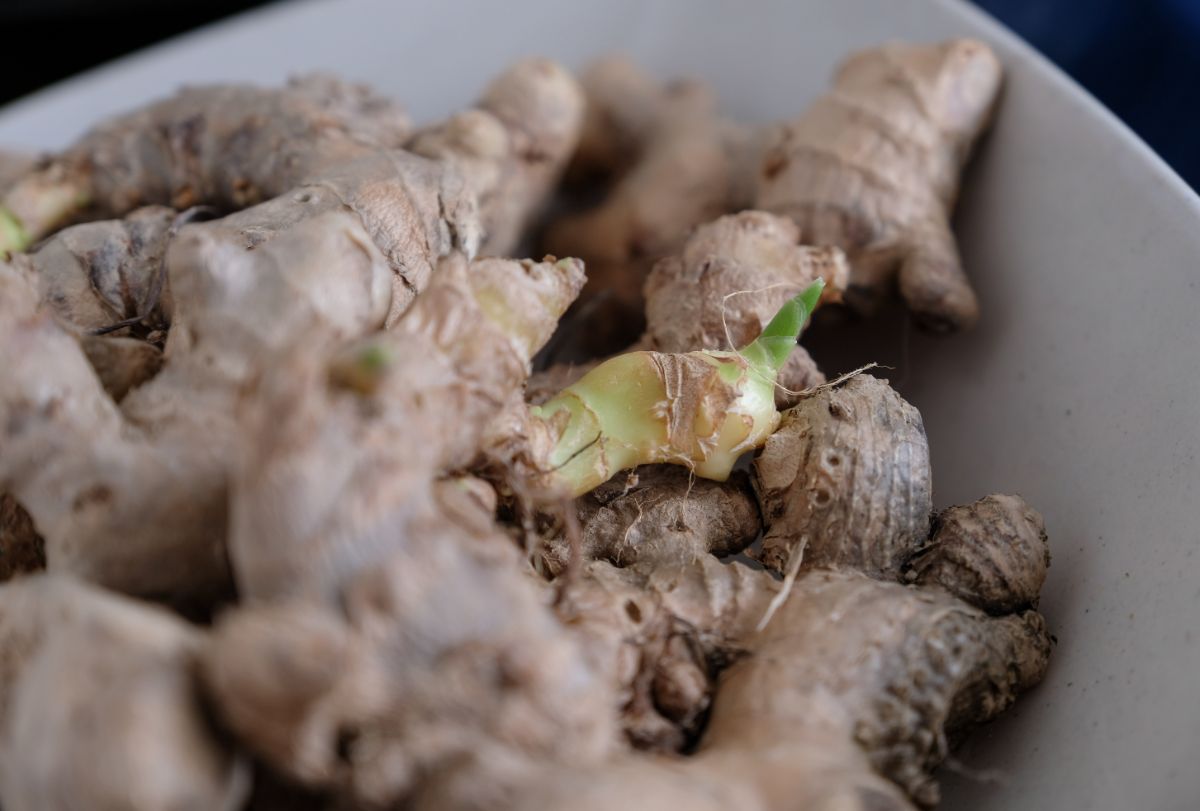 Larger chunks of ginger rhizomes will have more eyes and thus are able to produce more sprouts and grow faster. However, if you're working with smaller planters or you simply want to grow more ginger plants, you can also divide your ginger prior to planting.
To do this, simply split your ginger rhizome apart by gently separating or cutting off individual fingers of the ginger rhizome. Each chunk of ginger should have at least one eye, which is needed for sprouts to form.
Once you've cut your rhizomes apart, allow the chunks to cure for about 24 to 48 hours prior to planting. This period of drying will allow the cut sections to callous over slightly and will help prevent the ginger pieces from rotting after they're in the ground.
When to plant your ginger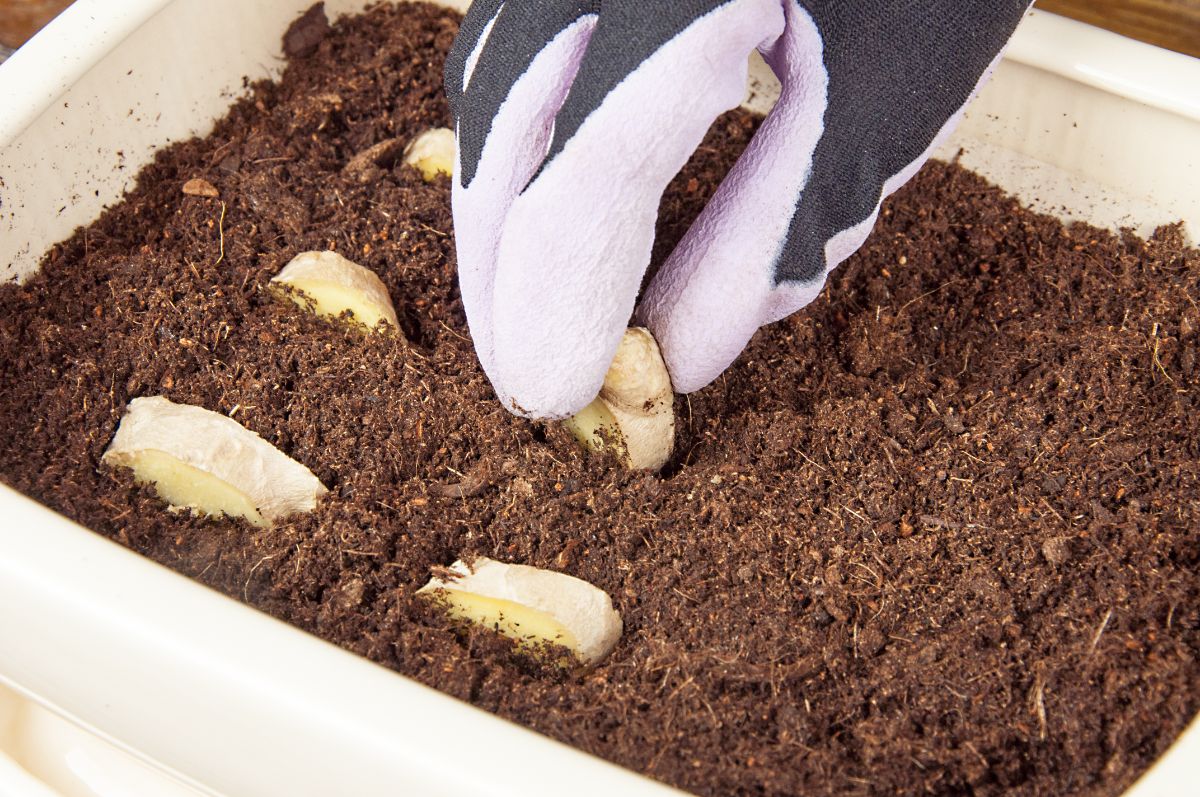 Ginger does not handle cold well and will begin to die back if temperatures fall below 55°F. For this reason, if you live in a colder area with a short growing season, you may want to consider starting your ginger indoors in the springtime. Ginger can take 8 to 10 months to reach maturity, so starting it inside in early spring will make sure you have enough time to get a good harvest in before frost.
While it's not necessary, adding a heat mat under your ginger pots can help your plants sprout faster too.
Planting your ginger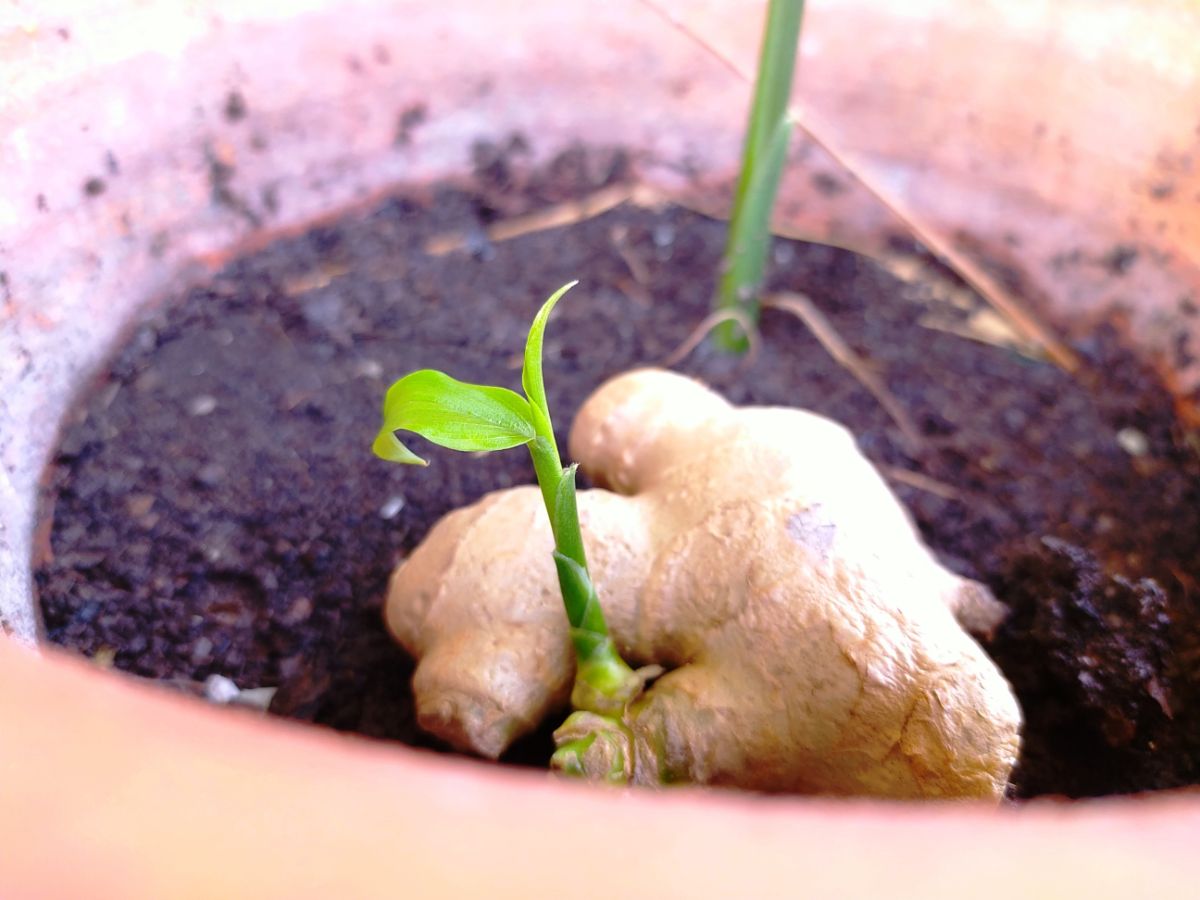 When you're ready to plant your ginger, gently place your ginger rhizomes in your pot and loosely cover them with soil. Unlike root crops, like potatoes, ginger doesn't need to be buried deep, so just cover the rhizomes with about ½ to ¾" of soil and tamp it down lightly. If you're working with a larger growing container, be sure to space out your rhizome pieces about 12" apart.
To give your ginger an extra nutrient boost, you can also add a bit of fertilizer at the time of planting or throughout the growing season. Either a granular or organic liquid fertilizer should do the trick. Apply fertilizer every 2 to 4 weeks to keep your ginger looking its best.
After planting your ginger, water your rhizomes in a well with deep watering. This will jumpstart the growing process and encourage your plants to sprout faster.
To speed up the sprouting process, you can also try presoaking your ginger rhizomes in water overnight prior to planting. While this isn't necessary, it can help give your ginger a jumpstart on the growing season.
Locating your planters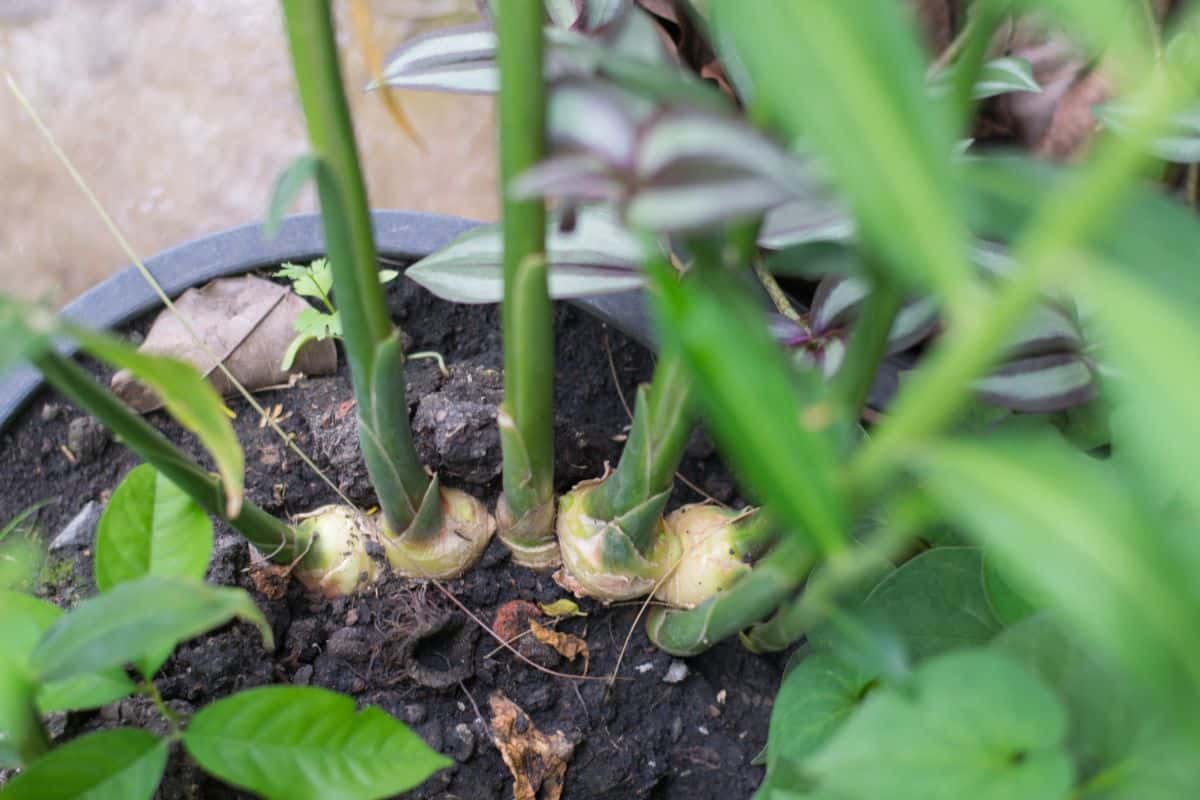 If you started your ginger indoors during the spring, wait until your plants have sprouted and outdoor temperatures are consistently above 55°F before moving your planters outside. This can vary depending on your growing location, but moving your ginger outdoors in May usually works quite well. As with other plants started inside, hardening off your ginger plants over the course of a week or two can help them adapt to the different growing conditions of outdoor life as well.
In the wild, ginger is an understory plant, so if planted in direct sunlight, its delicate leaves may experience sunscald and withering. For happier plants, locate your potted ginger in an area of your backyard that receives dappled light, from full shade to part shade. This is the best lighting for ginger and will promote better growth in your ginger plants.
Harvesting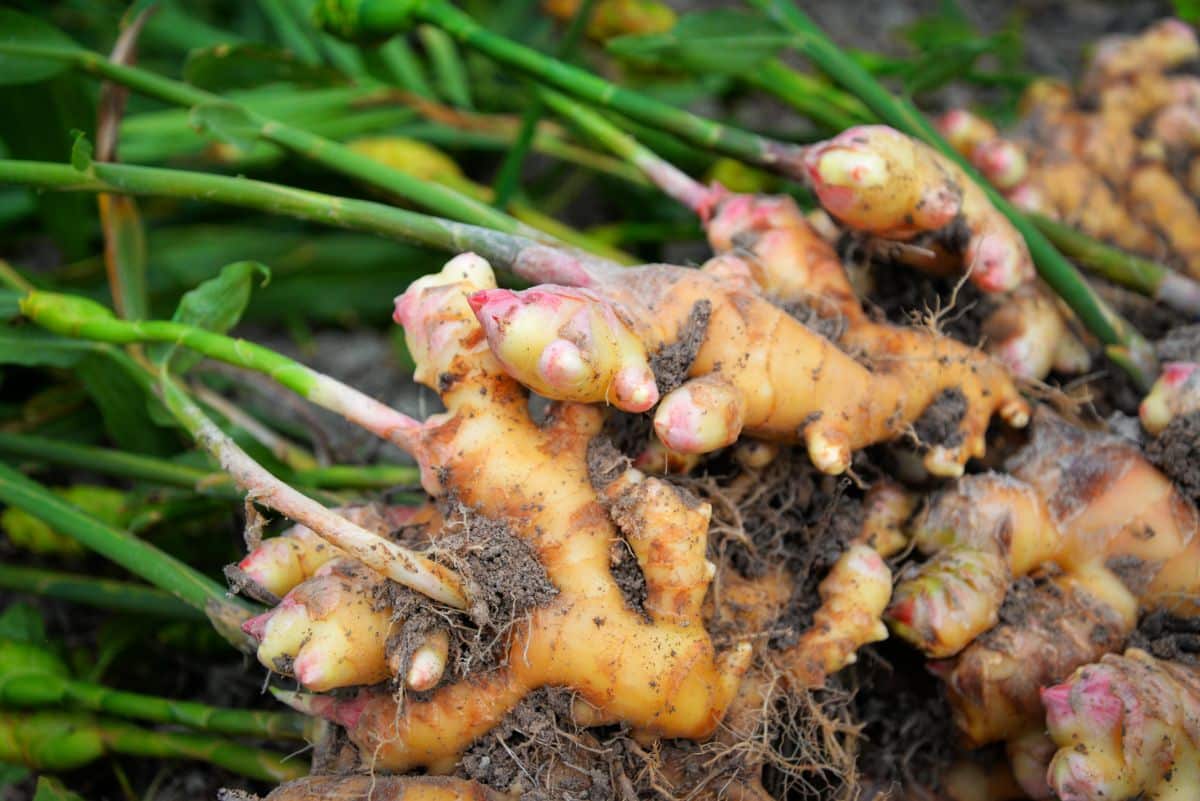 During the growing season, your ginger may flower, which is completely natural. Flowering won't harm your ginger plants at all, and you don't need to snap the flowers back. Many types of ginger flowers are also edible, and if you're growing a unique ginger type (like shampoo ginger), you can harvest liquid from the bright, tropical flowers.
After planting ginger, it can take about 8 to 10 months for ginger to mature enough for harvesting. That said, you can usually start harvesting your ginger about 4 to 5 months after it was planted.
To harvest your ginger, you can simply snap off a small piece of the rhizome to use in recipes and leave the rest of the plant undisturbed. To do this, gently feel under the soil's surface and snap off or cut away a chunk of rhizome without pulling the plant up. Be sure to leave at least 2" of rhizome around the plant's stalks so that the plant can regenerate.
If it's nearing the end of the growing season and you live in a cold region and don't want to overwinter your plants indoors, you can harvest the entire plant instead. To harvest your whole ginger plant, simply dig up the plant, snip off the green stalks and shake away the loose dirt. Rinse off your ginger rhizomes and bring them indoors for storing or cooking.
Overwintering ginger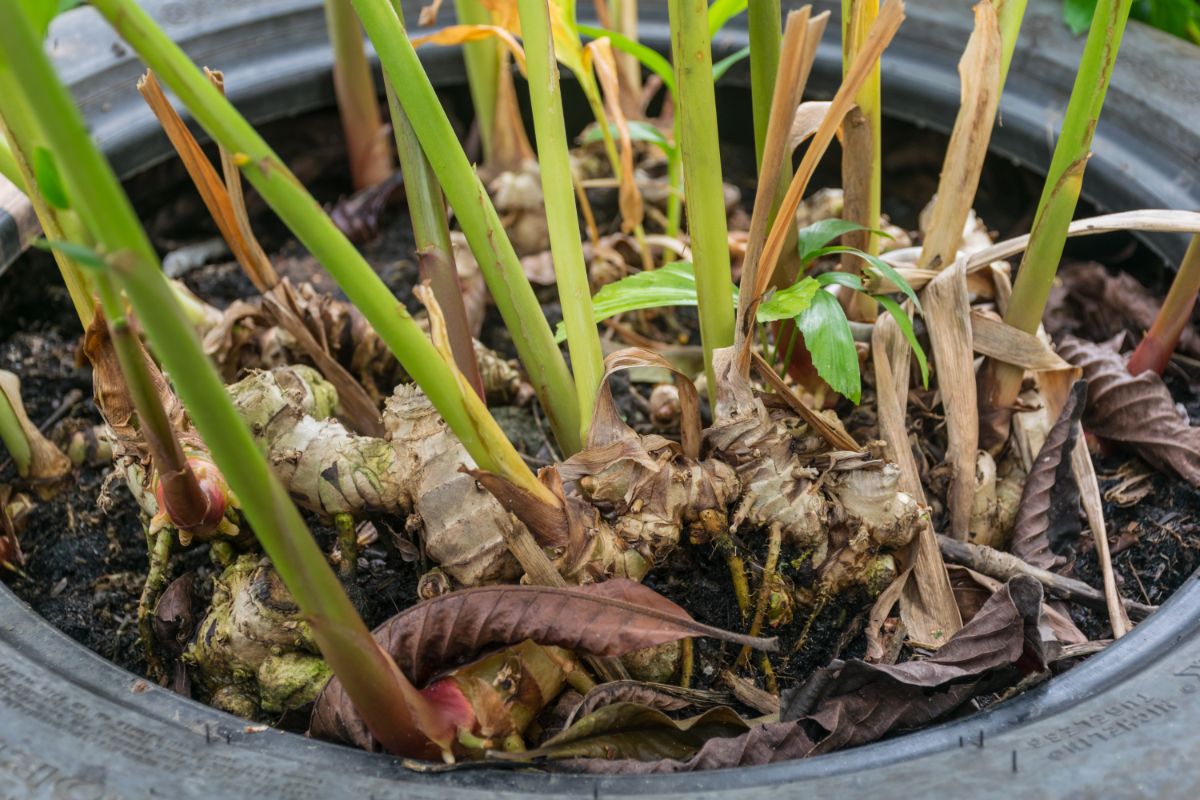 One of the major perks of growing ginger in containers is that, come the season's end, potted ginger is very easy to overwinter inside. Once temperatures start to fall in autumn, simply bring your potted ginger indoors, being sure to get your plants squared away before temperatures fall below 55°F.
To prevent overwintering pests, check your ginger plants over carefully when you bring them indoors for any signs of pests. Common symptoms include yellow or stippled leaves, sticky honeydew residue on leaves, and visible webbing from spider mites and insect frass. Even if you don't see any signs of pests, it can be a good idea to preventatively treat your plants with a vinegar spray or insecticidal soap spray when you bring them inside just to be sure that you aren't bringing any hitchhiking insects inside too!
Once indoors, potted ginger can be treated pretty much like any other tropical houseplant. Provide your plant with an abundance of bright, indirect light, and water your plant regularly when the top 1" of soil feels dry to the touch. While ginger doesn't need lots of humidity, it does prefer a humidity range of between 40 and 50%, so if you house is very dry, you may want to keep your plants on a pebble tray.
Storing ginger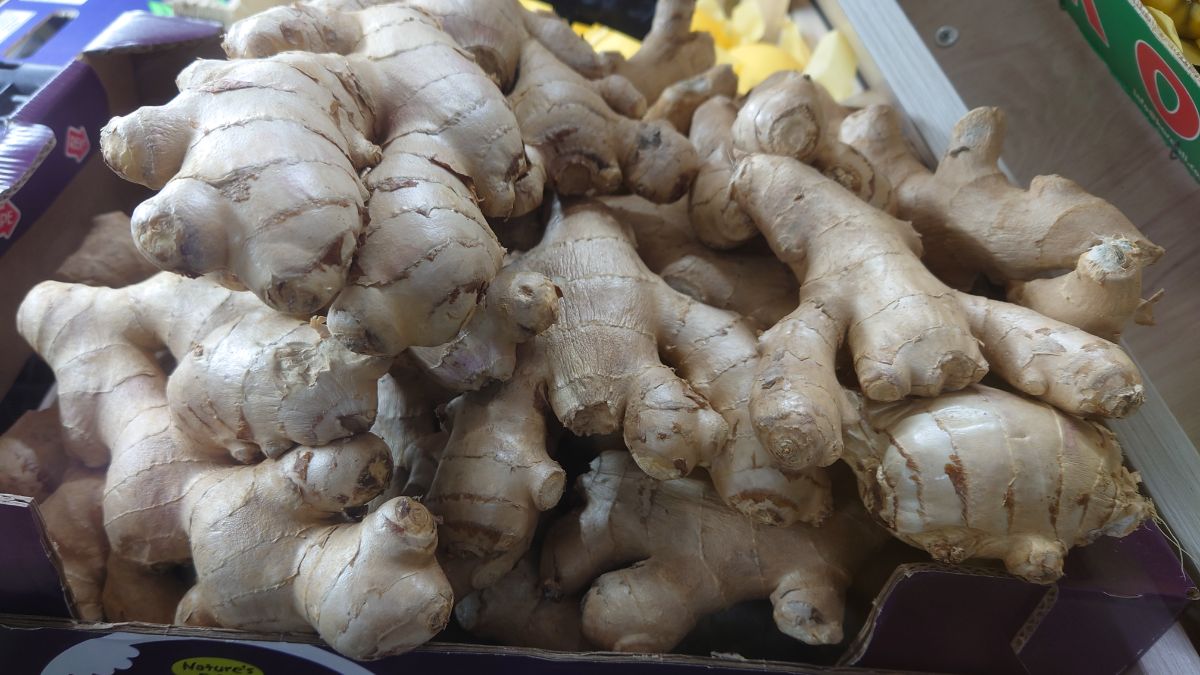 After harvesting and rinsing off your ginger harvest, you can use your ginger fresh or store it for later use. Ginger rhizomes can also be stored, overwintered, and planted again in your spring garden.
To store your rhizomes, place your ginger in a cool, dry location that's out of direct sunlight. Ginger can be stored like other root crops (like onions and potatoes) in a root cellar or dark cabinet. However, to keep your ginger fresh longer, placing it in a drawer of your fridge is usually the best option.
For longer-term storage, ginger can also be dehydrated and ground into ginger powder or ginger tea. For something even more fun, try candying your ginger for a zingy and sweet treat!
Common issues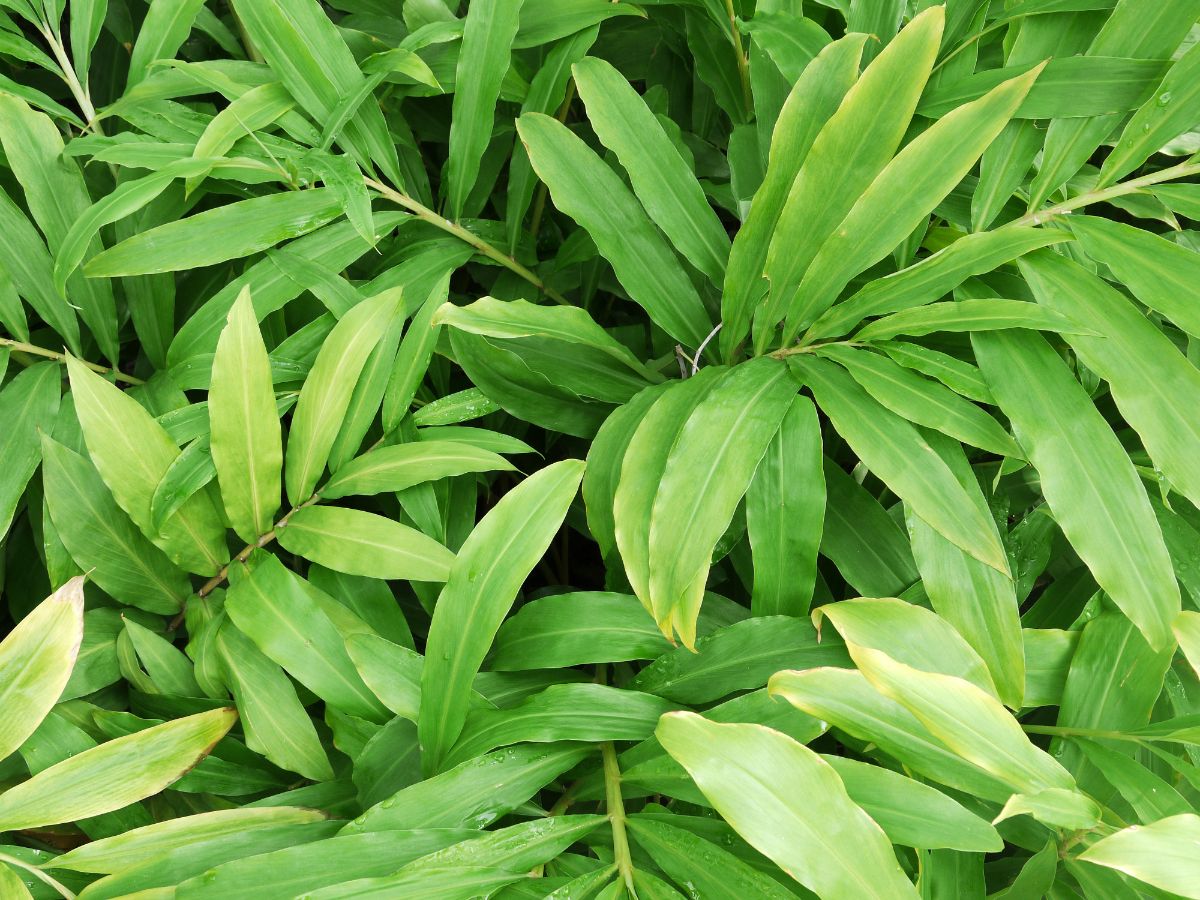 Like many other crops you can grow, ginger is susceptible to some garden pests, like aphids, mealybugs, and spider mites. To keep your plants healthy, be sure to check your ginger over from time to time for any signs of infestation and treat your plants accordingly with an organic insecticidal soap or neem oil spray.
Beyond common garden pests, some other signs your ginger plants may need an extra bit of TLC include:
Brown and crispy leaf tips. Ginger loves regular moisture, and leaves may turn brown or crispy if your plants aren't getting enough water. A good rule of thumb is to water your ginger regularly when the top 1 to 2" of soil feels dry to the touch.
Yellowing leaves. Ginger also enjoys regular fertilizer, and yellowing leaves can indicate that your plant may be suffering from a deficiency and needs an extra nutrient boost. For best results, fertilize your ginger with a good, organic liquid or granular fertilizer every 2 to 4 weeks throughout the growing season.
Soggy soil. Waterlogged soil in your ginger's pot is a recipe for disaster and can cause root rot and mushy rhizomes in no time at all. If you think you've overwatered your plants, allow the soil to dry out or repot your plants in fresh soil if they really seem to be suffering.
Popular types of ginger for home growers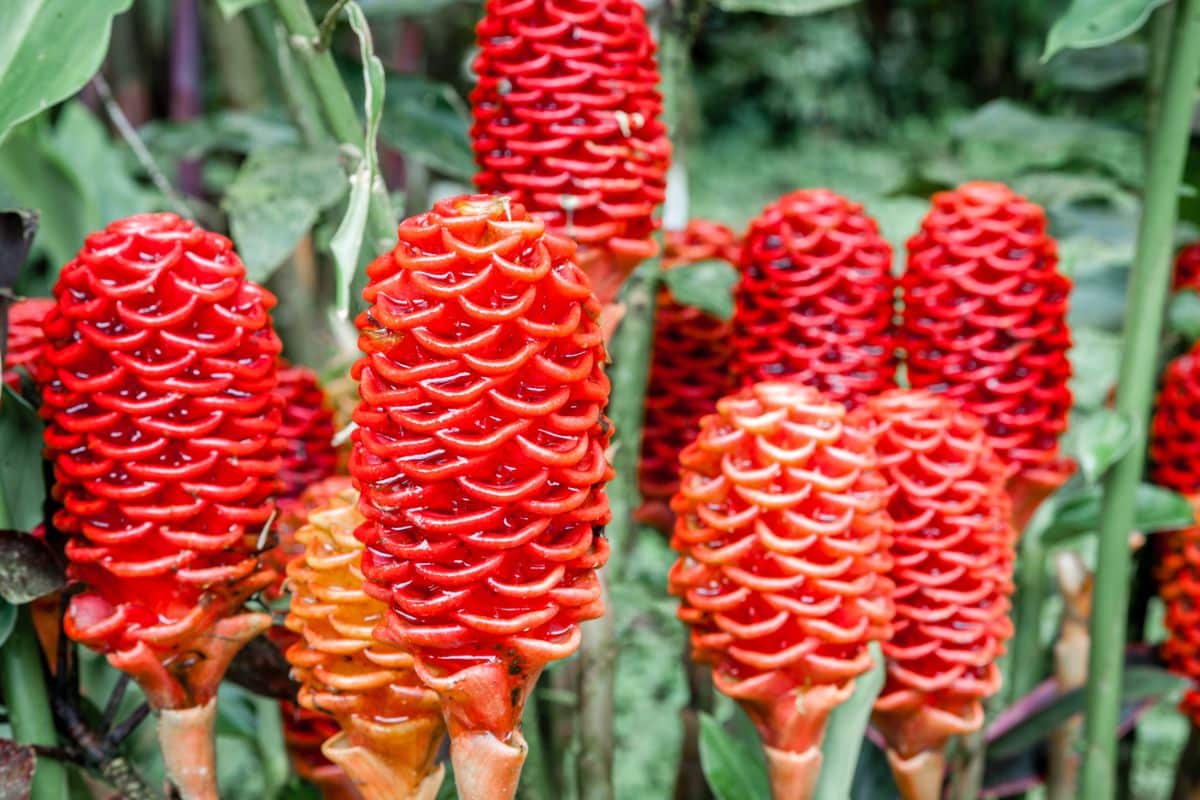 You may think you know ginger but hold that thought. There are actually over 1600 different species of ginger in the world. While you may be most familiar with common ginger, there are other exciting ginger varieties to try out in your backyard planters. Here are a few of our favorites:
· Common ginger (Zingiber Officinale)
The easiest ginger variety to find, you can usually locate common ginger rhizomes in the produce section of your grocery store. With a slightly spicy flavor, this easy-to-grow ginger variety is a good choice if you're new to ginger growing.
· Shampoo ginger (Zingiber zerumbet)
An increasingly popular ginger variety to grow, shampoo ginger has a bitter flavor. But its true value lies in the liquid secreted from its big and tropical flowers. This liquid can be used in herbal medicines, but it is a favorite ingredient in homemade shampoos and hair care products too.
· Beehive ginger (Zingiber spectabile)
A versatile ginger variety, beehive ginger is used to enhance the flavor of many different dishes. The plant features large, beehive-like flowers that turn red as they mature.
· Hidden ginger (Curcuma petiolate)
With similar care requirements to the canna lily, hidden ginger features large and tropical-looking flowers and makes a delightful ornamental plant. It has a slightly bitter taste and spicy fragrance.
· Galangal or Thai ginger (Alpinia galanga).
Also known as blue ginger, Thai ginger or galangal has a strong aroma with hints of pine and black pepper. This ginger variety is a popular addition to dishes like Thai curry and pickles.
· Turmeric (Curcuma longa)
Turmeric is actually closely related to ginger and has similar growing requirements. This superfood is an essential ingredient in Indian curries, and it is frequently used as an all-natural food coloring thanks to its bright orange color.
· Peacock ginger (Kaempferia laotica)
Usually kept as an ornamental plant, peacock ginger boasts large and dramatic leaves and lily-like flowers. The roots can be used similarly to culinary ginger, although their flavor can be unpleasantly spicy.
· White ginger (Hedychium coronarium)
Often used to flavor soups and other dishes, white ginger blooms with pretty white flowers. When the wind rustles them, they can look a bit like butterflies in flight.
Frequently asked questions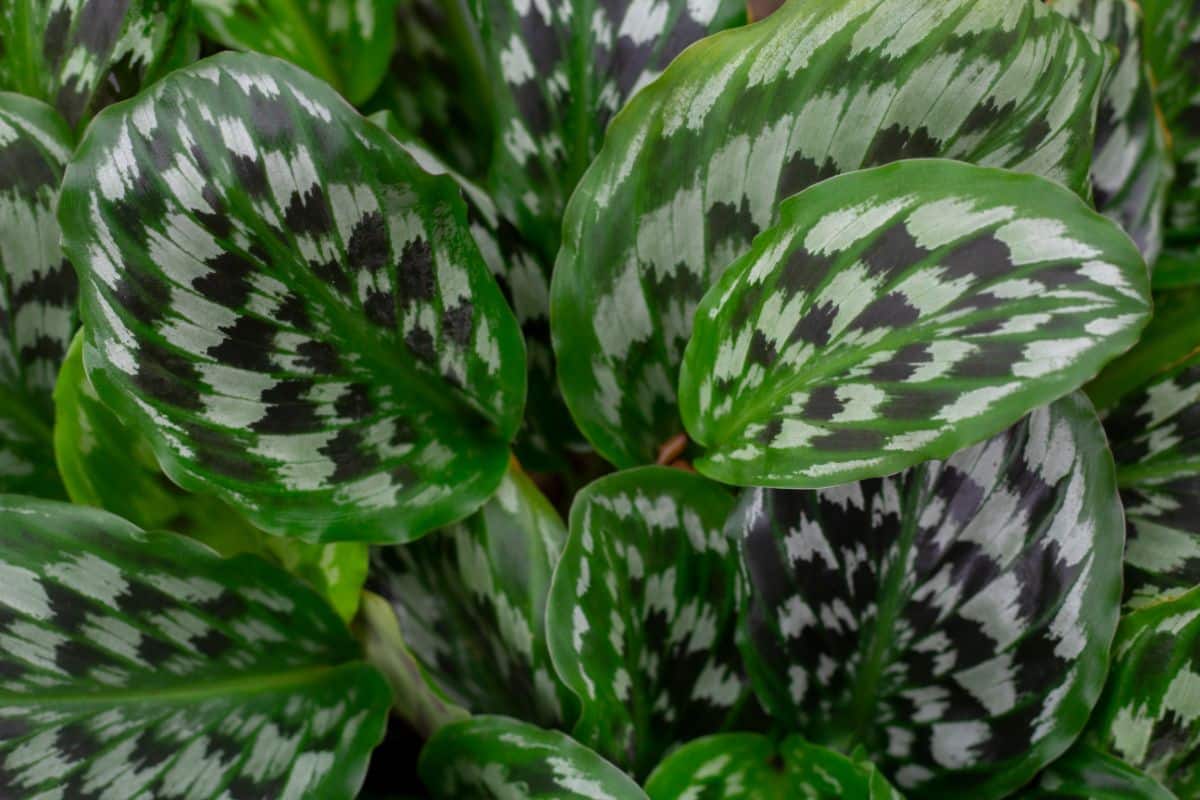 Summary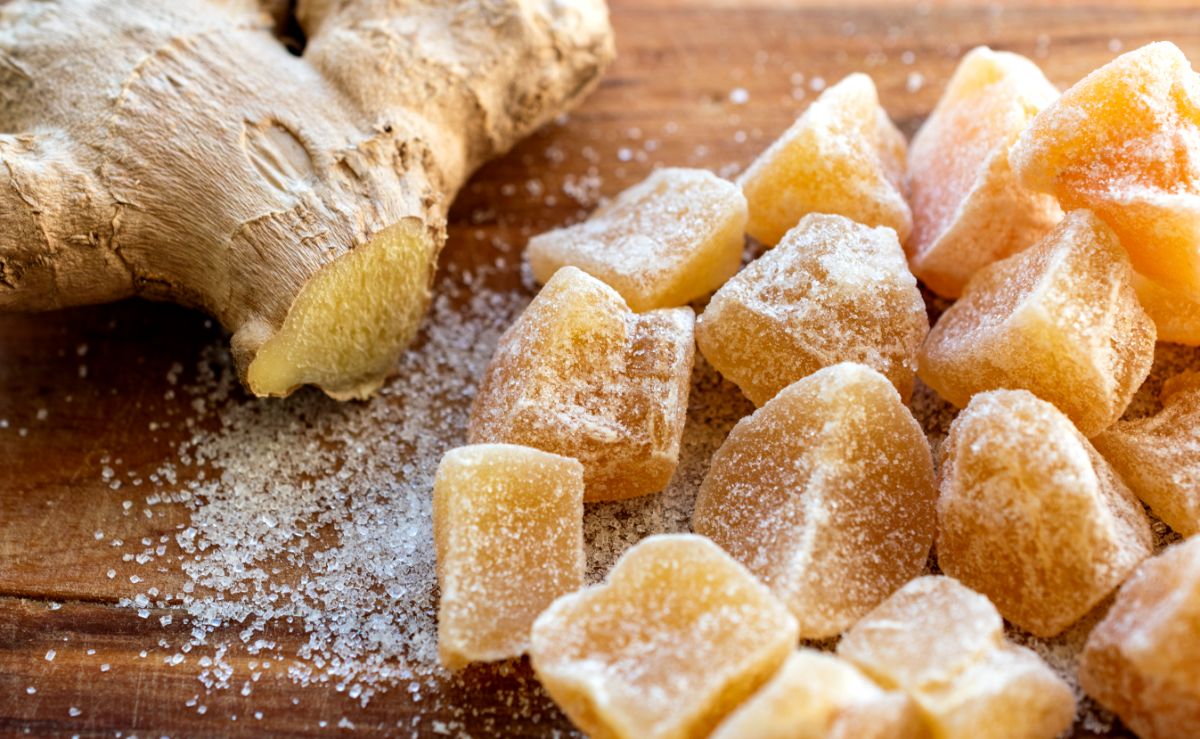 At first glance, ginger may appear to be a high-maintenance plant that can't be grown outside of the tropics. But that simply isn't true. With a little know-how and a little effort, ginger is surprisingly easy to grow, even in cooler growing locations.
Keeping ginger in pots can both simplify the growing process and extend your growing season if you live in an area with harsh winters. By bringing your potted ginger indoors in the fall, you can even grow ginger all year round to add to tasty curries, homemade tisanes, and desserts.