If you love the look of a lush, green lawn but you hate the hassle of watering and mowing grass regularly, you may want to switch to an eco-friendly clover lawn.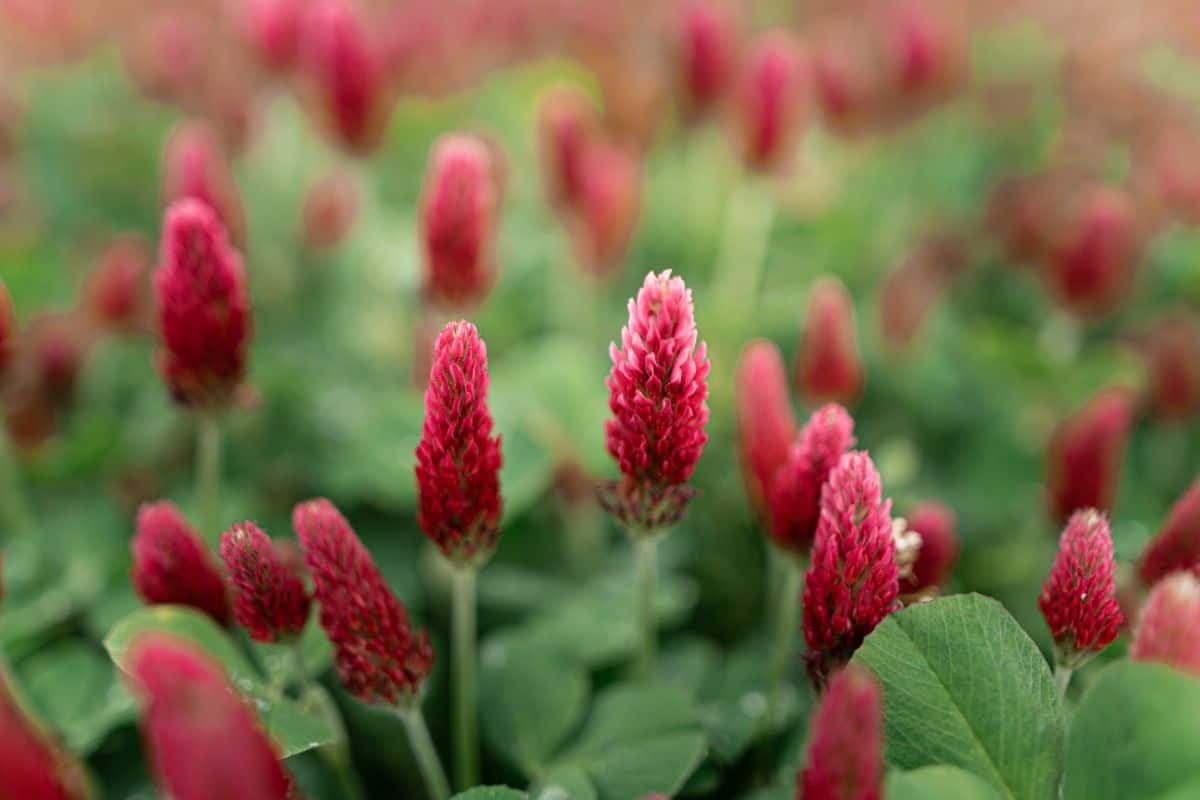 Clover lawns require less maintenance overall, and since they have lower watering needs, their easier on the environment. Plus, clover lawns have rich, green leaves and pretty and dainty flowers that are bursting with nectar and pollen for bees and other pollinators. But if you're new to working with clover, you may feel a bit overwhelmed y all of the varieties of clover seed on the market today.
Some clover varieties make excellent cover crops or green manure to enrich vegetable beds at the end of the season. Other clover types grow so tall that they're best for pastures. However, the clover varieties in the list below are all ideal for lawns and backyard spaces, and they offer a lot of benefits that you'll miss if you stick to lawn grass alone.
Jump to:
Benefits of clover lawns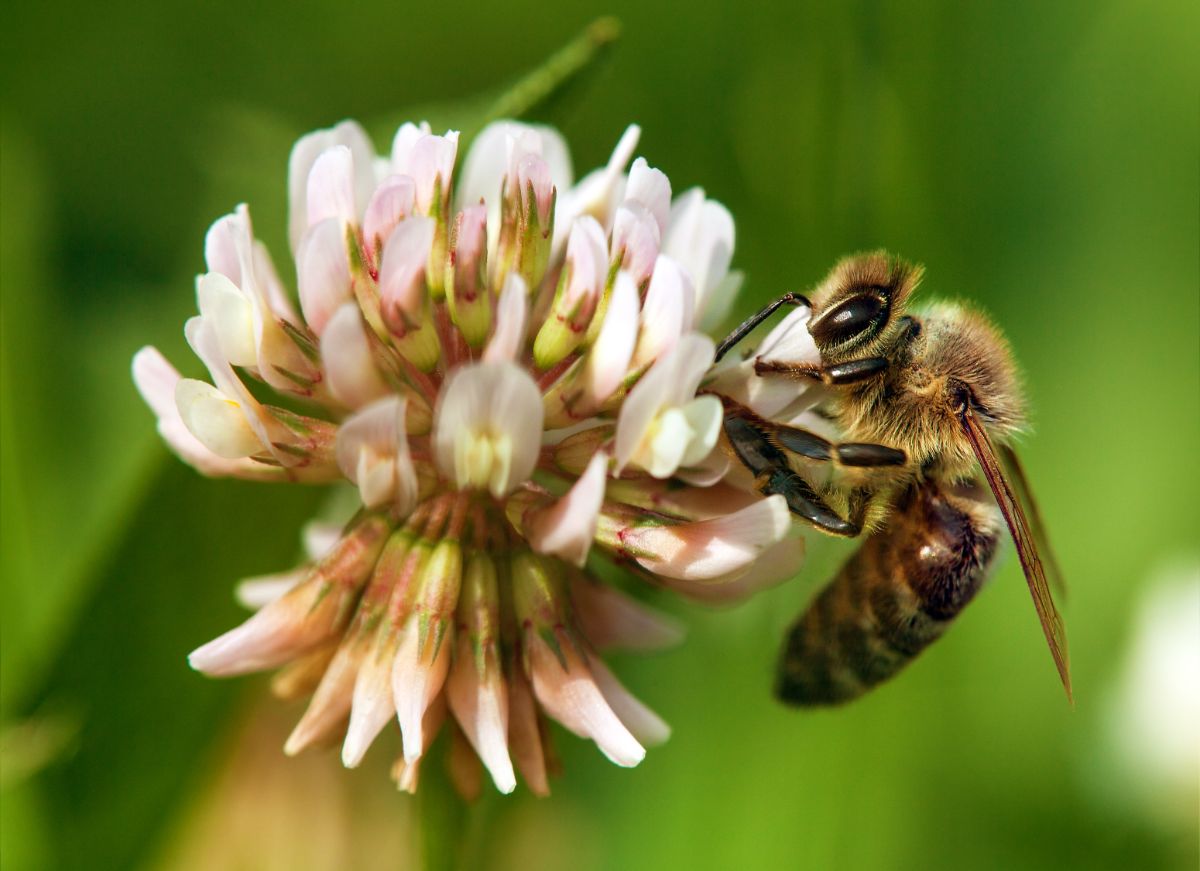 Clover lawns aren't just pretty – they're also functional and environmentally friendly. Compared to traditional grass lawns, clover lawns provide a host of benefits, including:
They help pollinators. Grass lawns may look attractive, but they don't offer any tangible benefits to pollinators. Clover lawns, however, produce tons of flowers, which provide an important food source for bees and other beneficial insects.
Less maintenance. During the growing season, grass can grow prolifically, and it's not uncommon for homeowners to mow their grass on a weekly basis. Clover lawns, on the other hand, naturally stay shorter, so they won't require as much mowing.
Fewer pests. Compared to grass, clover is a very hardy crop, and it naturally resists a lot of pests. Beyond that, growing clover can often entice deer and rabbits away from your vegetable garden, protecting your harvest and making your gardening chores that much easier!
Lower watering needs. Between 30 and 60% of fresh water in urban areas is used for irrigation, and much of that is channeled toward water-hungry grass lawns. But clover lawns don't need as much water, and since they naturally fix nitrogen in the soil, they don't need to be fertilized either!
Improves soil. Like other plants in the legume family, clover naturally fixes nitrogen into the soil. Not only does this enrich your lawn, but it can also boost the health of any plants grown nearby.
Grows in tough spots. Clover lawns can handle foot traffic with ease, but they can also be planted in areas where many other plants won't grow. For instance, unlike grass, clover plants can often thrive in soggy soils and shady spots too!
5 types of clover to grow in your lawn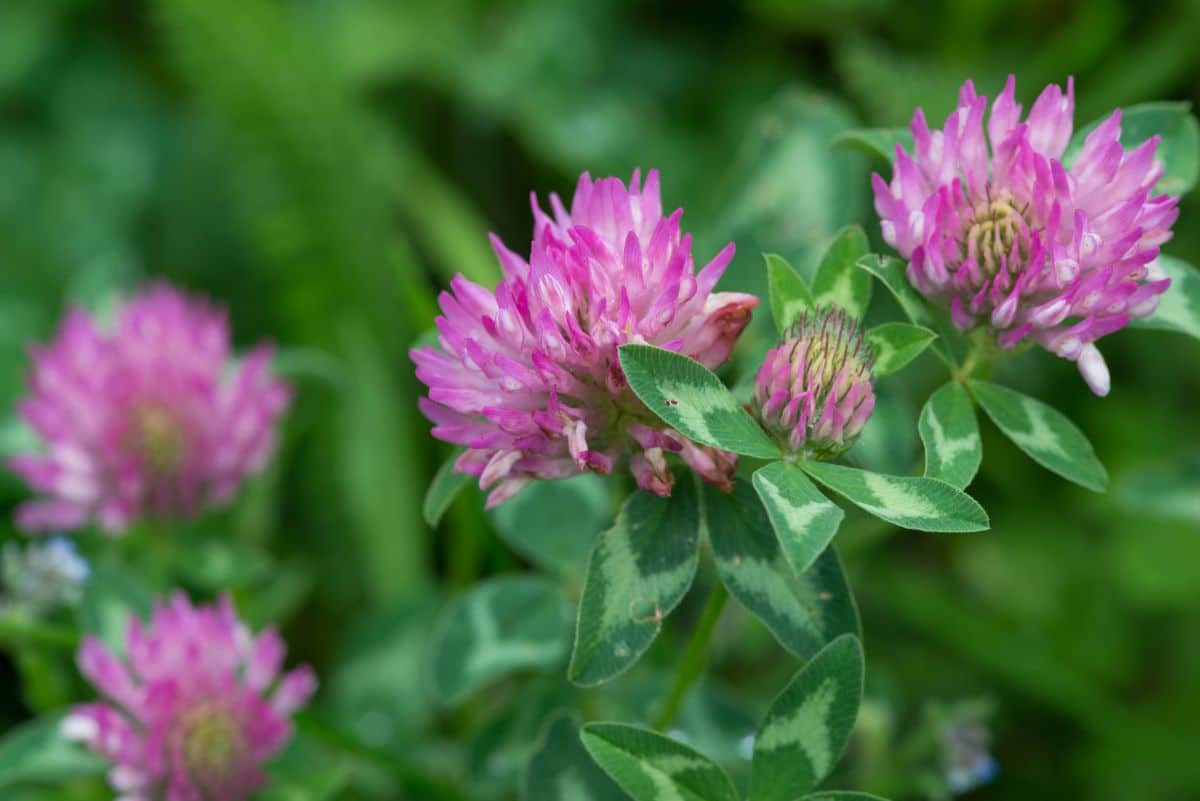 Some clover varieties are annuals, while others grow perennially, even in cool locations. Depending on your intended use, you can find clover types that grow to different heights and produce a range of different flower colors. While there are other clover varieties on the market, the 5 clover types in the list below are the best species to grow in lawns.
1. Dutch white clover (Trifolium repens)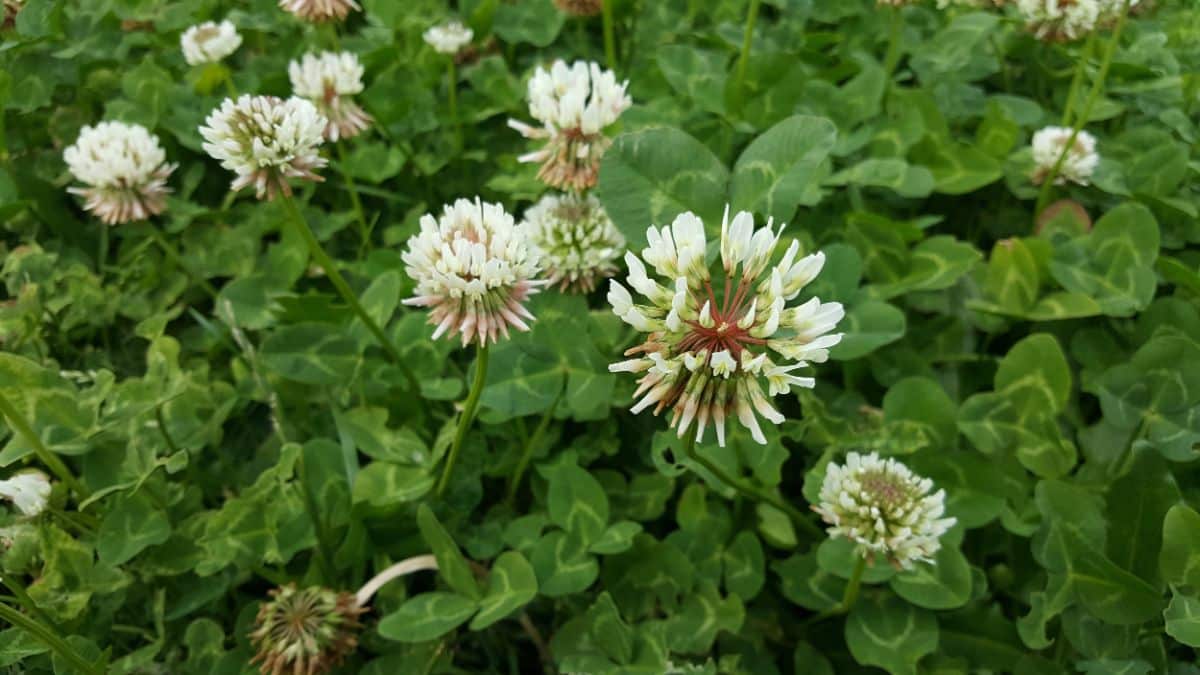 | | |
| --- | --- |
| Plant name: | Dutch white clover |
| Light requirements: | Full sun to part shade |
| Water requirements: | Moderate to low |
| Growing zone: | Zones 4 to 9 |
| Approximate height: | 4 to 8" tall |
The most common type of clover used in lawns and gardens, Dutch white clover has those characteristic creamy white to pale pink, globular flowers that we expect from clover plants. While this clover is a top choice for pollinator gardens, orchardists also often use Dutch white clover near their fruit trees to boost pollination rates and ensure a larger harvest. Beyond being a low-maintenance groundcover, Dutch white clover has excellent potential for erosion control, and it looks pretty while growing too!
Compared to many other clover varieties, Dutch white clover is very hardy, and it can tolerate the cold. This clover is ideal for areas where temperatures stay between 55 and 85F during the growing season, but it's a bit more sensitive to heat. This no-fuss clover also grows well in full sun to light shade, and it's drought tolerant.
When well-maintained, Dutch white clover plants will live about 3 to 5 years; however, these plants spread vigorously, and they will self-sow if they're allowed to go to seed. That means that you can keep your clover patch going for years with minimal maintenance. Even better, since these plants only grow 4 to 8" high, they don't require much mowing.
2. Red clover (Trifolium pratense)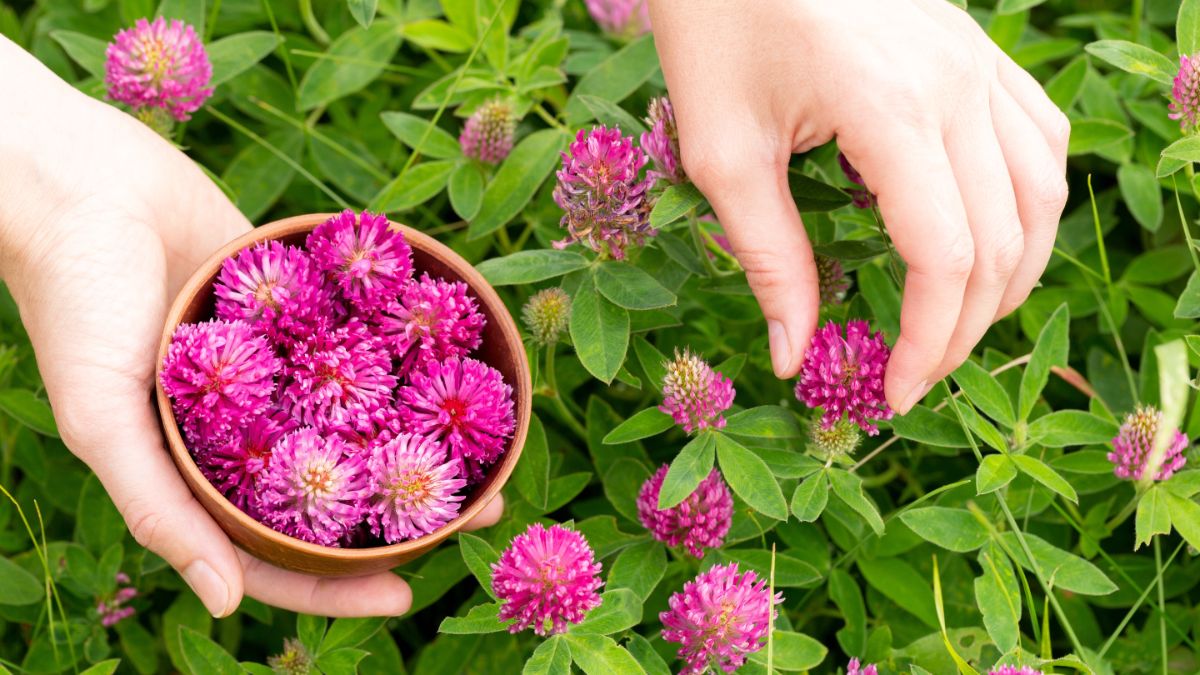 | | |
| --- | --- |
| Plant name: | Red clover |
| Light requirements: | Full sun to part shade |
| Water requirements: | Moderate to low |
| Growing zone: | Zones 4 to 8 |
| Approximate height: | 12 to 18" tall |
Red clover is a slightly larger plant than Dutch white clover, and it usually grows between 12 and 18" high. This plant has a more upright growth habit, and it's easily recognized by the V-shaped markings on its leaves. Not to mention red clover has eye-catching, purplish-pink blooms that have lots of ornamental appeal and can blend right in with wildflower gardens.
Like Dutch white clover, red clover is highly attractive to pollinators, but it isn't quite as hardy. Happy plants can usually last for 2 to 3 years before dying back, but this plant does readily self-sow, so that's rarely a problem. Red clover will sometimes grow as an annual in areas with extreme cold, but it is generally hardy in growing zones 4 to 8.
Growing best in full sun to part shade, red clover can grow in different soil types as long as they are well draining. These plants are also drought tolerant, but they can sometimes be susceptible to mildew issues. Beyond that, both the leaves and flowers of red clover plants are edible, and flowers make lovely salad toppers, or they can be steeped into homemade jellies.
3. Crimson clover (Trifolium incarnatum)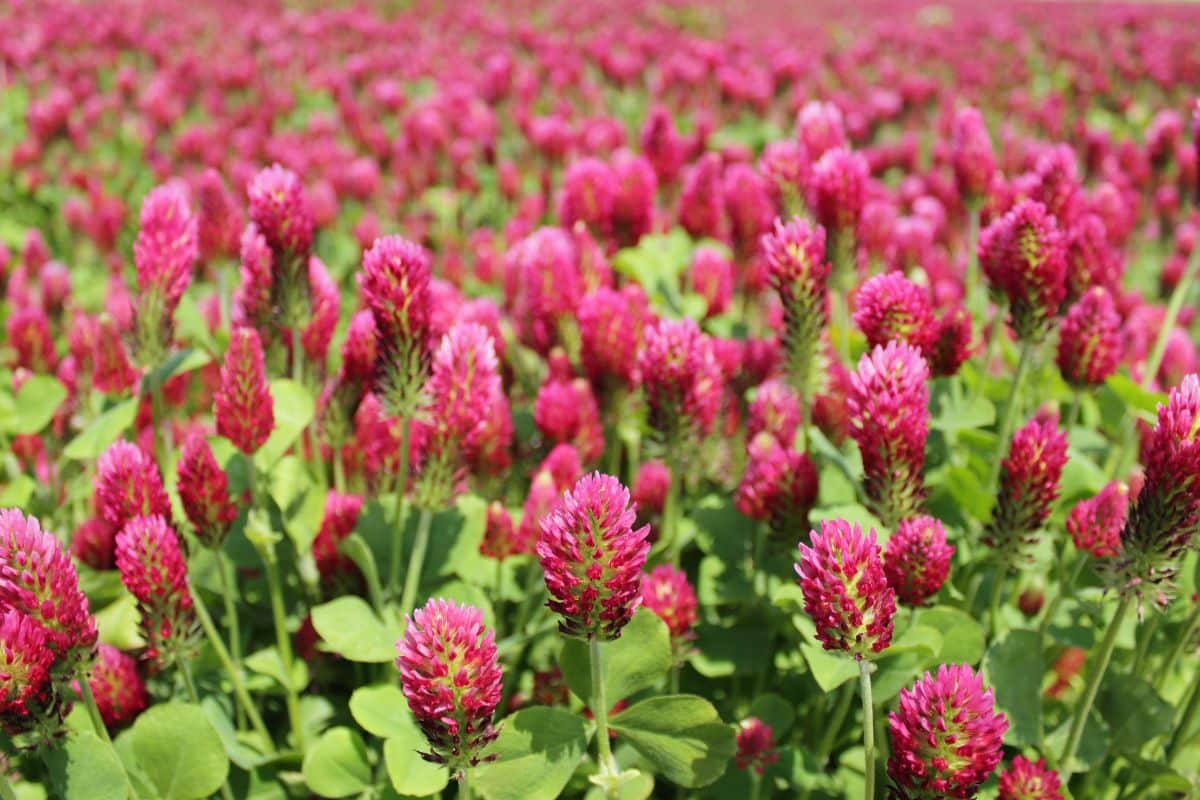 | | |
| --- | --- |
| Plant name: | Crimson clover |
| Light requirements: | Full sun |
| Water requirements: | Moderate to low |
| Growing zone: | Zones 6 and up |
| Approximate height: | 1 to 3' tall |
Crimson clover is the most striking clover variety you can grow. While the names "red" and "crimson" clover can be a bit confusing, crimson clover has bright, scarlet red flowers that are much showier than the blooms on red clover. Those flowers are also more elongated in form, giving the plant a very ornamental appearance that slightly resembles globe amaranth.
But while crimson clover is certainly attractive, it isn't as hardy as other clover types, and it only grows as an annual. In some areas, crimson clover will reseed itself and come back, but this isn't always guaranteed. As a workaround, you can plan to sow crimson clover seeds annually, or you can blend them in with other hardier clover seed varieties for an interesting, seasonal pop of color.
Mature crimson clover plants grow between 1 and 3' tall, which makes them less useful for lawns with lots of activity. However, if you have a section of your lawn that you can let grow a bit wild, you may want to try out some crimson clover seeds there and mix them in with other pollinator favorites, like bachelor buttons and poppies. Like strawberry clover, crimson clover plants prefer full sun, and they can tolerate different soil types as long as they drain well.
If you want to seed crimson clover on an annual basis, the best time to do it is either in spring or fall. In warm areas, crimson clover seeds can be spread by hand in late summer to early fall. But, in cooler spots, it's best to plant crimson clover seeds in prepared soil in the spring.
4. Strawberry clover (Trifolium fragiferum)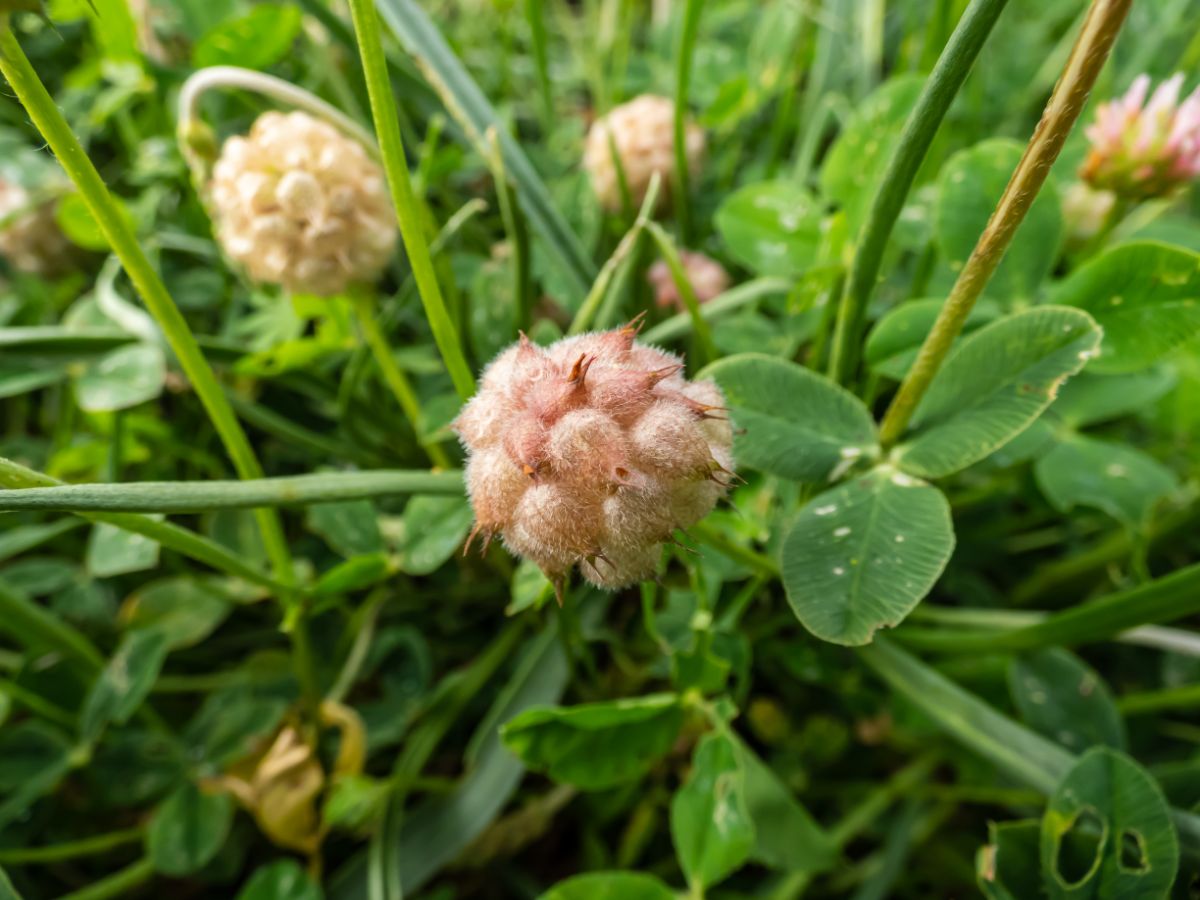 | | |
| --- | --- |
| Plant name: | Strawberry clover |
| Light requirements: | Full sun |
| Water requirements: | Moderate to low |
| Growing zone: | Zones 3 to 9 |
| Approximate height: | 8 to 14" tall |
Strawberry clover has a similar look and feel to Dutch white clover, although it can handle higher salinity levels. This makes strawberry clover a good choice for lawns near coastal areas or areas where road salt makes growing other plants a chore. Plus, despite its delicate look, strawberry clover can also handle some light flooding, so you may want to try this clover type out in soggy lawns with poor drainage.
In appearance, strawberry clover is very similar to Dutch white clover, and it also produces white to pale pink flower heads, although those flowers are usually on the small size. These plants grow between 8 and 14" tall, and they live for about 3 years when cared for properly. After flowering, strawberry clover produces rounded seed heads that look a bit like pale strawberries!
Compared to red clover, strawberry clover is more resistant to pests and diseases, and it doesn't struggle as much with fungal problems. That said, strawberry clover is a sun-loving plant, and it doesn't do as well in light shade. It is also less drought-resistant than some other clover varieties, but it can grow in clay soils that other plants won't take.
5. Micro clover (Trifolium repens L.)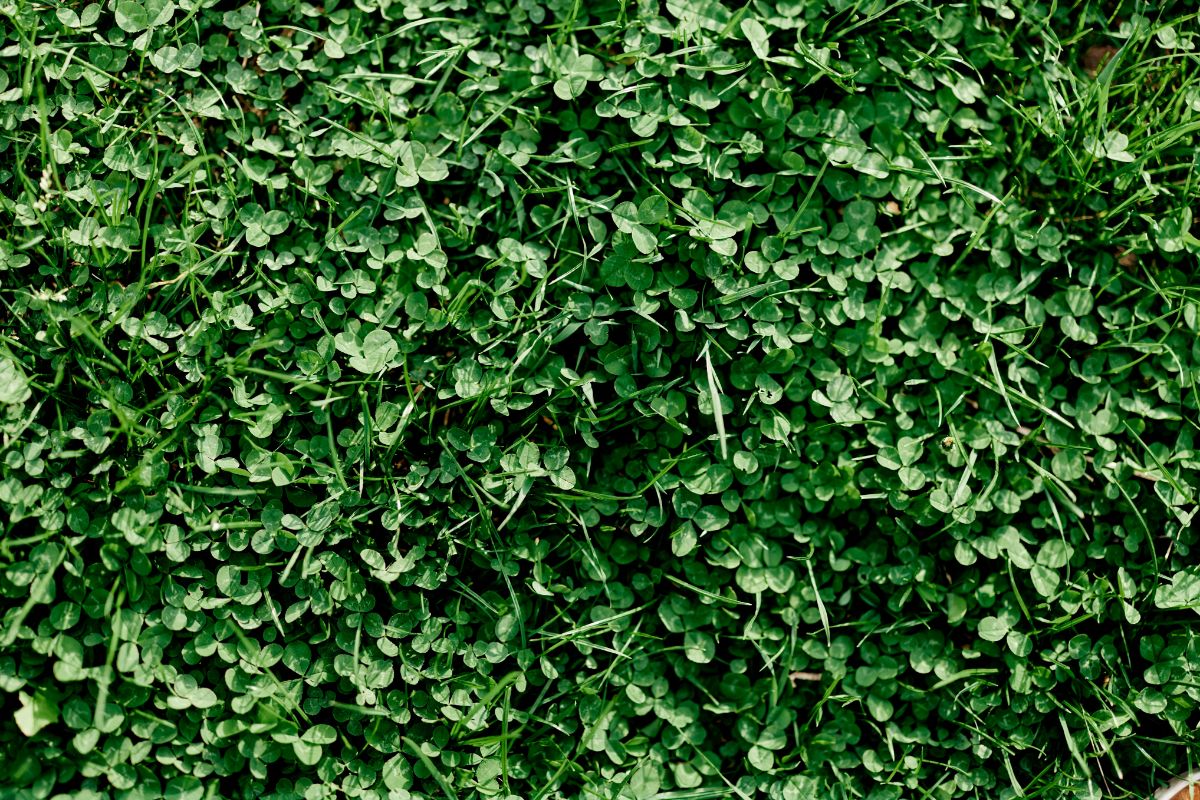 | | |
| --- | --- |
| Plant name: | Micro clover |
| Light requirements: | Full sun |
| Water requirements: | Moderate to low |
| Growing zone: | Zones 3 to 8 |
| Approximate height: | 3 to 6" tall |
Micro clover is a smaller variety of Dutch white clover, which has been cultivated in Europe for a while. However, this clover type has been gaining popularity in recent years in the United States thanks to its easygoing nature and low maintenance needs. As a result, you can often find micro clover seeds at plant nurseries, although the seeds for all the different clover types can be ordered online too.
Like Dutch white clover, micro clover has darling, white to pink flower heads and bright green leaves. However, unlike its larger cousin, micro clover grows lower to the ground, and plants often max out at about 4 to 6" in height. That short stature means that micro clover doesn't need to be mowed as often, and when you do cut it, it can be cut down lower to the ground than other clover varieties will tolerate.
Aside from being shorter, micro clover also has smaller leaves than Dutch white clover, which gives this plant a more uniform appearance. It also helps micro clover blend in better with turf grass lawns if you would prefer to have a mixed lawn of clover and grass. While micro clover certainly has a lot of perks, it isn't as shade or drought-tolerant as Dutch white clover, and it can't handle as much foot traffic.
Using clover as a cover crop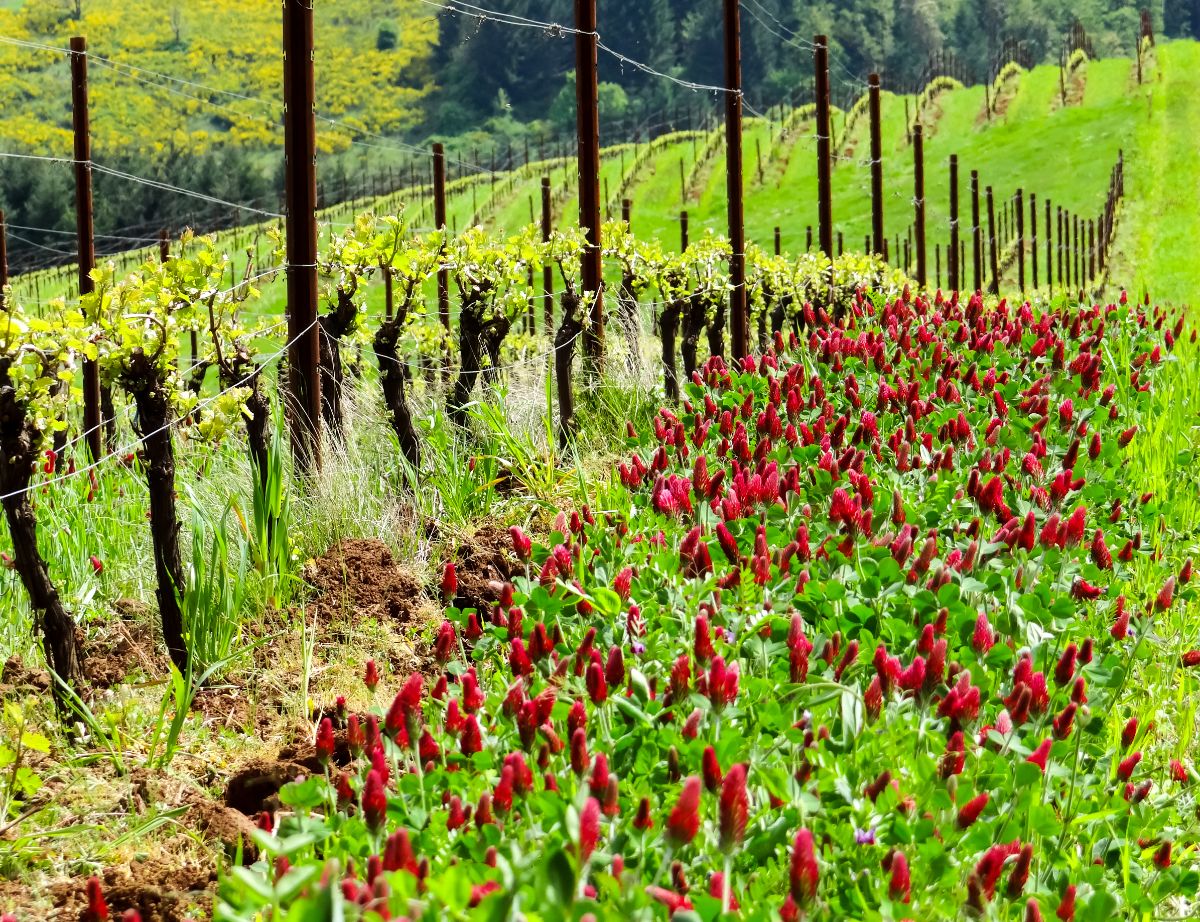 Clover makes a fantastic and sustainable lawn covering, but it can also be grown in pastures to feed livestock. Gardeners can plant certain varieties of clover in their garden beds as a cover crop or green manure for soil enrichment, but not all clovers are great for this purpose.
While you can plant white Dutch clover or red clover as a cover crop, these clover varieties tend to be difficult to kill, and they often turn weedy in garden beds. A better solution is to use crimson clover as green manure since the plant already grows as an annual.
When cold temperatures arrive, crimson clover dies back, and the dead plant material can then be mixed back into the garden soil to add nutrients and extra nitrogen. Come spring, you can plant your vegetable garden as usual, and your new plants will benefit from the added nitrogen from your composted crimson clover plants.
Frequently asked questions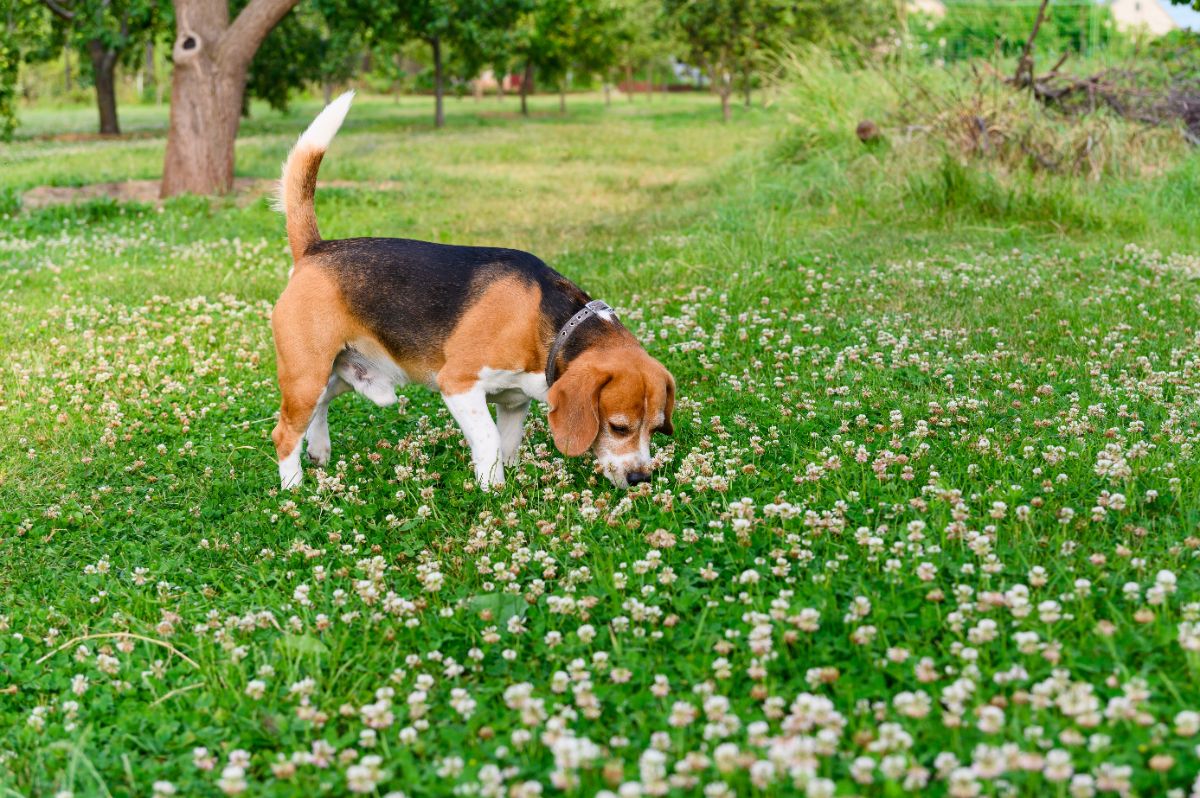 What is the best clover for a no-mow lawn?
Since it's a naturally smaller plant and it grows lower to the ground, micro clover requires the least amount of mowing, and you may not need to mow a micro clover lawn at all! Dutch white clover also doesn't need to be mowed much, but it will usually need to be trimmed a few times throughout the growing season.
Is red clover or white clover better for a lawn?
That depends on your purposes. Red clover is arguably more ornamental than white clover, and it is a bit more industrious at fixing nitrogen into the soil. White Dutch clover, however, is a hardier plant overall, and it's the best clover type to grow in high-traffic areas.
What is the best time to plant clover?
The best time to plant clover seeds is in spring when rain is abundant, and the soil has warmed enough to be workable. Crimson clover can also be planted in late summer to early fall in warm climates.
What is strawberry clover good for?
Strawberry clover is often grown in pastures or orchards, where it lures in pollinators and increases the pollination rates of fruit trees. This plant also makes an attractive groundcover, and it can be used as an alternative to grass lawns too.
Is Dutch clover good for a lawn?
Yes! Like other clover varieties, Dutch clover naturally fixes nitrogen into the soil, and it can boost the nutrient content of soils over time. On top of that, clover roots can break up tough soils and make it easier for other plants to root.
Can you seed clover over the existing lawn?
Absolutely! One of the best things about growing clover as a lawn alternative is that you don't need to replace your entire grass lawn. While you can grow a dedicated clover lawn, clover seeds can also be seeded over existing lawns, which makes for an ultra-easy install.
Summary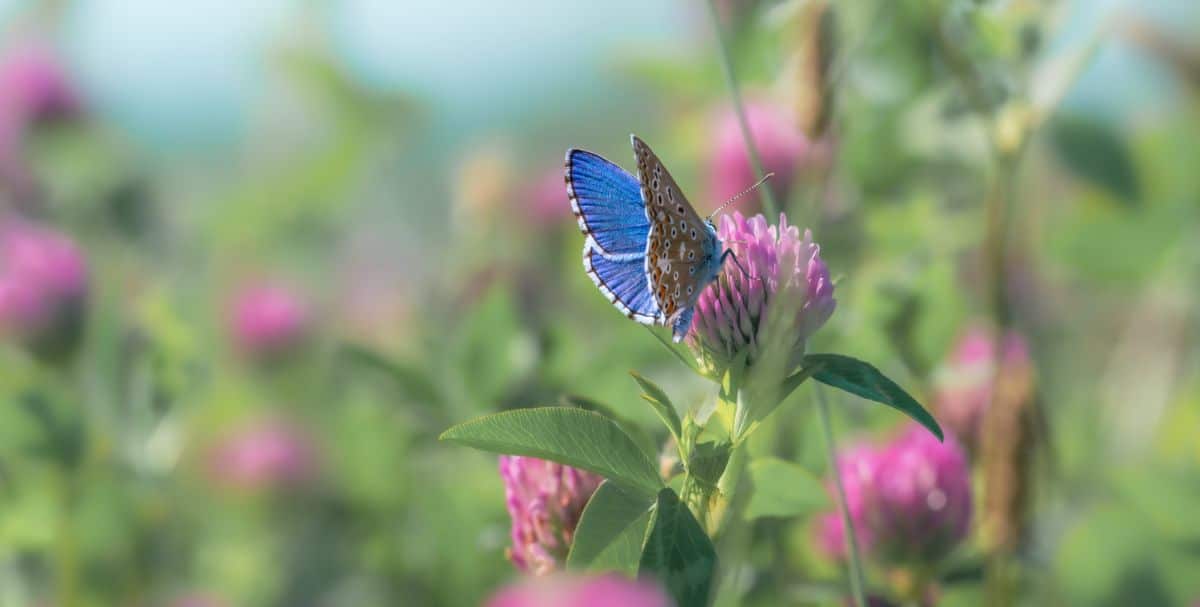 Clover lawns are attractive, low-maintenance alternatives to traditional grass, but if you get serious about planting a clover lawn, you'll need to select the variety of clover you want to grow first. Since different clovers have different care requirements, it's important to find a clover type that will grow well in your growing zone and garden conditions. Once you have the seeds in hand, planting a clover lawn is relatively simple, and it can improve your home's curb appeal, help pollinators, and more!
Clover seeds are readily available for purchase online, but you can also often find Dutch white clover and micro clover seeds for sale locally. If in doubt, check smaller mom-and-pop plant nurseries or peruse the aisles of your local livestock supply store. You can often find clover seeds, as well as wildflower mixes, on the shelves for a good price.
If you're growing a clover lawn to conserve water, there are other steps that you can take to make your lawn more eco-friendly. For more ideas, check out our guide on ways to conserve water in your lawn and garden right here.