Say 'goodbye' to ugly yellow spots in your lawn with these all-natural lawn care tips!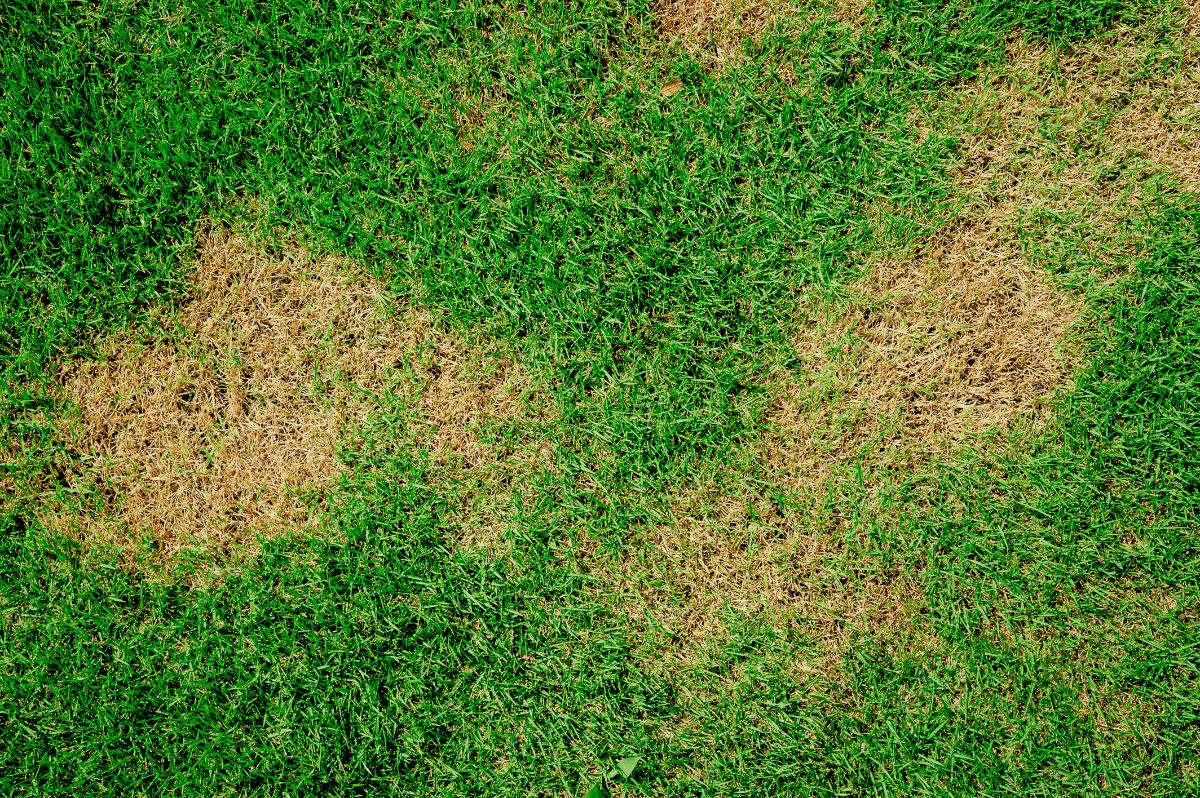 Lush, green lawns can elevate your home's curb appeal and serve as the vibrant backdrop to backyard picnics, summer garden parties, and kid's outdoor playtime. But when unsightly yellow patches crop up in your grass, it can spoil the look of your landscape.
In this guide, we'll walk you through some of the most common causes of yellow grass and what to do about them.
Jump to:
What causes yellow spots in your grass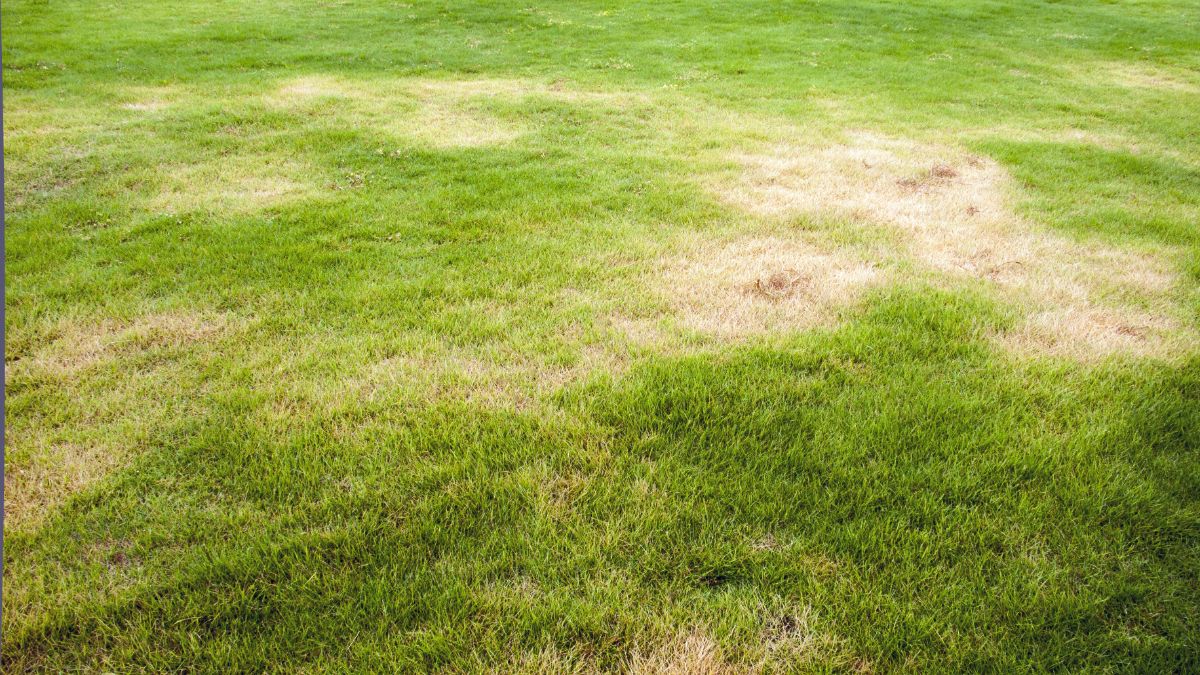 The first step towards helping your lawn recover from yellow spots is to determine what caused them in the first place. Below are some of the most common reasons why grass may turn yellow.
Overfertilizing your grass is one of the most common reasons grass may turn yellow or brown. This is because too much nitrogen can burn grass roots and leaves and even kill off sections of grass, leaving behind unsightly patches of discoloration.
Dog urine also has high levels of nitrogen which can scorch grass patches and cause yellow spots. This can become particularly problematic as most dogs are creatures of habit and frequently visit the same spots to do their business.
Hot and humid weather and poor air circulation can be breeding grounds for fungal diseases that can cause yellow grass. Fungal issues usually present as circular spots of discoloration in your grass, which cannot be attributed to pets.
Common lawn pests, like chinch bugs and grubs worms, can damage grass by feeding on plant roots. Grass affected by these pests can usually be pulled up quite easily. If you dig in the soil underneath yellow spots, you will often find visual evidence of pests or the pests themselves.
Like other plants, grass needs plenty of light to grow properly. If grass doesn't receive enough light, it may discolor.
Hot summers can seriously stress out your grass, especially if you're keeping cool-season grasses. Some varieties of grass may enter a state of dormancy during summer and turn yellow as a result.
13 ways to fix yellow spots in your grass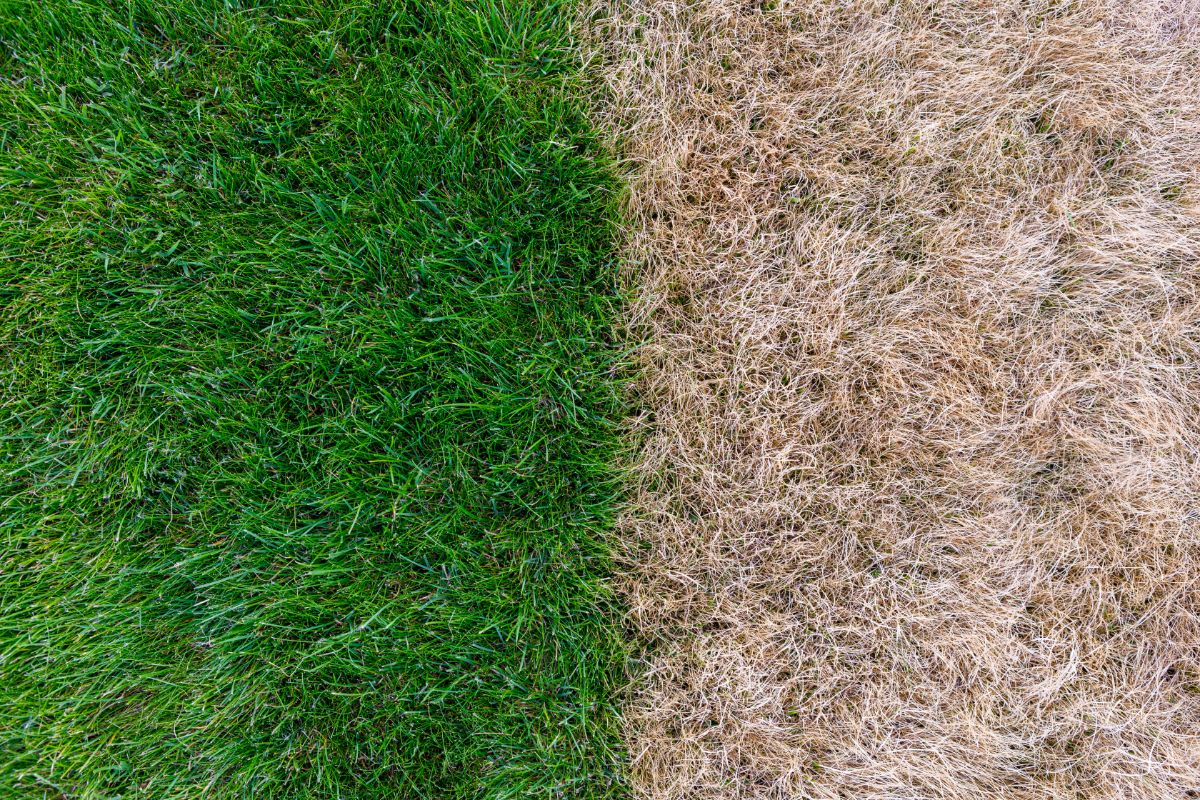 Once you know what's causing the yellow spots in your lawn, you'll want to act fast to increase the chances that your grass will recover quickly. Below are some of the top ways to cure and prevent yellow spots and keep your lawn looking healthy and green throughout the season.
1. Know when to mow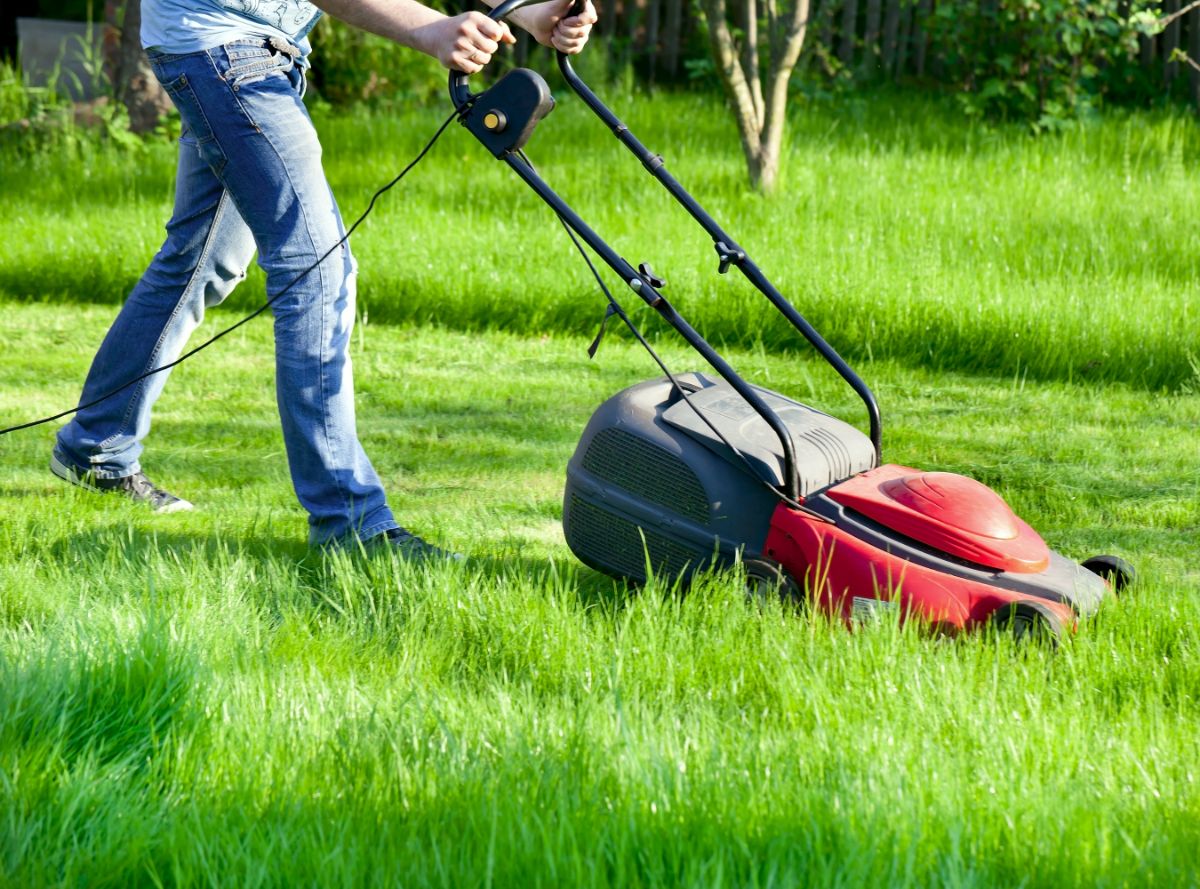 The best time to mow your grass is in mid-morning after the dew has dried. If you can't mow your grass then, then aim for late afternoon, around 4 PM, as this will give your grass some time to recover before evening.
Mowing your grass at the right time can minimize the stress on your plants and help your grass better resist fungal diseases.
If you can, cut down on how often you cut your grass too. Mowing your lawn can stress out your grass and promote disease spread, so the less often you mow it, the more resilient your grass will be. Longer grass can also shield the soil line and slow moisture evaporation rates, reducing how often you need to water your grass in summer.
2. Adjust your lawn mower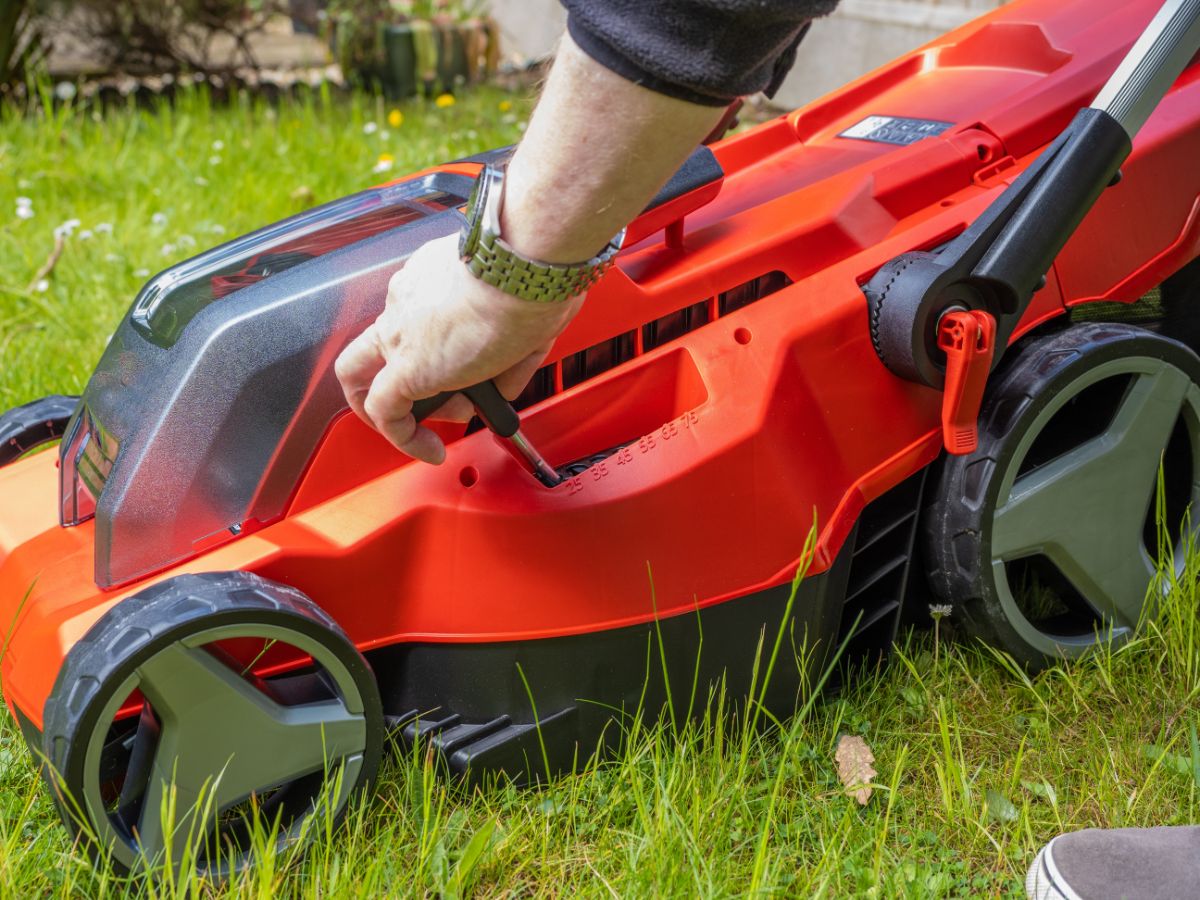 Cutting your grass too short can weaken your plants and make them more susceptible to foot traffic. If you can, try lifting your mower deck a little bit and allow your grass to grow a bit longer than usual – 2 ½ to 3" high is just about right!
3. Prune dense overgrowth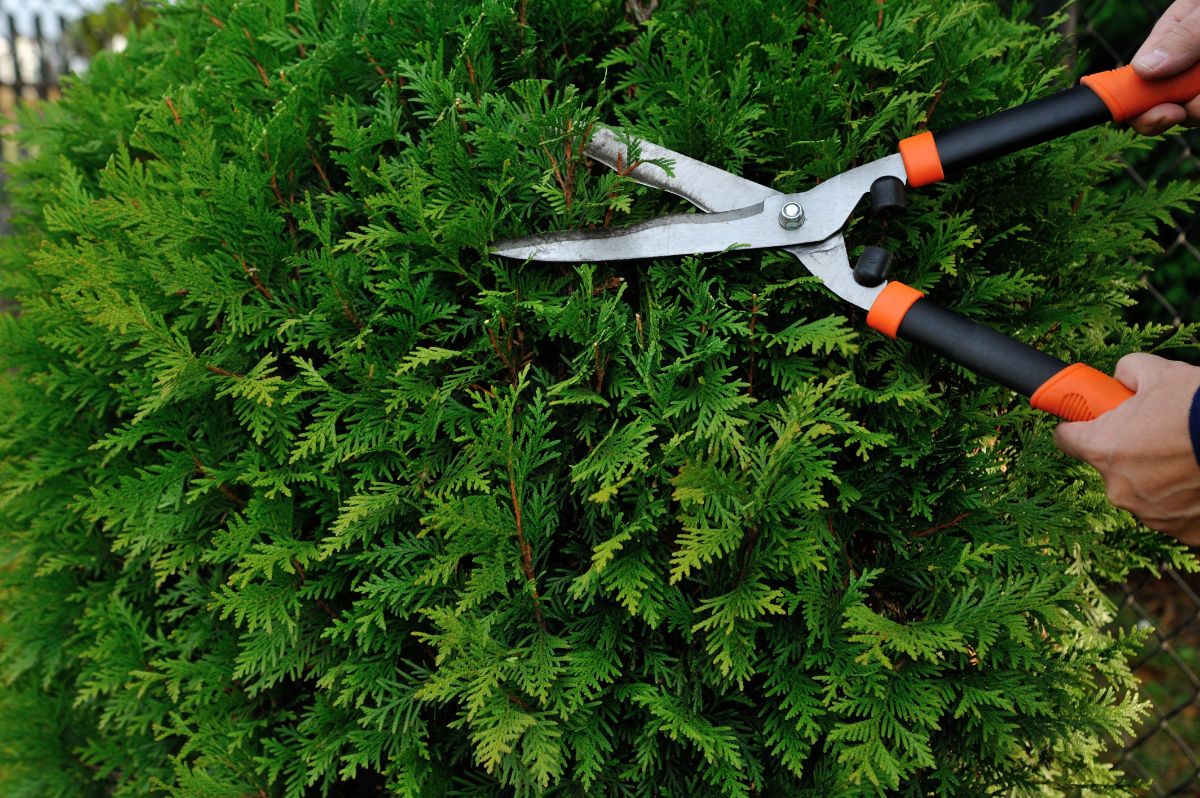 Grass that doesn't receive enough sunlight may discolor and turn yellow over time. For this reason, if your lawn is very shaded by dense overgrowth, you may want to prune back your trees and shrubs a little.
Alternatively, you can look for grass seed varieties that are better suited for shadier spots, such as Centipede, Zoysia, and St. Augustine grasses.
4. Improve drainage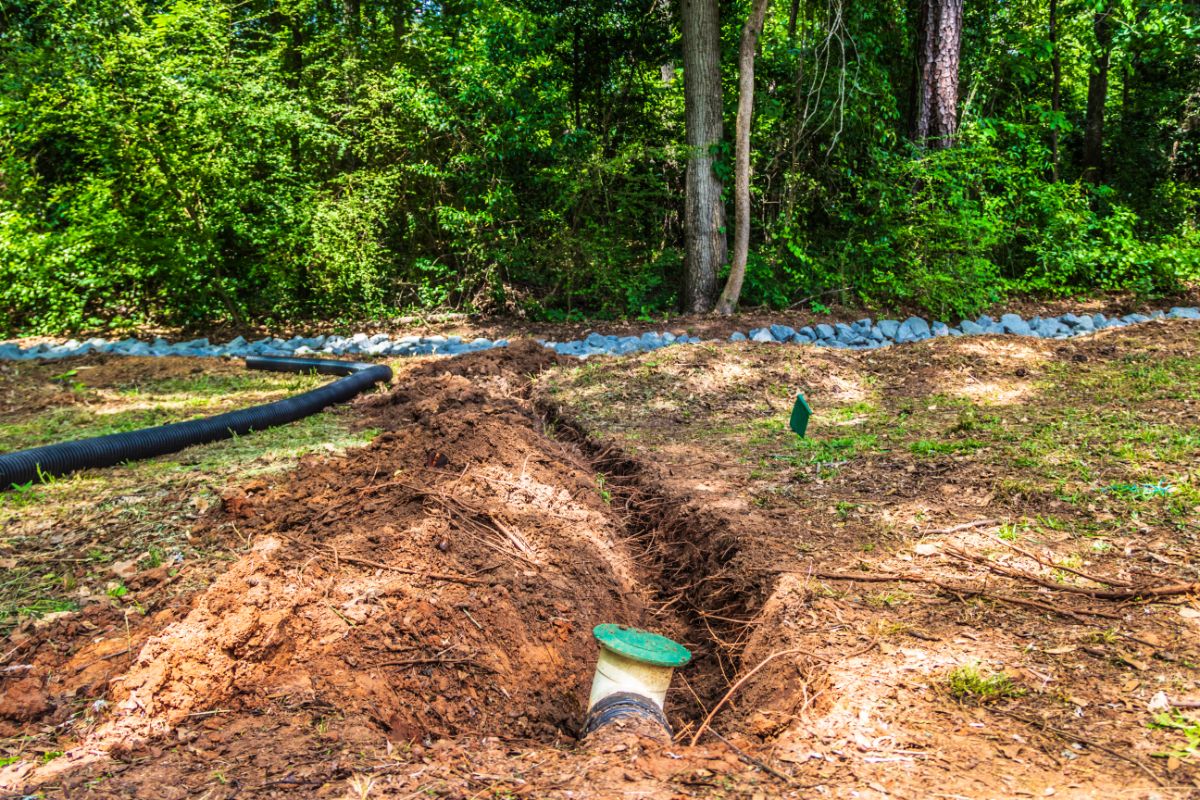 Low spots in your lawn can cause water to pool and build up, creating an environment where fungal diseases can spread. Poorly draining and soggy soil is also not ideal and can impact the health of your grass.
If you have low spots in your lawn, consider filling them in with fresh soil to help even things out. Poorly draining areas can be remedied with grading or the addition of a French drain.
If you have a very soggy section of your backyard, you can also consider doing away with grass in that area entirely and replacing it with a rain garden or other water feature.
5. Remember to rake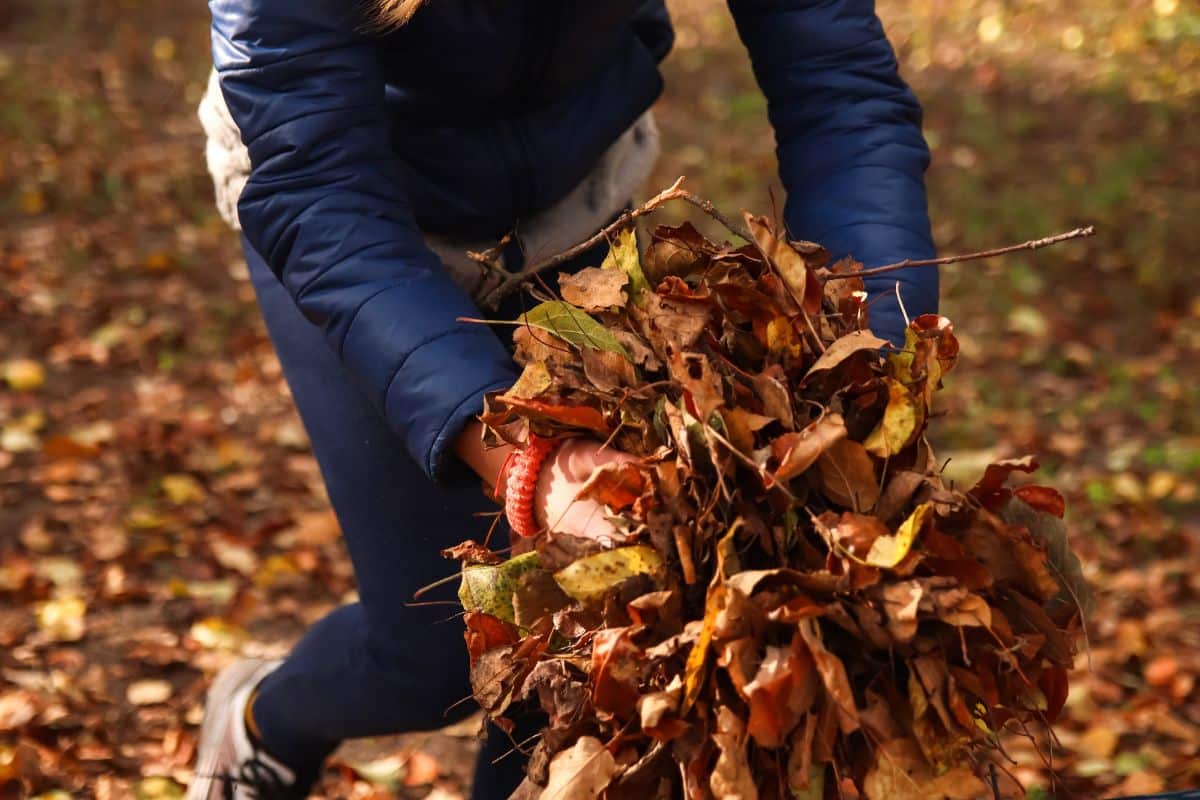 Just as dense plantings can block out sunlight and cause yellowed grass, so can autumn leaves that are allowed to stay on your lawn for too long. Raking your grass in autumn or cleaning up leaf litter with a mulching mower will make sure your grass gets enough light and air circulation.
This is also important for keeping fungal diseases in check, and it can reduce pest activity as well!
6. Fertilize appropriately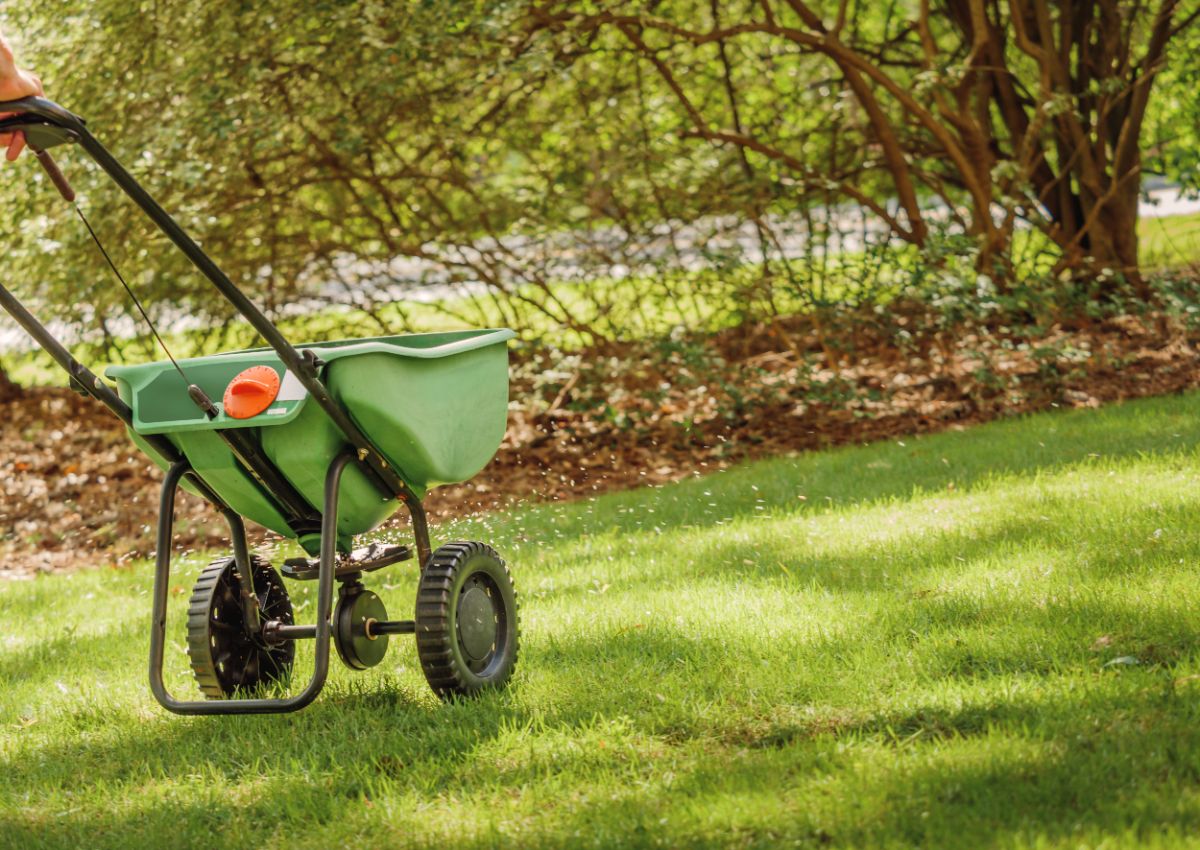 Overfertilizing your lawn is one of the most common causes of yellow spots. To avoid this, be sure to follow fertilizer instructions carefully and never overapply your fertilizer. Remember, you can always add more fertilizer later, but you can't get rid of it easily if you apply too much!
Opting for organic, all-natural fertilizers or soil additives instead of synthetic fertilizers can also be an easy way to avoid overfertilizing your lawn. Soil amendments, like aged compost, alfalfa meal, or kelp meal, offer the nutrients grass needs but are generally better tolerated by plants and are less likely to cause plant tissue burn.
Regardless of which fertilizer you choose to use, watering your lawn thoroughly after applying your fertilizer of choice will also reduce the chances of fertilizer burn and help your grass more readily absorb the nutrients it needs.
7. Aerate your lawn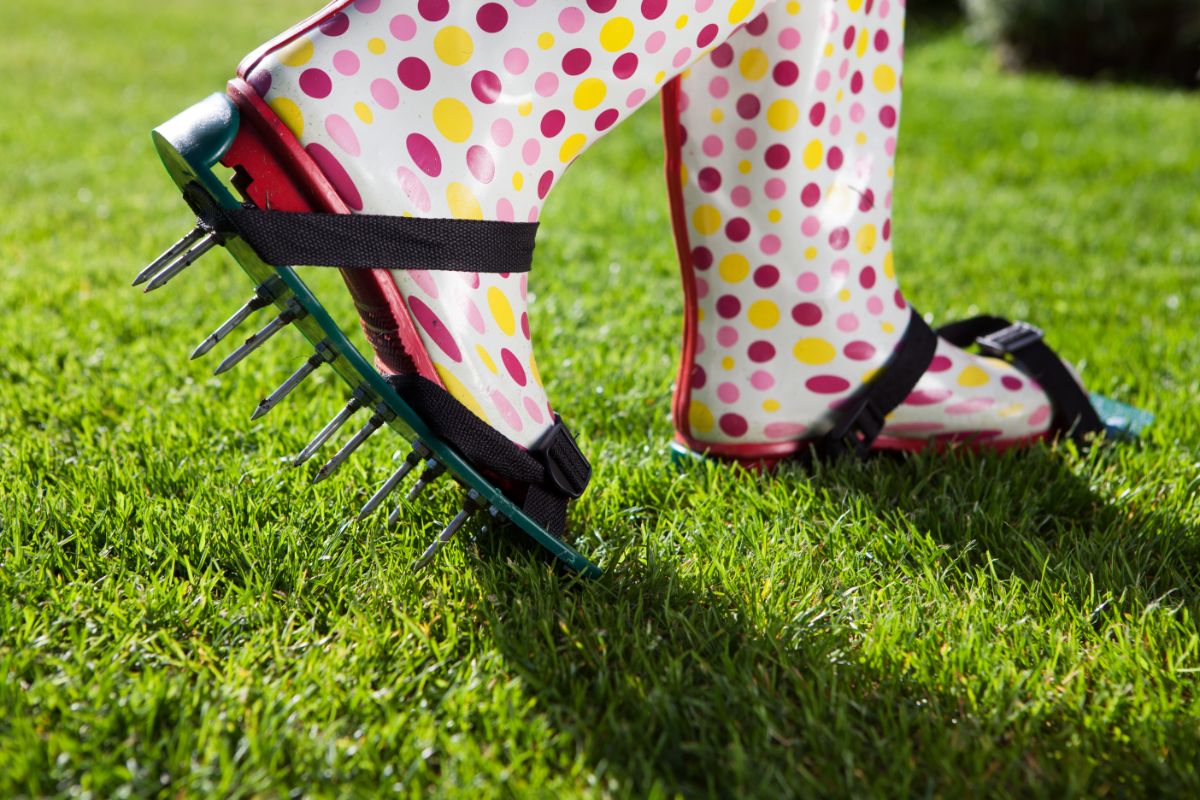 Aerating and dethatching your lawn will increase airflow around your plants and reduce the likelihood of fungal diseases. Lawn aeration can also reduce pests in your lawn and help loosen up compacted soil for better root development too.
How you choose to aerate your lawn really depends on you. If you prefer a manual approach, you can try out these handy lawn aerator shoes and aerate your soil as you go about your daily gardening tasks. Alternatively, lawn aerator tools and dethatchers can make these gardening chores a breeze!
For best results, high-traffic areas of your lawn can be aerated 1 to 2 times per year, while lower-traffic areas of your lawn can be aerated once every 2 to 3 years.
8. Address pet spots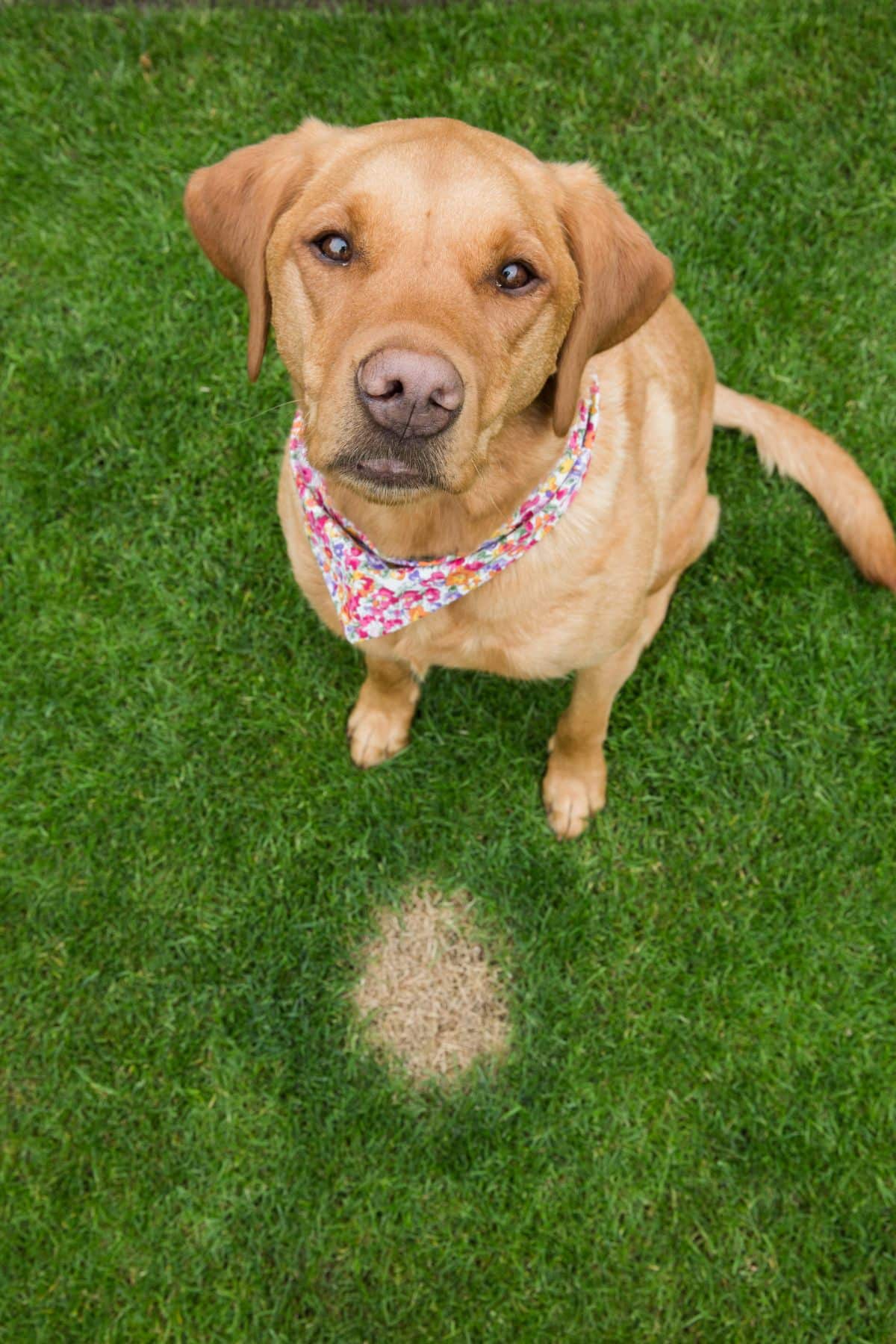 Pet urine is high in nitrogen, which can cause scorching to your grass and unsightly yellow spots. One of the most effective solutions for treating yellow grass caused by pet urine is to rinse the area with water as soon as you can after your pet goes to the bathroom. Keeping your garden hose ready for the job can simplify this task.
If you don't want to wash away pet urine spots, you can also train your dog to pee in a specific section of your lawn and cover the area with gravel or mulch, which won't be damaged by urine.
Note: While there are pet supplements on the market that claim to make dog urine lawn friendly, these supplements are not the best for pet health and should be avoided. Some of these supplements change the pH of your pet's urine, which may result in bladder stones, while other supplements contain high volumes of salt intended to make your dog drink more water. Either way, treating your grass, rather than your dog, is safer for your pet and better for your lawn.
9. Treat for grubs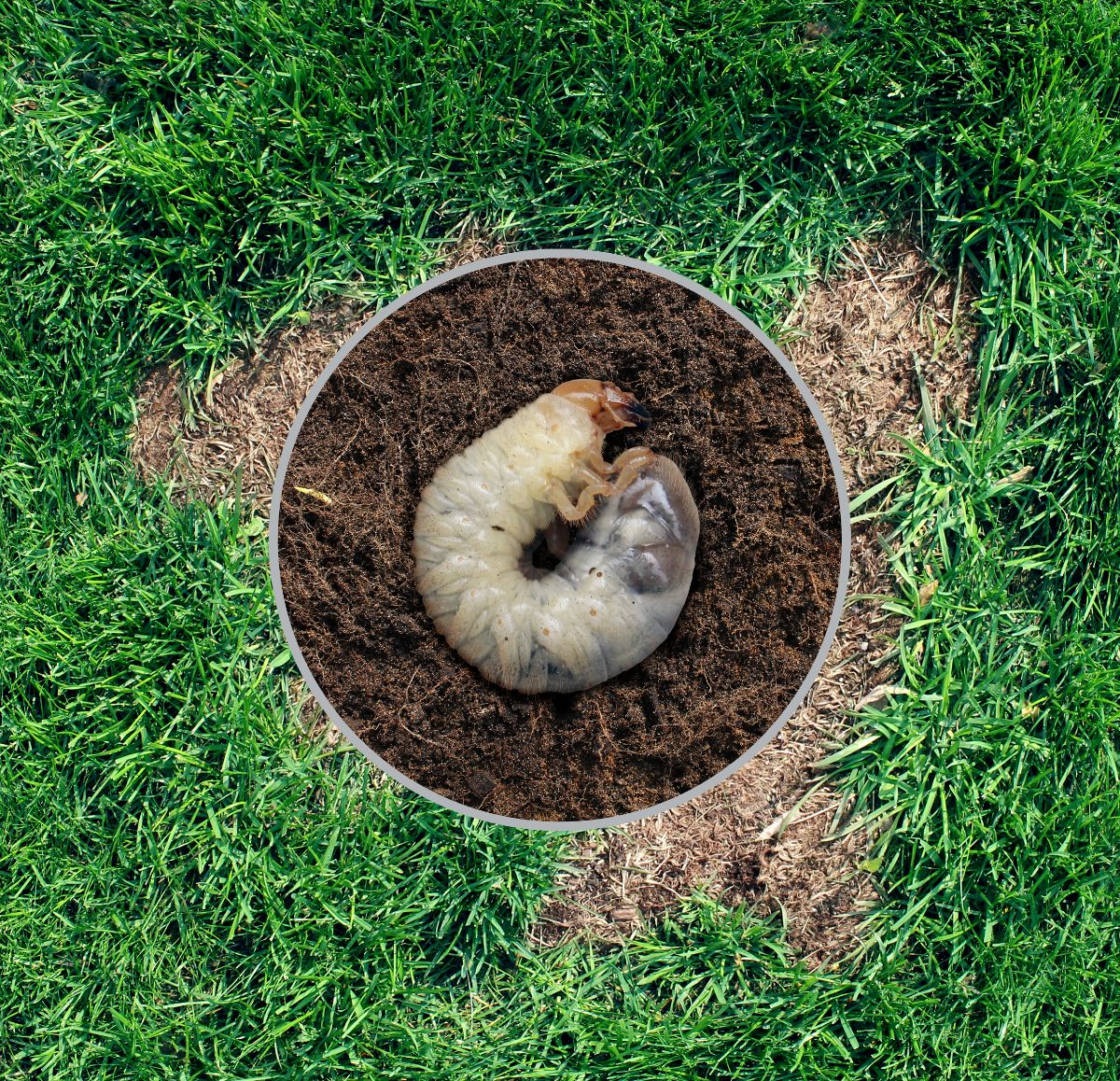 Lawn grubs can destroy grass roots and cause large patches of yellow and dead grass. Aerating your grass can help reduce grub populations. But for a longer-term solution, try treating your grass with a milky spore.
Milky spore is an all-natural grass care treatment that is made from soil-dwelling bacteria and is approved for organic gardens. As a specialized pesticide, milky spore targets Japanese beetle grubs and can help to keep your lawn and garden grub free.
For best results, apply milky spore powder to your lawn once in spring, summer, and autumn, and then repeat the application the following year.
10. Get a soil test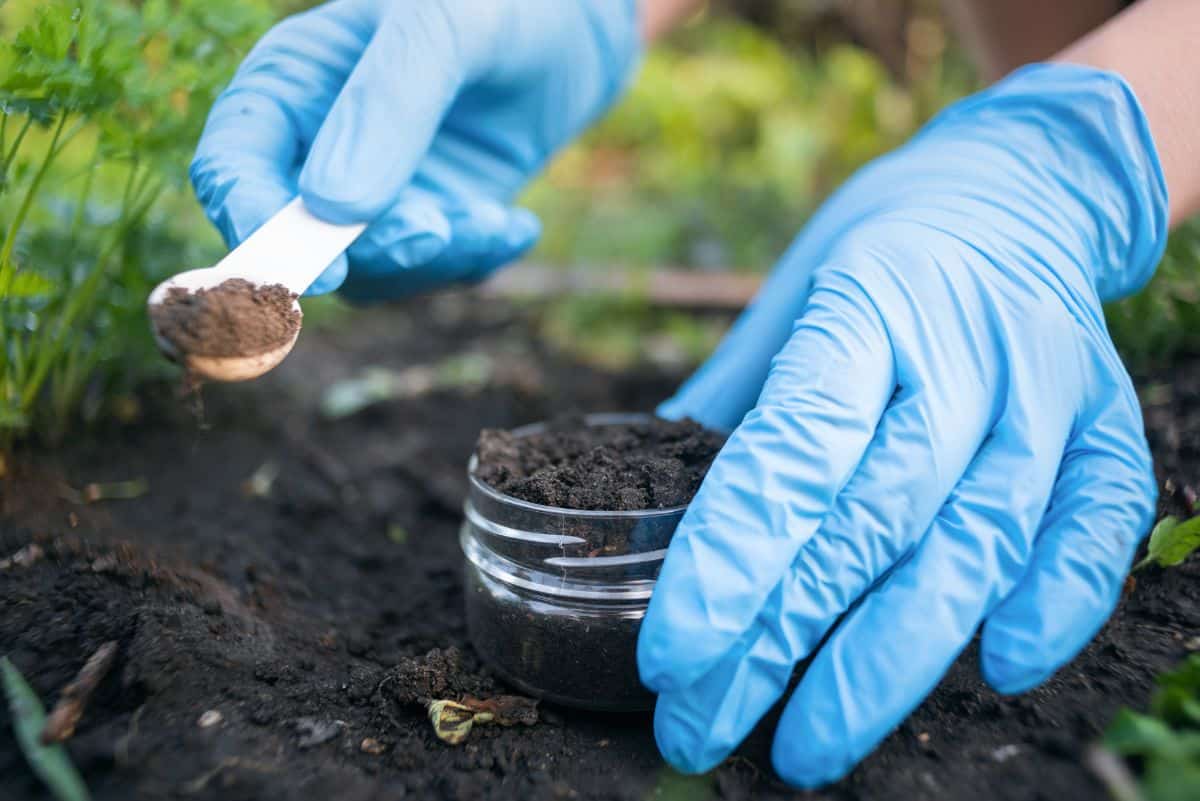 Sometimes yellowing grass can be due to soil that has become depleted of nutrients due to exposure to the elements, heavy rains, and other factors. Poor soil structure, such as high clay or high sand soil, can also impact soil fertility, cause water-logged conditions, and more. So if your entire lawn seems to be suffering, poor soil may be to blame.
Soil tests can help you determine whether your soil is deficient in any particular nutrient or if the soil structure needs improving. Tests can be done at home using a home testing kit, but for more accurate results, it's recommended to send your soil sample away to your local cooperative extension office, which will be able to provide you with all the data you need to know about your soil.
Once you have your test results, you'll be able to amend your soil with the exact nutrients that your soil needs.
11. Water right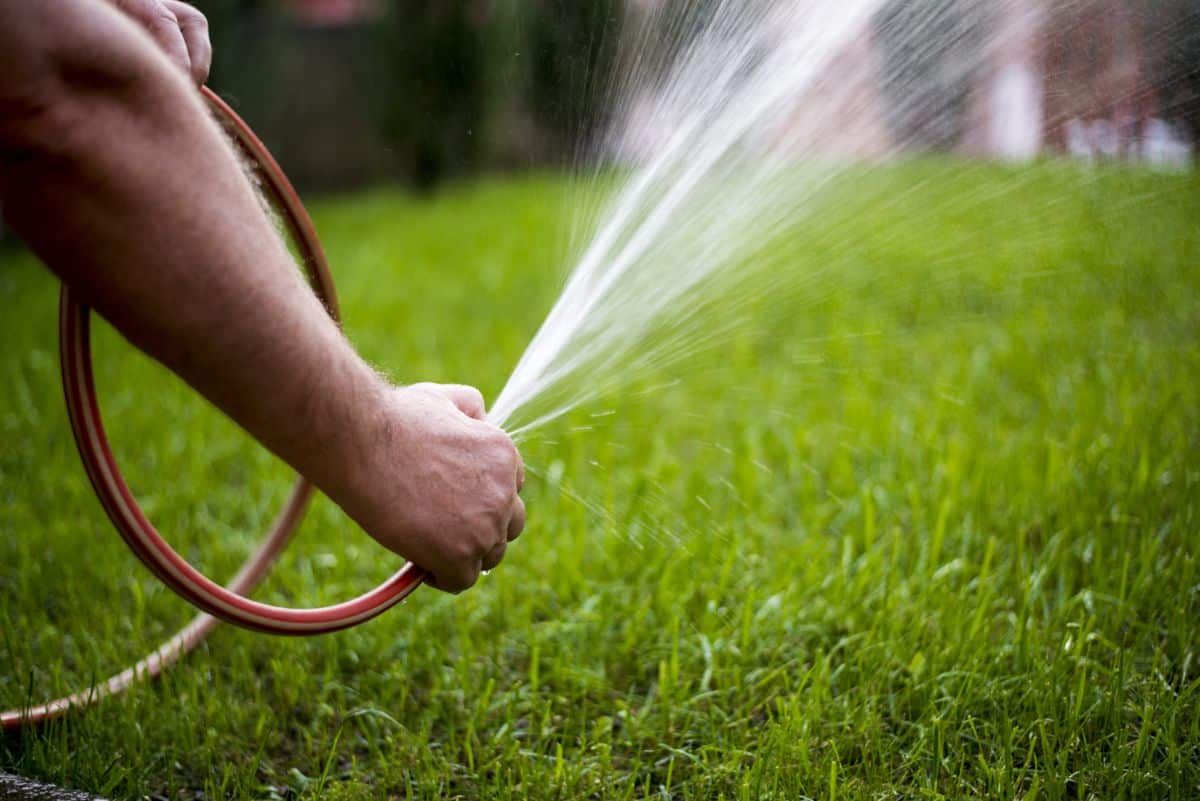 Long, deep watering methods are better than frequent watering for grass health, and they will also ensure that your soil doesn't dry out as quickly during hot weather. Drip irrigation systems and soaker hoses are some of the best ways to water your landscape, as these systems direct water straight to plant roots, so less is lost to evaporation.
Even if you're just hand watering your lawn with a hose or sprinkler, aim to water your grass slowly for about 10 minutes. If you do this, you shouldn't need to water your lawn as often, and your grass should be better able to resist hot, dry spells. A good way to determine if your lawn is too dry is if cracks appear in the soil – this signifies it's definitely time to water!
Timing your watering for the right time of day can also help your grass grow more healthily. For best results, aim to water your grass in the early morning before the sun is high overhead. This will prevent leaf scorching in the heat, and it will also ensure your grass has plenty of time to dry before the evening comes.
12. Reseed tough spots
If all else fails and you've treated your lawn for the above issues but you still have a few yellow spots, you may want to start over with some fresh grass seed. You can choose to overseed yellow spots with new seeds, or you can pull up the old grass and plant fresh seeds instead -- it's up to you.
When reseeding your grass, consider the type of grass seed you're sowing. Choose grass varieties that are known for their hardiness in your growing region. You may also want to consider planting warm-season grasses if you live in a location with hot summers, as these grass varieties are better able to tolerate hot weather.
13. Try out an alternative lawn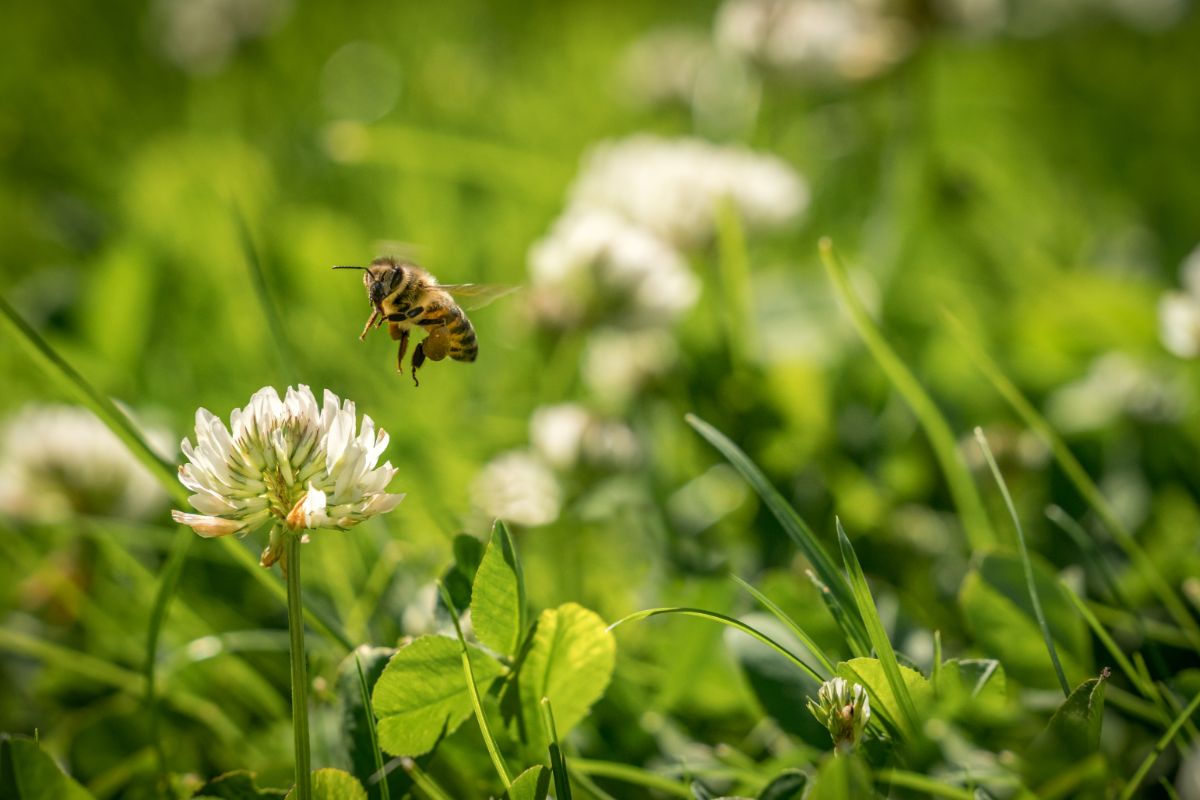 Despite its popularity, lawn grass is not the easiest plant to keep happy. In fact, most grass varieties available today are not native and can have higher maintenance and watering needs than some other alternative lawn coverings. So if you're tired of struggling with a patchy or yellow lawn, you may want to try out an alternative lawn instead.
Clover lawns or lawns planted with hardy ground covers or native plants generally have lower watering and maintenance needs than grass lawns. These lawn types also need minimal to no fertilizer, are better able to resist most pests, and need to be mowed less often (or not at all!)
Frequently asked questions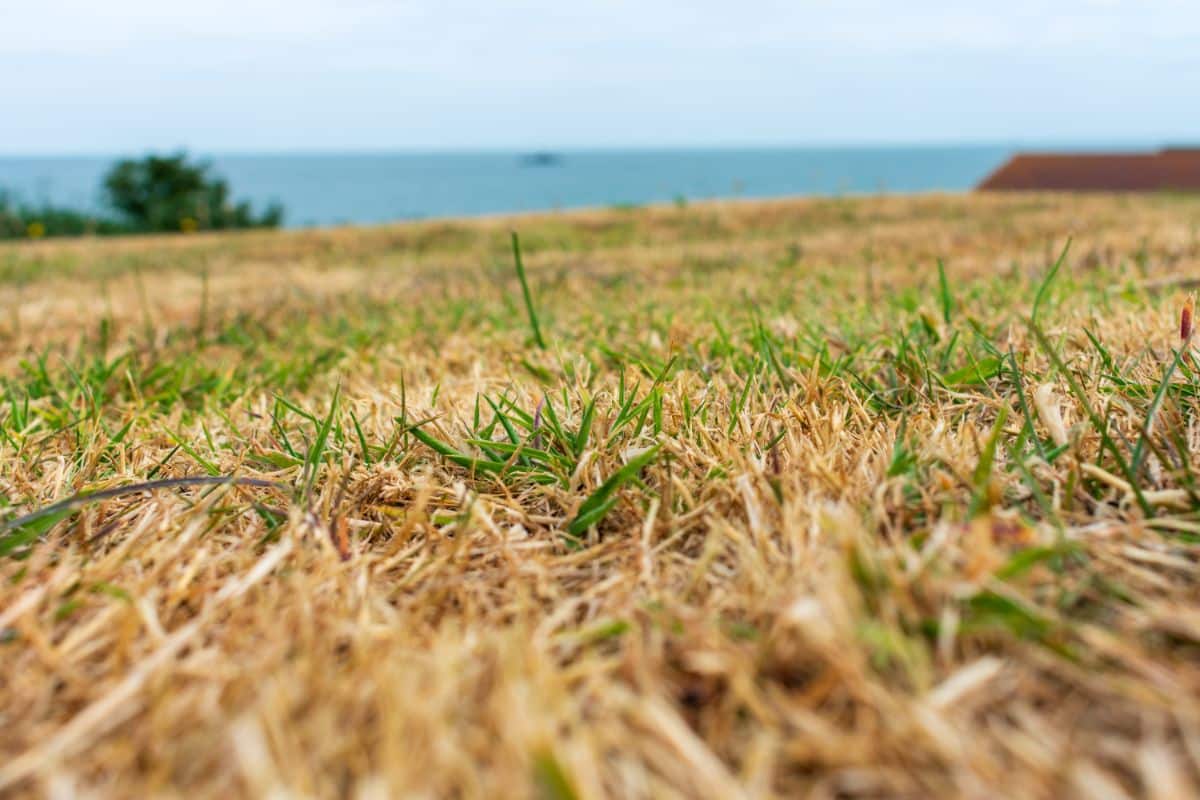 Summary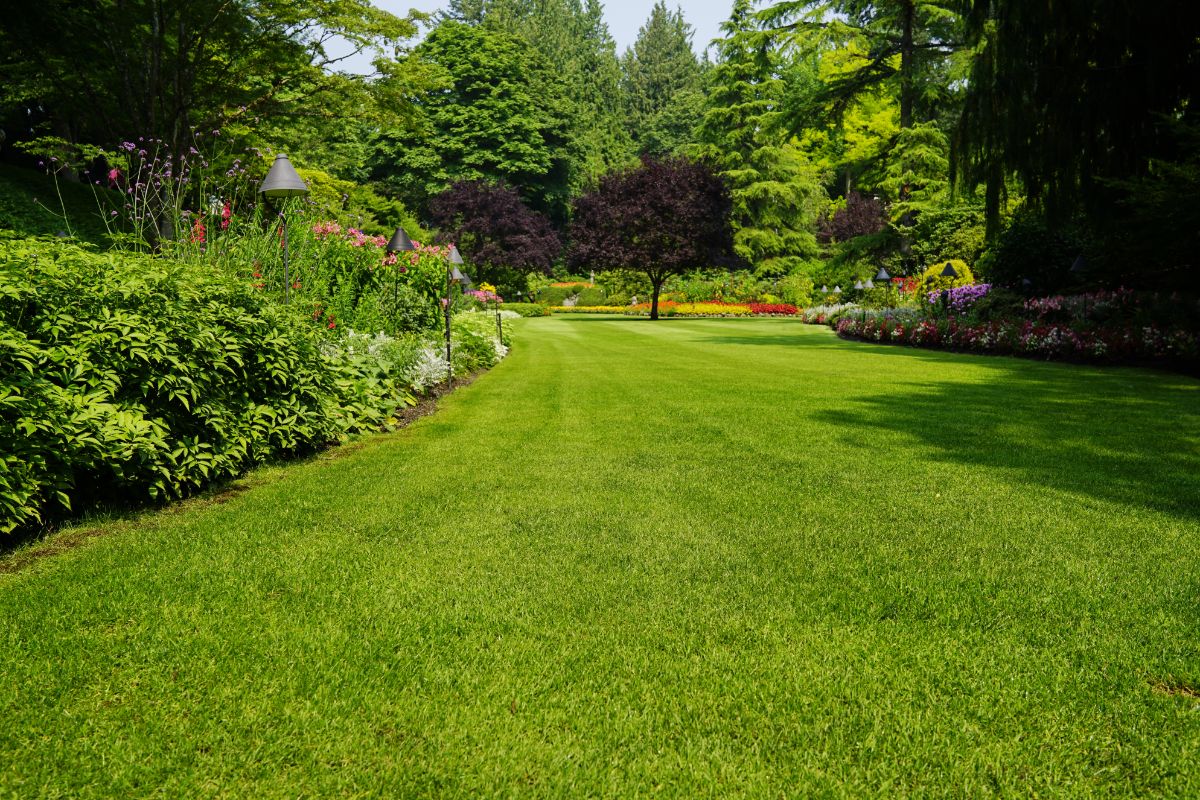 No one wants to see yellow spots on their lush, green lawn, but if your grass begins to yellow, don't fret! Yellow grass spots are often due to improper lawn maintenance practices and can be easily fixed by changing your lawn care routine. Other common culprits, like lawn pests or pet damage, are also simple to fix once you understand what is causing stress to your lawn.
Timing your lawn mowing for the right time of day, understanding proper watering and fertilizing practices, and allowing your grass to grow a bit longer are all effective ways to reduce fungal issues and support grass health. But if your grass is still not looking its best, alternative lawns like clover are even easier to care for and adaptable to different regions and climate patterns.
If the thought of alternative lawns has piqued your interest, you may want to check out this guide on ornamental grasses, which are hardy turf grass alternatives that offer lots of dramatic flairs.