Beets are really a versatile vegetable. Circulation-supporting, heart-healthy beets are tasty steamed, sauteed, canned, or pickled. They especially shine when roasted or grilled, when the sugars caramelize and the flavor simply transforms.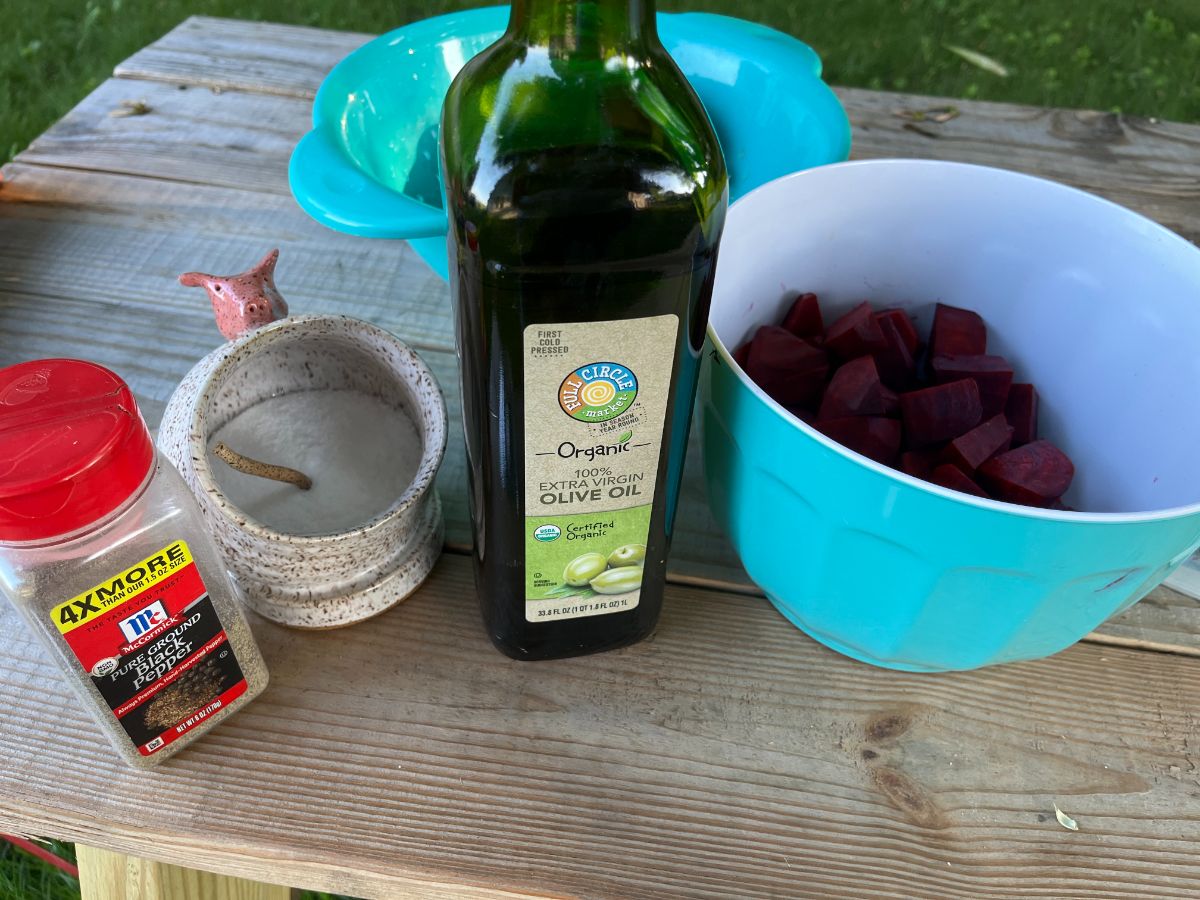 Since flat top grills have grown so much in popularity over the past few years, it seems right that we come up with a way to roast beets on them. While some might technically consider these to be grilled or sauteed, these beets take on all the best features and flavors of roasted beets, so that's what we're going with. Feel free to call them what you will.
Jump to:
How to Roast Beets on a Flat Griddle Grill
Beets are easy to roast on a flat top grill. There are just a couple of tricks to doing this successfully.
1. Preheat the grill top
Preheat your grill to medium-high heat.
2. Clean and peel the beets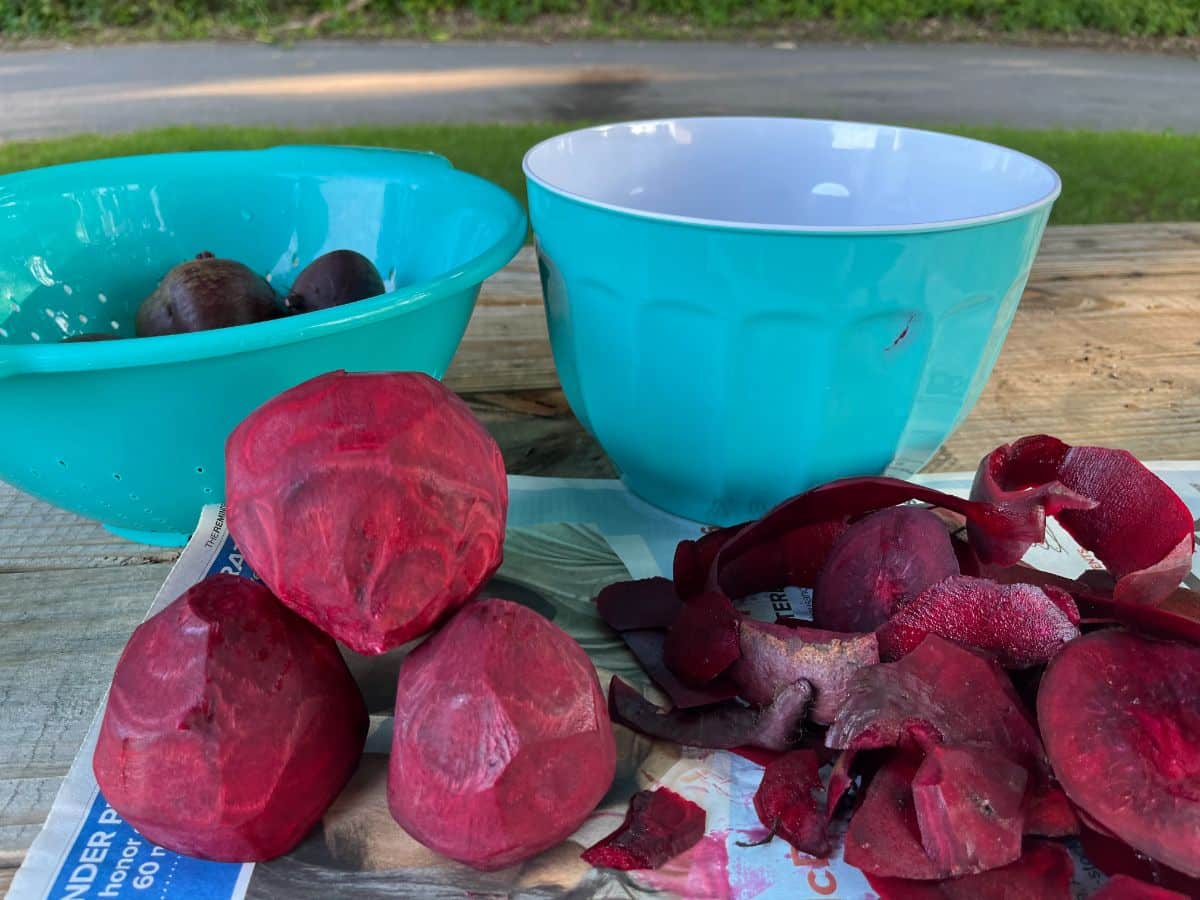 We recommend peeling the beets. Cut off the tops and the root end, then peel the entire beet. If the beets are young or small, you may be able to scrub them heavily to remove all the rough skin and dirt, but soil can become imbedded in beets and can be very hard to remove. This can flavor the beets and leave grit on the skin's sides.
3. Cut the beets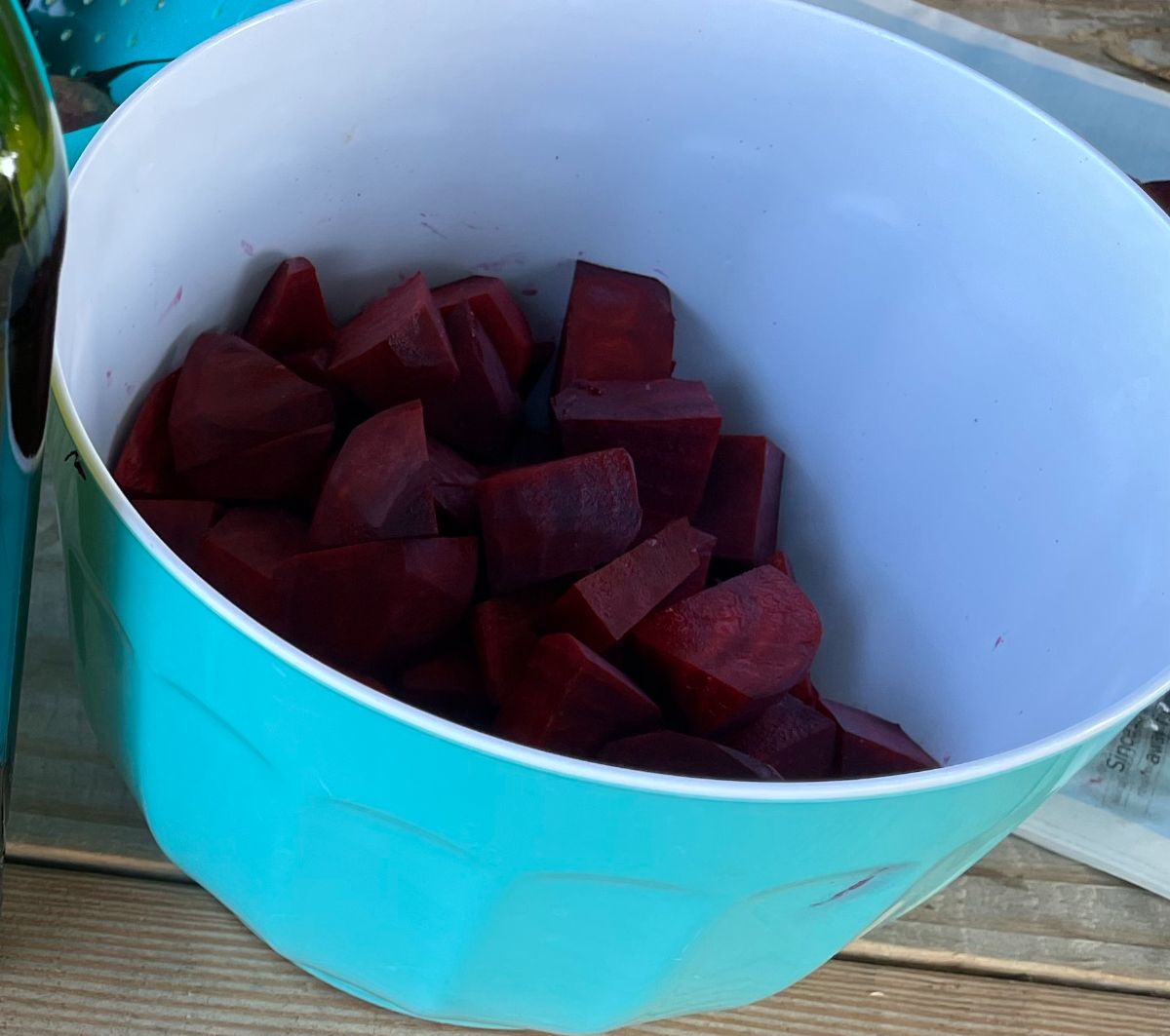 Cut the beets into cubes that are about one inch big. If you prefer wedges or larger cubes, that's fine, too. The key is to keep the pieces as uniform in size as you can so they cook at about the same rate. If you are using larger pieces, you may have to adjust or extend the grilling time.
4. Place in a bowl and season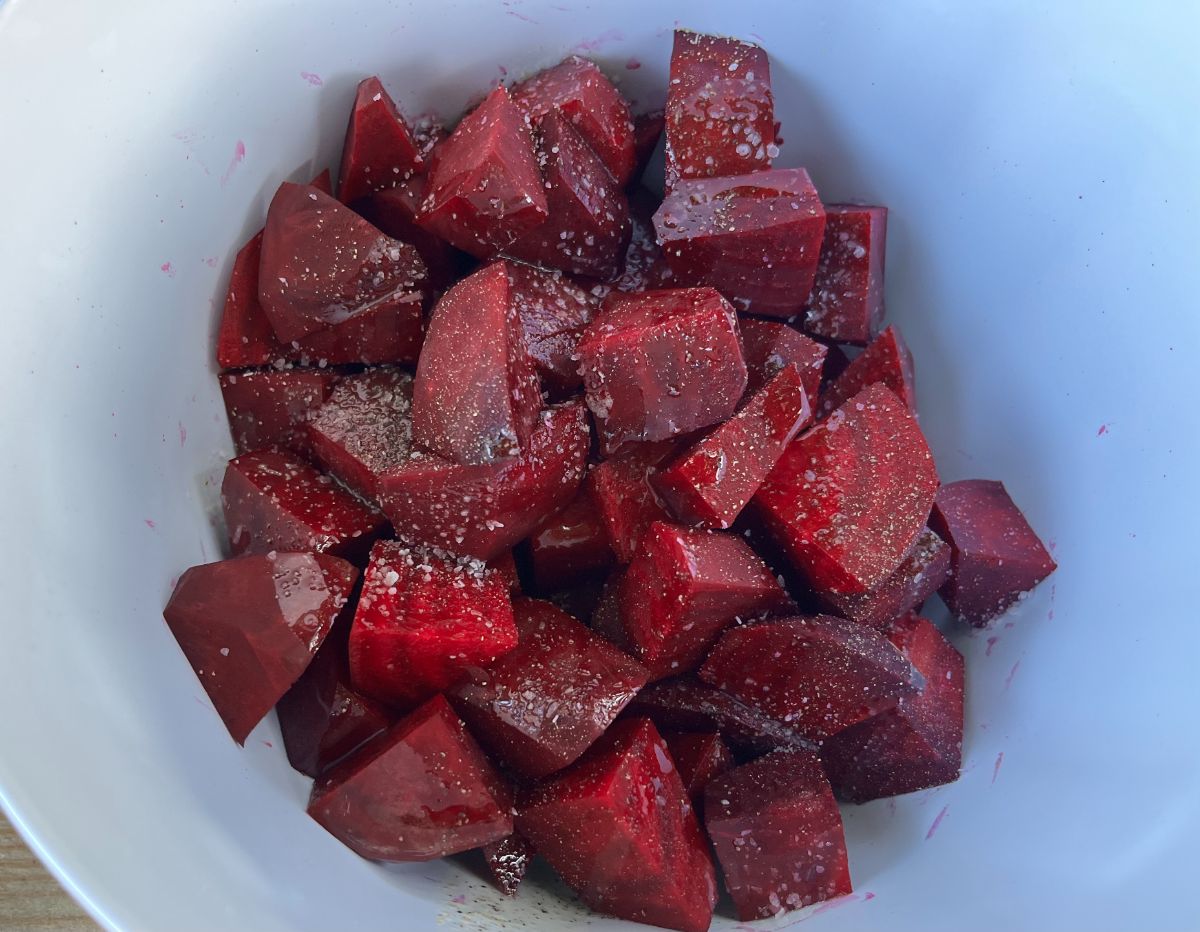 Put the peeled cubes into a bowl and drizzle with a generous amount of olive oil. Two tablespoons are usually enough for four or five medium beets. You want enough to coat the beets, so add more or less as needed or more or less to taste.
Add sea salt and pepper. Toss the beets, oil, and seasonings together to combine and evenly distribute. The beets should be evenly and lightly coated with olive oil.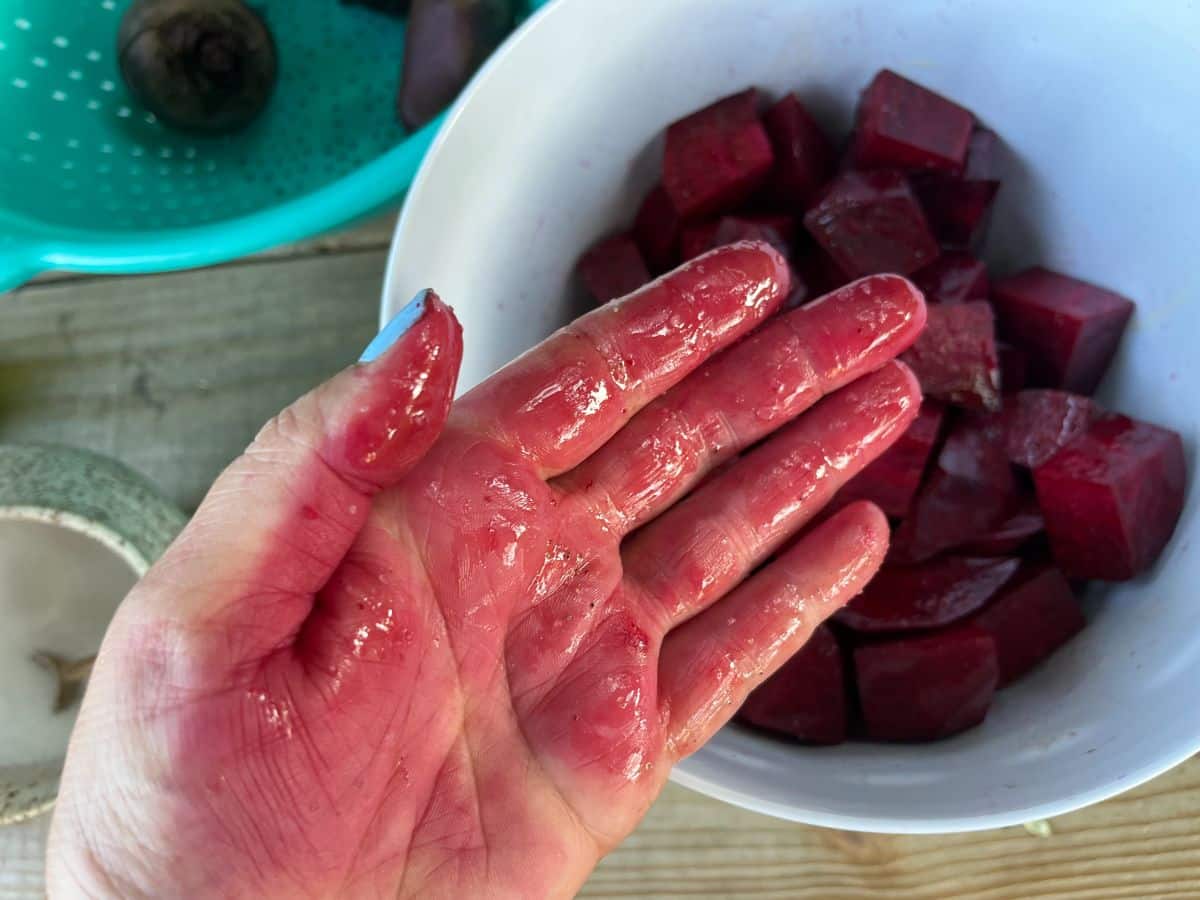 If you like other herbs or spices with your beets, add them to the bowl with the oil and seasonings. Beets shine well on their own with light seasoning, and roasting them on the grill gives them a depth of natural flavor, so they do not need much for seasoning. Still, feel free to personalize. Dill and garlic are a couple of good choices if you want to bump up your flavor a notch or two.
5. Start grilling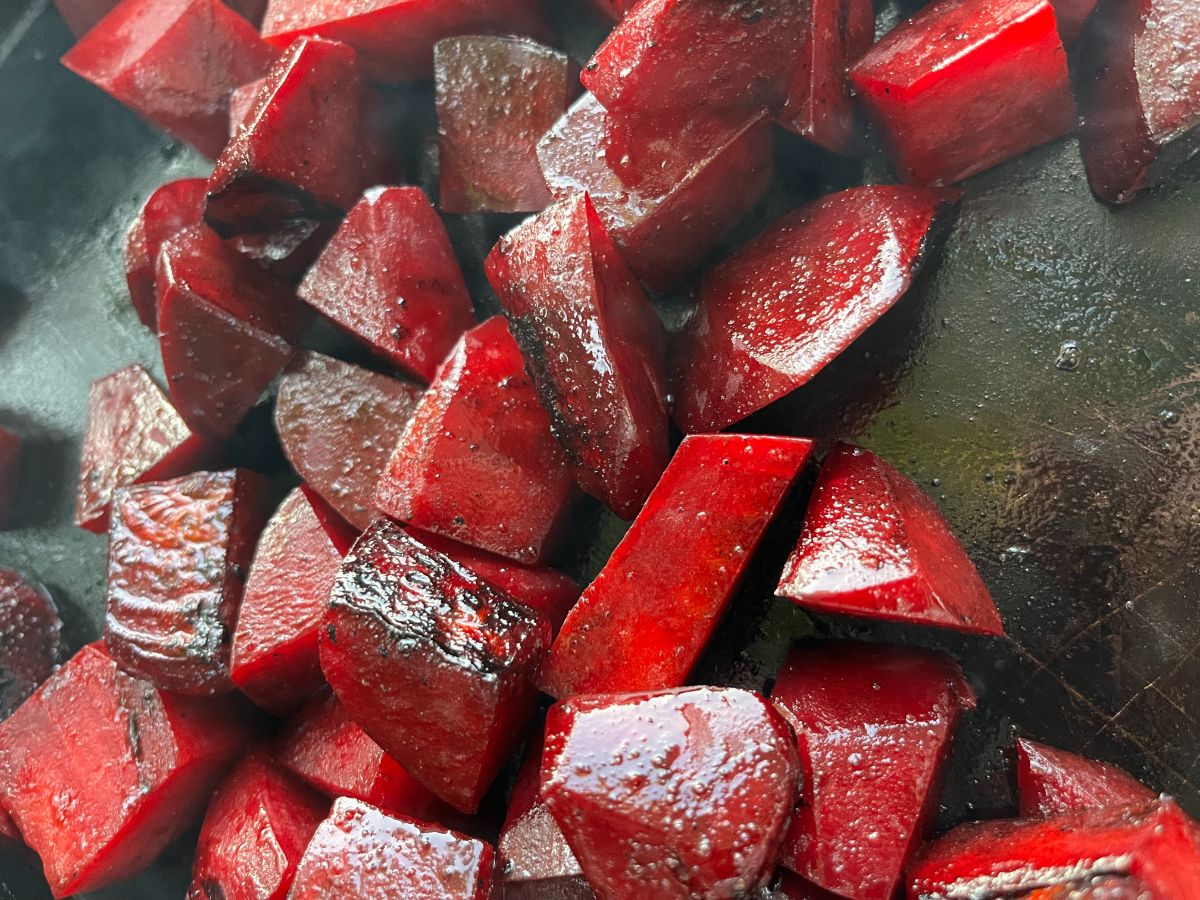 Pour the bowl of beets, seasonings, and oil out onto your grill top. Keep the beets mostly together on the grill.
6. Cover while cooking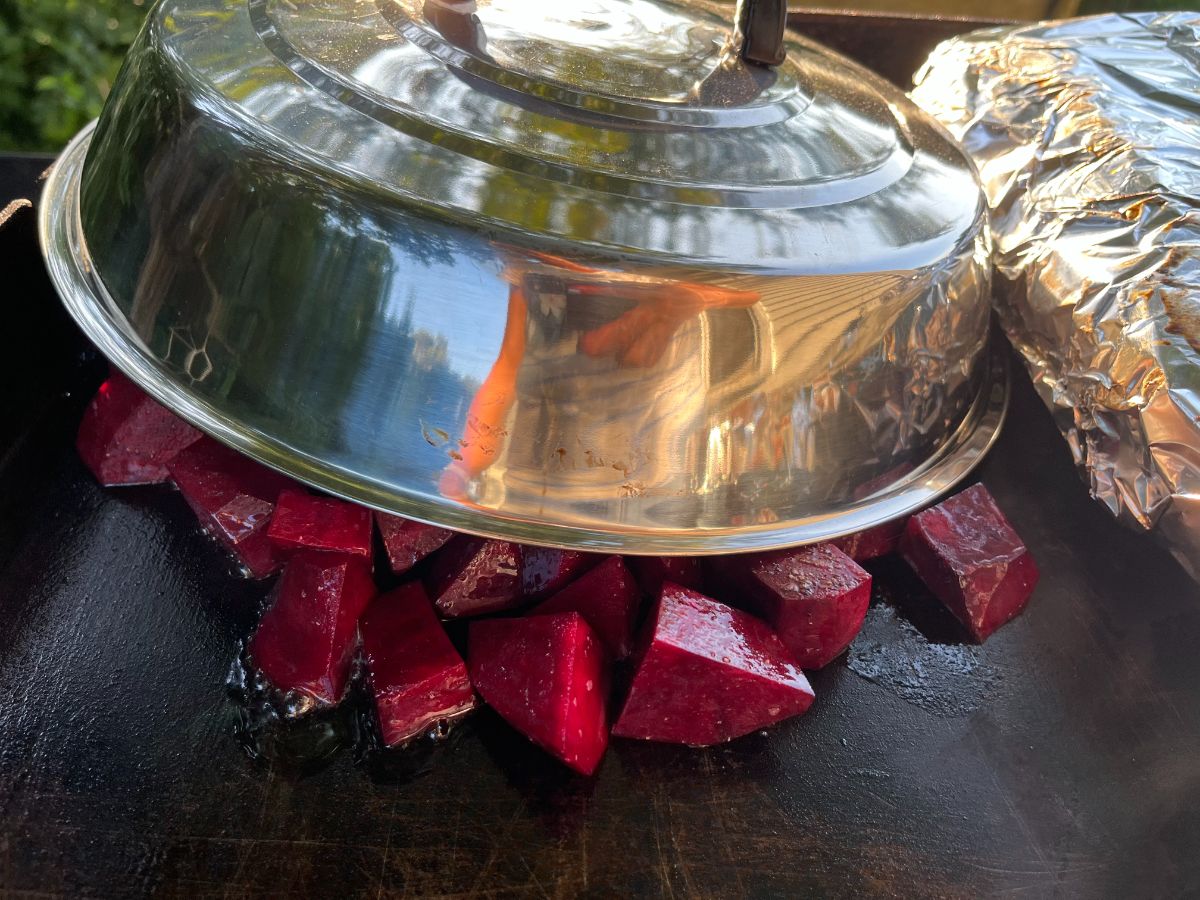 Cover the roasting beets with a basting cover. This will trap the steam and steam it back into the vegetables to steam roast them.
In a pinch, if you don't have a basting cover, you can improvise with an overturned baking pan (like a nine-inch cake pan) or a domed cover from a sauce or stock pot. Look for one that is two inches high, but avoid glass covers if you are not sure they can take the direct heat from the griddle top. Direct heat from flat grills is normally too much for glass cookware.
7. Cook over medium-high heat
Cook over medium-high heat. Beets will take about 10 minutes on a flat top grill to cook to a point a little more than al dente. Cook for less time if you like your beets firmer, longer if softer.
8. Turn periodically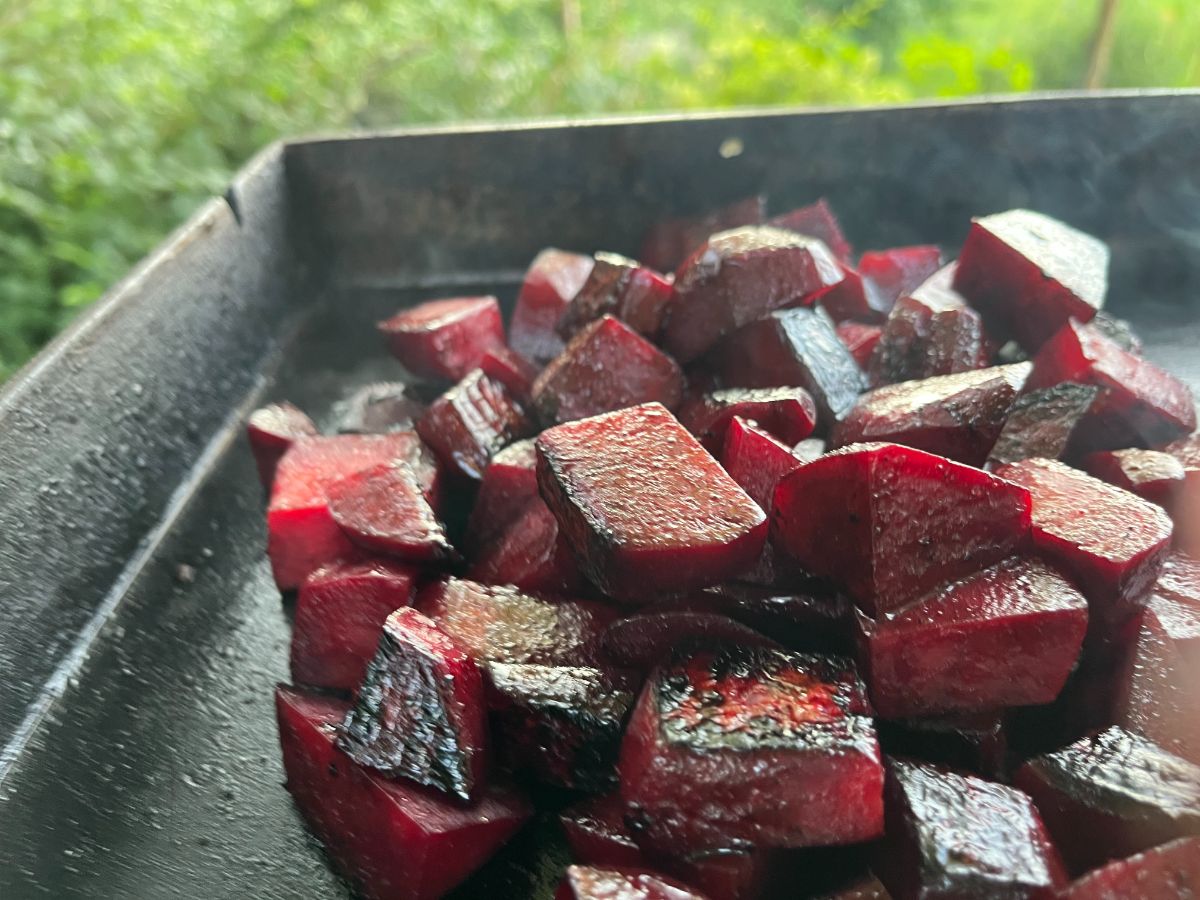 Every few minutes, use a long, flat spatula to turn and stir the roasting beets. You want all sides to be exposed to the heat so they can cook evenly and so that the sides all get that nice darkened, roasted outside.
9. Remove from the heat
Remove the beets from the heat when done. If covered, they'll hold their heat well for 15 or 20 minutes in case you need to prepare another part of the meal.
10. Eat and enjoy!
That's it! Now eat and enjoy! For such a simple dish, these grilled beets pack a lot of flavor.
Great Ways to Use Leftover Grilled Beets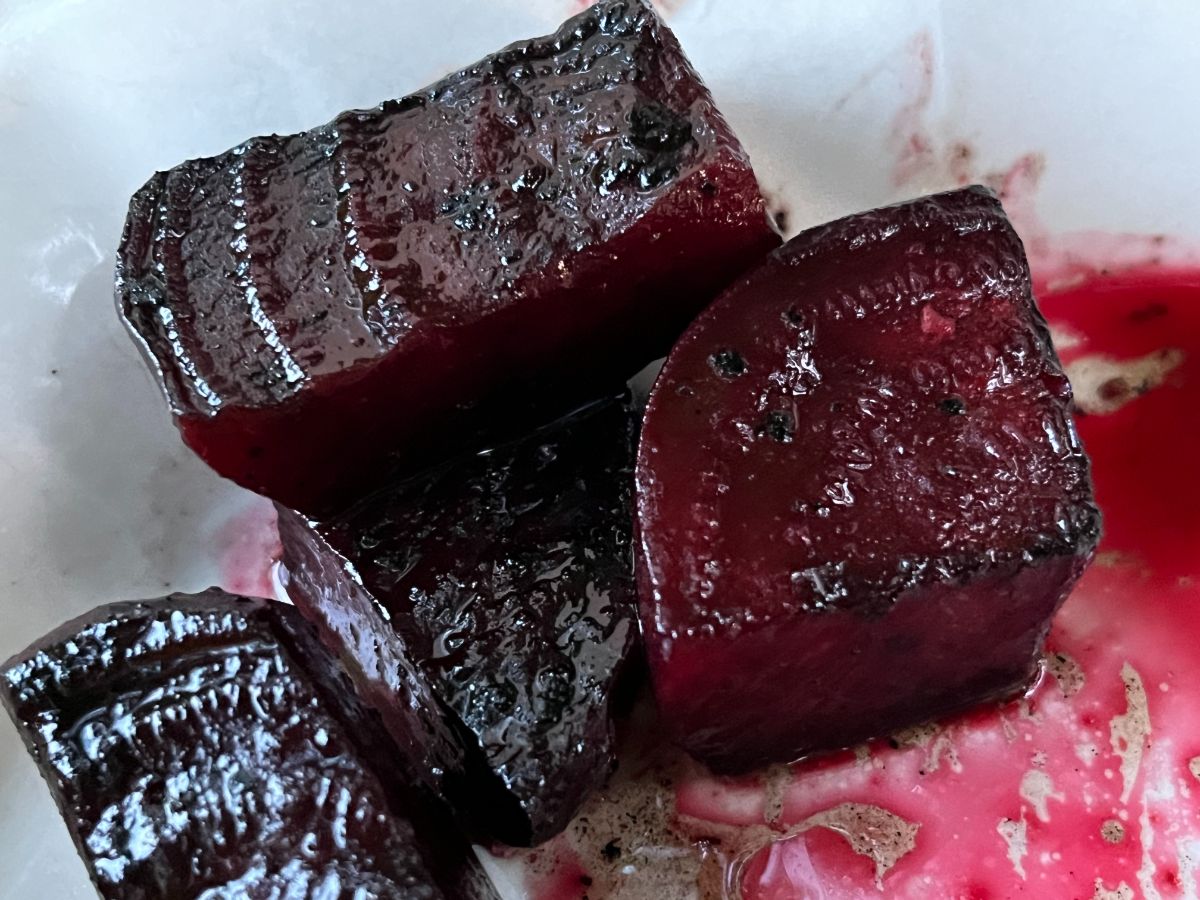 A real advantage of cooking on a flat top grill is that the leftovers are almost always worth a second round. This isn't always true of flame-grilled meats and vegetables because they're often just too dry to eat another day. But grilled beets? Beets grilled on a flat grill? Totally worth saving and using again.
Here's a tip: It's easy to throw your leftover beets back onto the grill to reheat. Just flip and stir them over medium-high heat until warmed through.
Here are some ways to use leftover grilled beets:
Served cold
Dressed up and served with a mint yogurt sauce
Made into Borscht, or beet soup
Added to Gazpacho for color and flavor
Pureed and blended with ranch dressing for a fast and tasty dip
Cut up and used in a breakfast or brunch hash
As a salad topping or ingredient
As a base for a beetroot salad with goat cheese or another crumbled cheese favorite
Warmed up! Leftover roasted beets are one of a few vegetables that taste as good reheated as they do the day you make them.
In a combined vegetable dish, thrown together with other leftovers. Some good partners include roasted grilled corn or diced potatoes.
Added to couscous and served warm or cold as a side or main vegetarian dish. Add roasted sweet potatoes for even more flavor.
As a side or ingredient in weekly meal preparation for healthy lunches (In fact, why not make extra while you're at it, just for this purpose?)
Really there are so many options here it would be hard to list them all. Anywhere you usually use beets, or you just think beets might be good, try it! You might find yourself creating a whole new dish.
Other Vegetables Make Excellent Grilled Roasted Vegetables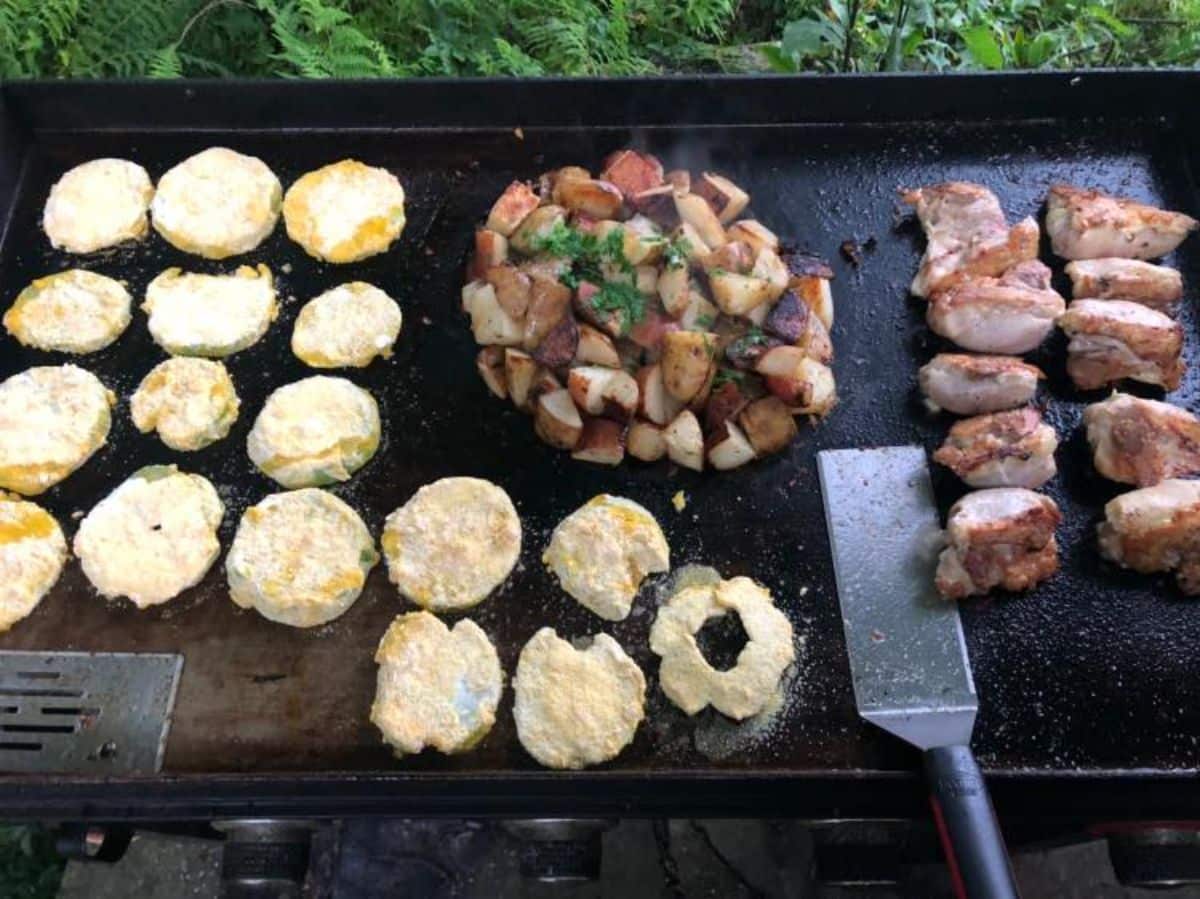 This same method can be used to roast all sorts of fresh garden vegetables. The vegetables that work the best are those that are a bit sturdier and that can handle the heat. Anything that roasts well in the oven will roast well on your flat top grill.
Here are some other vegetables that come out great when grilled this way:
Small new potatoes
Sweet potato chunks
Butternut squash or other winter squash, cut into chunks
Summer squash and zucchini (reduce heat and cooking time)
Broccoli
Cauliflower
Carrots
Other root vegetables (try roasting radishes on your flat top grill)
You can even make Fried Green Tomatoes on a griddle top grill!
Try this preparation once, and you'll be convinced this is how your beets should be cooked all summer.
And if you're blessed with an abundance of beets, check out these other ways to use a bumper crop of beets: 15 Ways to Use Up Extra Beets