If you are in search of a low-maintenance, pest-resistant tender perennial that hummingbirds will love, you might consider growing lobelias.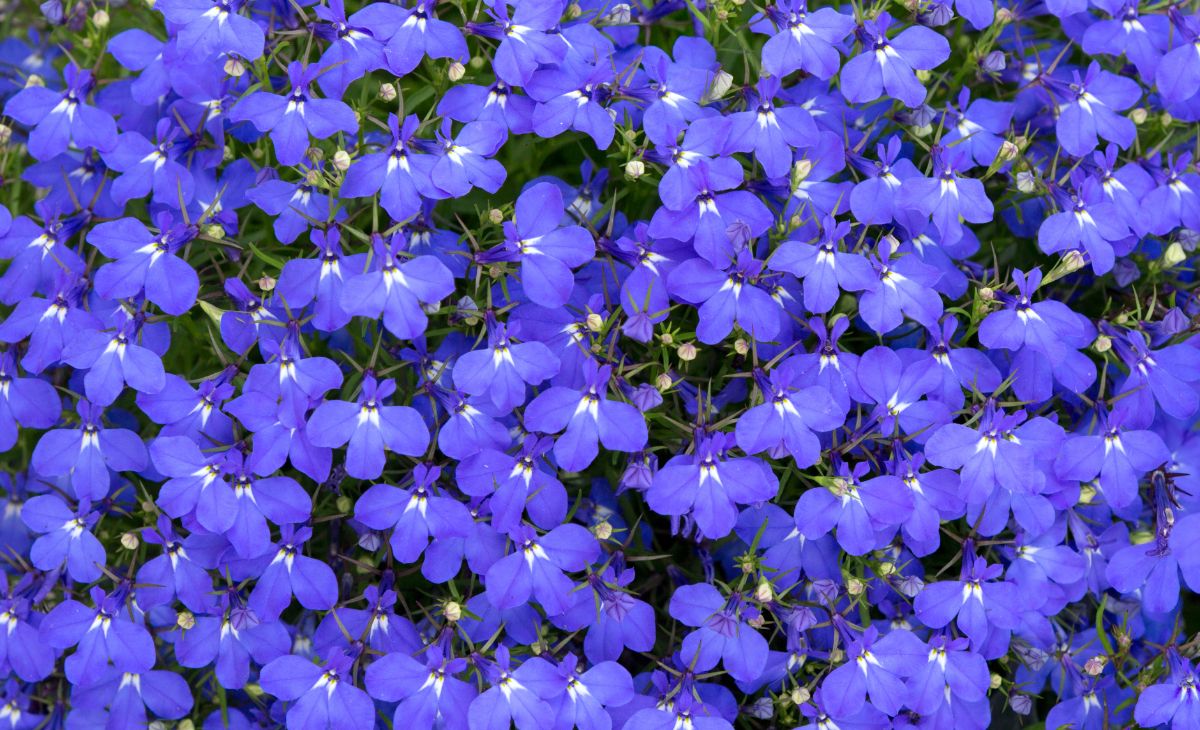 This guide will explain how to grow lobelias as perennials. We will discuss ideal growing conditions, planting instructions, care requirements, and more.
Read on for the full guide or use the table of contents below to jump to the section you are looking for.
Jump to:
What Are Lobelias?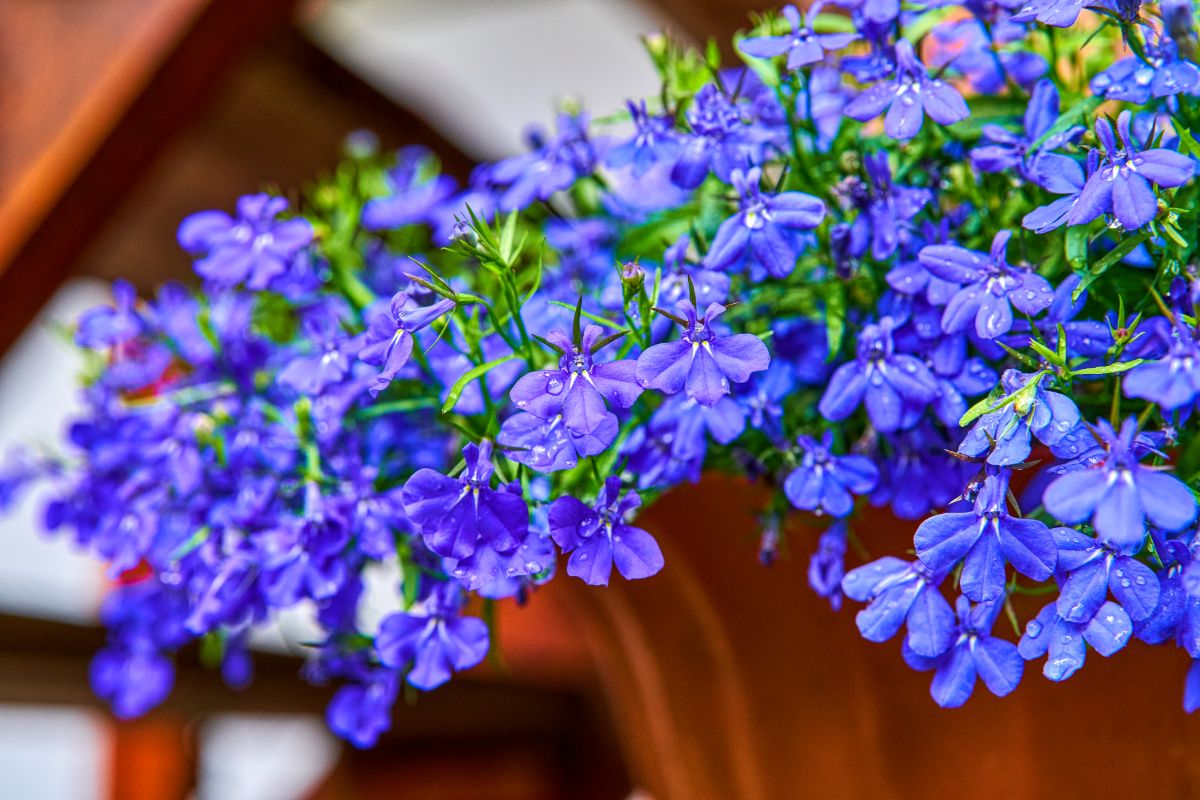 Lobelia is the name of a genus of plants. The diverse species in this genus offer wonderful variety. There are around 415 in all.
Lobelias are classified as tender perennials. This means that in certain climate zones, they can come back year after year. In others, they are grown as if they are annuals.
The zones where lobelias are hardy vary from one type to the next.
If you want to grow lobelias are perennials, in general, you will have the most luck in zones 10-11, though we have seen some people growing them successfully as perennials in zone 9.
There are also certain types of lobelias that are easier to grow as perennials than others. We will share those with you in our section on recommended varieties. You will notice that they are able to survive the winter in a wider range of climate zones.
As a point of interest, the tobacco plant is actually a type of lobelia, L. inflata. But this is not one of the ornamental types of lobelia that people grow in their gardens.
Lobelia Basics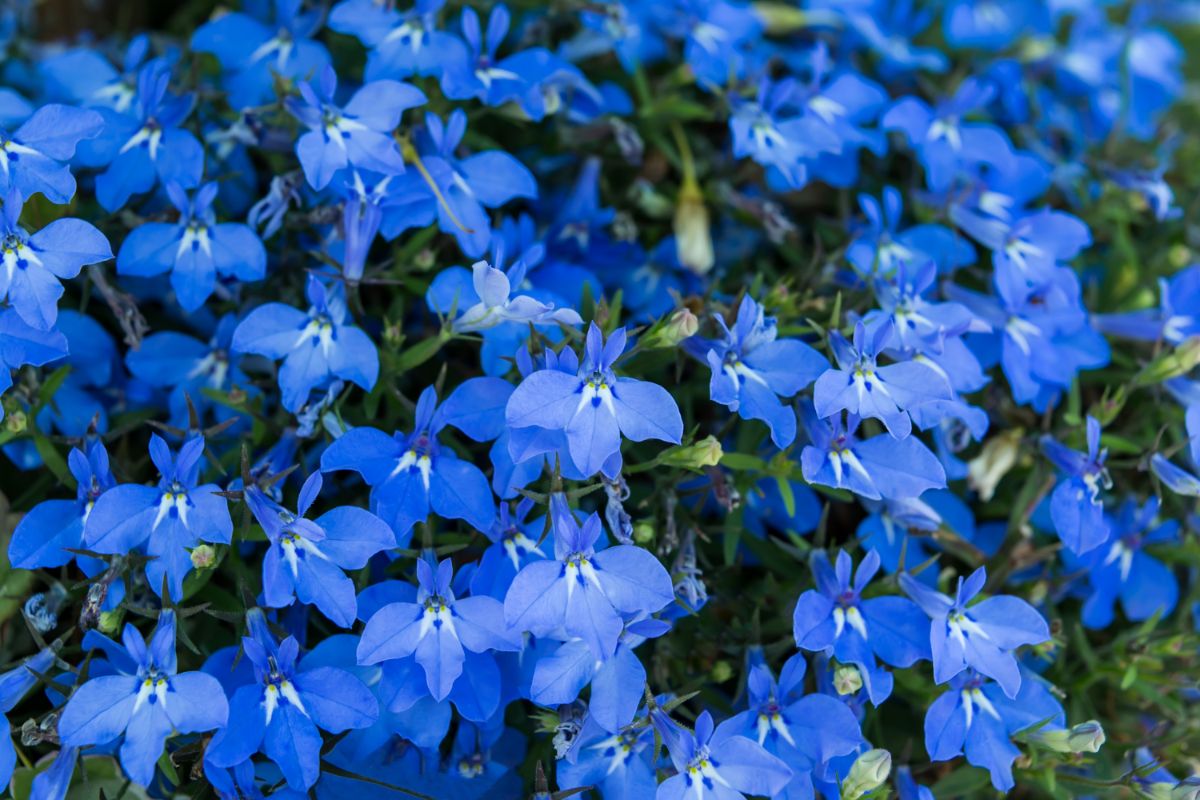 | | |
| --- | --- |
| Zones: | 2-11 |
| Blooming season: | Spring through fall |
| Expected height: | Up to 4 feet |
| Soil: | Rich, moist soil |
| Sun: | Full to partial |
Where Do Lobelias Grow?
Lobelia plants have a huge native range. In fact, Encyclopedia Britannica says that they are native to "nearly all the temperate and warmer regions of the world, except central and eastern Europe and western Asia."
So, these lovely flowers are widely cultivated all around the globe.
Why Grow Lobelias?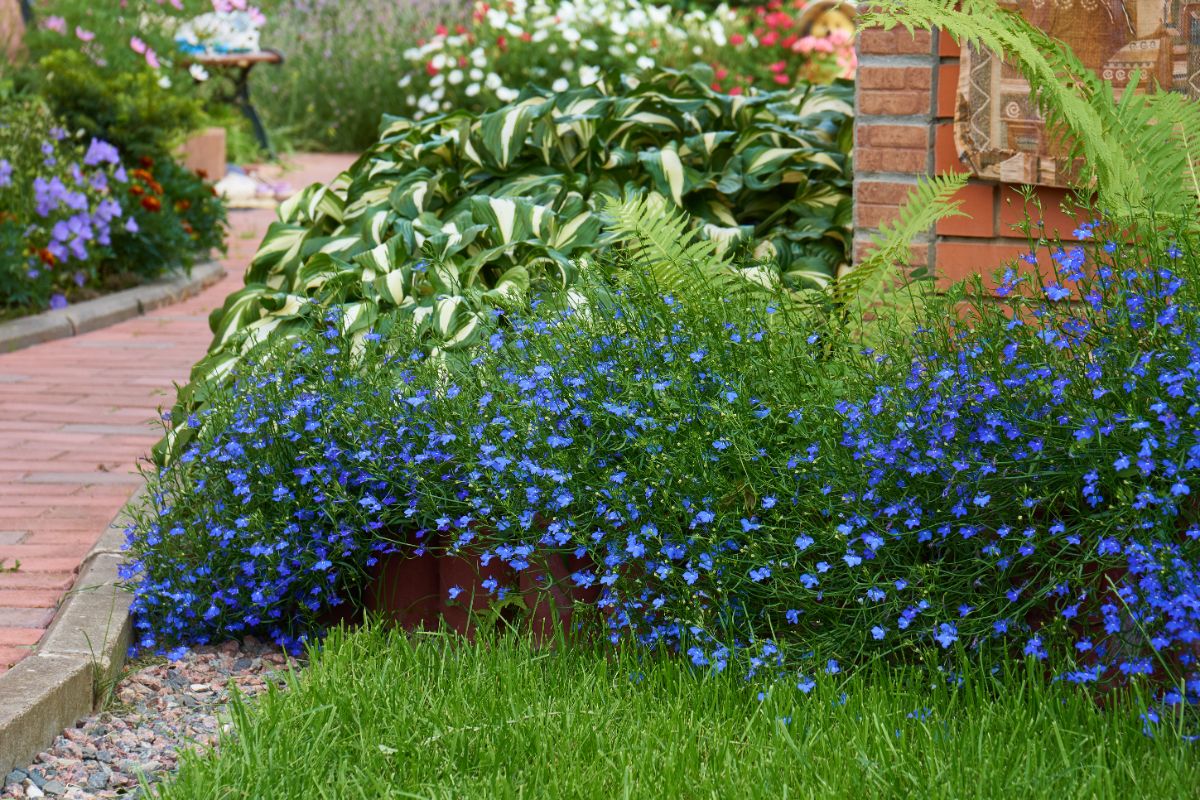 Here are a few reasons lobelias are the perfect perennial to add to your garden:
Lobelias of all kinds attract pollinators. You can choose between perennial lobelias that hummingbirds like or those that bees prefer. Butterflies may flit around your lobelias as well.
Lobelia plants do not need much fertilizing. Even pruning is minimal. So, they are a low-maintenance choice perfect even for a beginner.
You can grow lobelias where other plants don't make it. For example, they can grow right up against the banks of a stream or pond. You also can plant lobelia in depressions or bog gardens. The water that drains down into the depressions may kill other plants, but lobelias will often be very happy.
If you live in an area that is frequently subjected to heavy rains, lobelias may endure. In fact, even brief flooding will often not harm them in your rain garden.
Lobelias are flexible plants. On the whole, they like lots of light, but they can sometimes tolerate lower light levels. If you have extreme heat, they may even prefer light shade. While they prefer moist conditions, they are somewhat adaptable in this area as well.
As rabbit- and deer-resistant plants, lobelias will not attract mammals into your yard for illicit snacking.
Lobelia Landscaping Ideas
How to landscape with lobelia depends on what types of lobelia you get (see the next section). Here are some ideas:
Add L cardinalis or L. siphilitica to a pollinator garden to attract hummingbirds, bees and butterflies.
Plant L. ernius in window boxes or patio containers. It also can look beautiful in a hanging pot or basket.
L. erinus can make a good border plant as well along your driveway or walkway.
If you have a water feature, lobelia may grow well along its banks.
Lobelia flowers can work well in rain gardens.
Recommended Lobelia Varieties
If you want to grow lobelia as a perennial, here are some recommended varieties.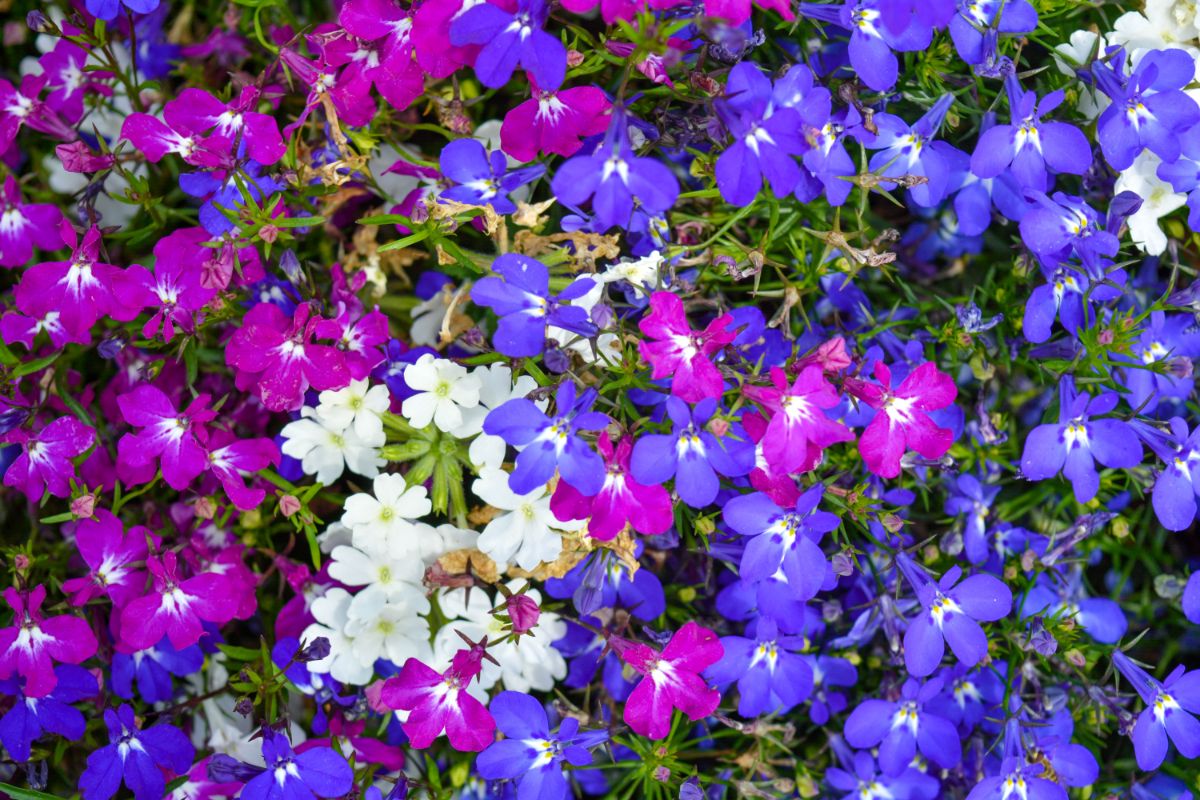 Lobelia Cardinalis
Cardinalis is known as the "Cardinal flower," and is among the most popular types of lobelia. It can grow up to 2 feet tall, and typically produces spiky green leaves and spikes of scarlet-red flowers.
There are, however, some intriguing variations. One cultivar that can reach up to 3 feet tall is "St. Elmo's Fire." It features red flowers, but the leaves are a bronze color.
There is also a version that produces white flowers called "Summit Snow."
Another beautiful cultivar is "Black Truffle." This distinctive variety is named for its dark purple leaves. The flowers it produces are a vivid red hue.
Also stunning is the "Queen Victoria" cultivar. This lobelia plant with scarlet flowers won the Royal Horticultural Society's Award of Garden Merit.
Lobelia cardinalis is a popular choice for those who want to attract hummingbirds to their gardens.
Hummingbirds tend to favor red. The National Audubon Society explains, "The hummingbirds' sense of color is due to the dense concentration of cones in its retina. The cones themselves contain pigments and oil droplets in shades of yellow to red, which seem to act like filters. The filters appear to heighten color sensitivity in the red to yellow range, while muting colors such as blue."
Interestingly enough, the birds can learn to favor other flowers in different colors, once they identify that they provide quality nectar.
Nonetheless, it makes sense to grow flowers in your yard that are already the color that most hummingbirds are adapted to notice—especially when bringing them to your garden for the first time. Lobelia cardinalis in red makes a wonderful option for this purpose.
This type of lobelia plant can be successfully grown as a perennial in zones 3-9. So, even if you are not in a warmer locale, you can enjoy it year after year.
Lobelia siphilitica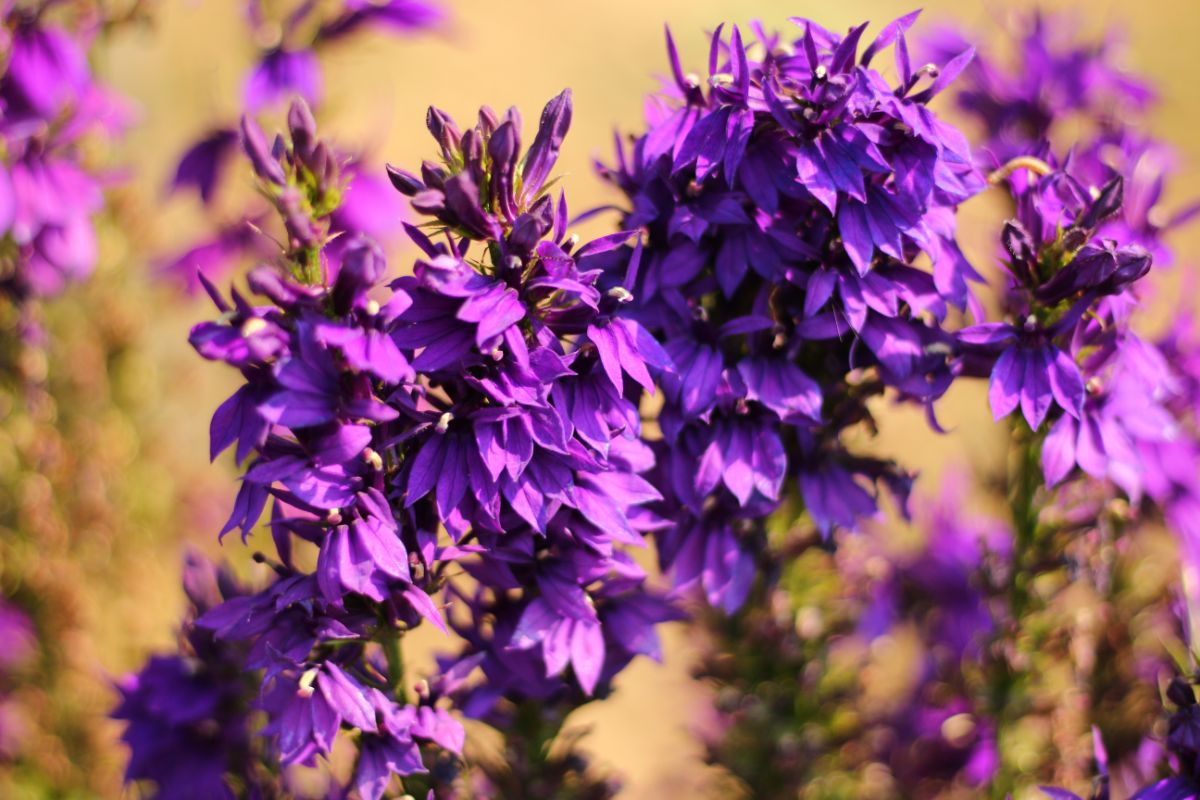 This species of lobelia is a short-lived perennial. Common names for these perennial lobelias include "great lobelia," "great blue lobelia," and "blue cardinal flower."
While it is in your garden, Lobelia siphilitica will produce spikes of deep purplish blue blossoms rich with nectar. As you might guess, hummingbirds may not notice this type of lobelia as quickly as they would notice Lobelia Cardinalis. It is a better option for attracting bumblebees. Still, if hummingbirds in your area do discover the nectar, they may also start visiting your Lobelia siphilitica flowers.
This type of lobelia can come back every year if you plant it in zones 4-9.
Lobelia×speciosa
Not surprisingly, a number of lobelia hybrids have been released, some of which are the result of crossing L. Cardinalis with L. siphilitica.
Hybrid lobelias produce showy flowers in a wide spectrum of colors. You can find flowers in shades of purple, pink, lavender, red, blue, and more.
A couple of popular cultivars include Starship Deep Rose and Starship Scarlet. Both can be grown as perennials in zones 6-10.
Lobelia erinus
Sometimes referred to as "annual lobelia," L. erinus actually is a tender perennial. These annual varieties of lobelia have a trailing habit rather than producing upright spikes of flowers. You can find flowers in white, purple, blue, pink, and other hues.
Laguna® Sky Blue, Laguna® Cloud White, Laguna® Ultraviolet, and Crystal Palace are some examples of popular Lobelia erinus cultivars.
These tender perennial lobelias are the ones you are most likely to be able to grow as perennials in zones 9-11. In other climate zones, they will be grown as annuals.
When Do Lobelias Bloom?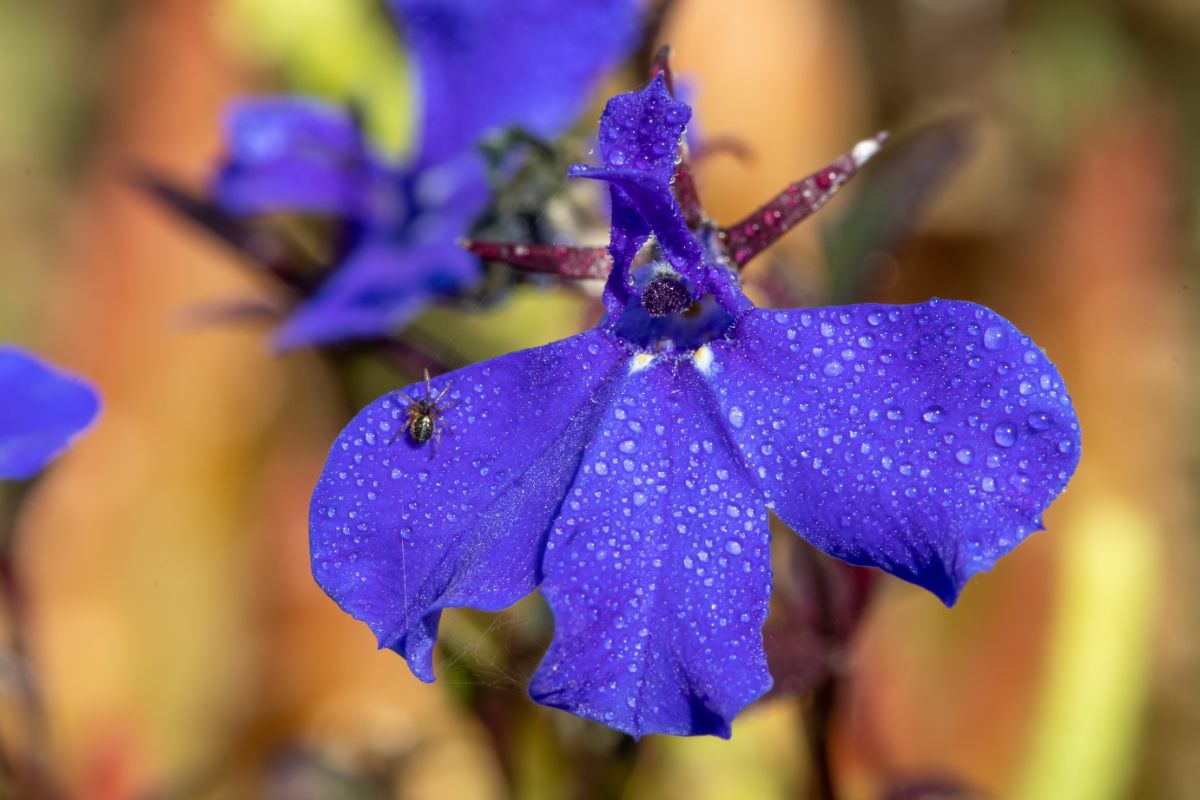 Some lobelias bloom as early as late spring. Most peak during the summer months. It is also common for lobelias to bloom into fall.
How Long Do Lobelias Bloom?
Depending on the type of lobelia you plant, your climate conditions, and how you care for it, you can expect a bloom period of up to 6 weeks.
When to Plant Lobelias
The best time to plant your lobelias outside is in spring.
Ideal Growing Conditions for Lobelias
To grow happy lobelia flowers, you need to know the right conditions. Let's go over sun, soil and water requirements for these lovely perennials.
How Much Sun Do Lobelias Need?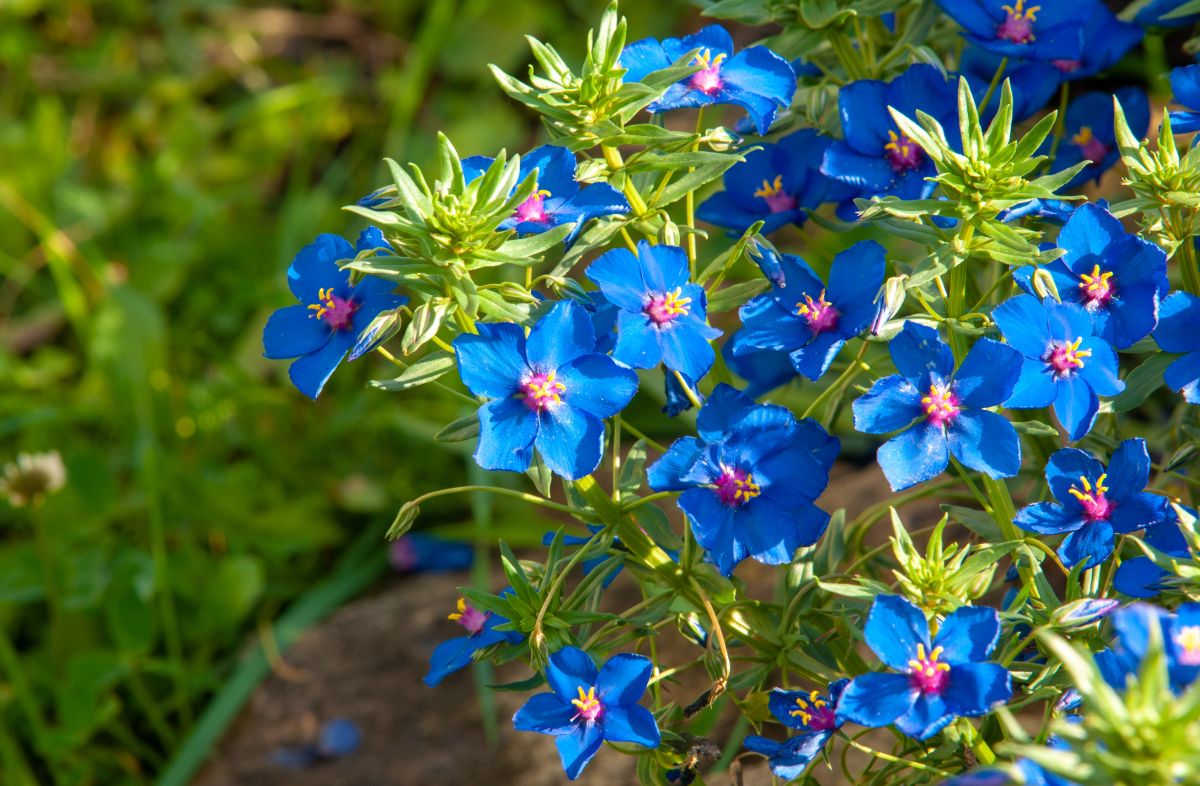 Most lobelias thrive best in full sun or partial shade. Try and pick a spot where they can receive at least six hours of sunlight per day.
There are some varieties of lobelia that can grow in light shade, however. So, if you do not have a lot of sunny spots in your garden, shop around and see if you can find a type of lobelia that is suitable for your space.
What Type of Soil is Right for Lobelias?
This plant is pretty flexible with respect to soil types, but prefers moist garden soils. In fact, you might even be able to get away with planting lobelia in wet soil.
As a point of interest, there is even a type of lobelia called "water lobelia," L. dortmanna. As you might guess, this is an aquatic form of lobelia that actually grows in lakes! You can find it in the northern part of the US and in Canada.
Alas, if you have particularly dry soil, you might have a difficult time successfully growing these perennial plants.
What pH should your moist, rich soil be for optimal lobelia growth? Here, we have found a lot of mixed information. Some sources suggest that these plants prefer neutral to mildly acidic conditions. Others recommend neutral to mildly alkaline conditions. Still others say that anything in this range should be fine. But we have also heard reports of lobelias flourishing in highly acidic soil.
So, your mileage may vary when it comes to pH. It could be that the specific cultivar is important. Perhaps some types are at home in more acidic soils while others are not.
If necessary, it is not difficult to adjust your soil pH. You can add lime to make it more alkaline, or sphagnum peat to make it more acidic.
How Much Water Do Lobelias Need?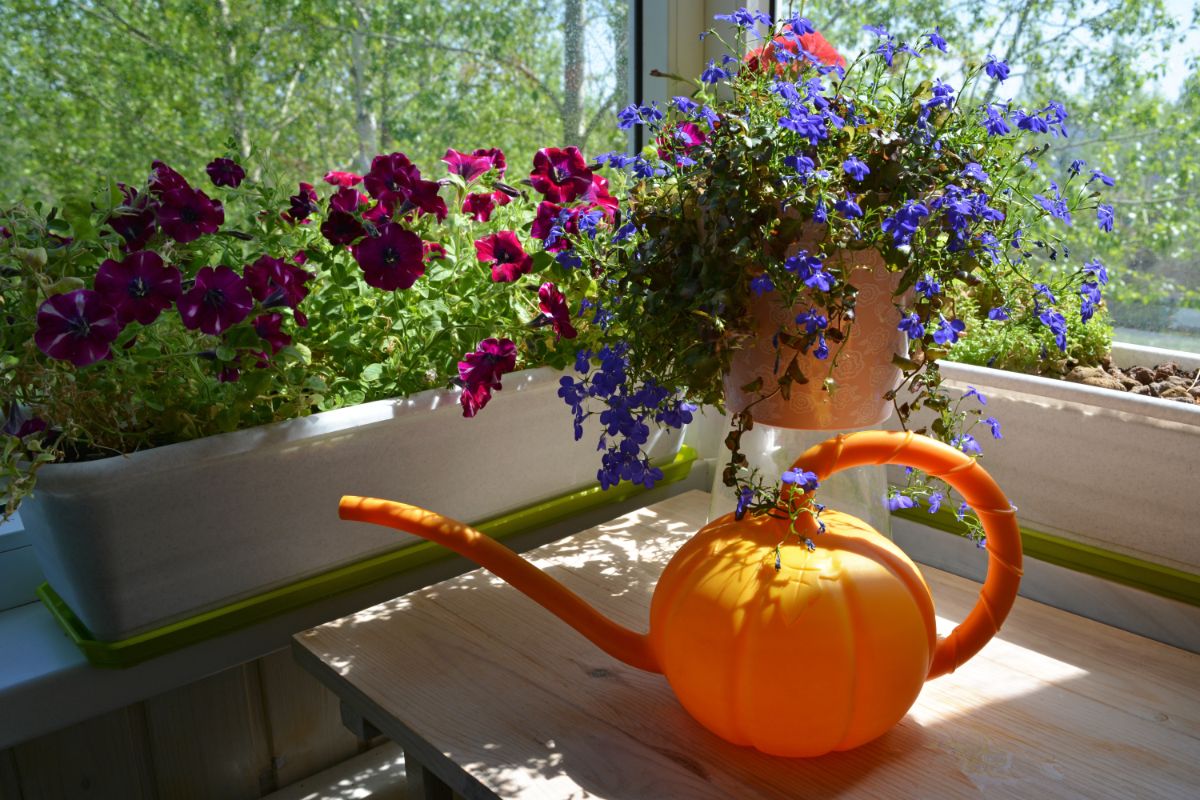 Whether you are growing cardinal flowers or the tender perennial types of lobelia, you will need to keep the soil moist.
You should water well on a regular basis. The soil should be damp down to at least six inches.
Check the soil often, especially during hot summers. Once the top inch or so is dry, it is time for more water.
If lobelia likes water so much, why is it recommended to let the top inch get dry between waterings? This can help to prevent rot.
How to Plant Lobelias
You can buy lobelias either as nursery plants or as seeds. For our ground and container planting directions below, we will proceed with the assumption that you have a starter plant. We will then review instructions for planting lobelia seeds.
Container Planting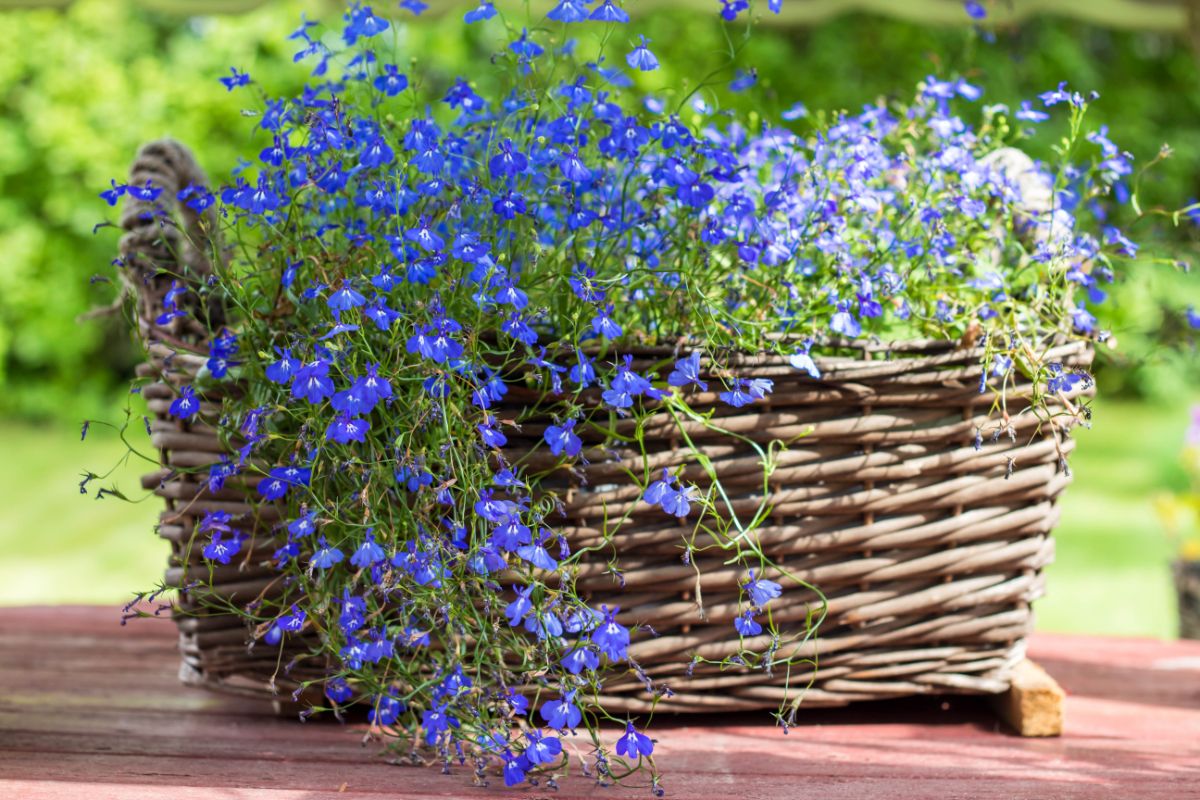 Get a big pot for your lobelia plant. The containers for cardinal flowers need to be 3 gallons or more in capacity. Add drainage holes to the bottom if necessary.
Put potting soil inside the container, and make a hole for your nursery plant.
Check on the roots of the plant. Are they tightly stuck together from being root-bound in the nursery container? If so, carefully pull the roots apart so they spread out a little. Insert the plant in the hole and backfill the soil.
Water well.
Find a suitable spot for your lobelia container.
While your lobelia plants are establishing in their containers, they will need extra water.
Ground Planting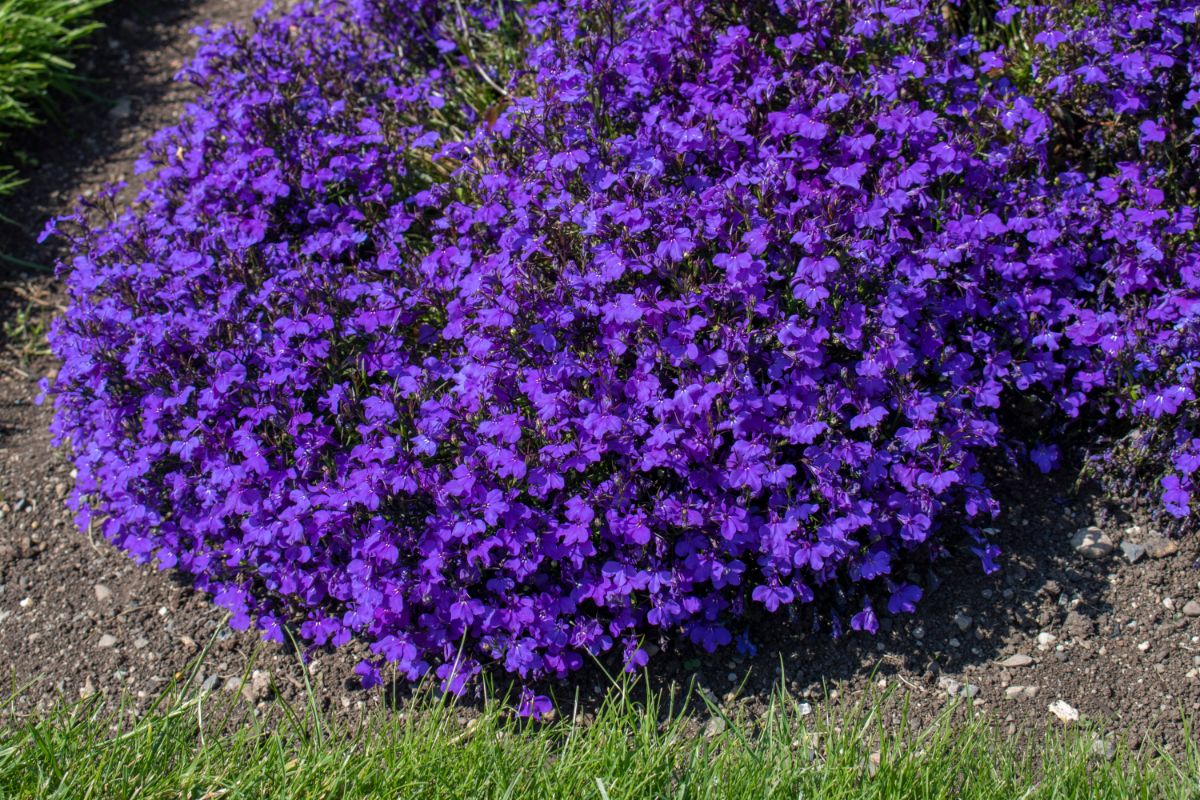 Ground planting involves the same basic steps as planting lobelias in containers.
Choose a suitable location for your lobelias out in your garden beds.
Dig holes for the lobelias. The right spacing for perennial varieties is a foot.
Remove the nursery plants from their containers and check if they were root-bound. Pry their roots gently apart if so, but do not damage them.
Insert the root balls into the ground. Backfill the soil.
Water well.
Once more, remember to provide regular watering as your lobelias are establishing.
Starting Lobelias from Seed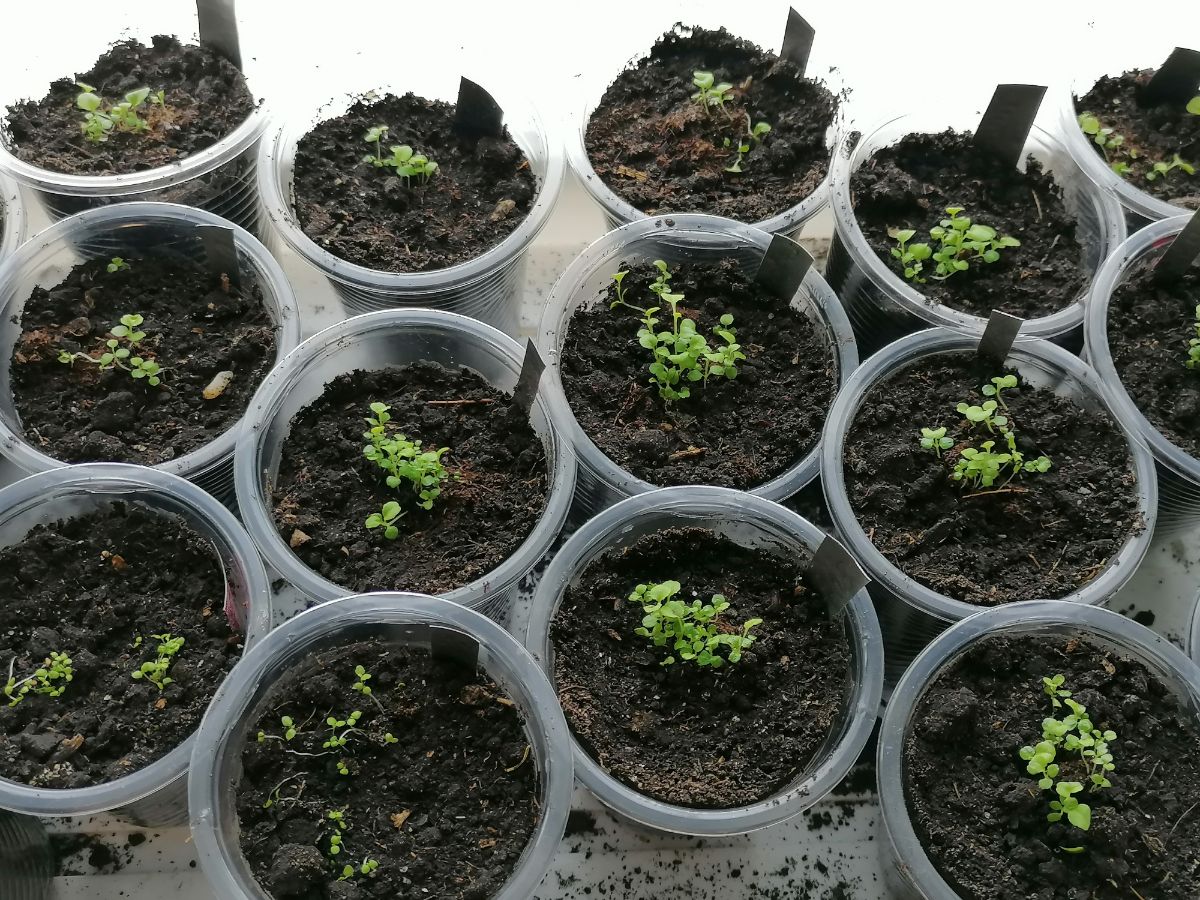 Start by filling seed trays with seed compost.
Scatter the seeds on top of the compost. You will notice they are incredibly small. Their consistency is almost like dust. Do not cover them with compost.
Use a spray bottle to gently mist the compost. Do not pour water directly into the container, or you will wash the seeds out. If there is a way for you to water them from the bottom, that is best.
Find a place for your seeds that is around 65-75 degrees Fahrenheit. They should receive plenty of light.
Check on the seeds periodically to make sure the compost is not drying out. If it gets dry, moisten it again with the spray bottle.
Wait for the seeds to germinate. This can take anywhere from 2-3 weeks.
Continue to care for the seedlings while they grow. Give them a few more weeks to keep developing.
Harden the lobelia seedlings. This process involves bringing them outdoors, then indoors, then outdoors, and so on. Each time, they should spend longer outdoors. That way, they are able to adjust to outdoor conditions before they become permanent.
You will notice that the seedlings have grown matted together. This is not a surprise, considering that the seeds are like dust and can land close together when you scatter them.
You do not need to separate all the lobelia seedlings. Just remove them from the seed trays in little groups. It is common to have around 5-10 in each matted group.
Now you can plant these clumps in the ground or in permanent containers.
Starting Lobelias from Cuttings
It is possible to propagate lobelia plants from their cuttings. This is a great way to increase the number of lobelias in your garden without dealing with seeds.
In spring, before the lobelia plants have a chance to blossom, look for some suitable stems. A good candidate is a stem that includes several growth nodes.
Snip off the stems you want to use. They should be around 5 inches long.
Get rid of the leaves on the cuttings.
Get a container and add potting soil.
Use a spray bottle to moisten the soil.
Dip the bottom tips of the cuttings into rooting hormone.
Press the tips of the cuttings down into the soil. They need to go about halfway down (a couple inches).
Choose a sheltered spot for your cuttings to grow. They will do best in the shade.
Use your spray bottle to moisten the soil twice daily. Every other day, you should pour water in (be gentle so as not to dislodge the cuttings).
Wait for the cuttings to develop roots. Then, transplant them in your garden.
How to Care for Lobelias
You know how to plant lobelias now, but how do you maintain them? Below, we talk about fertilizing, mulching, staking and pruning these perennials.
How to Fertilize Lobelias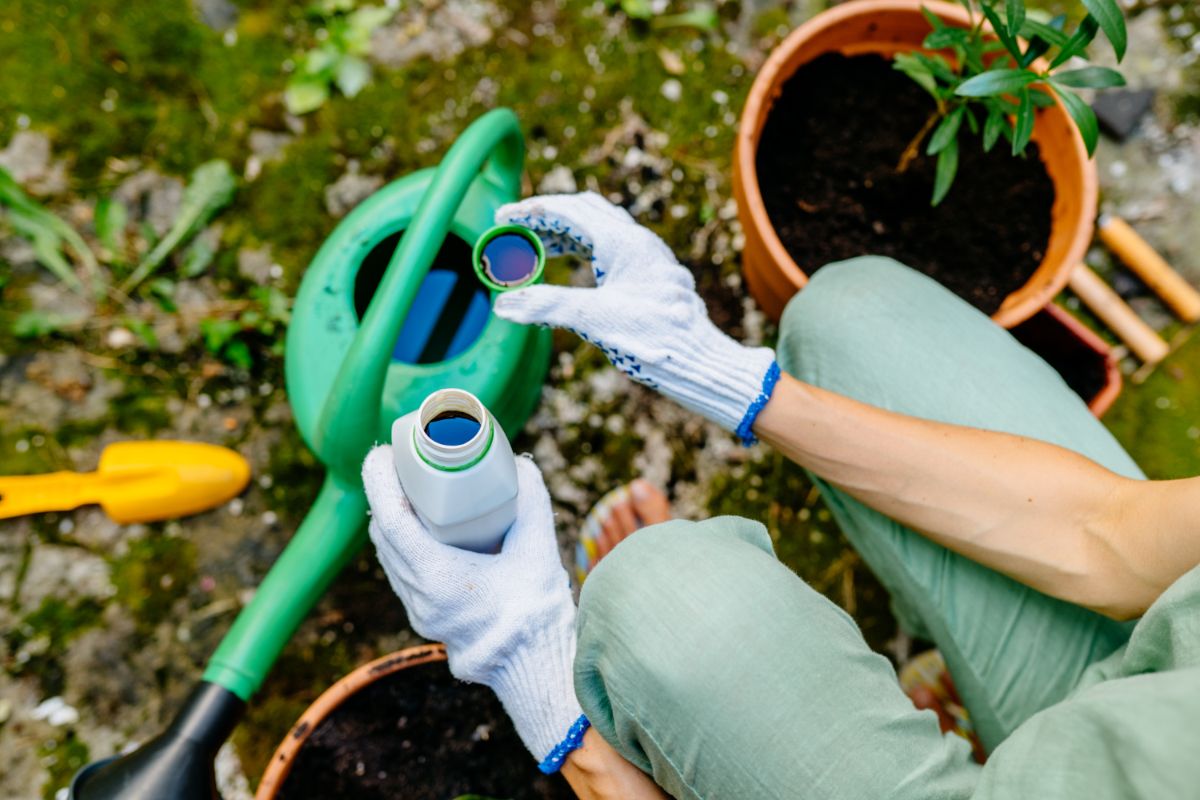 Lobelias appreciate fertilizer. How much they need and how often depends on the specific type you have.
If it is one of the "annual" varieties, you will need to apply liquid fertilizer every couple of weeks.
If, on the other hand, you have one of the perennial types, you can get away with fertilizing just once a year. Just give these plants some compost toward the start of the growing season.
How to Mulch Lobelias
If you want, you can put some mulch around your lobelias to protect the roots from temperature fluctuations during the winter. You do not need more than a couple of inches. Too much mulch or mulch that is too close to the stems could trap moisture, leading to rot.
How to Stake Lobelias
Lobelias have sturdy stems that support their flower spikes quite well. So, you probably do not need to worry about staking them. But if they do get floppy, just stake them the same way you would most other tall perennials.
How to Prune Lobelias
Pruning your lobelia plants requires deadheading and trimming. Below are instructions for each.
How to Deadhead Lobelias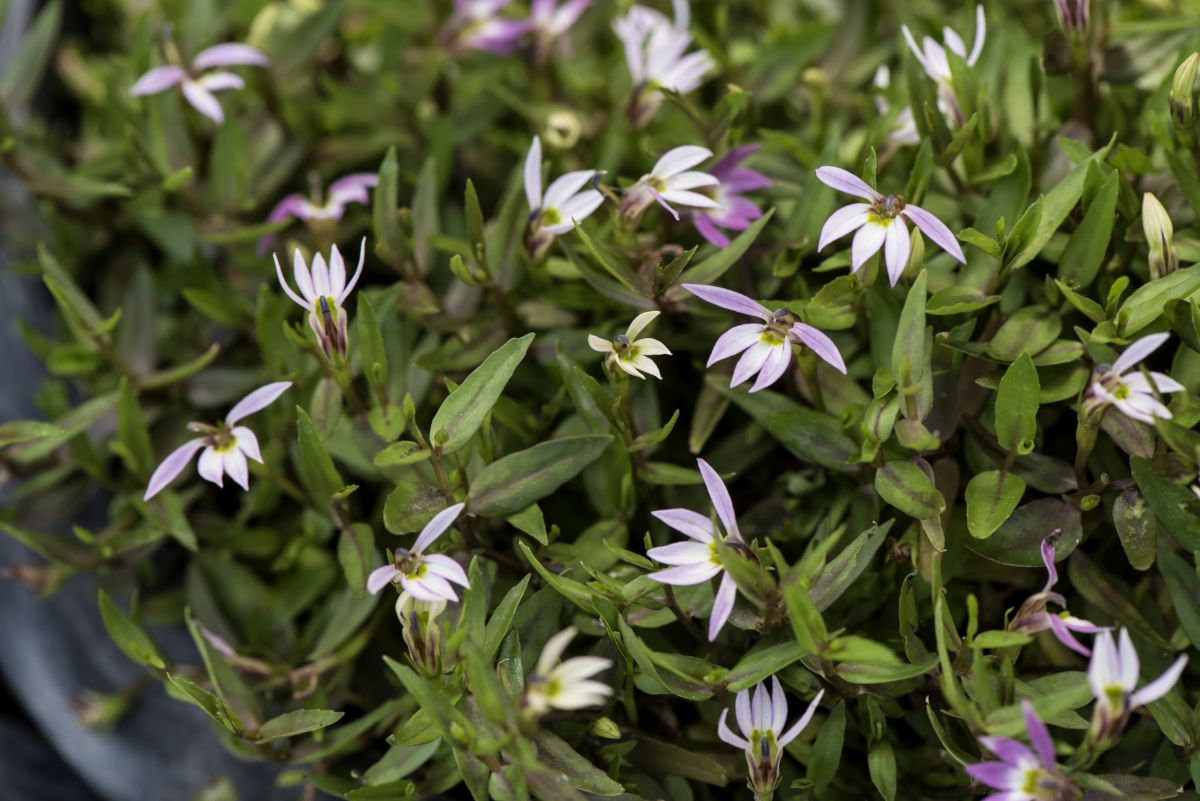 You can persuade your lobelia plants to blossom again by deadheading them after the blooms wilt. Rather than pinching off individual flowers, you should trim back the stems.
When to Cut Back Lobelias
When the stems and leaves die for the season, you can think about trimming them back. After you do, make sure you dispose of the dead plant matter. If you leave it lying around, pests could move in or it could trap moisture, contributing to rot.
Note that some sources say not to cut back this plant for winter. Likely, the correct instructions depend on your climate zone. Even sources that say you should not trim the plant in the fall do suggest that you get rid of debris such as fallen leaves.
How to Overwinter Lobelias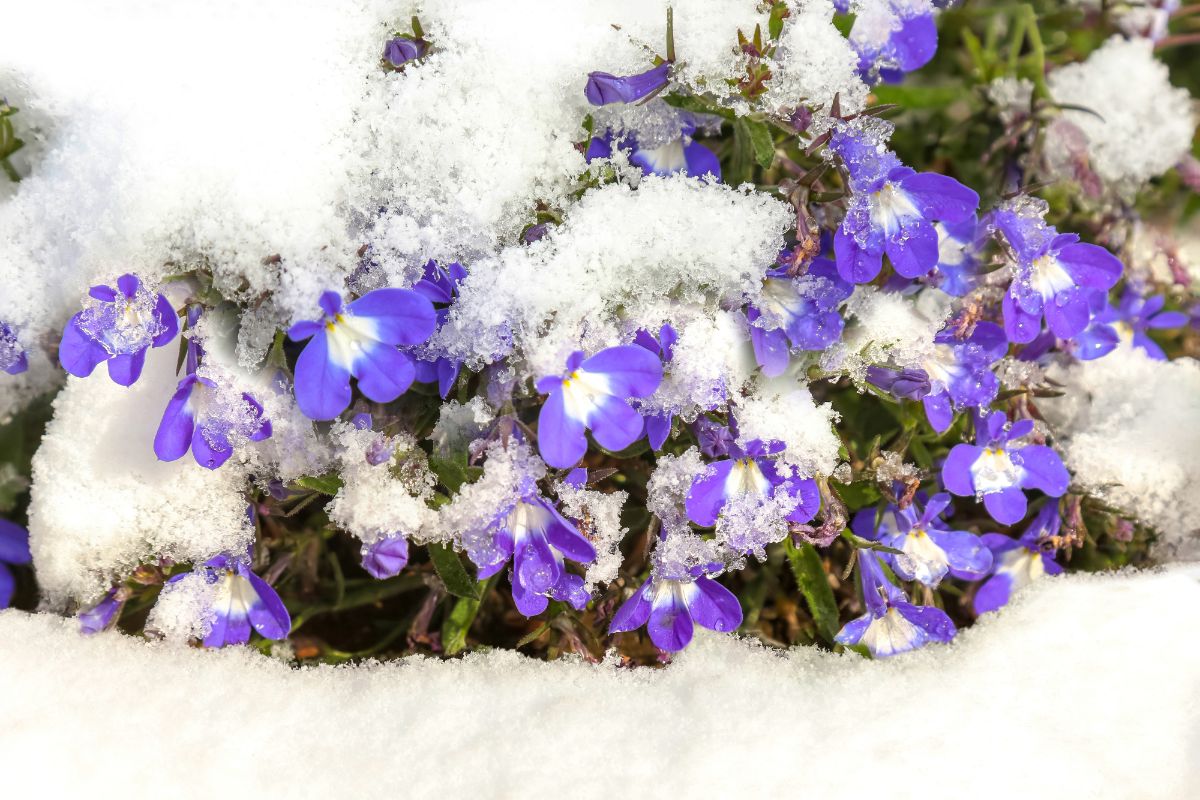 If you want your lobelia plants to survive the winter, trimming them back and mulching are a good starting point.
You should water your lobelia during winter, but you should make sure you do not go overboard with it (yes, this is a bit counterintuitive). Allow the top of the soil to dry out. Push your finger into the soil to see if it is drying out underneath. If it is, then you should provide some water. If it is still moist under the surface, you should keep waiting.
If your lobelia plants are in containers and you are worried about frost, you might want to either bury the containers for the winter or temporarily keep the plants indoors in your basement or another cold location.
How to Divide and Transplant Lobelias
Every few years, you will need to divide your perennial lobelias. Do so in either spring or fall.
Use a spade to cut down around your plant in a circle.
Dig the spade down underneath the root ball and push upward to remove the plant from the soil. As you are digging up your lobelia, be careful not to damage the roots.
Split the lobelia plant into multiple divisions. You might cut it in half, or if it is large enough, into thirds.
Dig holes for your newly divided plants, giving them each about a foot of space.
Plant the lobelias and backfill the soil.
Water well.
As your transplants are establishing, they will need extra water.
Are Lobelias Vulnerable to Diseases or Pests?
Lobelias are usually un-harassed by pests or disease. But there are a few potential problems to watch out for.
Ohio State University reports, "There are two main pathogens that Cardinal flowers are susceptible to. Rust often appears as small, bright orange, yellow, or brown pustules on the underside of leaves. Leaf spots are caused by fungi or bacteria. Brown or black spots and patches may be either ragged or circular, with a water soaked or yellow-edged appearance."
What should you do about leaf spots and rust? If leaf spots attack your plant, you should get rid of the leaves that are affected. You can also prevent leaf spots by watering close to the base rather than pouring water over the leaves.
As for rust, avoid letting weeds encroach on your lobelia plants, and remove any debris that piles up around them. Fungicide may be helpful.
Moving onto pests, cardinal flowers sometimes are targeted by aphids, slugs, snails, leafhoppers, thrips and mites.
Typically, these problems are minor. Often, there are no issues with pests at all.
In fact, mammals usually leave lobelias alone too. These plants are rabbit- and deer-resistant.
Recommended Planting Combinations for Lobelia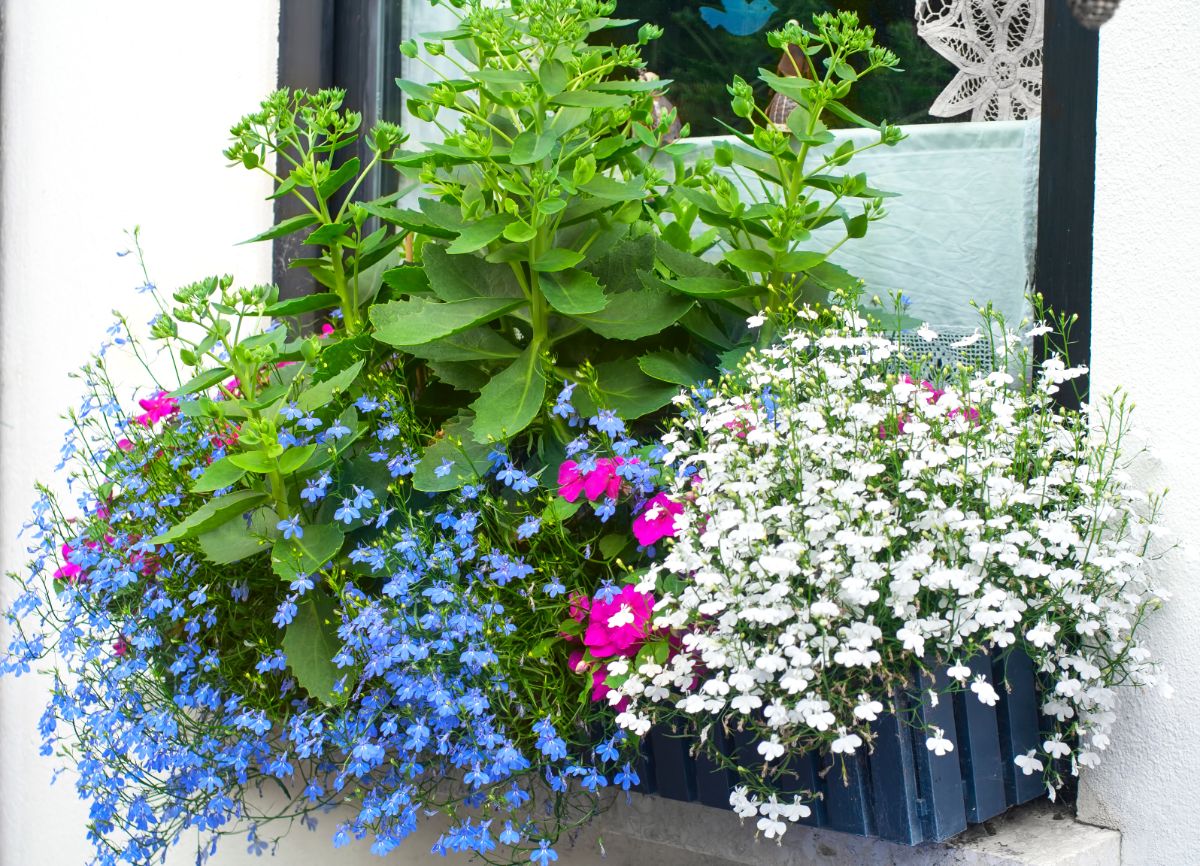 Here are some plants that can look beautiful with lobelia:
Iris: Irises, like lobelias, appreciate damp soil. They can also survive transitory wet feet. They bloom in spring and summer, so they can be flowering at the same time as lobelias.
Astilbe: The moist, rich soil conditions that lobelias enjoy are also favored by astilbes. In summer, they will produce dramatic plumes of flowers to accompany your lobelias.
Coneflower: This highly adaptable flower can grow in moist soil like lobelia, blooming in summer. Just make sure you do not let it actually get wet feet
Ferns: Ferny foliage can help fill out the areas around your lobelia plants, especially around water features.
Frequently Asked Questions About Growing Lobelias
What eats lobelias?
If something is eating your lobelias, it is probably either slugs, snails, or some kind of insects. Mammals are unlikely (see below).
Are lobelias poisonous?
Lobelias are toxic, yes. Consuming lobelia can lead to symptoms like nausea, vomiting, sweating, diarrhea, confusion, fast heartbeat, convulsions, and hypothermia. In severe cases, coma and death are possible.
This warning applies to humans and animals. So, your dogs and cats should not be allowed to get into your lobelias. If you think your pet has eaten any lobelia, an immediate trip to the vet is in order.
Are lobelias annual or perennial?
Lobelias are perennials. Some types of lobelia are hardy enough that you can grow them as perennials across a wide range of climate zones. Others are tender perennials that grow as such in zones 9-11, but grow as annuals elsewhere.
Where to Buy Lobelias
Lobelias can bring beauty to your garden year after year with proper care in a compatible climate zone. For the best selection of lobelia cultivars, try shopping online. Click the link below to buy lobelias now.