Harvest season is always an exciting time in the garden. Tomatoes are ripening on the vine, root veggies are filling out nicely, and cucumbers are getting plump on their trellises. But after you've harvested all of your homegrown produce, the next step is figuring out what to do with it all!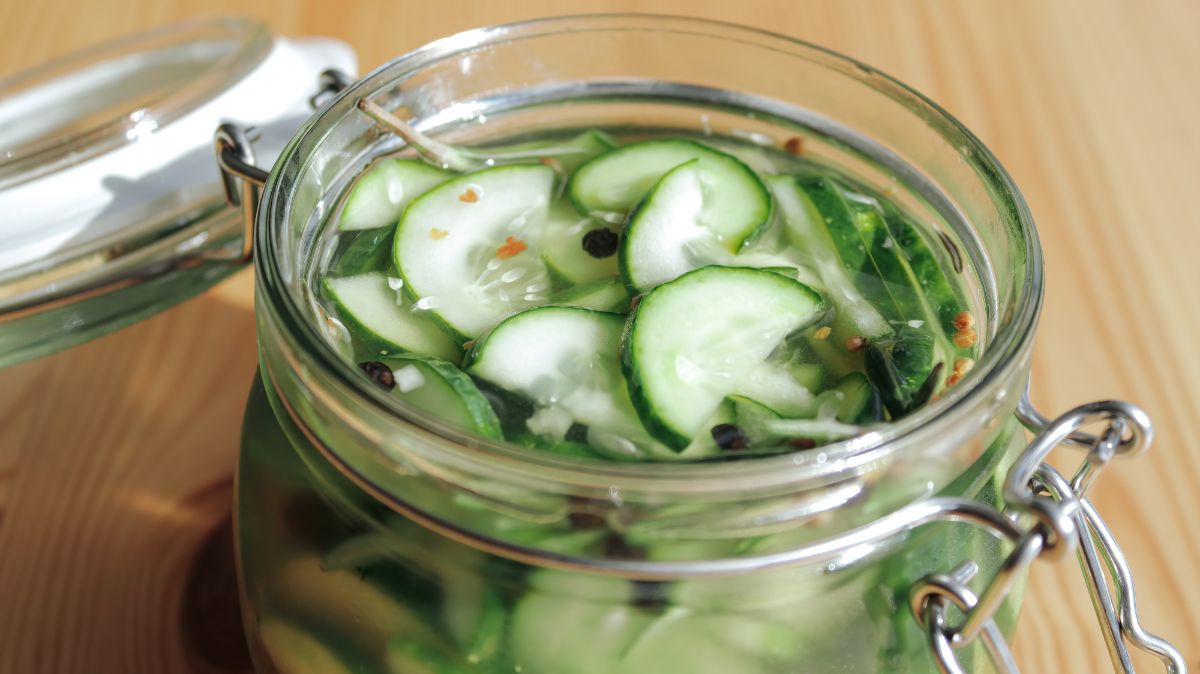 To get you started, we have an easy guide on how to use up mixed veggies in homemade giardiniera, as well as a guide on how to put extra tomatoes to use. But if you have lots of fresh cucumbers that need to be eaten up, one of the best ways to amp up their flavor and extend their shelf life is to turn cucumbers into a quick pickled refrigerator pickle. This super simple recipe doesn't require any canning or fancy equipment, and it's easy enough that even kids can roll up their sleeves and get cooking too!
Jump to:
How to make refrigerated pickles in 5 easy steps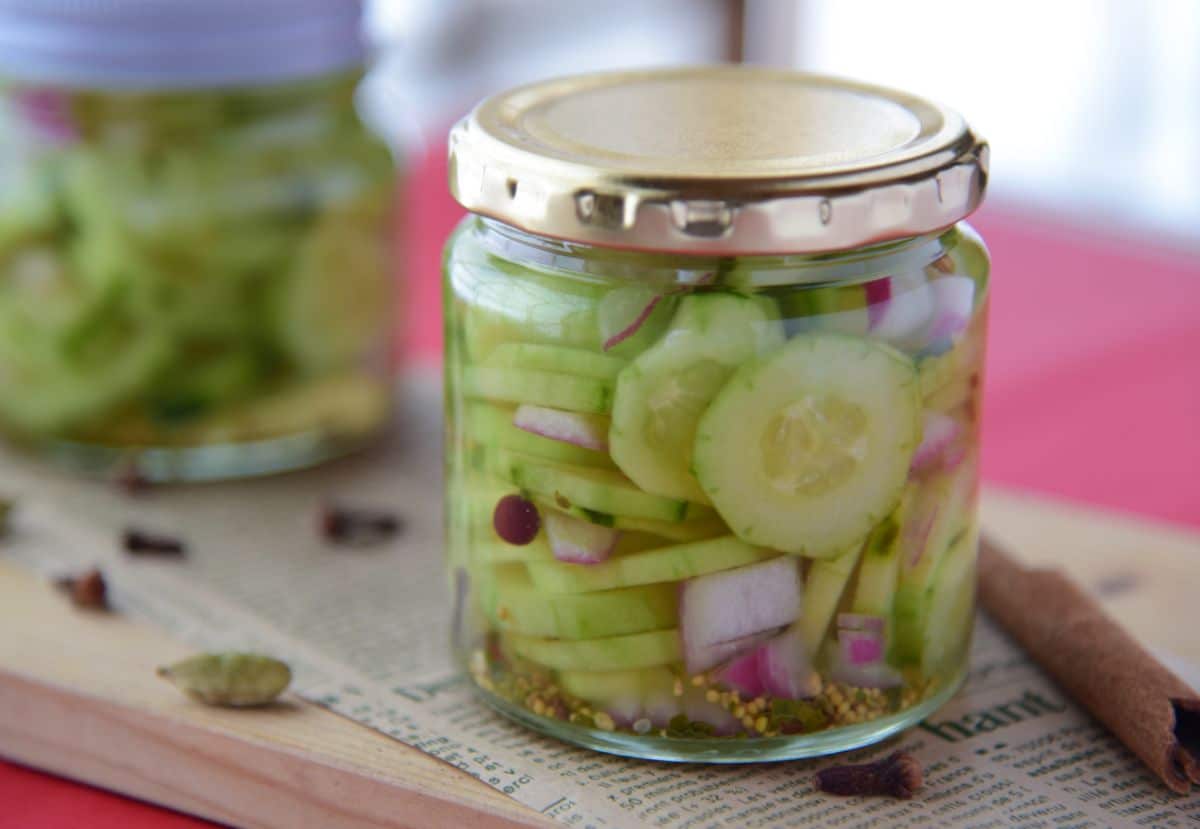 If you're new to food preservation, starting out with refrigerator pickles can help you master the art of pickling without the more complicated canning process. Refrigerator pickles are every bit as tasty as canned pickles, but they are much faster to make, and you can easily swap out the spices to make a pickle brine that's perfectly suited to your tastes. When you're ready to make your own homemade pickles, follow along with the simple steps below to whip up a batch of tangy and briny pickles in just 24 hours!
What you'll need:
Approximately 10 to 12 pickling cucumbers
3 bell peppers
2 medium onions
2 cups of white distilled vinegar
¼ cup of pickling salt (make sure you select salt intended for pickling as standard table salt sometimes has additives that may create an unpleasant taste in pickles)
3 cups of white sugar
1 tablespoon of celery seed
1 tablespoon of celery salt
Knife
Cutting board
Large, non-reactive mixing bowl
Wooden spoon
The process
Prep your veggies.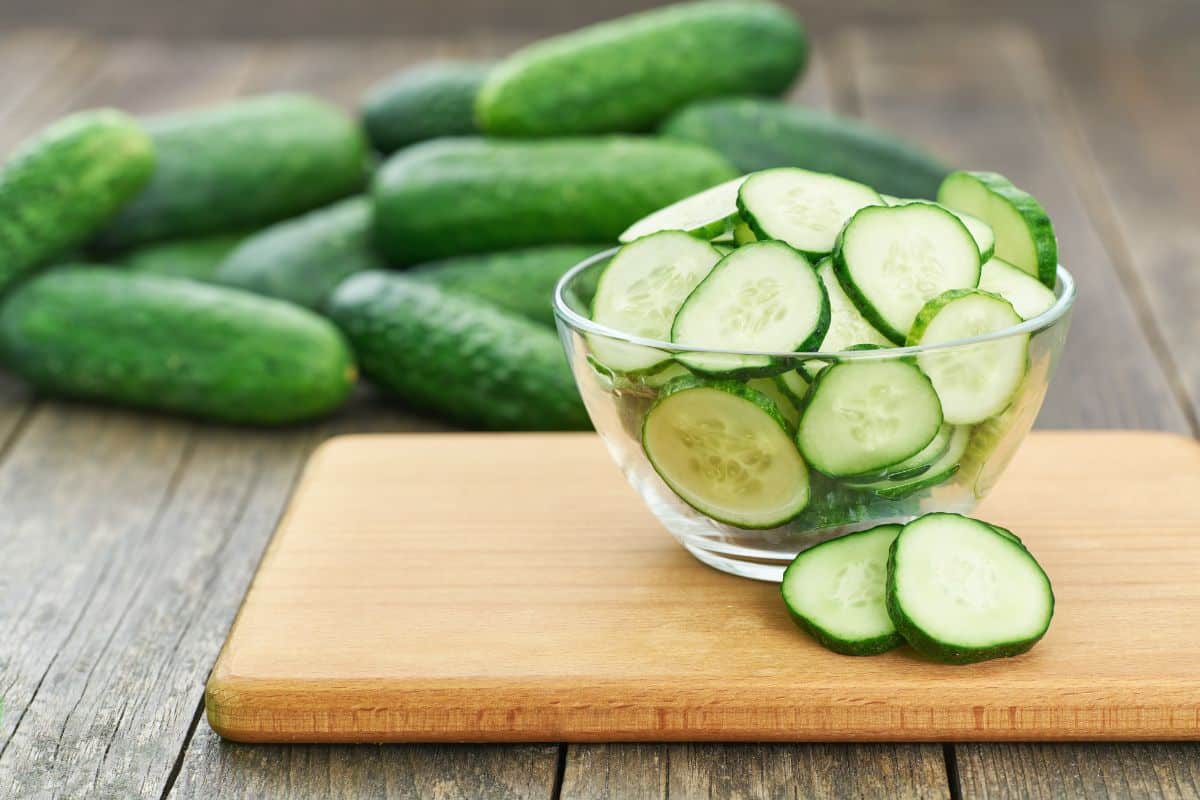 When you're ready to make your homemade pickles, give your cucumbers a good rinse under the kitchen sink and then slice them in whatever way you like your pickles. You can cut your pickles horizontally in thin slices for pickle chips or you can cut them vertically to form pickle spears. Just make sure that your cuts are relatively consistent in order to create pickle pieces that are roughly the same shape and size.
Once your cucumbers are prepared, slice up your bell peppers and onions in thin slices too. For a more colorful pickle, use different colored bell peppers; however, if you only have green bell peppers on hand, that will work too!
Pack your jar.
After slicing up your vegetables, pack them into a sterilized canning jar or canning crock and really stuff them in with your wooden spoon to remove any air bubbles. If you're working with a small fridge, you can use several smaller Mason jars, or you can use a single-gallon-sized Mason jar or canning crock. The size of the container doesn't really matter as long as it can fit all of your vegetables.
Make the brine.
Next, it's time to make your brine. Many pickle recipes require you to heat up your brine on the stove, but you don't need to do that with this quick pickle dish. Instead, simply mix together your vinegar, sugar, spices, and salt in a large bowl and continue to stir until the sugar and salt have fully dissolved.
Tip: If you like to experiment with different tastes and spices, you can adjust the flavors in your brine to perfectly suit your palate. Some popular pickling spices that can be added to your brine include: red pepper flakes, chopped garlic, dill, allspice berries, mustard seeds, peppercorns, cumin seeds, and bay leaves.
Add the brine.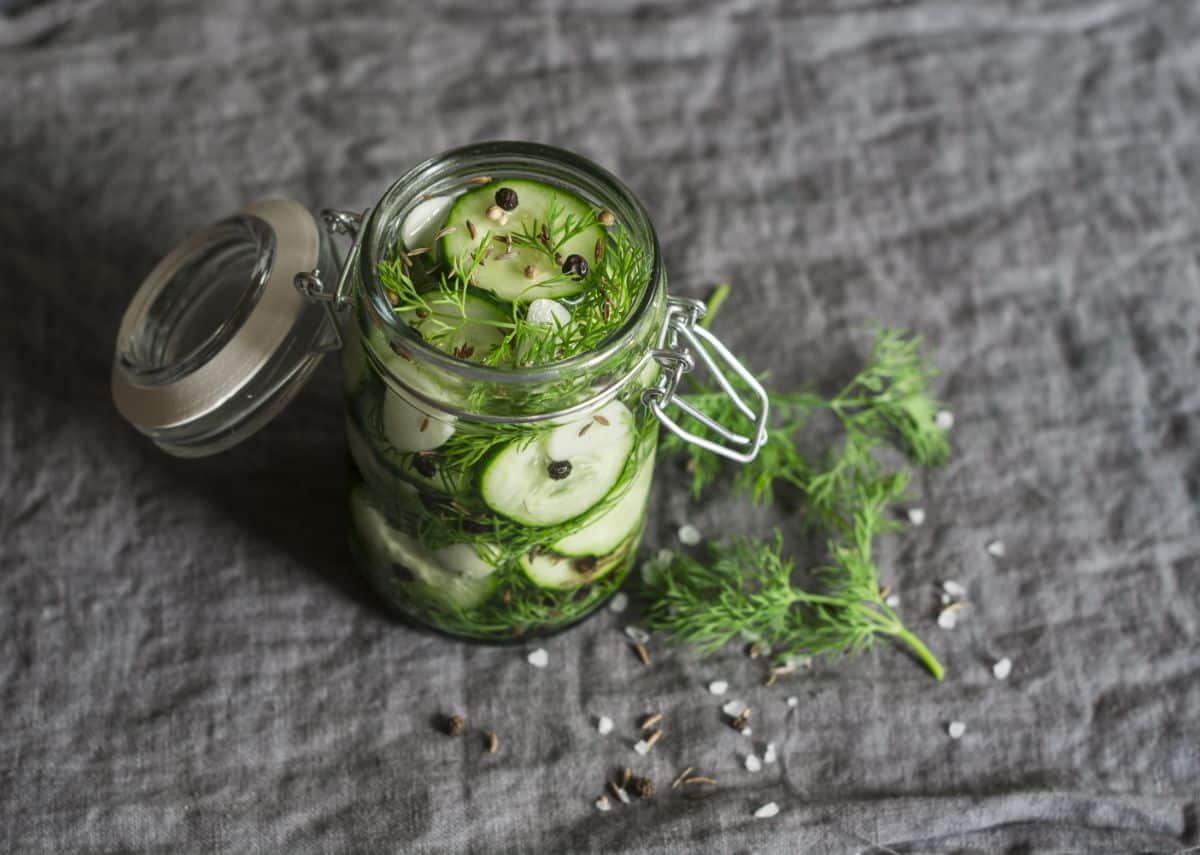 Now, carefully pour the brine over your vegetables in your canning jar, making sure that your veggies are fully submerged beneath the brine's surface. If you need a bit more brine to cover up your vegetables, mix up some more liquid using the same ratio of sugar, salt, and vinegar.
Tip: To make food preservation even easier, you may want to invest in a canning funnel, which will prevent spills while you're pouring brine into your canning jars!
Marinate.
Finally, pop your lid on your jar (if you have a lid) and then place your canning jar in your refrigerator and allow it to marinate for at least 24 hours. This will give your pickles plenty of time to absorb the tangy brine, and it will create a pickle with that characteristic crunch we all love in preserved veggies. Once your pickles have been brewed in the brine for at least a day, you can gobble them up on sandwiches and hamburgers, use them as a garnish or enjoy them as a delicious snack!
How long do refrigerator pickles last?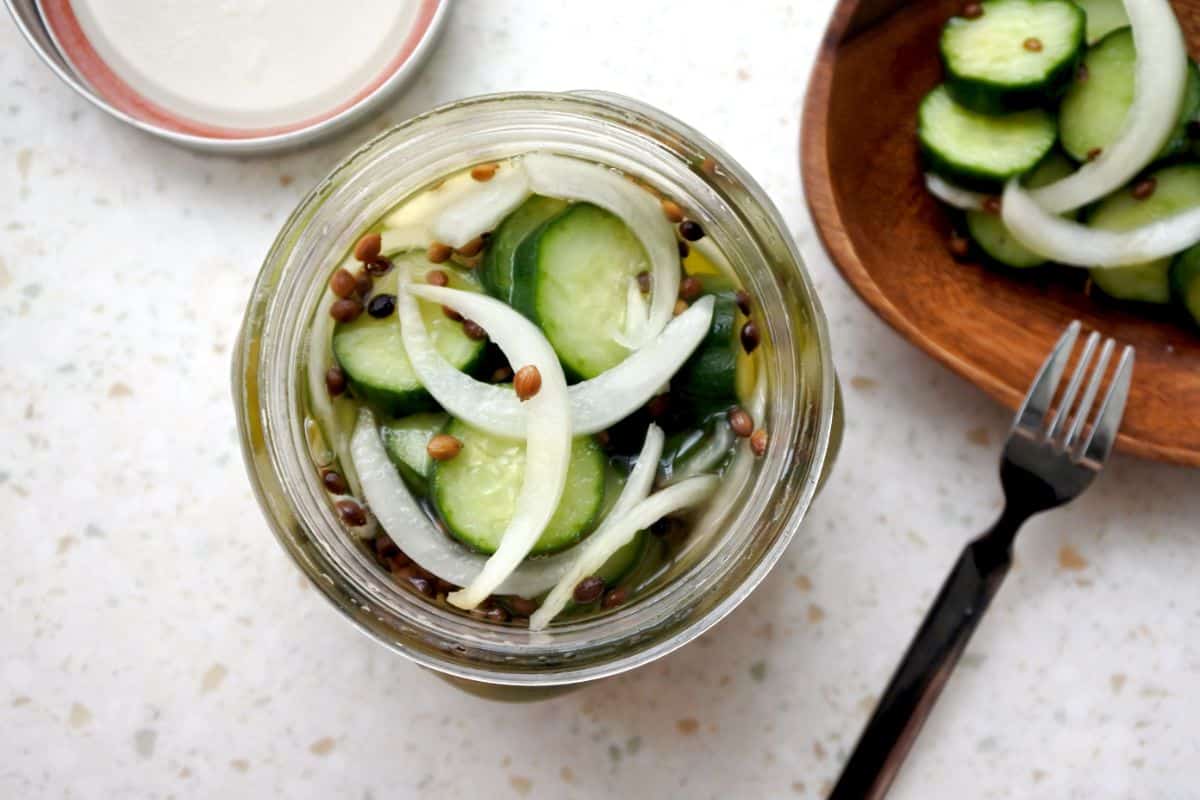 Preserving cucumbers with the quick pickle recipe above will extend the life of your cucumber harvest. However, refrigerator pickles won't last as long as pickles preserved with water bath canning.
A batch of refrigerator pickles should last about 4 to 6 weeks when stored in an airtight container in your fridge. After this time, the quality of your pickles will begin to decline, and your pickles can get soft and mushy. If you use up your pickles earlier, you can chop up more fresh veggies and add them to your brine to keep the goodness going!
If you want a shelf-stable pickle that will last for a year or more, the best way to do that is with water bath canning. Another option is to use lacto-fermentation methods and create probiotic-rich pickles that will last in your fridge for about 6 months.
Best cucumber varieties for pickling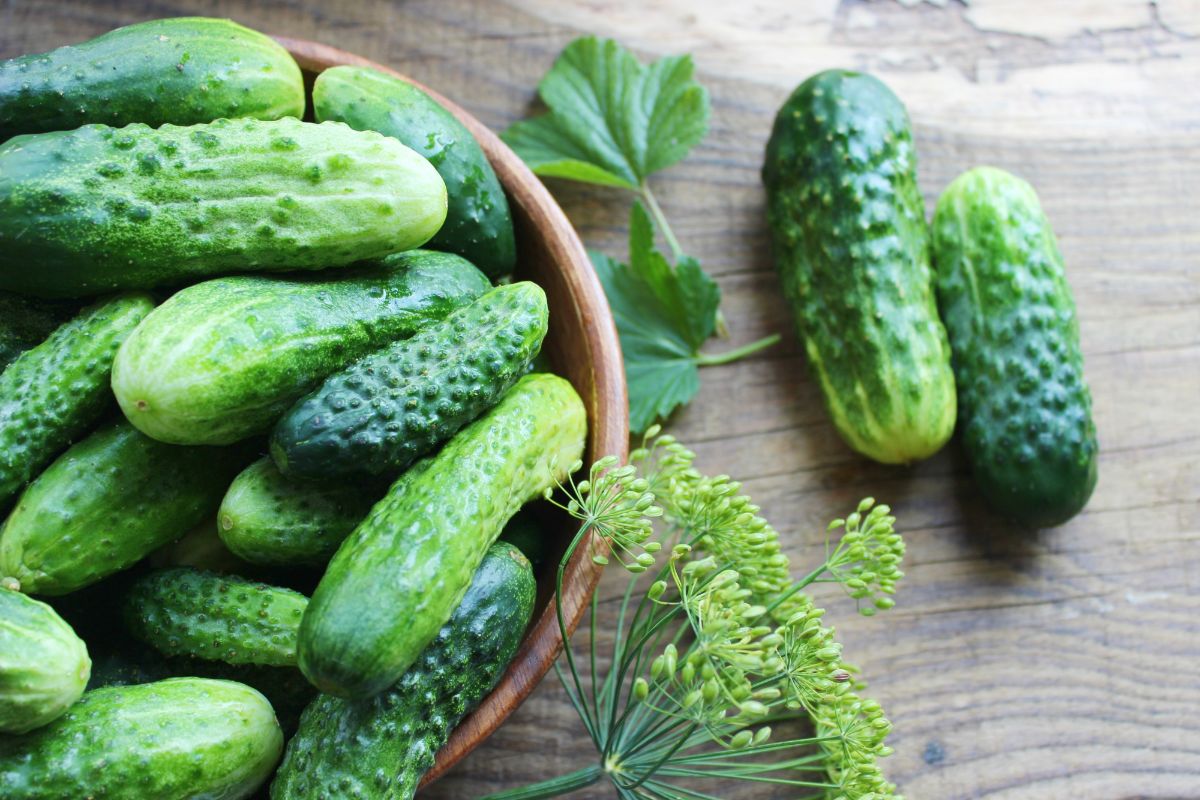 Any cucumber can technically be transformed into a pickle, but if you want quality pickles, the best types of cucumbers to use are small, pickling cucumbers. These cucumbers are just the right size for snacking, and they have smaller seed cavities and thinner skins, which gives them the perfect, crunchy texture in pickling recipes. Slicing cucumbers, on the other hand, are usually much larger, with thicker skins and more seeds, and they can develop a softer texture in pickled recipes.
If you're looking for cucumber seeds for pickling cucumbers, some of our favorite choices are:
'Boston'
'Little Leaf'
'Bush Pickle'
'National'
For even more options, we have a full guide on the best cucumber seeds for pickling right here.
Frequently asked questions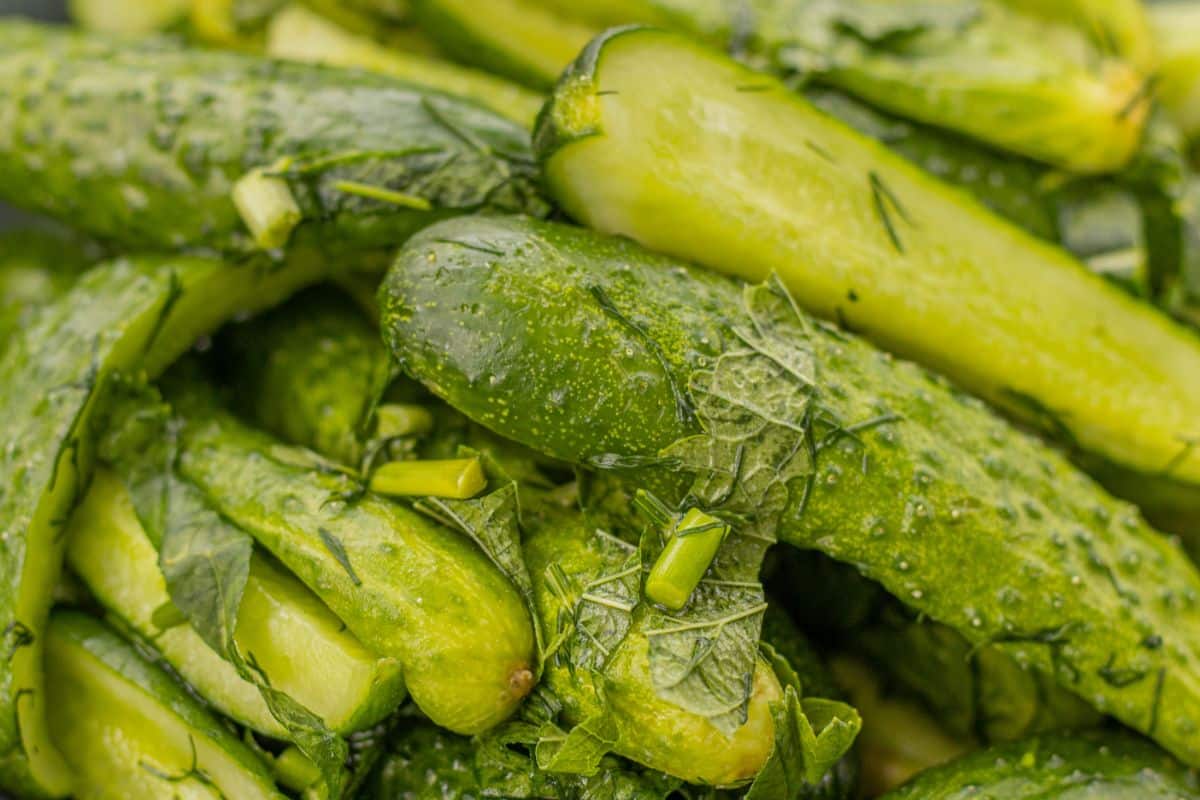 Summary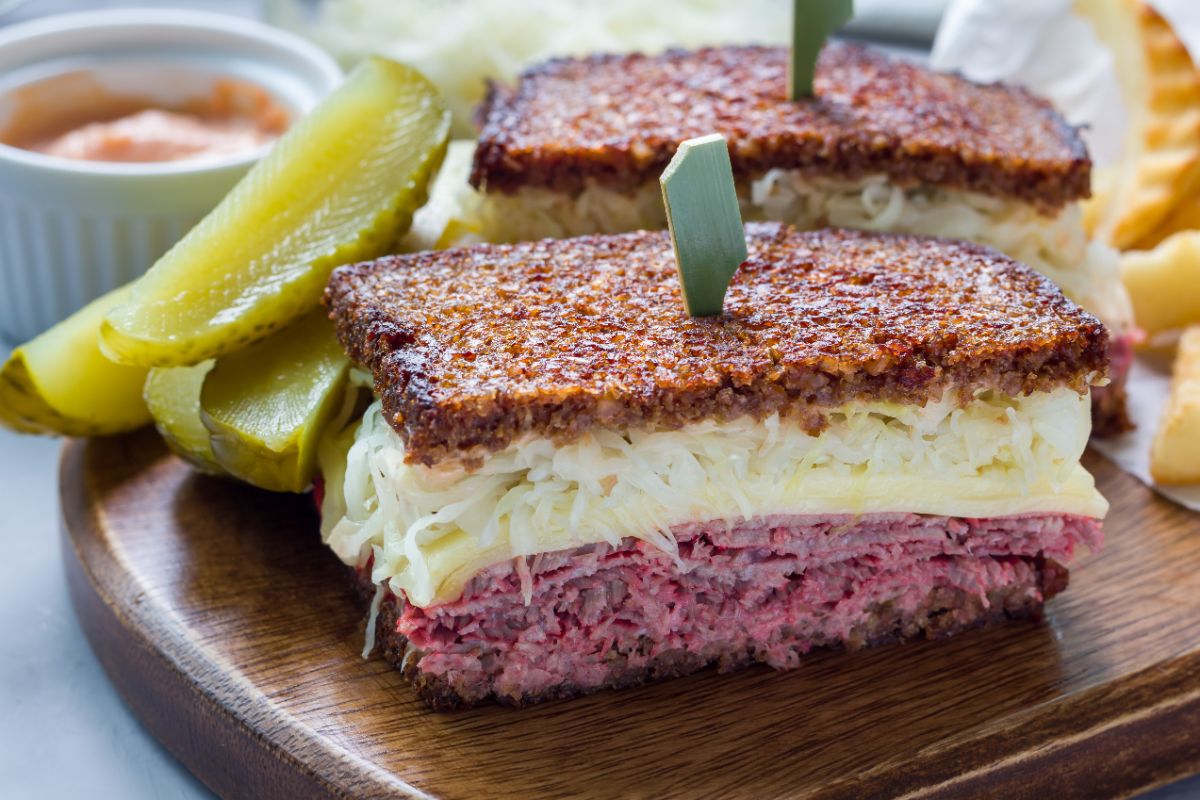 Making refrigerator pickles is a good way to get started with home preservation, but don't be surprised if you get hooked. Home preserving can be an incredibly rewarding process, and it feels like an entirely different type of cooking. Just as cooking differs from baking, home preserving helps us learn a different skill set, and it inspires us to experiment with different spices, herbs, and flavor combinations.
If you make refrigerated pickles and you find yourself craving more home-preservation recipes, see our full guide on the best veggies for lacto-fermentation so you can plant the right vegetables for canning seasons to come. You may also enjoy our post on when to use water bath canning vs. pressure canning methods.