Who doesn't love crunching into a refreshing and sweet, fresh carrot? Delicious raw or cooked carrots make excellent lunchtime snacks, and they can be whipped up into soups, roasted with other vegetables, or glazed and served as a favorite side dish. However you prep them, carrots are some of the most popular vegetables among home growers and definitely worth planting!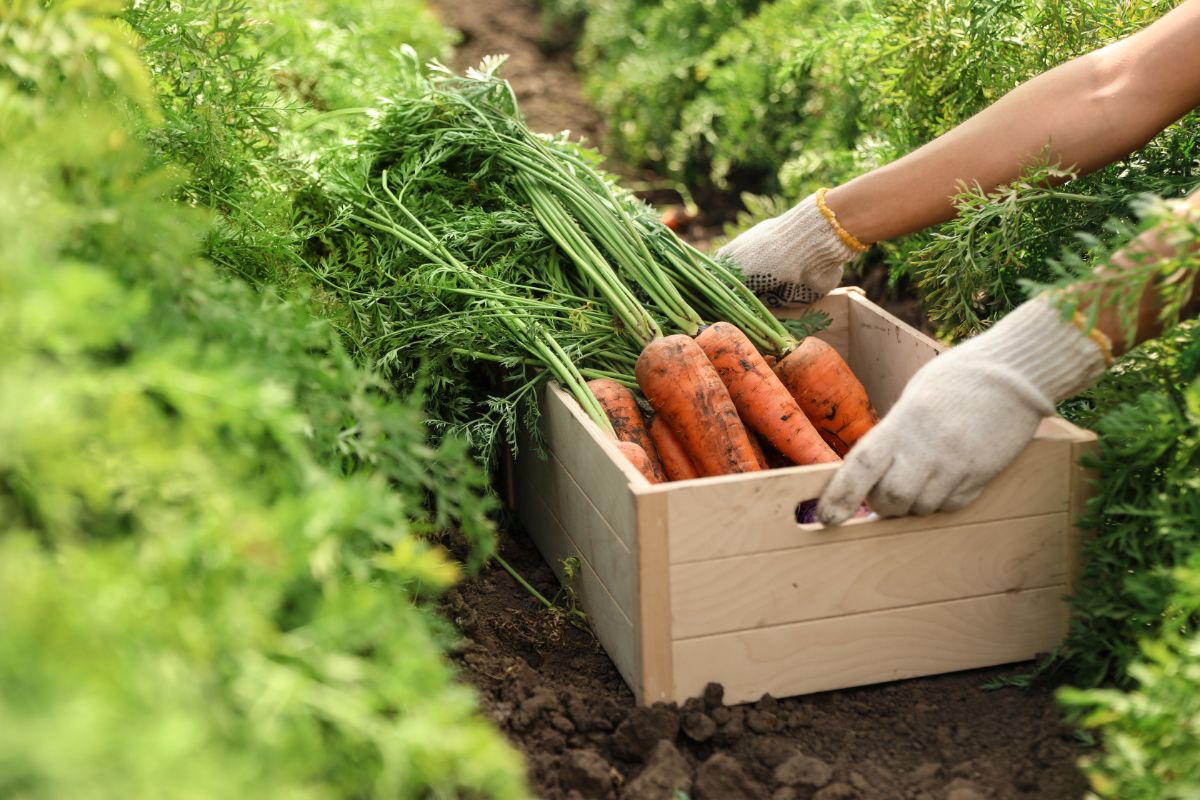 Carrots have a reputation for being somewhat difficult to grow, but if you know the tricks to cultivate carrots, you can easily harvest a large crop of tasty roots this growing season. Growing your own carrots means that you'll have tons of carrot varieties to choose from – including white and purple carrots! What's more, homegrown carrots are generally much sweeter than storebought carrots as the carrot's natural sugars are replaced by fiber as the carrot ages on grocery store shelves.
If you're ready to start growing your own carrots this season, read our carrot-growing tips below! With the help of this guide, you'll be able to grow carrots at home with no trouble at all.
Jump to:
Where to plant carrots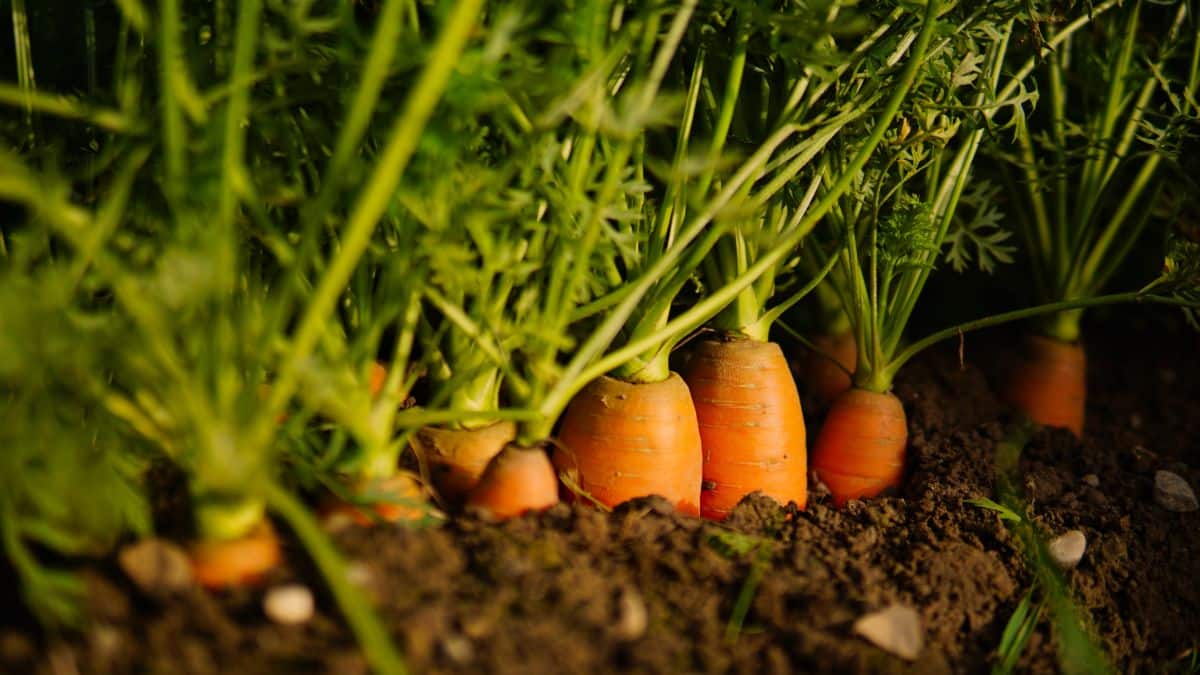 Carrots should receive between 6 and 10 hours of full sun every day, so choose a spot in your garden that receives lots of light.
Loose and fluffy soil is extremely important when growing carrots, as heavy, dense, or compacted soil can cause deformed or stunted roots. Carrots can be grown in inground gardens, but it's a good idea to till the soil to a depth of at least 8 to 12" before planting to loosen the soil up and remove any large rocks. However, if you have very dense soil, growing carrots in raised beds or containers that are at least 8" deep may be a better option.
How to plant carrots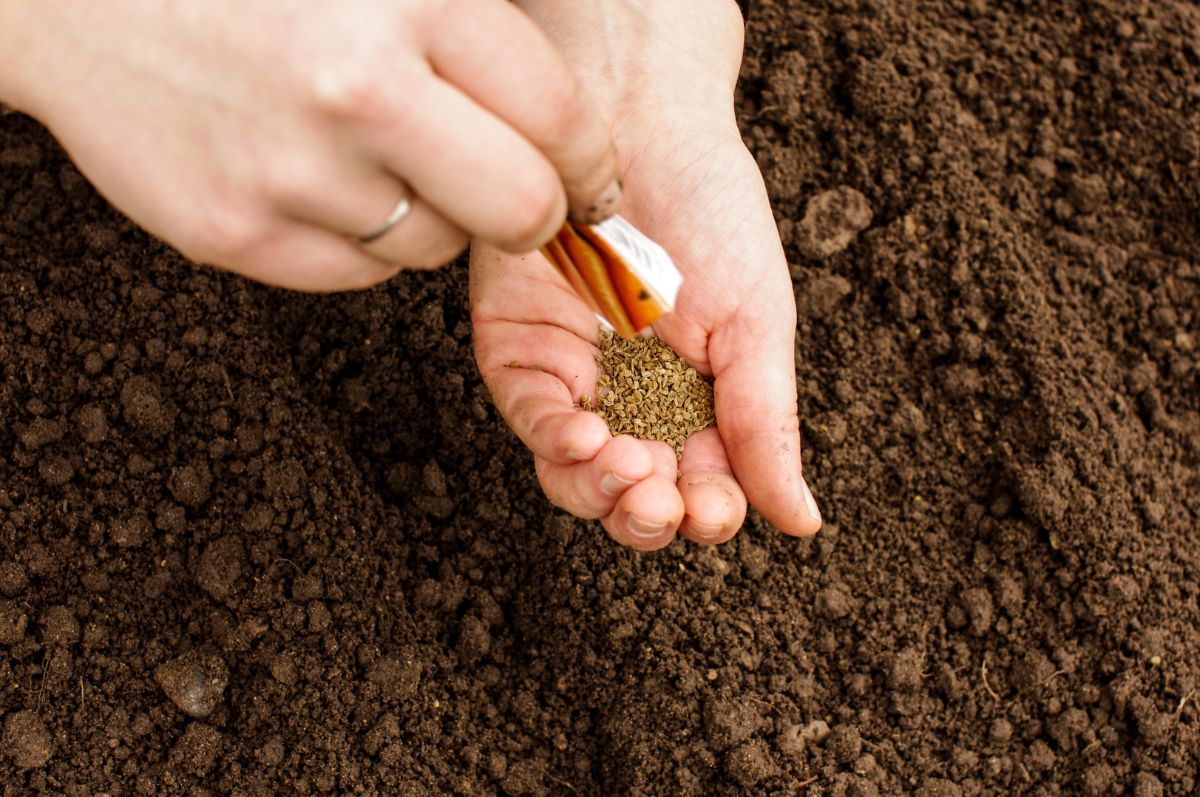 Carrots are cool-weather vegetables and are usually planted in spring and late summer. Certain varieties of carrots can also handle some heat and may be able to be cultivated throughout the growing season with succession planting. To ensure that you have a harvest of carrots all season long, try sowing seeds every 2 to 3 weeks from spring through fall.
Like other root vegetables, carrots don't transplant well and should only be planted directly in your garden space. That shouldn't be a problem, though, because these fast-growing plants will have plenty of time to mature even without being started indoors.
When planting carrots in spring, aim to have your seeds in the ground about 2 to 3 weeks before your last frost date. Cold hardy carrots can also be sown in mid-to-late summer for a fall harvest.
To plant carrot seeds, dig shallow trenches spaced 1' apart and sow your seeds ¼" deep. Individual carrot seeds should be planted about 2 to 3" apart; however, you can plant seeds closer together and thin seedlings out after they germinate if that's easier. Be certain to properly space your seeds, as carrots planted too close together will crowd each other out and develop thin roots.
Because carrot seeds are quite small and difficult to handle, some gardeners opt to mix seeds with sand for easier sowing. Seed tape is another popular option and makes planting carrot seeds a breeze!
After planting your carrots, keep your soil moist with frequent, light waterings. Carrot germination may be impeded by a natural crust that forms on top of your soil as you water. To prevent this, try interplanting your carrots with radish seeds or sprinkle a light layer of fine sand or compost on top of your soil after planting.
Once your carrots have developed 3 to 4 sets of true leaves, thin out your carrot seedlings so that they are spaced 2 to 3" apart. When thinning carrots, it's better to snip off the plants you're removing with scissors, as pulling up unwanted seedlings may disturb the roots of nearby plants.
After thinning out your seedlings, add a thin layer of organic mulch around your carrots to help conserve soil moisture and prevent weeds.
Growing carrots in your garden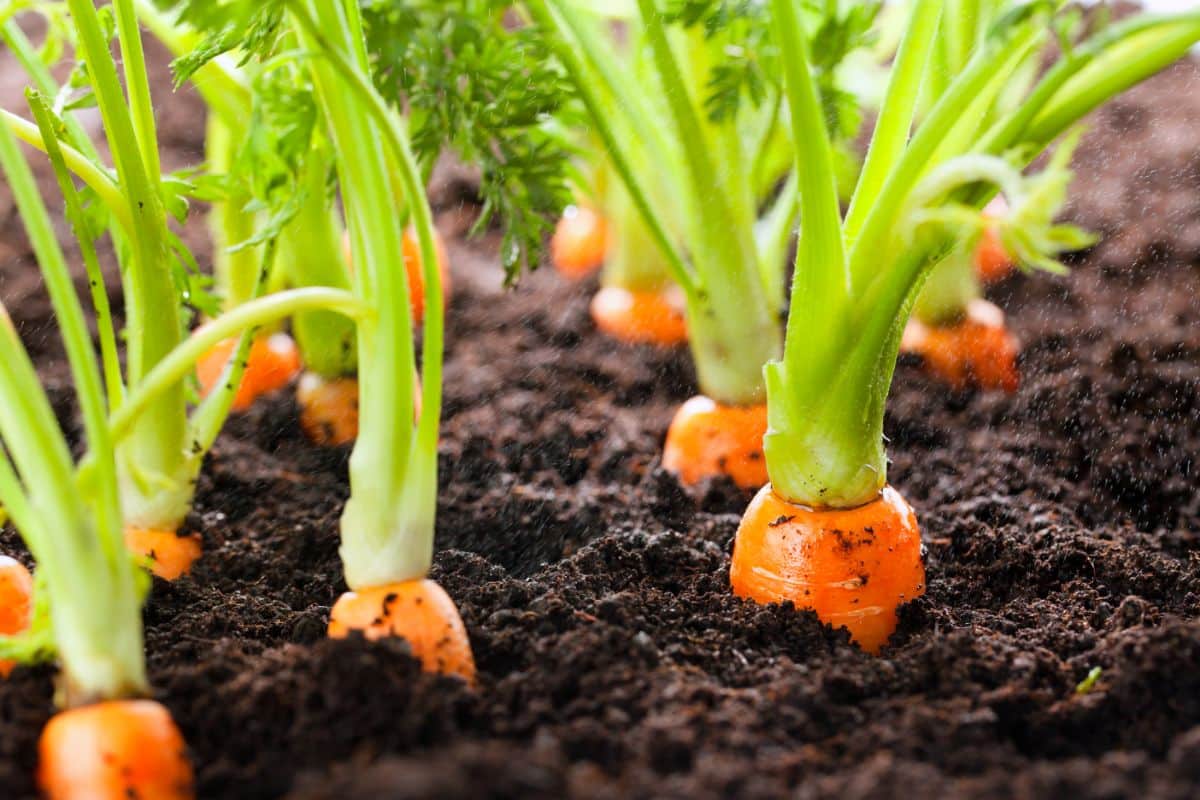 During the growing season, carrots are quite easy to keep happy as long as you give your plants regular water and plenty of sun and keep an eye out for common pests.
Light
Carrots are light-loving plants and require between 6 and 8 hours of bright sun to grow properly. That said, carrots can handle some light or dappled afternoon shade too!
Soil
For proper root development, carrots need rich, well-draining soil that is somewhat loose and fluffy in texture. These plants can also grow quite well in sandy soil; however, clay soils are too dense for carrots to develop properly in. Rocky soil can also cause stunted or deformed roots.
Generally speaking, carrots prefer soil with a neutral pH of between 6.0 and 7.0.
If your garden beds are very dense or heavy with clay, be sure to enrich your soil with compost or aged manure prior to planting to help your carrots form longer tap roots. Just be careful not to add too much rich organic matter, as this can cause carrot roots to grow forked or hairy.
Water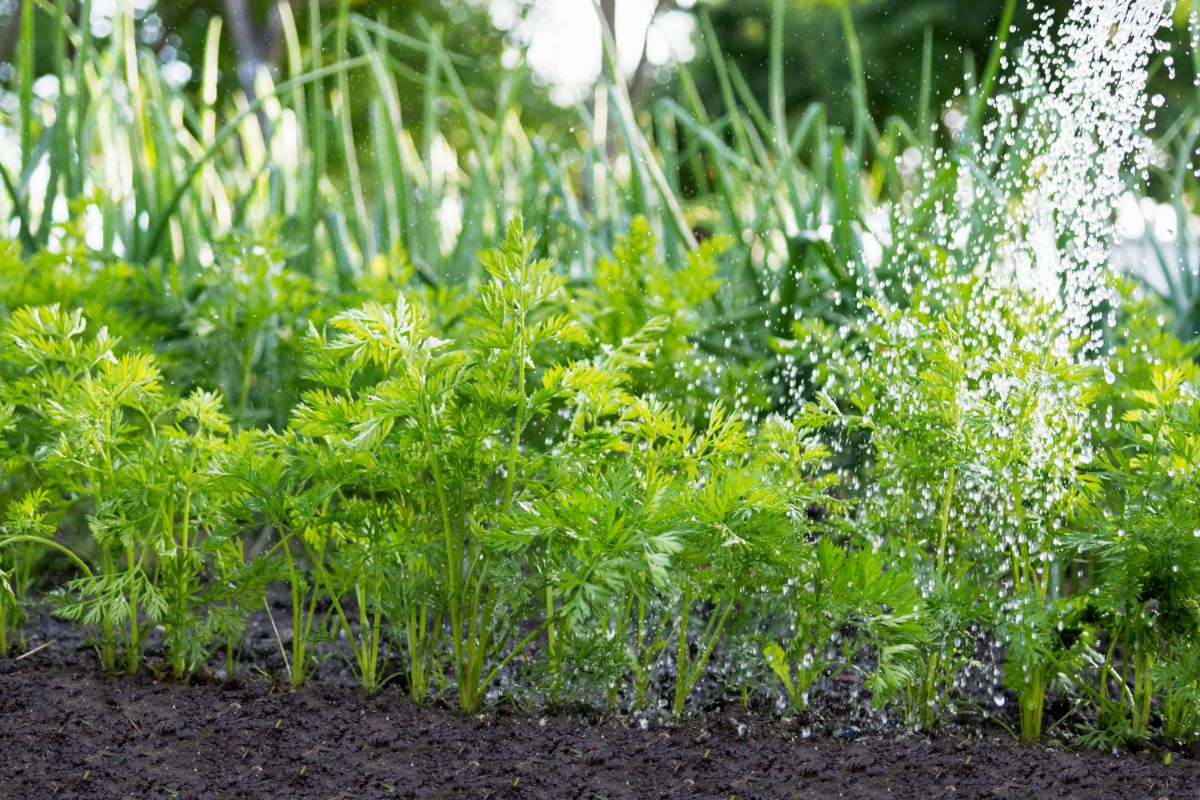 Carrots should be watered regularly during the germination process so that the surrounding soil remains consistently moist but never soggy. As carrots mature, aim to provide your plants with about 1" of water per week.
Fertilizer
Carrots are not heavy feeders, but they can benefit from the occasional nutrient boost. When planting carrots, many gardeners opt to mix in a bit of bone meal into their garden soil, which can aid in root development. Thereafter, fertilize your carrots every 5 to 6 weeks throughout the growing season with a low-nitrogen fertilizer.
High nitrogen fertilizers are not recommended with plants like carrots, as they encourage leaf development and may result in shorter tap roots.
Harvesting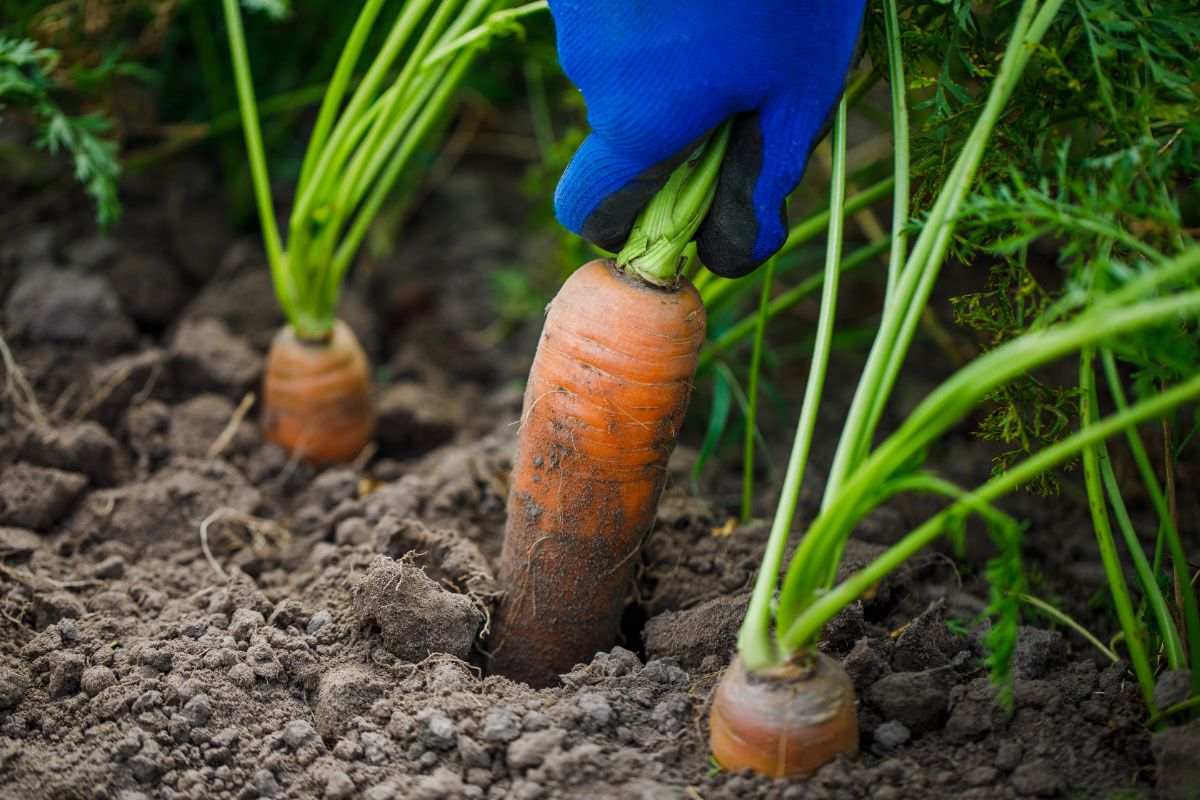 Carrots are ready to harvest about 60 days after planting, although this may vary depending on the varieties of carrots, you're growing and your local weather.
To be sure that your carrots are ready, check and feel around at the top of your carrots to see how big they are before you start pulling. Homegrown carrots are often smaller than store-bought carrots; however, smaller carrots are usually sweeter and more flavorful! Ideally, carrots should be at least as wide as your thumb, or ½" in diameter, before you harvest.
Small carrots can usually be pulled up easily by gathering their leaves and gently twisting the root out of the soil. Larger carrots, particularly autumn-grown carrots for storing, may require a bit more work to pull. For these carrot types, try loosening the surrounding soil gently with a spading fork.
Instead of harvesting all of your carrots at once, plan on harvesting them over the course of a few weeks, as carrots may mature at different times. This will provide you with a ready source of tasty roots, and your refrigerator won't get overwhelmed with too many carrots all at once.
If you're growing carrots in the autumn, wait to harvest until after a light frost occurs. Cool temperatures can improve the flavor of your carrots and boost sweetness levels too!
Storing carrots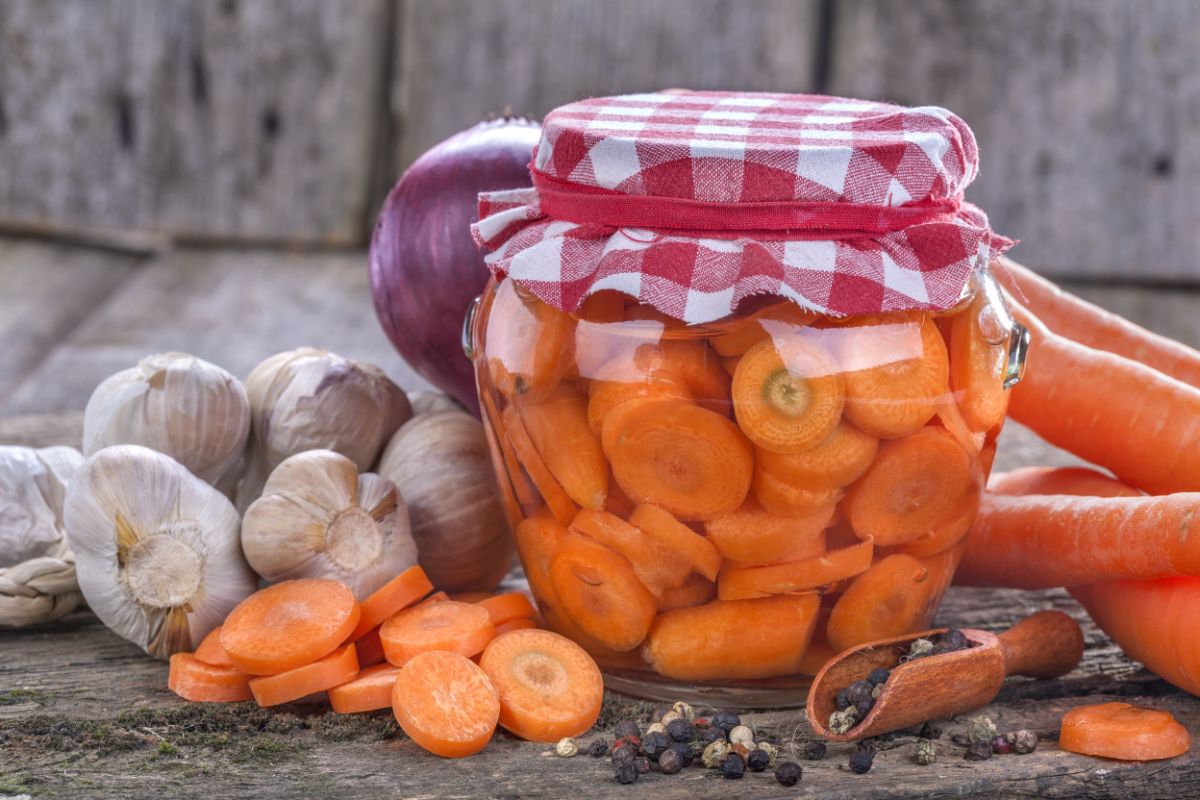 You know you've grown a successful carrot harvest if you end up with more carrots than you can use right away! But if this is the case, you may need to figure out how to keep your carrots fresh until you're ready to eat them.
Carrots can be kept in your fridge for 3 to 4 weeks. To keep carrots fresher longer, nip off all but the top ½" of leafy stems and then rinse and dry your roots. Store the roots in a Ziploc baggy or plastic container to keep them from getting limp.
For longer-term storage, carrots can also be kept in root cellars by storing them in a bit of lightly moistened sand. Alternatively, carrots are often pickled, fermented, or canned for longer preservation. Carrots can also be cut, blanched and frozen, and stored in your freezer for 10 to 12 months.
Note: Don't throw carrot leaves away after you separate them from their roots. Carrot leaves are also edible and can be eaten fresh in salads or cooked in lots of other dishes. For an interesting treat, try out carrot top pesto!
Carrot companion plants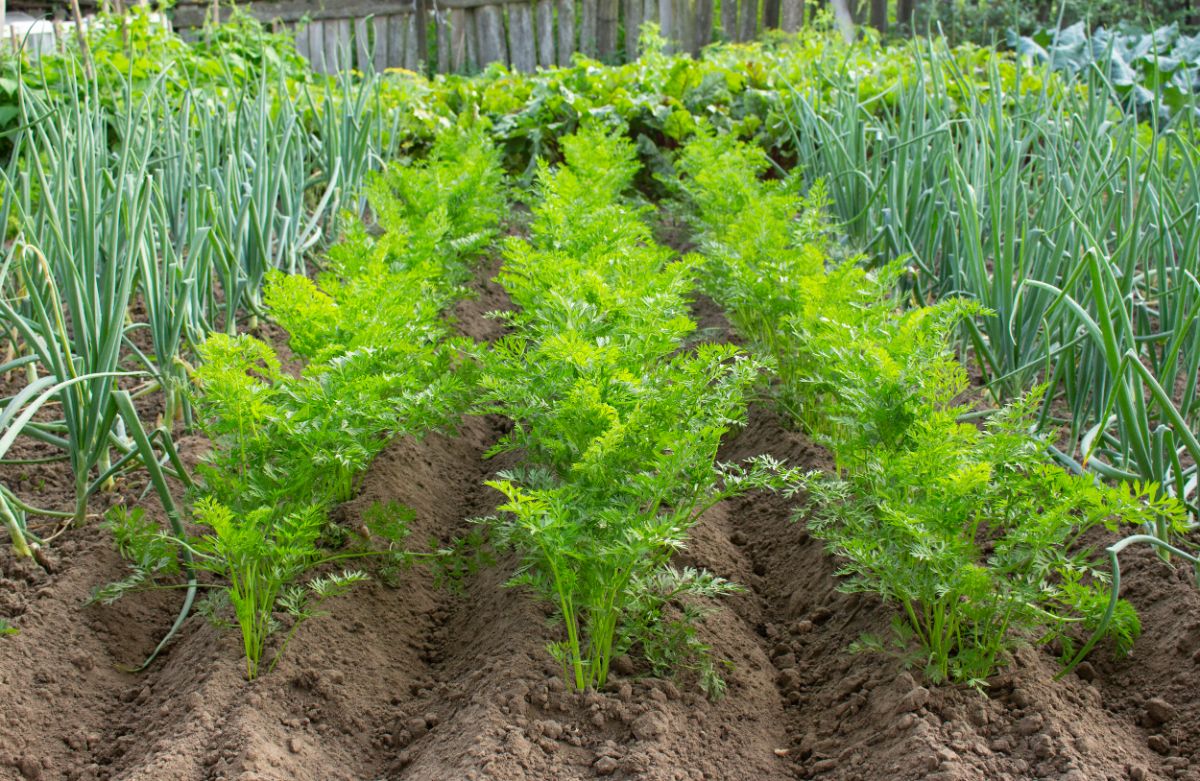 Companion planting is the technique of planting one or more vegetables, flowers or herbs together for healthier plants, more vigorous growth, and natural pest control. While carrots can benefit from growing with other plant types, below are some of the best companion plants for carrots.
Alliums
Onions, chives, garlic, leeks, and other members of the allium family have strong scents that naturally repel many pest insects, deer, and rabbits. For natural pest control, these plants are some of the top choices to pair with your carrots.
Radishes
Radishes and carrots are both fast-growing plants, and they have similar care requirements. Even better, growing radishes with your carrots will also help ensure a crust doesn't develop on your soil line, which can impact carrot germination.
Tomatoes
Carrots grow best in cooler weather and may grow slower in intense heat. Tomatoes' height and large leaves can provide much-needed shelter to tender carrot plants and promote more vigorous growth too!
Rosemary
Like alliums, rosemary's strong aroma can repel many common insects, including carrot flies. Just keep in mind that rosemary prefers drier soil than carrots do, so you may want to keep your rosemary plants in pots near your carrot patch.
Lettuce
Just like radishes, lettuce is another fast-growing plant that grows well with carrots. Both plants benefit from cooler weather, have similar care requirements, and won't outcompete each other for water and other nutrients.
Common pests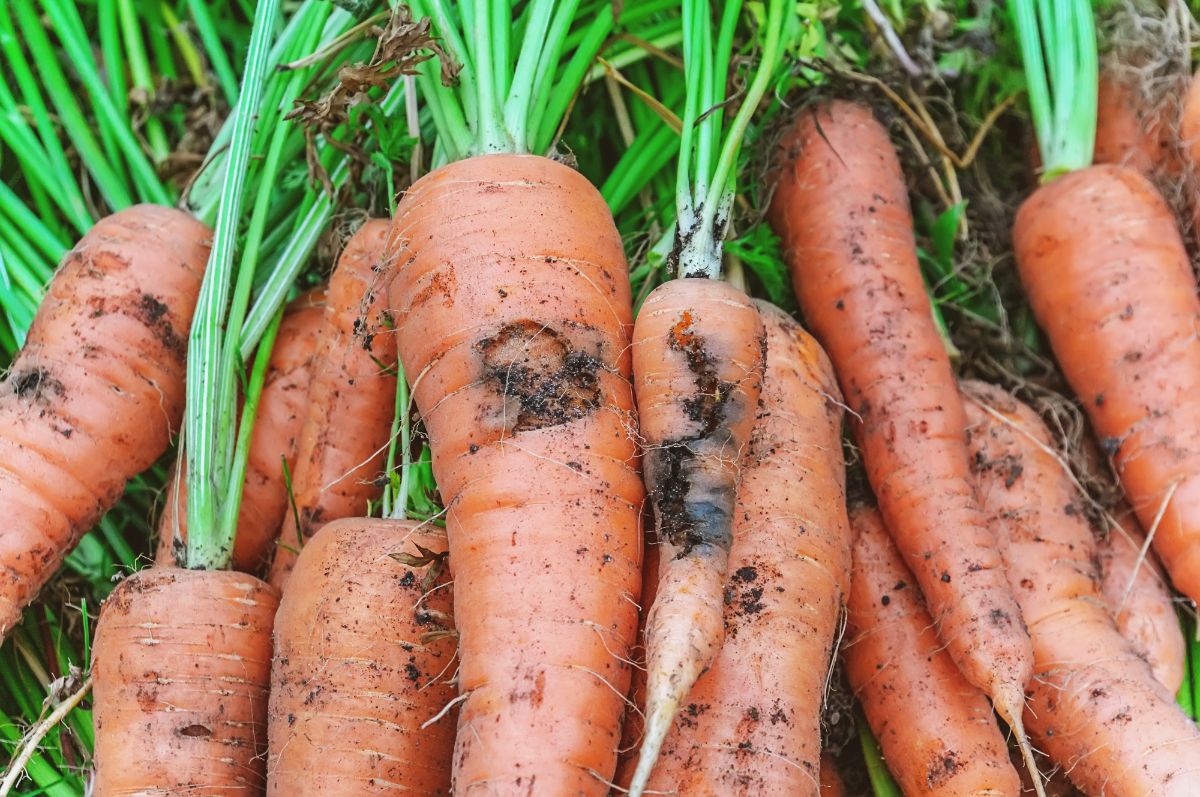 Like other garden vegetables, both carrot tops and roots can be vulnerable to certain pests. Below are some of the most common carrot pests, as well as suggestions about what to do to prevent them.
Carrot rust flies
Carrot flies can cause stunted or wilted carrot leaves. They can also attack carrot roots and riddle roots with holes and promote root rot. To keep carrot flies away, try interplanting your carrots with onions and other allium plants or cover your plants with floating row covers at the beginning of the growing season.
Flea beetles
Flea beetles are small, black beetles that are well-known for how they rapidly jump away when disturbed. In carrot patches, flea beetles can cause unsightly holes in carrot foliage and weaken plants. Floating row covers installed at the beginning of the season can ensure these pests never become a problem.
Wireworms
Wireworms are small, brown, hard-bodied worms that look a lot like mealworms. In the garden, these pesky insects attack root vegetables and can bore holes in potatoes, turnips, and carrots too! Practicing good crop rotation, planting in grow bags, or making a simple wireworm trap with potatoes can help protect your carrots.
Carrot varieties to try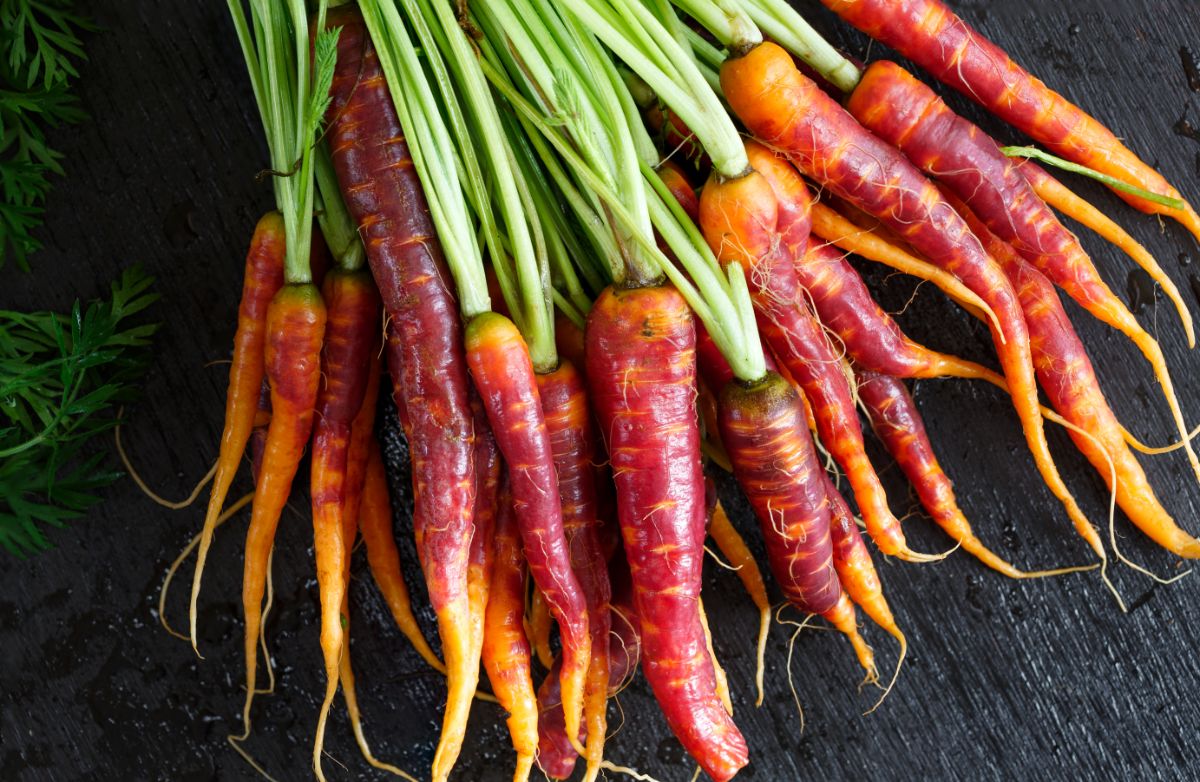 Carrots come in all sorts of shapes and colors, including white, black, purple, yellow, and orange roots! Some carrots are best eaten fresh, while others are ideal for winter storage. Here are 3 of our favorite carrot types to get you started.
'Parisian'
Adorable 'Parisian' carrots are pint-sized and very popular at farmer's markets. Due to their small size, these carrots can even grow in soils with some clay, and they are delightfully creamy when roasted.
'Bangor'
One of the top carrots for winter storage, 'Bangor' roots grow about 8 to 10" long, and they can stay crisp for months. These hardy carrots work well in soups, salads, and juicing!
'Purple Haze'
For even more color, 'Purple Haze' can be a fun choice. These dark purple carrots feature a bright orange core that looks like Halloween when sliced in fresh garden salads!
Frequently asked questions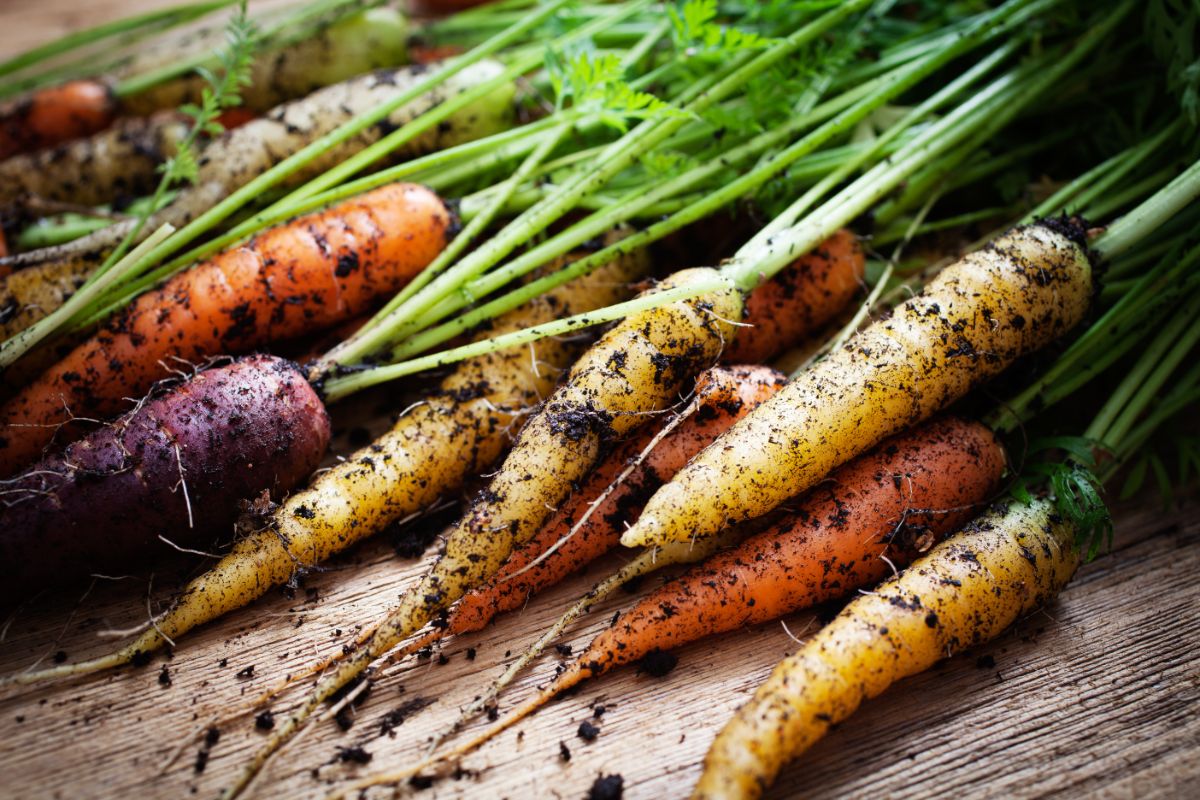 Summary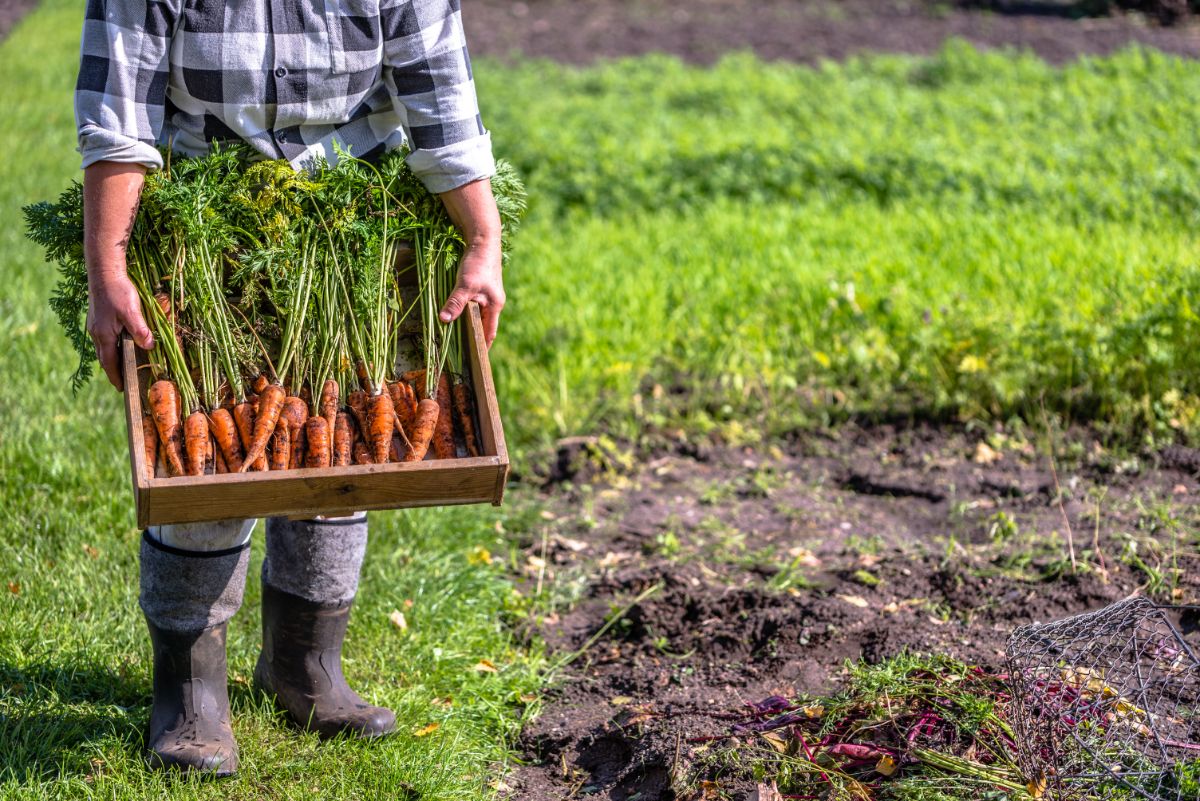 Carrots may be trickier vegetables to grow, but they are still suitable for beginning gardeners if you follow a few basic growing instructions. Prepping your soil before planting is key to growing carrots successfully. Once you've tilled and loosened your soil, tending carrots can be as simple as watering your plants from time to time and feeding your carrots every few weeks with a bit of organic fertilizer.
Whether you have a small outdoor space or a large backyard garden, carrots are definitely must-grow plants. Just be prepared to feel like you've struck gold when you pull up your first bright orange, homegrown carrot!
If you liked this article and want to learn more about growing food in your garden, check out our guide to homegrown ginger.