Learn how to grow your own pizza sauce and toppings in a small, square-foot garden!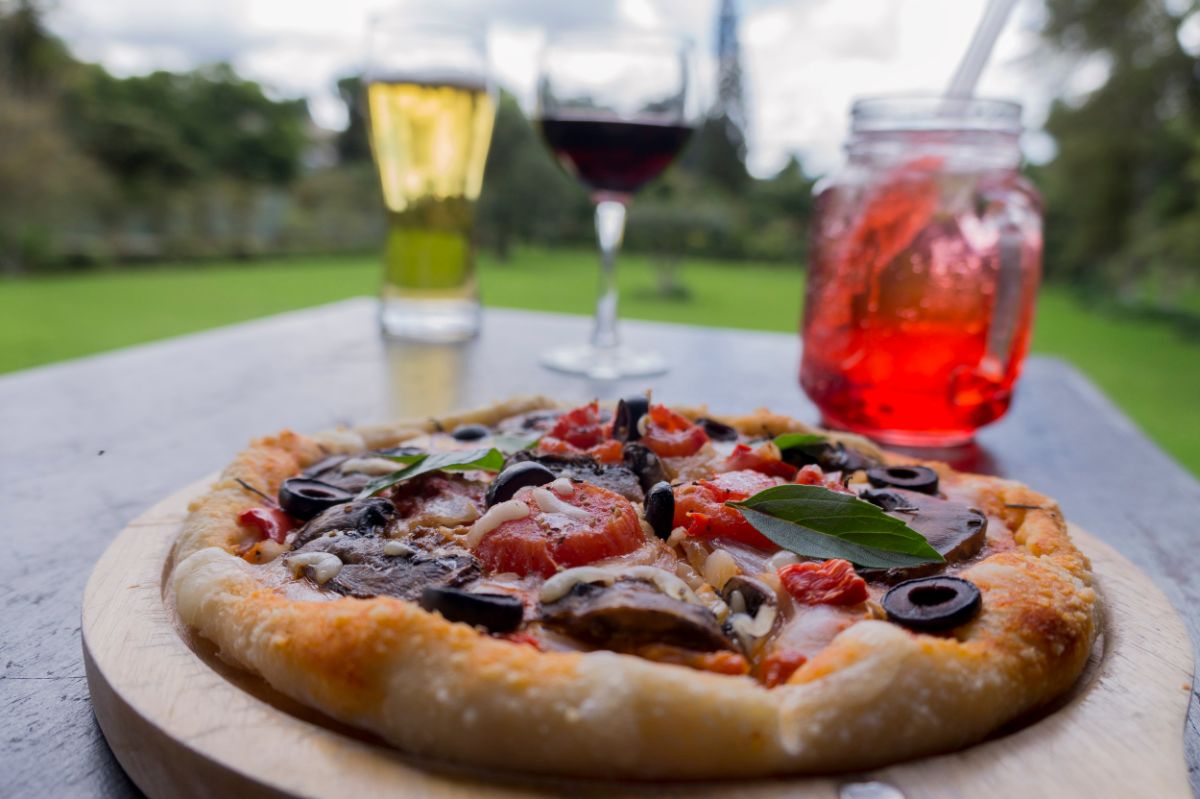 There's nothing like a steaming hot, homemade pizza fresh from the oven. But if you want to take your pizza-making experience to the next level, you may want to grow your own dedicated pizza garden, bursting with ingredients for sauce-making and pizza toppings.
How you design your pizza garden depends a lot on your gardening preferences and your growing space. But if you have a very small garden, you can still grow lots of fresh veggies and herbs for pizza-making with square-foot gardening.
In this guide, we'll teach you how to orient your small garden and the best plants to grow for homemade pizza toppings and sauces.
Jump to:
Grow a square-foot pizza garden in 9 easy steps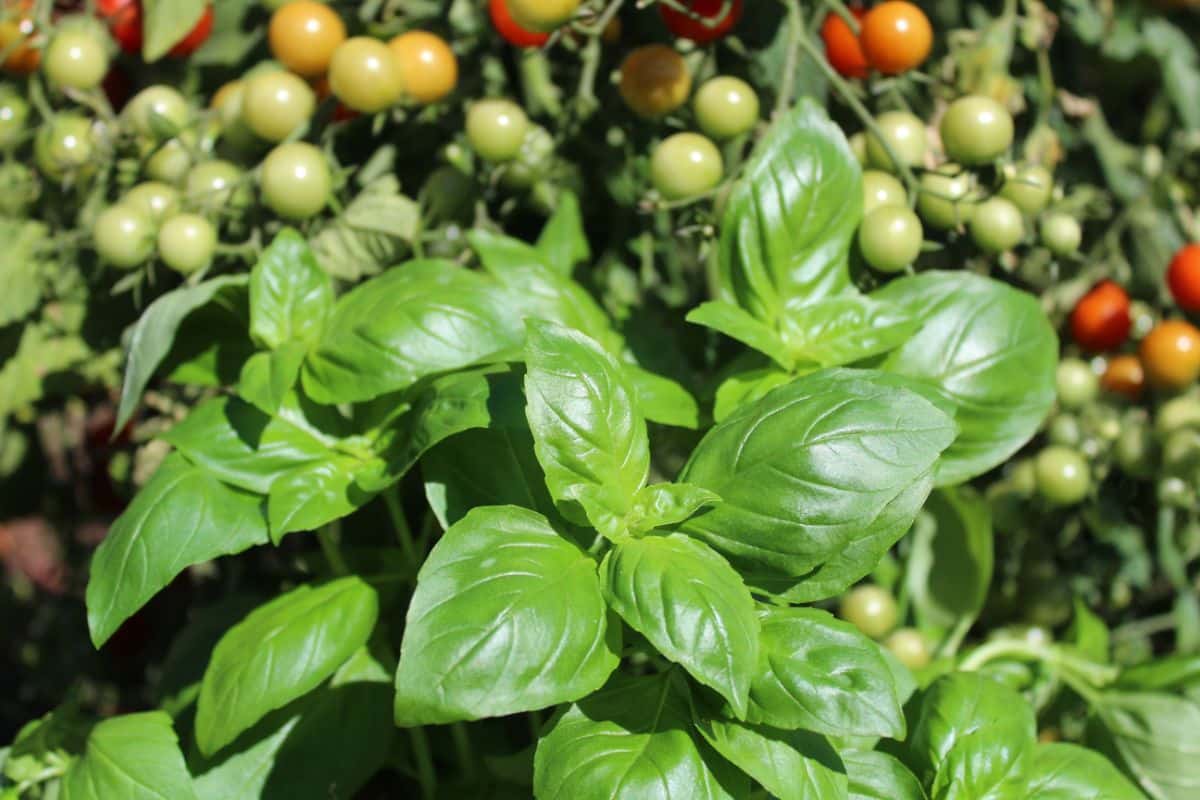 By following proper spacing instructions and being creative with your garden layout, you can squeeze a surprising amount of plants into a small, square-foot garden. In the steps below, you'll find a basic idea of how to set up your own pizza garden. However, this layout allows for some flexibility, so you can switch up some of the plants for different pizza flavors.
Get Your Outdoor Pizza Oven
1. Build your garden frame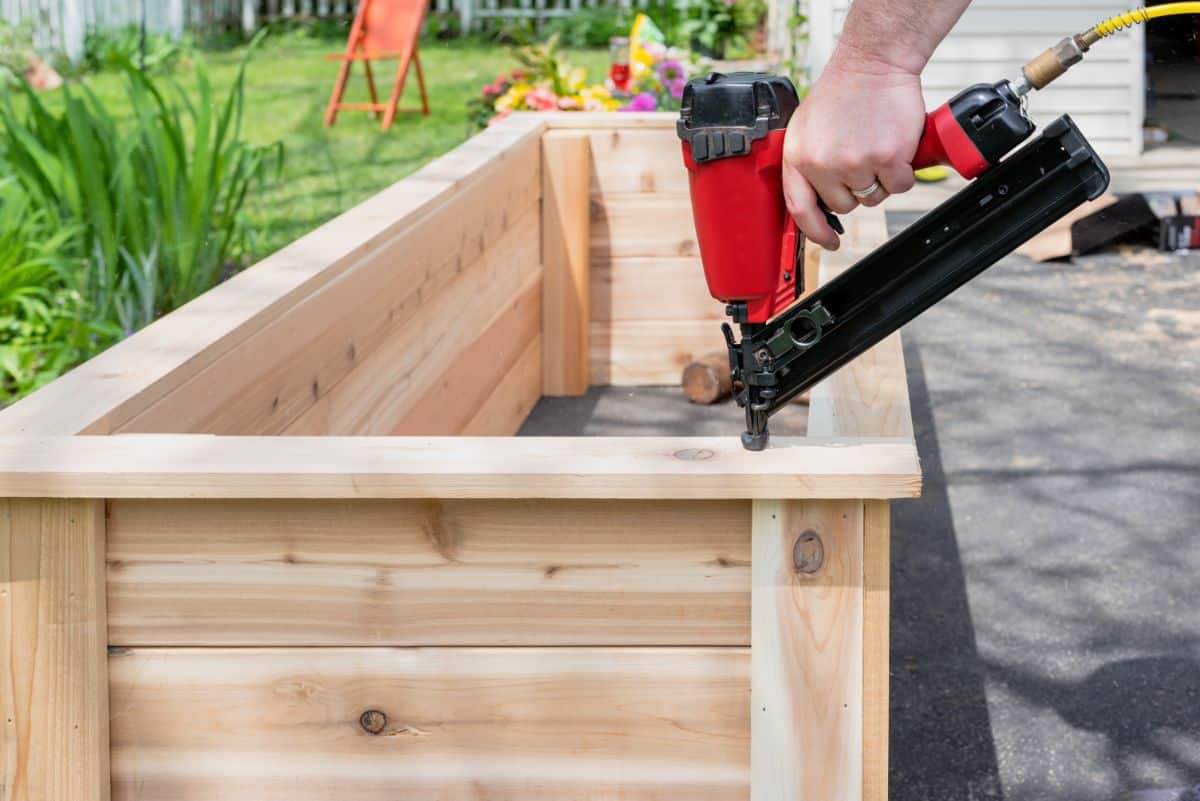 Square-foot garden beds make the most of small spaces, so you only need a bed that's about 4' square. You can build your own framework out of untreated scrap lumber or ledger board, or you can purchase a premade frame online or at your local garden center.
2. Locate your bed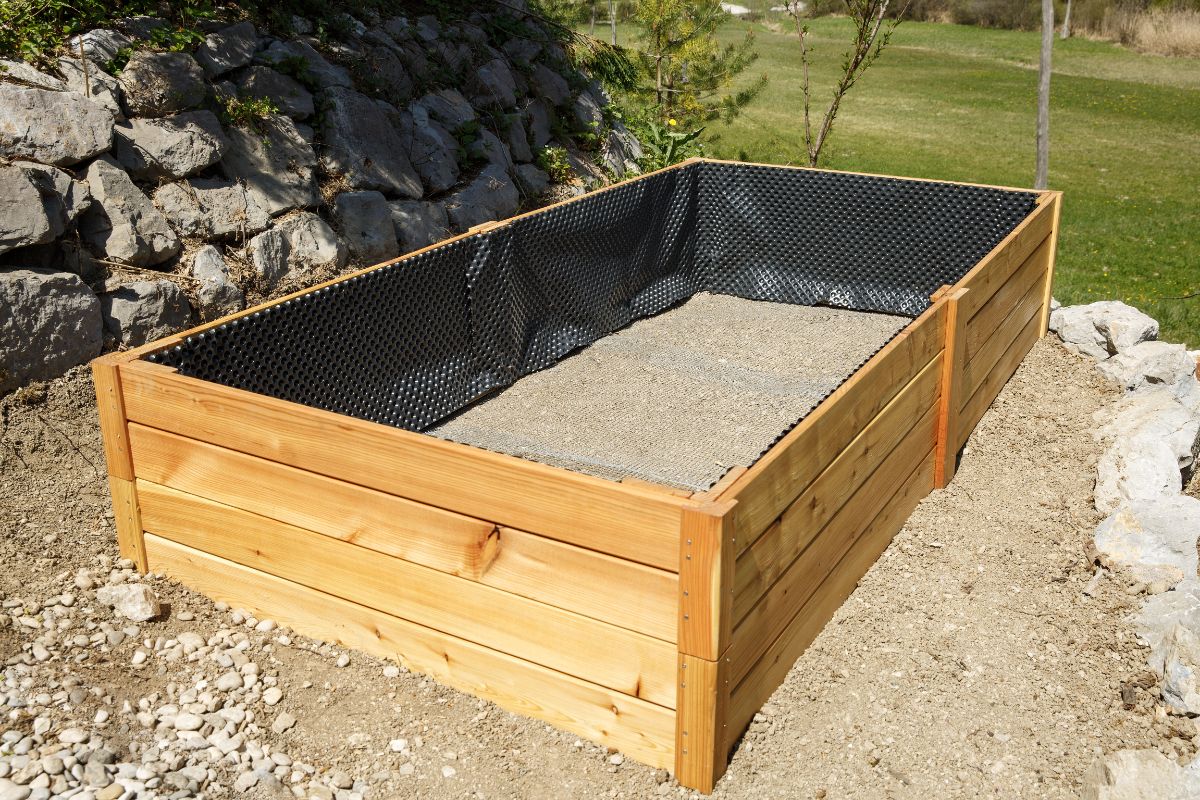 Vegetable plants and most herbs require full sun to grow. So, when you're ready to set up your square-foot garden, choose an area of your property that receives at least 6 to 8 hours of bright sun daily. Your garden location should also be relatively level to keep water from pooling in one spot.
3. Add your soil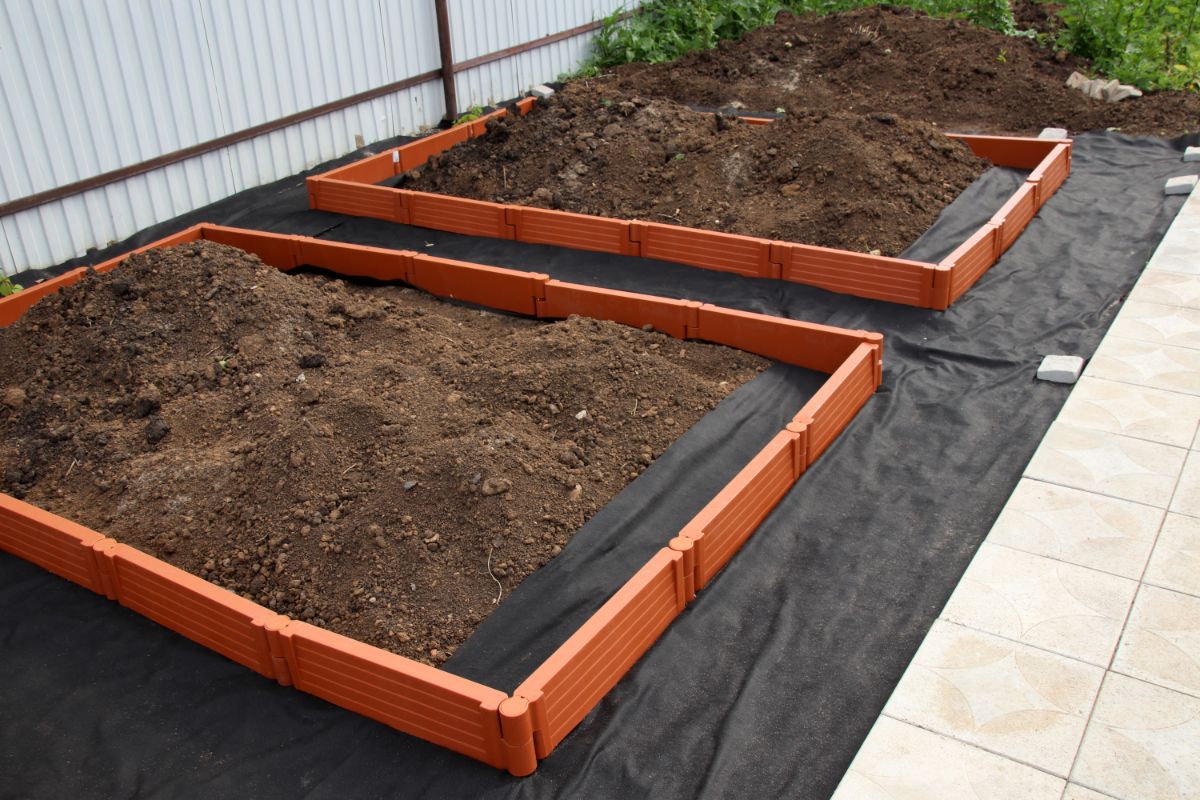 Since garden soil is too dense for raised beds, you'll need to fill up your square-foot garden with bagged soil or a homemade blend. Soils intended for raised bed gardening usually work well for this type of setup. If you want to blend your own soil, mix 1 part compost with 1 part vermiculite and 1 part coconut coir.
4. Layout your gridwork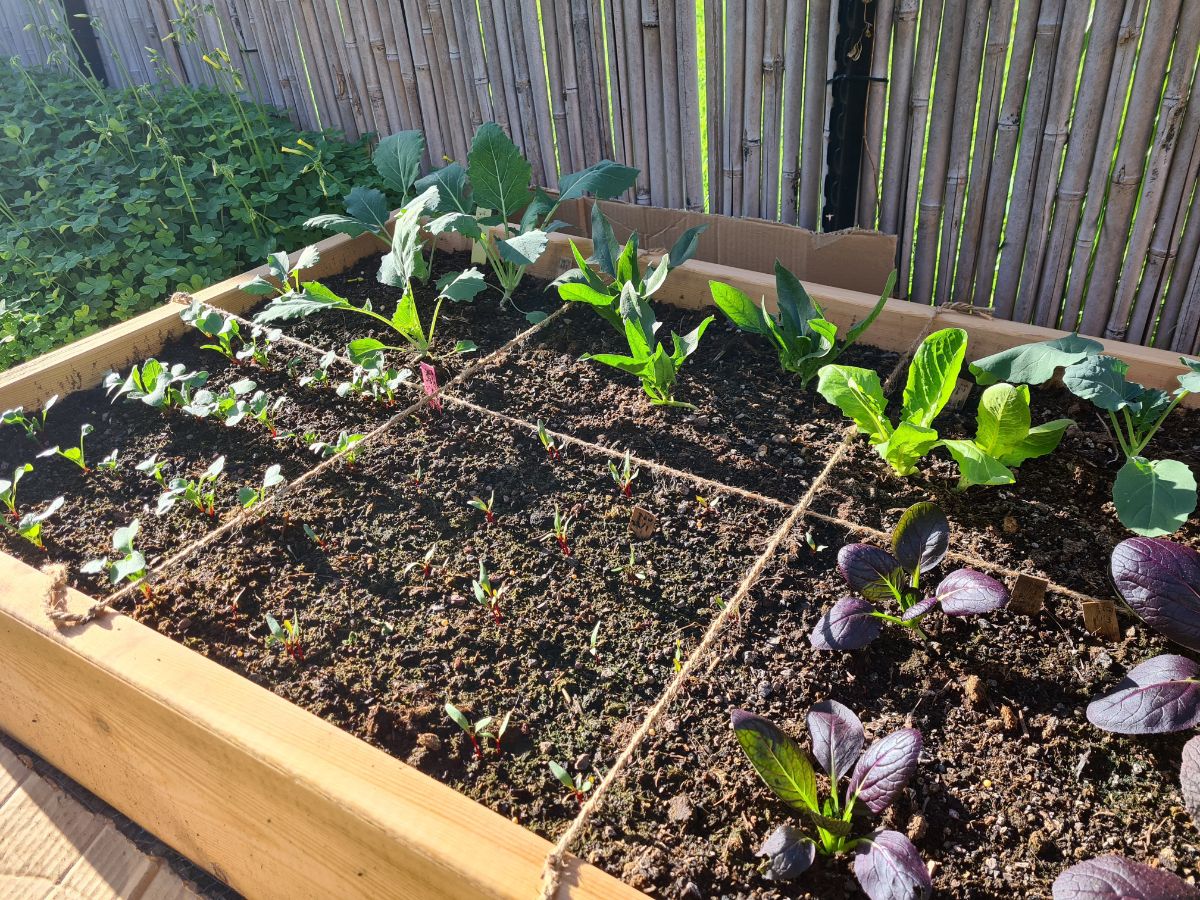 The thing that differentiates square-foot gardens from standard raised beds is the gridwork pattern, which separates the soil space into 1' squares. Dividing your soil into this gridwork helps you determine how many plants to sow and where to locate them.
What you choose to make your gridwork out of is up to you, but thin strips of wood lath or weather-resistant garden twine are two popular options. For a less permanent grid, you can also create a planting template or purchase a premade template online.
5. Sow plants for homemade sauce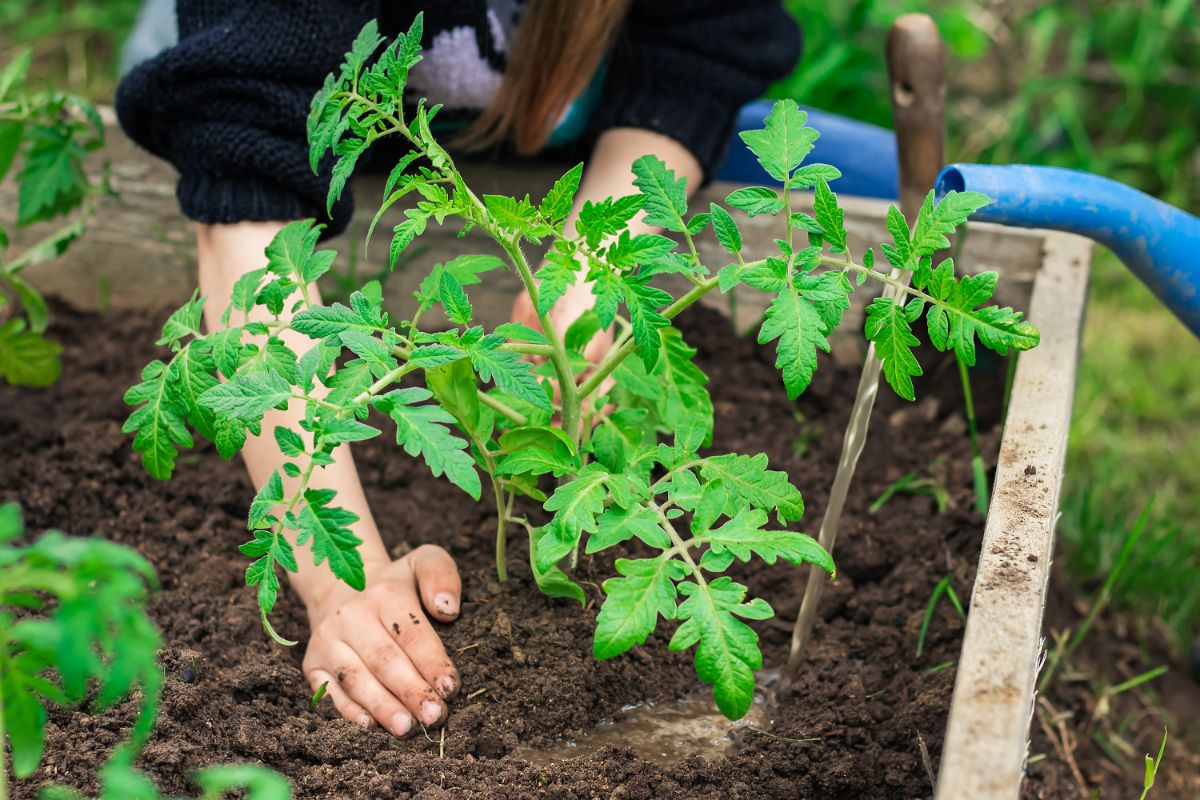 If you prefer cream-based sauces, you won't be able to grow all of those ingredients in your square-foot garden. However, if you adore tomato-based sauces, you're in luck.
Most tomato-based pizza sauces have just a few simple ingredients. And a lot of those ingredients can be grown at home. If you have a favorite sauce recipe, use that recipe as inspiration for your planting choices.
A basic pizza sauce recipe using fresh tomatoes requires tomatoes, garlic, onions, and oregano… all of which can be grown in a square-foot garden.
Following the spacing guidelines of square-foot gardening, tomatoes and oregano are classified as 'large' plants, while onions and garlic are 'small' plants. That means:
Each tomato plant you choose to grow should be planted by itself in a single square foot of growing space.
Larger herbs, like oregano, also need 1 square foot of growing space per plant.
Garlic and onions can be sown more densely, approximately 9 plants per square foot.
Use these spacing considerations to determine how many plants you want to grow for homemade sauce making. If you just want a small amount of sauce, one tomato plant should do. However, if you plan on canning some sauce, you'll probably want to sow a few more plants.
In addition to spacing considerations, it's also important to orient your plants correctly. Since they're large, tomatoes should be located towards the back or north side of your garden so they don't block the sun from reaching lower plants. Additionally, as onions and garlic are naturally repellant to many pests, you may want to sow these plants in the outer squares of your garden bed.
6. Plant your pizza toppings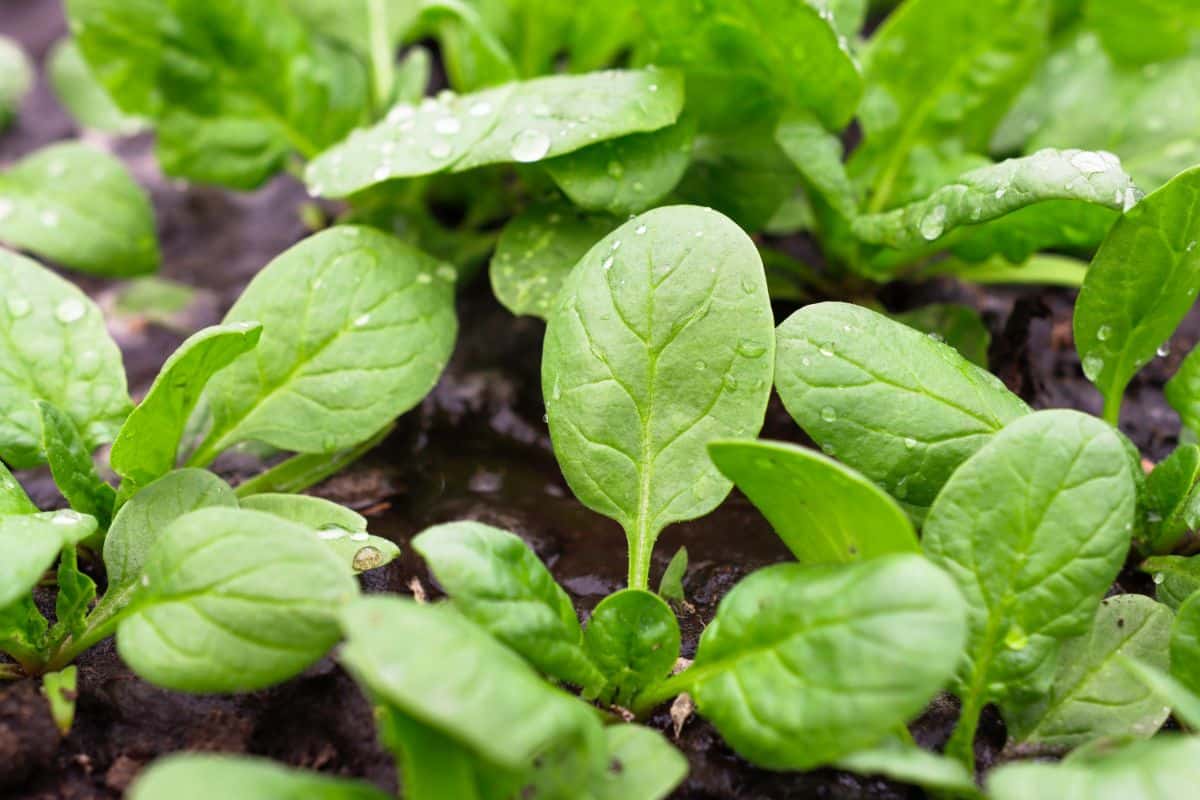 Once you've planted the ingredients for your pizza sauce, it's time to think about your pizza toppings. Unfortunately, pepperoni can't be grown in a garden, so if you love pepperoni pizzas, you may want to consider growing the ingredients for a side salad in your remaining garden space. However, if you love a flavorful vegetable pizza, there are a lot of other ingredients that can be grown in a square-foot garden.
Some of the most popular pizza topping ingredients that can be grown include:
Eggplant. Since it's so tall, eggplant requires 1 square foot of growing space per plant.

Hot peppers, like banana peppers and jalapeno peppers. Like tomatoes, pepper plants require a single square foot of growing space. To boost the flavor of your homegrown peppers, you may want to try pickling them before adding them to your pizza.

Bell peppers, either fresh or made into roasted red peppers. Tall bell peppers should have one square of growing space to themselves. They should also be located towards the back of your garden so they don't block out the light.

Assorted herbs, like basil and thyme. Larger herbs should be planted singly in a square by themselves. Depending on their size, you can fit between 1 and 4 basil plants per planting square.
Arugula. Perfect for growing in cooler weather, arugula can be sown thickly -- 4 plants per square.

Spinach. Depending on whether you prefer baby greens or full-sized leaves, you can keep between 4 and 9 spinach plants per planting square.

Zucchini. Zucchini plants can be trained up trellis systems to keep them more compact and to prevent them from sprawling. Plant one zucchini per square.

Broccoli. Each broccoli plant should be located in a square by itself.

Kale. Full-grown kale requires a square foot of growing space. Baby greens, on the other hand, can be sown more tightly – 9 plants per square.
Note: If you adore pizza with a pesto-sauce base, be sure to plant some extra basil!
7. Add trellising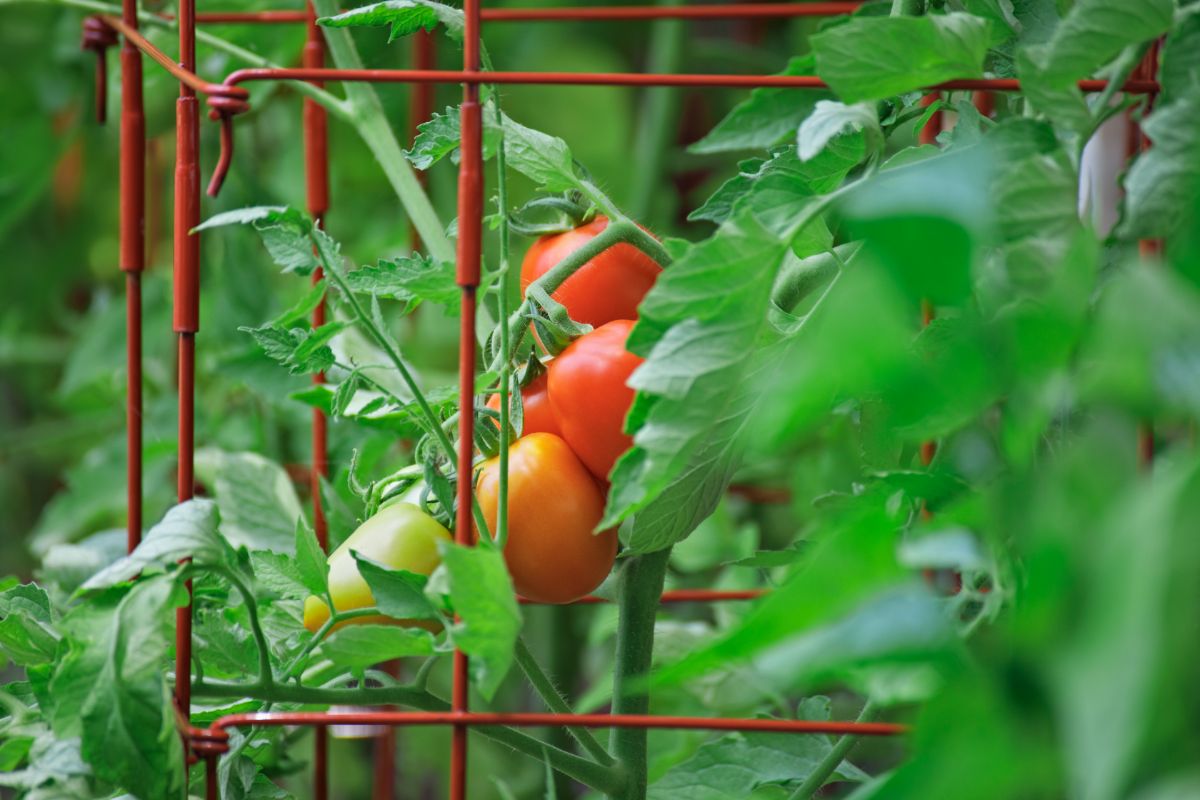 One easy way to get more out of limited garden space is to grow vertically. This can be particularly beneficial in square-foot gardens. Adding trellising to vining plants, like zucchini, will help these plants to grow more compactly and will keep them from trailing over smaller herb and veggie plants.
Tomatoes, especially indeterminate tomato varieties, will also enjoy some extra support. Tomato cages or bamboo poles will provide plenty of trellising for tomatoes, and they can be purchased cheaply online or at garden centers.
8. Tend your plants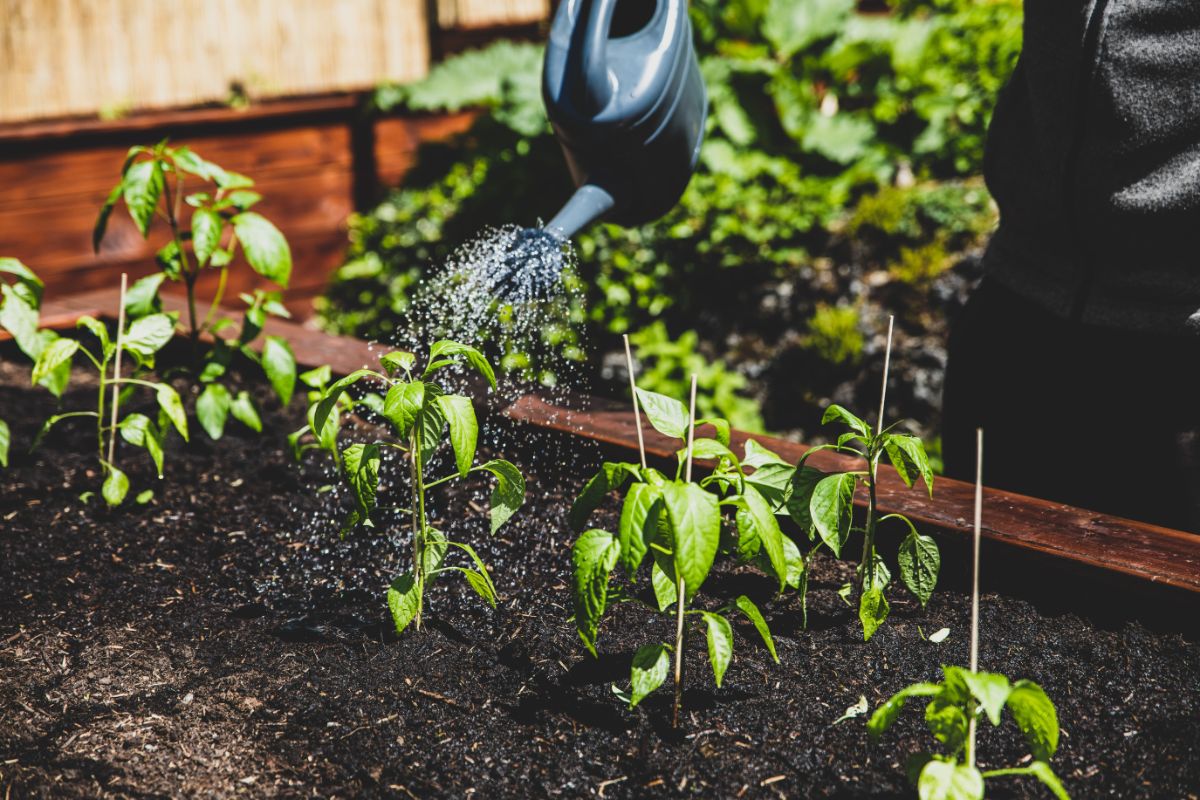 Once you've planted your square-foot pizza garden, it needs to be maintained like any other garden. Plants should be watered regularly, provided with fertilizer (if required), and you'll need to keep a lookout for garden pests.
Because you're working with a small space, you may also want to prune your larger plants from time to time. This can be particularly useful for tomatoes. And, of course, when your plants begin to fruit, be sure to harvest often to encourage your plants to produce even more!
9. Harvest your pizza toppings!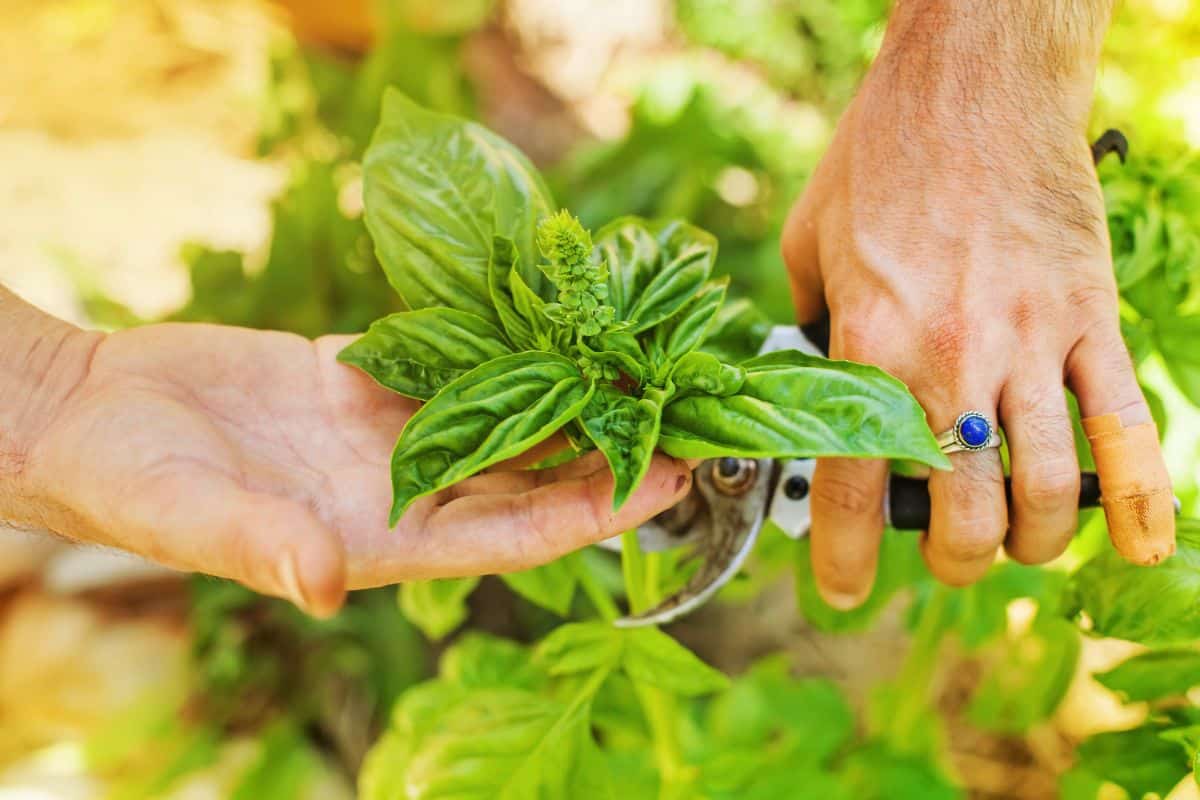 Plants like tomatoes and peppers should be harvested when they're ripe, while many herb plants can be harvested throughout the growing season for garnishing and a touch of extra flavoring.
Towards the end of the season, you may need to harvest a lot of your produce all at once if an early frost is predicted. When this occurs, extra herbs can easily be dried for longer storage, while tomatoes can be processed into canned sauces for winter pizza making.
Choosing the right tomatoes for your small garden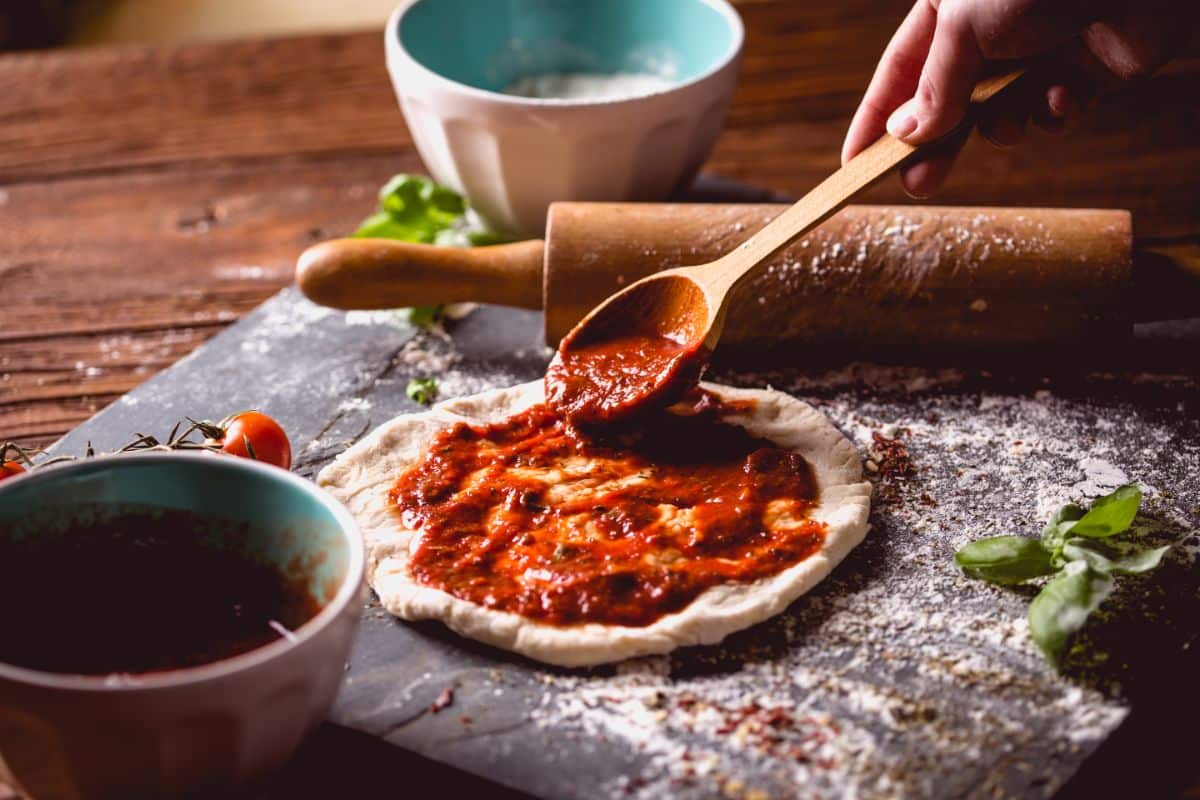 Tomatoes are one of the most important ingredients for homemade pizzas, so you should put some thought into which tomatoes will grow best in your small garden.
In general, indeterminate tomato varieties are better suited for square-foot gardening, as these tomatoes grow more vertically and can be kept compact with frequent pruning and tomato cages. An added benefit of indeterminate tomatoes is that they produce fruit throughout the season, which can provide you with ingredients for pizzas all through summer and into early fall.
On the other hand, a determinate tomato variety will grow shorter and bushier and require less staking and supporting. There are options in multi-purpose and semi-determinate tomatoes, too.
'Roma,' 'San Marzano,' and other paste tomatoes are the top tomato varieties for sauce making. Slicing and heirloom tomatoes have more seeds and a higher water content, which can result in watery sauces. However, paste tomatoes have a perfect seed-to-meat ratio and will create a well-balanced sauce. These tomato varieties are also the best for making sundried tomatoes.
Depending on your tastes, you may also want to grow an additional cherry tomato plant for pizza toppings.
Frequently asked questions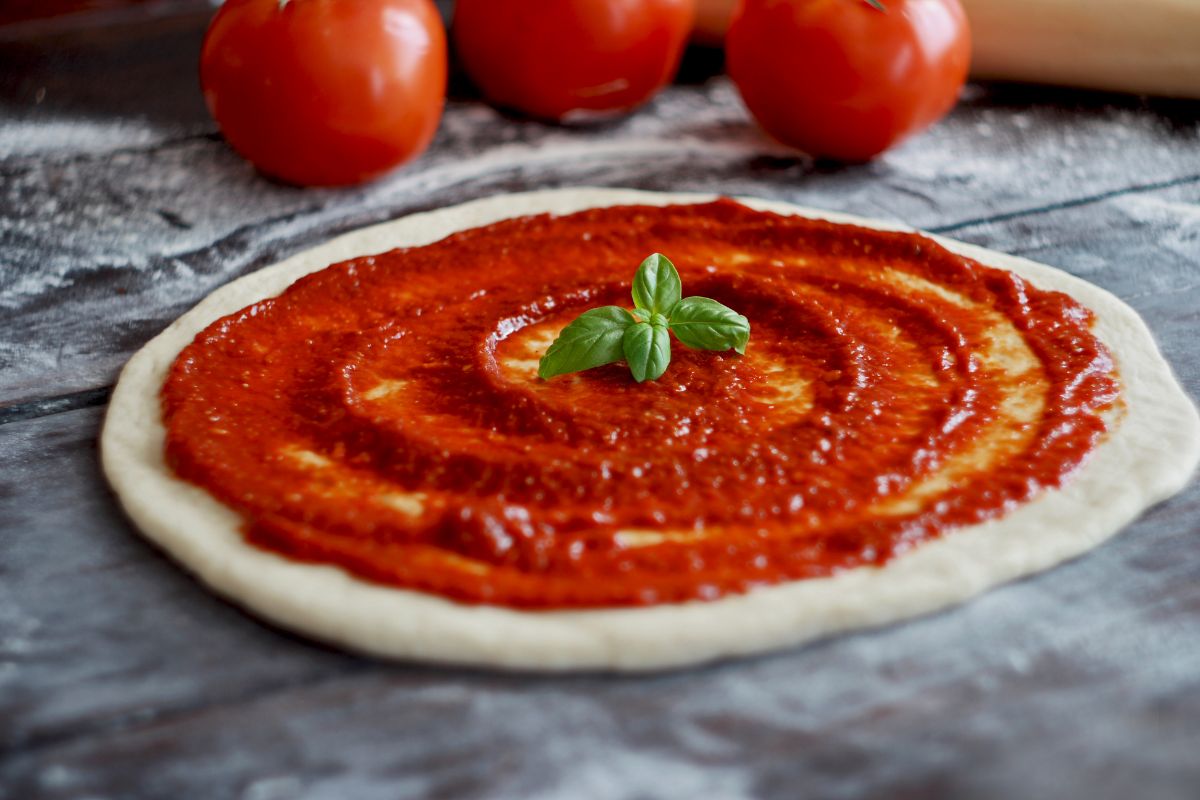 How do I start a pizza garden?
The first thing to consider when growing a pizza garden is the toppings you like to eat. Pick plants that you actually enjoy eating and consider the ingredients you'll need for sauce-making and toppings. A classic pizza garden will include at least the ingredients needed for pizza sauce: garlic, onions, tomatoes, and oregano.
What herbs would you put in a pizza garden?
The herbs you choose to plant should reflect your own personal tastes. If you love basil but hate oregano, by all means, don't plant any oregano! Some of the best herbs to grow in a pizza garden include basil, oregano, thyme, and garlic.
Does pizza need a tomato base?
No. If you don't enjoy pizzas with a tomato-based sauce, you can grow lots of basil for pesto making. A classic pesto-based pizza is often topped with mozzarella and tomatoes.
What tomato is best for a pizza base?
Paste tomatoes are usually the best choice for sauce making. These tomatoes have the right seed-to-meat ratio and will create a finely made and flavorful pizza sauce. 'Amish Paste,' 'San Marzano,' and 'Roma' tomatoes are always popular picks.
What tomatoes do Italians use for pizza?
'San Marzano' tomatoes are well-known for being the top tomatoes to use in authentic Italian fare. These tomatoes have a firm texture and a small amount of seeds, which makes them ideal for pizza sauce.
Can you grow San Marzano tomatoes in the US?
Yes, you can! 'San Marzano' tomatoes were originally grown on the slopes of Mt. Vesuvius, where the rich soil produces a highly flavored and perfectly textured tomato. Seeds for these plants can be readily found online.
Summary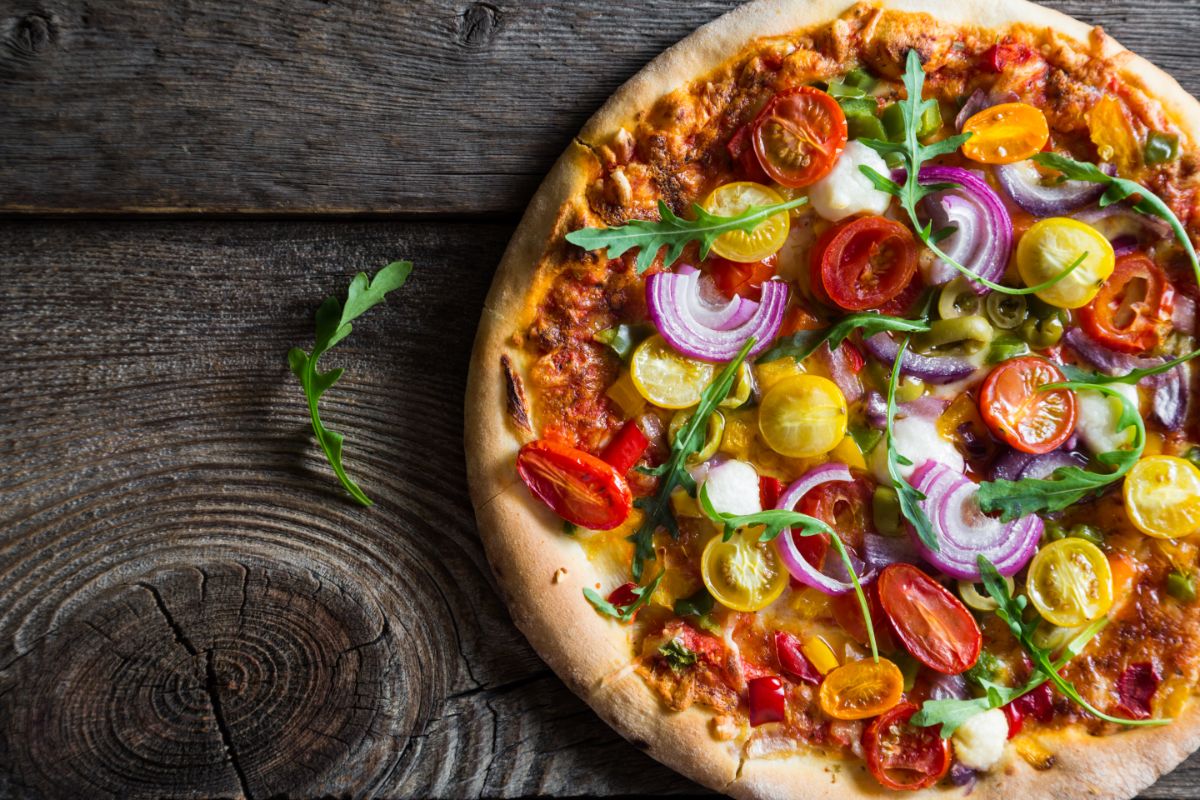 Square-foot gardens are convenient growing spaces that are intensively planted to allow small-space gardeners to grow an impressive amount of produce. These gardens can be planted however you like, but choosing a theme for your garden can be a fun and creative use of your space.
Pizza gardens are just one way to plant your square-foot garden. You can also try a salsa-themed garden or another square-foot garden design that reflects your own personal tastes or favorite cooking ingredients.