When you read tomato descriptions, you'll notice that they are labelled or described as either determinate, semi-determinate, or indeterminate. But those descriptions don't tell you what that means. We're here to clear up the confusion.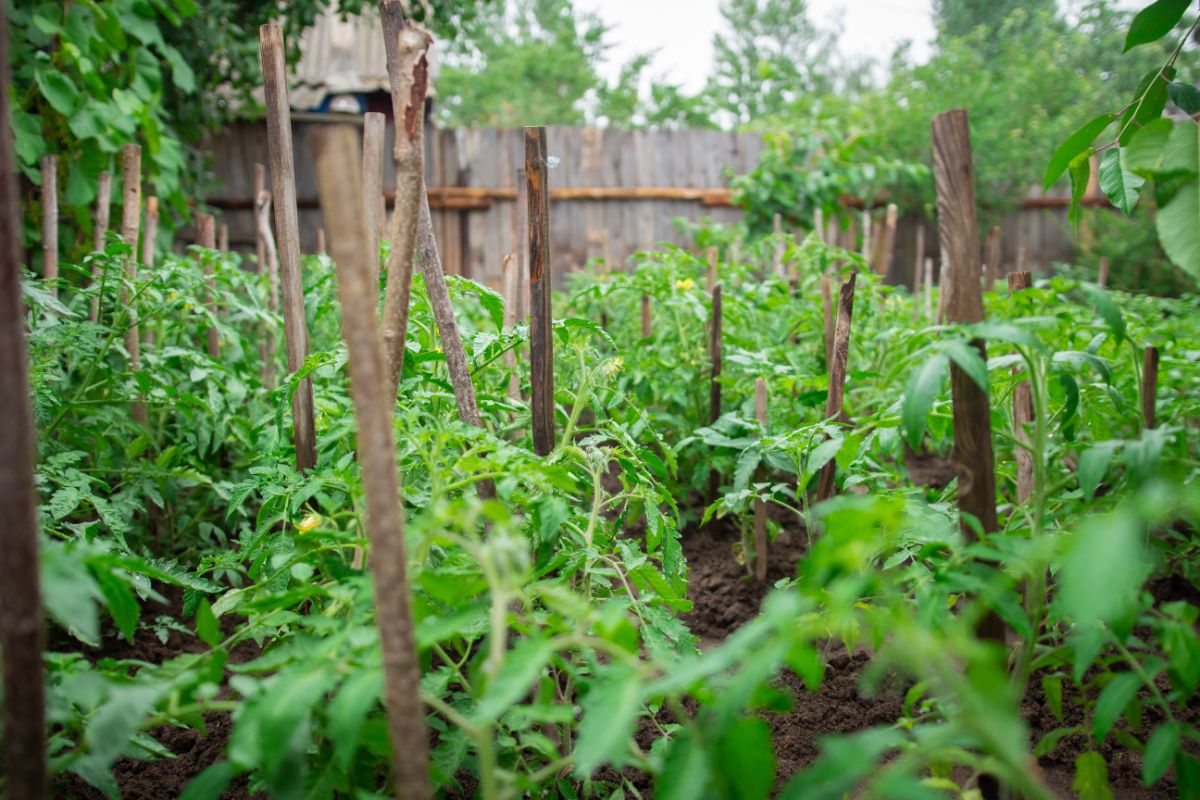 So, What is a determinate, indeterminate, or semi-determinate tomato?
And how can knowing this help you decide on the best tomato variety for you?
Jump to:
Tomatoes Defined: Determinate, Indeterminate, and Semi-Determinate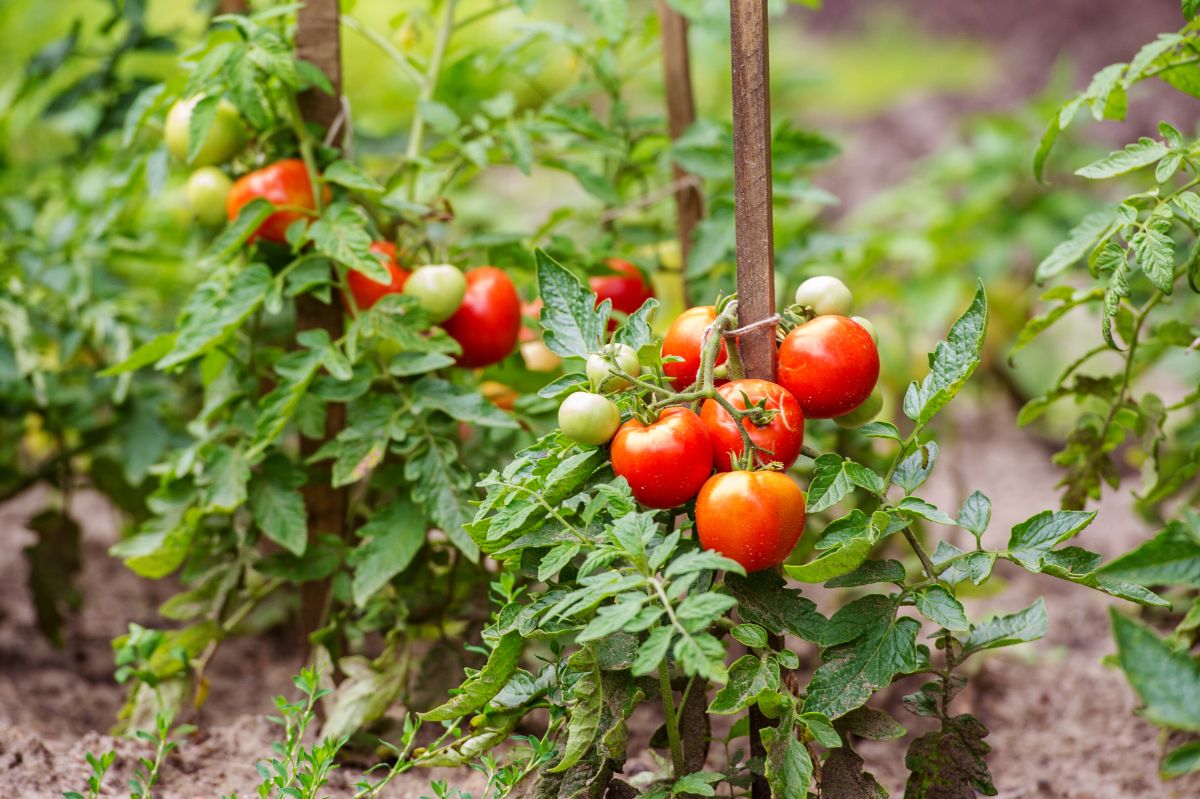 These terms all refer to how and when the tomato sets its fruit (and to a lesser degree, to its growth habit).
Indeterminate Tomatoes: Indeterminate tomatoes will continue to grow all season long. They produce new blossoms and new fruit as long as the weather is cooperative. Their yield is not fixed by a growth phase—hence, it is not "determined". The plant will grow more height and more branches all summer and into the fall. The plant will also continue to form, ripen, and grow new tomatoes all season. It will only stop when the weather (frost) or conditions (like a severe disease) kills the plant.
Determinate Tomatoes: Determinate tomatoes are ruled by their genetics. They will grow only to their pre-programmed height, usually about four feet tall. They tend to grow more bushy than indeterminate types. Once they stop growing, determinate tomatoes will set their blossoms, and fruiting will begin. All the fruit will be set in a relatively short amount of time; this is typically around a month or may be as long as two. Determinate tomatoes deliver large quantities of fruit in a much shorter period.
Semi-Determinate Tomatoes: Semi-Determinate tomatoes fall somewhere between these two types. They do not grow as large as indeterminates, but they do produce in good, sizable quantities for preserving, and they do also give you some smaller amounts of tomatoes that you can use for salads and fresh eating all season long. The closer you get to the late season and fall, the lower their production will be, though.
How Can Understanding Semi/Determinate vs. Indeterminate Help You Choose Which Tomato Variety to Grow?
This is helpful to know because it can help you choose tomato varieties that fit your plans best. For example, if you want to do a lot of canning or preserving, you'll need a large quantity of tomatoes, and you'll probably want them all at once or at least in big batches. For that purpose, determinate varieties work well.
Determinate tomato varieties may be preferable if you want or need to end your tomato-growing early. Perhaps dealing with endless tomatoes and garden maintenance is too much once fall work and school schedules begin again. Or maybe you simply have enough of what you need and don't need to keep putting that much time and work into your garden. Perhaps you need that time for other crops that need preserving.
If your canning and preserving time is limited and you don't have a lot of time to deal with your tomatoes in huge quantities, a semi-determinate type can be good because you'll get tomatoes in large flushes that give you a quantity worth dealing with, but not quite as large or overwhelming as what completely determinate tomatoes can bring.
Indeterminate varieties are a good choice if you like to do a lot of fresh eating and you don't need huge quantities of tomatoes at any given time (though at the peak of the season, even indeterminate tomatoes can pump out a lot of fruit!).
Pros and Cons of Semi/Determinate vs. Indeterminate Types of Tomatoes
Each of these types has its own set of pros and cons:
Determinate tomato advantages: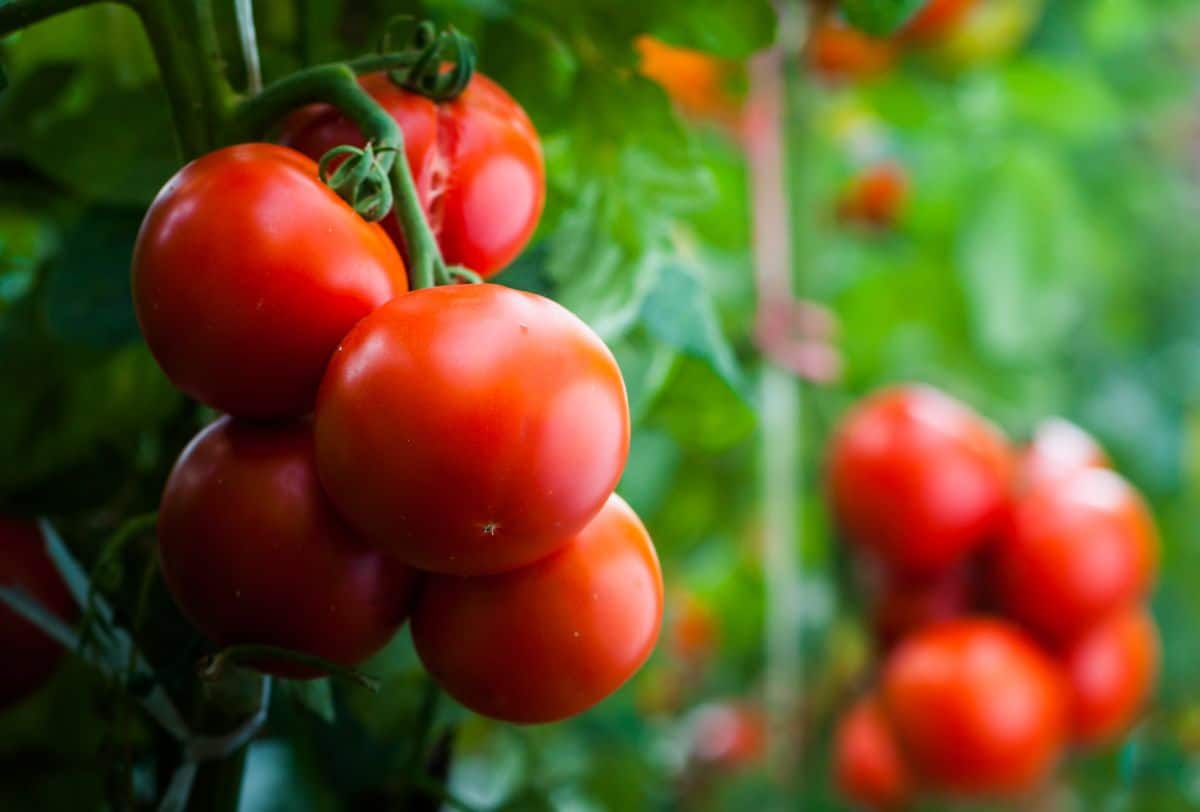 Full harvest in a shorter window of time
Best for large quantities for canning or preserving
Plants are typically more compact and smaller in size
Grow shorter than indeterminate and semi-determinate varieties
Stop growing and top out at around three to four feet (for most varieties, with some exceptions for taller plants up to five feet)
Do not need to be pruned, and are usually recommended not to be pruned—less maintenance
Usually sturdier and more bush-like and easier to stake, cage, or support, some varieties need only minimal staking
Better for small spaces
More flexibility for planting succession crops or fall gardens because they can be pulled when they're done fruiting
Drawbacks of determinate tomatoes:
Blossoms set mostly all at once, so if something happens to harm the blossoms at that time, you may have a small or aborted harvest (this is not that common, but things like broken branches or high heat that sterilizes pollen or long rainy stretches in which tomatoes don't pollinate can ruin a crop)
Fruit on the ends of their branches, so if branches are damaged, yield may be reduced
Short harvest window (one or two months)
Indeterminate tomato advantages: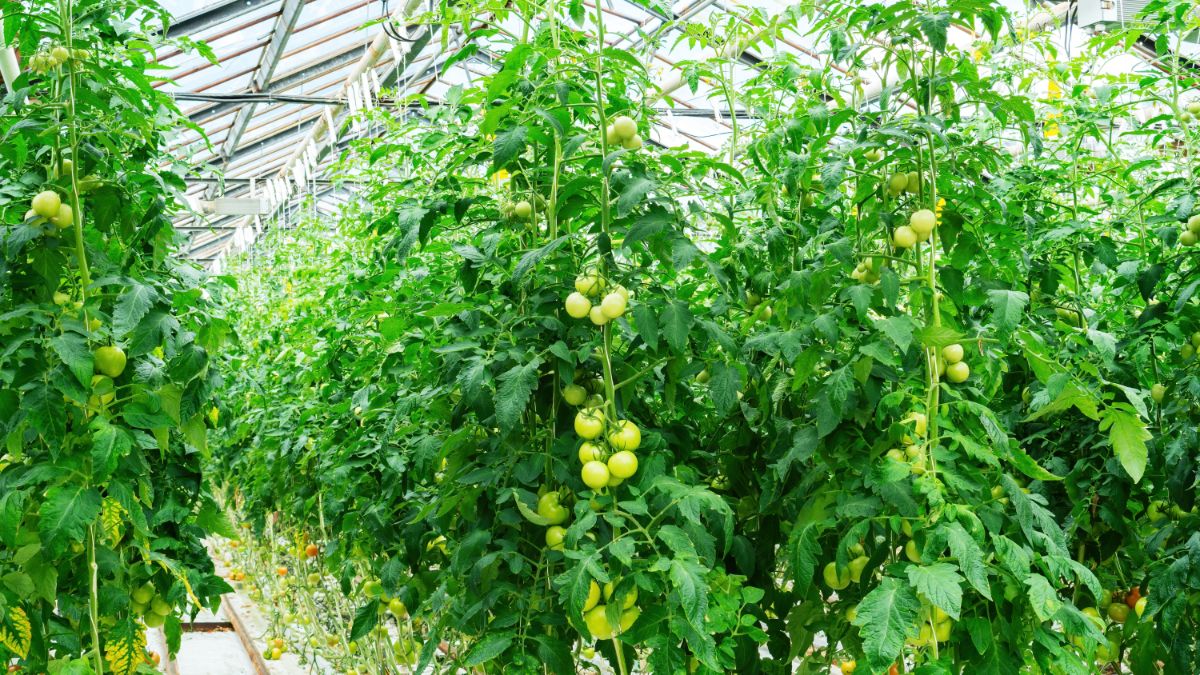 Long harvest periods
Continuous harvest from first fruit through the first frost
Continues to grow, so can recover better from a damaging weather event, disease, or pest infestation
Will continuously produce new blossoms and tomatoes
Responds well to pruning
No pre-determined growth period or pre-determined number of fruit per plant
Drawbacks of indeterminate tomatoes:
Can grow to be very tall and, in optimal conditions, may be difficult to maintain at a reasonable height
Continuously produces new suckers, so if you're pruning, plants need continuous pruning
Plants can get very tall and easily bend or topple cages or stakes if not supported well enough
Continued plant growth and suckering can reduce tomato size and/or number, especially if not pruned
May need to collect several harvests to get enough for canning or preserving (though usually, in the peak harvest, you can get large enough flushes in a short time)
Semi-Determinate tomato advantages: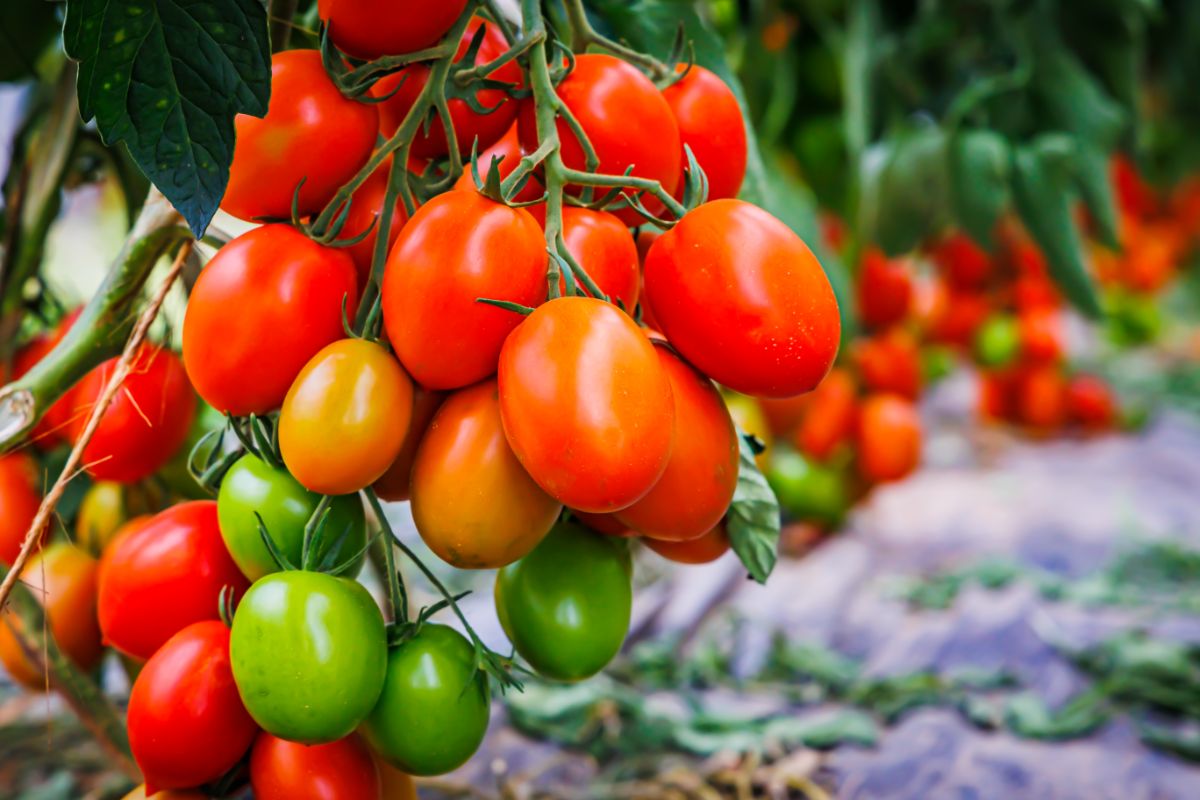 Best of both worlds, mixing advantages of determinate and indeterminate types
Good for small gardens
More compact than indeterminate tomatoes
Will continue to grow and set fruit, so they have some ability to recover from damage, diseases, and pests
Longer harvest than determinate tomato varieties
Harvest will continue until frost but is likely to decline in the fall
Sizable flushes of tomatoes for canning and preserving
Drawbacks of semi-determinate tomatoes:
Depending on how much you like to can or preserve at one time, you may not get the large all-at-once harvests that fully determinate varieties will give you
Dwindling harvests later in the season
Lower recovery ability than indeterminate varieties
Should You Plant Indeterminate, Semi, or Determinate Tomatoes?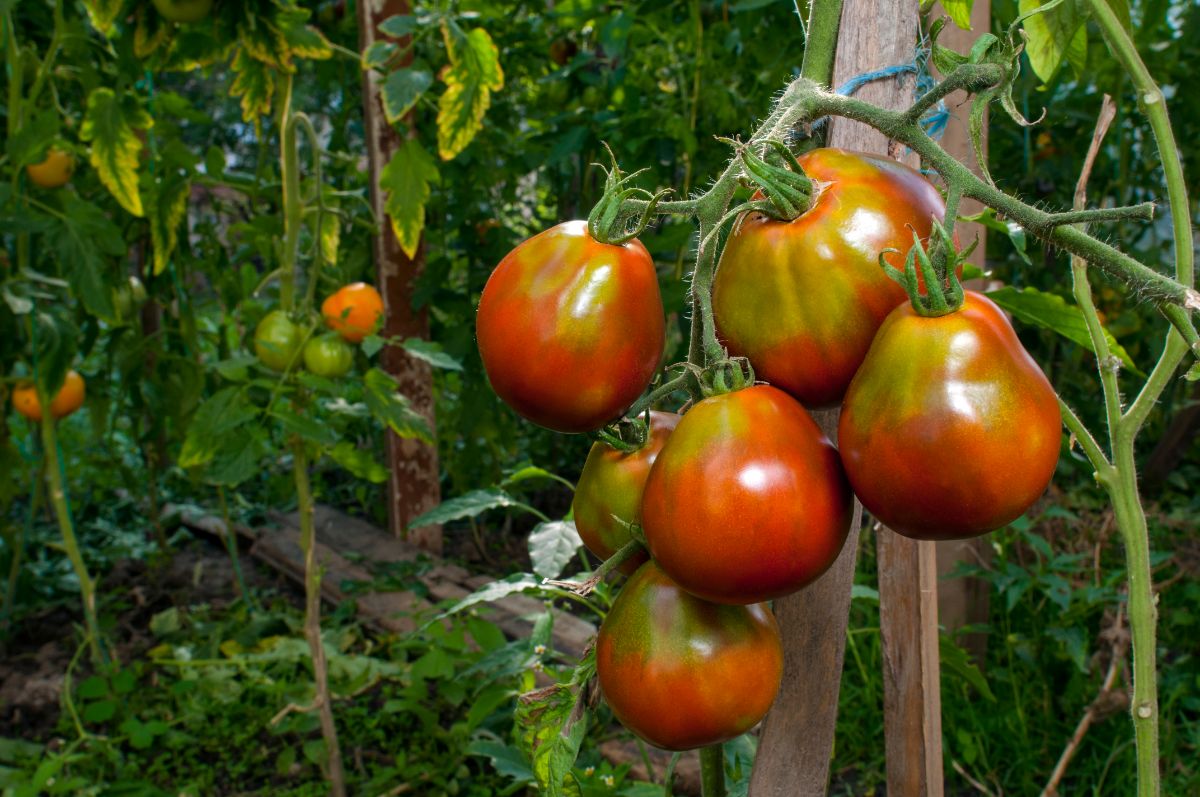 There's certainly no right or wrong answer here—it all depends on the space you have and what you like to do with your tomatoes. Many gardeners like to plant at least one indeterminate tomato variety, and then determinates if they are canning or preserving. And then, the semi-determinates can be a good middle ground if you need both features but you're pressed for space.
Choose the type of tomato that suits you best, but don't be afraid to mix and match, either. Fresh, homegrown tomatoes are a treasure you'll enjoy. With some experimentation, you're sure to find the tomato variety and types that work best for you.