There are a lot of reasons why you may want to create a container garden. Perhaps you only have a small outdoor space or just a balcony or patio to grow veggies on! Or maybe you have poor soil, or you know that you're going to be moving soon, and you want to take your garden with you.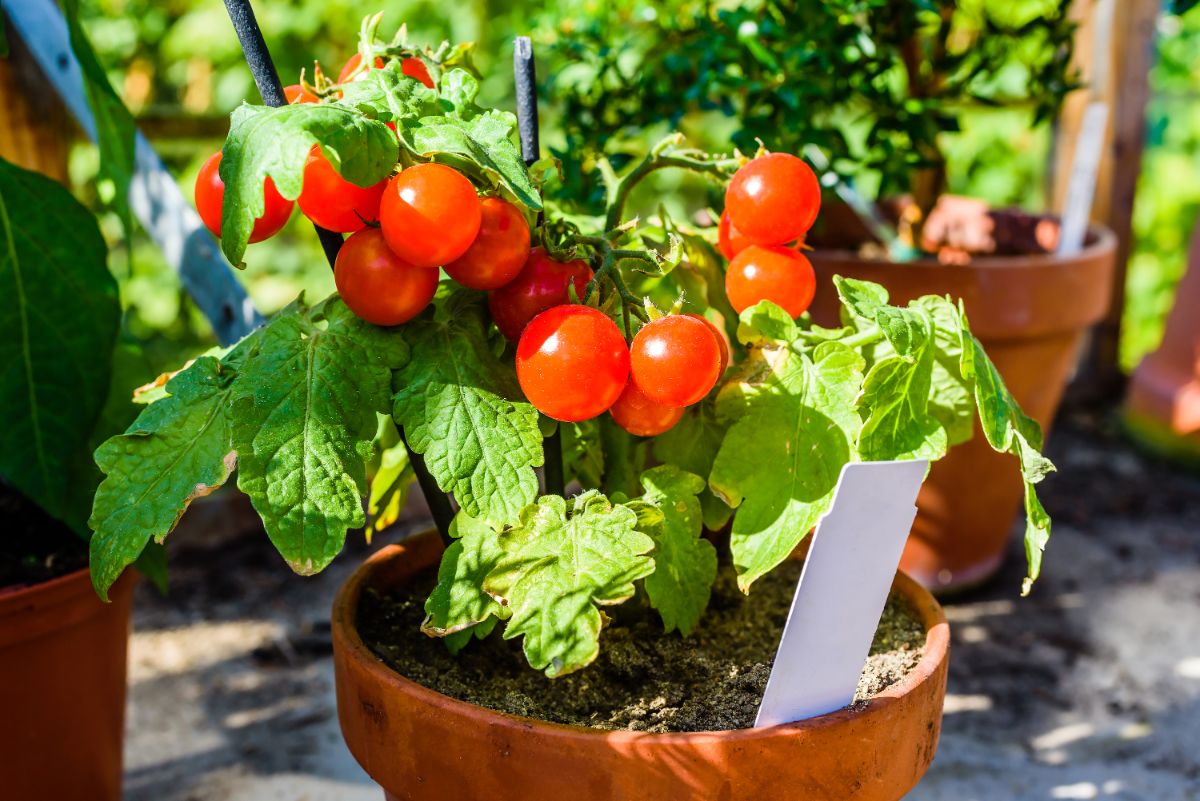 Regardless of the reason, many green thumbs have been turning to container gardens to grow luscious vegetables and delicious homegrown fruit. And you can do that too!
Before starting a container garden, it's important to understand which plants will grow well in pots and planters. While you may want to grow pumpkins and corn, these large and sprawling plants aren't ideal for container gardens. However, the plants in the list below will thrive in a small space!
Jump to:
20 fruits and vegetables to grow in a container garden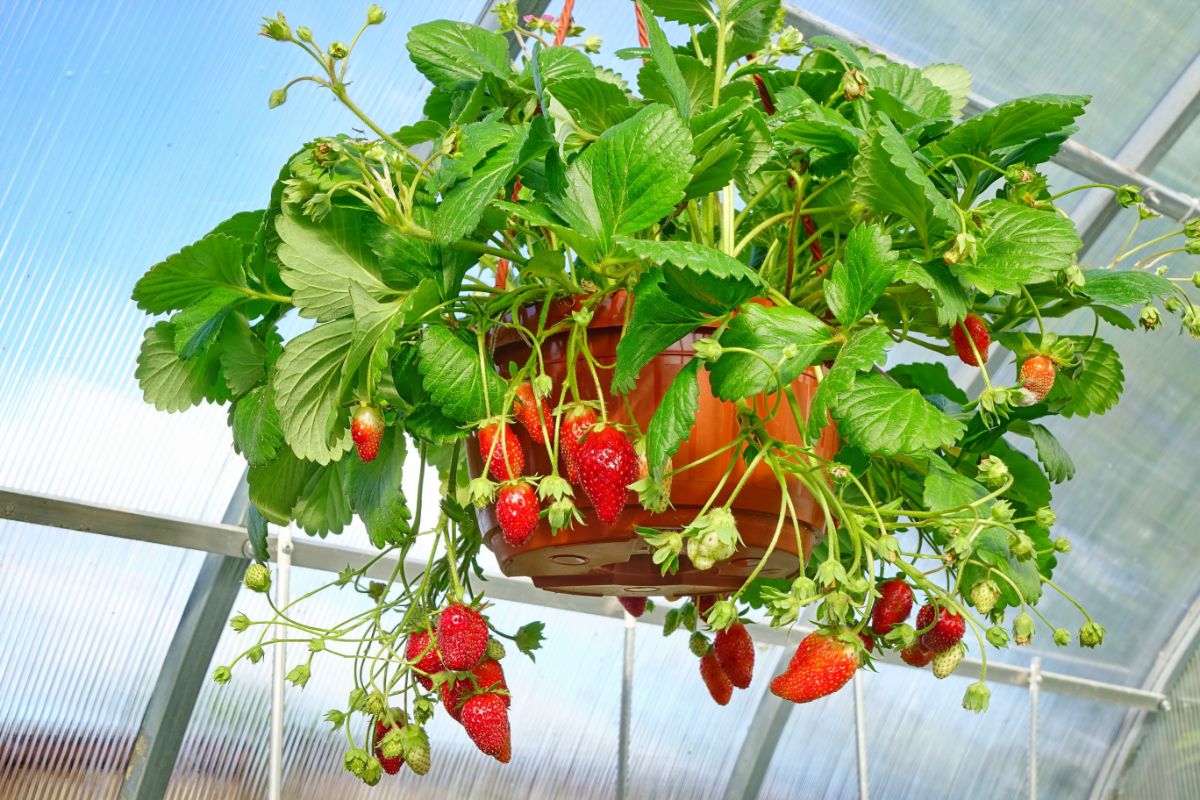 The best plants to grow in containers are plants that stay relatively small. Vining plants that can be encouraged to grow vertically with trellising are other excellent options as well. Below are some of the best plants to grow in pots, as well as recommended container sizes that will give your plants plenty of room to grow.
1. Tomatoes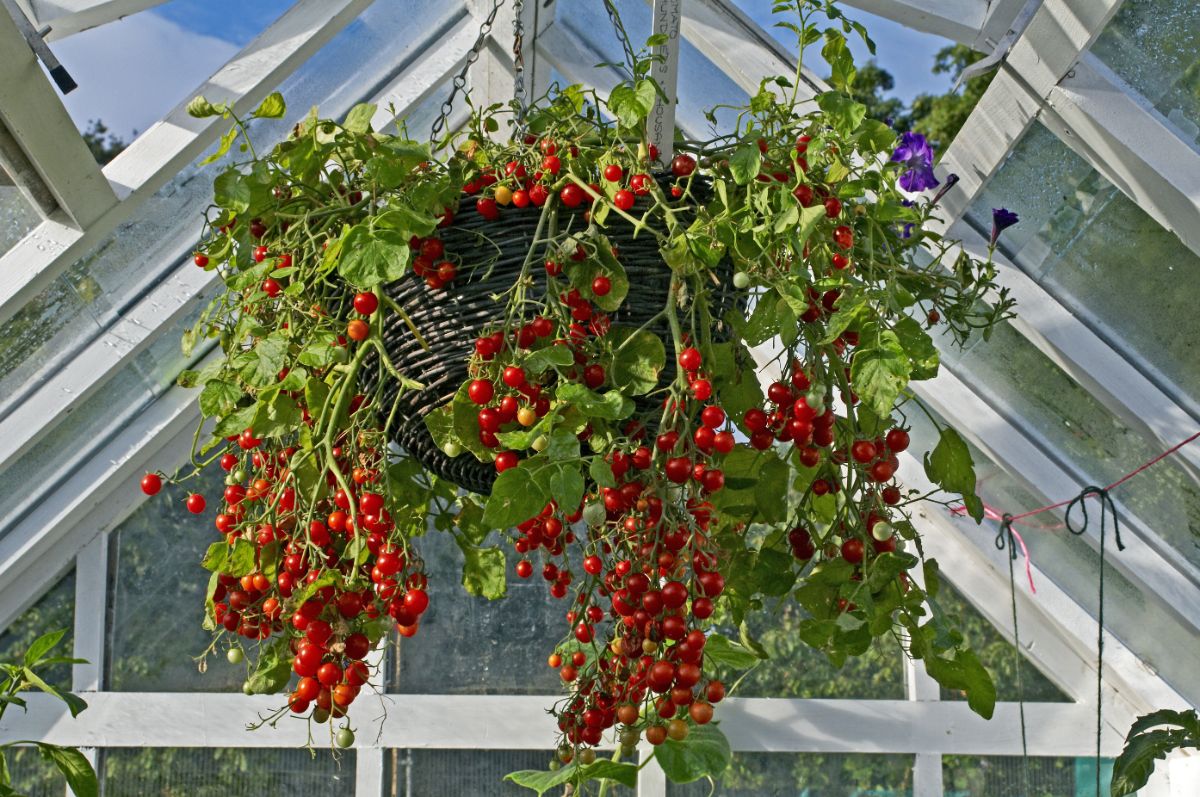 Tomatoes are some of the most popular edible plants to grow, with good reason. The succulent fruit is super versatile, and it can be eaten fresh in salads or canned into homemade pasta and tomato sauces. But if you have a small space garden, you may not think you can grow tomatoes.
While indeterminate tomatoes can grow quite large, determinate or bush-type tomatoes stay much smaller, and they can be easily grown in buckets or pots. To provide your plants with enough room to grow, sow one tomato plant per 5- to 10-gallon pot. Pruning your plant from time to time can also keep them more compact, and this will redirect your plant's energy towards producing more fruit too!
2. Peppers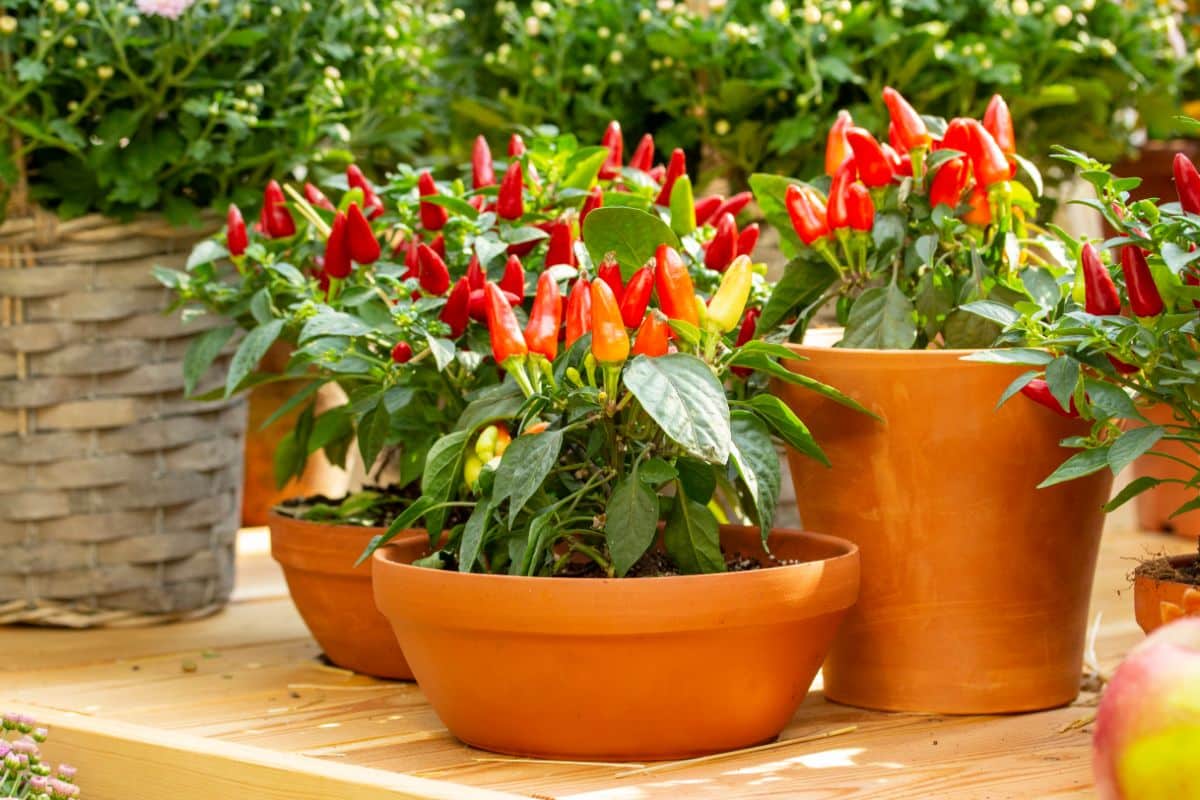 Like tomatoes, peppers grow very well in pots, and you can keep quite a variety of pepper plants in a small patio space. Bell peppers and fiery chili peppers are both appropriate for container growing. Small pepper varieties, like ghost peppers, can be grown in 3-gallon containers; however, larger poblano and bell peppers should have at least 5-gallons of growing space per plant.
Towards the end of the season, some pepper plants can get quite top-heavy, especially if you've done a good job of fertilizing your plants to encourage more fruit. Adding bamboo stakes to your plants can help keep your peppers upright and prevent broken stems. If you end up with more peppers than you can use at the end of the season, try making your own homemade hot sauces and salsas with your extra produce!
3. Carrots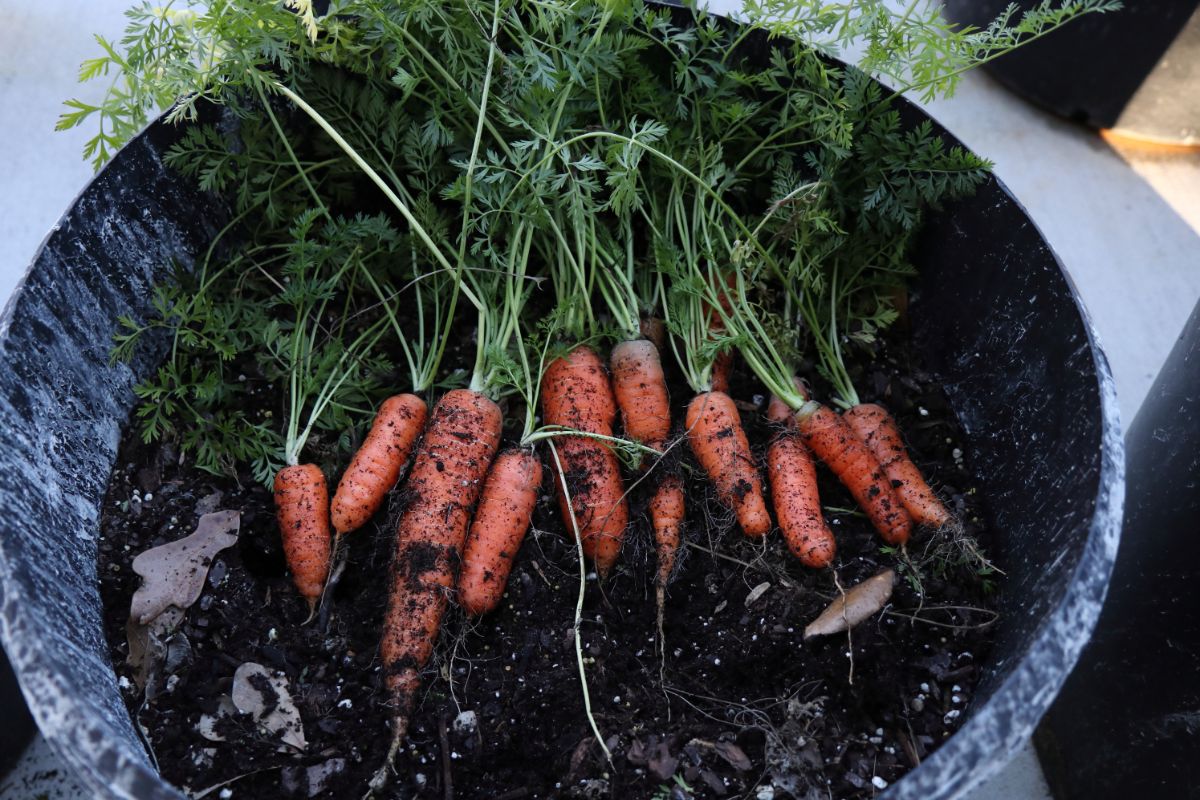 Because they are small plants, carrots are one of the best vegetables to grow in a container garden. However, it's important to consider the depth of your planting container when growing carrots or any other root vegetable. Depending on what carrot varieties you're growing, containers should be at least 6 to 15" deep.
Some carrot varieties, like 'Parisian' and 'Scarlet Nantes,' produce short and stubby roots that can be kept in shorter pots. Large, storage-type carrots, on the other hand, will require at least 12 to 15" of soil to grow properly. As far as spacing goes, you can grow about 10 carrot plants per 5-gallon container.
4. Potatoes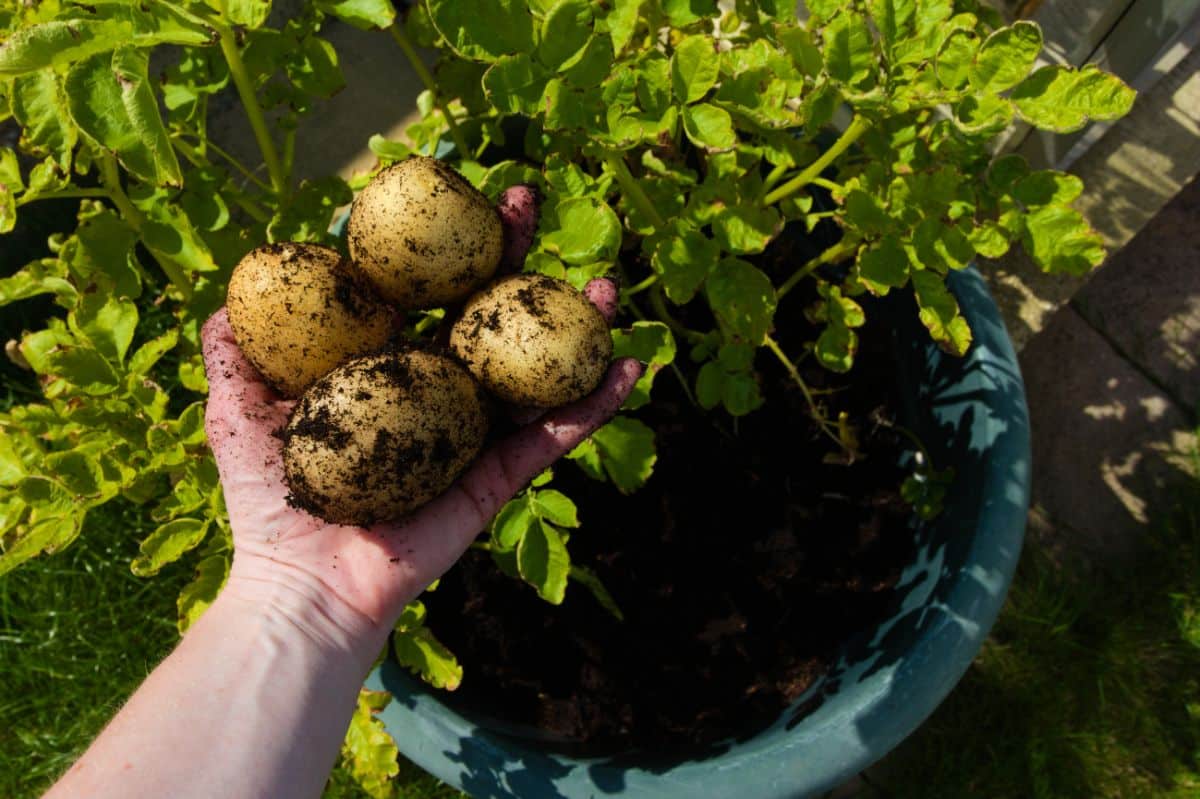 Like carrots, potatoes grow underground, so it's imperative to choose a nice, deep pot to keep your potatoes in. Potato pots should be between 2 to 3' tall and at least 10 to 15-gallons in size. You can grow about 3 seed potatoes in a 10-gallon container.
If you grow potatoes in too tight of a space, tuber size and quantity may be reduced. To avoid this, consider growing smaller potato varieties instead of large storage or russet potatoes. Because they have smaller tubers, new potatoes, and fingerling potatoes are usually a bit easier to grow in containers.
5. Radishes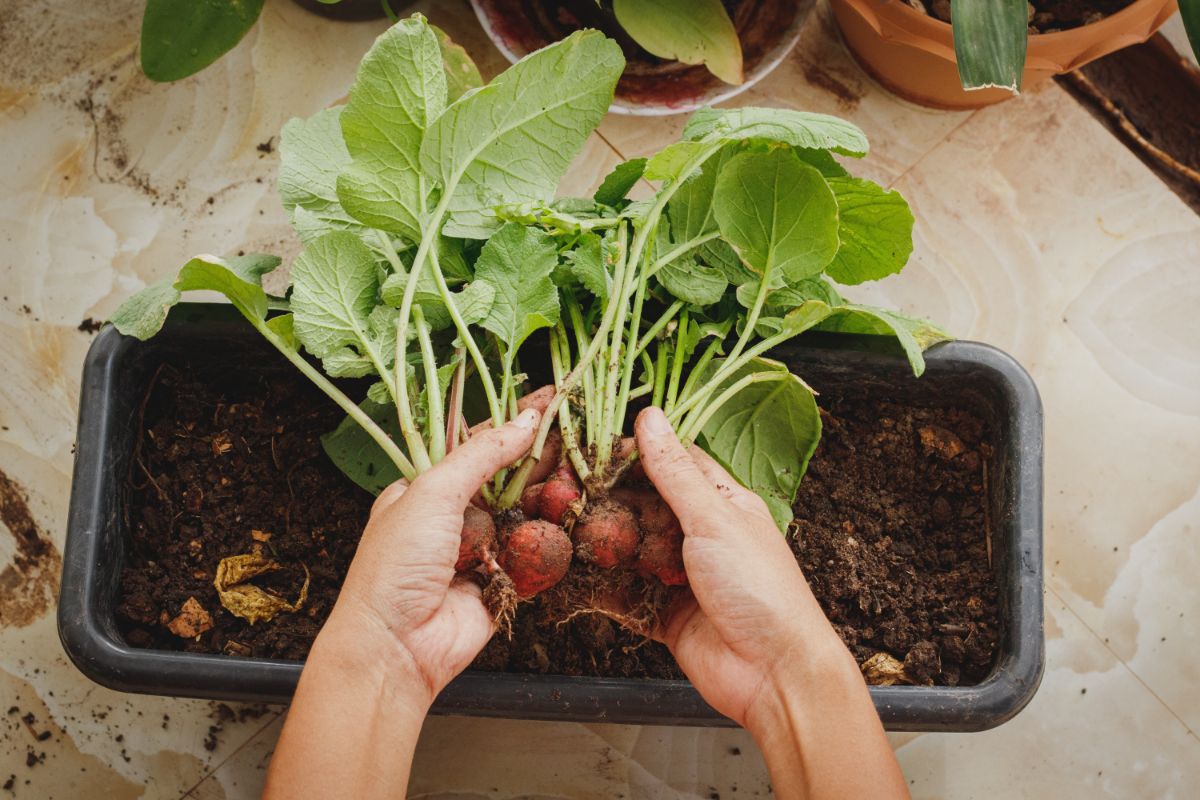 Although radishes are root crops, most radish varieties don't have a long tap root, and they can be kept in slightly smaller containers than carrots. Standard radish types, like 'Easter Egg' and 'French breakfast' radishes, can grow happily in about 6" of soil, while larger radish varieties, like daikons, should be grown in at least 12 to 14" of soil.
One 5-gallon grow bag can hold about 10 radish plants at a time. While this is a good amount of radishes, if you want even more veggies, you can succession sow radish seeds every few weeks. Doing this will provide you with a continuous source of radishes and help you get an even larger harvest of veggies out of a small container garden.
6. Leafy greens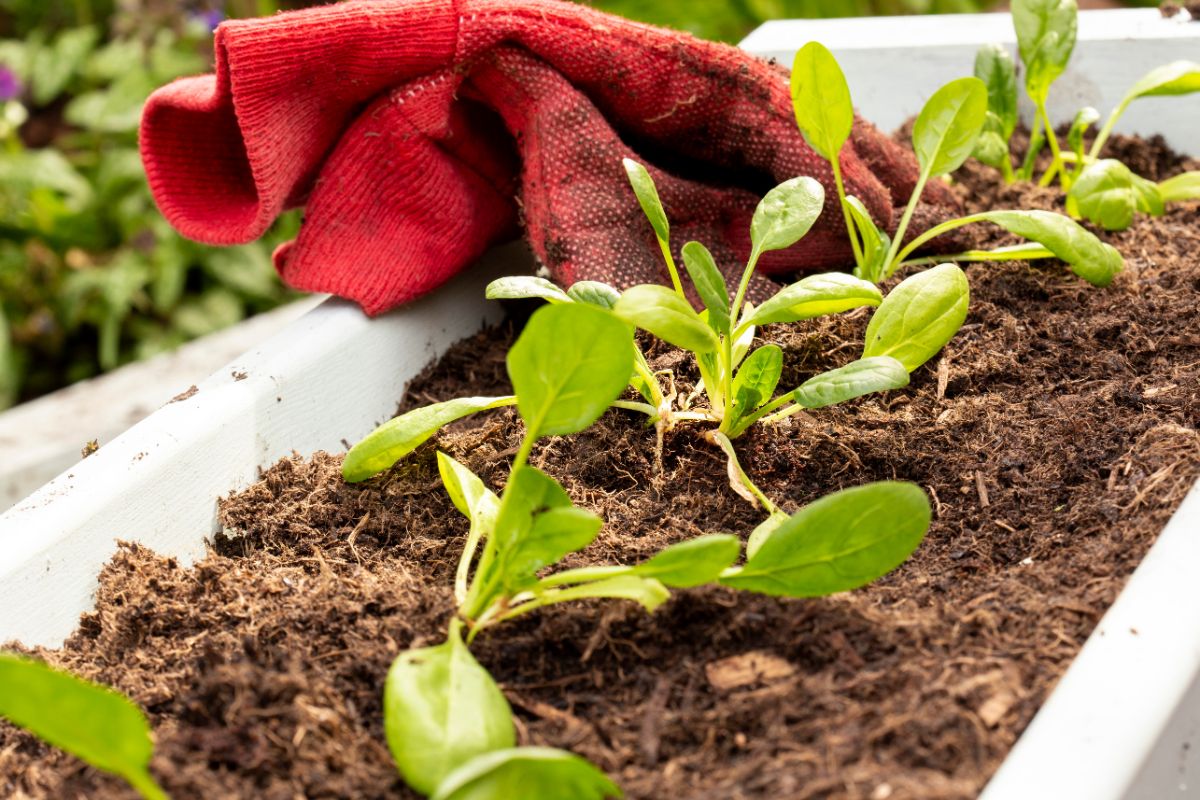 Leafy greens, like kale, arugula, bok choy, and Swiss chard, have relatively short root systems, which makes them perfect for container growing. These plants also don't take up a lot of space, so you can grow quite a variety of leafy greens on a small balcony. Because these plants tend to grow best in cool weather, they are often grown in spring and autumn gardens, but you may be able to grow leafy greens throughout the summer by keeping your plants well-watered or by moving growing containers into a shadier location.
One of the great things about growing leafy greens is that many of these plants can be harvested a little bit at a time by just picking off a few of the plant's outer leaves. Harvesting in this manner will encourage your plants to produce more leaves while still providing you with enough greens for recipes. One 5-gallon container can hold about 2 to 3 large leafy green plants (such as collard greens) or 4 to 5 smaller leafy green plants (such as spinach).
7. Onions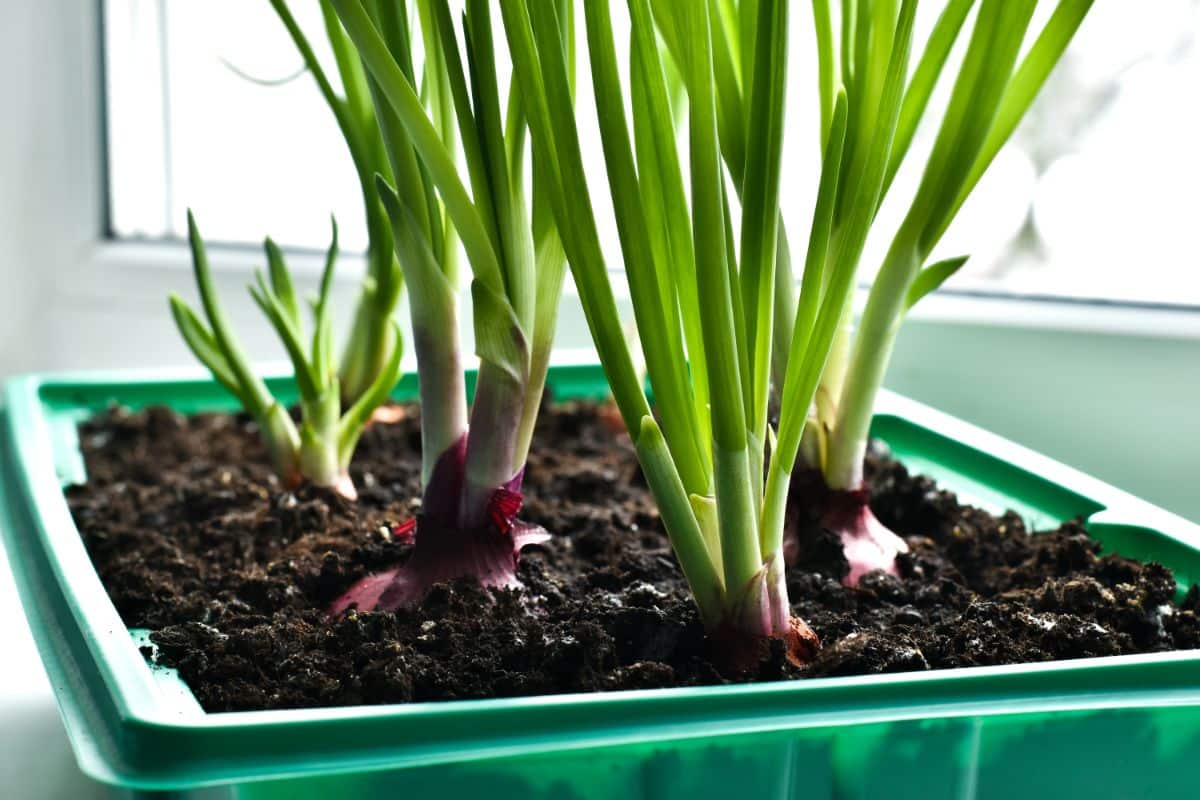 Onions are one of the most versatile cooking ingredients you can grow in your garden, and they are definitely must-have plants in container gardens too! Both bulbing and green onions can be kept in pots, and you can even grow your own shallots in containers as well. You can fit about 6 to 8 bulbing onions in a 5-gallon container and even more spring onions!
Growing containers for onions should be at least 10" deep to ensure your plants have enough room to grow and develop nice, juicy bulbs. Because onions are some of the best plants to grow for natural pest control, try locating your onion plants near vegetables that are often targeted by pest insects. Onions make excellent companion plants for leafy greens, brassica plants, and strawberries too!
8. Strawberries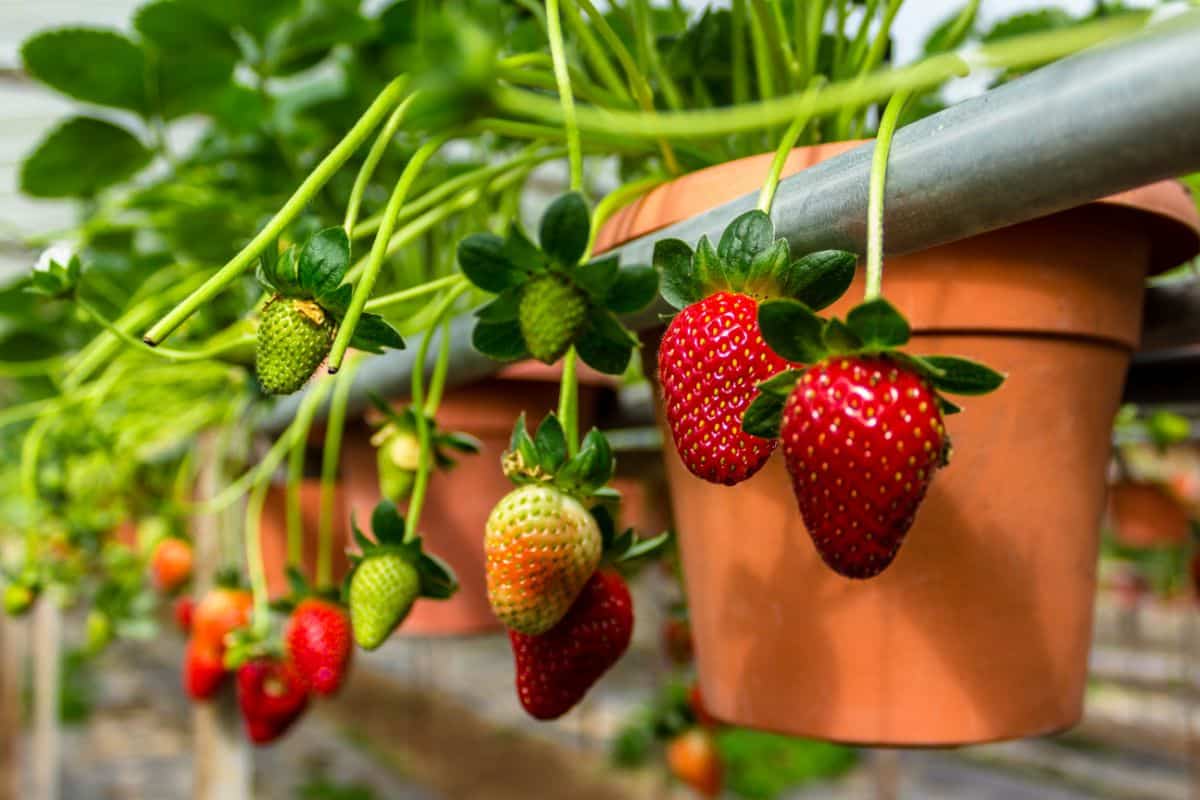 Strawberries are fun plants to grow, but they are often targeted by garden pests who love strawberries as much as we do. This can make strawberries a particularly challenging plant to grow; however, keeping strawberries in containers can help to protect your plants from pests. Container-grown strawberries are also easier to harvest.
While you can keep strawberries in pots, many gardeners choose to grow strawberries in towers or hanging containers instead. Growing strawberries vertically is a smart way to use space, but it also makes it difficult for rodents to access your berries. For one strawberry plant, choose a container that is at least 6" deep and 8" in diameter.
9. Herbs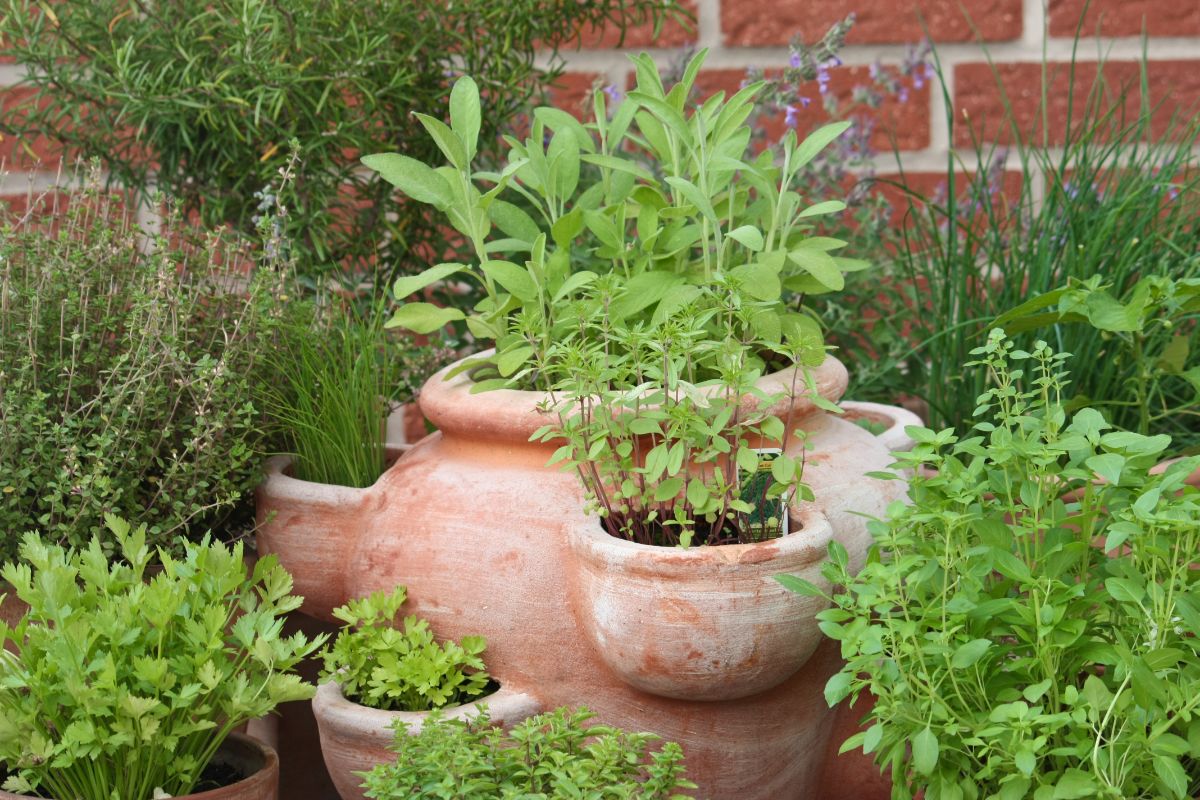 Many herbs grow quite compactly, which makes them a great choice for any small space or container garden. If you're working with a small balcony, you can even keep herbs in hanging pots or planters that are specifically designed to be mounted on railings. If you're deliberate with your planting design, you can grow an incredible amount of herbs in a container garden and supply all the herbs you need for the year.
While you can use fresh herbs, you can also dry herbs to replenish your spice cabinet and pantry stores. For proper growth, herb plants should be grown in pots that are at least 8" wide. Terracotta pots with large drainage holes are an obvious choice, but herbs can be grown in fabric grow bags too!
10. Beans and peas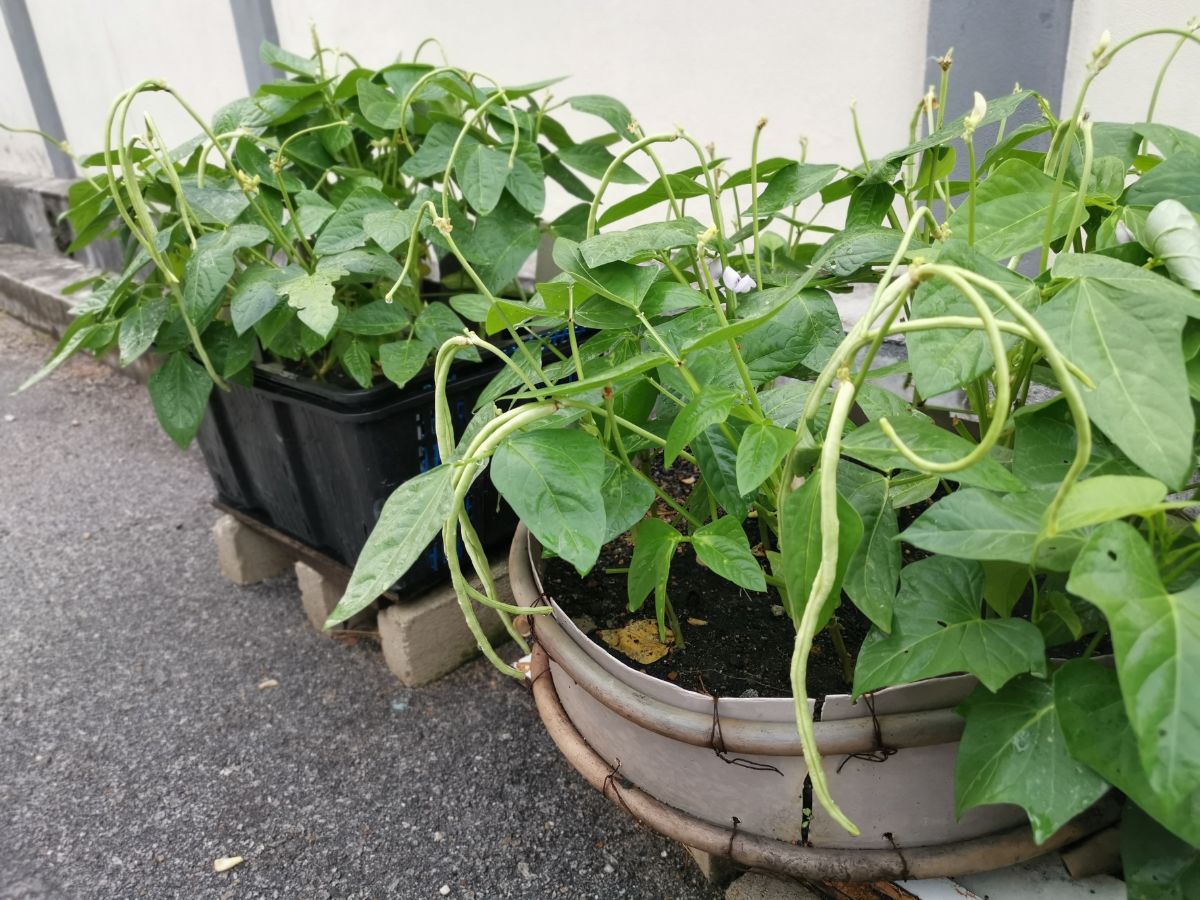 Beans and peas are another good choice for container gardens, but the best plants to grow in a limited space are bush-type or determinate growers. As with tomatoes, determinate bean, and pea plants stay smaller and won't overwhelm a small garden space. These plants also tend to produce all of their pods at once, which makes harvesting even easier.
Many different bean and pea varieties can be grown in a container garden, including shelling peas, green beans, and dried beans. Pots should be at least 12 to 15" in diameter, but the larger, the better. If you keep beans and peas in grow bags, you may be able to fit a few plants in a single bag to save even more space.
11. Figs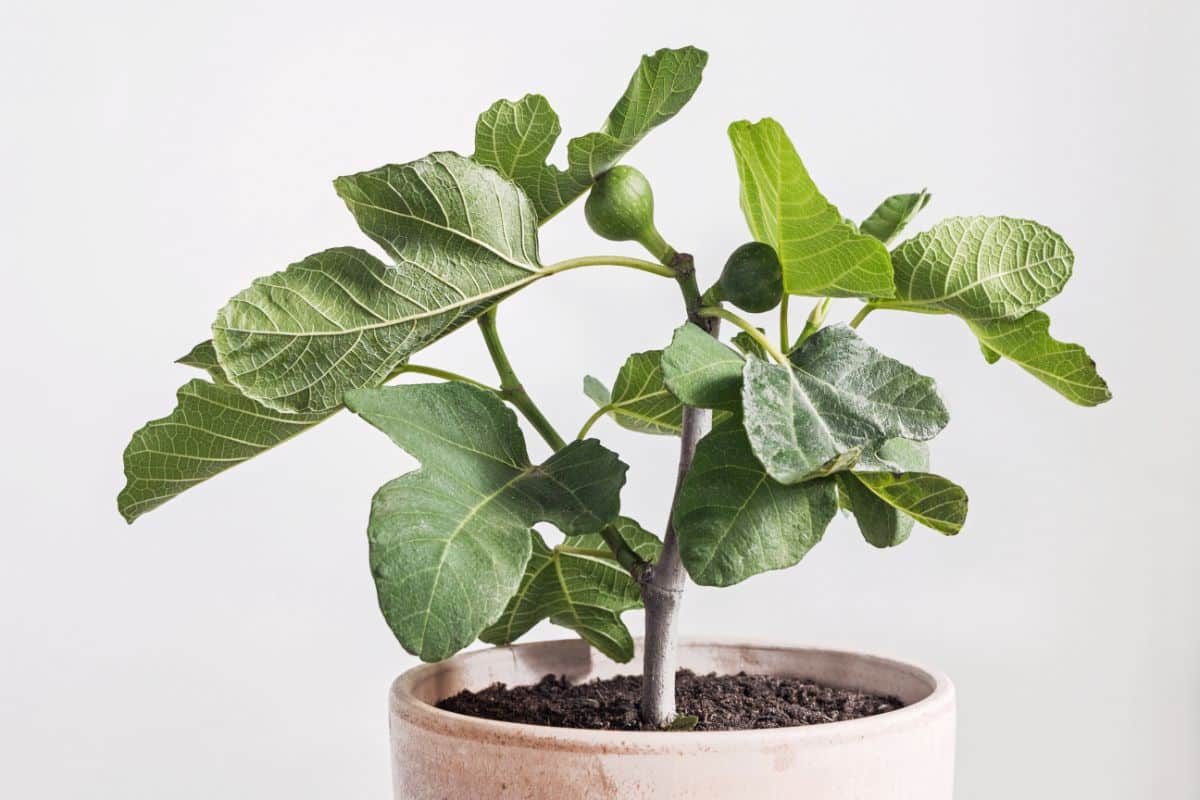 Fresh or dried, figs are scrumptious fruit that can be baked into desserts, turned into jams, and used in savory recipes too. But many home gardeners never think to grow figs! Many figs require warm weather to grow, but you can keep figs in cooler locations by cultivating them in containers and overwintering your plants inside.
Young fig trees may be able to grow in smaller containers, but they should be planted in at least 15 to 20-gallon pots as they get larger. Small and dwarf fig varieties, like 'Celeste' and 'Little Miss Figgy,' are usually the best choices for container gardens.
12. Beets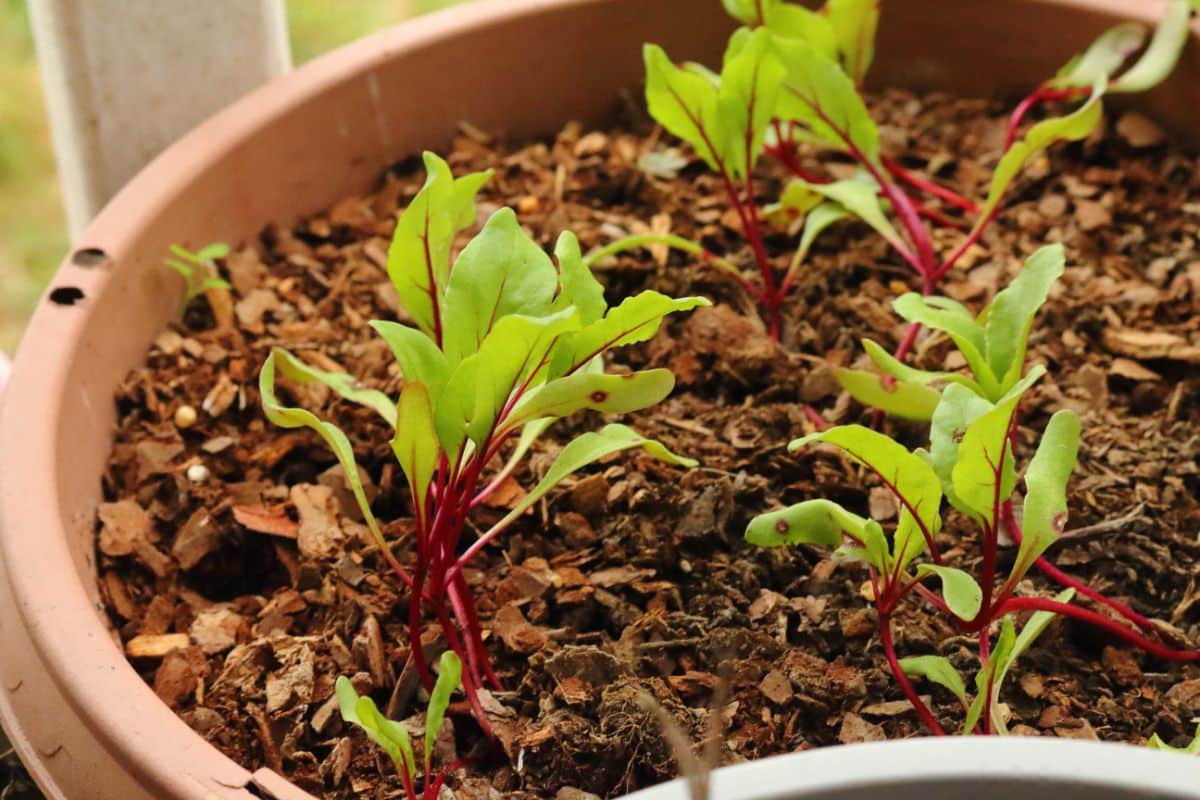 Like carrots and radishes, beets can be kept in buckets and pots as long as they have enough soil space. Containers for beet growing should be at least 10" deep and 5-gallon in size. You can fit about 10 beet plants in a 5-gallon container.
Beets are another plant that grows well in spring and autumn gardens, and you can grow even more beets with succession planting. If you love beet greens, you can also sow beet seeds more thickly and just harvest the greens for fresh salads and other recipes.
13. Lettuce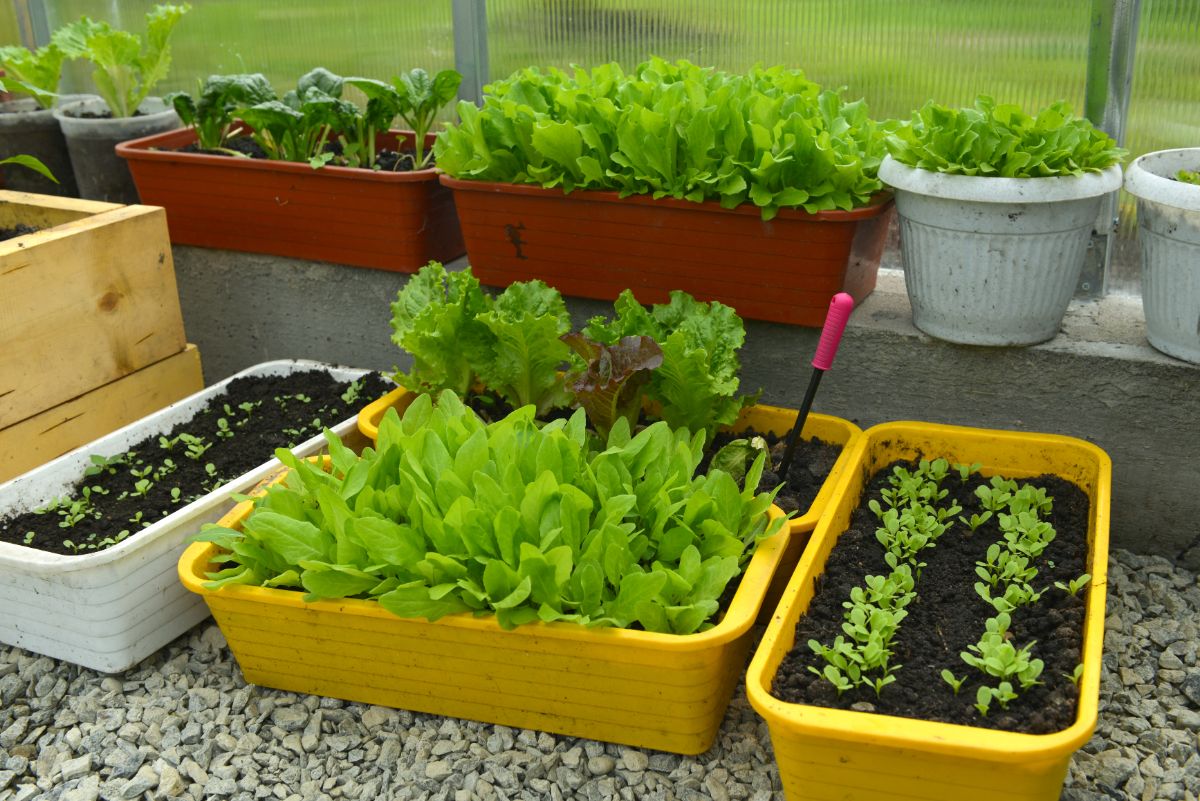 If you consider which produce you spend the most money on, lettuce is usually at the top of the list. Lettuce is not only a pricey vegetable, but storebought lettuce has usually been on the shelf for a while, and it won't last very long in your fridge after you bring it home. Growing your own lettuce plants will ensure you have the freshest and tastiest leaves whenever you need them, and you'll save on your grocery bill too.
Lettuce is a small plant with a short root system, which makes it ideal for container gardens. Approximately 4 lettuce plants can fit in a 5-gallon container, and, as with leafy greens, you can harvest the entire plant or just pluck off the outer lettuce leaves as you need them. To prevent bolting when temperatures rise, consider succession planting lettuce seeds and keep your plants well-watered and out of the hot sun.
14. Okra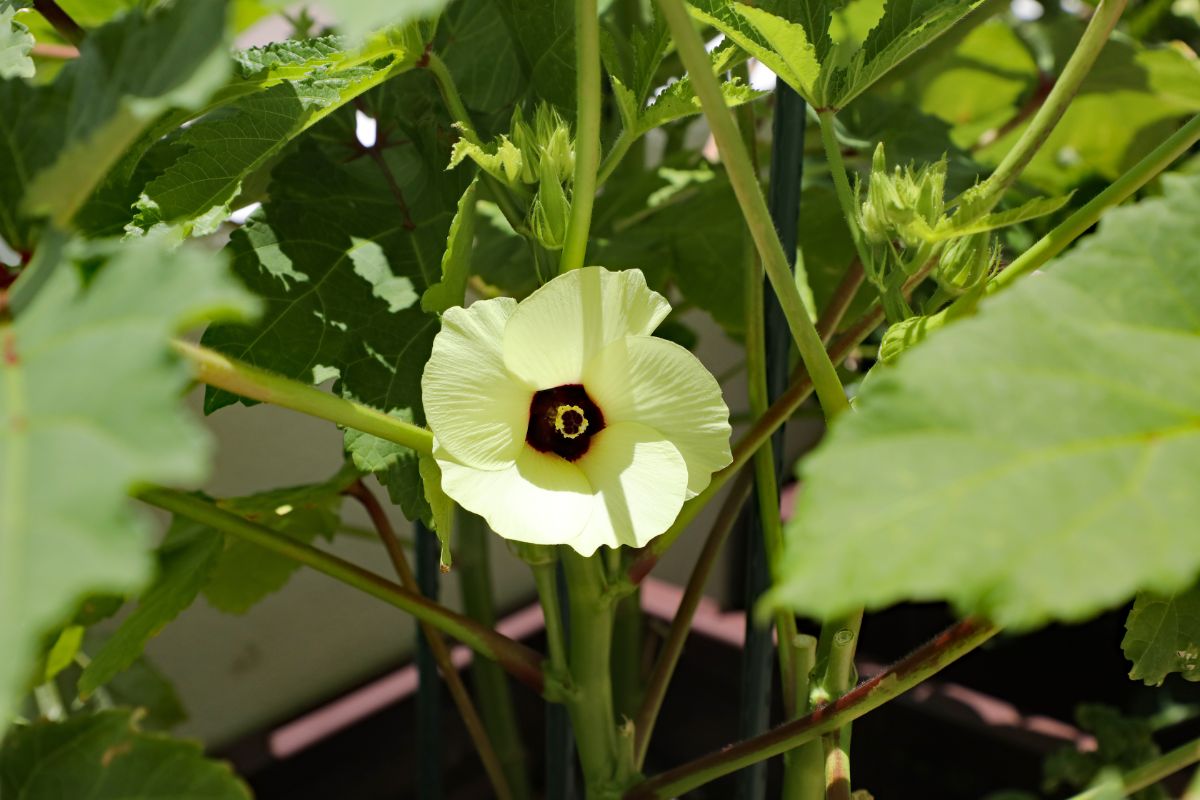 Okra is not the most commonly grown vegetable, but it is a tasty one and an essential ingredient in Soul Food. If you love gumbo and jambalaya, you need to save at least a bit of room in your container garden for an okra plant or two!
One okra plant can be grown in a 3-gallon container, but a 5-gallon container is even better. Be sure to harvest your okra often to avoid stringy and tough pods. For the best texture, harvest pods every day or two and pick pods when they are between 2 and 3" in length.
15. Cucumbers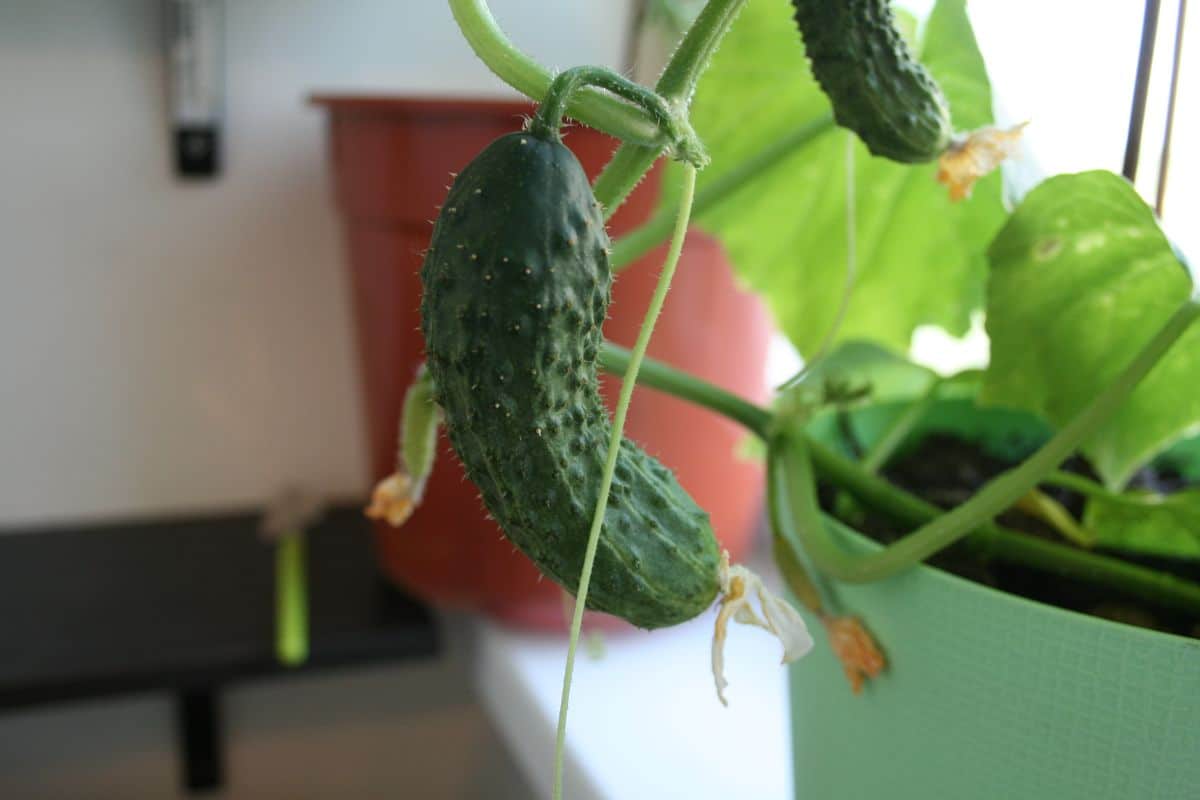 Cucumbers can get large, especially if you're growing vining-type cucumbers that need trellising. For this reason, bush-type cucumbers are the best choices for container growing, as they will stay smaller. A single bush cucumber plant can grow in a 5-gallon container.
Both pickling and slicing cucumbers come in vining and bush-type plants. For pickling cucumbers, varieties like 'Bush Pickler' are a top choice, while 'Bush Slicer' plants will provide you with all the cucumbers you need for fresh snacks and salads. Always water cucumber plants at the base and avoid getting leaves wet in order to prevent issues like powdery mildew.
16. Eggplants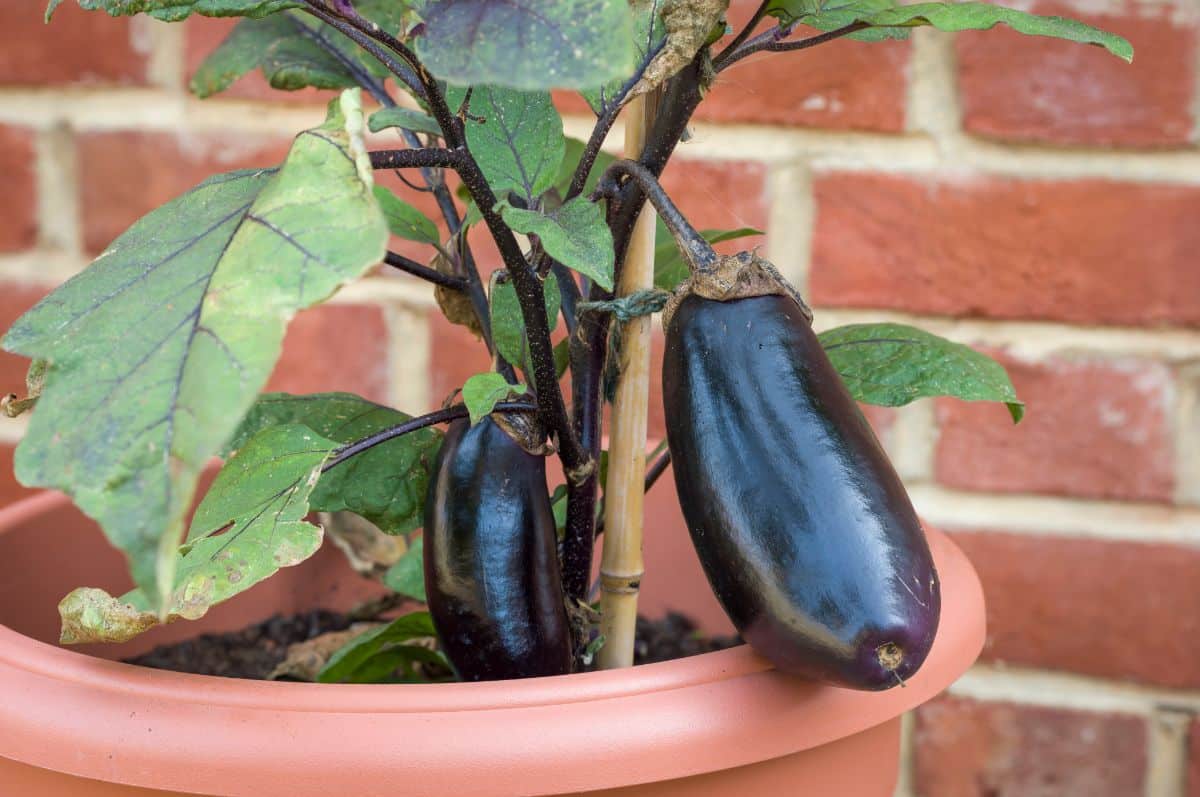 If you love dishes like eggplant parmesan and baba ganoush, you need to grow some eggplants. Eggplants grow exceptionally well in pots, provided that pots are at least 12" wide for small eggplants and 20" wide for larger varieties.
'Globe' or 'Italian' eggplants are classic choices, but if you are craving a different type of eggplant, there are lots of other colorful eggplant cultivars to try. 'Chinese' eggplants, for instance, produce long and slender fruit that is just the right size for slicing up into stir-fries. Or if you prefer curious colors, 'White,' 'Thai' and 'Rosa Bianca' eggplants come in white, green, and pale purple with white striations.
17. Garlic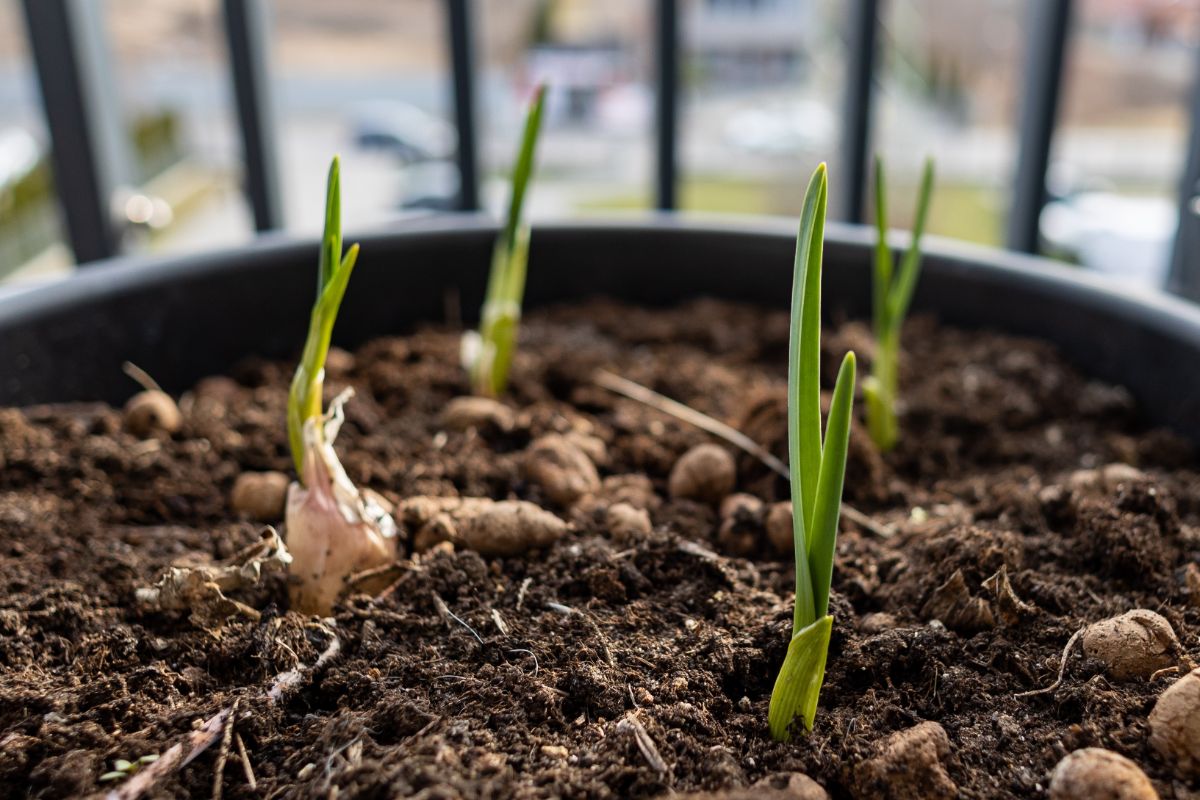 Like onions, garlic is a very useful plant to grow since you can mix it into so many dishes. And, if you happen to grow more garlic than you can use, garlic cloves can also be minced and frozen in ice cube trays or dried to make garlic powder for longer-term storage. Hardneck garlic varieties also produce edible scapes that can be blended into homemade pesto and tons of other recipes.
Garlic is a slow-growing plant, and it is usually sown in autumn, so you will need to plan ahead if you want to grow your own garlic. Garlic plants grow from individual cloves, and a single 5-gallon container can hold about 4 to 5 full-sized garlic heads. Because garlic plants help repel a number of garden pests, you can use these plants as companions for veggies in the brassica family, lettuce plants, and leafy greens too!
18. Citrus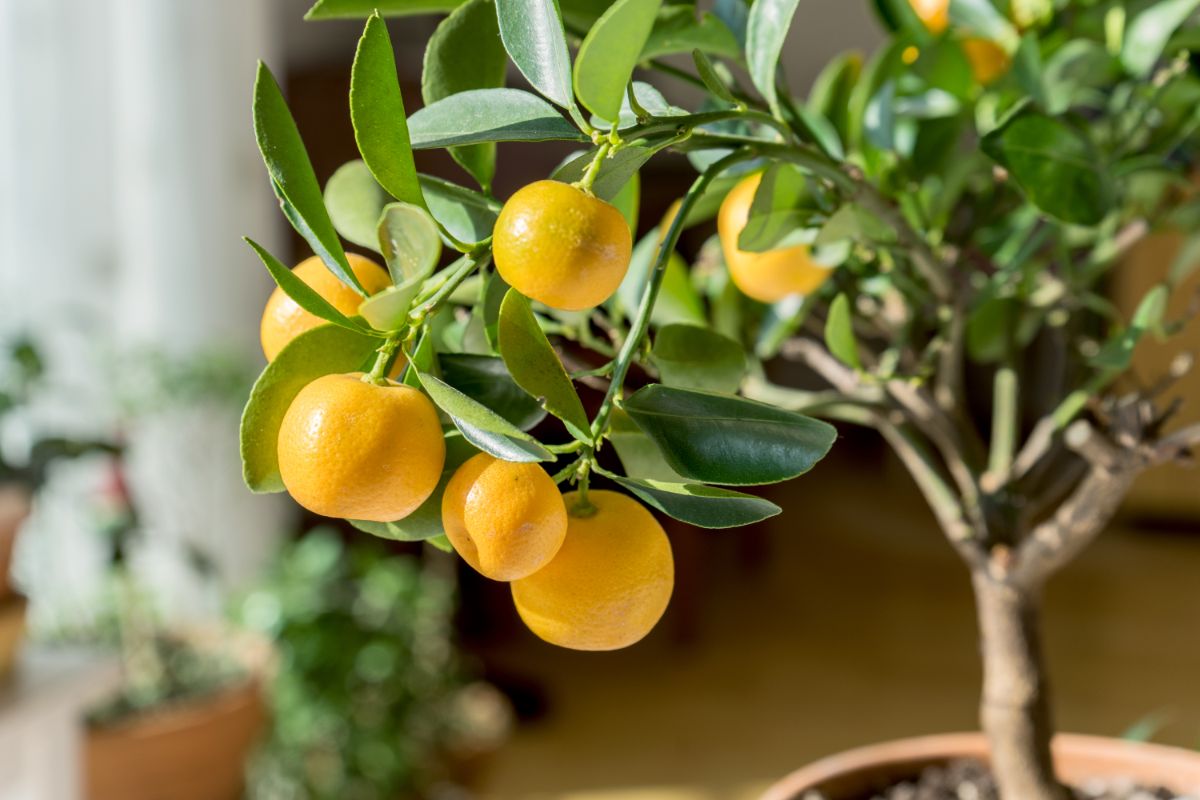 Citrus trees can be grown outdoors in warm climates; however, if you live in a cold area, you can still grow citrus if you don't mind keeping your plants in containers. Dwarf citrus trees, like kumquats, Meyer lemons, and key limes, all grow beautifully in containers. When temperatures drop, simply move the plants indoors and treat them like houseplants over the winter months!
Depending on the type of citrus tree you're growing, pots should be at least 5 to 15-gallons in size. As citrus trees require bright light to grow properly, place your plants in full sun or add a grow light if you intend to keep your plants indoors. Citrus also grows best when fertilized, often with a fertilizer intended for citrus plants.
19. Turnips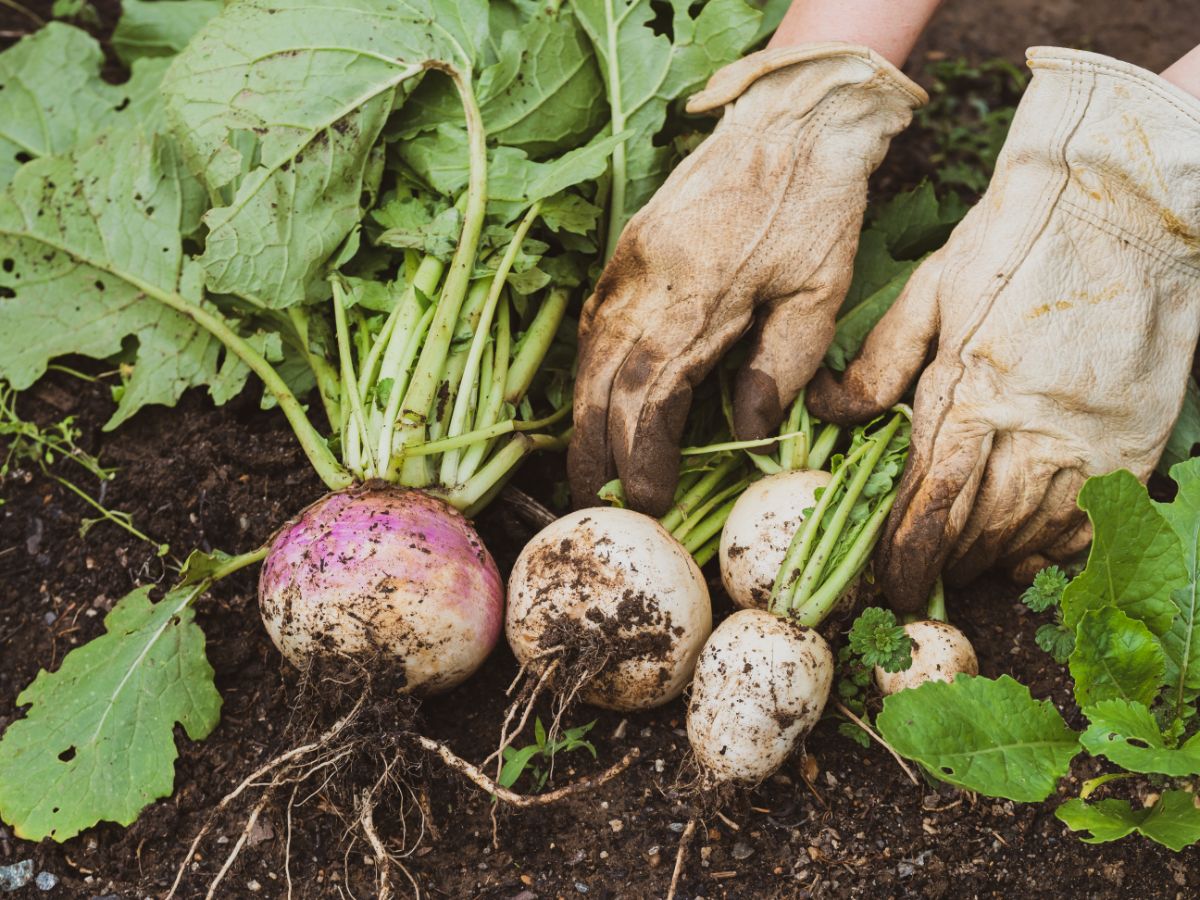 Another root vegetable, turnips, are great for containers too, but pots should be at least 8" deep. Containers that are 5-gallons in size or larger can comfortably fit about 8 to 10 turnip plants. If you prefer turnip greens, you can sow seeds more thickly and just harvest the greens as needed for recipes.
Turnips are a classic plant for winter storage, but they aren't as commonly grown today. Much of that has to do with the fact that many home chefs aren't quite sure how to use turnips in recipes. However, turnips are useful and delicious veggies, and they can be roasted with other root vegetables, cooked into hearty soups, or mashed into a healthy and low-carb mashed potato alternative.
20. Sweet potatoes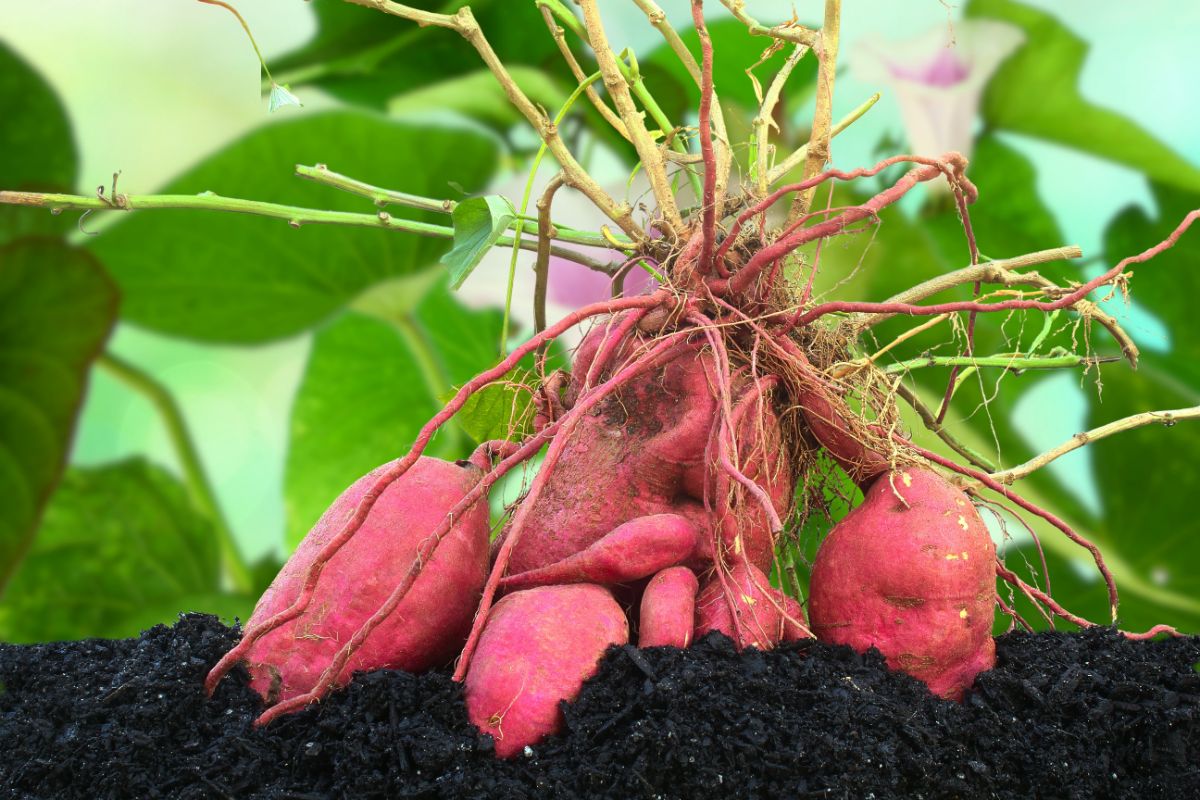 While white potatoes are more common in gardens, sweet potatoes are a healthier option that also grows well in containers. As with white potatoes, it's important to give sweet potatoes enough room to grow to encourage tubers to develop fully. A single sweet potato plant can be grown in a 5-gallon container, or you can grow two plants in a 10-gallon bucket.
Grow bags are a good container choice for sweet potatoes as they drain well, and they come in lots of different sizes. For even easier harvesting, you can find grow bags that have a small window that opens up at the bottom and allows you to view roots as they grow. When you spot a sweet potato that looks like it's ready to harvest, simply pluck out the tuber and allow the rest of the plant to continue to grow.
Summary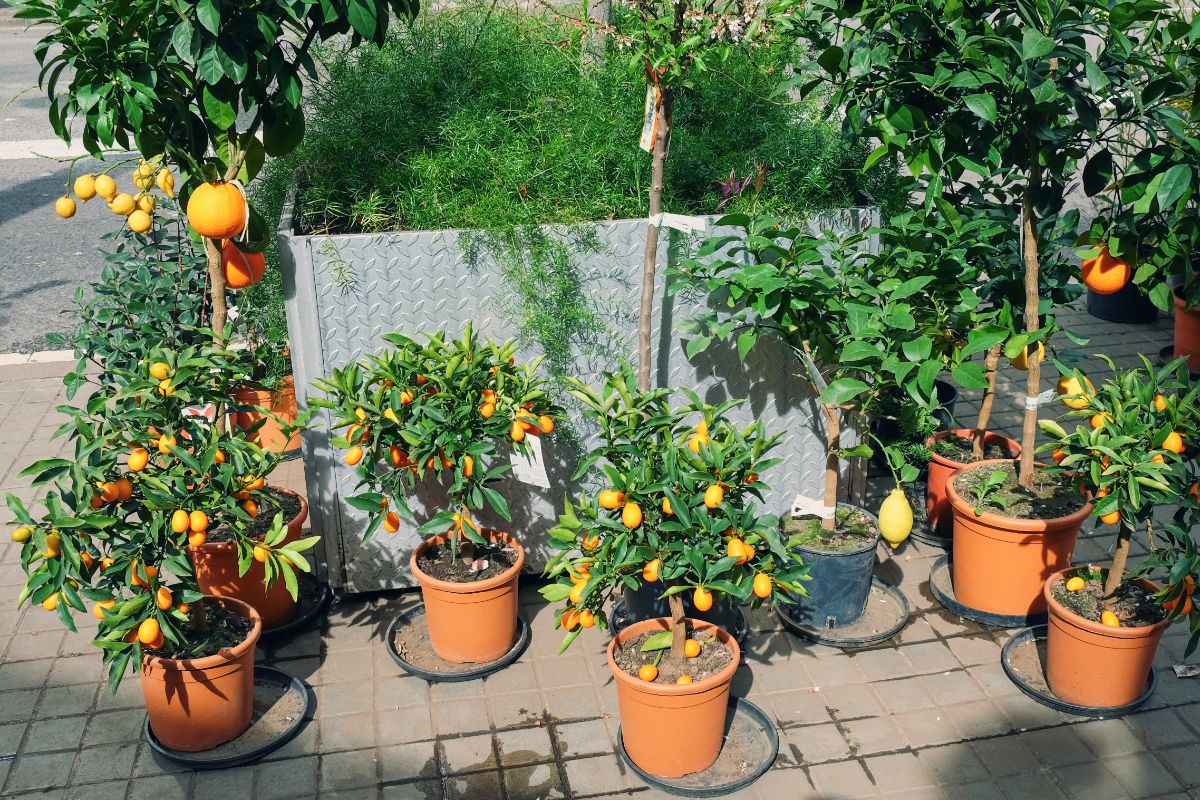 Just because you live in the city or rent an apartment doesn't mean you can't keep an impressive edible garden. With container growing, you can grow a surprising amount of edible plants in a small outdoor space. Even better, with the addition of bright grow lights, many of the plants we've covered today can also be kept inside if you want to grow vegetables all year round.
Container growing has lots of perks. It allows you to work around poor soil and to have a portable garden that can be moved around your landscape or even transported to an entirely different property! Container growing can also be a great solution if you're struggling with pests like wireworms or voles.
We hope this guide has inspired you to try out container growing this season. But if you're looking for even more plants to keep in pots, check out our tutorial on how to grow ginger in containers!