While potatoes can be grown in inground gardens, there are a number of reasons why gardens may prefer to keep these popular veggies in growing containers. Poor or rocky soil and soil-dwelling pests are two common reasons why container growing may make sense for you. However, keeping potatoes in pots can also be an easy way to simplify your gardening practice or provide you with a moveable garden that can be relocated throughout your space if needed.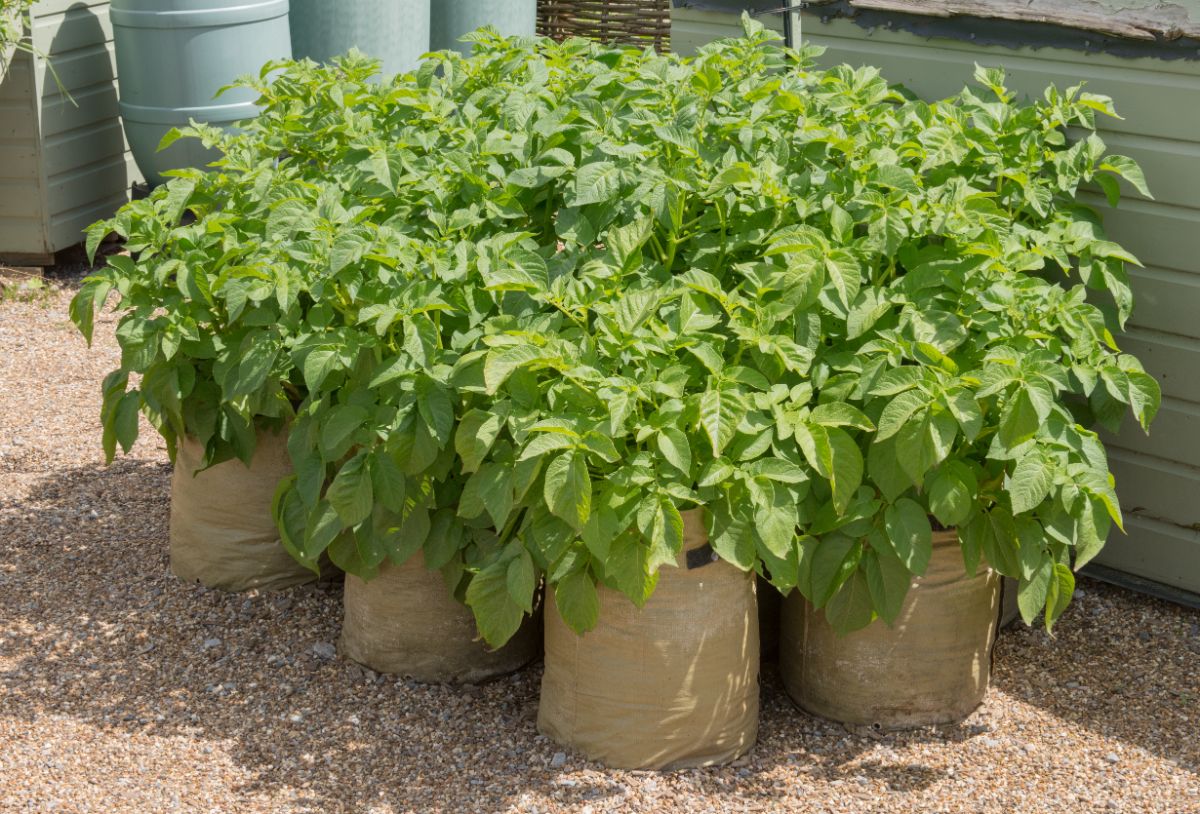 If you've ever thought about growing potatoes in bags or pots, this guide will help you do just that! From planting your seed potatoes to harvesting tips, we've got everything you need to grow potatoes in containers right here.
Jump to:
11 tips to grow high-yielding potatoes in containers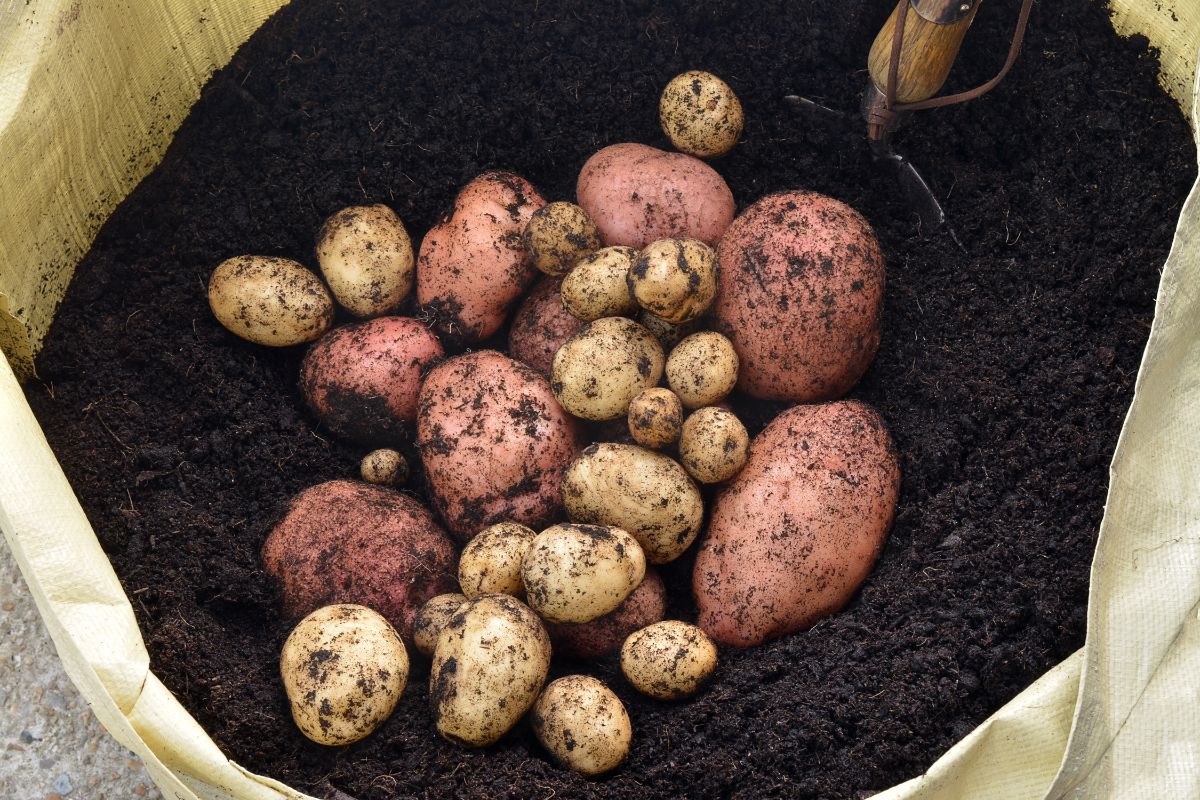 Potatoes aren't difficult plants to grow, but keeping them in containers can make your gardening chores even easier. Follow along with the planting and growing tips below to get the most out of your small-space container garden.
1. Pick the right potatoes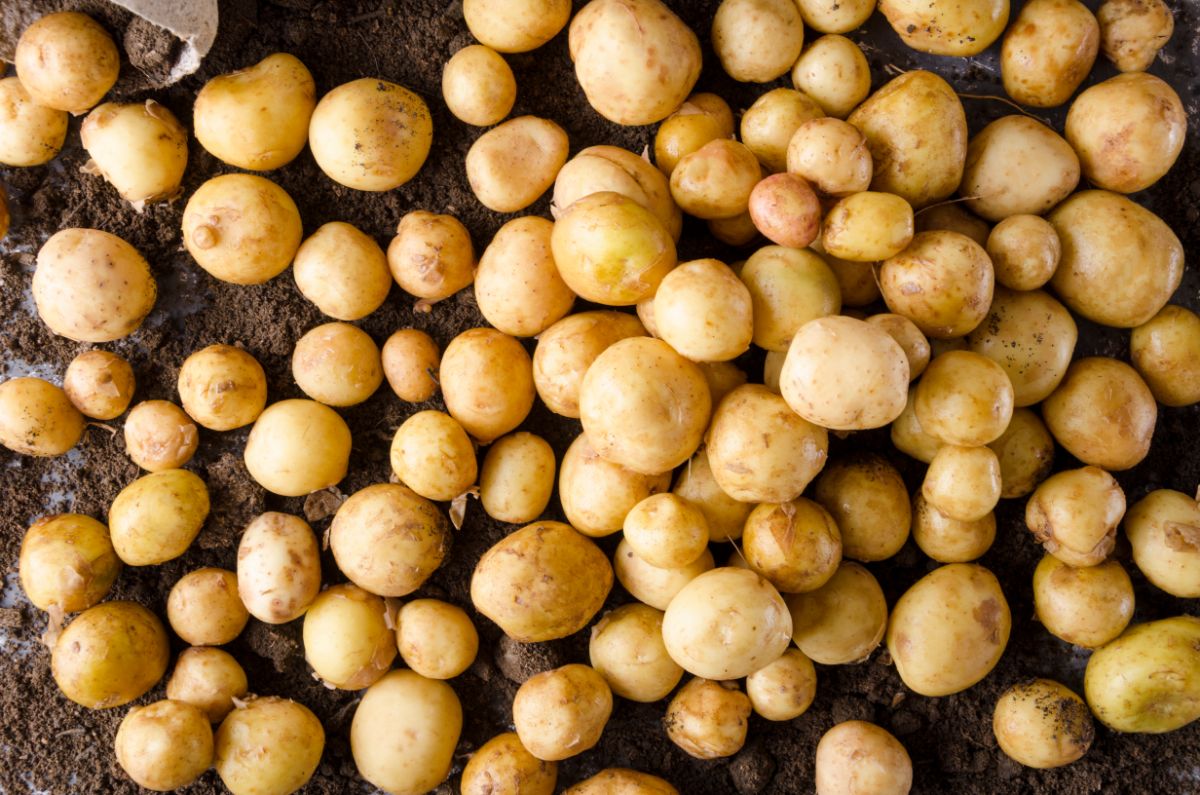 All potato varieties can be grown in containers. However, larger potato plants, like russets, may feel too confined in small containers and produce fewer tubers.
Instead, opt for potato types that grow smaller, such as gem, fingerling, and new potatoes. These potatoes can grow quite prolifically in grow bags and should produce an impressive harvest for homemade French fries, potato salad, and more.
Tip: It's best not to plant grocery-store potatoes in your garden, as they may harbor diseases. Instead, choose seed potatoes from a reliable seed company or purchase them from your local garden center.
2. Choose your containers wisely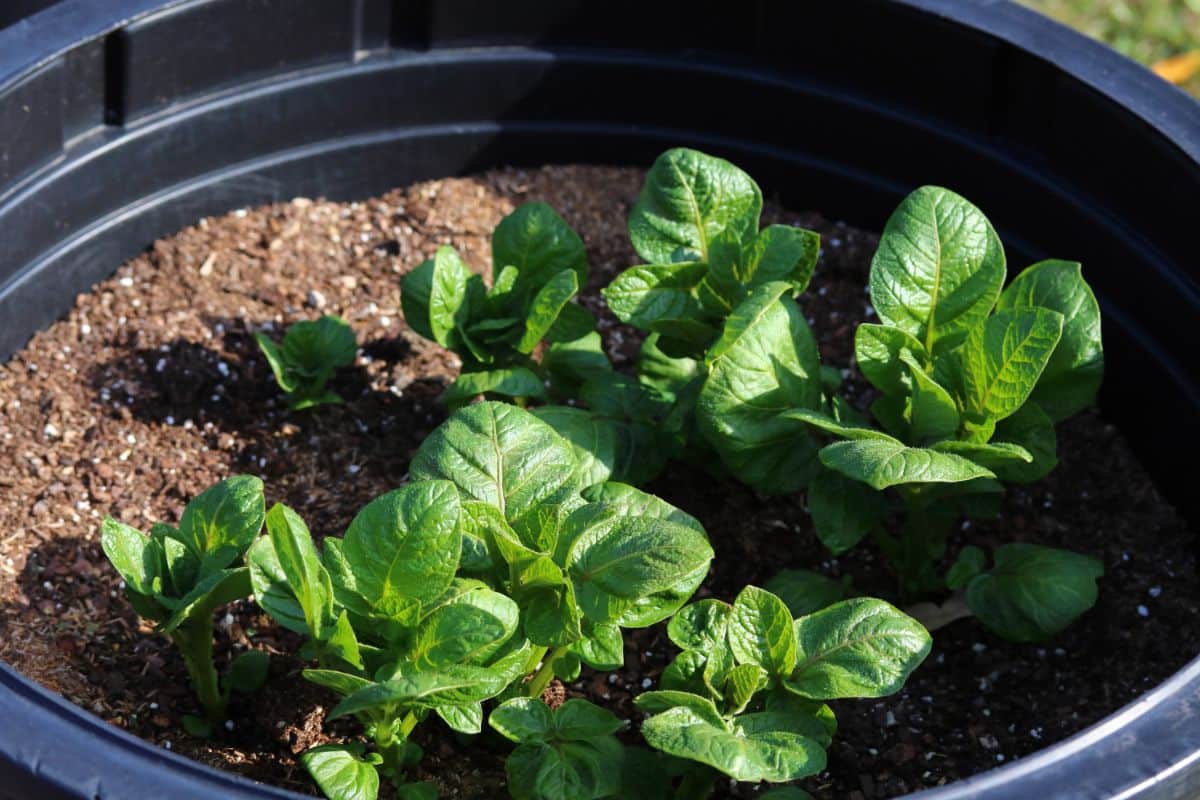 While selecting the right potato types is important, you won't be able to grow any quality potatoes without an appropriately sized container. For proper growth, make sure each potato you grow has at least 2 ½ gallons of grow space. That means you can keep two potato plants in a 5-gallon grow bag or four potatoes in a 10-gallon container.
Beyond container size, it's also important to consider the container itself. Although potatoes like consistently moist soil, they should never be kept in waterlogged conditions, so it's important that your containers have drainage holes or are otherwise well-draining. Fabric grow bags, for example, are made of a porous material that will allow your potatoes to breathe well and will prevent soil from becoming overly saturated.
Whatever container you choose to use, be sure that it is crafted from a food-safe material. Plastic buckets and bins are often used as growing containers, but you'll need to make sure they are safe for food or are marked with recycling numbers 2, 4, or 5, which indicate food-safe plastics.
Tip: It may be tempting to start your potatoes in upcycled materials, such as old tires; however, these items can leach chemicals into your plants and aren't safe for use around food crops.
3. Find the right location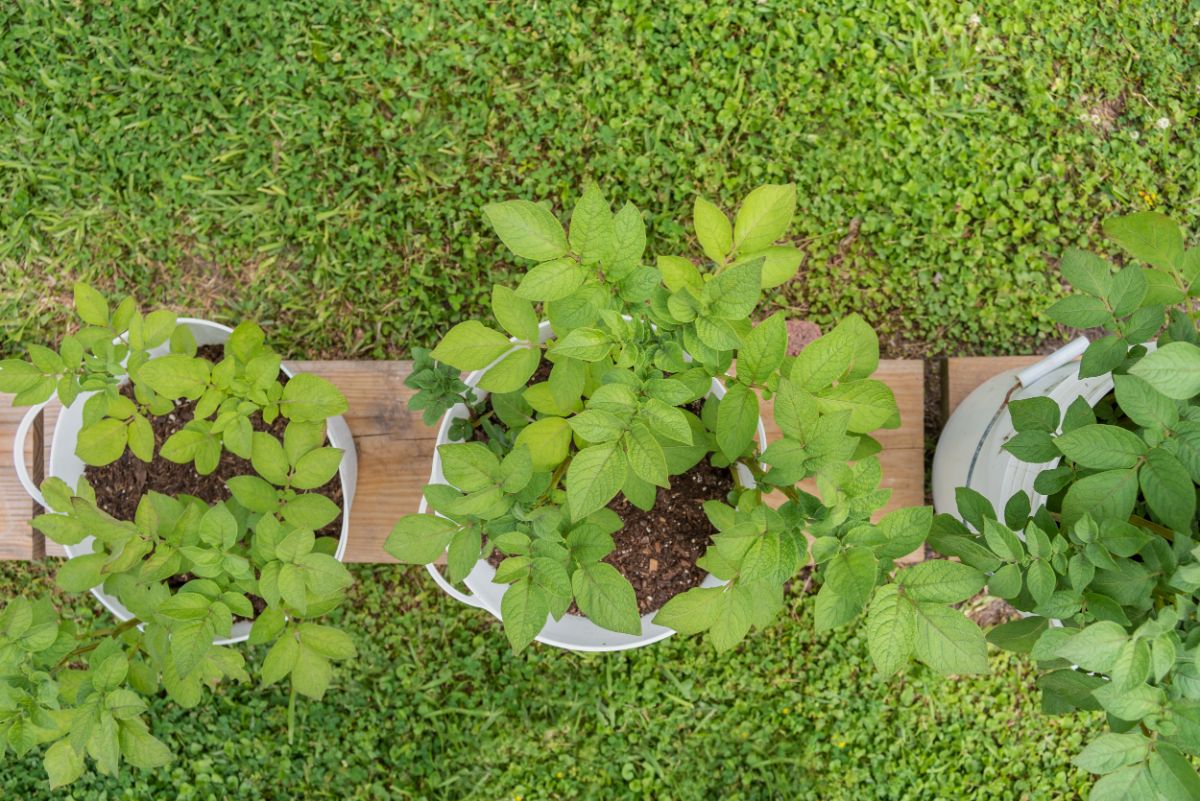 Like most other vegetables, potatoes require full sun to grow productively. So, when choosing a location to keep your containers, look for a spot that receives at least 6 hours of bright light daily.
To make your gardening work easier, you may also want to locate your containers near your garden hose, so you won't need to lug water back and forth as much. Remember, potatoes grown in containers will usually need extra water!
4. Use quality soil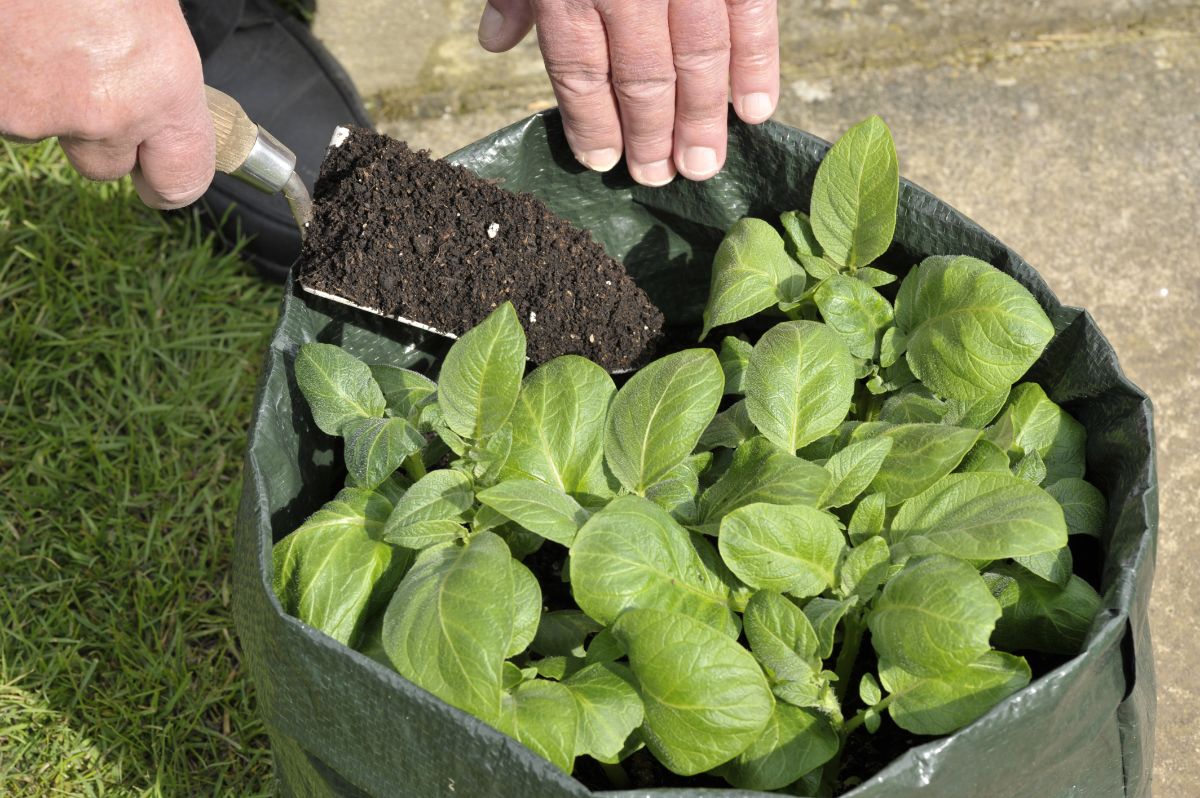 Once you've chosen the right location for your growing containers, it's time to fill those pots up with some soil. But hold that thought for a second.
You may want to fill up your potato bags with garden soil, but soil from your yard is usually too dense for container growing and will compact even further when you begin watering your plants. This can result in poor tuber formation and unhealthy potatoes. What's more, garden soil may also contain pests, like wireworms, which can devastate your potato crops.
Instead, opt for soil that is intended for raised beds, or make your own soil blend by mixing 1 part potting mix with 1 part compost.
You may also want to test your soil before you begin planting your potatoes, as potatoes grow best in slightly acidic soils with a pH of between 6.0 and 6.5. If you need to increase the acidity of your soil, mixing in elemental sulfur can help.
5. Plant correctly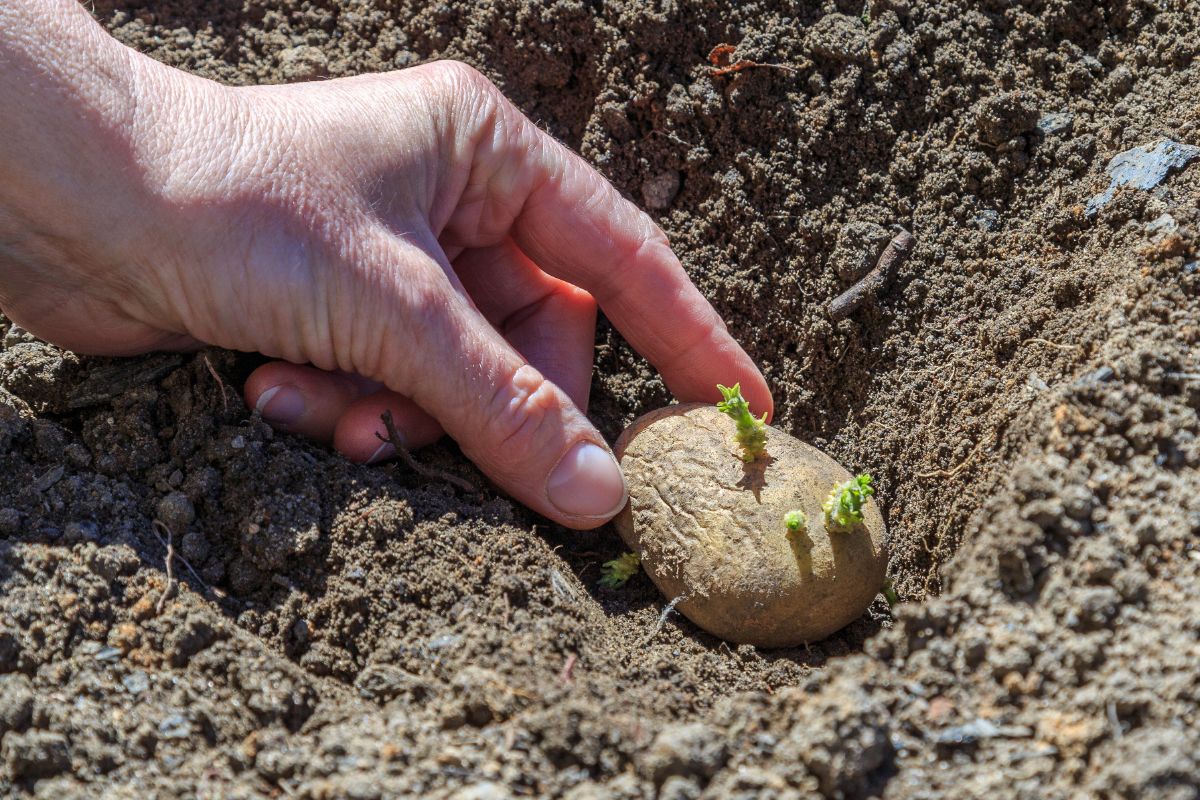 When you're ready to sow your potatoes, you can plant your whole-seed potatoes right in your growing containers. But, if you want your seed potatoes to go a bit further, you can also cut them into chunks, which will germinate into individual plants.
If you want to cut your seed potatoes prior to planting, make sure each potato piece has at least two eyes or growth nodes. These are the areas where the plant sprouts. After cutting your potatoes, allow them to sit out for a day or two to callous over before you begin planting.
Then sow your potato pieces or whole-seed potatoes in your grow bags. If you're using potato pieces, position them so that their eyes are facing up. Once you've done that, lightly cover the potatoes with about 2 to 3" of soil and water them in well.
6. Hill your potatoes as they grow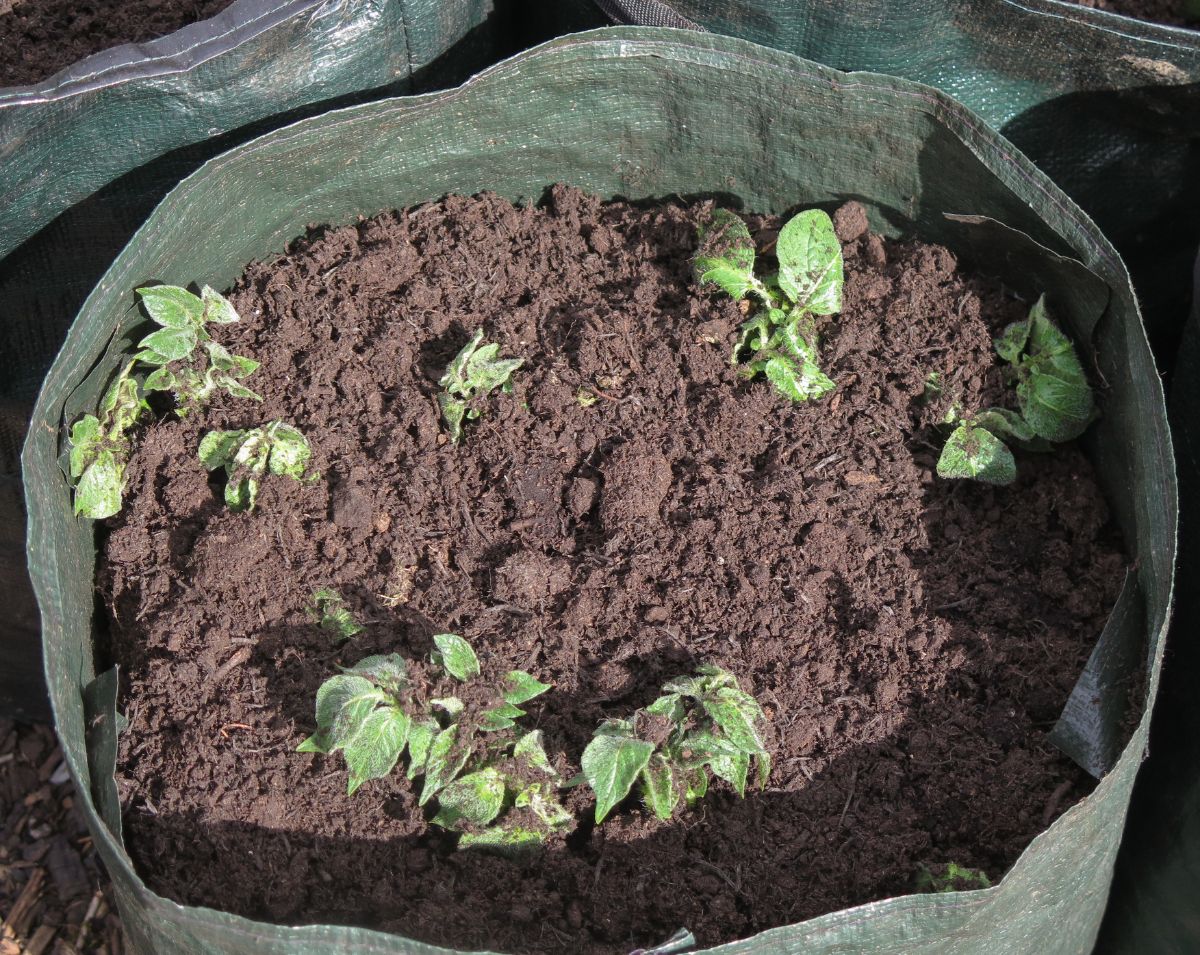 As your potatoes grow, they should be hilled regularly by mounding up extra soil around the base of the plant. Hilling should begin when your plants are about 6" high. Cover up the bottom ⅓ of the plant, and don't worry if you bury a few of the potatoes' leaves.
Hilling your potatoes regularly will encourage your plants to produce more tubers, so it's essential if you want to increase your harvest. This process also shelters potatoes from direct sun, which can cause your potatoes to turn green. Green potatoes contain high levels of solanine, which is mildly toxic, but this can be prevented by keeping your tubers well covered with soil.
7. Be consistent with watering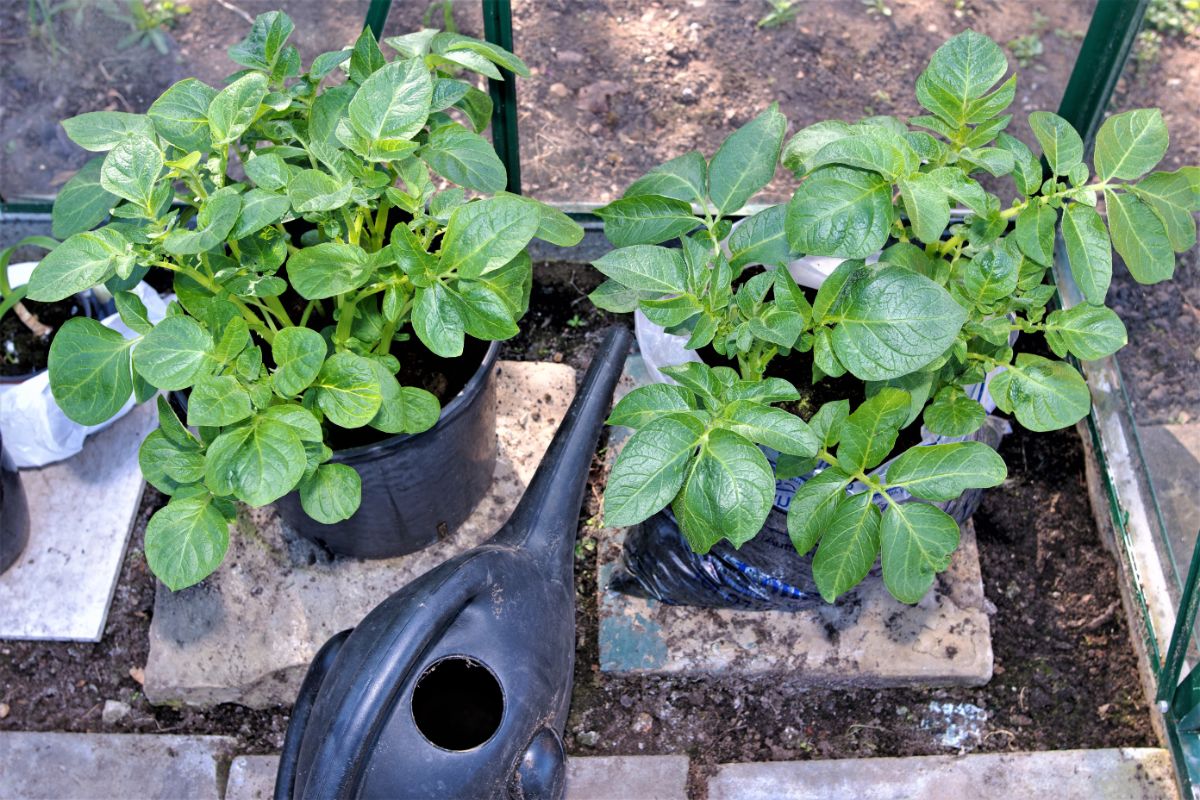 Potatoes grow best with regular watering – about 1 to 2" of water per week should do. If you're unsure if your plants need water, insert your finger into the soil. When the top few inches of soil feel dry, it's time to water your potatoes!
Although growing potatoes in containers have many benefits, it's important to remember that soil will dry out more quickly in containers. That means that you may need to water your plants more often if you keep them in pots. This is especially true for potatoes kept in fabric grow bags, as moisture can rapidly evaporate from them.
If you travel often or just don't think you can keep up with regular watering, you may want to add a small drip line system to your potato containers. These systems can be fully automated with the addition of a timer, and they will ensure that your plants always receive a consistent supply of moisture.
8. Fertilize wisely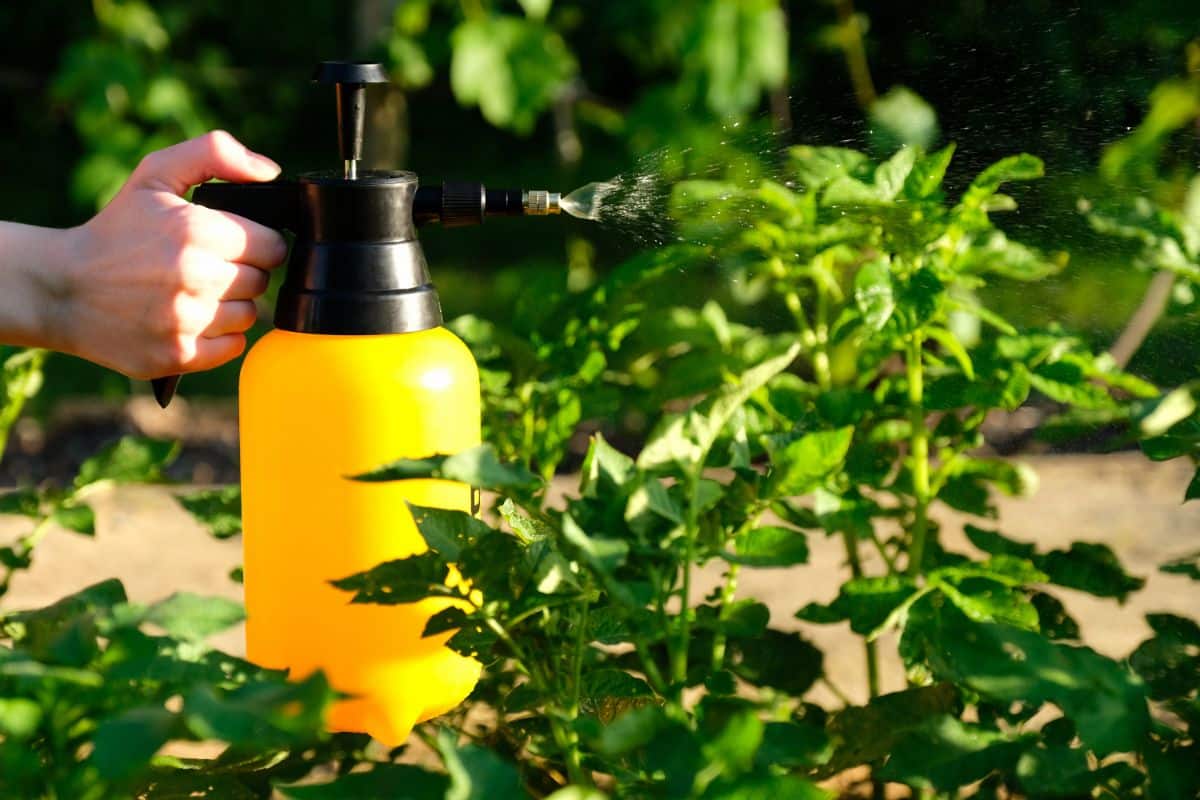 Since potatoes are heavy feeders, it's a good idea to amend your soil with quality compost or aged manure prior to planting. After that, potatoes will need a regular application of fertilizer to support their growth and help them to develop lots of delicious tubers.
Potatoes grow well with a balanced fertilizer, which should be applied as recommended by the manufacturer's instructions. Generally speaking, potatoes should be fertilized approximately 2 weeks after planting and then fertilized once a month until 2 weeks before you plan to harvest them. High-nitrogen fertilizers aren't recommended for potatoes as they can promote leaf growth instead of tuber production.
9. Stay on top of weeds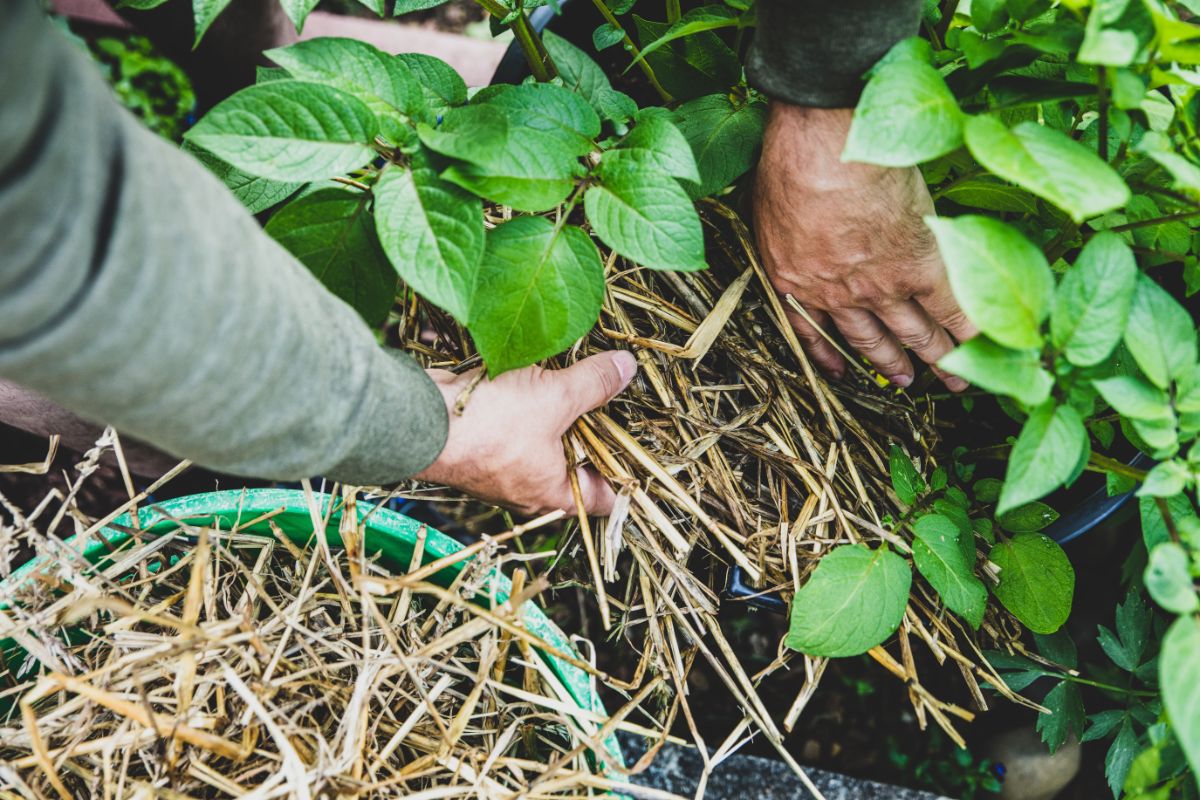 Keeping potatoes in containers should eliminate a lot of your weed woes, but weeds may still crop up from time to time. Pulling weeds out will reduce competition for water and nutrients and encourage your potatoes to grow larger. Weeds may also attract pests to your plants, which you definitely don't want either!
If you're not a fan of weeding, you can also apply a layer of organic mulch to the top of your containers after sowing your potatoes. Natural mulches like weed-free straw or salt marsh hay are perfect for this. A 3" deep layer of mulch spread over your containers can inhibit weed growth and also lock moisture into your soil better, so it doesn't dry out as fast.
10. Keep a look out for pests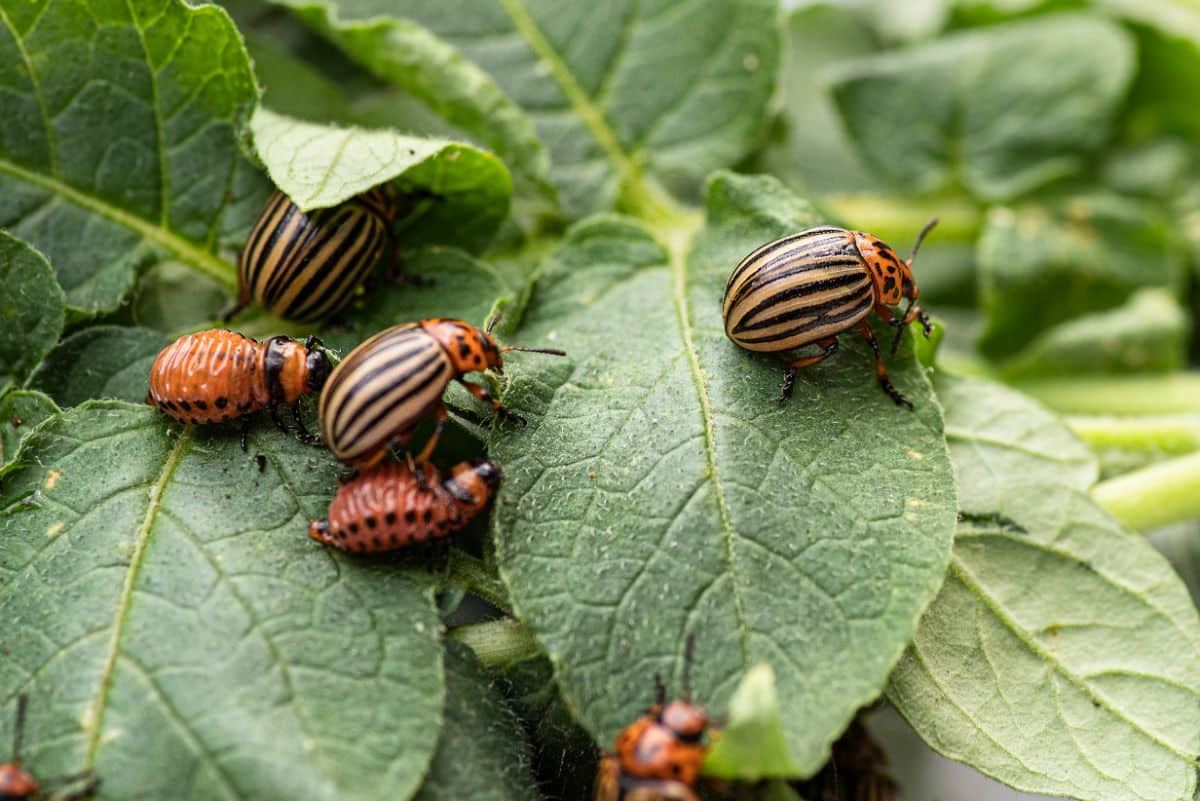 Growing potatoes in containers is a good solution if your garden has been plagued by soil-dwelling pests like wireworms. But while containers may reduce some garden pests, they won't protect your potatoes from every potential invader. That's why it's essential that you check your plants from time to time for any signs of pests.
Wilted plants, yellowing or discolored leaves, leaf holes, leaf stippling, and other issues may all be signs of pest activity. Or you may spot the pests themselves wreaking havoc on your plants. Insects, like Colorado potato beetles, aphids, and cutworms, are all common potato pests and may crop up in your container garden.
Handpicking pests is one way to keep your plants safe, but you may also want to try out companion planting, which can keep pests away all naturally. Sowing plants like onions, leeks, chives, coriander, tansy, or sweet alyssum near your potato plants can repel pests or attract beneficial insects that will feed on pests and keep your plants protected.
11. Know when to harvest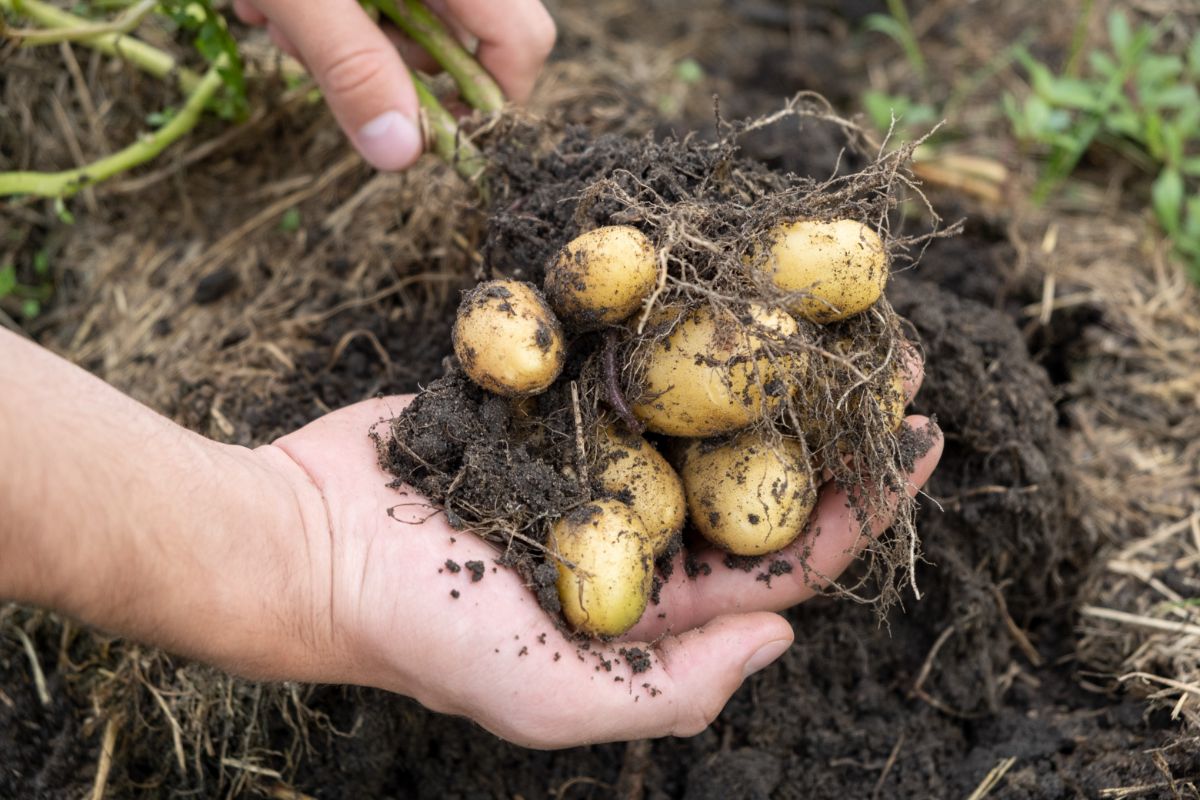 Potatoes will generally flower around mid-summer. After this, you may begin harvesting your tubers, or you can wait a few more weeks until the entire plant begins to yellow and die back. This is a sure sign that it's time to harvest!
Individual potatoes can be gathered by reaching into the soil and pulling them out one by one. Or, if you'd prefer to harvest all your potatoes at once, you can dump your containers out on a tarp and gather up your spuds without any digging at all! Alternatively, some grow bags feature a convenient bottom flap that can be lifted up so you can pluck out just a tuber or two as you need them.
Frequently asked questions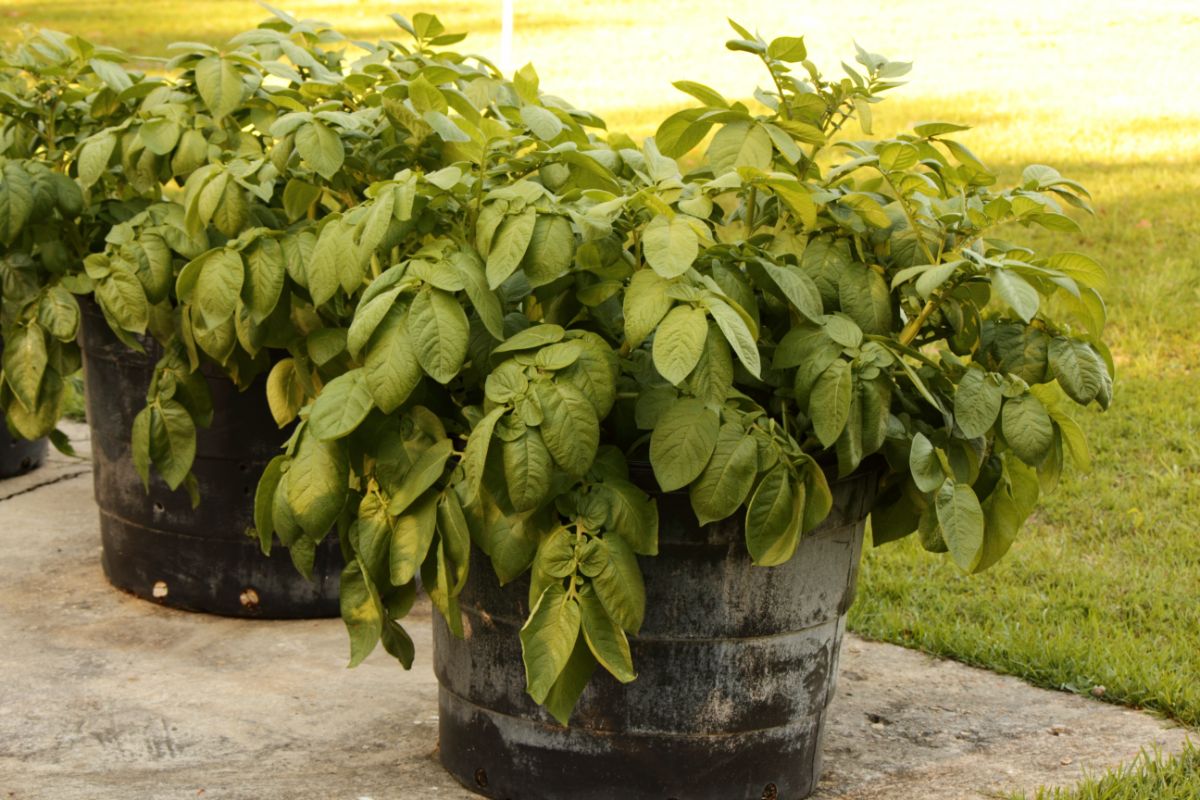 Summary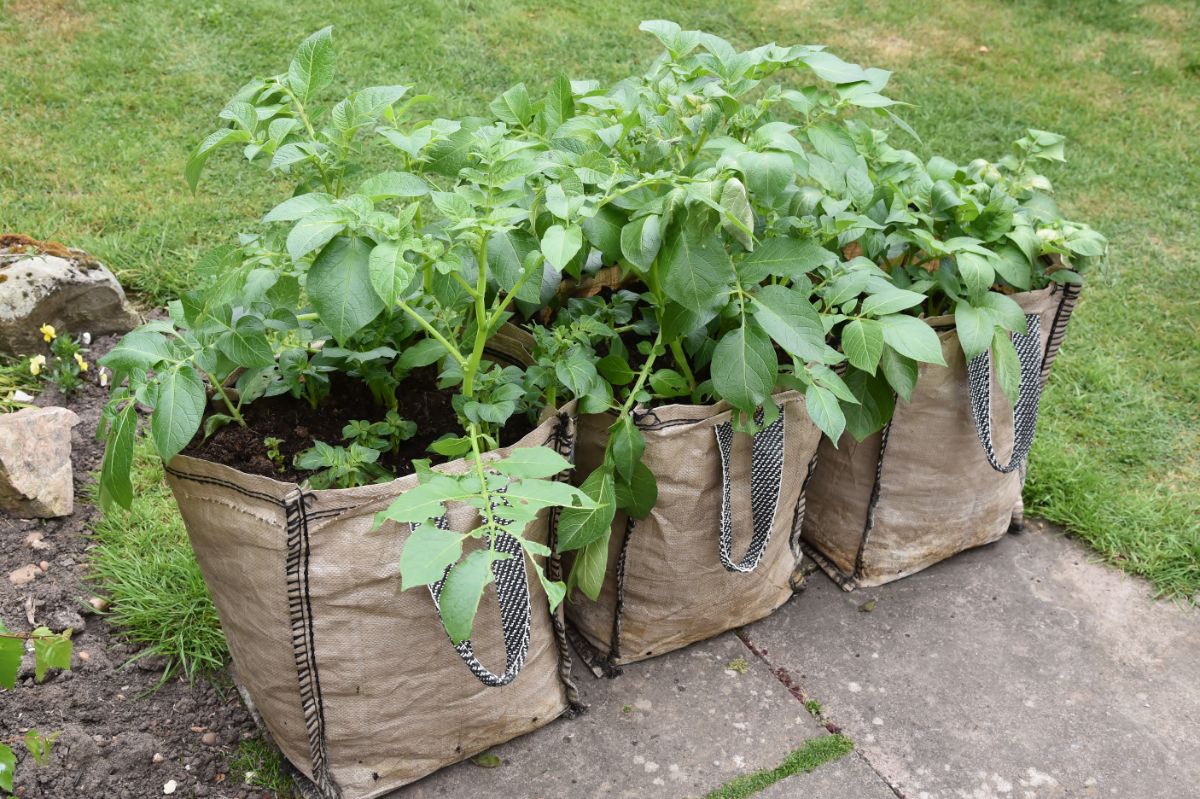 Grow bags, food-safe buckets, and bins all make excellent containers for potato growing. These handy mini gardens can give you more choices on where to locate your potato patch, and they can also safeguard your plants from pests and inadequate soil.
One of the main reasons growers may keep potatoes in containers is to expand their small space garden. However, you can easily grow potatoes in bags in conjunction with a larger, inground garden too. This will give you more gardening space to work with and allow you to amend the soil around your potatoes, so it's perfectly suited for these acid-loving plants.
If you'd like to learn more about container gardening, read up on growing ginger in containers in our easy-care guide.