Crotons, fiddle leaf figs, and rubber plants all make spectacularly colorful accents to home decor. But if you notice that your beloved houseplants have begun to lean to one side, it can detract from the look and feel of your indoor plants. Even worse, listing houseplants won't grow as well, and crooked plant stems can impair the health of your plants as well!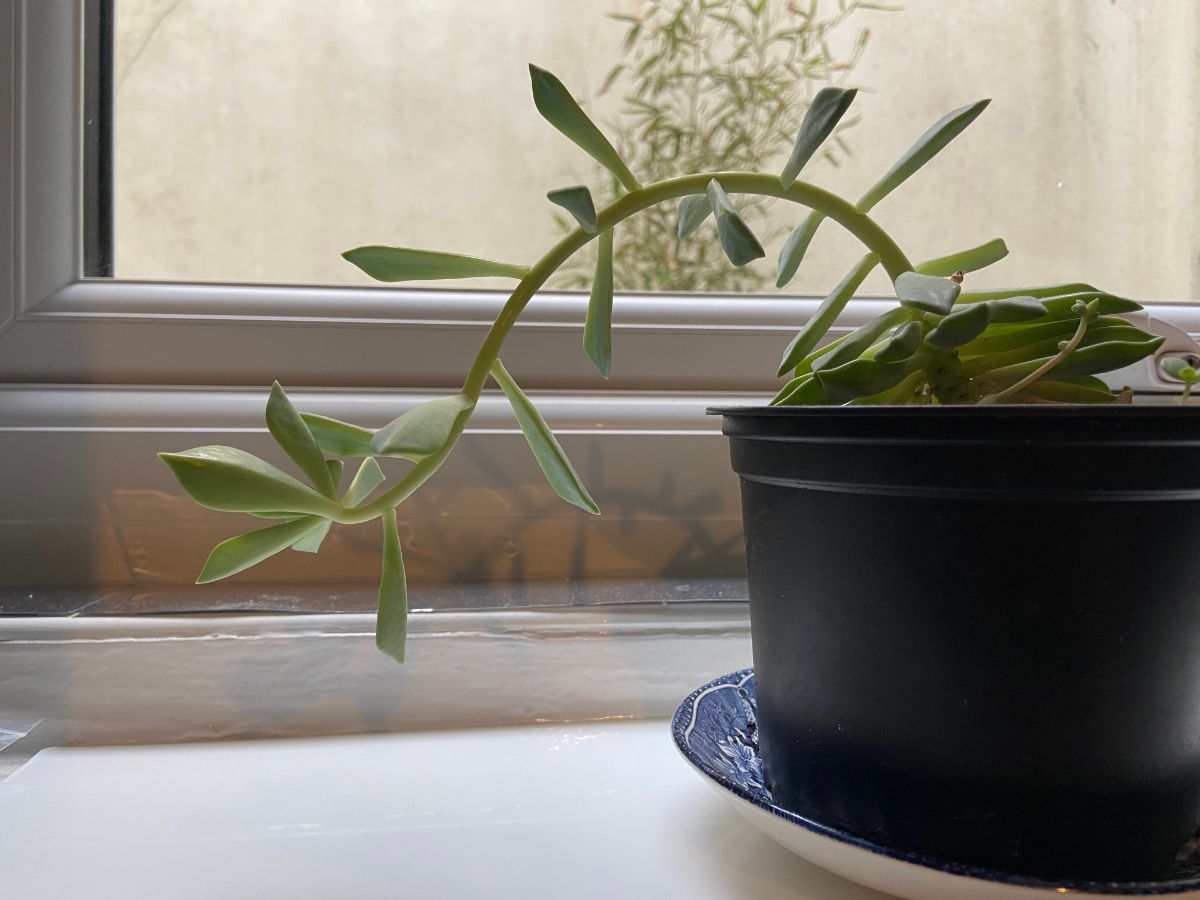 Having houseplants that lean to one side is a common complaint among plant lovers. But there are easy ways to fix those crooked stems and help your plants grow straight and tall again. Whether you want to prevent crooked houseplants or you're looking for ways to fix the leaning plants in your collection, the 8 tips below will do the trick!
Jump to:
8 tips to help you fix and prevent leaning houseplants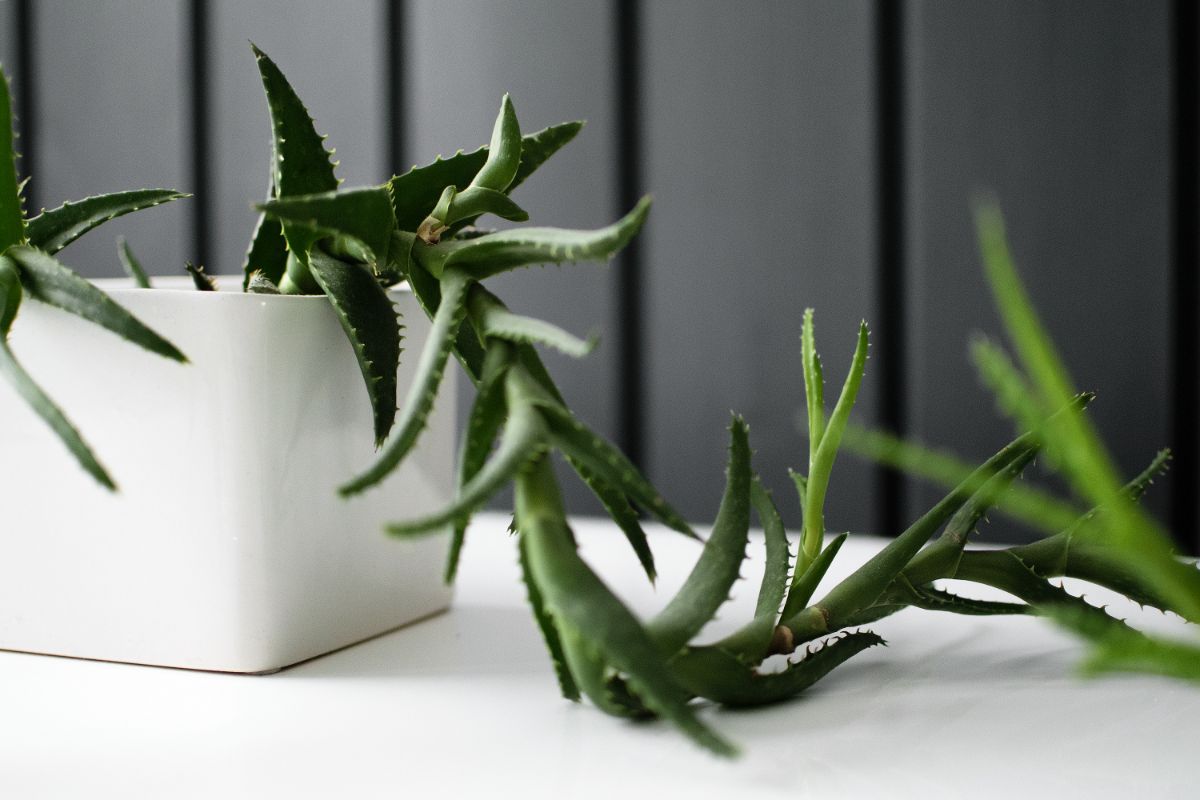 The most common reason why houseplants begin to lean is due to low lighting, but there can be other potential causes, such as poor plant health and undersized pots. If you want to improve the growth and look of your plants, it's important to identify why plants are leaning in the first place. Once you've corrected this underlying issue, you can train most indoor plants to grow straight again with a little patience and care.
1. Place plants in the right spot.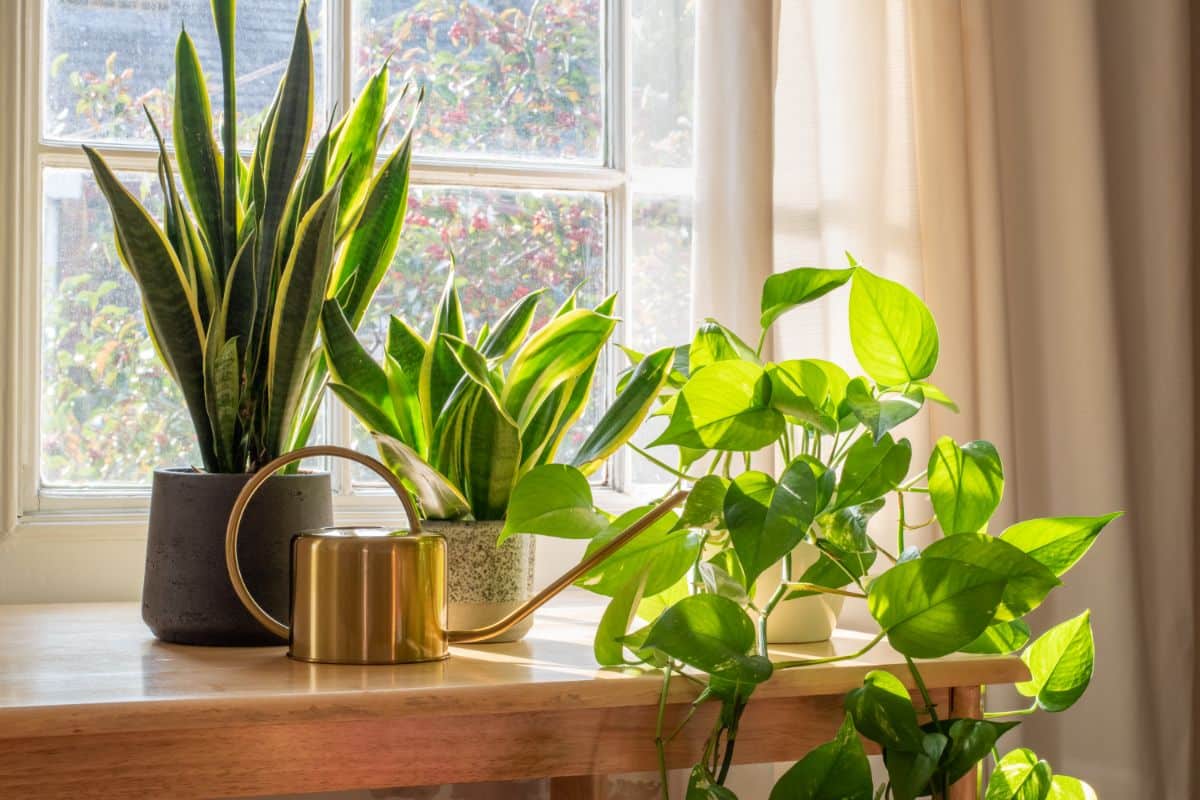 Poor lighting is the single greatest cause of leaning houseplants, so if you don't want to deal with crooked plant stems, it's important that you place your plants in the right spot to begin with. Different plants require different levels of light, so you'll want to research how much light your plants need for proper growth. Some plants can get by in lower-light areas, but if you know that you're growing a plant that craves full sun, make sure you place your plant on a sunny windowsill that receives at least 6 to 8 hours of bright light daily.
East- and west-facing windows are usually good choices for plants, but south-facing windows can be particularly nice locations for plants that need bright light. South-facing windows normally receive the most light, and they can be the best places for plants during the winter, when light levels are naturally lower. North-facing windows generally receive the least amount of light throughout the day, which makes them suitable for plants that can survive in lower light but less suitable for high-light plants.
Placing plants in a bright window is a good place to start, but you'll also want to make sure your plants are, at most, 2' away from the window itself. Locating plants further from brightly lit windows will reduce the amount of direct light your plants receive, and this can result in bent and drooping stems.
If you place plants in a bright window as soon as you bring them home, you may not ever have a leaning houseplant. However, even if your plants have begun to tilt, you can usually fix them by moving them closer to a brightly lit window. Turning plants so that their stems are leaning away from the window will encourage plants to self-correct and develop a straighter and more upright growth habit.
2. Add a grow light.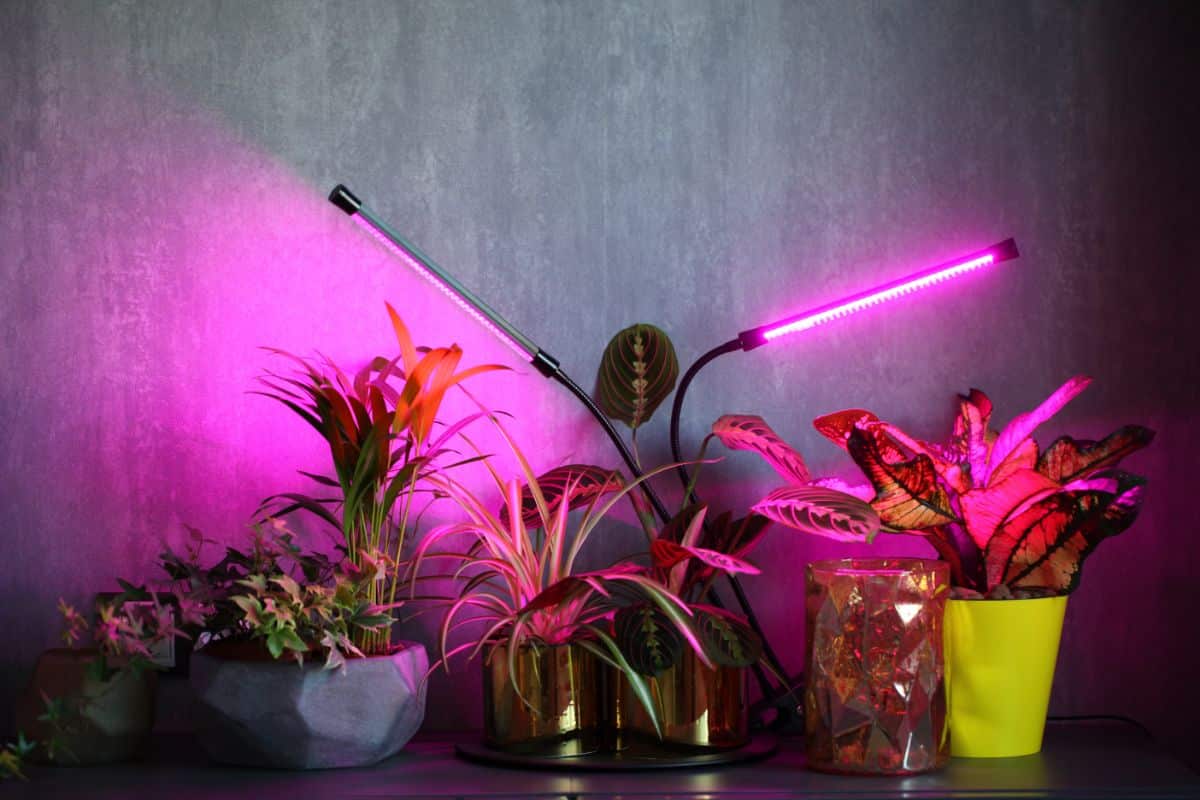 In an ideal houseplant world, every plant parent would have lots of bright windows in their home. But this isn't always the case. Sometimes, we try to get by by cramming as many plants as we can into our sunniest windows; however, this is sometimes not enough to keep plants from leaning.
If you don't have enough bright windows in your home to provide your plants with the light levels they need to grow well, you may want to invest in some grow lights. Grow lights can be used on their own, or they can be used in conjunction with a window to supplement natural light. Just make sure that your grow lights are placed no more than 1 to 2' away from your plants so that your plant leaves receive enough light.
Typically, LED lights are the preferred lighting choice for houseplants since they remain cool throughout the day and won't heat up plant leaves. LED lights are also easy to come by, and they use less energy than incandescent bulbs, which makes them both cost-effective and eco-friendly. But not all LED grow lights are created equally.
I personally have tried out many different grow lights, and some of them don't yield enough light to keep plant stems upright and growing strong. For this reason, I always recommended full-spectrum LED grow bulbs, which I've had great success with, and they even fit in standard floor and table lamps!
3. Rotate plants.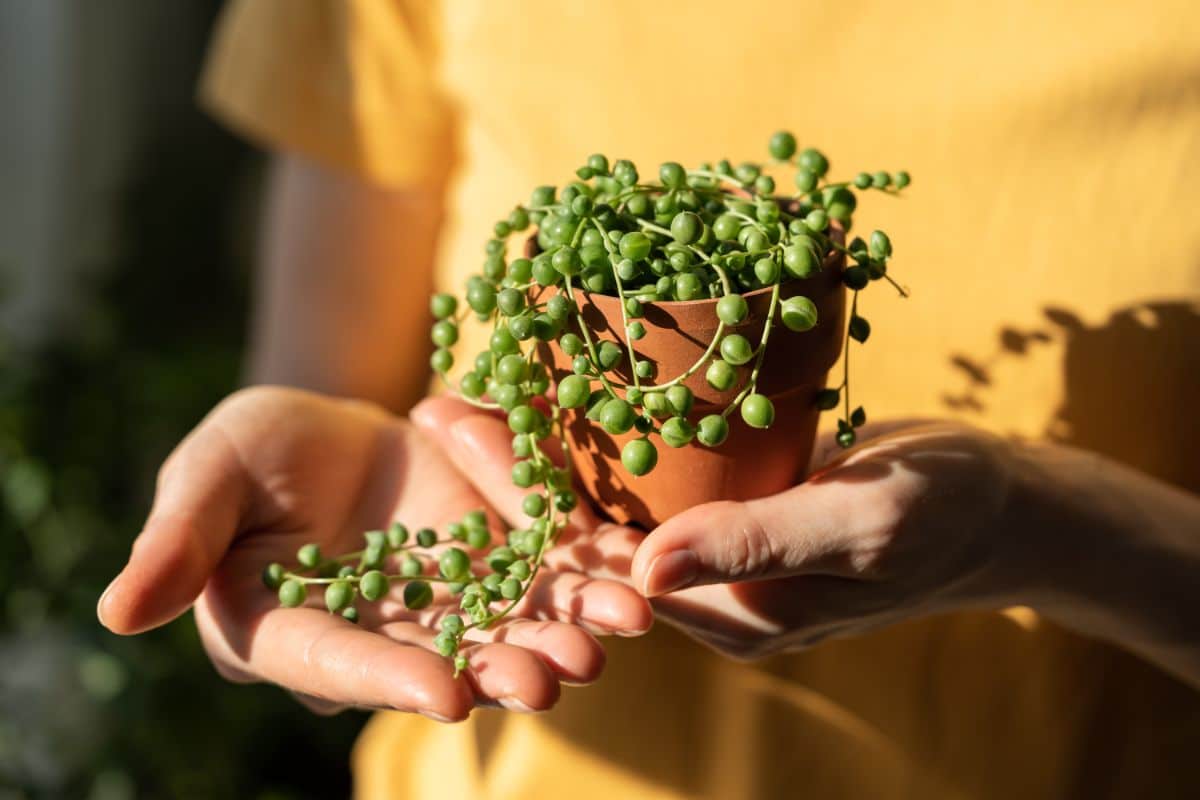 Even if you keep houseplants in a bright window, plants will tend to lean over time, and they will produce more leaves on the plant's sunny side. This is due to plants' natural inclination to grow towards the light. When plants are kept outdoors, this isn't really a problem since outdoor plants receive light from all directions, but when plants are kept inside, they typically receive light from one direction: the nearest window.
Turning plants regularly will ensure that plant leaves on all sides of the plant will receive equal amounts of light. This will keep plants growing upright.
While you can develop your own specific plant rotation schedule, one easy way to remember to rotate your plants is to combine it with your weekly watering regimen. Every week, when you water your plants, simply turn each of your plants 90 degrees. By the end of each month, your plants will have turned 360 degrees around, and you should notice that your plant stems are nice and straight!
4. Install extra support.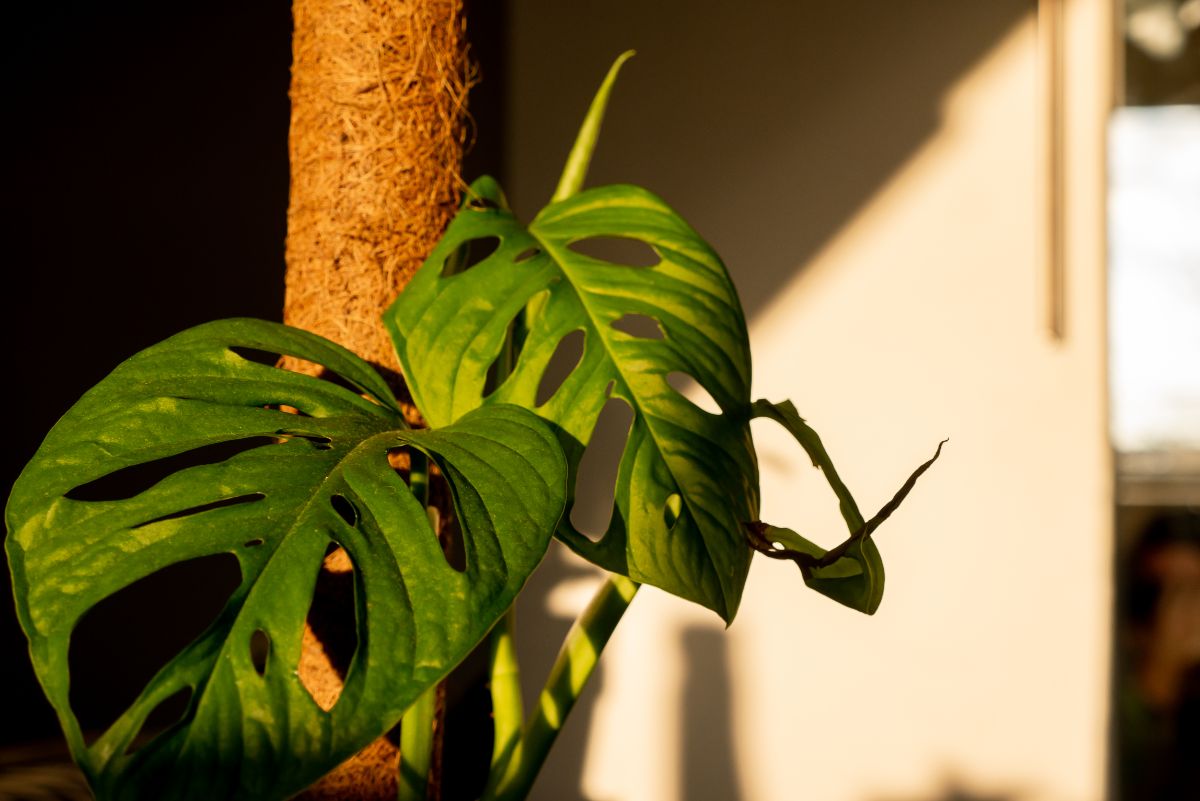 Low light is the most common reason why plants lean, but houseplants may also lean because they grow too fast for their stems and become top-heavy. In these instances, adding extra support to your plants can keep their stems straight, but it will also alleviate extra weight and help prevent broken stems and branches.
Not all plants need extra support, but plants like monsteras naturally vine and can lean to one side if they aren't held upright with sturdy poles or trellises. Moss poles are a budget-friendly and aesthetically pleasing way to hold plants up, but you can also support plants with bamboo poles or premade trellises.
When installing plant supports, cut support poles 6" taller than your plant and then sink the support poles into your potted plant soil, 2 to 3" away from your plant stems and deep enough so that the support remains upright on its own. Once it's secure in your pot, loosely tie your plant support to your plant stem using twine, upcycled pantyhose, or plant clips. Make sure you leave a bit of room between the tie and your plant's stem, as overly tight ties can restrict plant growth and eventually kill plants.
While support systems will help prevent and fix top-heavy plants, you can also use added supports to gently correct plant stems that are already leaning. Simply place the supporting pole in your plant pot and then loosely tie your plant to the support pole. Then, over the course of several weeks, slowly tighten the plant tie just a little bit to carefully correct your plant's growth and train it to grow straighter.
5. Double-check your watering schedule.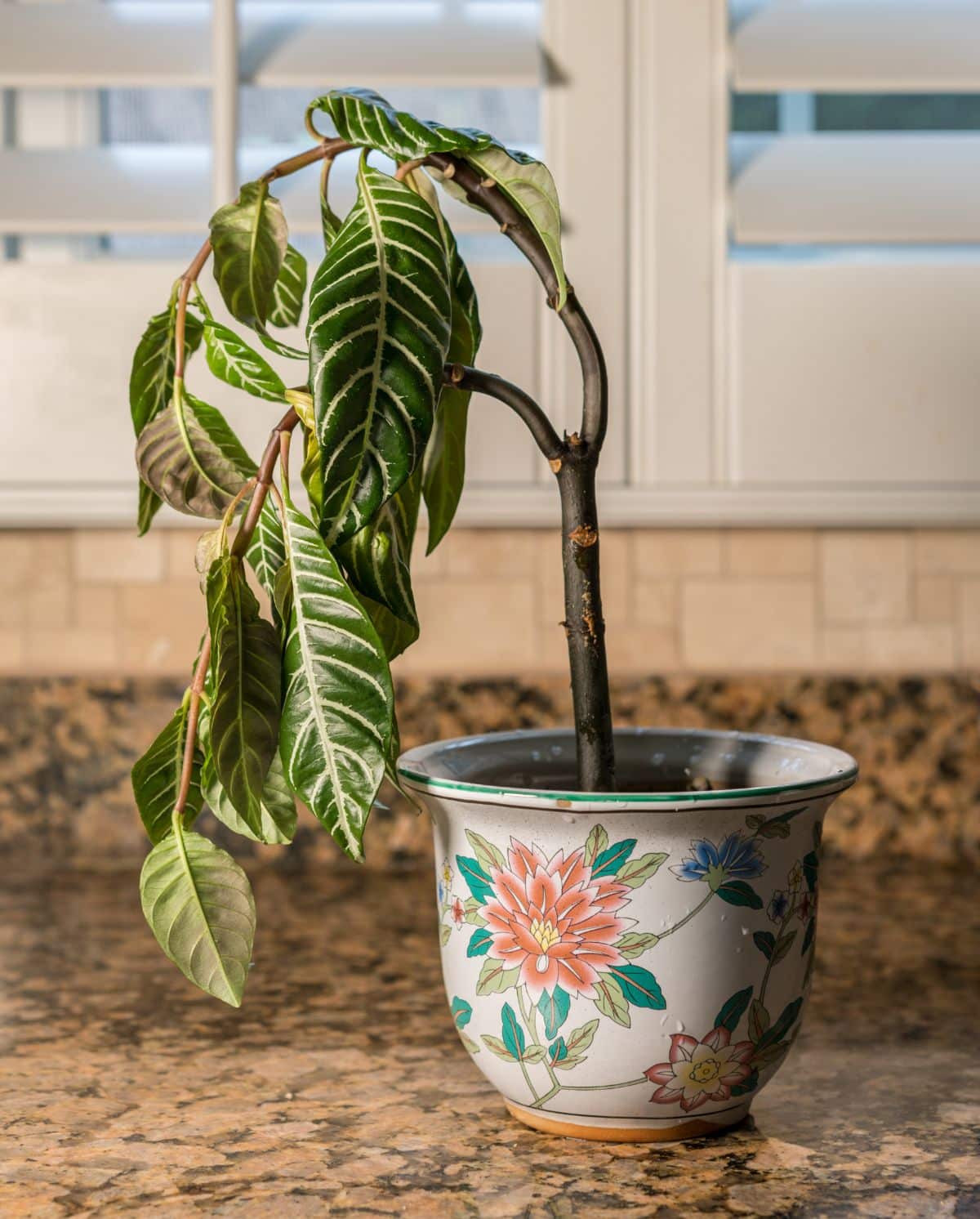 Regularly watering houseplants keeps plant leaves looking lush and green, and it prevents leaf drop. But if you don't water your plants enough or if you water plants too much, plants may begin to droop to one side. If this occurs, you will need to adjust your watering schedule to help your plants recover.
Determining if plants are over- or underwatered can be tricky as both conditions can cause plants to droop. But you can get a better idea of your plants' watering needs by touching the plants' soil. If the soil is soggy, you've likely overwatered your plants, but if the top 1 to 2" of soil is bone dry, you may need to bring out your watering can.
Underwatered plants often bounce back quickly when they receive the moisture they're craving. However, if you have severely overwatered plants, they may already have root rot developing, which can't be fixed once it progresses past a certain point. If you think your plants may be sitting in soggy earth, consider repotting your plants and invest in a soil moisture meter so you don't overwater your plants again.
6. Prune if needed.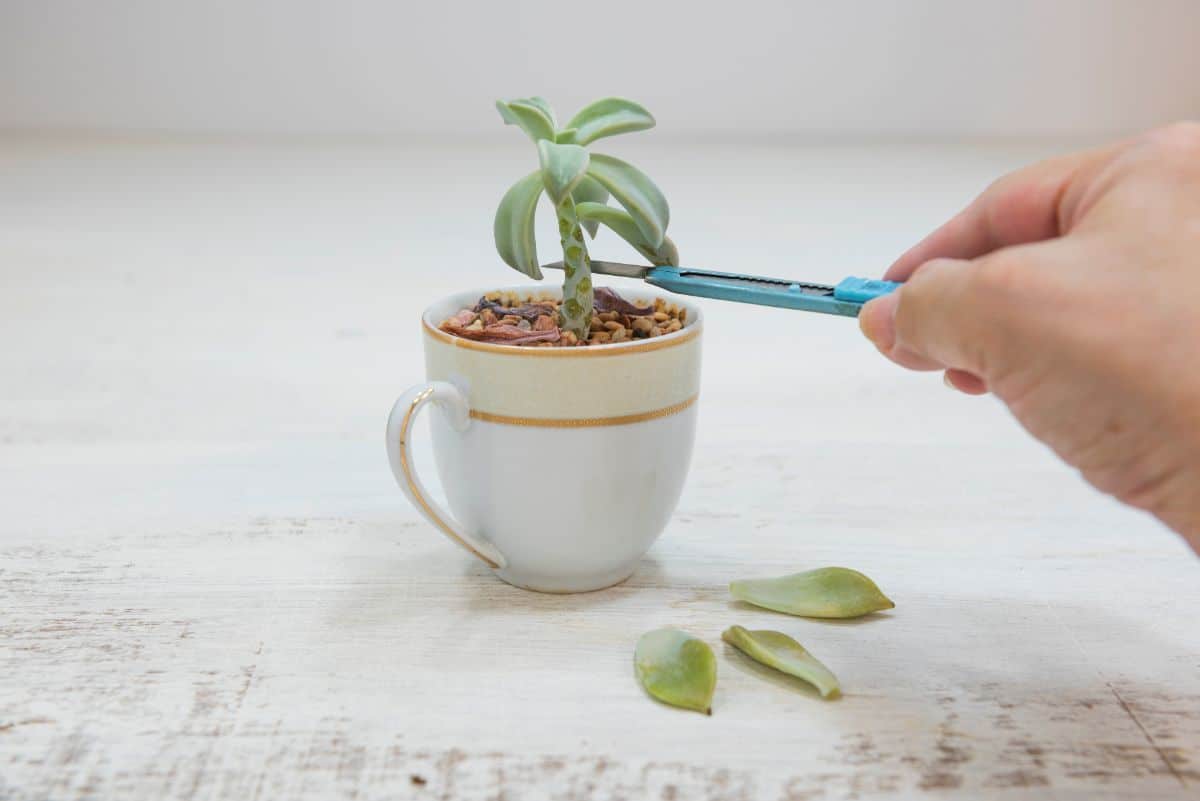 Sometimes, plants get so overgrown that they begin to list to one side. Other times, if high-light plants are grown in low-light areas, you may see your plant stems begin to stretch and grow leggy. In both of these instances, correcting light levels and adding support systems may not be enough to get your plants to grow straight… you may need to do some pruning, too!
Not all houseplants benefit from pruning, so it's wise to research the pruning needs of the particular plants you're growing to make sure they'll survive being cut back. Depending on how top-heavy your plants are, you may just need to prune a few lopsided stems, or you may want to cut the entire top of the plant back.
Leggy succulents are one good example of plants that tend to grow crooked. When succulents are kept in low light, they will grow elongated stems and droop to one side. Typically, the best way to fix this is to cut off the top of the succulent and propagate it, and then toss the old, woody stem in the compost pile.
7. Consider repotting.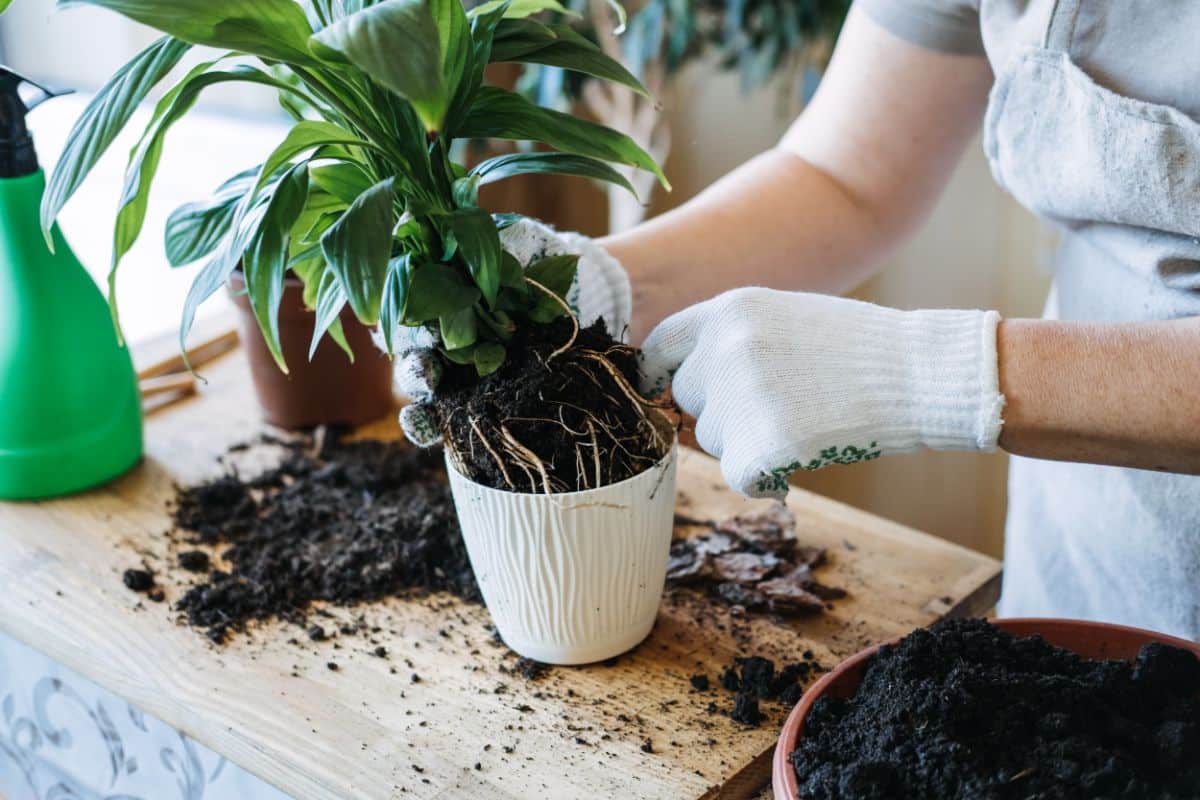 Sometimes, houseplants can get too big for the pots they're growing in, and this can cause them to lean to one side. If you haven't repotted your plants in a few years or you notice plant roots poking through the bottom of your pot's drainage holes, it may be time to upgrade your plants into a new container. However, you can also repot plants to correct slightly bent stems and help plants grow a bit straighter.
When repotting plants, don't go overboard and get a massive pot. Instead, select a pot that is only one or two sizes larger than the pot you're working with. This is because choosing an oversized pot won't do much to benefit your plants, but large pots can make plants more vulnerable to overwatering!
Repotting plants is a great time to freshen up your potting mix, but it is also a good opportunity to prune top-heavy plants and add extra support poles to leaning houseplants. After repotting, place your plants in a sunny window and allow the extra light to correct any remaining stem curvature.
8. Be consistent.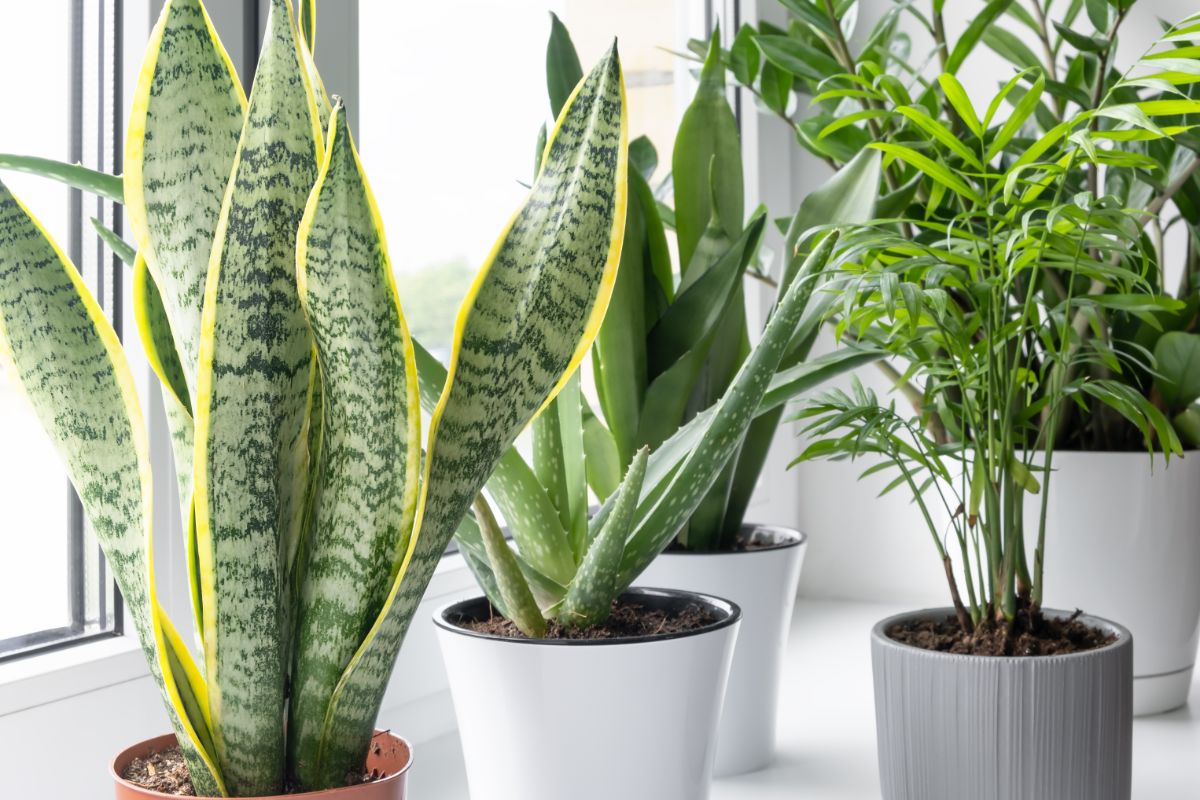 Keeping houseplants growing straight is an ongoing process. While most plants won't develop leaning stems overnight, plants can start to curve in just a few days if light levels are low. That's why it's wise to keep a careful eye on your plants and act as soon as you see stems beginning to bend.
It's much easier to correct a slightly curved stem than a thoroughly bent plant stem, but it's even easier to prevent curved stems to begin with. Throughout the year, you may need to move your houseplants around to different windows to make sure they receive adequate light, and grow lights may be necessary in winter as well. But by turning plants regularly and adding supports as needed, you can keep your plants growing upright and strong and prevent curved stems in any season!
Frequently asked questions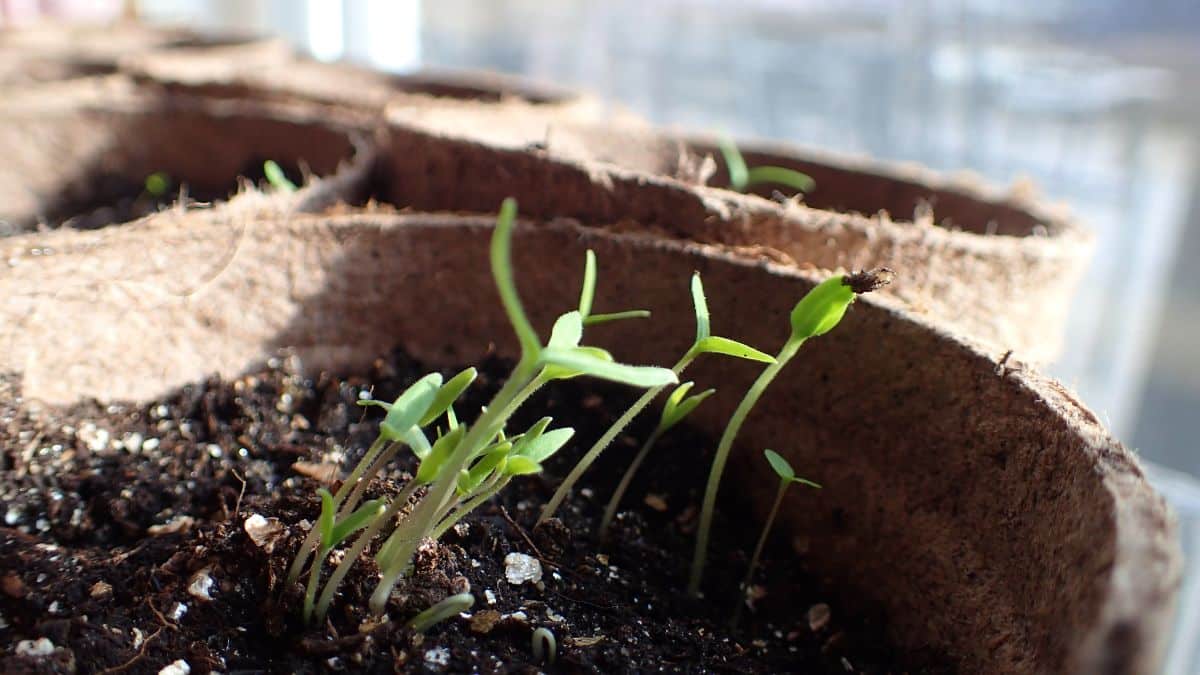 What nutrient makes stems stronger?
Plants need balanced nutrition to grow properly, so it's best to feed houseplants with an organic fertilizer that contains plenty of nitrogen, potassium, and phosphorous, as well as micronutrients. That said, potassium is particularly important for stem growth, and it helps to strengthen plant stems, too.
How can I strengthen my stem?
Providing plants with a balanced fertilizer is one way to boost stem strength, but it's even more important to ensure that your plants are grown in adequate lighting. Low light setups can cause plants to grow elongated or leggy stems that are too weak to support the plant's leaves. To avoid this, make sure light-loving plants are kept in bright windows or near a bright LED grow light.
How do you fix leggy indoor plants?
If plants are just a little bit leggy, you can often fix them by moving them closer to a light source. However, if plant stems are very overgrown and weak, you may need to cut your plants back to right above a leaf node. This will clip away the leggy stem, and it will also encourage plants to branch out and grow bushier.
How do I make my houseplant bushier?
Cutting plants back right above a leaf node will encourage plants to grow more branches, leaves, and flowers. This is also an excellent solution for leggy and overgrown plants that are leaning to one side.
What to do if your plant is top-heavy?
Top-heavy plants may need to be pruned back to above a leaf node, but not all plants respond well to heavy pruning. If you have a plant that can't be cut back, you may want to add extra bamboo or moss support poles to your pot and fasten them to your plant's stem with plant clips.
What houseplants need the least light?
If you persistently have a problem with leggy or leaning plants, your home may not receive enough bright light to support the growth of sun-loving houseplants. Instead, you may want to opt for plants that thrive in lower-light areas, such as pothos, ZZ plants, and snake plants. Even in low-light homes, these plants are less likely to lean and stretch, although they will grow straighter if you rotate them regularly.
Summary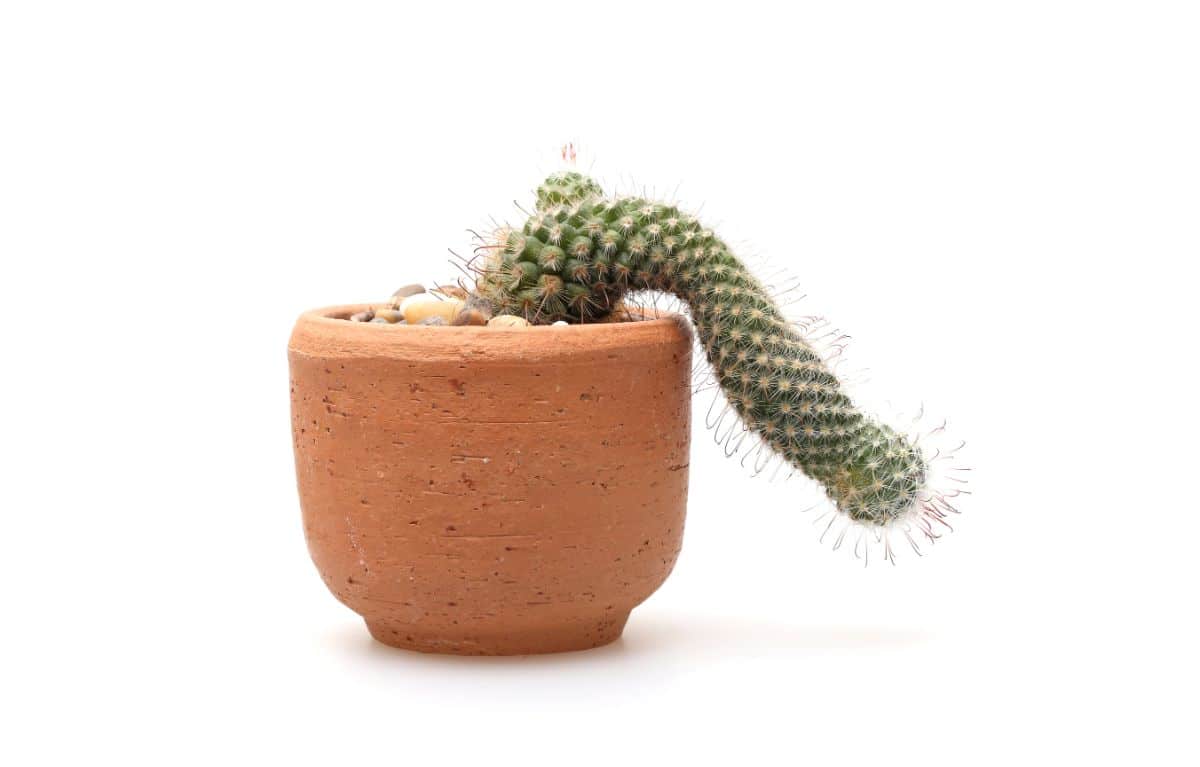 Leaning houseplants can be an unsightly issue, but it doesn't mean your plants need to be tossed in the trash. By adjusting light levels and adding extra plant support, you can correct bent stems and keep plants from leaning over in the future. Just keep in mind that patience is key when correcting curving plants, and forcing plants to grow straight too quickly can result in broken stems!
Correcting houseplant growth is just one step towards keeping a healthier and thriving houseplant collection. But if you're on the hunt for even more houseplant growing tips, check out our guide on the best humidifiers for houseplants, or learn how to boost indoor humidity levels naturally with a DIY pebble tray.