There's a new warning out for home canners: Not all the bulk and distilled vinegars being sold are safe for canning!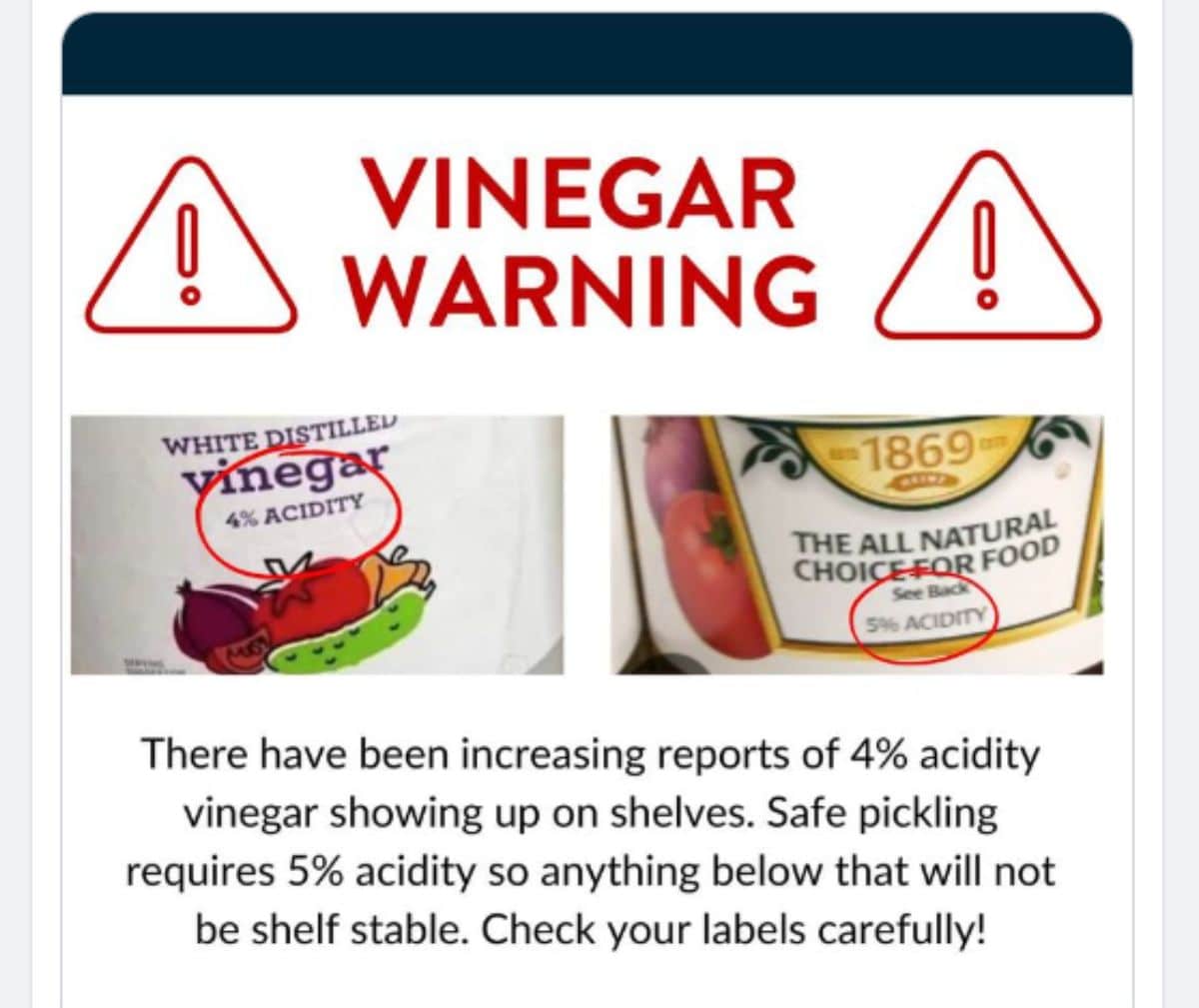 It's a warning so new that it's hard to find actual articles written about it from universities, extension services, canning tip, and "hotline" sites. At least one university (Utah State University in the U.S.) sounded the call after multiple posts went the rounds on social media sites and in gardening and canning groups.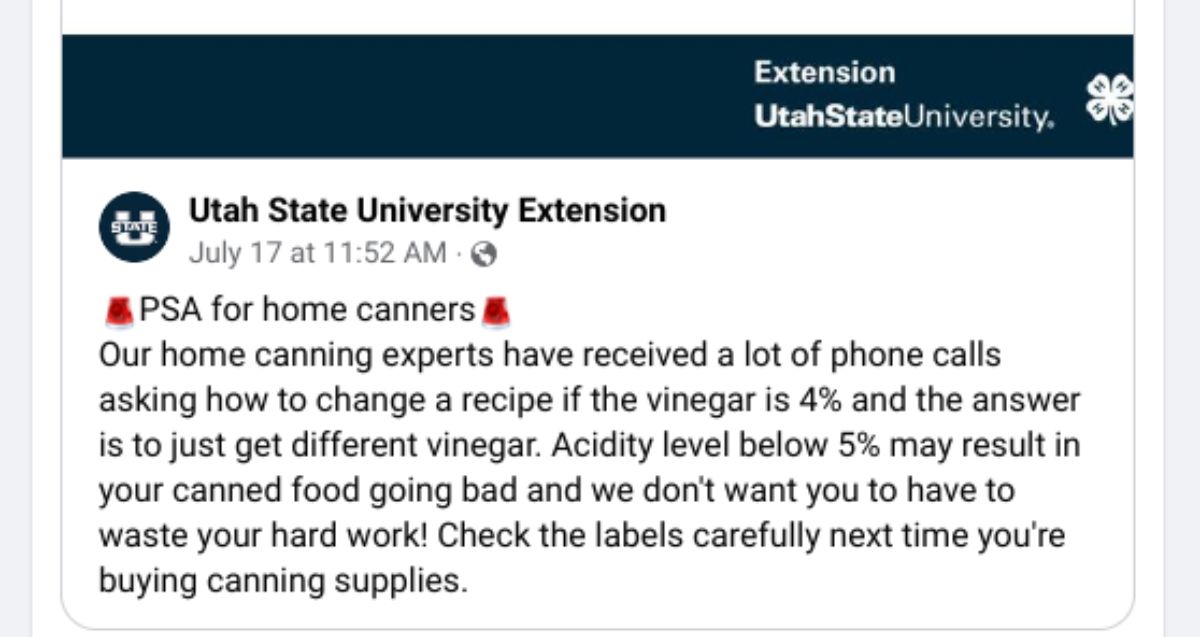 As these posts started making the rounds, some people knew to be concerned; some people shrugged the warnings off as no big deal; some suggested conversions and adjustments for canning recipes. Many, apparently, started making calls to universities, extension services, and canning and preserving hotlines.
Jump to:
What's the Concern with Today's Distilled Vinegar?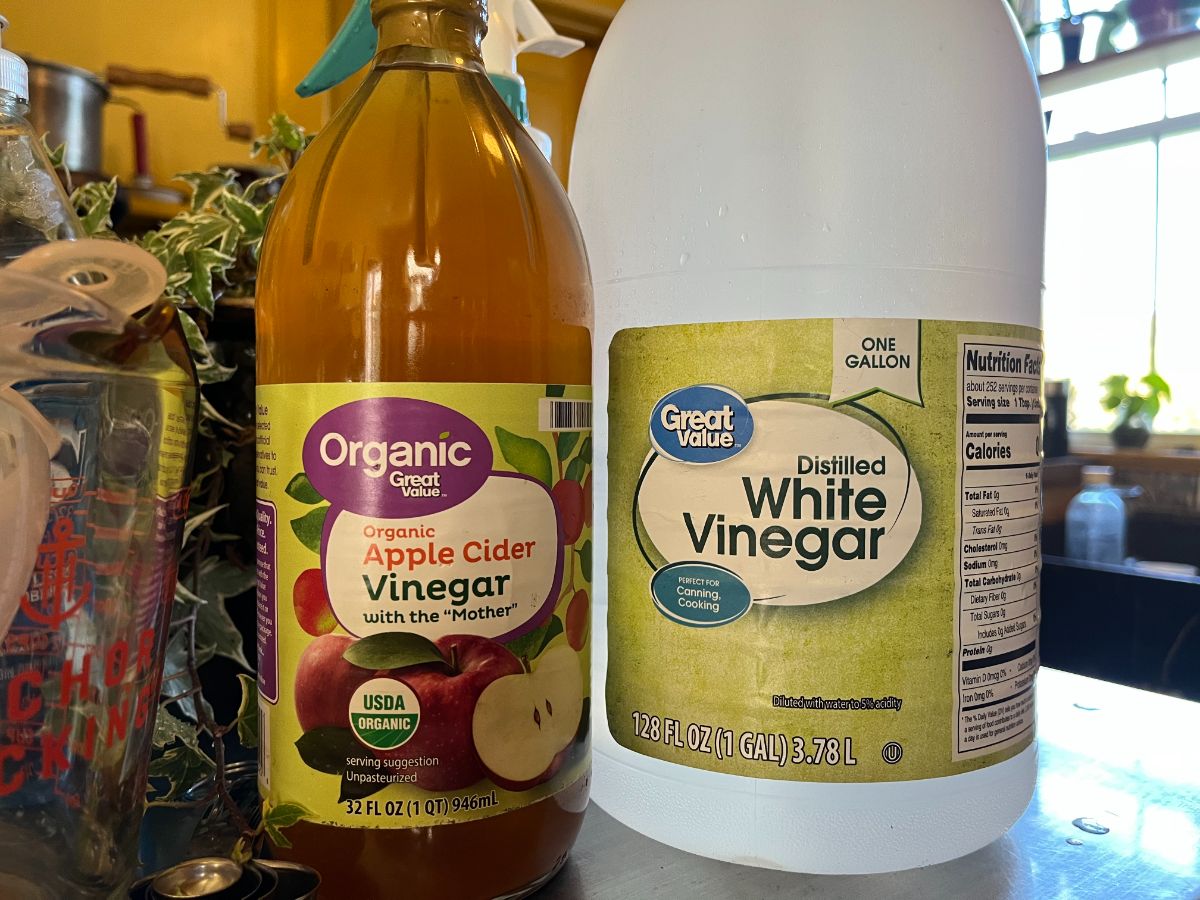 The concern is that we are now seeing white vinegars (of the type usually used for home canning, pickling, and preserving) that are being sold in lower acidity ranges. People have seen white vinegars sold side-by-side in grocery store aisles and canning supply sections that look exactly the same, but one is only 4% vinegar while the other is 5% (these are usually from different brands, but not necessarily).
A difference of one percent acidity may not sound like a big deal, but when you're canning or pickling and preserving your foods, it makes a big difference. Five percent acidity in vinegar is considered the standard and the minimum level of acid that is needed to safely preserve food. If acidity levels are lower than this, the food can grow pathogens and can spoil.
Therefore, if you put 4% vinegar into a recipe that was designed to use 5%, you're not preparing a safe recipe. Even if you have used the recipe before and your product has always been safe when made with 5% vinegar, the product is not safe when made with 4%. In the end, the product actually has more water than it should because the 4% vinegar has more water than the 5%.
To be clear, there has always been a range of acid levels in vinegars, or "percent acidities". The way that vinegars reach their acidity is through the natural fermentation process, but acidity levels can also be changed by diluting them. Water can be added to vinegar to level out the acidity to the desired percentage.
A common 5% acidity vinegar has 50 grams of acetic acid in every 100 milliliters (mL) of water. If there are more grams per 100 mL, then the vinegar is a higher percentage. If less, it is a lower acidity vinegar. These are standardized units of measure that were developed so that vinegar from one country to another remained pretty much the same, and people know what to expect, especially with imported vinegars. It evens the field, and it makes it so that people are sure they are buying vinegar with a safe level for preserving foods.
The important thing what experts want you to know is this: safe, 5% vinegar is still for sale, but it may be stocked next to vinegars that are not considered safe for canning and preserving. Read the label carefully and make sure you are buying and using at least 5% vinegar when you are pickling and preserving!
What Product Raises the Most Concern?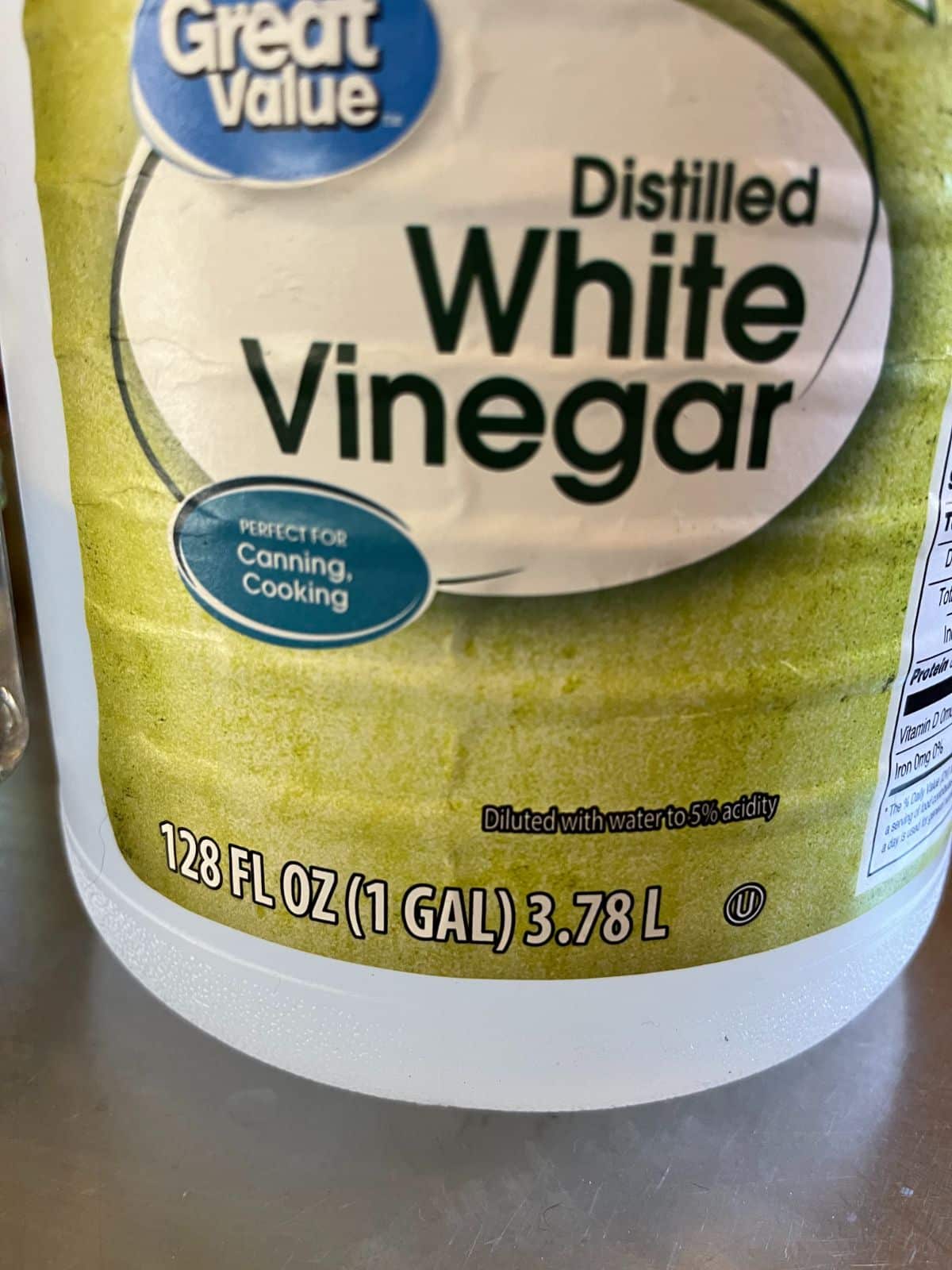 The product that is raising the most concern is distilled white vinegar in large bottles such as the half-gallon (or two-quart) and one-gallon (four-quart) sizes.
The reason these are causing the most concern is that they are the bulk sizes home canners typically buy for pickling. People are used to distilled white vinegar being 5% acidity, and it's a pretty new development to see them in the lower diluted 4% acidity.
A seasoned canner just wouldn't expect 4% vinegar on store and canning shelves. They wouldn't even think to look for it or to check the vinegar label because white vinegar has always been 5% acidity.
A new canner might not even know to look or know that there is a difference.
The reason we are seeing lower acidity distilled vinegars is most likely a cost factor. It's cheaper to make 4% vinegar because it contains more water. Vendors can get it cheaper, and they can sell it cheaper than the 5%. You might even be happily surprised to find that your vinegar price didn't go up that much—except that it might not be the same strength of vinegar!
Know How to Read Vinegar Labels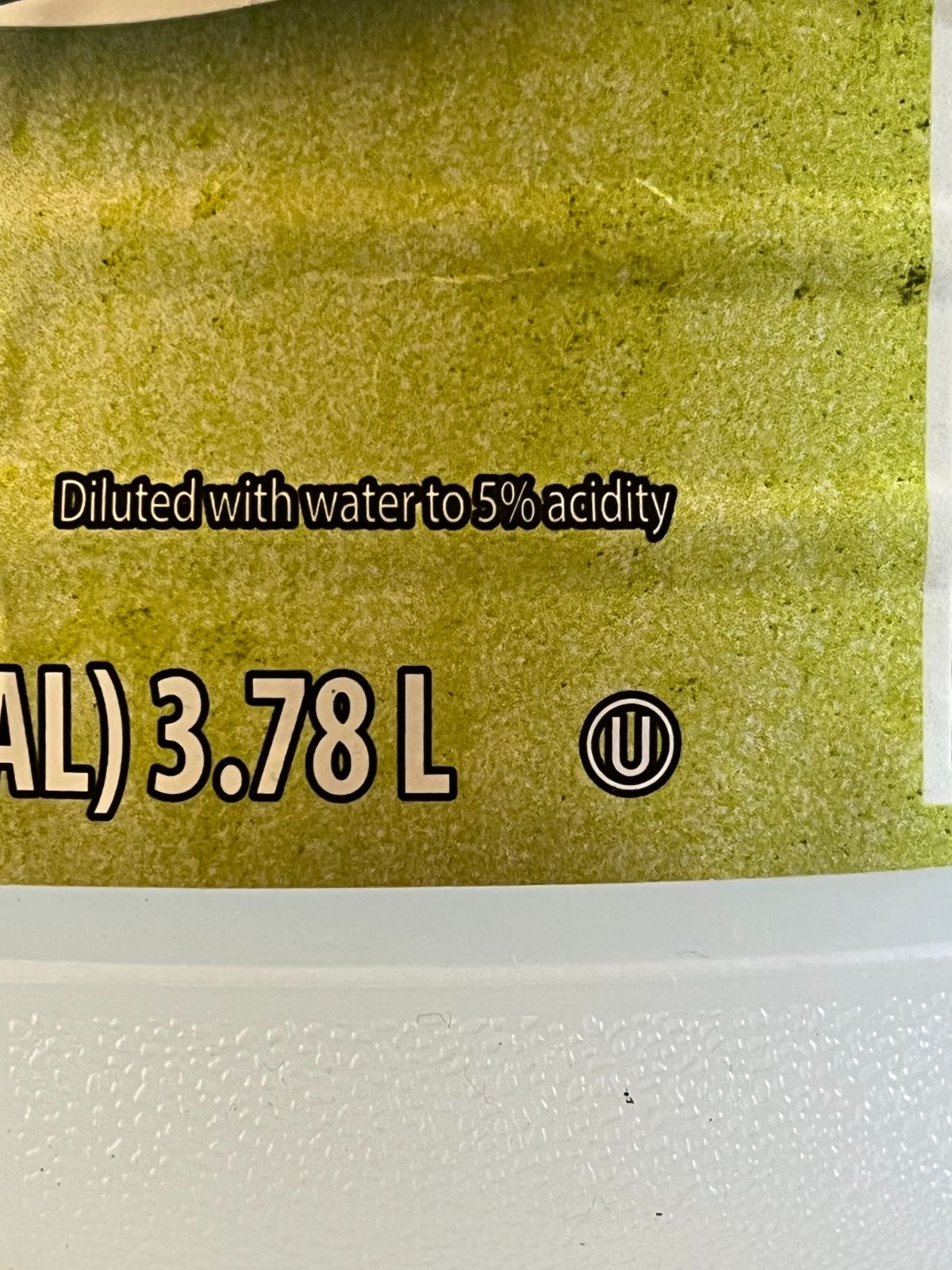 Reading vinegar labels is simple. To make sure you are using a safe vinegar for preserving, just look for the percent acidity.
The acidity level is usually listed right on the front of the vinegar bottle, often toward the bottom of the label. It will simply say something like "5% Acidity".
If you don't find the percentage or acidity clearly listed on the front of the bottle, look on the back label. It should be there. And if you don't find the acidity level listed at all, DO NOT BUY THAT TYPE OF VINEGAR! No bargain is worth your and your family's health!
One other way that the percent acidity might be listed is in "grains". This refers to the measure of vinegar to water. The "grains" are divisible by 10 and easily match the percentage. So, 50-grain vinegar is the same as 5% vinegar. Forty (40) grain vinegar is 4%. Seventy-grain (70-grain) vinegar would be 7% vinegar, and so on.
Are Different Types of Vinegar Interchangeable in Canning Recipes?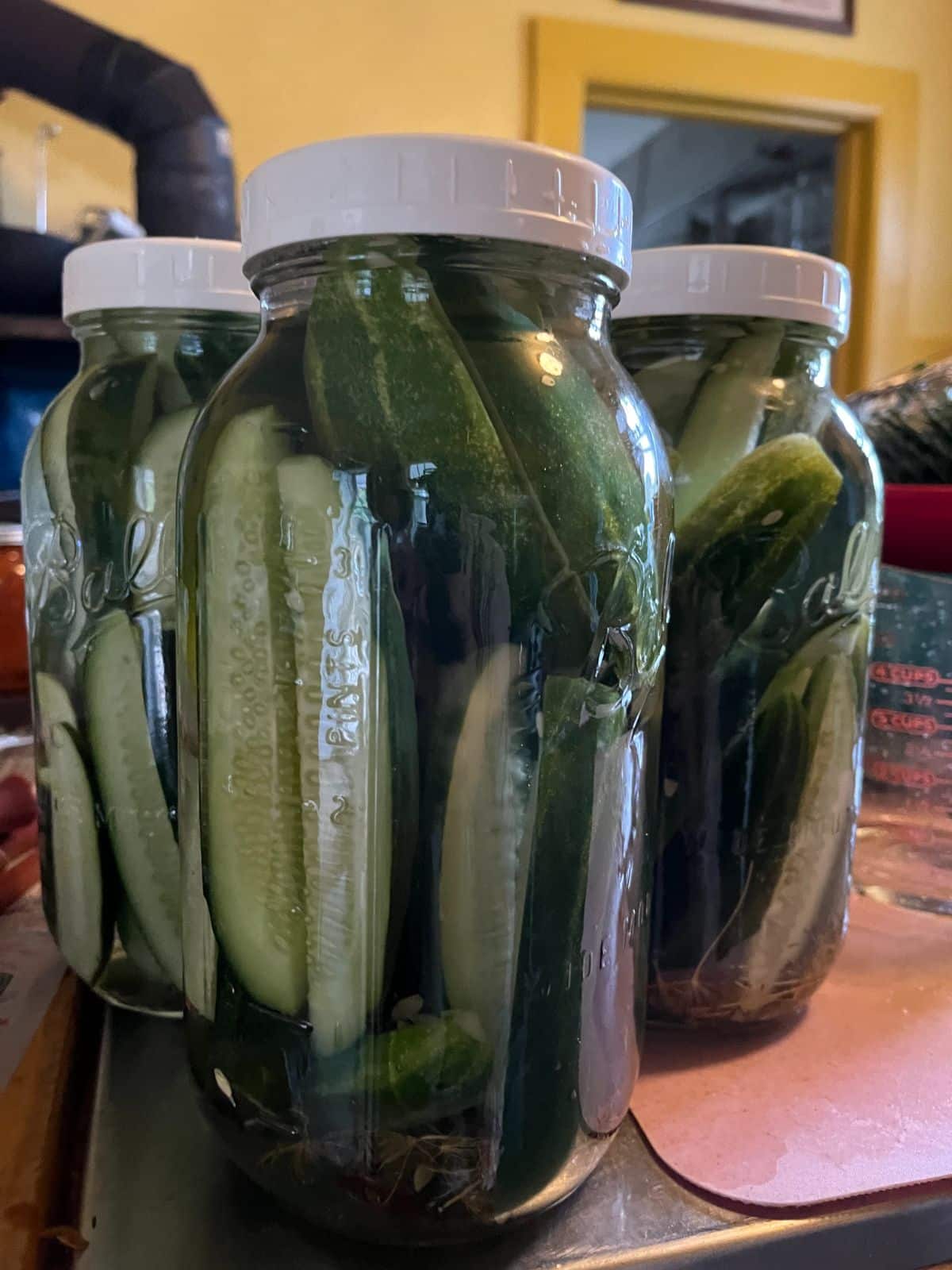 The level of acidity, or percent acidity, in vinegar, is what is most important when pickling, canning, and preserving. As long as the product is acidic enough, the percentage can be higher, but it can't be lower.
Other than acid percentages, vinegars can be substituted.
For example, you can use Apple Cider Vinegar (ACV) instead of Distilled White Vinegar if you want to—as long as the ACV is 5% acidity. This is probably one of the more common substitutions. ACV is a little sweeter and milder in flavor, and some people just like the taste of it better.
Malt vinegar is also usually 5% and can also be substituted in, as long as the percentage on the label is the correct acidity.
Other than these two substitutions, people don't usually want to substitute in other vinegars like balsamic or wine vinegar. It's not that it can't be done, but rather that the canned or pickled recipe isn't usually something that you want to use these vinegars in. They are also more expensive (often much more expensive than distilled white vinegar) and they may be cloudy and dark, not always favorable traits in canned goods.
It's worth noting that high percentage vinegars, over 7%, are not designed for use in canning, pickling, or preserving recipes, either, and that the recipes you find will not be written with high percentage vinegars in mind. Horticultural vinegars or any vinegar sold as a garden product, cleaning product, or weed killer should never be used for food preservation. (See below for some typical ranges and uses for different acidity vinegars.)
The bottom line? Yes, you can substitute vinegars in recipes, but for safety's sake, use the same acidity as what is called for in the recipe or one only slightly higher.
Vinegar Acidity Levels and Their Recommended Uses
4% acidity – the lowest legal acidity level in most countries (in other words, vinegar must be at least 4% acidity to be called vinegar). This is edible vinegar and is shelf stable but should not be used for canning, pickling, or preserving. Lower-acidity vinegars in the range of four to below five can be used for any fresh cooking, for salad dressings, etc. Some common culinary vinegars, like rice vinegar, typically fall into this range. They can be used for cleaning, but higher-acidity vinegars will work better for this purpose. This is also the acidity level that is being seen in stores today in bulk bottles of white distilled vinegar that look very much like 5% acidity white distilled vinegar.
5% acidity – the most common acidity level for vinegar; this is the standard acidity level for vinegar, and it is what most Apple Cider Vinegar (ACV) and Distilled White Vinegar is. This is the right level for pickling and preserving – this is the vinegar you want when you are canning! This vinegar is also appropriate for cleaning.
6% acidity – this is the typical acidity level for vinegars like balsamic vinegar, red wine vinegar, and other wine vinegars. These are mostly more expensive, higher-level culinary vinegars, though there are now also some distilled cleaning vinegars that have levels of 6% or higher. The higher acidity in cleaning vinegars makes them more effective, but they are still safe to use (with common sense in handling).
10% acidity – this is a high percent vinegar that is not typically used for cooking, and when it is, special care must be taken to use the proper amount diluted with the right amount of water. It is not uncommon in some European countries for this to be sold as a canning or pickling vinegar, but it requires specific recipes for the right dilution, and you should never substitute 10% vinegar in a recipe that was written for 5% vinegar.
Higher than 10% acidity – vinegars as high as 15% might be used in cooking, but only if you know how to use them and how to convert and dilute them down to a safe strength. This is not for the typical home kitchen. Vinegars this high are usually only used for cleaning and as weed killers. Horticultural vinegars fall into this category. They have a percent acidity of usually 20% or above. Acidity this high can cause eye, lung, and skin burns, so you need to use safety precautions when handling and using this type of vinegar.
Care must be taken when using any vinegar over 10%. Know how to handle high-acidity vinegars and use proper safety precautions. These include eye protection, skin protection, ventilation and protection against inhalation, and latex gloves for hand protection. Read product labels and follow all instructions for safe handling of high-acidity vinegars.
Choose Wisely; Choose 5% Vinegar
It's important to match your vinegar choice to your use and to use the vinegar that your recipe was designed for. If a recipe doesn't say what percent acidity to use, use 5%. It's the level experts say is safe, and it's the level people have been buying and using for generations. And so, it is the level that almost every canning, pickling, or preserving recipe was written for.
A savings of a few cents or even a few dollars is not worth the risk to your health and safety. It's not worth risking losing all your preserved garden vegetables, either. Losing what you've taken the time and money to plant, grow, harvest, and can, only to have it all go bad because of a slip in vinegar acidity, would be a huge loss indeed. Stay safe and stay well, pay attention to vinegar acid levels, and enjoy the fruits and vegetables of your labor!