There are three critical things that the experts agree on when it comes to keeping a Christmas tree alive. At least two of them are related to water. In fact, if you reduce it down to one critical thing, it would be managing the tree's water.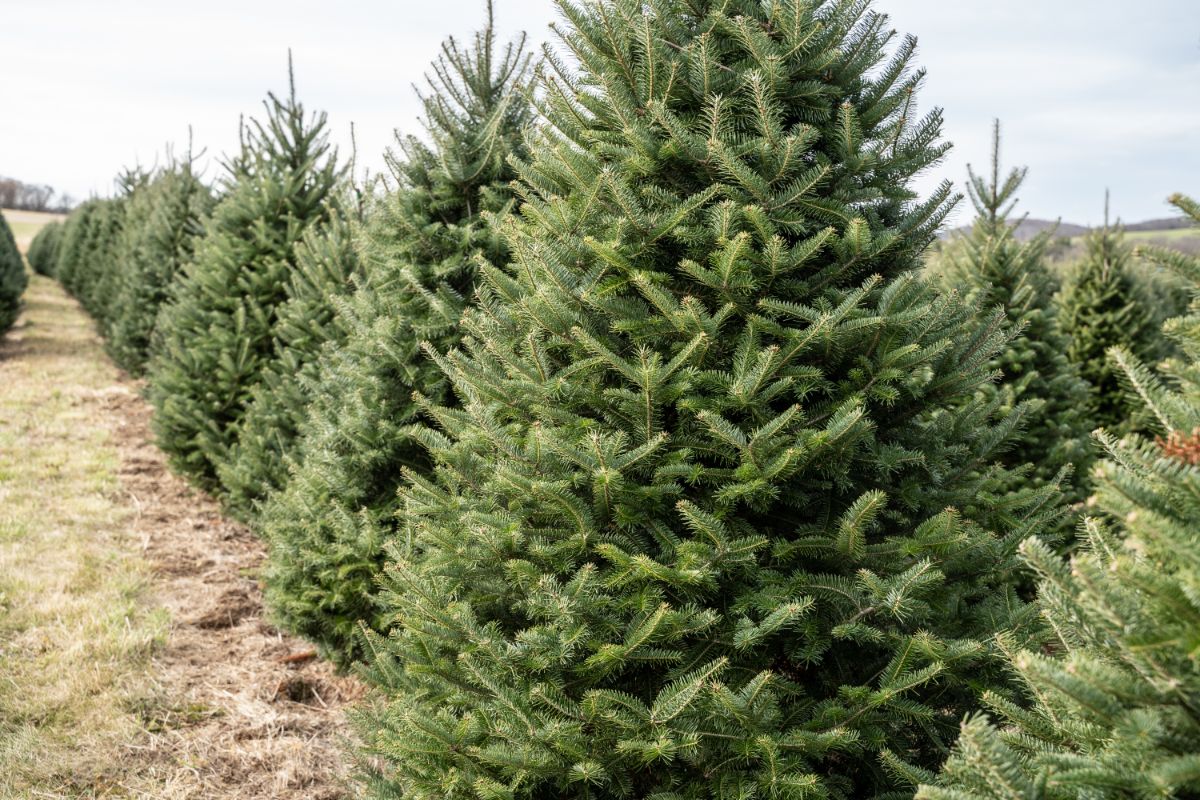 Here's how to make sure your Christmas tree gets all the water it needs so it can stay merry and bright—and intact—through the holiday season.
Jump to:
This is how to get your Christmas tree to take up water. Know this one key!
The one key to getting your Christmas tree to take up water is to make sure it never-- ever-- runs out of water. From the time you make that fresh cut to the time you decide it's time for the tree to go, do not let the tree go without water in its stand. If you do, your Christmas tree won't be able to take up water anymore. More on this below.
Get it in water quickly.
Even if you're not putting your tree up in your home right away, at least get it in some temporary water. And keep it in water. This doesn't have to be your tree stand; a bucket or pail will do as long as the tree trunk can reach the water.
How quickly does your tree need water? As soon as possible is best, but at least within 12 hours.
Make a fresh start (fresh cut).
Give your tree a fresh cut on the trunk. Cut one-half to one inch off the base of the tree.
Trees start to seal over where they are cut, and resin (sap) clogs cut ends. Wait to make the new cut right before you put the tree in its permanent stand.
One thing you do not want to do when you make your cut is to angle, trim down, or cut away the bark on the outside of the trunk. That destroys the layers that absorb and uptake water. You want one straight, flat cut across the bottom, and you want to be able to fit the trunk in your stand without whittling it away.
Make sure you provide enough water.
This is a biggie. Make sure you give your tree all the water it needs. How much water does a Christmas tree need?
About one gallon for average large Christmas trees—the average height being about six feet tall. Taller trees will need more water. Smaller trees will not need quite so much, but you can't really go wrong with having more than enough available to the tree.
For an even more specific answer, plan on one quart per inch of diameter of a tree trunk. The average six- to seven-foot-tall tree will have a trunk that is about three inches in diameter. That means it will need three quarts of water every day.
Sound like a lot of bending? Do yourself a favor and buy this Christmas tree watering funnel to make your life easy!
Make sure you water often enough.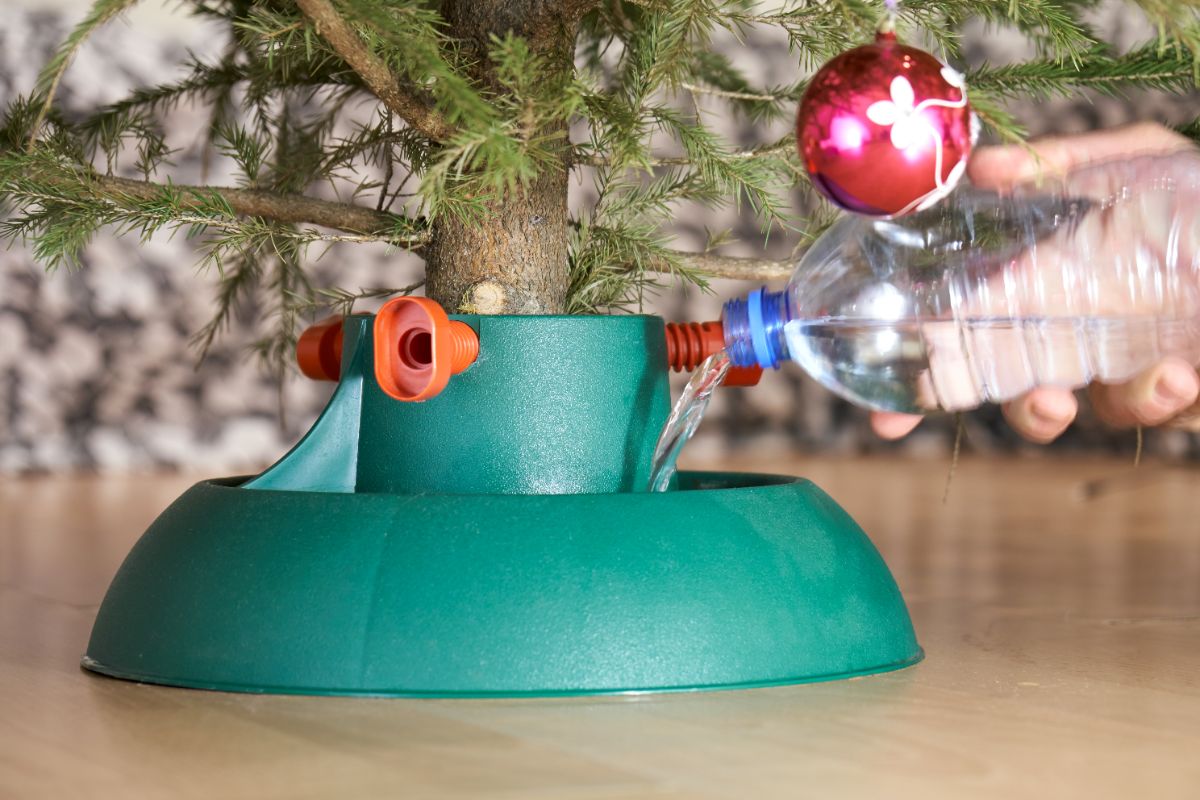 Top off the stand at least once per day. In fact, for the first week or two, it's smart to check it two times a day. Christmas trees drink more water in the first seven to ten days or so. Once you see it start to slow down, you can go to just checking it once per day.
Even if you think the tree has plenty of water, top it off anyway. Make it a routine for the Christmas season. It's just too easy to assume and skip a day and then find that your tree ran dry.
Running dry is the last thing you want to happen because that's when that resin-clogging starts again at the cut base. Once your decorated tree gets clogged in the stand, you won't be able to open up those pores, and the tree won't be able to uptake any water. So make sure there is always plenty of water in the stand!
Make sure the water is deep enough.
At the very least, the bottom two inches of the trunk should be covered in water. Christmas trees absorb most of their water from the bottommost inches.
Pay attention when you set your tree in the stand because it's possible that it is hovering higher in the water than you assume. Know where the bottom of the trunk sits and gauge it from there, not the bottom of the stand.
Again, if you're topping your stand-up to full every day, you should be in good shape, but this is one more important thing to pay attention to.
Make sure your Christmas tree stand is large enough.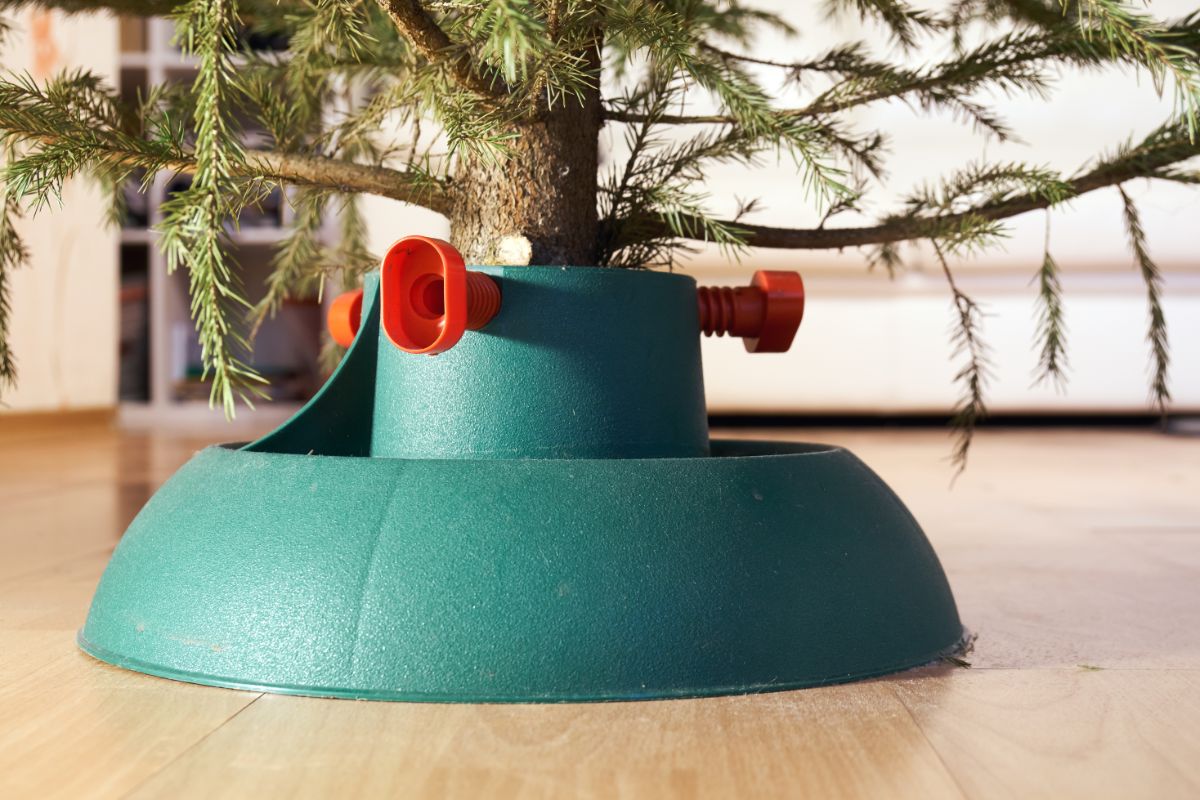 This is one of the more common problems—tree stands that aren't large enough and don't have a large enough capacity to get the tree through the day.
Make sure your tree stand can hold enough water to satisfy the tree's expected needs. A one-gallon stand capacity is recommended. Even if your tree is small or doesn't use that much water, too much is better than too little.
Make sure the stand is large enough to fit the diameter of the trunk, too. If you have to trim the diameter, you'll undermine the tree's ability to drink.
Skip the old wives' tale additives.
Conventional wisdom has us adding things like water, sugar, ginger ale, floral preservatives, bleach, and even corn syrup to our trees' water. The University of Michigan says this is pointless. Plain tap water is all your Christmas tree needs. Just make sure it always has it and always has enough of it.
Thirsty trees = live, healthy trees.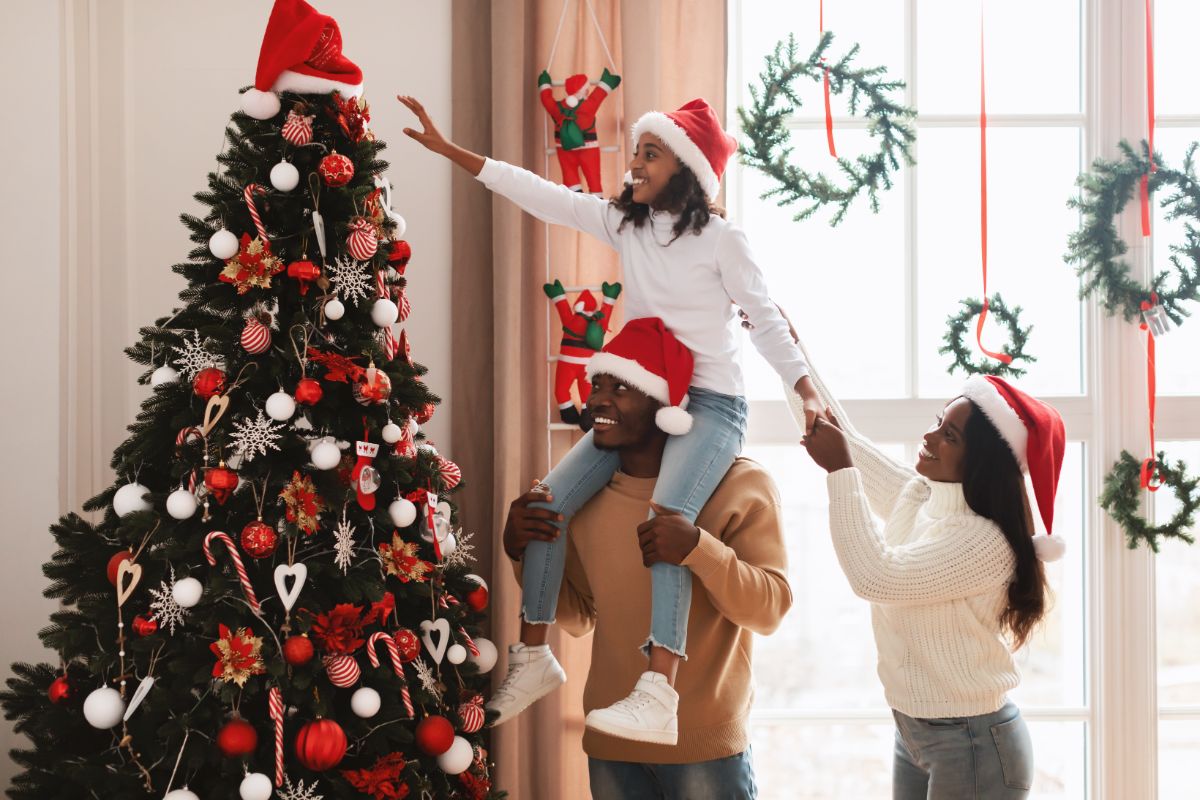 If it seems like your tree drinks a lot of water, like it takes up more water than what we've talked about here, or it never slows its intake, don't worry. That's actually a very, very good sign.
Dead trees don't drink water. Live, living trees do. The more water your tree drinks, the happier, healthier, and livelier it is.
A well-watered Christmas tree that is willing and able to take up water can remain fresh for four to six weeks. That's plenty of time to get you through your Christmas season with flair. It may take a little effort, but you'll thank yourself later when your tree looks lovely until the end and your floor doesn't look like a needle tornado moved through when you take it out.
Haven't bought your Christmas tree yet? You might want to check out our buying tips to give you and your tree the best seasonal start.