Do you know how to have the best-looking poinsettias?
You have to buy the best poinsettias, to begin with. (It's kind of the same with Christmas trees)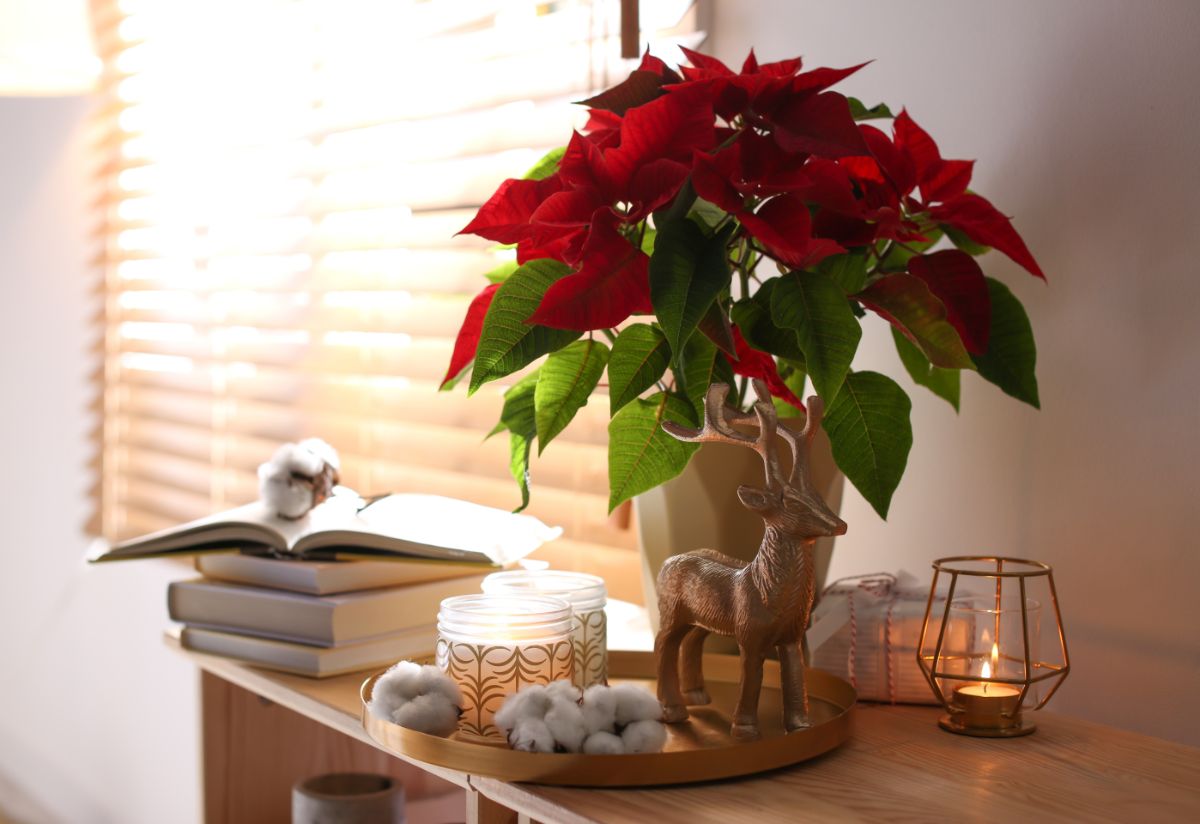 And yes, the right care and watering help, too, but if you don't start right, you can't end right. Here's how to buy the best poinsettia.
Jump to:
First, something to know -- poinsettia "flowers" aren't flowers.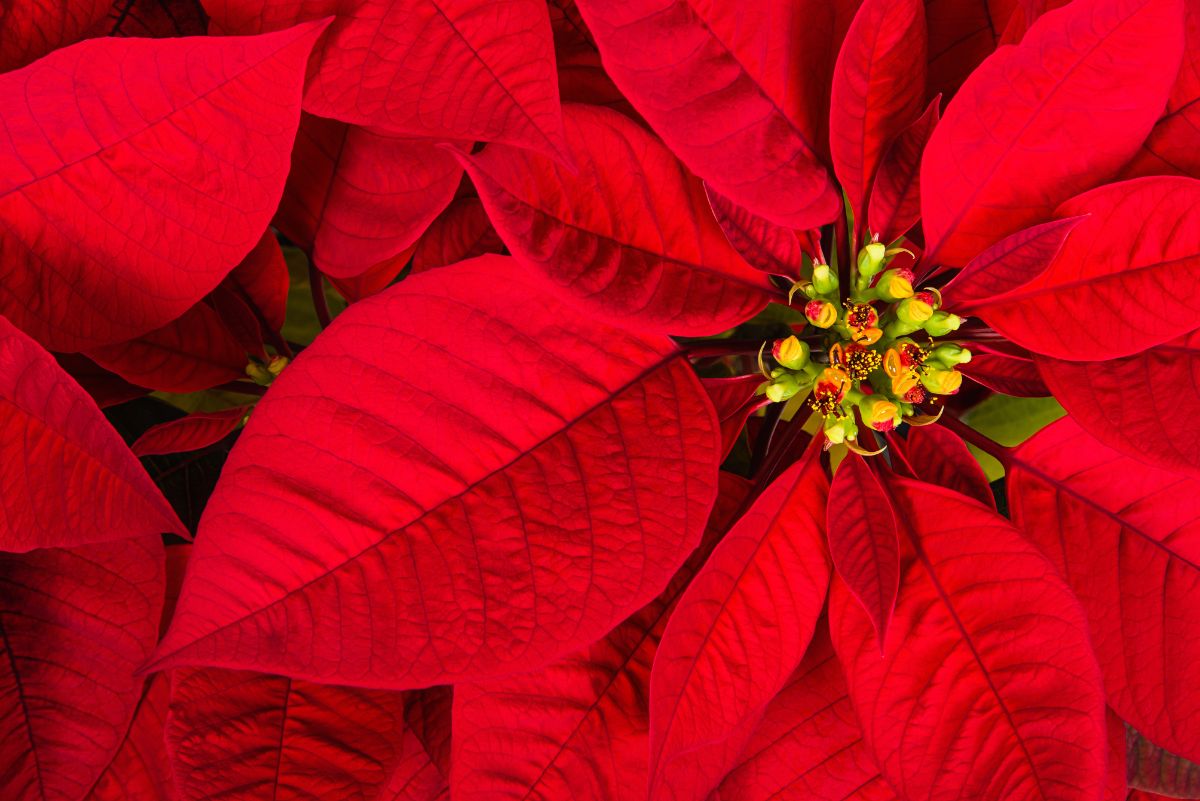 The part of the poinsettia that most of us think of as the flower isn't really a flower. The large colored "petals" of the poinsettia flower are colored leaves called "bracts". They are a type of modified leaf that some plants have.
Poinsettias do have flowers, but they are little button-like balls in the center of the colored bracts. They are usually a light green to yellow color. You might even think they look like little balls of pollen.
Why does this matter?
It helps to know these little details so that you know what you're looking for when we use terms like "bract" and "flower".
What to look for when buying your poinsettias.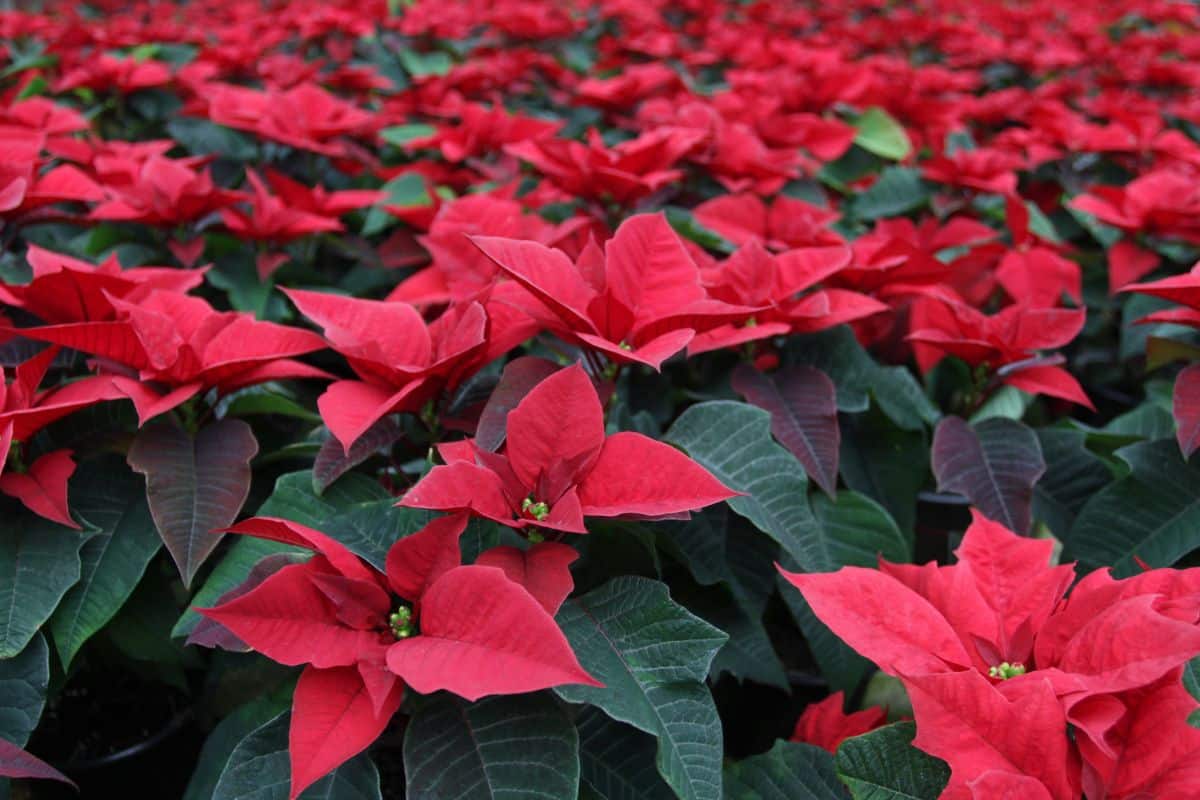 Look for plants that seem happy and healthy, and full. Watch for signs of wilting and drying out. The key things to look for in healthy poinsettias are:
Dark greens leaves
Bright colored bracts
Yellow to green-colored flowers (the small center balls in the middle of the large colored bracts).
Test the soil the plant is potted in. It does not need to be very wet, but it should be a bit spongy when lightly pressed.
Soil should not feel solid, dense, or dried out.
If you gently tug at the base of the plant, the poinsettia should not lift out of its pot.
What NOT to look for when buying poinsettias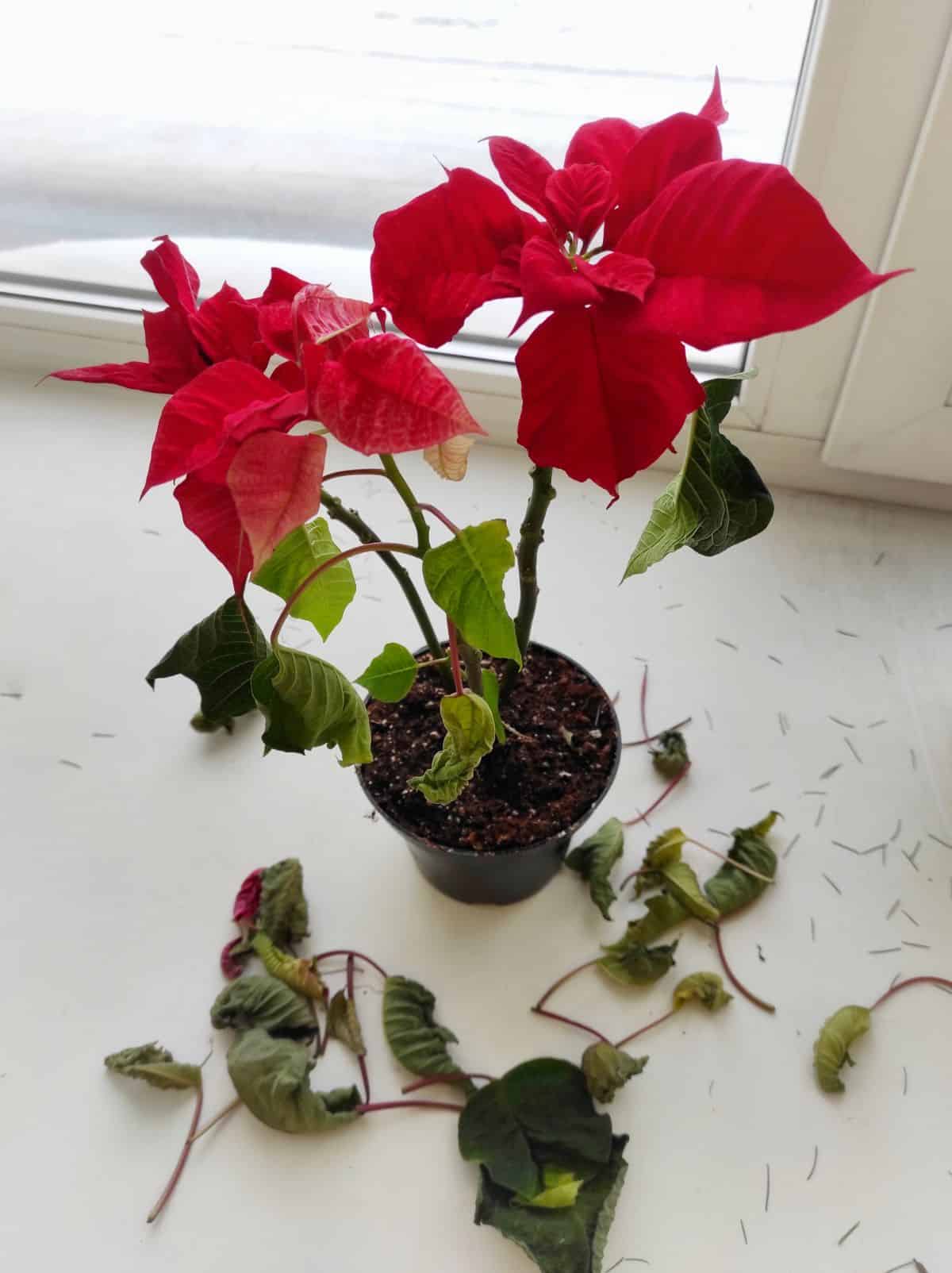 There are things that you do not want to see on poinsettias when you are buying them. Looking for the absence of these signs is just as important as looking for the things that point toward a happy, healthy plant.
Don't buy plants if they are missing many lower leaves. For one thing, they don't look nice, but for another, they hinder the plant's ability to uptake water and photosynthesize.
Don't buy plants with many missing or broken leaves, stems, or branches. Missing or broken leaves and branches are signs of mishandling and/or damage from drying out. Missing leaves can also be a sign that the plant lost leaves because it was overwatered, and over-watering is a good way to give a plant root rot. Missing leaves may also be a sign that sellers have been pruning off wilted or discolored leaves.
No dull colors.
No yellow or brown spots on either the leaves or the bracts.
No wilted leaves or colored bracts. No shriveling.
No dry or crumbly leaves or bracts.
Little or no pollen shedding from the tiny center flowers.
Finally, no bugs! Small insects may or may not be a big problem for the plant, but either way, you don't want to bring bugs to your home. If you see creepy crawlies or you see tiny white flies flying up when the plant is shifted or moved, go somewhere else to buy your poinsettias. There's no good way to treat these insects for these short-term plants, and they can spread to your long-term houseplants and become a problem that's hard to get rid of.
You're not just seeing red—there are many beautiful colors of poinsettias!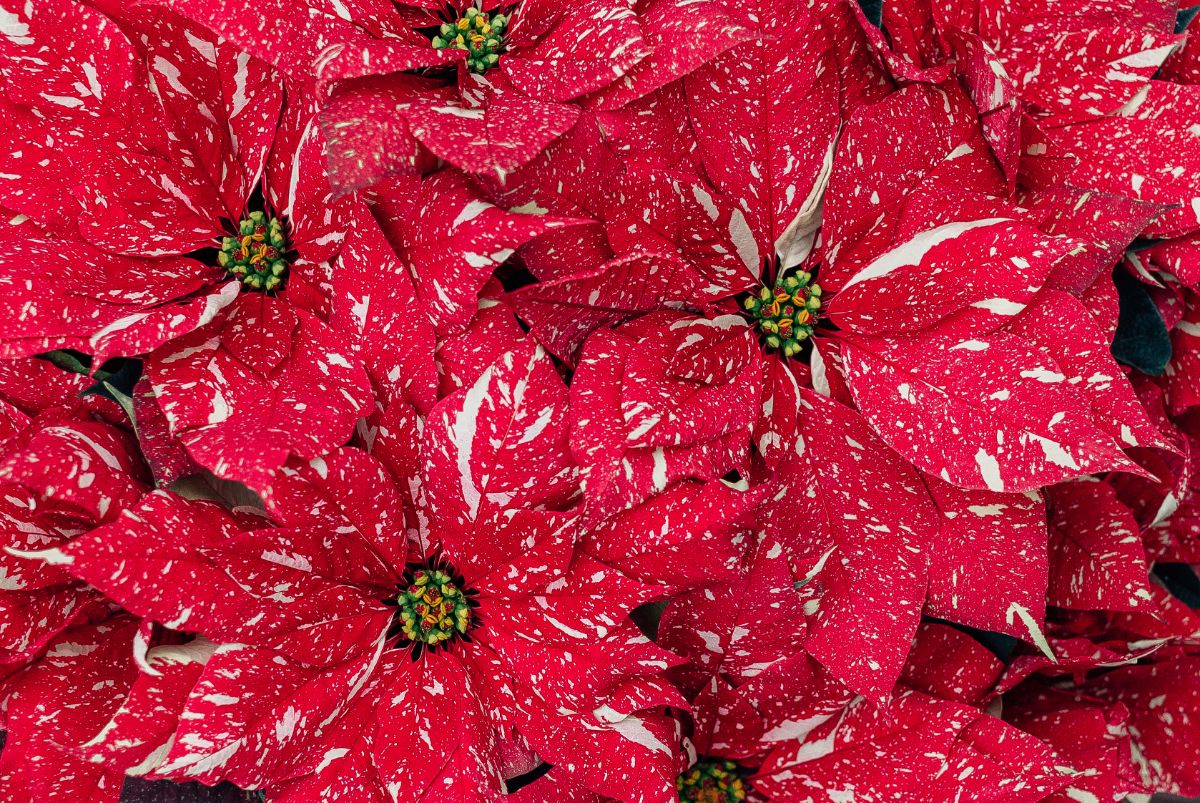 When we think of poinsettias, the color red immediately comes to mind, but there are several colors of poinsettias available. Mix and match for an eye-catching display. In addition to the traditional red, look for poinsettias in white, pink, or even gold.
There are darker red poinsettias in burgundy colors, and there are also marbled and speckled poinsettias. Some poinsettias are even multicolored or bicolored. There can also be a range of colors in between all these colors, and it seems like every year, someone has created a new color hybrid to enjoy.
A flower to last through the season (and then some).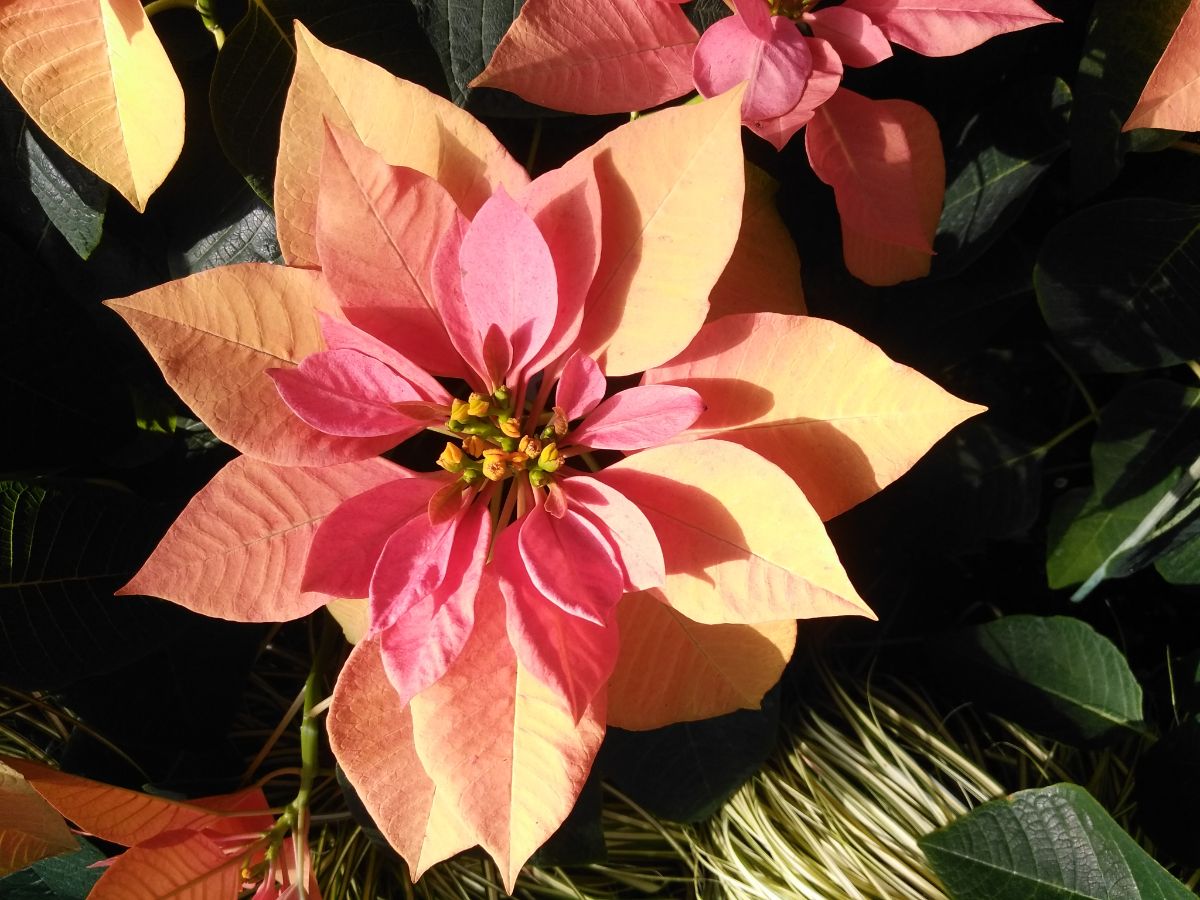 If you focus on choosing poinsettias according to these dos and don'ts, you are sure to bring home a poinsettia that can last for many weeks, well through the holiday season—and quite likely, beyond!