If you want to grow bigger and healthier vegetables and flowers, adding the right amendments to your garden soil can help. But how do you know which amendments are best suited for your particular garden space?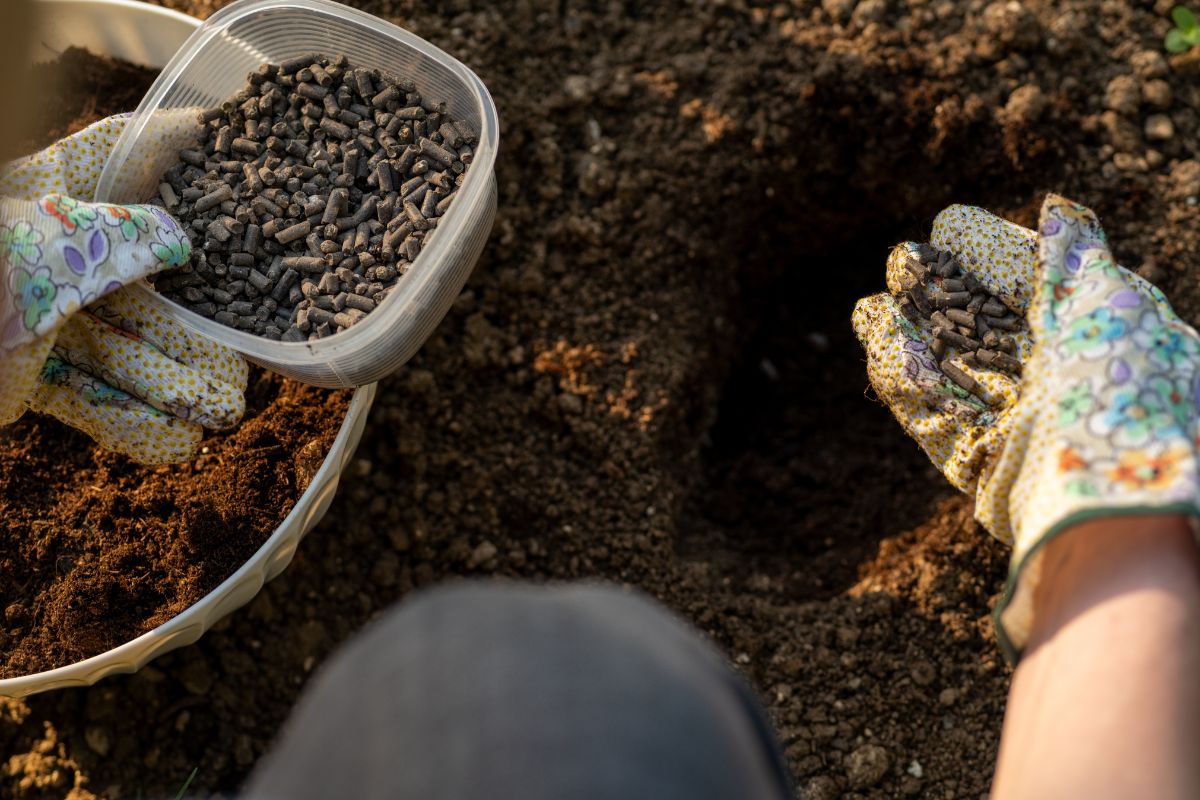 Testing your soil at home or having your soil tested by your local cooperative extension can help determine what your soil needs and if it is lacking in anything. But after you've discovered that your garden soil is deficient in nitrogen, potassium, or some other nutrient, what do you do? Add soil amendments, of course!
In this article, we'll cover the best soil amendments to improve your garden soil and some tips on how to apply them. No matter the problem with your soil – if it requires a nutrient boost or the soil structure needs improvement – these simple soil amendments can help. And best of all, they are all approved for organic gardening!
Jump to:
Top soil amendments for a healthier garden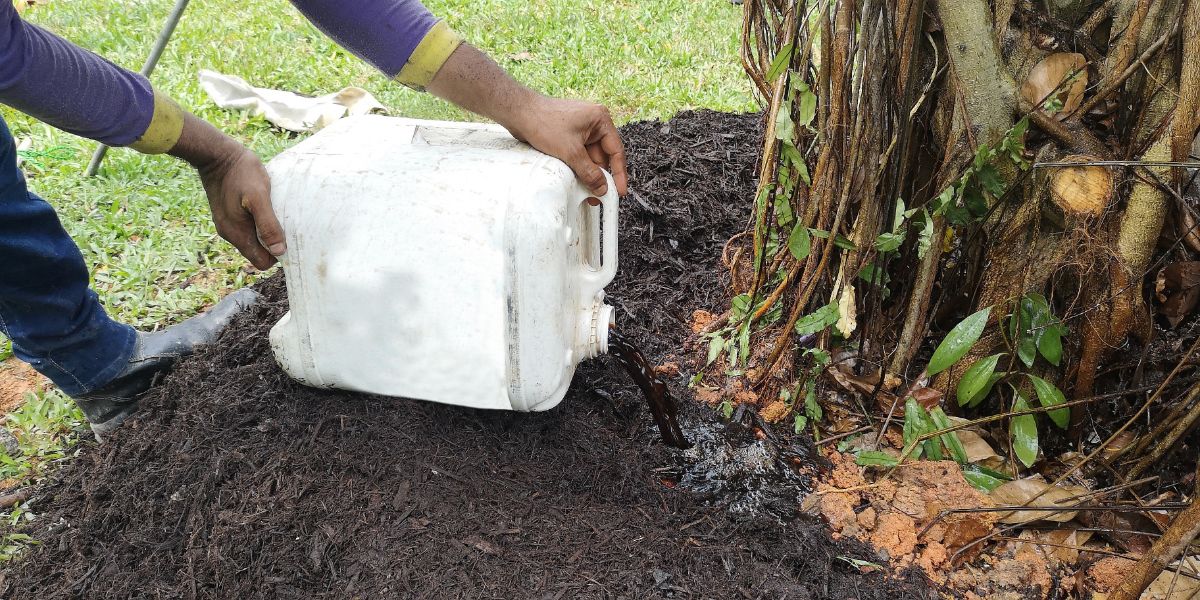 From compost to lesser-known soil amendments, like biochar and zeolites, we've compiled some of our favorite soil amendments for organic gardens below. Whether you need to improve your soil structure or you're looking to boost plant growth, we've got everything you need here.
1. Compost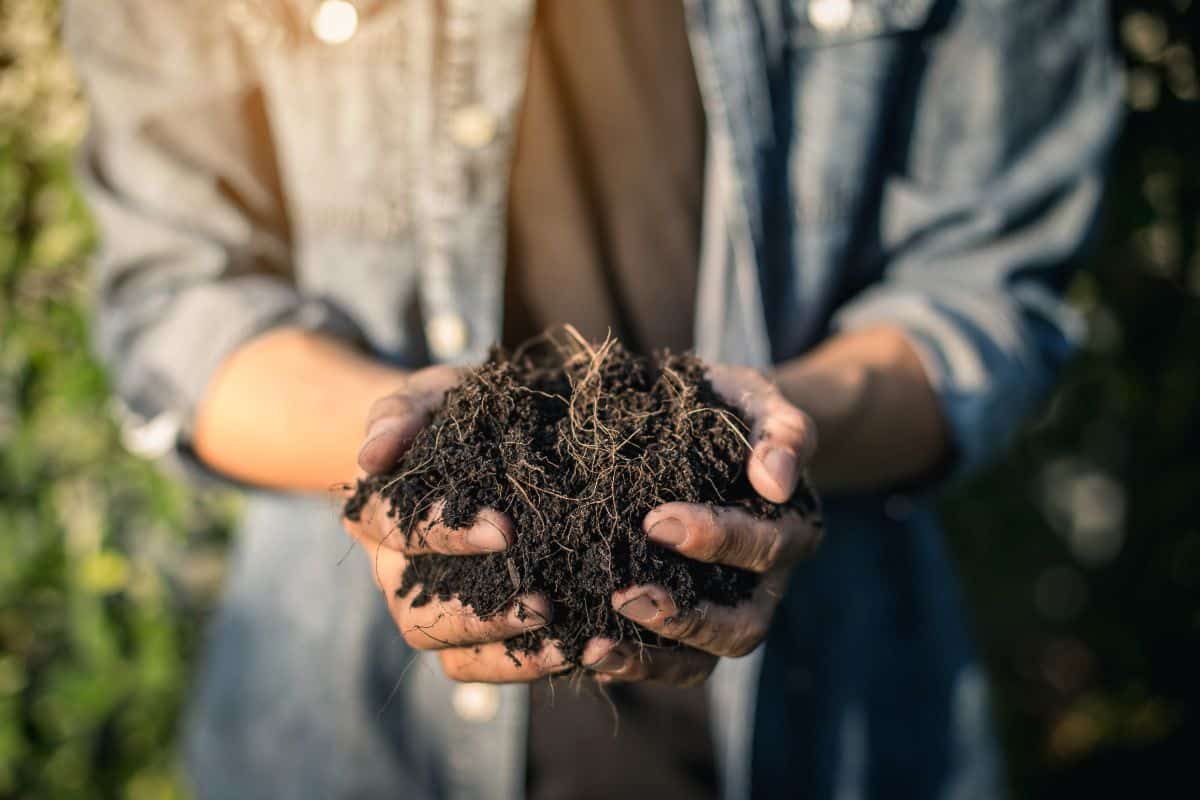 There's a reason why gardeners rave about compost. Compost is a multi-purpose soil amendment that is an ideal additive for organic vegetable gardens, ornamental beds, and lawns. Rich in many of the vitamins and minerals plants need, compost can boost plant growth, increase harvest yields and help to make your plants naturally pest and disease resistant too.
But that's not all. When worked into your soil, compost can improve soil health and structure, boost beneficial microbe and earthworm activity, combat compacted or poorly draining soil, and so much more. Compost can also be added as a top dressing to garden beds and used as a mulch for natural weed suppression too.
Because you can create your own compost at home, compost is also one of the most budget-friendly soil amendments around. If you're interested in creating your own compost, check out our articles on backyard composting or indoor composting with worms or bokashi.
2. Manure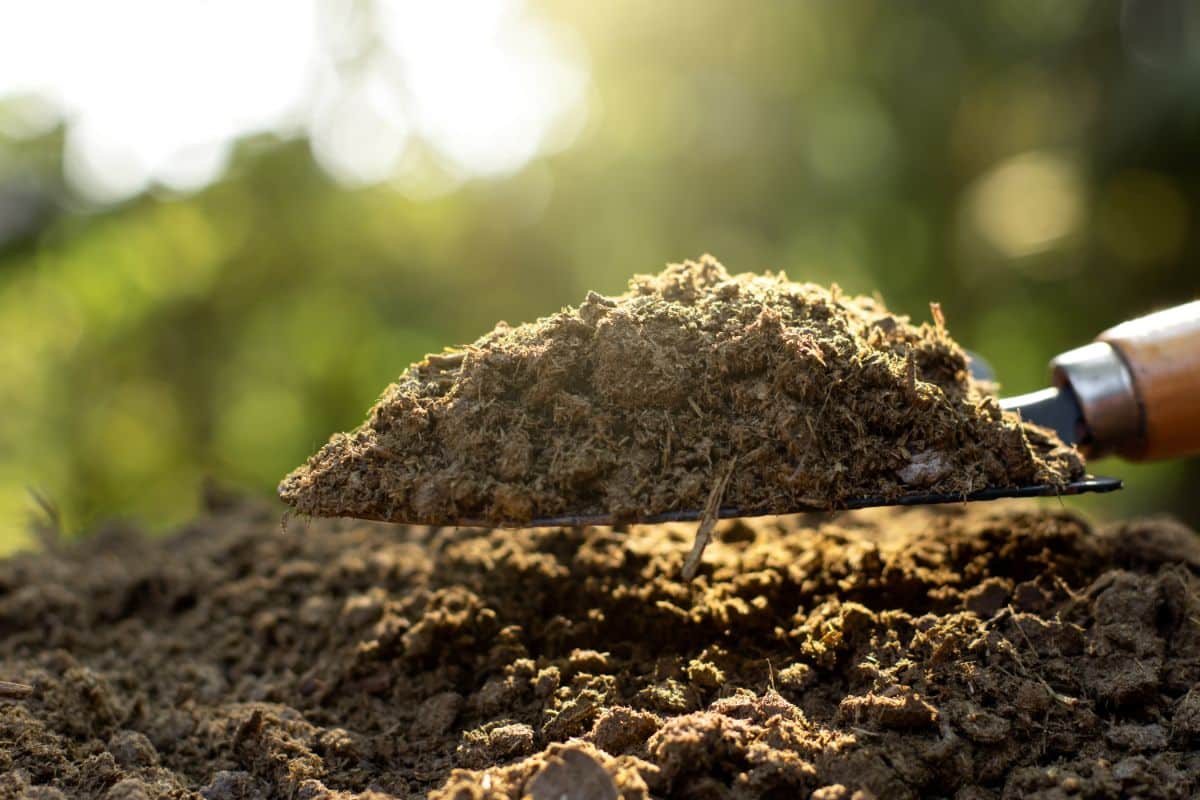 Like compost, manure is one of the best all-around soil amendments. It is rich in the nutrients that plants need, can improve soil's structure and porosity, and boost beneficial microbe activity too. Depending on where you live, manure can also be a very economical soil amendment to try, as many farmers are happy to give it away for free!
Manure can be applied fresh, or it can be composted before use; however, keep in mind that some types of fresh manure can burn plant tissue. For this reason, fresh manure should only be applied to your garden in autumn after you've harvested your plants. Otherwise, try composting your manure before use or purchase pre-aged manure that can be applied straight to your garden.
When most gardeners think of using manure in the garden, they often think of cow or rabbit manure. However, worm castings are actually classified as a manure type, too, and they are perfect for increasing crop yields and growing healthier plants.
Guano is another good option that works especially well for houseplants.
3. Blood meal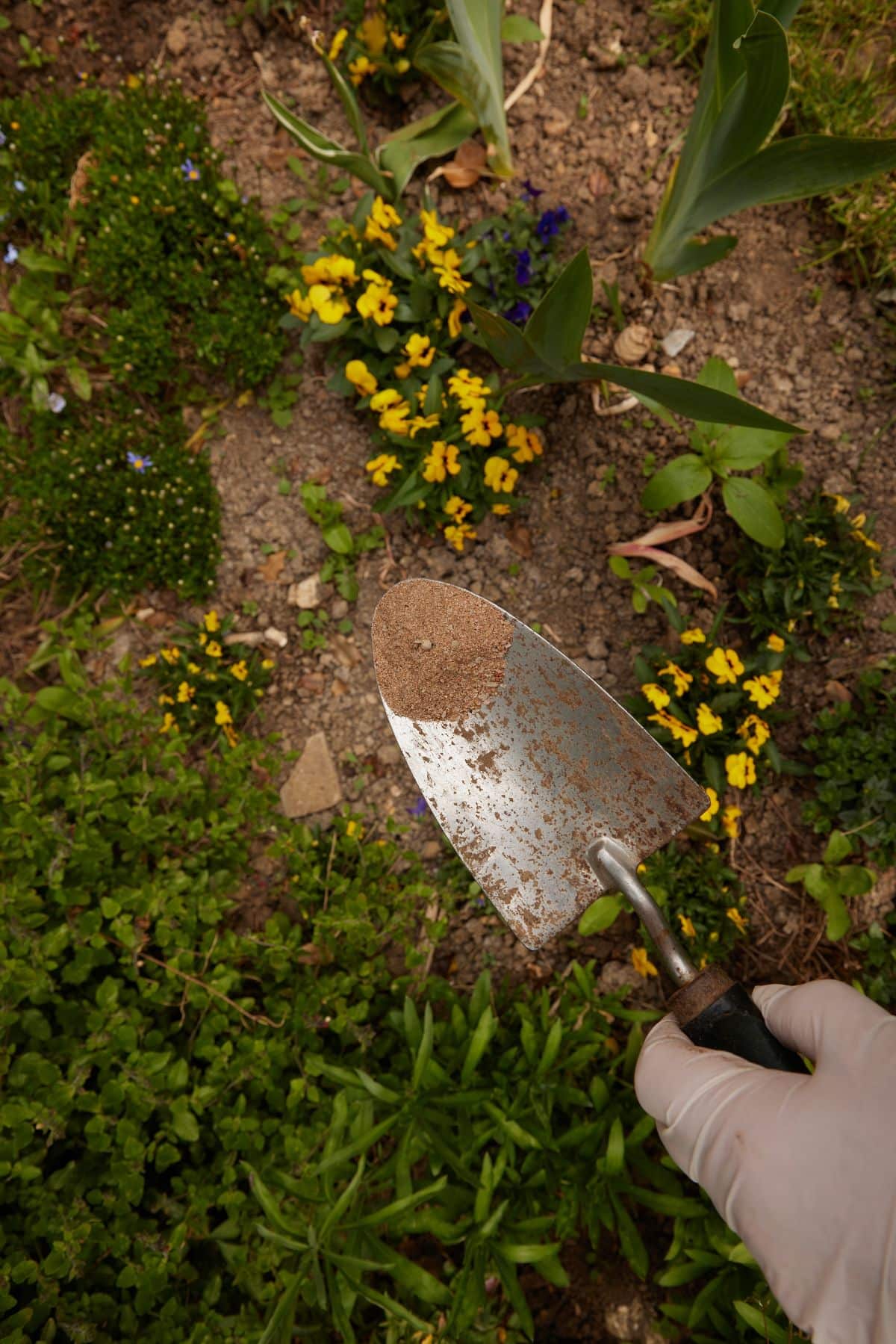 One of the best sources of nitrogen for the organic garden, blood meal is rapidly released into garden soil. Once incorporated into the soil, it will promote lush, vegetative growth and gorgeous leafy greens. With an NPK ratio of between 12-0-0 and 13-0-0, it is especially well-suited for growing corn.
Beyond its utility as a fertilizer, blood meal is also frequently used as a pest deterrent to repel deer and rabbits who are (understandably) frightened by the smell. Blood meal can be tilled into your garden soil at a rate of 3 to 5 pounds per 100 square feet. Or it can be used as a side dressing or simply sprinkled over plants to protect them from pests.
4. Feather meal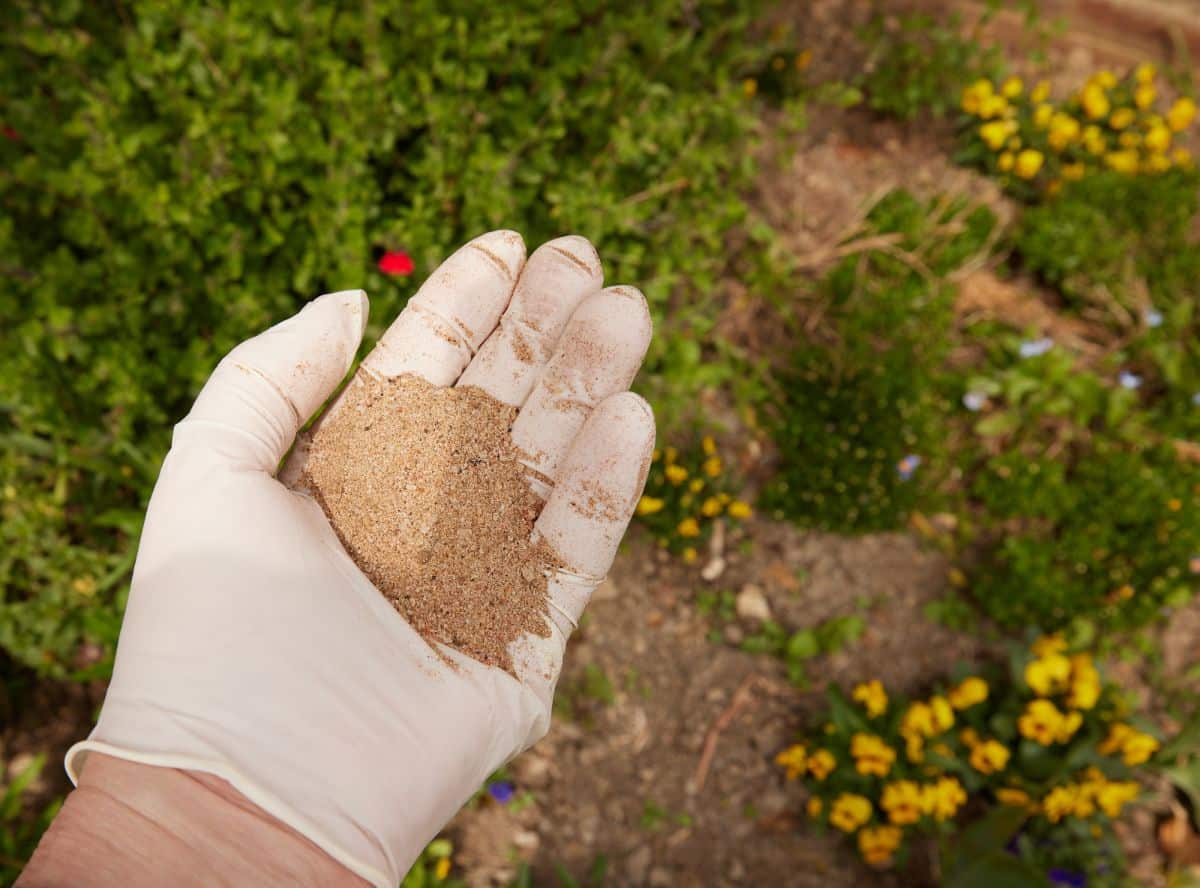 As another animal-based soil amendment, a feather meal works very similarly to a blood meal. It is a high nitrogen fertilizer (with an NPK ratio of approximately 13-0-0) and is rapidly absorbed by garden soil. If the thought of using a blood meal in your garden doesn't quite sit well with you, a feather meal is an easy alternative.
Unlike blood meal, feather meal is not water soluble, so it will need to be worked into your soil at the time of planting. Because of its high nitrogen content, feather meal works particularly well with corn, melons, brassicas, and other heavy feeders. Just keep in mind that animal-based soil amendments may attract digging predators, like coyotes, so try to dig these amendments into your soil as best as you can.
5. Bone meal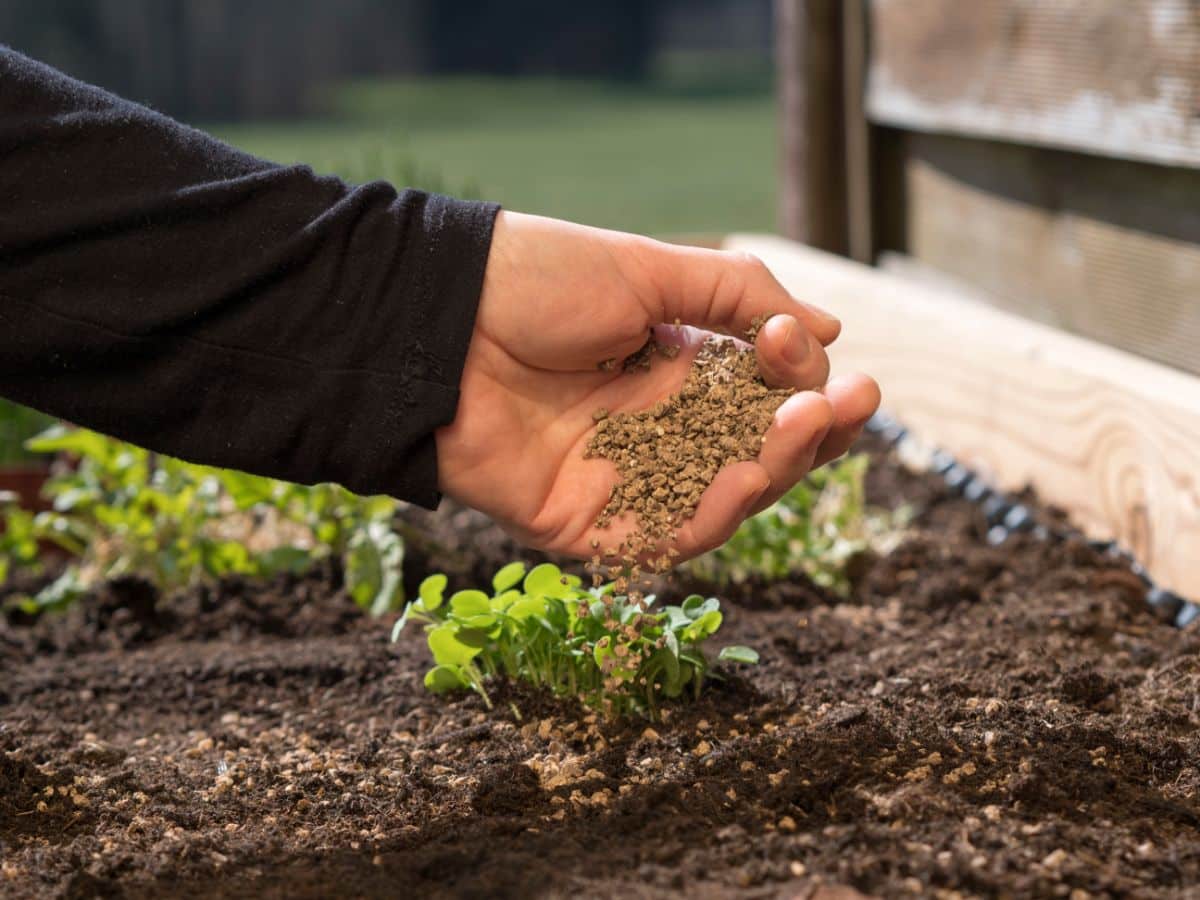 Bone meal is a good source of nitrogen and phosphorous and has an NPK ratio of 4-12-0. This makes bone meal one of the best choices for big blooms and strong root development. It's no wonder, then, that gardeners often sprinkle bone meal in planting holes when sowing carrot seeds and other root crops.
Bone meal is also rich in calcium, so it can help to ward against issues like blossom end rot. It is a slow-release fertilizer than can take up to 4 months to get properly absorbed, so you may want to consider adding it to your garden in autumn. Bone meal is also sometimes added to bulb holes when planting.
6. Soybean meal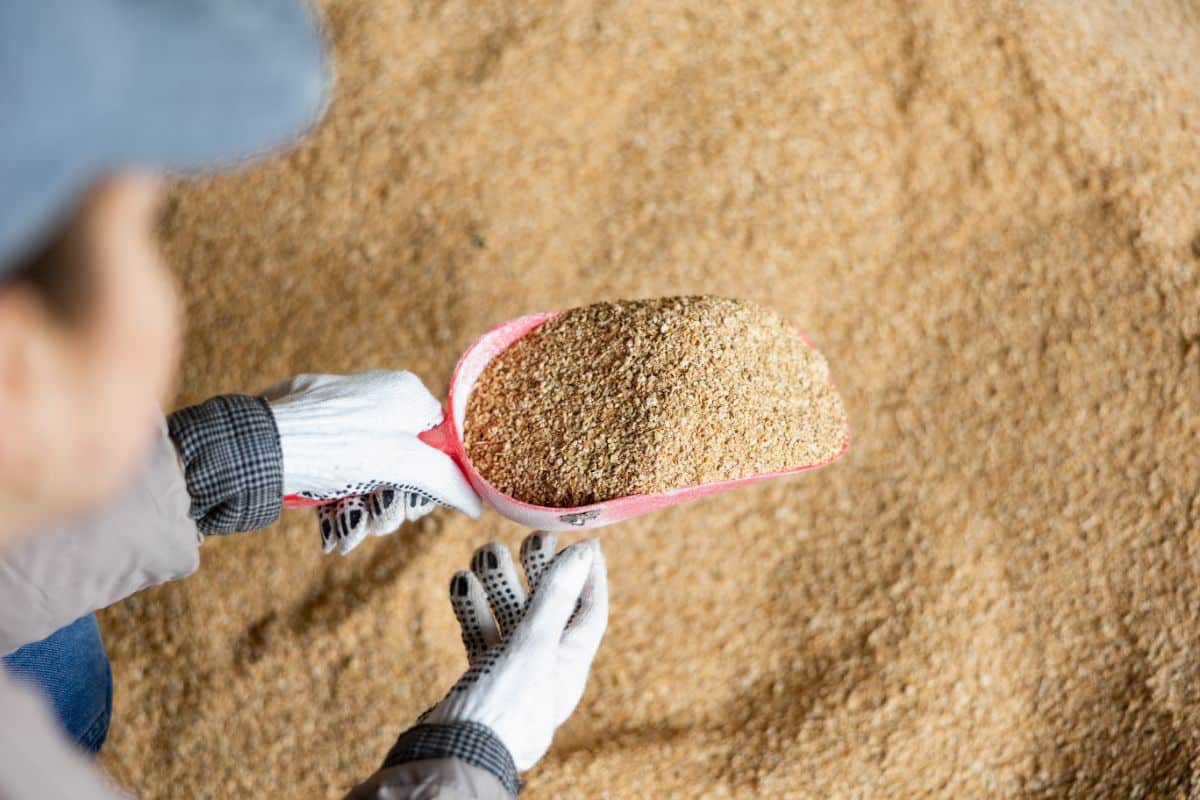 If you don't want to add animal-based soil amendments to your garden, soybean meal is a good, vegan alternative. Produced from ground soybeans, this soil amendment is a rich source of nitrogen and potassium and has an NPK ratio of (7.0-1.5-2.0). It also releases nutrients into garden soil over a longer period of time, so it will help to sustain your plants throughout the growing season.
Because it is slower to incorporate into the soil, soybean meal is best applied when planting or transplanting seedlings. For side-dressing plants, faster-release amendments (like blood meal) are usually preferred. While this is one of the most budget-friendly soil amendments around, if you're growing an organic garden, try to find non-GMO soybean meal if possible.
7. Alfalfa meal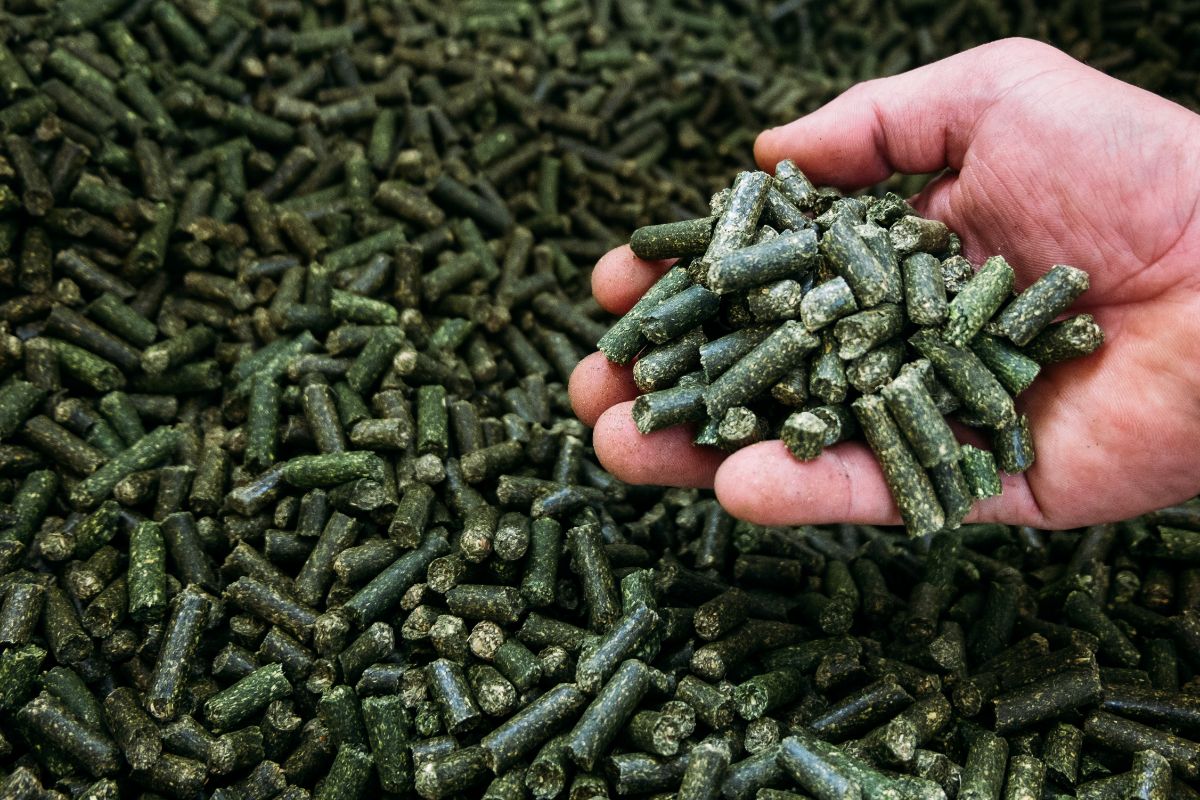 Another excellent plant-based soil amendment, like soybean meal, alfalfa meal is also rich in nitrogen and potassium (NPK ratio of 2.8-0.5-3.6). One of the top picks among vegan growers; an alfalfa meal can often be bought in bulk to save you money. It is also easier to find an organically grown alfalfa meal than an organically grown soybean meal, so if that's an important consideration for you, an alfalfa meal may be the amendment you've been looking for.
While animal-based fertilizers can have an unpleasant odor, alfalfa meal is known to be one of the best-smelling amendments around. Its odor is also much less likely to attract predators that will dig up your garden in search of blood or bone meal. When applying, aim to sprinkle about 2 to 3 pounds of alfalfa meal per 100 square feet of gardening space.
8. Neem cake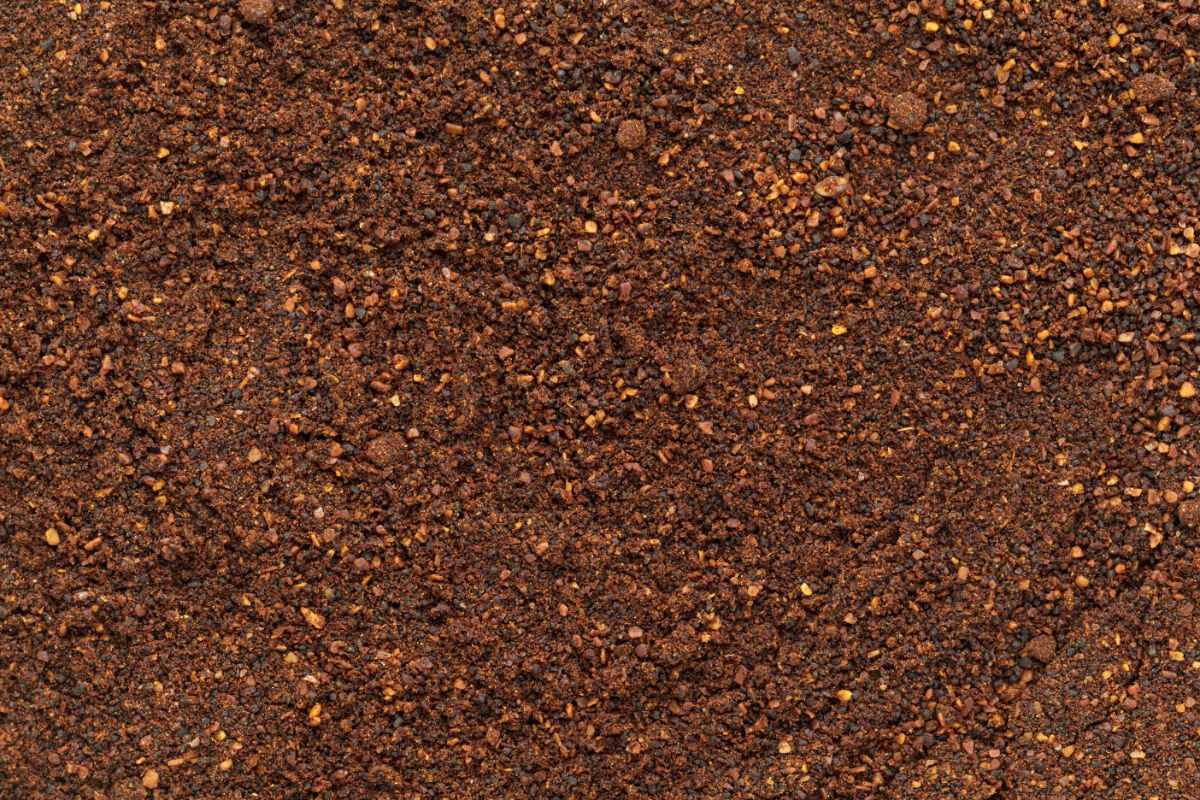 A less commonly used soil amendment, neem cake is what is leftover after neem seeds have been processed to create neem oil. The remaining residue is then compacted into pellets for easy garden application. Neem cake is rich in the vital nutrients plants need and has an NPK ratio of 6.0-1.0-3.0. Neem cake has also been found to increase earthworm activity in garden soil.
If you need more reasons to try out this product, neem cake has antifungal properties and can help to combat fusarium wilt. It can be used on its own or mixed in with other soil amendments and works well when stirred into the soil or when added as a top dressing. Just keep in mind that neem cake does contain some growth-regulating hormones, so don't add more than 1% neem to potting mixes.
9. Kelp meal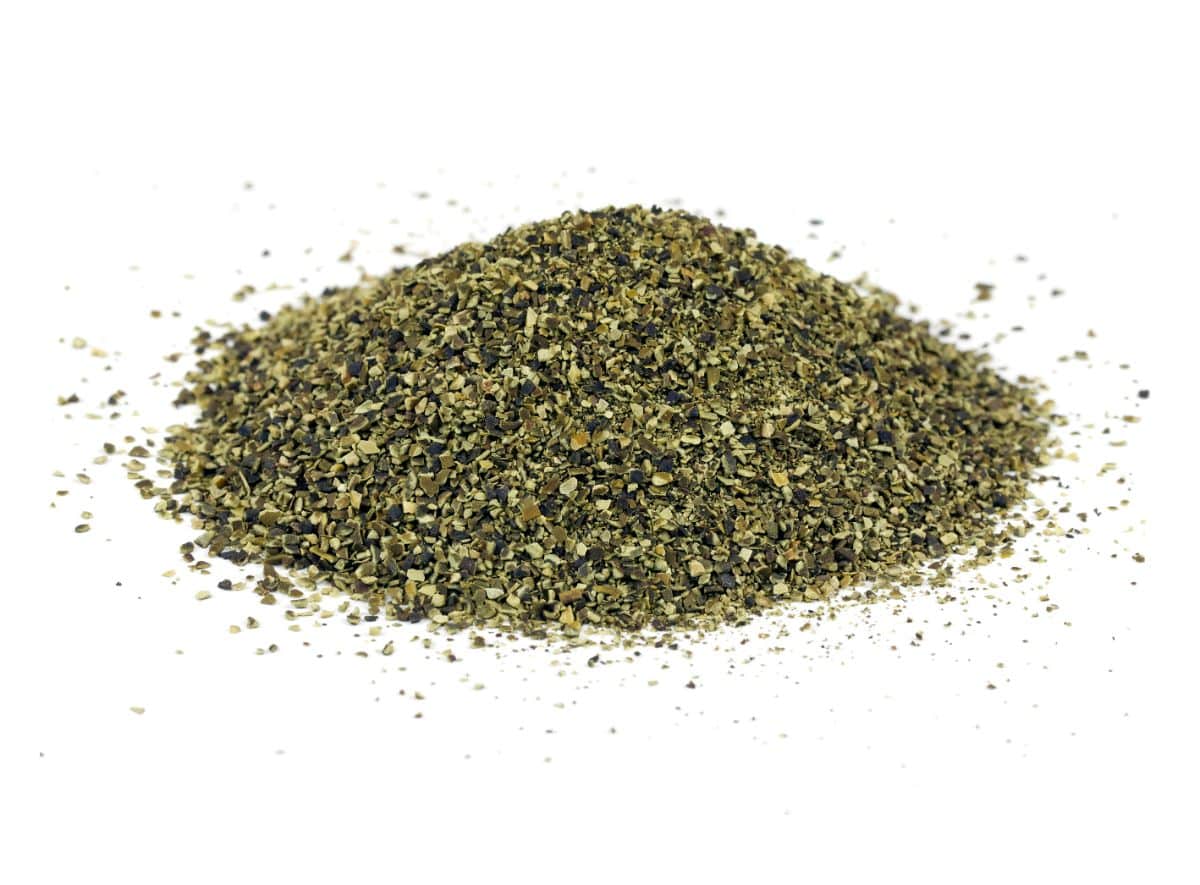 Another plant-based soil amendment, kelp meal, contains some nitrogen, potassium, and phosphorus (NPK ratio of 1.0-0.1-2.0), but its primary benefit is that it is jam-packed full of trace minerals, amino acids, and enzymes. These compounds help your plants grow stronger, and they will also booth the nutrient content of your food crop, so you know you'll be growing even healthier veggies for you and your family.
Produced from dried seaweed that was then pulverized, kelp meal is particularly useful if your soil is deficient in sulfur or boron. Brassicas, like cauliflower and Brussels sprouts, also love kelp meal. Apply at a rate of 1 pound per 100 square feet of gardening space.
If you prefer to work with liquid fertilizers, kelp meal is also easy to find in liquid form.
10. Fish meal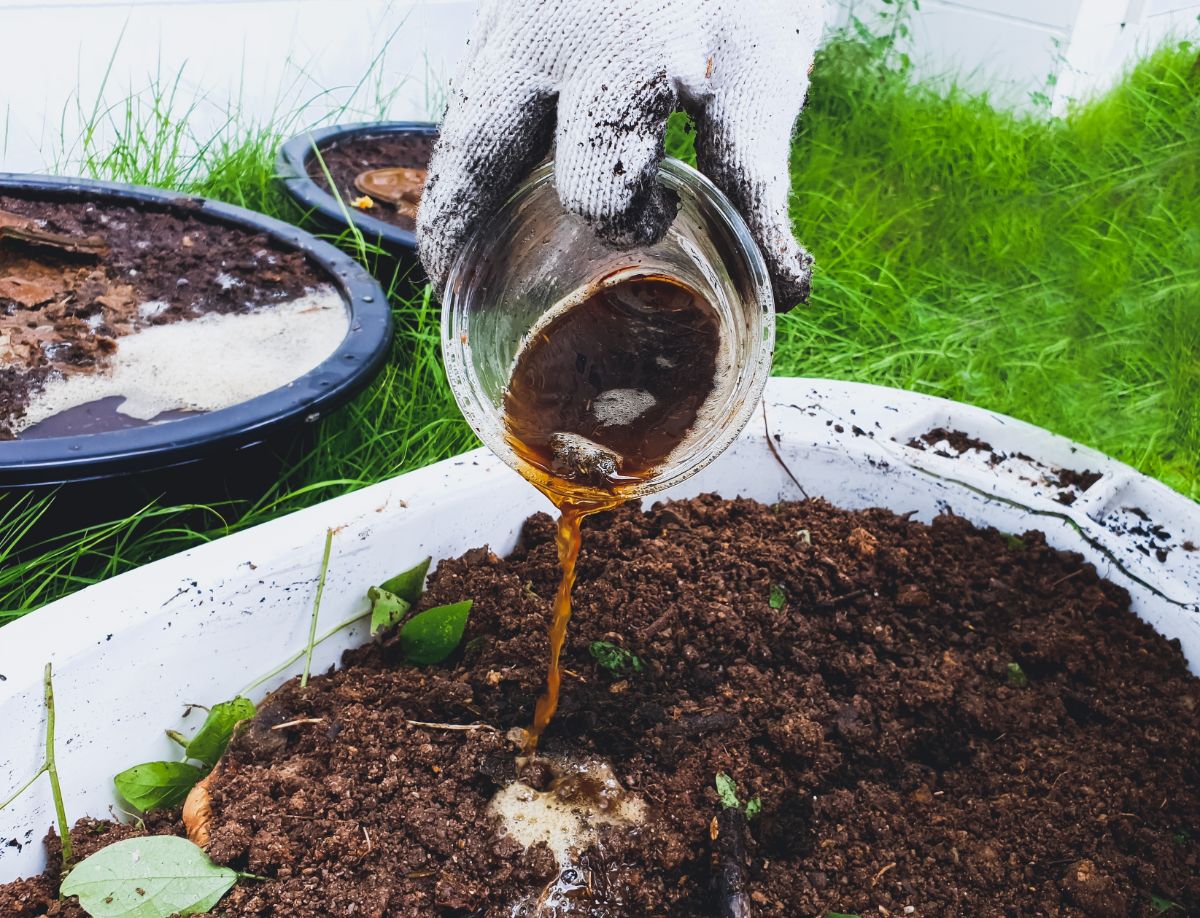 Fish meal is a byproduct of the fishing industry and is produced from fish scraps that have been precooked, screened, and ground. This gives fish meal a uniform appearance and texture that is easily spread by hand or with a drop spreader. Unlike many other animal-based products, fish meal is a good source of both nitrogen and phosphorous and has an NPK ratio of 6.7-11.4-0.4.
Some gardeners stay away from fish meal as it can have a strong odor when freshly applied. However, that odor is quick to fade and is much less noticeable if you work the fish meal well into your soil when applying. Fish meal can also be used as a side dressing for plants, or it can be added to your compost heap as a compost accelerator.
Fish hydrolysate is another fish-based alternative that comes in liquid form for even easier application.
11. Aragonite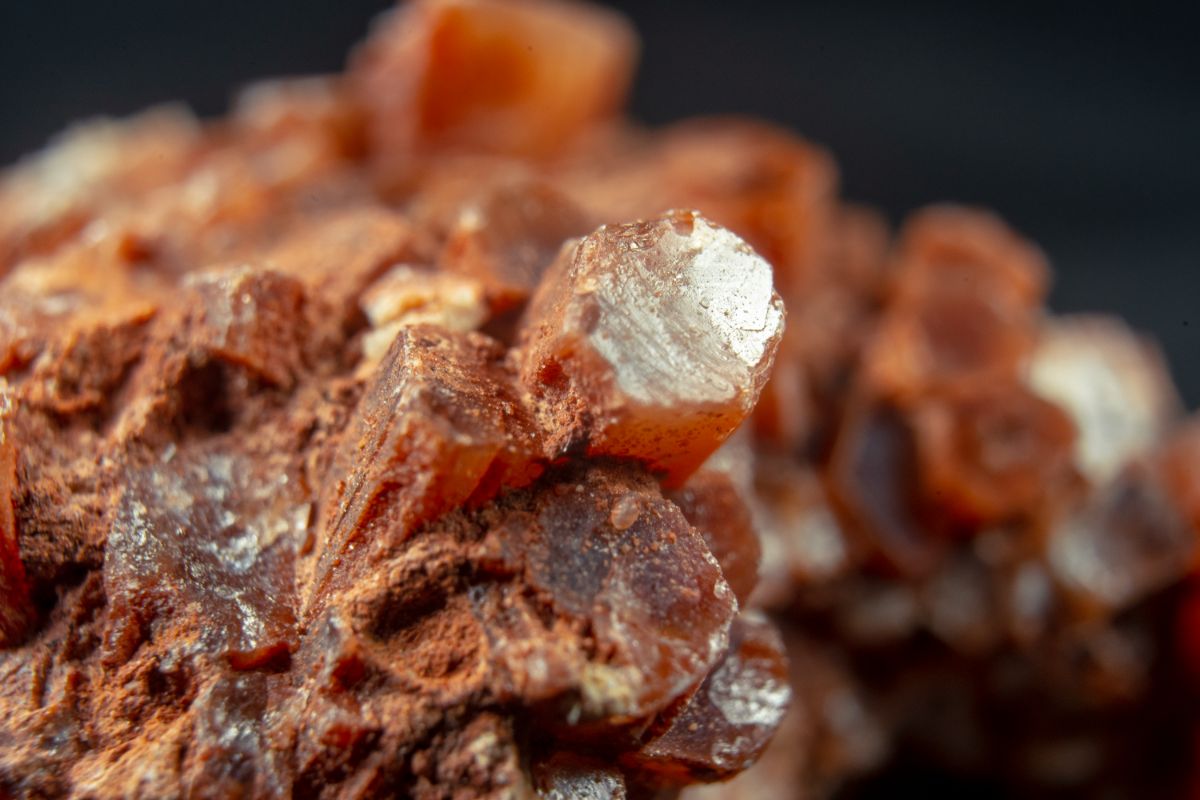 Like limestone, aragonite is a calcium carbonite mineral that's produced from seashells. High in calcium, it can help strengthen plant cell walls and prevent common issues like blossom end rot. What's more, because it is low in magnesium, it is especially well-suited for garden soil that is already high in magnesium but low in calcium.
Produced from seashells that have been pulverized by the ocean's currents, aragonite is sometimes used as an ingredient in chicken feed for stronger eggshells. It can also be added to holes when planting bulbs to help repel moles, chipmunks, and other digging rodents.
If you can't find aragonite, crushed oyster shells are another great alternative.
12. Azomite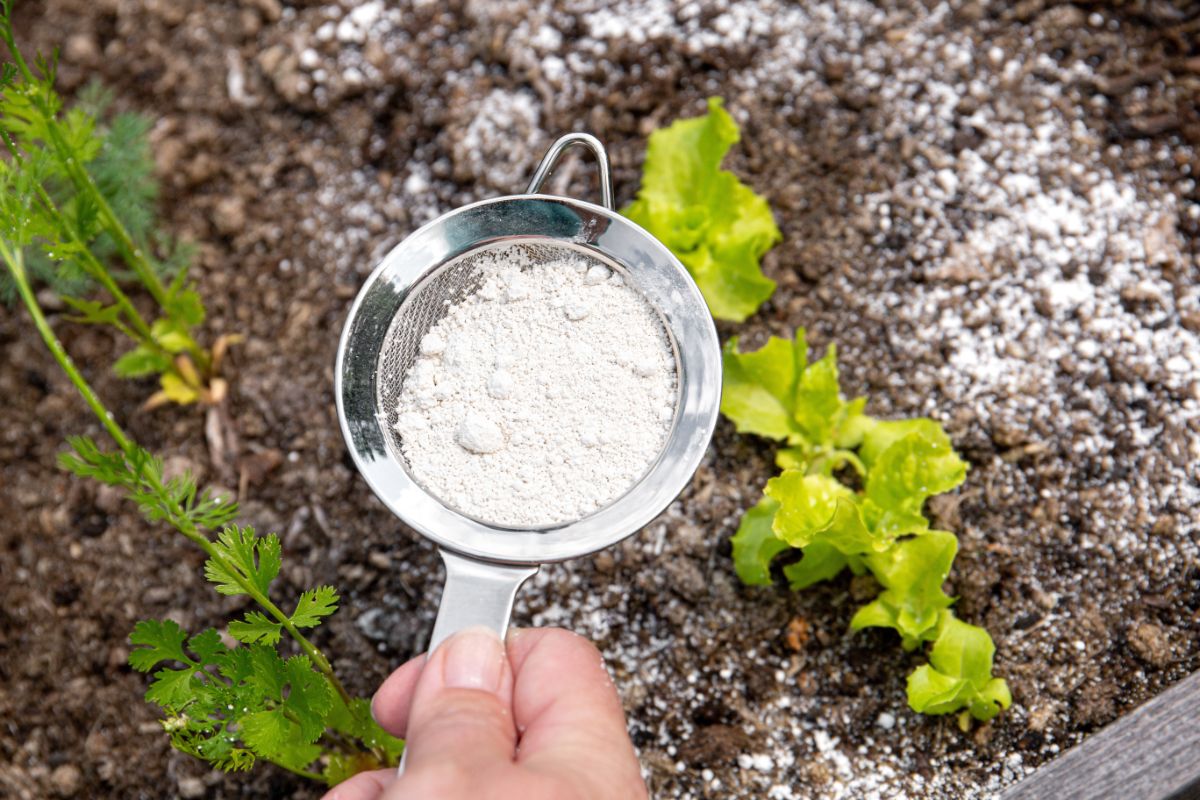 Azomite is a rock dust powder mined exclusively in Utah from the remains of a volcanic eruption that settled into a prehistoric seabed. Rich in a variety of different mineral compounds, this versatile soil amendment has tons of benefits, including helping remineralize nutrient-poor soil, strengthening root systems, and improving crop yield.
Approved for organic garden use, azomite comes in powder form that is easy to apply to garden spaces. It can be used on its own or combined with other organic soil amendments, fertilizers, and manure. Azomite is also used for healthier lawns and can be applied in spring, fall, or winter at a rate of 2 to 3 pounds per 1000 square feet of lawn.
13. Zeolites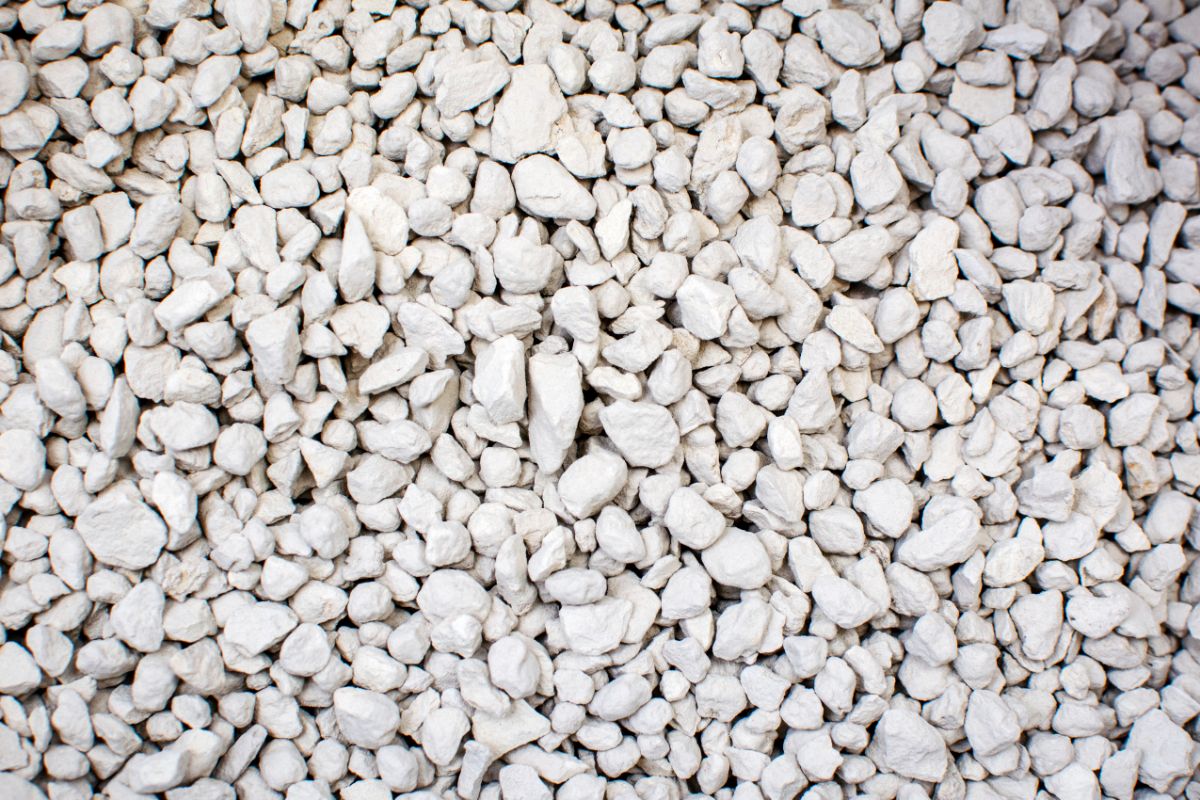 Zeolites are another soil amendment produced from an ancient volcanic eruption and are approved for organic garden use. Sometimes used as a cat litter alternative, thanks to its odor-absorbing capabilities, zeolites are another excellent soil amendment to try out in your garden or potted plants.
Zeolites are often used to help combat and aerate compacted and poorly draining soil. They are also capable of retaining about 60% of their weight in water, making them an excellent choice for garden beds that tend to dry out quickly. When added to houseplants or container gardens, zeolites can reduce how much you need to water too!
14. Granite meal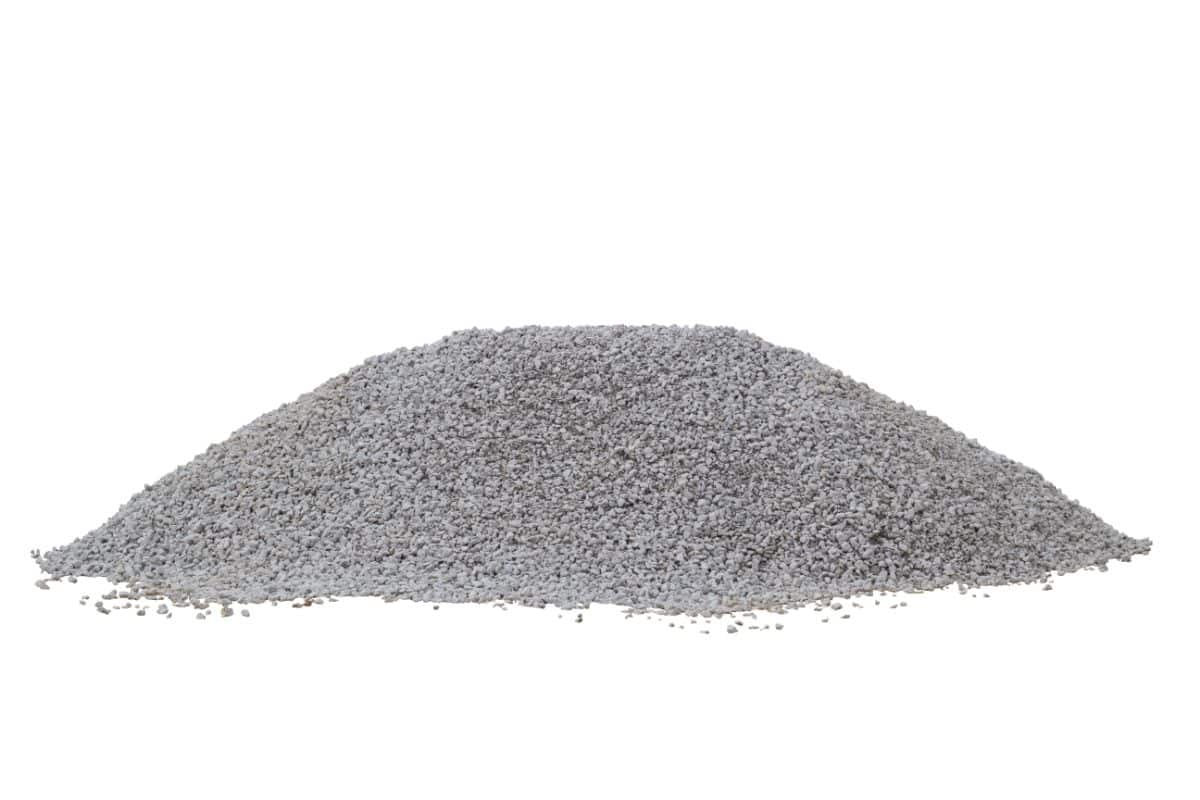 If you're looking for a soil amendment to boost your veggie garden, a granite meal may be just the ticket. This often overlooked amendment is very slow to release, so it is best applied in autumn at a rate of 50 to 100 pounds per 1000 square feet of gardening space. Once applied, a granite meal can boost the potassium content of your soil, which will encourage sugar and starch production in your veggie crop for a tastier harvest.
Granite meal can also improve soil structure, in addition to boosting plant health. Even better, it won't alter soil pH, even when applied in large quantities.
15. Gypsum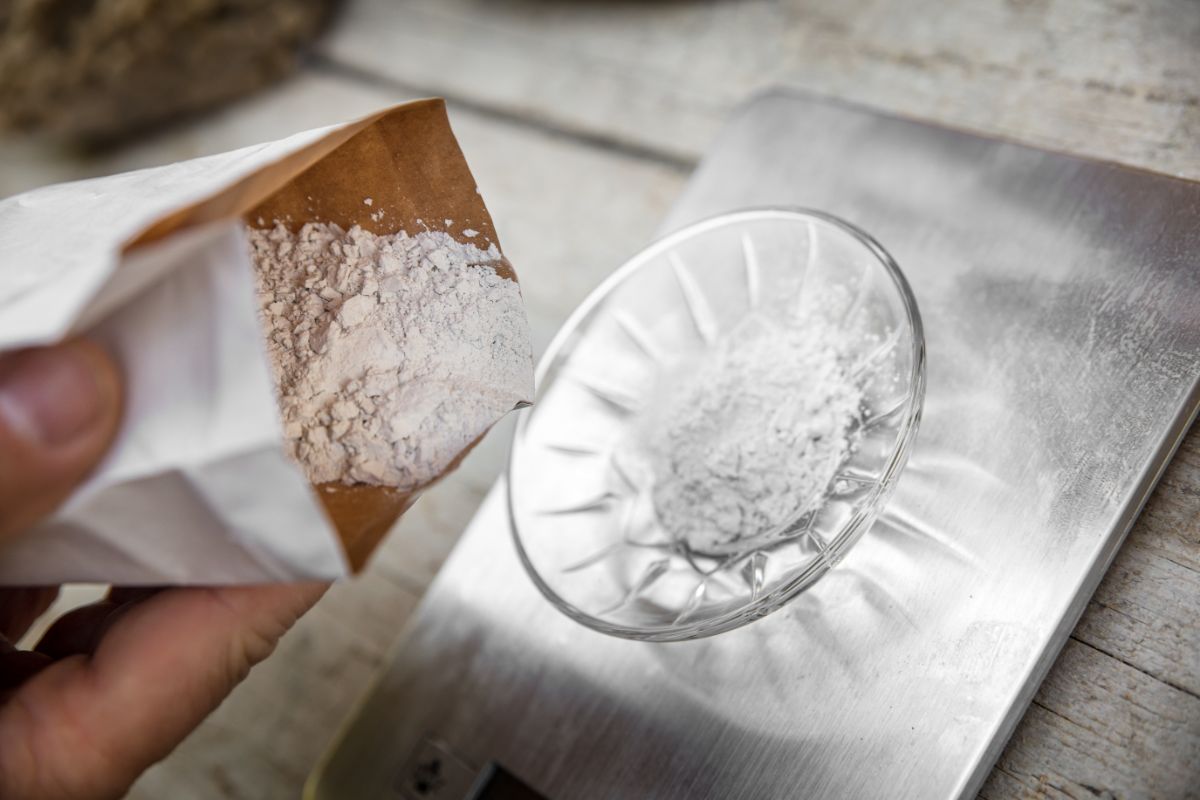 There are lots of reasons to try out gypsum in your lawn or garden. This organic soil amendment is an excellent source of calcium and sulfur and can naturally help to prevent common issues like blossom end rot. It is also pH neutral, so it won't upset your soil's pH levels.
In the lawn, gypsum can help treat damage to your grass caused by pets or road salt. Gypsum will also improve soil structure by reducing soil compaction and boosting water retention too. Gypsum can be applied at any time of the year, and you may want to apply it 2 or 3 times if your soil is quite compacted.
16. Garden lime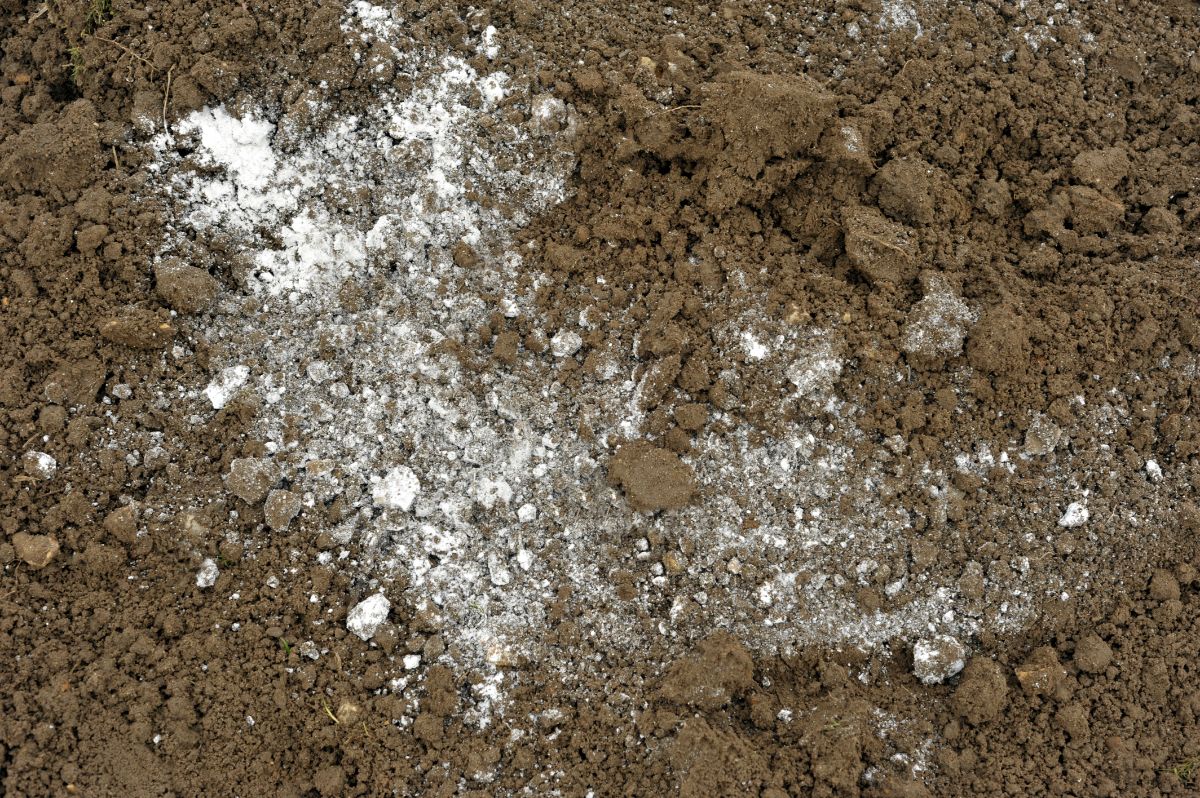 Acidic soil can be problematic for a number of reasons. Most garden plants prefer a relatively neutral soil pH and won't grow as well in overly acidic conditions. Low pH can also reduce plants' ability' to properly absorb fertilizers.
If you've had your soil tested and it is acidic, adding garden lime to your beds can help raise pH levels. Garden lime can also turn hydrangeas blooms pink, as they are pH-sensitive plants. Conditioning your soil and adjusting pH can take a bit of time, so it is best to apply garden lime in the autumn, so it has enough time to do its job right.
17. Sulfur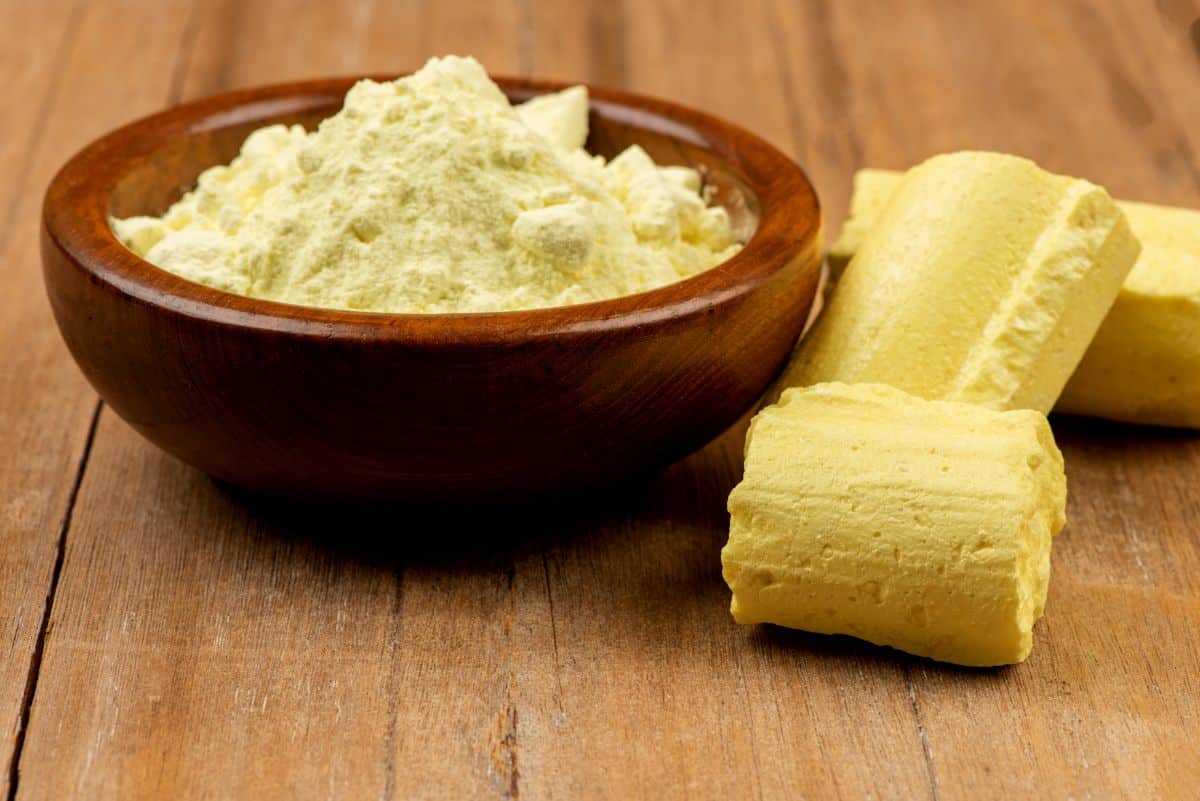 Like garden lime, sulfur works as a soil conditioner, helping to adjust soil pH. However, sulfur acts in the opposite way of lime; that is, it lowers pH, making the soil more acidic. Certain plants, like potatoes and blueberries, thrive in acidic settings, so sulfur can be a much-needed soil amendment.
Beyond adjusting soil pH, sulfur can also improve soil structure, boost beneficial microbe activity and diversity and help plants more readily absorb nutrients. Additionally, powdered sulfur is one of the best all-natural treatments for plant fungi like powdery and downy mildew. Like lime, sulfur takes a while to become incorporated into the soil, so it should be applied at the end of the growing season.
18. Biochar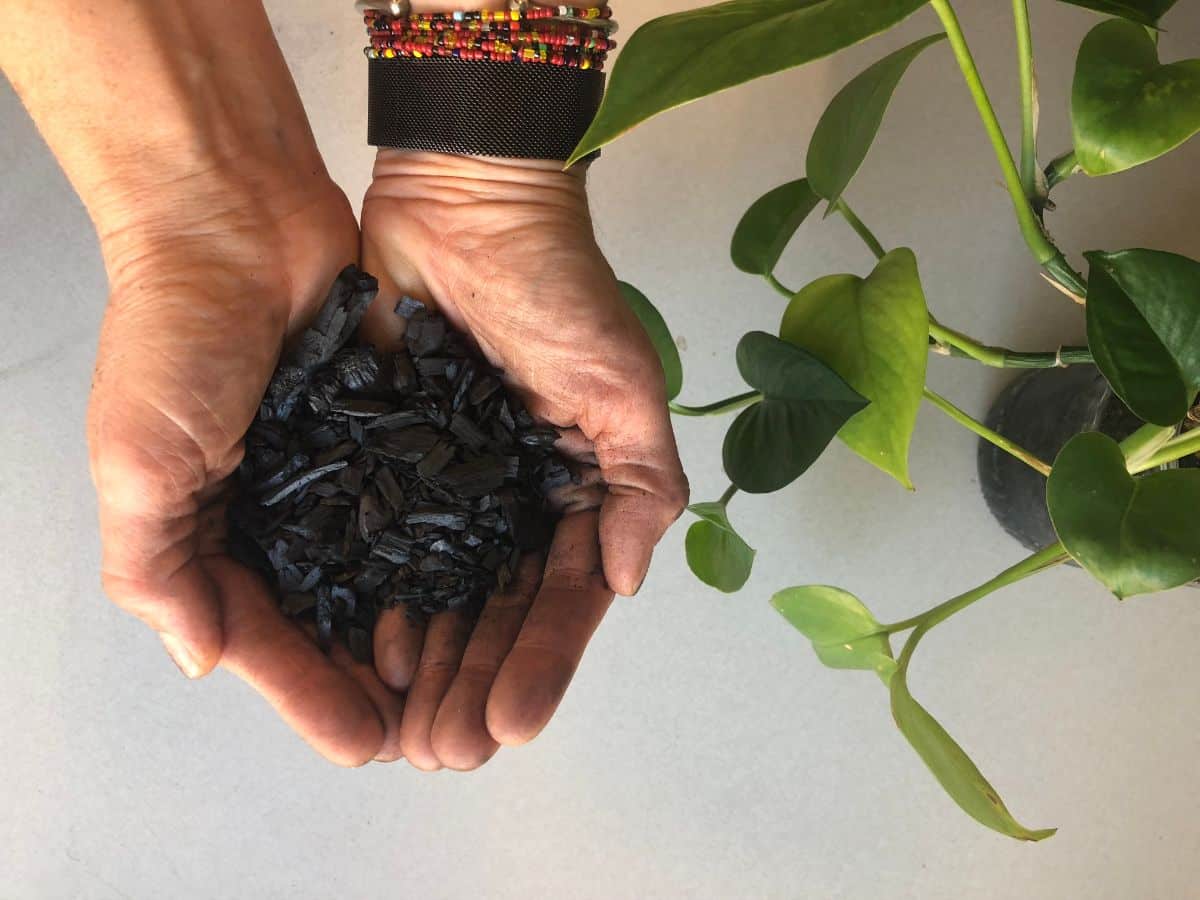 Biochar is a less commonly used soil amendment; however, it has been gaining popularity in recent years due to its potential for helping to sequester carbon and combat climate change. Produced from finely ground charcoal, biochar can help improve soil fertility for healthier plants and a more abundant harvest.
But beyond lusher plants, biochar offers other benefits in the organic garden. It helps to improve soil structure, loosen compact soil, neutralize pH and enhance soil's ability to properly drain and retain moisture levels. Although biochar can be purchased online, you can also make your own at home for a more budget-friendly alternative.
Frequently asked questions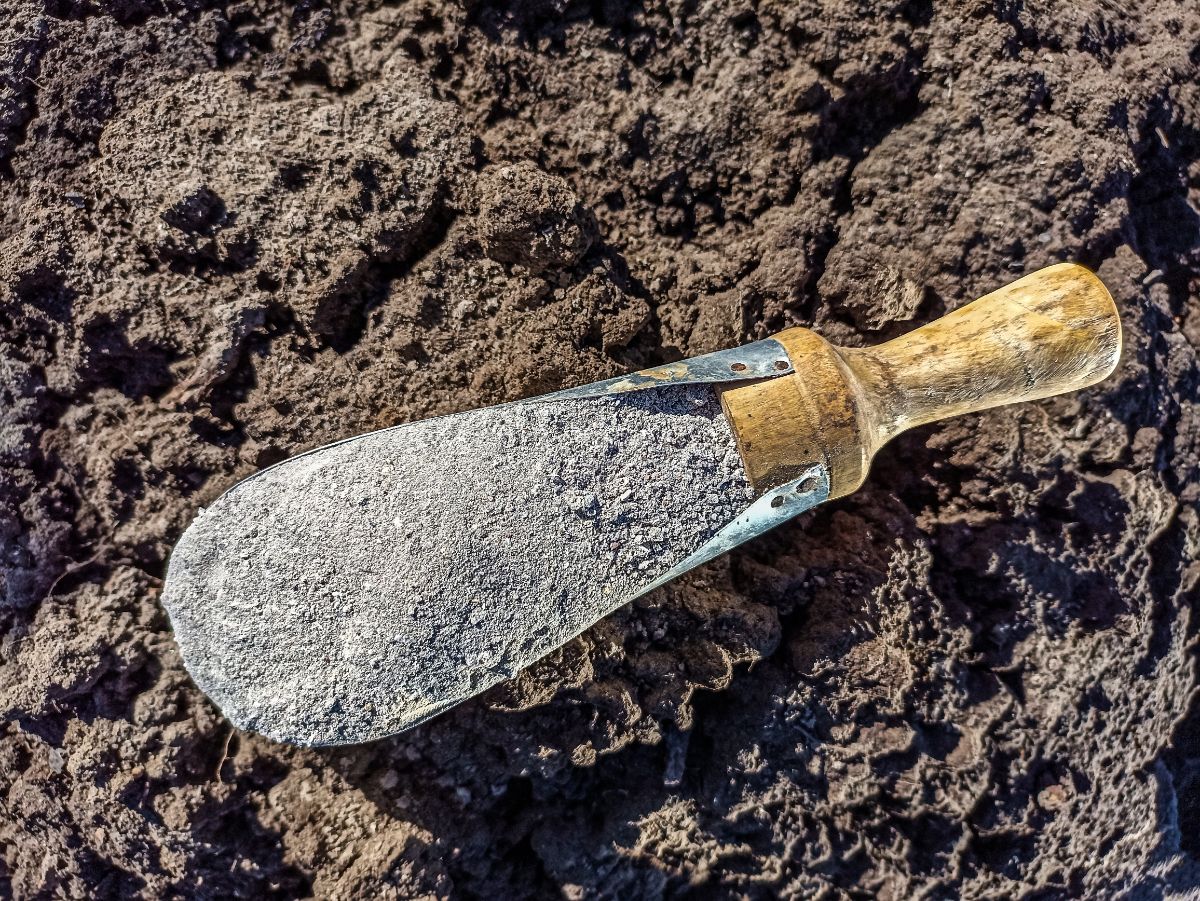 Should you amend the soil in the fall?
Fall is a perfect time to amend your garden soil, as anything you apply at this time of the year will have many months to become fully incorporated into your soil before spring. Once spring arrives, your soil amendments should be completely integrated into your soil, and your garden will be ready to plant!
Is it better to amend the soil in fall or spring?
You can amend your garden soil in the fall or spring; however, most gardeners opt to apply most of their soil amendments in the fall. Applying amendments in the fall gives those amendments more time to become incorporated into your garden soil. Additionally, slow-release amendments and soil conditioners (like sulfur and lime) are best applied in the autumn.
What should I add to my soil before winter?
Applying soil amendments, compost, and/or manure in the autumn can give your plants a nutrient boost in springtime and improve your soil structure overall. For even better results, try topping off your amended soil with a thick layer of mulch too.
What is the fastest way to amend the soil?
Compost or pre-aged manure are some of the most readily absorbable soil amendments. So, if you want to improve your soil fast, add some compost and mix it in well to the top few inches of your garden soil.
What's better: compost or manure?
Both compost and manure are wonderful soil amendments that help to improve soil health and structure. Manure can be higher in nitrogen, while compost can include a greater variety of micronutrients, so it really depends on your goals. If in doubt, remember that you can use both together to boost your plants' growth even more!
How long does it take to correct soil pH?
The length of time depends on what products you're using, and it can vary from months to years. Elemental sulfur takes at least 6 months to lower soil pH, while garden lime can take a few months to three years to take effect. Adding soil conditioners in autumn is recommended, as they can continue to work during winter.
Summary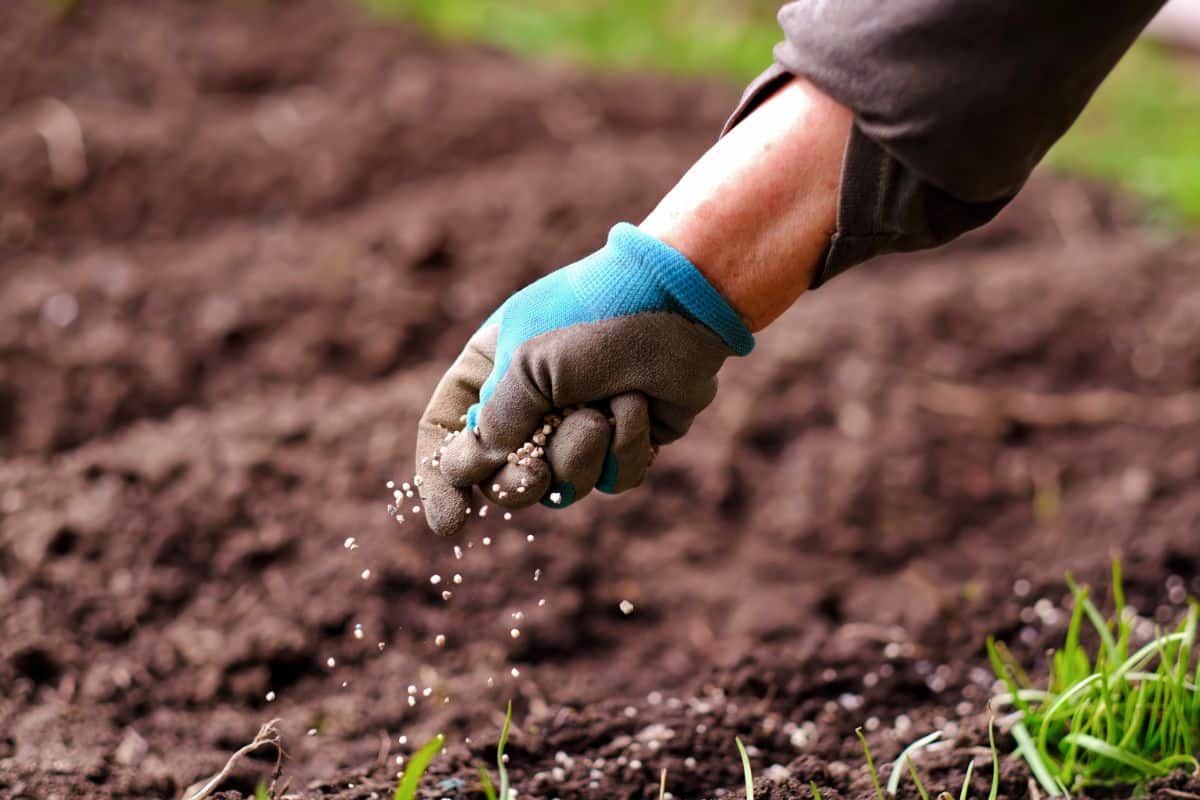 Adding the right soil amendments to your garden can help improve your soil health, boost plant growth, improve your harvest yield and enhance plant health overall. The soil amendments that we've covered here today are all-natural, and because they are generally less harsh than synthetic fertilizers, they are easier on plants, and many of them can be used in conjunction with each other.
Depending on your garden and your particular plants' needs, not all of the soil amendments listed above will be appropriate for your space. However, if you give any of these amendments a try, we think you'll be impressed with the results.
If you liked this article and want to learn more, check out our article on DIY fertilizers for more plant care essentials, or read up on how to properly apply aged manure to your garden here.