Compost gets a lot of attention in the garden; however, manure is another traditional soil amendment that is ideal for boosting plant health, resilience and growth in the organic garden.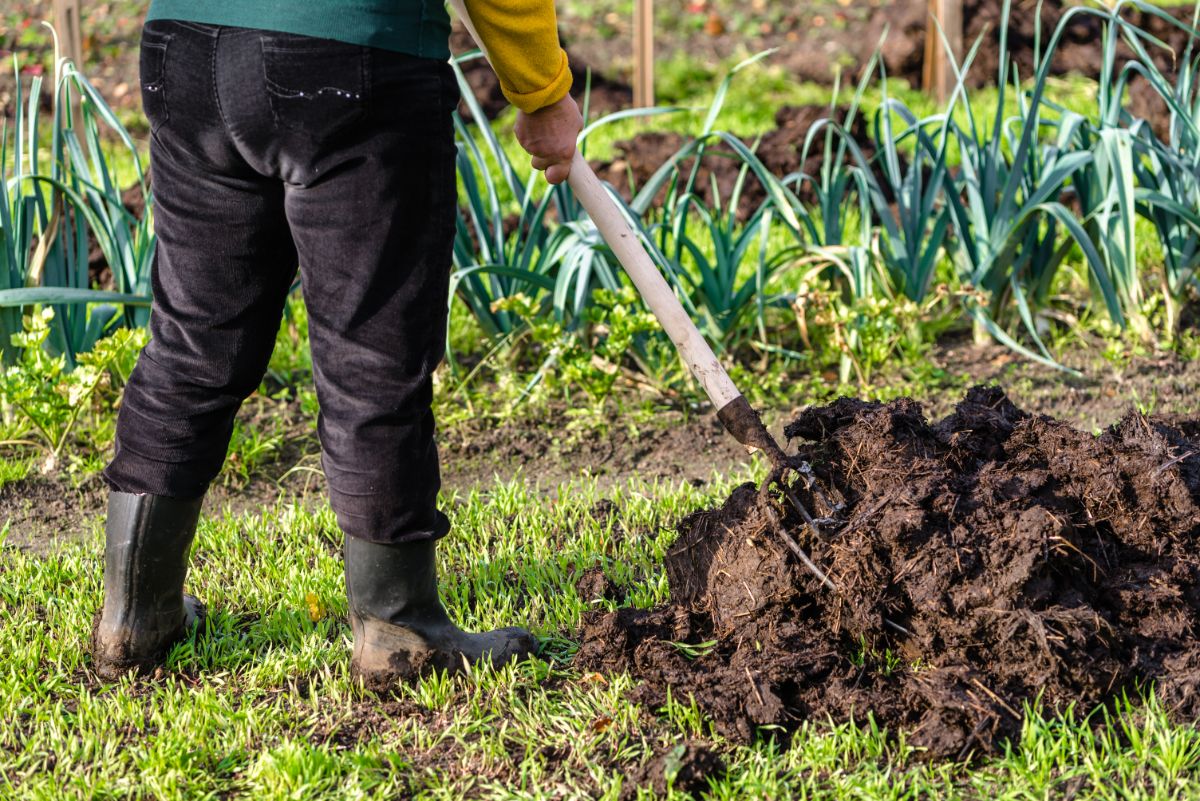 If you happen to live on a farm, you likely have livestock manure in abundance. But even if you're an urban gardener, you can still find large quantities of manure to purchase in bulk online or gather it from local farms and growers for garden use.
Full of macro- and micronutrients plants need to grow healthy and strong, manure can also improve soil health, drainage abilities, moisture retention and lots more. This guide will cover everything you need to know about choosing the right variety of manure, how to age and safely apply it and lots more.
Read on to find out all about manure and how to use it in the organic garden.
Jump to:
Best Types of Manure for Garden Use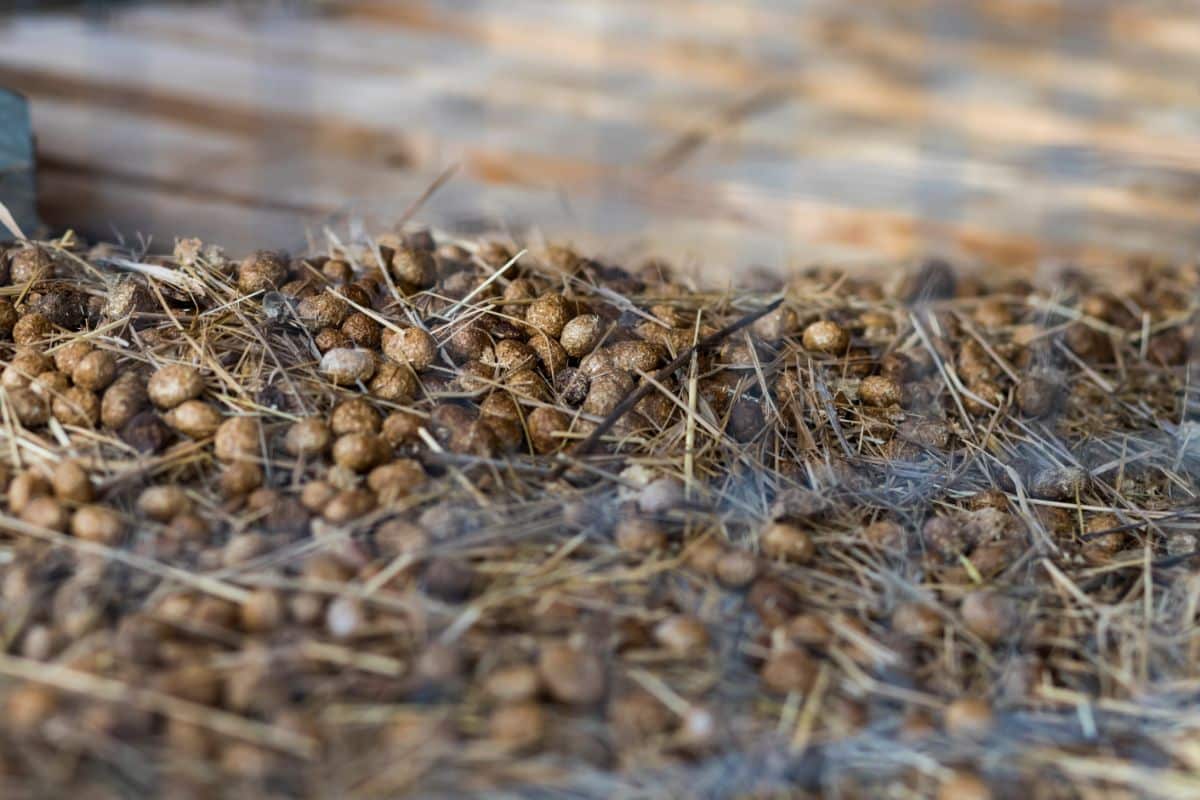 Different manure types have varying concentrations of valuable nutrients, like nitrogen. Additionally, manure sizes can differ, which impacts how easy manures are to apply and how quickly they break down in the garden. And, because animals have different diets and biological structures, some manures contain weed seeds while others don't.
All of these factors influence how manures need to be processed and applied. When choosing a manure to use in your garden, you'll want to keep this information in mind, to make sure you're selecting the best manure for your garden and one that you can work with easily.
Chicken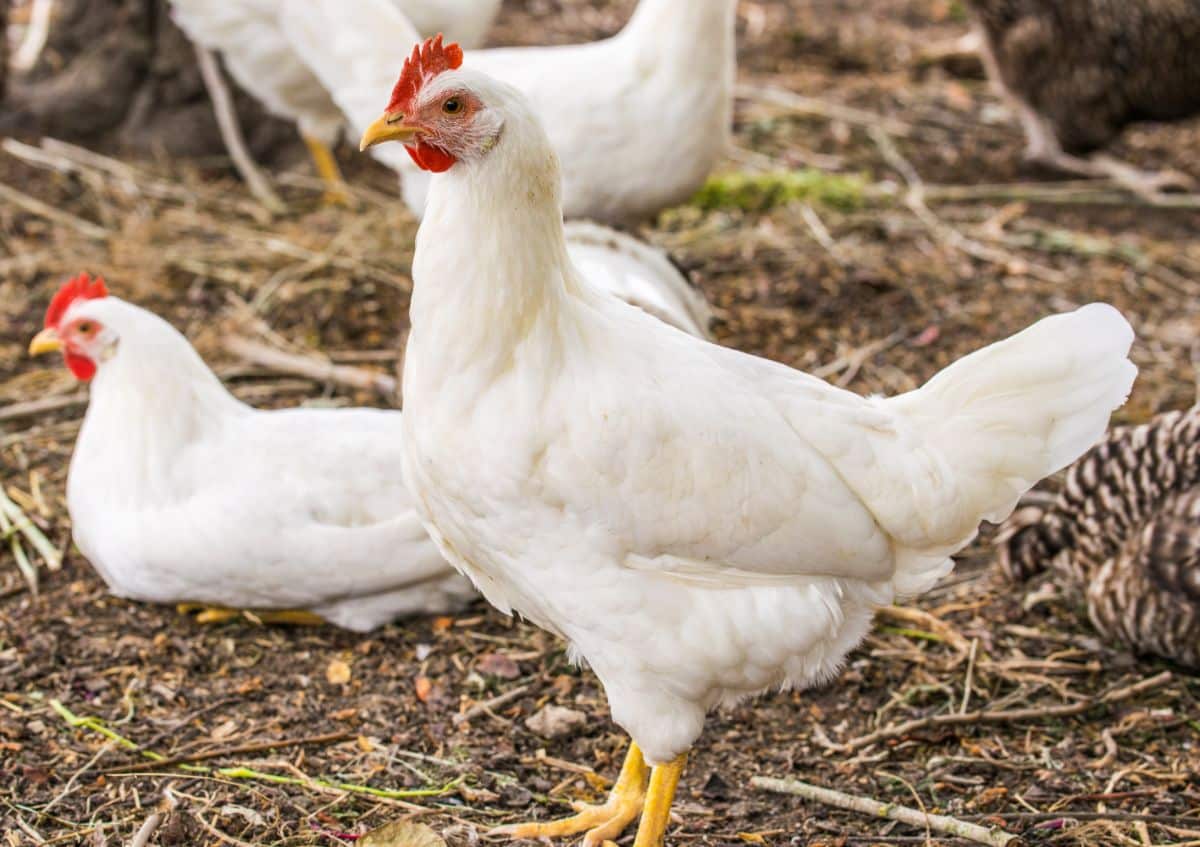 | | |
| --- | --- |
| Manure type: | Chicken |
| Nitrogen: | 1.1 |
| Phosphorus: | 0.8 |
| Potassium: | 0.5 |
| Composting method: | Hot or cold composting |
| Aging length: | 6 to 9 months |
Of all the manures, chicken manure has one of the highest concentrations of nitrogen, making it especially well suited for supporting plants with lots of vegetative growth, like leafy greens and brassicas. And with an NPK ratio of 1.1 - 0.8 – 0.5, it contains quite a bit of phosphorous and potassium too.
Because chicken manure contains so much nitrogen, it is considered to be a "hot compost," meaning it will burn your plants if you apply it directly in your garden. Instead, chicken manure should be composted and/or aged for at least 6 to 9 months before application.
For an easy solution, chicken manure can be added straight to garden beds in autumn and allowed to naturally age on its own over winter. In spring, nitrogen levels will have stabilized and your garden beds will be ready for planting.
What's more, unlike other manures, chicken manure doesn't contain weed seeds. That means you can compost this manure by hot or cold composting methods since you won't need to worry about weeds.
Unless you have backyard chickens, it may be difficult to find large quantities of chicken manure for your garden. However, if you have the time, space and inclination, keeping a few chickens in your backyard can be simple enough and they'll provide you with a ready source of homegrown eggs and plenty of rich manure your garden will love. If you choose to use homegrown chicken manure in your yard, you can compost chicken bedding, like straw or pine shavings, right along with the manure for a good, balanced compost.
While gathering chicken manure from backyard coops may be more convenient, you can order chicken manure online in either small bags or large, 25 pound quantities.
Rabbit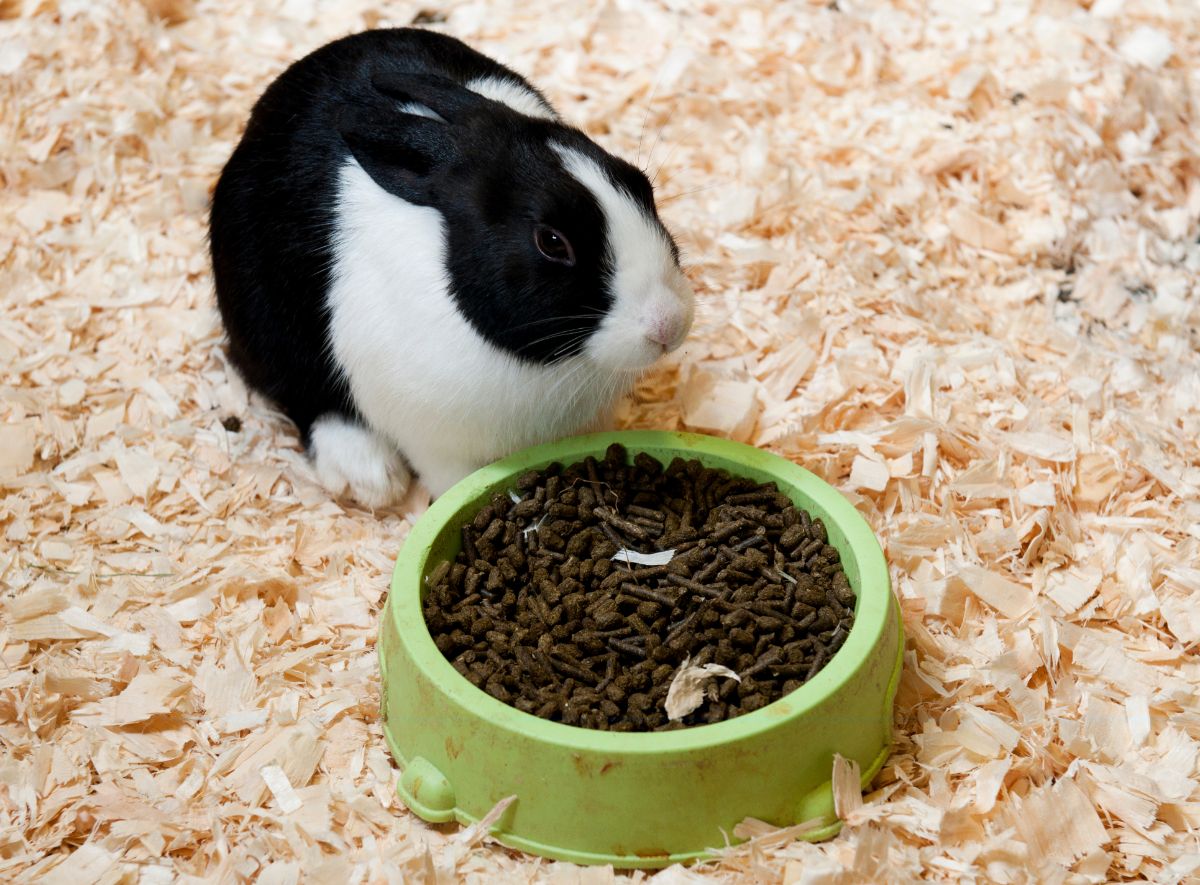 | | |
| --- | --- |
| Manure type: | Rabbit |
| Nitrogen: | 2.4 |
| Phosphorus: | 1.4 |
| Potassium: | 0.6 |
| Composting method: | Hot or cold composting |
| Aging length: | Can be added directly to gardens or composted for 4 months |
Often overlooked, rabbit manure is a powerhouse garden amendment. With an NPK ratio of 2.4 – 1.4 – 0.6, it's chocked full of nutrients plants love and is great for both leafy greens and fruiting plants and flowers.
As a cold compost, fresh rabbit manure can be applied directly to your garden without aging it or composting it and you don't need to worry about burning your plants either. That said, some gardening experts recommend aging rabbit manure for about 4 months prior to application to reduce any harmful bacteria or pathogens it may contain.
Super easy to use, rabbit manure is also quick to apply, thanks to its pelleted nature. And, because it is most often gathered from domesticated rabbits that eat pelleted food, it is usually weed-free too.
Unlike other manures, fresh rabbit manure usually has very little smell. Additionally, although it doesn't need to be composted prior to use, it can be processed by both hot and cold composting methods because you don't need to worry about weeds.
Finding large quantities of rabbit manure may pose a problem, but if you have the interest and space for it, you could think about adopting some bunnies to provide fresh manure for your garden. Alternatively, you can purchase bags of rabbit manure online or ask around in local farming groups to see if any local rabbit keepers may have some manure to share.
Horse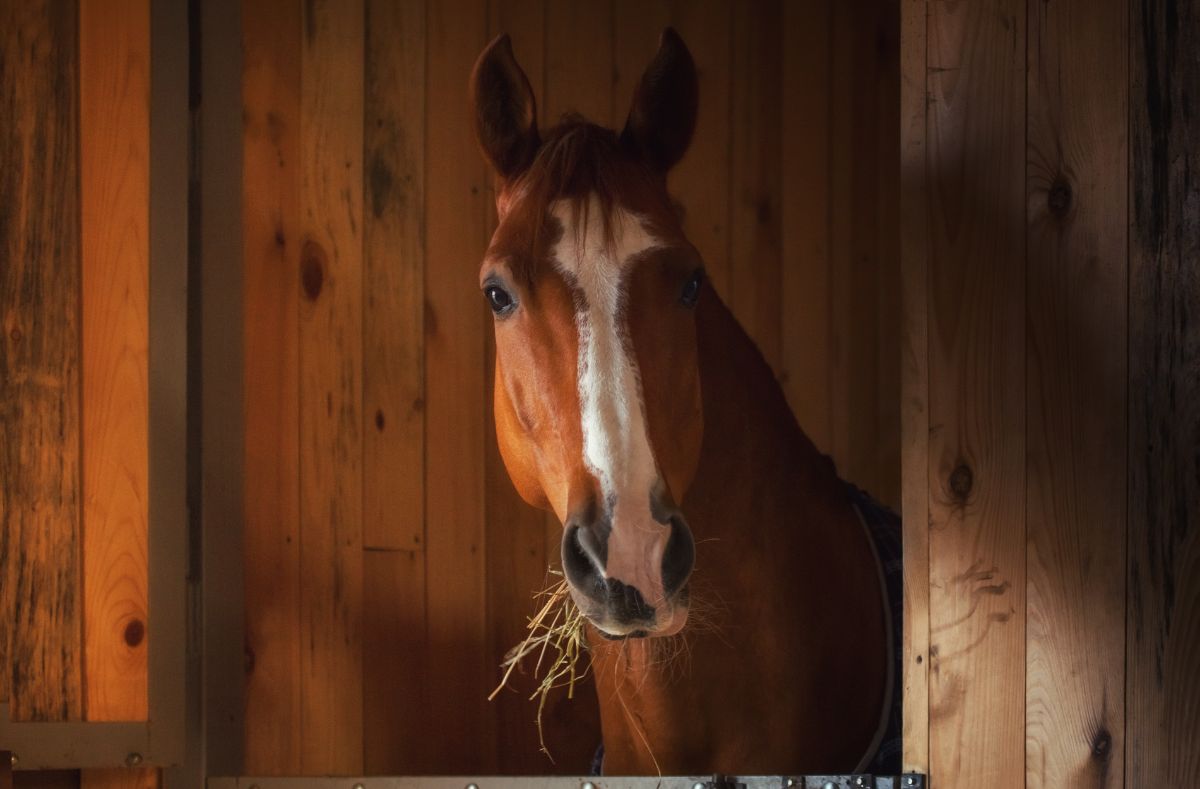 | | |
| --- | --- |
| Manure type: | Horse |
| Nitrogen: | 0.7 |
| Phosphorus: | 0.3 |
| Potassium: | 0.6 |
| Composting method: | Hot composting |
| Aging length: | 3 to 6 months |
Horse manure is the most common manure type for backyard gardens.
With a NPK ratio of 0.7 – 0.3 – 0.6, horse manure nutrient content is very close to that of average compost, so if you're used to using compost in your garden, horse manure will give you similar results with your plants.
Thanks to its size and consistency, horse manure is often easier to apply to gardens than cow manure, although it may take longer to degrade. Also, because horses eat a lot of grass and hay, their manure frequently contains lots of seeds, so horse manure should only be composted using hot composting methods.
Because it comes in larger quantities, it can be harder to find horse manure to order online, but if you live near a farm or a horse boarding stable, ask around. Farmers are usually quite happy to have someone take their livestock manure!
Cow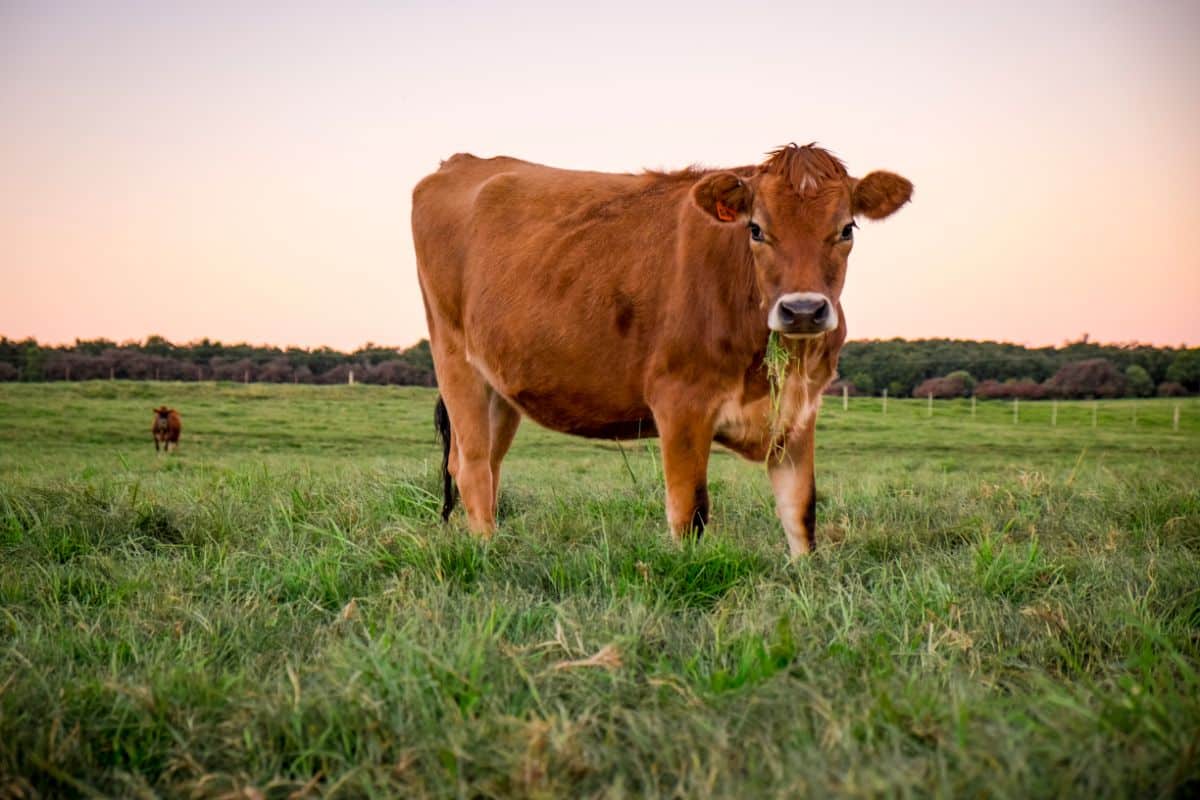 | | |
| --- | --- |
| Manure type: | Cow |
| Nitrogen: | 0.6 |
| Phosphorus: | 0.4 |
| Potassium: | 0.5 |
| Composting method: | Hot composting |
| Aging length: | 3 to 4 months |
Another popular manure option is cow manure, which is budget-friendly, readily available and very easy to find in bulk. If you live near a dairy farm, farmers will often graciously share fresh manure with anyone who asks. However, packaged pre-aged cow manure is available at most garden centers and plant nurseries and is perfect for home gardeners.
Cow manure is quite similar to horse manure, with an NPK ratio of 0.6 – 0.4 – 0.5. If you get this nutrient-rich manure fresh, it can be more difficult to apply than horse manure, but it breaks down more quickly for faster plant absorption.
When fresh, cow manure is quite dense and very high in ammonia, so it needs to be aged at least 3 or 4 months prior to use. Additionally, because it contains large quantities of weed seeds, fresh cow manure should be processed via hot composting only to ensure it is weed-free and ready for your garden. Composting will improve the structure of manure and reduce acidity levels, so that it won't be too heavy or burn your plants.
While it is certainly possible and quite easy to compost fresh cow manure, buying pre-aged manure is a great time saver. Even better, aged manure has little to no smell, which is a good option for anyone living in an HOA or apartment complex where composting fresh manure is out of the question.
Alpaca or Llama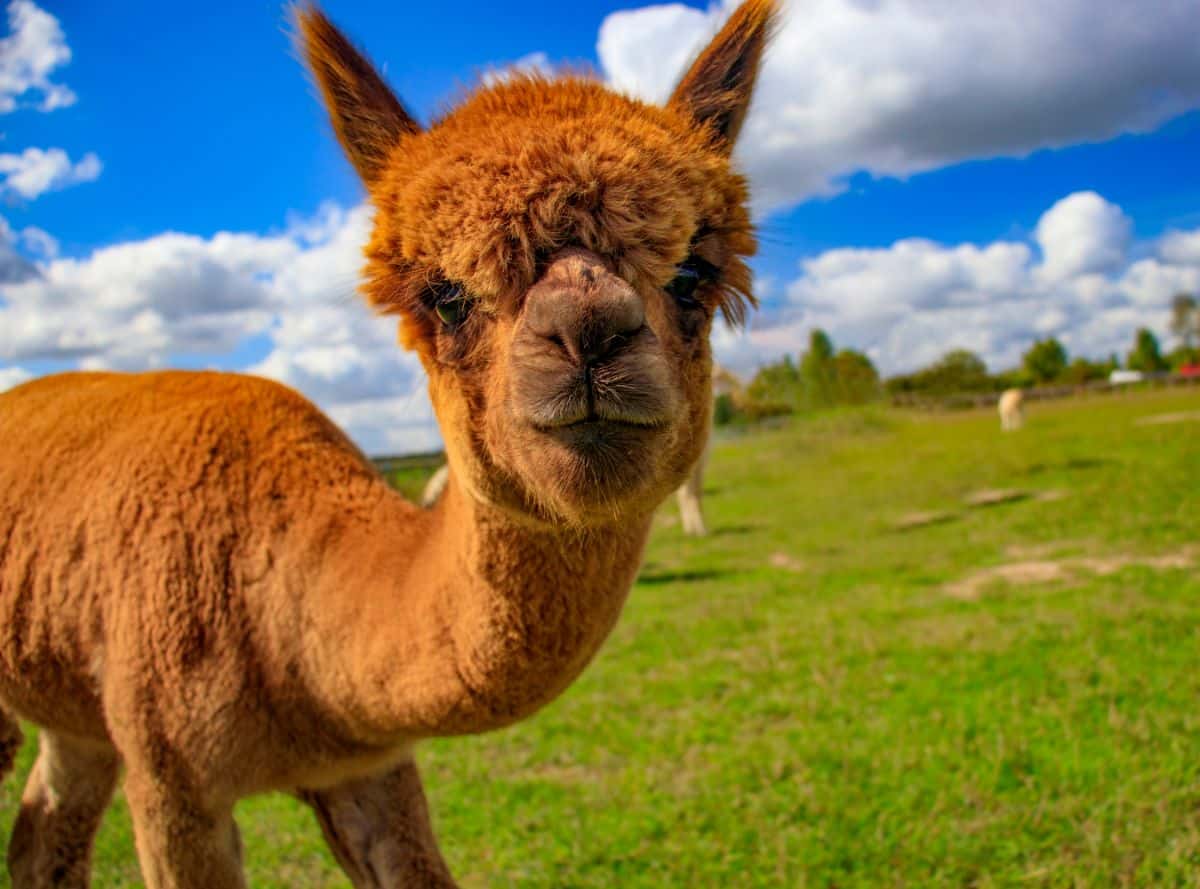 | | |
| --- | --- |
| Manure type: | Alpaca or Llama |
| Nitrogen: | 1.5 |
| Phosphorus: | 0.7 |
| Potassium: | 1.1 |
| Composting method: | Hot or cold composting |
| Aging length: | Can be added directly to gardens or composted for 4 months |
It may sound unusual, but using alpaca and llama manure is actually becoming increasing common in backyard gardens. This rich manure may be more expensive to get your hands on, but it's well worth it.
Containing less ammonia than cow or horse manure, alpaca manure is considered a cold manure (like rabbit manure), so it can be used directly in the garden without worrying about burning your plants. For better plant absorption, composting alpaca manure for about 4 months prior to use is recommended by some gardening experts.
With an NPK ratio of 1.5 – 0.7 – 1.1, alpaca manure is high in nitrogen, so it's perfect for leafy greens, and it's also pelleted for easy application.
Surprisingly, you can order alpaca manure online in small quantities; however, for larger gardening projects, check around online to see if you can find any nearby alpaca or llama farms. These unusual animals are often kept for their wool, so there are more alpaca farms around than you may think!
Benefits of Using Aged Manure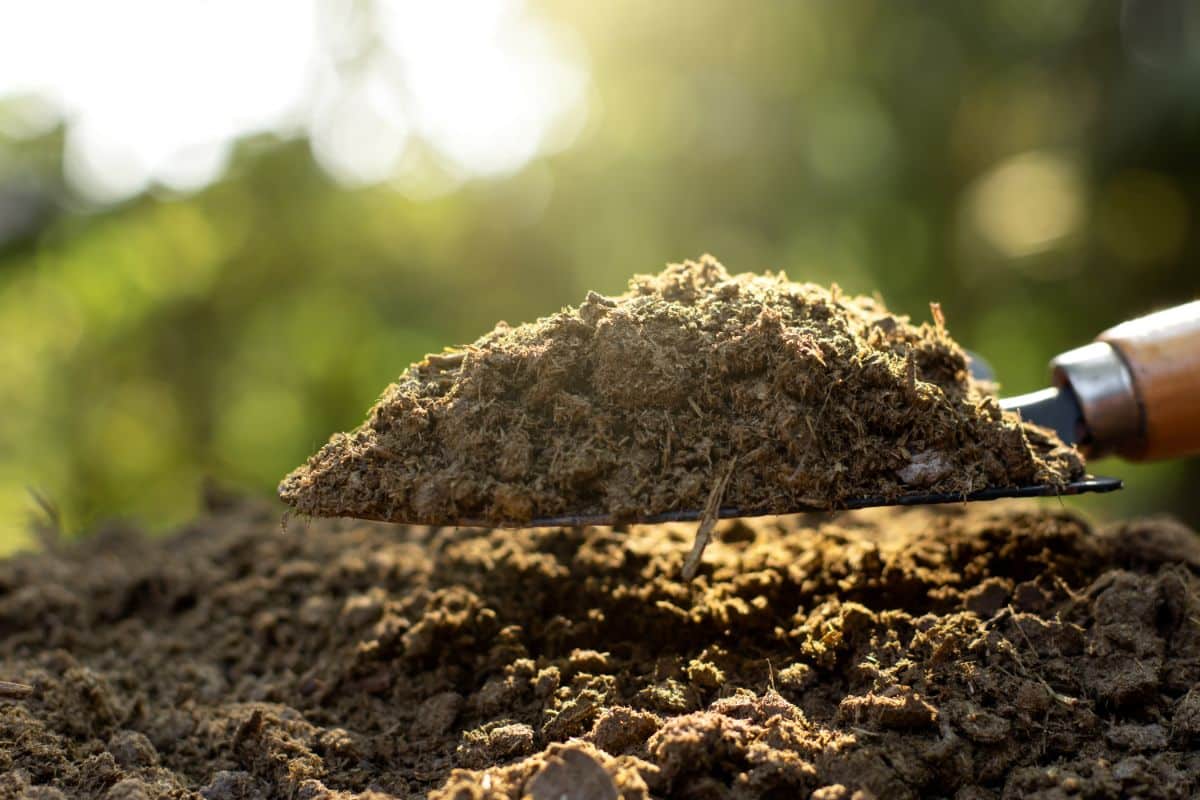 Like compost, aged manure has lots of amazing benefits for your garden. Working with aged manure is a surefire way to grow lush produce, bigger, leafier plants and a healthier garden too. Some of the main benefits include:
Manure is full of macro-, and micronutrients plants need. Manure contains nitrogen, phosphorus, and potassium, otherwise known as the key nutrients plants need to grow lots of leafy greens, fruit, and flowers. But manure contains micronutrients too (like calcium, magnesium, and sulfur), often at higher rates than compost, making this a perfect garden additive.
Manure can boost beneficial microorganism and worm activity in your soil. Microbes and worms help soil nutrients break down for better bioavailability for your plants, and they help improve soil structure and aerate soil too.
A slow-release fertilizer, manure can continue to feed your plants for months. While fertilizers can quickly wash out of garden soil with rain, many nutrients in manure are only released as microbes break them down, making this a slow-release fertilizer. That means manure will continue to provide nutrients for your plants for many months after the initial application.
It can boost plants' natural immunity. Chocked full of nutrients, manure helps plants grow healthier and stronger. Additionally, because it increases microbe activity and improves soil health, it can bolster plants' natural immunity, making them better able to resist pests and pathogens.
Manure helps prevent weeds. Although manure is most often used as a soil enhancer and fertilizer alternative, it can also be spread as a mulch. When applied in autumn after your fall garden cleanup, 1" of manure added to 2" of compost can serve as an awesome winter mulch, enhancing soil and preventing cool weather weeds from taking hold.
It's a great way to improve soil structure. Like compost, aged manure is a perfect garden amendment for improving soil structure. Manure can increase sandy soil's ability to retain water while helping heavy, clay soil drain better and prevent waterlogged roots.
Aged manure doesn't smell. While fresh manure is notoriously stinky, properly aged manure shouldn't smell. This is great news if you're hesitant to start using manure in your garden.
Manure vs. Compost: What's the Difference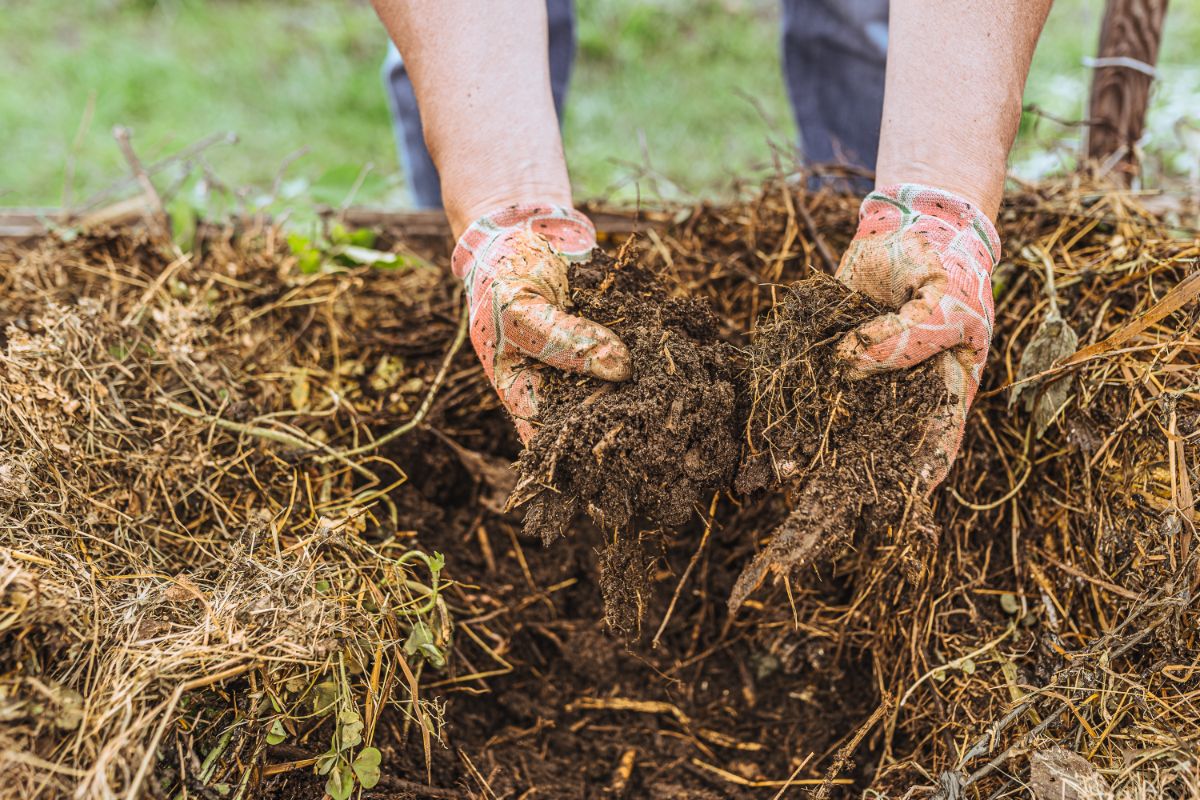 Both aged manure and compost are awesome soil amendments for the organic garden, providing plants with extra nutrients, blocking weeds, improving soil structure, moisture retention, air flow, drainage capabilities and other essentials of soil health. However, there are some key differences between the two to consider if you're trying to decide which one to use in your garden.
Availability
Compost is easy to find and you can usually locate bags of it at nursery centers or order it online. If for some reason you can't find compost anywhere, it is super simple to make too – even in a small backyard garden or indoor composting setup. Between bokashi composting and vermicomposting (composting with worms), you can readily create your own compost in even the smallest places by repurposing kitchen scraps and yard waste.
Unless you live on a farm or have your own backyard flock of chickens, manure can be more difficult to find, but it is still possible. Some garden centers do sell aged manure, but usually your best bet for finding manure in large quantities is to call nearby farms and see if they have any to spare.
Usability
Once kitchen scraps and yard waste are done composting, they're ready for garden use. However, that's not necessarily true of certain manure.
Most fresh manures are "hot manures." This means that they may burn your plants if used right away due to high concentrations of ammonia (ammonium nitrate). Additionally, manures can contain large quantities of salts and, potentially, weed seeds, which can spell trouble for your garden.
For this reason, most fresh manure should never be used with plants right away. Instead, manures should be composted via hot composting and/or allowed to naturally age for several months to allow acidity levels to drop and the salt content to decrease. If you suspect manure may contain weed seeds, it should be processed with hot composting methods prior to use.
Nutrients
Compost and manure contain similar quantities of nitrogen, phosphorous and potassium (NPK), which plants need to support fruit, flowers and leafy growth. However, manure often contains higher concentrations of nitrogen and micronutrients, like magnesium, calcium and sulfur.
While these micronutrients can be very beneficial to some plants, like certain varieties of spinach, they have the potential to burn plant tissue if manure is not properly aged or composted before use.
Absorbability
The nitrogen in manure is mostly supplied through ammonia (ammonium nitrate). This means that it is more quickly and readily absorbed by plants, particularly in slightly acidic conditions. For this reason, manure application is especially well-suited to acid-loving plants.
While both manure and compost are considered "slow-release fertilizers," manure supplies nitrogen to the soil quicker than compost does.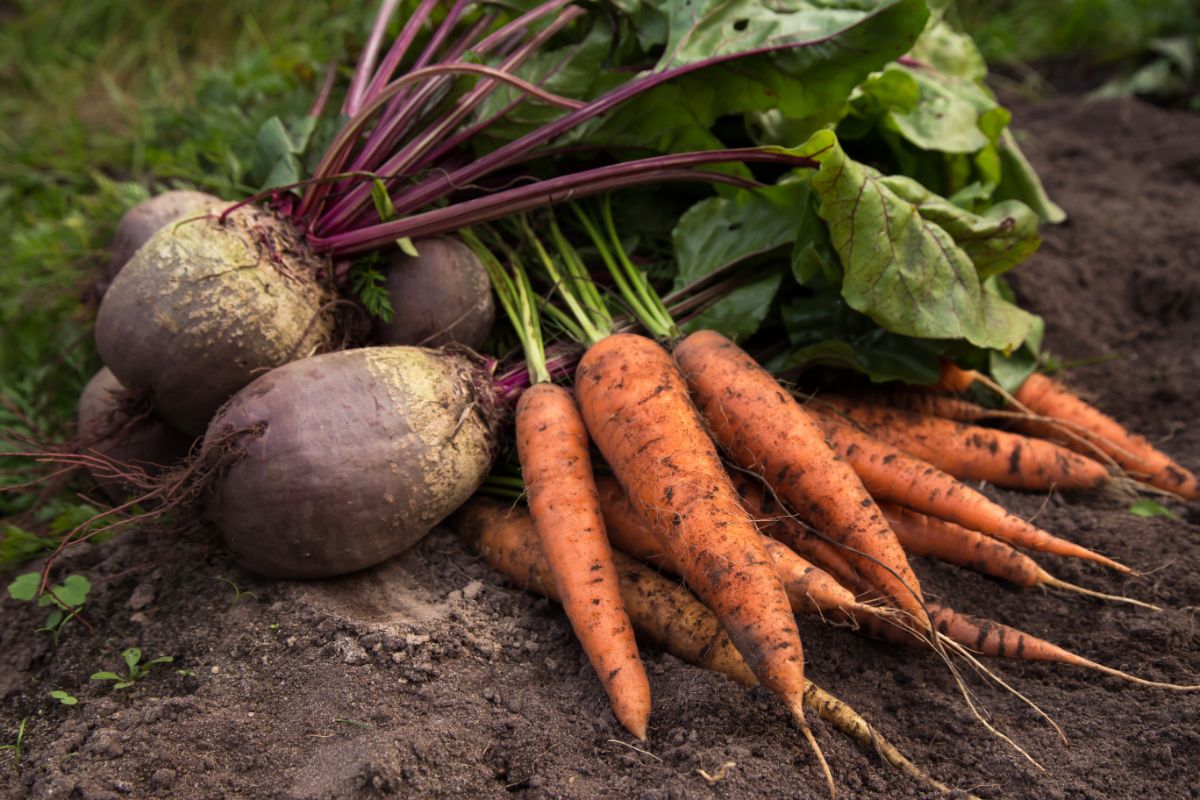 Plant preferences
In general, some plants seem to prefer compost over manure and vice versa.
Manure can sometimes be too much for young seedlings and root crops to handle. In particular, root crops, like carrots, may grow in strange shapes and develop forked roots when too much-concentrated manure is added to their soil. In these instances, compost is usually the preferred soil amendment.
Additionally, because they don't need large quantities of nitrogen, tomatoes, eggplants, and cucumbers often seem to do a bit better with compost applications. Other plants with low nitrogen demands may develop too much leafy growth with manure too.
On the other hand, leafy greens, beans, grains, corn, squash, potatoes and other tubers seem to prefer manure in many situations. While leafy greens can enjoy a weekly dose of diluted "manure tea," other veggies do best with a single application of manure to garden soil prior to planting.
Safety
Both compost and manure contain bacteria; however, manure, and particularly horse and cow manure, often contains E. coli which can cause sickness in humans if improperly applied or not aged correctly or if produce is not well-washed. Additionally, manure may contain parasites and traces of hormones or antibiotics from farm-raised livestock.
While this can mean that compost is somewhat safer to use in home gardens, manure is safe to use when properly aged and hot composted.
Just keep in mind that not all manure is treated equally and it is not safe to use manure from carnivorous animals or house pets like cats and dogs in food gardens.
How to Use Manure in Your Garden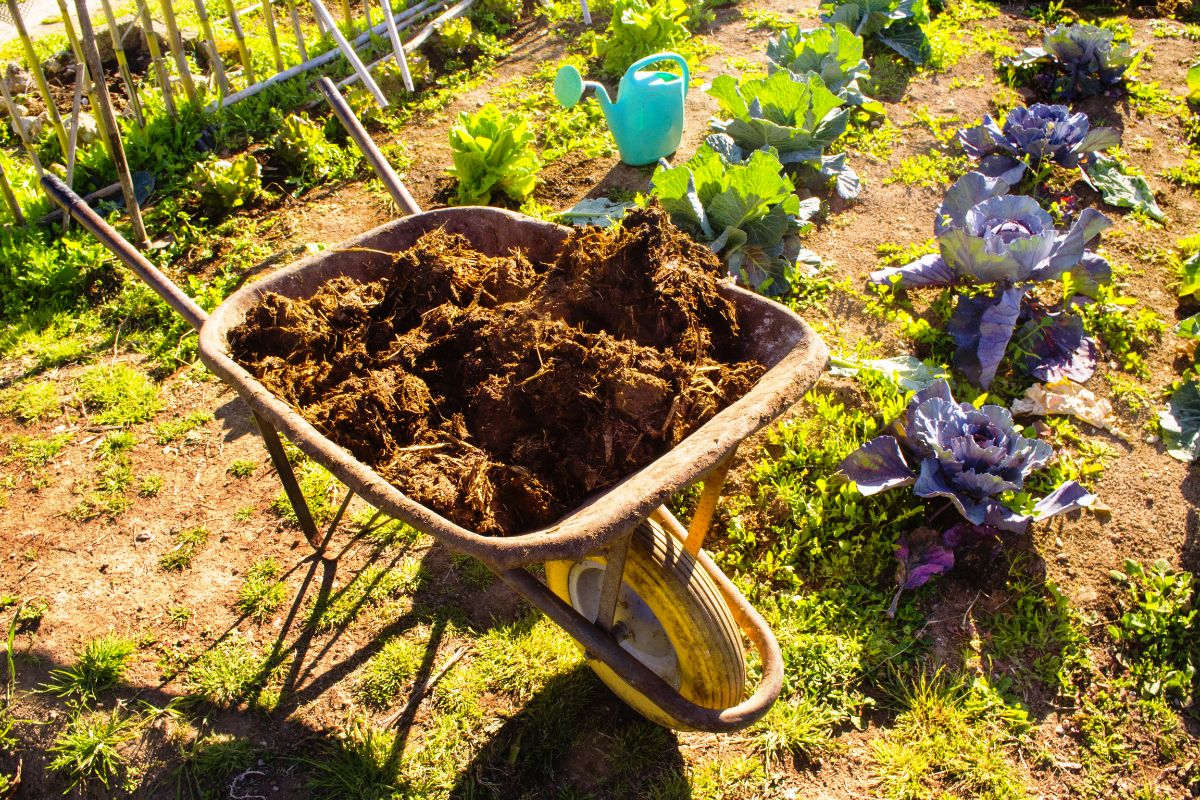 While manure is an excellent soil additive, most manure is not ready to use right away. Instead, manure should be composted and/or aged prior to use to remove any harmful weed seeds, pathogens, salts and high levels of nitrogen and other nutrients.
Hot manure vs. cold manure
Before delving into the composting process, it's important to understand the key differences between the two main types of manure: hot manure and cold manure.
Hot manure refers to certain varieties of manure that are so high in ammonia and nitrogen that, when used fresh, they may burn plant tissue. Hot manures include cow, horse and chicken manure, which should always be aged at least 4 to 5 months prior to use.
Cold manure contains lower levels of nutrients and can actually be added straight to the garden without composting or aging and it won't burn plants. Manures like rabbit and alpaca fall into the category of cold manures; however, they can still benefit from aging and composting which improves structure, reduces potential pathogens, destroys weed seeds and more.
Aging and composting manure
Aging manure prior to use is the process by which fresh manure is allowed to rest for several months. Manure can simply be piled in a heap or it can be added directly to your garden in fall, after the season's end. As manure ages, excess levels of nitrogen, salts and other minerals and nutrients naturally decline, making the manure safe for plant use.
Aging manure for 4 to 5 months also increases the bioavailability of nutrients, making it more usable by plants. Additionally, allowing manure to rest before use decreases parasites and potential pathogens and improves structure too.
Composting manure is a slightly more active process whereby fresh manure is mixed in with your compost pile. Since manure is high in nitrogen, it is considered a green or nitrogen-rich material in compost heaps and should be mixed with brown, or carbon-rich material, like dried leaves, sawdust, straw, hay and twigs. You'll want approximately 1 part manure to 3 parts carbon-rich material for best results.
When composted, manure acts as a compost accelerator, which can speed up composting in established compost piles.
If you decide to compost manure, you can choose to compost it via cold or hot composting methods. While both methods are quite similar, in that they use approximately the same ratio of carbon- to nitrogen-rich material, hot compost piles are turned several times a week for aeration. This increased air flow speeds up the composting process in hot compost piles, producing finished compost quicker.
But the real benefit of hot compost is that it generates temperatures high enough to kill off pests, pathogens and weed seeds in manure. For this reason, if you're processing fresh manure, hot compost is the recommended method for any manure type that may contain weed seeds (like cow manure or horse manure).
Even better, hot composting manure prior to use can also give you the peace of mind that comes with knowing you've created temperatures high enough to kill off most bacteria, parasites and pathogens that may have been in your fresh manure.
For best results, if you choose to hot compost manure, the composting process should take about 2 to 3 months. Using a compost thermometer, check your pile during that time, ensuring that temperatures remain above 145°F for 30 days, which is hot enough to kill almost all weed seeds.
Using manure
For easiest application, after removing old plant debris in autumn, simple spread fresh manure across your garden beds and allow it to age naturally. By springtime, that manure will be well-aged, nitrogen levels will have lowered and your garden beds will be ready for planting. When used in this manner, manure works as an excellent mulch too by helping to protect soil from erosion and the weather and preventing weeds.
If you decide to add aged manure to your garden beds in spring, that works too. Just wait about a month after manure application to begin planting as all the microbial activity caused by that nutrient-rich manure may interfere with seed germination.
As far as application rates go, you'll want to apply approximately 40 pounds of manure per 100 square feet of garden space, but those measurements may differ depending on the type of manure you're using. After applying, mix the manure into the top 6" of garden soil for even distribution.
During the growing season, aged manure can also be used as a topdressing on garden beds by sprinkling it over the soil and mixing it into the top 6". Aged manure also functions as a side dressing by adding roughly ¼ cup of manure around the base of individual plants (don't place manure directly against plant stems to prevent tissue burn).
Rather than using synthetic lawn fertilizers, aged manure can additionally be spread across grass lawns for a nutrient boost and healthier grass. Manure can be spread by hand with a shovel, but a drop spreader will make for a more even application.
And for houseplants, aged manure can be brewed into a "manure tea" to serve as an all-natural, organic liquid fertilizer!
Where to Find Manure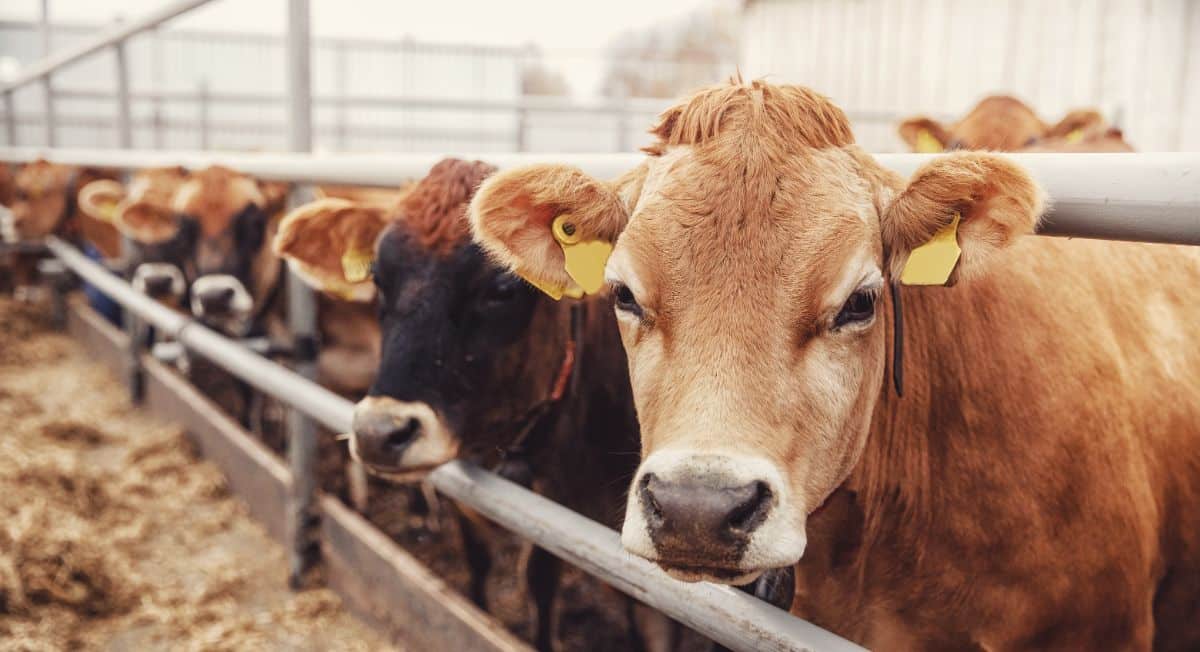 Small quantities of manure can be ordered online or found at garden centers and plant nurseries. This packaged manure is usually pre-aged, so you don't need to worry about composting it and you can put it directly on houseplants and garden beds.
Pre-aged manure is a great option if you live in an apartment or HOA where composting is disallowed, or you just don't want to handle fresh, and potentially smelly, manure. Once pre-aged and composted, manure has an earthy smell and is very simple to apply.
For larger quantities of manure, or if you don't mind getting your hands dirty a bit, calling up local farms, farmstands, horse barns and other businesses dealing with livestock is a good idea. Farms are usually looking to get rid of manure and are often happy to give it away for free, making this a great option if you're gardening on a tight budget.
When looking for local farms, be prepared to work with what you can find. You may want to use alpaca manure in your garden, but if there are dairy farms nearby, cow manure may be a better and cheaper option. Check around local listings, do some online searches or ask around at feed stores and garden centers. You can usually find quite a few leads for free manure.
Alternatively, if you don't want to use manure from unknown sources, and you have the space and inclination for it, you can of course farm your own manure in your yard. Adding a rabbit hutch or a small flock of chickens can provide you with an easy source of manure for your garden for years to come, and these little critters are great at helping you get rid of weeds and excess garden produce too.
Safe application
If you're dealing with fresh manure gathered from farms, it's important that you know your supplier and ask the right questions. Livestock, like cattle, are often fed hay which can be sprayed with chemical herbicides. Once ingested, these herbicides don't really break down and can find their way into the manure itself. When applied to your garden, this herbicide-laced manure can have disastrous results – not only killing plants, but also potentially rending your entire garden's soil infertile.
Because of the potential for herbicide exposure, if you're getting manure straight from farms, don't be afraid to ask about the animals' feed and any potential for pesticides. If possible, look for manure harvested from organic farms, or get in contact with backyard farmers who have a small flock of chickens or a rabbit hutch, as manure from sources like these is less likely to contain harmful pesticides.
If after all your research you're still in doubt whether manure may or may not contain pesticides, you can always test out your manure on a small patch of grass or some inexpensive seedlings to see how they fare.
Conclusion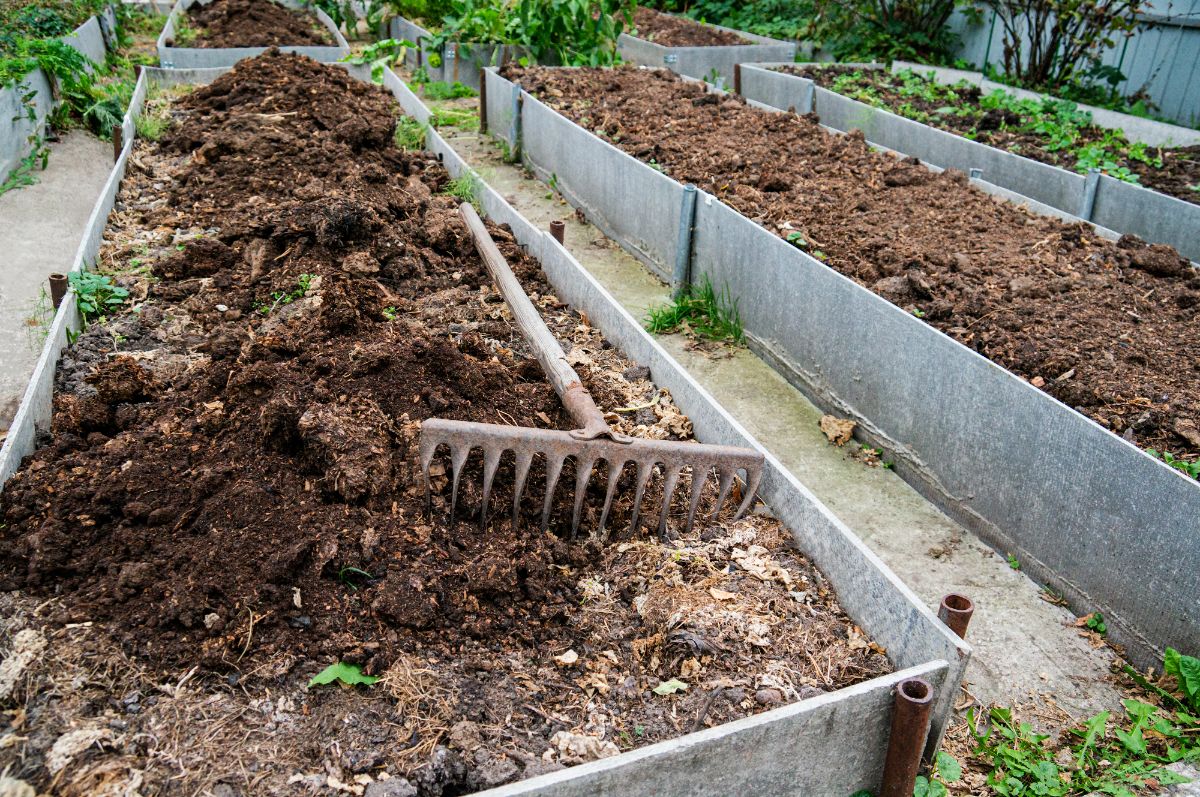 Using aged manure in your garden will help you grow bigger plants and more fruit and create healthier soil over time. This amazing, all-natural lawn and garden amendment can work in conjunction with organic compost and fertilizer, or it can be used on its own to boost plant health and improve soil structure.
If you live on a farm or near one, using manure in your garden is a great way to make the best use out of what you have. But many types of manure are readily available pre-packaged for urban gardeners too. Check online, call around or ask that neighbor who has a backyard flock of chickens. It's easy to find manure for your garden if you know where to look.
While the thought of manure may at first seem "yucky," aged manure is usually odorless and very easy to apply and work with. Just like compost, the idea may take some getting used to, but once you see your first plant blooms and your garden harvest, you'll be glad you made the switch!
Frequently Asked Questions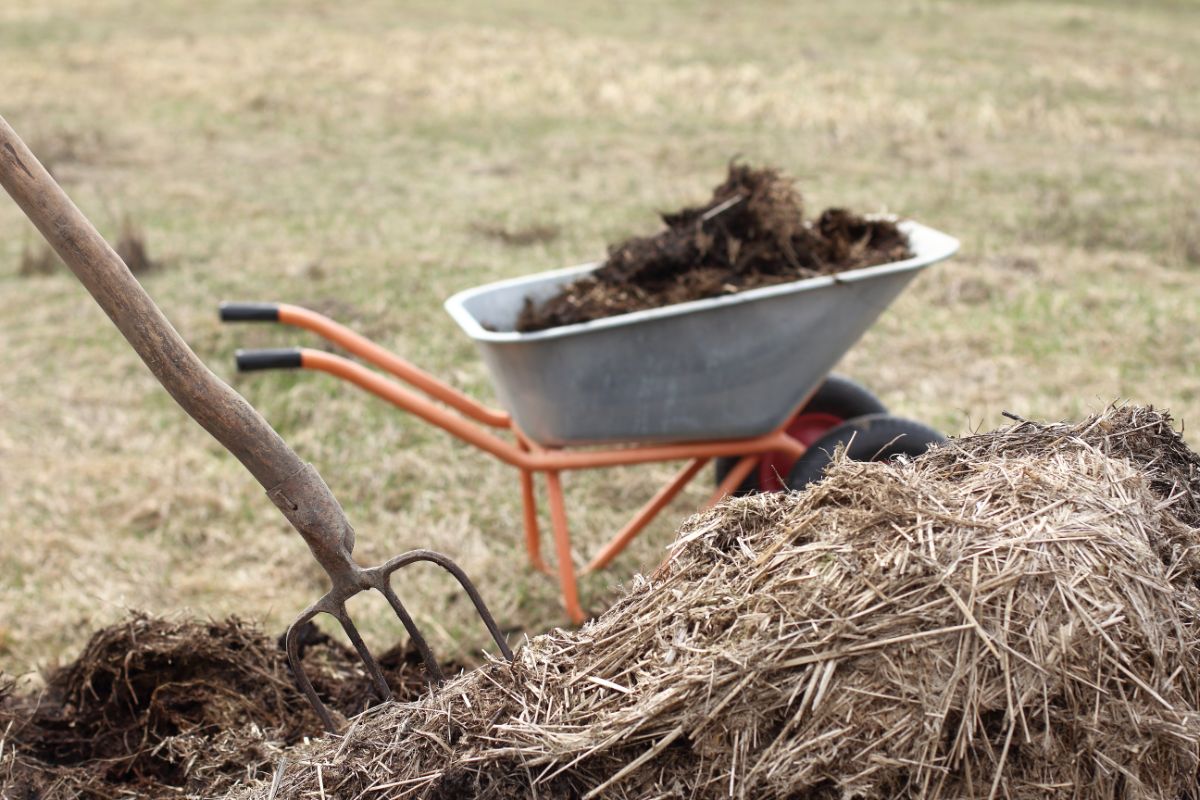 Can I use manure and compost together?
Absolutely! Manure benefits from being composted prior to use and applying manure and compost together in your garden is actually the best of both worlds. Because of its high nitrogen content, manure can speed up the composting process when added to your compost heap. When used in conjunction, manure and compost boost nutrient levels and improve soil structure overall.
If you're thinking about applying manure and compost together in your garden, add about 1 part manure to 2 parts compost for best results.
Can I use manure with fertilizer?
You can, but generally not at the same time. Overfertilizing your plants can cause issues with leaf burn, deformed growth and plant death, so you don't want to overdo it.
Instead, for best results, try amending your garden with aged compost either at the beginning of the season in spring or at the end of the season in fall. Once your plants start growing and blooming, apply organic fertilizer as needed, following the manufacturer's instructions, for a quick nutrient boost. Combining fertilizer and manure in this way is a good way to improve overall soil health and structure, while supporting plants with fertilizer when they need it most (such as when flowers or fruit first form).
Will manure from any animal work in my garden?
No. While manure from cows, horses and other livestock work well for gardens, manure from carnivorous animals should be avoided.
Although it may be tempting to try to find a use for kitty's litter, your garden is not the place for it. Applying manure from house pets to food crops increases your risk of transmitting harmful bacteria and diseases into your food, which you definitely don't want.
How do I make "manure tea" with aged manure?
Like compost tea, manure tea is rich is nutrients and can be easily applied to garden beds and houseplants too as a homemade liquid fertilizer.
To create your own manure tea, fill a 5-gallon plastic bucket ⅔ of the way full with water. Then fill the bucket the rest of the way with aged manure of your choosing.
Allow the "tea" mixture to steep outdoors for a day or two, being sure to stir it once or twice a day. After your mixture has steeped, allow the solids to settle to the bottom of the bucket and then pour off the liquid into your watering can. You can also simply scoop out as much manure tea as you need for individual plants, and then add the solids to your compost pile.
Can I use manure with houseplants?
Yes! Houseplants love aged manure. Just be sure that whatever manure you apply to your houseplants has been properly composted to eliminate the risk of burning your plants. This will also reduce any unpleasant odors and avoid attracting unwanted pests like fungus gnats and flies.
When potting up new plants, you can mix aged manure into your potting mix, at a rate of 1 part manure to 4 parts potting mix. For established plants, apply a side dressing or top dressing of manure, but only apply it in small quantities and never apply manure directly against plant stems to avoid accidentally burning or rotting plant tissue.
Are worm castings considered to be manure?
They are! Worm castings, or the product produced from composting with worms, are a rich soil amendment that boosts plant health and natural immunity and improves soil structure. While many gardeners may not think of it, worm castings are really just worm manure and are perfect for organic gardens.
References: