Basil is available in dozens of varieties and has so many uses in the kitchen. Whether you use basil in sauces for pasta, sprinkle fresh basil leaves on your pizza, or use basil in your fresh summer salads, you can never have enough basil.
My favorite recipe is to cut thick slabs of fresh mozzarella, stack them with a slice of tomato and some basil leaves, and drizzle them with a bit of EVOO and fresh cracked black pepper.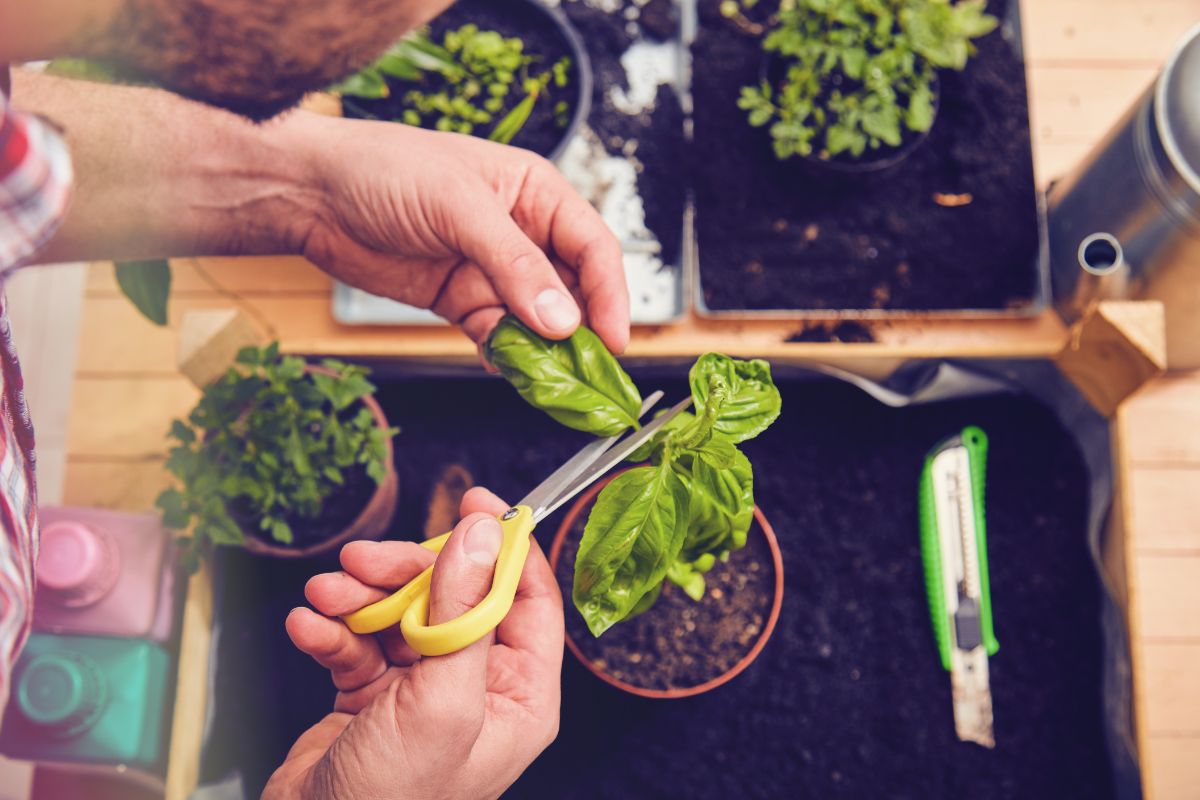 Unfortunately, much of the "fresh" basil available in the grocery store is old, brown-spotted, and wilted from shipping across the country, storage, and rough handling in the picking and packaging process. It can also get costly.
Grow your own basil and enjoy the luxury of plucking leaves fresh off the plant and straight into your recipe.
While Genovese (sweet) basil is the most common variety, many others are available. All can add a unique flavor to your favorite dishes. Try other types such as 'Sweet Thai,' 'Greek,' 'Italian large leaf,' or even 'Mrs. Burn's Lemon,' which smells citrusy, almost like Fruit Loops.
While basil can be grown from seed–I start hundreds of basil plants every year this way–it is easy to propagate by cuttings as well, and the results are quick and tasty. Even supermarket plants meant for one-time use can be divided to create your own never-ending basil supply.
Jump to:
Ways to Propagate Basil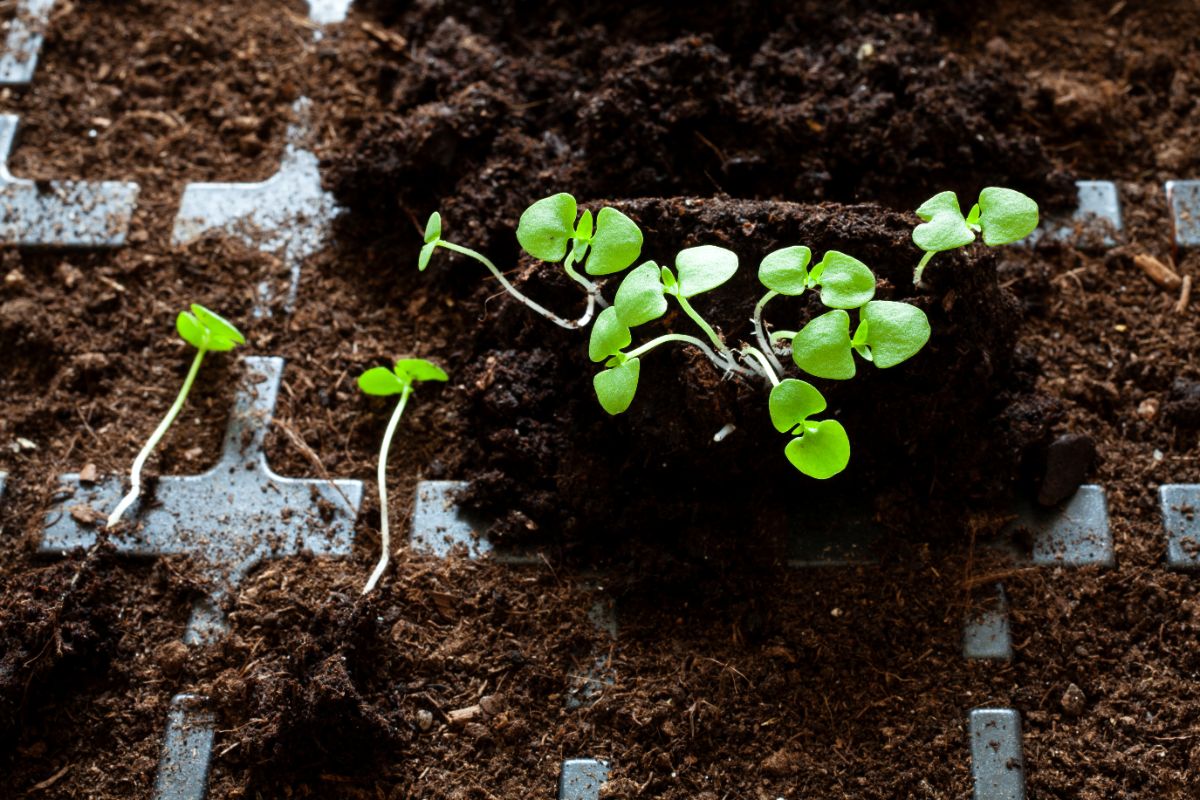 Basil is a cooperative herb to propagate. New plants can be grown from cuttings and from seeds. Simple, reliable, and fast, basil is a great plant to try if you are new to the propagating game.
How to Grow Basil from Cuttings
Basil is one of the easiest herbs to grow from cuttings and will root in moist soil or water.
To grow a new basil plant by taking a cutting: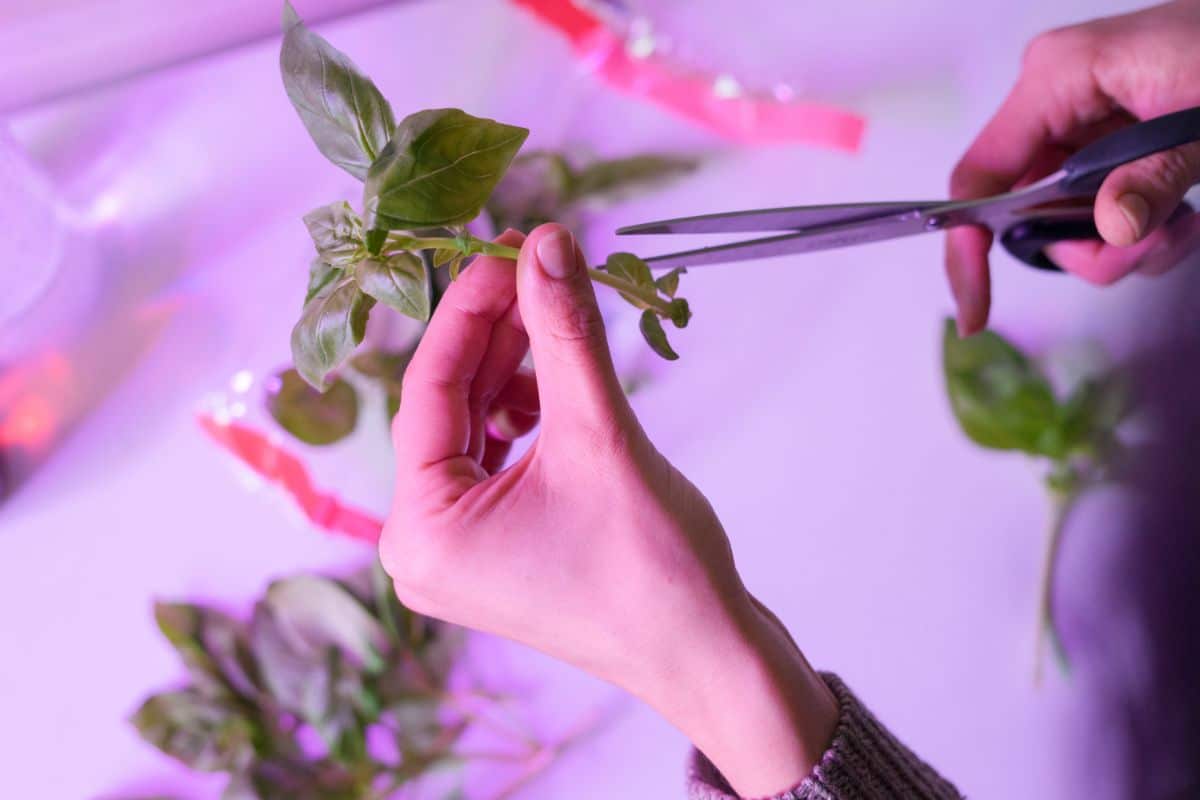 Select a piece of stem that is about four inches long and has not flowered yet.
Trim it off with sharp scissors or secateurs.
Gently remove the leaves off the bottom two inches of stem, leaving only the top one or two sets of leaves.
Optionally, moisten the end of the stem and dip it in a rooting hormone. Basil is so easy to root that it's okay if you want to skip this step.
Proceed to directions below for rooting in water or in another medium.
If rooting in water: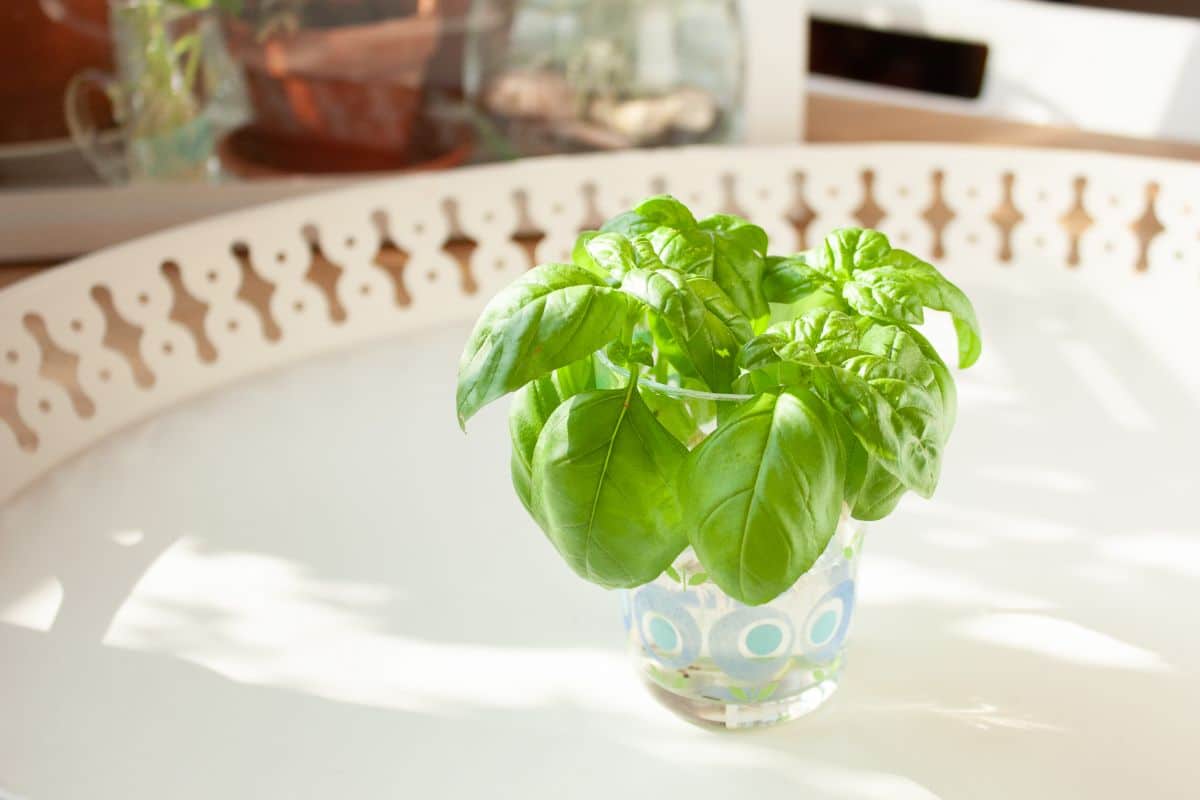 Place the new cutting in a clear-walled container filled with water.
Make sure the water is not heavily chlorinated.
Tip: If your tap water is treated with chlorine, you may need to use another source or let your water sit on the counter for 24-48 hours to allow the chlorine to dissipate. You can also boil it for 15 minutes if you are in a hurry, but don't forget to let it cool, or you will have basil soup.
Change the water every 3-4 days to keep it fresh, and keep the jar in a brightly lit and warm spot.
Roots will grow in 1-4 weeks, depending on the plant's vigor and the environment. Look for strong, white roots an inch long.
If rooting in soil or another medium: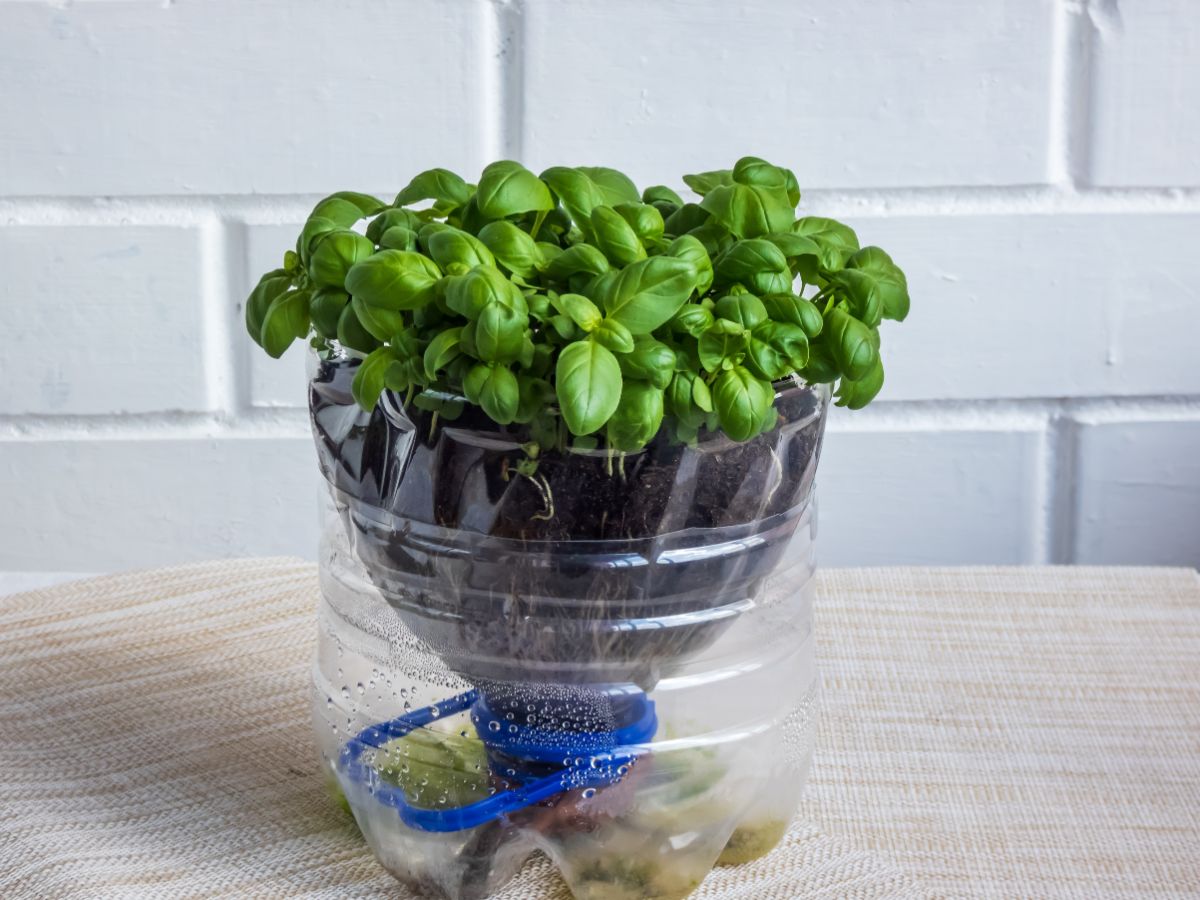 Fill a small container or pot with well-moistened seed starting mix, potting soil, or other media such as rock wool or even sand.
Poke a hole in the medium for your cutting. A basil stem is not stout enough to just stab into the medium.
Firm up the medium around the stem and place it in a bright location. Mine sit under grow lights during colder months or outside in a spot with indirect light in the summer.
Tip: Misting the leaves and keeping the cuttings covered with a humidity dome often increases their survival rate. The higher humidity helps the plant absorb water while growing new roots.
In 2-3 weeks, you can check the progress of your new plants' roots by gently giving the stem a little tug. If there is resistance, your basil cutting has grown roots and is ready for potting up. Be careful not to pull it out.
How to Grow Basil from Seed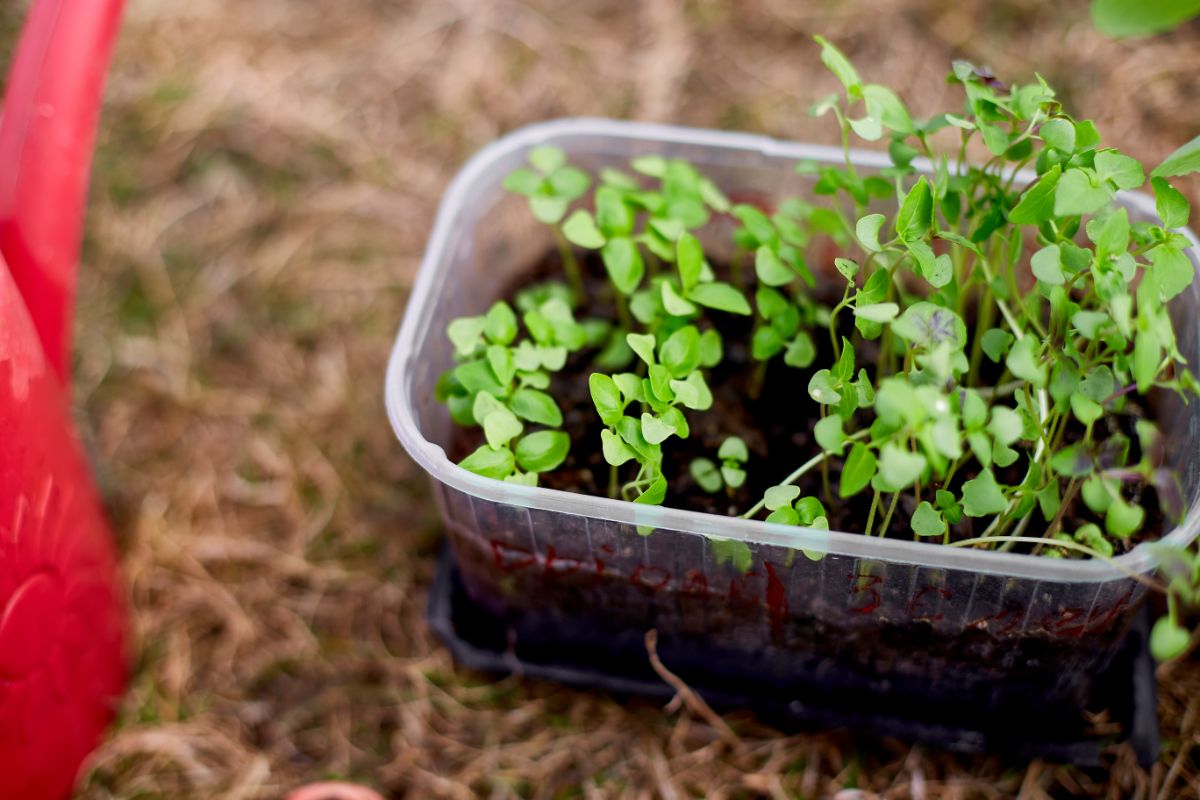 Basil can be grown from seed quite easily. Not only is it very economical to do so, but a greater variety of basil can be found as seeds than as plants at the nursery or garden center. A packet of 200 seeds can usually be purchased for about five dollars.
If there is a variety of basil you have wanted to try, but you can't find the plant, try starting it from seed. After your new basil is established, take the cuttings as above and gift them to your friends.
To start basil from seed: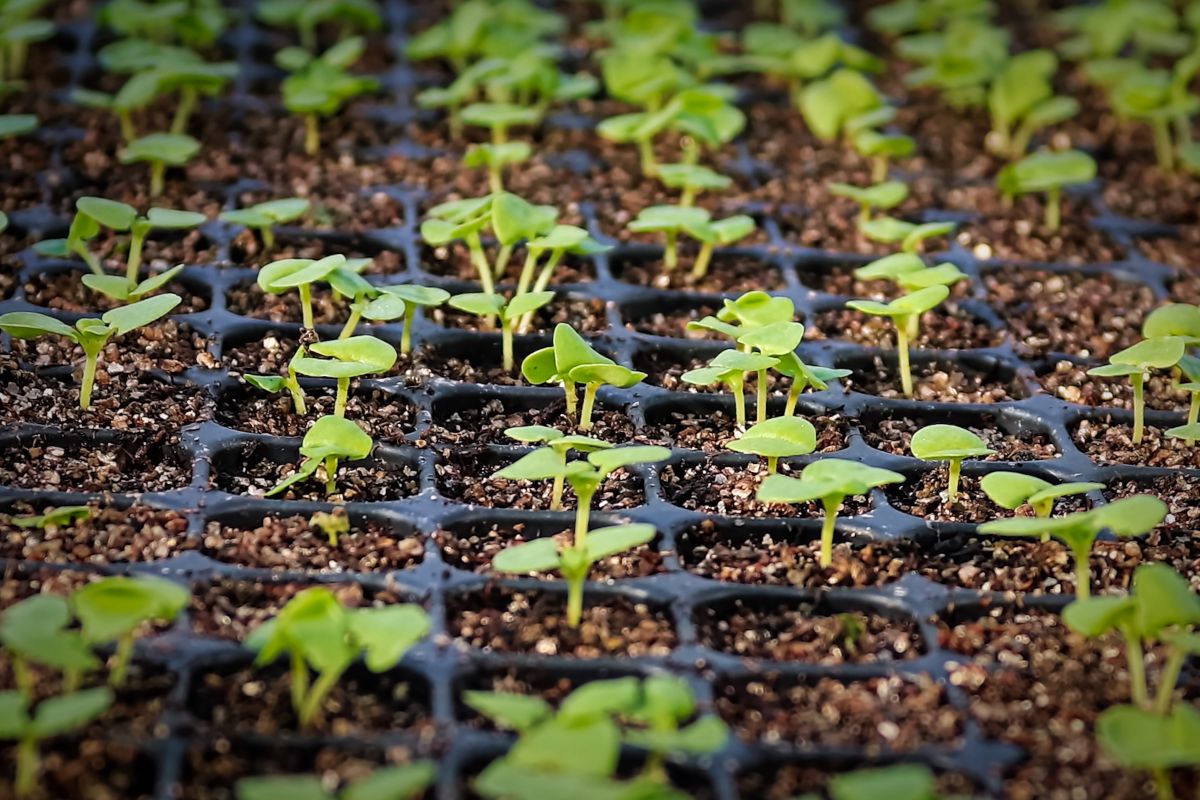 Prepare your seed starting medium and trays. I use a simple all-purpose potting mix–nothing fancy is required for basil. Fill the tray or cell packs or prepare your soil blocks with well-moistened soil. It should be damp but not wet.
Tip: Pre-moisten your seed starting mix. It is much easier than trying to thoroughly wet it after you have carefully placed tiny little seeds.
Follow the directions on the package. Most basil seeds can be planted about ¼" deep, but some require light to germinate.
Once they have sprouted, place them under lights or in a sunny, protected, warm location outside.
Keep the soil moist. Don't let it dry out; your seedlings are sensitive to dry conditions.
When they have 2-3 sets of true leaves, they are ready to pot up into a larger container or plant outside in the ground.
Dividing Supermarket Basil Plants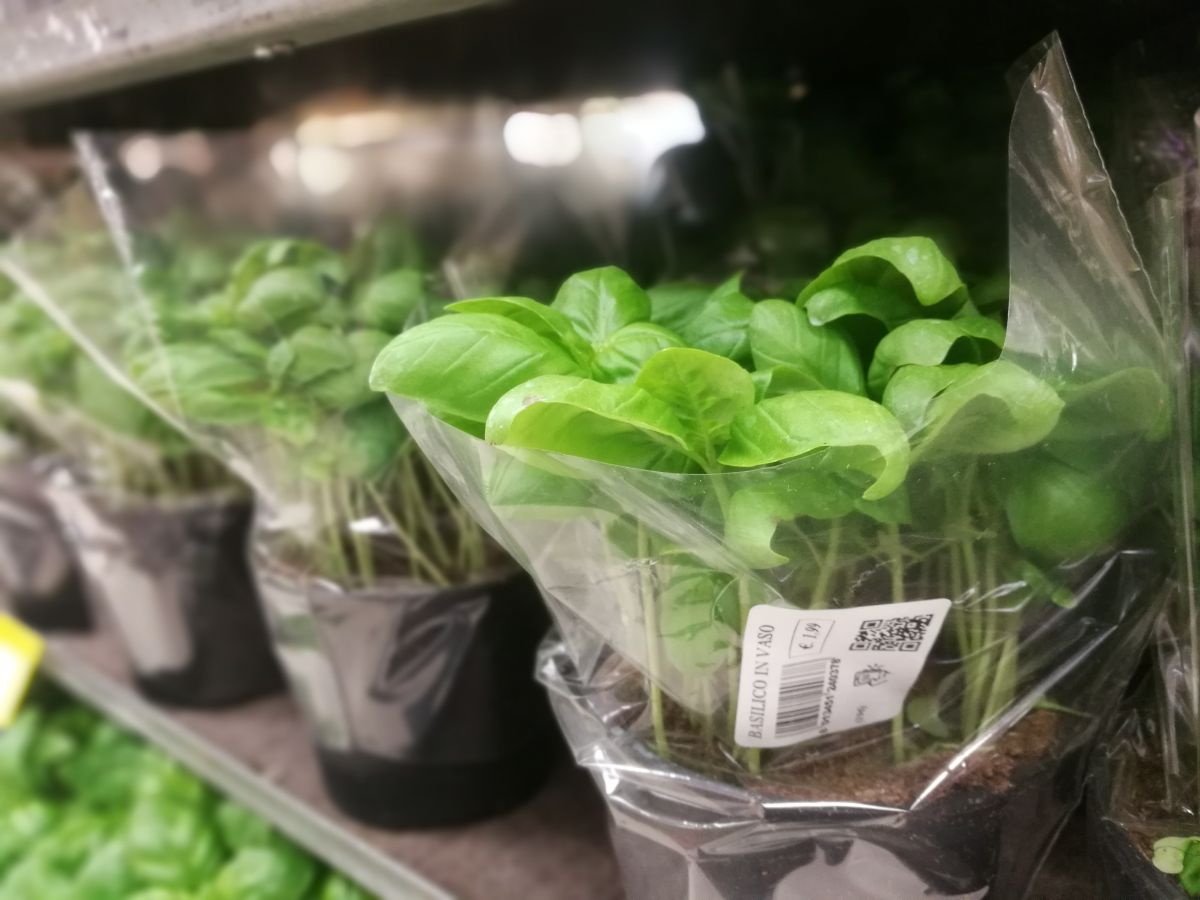 Grocery stores can be a great source of established basil plants. They are often sold in small pots to be used as a one-time fresh serving of basil. However, these pots can be a source of cheap basil plants.
These small pots are usually several, sometimes as many as a dozen young basil plants, all growing crowded together.
Gently remove the plants from the pot. Wet the root ball and tease apart the plants until you have several separated.
You may need to carefully cut some roots with scissors as they will be pretty entangled.
Transplant these new bundles into pots, and give them a trim.
Tip: Supermarket basil plants are often 'leggy,' and pruning the tops will force the plants to bush out and make a better basil plant for providing leaves for the kitchen.
Potting Up and Planting Out Your New Basil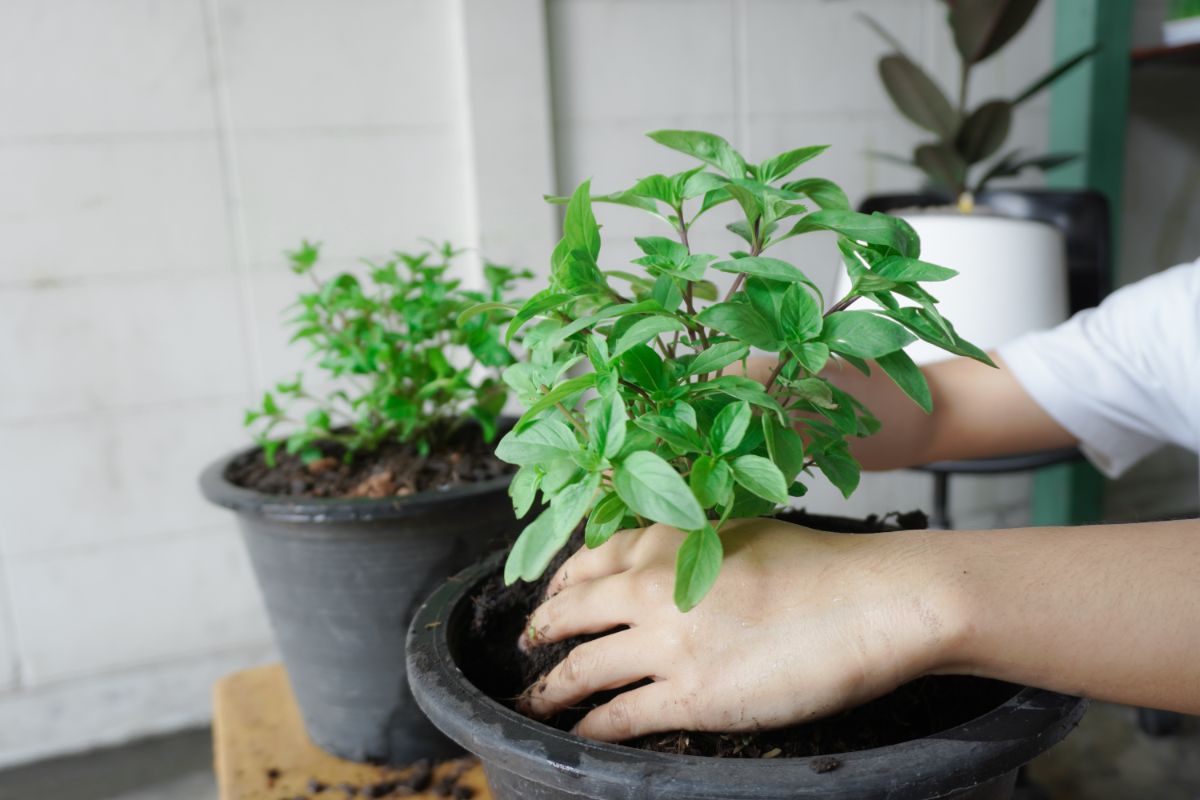 Basil does very well in a container or planter or can be planted directly in a raised bed or in-ground. Choose a container with good drainage or a location with fertile, well-draining soil and at least five hours of sunlight.
A large pot with three or four different kinds of basil can be a striking and tasty display on a deck or patio.
Prune your basil to keep it from flowering, which will affect the taste. Pruned stems can be used to make a new generation of cuttings to keep you in basil indefinitely.
Tips for Growing Basil
Basil is a rapidly growing herb but needs a little care. Follow these tips for lush, green, tasty foliage.
Prune your basil. Basil which sets flowers will start to taste bitter. To keep it from flowering, prune the stems as soon as the flower head begins to form, if not before.

Pruning will also encourage basil to grow in a bushy, mounded shape with lots of large foliage instead of becoming a tall, woody plant with smaller leaves.

Pruned stems can be used to make a new generation of cuttings to keep you in basil indefinitely. During the growing season, basil may need to be pruned every one to two weeks.
Prune just above a leaf node on stems with five or six sets of true leaves.
Look for a leaf node with two primary leaves and two small leaves coming out of the node along the stem. Those will become new branches of the plant.
Cut about a quarter to half an inch above with a sharp scissor or secateurs.
Use the trimmings in the kitchen or as cuttings to start new plants.
Basil likes to have soil that is a bit on the moist side. It does not want to be periodically dry like rosemary or oregano. If in the garden, water at the same time that you water other plants like tomatoes and peppers. A few deep waterings are better than many shallow waterings.

If growing in a container, test the soil with your finger and water when the top inch of soil feels on the dry side. If the plant shows signs of wilt on a hot day, you may need to increase your watering frequency.
Basil likes a fertile site and will do very well in the garden if compost has been worked into the soil. Nothing further should be needed.

If grown in a container, an occasional feeding of general-purpose plant fertilizer may be applied to the plant base. Don't spray it on the foliage which you are going to eat.