Carrots are an excellent crop to grow and store in cold storage. Cold storage refers to storing produce in a cool or cold space that does not freeze. There is no refrigeration needed and no energy cost. There is little preparation needed to preserve your food this way. So it's a cheaper, greener, cleaner, simpler solution, too!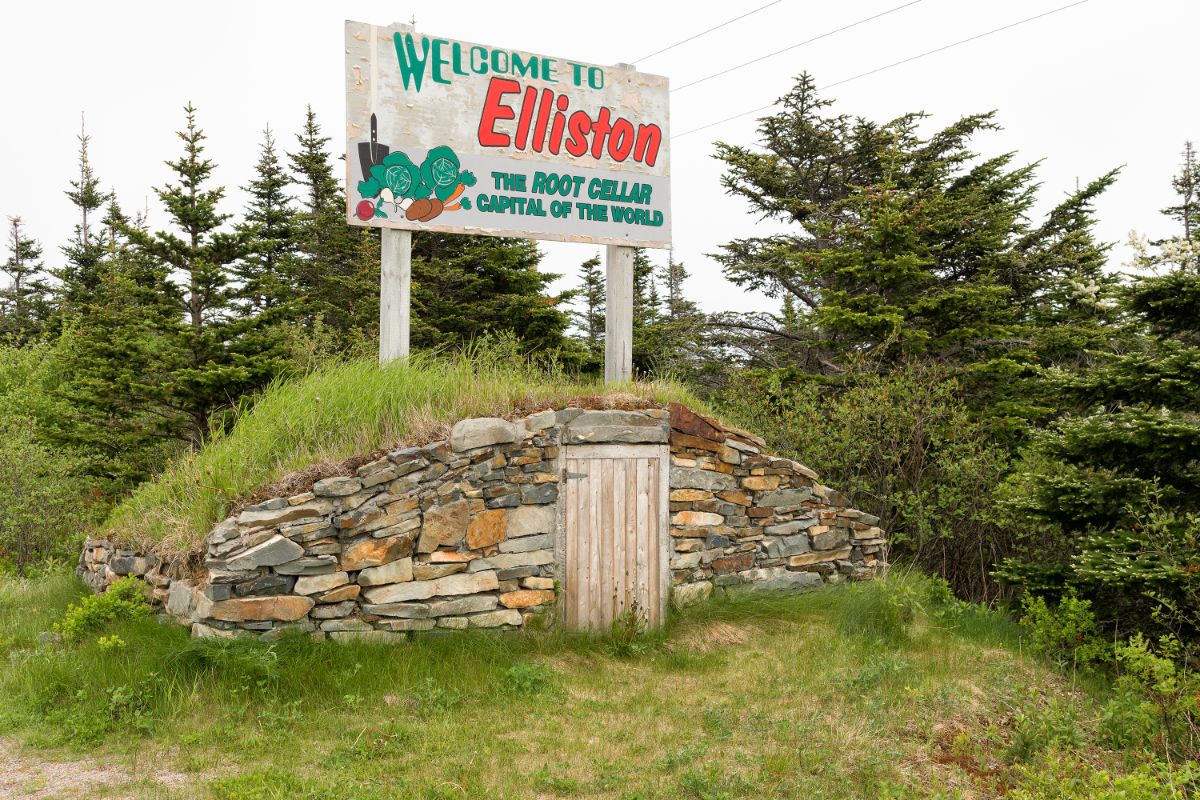 Cold storage isn't new—it's been around for hundreds, probably thousands of years. And it is still an excellent way for gardeners and commercial growers alike to store their harvests.
Not everything is a good candidate for cold storage, but there are many vegetables and fruits that are ideal for keeping in cold storage. As it happens, carrots are one of those vegetables.
In fact, all similar root vegetables are. So, while we are focusing here on carrots, you can use this same method for all kinds of root vegetables that are like carrots; beets, parsnips, radishes, turnips, rutabagas, and more can all be stored in this way. They'll keep for months and feed your family right through the winter.
Jump to:
Storing Carrots in Cold Storage—the Basics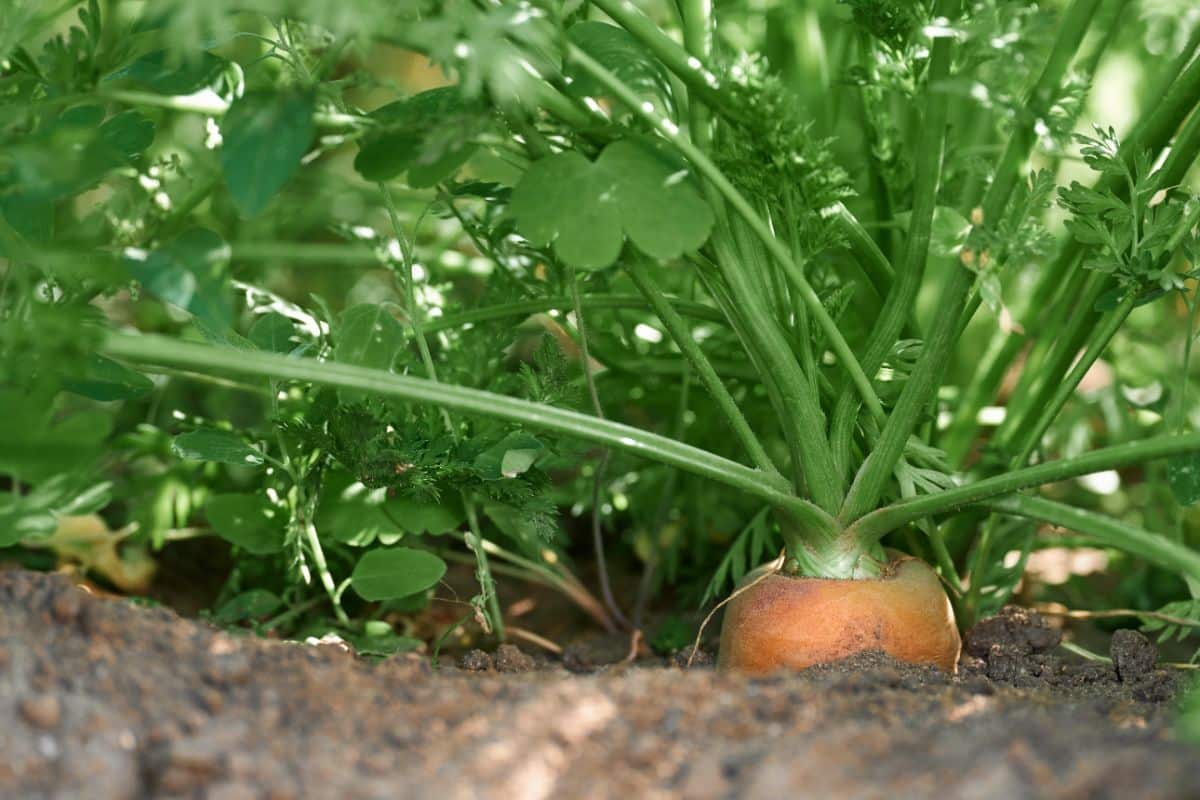 There are only a few basic things you need to make sure of when storing your carrots, but these few things are important.
The basics of cold storing carrots are simply to keep them in a cold and humid environment. Carrots and root crops need higher humidity than other cold-stored vegetables, or they start to dry out and lose their texture. They may get a little rubbery. Note that this does not actually make them unusable unless they are slimy, rotten, or moldy; it just makes them more rubbery, drier, and less crisp. Those carrots are still good for many uses, including dehydrating and for use in any cooked dishes, especially soups, stews, and casseroles.
The ideal temperature range for storing carrots in cold storage is low, anywhere from 32 to 40 degrees Fahrenheit (F). Carrots will store well even at slightly higher temperatures, up to 50 or 55 F. Most cold storage areas will be in this 40-to-50-degree range, so it's likely that the temperature range of your cold storage area will be fine. Just look and feel for the coldest area of the room.
What will be harder to achieve in an open room is the high level of humidity that carrots prefer. A moist cellar or root cellar will have higher humidity than heated rooms and living spaces, but even those will not reach the 80 to 90 percent humidity that is ideal for carrots. For this reason, carrots are always packed in something like a box or bin, not left out in the open like pumpkins and squash can be.
How to Prepare Carrots for Cold Storage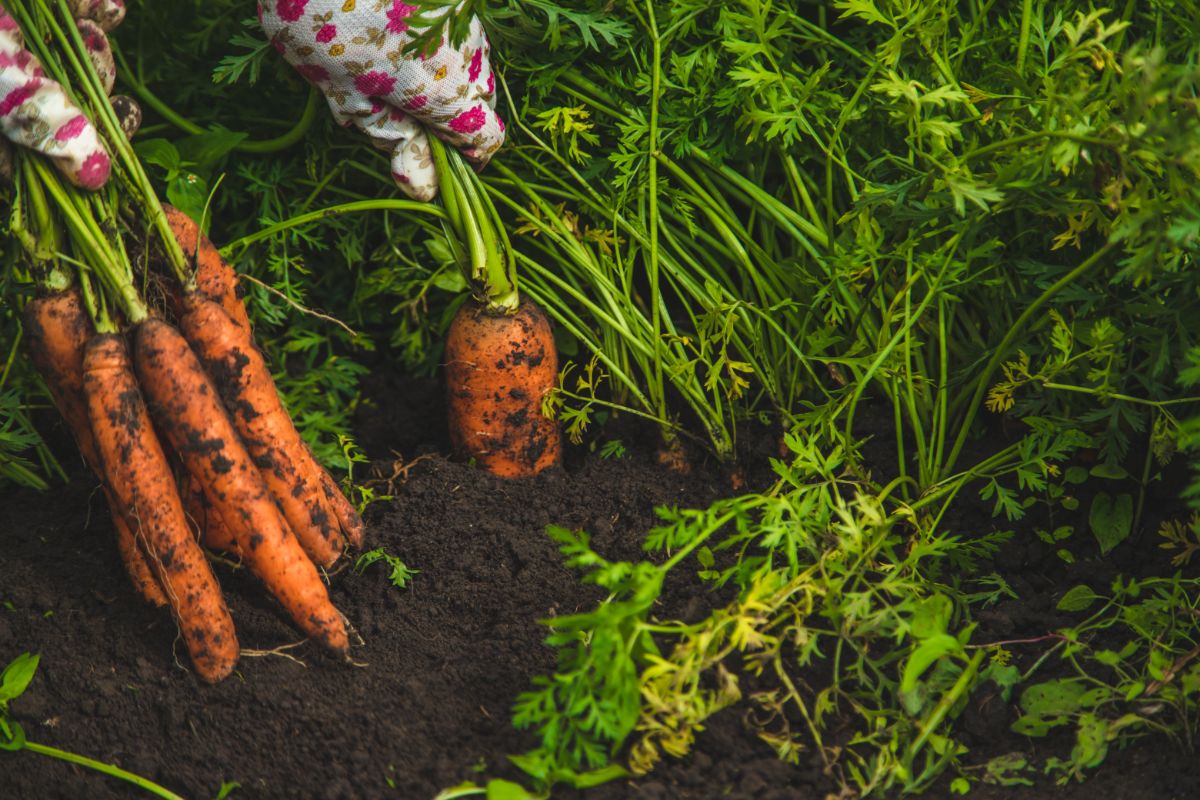 Carrots need little preparation for cold storage, but there are a few things you need to do.
First, only lightly clean the carrots. You don't want to wash them; you just want to brush off extra clumps of dirt. Just use your hands. You also do not want to rub off the outer skin of the carrot. Skins or peels should not be removed until you want to use your carrots because the skin helps protect the root.
Next, remove the carrot tops. This is important because the tops are fed by the carrot's root—the carrot. If you do not take the tops off, the tops will just draw water and moisture from the roots until they are shriveled and rubbery.
Trim the tops with scissors to about one-half inch above the carrot root. Don't cut into the root itself.
That's it! A light brush of the "big" dirt and trim of the tops is all you need to do to prep your carrots for packing.
One note, though—if it was particularly wet and muddy when you pulled your carrots from the ground, you may need to let them sit out overnight to dry them. Slightly damp is fine for storing, but wet is not. If your carrots are very wet, spread them out on some newspaper in a cool place overnight to dry.
BONUS TIP: Use Your Carrot Tops!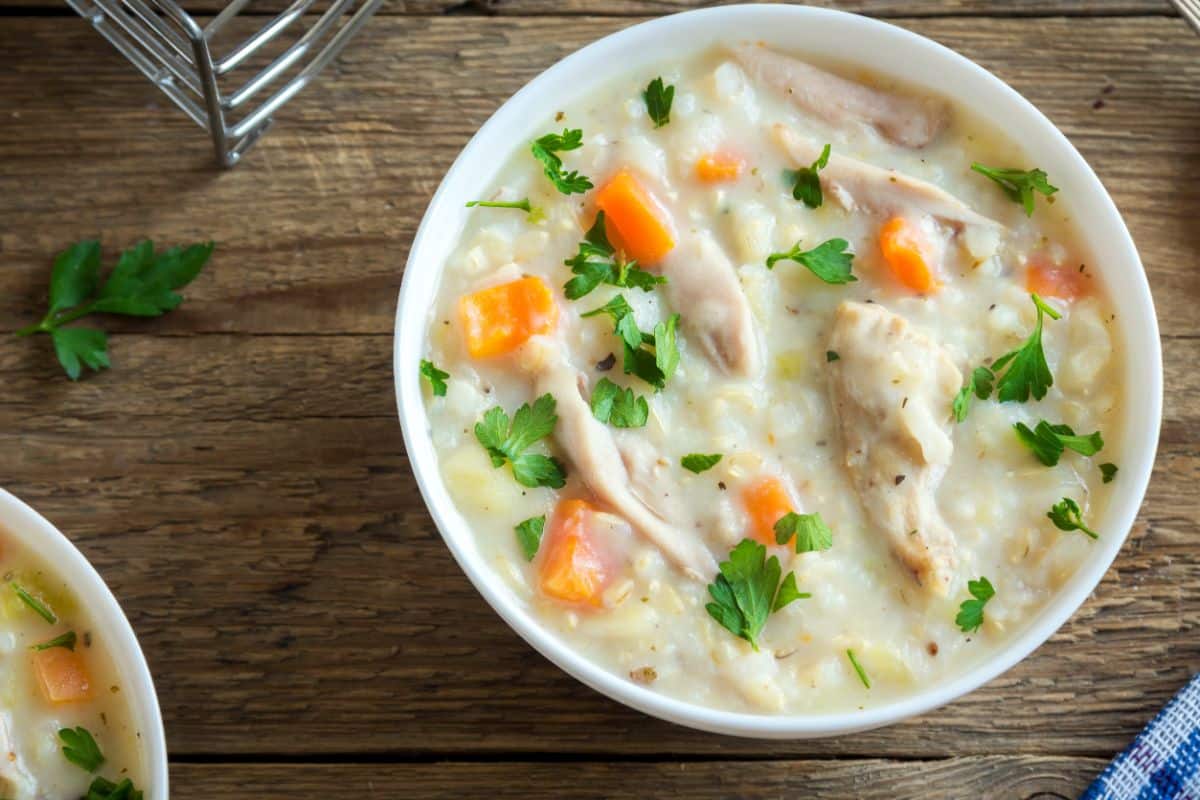 You don't want to leave the tops on your carrots because they will suck the nutrients and texture from your roots (the carrot), but that doesn't mean you shouldn't keep them!
Carrot tops are edible—and delicious! They taste something like a carroty-parsley.
There are many ways you can use carrot tops. They can be used raw or cooked. They can be frozen or dried for future use. You can use them to make a lightly carrot-flavored pesto, sprinkled on other vegetables or in soups, use in vegetable stock or bone broth, or make fresh chimichurri sauce...
There are lots of ways you can use carrot tops. For starters, use them anywhere you would use parsley. Waste not, want not, and get more from your harvest!
How to Pack Carrots for Cold Storage
Now that your carrots are all trimmed and cleaned, it's time to pack them for storage.
There are a few successful methods that people use for storing carrots in cold storage, but they are all basically the same—pack the carrots in a bin or container that will retain moisture but that has a little airflow.
Packing in Totes or Containers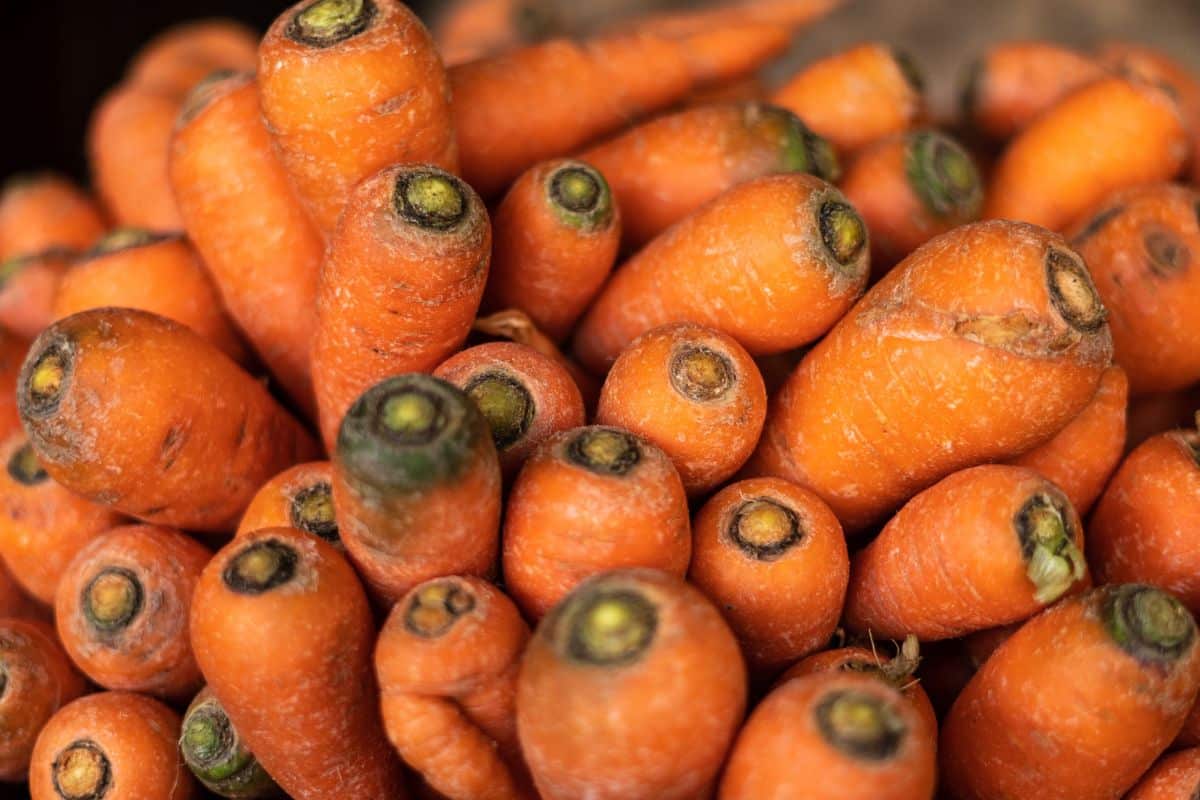 The most common method is to use a wooden bushel basket, plastic bucket, or large Rubbermaid (TM)-type tote and sand. Sand is the traditional packing material, but there are other options, too (see below).
Put a layer of about two inches of your packing material in the bottom of the container.
Set a layer of carrots into the sand or material. Try not to let them touch. By keeping the carrots separate, you reduce transmission of mold and pathogens, so even if one carrot starts to decay, your others can be saved.
Cover the layer of carrots with another layer of packing material.
Repeat the layers until the container is full.
Cover the top of the container with a layer of newspaper or the tote/bucket cover, but do not snap the cover closed tightly—allow for a little air exchange.
Other Easy Methods for Packing Carrots for Cold Storage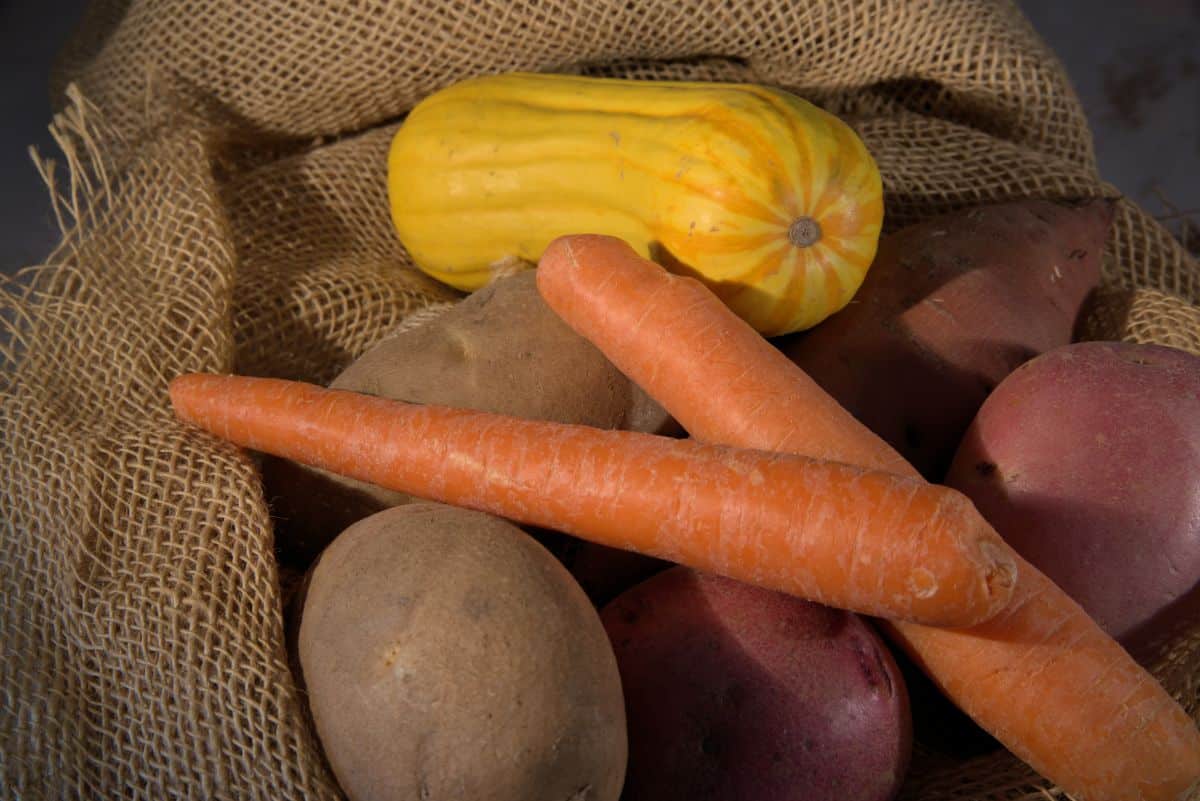 These methods are not quite as "tried and true," but they do cover the basics of cold-storing carrots and root vegetables. They are also a little easier and lighter, which may make them more manageable for many gardeners.
One method is a simple layering method in a cardboard box. Use a box just large enough to fit your harvest without too much extra space. Make a layer of carrots, then top it with a layer of newspaper or packing paper. Alternate layers until the box is full. End with a top layer of paper.
Another method is to lay a layer of newspaper or absorbent material in the bottom of a plastic tote, then fill the tote with carrots without packing in sand or packing material and cover the carrots with a breathable fabric which can absorb and release moisture in the box. Top with the tote cover.
Muslin, a layer of felt, or folded burlap are good fabric options. If you have a lot of carrots or a very deep tote, you may want to put a layer of fabric over the carrots halfway through as well.
Packing Material Options for Carrots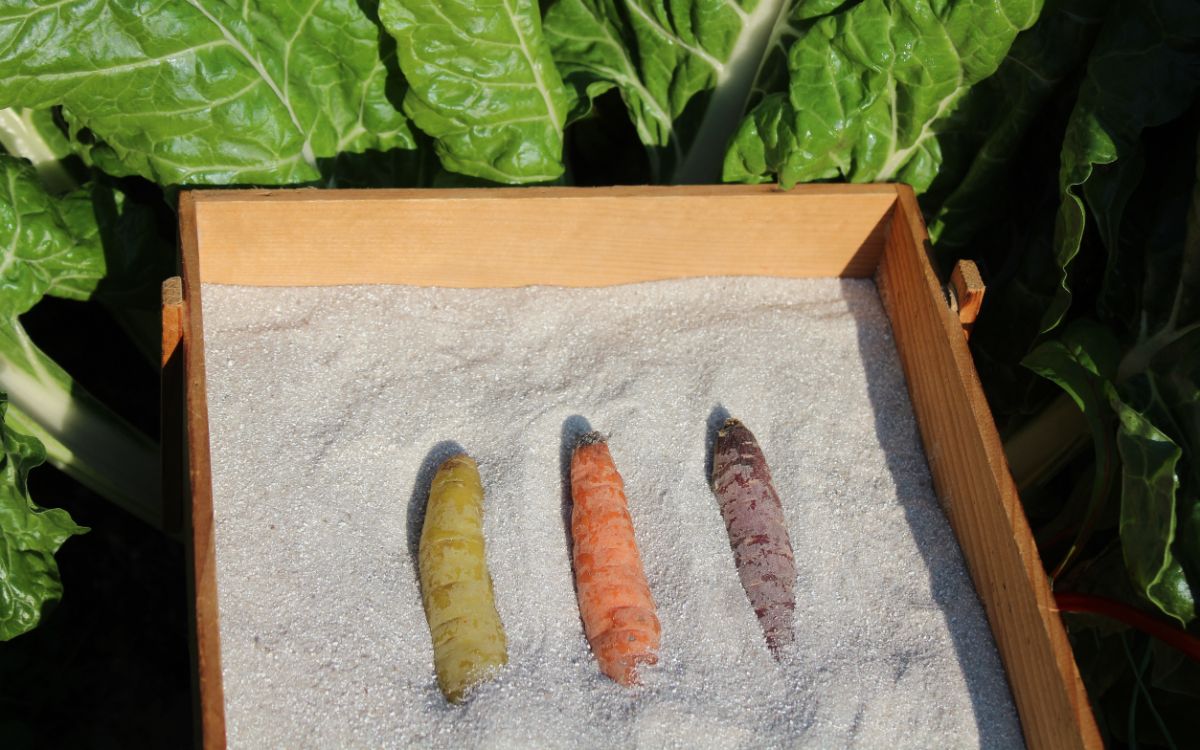 Sand is, of course, the most often recommended packing material for storing carrots, but it is heavy and messy. You can also try one of the following:
Leaves
Sawdust or shavings—lighter than sand, shavings are a more manageable option
Potting soil
Peat moss
Coir
Vermiculite
Shredded newspaper (sprinkle each layer with a few drops of water to increase bin humidity—don't overdo the water!)
Layers of packing paper or newspaper
Tips for Successful Carrot Storage
Prep and store your carrots as soon as possible after harvesting.
Filled totes and containers can be very heavy. You may want to do your packing in your cold storage area, so you don't have to lift them or move them.
Keep carrots away from fruits like apples that release ethylene gas, which encourages ripening and causes carrots to degrade.
Store carrots low (on the floor or a bottom shelf) instead of stacked or on a high shelf. This is to get them to the coldest part of your room (because heat rises).
Other cold spots are usually along an outside wall, far corner, or the farthest distance from warmth or heat sources.
Check your carrot bins periodically (every two to four weeks) and remove any moldy, rotting, or slimy vegetables.
If too many carrots are rotting or feel slimy, the humidity is probably too high. Crack or remove the top of the bin or box to release some of the excess moisture.
As time goes on, if your carrots are beginning to degrade too much, consider freezing or dehydrating the remaining vegetables.
Who Needs a Root Cellar?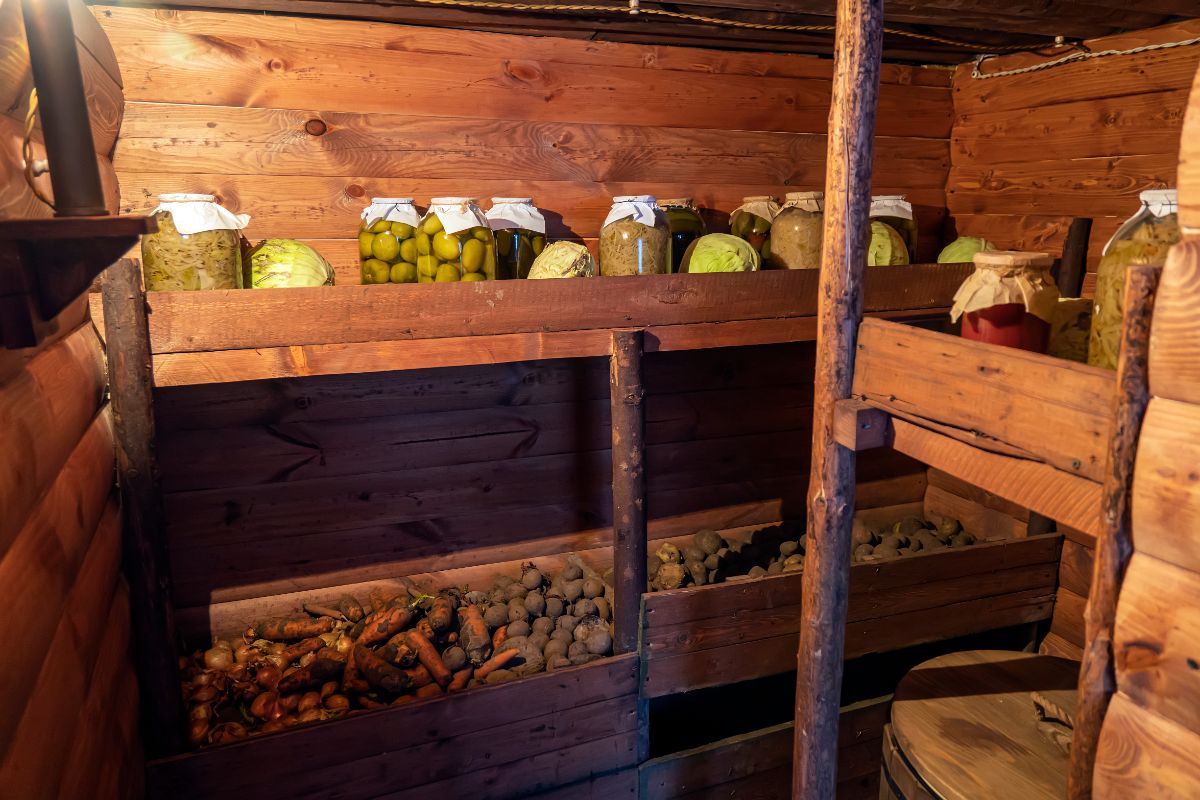 Traditional root cellars are wonderful things, but unless you have an older home or unless you build your own root cellar, you're not likely to have a cold storage root cellar in your home. With the invention of modern refrigeration, root cellars are an amenity that fell away in modern home building. Many people are tuning in to the advantages of root cellaring once again, so there are certain groups out there who do it (and share their adventures on social media).
There are also ways to create cold storage spaces in your home, with or without a formal root cellar. And yes, urban gardeners, renters, and apartment dwellers can do this, too. You just have to be a little creative. If you do not have an actual root cellar or cold cellar—or no cellar at all—find some tips for finding cool storage space in your home here.
Storing carrots in cold storage is not difficult, and most people are successful with it from the start, but you may find that you need to do a little trial and error, too. In the first year or two, you might want to experiment with a couple of different methods to see what works best in your home's environment and in your storage space. You could even experiment ahead of time with some early carrots or store-bought carrots (this can give you a good idea of what will work before you pack and store your entire harvest).