Starting an asparagus bed is a commitment, but a commitment well worth its while. Many people shy away from planting asparagus because it takes time before it can be harvested (time measured in years, not weeks). Once established, an asparagus bed can produce for 15 to 20 years or longer—well-maintained beds have been known to produce for 30 years and more!
Jump to:
Why You Should Grow Your Own Asparagus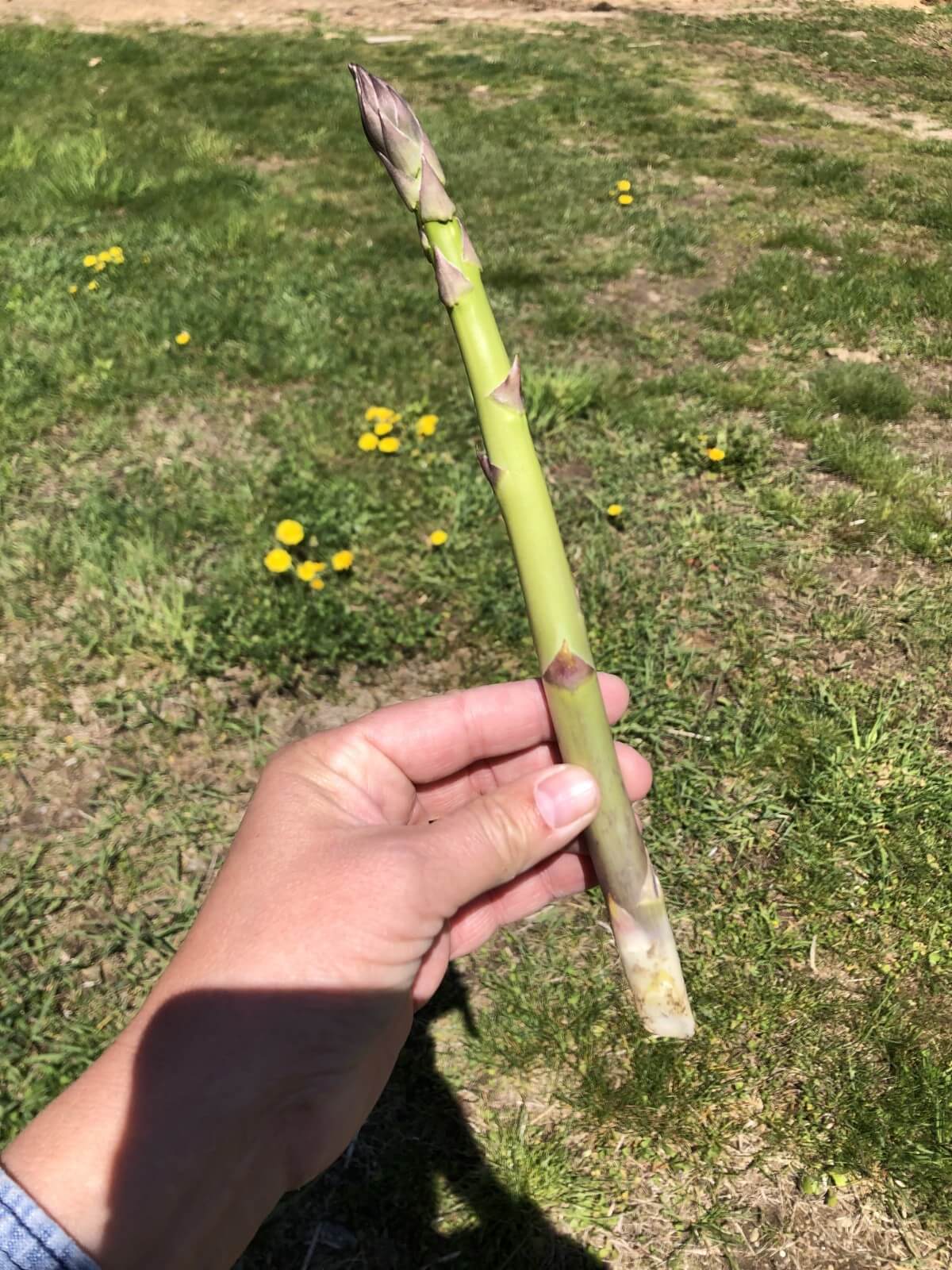 Best Quality
Like many fresh fruits and vegetables, fresh homegrown asparagus is an entirely different thing than what you'll buy in any store. This is reason number one to grow your own asparagus. With asparagus, the fresher, the better—even more so than other types of produce.
Asparagus starts to lose quality very quickly after harvest. This is why you can never get the same taste and quality from store-bought asparagus. There's just no way for that asparagus to be shipped, stocked, and sold at the same level of freshness.
Earliest Vegetable of the Season
Asparagus is one of the very first vegetables of the season—the earliest for most gardeners. You can be picking and enjoying low-maintenance asparagus even while (or before!) you're planting most other crops.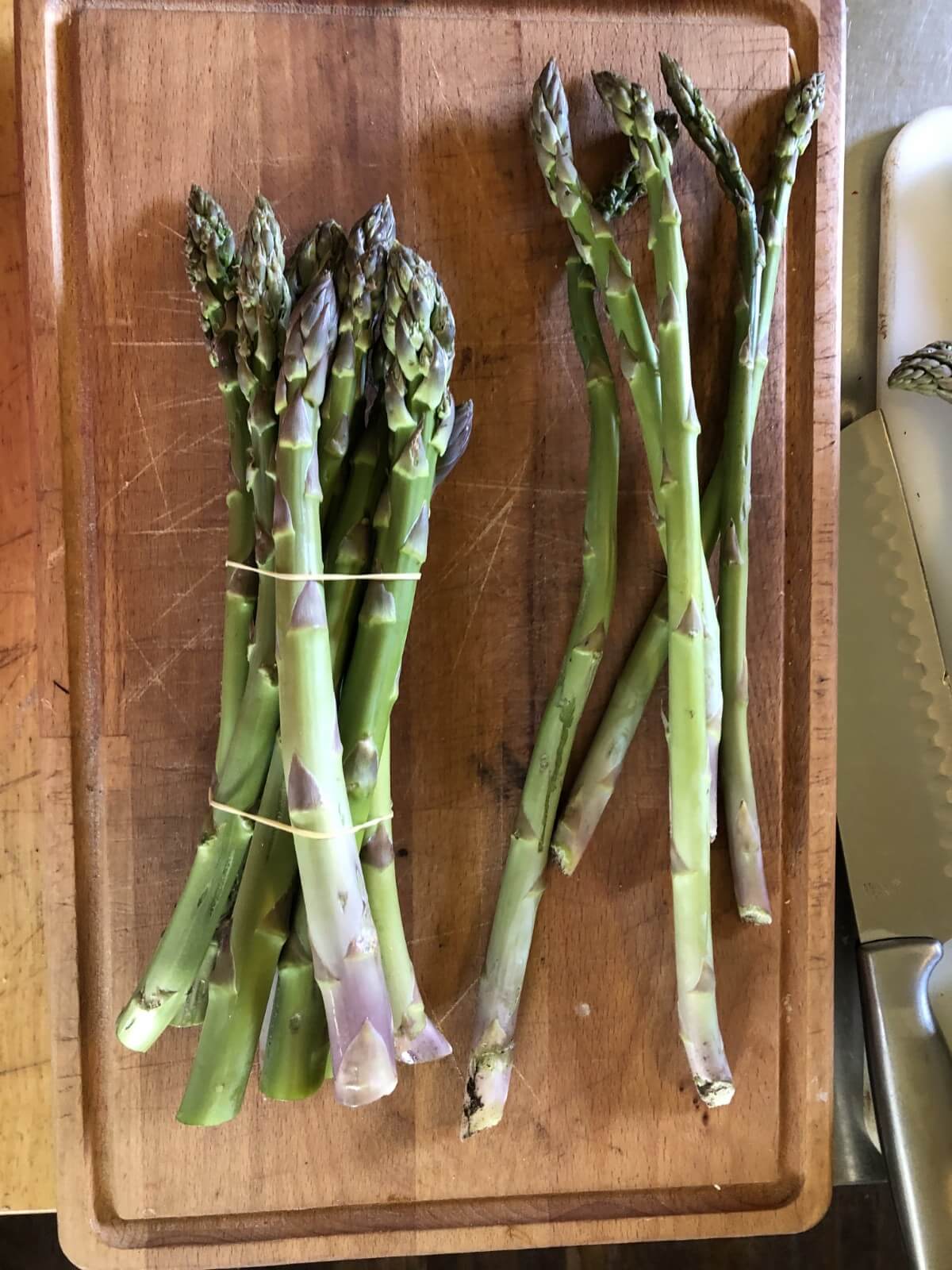 Lowest Cost Asparagus
Cost is another consideration. Asparagus is expensive in stores. It's quite pricey even when purchased from a local farm or farmer's market. In many areas, asparagus is one of the most expensive fresh vegetables, pound for pound. But it is cheap to grow. Asparagus is one vegetable that is unquestionably worth growing for the sake of price and economy—you just won't be able to buy asparagus as cheaply as you can grow it, especially when you take into account the many, many years that your asparagus patch will produce. There are not many other vegetables that
will give you decades of produce from one initial planting!
Asparagus is Easy to Preserve
Asparagus is very good for preserving and can be preserved in a number of ways. It can be canned, dried, pickled, or frozen—whichever you like best—but again, the fresher the better. Since the asparagus season is relatively short, growing your own and preserving it is the best way to enjoy asparagus all year long. As with eating fresh, it is important to preserve asparagus as quickly as possible. So here again, the fresher, more accessible your supply, the better.
A Commitment Worth Keeping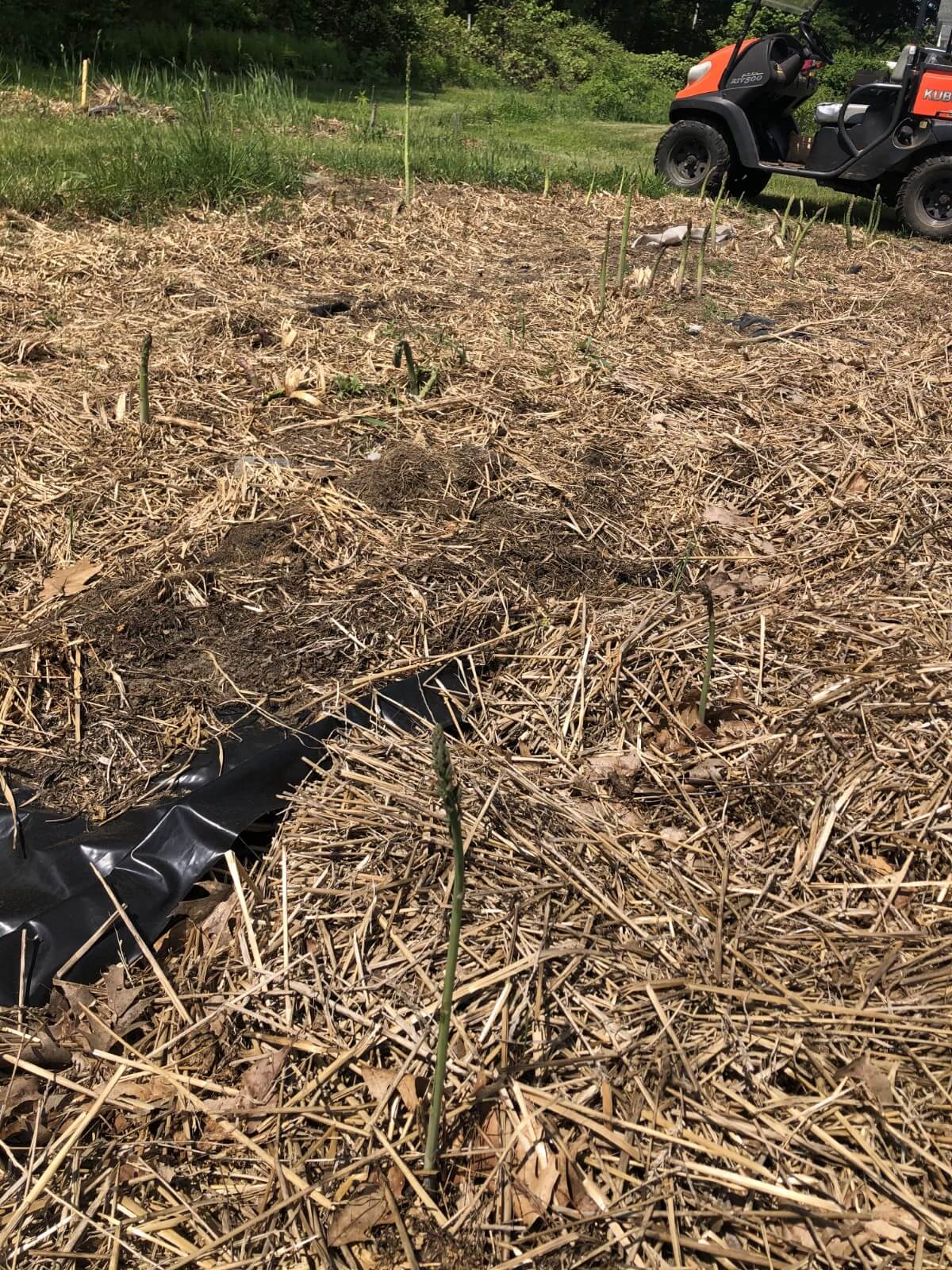 Perennial asparagus comes back every year without replanting (and all asparagus is perennial). Though it requires an effort in the first year, it is fairly easy to maintain after that initial work investment. It's a big reward for a relatively small investment. It just needs you to commit to a space and some reasonable bed maintenance. (It should be noted that people do successfully grow asparagus in raised beds. Also, asparagus does do well when split and moved after years of establishment, so even if you think moving might be in your future, it's still an endeavor worth considering.)
Asparagus can be grown almost anywhere except in extreme heat regions. It does best in areas with a cold season for dormancy. The post-harvest mature ferns are a pretty, tall, green plant that turns golden brown in the late season. Many people enjoy using it as an edible landscape plant for this reason.
Choosing Asparagus Plants
There are several types and varieties of asparagus to choose from, all of which are good choices for their own traits. You'll find a variety of names like heirloom Mary Washington, favorites like Pacific, Pacific Purple, Purple Passion, and a line of "Jersey" types including Jersey Supreme, Jersey Giant, and Jersey Knight. There are varieties developed with climate in mind, like the cold-tolerant Guelph Millennium varieties and heat-tolerant Atlas and its related cousins.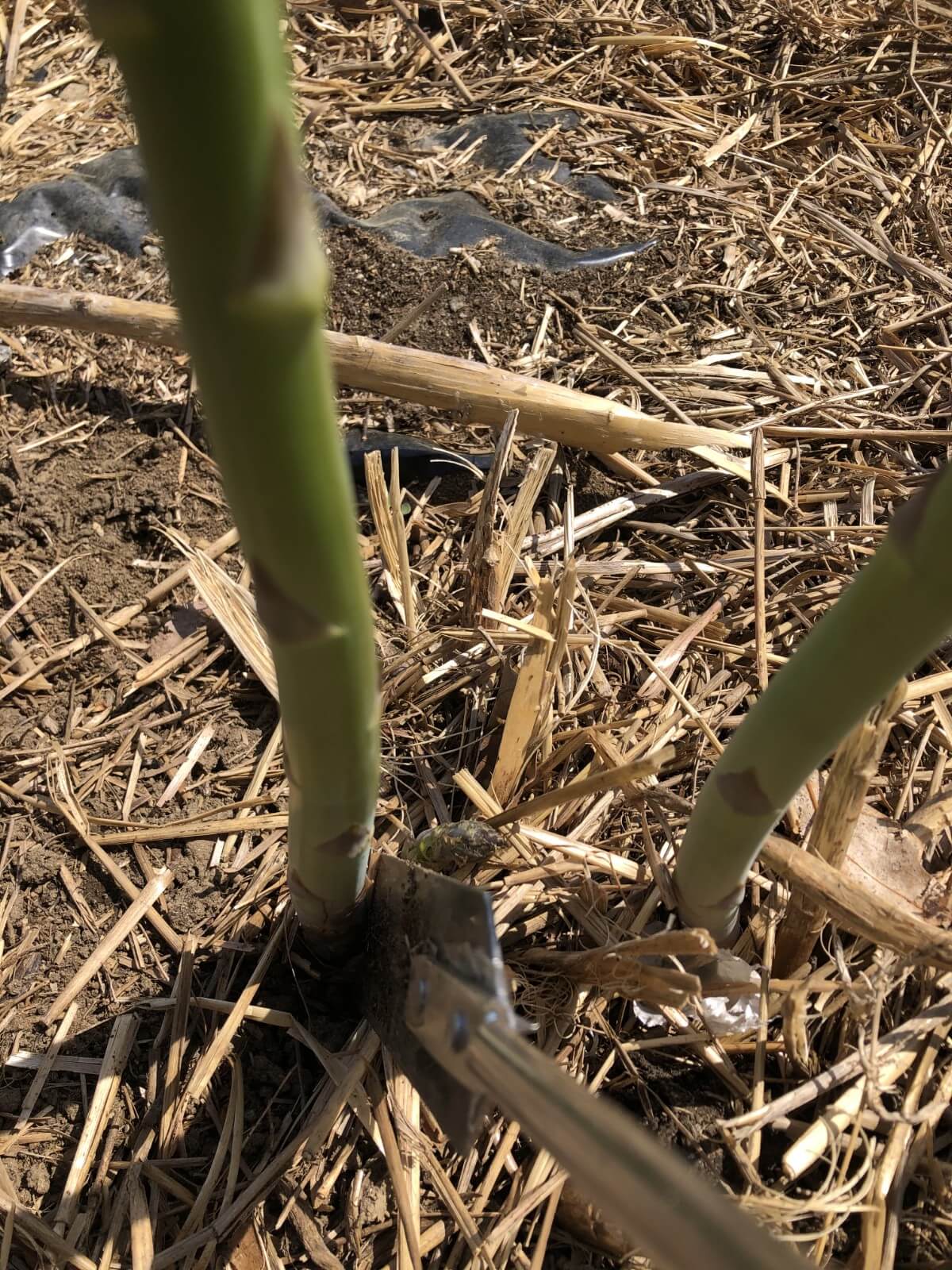 Any quality supplier will provide you with several options and their descriptions will help you to choose varieties based on your location and needs. If this is all confusing to you, go with one of the Jersey varieties. These newer-developed varieties have been bred for size, disease resistance, harvest, and performance.
The variety name isn't as important as other features when choosing your plants. Choosing a variety that is well acclimated to your location and its potential pests and diseases is more important. Shop more by feature than by name.
Male vs. Female Asparagus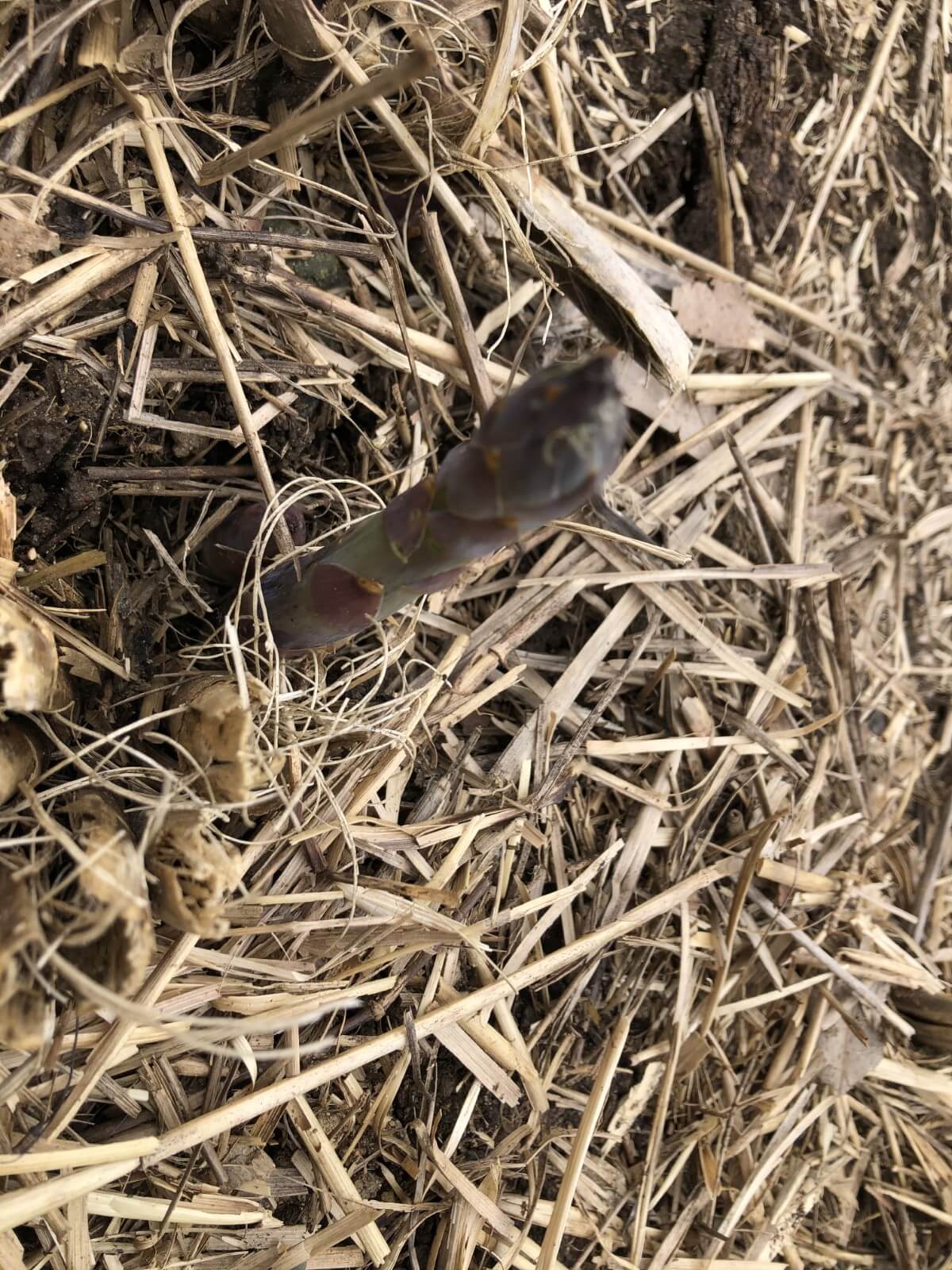 When shopping for asparagus starts you'll see a lot about male versus female plants. Asparagus naturally has female plants (which produce seed) and male plants (which do not). In years past, the only option was to buy plants that were a mix of both and hope for the best.
Male plants are better producers because their energy is not going into seed production. They also produce earlier than female plants and grow bigger spears. Larger spears mean longer harvests, too, because the size of the spears indicates when to stop harvesting. Female plants do produce and are edible, but with the improved, selected male varieties available on the market, it makes good sense to start with male crowns to maximize your yield. After all, the amount of work that goes into the bed is the same no matter which sex plant is in the ground.
Growing Asparagus from Crowns
The only other question regarding plant selection is whether to start from seed or from crowns. Crowns are dormant asparagus roots. Though it is possible to start asparagus from seed and some people do, by far the most common and recommended option is to start asparagus from root crowns.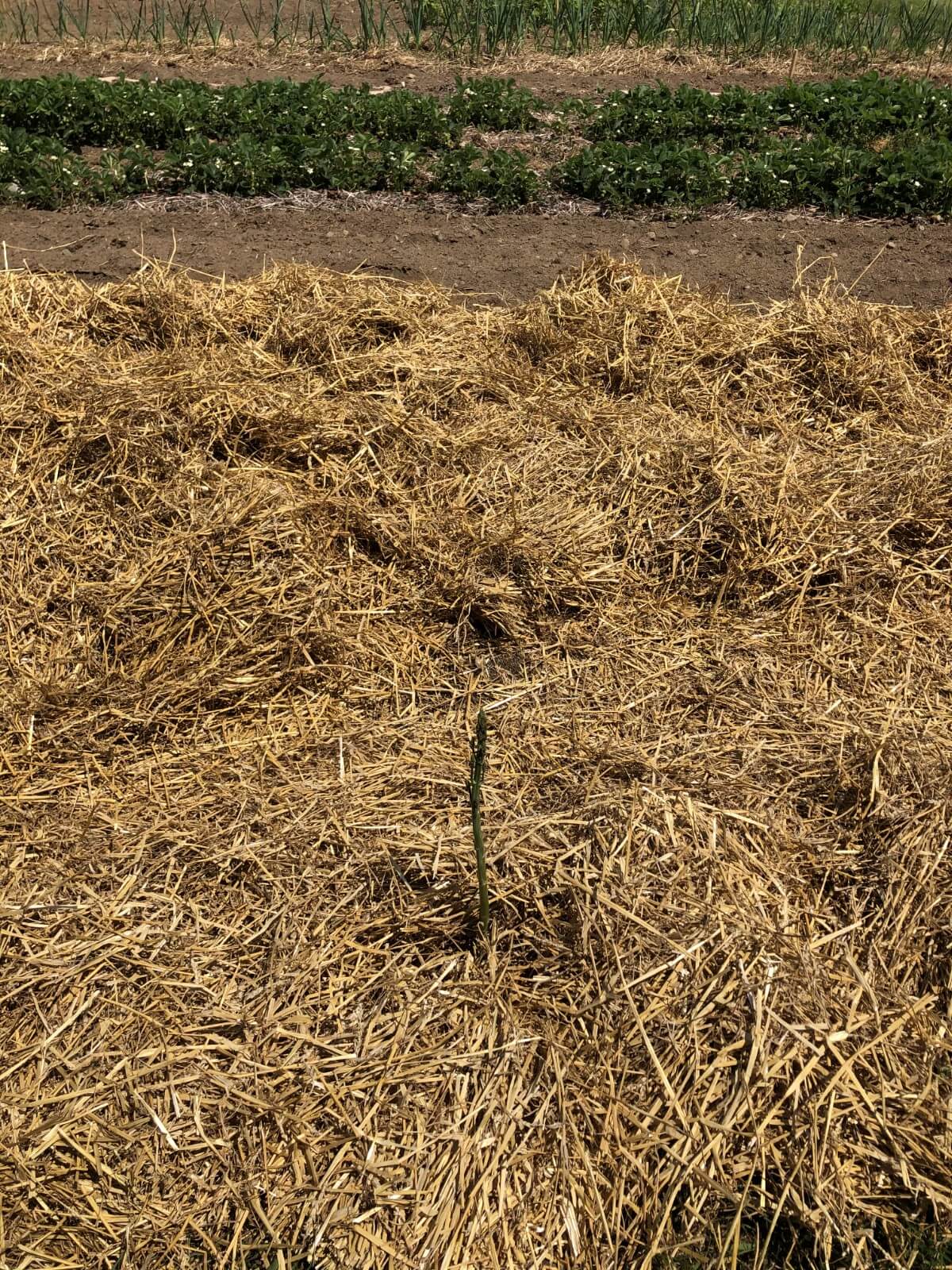 When shopping for asparagus crowns, you'll see them offered as one-year crowns, two-year-old crowns, and sometimes (less commonly) three-year asparagus roots. If you have the option of an older crown, it can speed the time to harvest—a two- or three-year old crown can withstand harvesting a year earlier than a one-year-old crown, and all will be faster to harvest than growing from seed.
When your crowns arrive, they will be dormant and will look similar to little, brown octopi. Good asparagus roots and crowns should have some flexibility to them and should not be dried out or easy to break. Keep them cool and moist until you are ready for planting—it's usually best to just keep them unopened in the bag they came in. Crowns can last a couple of weeks this way, as long as they are kept cool and in the dark, out of direct sunlight.
Growing Asparagus from Seed
Growing asparagus from seed is not the most popular choice because it is more work, a bit harder, and because it significantly lengthens the time to first harvest. Starting asparagus from seed adds at least a year to the time to first harvest.
Crowns are also more common and are easier to find. Additionally, you cannot start an all-male patch from asparagus seed. If you wanted an all-male asparagus patch and you start from seed, you would have to observe and cull out female plants over several years.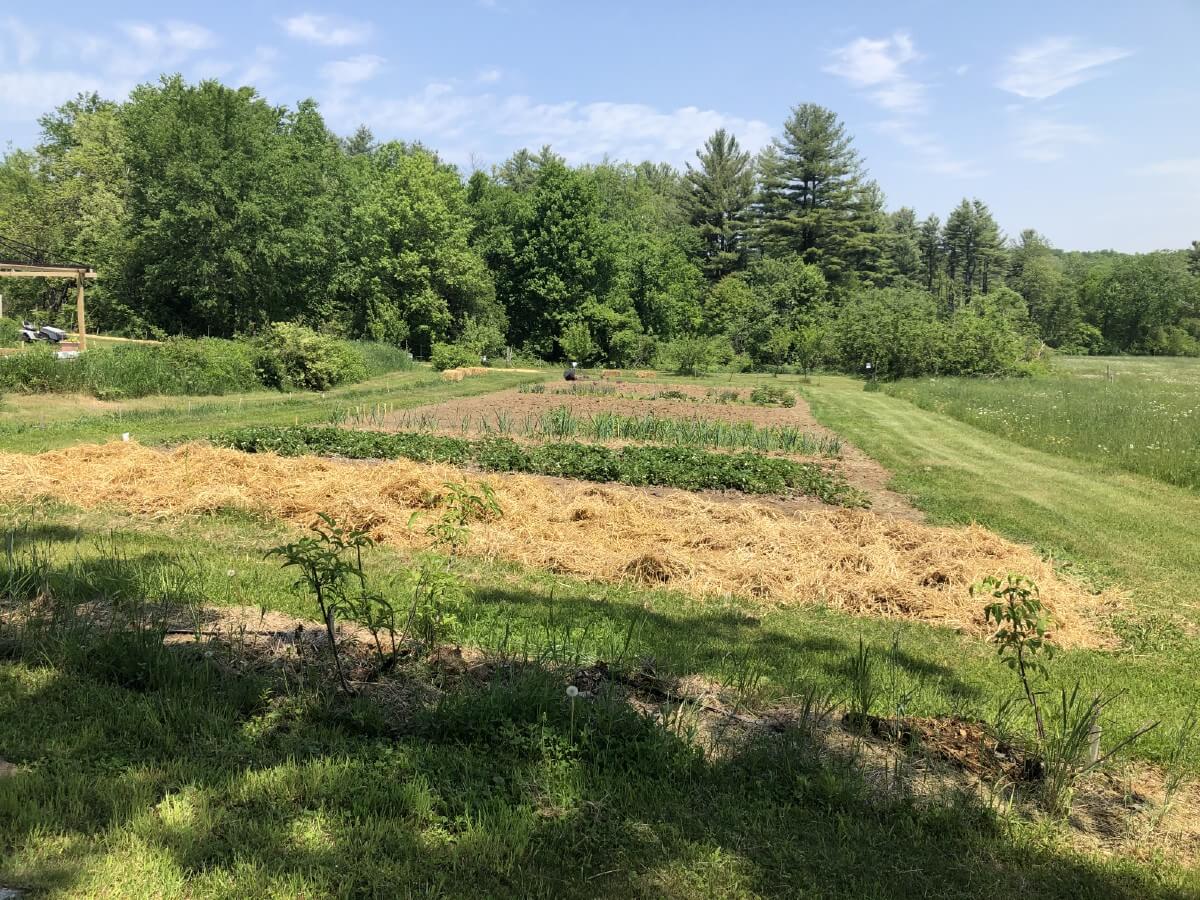 However, starting asparagus from seed does have the advantage of being much cheaper than buying crowns. If you do decide to start some or all of your asparagus from seed, here are some things to know:
Asparagus seeds are slow to germinate. It takes around three weeks for asparagus seeds to sprout.
Asparagus should be started indoors fourteen weeks before you plan to plant them outside.
Start seeds in two-inch cells, one-quarter inch deep.
Asparagus starts should be hardened off before planting outside.
Plant asparagus seedlings outdoors after your last frost date.
How Many Asparagus Plants Do I Need?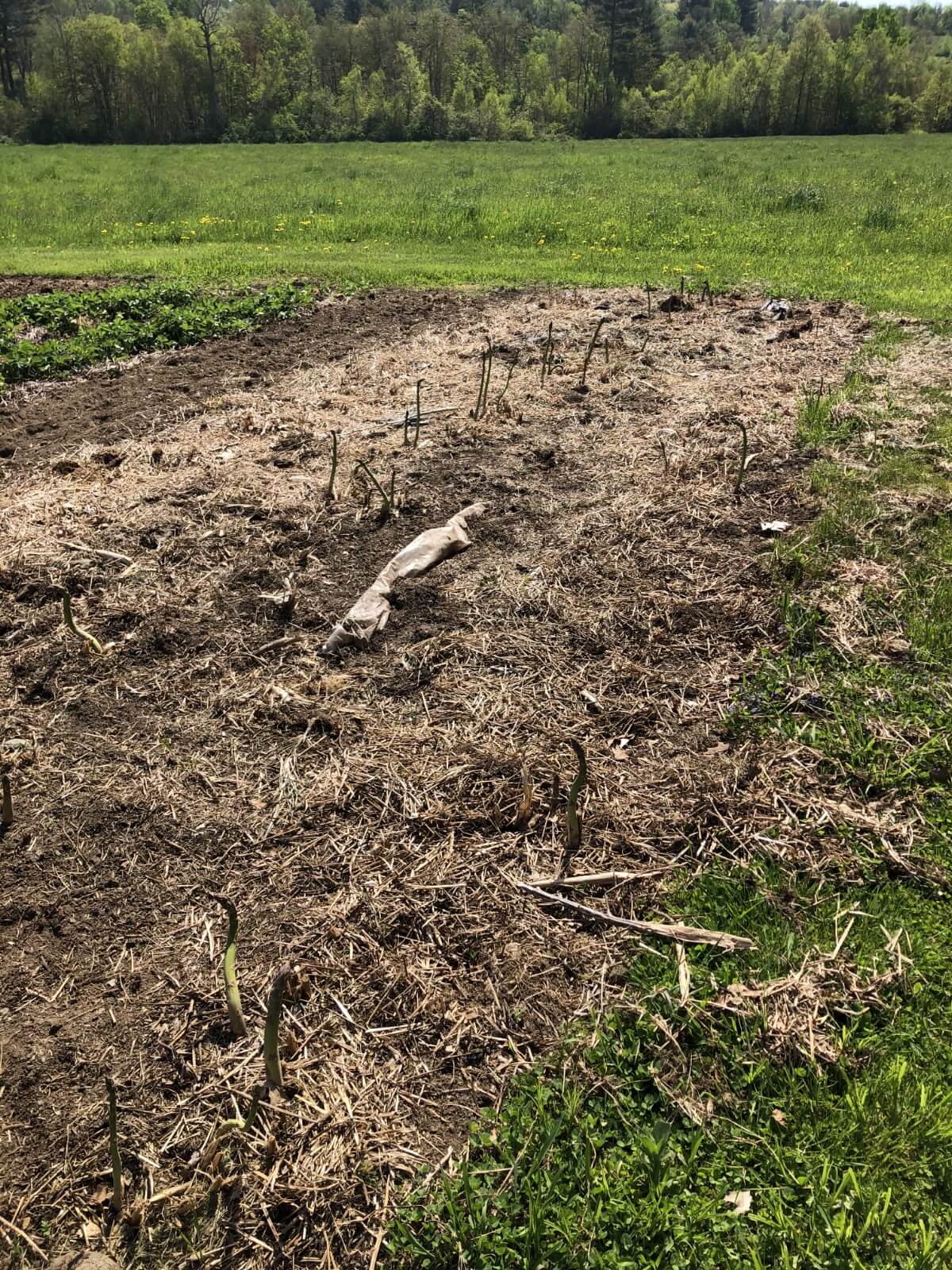 Knowing how much asparagus to grow depends somewhat on how much asparagus you like to eat. If you will only eat fresh asparagus, then you can plan for the lower end of the recommended amount. If you plan to preserve asparagus for off-season enjoyment, plant towards the higher end of the range.
A good recommendation is to plant between six and 12 asparagus plants per person in the household. This would mean planting six to 12 crowns per person.
Selecting a Site for Your Asparagus Bed
Probably the most important thing to consider when selecting a site for your asparagus patch is that this is a space that will be devoted only to growing asparagus for the life of the patch. Consider your bed a permanent fixture—much as you would a berry patch or orchard. Make sure that the patch will not be in the way of access, mowers, and machinery and is spaced accordingly.
If available, a new, unplanted patch of ground is ideal so you can avoid soil-borne diseases.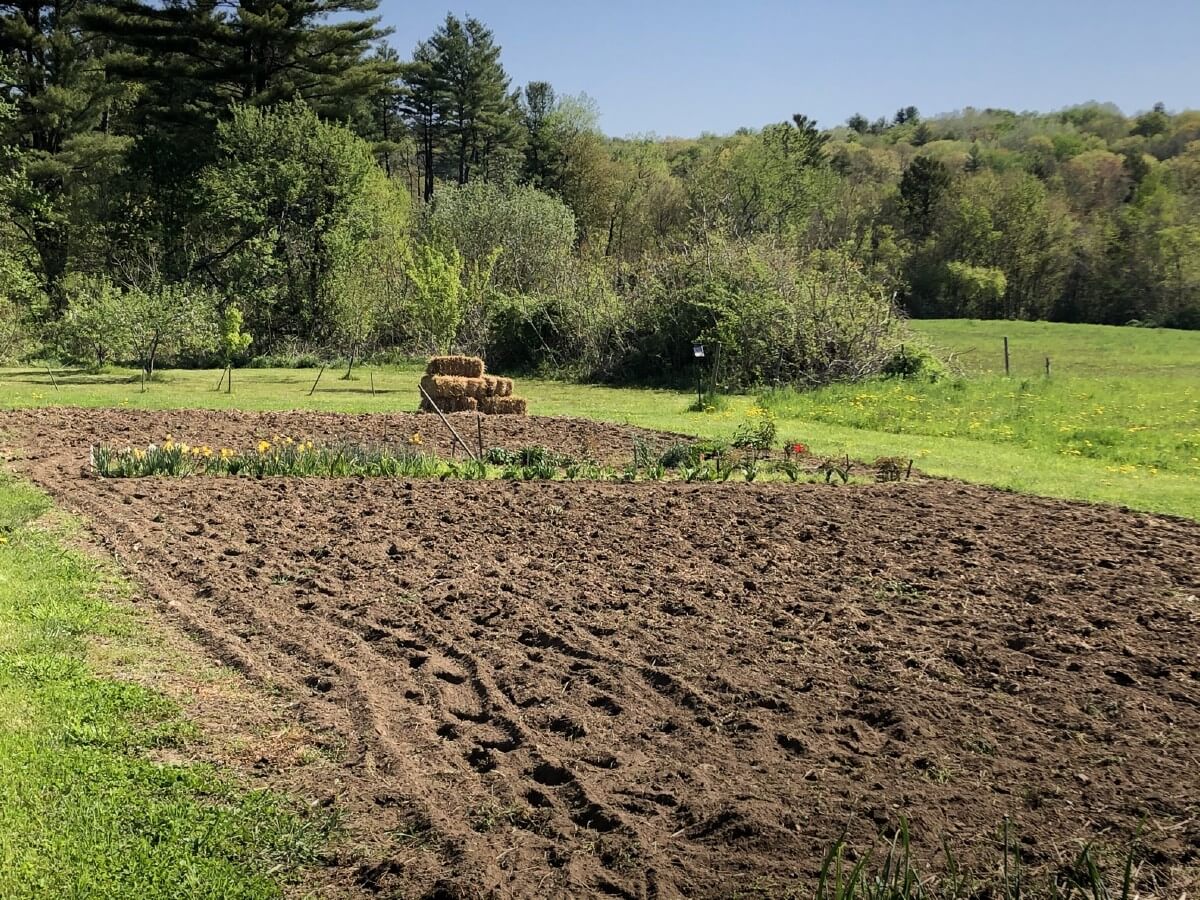 Asparagus will do best if planted in full sun but it will tolerate some shade. After the initial weeks of harvest, your asparagus plants must be left to grow to full height and will remain so for the remainder of the growing season. This is, in fact, most of your growing season.
Asparagus plants grow to about six feet tall. Keep this in mind when selecting your site so that the plants do not shade other low-growing, sun-loving plants or vegetables.
Asparagus will tolerate a wide range of soils but will do best in a mix of sandy and loamy soil. It is important that the soil be well-draining. Asparagus will not do well in heavy soils because spears will struggle to break through (and heavy soils are not well-draining soils, which will invite rot and disease).
For less-than-ideal soils, amend with plenty of organic matter or compost prior to planting your bed. If you have heavy soils or do not have a location that is well-draining, consider building a permanent raised bed for your asparagus. The bed should be at least two feet deep.
Prepping Your Asparagus Bed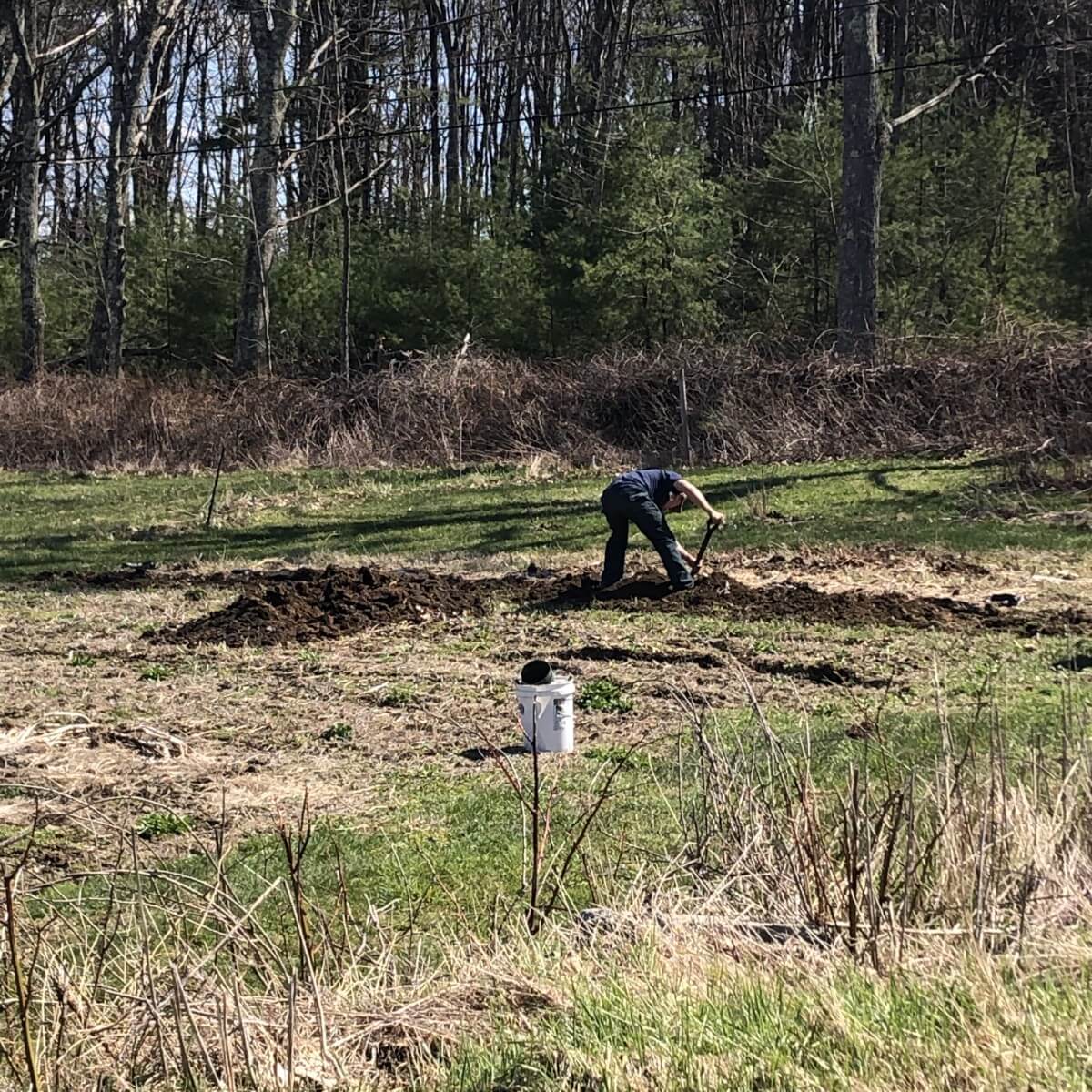 Once you know your location, it is time to prep your asparagus bed.
Your new asparagus bed should be tilled or well worked. It needs to be weed-free and needs to be kept this way. Asparagus does not compete well with weeds, and especially not with matting grasses.
Add a healthy layer of compost or aged manure and/or organic matter (such as dried leaves or grass cuttings). Be generous. Remember that asparagus is a heavy feeder and this bed will need to sustain it for years to come with only supplemental fertilizer and amendment so a nutrient-dense, healthy start is important.
Asparagus and Soil Acidity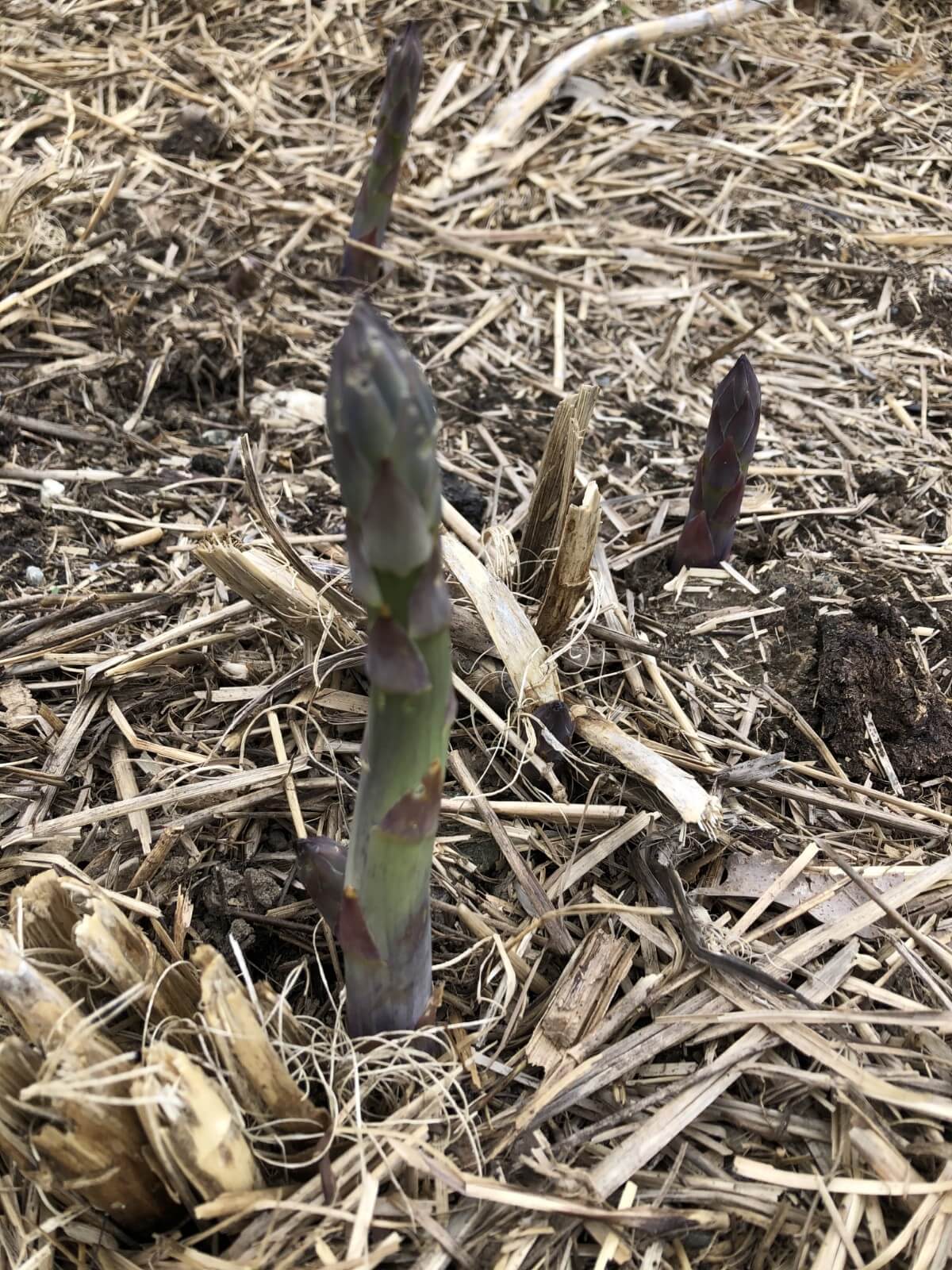 It is a good idea to check your soil's pH. Asparagus likes soil in the neutral to barely acidic range (a range of 6.5 to 7 pH, ideally). Even a basic DIY pH test can help you estimate whether your soil is near neutral or acidic (you can do an easy home pH test using vinegar and baking soda ).
If your soil's pH is far out of the middle range, raise or lower it accordingly. Amending soil pH takes time, so start as early as possible once you know where you'll put your asparagus patch. Ideally, you'll start this process six months ahead of time, or the fall before the spring when you intend to plant. If you do not have enough time to amend the bed beforehand, add amendments at the time of planting or when you till and prep the bed.
How to Plant Asparagus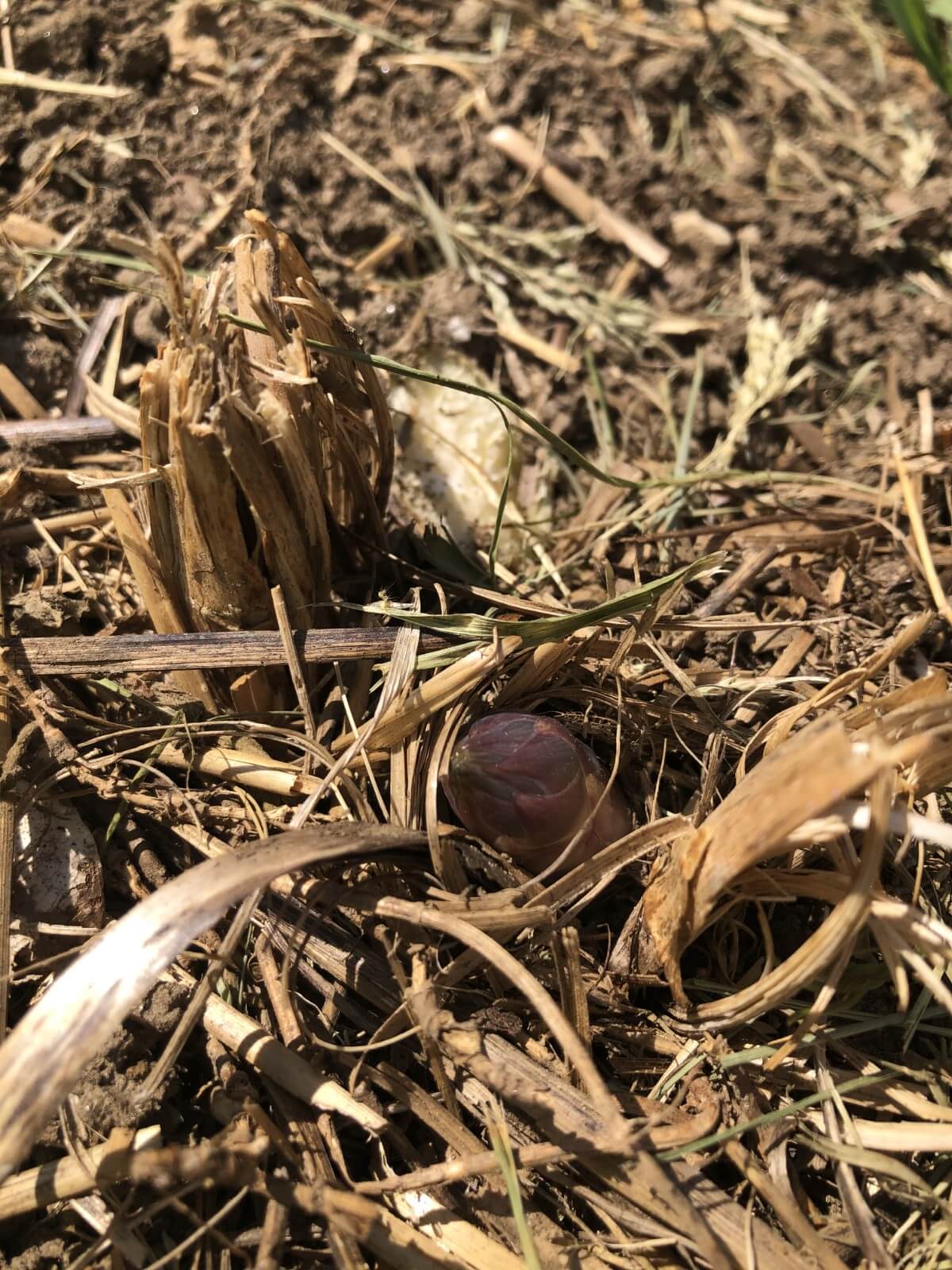 Before planting, pre-soak your asparagus crowns. Cover the bare roots with water and let them sit for several hours, then drain.
Crowns should be planted 12 inches apart in rows three apart. To save space, you can double the rows, planting two rows spaced 12 inches apart in a larger four-foot-wide row. Leave at least three feet of unplanted aisle space between doubled rows.
Crowns will have an obvious "top" of short, brown tips and a clear bottom of longer roots (roots are usually four to six inches long. The spears will grow from the top of the crown upwards, so be sure to place your crowns with the top pointing up.
The roots will spread easily from the bottom of the crown. When planting, spread the roots out with about half on one side of the planting mound and half on the other.
The Trench Method for Planting Asparagus
Trenching is a traditional and time-proven method of planting a new asparagus bed. It is basically a process of starting with a deep trench, planting crowns, and then filling the trench in as the crowns grow throughout the season. Though there are a couple of other, easier methods that typically work well, the trenching method is by far the most recommended and most accepted way to start a new asparagus patch.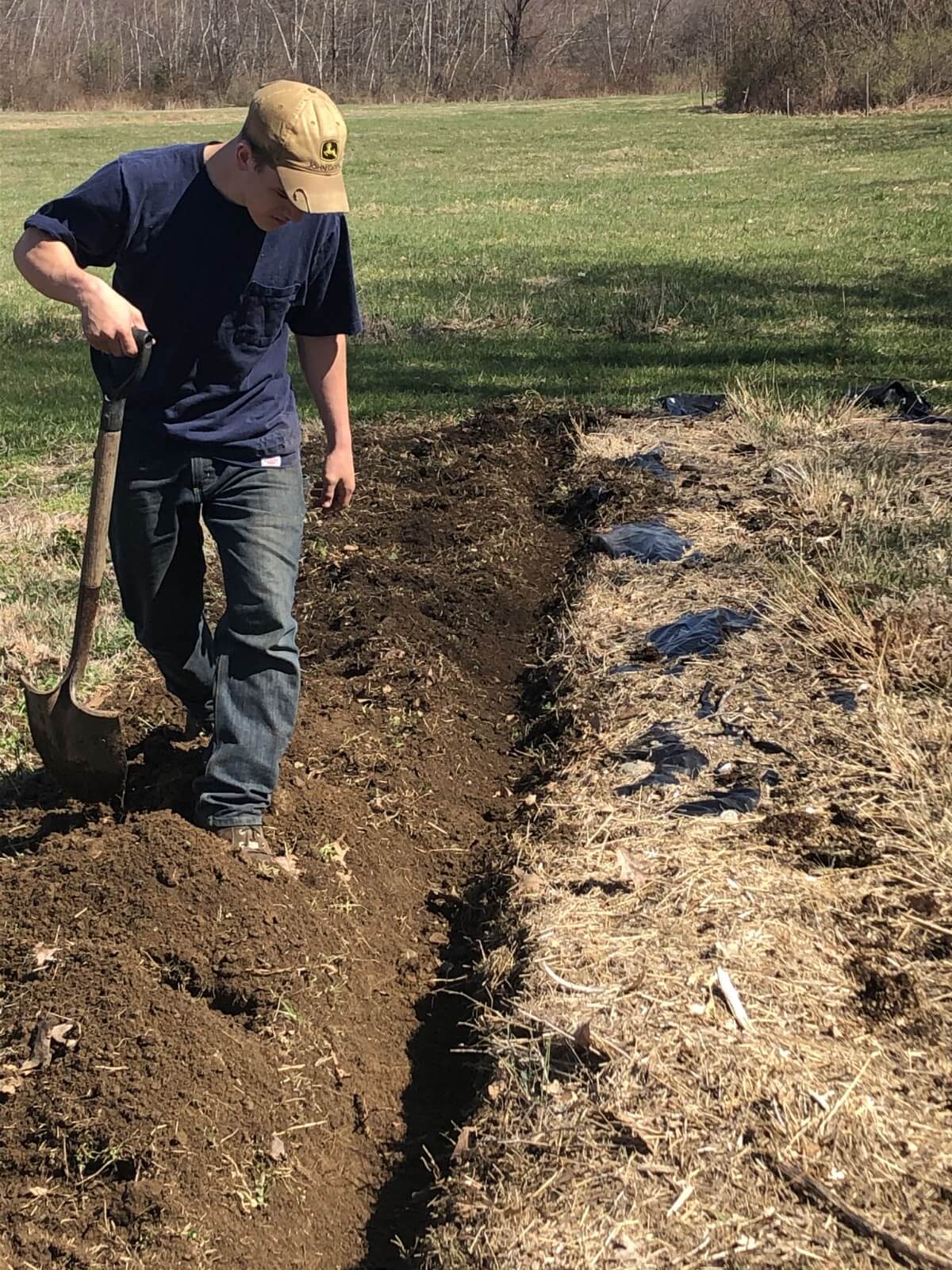 To start an asparagus bed using the trench method:
Start as early as you can in the spring when your soil is workable. Four weeks before your last frost date is a good time to start a new asparagus bed.
Dig a trench that is 12 inches deep and 12 inches wide.
Make a small mound or hill in the bottom of the trench, all the way down the trench.
Spread the pre-soaked crowns over the ridge with roots on each side, as described above.
Cover the crowns with two to three inches of soil and then water in.
Maintain good moisture and keep the trench free of weeds as the crowns establish.
Within a few weeks, you should see thin, spindly asparagus spears growing from your crowns. When the spears are several inches tall, pull in more of the trench dirt. Bury the spears up to the bottom of the tip, but do not cover the tip.
Repeat the process of filling and burying the spears until the trench is filled, mounding the top of the trench up a little at the end. Just remember to always keep the tip of the plant above the soil line.
The trench method helps to remove deeply-rooted weeds and ensure that your asparagus plants are well-rooted in deep soil. This also helps prevent them from mounding out in freezing weather and protects your perennial asparagus from winter frost and heaving.
Other Methods for Planting an Asparagus Patch
There are a couple of accepted alternatives to the trenching and long-season filling method described above. These require a little less work and have good results.
One option is to use the trenching method, but to fill the trench completely at the time of planting. There is some risk that the spears will not make it all the way through the deep soil covering, but in general, results are good and crowns are still well buried.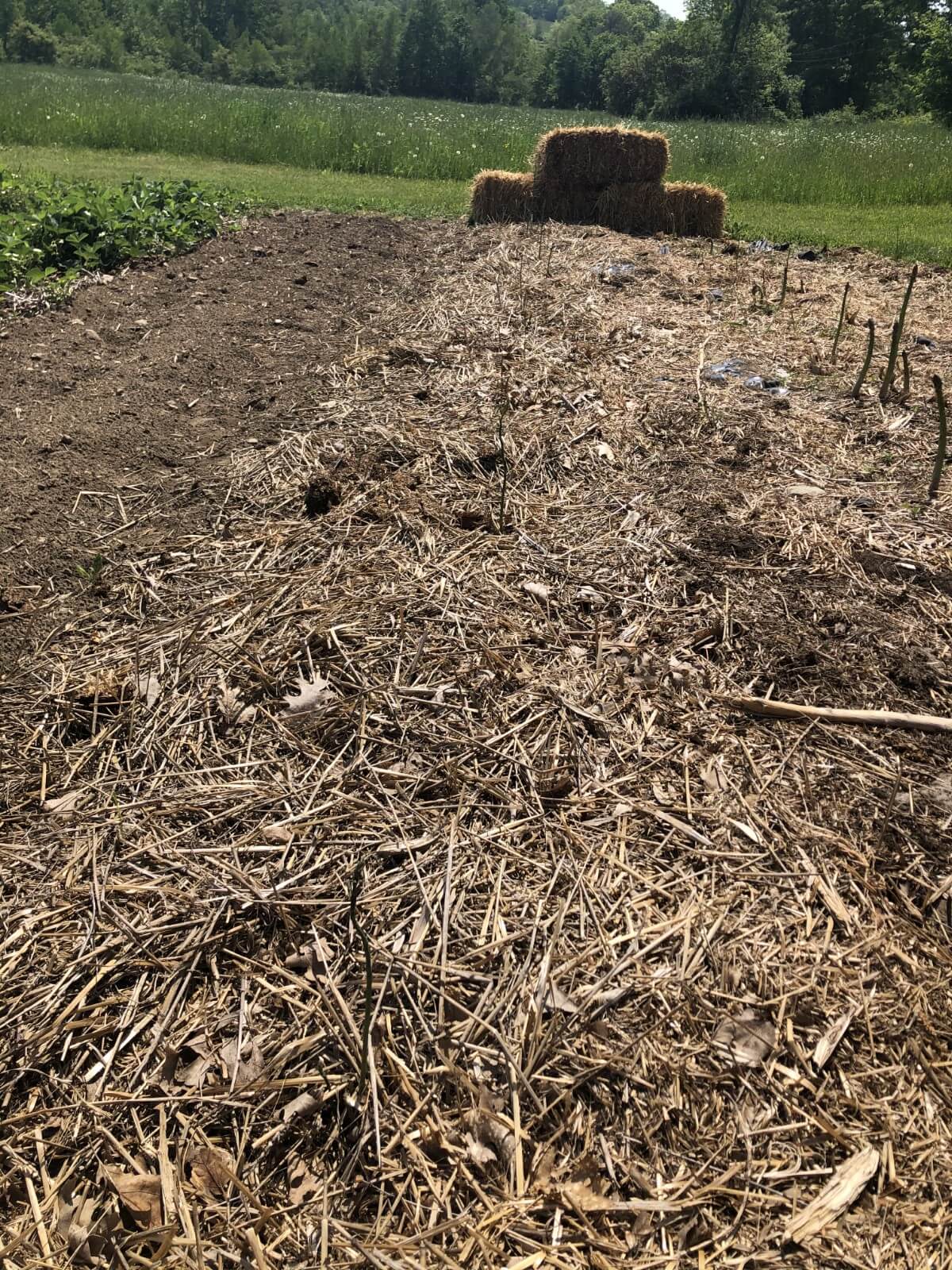 A more traditional planting method of digging a hole for each crown can also be used. This does not tend to prepare and loosen the bed as well as the trench method, but with good maintenance and weed control results can be good. If planting this way, start with a wide hole that is 12 inches deep and mounded on the bottom to direct the roots. Fill in increments or all at once, as preferred.
Asparagus can also be planted individually using a hilling method or you can create a raised, hilled row above the ground. This method may offer somewhat less protection over winter, but can also be a good solution for poorly draining soils. Plant the asparagus crown at ground level and hill the growing spear to a height of 12 to 18 inches. The plant will expand under the mound over the succeeding years, so make the hill wide to accommodate future growth—the mound should be at least three feet wide. Hilled mounds will benefit from additional mulching before winter to protect them from cold.
Maintaining Your New Asparagus Bed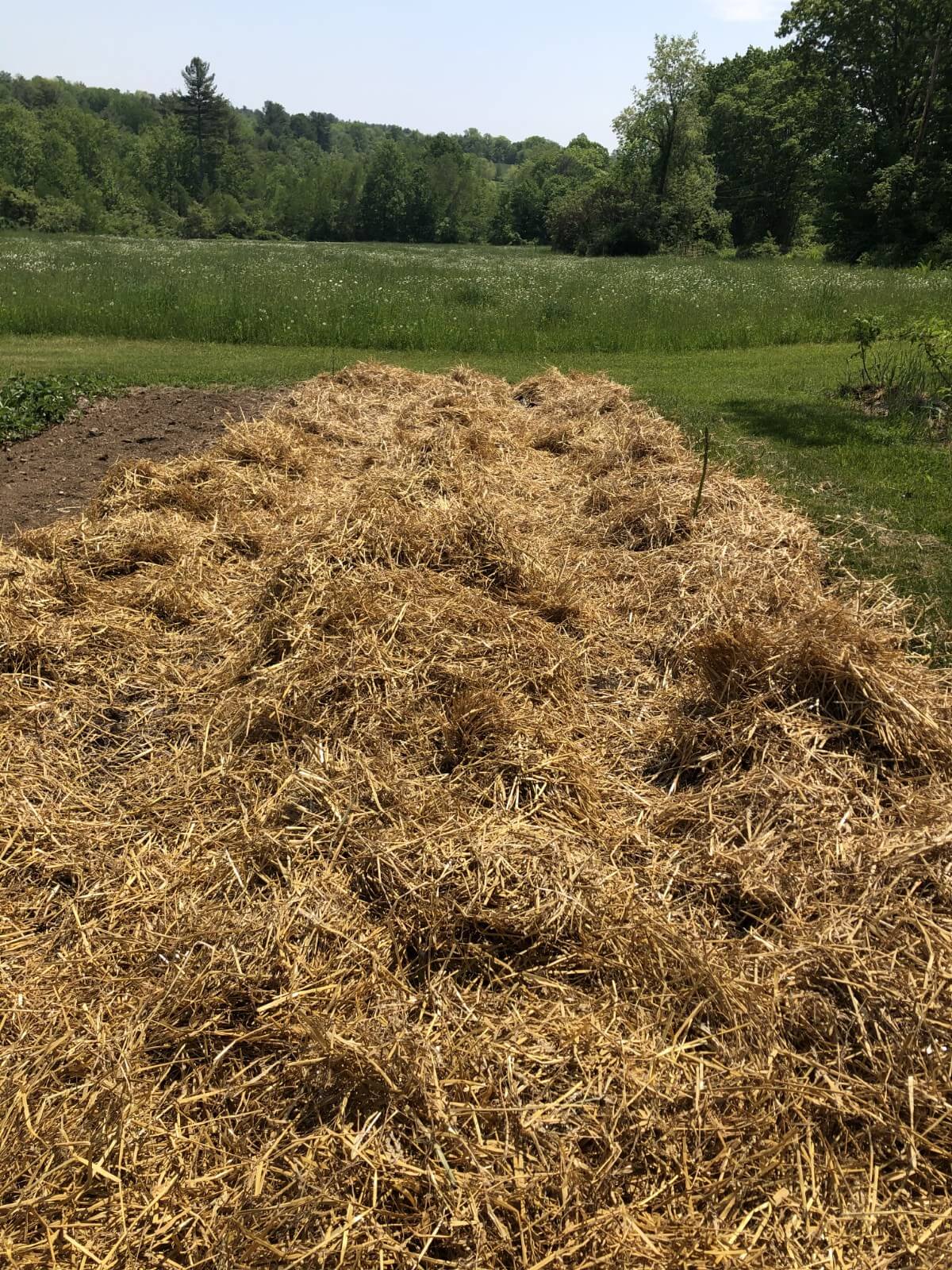 A little ongoing maintenance will go a long way for your new asparagus bed. Well maintained, this is a gift that will keep on giving for years and years—decades, in fact!
Competition from weeds and grasses is one of the top killers of asparagus patches. Keep your bed weeded throughout the growing season. A thorough weeding a few times a year will ensure that soil remains arable and spears can easily grow through the soil layer.
Mulching is a good idea for both weed control and maintaining moisture. A thick layer of mulch will make that weeding chore next to nothing, will feed your bed as it breaks down, and will maintain loose material through which the spring spears can emerge. Some good options for mulching asparagus include straw, sawdust, leaves, and pine needles.
Watering Your New Asparagus Patch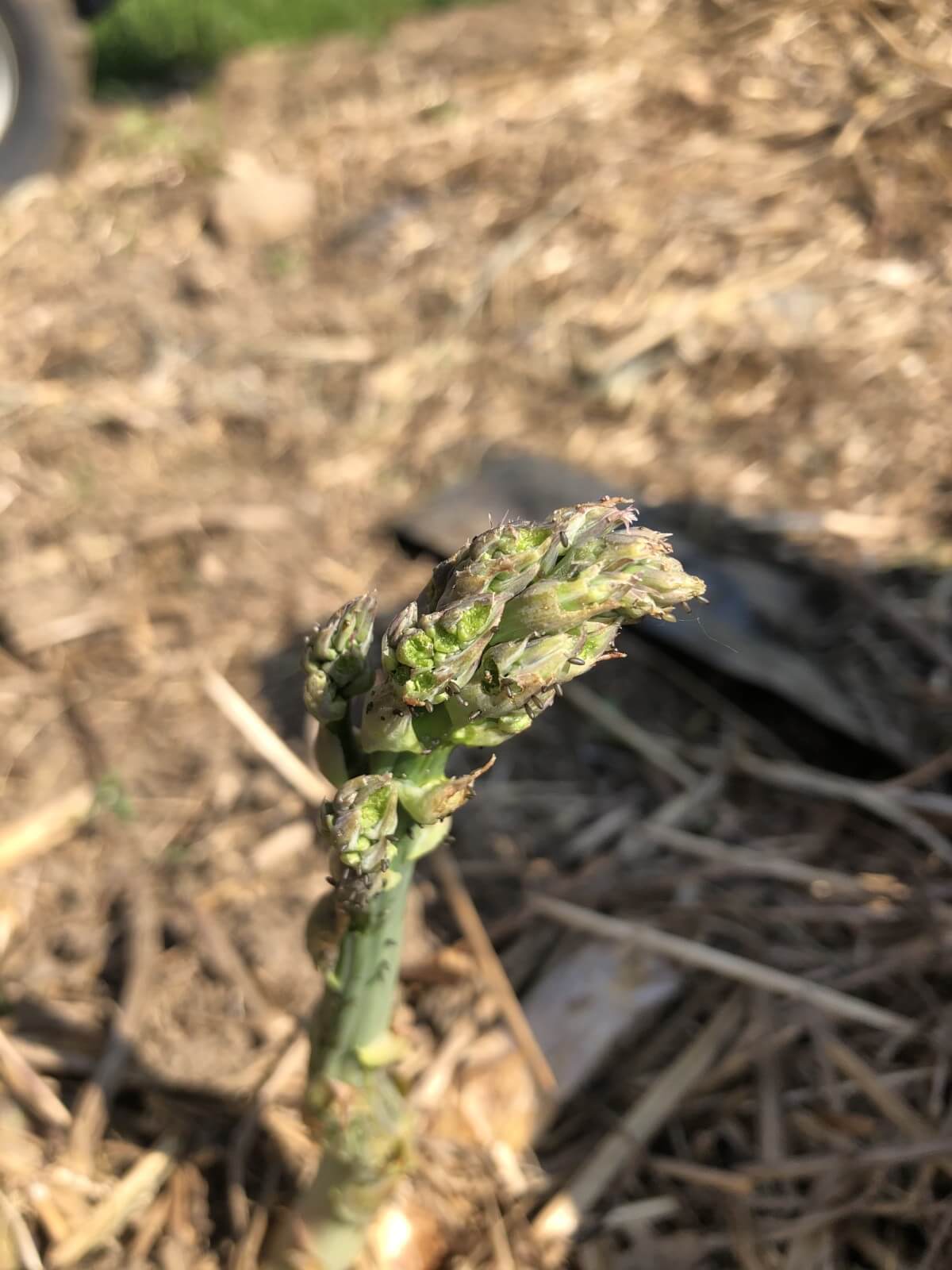 It is especially important to keep your first-year asparagus patch watered. Do not let the new asparagus bed dry out while it is establishing itself during this first year. Its roots simply are not deep enough yet to reach groundwater and its plant ferns in the first year will be thin—so even a little wilting and drying can mean death. In the second year, your new asparagus patch will tolerate water stress a little better but consistent watering should be maintained for the first two years.
Water young asparagus beds weekly if there is not enough rainfall. Young beds require one to two inches of water per week. It is helpful to place a rain gauge somewhere in the patch to measure how much natural rainfall you receive; then you can supplement with a soaker hose or sprinkler. A good rule of thumb is to water the patch to a depth of six to eight inches with each watering.
When to Start Harvesting Asparagus
The one downside to growing asparagus is that it takes some time before you can harvest from the patch. No matter if you start from seed or from older crowns, regardless of the crowns' age you will not get any harvest in the first year that you start your bed. After that, it depends on the age of the starts or crowns. Here is a guide to when you can harvest asparagus from each type or age of starts: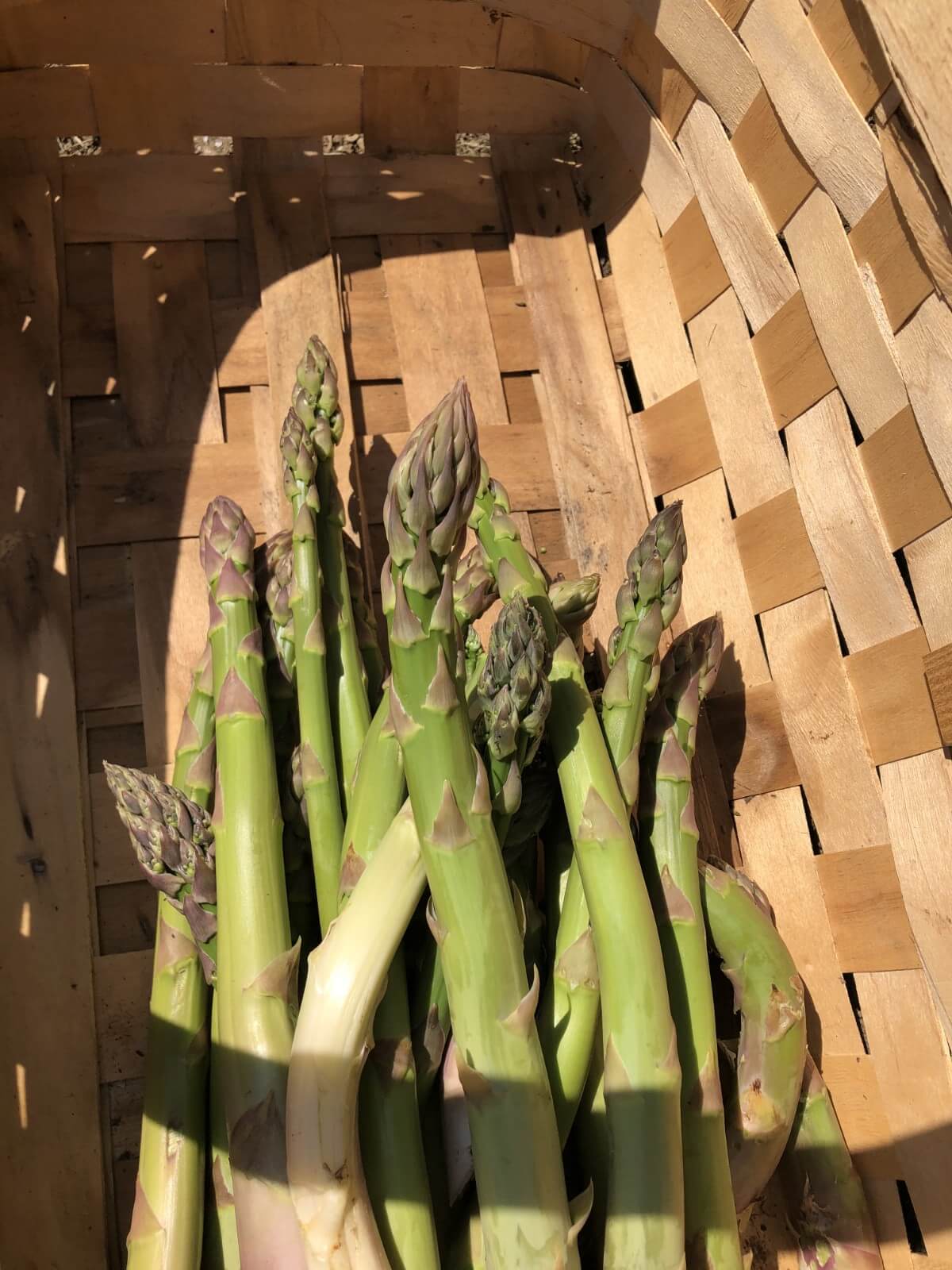 - From seed: First harvest in year three (minimum) or four. (Judge this by the strength of the bed and diameter of the spears; do not harvest asparagus if the spears are not at least the diameter of a pencil.)
- From 1-year-old crowns: harvest only after two full growing seasons.
- From 2-year-old crowns: harvest after one full growing season, two if growth is weak or slow. If in doubt, let grow two full seasons before harvest.
No matter what year you begin harvesting, in the first harvest year you need to limit your harvest so that the plants can continue to grow and build strength. Harvest lightly and for no more than two weeks in year one (and only if the plant continues to send up spears—always make sure there are at least two spears emerging before cutting from the plant). Limiting the first-year harvest to seven to ten days is even better.
In year two, you can harvest a little more heavily but limit the harvest to about two weeks, perhaps a little more if the patch looks strong and there are plenty of spears emerging.
From year three onwards, you can extend your season to six to eight weeks as long as the spears continue to be of good size (pencil-sized or larger) and the crown continues to send up new shoots. If you started your patch from seed, wait until year four to begin full harvests.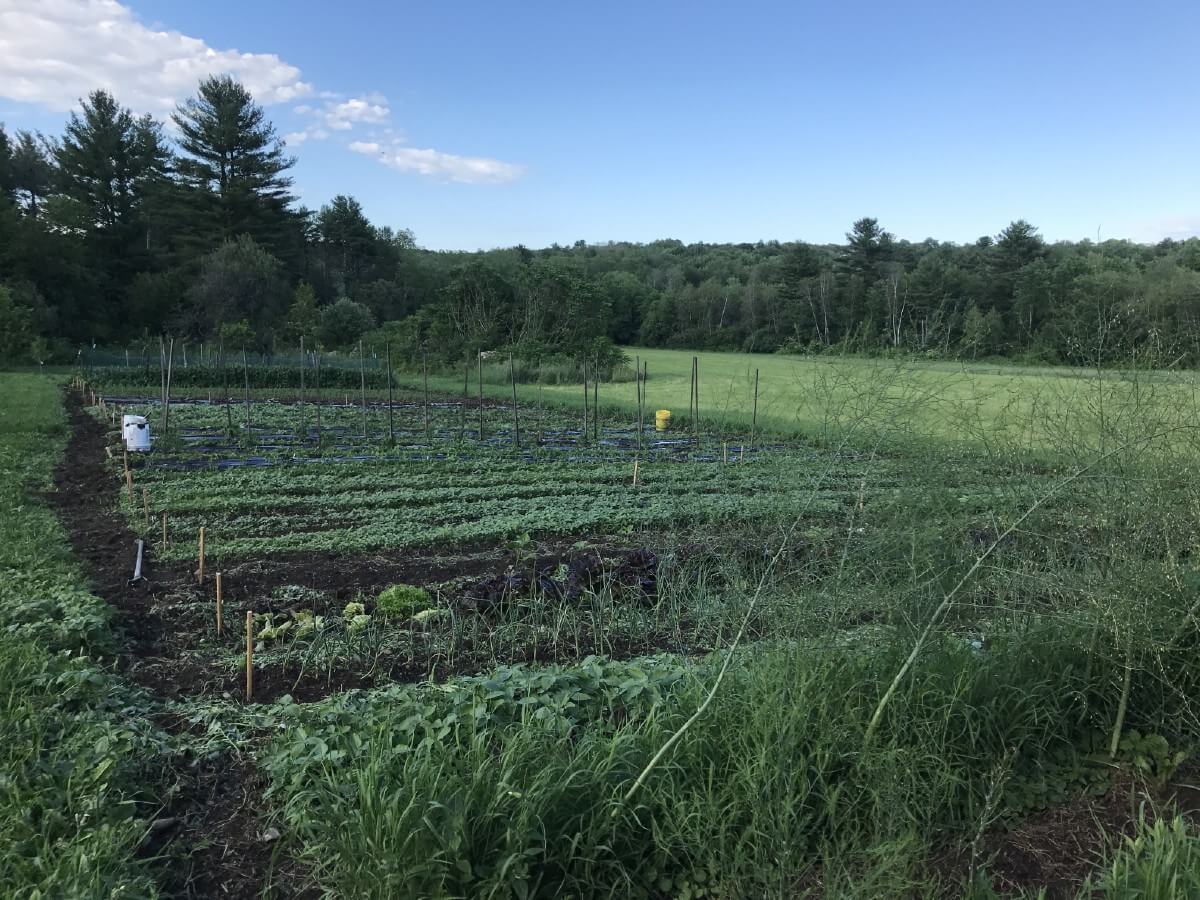 With conservative harvesting in the early years and good ongoing maintenance, your new asparagus patch will reward you with delicious, nutritious harvests for many years to come. This is one of the few crops that can literally feed the future generations of your family.