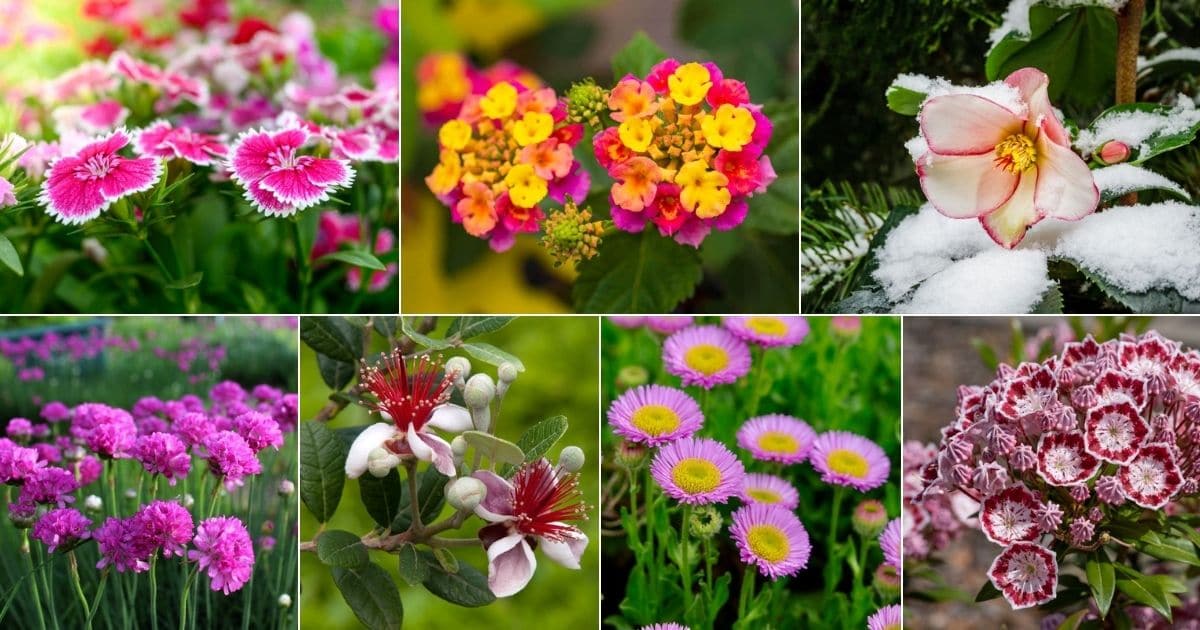 The foliage of evergreen perennials provides a much-needed benefit aesthetically and spiritually during cold and dreary winter seasons. While folks living in warmer climates have a vast array of evergreen perennials to choose from, the options for cold locations are significantly smaller. That doesn't mean that you can't have long-lasting green foliage if you live somewhere cold, though. We've compiled this list, arranged by zones, to ensure every hardiness climate is represented.
Jump to:
What Is An Evergreen?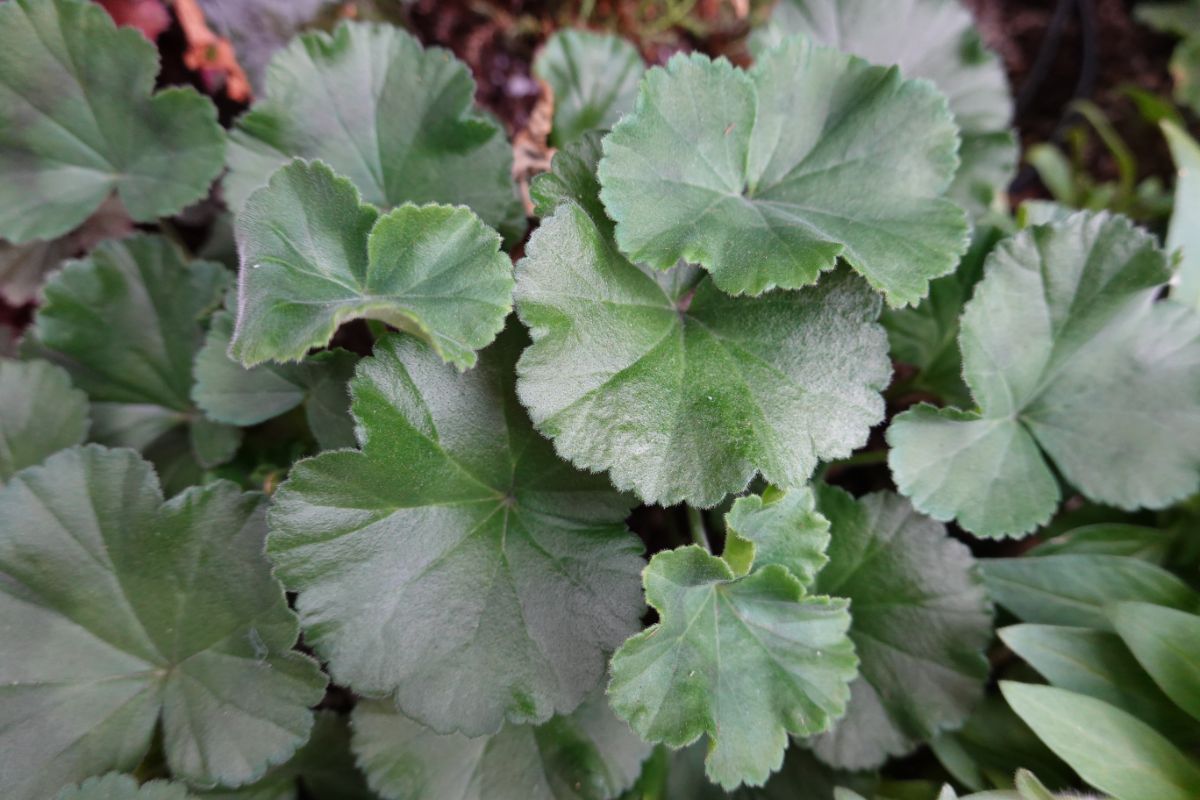 An evergreen perennial plant lives more than a single growing season and maintains its foliage year-round.
Why Plant Evergreens? 5 Reasons To Include Evergreens In The Landscape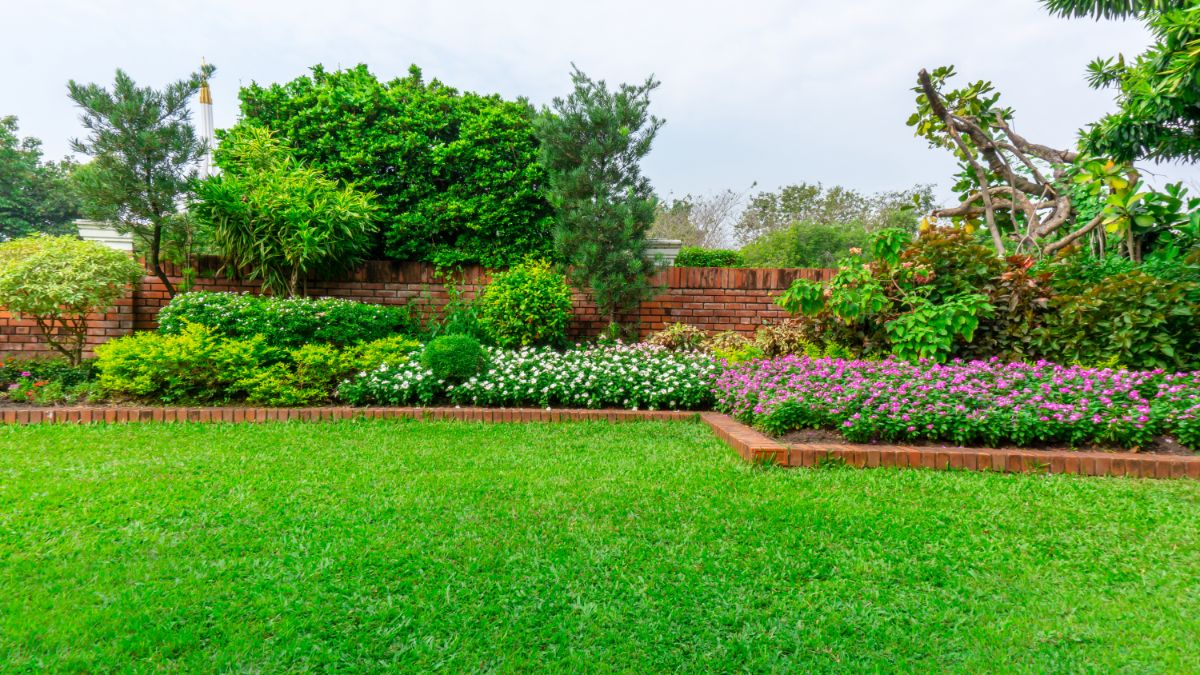 Besides providing color and interest throughout the seasons, evergreen plants also have practical purposes.
Wind Breaks – A planting of evergreens is a natural buffer against winds, snow, and cold. When they're planting close to a house, they protect the property and add a layer of insulation. This is only true of the taller evergreen perennials, like some of the shrubs and bushes.
Privacy Screens – Tall evergreen perennials are excellent natural privacy screens or fences. They look infinitely better than chain-link fencing and even better than a lot of wooden fencing.
Noise Buffer – Sound travels through the wind, but when you've got a nice year-round buffer, it really improves the landscape. Deciduous shrubs cannot provide this service since it is the leaves that act as the primary sound buffer.
Green Displays – If you're a person who likes to bring nature indoors to spice up your living space, evergreen plants are a must. Snipping off a flower or leaf stem to add to a vase year-round is a nice bonus of evergreens.
Wildlife Habitat – Evergreens provide year-round shelter for birds and wildlife, as well as supplying a stable food source in many cases. So much natural habitat has been destroyed by development, and we must bring it back for our wild friends.
Hardiness Zones, And Why It's Important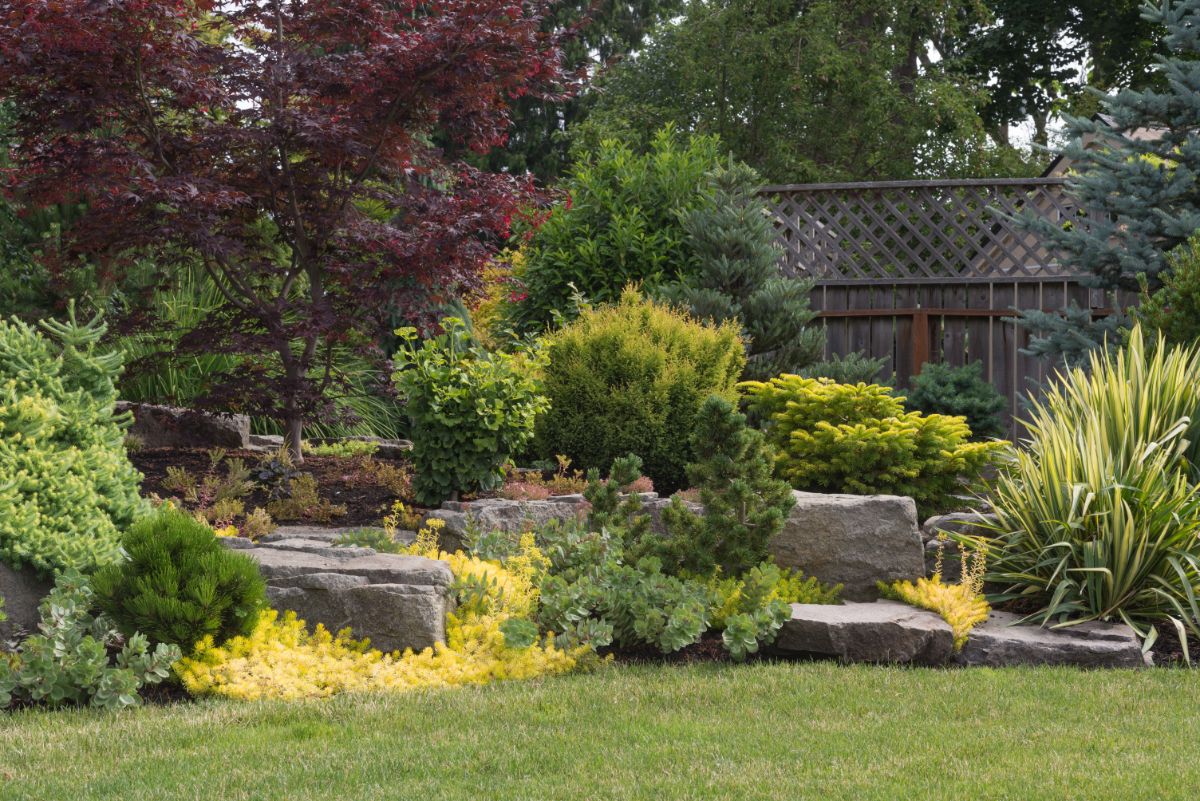 Most evergreen plant guides only list plants that keep their foliage and flower in warmer climates because there are so many options. Tropical hot weather plants are gorgeous, and the lists are fantastic if you live in zone 9 and above. However, everyone else is left out as if there are just no choices. This gives the impression that the only way to have evergreen perennials is to move.
We're here to reassure you; there are perennial evergreen options for all climates! This list is broken into zones so you can easily find the ones best suited for your area without having to search endlessly, then only to be disappointed that the ones you want won't thrive in your climate. Many of the perennials listed will succeed in multiple zone categories, so be sure to read through them all to know all the options.
A lot of perennials are evergreen in one climate and not in another. This doesn't mean they can't be grown in a climate where they're not evergreen. It simply means that they won't retain their foliage throughout the seasons. Other perennials are classified as semi-evergreen, meaning they may keep their leaves during mild winters, but will drop them in a harsh winter. The semi-evergreen plants vary in performance year to year.
As you can see, determining if a perennial is an evergreen is entirely dependent on climate; an evergreen in one location is not evergreen in another, or only intermittently evergreen. Plants are highly susceptible to climate changes, odd weather patterns, and temperature fluctuations.
Evergreen Perennials By Zone
Zones 3-5
Mountain Rock Cress (Arabis alpina)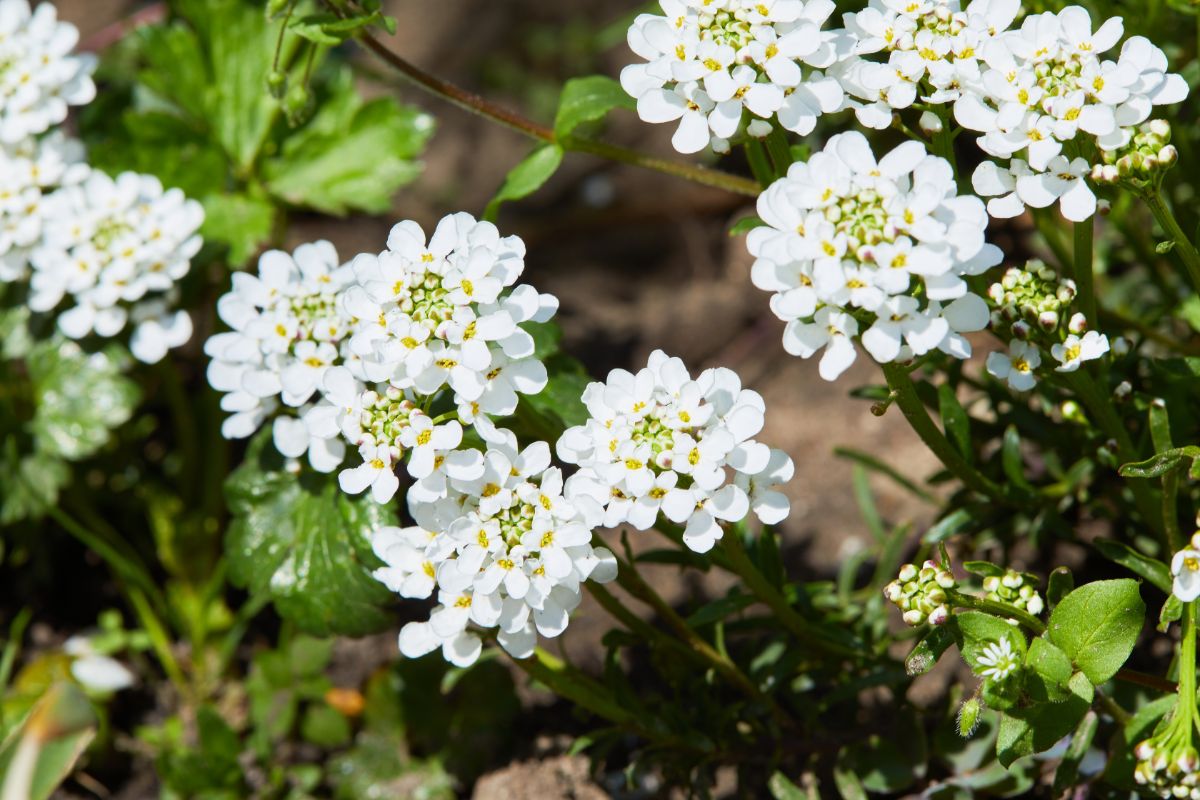 A mat-forming evergreen with distinctive rosette-shaped foliage, Mountain Rock Cress looks phenomenal in the garden landscape. The leaves are grayish-green and the flowers, which bloom in spring, are snowy white, fragrant, and very abundant. Mountain Rock Cress is a native plant that grows 8-10 inches tall.
Evergreen in zones 4-7 and possibly zone 3
Full sun
Drought tolerant
Deer and rabbit resistant
Native to the northern United States
Sea Thrift (Armeria maritima)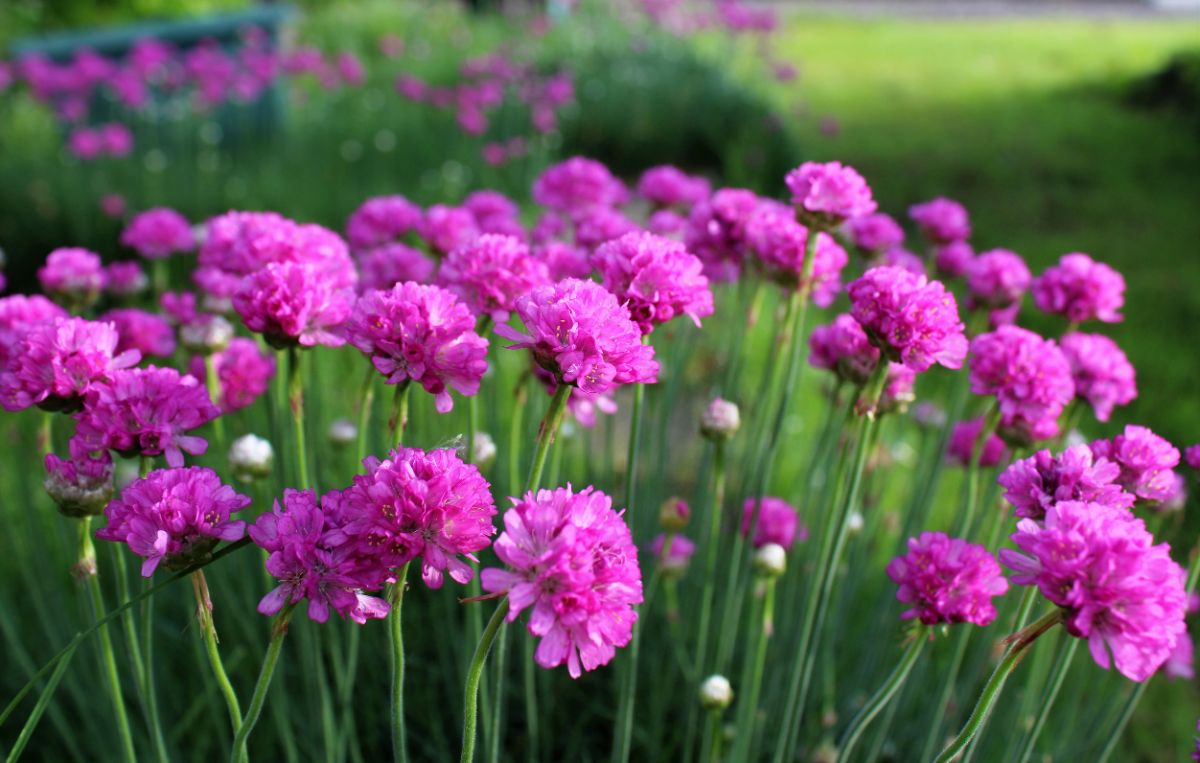 The rounded clusters of bright pink or purple blooms really make this perennial stand out. Sea Thrift flowers bloom atop slender stalks high above the dark-green, grass-like foliage. It isn't a tall plant, averaging 6-12 inches, but it is a charming native evergreen perennial. Sea Thrift blooms in mid to late spring and is an extremely easy-going, low-maintenance flower.
Evergreen to zones 3-9
Full sun
Deer resistant
Attracts butterflies and bees
Native to the Pacific Northwest
Basket of Gold (Aurinia saxatilis)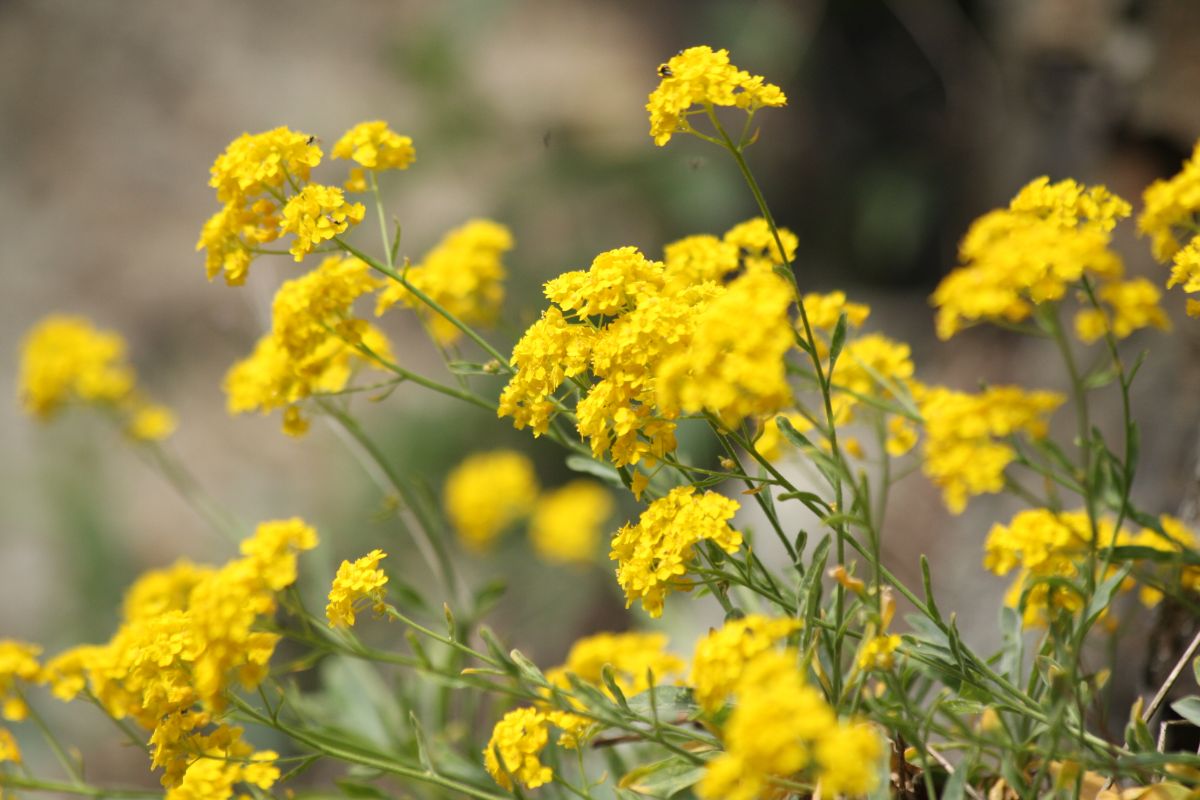 This evergreen perennial lives up to its name; when in full bloom, it truly looks like a golden masterpiece. Basket of Gold flowers are stunningly bright-yellow, and they appear in vast numbers above the gray-green foliage in spring. This perennial grows 6-12 inches tall and has a mounding habit. It looks especially charming cascading over stone walls or as a border plant.
Evergreen to zones 3-7
Full sun
Deer resistant
Attracts butterflies, bees, and other beneficial insects
Mountain Andromeda (Pieris floribunda)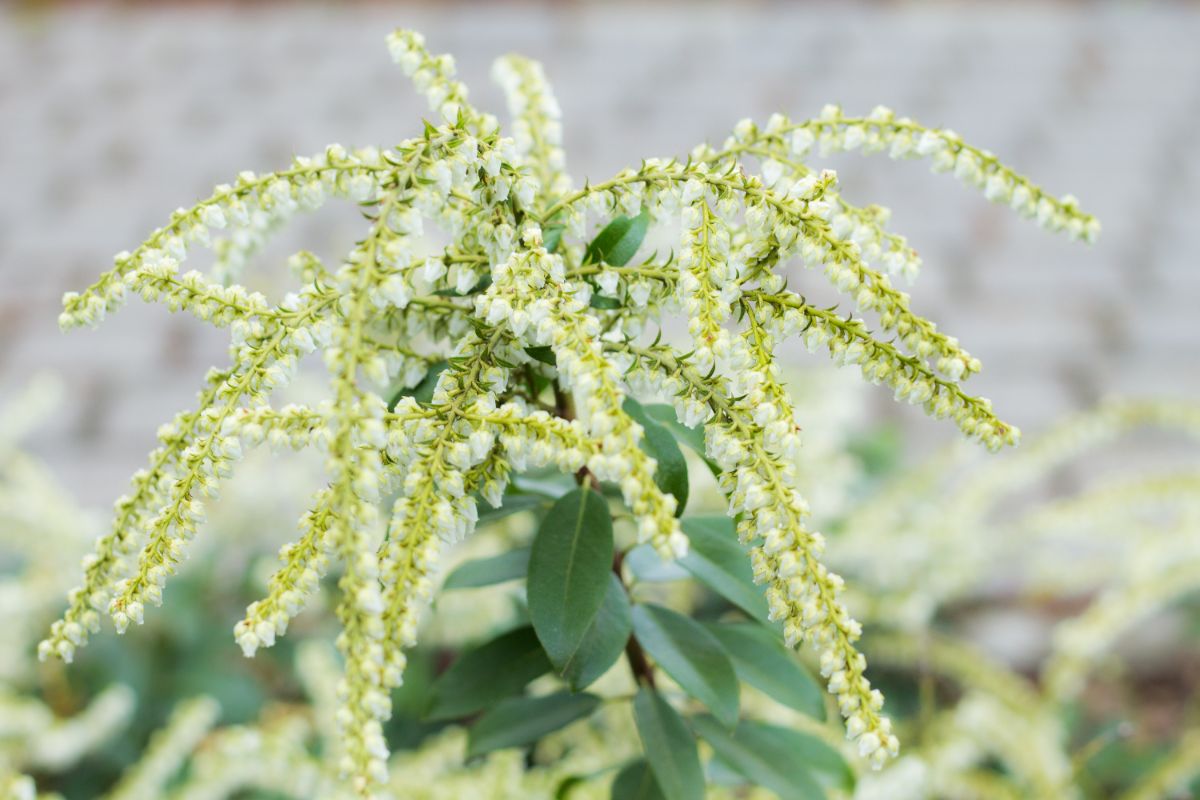 The native Mountain Andromeda is often overlooked, but it needs more recognition for its incredible hardiness as well as beautiful evergreen display. The foliage is glossy, dark-green, and leathery, giving the landscape a much-needed splash of color when all else is white with snow. In early spring, small white bell-shaped flowers blossom in long clusters.
Bees and butterflies adore the flowers, while birds appreciate the seeds and habitat. Mountain Andromeda (also commonly called Fetterbush) grows 4-6 feet tall and 3-4 feet wide. It is a perfect border or hedge shrub and also makes an excellent centerpiece.
Evergreen in zones 5-8
Partial shade
Deer resistant
Native to the Northeast and Southeast
Evergreen Candytuft (Iberis sempervirens)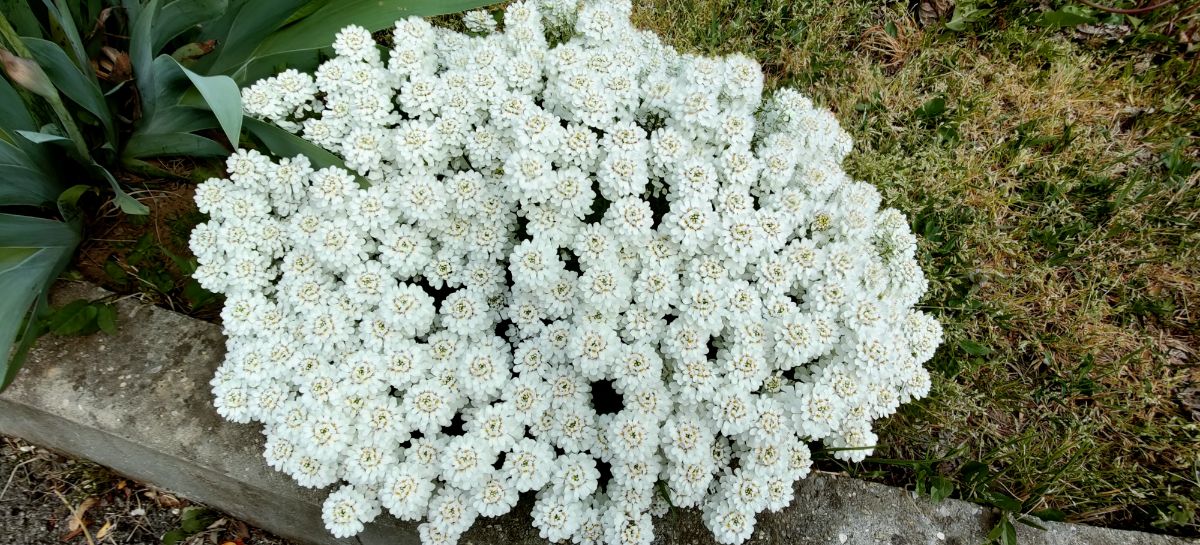 This is a perennial with flowers so pure white that it looks like a blanket of snow when in full bloom. Candytuft foliage is dark-green and leathery, adding an interesting texture and aesthetic to the garden. Candytuft produces abundant clusters of delicate white flowers from late spring into early summer, with a captivating yellow dot on each petal. This evergreen perennial averages 6-12 inches tall and looks phenomenal as a border plant along walkways, paths, garden edges, or ground cover.
Evergreen to zones 3-9
Full sun
Drought tolerant
Deer and rabbit resistant
Bergenia (Bergenia sp.)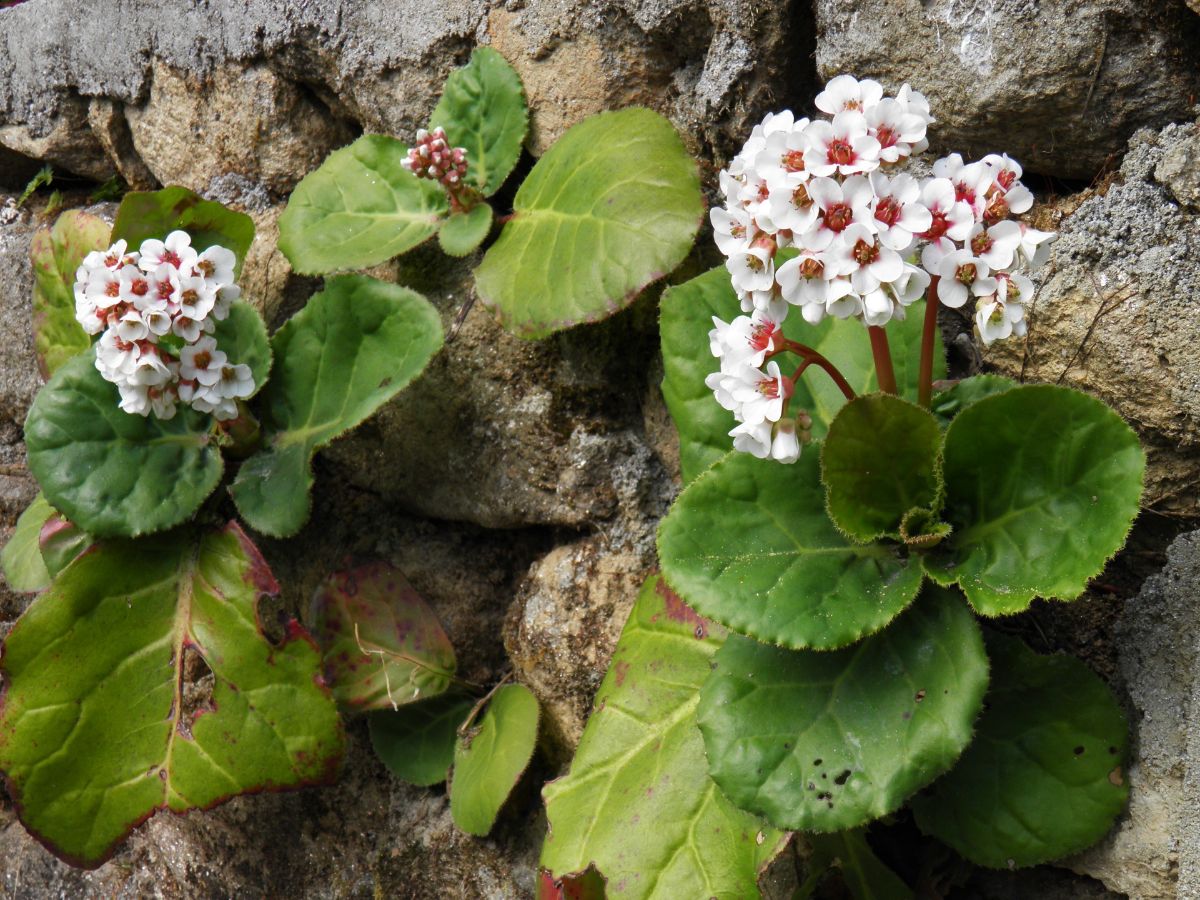 There are quite a lot of Bergenia's to choose from, which is fantastic because this is one of the hardiest evergreen perennials out there. Bergenia grows in clumps, and the nodding flowers are borne atop stout stems above the lush, rounded foliage. The leaves are large, like giant lettuce leaves, and often change color in winter (depending on the species). Bergenia's range in size from 12-24 inches tall. A low-maintenance, shade-tolerant perennial with vivid blooms, Bergenia is an essential evergreen for every northern climate.
Evergreen to zones 3-8
Winter-Blooming Bergenia (Bergenia crassifolia) – Blooms late winter through spring, lavender-pink flowers, leaves turn slightly red in winter.
Heartleaf Bergenia – Blooms late winter through spring, magenta flowers, red stems, leaves turn maroon in winter.
Bergenia cultivars & hybrids – white, pink, or purple flower with a range of leaf colors.
Full sun, partial shade, or full shade
Deer and rabbit resistant
Mountain Laurel (Kalmia latifolia)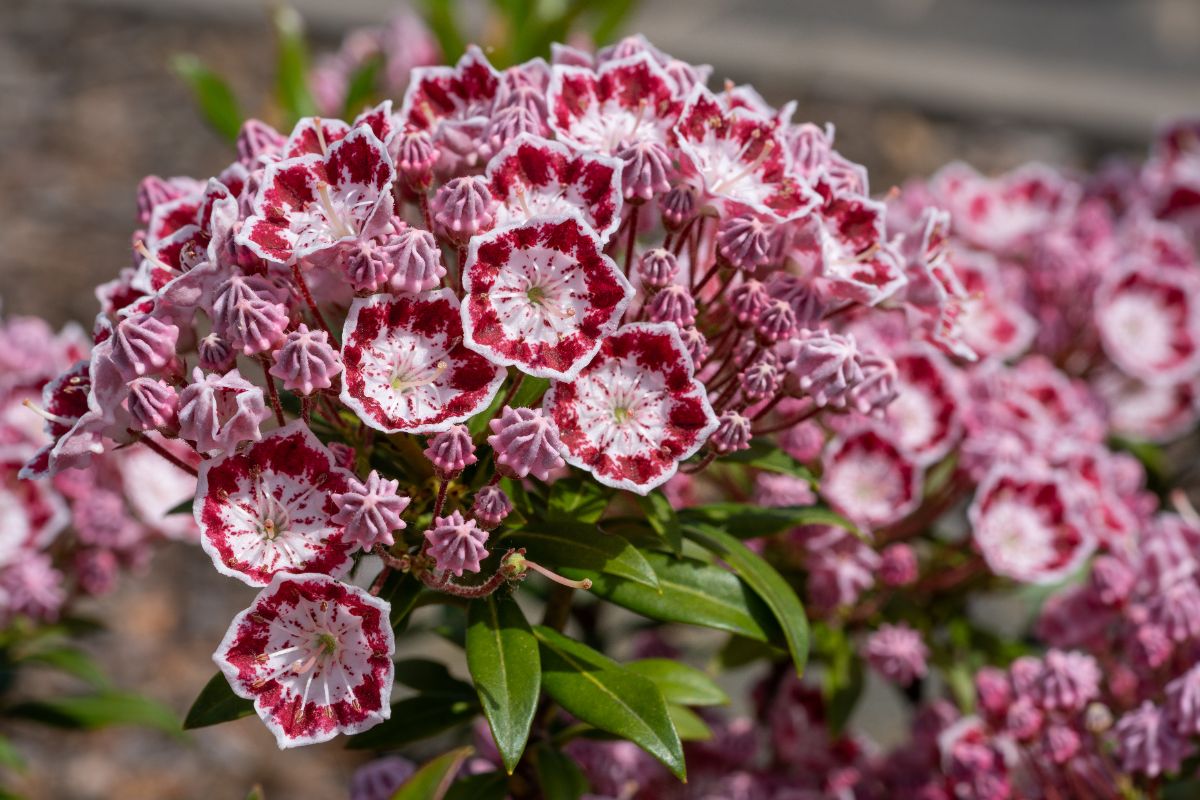 A native perennial shrub with attractive year-round foliage, Mountain Laurel tops the list of hardy, beautiful plants. In late spring into early summer, the bush is covered with massive clusters of light pink or white bell-shaped flowers. The leaves are dark-green, oval, glossy, and leathery. As the seasons change, the foliage transitions from light-green to dark-green and then to purple.
Butterflies, birds, and hummingbirds love the native flowers and fruits. Mountain Laurel grows 5-15 feet tall and makes an excellent border plant.
Evergreen in zones 4-9
Partial shade
Deer and rabbit resistant
Native to the Northeast, Midwest, and Southeast
Dalmatian Bellflower (Campanula portenschlagiana)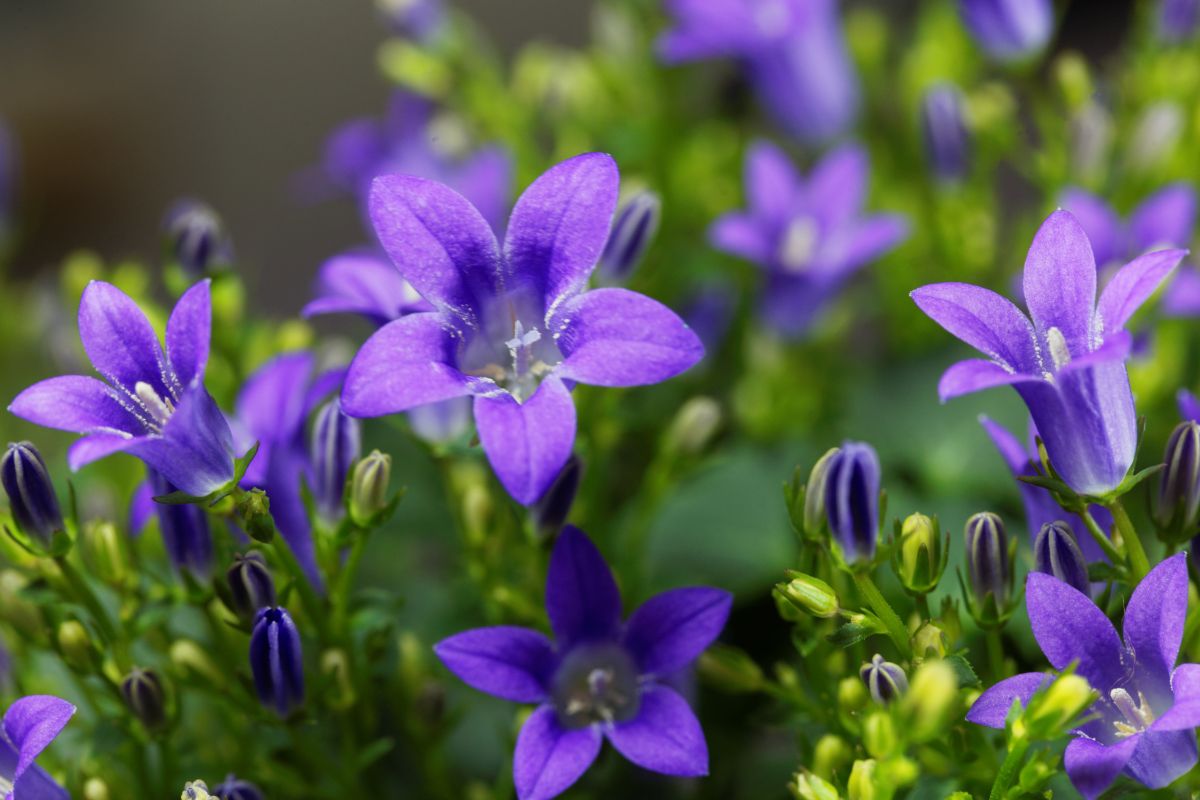 A vigorous perennial evergreen flower with prolific bell-shaped flowers, Dalmatian Bellflower is award-winning for a reason. The long blooming season, lasting all summer, and deeply colored upward, flaring blossoms turn the garden into a sea of color. Dalmatian Bellflower foliage is just as enthralling; the leaves are tiny and heart-shaped and form a rosette as it spreads across the ground.
This bellflower grows 8-12 inches tall and is excellent as a groundcover, edging, or used to fill in wall or fence crevices. There are many bellflower species and cultivars, and not all are good evergreen choices, so be aware when choosing one.
Evergreen to zones 3-9
Full sun or partial shade
Rabbit resistant
Coral Bells (Heuchera sp.)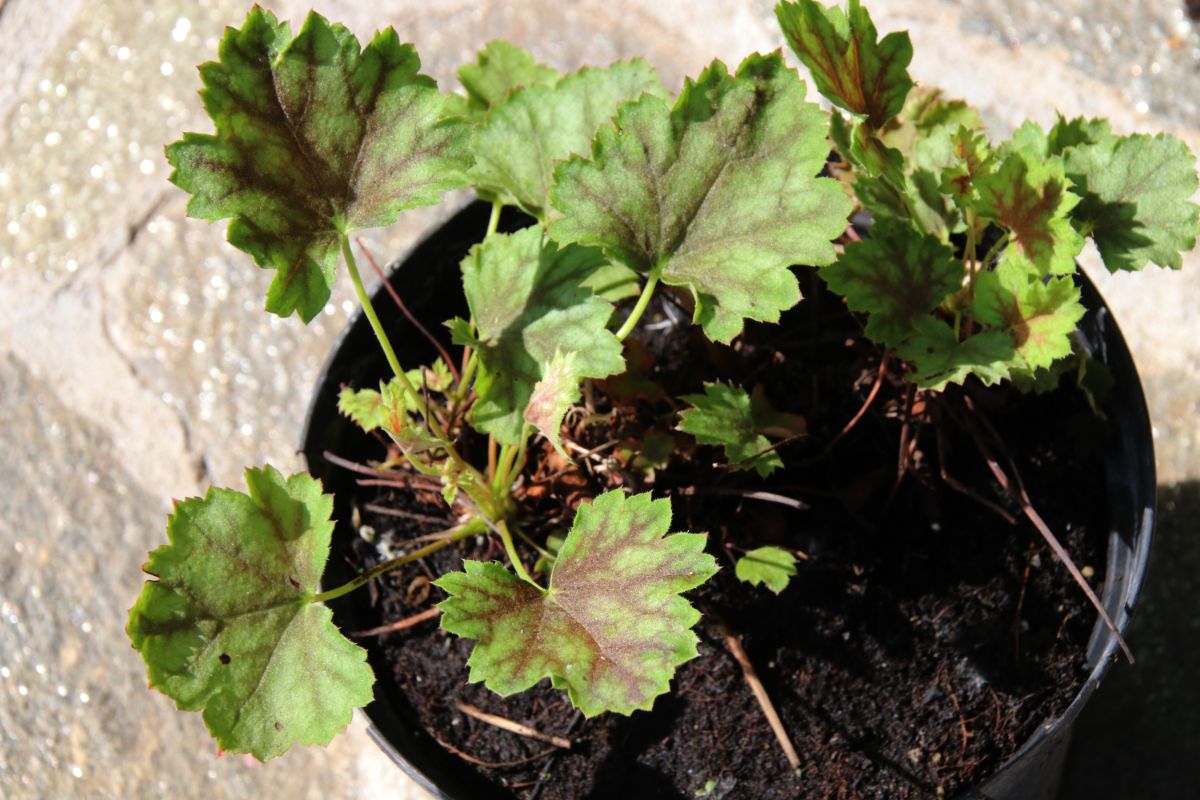 The striking foliage of Coral Bells adds multi-faceted and multi-seasonal interest to the landscape. Coral Bells are semi-evergreen or evergreen, depending on climate, and are worth planting for the dramatic leaf shapes and colors. The foliage is lobed and deeply veined, often with contrasting colors, ranging from red to pink to dark purple to lime green.
In late spring, slim stems rise above the foliage and produce tiny bell-shaped flowers. The flowers aren't the main draw for this plant, though. They're sweet, but Coral Bells is really all about the bright, glowing foliage.
Semi-evergreen or evergreen in zones 4-9
Partial or full shade
Attracts butterflies and hummingbirds
Deer resistant
Rhododendron (Rhododendron sp.)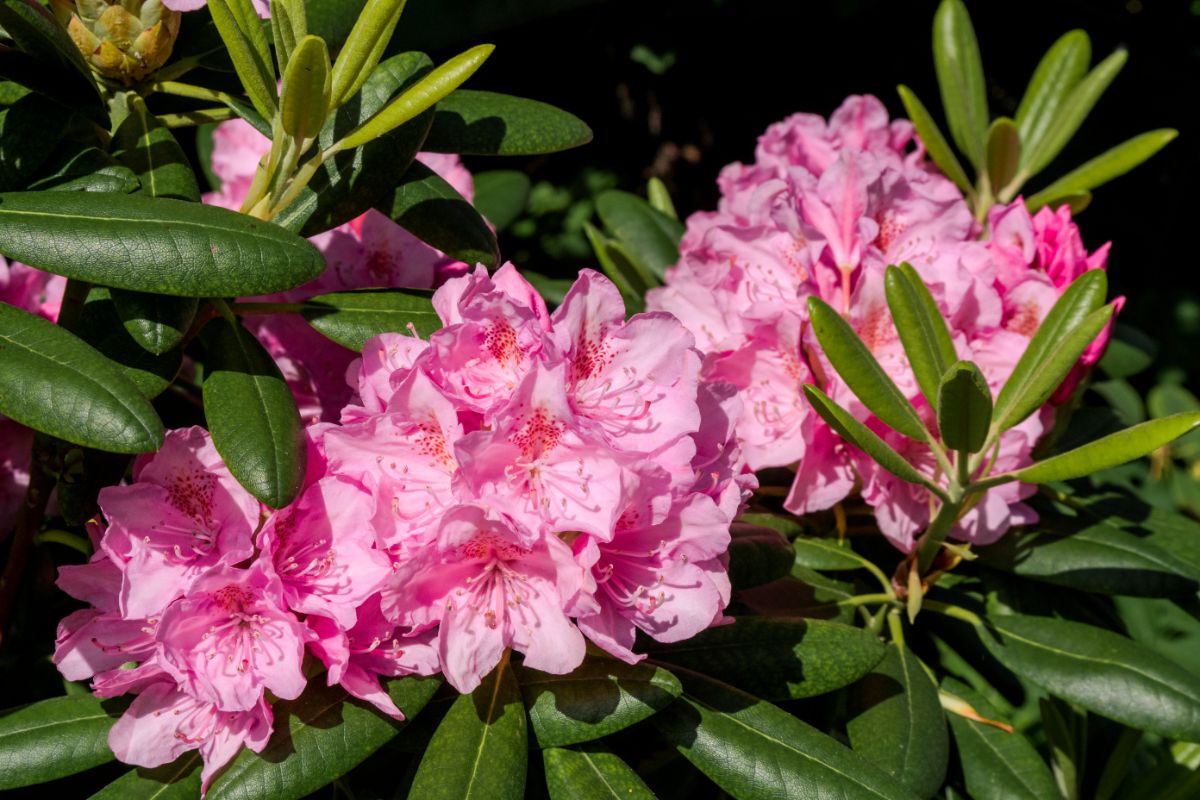 The extremely popular Rhododendron is a landscape classic for a good reason; it blooms in stunning abundance and stays evergreen even in very cold climates. Rhododendron foliage is dense, glossy, and deep-green, and tolerant of cold and heat. The blooms appear in big rounded clusters of delicate bell-shaped flowers, filling the shrub with color from late spring into summer.
There are hundreds of Rhododendron cultivars to choose from with a vast array of flower colors and bloom times. Rhododendrons grow 6-8 feet tall and spread out just as wide. They are ideal hedges, privacy screens, and accent plants.
Not all Rhododendrons are evergreen. Also, there is a lot of confusion between Azaleas and Rhododendrons. Most Azaleas are not evergreen, except for the Japanese species. When choosing a plant from this family of shrubs, pay close attention to evergreen vs. deciduous to ensure you're getting one that'll keep its foliage.
Evergreen to zones 4-8, varies
Partial shade
Attracts hummingbirds, bees, butterflies, and birds
Zones 6-8
Lungwort (Pulmonaria)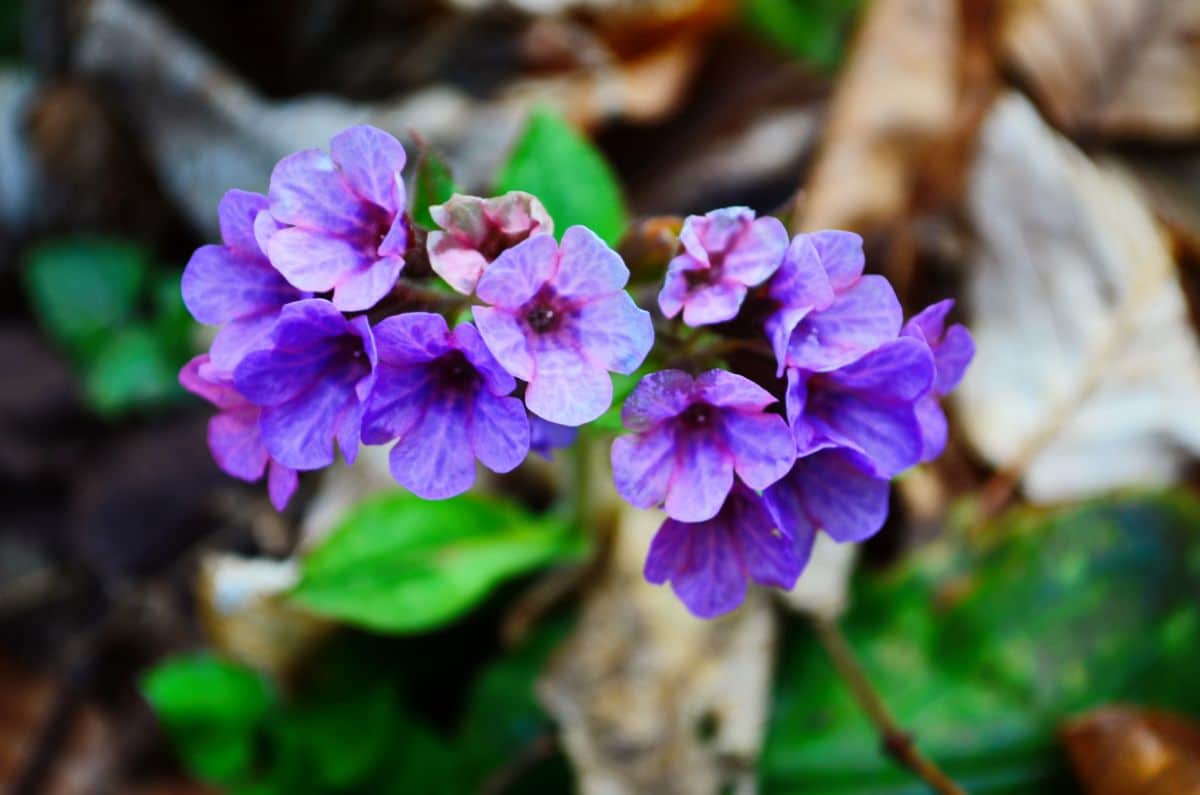 A semi-evergreen perennial with fascinating foliage, Lungwort adds vast ornamental value to the garden. There are tons of varieties, with flowers ranging from pink to white to purple to blue, and many bi-color options. The flowers are beautiful, but the real attraction is the silver-spotted or speckled green foliage. Lungwort grows 10-15 inches tall and spreads out along the ground. It is famous for its low-maintenance habit and excellence as a shade plant.
Semi-evergreen in zones 5-8
Partial or full shade
Deer and rabbit resistant
Rock Cress (Aubrieta deltoidea)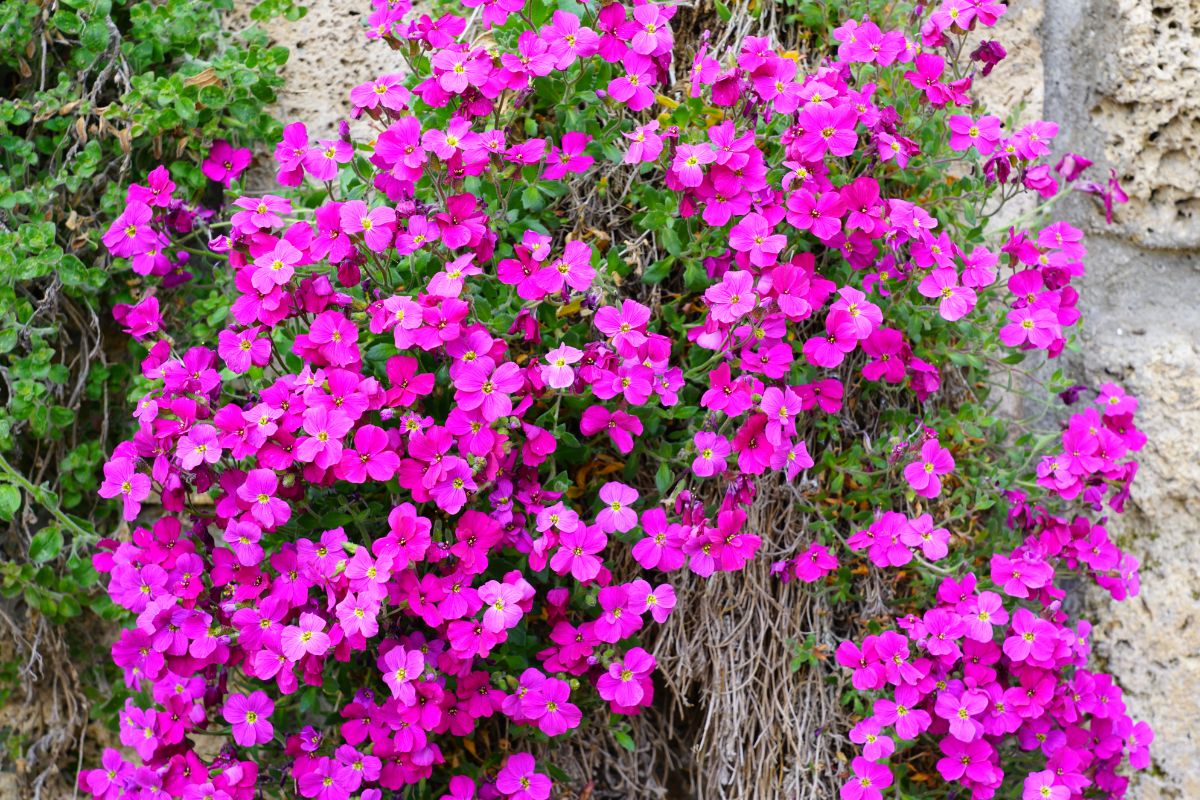 This semi-evergreen perennial blooms so prolifically in late spring that it is difficult to see the foliage beneath. Rock Cress is a low, trailing, mat-forming perennial that looks best planted along walkways, between path stones, or along stone walls. The flowers of Rock Cress are brilliant purple-red, though there are quite a few cultivars with different flower colors. Most are a shade of purple, red, or pink. Rock Cress averages 4-10 inches tall and will spread out 1-2 feet.
Semi-evergreen to zones 5-7
Full sun
Deer resistant
Attracts butterflies, bees, and hummingbirds
Seaside Daisy (Erigeron glaucus)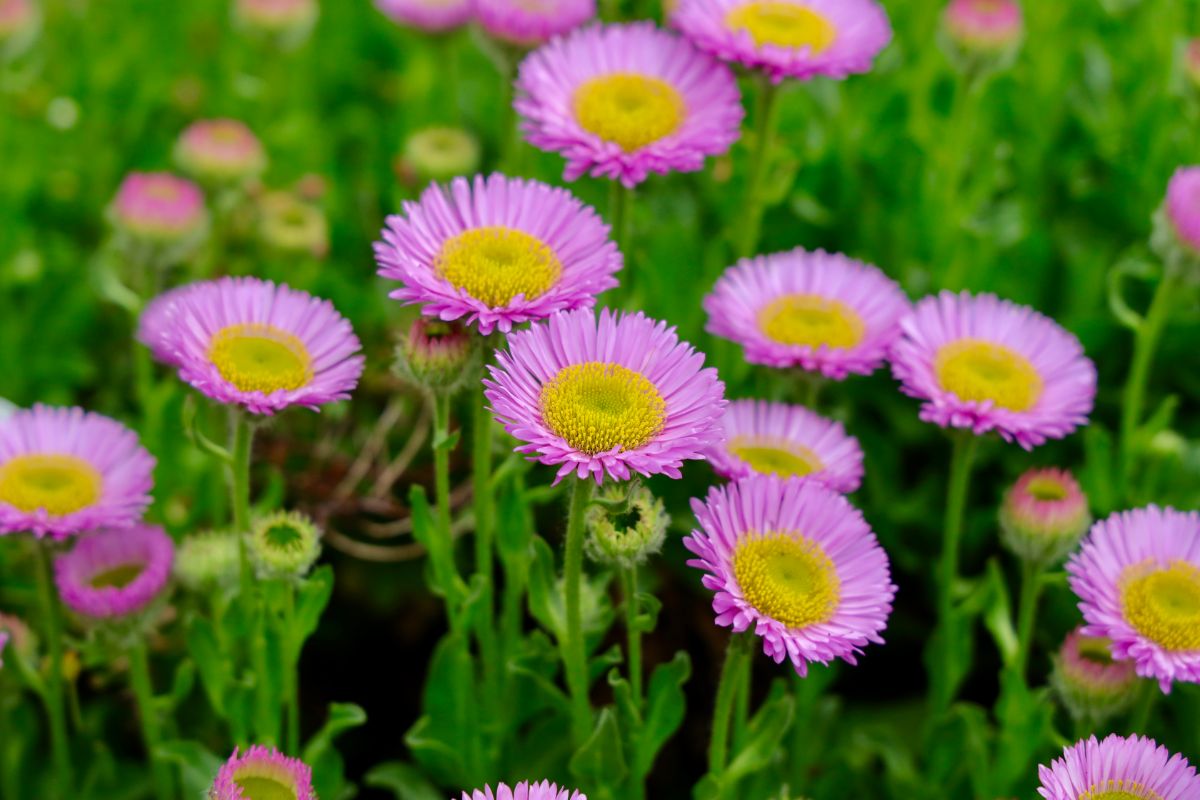 A low-growing evergreen perennial that produces a gorgeous cushion of lavender flowers, Seaside Daisy is ideal for rock gardens, coastal gardens, and as ground cover. This native perennial features multitudes of overlapping petals and a bright yellow center disk that closely resembles a daisy's look. Seaside Daisy is native to the west coast and blooms from spring all the way through summer.
In addition to vivid, beautiful flowers, Seaside Daisies have interesting blueish-green spoon-shaped leathery leaves. This evergreen grows 6-12 inches tall, and butterflies love it.
Evergreen to zones 6-8
Full sun or partial shade
Drought tolerant
Deer resistant
Native to the Pacific Northwest
Japanese Hardy Orchid (Calanthe discolor)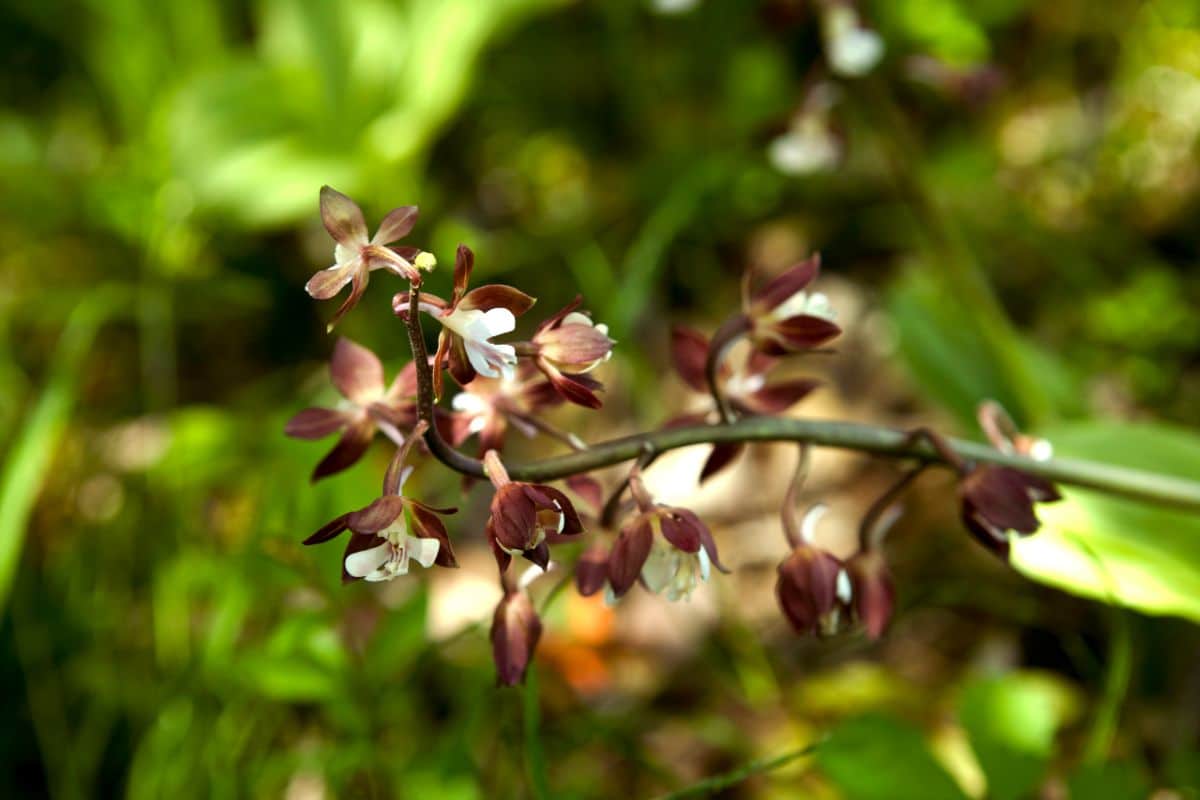 The tiny white and mahogany flowers of Japanese Hardy Orchid are enchanting; they look like bunches of little butterflies perched up and down the tall orchid stem. The foliage is comprised of 2-3 long, deep-green, oblong, pleated leaves. Japanese Hardy Orchids are evergreen or semi-evergreen, depending on climate. This perennial grows 12-18 inches tall and adds an exotic flair to the landscape.
Another species of Japanese Hardy Orchid, Calanthe sieboldii, has buttery yellow flowers and grows 18-24 inches high. Also, the hybrid 'Katane' is a cross between the two (C.sieboldii and C.discolor) that features yellow, apricot, and cream-colored blooms.
Evergreen to zones 7-9
Partial shade or sheltered site
Rose Sage (Salvia pachyphylla)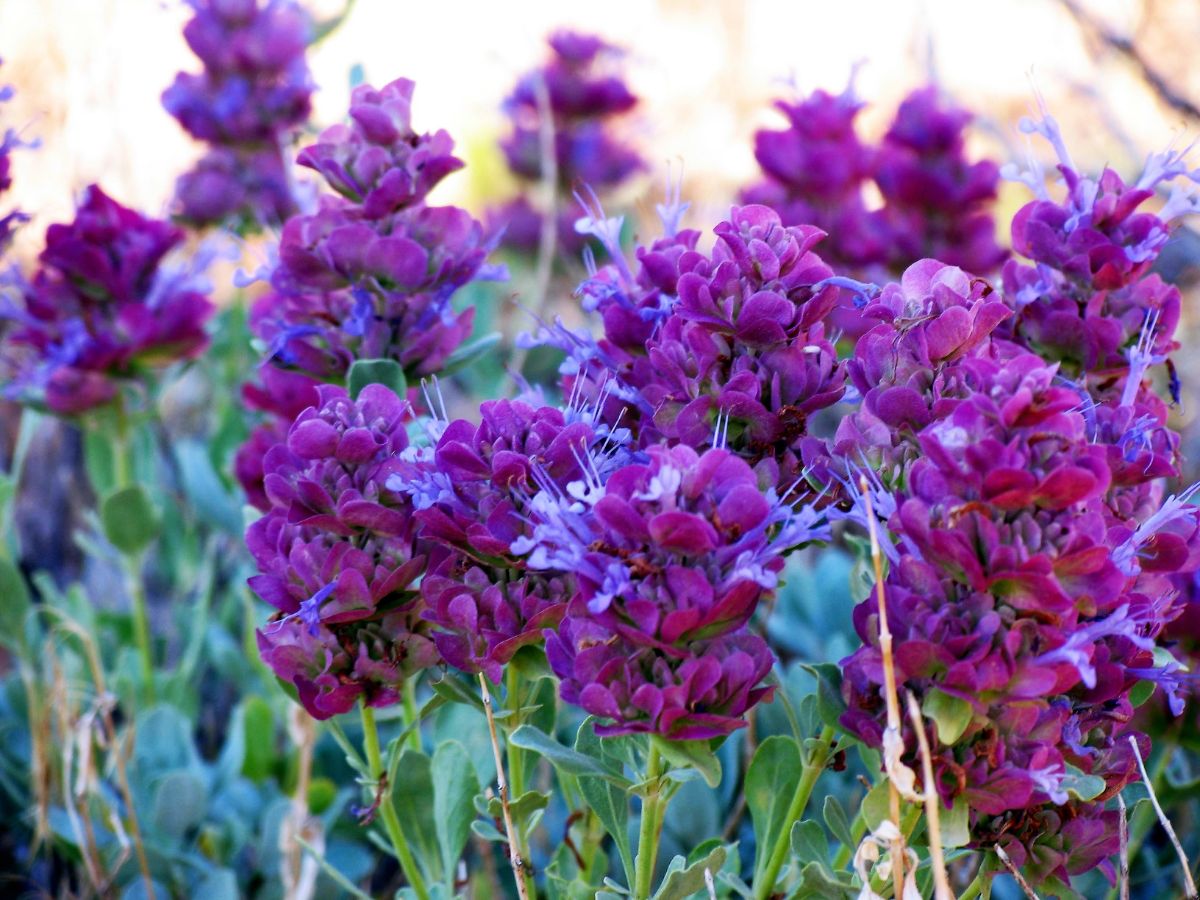 The showy and spectacular purple flower spikes of Rose Sage attract all the bees, butterflies, and hummingbirds. This native evergreen perennial smells incredible, remains attractive throughout the seasons, and is extremely low-maintenance. It's an easy no-fuss landscape plant with beautiful silvery-gray foliage. Rose Sage averages 2-3 feet tall and wide.
Evergreen to zones 5-9
Full sun
Drought, heat, and cold hardy
Deer and rabbit resistant
Native to the Southwest
Lenten Rose (Hellebore)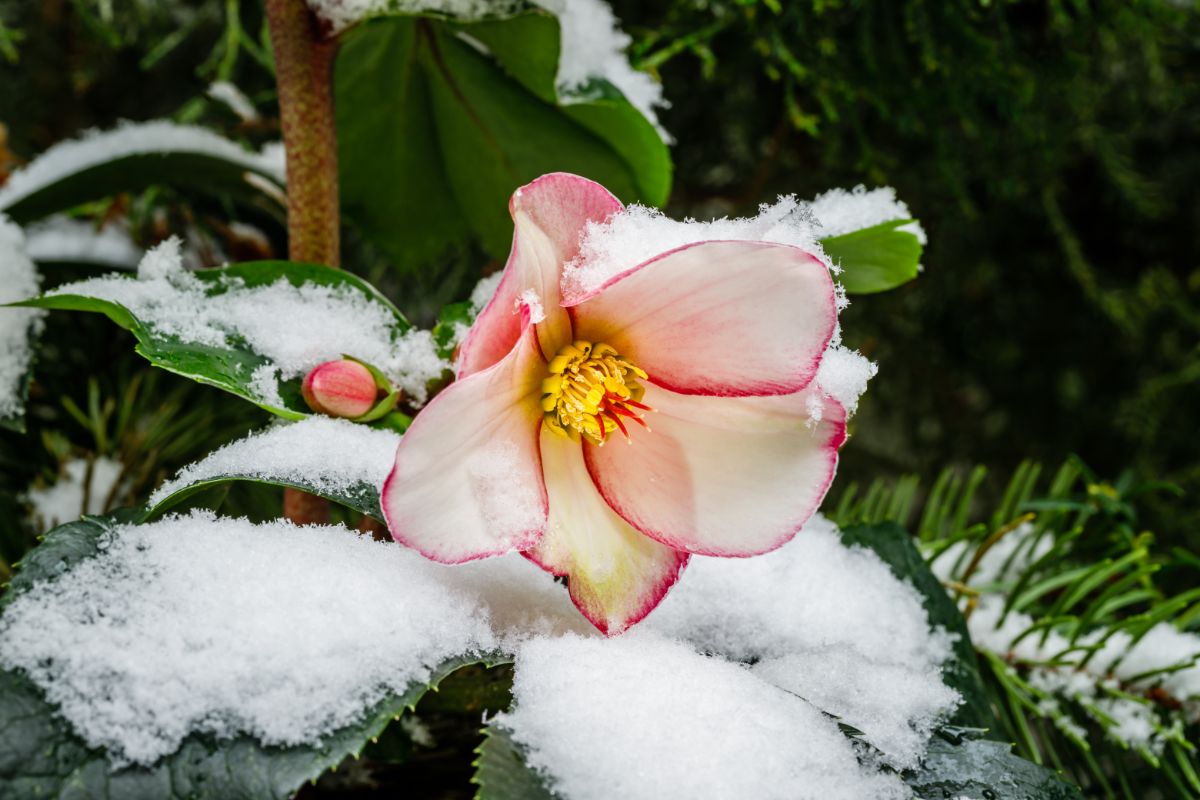 Helleborus adds year-round interest to the landscape as a highly showy evergreen perennial that blooms in late winter or early spring. Lenten Rose flowers resemble roses, hence the common name, and are just as big and attention-grabbing. The blooms grow atop thick, sturdy stems in clumps above the blue-green leathery foliage.
Lenten Roses average 10-24 inches tall, but with a vast array of hybrids and cultivars to choose from, there is a lot of variety. Flower colors run the gamut, from pink to purple to red to peach to white and even black.
Evergreen in zones 5-9
Partial or full shade
Deer resistant
Fumewort (Corydalis elata)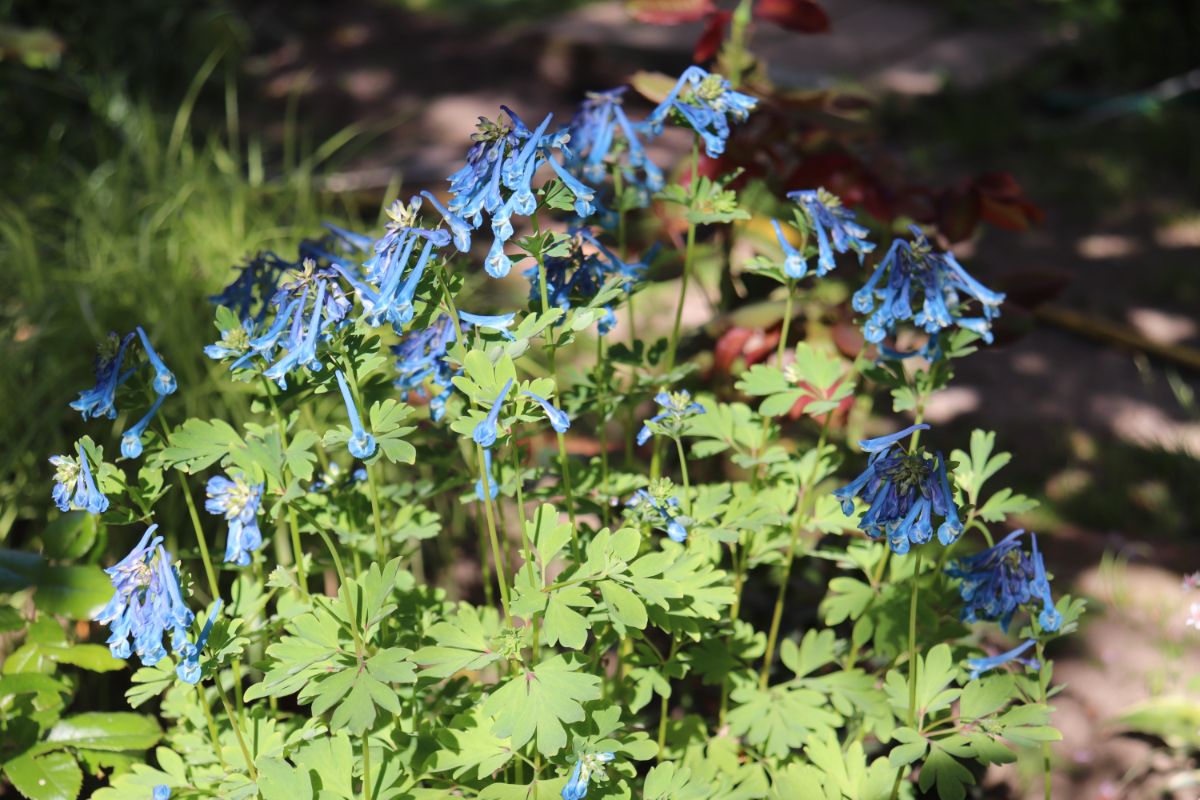 Beloved for its striking blue color and sweet fragrance, Fumewort is a multi-faceted garden winner. The foliage is bright yellowish-green and lacy, which is the perfect contrast for the vividly colored flowers. This perennial evergreen blooms from late spring until midsummer, providing the perfect summer color. Fumewort grows 12-18 inches tall, is easy to grow, and is loved by butterflies.
Evergreen to zones 5-8
Partial shade
Rabbit resistant
Dianthus (Dianthus)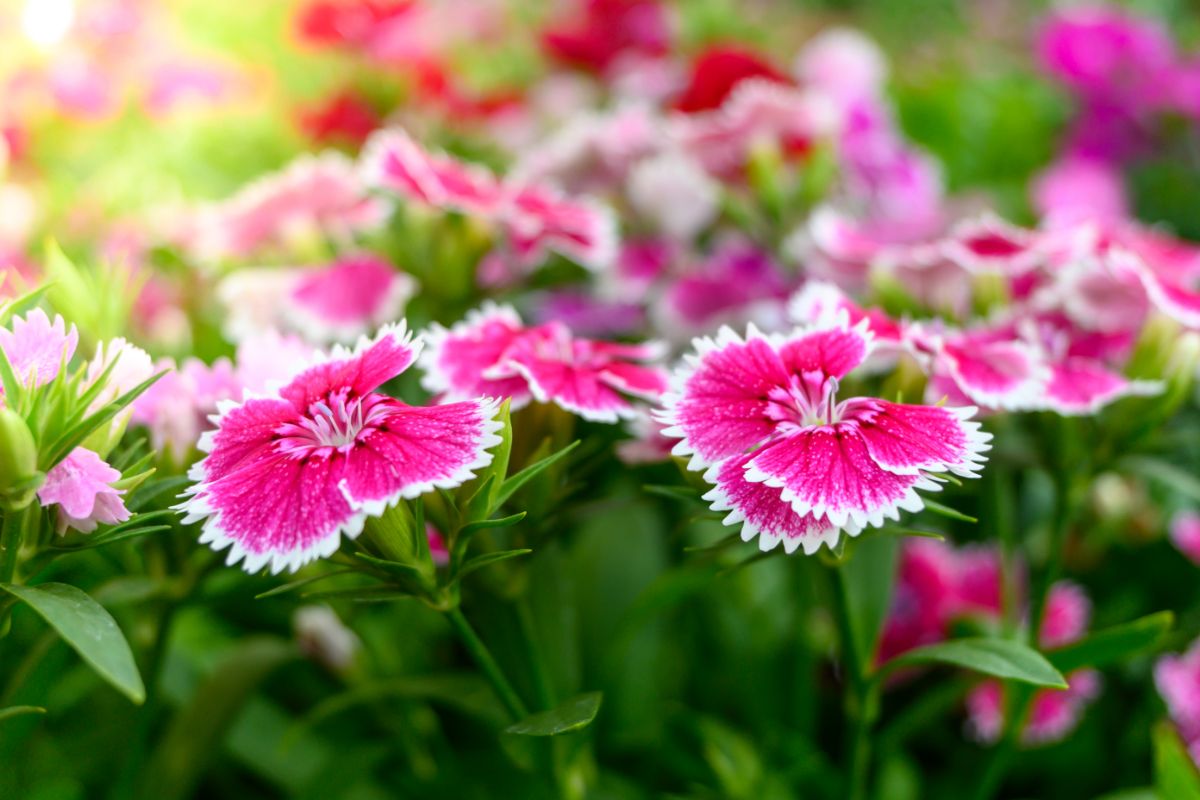 Also commonly known as Pinks, Dianthus flowers are beyond charming, and the plants are incredibly hardy. Not all Dianthus are evergreen, so pay attention to the type or cultivar before acquiring this perennial. Dianthus blooms for a long time, from late spring through summer and even sometimes into fall. The foliage is blue-green, low-growing, and grass-like.
There are hundreds of Dianthus varieties to choose from, with brightly colored blossoms in shades of pink, purple, red, burgundy, and white. If you want a vibrant splash of color in the landscape, plant Dianthus. Many have a sweet, rich fragrance, as well.
Evergreen to zones 5-9
Full sun
Drought and heat tolerant
Deer and rabbit resistant
Attracts butterflies and bees
Yarrow (Achillea)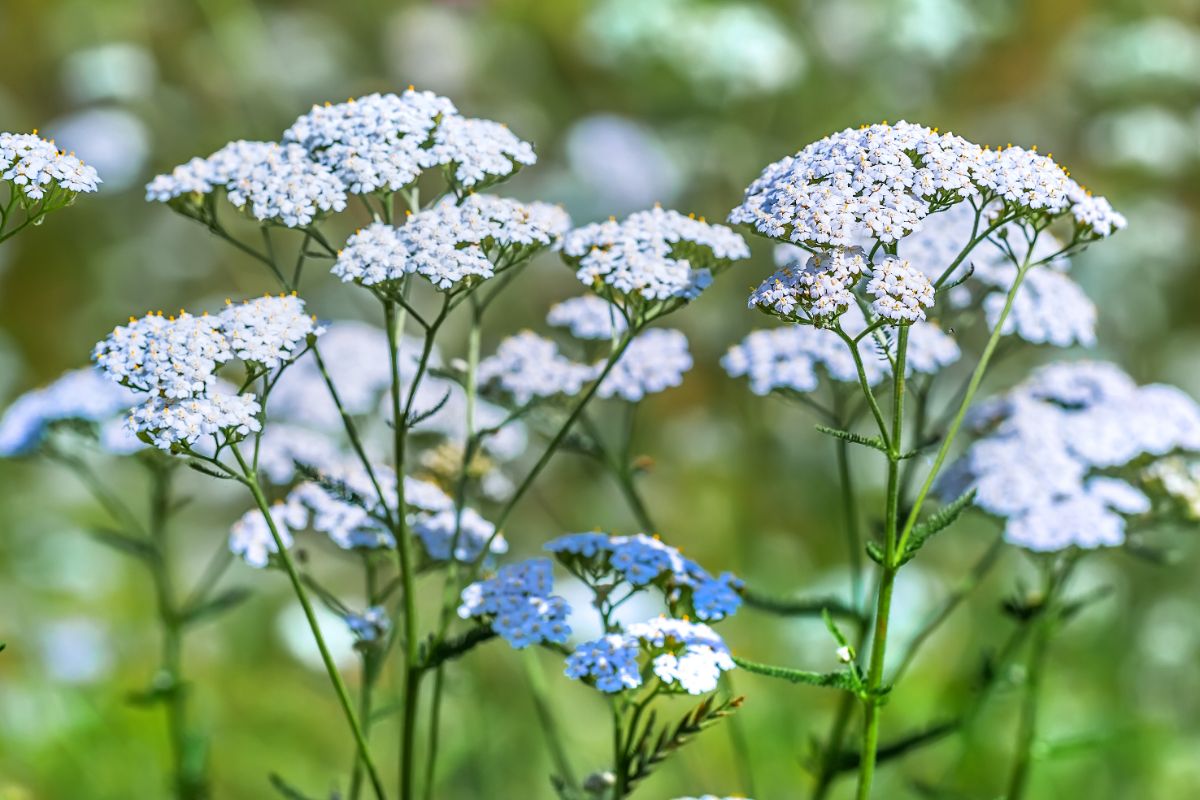 A semi-evergreen perennial with an extensive blooming season, Yarrow is perfect for the low-effort, carefree garden. It is drought and heat tolerant, deer and rabbit resistant, and rarely suffers from pests. On top of that, butterflies absolutely love it.
Yarrow is tall, often reaching 2 feet high, with brilliantly green fern-like foliage. The flowers grow in dense, slightly rounded clusters and have a sweet aromatic fragrance. Yarrow blooms come in many colors, from yellow to pink to red to white.
Evergreen in zones 6-9
Full sun or light shade
Zones 9-11
Gerbera Daisy (Gerbera jamesonii)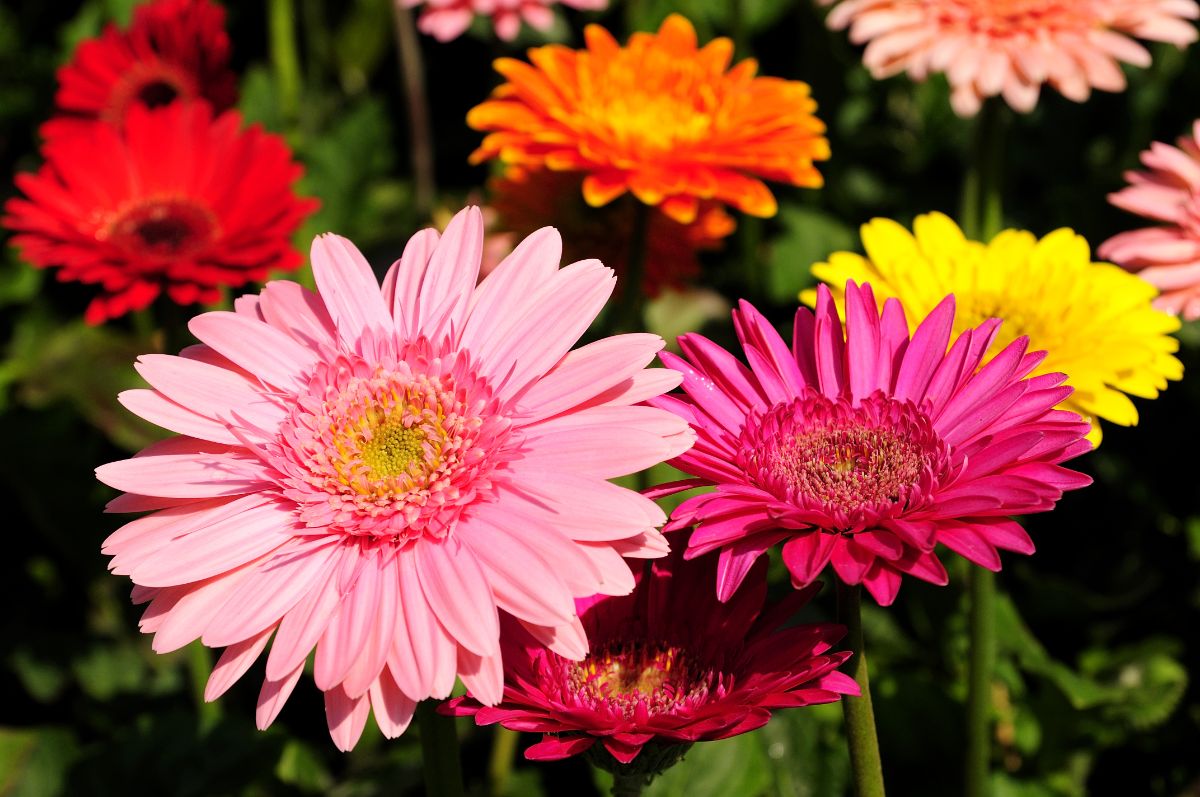 One of the most popular perennials worldwide, Gerbera Daisy never disappoints with its brilliant colors and long blooming season. Gerbera Daisies come in a vast array of color combinations, including red, orange, pink, white, and yellow. This evergreen perennial from South Africa grows 24 inches tall and loves the sun. The 4-5 inch wide flowers bloom atop slim leafless stems high above the dark green foliage. Gerbera Daisies are showy and look particularly stunning planted in large groupings.
Evergreen in zones 8-11
Full sun or light shade
African Lily (Agapanthus africanus)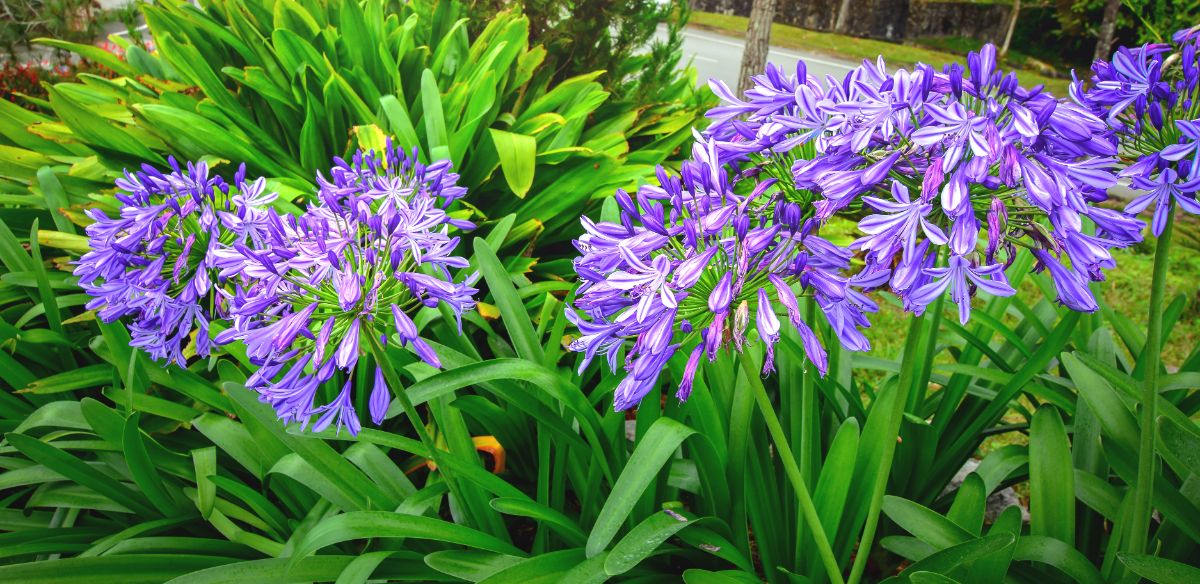 The evergreen African Lily is a flamboyant stand-out in the garden with its rounded flower clusters growing atop tall, stiff stems like a giant lollipop. African Lily flowers are trumpet-shaped, and each cluster displays several dozen at any time. The foliage is attractive with sword-shaped green leaves that grow in dense clumps.
These perennials bloom in early summer and look stunning planted in big groups or used in a mixed border. African Lily flowers are available in shades of blue, purple, and white.
Evergreen in zones 8-10
Full sun
Deer and rabbit resistant
Attracts butterflies, bees, hummingbirds, and birds
Pineapple Guava (Acca sellowiana)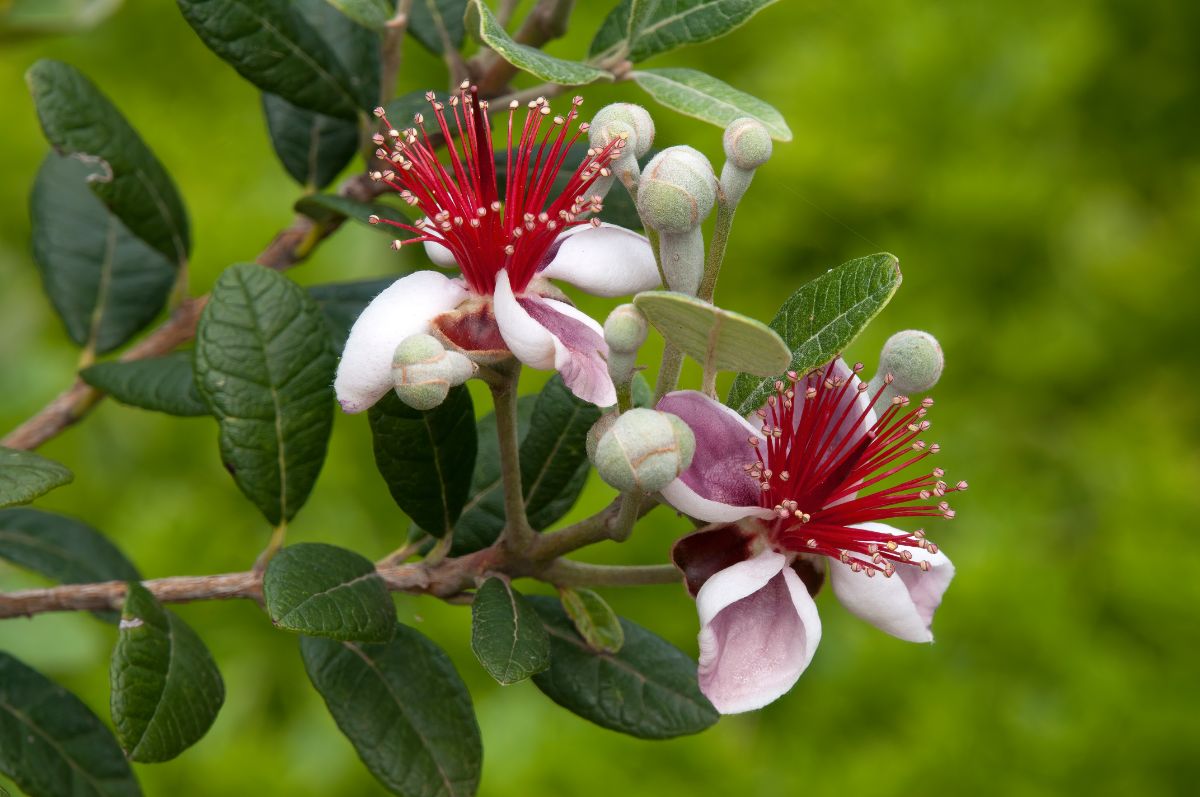 Everything about this evergreen perennial is dazzling, from the grayish-green leaves with white undersides to the bi-color flowers and excellent sweet fruit. Pineapple Guava grows 6-15 feet tall and is a top-winner if you have the space. The flowers are red with white tips and brilliant crimson stamens, and they're edible. In summer, green egg-shaped fruits form; they taste like a mix of pineapple and spearmint when ripe.
Evergreen to zones 8-11
Full sun
Drought tolerant
Attracts birds
Red Bird of Paradise (Caesalpinia pulcherrima)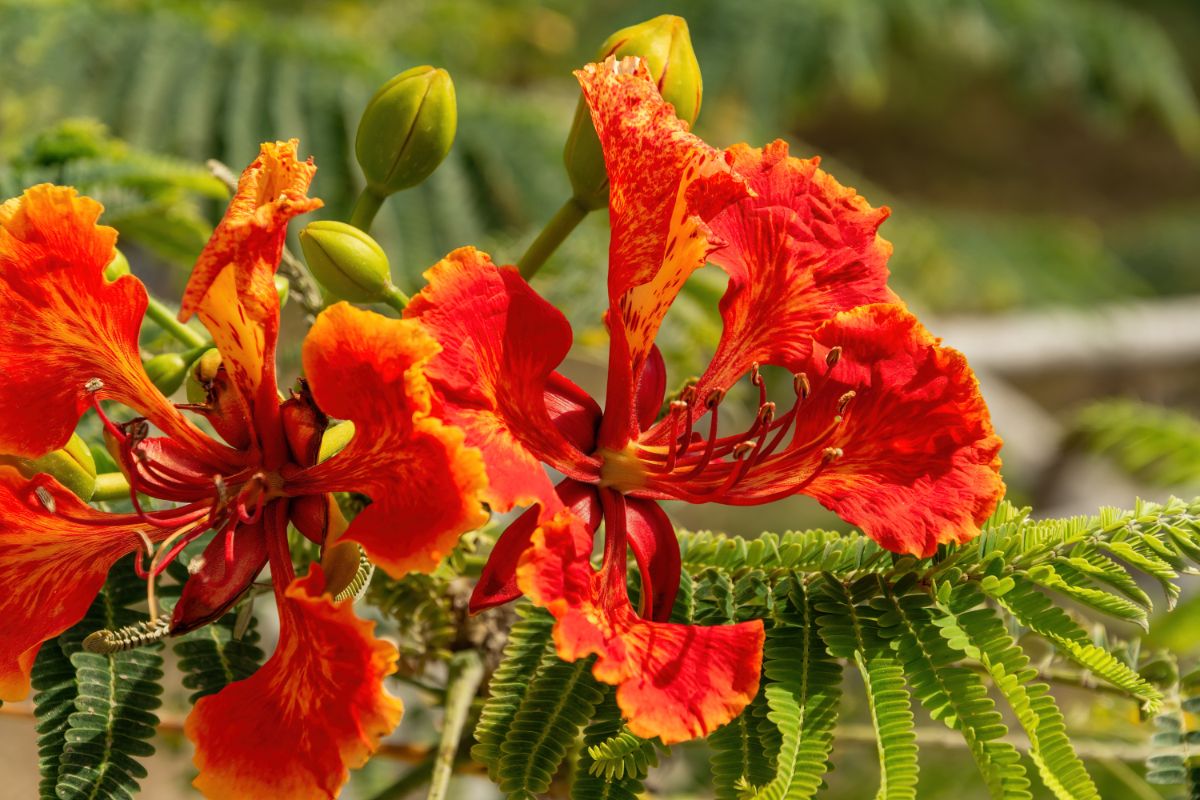 A tall shrub or small tree, Red Bird of Paradise is flexible and will bloom year-round in tropical climates. The spectacularly showy flowers clusters are bowl-shaped, orange and gold, and beloved by hummingbirds. This evergreen perennial has thorns, which means it makes an excellent natural barrier or hedge. The foliage is feathery, green, and easy pruned to shape.
Evergreen to zones 9-11
Full sun
Drought tolerant
Bigleaf Lantana (Lantana camara)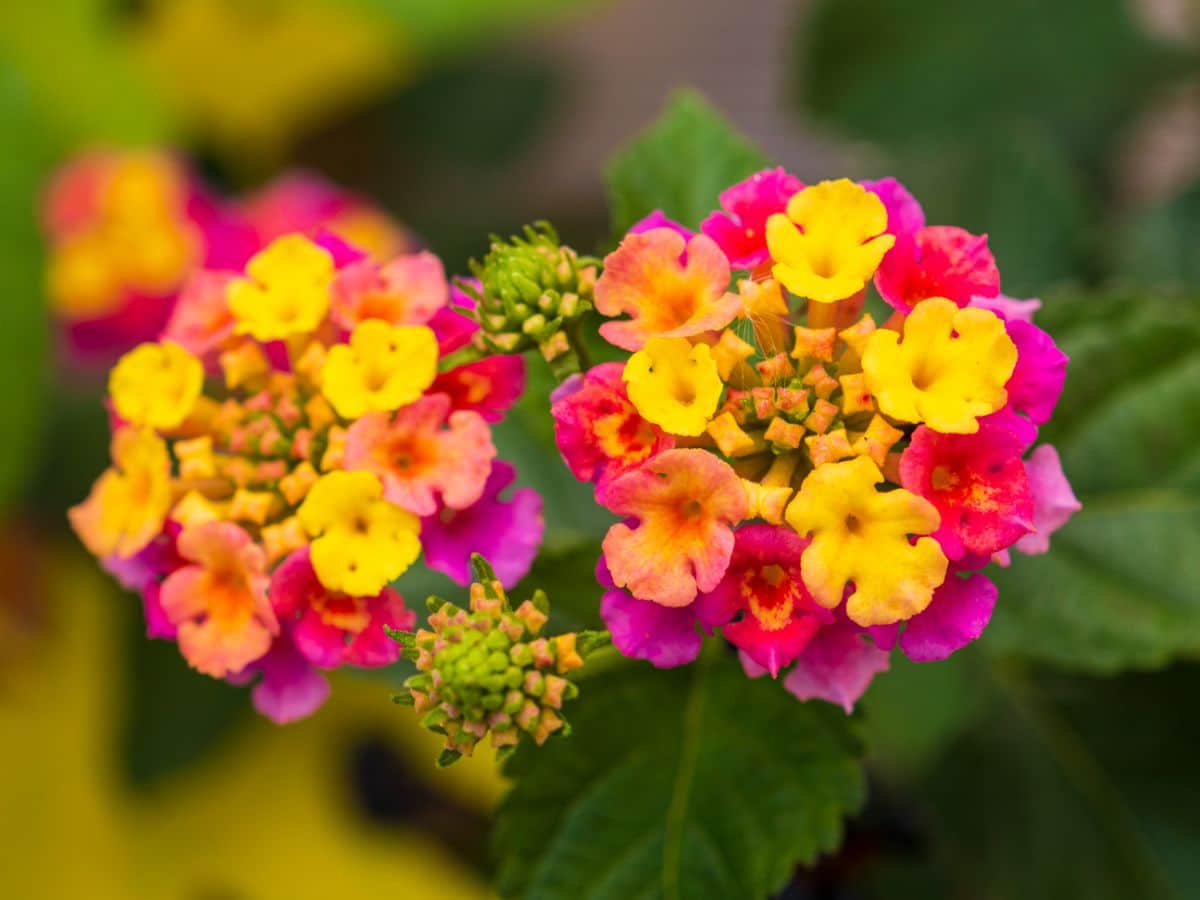 The sun-loving Lantana never disappoints with its dense groupings of brilliantly colored flowers. Lantana is an evergreen shrub, averaging 15-30 inches tall, blooming continuously from spring through fall. Hummingbirds and butterflies can't resist the flowers, while deer and rabbits avoid it. The dark-green foliage remains attractive throughout the seasons, too. Flowers are usually bi-color, transitioning from one color to another as they mature. This plant can be invasive, so keep it contained or plant with care.
Evergreen in zones 10-12
Full sun
Heat, drought, humidity, and salt-tolerant
Deer and rabbit resistant
Planning a landscape with evergreen plants creates an attractive, multi-seasonal arc of interest, especially in colder climates where the weather and view get very gray. Including evergreens is a smart landscape choice from an aesthetic perspective and also for the local wildlife. Evergreen perennials improve the quality of life for us by providing much-needed color, giving us privacy, and protecting our property from natural elements.