Small, compact, and colorful, air plants have been popular among houseplant keepers for decades. But while certain varieties of these plants can be easy to find at nurseries and plant shops, there are actually over 650 different species of air plants. With all that variety, there are definitely some air plant species you've never heard of!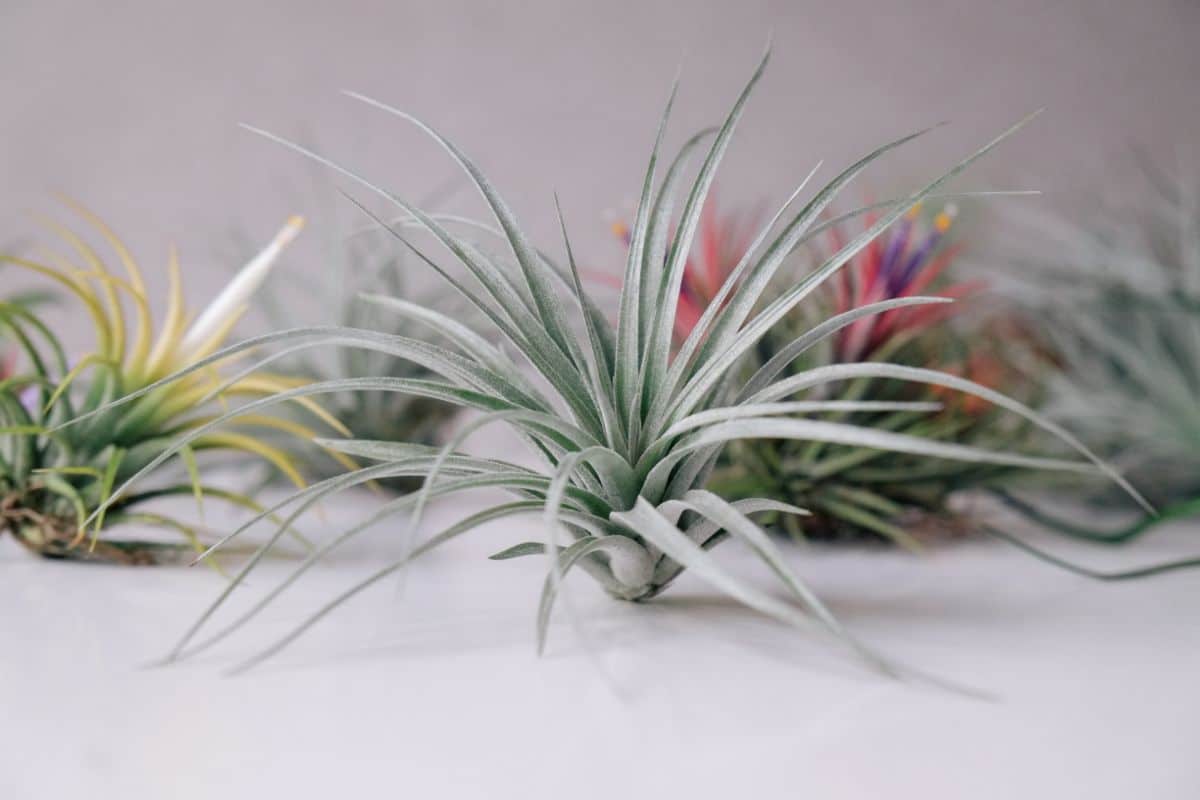 Air plants are members of the Bromeliad family, which includes pineapples and other bromeliad species. Air plants, specifically, are epiphytic plants that cling to rocks and trees in nature with the help of their aerial roots. Thus located, air plants are able to get most of the nutrients and water they need right from the air!
Native to Mexico, the southeastern United States, and parts of Central and South America, the diverse Tillandsia genus has so much to offer. Air plants are small enough to fit in even the tiniest apartments, and their brilliantly colored flowers are sure to delight with vivid pops of purple, red, and other vibrant hues.
If you're new to keeping air plants or you already have a few plants and would like to expand your collection, this article can help. We've gathered together our favorite 24 Tillandsia types that we know you'll love. These easy-care plants are great for beginners and seasoned houseplant parents too!
Jump to:
24 easy to grow air plants for houseplant lovers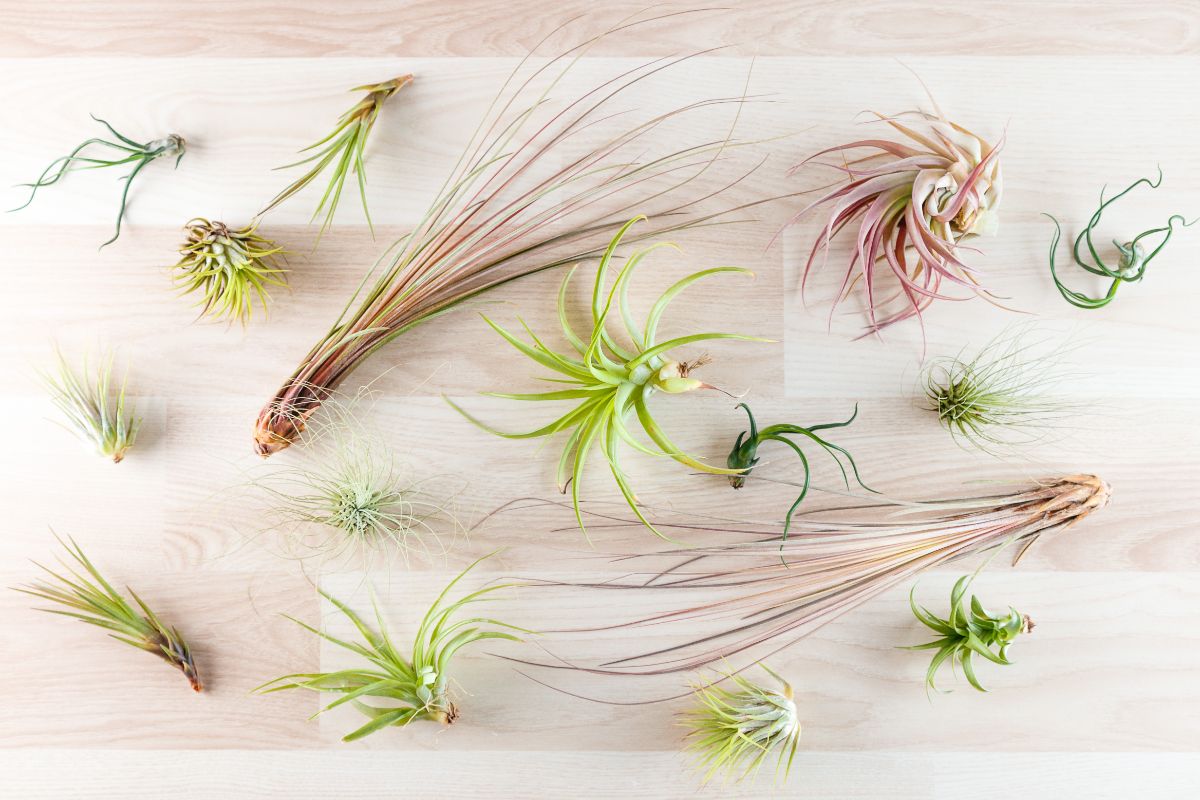 There is quite a bit of variety within the Tillandsia genus, as you'll see in the plants listed below. Some air plants have short leaves; others have long ones. Some have flat flowers, while others have spiky sprays that look like miniature fireworks!
Whatever your style and the growing space, you're sure to find the right Tillandsia for you here.
1. Ionantha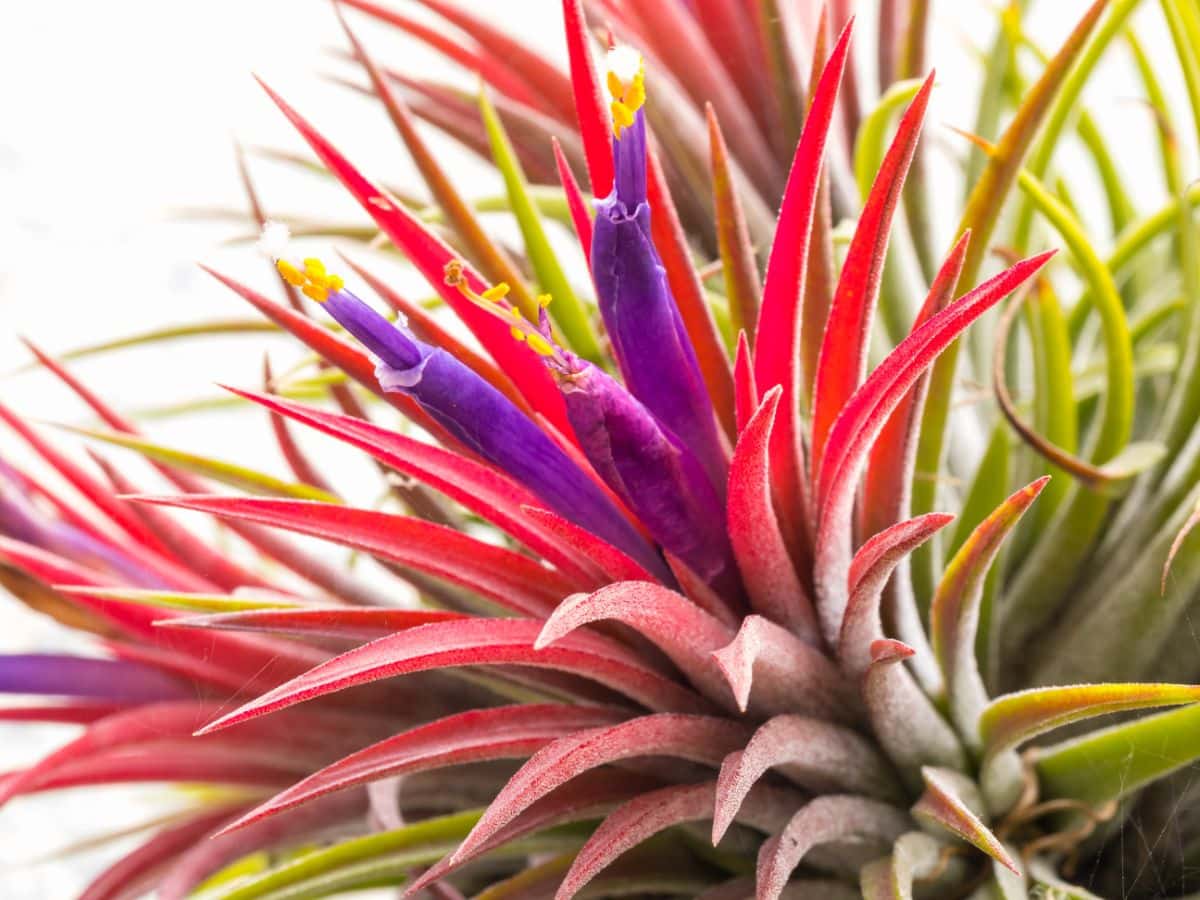 A truly classic air plant variety, Ionantha has silvery leaves that are finely formed and spiky and sometimes bend gently towards the base of the plant. Also known as the "sky plant," these are some of the most common air plants you can find and are usually available at plant nurseries and box stores. These air plants should be misted every day during the blooming season.
Ionantha leaves are bright green with a silvery coating; however, they really come alive in autumn when they bloom vivid flowers in purple and yellow. For more color, you can try out Ionantha 'fuego,' which has leaves that turn bright red when the plant is about to bloom. 'Fuego' should be allowed to dry out in between waterings to avoid issues with mold and mildew.
2. Usneoides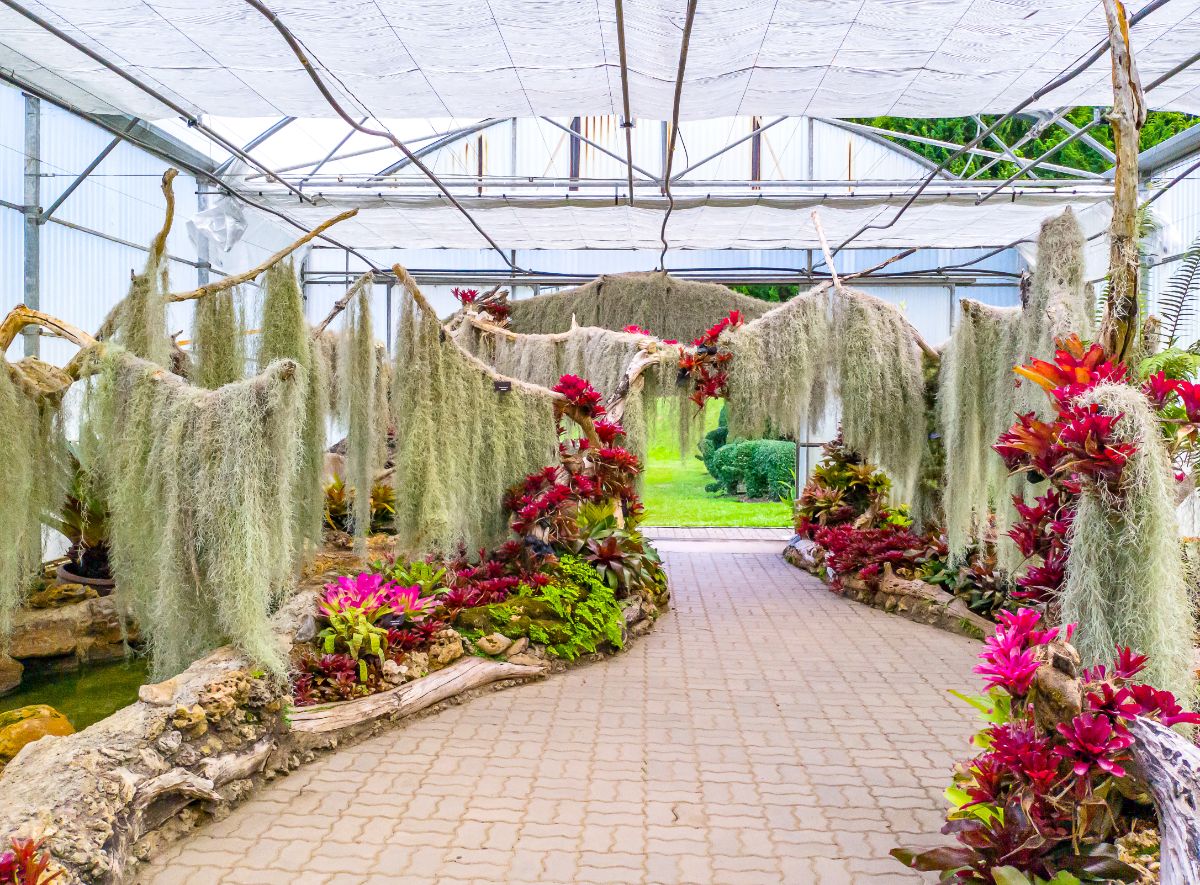 Also known as Spanish moss, Usneoides is a common sight in the southern United States, where it can be found draping elegantly from tree branches, notably the live oak. Unlike other air plants, Usneoides drapes down vertically, forming dense curtains that are truly a sight to behold. Intriguingly, these cascades of Spanish moss are actually formed by many smaller air plants that are interlinked together.
Many home growers may not think about keeping Spanish moss indoors, but it is definitely possible as long as you provide your plants with adequate light and humidity. For more creative flair, you can even drape Spanish moss from other hanging plants or adorable DIY hangers. Just be sure to buy your Spanish moss from a reliable supplier, as wild-gathered moss may be home to chiggers and other undesirable insects.
3. Xerographica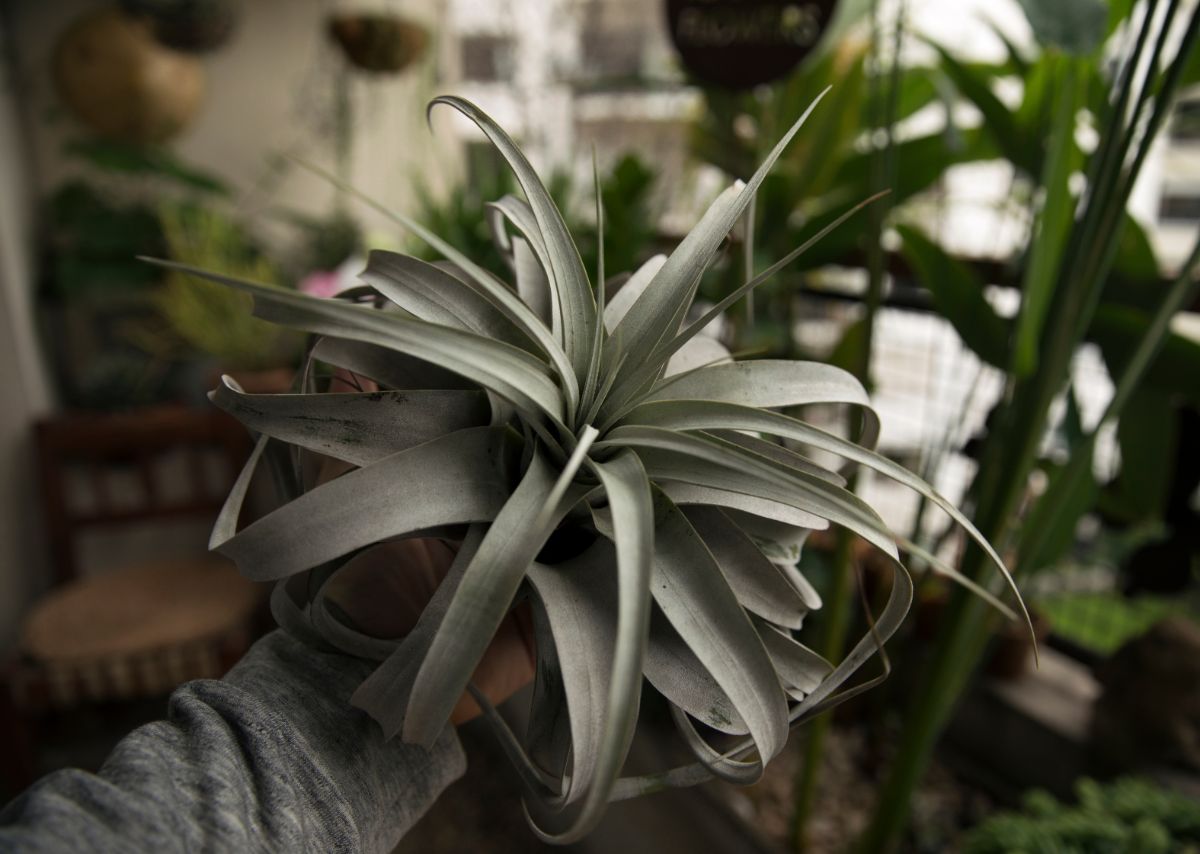 Nicknamed the "King of Tillandsia" due to its sheer size, Xerographica is one of the largest air plants you can find. Growing up to 3' in diameter, this plant forms a tidy sphere as it matures; however, it is slow growing, so you'll need to be patient. When it flowers, this plant makes an equally large and impressive flower spike as well.
Native to Mexico, Guatemala, and El Salvador, Xerographica doesn't usually need as much water as some other air plant types. For this reason, you may want to stick to spritzing, rather than soaking, this plant to avoid issues with rot. Creative houseplant keepers often hang these specimens in macrame hangers to display them to their fullest.
4. Maxima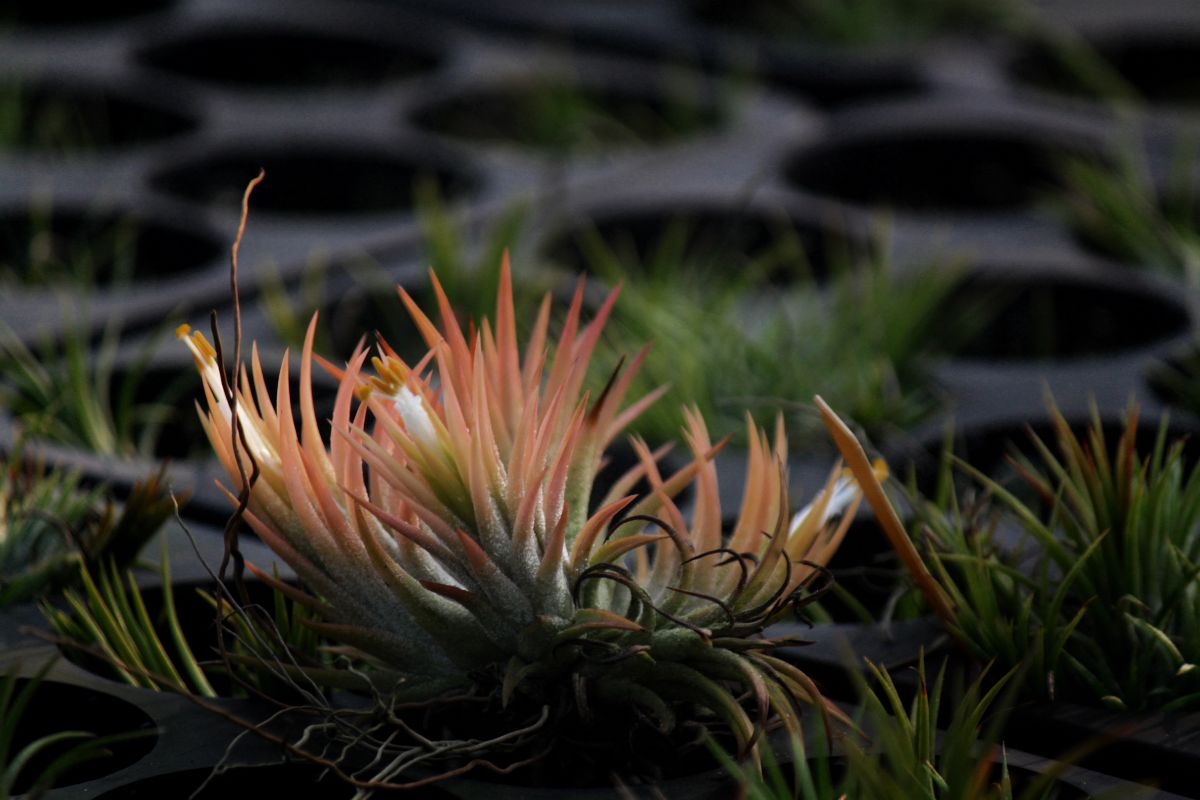 A type of Ionantha air plant, Maxima features color-changing leaves that develop a peach-toned hue when exposed to extra light. These adaptable plants do best when kept at average room temperatures, but they can handle temperatures ranging from 50°F to 90°F. Despite their name, these plants don't grow particularly large, and they usually max out at around 4 to 5" high.
Like most other air plants, Maxima receives most of the water and nutrients it needs from the air and doesn't need a lot of extra attention. That said, it will grow best when watered every 7 to 10 days by completely submerging the plant in water for 30 to 60 minutes. After that time, remove your Maxima from the water and let it drain on a paper towel for about an hour before returning it to its stand or hanger.
5. Andreana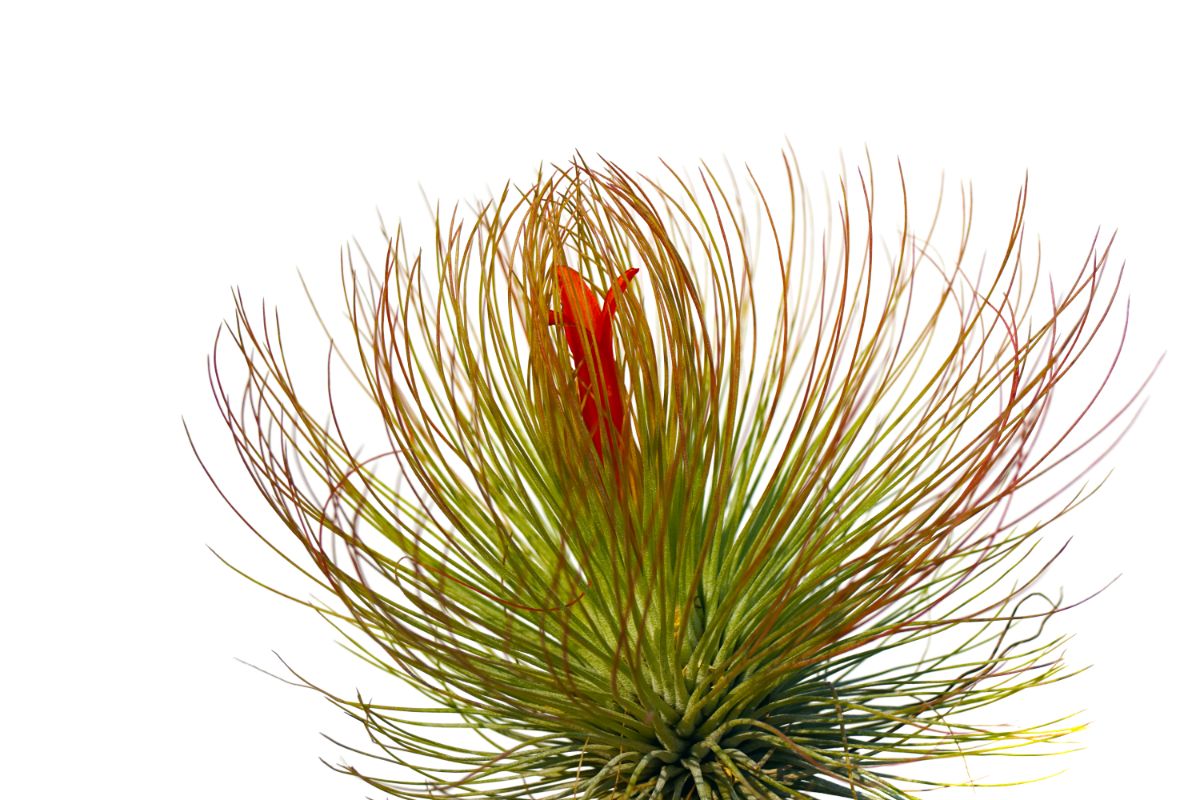 Native to Columbia and Venezuela, Andreana has long and wispy leaves that extend about 4 to 5" from the center of the plant. When properly maintained, these plants will produce a bright red, tubular flower with petals that peel back slightly to expose the blooms' yellow stamens. A rarer type of air plant, you may have better luck finding Andreana online, as most local nurseries likely won't carry it.
Due to its thin leaves, Andreana may dry out quicker than some other air plant types, so it's a good idea to mist this plant in between waterings. When provided with bright sun, the leaves will often blush red, making this an even more impressive-looking specimen. If you don't want to mist this air plant often, you can also move it into a terrarium to keep humidity levels high.
6. Bulbosa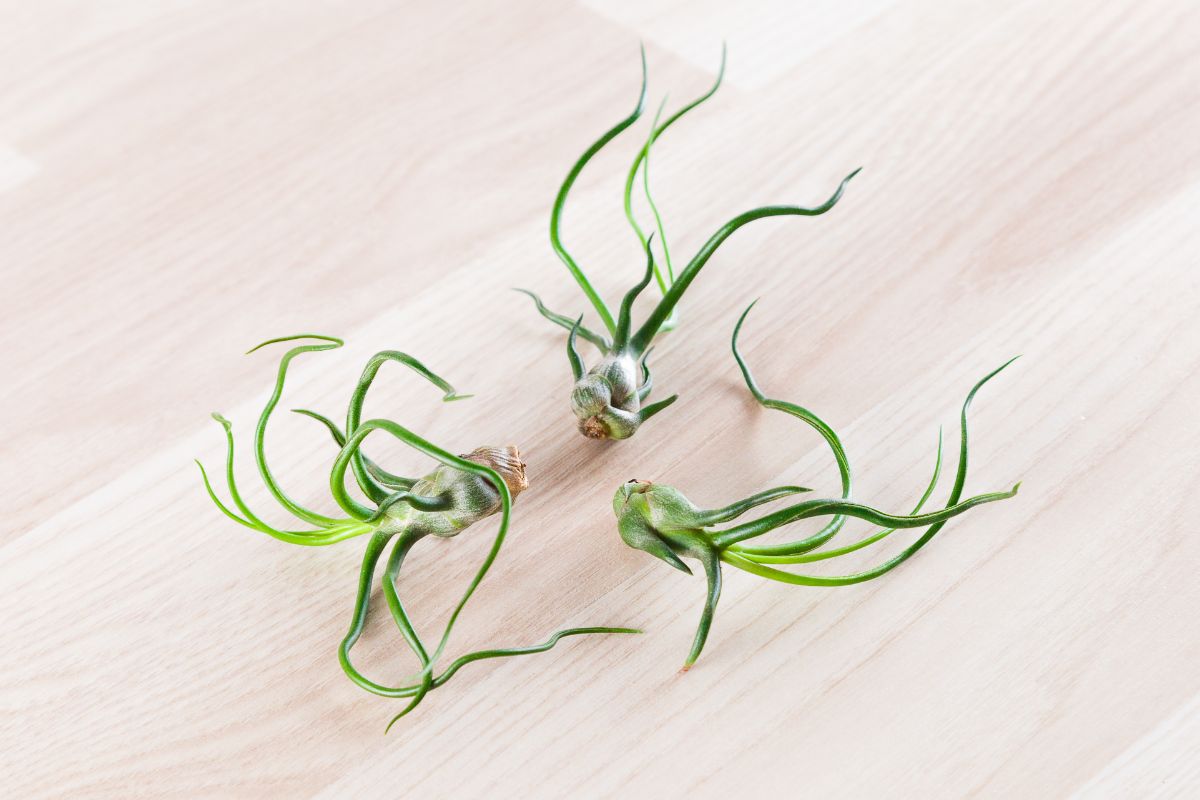 Bulbosa is an unusual-looking air plant variety with thicker, twisting leaves that extend from a wide base that is bulb-like in appearance. Native to Central America, this plant thrives in humid environments and should be misted every other day or placed in a terrarium to maintain moisture levels. When fully mature, Bulbosa will bloom red and purple flowers.
Bulbosa can handle growing conditions with minimal airflow, so it can grow quite well in terrariums, vivariums, and other enclosed areas. It will also grow best in bright, indirect light, although grow lights will work with this species too. Due to its unique appearance, Bulbosa looks particularly striking when planted with Tillandsia types with finer leaves, such as Andreana.
7. Cotton candy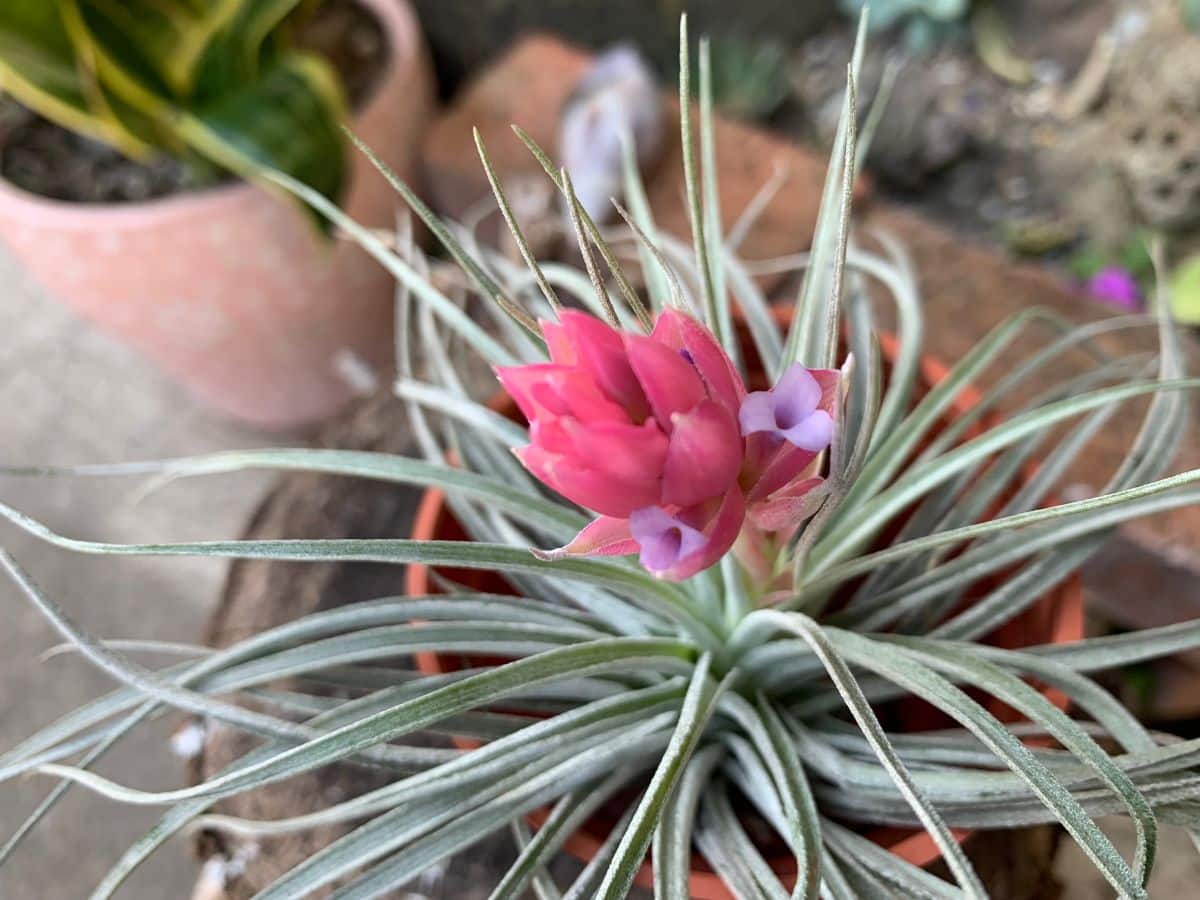 Cotton candy is a hybrid Tillandsia species created by crossing Tillandsia stricta with Tillandsia recurvifolia. The resulting plant has some of the features of both parents plants, notably an abundance of leaves from Stricta and the silvery-toned leaves Recurvifolia is known for. A classic air plant choice, Cotton Candy will bloom rose-toned flowers when they mature.
Cotton Candy should be watered once a week by completely submerging the plant for about half an hour. This plant will also grow best when provided with plenty of bright, indirect light. If you're looking for natural ways to display your air plants, species like Cotton Candy look very attractive when carefully mounted to driftwood with a bit of fishing line.
8. Didisticha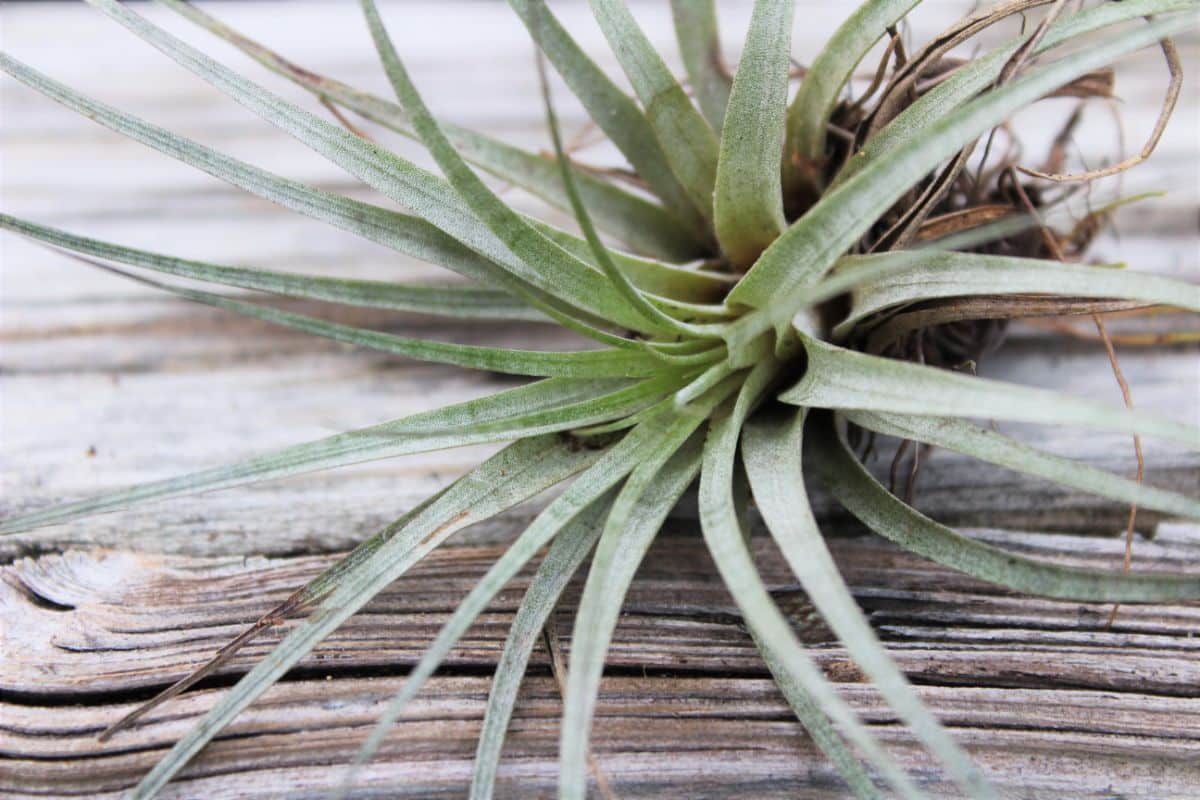 An underrated air plant species, Didisticha grows larger than many other air plant types and reaches about 12" in diameter when fully grown. These plants offer whorls of silvery-green leaves and a white flower that blooms atop a contrasting pink stem. Very pretty to look at, Didisticha is native to South America and loves humidity, like other air plants.
In nature, air plants grow as epiphytes and can be found hanging from trees, rocks, and other crevices where they anchor themselves in place with the help of their aerial roots. Those aerial roots do not need to be planted in soil and should, instead, be supported with hangers or other natural mounts when air plants are kept inside. Avoid using glue to mount your air plants in place, as this can harm your plant.
9. Cyanea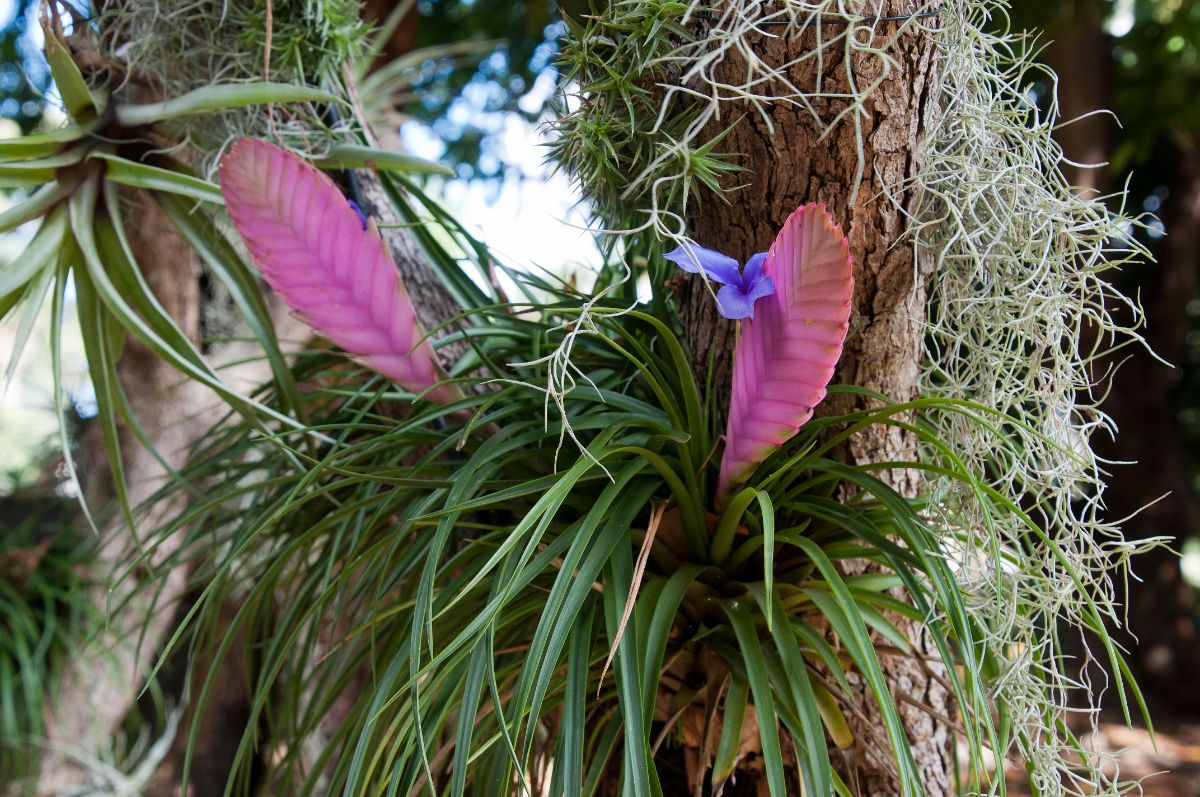 Also known as the pink quill plant, Cyanea is one of the few air plant varieties that can grow with or without soil. Although these plants are still epiphytes in nature, if you want to keep Cyanea in the soil, only water your plant when the soil dries out completely – about once or twice a month. Potted plants should still be misted regularly, several times a week, to maintain humidity levels as well.
Cyanea has long, silvery leaves that taper towards the ends and grow to about 10" long. But what makes these plants truly notable is their oddly shaped, pink flowers that are said to resemble a feather quill. These flowers are flatter than most other Tillandsia blooms and make an intriguing addition to any collection of assorted air plants.
10. Chiapensis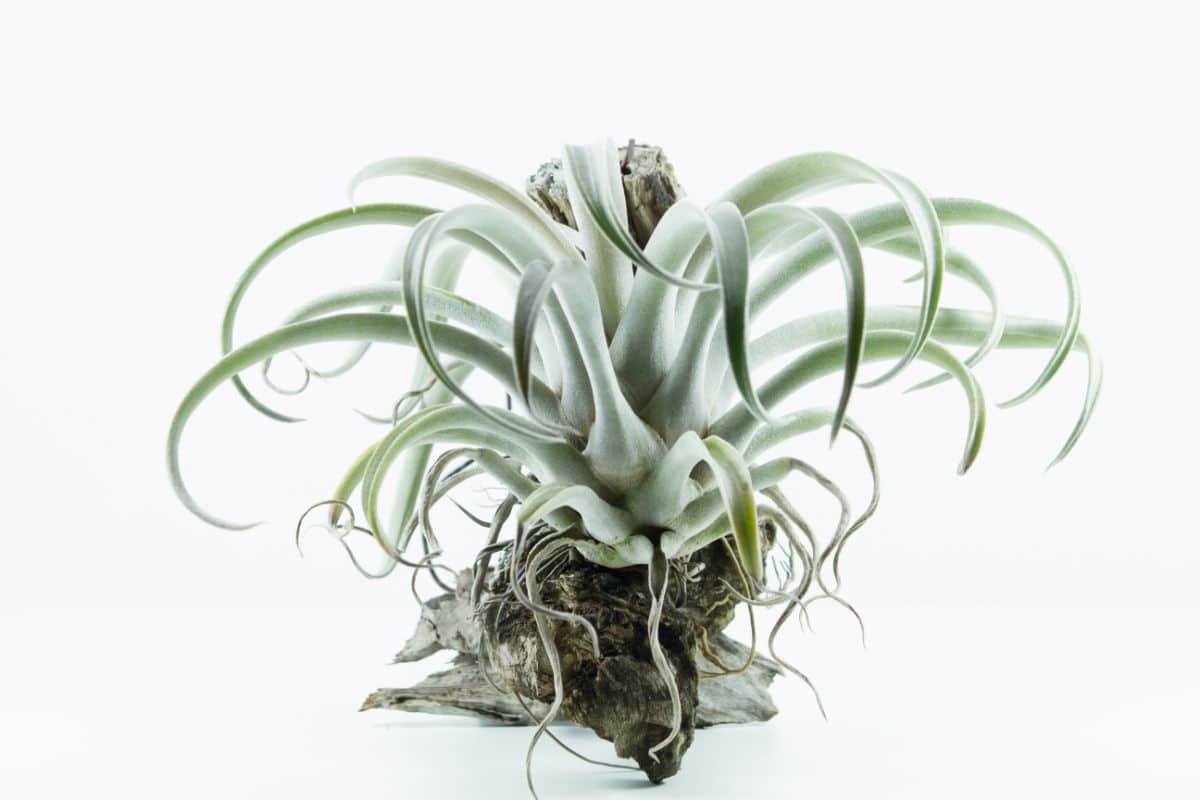 Native to the Chiapas region of Mexico, Chiapensis is a popular, albeit rare, air plant type. Cherished for its silver-toned, frosty leaves, this plant produces large, pale purple flowers that are similarly shaped to the blooms of the pink quill plant. These flowers can grow quite massive and are often about twice as long as the plant itself.
This adaptable species can grow in full sun to part shade; however, it will do best when provided with bright, indirect light. Chiapensis is a slow grower, and that growth rate becomes even slower during the winter time. When this occurs, don't fret, and don't add fertilizer – this is normal!
11. Pruinose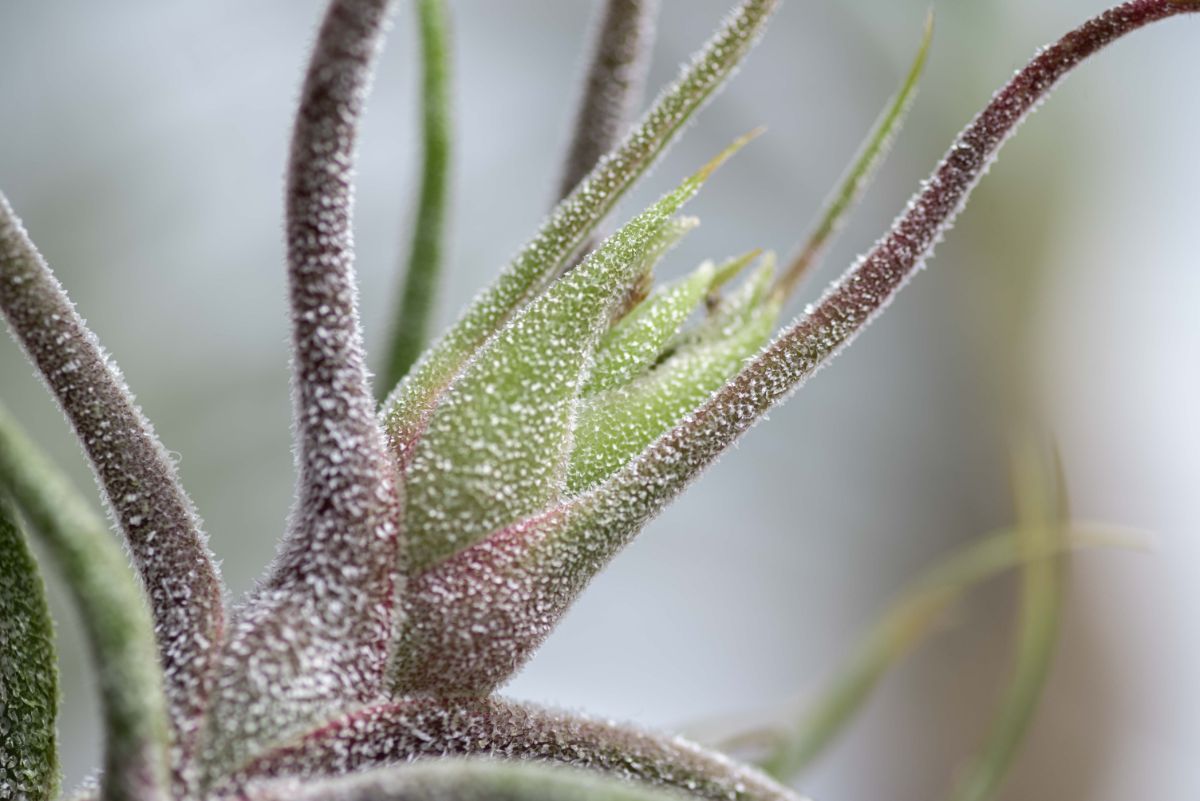 Also known as Fuzzywuzzy, this playful air plant is known for its unusual leaves. Those slender leaves are often curled and twisted like tentacles and are coated with small, hair-like growths known as trichomes. The plant is small but pleasing and maxes out at about 5" in length.
Native to the subtropics, Pruinose can naturally be found from South America to Florida, although it is listed as endangered in the United States. For this reason, always research where you're buying your plants from and only shop at reputable plant nurseries. Plant poaching is a problem throughout the world and can lead to environmental degradation and species loss.
12. Caput-medusae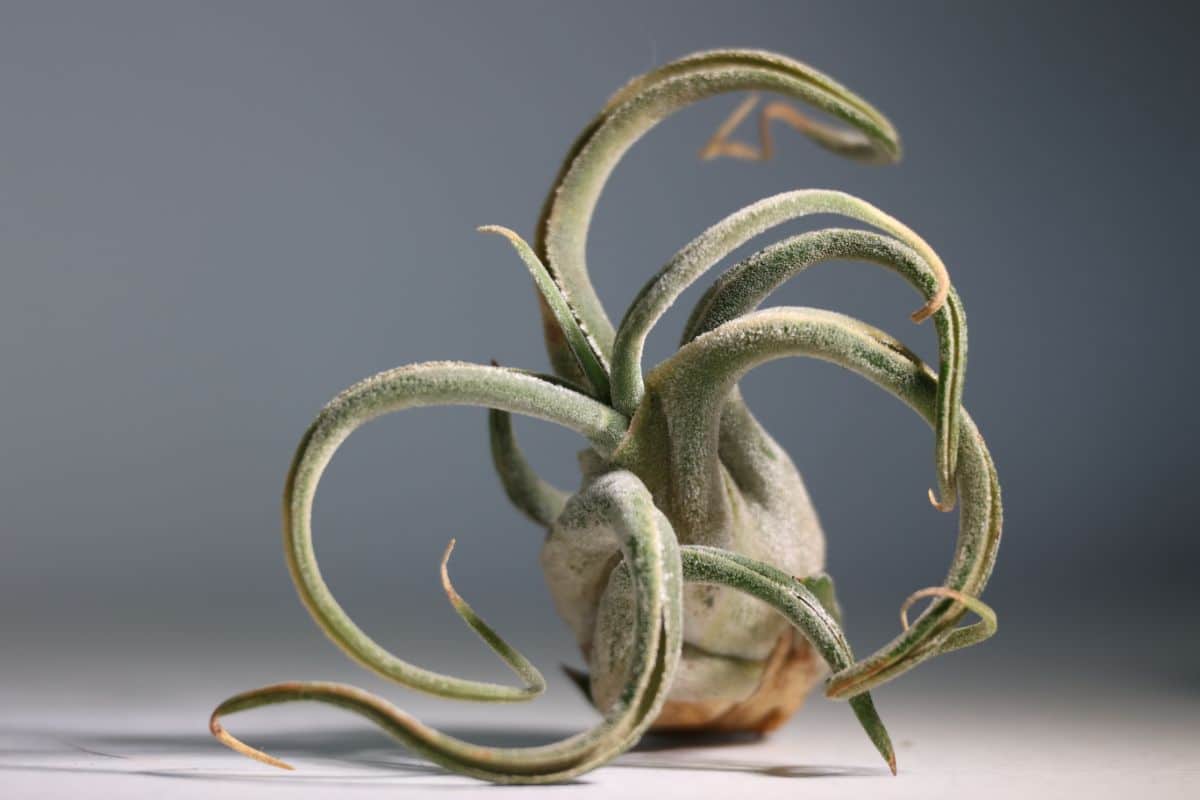 Named after the famous Gorgon of lore, Caput-medusae has distinctly long leaves that grow and curl in a horizontal fashion. Much like Medusa's legendary hair of serpents, the twisting nature of these leaves is eye-catching… although they won't turn you to stone! Some varieties are more silver-toned than others, thanks to an abundance of hairy trichomes.
Like all other air plants, Caput-medusae are monocarpic plants and will only flower once in their lifetimes before fading away. Prior to flowering, leaves will develop a colorful blush, and then the plant's flower will emerge from the center of the air plant. After the bloom fades, air plants will often produce offset or "pups," which can be separated from the parent plant when they are about ⅓ the size of the original plant.
13. Scaposa kolbii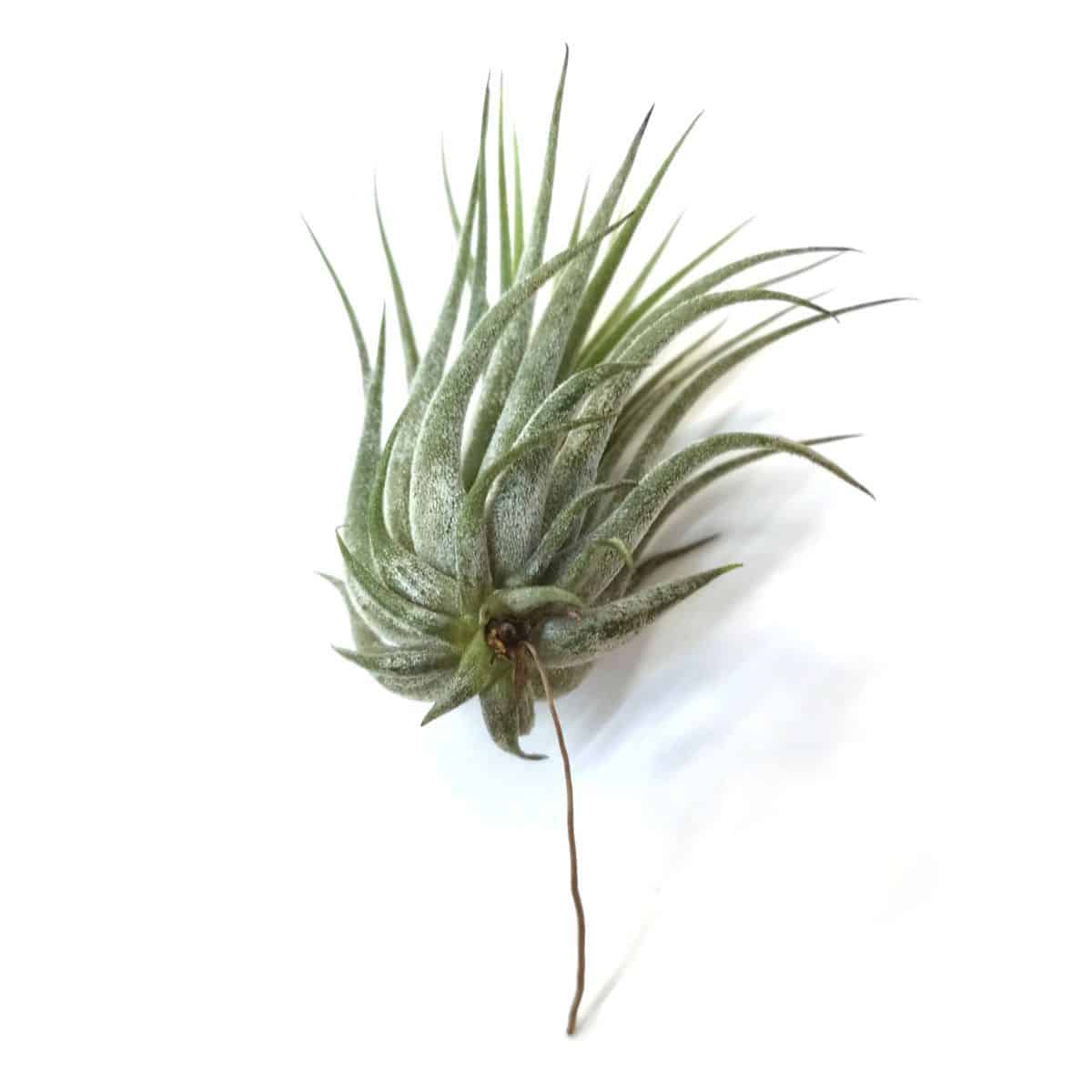 Very similar in appearance to Tillandsia Ionantha, Scaposa kolbii is usually smaller in size, although the leaves are longer. Leaves frequently curve a bit to one side, making them slightly resemble grass blown by the breeze. The blooms of these plants are also smaller than Ionantha's and come in pinks and purples.
Scaposa kolbii should be watered regularly and may need more humidity and lower light than Ionantha does. If your plant starts to look silver or gray in appearance, it likely means it needs more water. Give your plant a good long soak, then allow it to drain properly, and your plant's leaves should turn green again.
14. Gardneri
Native to Venezuela, Columbia, and Brazil, Gardneri has long, tapering leaves and grows larger than many other air plant species. When mature, this plant can grow between 4 and 12" long and has long, tapering leaves that are thicker than many other air plant species. Leaves are pale, silvery-green, while the large, pink flowers are long-lasting and generally appear between spring and summer.
An easy-going air plant type, Gardneri doesn't need as much humidity as some other Tillandsia species. It also can tolerate cooler temperatures without a fuss, but it doesn't like bright light. Place your Gardneri in indirect light, or be prepared to protect this plant from direct sun by adding a sheer curtain or other barrier to overly bright windows.
15. Capitata peach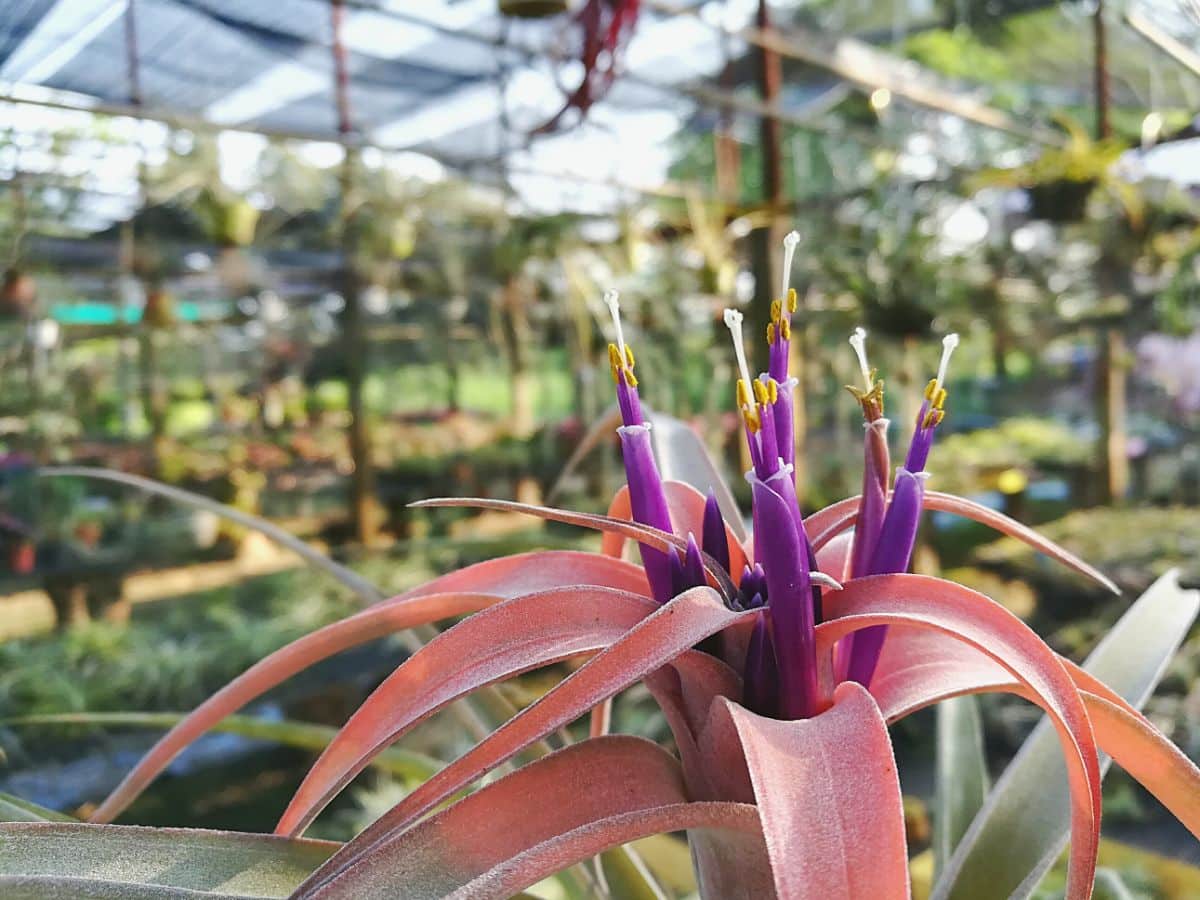 Native to Cuba and areas throughout the Caribbean, there are different types of Capitata air plants; however, 'Peach' tends to be the most popular. This plant is small, between 5 and 8" in height, and turns a delightful peach tone as the plant matures and gets ready to bloom. When those flowers arrive, be prepared for lots of showstopping colors as the purple blooms contrast beautifully against the plant's orange leaves!
Capitata peach grows best with some added humidity, but they don't need a lot. These plants can grow in drought-like conditions and can bounce back even if you forget to water them for a few days. Capitata peach can tolerate full sun, unlike some other Tillandsia.
16. Fuchsii v. gracilis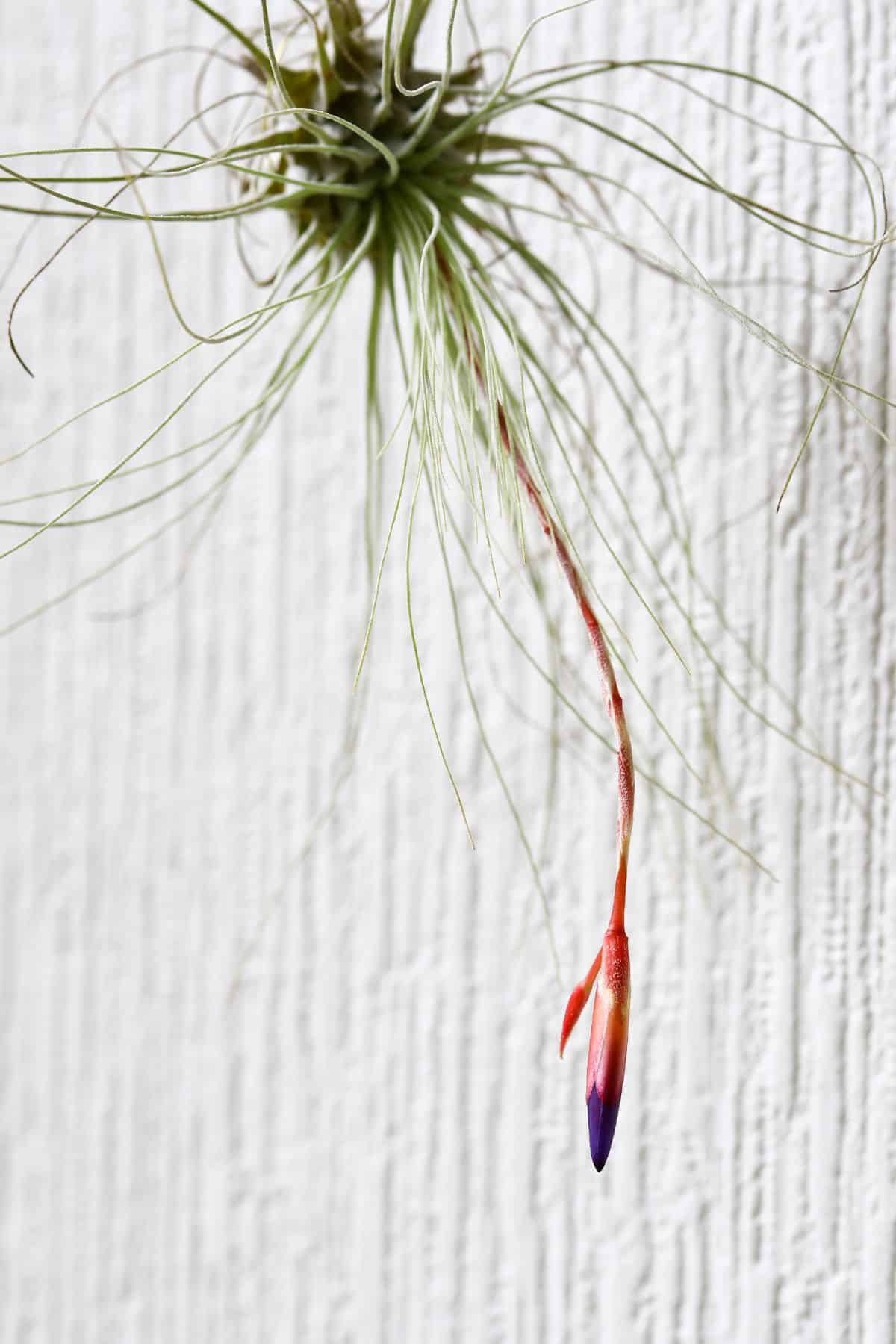 A delicate-looking plant, Fuchsii has thin, thread-like leaves that give the plant an airy quality. Flowers bloom on the end of a long, thin stalk, which only adds to the ethereal feel of this air plant variety. In nature, Fuchsii grows together in clumps along the crooks of tree branches and other areas where their aerial roots can find purchase.
Because of their thin leaves, Fuchsii may dry out quicker than some other Tillandsia, so you will need to take care when you water it. When watering your plant, submerge it fully and give it plenty of time to absorb moisture before drying it on a paper towel. Fuchsii should be misted frequently to keep leaf ends from turning brown and crispy.
17. Stricta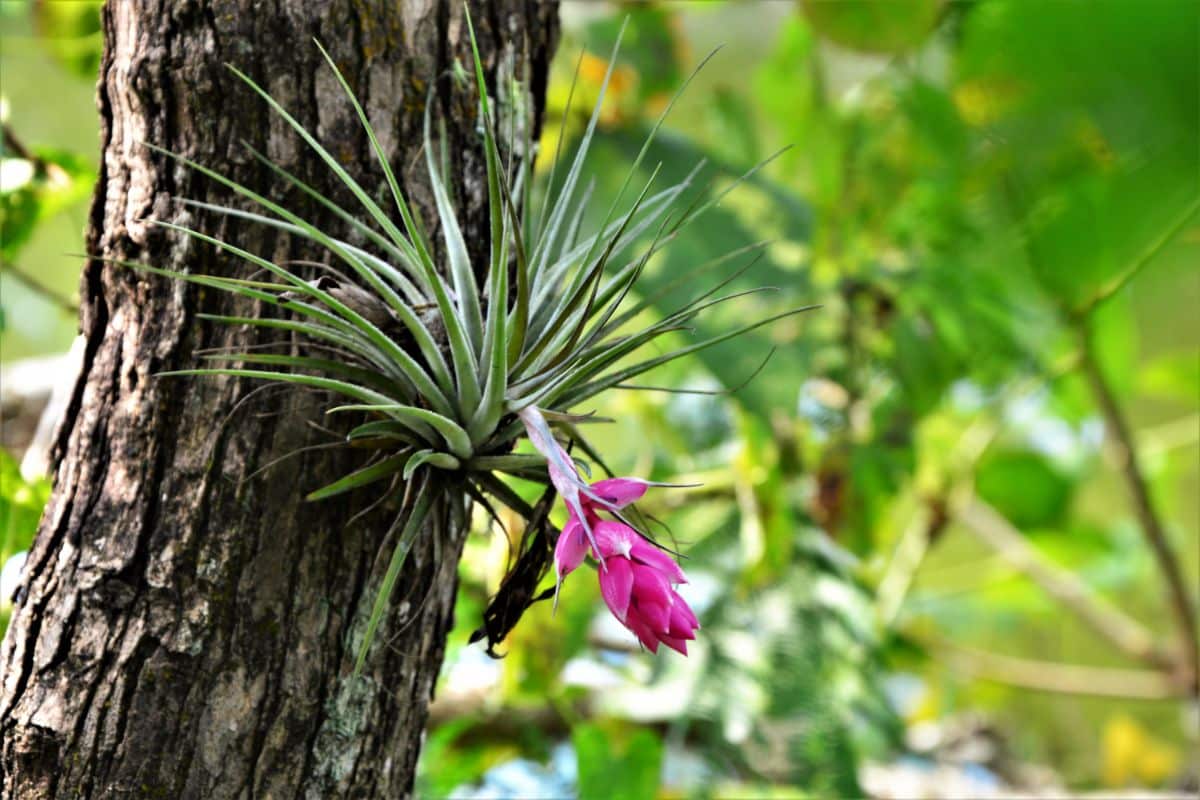 There's a lot of variety within the Stricta species. Some types of this air plant have green leaves, while others have leaves that are much darker and almost black in appearance. Flower colors vary considerably as well, with blooms in red, blue, pink, and purple being common.
Stricta is a popular Tillandsia species, and it can be easier to find than some other types. It will grow between 6 and 12" in length and prefers bright, indirect sun for best growth. Stricta is hardy and adaptable, but like other Tillandsia, it can be susceptible to pests like scale and mealybugs.
18. Druid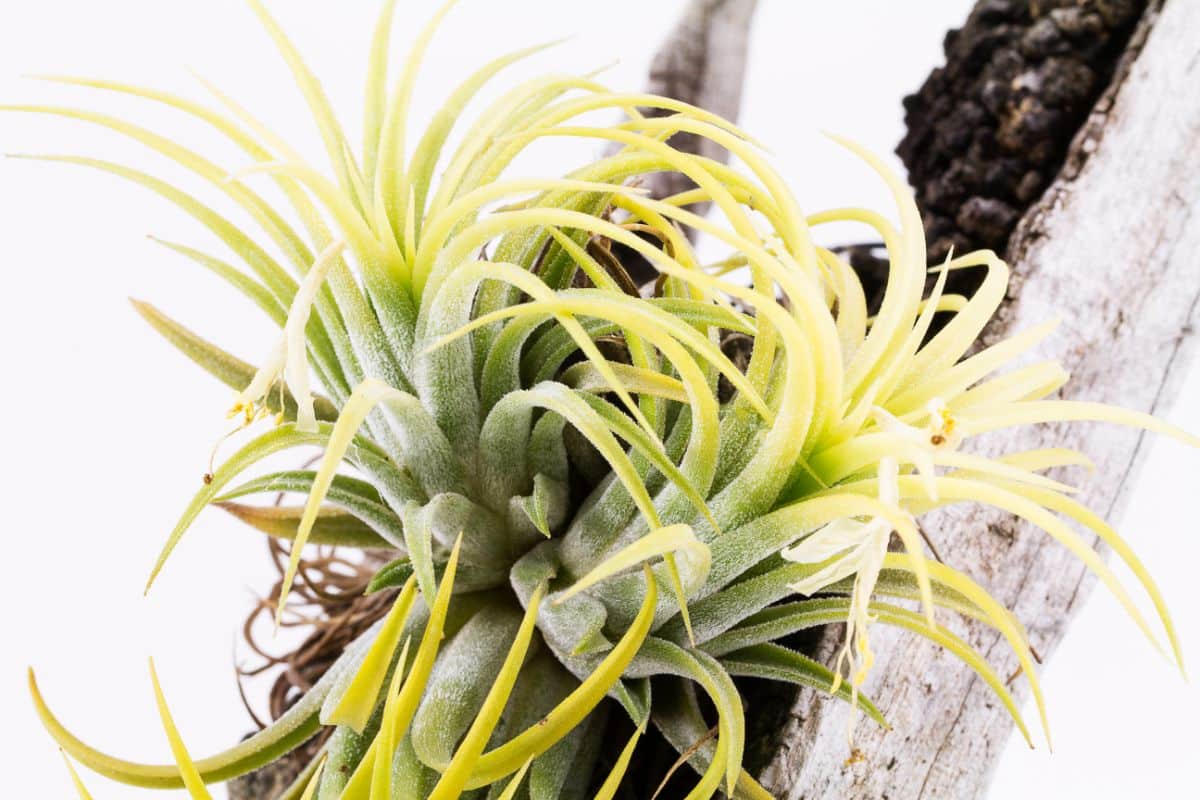 'Druid' is a type of Ionantha that has an air of mystery about it. It was first discovered by accident in the 1970s when a plant enthusiast was gathering Ionantha in Vera Cruz, Mexico. However, after a bit of study, he realized that there was something different about some of the plants he gathered.
Unlike standard Ionantha, 'Druid' doesn't blush pink when it is about to flower. Instead, the plant's bright green leaves turn even brighter and may fade into a brilliant yellow. The flower is different, too, and appears as pure white, as opposed to Ionantha's rich purple and red blooms.
19. Aeranthos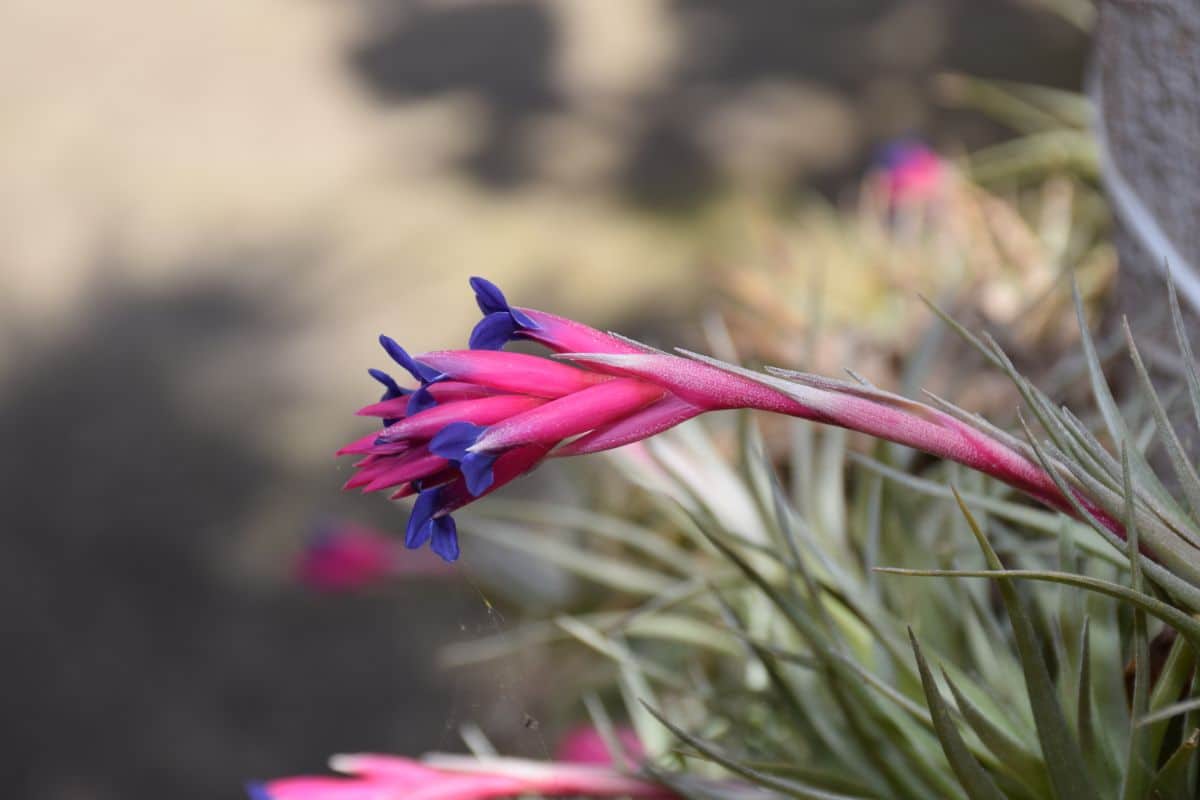 Native to South America, Aeranthos boasts bright green, upward-facing leaves that are spiking and stiff. But this plant is best known for its big, bold flowers in pinks and purples, which tend to curve into downward-facing cones as they mature. Aernanthos grows about 4" long and looks particularly pretty when mounted in a cluster with other air plants.
Aeranthos is naturally a slow-growing plant and often doesn't need fertilizer, although you can add some diluted liquid, organic fertilizer to your watering regime if you want to. Growing best in the bright, indirect sun, this air plant can be susceptible to overwatering, so don't overdo it with moisture. Instead, spritz your plant every two days during summer and twice a week in winter, and submerge your plant in a bowl of water weekly.
20. Streptophylla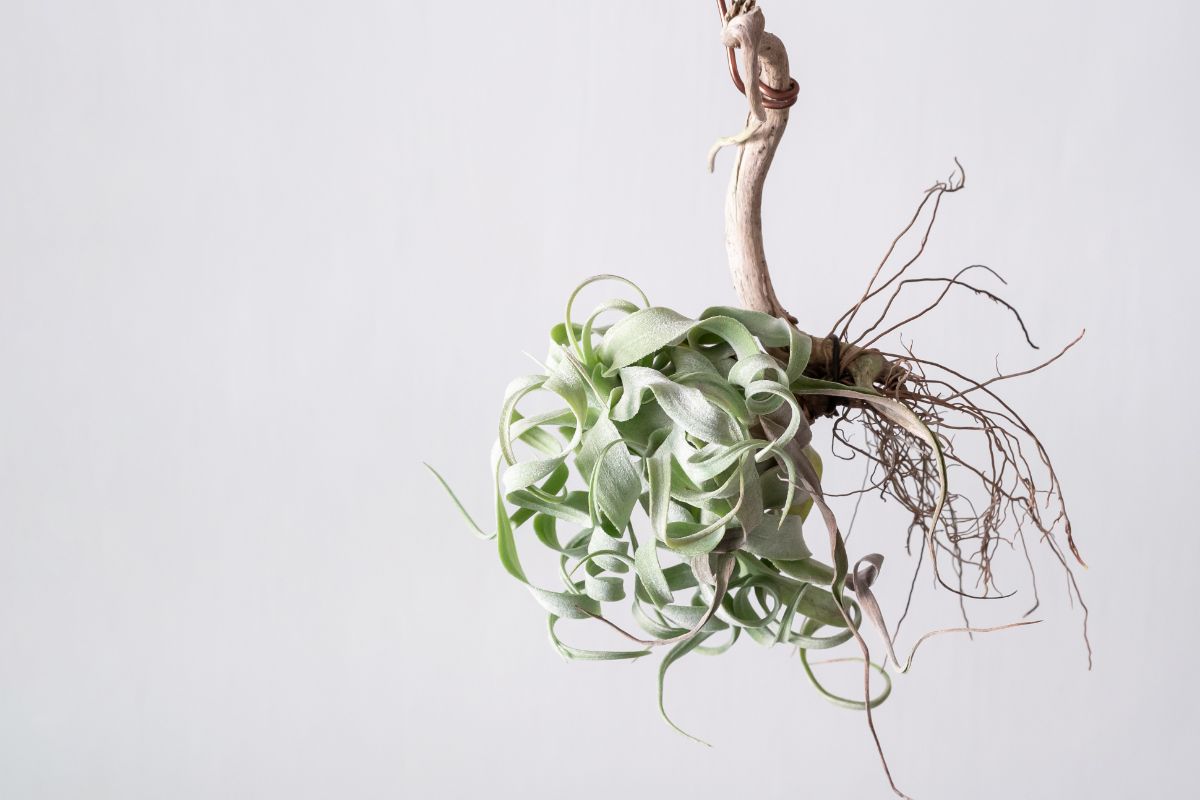 Also known as "Shirley Temple," Streptophylla looks a bit like Xerographica, but with a twist! This attractive plant has boldly curling leaves that give Shirley Temple's famous curls a run for their money. This plant is also larger than many other air plants and grows in a tight ball measuring 12 to 15" across.
Streptophylla's leaves have a frosted appearance, which is due to the abundance of hairy trichomes that cover this plant. Those trichomes help the plant retain moisture better, so it can tolerate lower humidity levels. Before blooming, the leaves will blush pink and then produce tubular, purple flowers that are irresistible to hummingbirds in the wild!
21. Baileya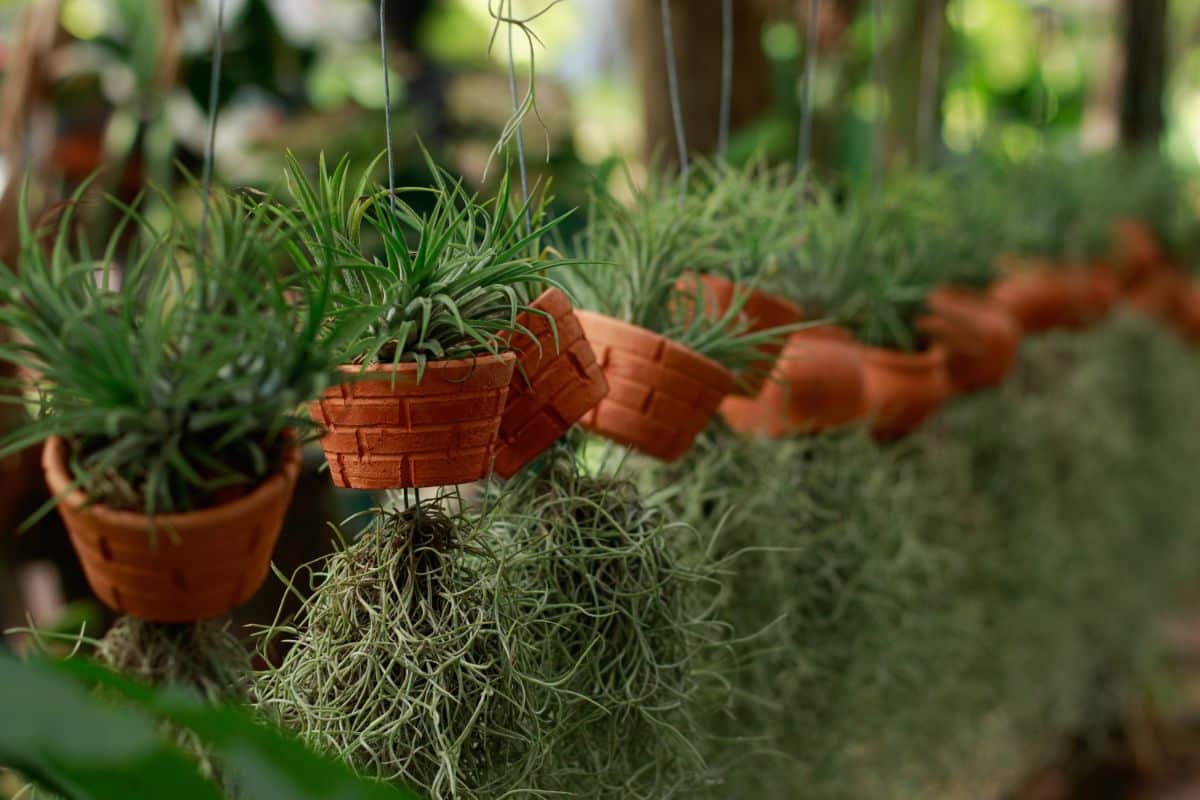 Also known as Bailey's ball moss, Baileya isn't exactly ball-shaped at all! The name may appear at first to be a bit of a misnomer, as this air plant features long, tubular leaves that can reach up to 13" in length. Flowers are pink in color and form at the end of a long, slender stem that extends from the plant's center.
Native to Texas and Mexico, in nature, Baileya is often sighted clinging to branches of the southern live oak. In the wild, Baileya will grow together in tight clusters that form an impressive ball shape as plants grow. To imitate this, you can cluster several Baileya together to form a clump or allow the plants to spread on their own.
22. Circinata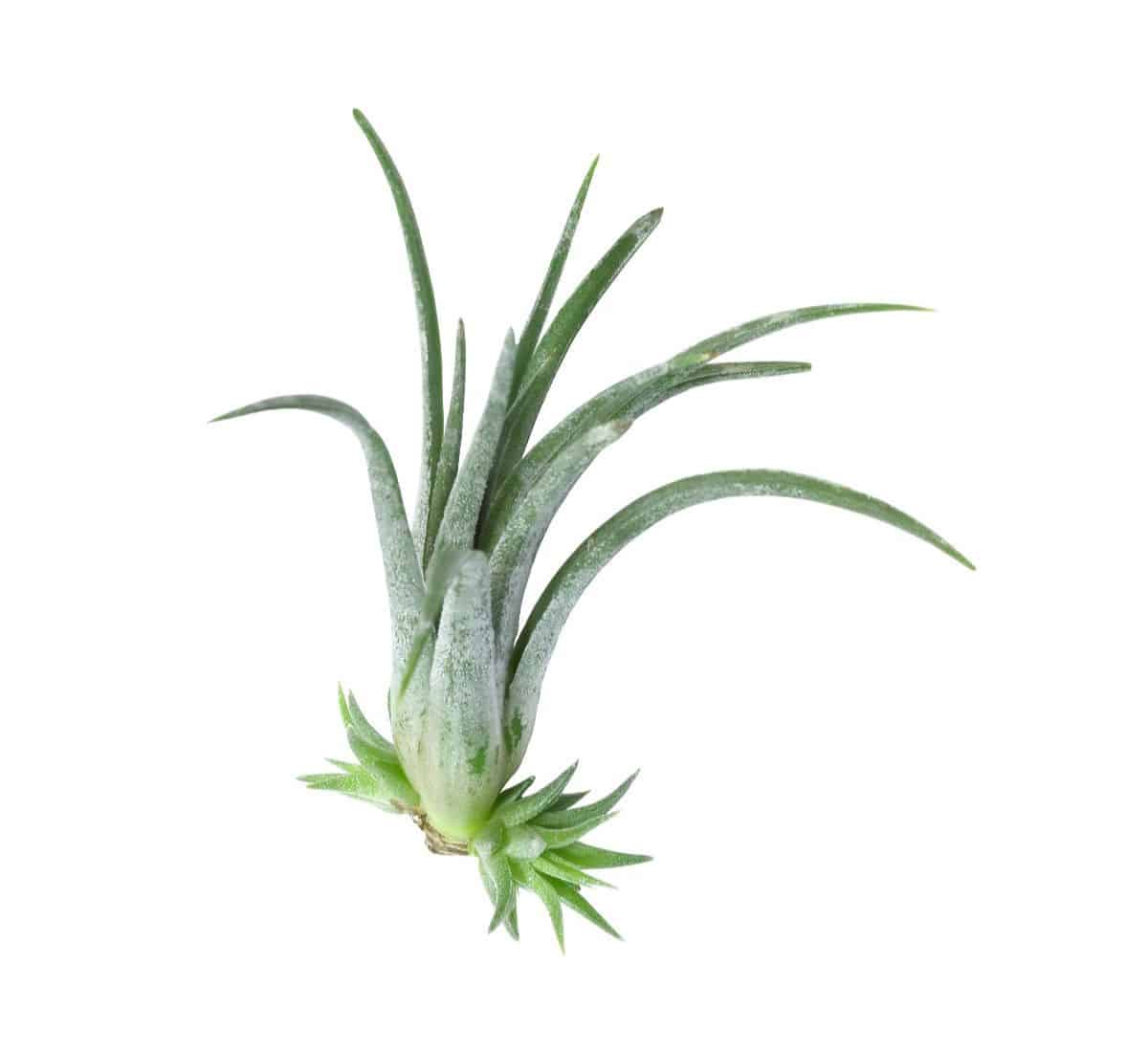 Circinata is another small air plant species that grows between 5 and 8" in length. Similar in appearance to Scaposa kolbii, Circinata has short leaves that all tend to curve in the same direction. Leaves are extra fuzzy and coated with trichomes and blush red before flowers bloom.
If roots appear at the base of Circinata or other air plant species, don't be surprised, and don't be tempted to plant them in soil. These roots are actually aerial roots and are used to anchor the plant to trees and branches, and they don't need to be buried in the soil. For aesthetic purposes, you can trim away these roots or use them to attach your plant to displays and other mounts.
23. Tectorum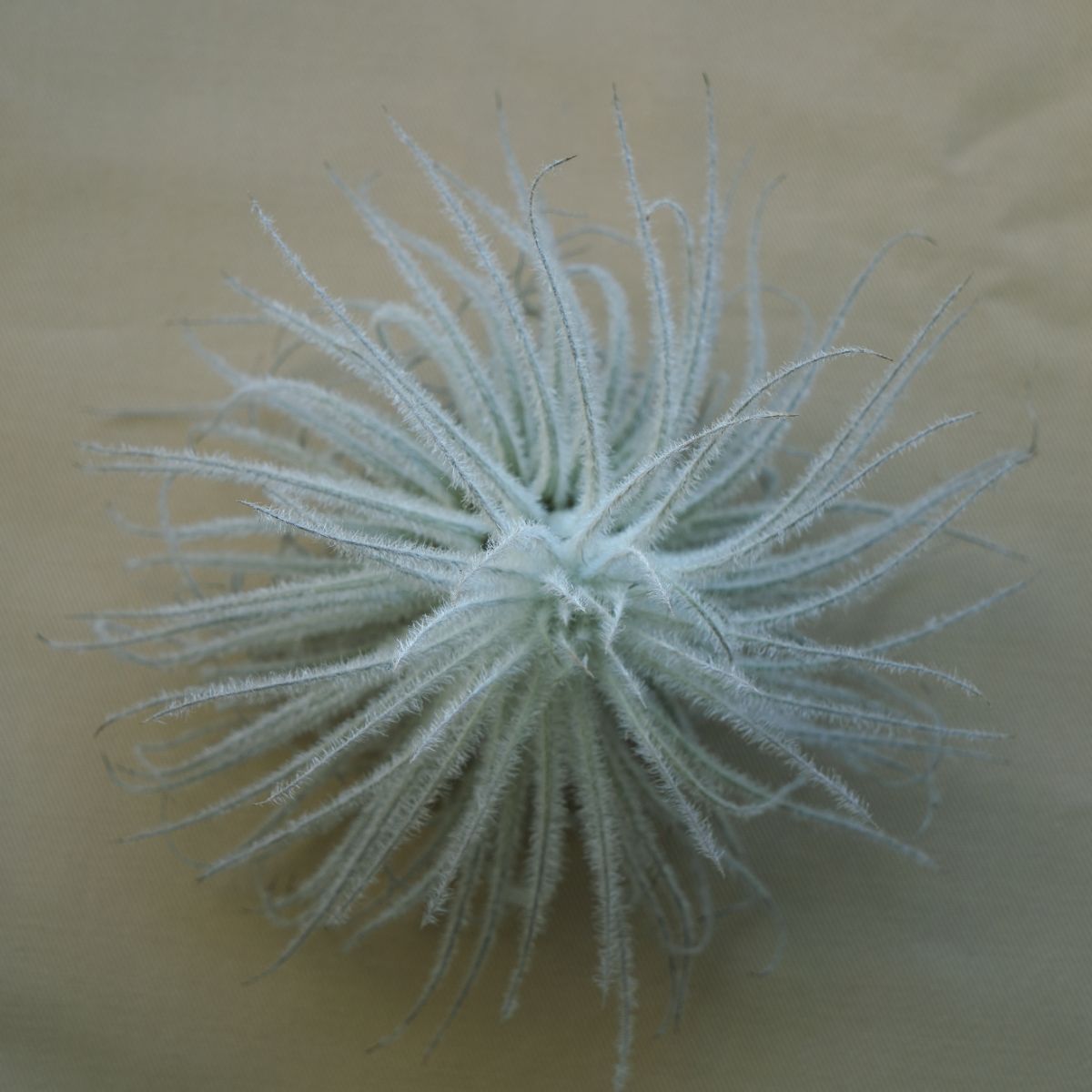 One of the most unique-looking air plant types, Tectorum's fuzzy appearance gives a hint to the conditions of its native environment. In the wild, Tectorum can be found in arid areas of Ecuador and Peru, where it clings to the steep cliff faces of the Andes with the help of its aerial roots. The plant's fuzzy leaves help it retain moisture in an otherwise very dry environment.
Tectorum's fuzzy leaves have other purposes too. They shield the plant from the bright sun, and they also catch nutrients in the air in an otherwise nutrient-poor area.
At home, you'll need to be careful when watering this plant and never submerge it in water. Tectorum should only be watered by misting it every 1 to 3 weeks.
24. Funckiana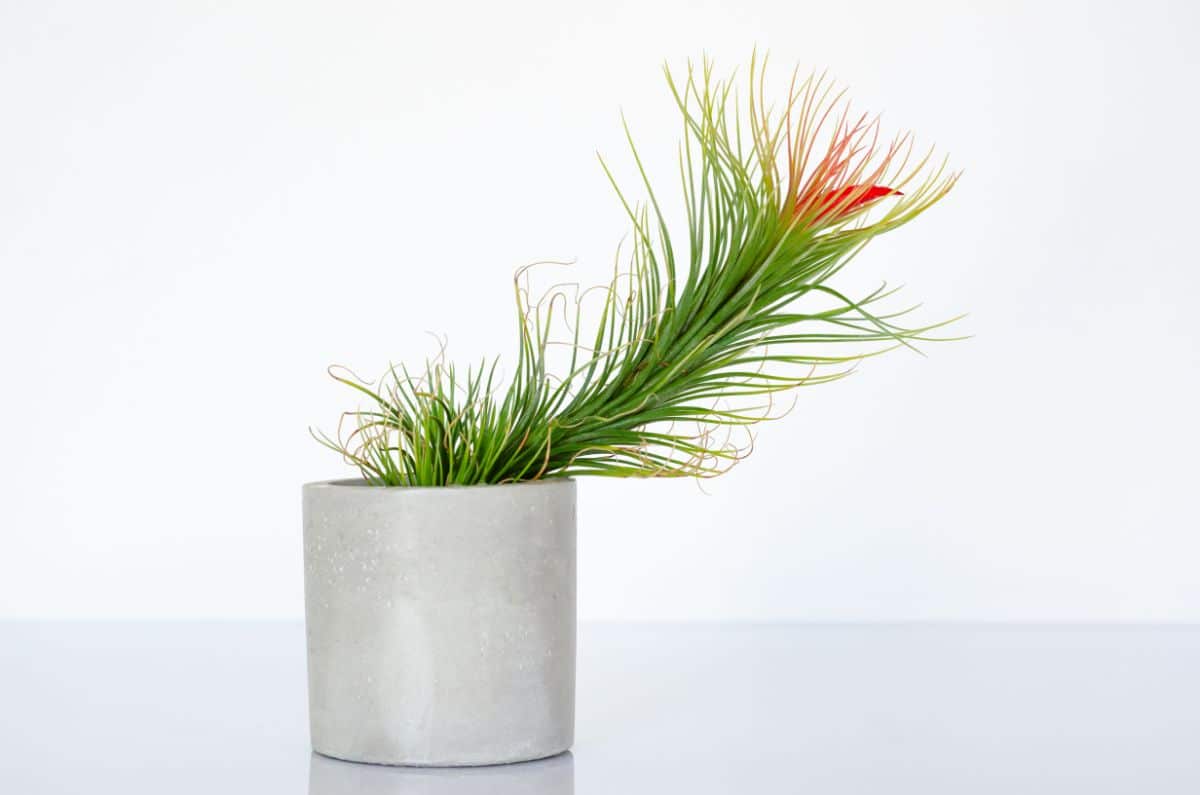 Another intriguing air plant species that's different from the rest is Funckiana. This plant has smaller leaves that sprout like spiky quills from the plant's central stem, and all the leaves face in the same direction. Those quills turn yellow before the plant produces a large, orange-red, tubular flower, which is pollinated by hummingbirds in nature.
Like Tectorum, Funckiana can be found in the wilds of the Andes, but it is less drought tolerant. This plant should be misted 1 to 3 times a week, and it can be soaked in water. Just be sure to allow it to fully drain and dry out after soaking to avoid issues with rot.
Frequently asked questions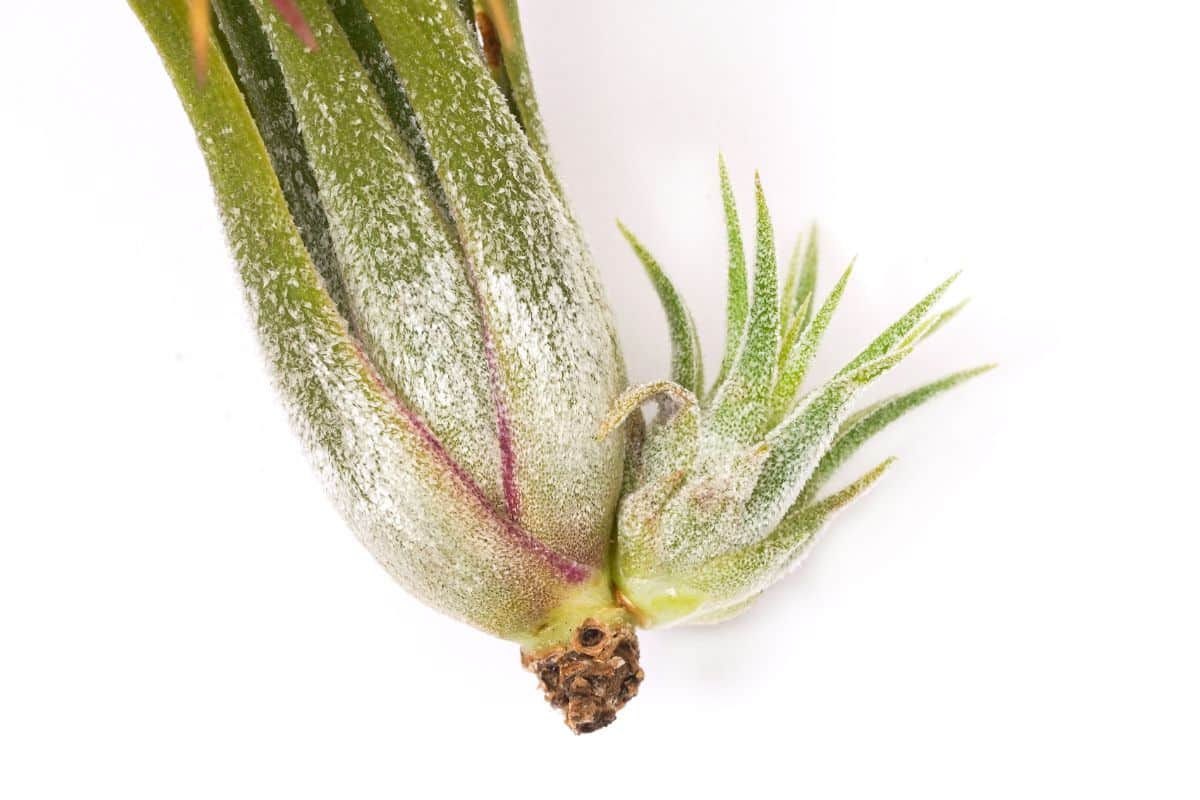 Where is the best place to put an air plant?
Air plants grow best in bright, indirect light. So if you can, locate your plants about 1 to 3' away from an east- or west-facing window. Placing your air plants under grow lights can also work if you don't have any adequate lighting in your home.
Should I mist my air plants?
Air plants with fuzzy, white trichomes do best when watered with frequent misting and an occasional dunk in water. Green air plants generally prefer to be soaked in water for longer periods of time. Either way, air plants usually enjoy misting to maintain proper humidity levels.
What should you not do with an air plant?
Except for a few special species, most air plants do not tolerate bright sunlight well, and they can get sunburned if placed in full sun. To avoid this, be sure to locate your plant in bright, indirect light.
Can air plants soak in tap water?
Air plants aren't very picky, and watering them with tap water is perfectly fine. For extra healthy plants, you can also try watering your air plants with aquarium water, as the nutrients in this water type will help support your plant's growth. Just avoid fertilizing your plants with additional fertilizer if you do opt to water with aquarium water.
How do I know if my air plant is happy?
Happy air plants will have nicely formed leaves that don't have brown or crispy edges. Green or silvery-green air plants are generally healthy air plants, while too little moisture may cause plants to begin to brown at their leaf tips.
How do I get my air plant to bloom?
Most air plants will bloom eventually when they are mature enough. Feeding your air plants with a diluted, liquid organic fertilizer may support flower and pup development as well. And, of course, be sure to provide your plant with adequate lighting.
Summary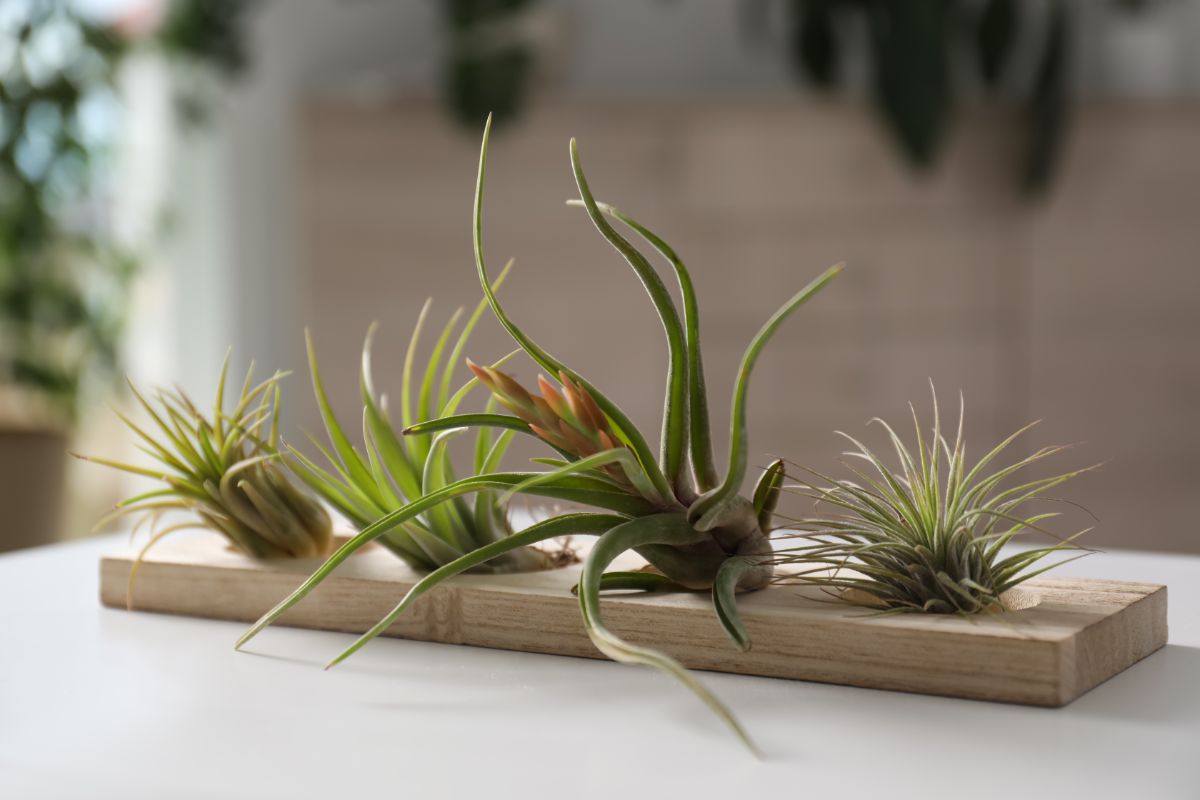 Air plants are some of the most easy-going houseplants you can keep, and they are sure to delight you with their petite forms and oversized, colorful blooms. Native to the Americas, these tropical plants thrive in most indoor setups and don't need lots of special care. Just provide them with plenty of bright light and some regular misting, and they should grow happily.
Most plant keepers may be familiar with one or two of the most common air plant types, but there are hundreds of different air plants to try. So why not pick up a new air plant or try collecting a few? Their varied forms and playful colors will fit right into your houseplant collection.
One of the top perks of air plants is that they are non-toxic to pets! If you'd like to learn more about other pet-safe plants for your home, check out our article here for more suggestions.