Finding the perfect drought-tolerant shrubs to add to your landscaping projects can be hard for some gardeners who live in dry, hot, and sunny places.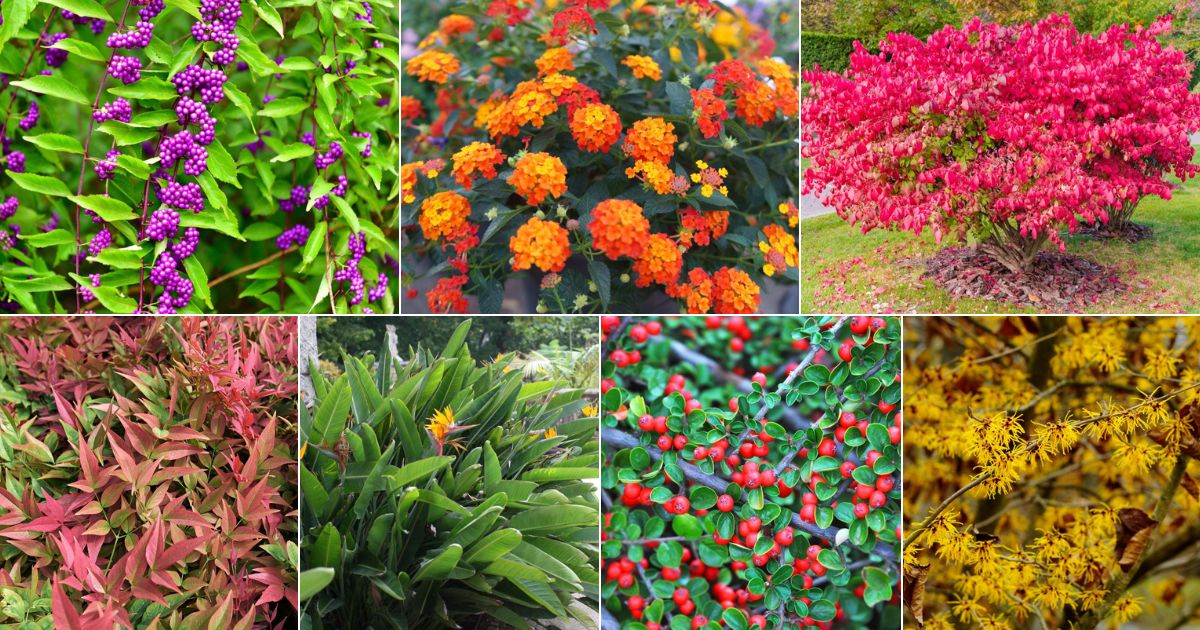 Fortunately for you, there are a variety of hardy shrubs to choose from that can offer year-round color and low-maintenance solutions to all your gardening needs. These robust plants are ideal for dealing with dry temperatures. They can easily recover from wilting and bounce back to life after long hours of sun exposure.
In this article, you'll discover 25 of the best drought-tolerant shrubs to help turn your dull garden into an eye-pleasing oasis of beautiful shrubs, even in hot, dry, and hard-to-grow areas.
Jump to:
1. Barberry (Berberis)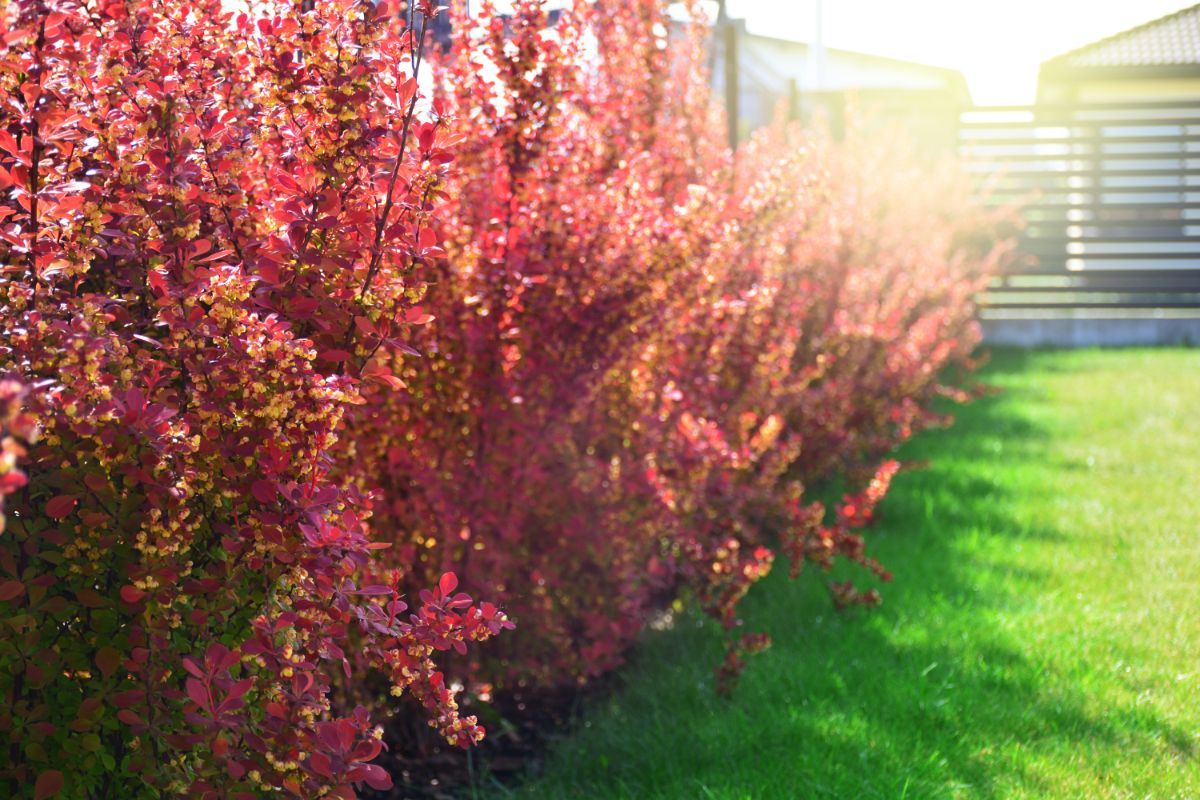 A hardy evergreen shrub that comes in several choices of colors, including red, orange, or burgundy, the Barberry is a favorite among gardeners looking for a drought-friendly option for its low maintenance and eye-pleasing curb appeal.
Great for use as a hedge, the Barberry is a robust shrub that not only offers low maintenance but also offers beauty and color to all your garden needs. It is a great addition to your drought-friendly landscaping ideas.
2. Blue Mist Shrub (Caryopteris)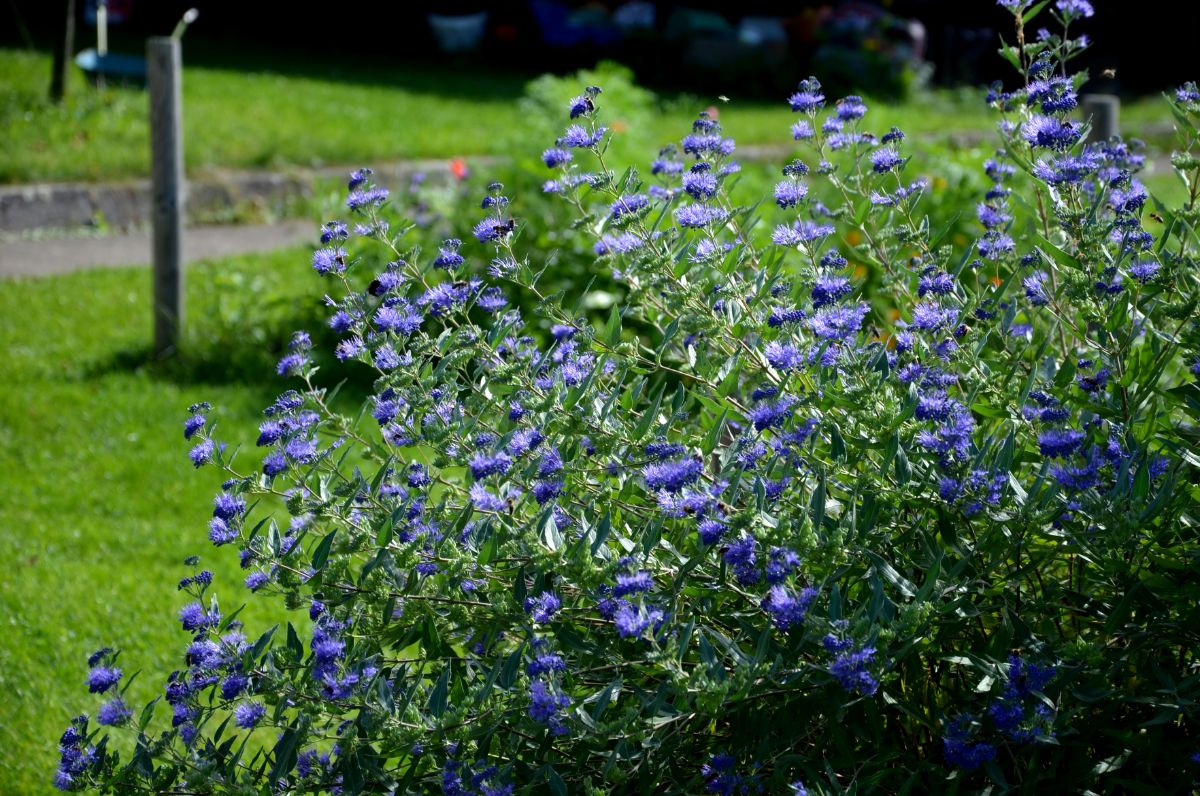 An easy-growing shrub suitable for many climates, the Blue Mist shrub has beautiful sage green foliage with blue-colored blooms. This popular shrub also attracts wildlife to the area with its aromatic scent.
For best results, trim your Blue Mist shrub in late spring for non-stop blooms until the first frost in fall. The Blue Mist Shrub is another fantastic choice for drought-resistant landscaping.
3. Blue Sun Juniper (Juniperus Squamata 'Blue Star')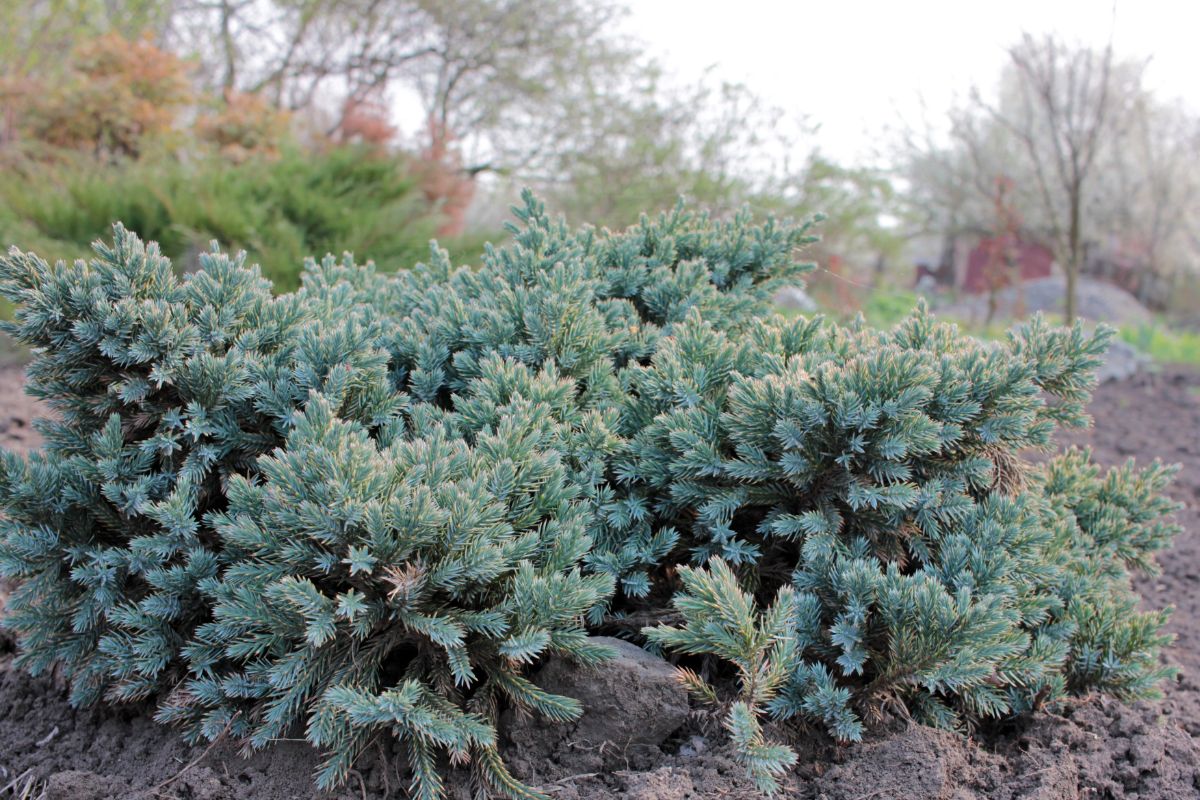 These drought-tolerant shrubs are best suited for small spaces, such as foundation beds, or small patio areas. The Blue Sun Juniper can also be used for ground coverage or garden edging.
The Blue Sun Juniper offers beautiful blue foliage that spreads across its branches, creating a purple-looking contrast with green plants nearby. This beautiful shrub also requires minimal care to maintain its beauty all season long.
4. Burning Bush (Euonymus Alatus)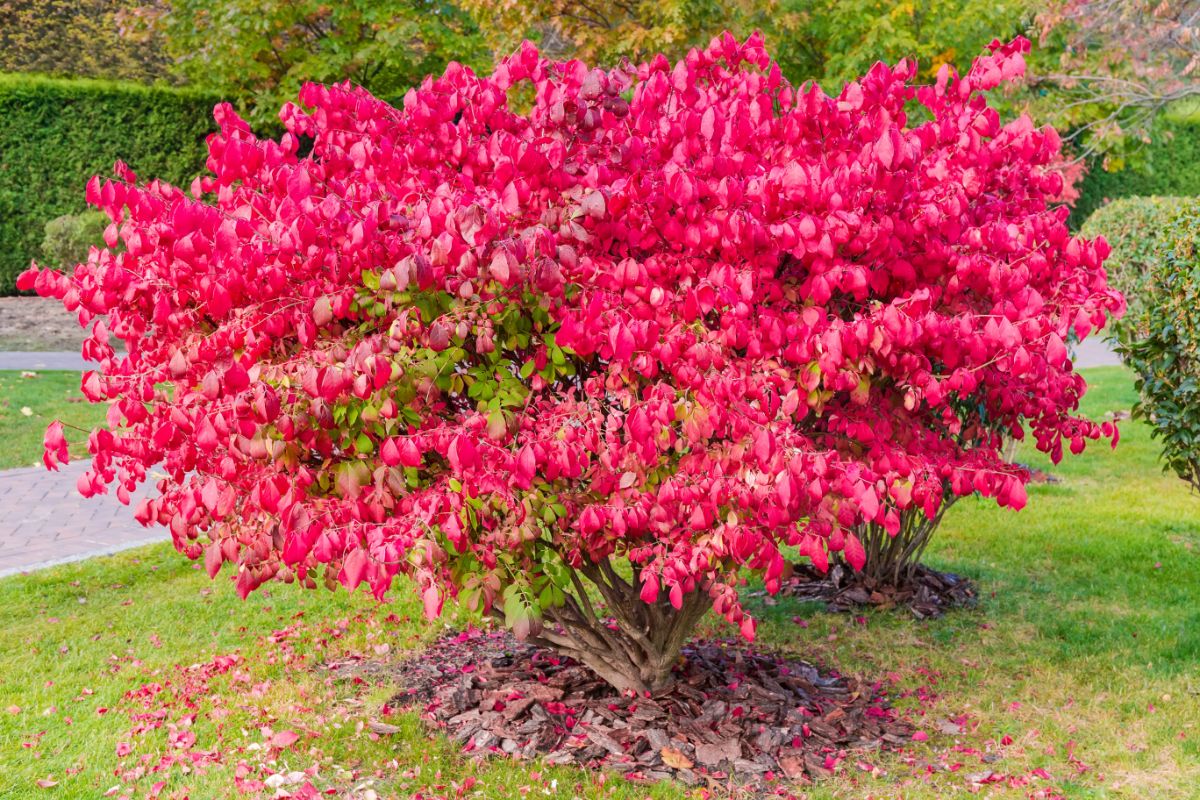 A striking shrub that offers scarlet-colored foliage decorated with leaves that droop from the branches in clusters. The Burning Bush is an excellent choice for drought-resistant plants that require little maintenance.
The Burning Bush will also develop red berries that attract many varieties of birds to your garden. As the berries drop to the ground, they will produce new plants in the following spring.
5. Butterfly Bush (Buddleja)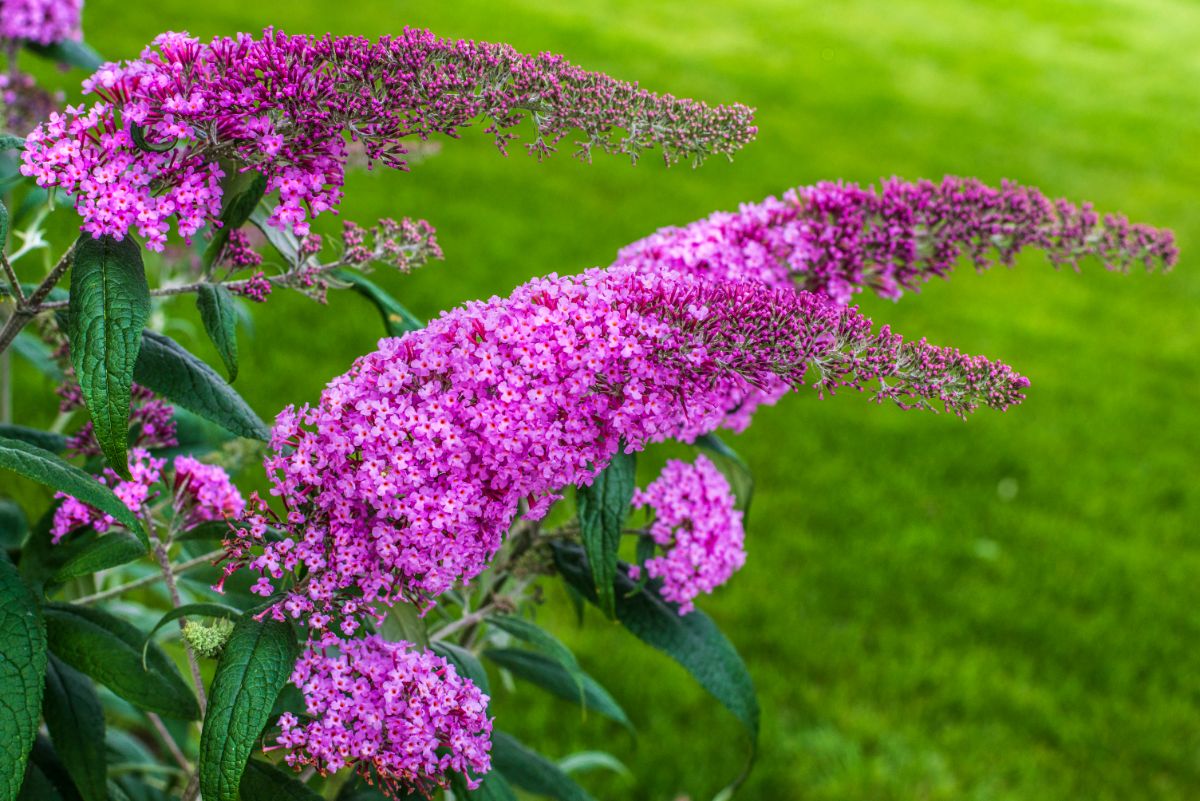 This easy-to-care-for bush comes in a variety of colors including white, pink, and lavender, to transform any garden into a beautiful display of color. Butterflies and birds are attracted to the sweet scent and splash of color the Butterfly Bush offers.
Also known as Lilac bushes, these gorgeous shrubs are low-maintenance and benefit from removing dead heads and annual trimming to encourage longer bloom times. The Butterfly Bush is sure to add a splash of much-deserved color to any drought-resistant garden.
6. Cliff Rose (Purshia)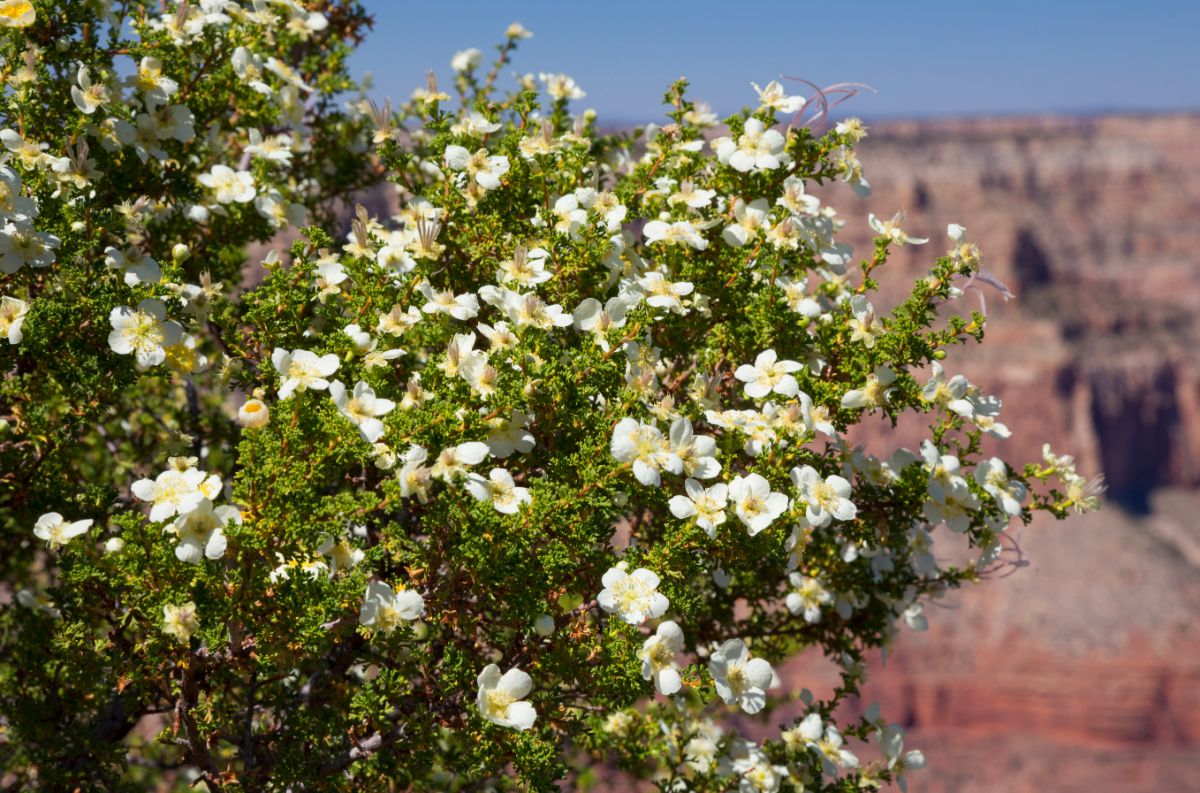 This easy-to-grow shrub offers beautiful white petaled flowers that grow an inch wide. The Cliff Rose also has a long flowering season that lasts from early spring to the first frost of fall.
The fragrant flowers of the Cliff Rose add a sweet clove-like smell to the air known to attract deer to the area. This shrub also produces edible plum-style fruit that can easily be knocked from the branches when ripe. The perfect low-maintenance addition to your landscaping needs.
7. Cotoneaster (Cotoneaster)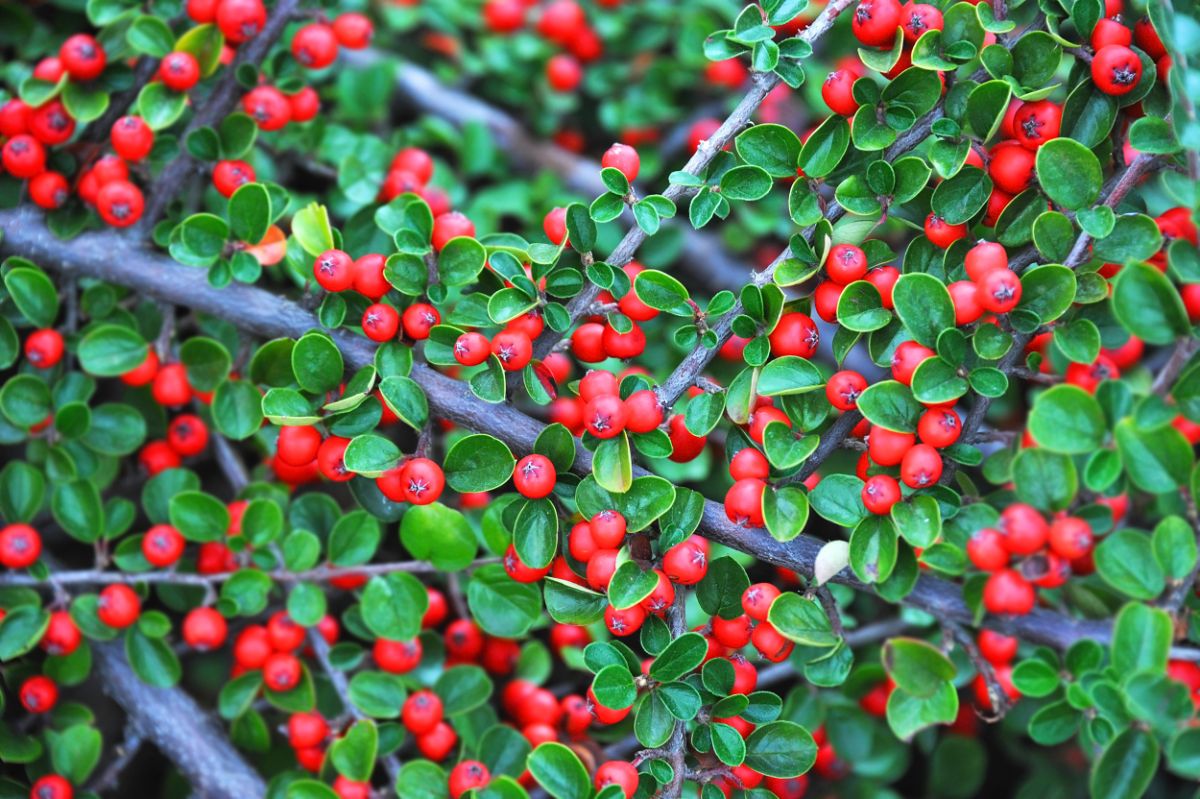 This type of shrub offers a vast amount of species that thrive in different regions. Before purchasing this particular shrub, make sure it is suitable for your environmental needs.
These gorgeous evergreens offer white to pink colored blooms that appear in clusters and produce berries in the fall. The Cotoneaster makes a great drought-resistant hedge that will add beauty to your landscaping.
8. Curl Leaf Mountain Mahogany ( Cercocarpus Ledifilius)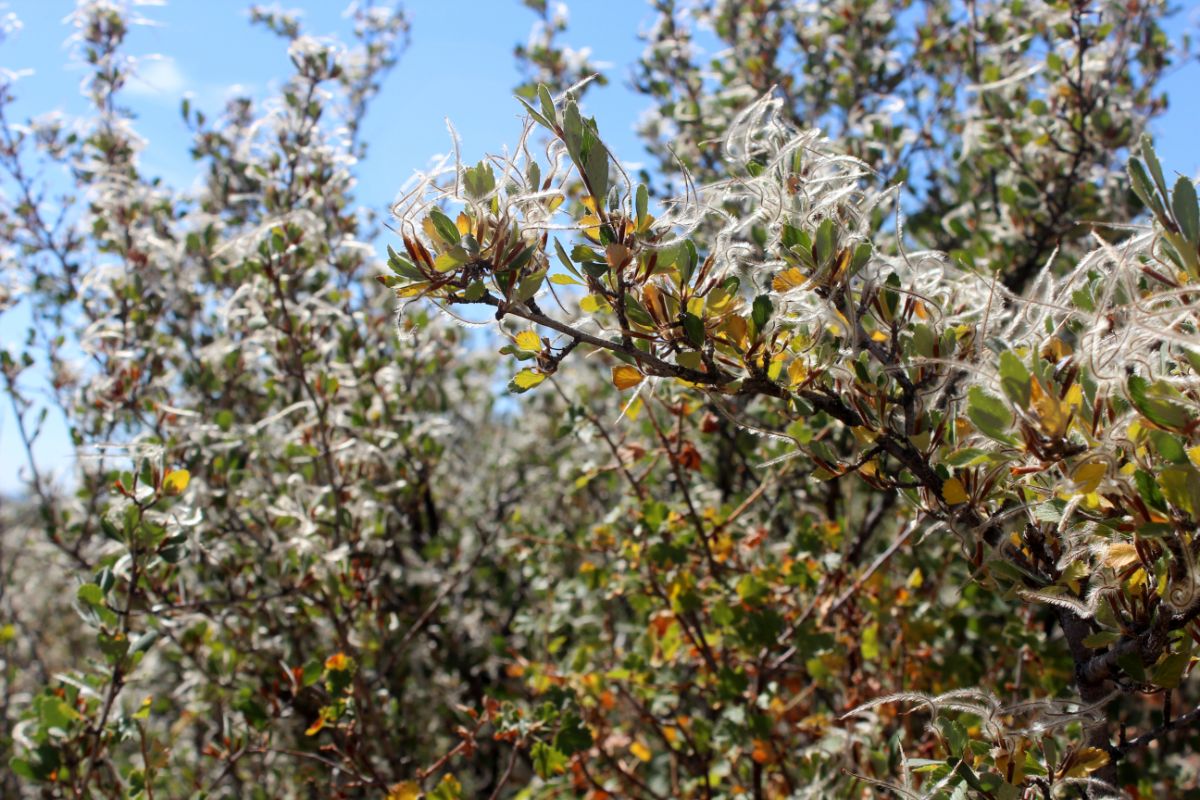 This hardy, long-living shrub is one of the oldest shrubs in history dating as far back as 1000 years ago. The Curl Leaf Mountain Mahogany gets its name from its feathery cult leaves.
Small yellow flowers appear in clusters from the end of March to the beginning of July. The Curl Leaf Mountain Mahogany also produces edible fruit that attracts birds and wildlife to your garden. A great choice in drought-resistant shrubs to add to your landscaping projects.
9. Fragrant Sumac (Rhus Aromatica)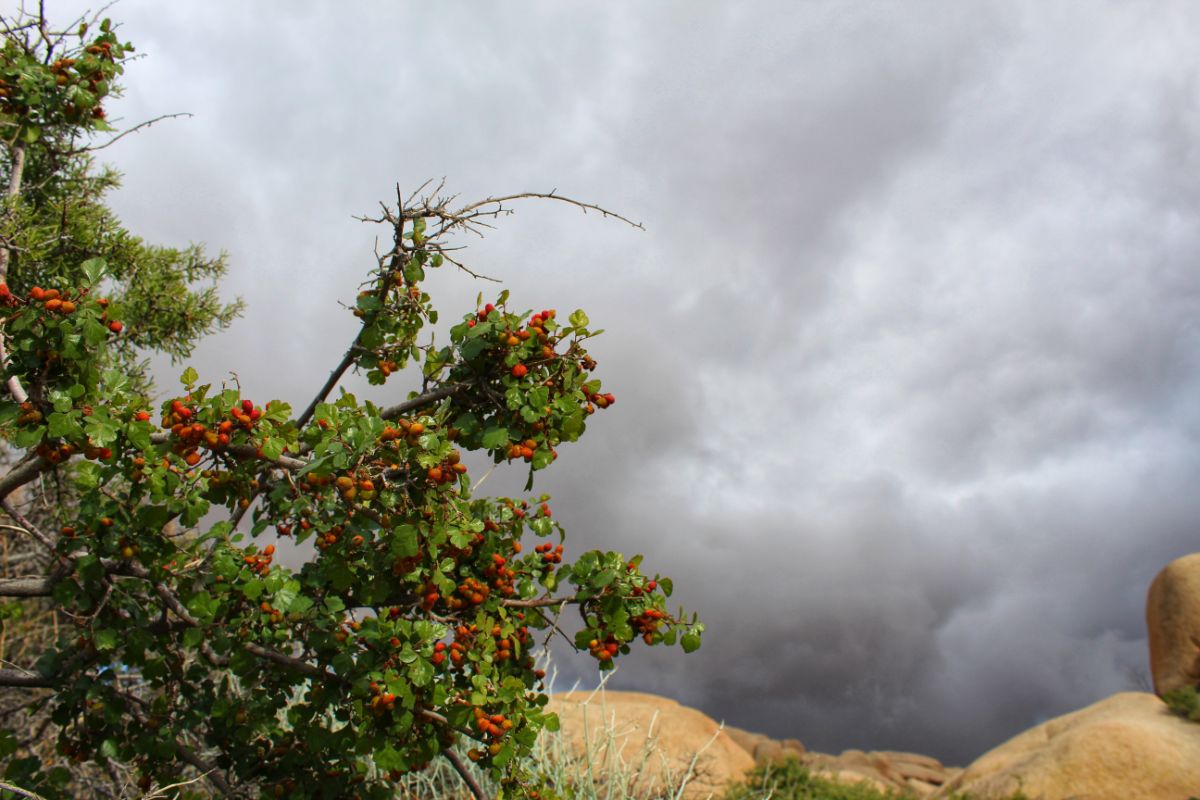 This drought-resistant shrub offers a fragrant citrus scent, and its leaves can be used to make lemonade-like drinks. Fragrant Sumac has similarities to poison ivy. However, it is not poisonous.
During the autumn months, the leaves of this hardy plant turn shades of orange, red and purple and add a variety of colors to any landscaping projects. A much-loved favorite shrub for many gardeners looking for a low-maintenance shrub that is also drought-resistant.
10. Heavenly Bamboo (Nandina)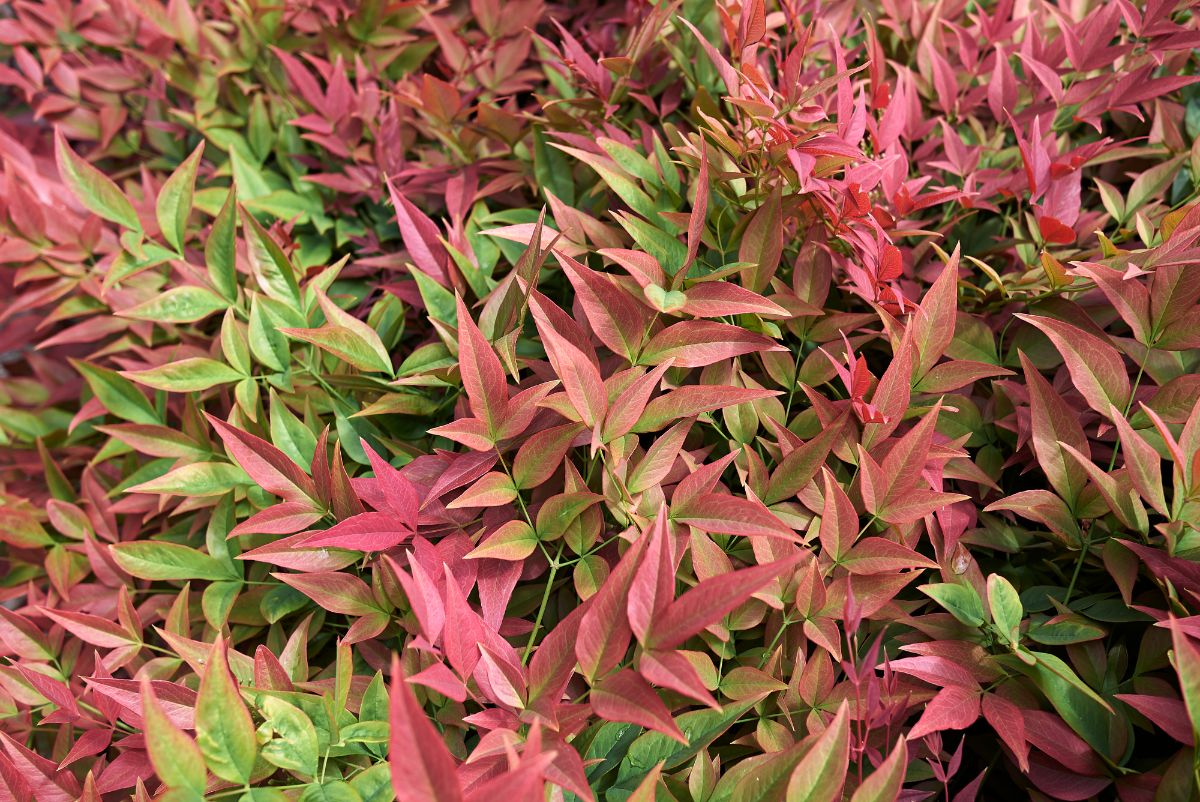 This aggressive growing evergreen shrub is well-known for its vibrant red berries. A beautiful drought-resistant shrub, the Heavenly Bamboo does best at producing ornamental fruits when kept pruned often and offers colorful fall foliage.
The Heavenly Bamboo is a hardy shrub that thrives in moist, well-drained soil, but can survive in many soil types found in hotter climates. The perfect addition to your landscaping ideas.
11. Indian Hawthorn (Rhaphiolepis Indica)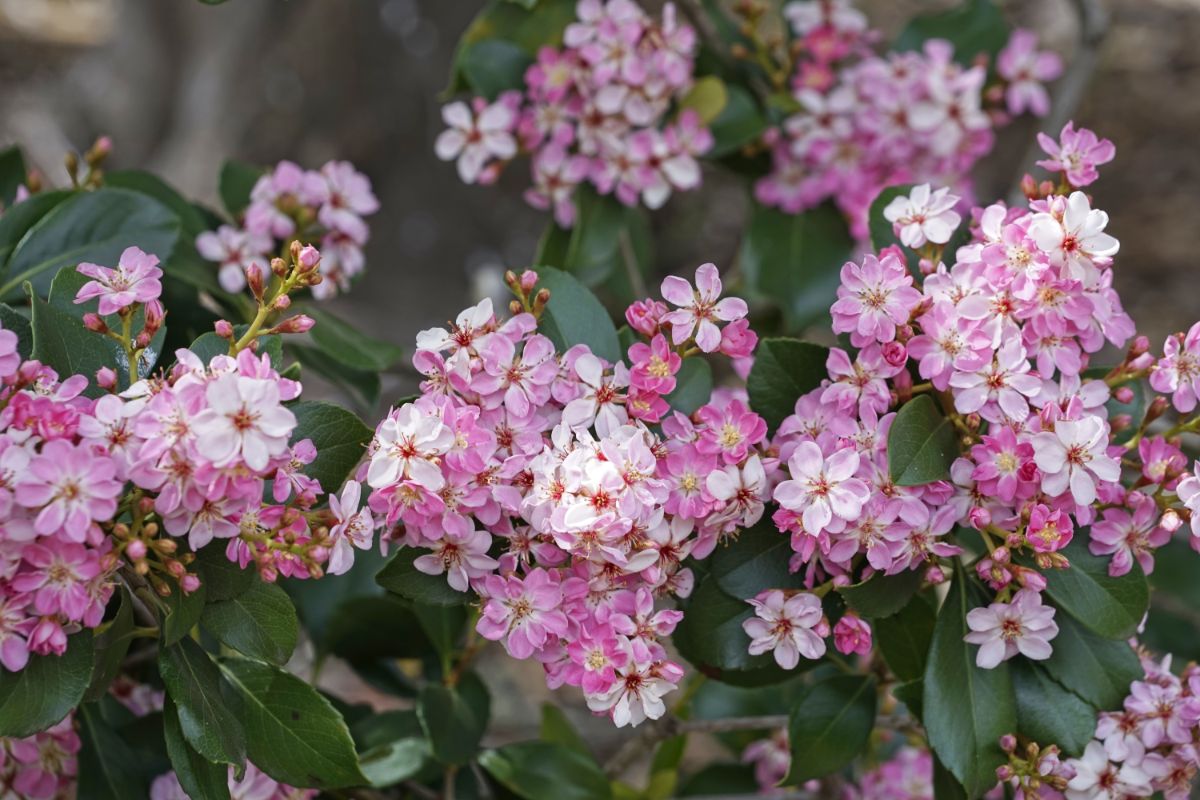 A beautiful addition to your drought-friendly landscaping needs, the Indian Hawthorn offers an array of white flowers with pink-centered blooms. This beautiful shrub also attracts a variety of birds and wildlife to your garden to feast on the fruit the shrub produces every year.
Extremely easy to take care of, the Indian Hawthorn requires very little maintenance to survive on its own. It is the perfect addition to add worry-free color to your garden.
12. Japanese Barberry (Berberis Thunbergii)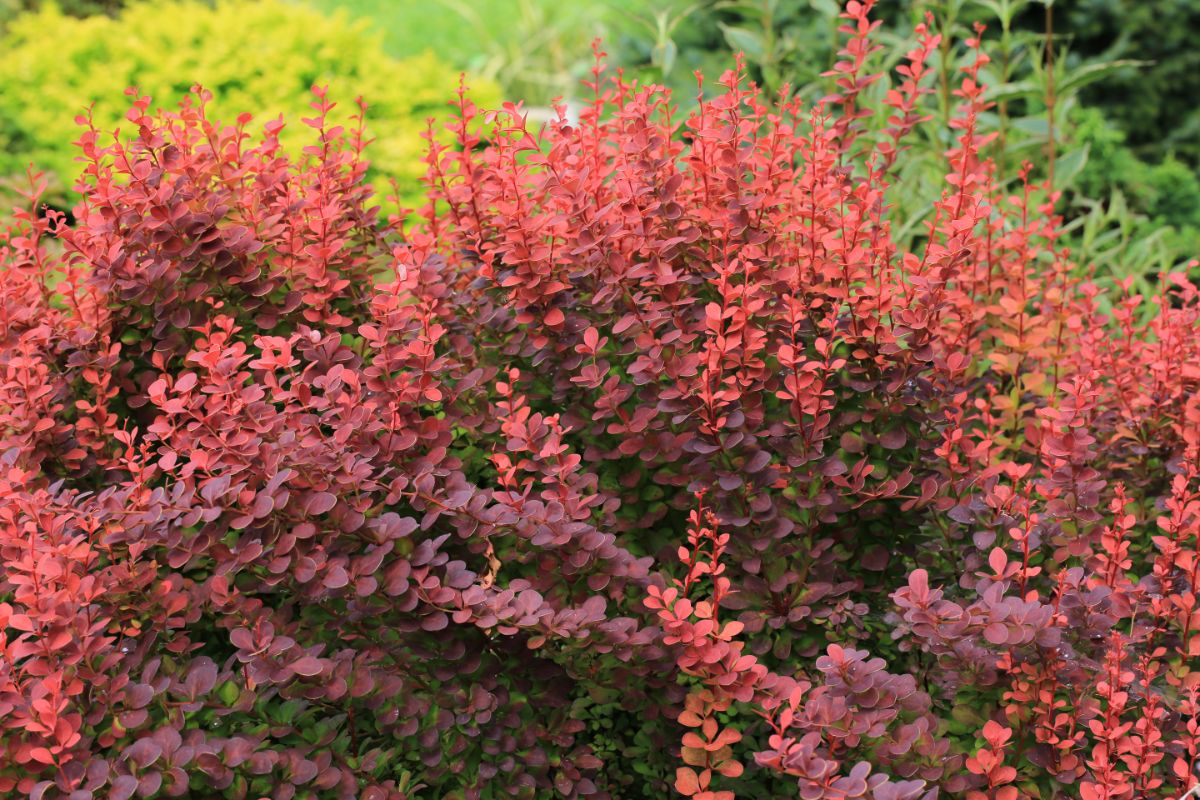 A popular choice of drought-resistant shrubs that come in a variety of colors, including orange, yellow, purple, or red, to spruce up your flowerbeds. The Japanese Barberry also has thorns which are great for keeping wildlife out of your garden.
But, not so great if you have children or pets that come in contact with your garden. The thorns of the Japanese Barberry can cause painful stings when touched.
13. Japanese Beautyberry (Callicarpa Japonica)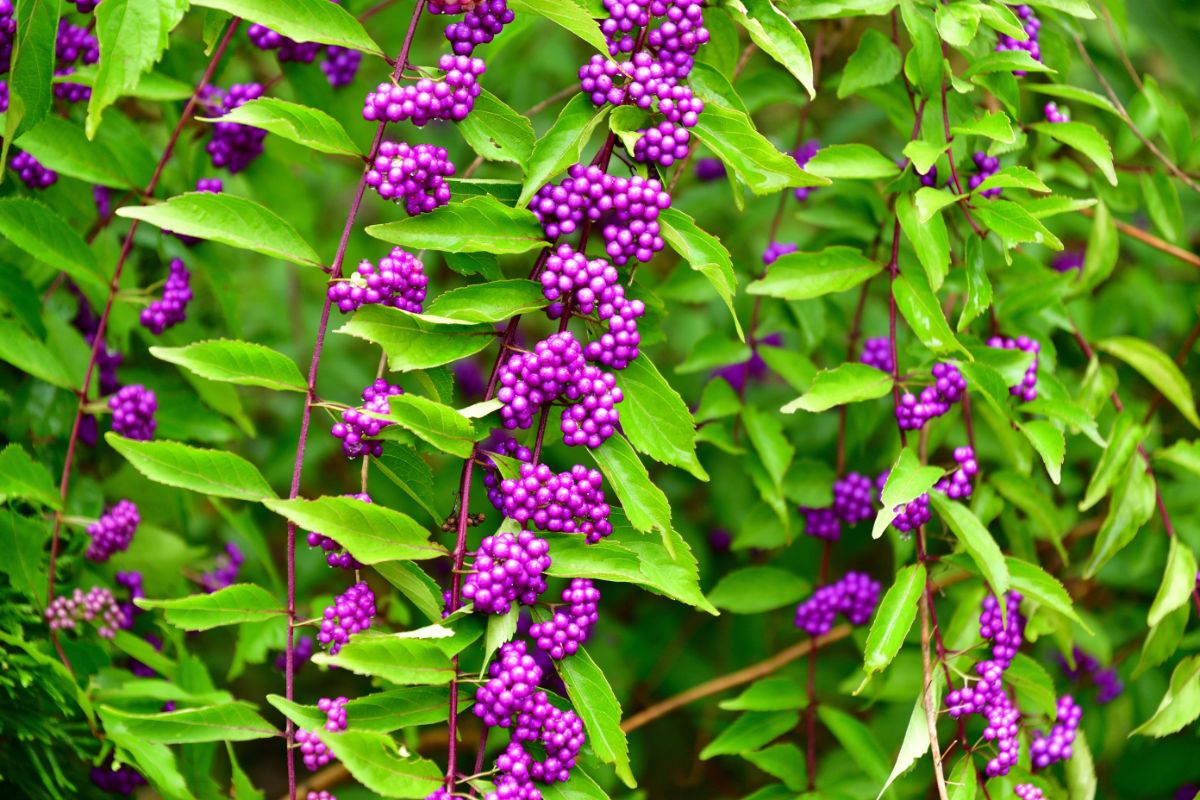 An eye-pleasing shrub, the Japenese Beautyberry provides clusters of vibrant purple berries that bloom throughout spring. The Japenese Beautyberry also wards off mosquitoes, ants, and ticks with chemicals found in its leaves. Great for outdoor patio areas and backyard oasis.
A low-maintenance shrub, the Japanese Beautyberry makes an excellent choice of drought-resistant shrubs for your next landscaping project.
14. Lantana (Lantana Camara)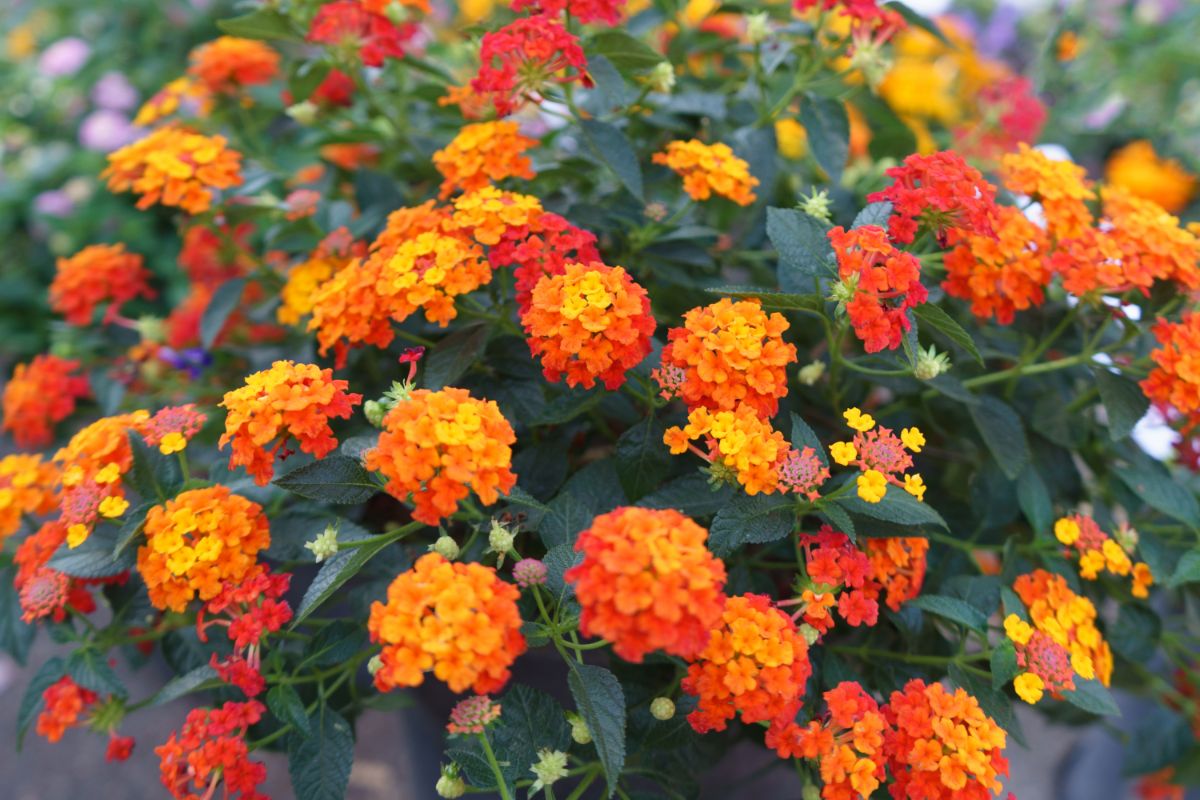 These easy-to-maintain shrubs offer a vine-like appearance and can be commonly used as ground cover in flowerbeds or hanging baskets. The Lantana shrub produces small clusters of brightly colored followers that come in many varieties including white, yellow, orange, purple, pink, red, or blue to suit your color scheme
The Lantana is a very fragrant plant that attracts many butterflies to your garden. It can be planted anytime during the year as a perennial and is sure to add color to any flowerbed.
15. Leatherleaf Viburnum (Viburnum Ryytidophyllum)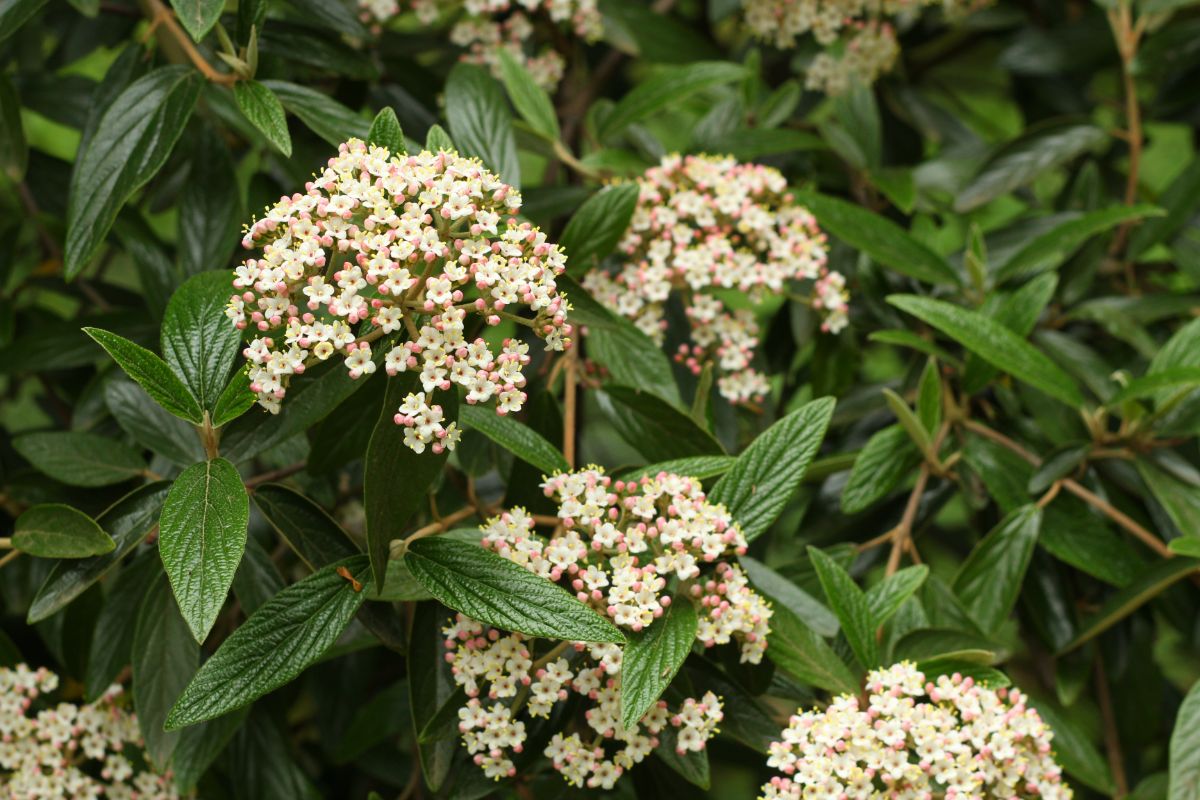 A member of the honeysuckle family, the Leatherleaf Viburnum has a variety of 12 species to choose from, depending on your soil and landscaping needs. The leaves of the Leatehrleaf are dark green and thick with hair underneath.
This drought-resistant shrub is enjoyed by various species of birds who love feasting on its colorful red berries. It is also a very eye-pleasing shrub enjoyed by many gardeners looking for shade under its large leaves.
16. Mountain Lover (Paxistima Myrsinites)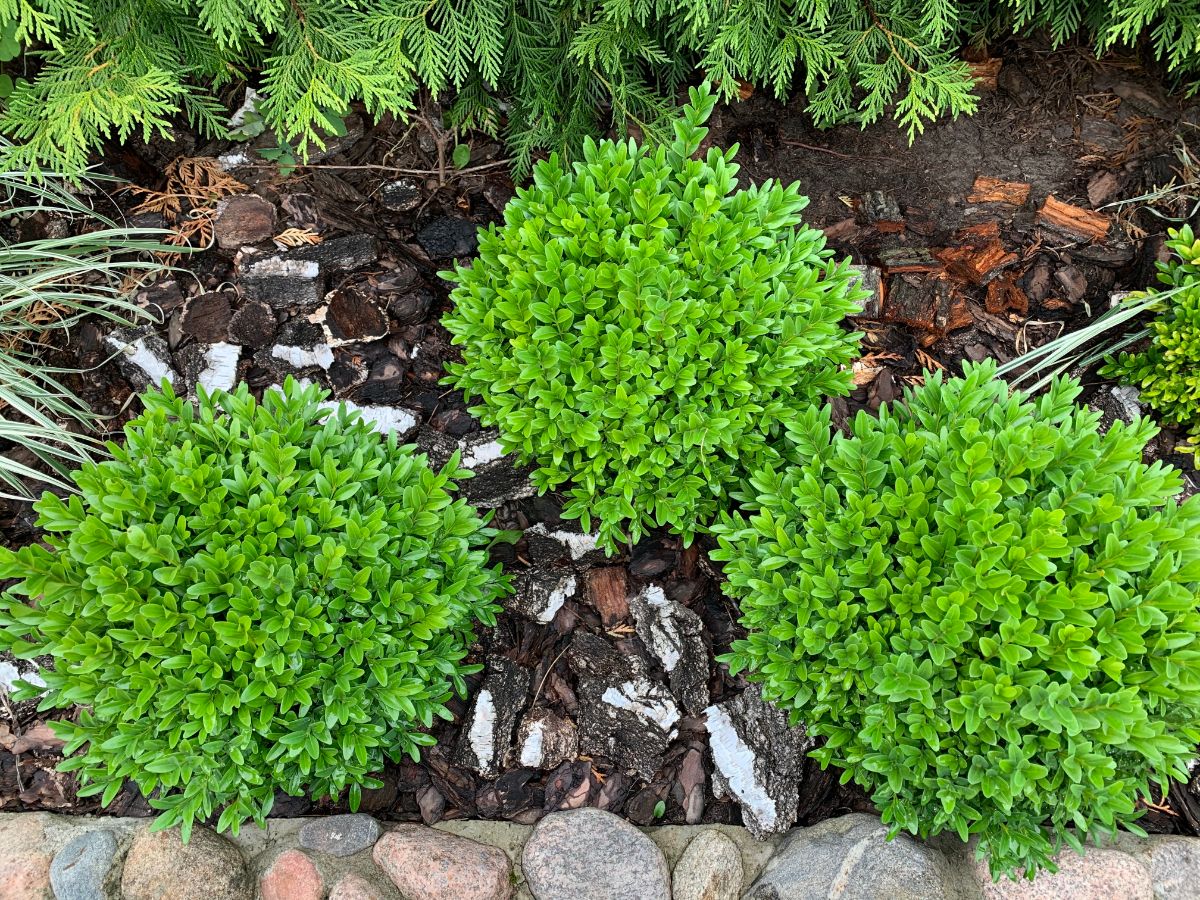 This beautiful shrub offers clusters of purple blooms at the base of its dark green leaves that stay green throughout the entire winter. The Mountain Lover spreads easily and hugs the ground. Its unique beauty provides a delicate design to your landscaping and should be used by gardeners to reap the benefits of its full effects.
Although the Mountain Lover does require some maintenance, it is a great choice for gardeners searching for drought-resistant shrubs.
17. Mountain Spray (Holodiscus Dumosus)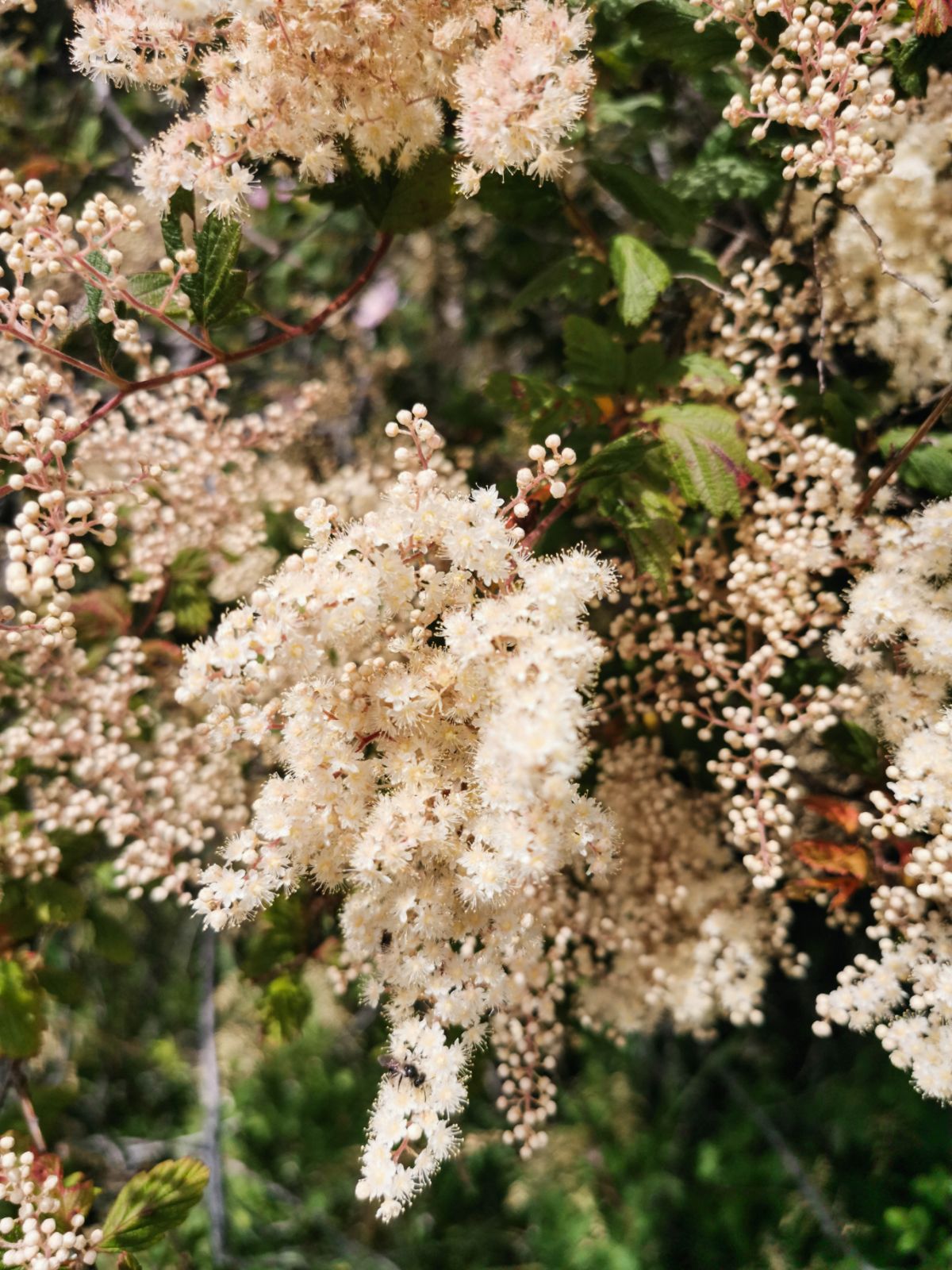 This drought-resistant shrub offers a display of white clusters of blooms from early June to the end of August. Each flower contains a seed that spread when the wind blows and produces new growth for other shrubs in the area.
The Mountain Spray spreads easily and is a great choice for gardeners looking for a drought-resistant shrub with plenty of space to contain it.
18. Purple Smoke Bush (Cotinus Coggygria)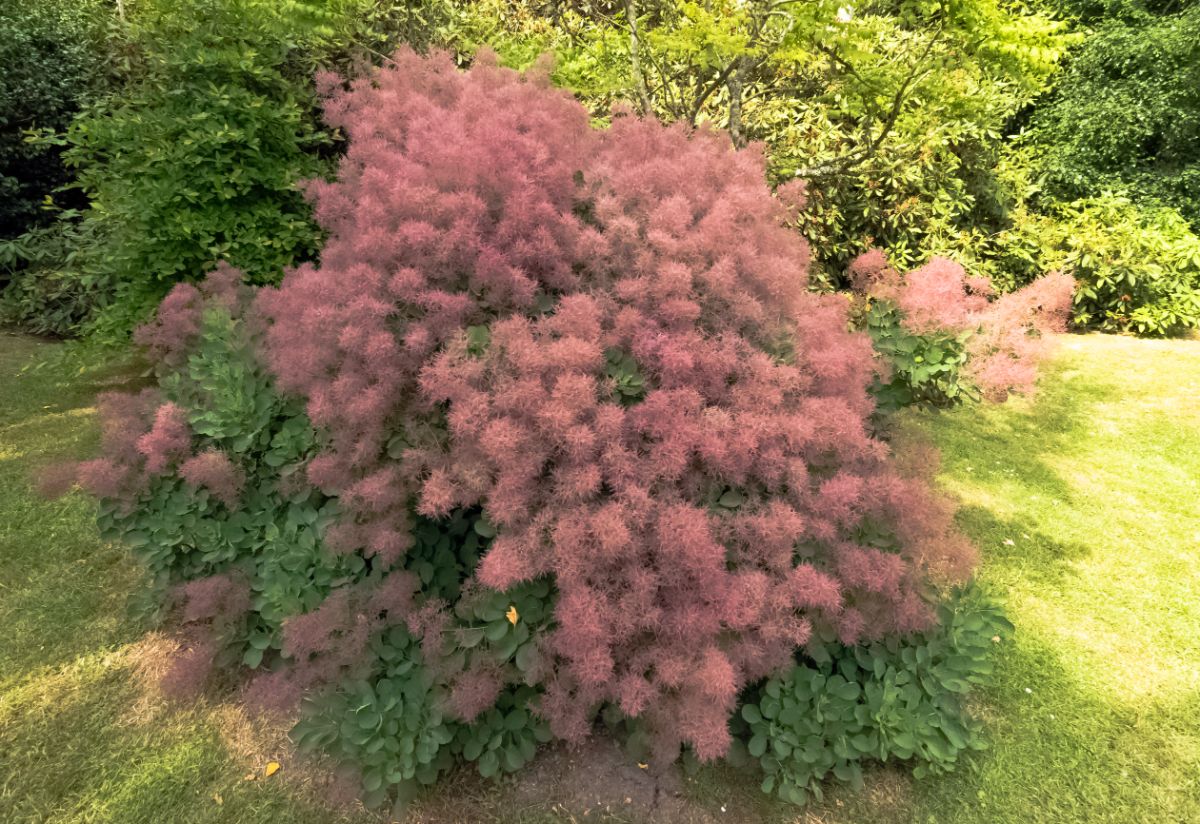 This beautiful shrub offers a vibrant display of pinkish-purple clusters of airy flowers that resemble puffs of purple smoke. The Purple Smoke Bush also changes colors in the fall and put on a colorful display of gorgeous orange, red and purple leaves.
This drought-resistant shrub belongs to the family of sumac trees and attracts honey bees. However, they don't stick around long because the nectar isn't very rich in this type of shrub. The Purple Smoke Tree is a favorite among many gardeners looking to add unique color to their landscaping projects.
19. Privet (Ligustrum)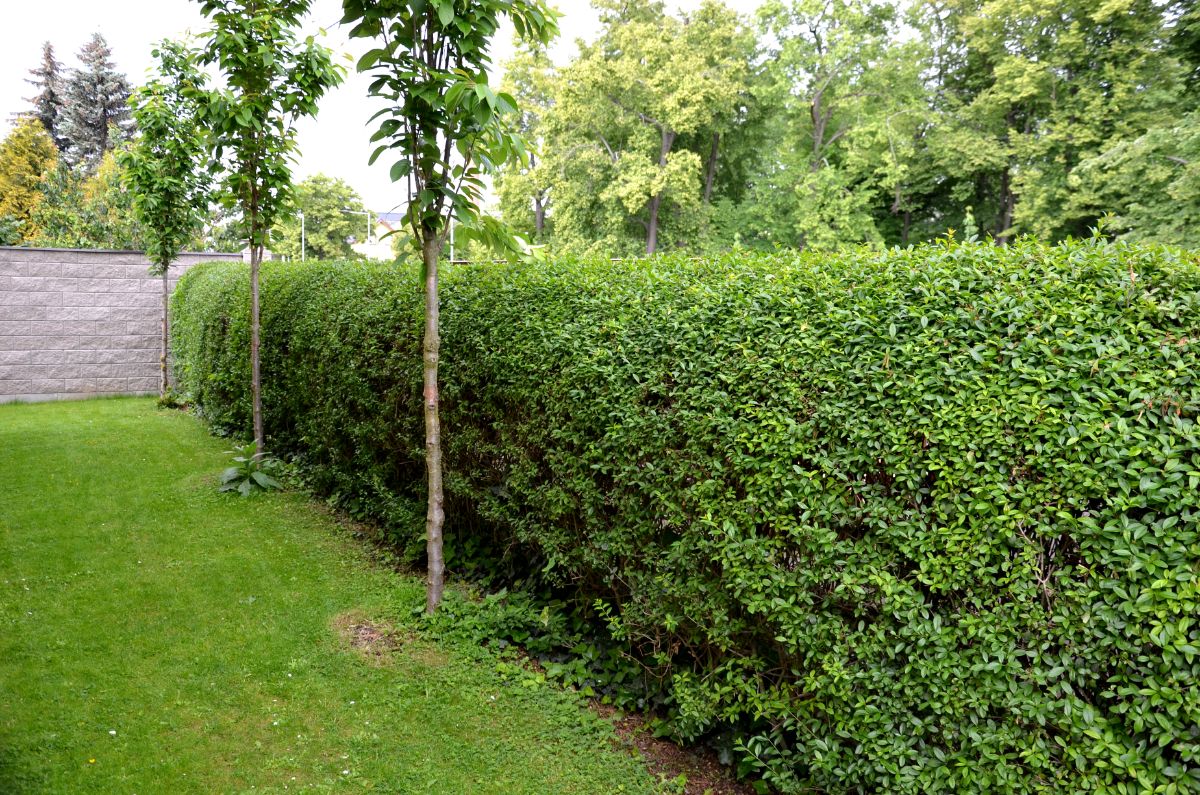 Another excellent choice of drought-resistant shrubs, the Privet makes a great hedge for your landscaping. This shrub can easily be trimmed into the design and features a cream-colored cluster of fragrant flowers.
The fragrant scent of Privet is known to attract bumblebees and wasps to your flowerbeds. After the blossoms are finished blooming, they produce black berry-like fruits that birds love to eat. An easy-to-grow shrub, the Privet is also known for taking over a garden if it is not trimmed and looked after. It can make a great addition to any landscaping project, as long as you have time to keep it trimmed and avoid over-population.
20. Red Bird of Paradise (Strelitzia Reginae)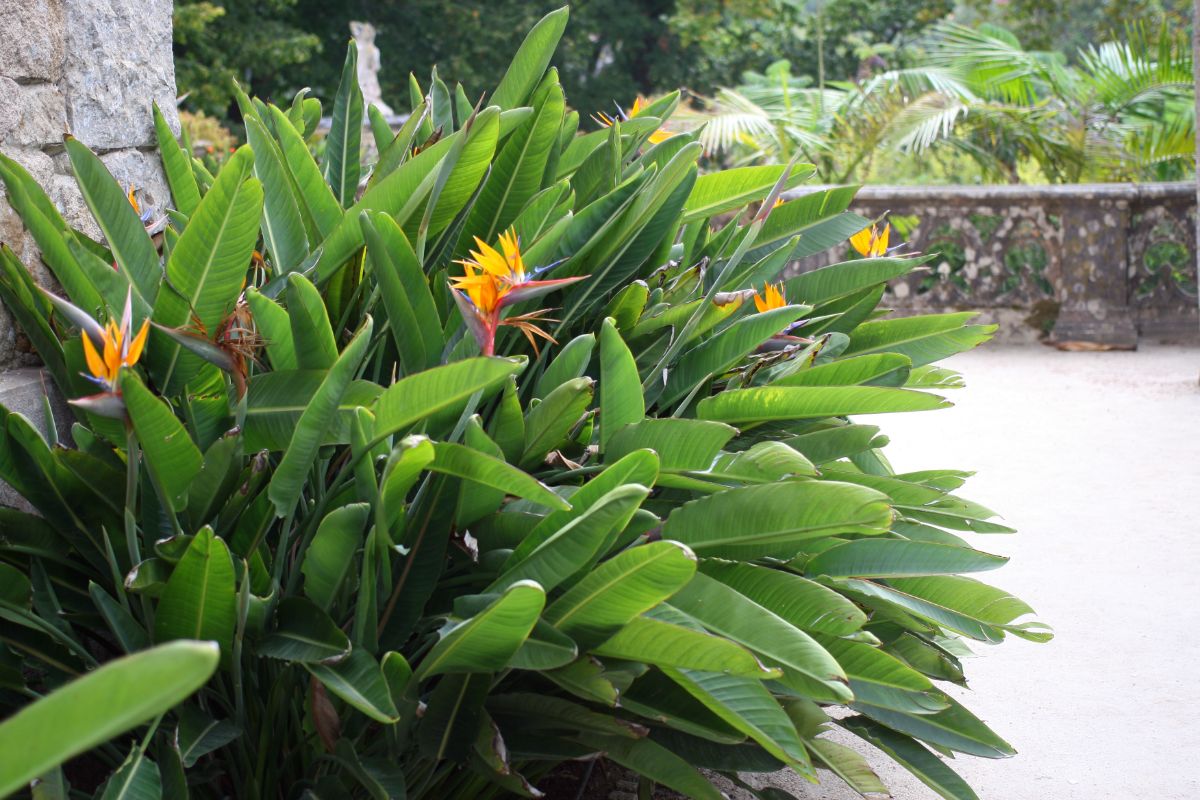 Another drought-tolerant shrub that is well-suited for dry, tropical, or desert-like locations, the Red Bird of Paradise is valued by many gardeners for its exotic blooms. The flowers of this beauty are a mixture of orange, white and blue and offer a tropical feel to any garden setting.
The Red Bird of Paradise is often used as a cut follower because of its long-lasting attributes, hardy stalks, long stems, and vibrant colors. This gorgeous shrub is also often planted on patios or close to pool areas to add visual appeal to the landscaping.
21. Russian Sage (Perovskia atriplicifolia)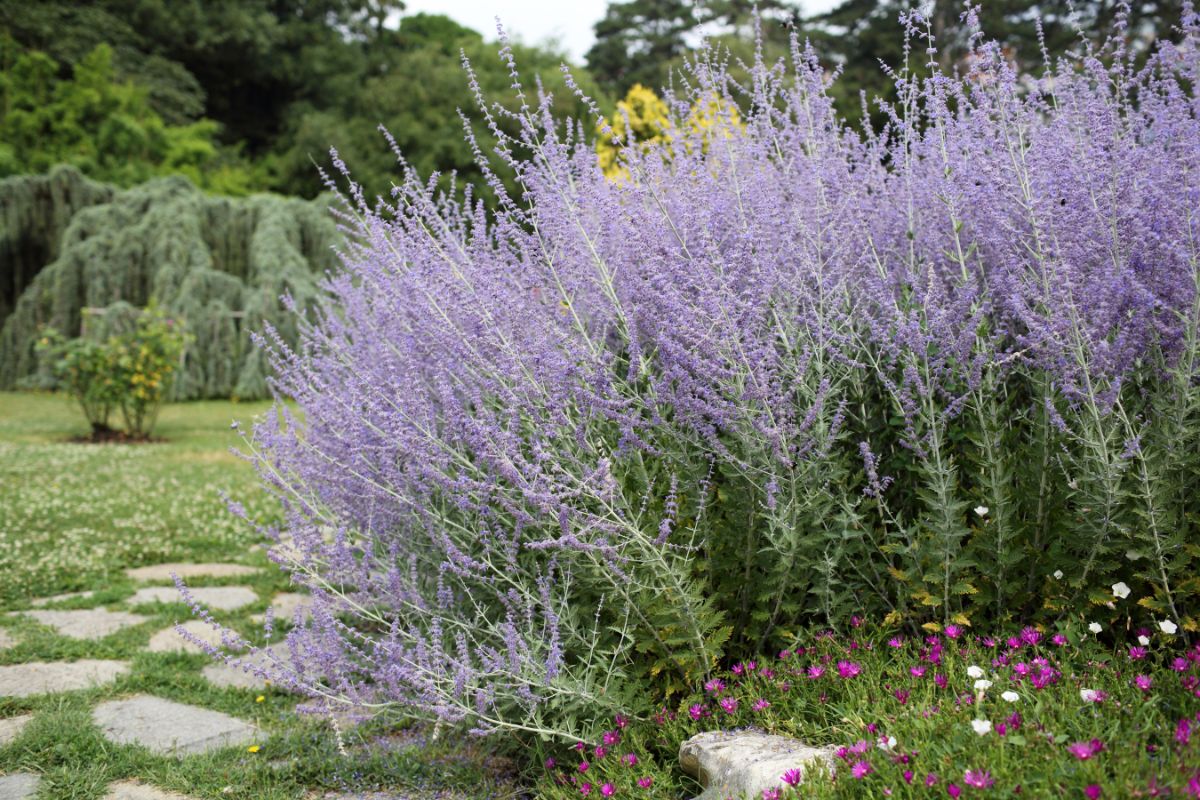 The best part about this shrub is that you can plant it, leave it alone all growing season, and watch it grow. The Russian Sage is one of the easiest drought-resistant plants to grow. They thrive in a source of well-drained soil and full sun.
The Russian Sage is a popular choice for many gardeners because it is so resilient and it is also attractive with its beautiful foliage of silver and grey and its lavender blooms that last all summer until the first frost of fall. This wonderful shrub also has a nice aroma to it.
22. Shrubby Cinquefoil (Potentilla Fruticosa)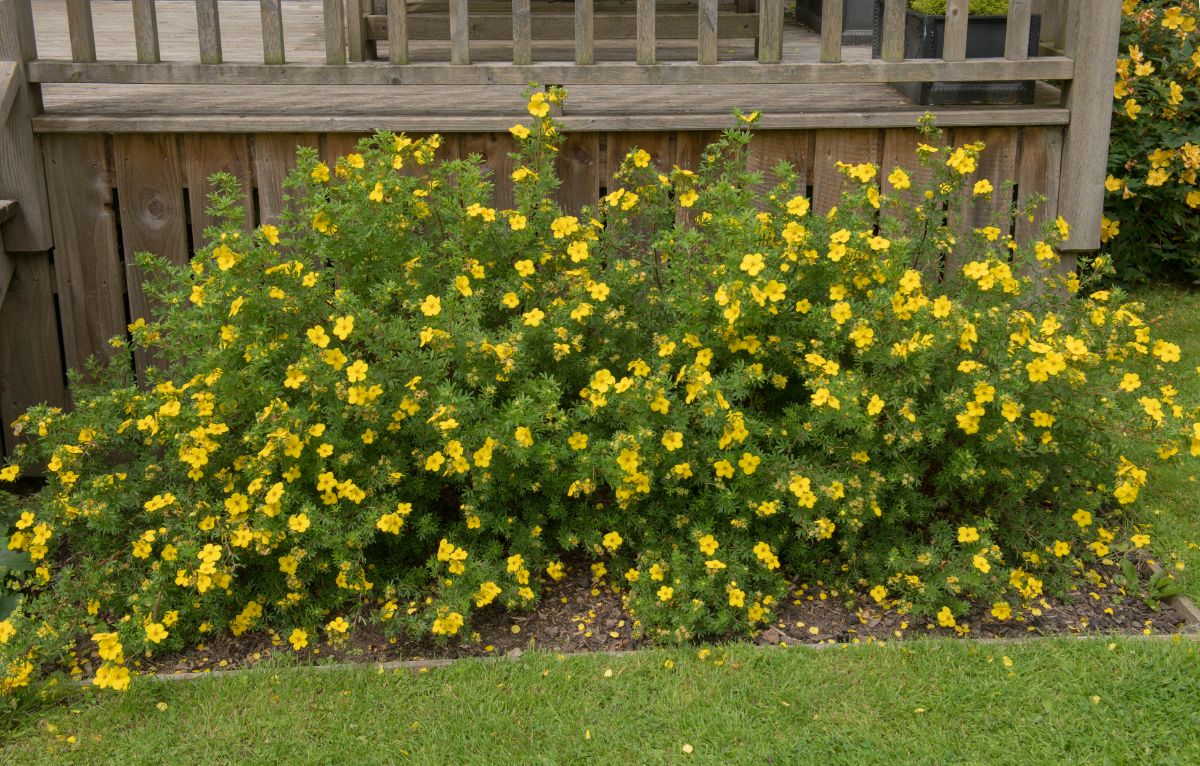 This shrub is a much-loved drought-resistant plant that offers vibrant blooms that resemble strawberry blossoms. However, the Shrubby Cinquefoil comes in blossoms ranging from pink, white, peach, orange, and yellow, whereas strawberry blossoms are white.
These gorgeous shrubs have finely textured bright green leaves and produce small edible fruit that resembles the strawberry. They can be planted along walkways in combination with other small trees or shrubs. They can also be used in flowerbeds for borders.
23. Virginia Sweetspire (Itea Virginia)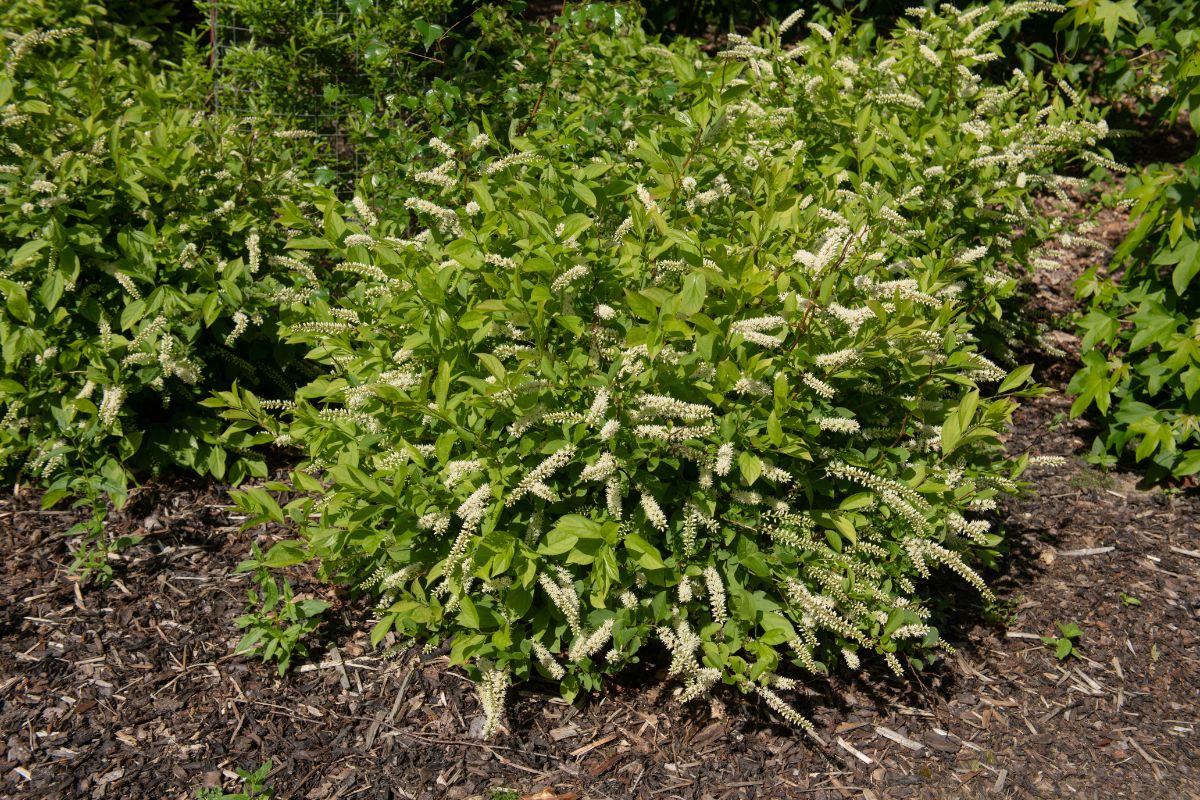 This shrub can grow in many conditions, including well-drained soil, and wet or even dry clay-like soil. The Virginia Sweetspire tolerates drought and can withstand dry conditions throughout the growing season.
Small white flowers cover the shrub from late spring to summer. The Virginia Sweetspire maintains its beauty well into the fall when its leaves turn shades of golden, orange, and red, attracting many to their beauty.
24. Winter Jasmine (​Jasminum Nudsiflorum)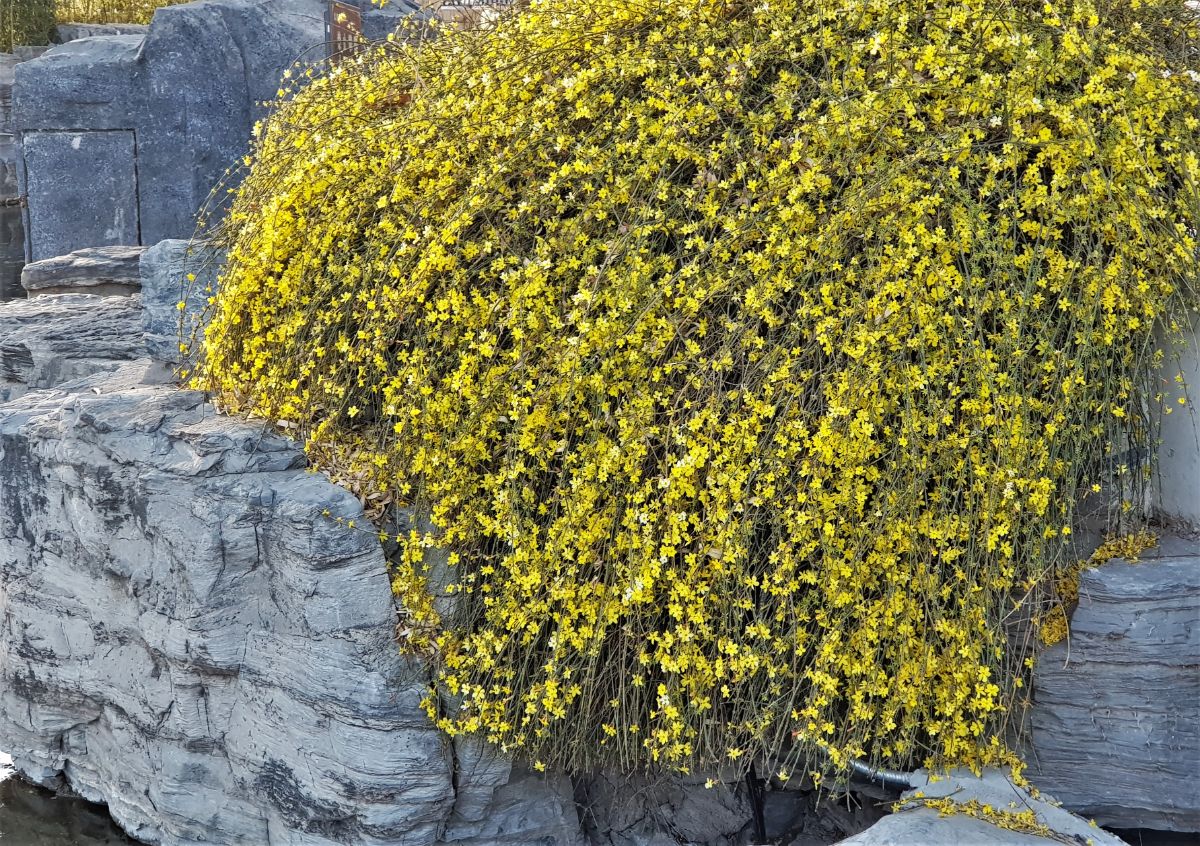 One of the earliest shrubs to bloom, the Winter Jasmine often begins to blossom in January.
Its butter-colored blooms give hope to gardeners that the spring growing season is in sight. The Winter Jasmine is a low-maintenance shrub that has absolutely no scent as one might expect because of its name. It is a great option for allergy sufferers to enjoy the winter blooms.
Winter Jasmine comes from the Olive family and it was discovered in 1844 in Shanghai, China. It is now a popular alternative for many gardeners seeking a drought-friendly option for their landscaping projects.
25. Witch Hazel (Hamamelis Virginiana)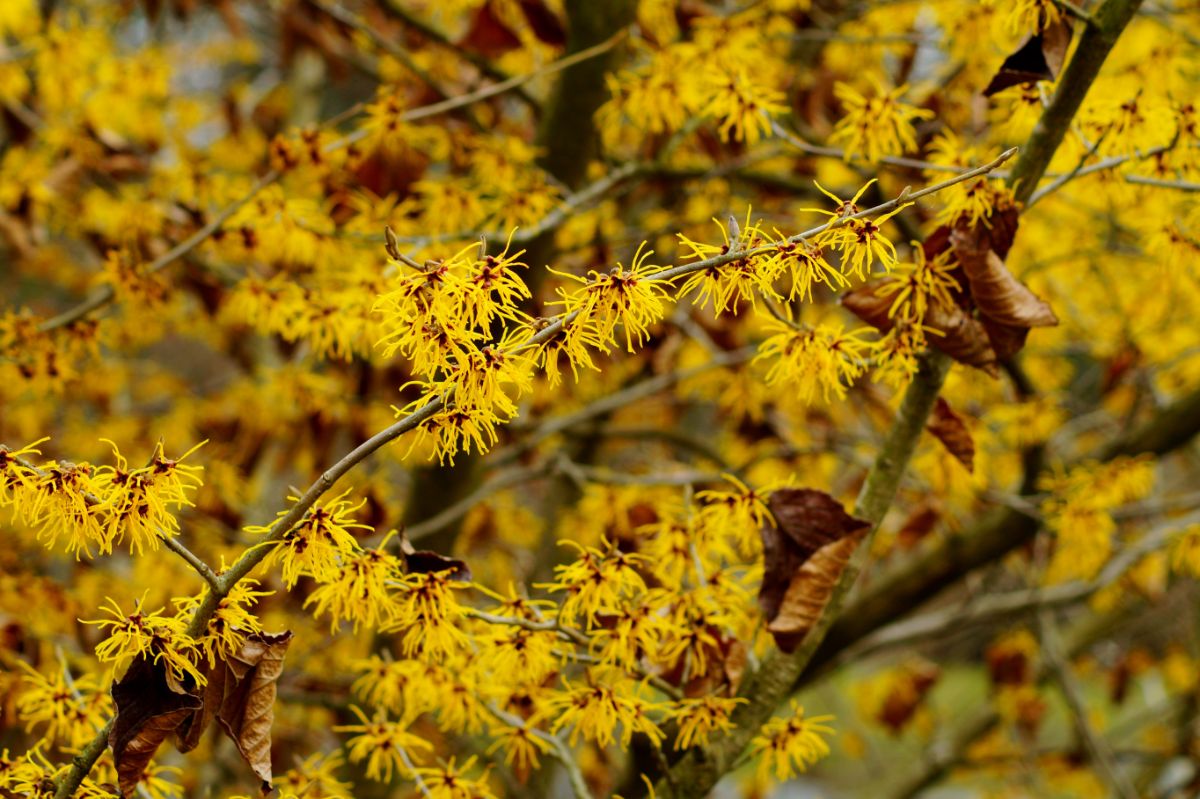 A great option for a drought-tolerant shrub, Hazel is a popular choice among gardeners alike. It offers many benefits such as disease and pest-tolerant, and beautiful late autumn to winter blooms.
Not only is Witch Hazel drought-resistant and makes a great addition to your landscaping, but it also has many other uses including using the dried leaves for medicine. Witch hazel is edible and can be used for many ailments such as preventing colds and fevers, the treatment of cancer, and preventing diarrhea among other uses.
Final Thoughts
After discovering 25 of the best drought-tolerating shrubs, finding the perfect shrub to suit your landscaping needs doesn't have to be such a daunting task.
Whether you're looking for an entire garden of drought-resistant plants that allows you to have a maintenance-free landscape. Or, you're hoping to have a worry-free garden that lets you escape away for the weekend without the fear of losing your entire garden.
No worries, there's a solution for everyone with a vast selection of drought-free shrubs to choose from that will let you enjoy free time without so much as worrying about watering your garden. Instead, relax in your new worry-free backyard oasis.