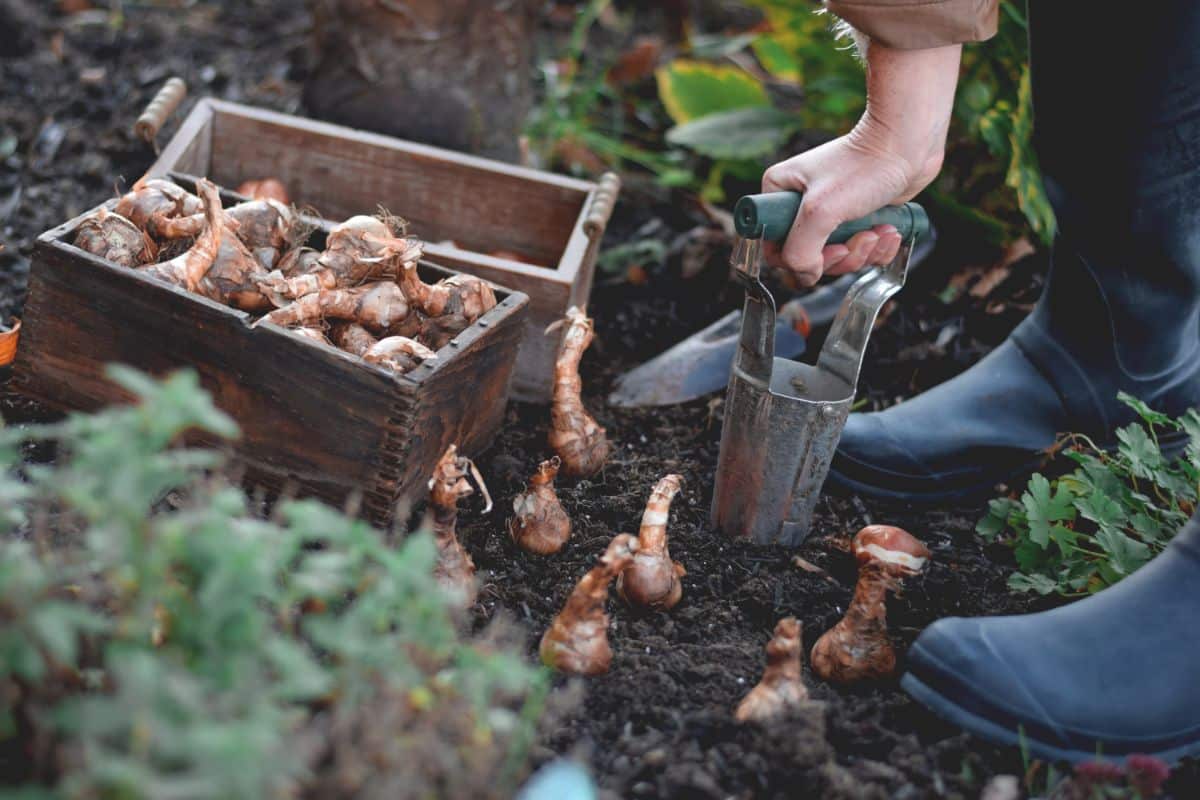 Plant spring bulbs in the fall so you can have the earliest flowers. you can be cutting your own bouquets as soon as winter exits (sometimes, in some places, even when you're still enduring a snowstorm or two!).
Fall is the best time to plant spring blooming bulbs. From tulips to daffodils, there are plenty of colorful blooms to choose from, but if you're in need of some inspiration for your spring garden, check out this guide. We've compiled our favorite bulbs to plant in autumn for lots of spring color!
Jump to:
21 top bulbs to plant in fall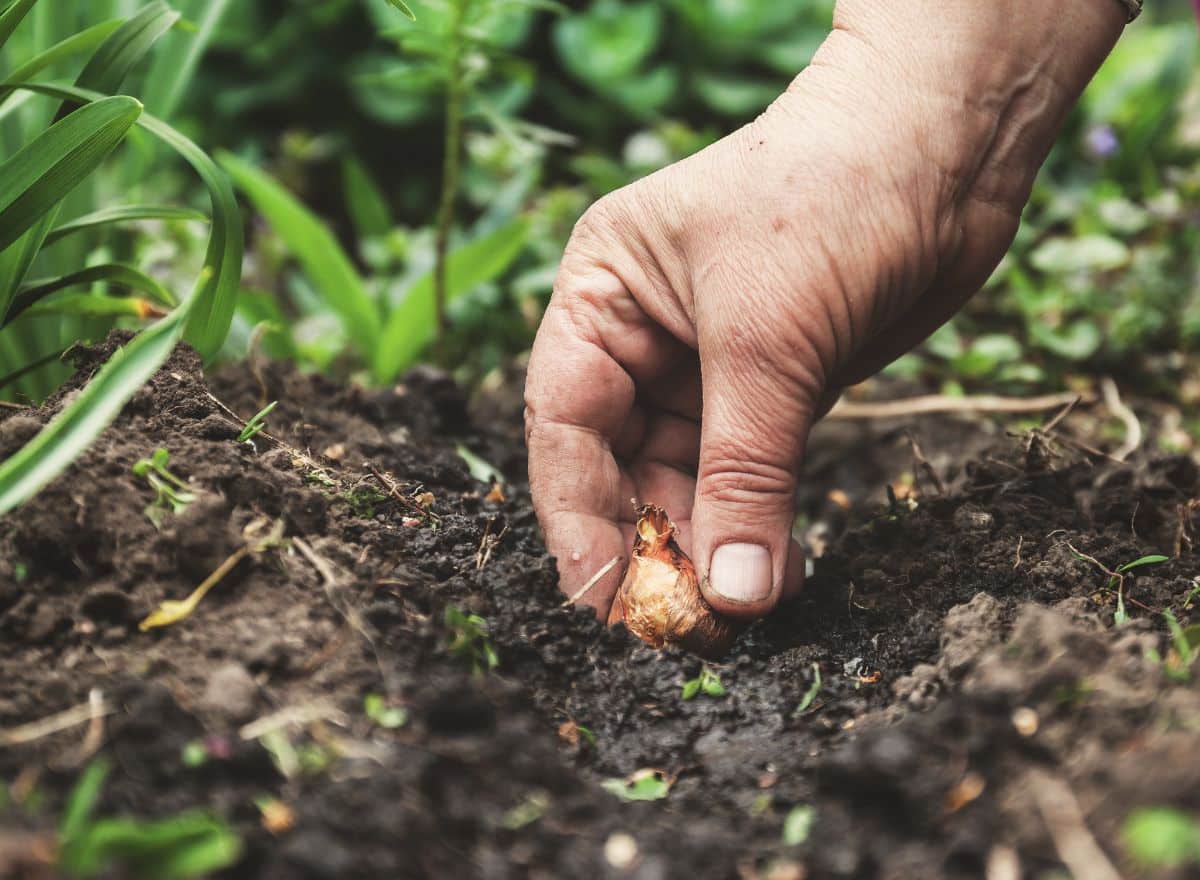 Certain bulb varieties, like dahlias and gladiolus, are best planted in spring as they're not cold hardy. However, for best results, most spring-blooming bulbs should be planted in fall. It's essential for bulbs that require a period of cold stratification (that is to say, basically, that they experience a month or more of cold winter temperatures). It's in their nature!
Plant fall bulbs while the ground is still workable in the autumn. For cooler areas that can mean timing your bulb planting for September to October, although in warmer regions, bulbs can be planted well into November and December.
In the following list, we've included our favorite bulbs for fall planting. Some of the bulbs we've chosen are classic choices, but we've also added some lesser known bulbs to this list for more adventurous growers.
No matter your skill level, garden type and outdoor aesthetic, we know you'll find the perfect bulb for you!
A Note About Fall Bulbs and Spring Blooming Bulbs
Note: Just to clear up any confusion, when people say "fall bulbs" or "spring-blooming bulbs", they're talking about the same thing!
Bulbs that bloom in the spring need to be in the ground in the fall so they go through their natural cold stratification process. It's also so they grow some roots and can get the earliest possible start when the winter thaw breaks.
They may be referred to as "fall bulbs" because they are planted in the fall, or they may be called "spring blooming bulbs" because they bloom in the spring. Bulbs that are do not overwinter well are usually called spring bulbs because they should be planted in the spring (these will bloom in the summer).
1. Crocuses (Crocus spp.)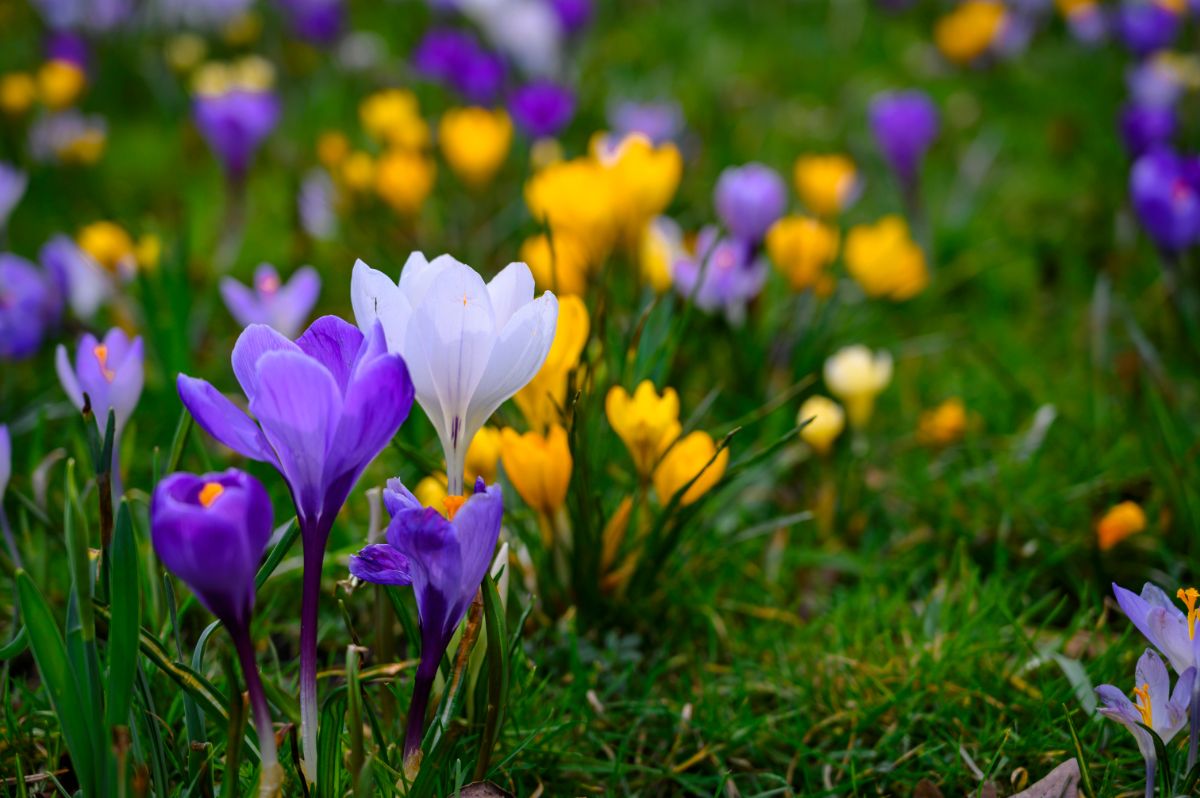 One of the first flowers to bloom in springtime, crocuses are cheery little plants with cup-shaped flowers in yellow, white, purple and striped variations. Low growing, crocuses max out at about 4 to 6" high and are an important food source for early emerging pollinators.
Crocus corms (the plant's tuberous underground stem) are easy to come by at local nurseries and big box stores, but you can also order them online. Aim to have your crocus corms planted in autumn, about 6 to 8 weeks before the first hard frost is expected and when soil temperatures are below 60°F. This ranges from September to November, depending on your growing region.
2. Daffodils (Narcissus spp.)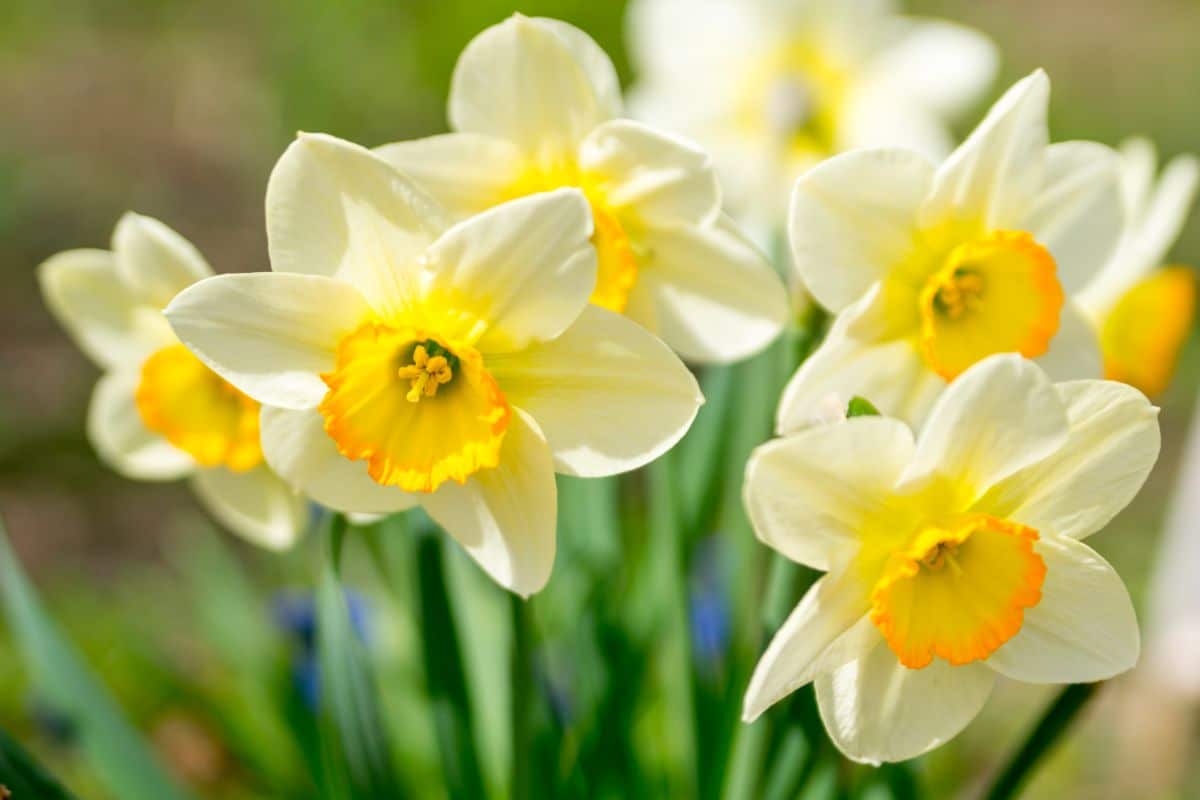 Another colorful spring-bloomer, daffodils are known for their bright yellow, trumpet-shaped flowers, but they come in other colors too, including white and orange. Gorgeous when planted in large drifts as a groundcover, daffodils produce flowers readily for lots of springtime color. They also make excellent cut flowers too if you're interested in bouquet crafting.
One type of daffodil, known as jonquils, are particularly popular. They offer smaller blooms and naturalize beautifully into garden beds and landscapes.
Naturally resistant to most pests, daffodils are an easy plant to grow. Just plant them in fall, between September to November, depending on your growing region.
3. Tulips (Tulipa spp.)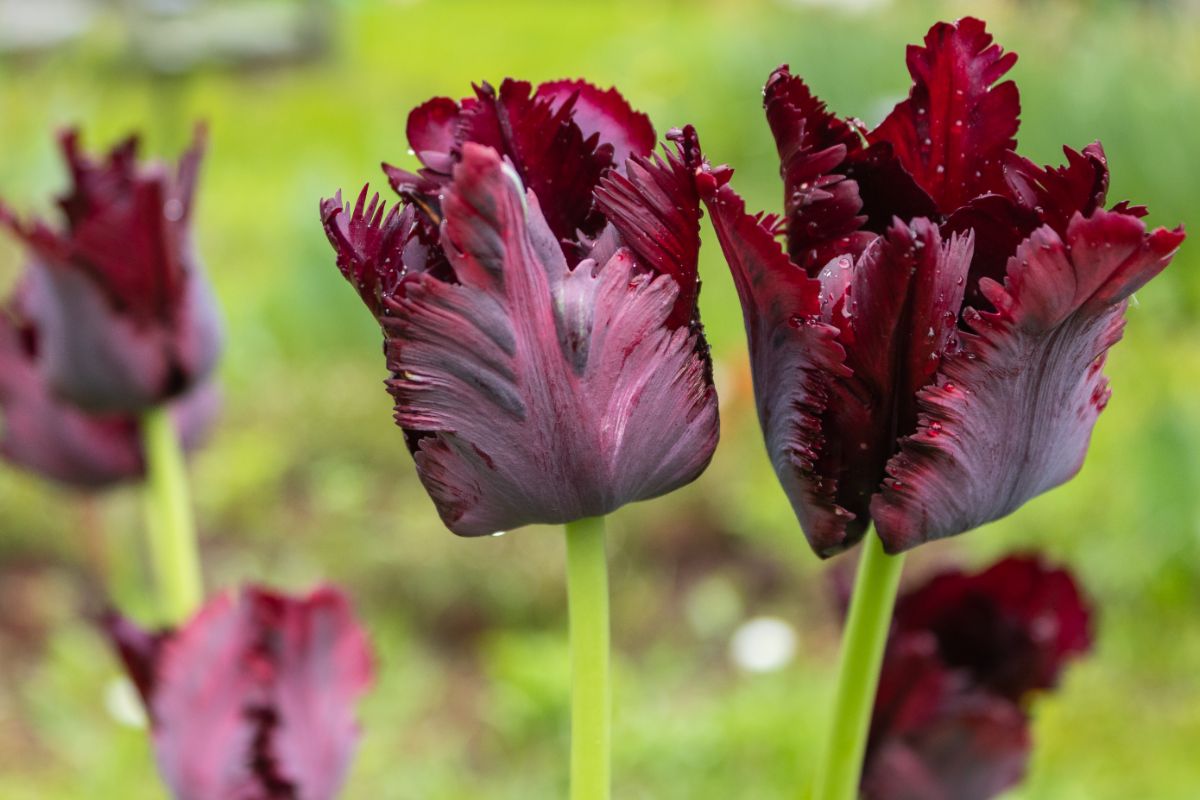 If you like color, plant some tulips. These vibrant flowers come in almost every color imaginable, from white to pink to black, so you're sure to find tulips to perfectly match your home's aesthetics. Tulips' big blooms are sure to impress in any garden bed or container planting, and they work wonderfully for cut flower arrangements too.
Spring bloomers, tulips are best planted in fall as long as the soil is workable, which is between September to December for most locations. Plant lots of tulip bulbs together for eye-catching color, or sow bulbs singly to tell a color story throughout your outdoor space.
Just remember that many gardeners treat tulips as annuals, as they are not as cold hardy as some other bulbs and critters love to eat them. Approximately 75% of tulips come back each year, so plant more tulips annually or sow them in bulb cages to keep them safe. Interplanting tulips with daffodils may help keep garden pests away from your tulips too!
4. Snowdrops (Galanthus spp.)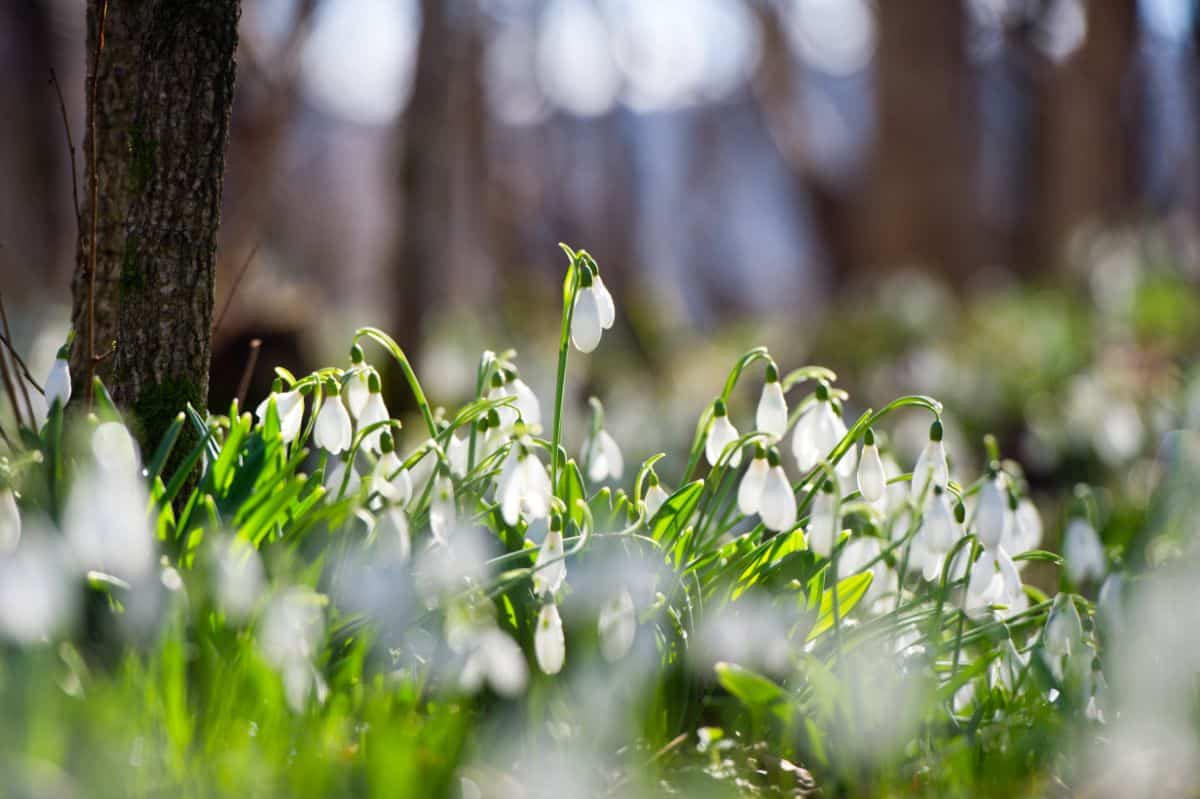 One of the earliest bulbs to bloom in spring, cold-hardy snowdrops can flower in late February, with blossoms even popping up through the snow! An important food source of early emerging pollinators, snowdrops look particularly pretty when planted in drifts, where their delicate, bell-shaped flowers look like something straight from a fairytale.
Adaptable bulbs, snowdrops can thrive in full sun to part shade. They are also pest-resistant, so they're a great choice if you have bulb-munching rodents in your garden. Snowdrops do like a bit more moisture than some other bulbs though, so try amending soil with a bit of compost when planting them.
Like crocuses, snowdrops work very nicely for planting in your grass too. Since they bloom so early, they'll be done flowering well before it's time to cut your grass in spring.
5. Hyacinth (Hyacinthus spp.)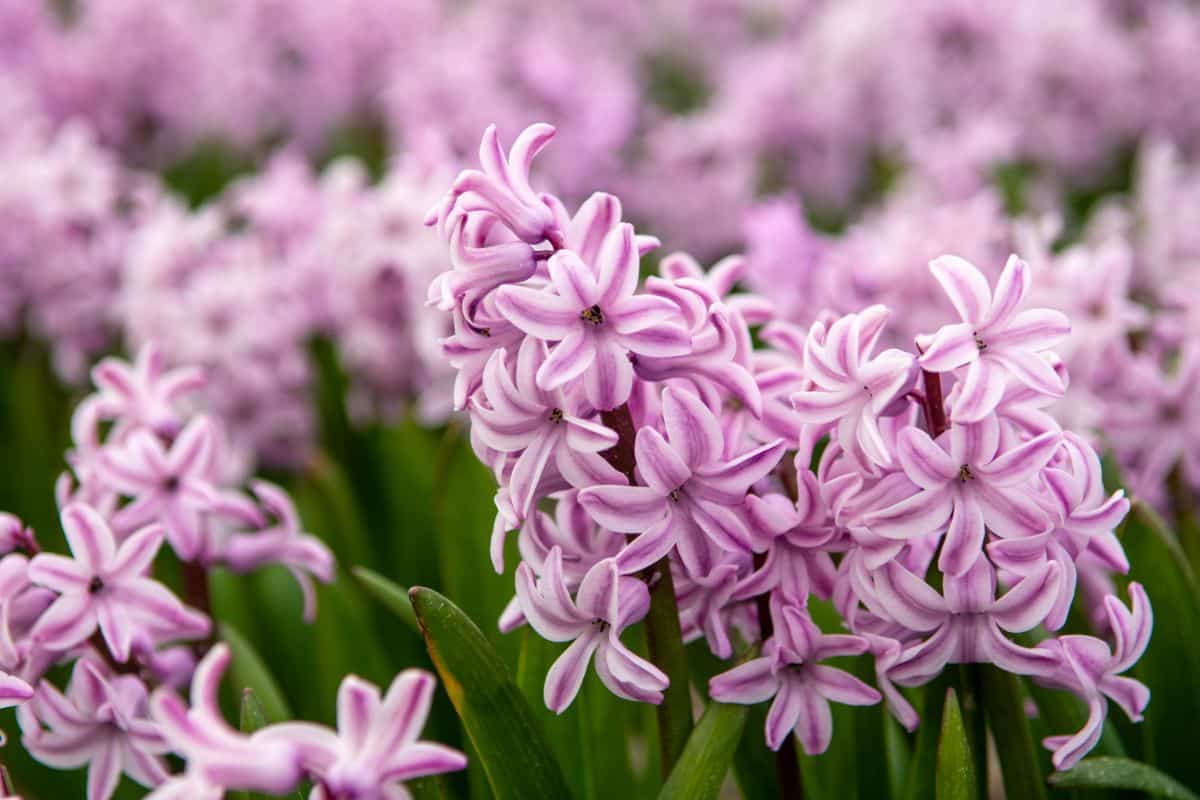 Hyacinths bloom around the same time as tulips and daffodils, so they make a perfect addition to springtime bouquets. Small flowers appear in tight clusters on upright spires with blooms coming in a range of hues, including white, pink and purple.
Although hyacinths are much loved for their pretty flowers, their true fame comes from their sweet and distinct fragrance. For that perfect springtime feel, try planting hyacinth bulbs beside your door to truly appreciate the charming aroma.
Hyacinth blooms tend to get smaller over time, so you may want to plant new bulbs every few years. Adding an annual addition of compost to your bulb beds can help keep your flowers looking their best too!
6. Grape hyacinth (Muscari armeniacum)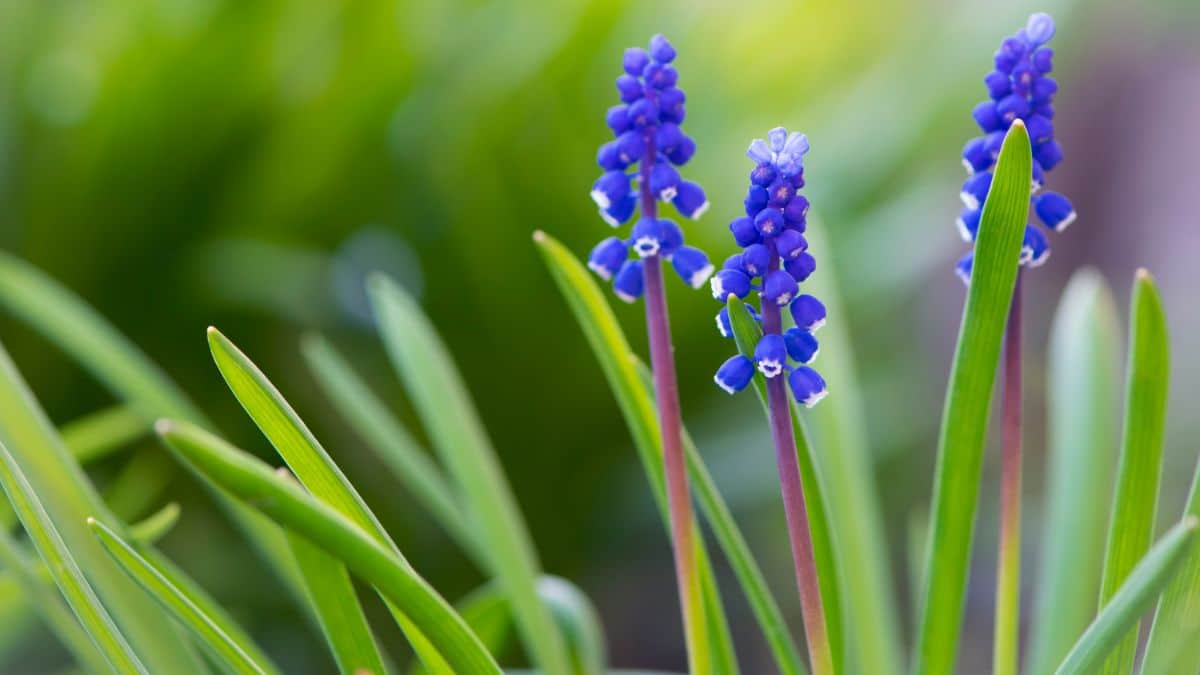 Despite its name, grape hyacinth is not a true hyacinth at all, but is actually a member of the Lily family. A low-growing plant, grape hyacinth boasts clumps of slender, grass-like foliage accentuated by small spires of rounded and clustered purple flowers that look a bit like grapes. Flowers can come in other colors too, including white, yellow and pink.
With similar care requirements to hyacinths, grape hyacinths look very fetching when planted in tight drifts; however, they're perfect for planting in your lawn too. An early springtime bloomer, flowers will fade before you need to cut your grass!
7. Alliums (Allium spp.)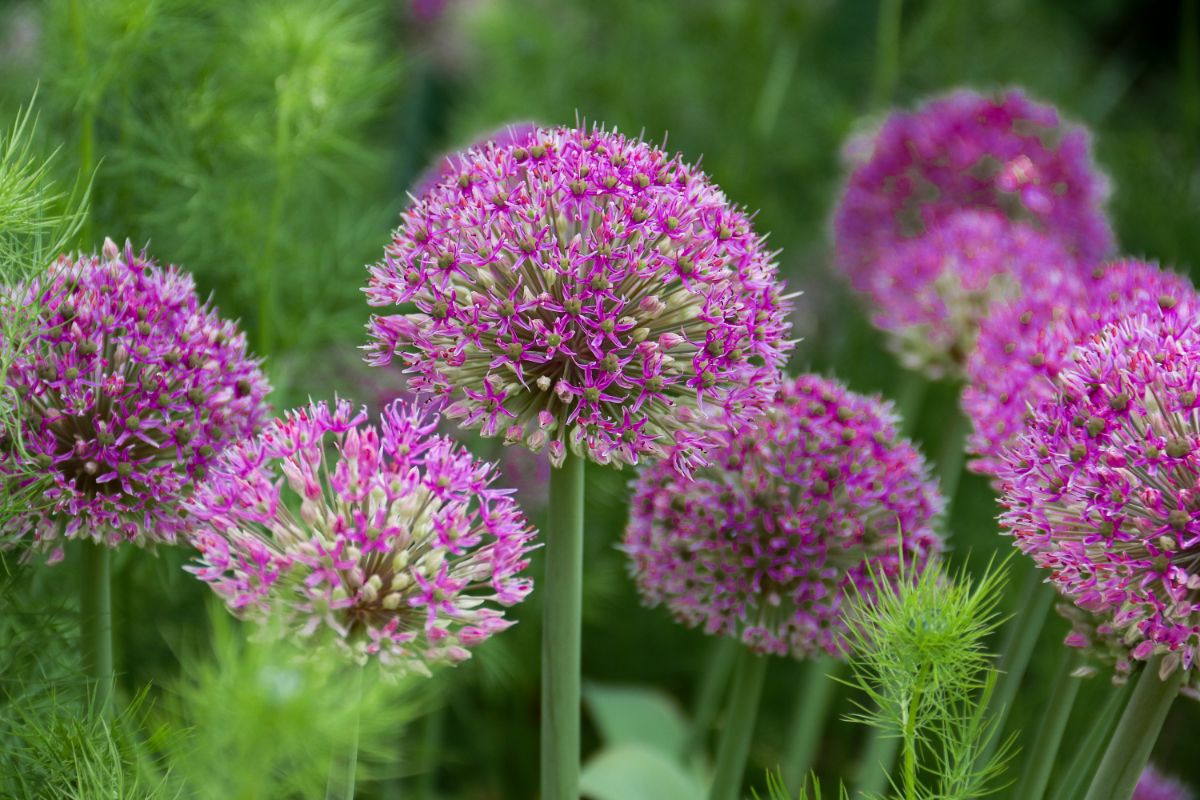 For a fun, unique look, alliums are some of the best bulbs to plant. Related to culinary onions, ornamental alliums come in a range of sizes and feature perfect, orb-shaped blooms in purples, blues, yellows, pinks and white.
Ideal for cut flower gardens, allium flowers dry well too for preserved displays. However, one of the top reasons to plant alliums is that bees and other pollinators adore them! In fact, alliums are so good at attracting beneficial insects that they make wonderful companion plants to increase pollination rates in veggie beds too.
If you needed more reasons to love these big and bold bloomers, alliums are naturally pest-resistant, so they'll work well even in gardens were gophers, voles and moles are active.
8. Lilies (Lilium spp.)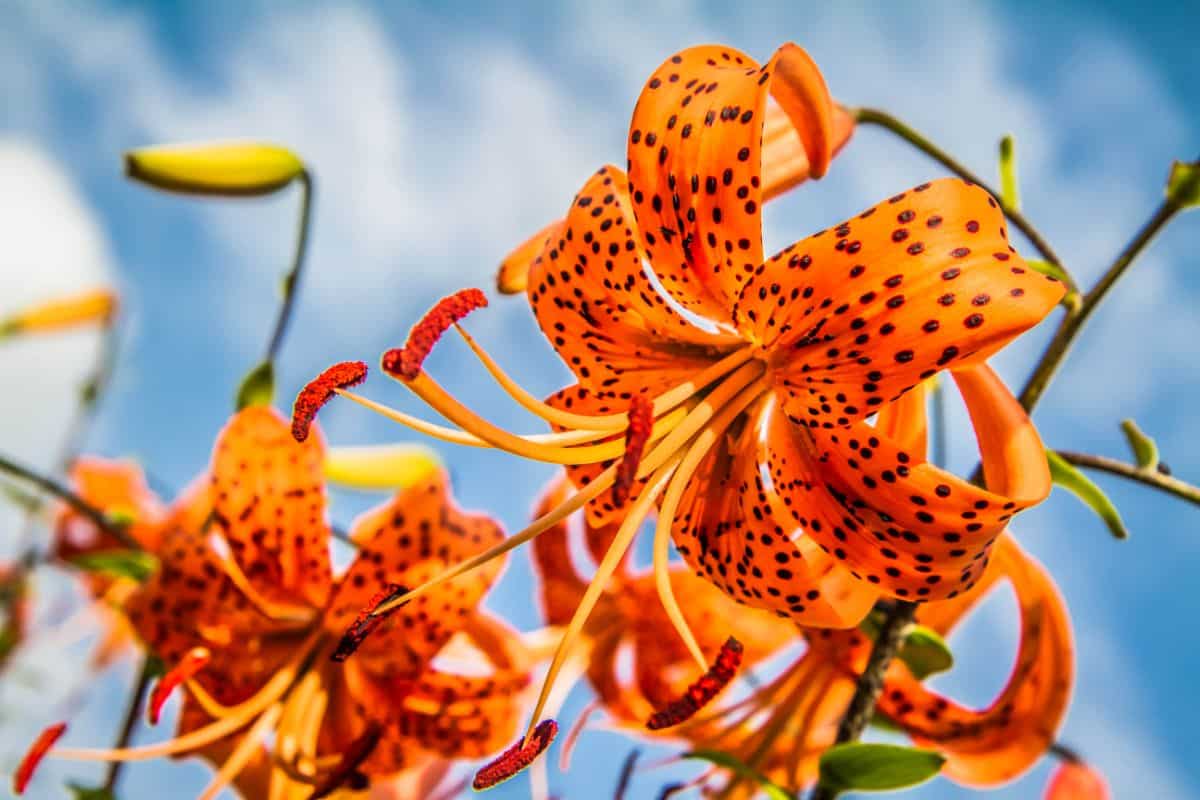 There are tons of different lilies to try in your garden, with many different colors, flower shapes and plant forms to choose from. Easter lilies, tiger lilies and 'Stargazer' lilies are all popular choices.
One of the top lily varieties among gardeners are daylilies, which are actually not true lilies at all. These adaptable plants provide gorgeous orange flowers and can adjust to shadier spots of your lawn, where other lilies won't thrive.
Lilies grow quite fast and form clumps as they mature. To keep your plants growing strong and to prevent overcrowding, remember to divide your lily plants every 2 to 3 years. Lily division is best accomplished on a cool, overcast day, several weeks before hard frost is expected.
9. Irises (Iris spp.)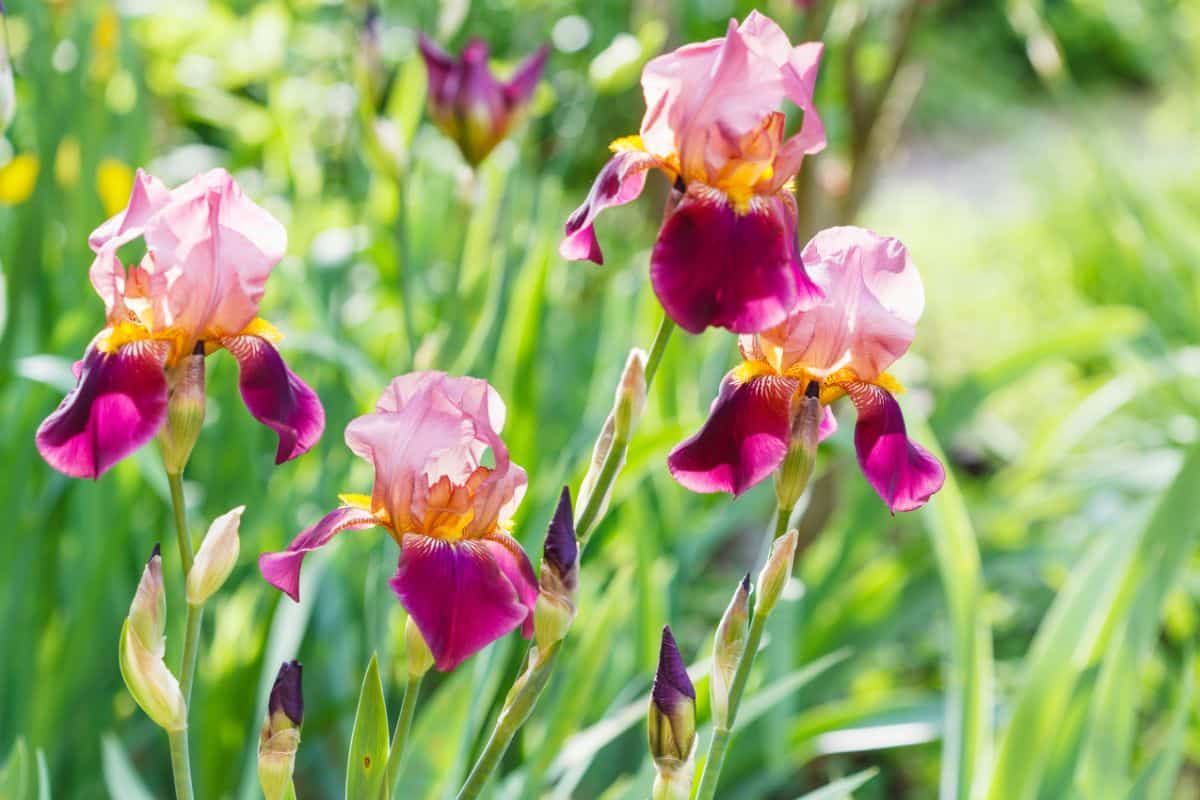 Irises are technically not bulbs, as they grow from underground rhizomes; however, they do best when planted in fall. A reliable grower, irises come in a range of sizes, from tall, bearded irises that grow to about 3' high, to dwarf varieties that stay under 1' high. Flower colors are similarly varied and include yellow, white and purple hues, among others.
A wonderful pollinator plant, irises are favored by hummingbirds and butterflies, so they're a must-have plant in pollinator gardens. Just keep in mind that they do best with well-drained soil, so amend heavy soils with sand or compost prior to planting if needed. Planting irises on sloping hillsides is also a great idea to ensure their soil is properly draining.
Blooming later in the season than many other bulbs, irises make wonderful cut flowers too!
10. Fritillaria (Fritillaria spp.)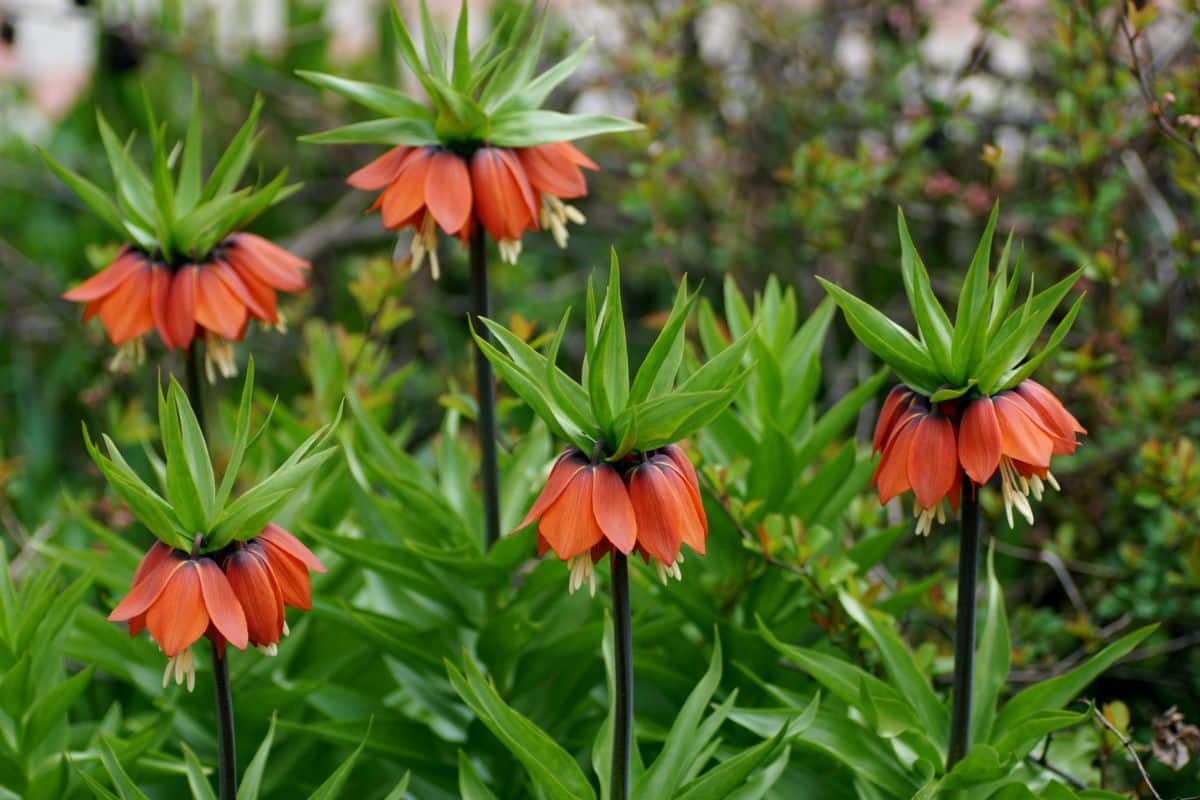 A less commonly planted bulb, fritillaria offers loads of colors and highly structured bloom forms for interesting garden bed texture. While there are a number of popular fritillaria varieties to try, some of the top picks include Fritillaria imperialis, Fritillaria meleagris and Fritillaria affinis.
A true lily, fritillaria have similar growing requirements to other lilies, but they can adapt to moist soils and partial shade too. Delicate flowers are known for their gentle nodding movement in the breeze, which can't help but delight in spring gardens. Fritillaria blooms also provide a lot of nectar and honey -- a favorite snack for solitary bees!
11. Virginia bluebells (Mertensia virginica)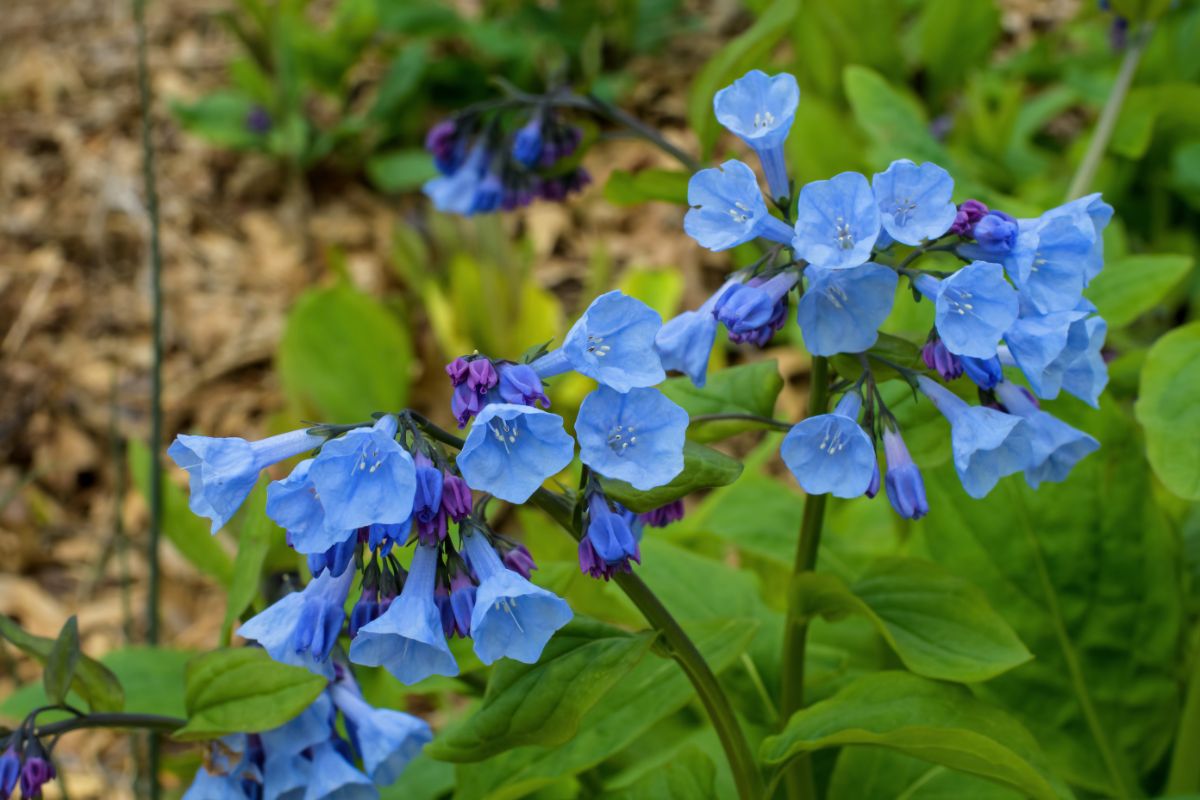 One of the best plants to choose for true blue blooms, Virginia bluebells are low maintenance flowers that can adapt to most gardens. Delicate, bell-shaped flowers emerge in early spring and die back in summer, during the plant's dormant period. Flowers bloom pink at first, but turn a vibrant blue as the blooms mature.
Naturally pest resistant, Virginia bluebells spread quite readily on their own via their underground rhizomes and their seeds. Bluebell rhizomes can be planted in spring or fall, just keep in mind that if you plant them in a sunny location, they'll need more frequent watering. Adding a layer of mulch over your bluebells can help soil conserve water better for less frequent waterings.
12. Peonies (Paeonia spp.)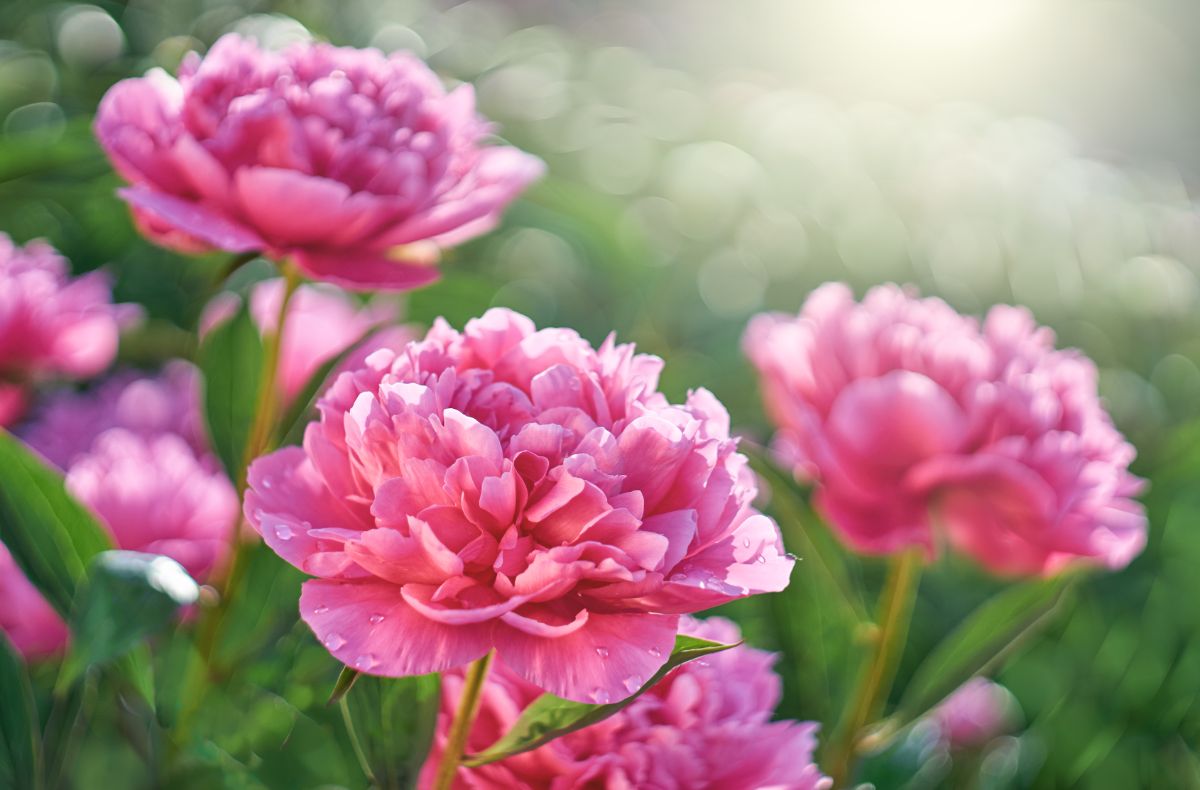 Highly feminine peonies are known for their large, frilly blooms and strong floral fragrance. Flowers work well in cut flower arrangements, but they are just stunning when left to bloom in your garden too! Flowers last quite long on their own, but to extend your peony bloom time, try planting different varieties that bloom at different parts of the growing season.
Peonies can need more maintenance than some other plants. Specifically, leaves and flowers may droop, so adding supports around your peony plants can help. Tomato cages work well, but bamboo stakes are another good choice for a more minimal, natural look that will blend in with your garden.
Peonies can also be vulnerable to powdery mildew, so proper spacing and bottom watering are key with these plants. Spraying peonies with a milk spray or copper fungicide throughout the growing season can keep mildew away too.
13. Anemones (Anemone spp.)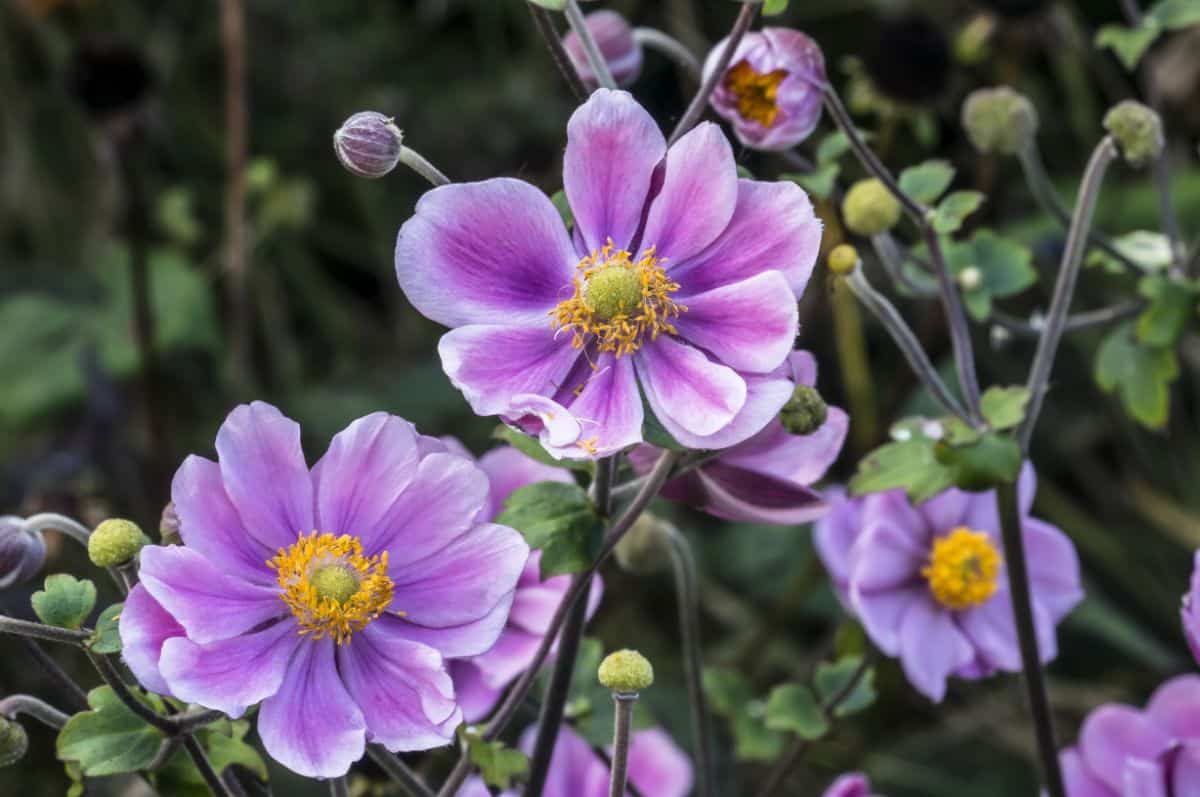 Also known as "windflowers" for the way they sway in the breeze, anemones are an often overlooked bulb, but there's so much to love about them. Delicate, poppy-like flowers come in different colors – including red, blue and white – with rounded petals emerging from a highly contrasting dark center.
Fast-growing flowers, expect fall-planted anemones to bloom the following spring. Flowers work well in cut-flower arrangements too. Extend the bloom time of your anemones by sowing different varieties for flowers that last from spring to autumn.
14. Camas (Camassia quamash)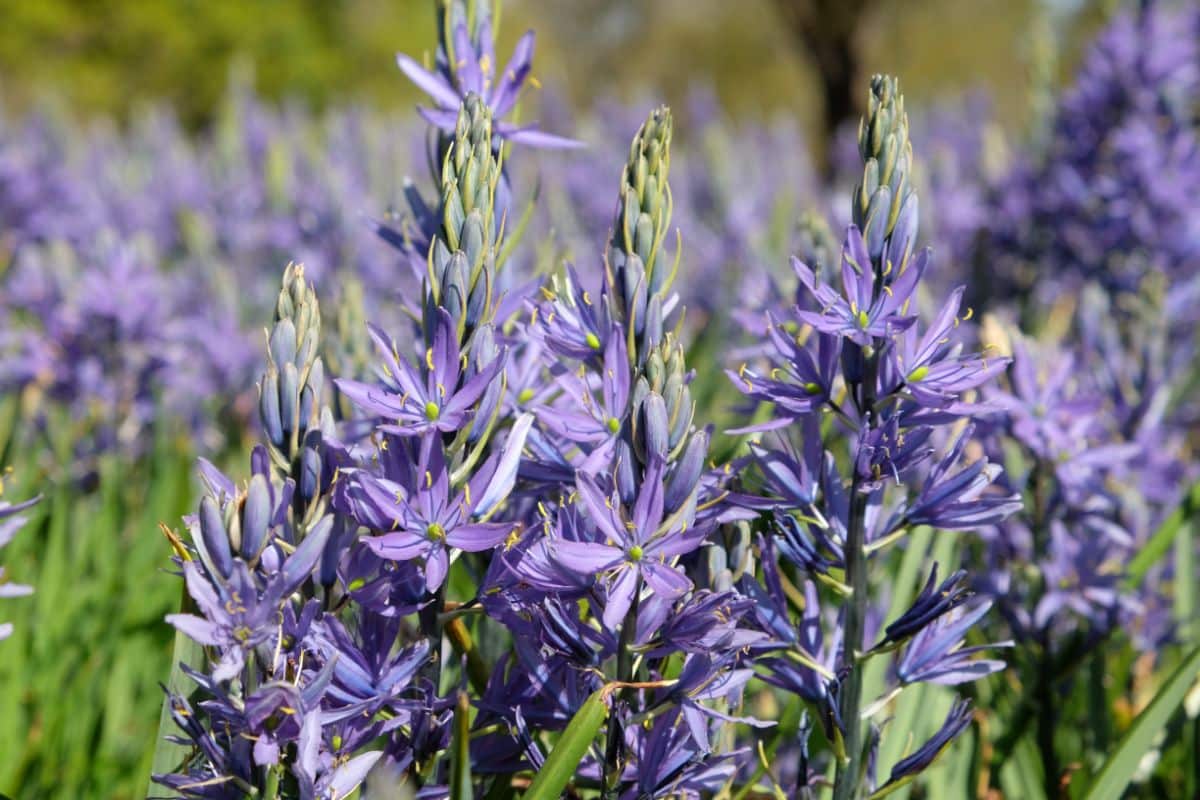 Native to the United States and Canada, camas is also known as wild hyacinth, Indian hyacinth and quamash. A favorite flower among florists, camas blooms appear in spring for a showy early season display. Blooms are airy and star-shaped on tall spires, with flowers most commonly sighted in purples and white.
Once categorized as a type of Lily, Camas is now considered to be part of the Asparagus family. Bulbs of these flowers were once an important food source for Indigenous people and were eaten both raw and cooked.
15. Glory of the snow (Chionodoxa luciliae)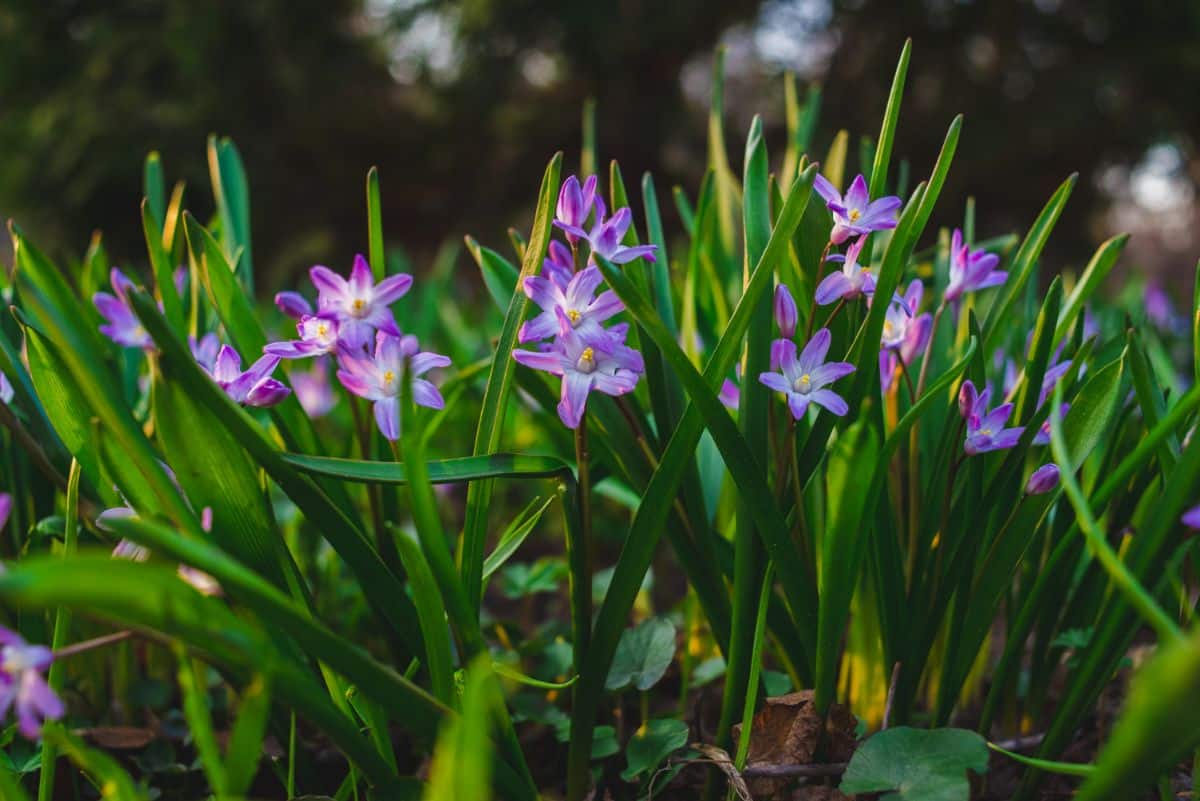 Pretty, low-growing plants, glory of the snow has grass-like leaves and small, star-shaped flowers in pink, blue, white and two-toned colorations. A very early bloomer, glory of the snow is an important food source for pollinators. Planting these bulbs under a sheltering tree can help extend bloom time too!
Once planted, glory of the snow naturalizes easily and spreads via bulb offsets and seeds. After blooming, expect your plants to die back. This is perfectly normal as your flowers enter a state of dormancy, which helps your plant conserve energy so it can bloom again next year.
16. Foxtail lily (Eremurus spp.)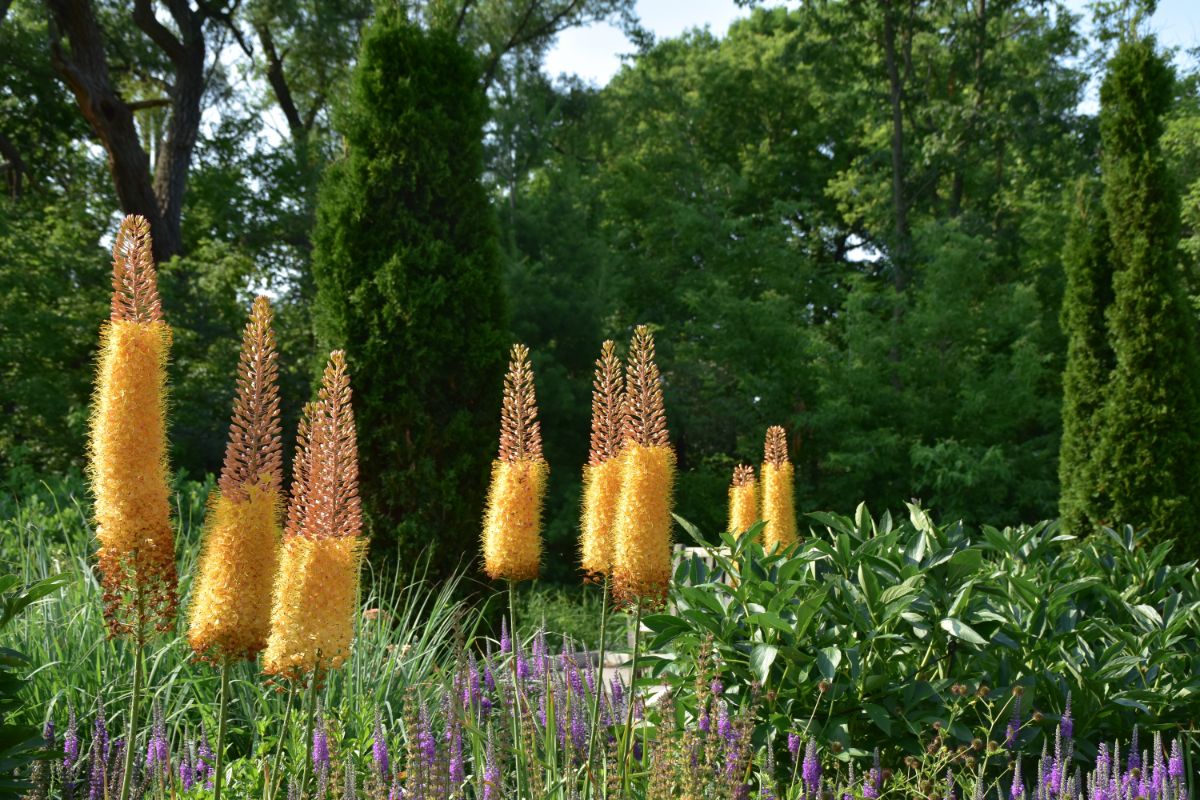 A less well-known bulb variety, foxtail lilies are dramatic bloomers with tall spires of frothy flowers in yellow, white, pink and orange. For a truly showy display with lots of height, try planting many foxtail lily bulbs together. Alternatively, pairing foxtail lilies with other highly structural plants, like alliums, can give your garden beds a funky and unique look.
Foxtail lilies are usually planted early in fall, often in September. When planting these plants, keep in mind that their roots are quite brittle, so handle them with care. It's also a good idea to pick a well-draining location, but amend the soil with compost when planting as these plants don't like to dry out either!
17. Lily of the valley (Convallaria majalis)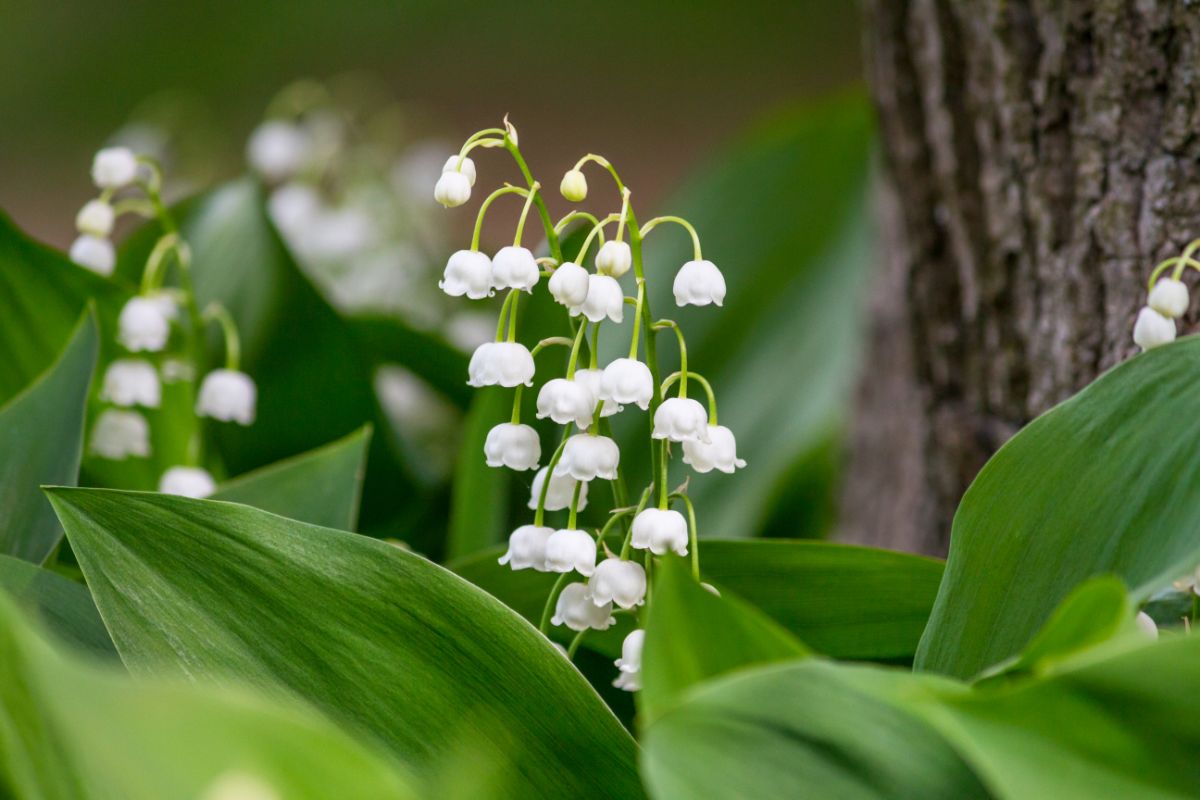 One of the best plants for shady gardens, lily of the valley is a flexible plant that grows in full sun too. Deep green, lance-shaped leaves are complemented by fine sprays of cup-shaped flowers, which have a delightful floral aroma! In autumn, be prepared for even more color as flowers mature into bright red berries.
Once established, lily of the valley tends to spread quite vigorously and it makes a lovely ground cover that excels at weed suppression. Plants should be divided in spring or fall every 3 to 5 years to keep them growing their best and to prevent cramped roots.
18. Winter aconite (Eranthis hyemalis)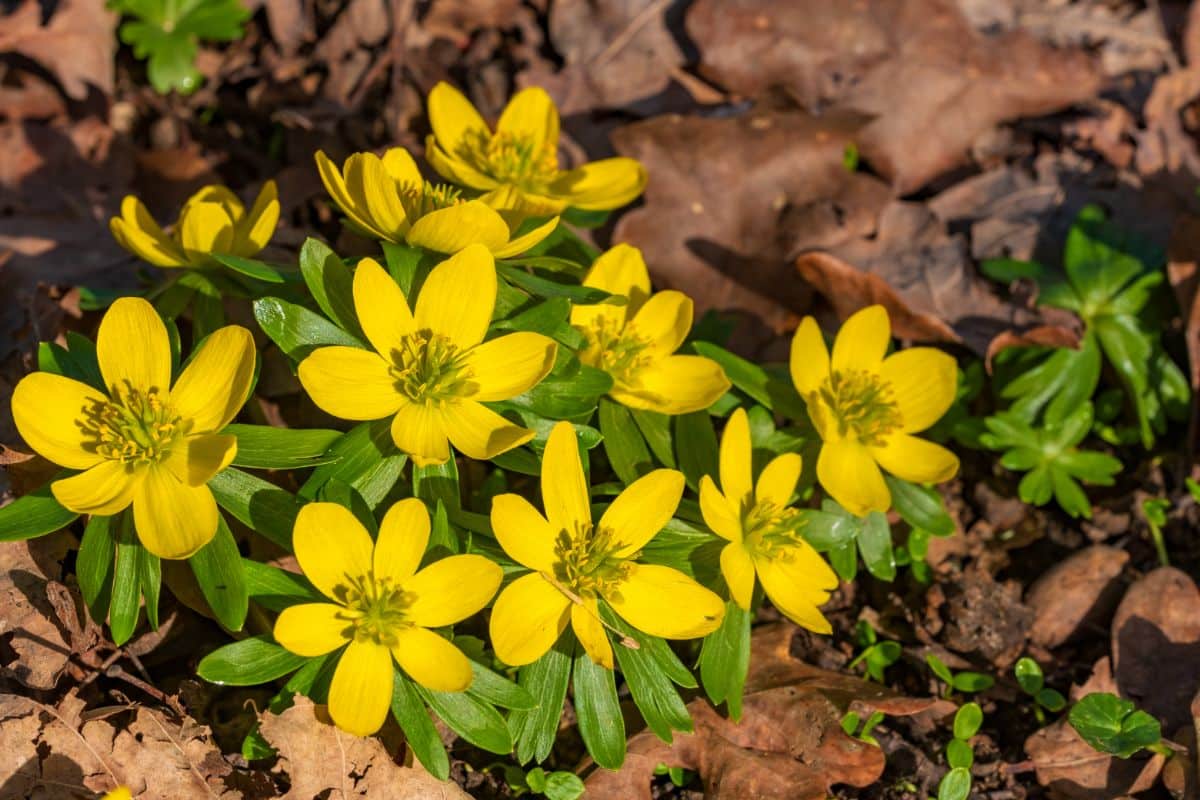 Crocuses get a lot of hype among spring gardeners, but for even earlier blooms, try out winter aconite. Pretty cup-shaped yellow flowers look a bit like buttercups, but they can appear in very early spring, popping up even through snowdrifts!
A good choice for pollinator gardens, winter aconite is a low maintenance plant too and doesn't need a lot of care. Once planted, winter aconite spreads easily and forms a showy ground cover in sunny or shady spaces. Bulbs do need some protection from winter's chill though, so be sure to bury them deep enough!
19. Starflowers (Ipheion uniflorum)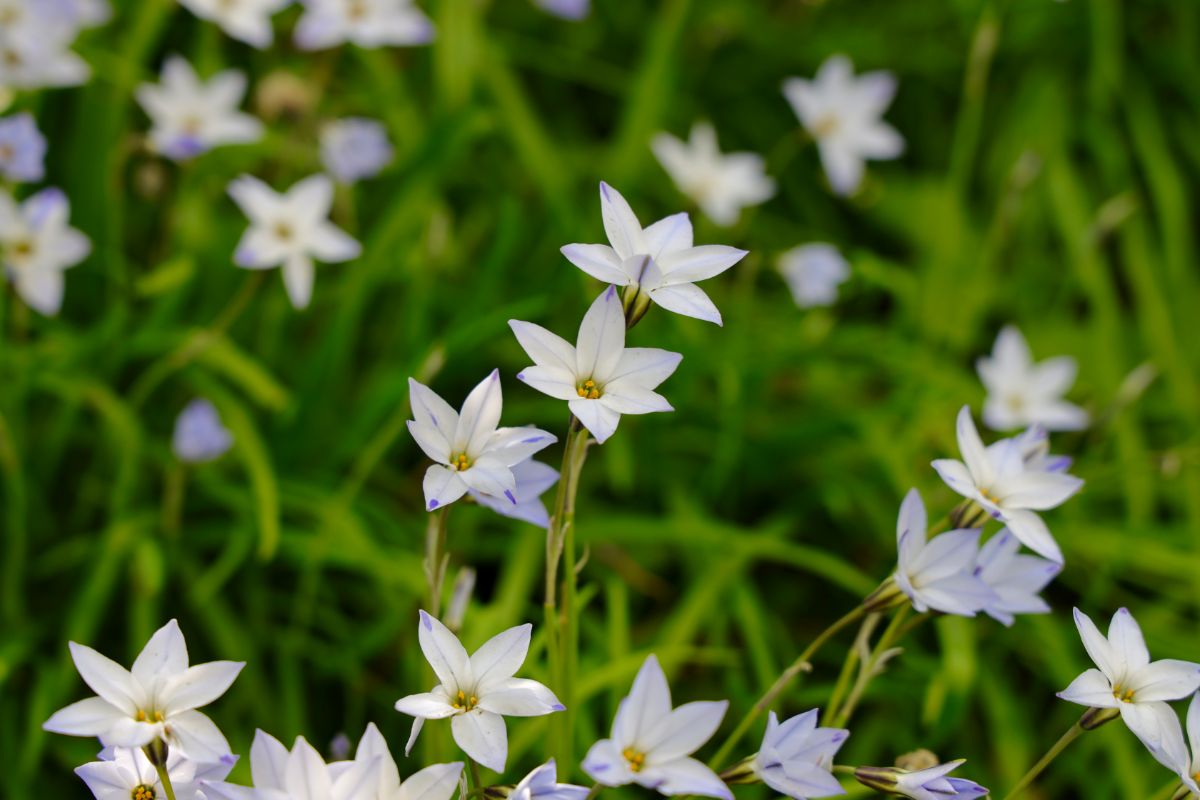 A member of the Amaryllis family, starflowers are naturally found in South America. Star-shaped flowers emit a strong, floral fragrance, while slender leaves smell a bit like a cut onion when crushed.
Growing in mounds, starflowers require a period of chill prior to blooming, so they are best planted in fall. As temperatures rise in spring, starflowers are jumpstarted out of winter dormancy and are a welcome sight in spring beds. Just remember to plant your bulbs in well-draining soil and you should be good to go!
20. Squills (Scilla siberica)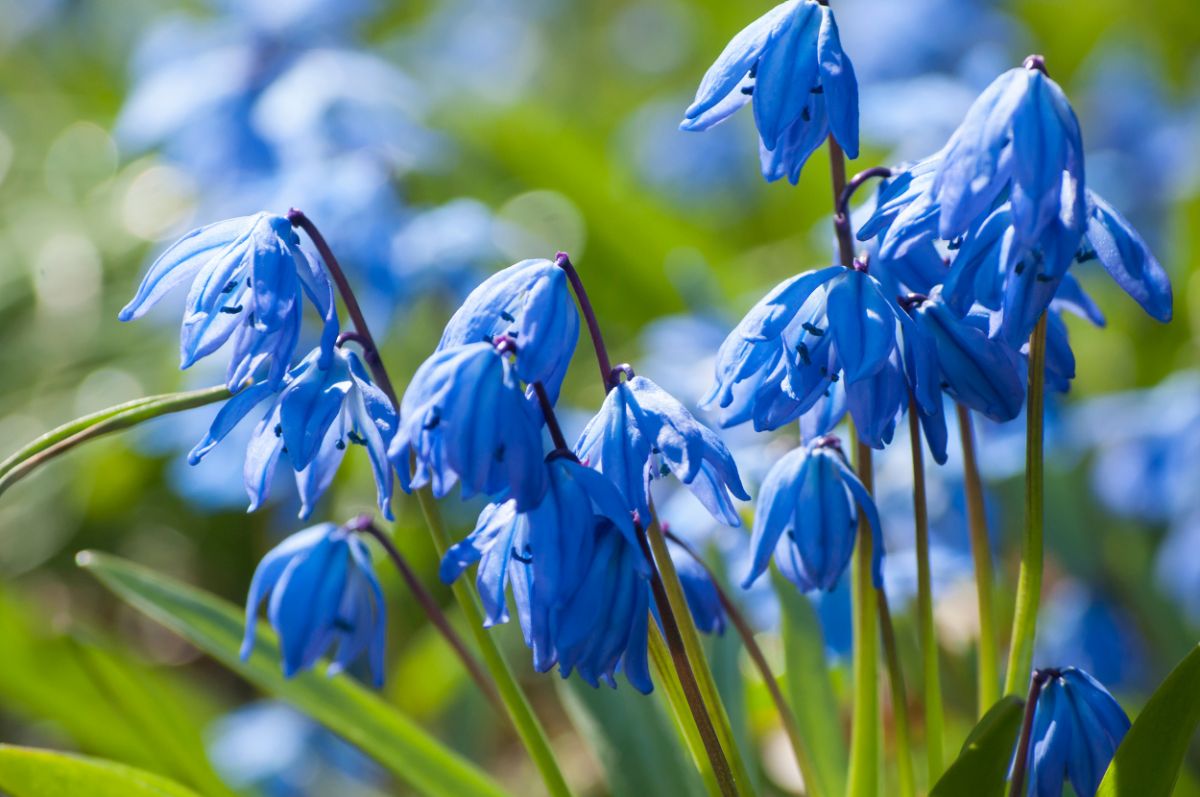 Another low growing spring bloomer, Siberian squills sport grass light foliage and petite, bell-shaped, blue flowers that open up into star-shaped blooms as they mature. A great choice for containers or garden beds, squills can also be interplanted in grass lawns to create a beautiful blue flush of color.
Native to Russia, squills don't mind the cold. They also spread easily so, once you've planted a few bulbs, be prepared for them to go wild! Plants can adapt to full sun or part shade and are drought-tolerant once they've gotten established.
21. Lenten roses (Helleborus spp.)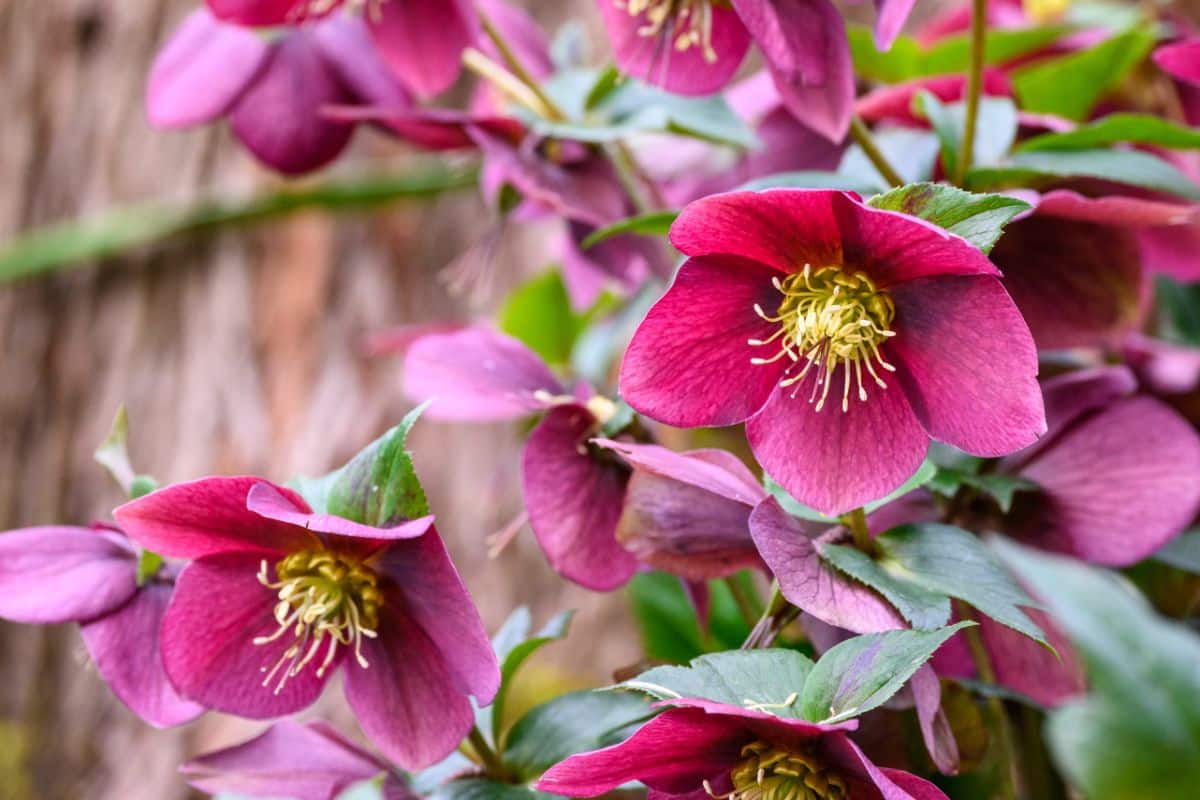 Hellebores, also known as Lenten roses, are simply gorgeous. With rose-shaped blooms that come in tons of colors – from chartreuse green to a warm black – these flowers are very distinct and a wonderful plant to keep if you enjoy cut flower arrangements. Blooms appear around Eastertime and are large and stately in bouquets or garden beds.
When planting hellebores, be sure not to bury them too deep, as this can hinder growth. The crown of the plant should be placed just below the soil line. Some gardeners choose to plant hellebores on hillsides to take advantage of their downward-facing blooms.
Frequently asked questions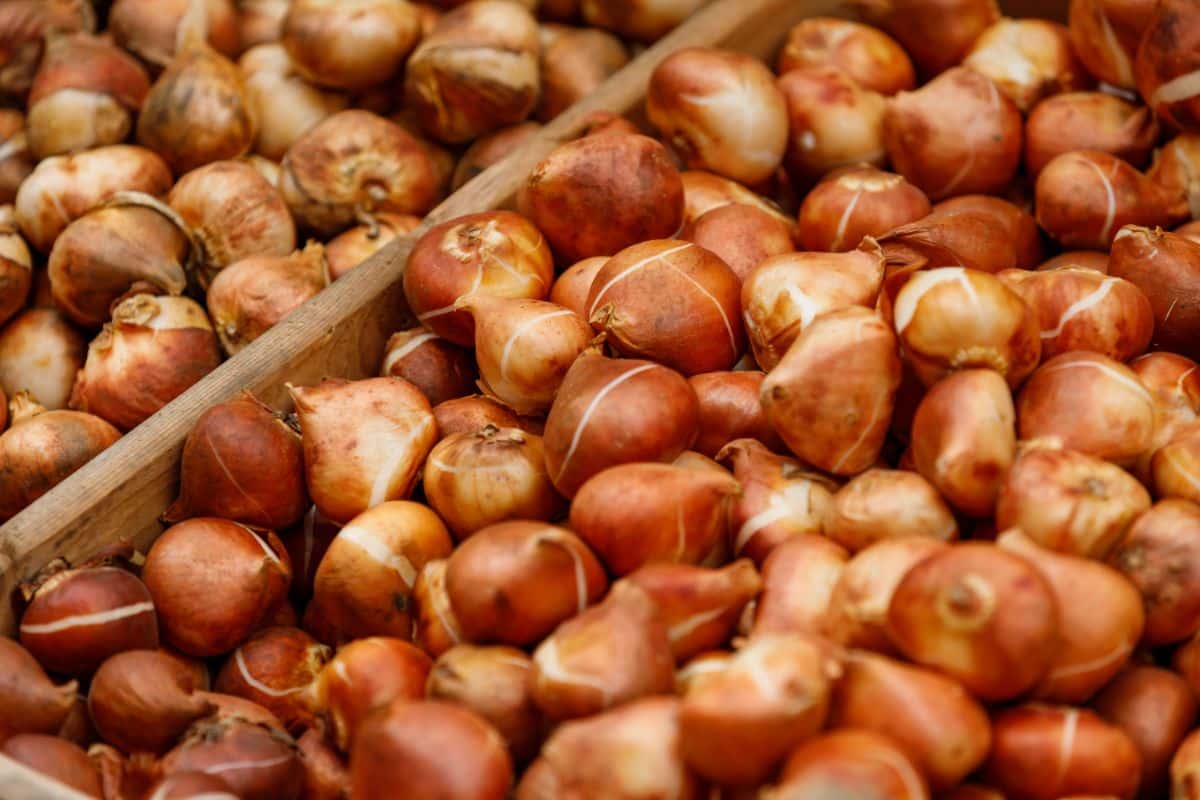 Fall is a Great Time for Planting [Bulbs]!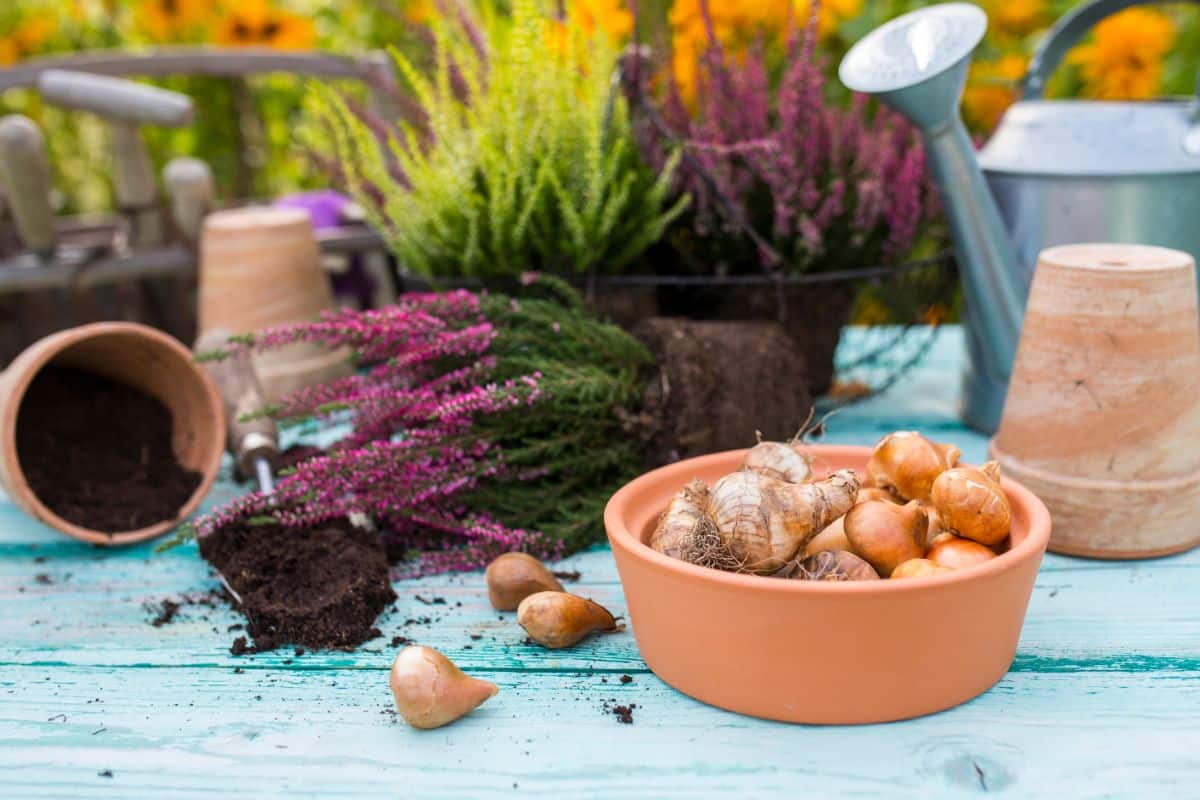 Planting bulbs in fall can be one of the most fun garden tasks of the year. When your garden chores are winding down in fall, it's the perfect time to get ahead with landscape design and planning out your spring blooming bulbs.
From classic tulips to lesser known bulbs, like foxtail lilies and starflowers, there are so many gorgeous bulbs to choose from with different shapes, bloom times and colors to enjoy. So try planting some bulbs this autumn. You'll be rewarded with colorful blooms in the spring that you (and pollinators) will love and that will be perfect for springtime bouquets too!
If you liked this article, check out our piece on the best flowers to plant in fall for even more garden color.