Are you struggling to pick the flowers you want for your balcony? Your local garden nursery might offer hundreds of flower options, but not all are good flowers for small balcony gardens with limited space.
When you pick flowers for a balcony flower garden, you want to make sure they're suitable for container growing. Some plants grow best in the ground, but that's not possible unless you have yard space. Also, take a look at how much sunlight your balcony receives; you need to pick plants that match the hours of sun it gets each day.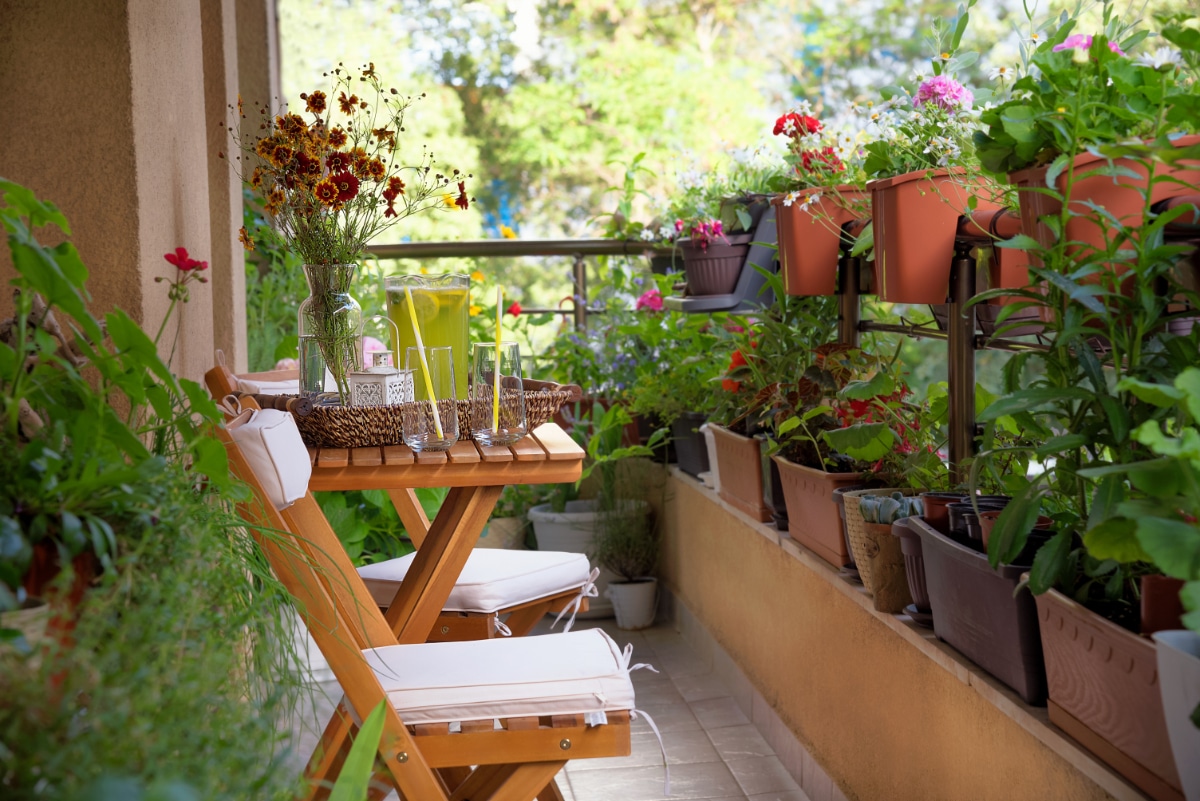 Jump to:
A shady balcony needs shade-loving flowers, while a sunny balcony has more options for flowers.
Plus, you want flowers that make your balcony or porch pop with excitement and color. When friends take a step out on your balcony, they should be wowed by the different colors and scents that fill the air.
Here are some of the best beautiful flowers for small balcony gardens that everyone is sure to love.
17 Beautiful Flowers for Small Balcony Gardens
Begonias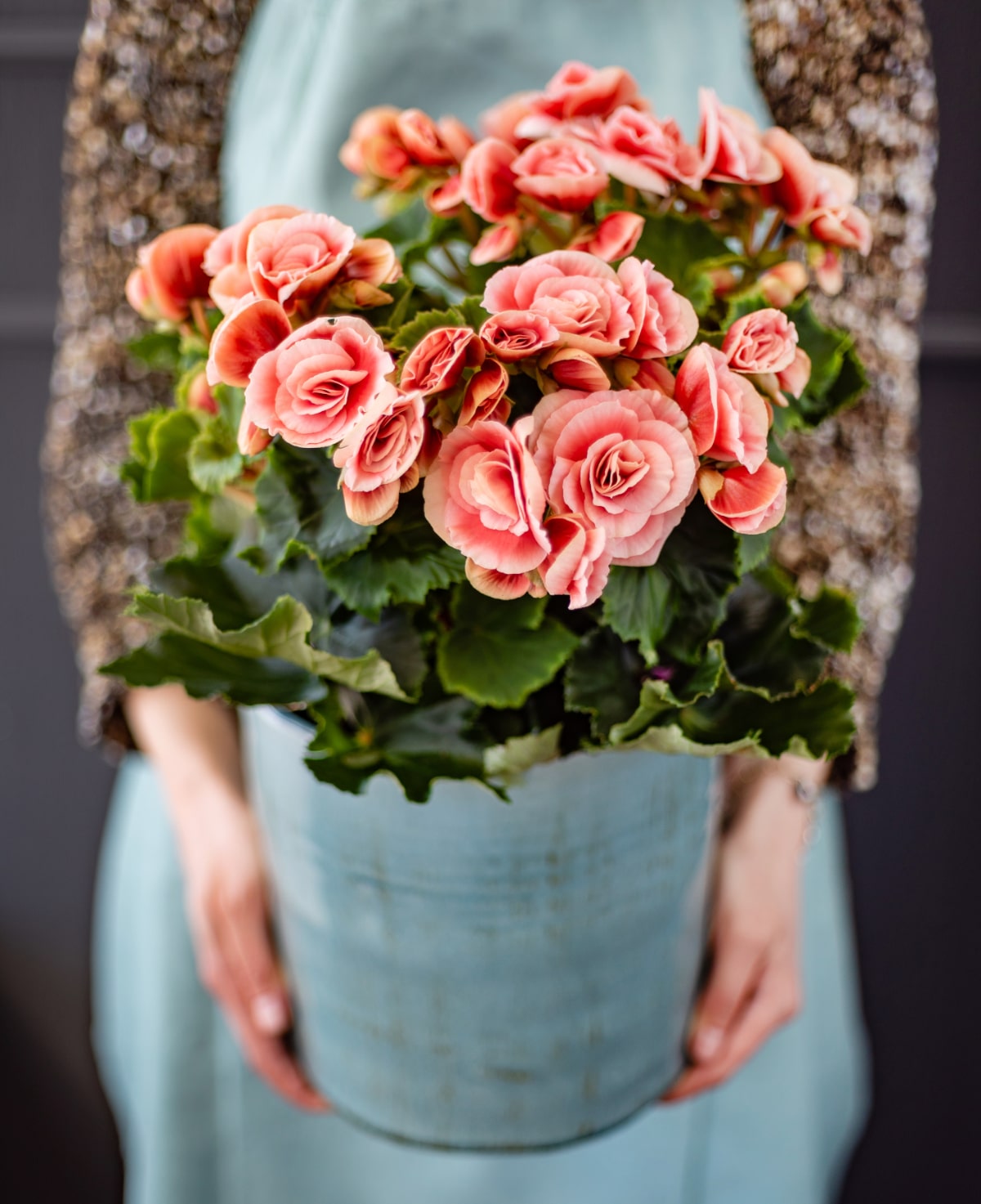 It's hard not to love begonias. Not only are these beautiful flowers great for small balcony gardens, but the foliage is heart-shaped without flowers. The flowers are red, pink, orange, and white, but some varieties have other colors.
If your balcony garden receives shade, begonias are an excellent option. They thrive in the shade so long as they have moist, fertile soil. Try growing these flowers in hanging baskets or containers in the corner.
Chrysanthemums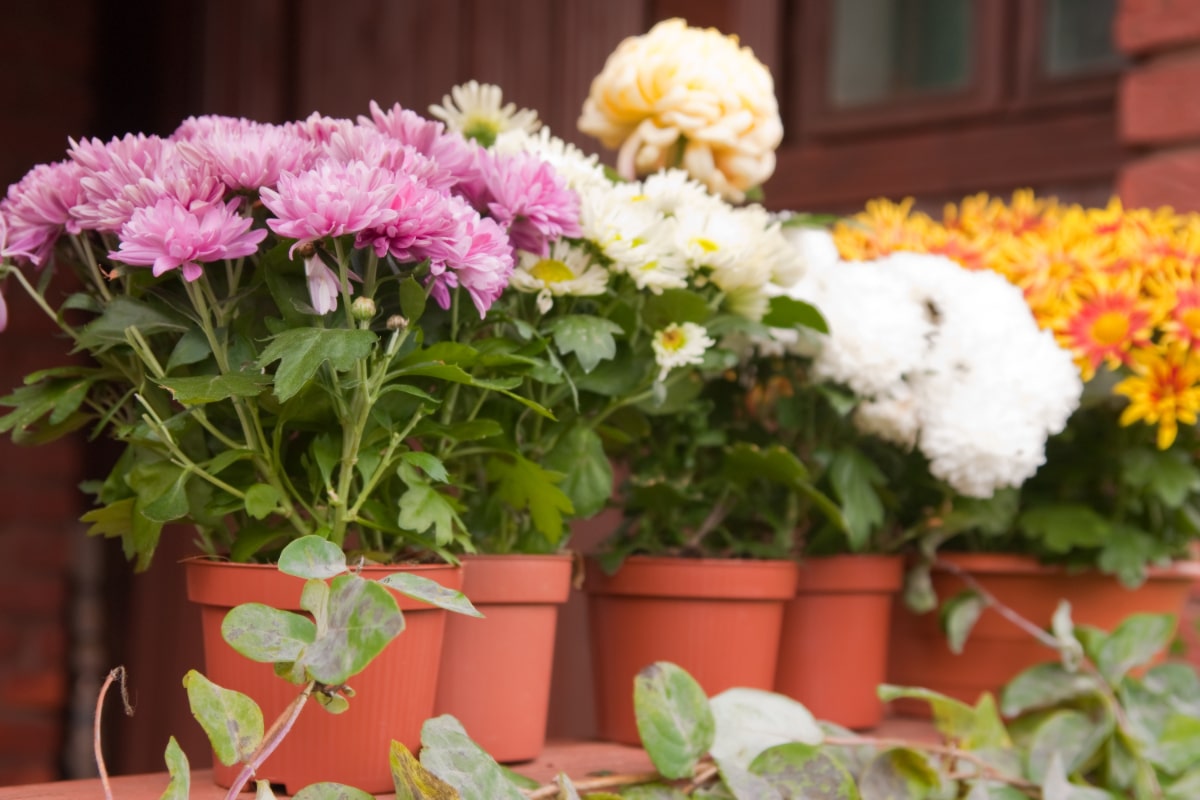 Most people refer to these flowers simply as "mums," and they're among the most popular flowers for gardeners. Mums grow in almost any region, but the season varies. In some areas, mums grow best in the fall, while they grow in the summer in the other areas.
No matter the season you grow chrysanthemums, the flowers grow wonderfully in containers. They require full sunlight and ample water to bloom. These flowers need space; they'll take over enough containers, so don't plant them with other flowers.
Once your mums are reaching the end of their lives you can use the flowers in a fantastic natural pesticide!
Dianthus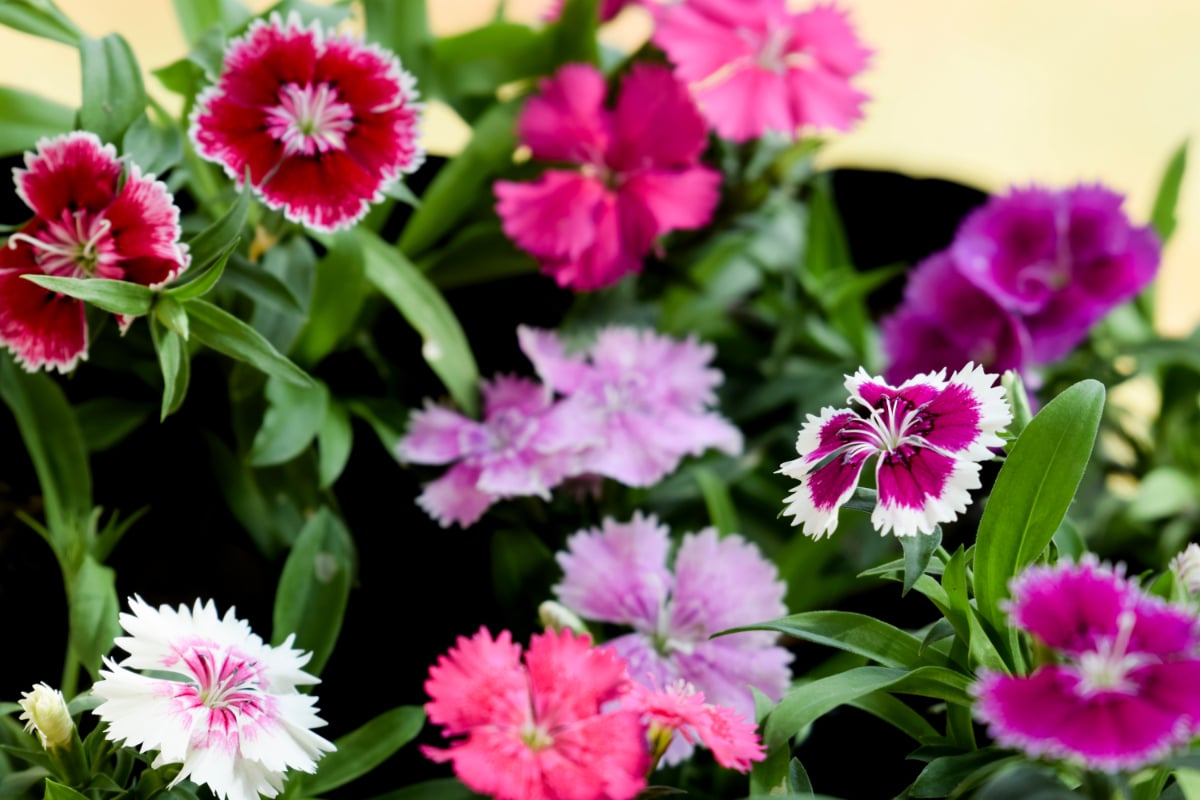 Any balcony garden needs some dianthus in containers. These flowers grow in different colors like pink, salmon, red, and white, releasing a delicious scent that fills the air without being too intense. Dianthus belongs to the same family as carnations, coming in different varieties from annuals to perennials.
Dianthus flowers need to be planted in full sunlight or partial shade; ideally, they need to receive six hours of sunlight to produce full blooms. They need fertile, well-draining, alkaline soil, but once you have the right conditions, these flowers add a stunning appearance to your balcony garden.
Fuchsia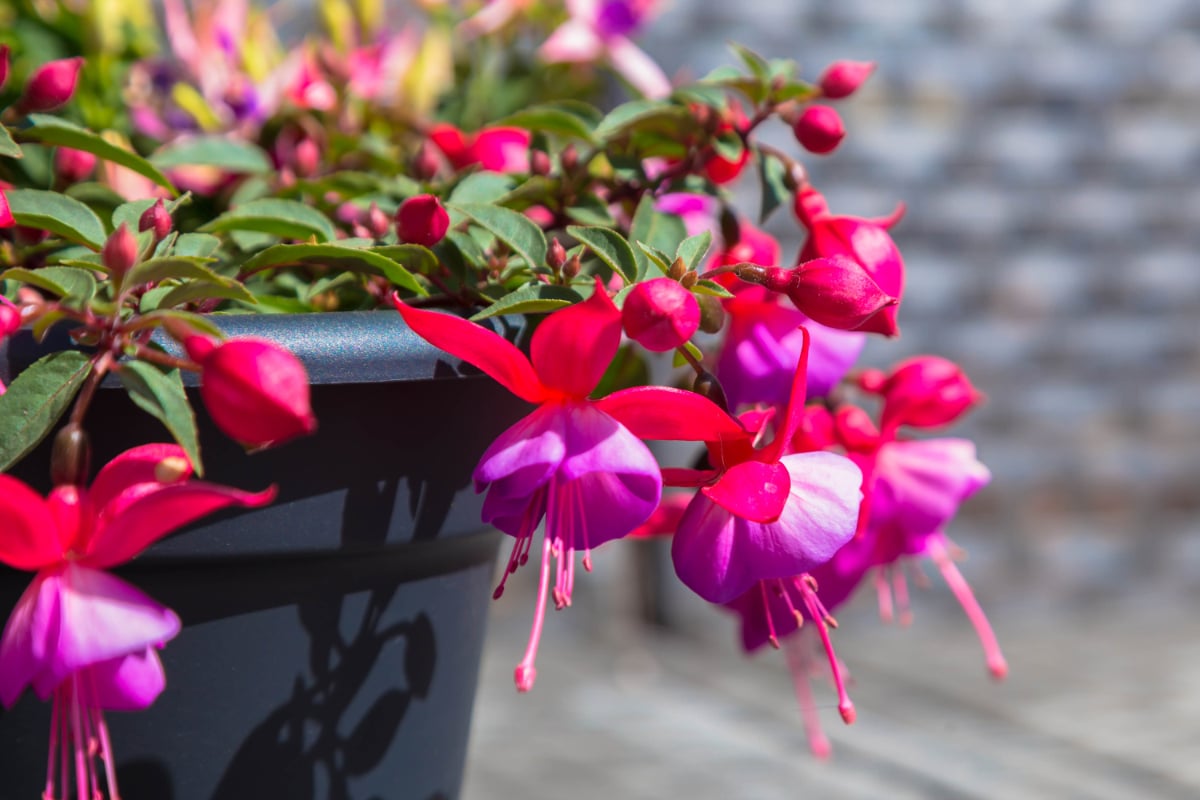 Fuchsias come in a diverse range of colors, shapes, and sizes. The flowers are different shades of pink, white, purple, orange, and red. Gardeners love fuchsias because they have a unique look due to their hanging-down stem. Some say they look like flower chandeliers.
When growing fuchsias, make sure you provide fertile, moist soil for optimal growth.
Geraniums

Gardeners have plenty of options for geranium varieties; some are annuals, and some are perennials. They all have pleasing scents and require ample sunlight and water to grow. If you give these flowers plenty of sunlight, the flowers reach up to two feet tall.
Geraniums come in a range of colors like pink, red, purple, and white. Some are multi-colored! If you have empty spaces in your containers or window boxes, add a few geraniums; they are the perfect filler flower because they don't have a spreading out nature.
Hydrangeas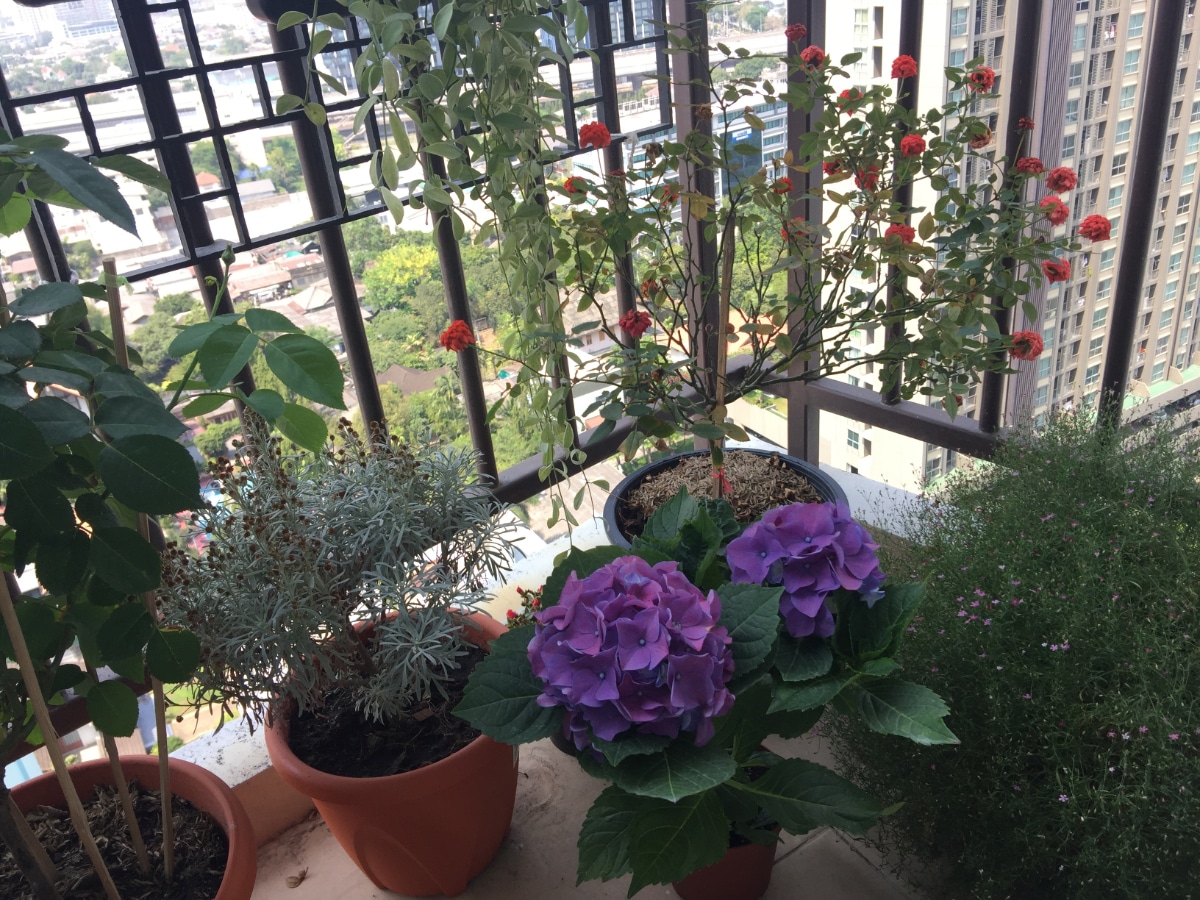 Hydrangeas are beautiful flowers that grow in a spherical shape. They are compact plants, perfect for small balcony gardens. Gardeners love to grow these flowers because they make beautiful cut flowers for bouquets or centerpieces on your kitchen table.
If you want to grow hydrangeas, make sure you provide plenty of sunlight and frequent watering. These plants produce hundreds of blooms, so they need plenty of moisture.
You can also experiment a little bit with your hydrangeas and get different colors.
Impatiens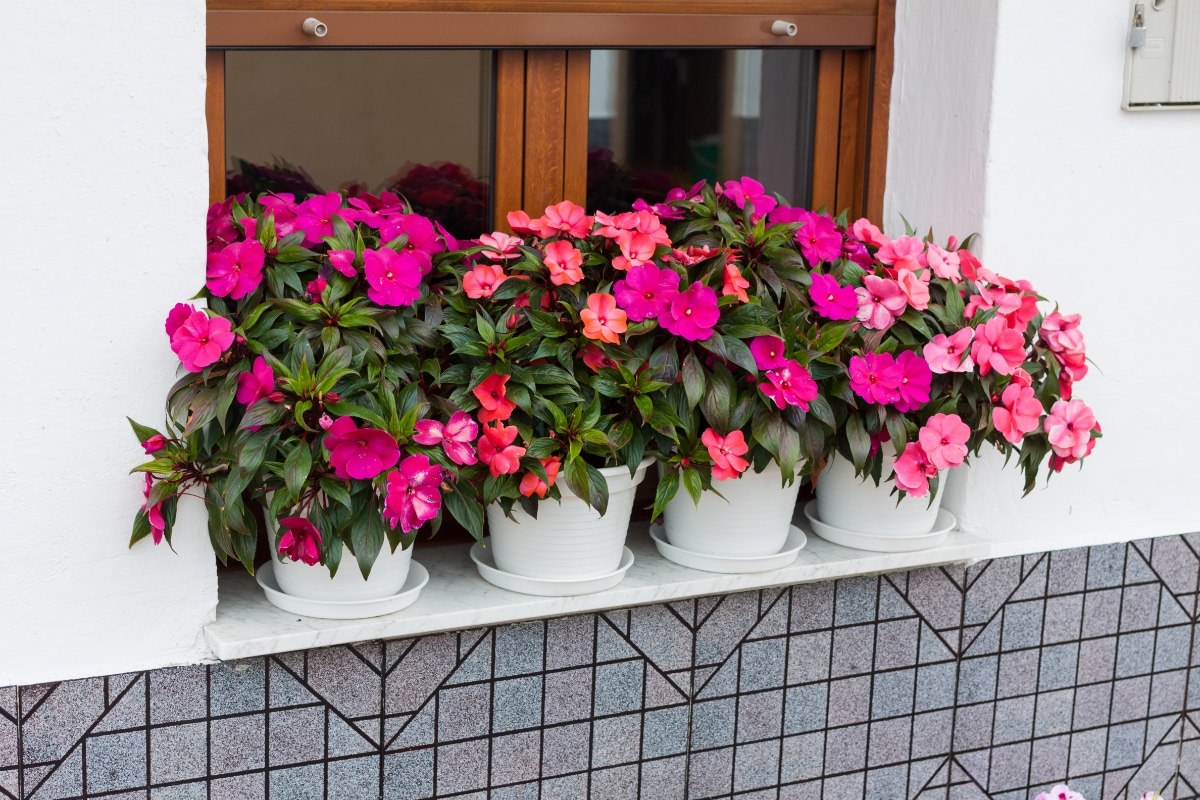 Having a lot of shade on your balcony garden is tricky because few plants grow in the shade, but impatiens are a flower that thrives in shady areas. If you have a shaded balcony or spot on your patio that you want to grow flowers, try impatiens.
Stick the flowers somewhere that they receive just a bit of afternoon sun, but they'll survive without that. Two hours of sunlight is typically enough for impatiens to produce flower clusters. Make sure you provide moist, well-draining soil. Expect blooms throughout the spring and summer if you water frequently.
Lobelia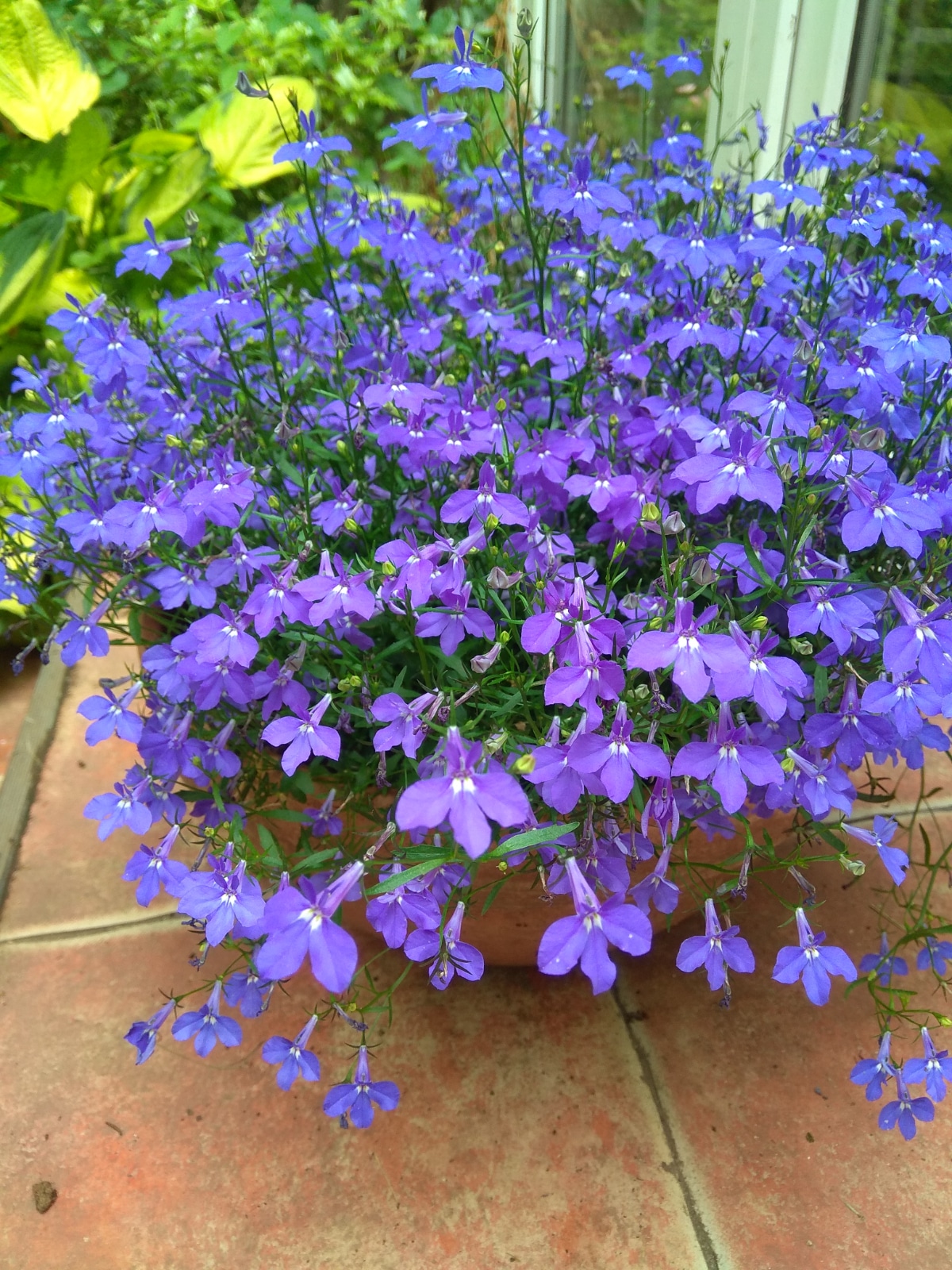 Lobelias are a beautiful, thick flower that comes in blue, white, and pink. These plants are known for being low maintenance, perfect for small balcony gardens. The flowers cascade from containers, blooming the best before nighttime temperatures get too warm.
Grow lobelia flowers in full sunlight, but they survive in partial shade. If possible, find a spot that receives morning sunlight and afternoon shade. Watch for the plant to stop flowering; this is a sign that it needs to be trimmed back.
Marigolds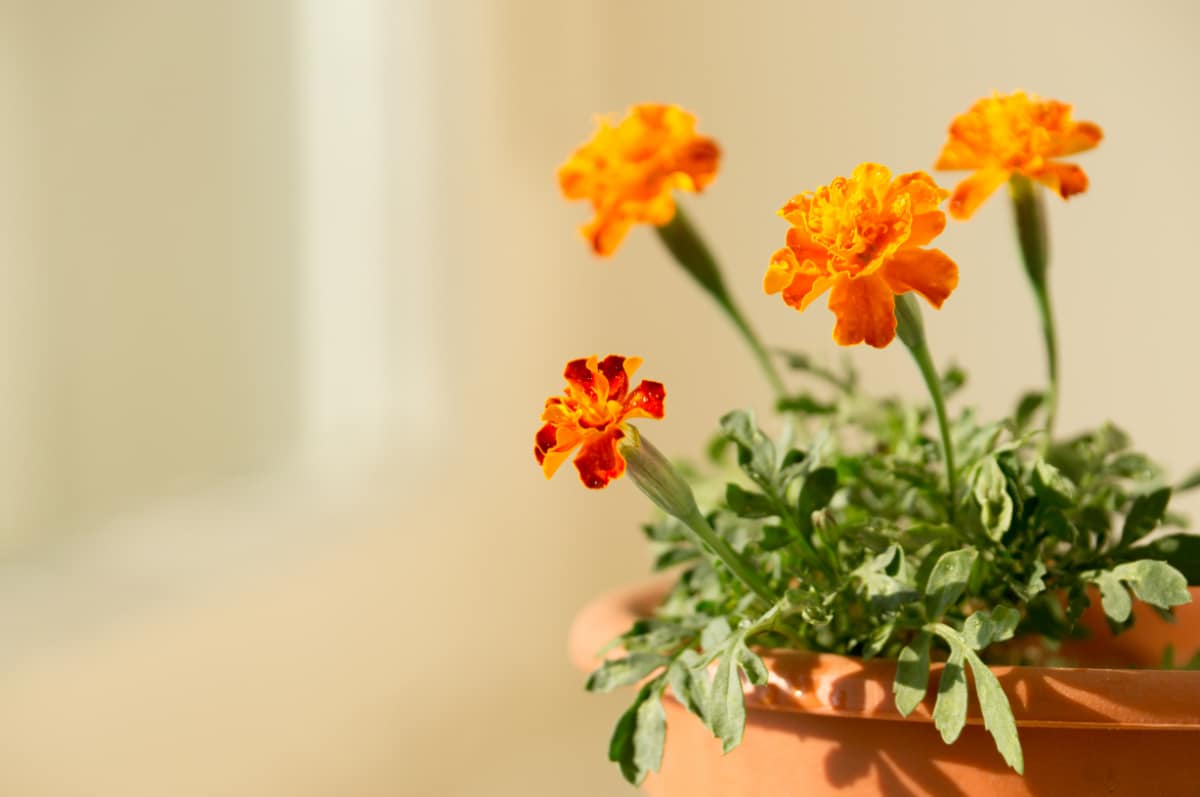 Don't write off marigolds because they're so common. These low-maintenance, brightly colored flowers are perfect for new gardeners. They require little care but make sure you deadhead to encourage more blooms. Marigolds spread out, filling empty spaces.
One of the best reasons to grow marigolds on your balcony is that their scent discourages pests and unwanted insects from stopping and eating your plants. You're less likely to have pest problems with a few pots of marigolds hanging around.
Mandevilla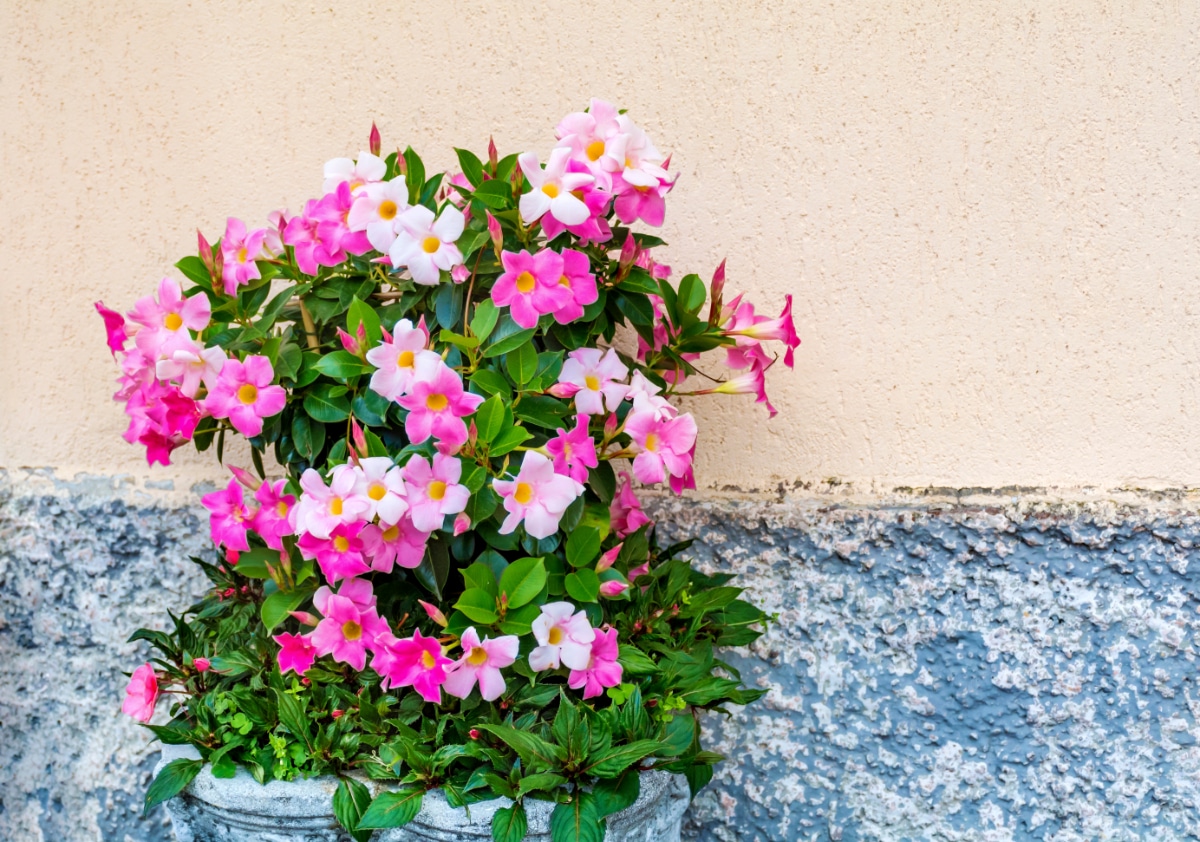 If you want a tropical plant to add to your balcony garden, consider growing Mandevilla. This is a tropical climbing plant that loves the heat, so pick a sunny spot with some shelter from the afternoon sun. The flowers bloom in shades of pinks and reds, and you'll need to provide a trellis or some support for these plants.
Since Mandevilla flowers are tropical, you have to bring them indoors when the temperatures drop too low. When grown correctly, it's a perennial plant, but the leaves will shed when in low light conditions.
Morning Glories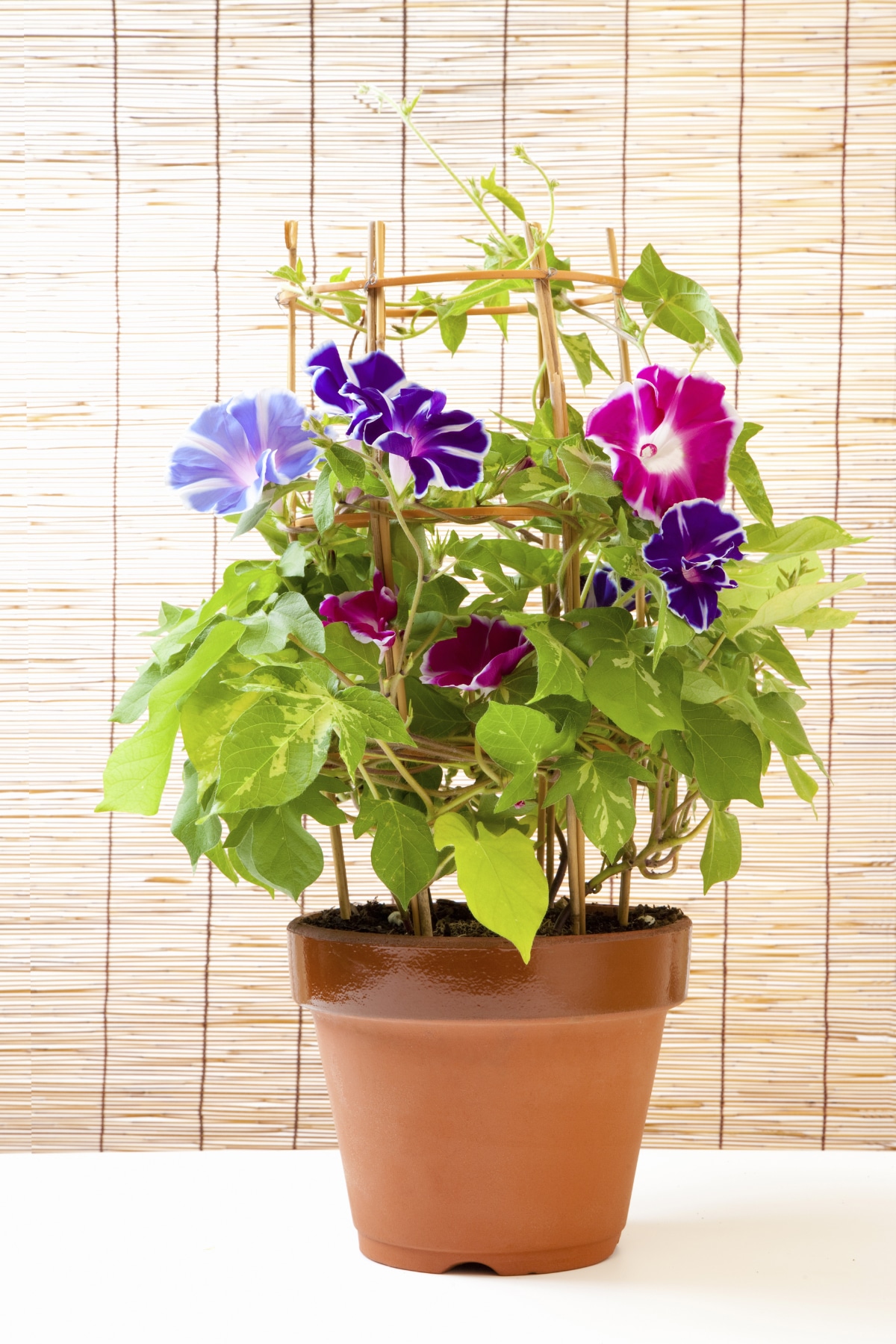 Morning glories are known for being invasive vining plants, so growing them in containers is ideal because you can train them to grow up a support system. Some of the vines might reach up to 15 feet long or more.
Morning glories grow in a range of colors, such as pink, purple, blue, or white. If you grow several different shades, they'll create a beautiful array on your balcony. These flowers require full sunlight and shelter from the cold; they don't like frost. If you forget to water for a few days, they'll be okay, but moisture helps produce more blooms.
Pansies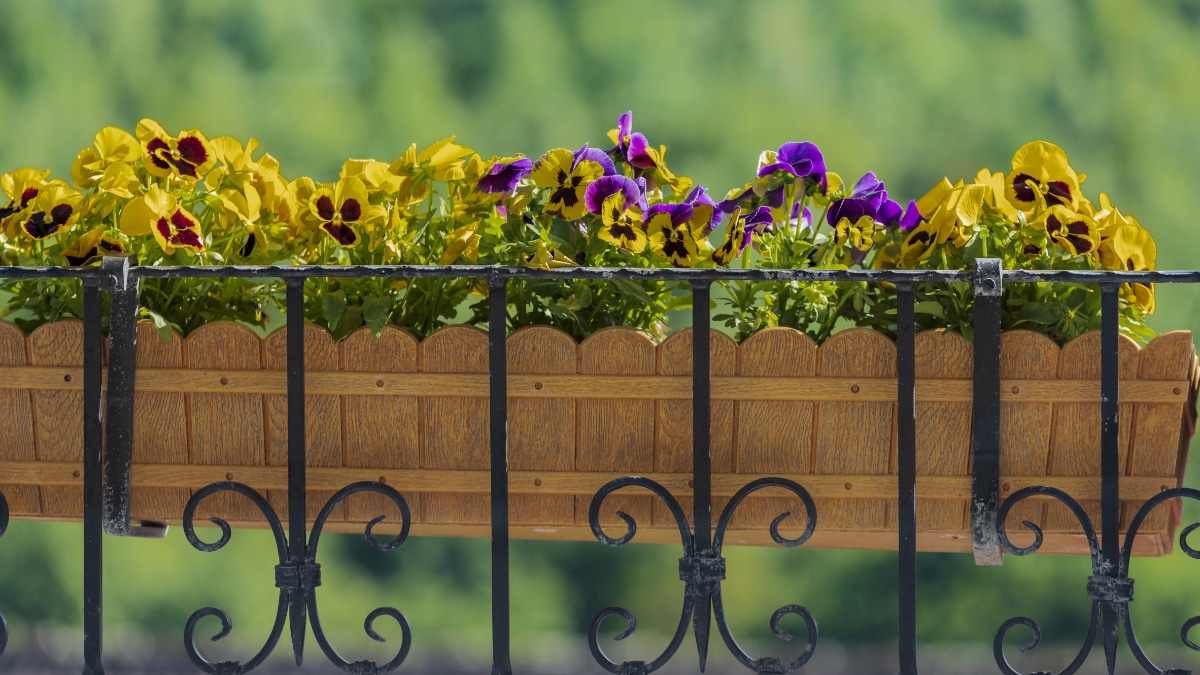 One of the first things you'll notice about pansies is that they have a velvety look with rich colors. Their colors pop when planted with greenery. Pansies are some of the easiest flowers to grow, especially for balcony gardens. They grow well in containers, window boxes, and hanging baskets.
If you grow pansies, make sure you provide the flowers with fertile, humus-rich soil that's slightly acidic. They need plenty of sunlight.
There are thousands of different varieties of pansies you could get. We've put together an article with 50 of some of the most stunning varieties.
Petunias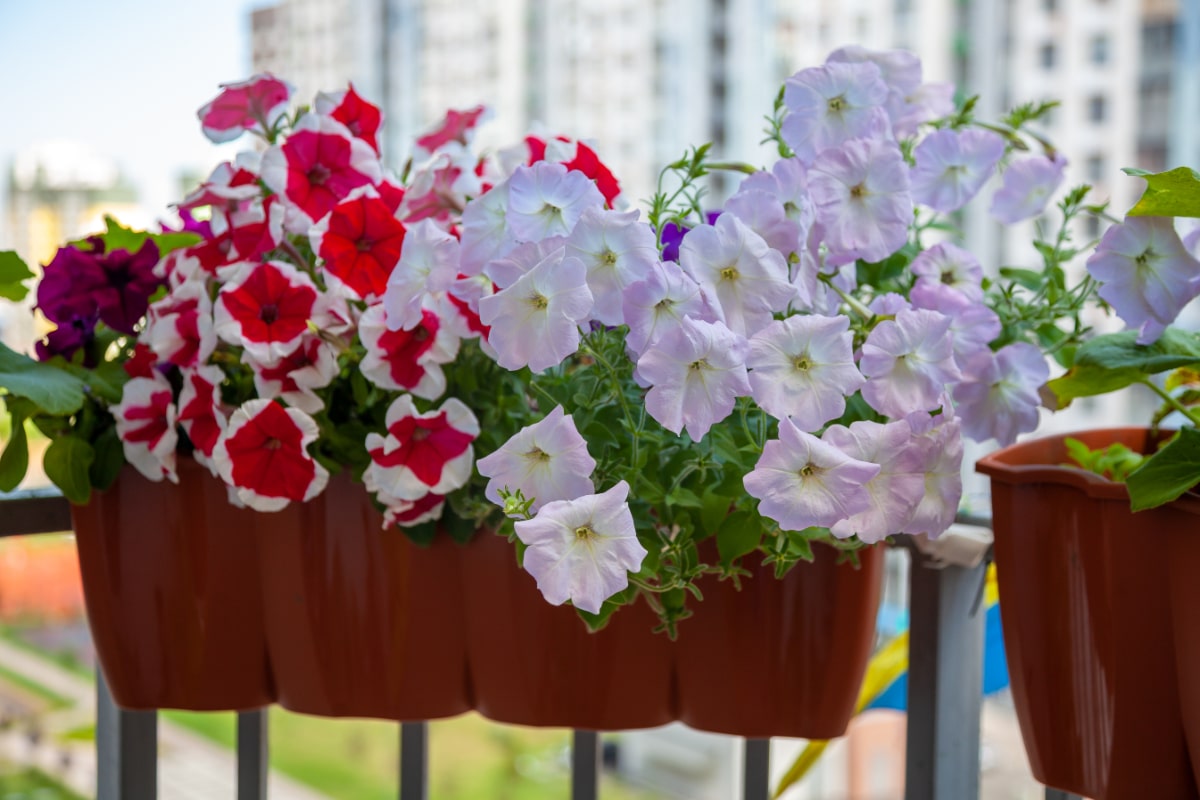 Gardeners love petunias; they're one of the easiest flowers for new gardeners, and they bloom profusely with different colors. Their fragrance is most notable in the evening, so if you sit outside on your balcony at night, you'll catch their sweet, floral fragrance.
Petunias come in a range of colors like purple, pink, red, white, and more. They grow well in containers and hanging baskets, but make sure they receive plenty of sunlight and fertilizer for optimal growth. The more sunlight they receive, the more blooms they produce.
Sweet Alyssum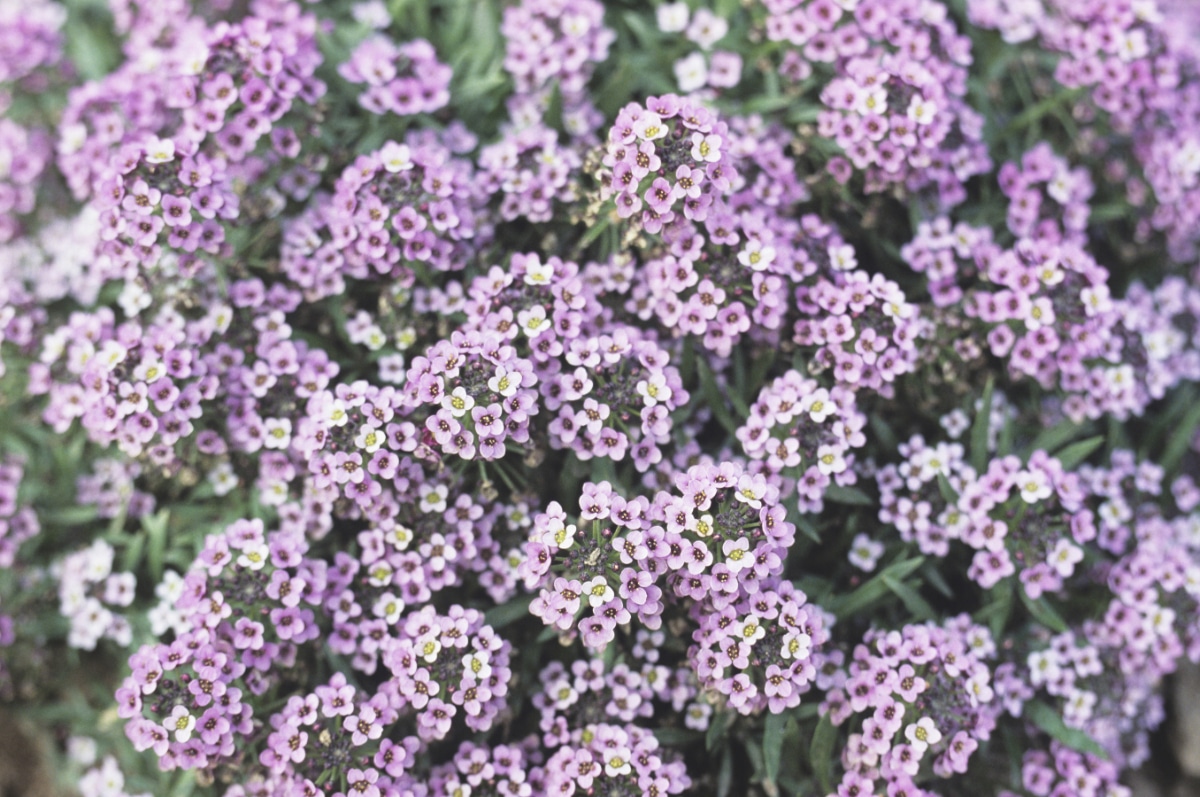 Sweet alyssum is one of the sweetest annual flowers to add to your balcony garden. Unlike other flowers, these don't have tall stems. Instead, these sweetly scented blooms appear from spring until the first frost, cascading down the side of planters or hanging baskets.
If you want to grow sweet alyssum flowers, make sure you provide full sunlight. They handle shade, but more sunlight leads to more flowers. They need to be kept watered. Best of all, pollinators love these flowers and will flock to your balcony garden.
Torenia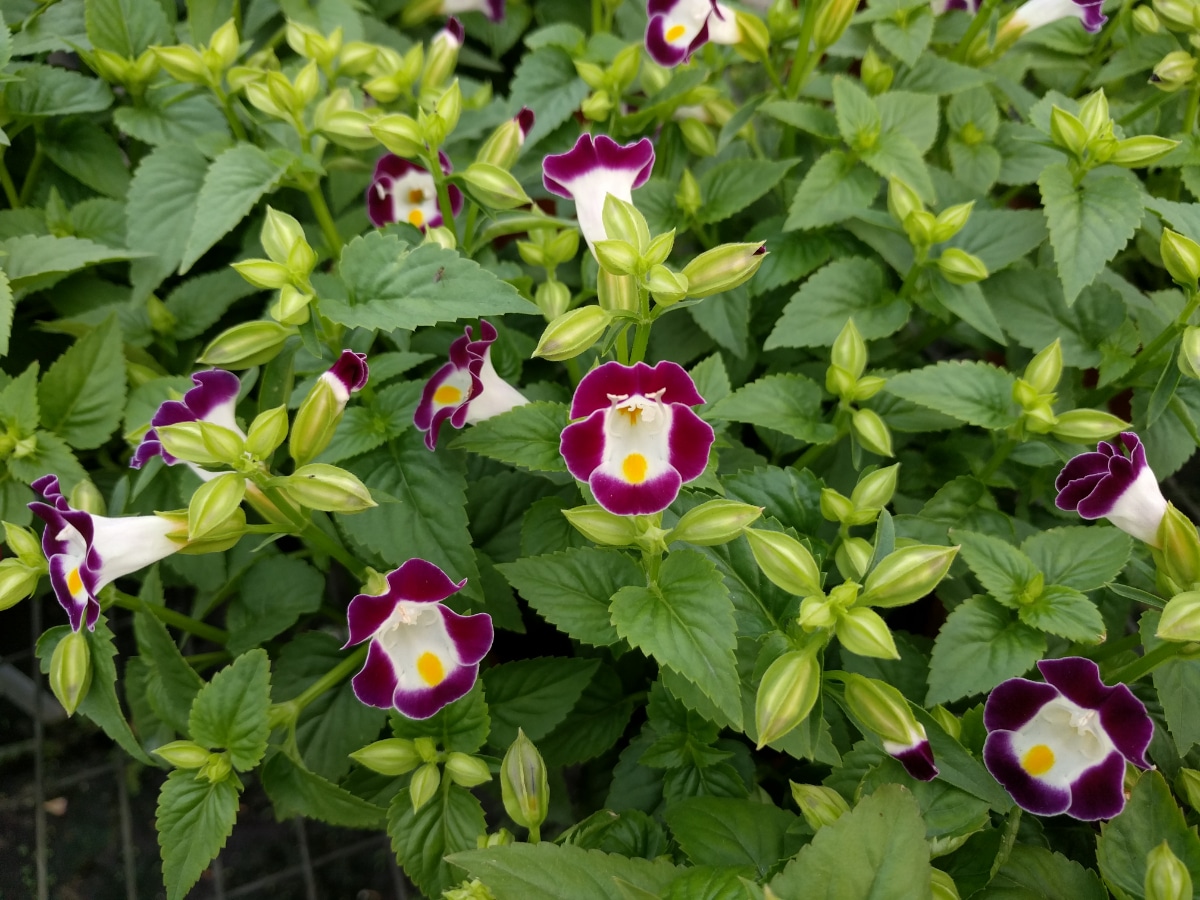 Some people call this a wishbone flower. It's a two-tone flower that has combinations of purple, pink, or white. They look similar to snapdragons, spreading up to 12 inches tall without being too invasive. Pollinators like hummingbirds love these flowers.
Torenia comes in shades of yellow, pink, purple, and white. If you have a shady spot on your balcony that needs color, these flowers are another option. These plants bloom generously and brightly in the shade, showing off their tricolored, trumpet-shaped flowers.
Verbenas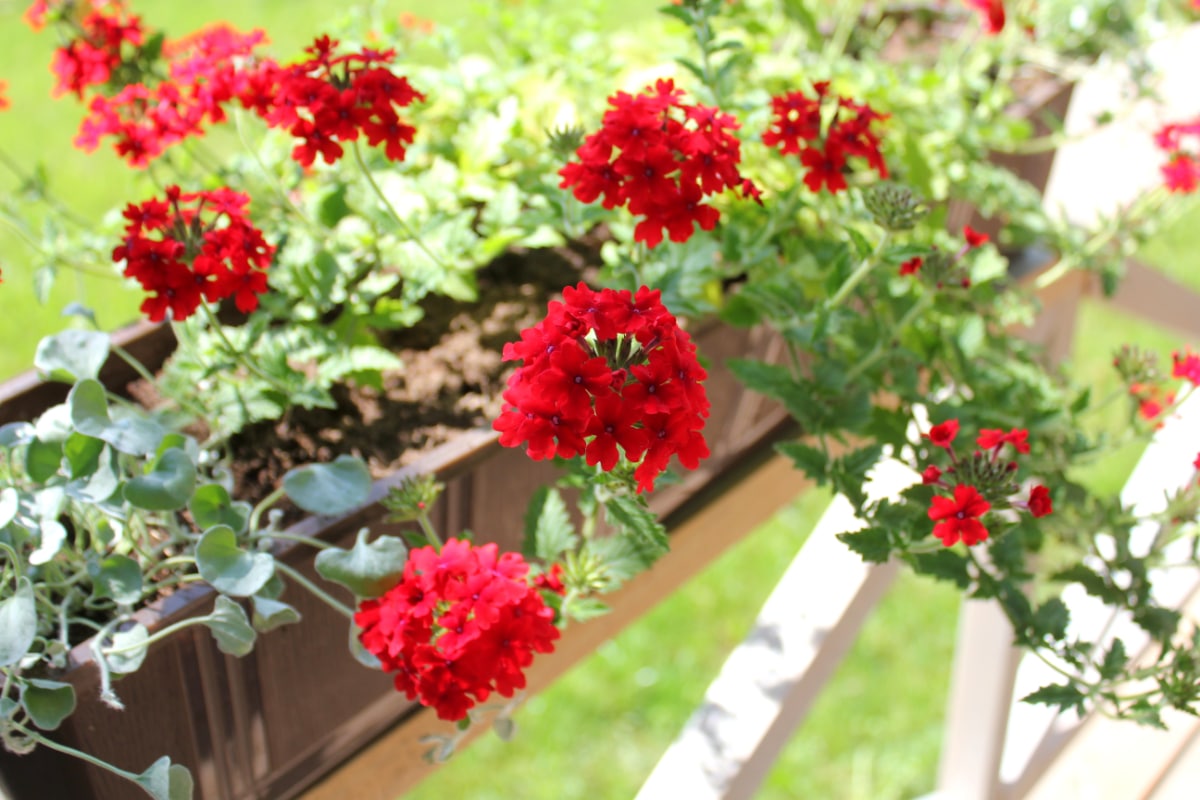 Trailing plants look beautiful on balconies, especially when you put them in planter or window boxes on the railing. Verbenas are a beautiful trailing plant; try planting them on the edges of your planter box.
Verbenas grow well in zones six through ten, and they come in a range of sizes and colors. They grow best in full sunlight, and if you happen to forget to water for a few days, they'll continue to thrive.
Zinnias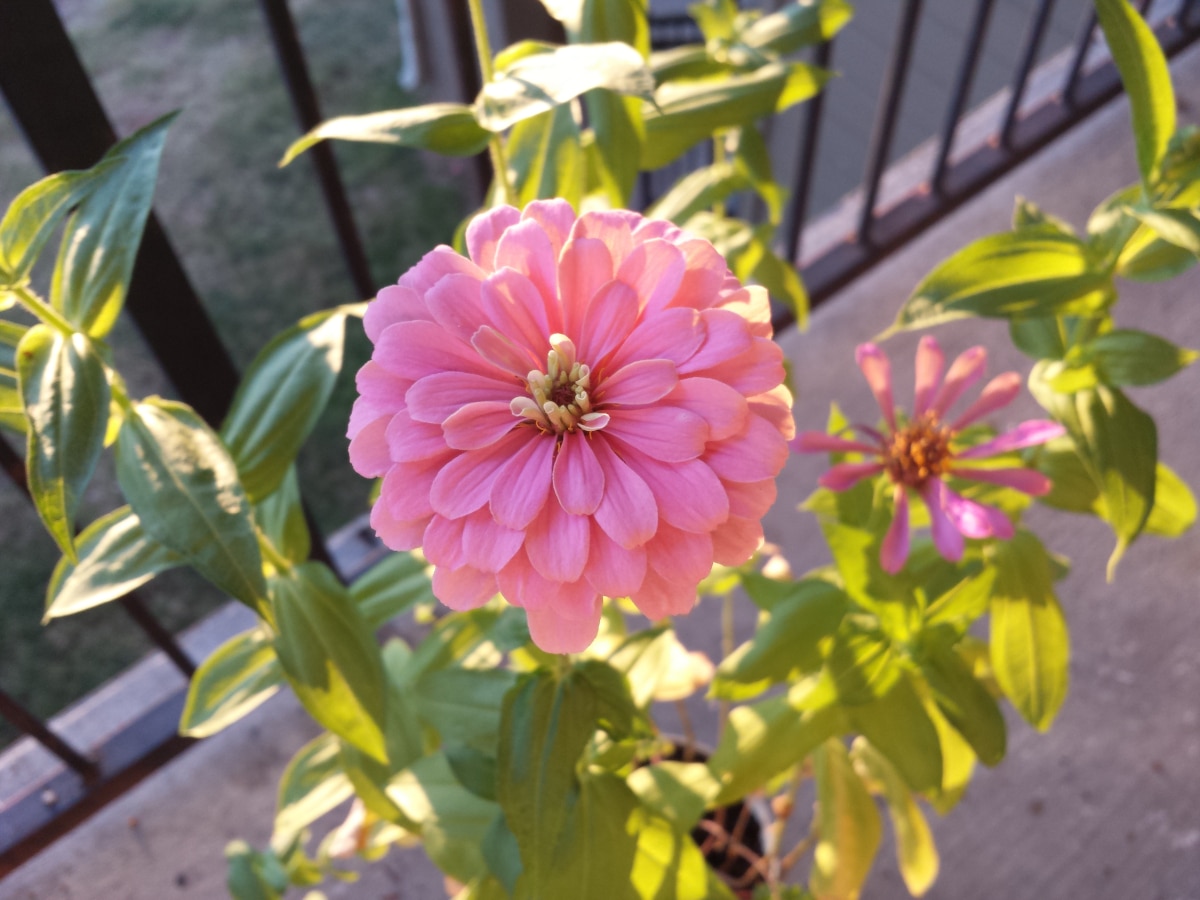 Zinnias might be last on our list, but they're some of the easiest flowers to grow. These are brightly colored flowers that bloom vigorously, spreading out and multiplying rapidly.
Zinnias are great to grow alongside vegetable plants because they attract butterflies and other pollinators. If you grow cucumbers or other veggies that need to be pollinated, include zinnias in a pot nearby to ensure you have a large harvest.
4 Tips for Starting a Balcony Flower Garden
Are you starting a flower garden on your balcony for the first time? Here are some easy tips to get you started in the right direction. Adding flowers and other plants to your balcony should be fun, but you want to do it the right way!
1. Start with A Few Pots
As much as it's tempting to create an HGTV worthy balcony garden in one afternoon, it's not a good idea. Start with five containers and learn how to grow flowers. Once you've stretched your green thumb a bit, add more containers to your garden.
2. Know-How Much Sunlight You Have
It's essential to match the types of flowers you want to grow with how much sunlight your balcony receives.
Find out which direction your balcony faces and its exposure to the sun. A south-facing balcony will receive ample sunlight, but a north-facing balcony will struggle to provide enough sun for flowers that need six to eight hours of light.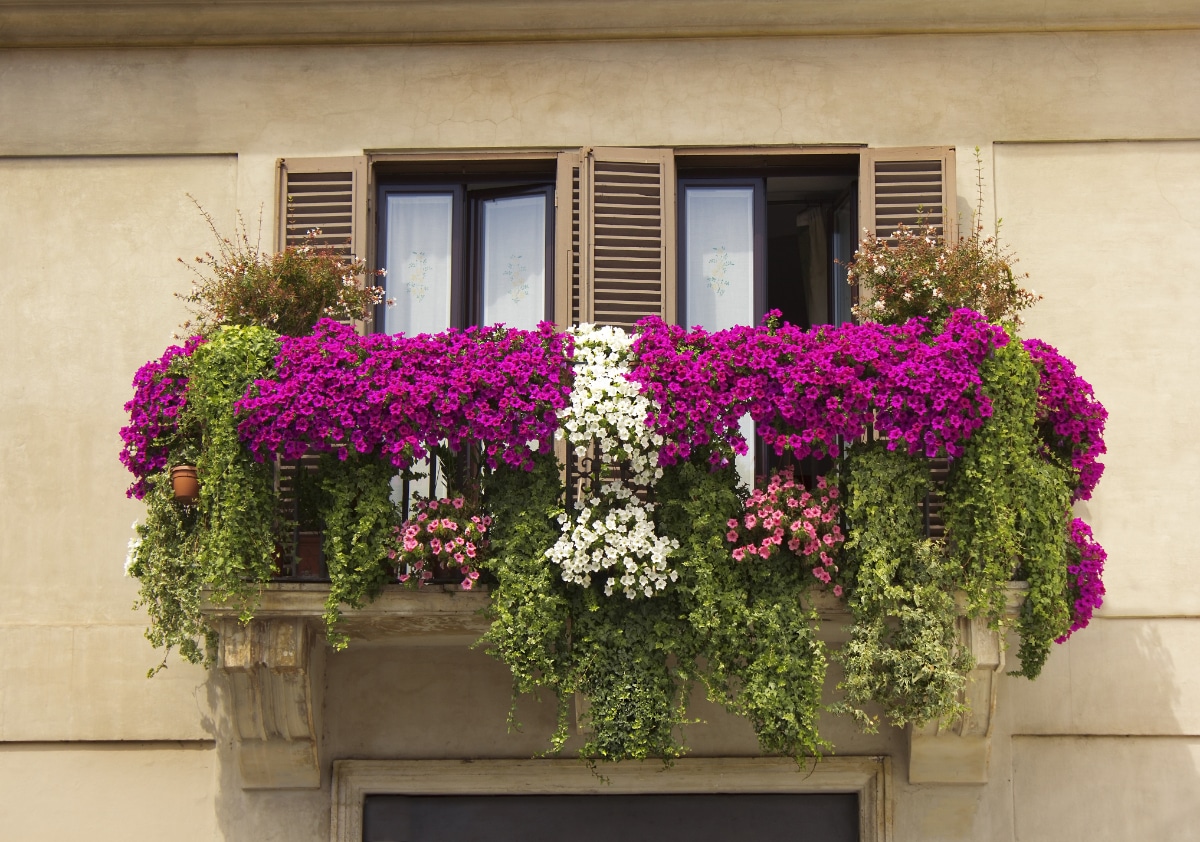 3. Don't Be Afraid of Combinations
Don't grow flowers alone, especially annuals. Grab a few larger pots and make combinations of plants. Leave space between the flowers; over time, the flowers and greenery will spread out, filling your pots with colors.
Add different colors and heights to your pot. You might want a few tall plants in the center, surrounded by some low-growing flowers, along with a few trailing flowers that drape over the sides of the pots.
4. Stick to Three Colors
It's best to stick to three colors or three color ranges. If you try to incorporate all of the colors, your balcony will end up being too busy.
Remember, the flowers will also have greenery in different shades and sizes. Some foliage is dark green, while other leaves have a silvery hue that stands out.
Final Thoughts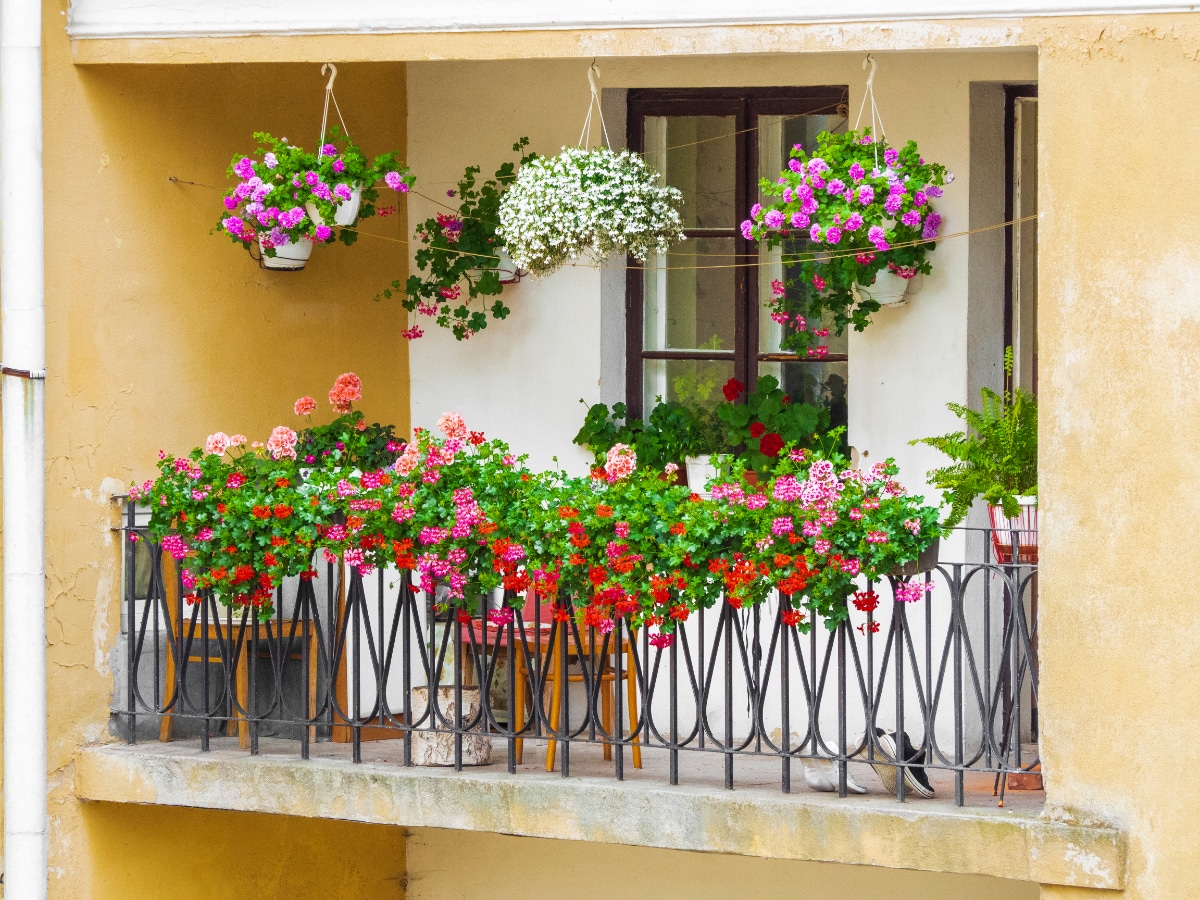 Picking beautiful flowers for small balcony gardening starts with knowing the look you want to create and how much sunlight your balcony receives. Think about how much experience you have gardening to help you decide how many plants to grow and if you only want low-maintenance plants. Just remember that having the limited space of an apartment balcony doesn't mean you can't grow.