Pansies are one of the most popular flowers to grow in the entire world and because of their popularity, there have been hundreds, if not thousands of varieties developed. They are featured in pretty much every flower garden and are a popular ornamental plant for garden beds because they come in a variety of colors. I've put together a list of what I think are the 50 most stunning and interesting pansy varieties on the market today. Just keep in mind that this isn't a complete list of all the varieties and more are being added every year.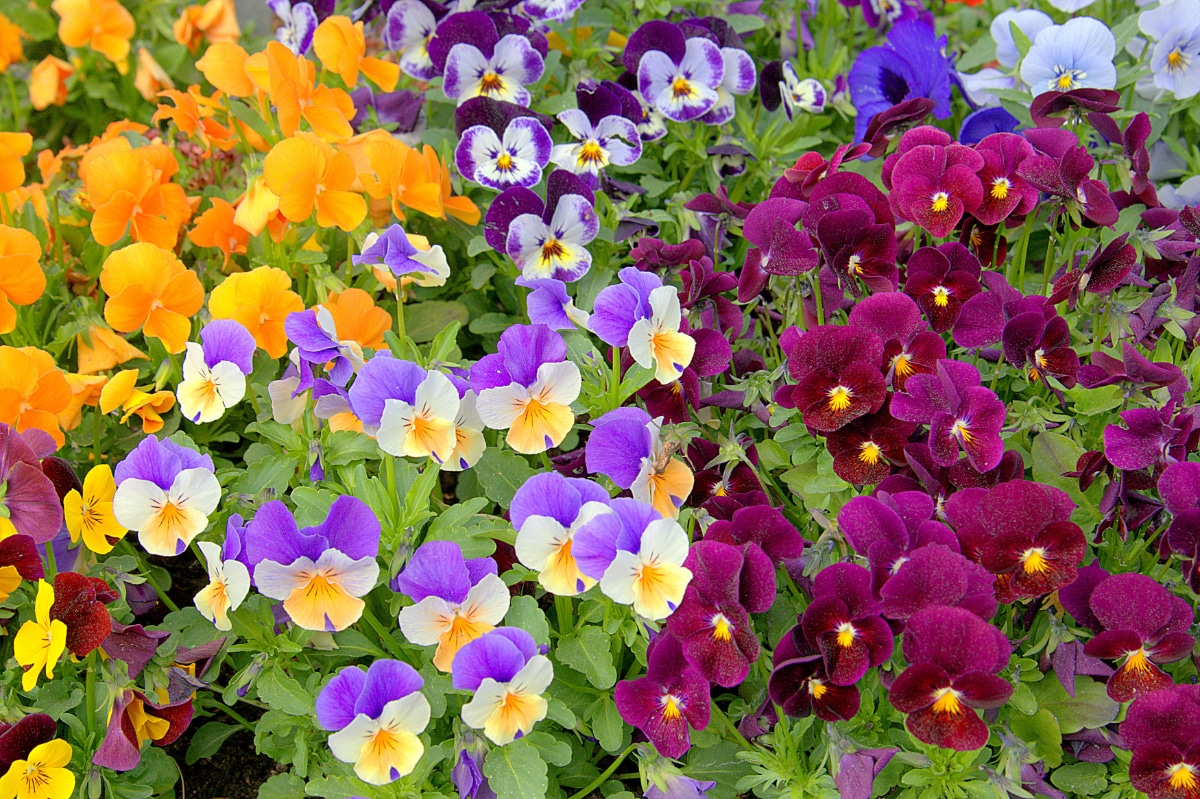 Jump to:
Before we jump into the different pansy varieties I wanted to give a brief introduction to the care that is required for pansies and the different ways you can grow them.
Growing Pansies in Pots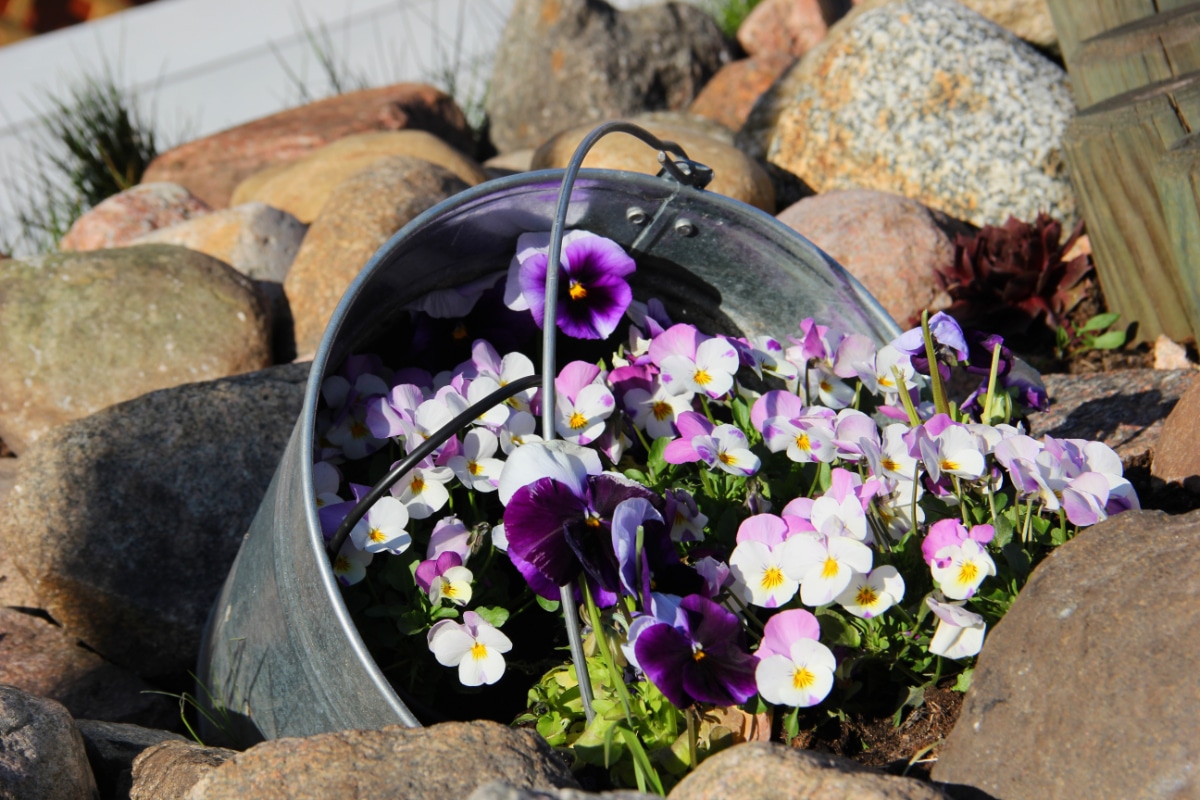 Pansies are excellent flower plants to grow in containers. When you're picking the pot make sure that it has good drainage, pansies don't like wet feet. Add a slow-releasing fertilizer to the potting mix before you put the plants in then add bone meal fertilizer every few weeks. You will want to make sure each plant has a few inches between them.
Growing Pansies From Seed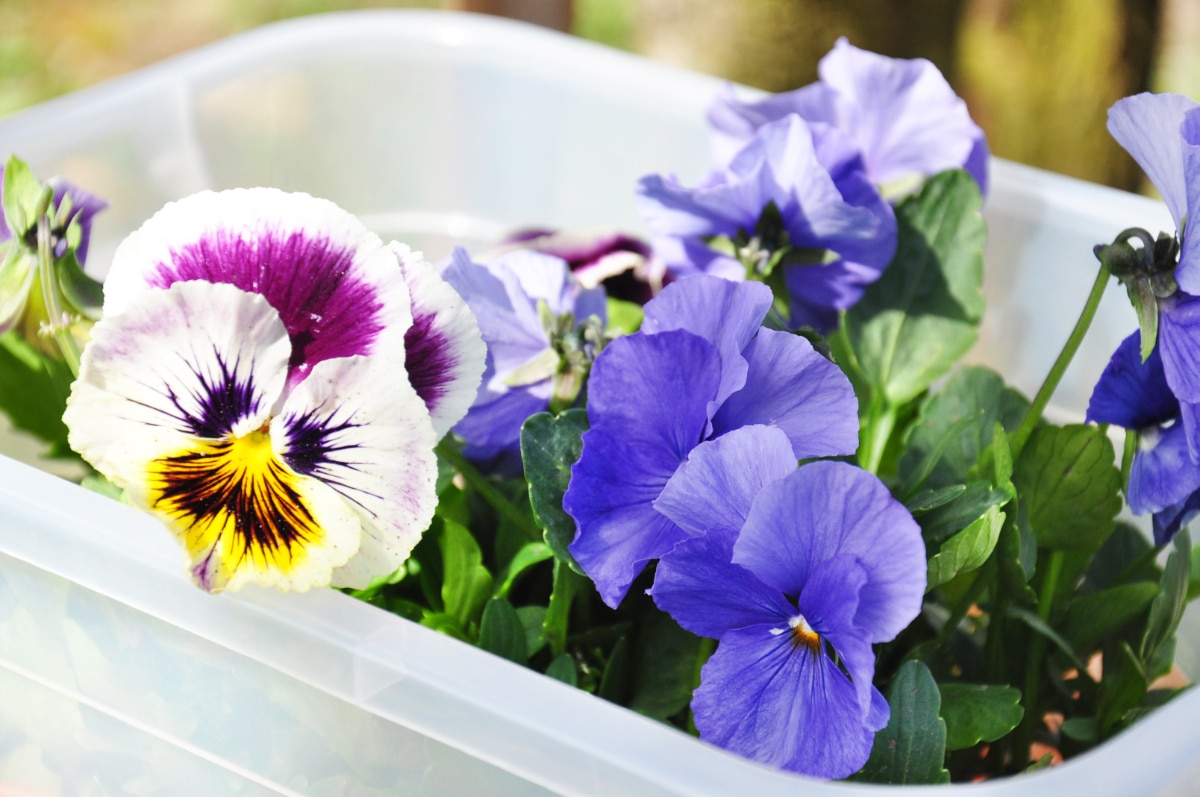 More often than not people will buy pansies at a nursery or even a local grocery store. But if you want some of the more unique varieties that exist then you will have to grow them from seed.
Why doesn't everyone do this, I hear you asking. Well, it's because it takes 14 to 16 weeks to grow them from seed and sometimes being patient hurts.
Pests and Diseases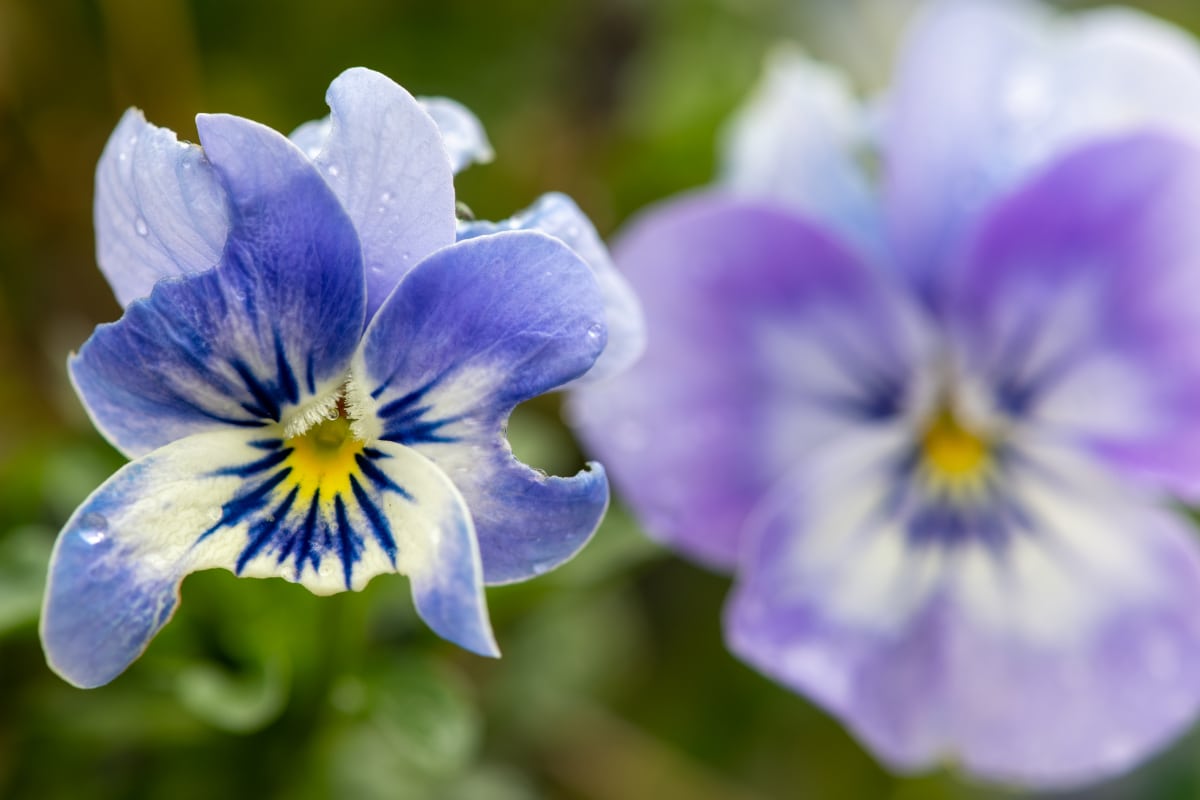 Pansies are particularly susceptible to issues like powdery mildew, blight, and other issues that arise in damp and cold environments that pansies typically are found in. This can make them very challenging to grow in some places.
Their biggest pest can also cause you a lot of problems since they are likely to attract two of the most common garden pests there are, slugs and their cousins snails. They can also be hit with aphids, spider mites, and a whole bunch of other irritating pests.
Know What Pansies Need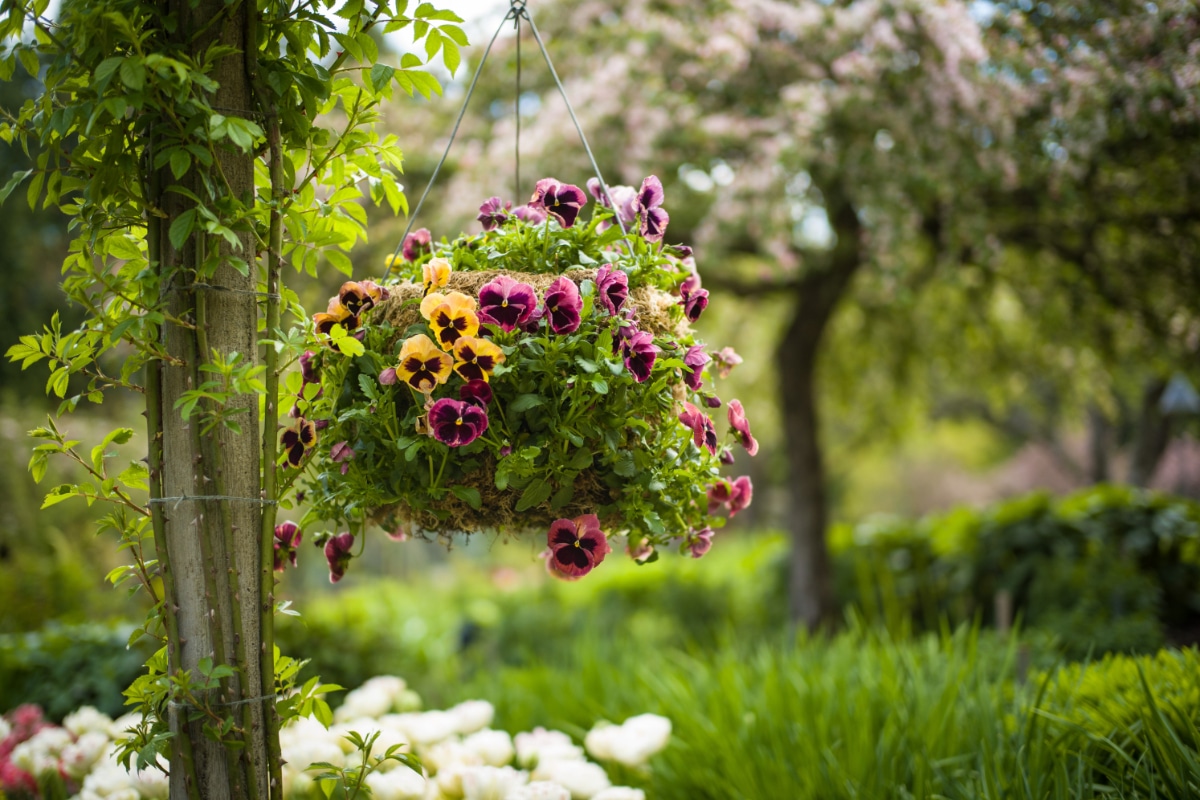 Before you go out and start spending your entire paycheck on pansies (which is a lot easier to do than it should be) you should know what pansies need so you know if the area you want to grow them in suits them as well as if their needs suit your lifestyle.
Thankfully most pansies have similar needs so you don't need to go searching for that information, just keep reading!
Pansy Light Requirements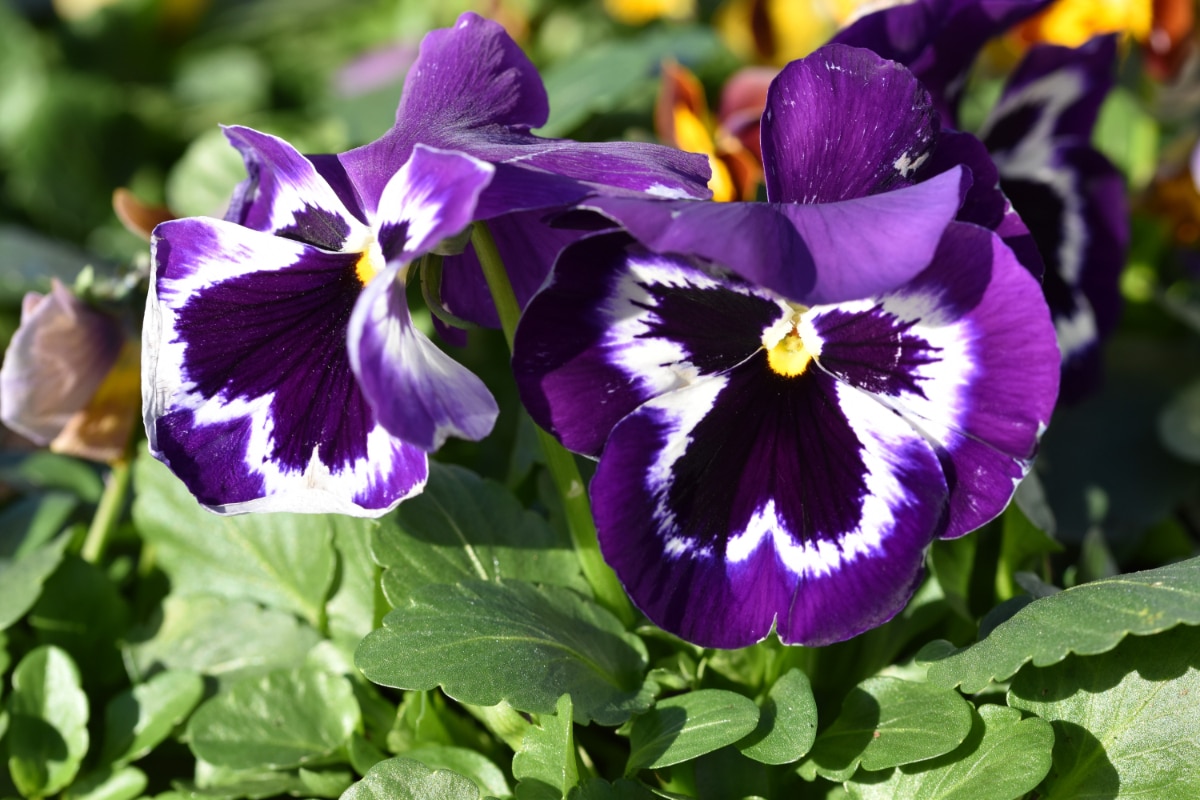 Pansies need to have about 6 hours of sunlight to really thrive. They can grow in partial shade, but for the best results, they need a decent amount of sun.
Temperature Requirements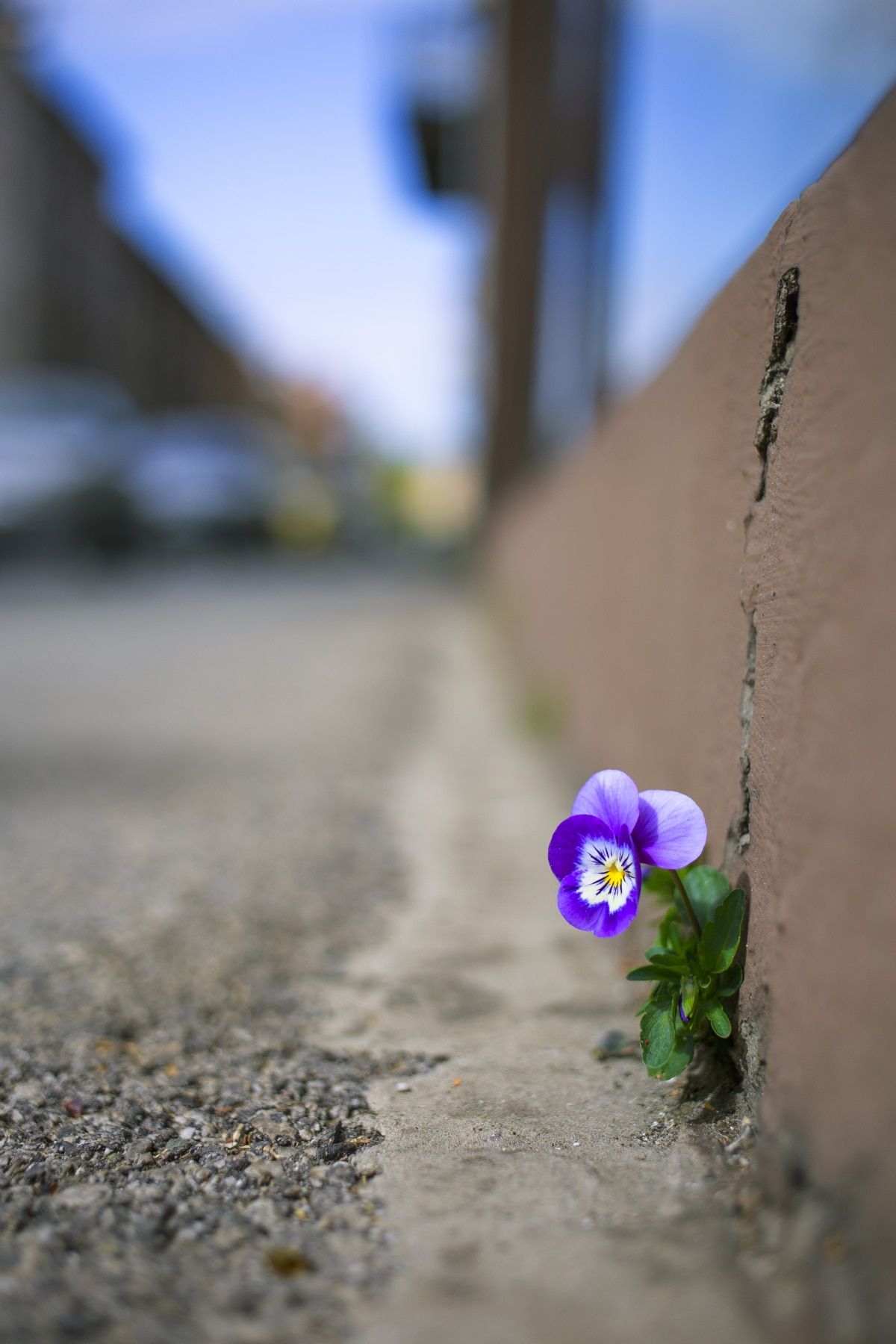 When it comes to temperatures pansies are…well…pansies. They don't do well in the heat at all. Their ideal soil temperature range is 45°F to 65°F. There are some varieties that will tolerate up to 75°F, but most of them will start wilting at that heat.
Soil Requirements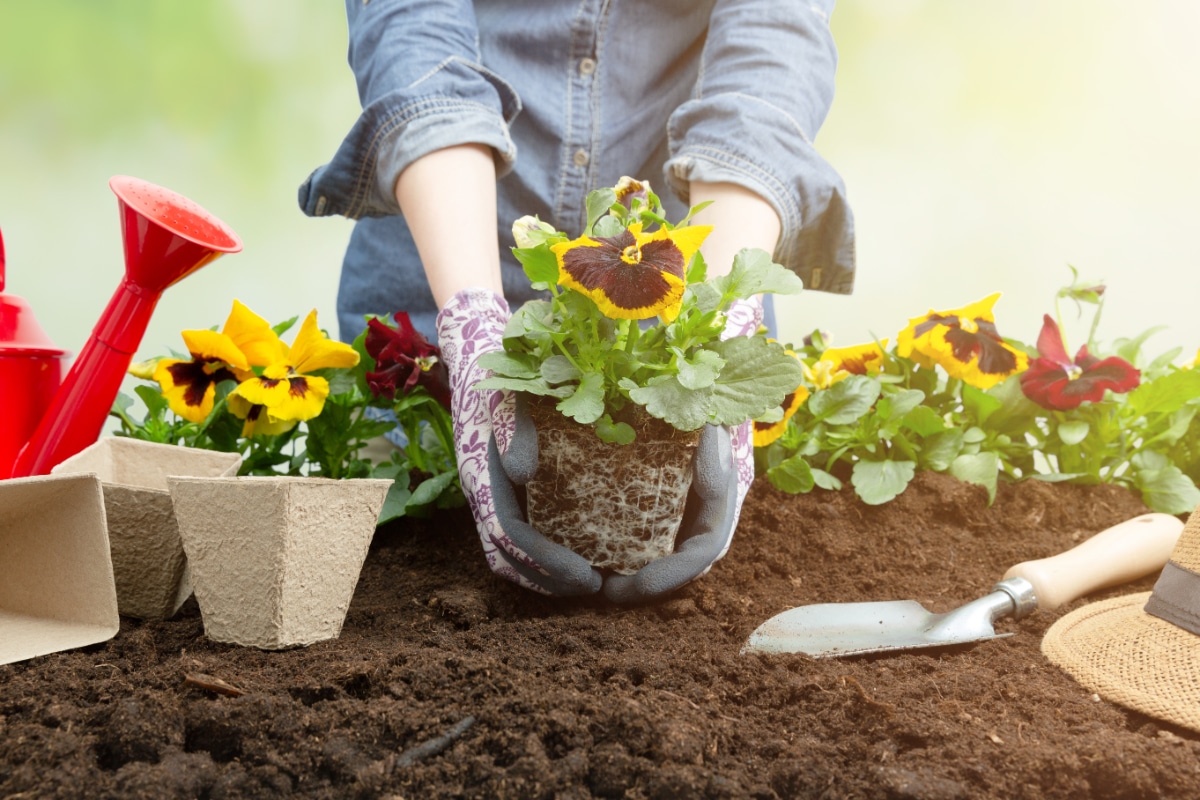 Pansies should be planted in rich loamy soil that drains well and has a low pH. Most areas where you will grow pansies will benefit from 2 inches of high-quality compost mixed into the top 5 inches of soil. This will improve the soil quality greatly, which will give you happier, healthier plants. If the pH in your soil is high then look into getting peat moss, or compost with peat moss which will help lower the pH.
Water Requirements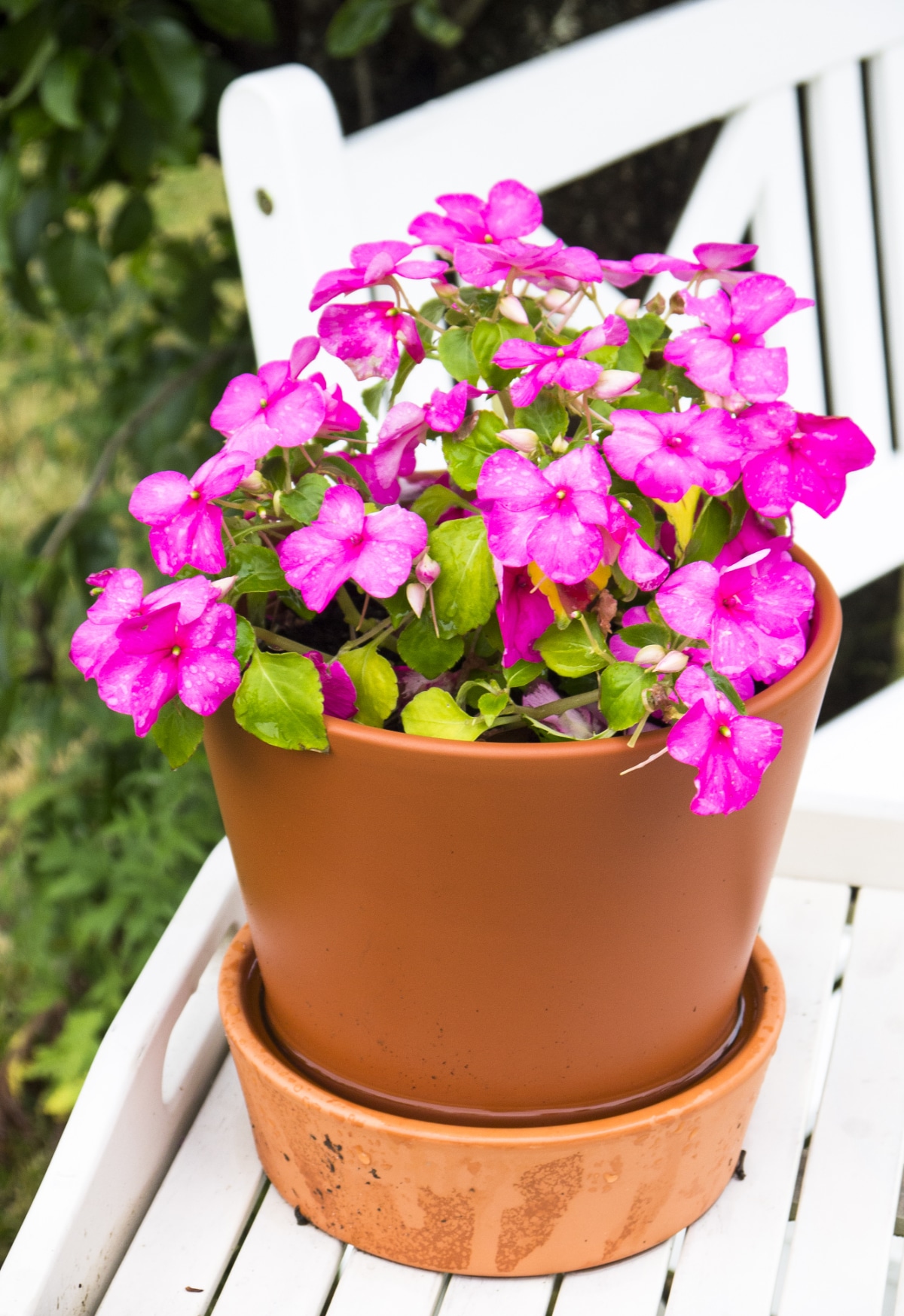 Pansies like soil that is constantly moist, but not riddled with puddles. This might mean that you have to water them every day depending on where you live. But if you live in the Pacific Northwest (where pansies would absolutely THRIVE) then you might be able to get away with watering only every few days.
Fertilizer Requirements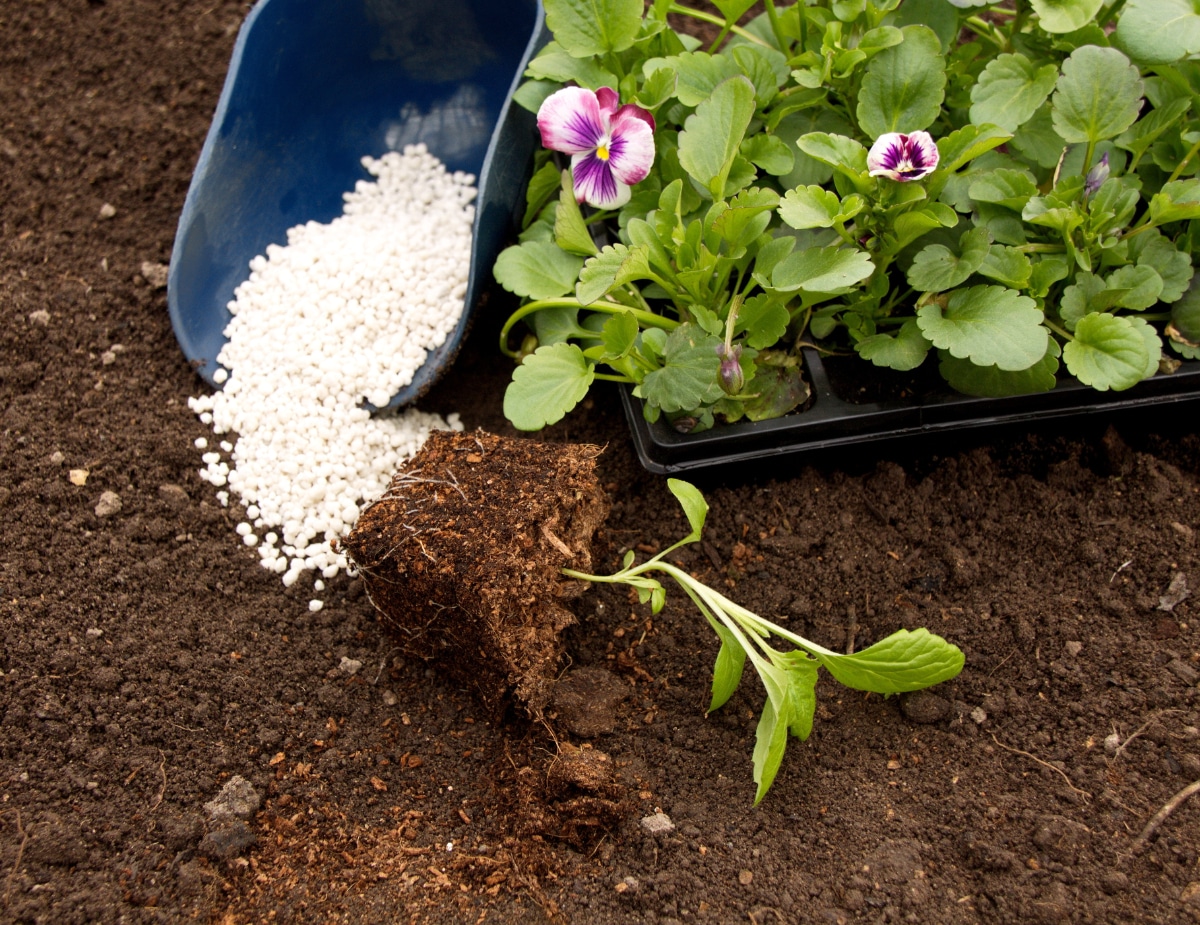 Add fertilizer to the soil surrounding pansies every 4 weeks to help keep them fueled to keep producing gorgeous flowers. Use 1 teaspoon of a 10-10-10 fertilizer for every square foot of your pansy garden. Water the fertilizer into the soil 6 inches away from pansy plants if possible.
Growing Indoors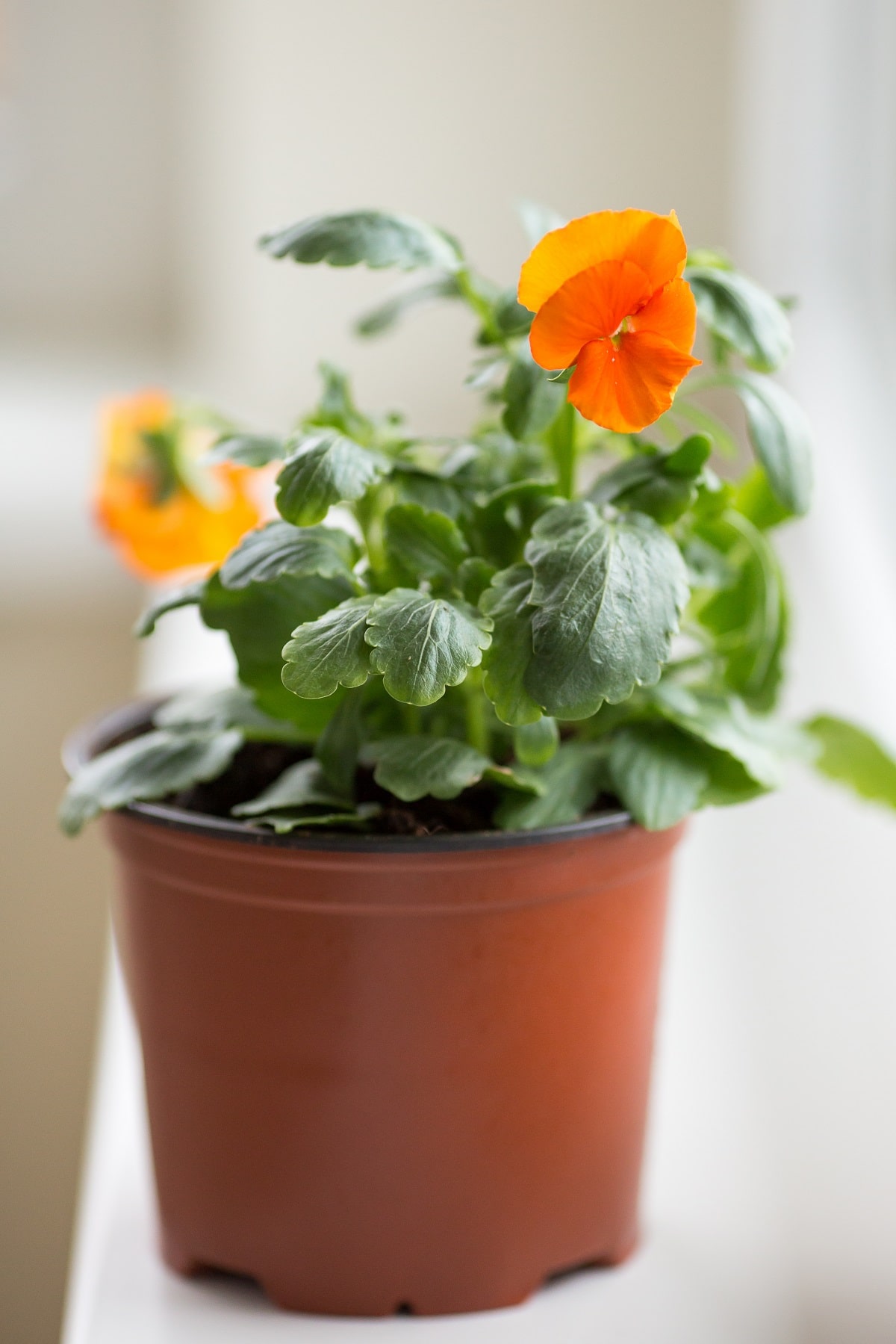 You can grow pansies indoors. I remember my Grandmother had an entire shelf dedicated to them in her living room when I was growing up. But, it isn't easy. No matter where you put them you are going to need to provide extra light. Houses are also warmer and dryer than pansies prefer. For this reason, a lot of people won't grow pansies indoors. It is quite a challenge and they will need a lot of help to thrive.
Edible Pansies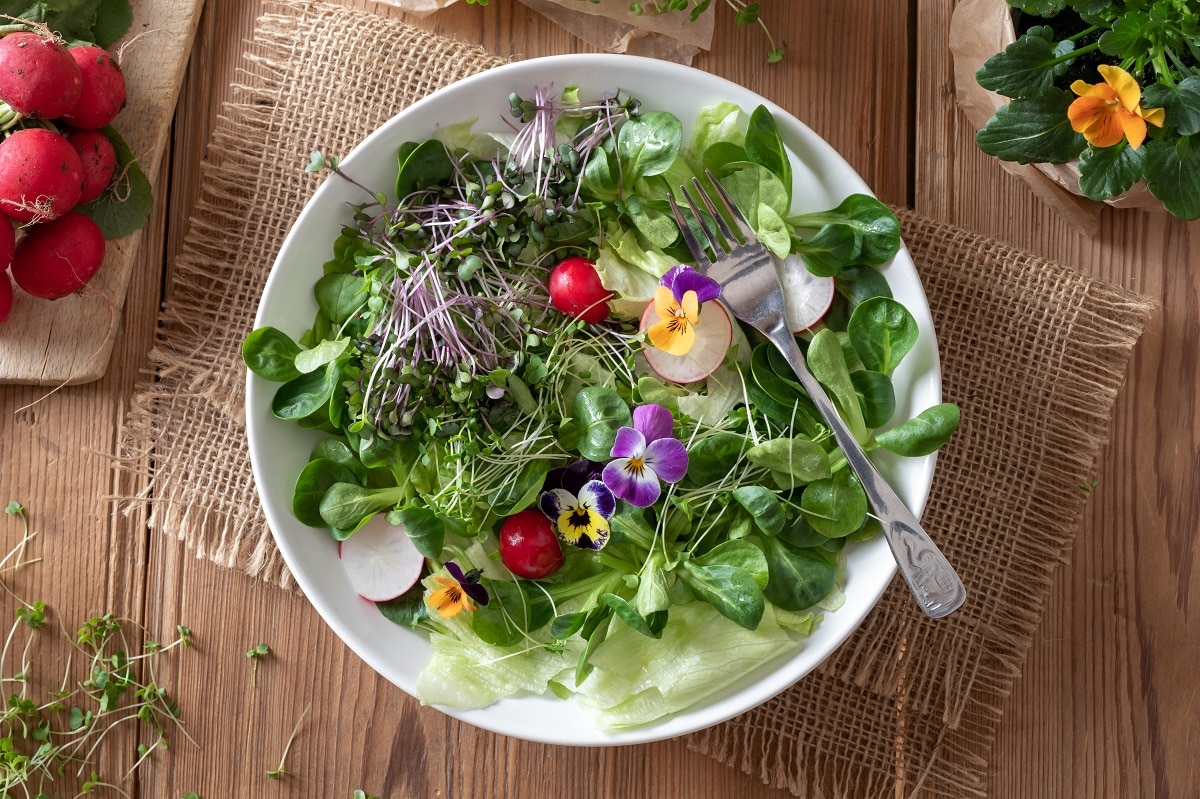 While most people don't grow pansies to eat them they are actually edible! They make a fantastic decorative piece on top of cheesecakes or in salads. Every part of the flower is edible too! So there is no need to pick the flowers apart.
There is one thing you should be warned about though and that is pesticides. If you bought your pansy plants rather than growing them from seed then they are most likely covered in pesticides that aren't meant to be eaten. And if you're thinking about waiting out the pesticides, you're going to be waiting about 5 years. Which means it's a whole lot easier just to grow them from seed if you want to eat them.
50 of the Best Pansy Varieties You Can Buy
Monkey Face Pansies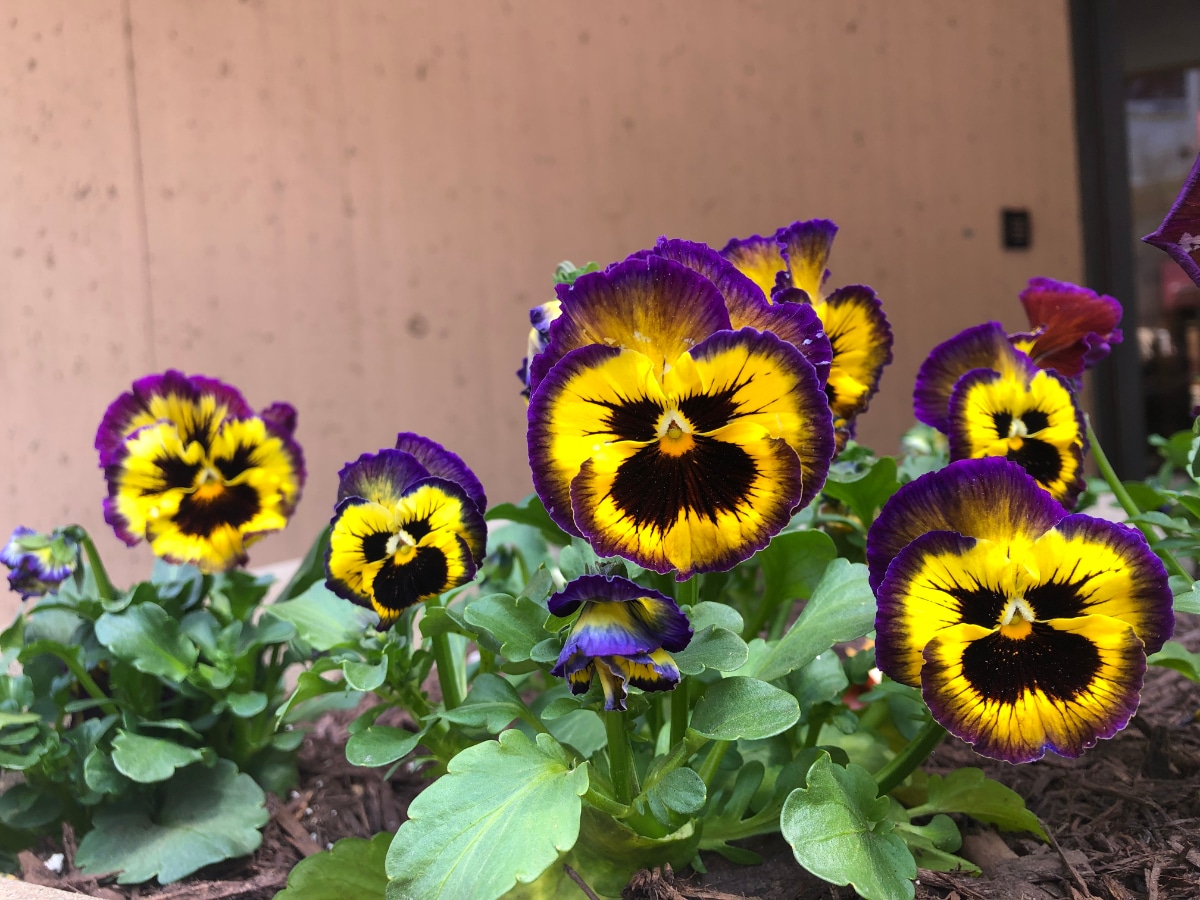 Though pansies come in a lot of different shapes and colors this is traditionally what you think of when you think of pansies.
Flirty Skirts Pansies
The most popular pansy to grow in a container in Europe and it isn't hard to see why.
Ballerina Pansies
If you like more muted, almost antique-looking colors in your flowers then Ballerina Pansies are the ones for you. They're delicate little flowers with frills that look just like a ballerina's tutu.
Waterfall Pansies
A unique combination of blue, purple, and white flowers that will look like a waterfall made of flowers from a distance.
Moulin Rouge Pansies
An Italian improvement over the classic ruffled pansy, the Moulin Rouge will give you a ton of different colors on flowers 2 and a half inches across.
Mariposa Peach Pansies
Another delicate, antique-looking flower. This one has flowers that are a little bit bigger than is usual for the size of the plant.
Ultima Morpho Pansies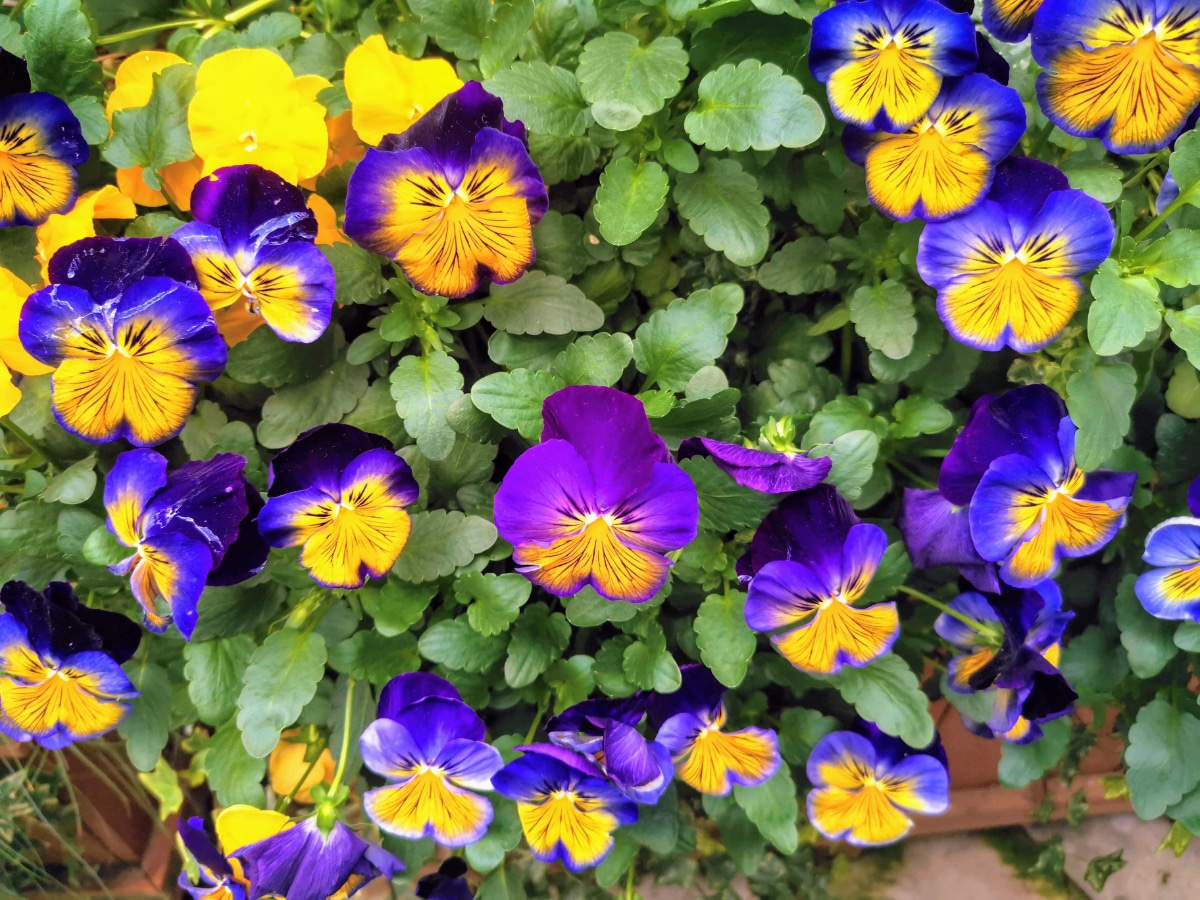 An award-winning blue and yellow pansy that stands just 6 inches tall on average.
Matrix Solar Flare Pansies
An extra-large pansy with flowers that look like the most gorgeous sunset you've ever seen. It will flower almost all year, only taking a break for the summer months.
Cool Wave White Pansies
An ideal pansy for growing in hanging baskets and window boxes. They don't require any pinching and love to trail given the chance.
Delta Premium Marina Pansies
A delicate flower that needs full sun but in return will attract every butterfly in the neighborhood to your yard.
Black Accord Pansies
If you have dreams of having an all-black garden (don't we all?) then you need to make sure Black Accord Pansies are on your list!
Inspire Plus Mardi Gras Pansy
These flowers will only bloom in the fall, but their color is absolutely worth it!
Cool Wave Pansies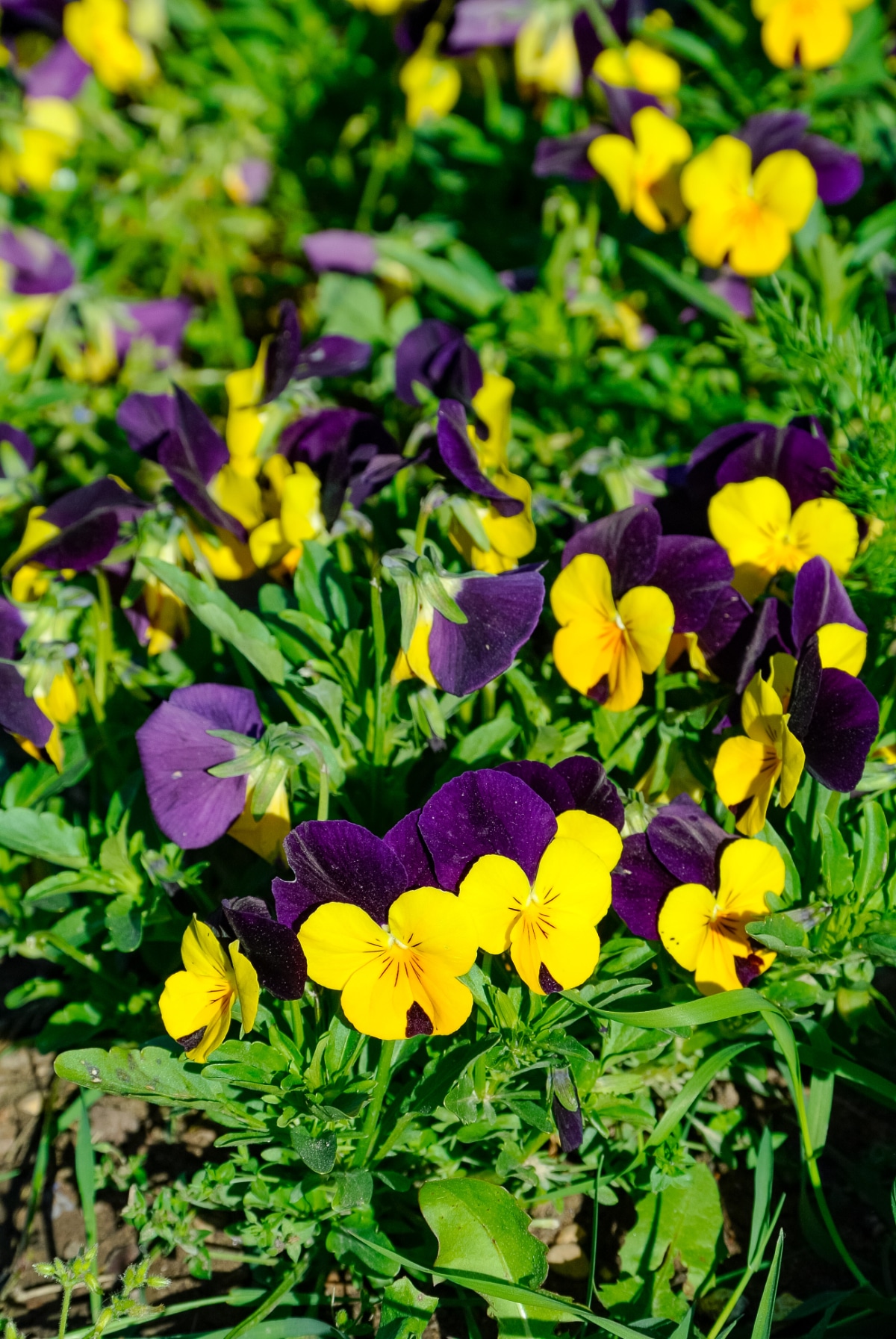 One of the fastest-growing pansies with a long flowering season and a tendency to trail.
Delta Rose Surprise Pansies
If you want a pansy that has a unique mix of colors in it then you might want to check out the Delta Rose Surprise. It really is a surprise what color combinations you end up with!
Nature Orange Pansies
At first glance, you might actually, confuse these for California Poppies because the color is so similar!
Inspire Deluxxe Mulberry Pansy Mix
One of the newer varieties of pansies on the market. It has large flowers and is both heat and cold-tolerant!
Wonderfall Pansies
The Wonderfall variety of pansies comes in a range of different colors depending on your tastes. You can get them both in single colors like pure white or get them in different shades of blue with Blue Picotee Shades.
Colossus Pansies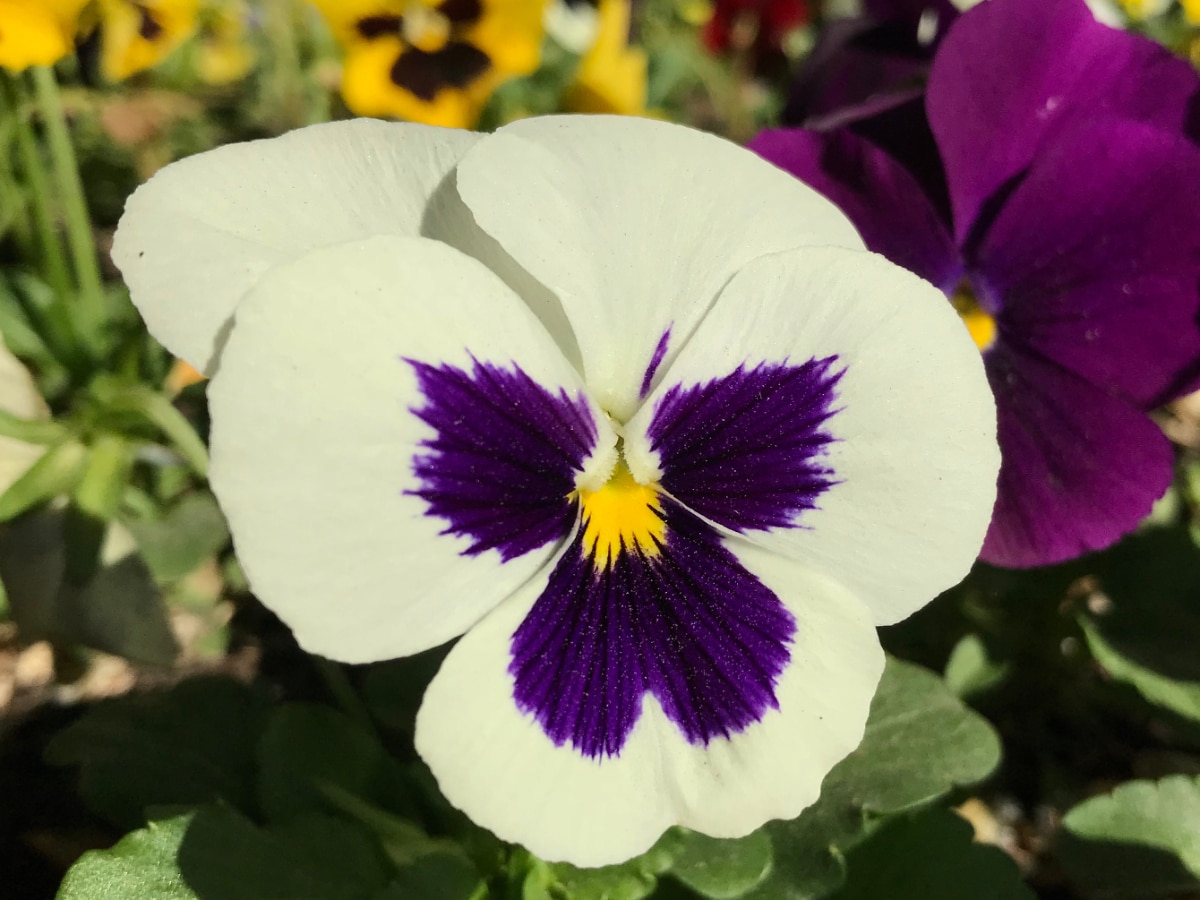 Colossus pansies are named for their massive size. One flower can be 3 to 4 inches wide! These are great to grow if you're in the South as they enjoy the heat and humidity early Fall has to offer.
Nature Rose Picotee Pansies
An adorable little flower with white edges that has both decent heat tolerance and frost tolerance.
Cool Wave Blueberry Swirl Pansies
An F1 pansy with big blooms that loves to spread out given the space to do so.
Delta Speedy Purple Pansies
A gorgeous deep purple pansy with a faint splotch on it. Depending on where you live you might have blooms on it into the winter.
Delta Premium Blue Morpho Pansies
A blue flower with a yellow face and blue whiskers that almost looks like it is made out of velvet.
Cool Wave Morpho Pansies
An amazing purple and yellow flower that spreads far and produces a ton of beautiful flowers!
Panola Pansies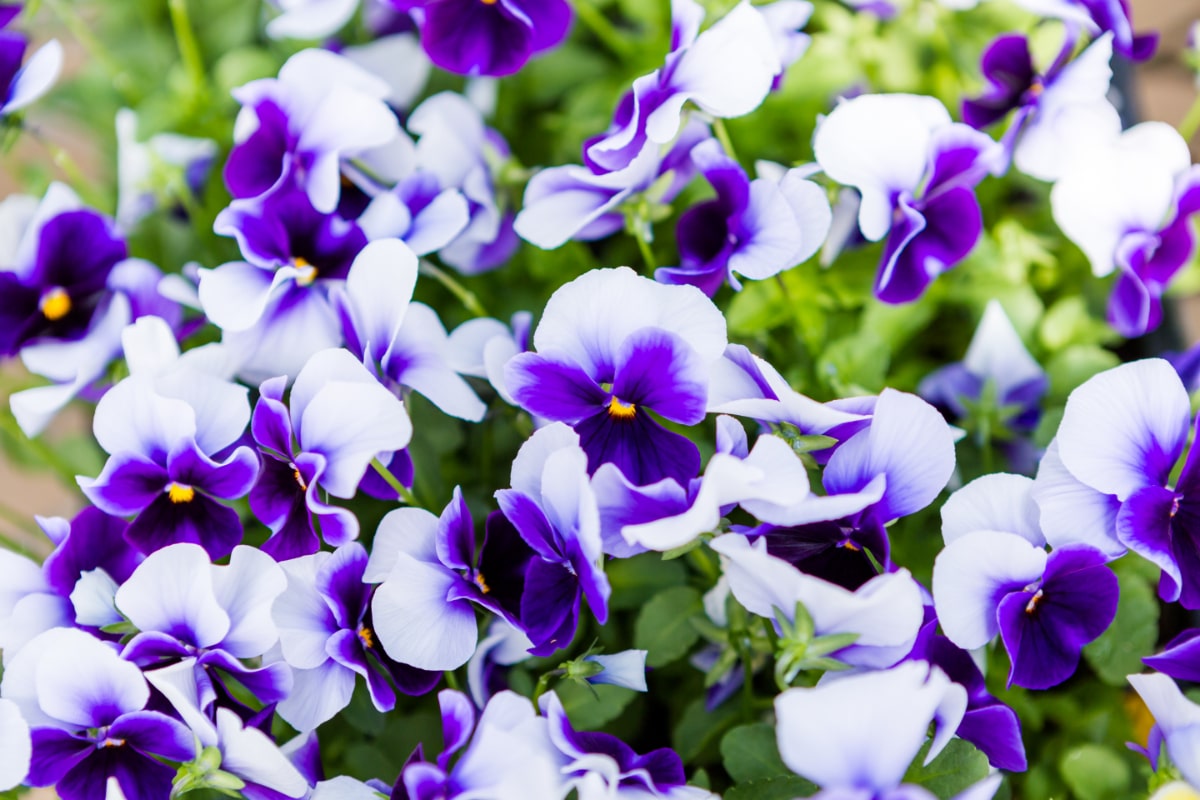 A cool weather variety of pansies with a high bloom count. These can even survive a freeze if you give them a big drink beforehand.
Heat Elite Scarlet Shade Pansies
One of the most gorgeous shades of velvety red in pansy blooms.
Wonderfall Yellow With Red Wing Pansies
These amazing little pansies don't have a monkey face on them, instead, they have a gorgeous set of wings.
Colossus Yellow With Blotch Pansies
A gorgeous pansy that is about 4 inches in diameter that blooms in the fall.
Mammoth Glamarama White Pansies
This pansy with large flowers is ideal for growing in containers and will quickly fill any space they're put in.
Frizzle Sizzle Raspberry Pansies
If you live in a colder climate then you are going to get a ton of ruffles on this flower's blooms.
Jolly Joker Pansies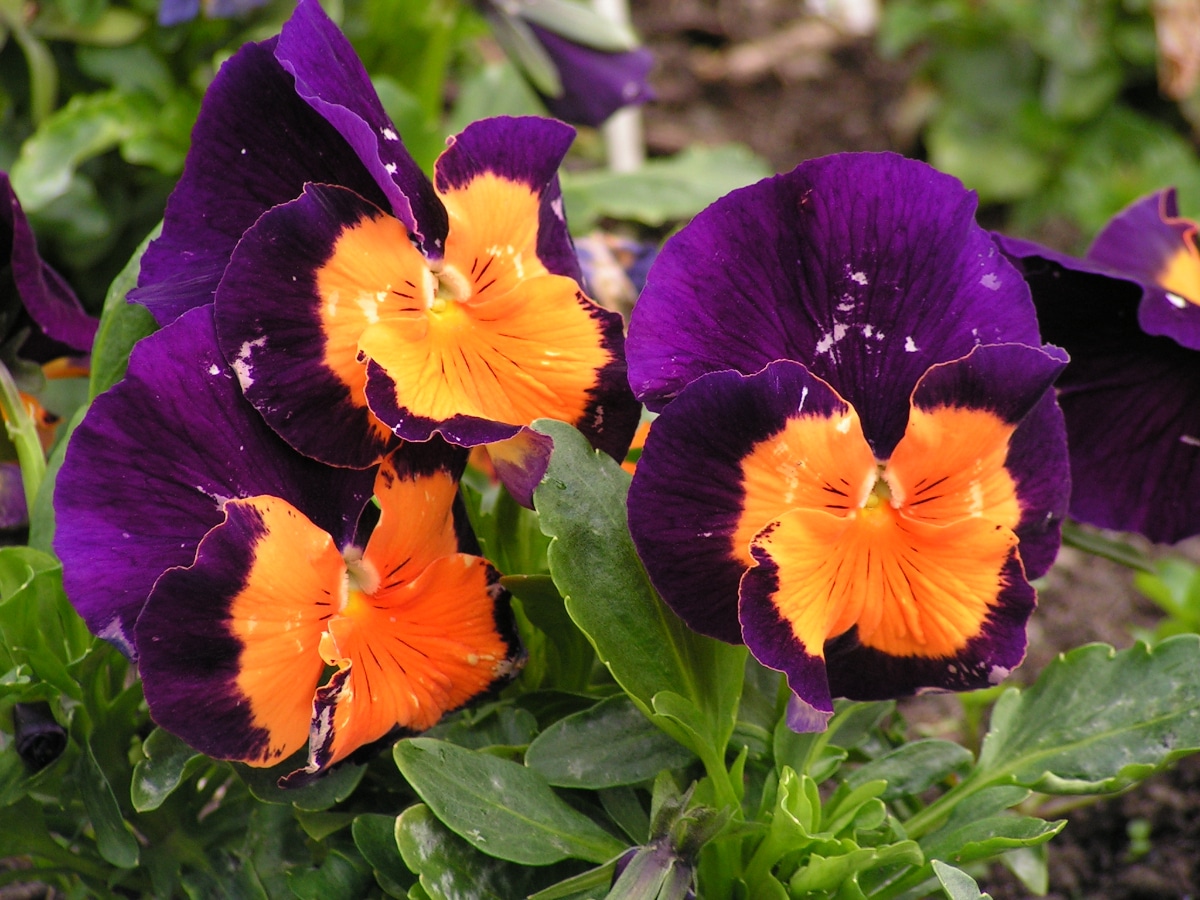 Gorgeous purple and orange flowers grow from the winter-hardy Jolly Joker pansy. These are an F2 hybrid.
Inspire Purple with Orange Pansies
A compact plant that won't ever really expand much but has been bred to withstand heat and cold.
Halloween II Pansies
These beautiful all-black pansies can grow up to a foot tall as well as being winter hardy.
Cool Wave Sunshine 'n Wine Pansies
This yellow and maroon pansy will sprawl up to 30 inches if you give it space to.
Desiderio Tricolor Orchid Pansies
These pansies with three colors will germinate in as little as 4 days after you plant the seeds.
Freefall XL Victoriana Pansies
A gorgeous delicate looking pansy that grows wonderfully in baskets and somehow manages not to grow into a tangled-up mess.
Chalon Supreme Pansies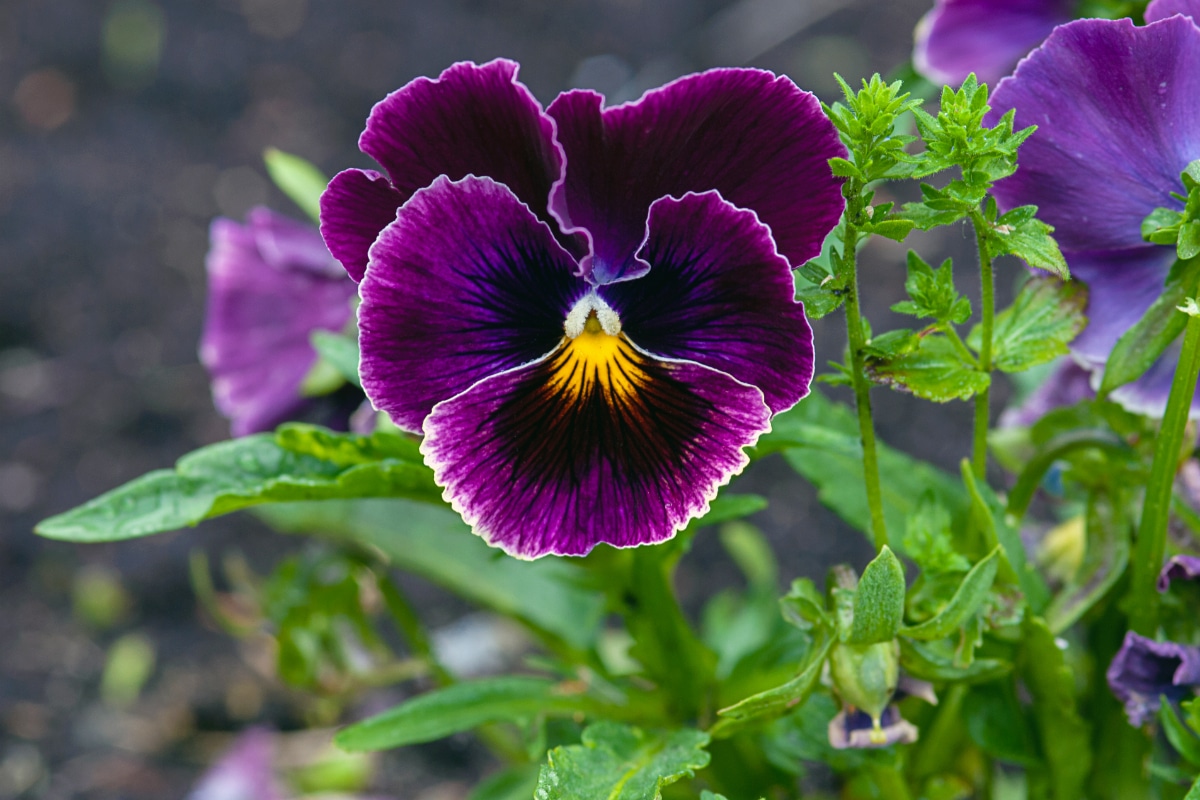 One of the most stunning varieties of pansies hands down.
Cool Wave Sunshine 'n Wine Pansies
This yellow and maroon pansy will sprawl up to 30 inches if you give it space to.
Desiderio Tricolor Orchid Pansies
These pansies with three colors will germinate in as little as 4 days after you plant the seeds.
Freefall XL Victoriana Pansies
A gorgeous delicate looking pansy that grows wonderfully in baskets and somehow manages not to grow into a tangled-up mess.
Horned Pansy Angel Amber Kiss
This bright orange pansy is well known for having a ton of flowers. But, it is important to know that it is an F1, which might turn some people off.
Tiger Eye Red Pansies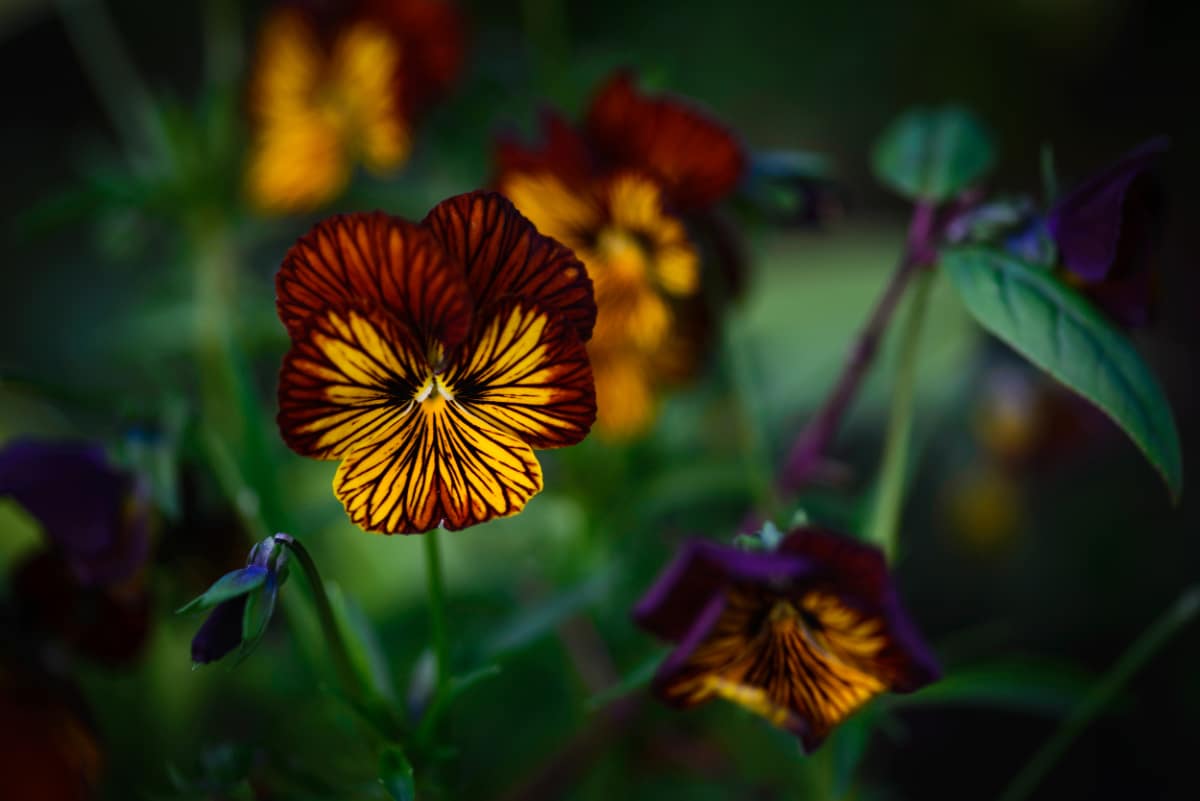 Tiger Eye Red Pansies are possibly the most unique looking pansies that I have ever seen and best of all, it blooms all summer!
Alba Minor Pansies
One of the most odd-looking pansies on the list, but beautifully delicate.
Blue Mood Pansies
In the pansy flower language, blue flower is a promise of loyal companionship.
Bowles Black Pansies
These pansies aren't actually black, but their purple flowers are so dark that they can look black in the most light and they are velvety soft.
Delta Marina Pansies
Well known for bouncing back after extreme weather events and flowering earlier in the year than you expect.
Adonis Pansy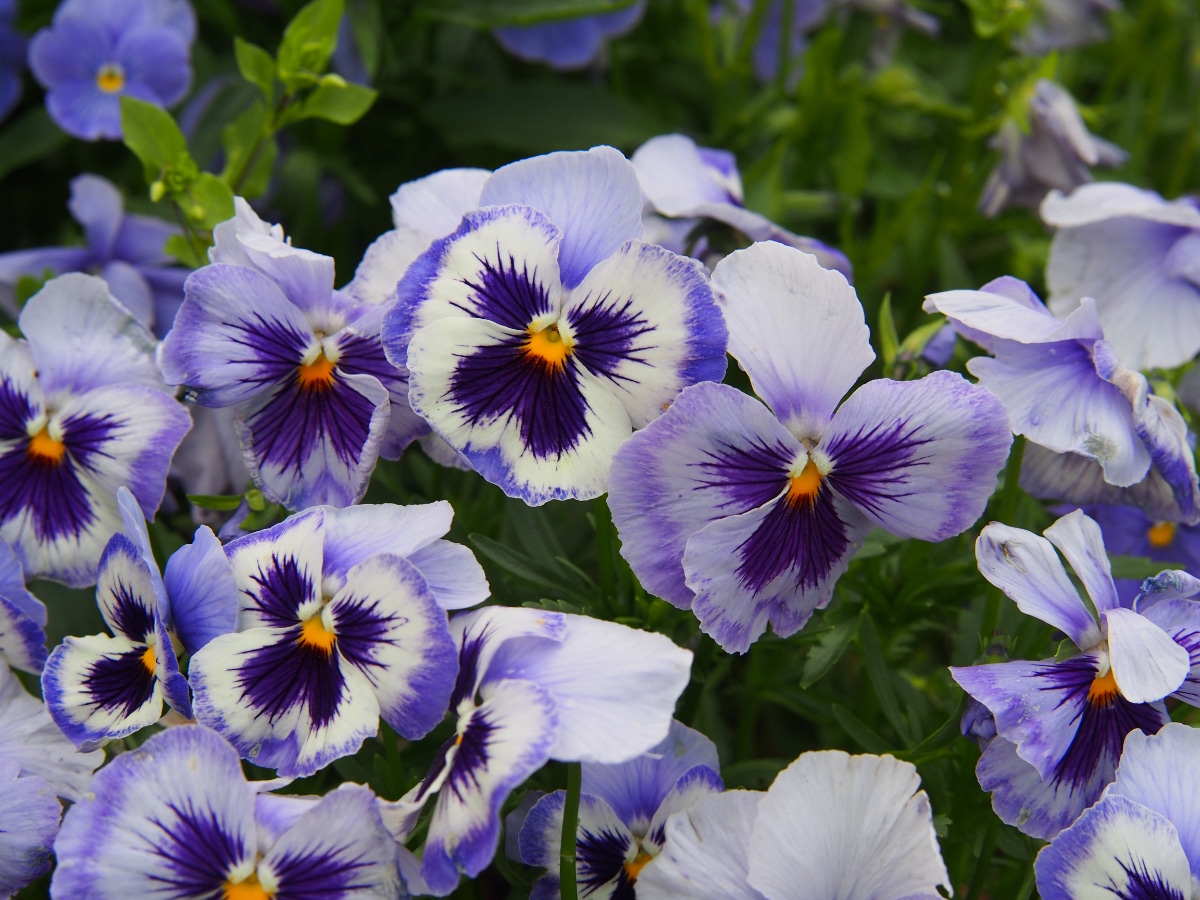 Impressively, the Adonis Pansy can flower year-round in the right conditions!
Dynamite Blotch Pansies
A classic-looking pansy that can come in a variety of different colors.
Etain Voila
A gorgeous smelling pansy with a usual shape.
Frosted Chocolate Pansies
Another amazingly unique-looking pansy. This one looks amazing on top of chocolate birthday cakes.
Molly Sanderson Pansies
This black pansy will stay compact no matter how much room you give it, so feel free to plant them in thickly.
Whopping Purple Whiskers Pansies
There are some big pansies on this list, but I don't think any of them get quite this big, they're nearly the size of your hand!
Lemonberry Frizzle Sizzle Pansies
Beautiful ruffled pansies with delicate berry-colored edges.
Rose Wing Sorbet Pansies
These will have more intense colors in the cooler conditions they're grown in.