Delicate and pure, white flowers evoke peaceful and tranquil emotions. White perennials in the landscape are alluring yet calming, and they are effortless to incorporate into the garden. After all, white goes with everything! White flowers can be used as highlights, outlining more vibrantly colored blooms to make them shine brighter. Or, they are a fantastic statement piece, turning entire garden sections into a brilliant white wonderland.
Have you ever seen white flowers glowing in a moonlit garden? That reason alone is enough to fill the garden with many types of beautiful white perennials.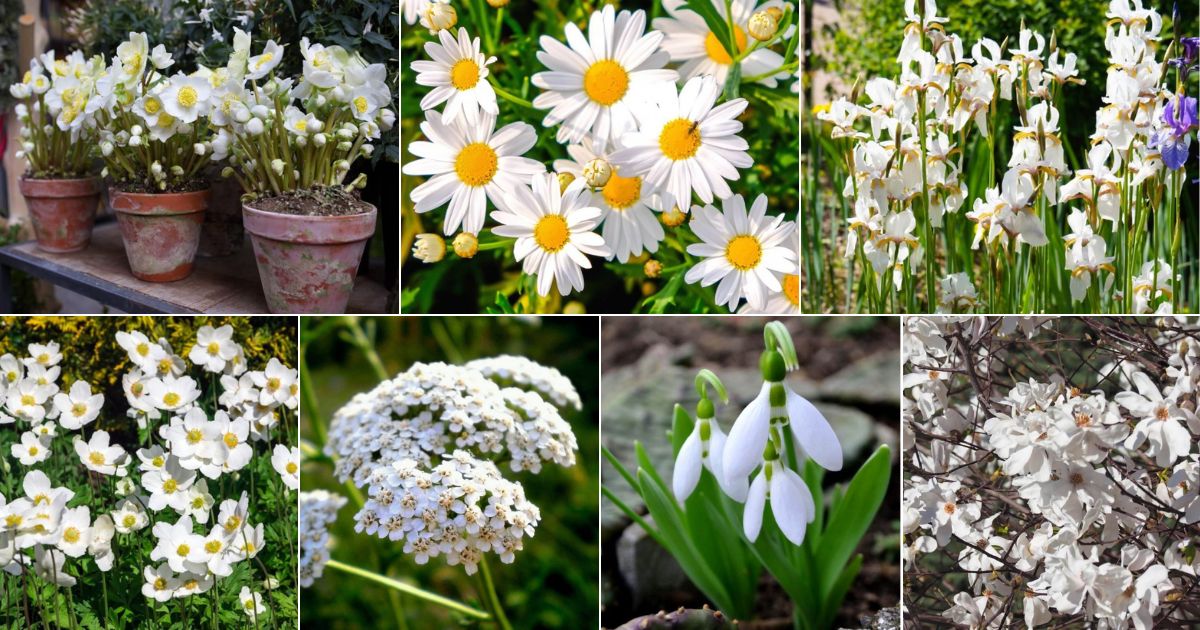 What Does White Mean In The Garden?
White is the color of innocence and purity and is often used in color palettes to convey light, tranquility, and goodness. When you want to elicit feelings of hope, life, honor, and integrity, consider including white perennial flowers, and you won't be disappointed.
There is no shortage of white plants, perennials, and flowers to choose from in the gardening world. White abounds as a common yet often overlooked color choice. Our eyes are naturally drawn to the bolder, louder, more vibrant colors like yellow and red, but we shouldn't downplay white flowers so readily.
When planted in large groupings, the white flowering perennial will stand out stark and bold on its own against green foliage. And, the way other colorful flowers become even brighter when there are white blooms around to provide contrast is visually stunning. Purple flowers look even flashier when they are accented by white flowers nearby.

Jump to:
Ways To Use White Perennials In The Landscape
Mix sparsely with brighter colored flowers or in ornamental grass plantings to give the effect of scattered snowflakes.
The opposite of the first idea, use white flowers as the base and sprinkle brightly colored flowers in like dots of paint on an artist's canvas.
Use as a border to highlight or bring attention to another flower or perennial.
Combine with vivid and dramatic flowers as a color contrast.
Plant in shady corners to lighten up the space.
16 White Perennials For Every Landscape
Snowdrop (Galanthus sp.)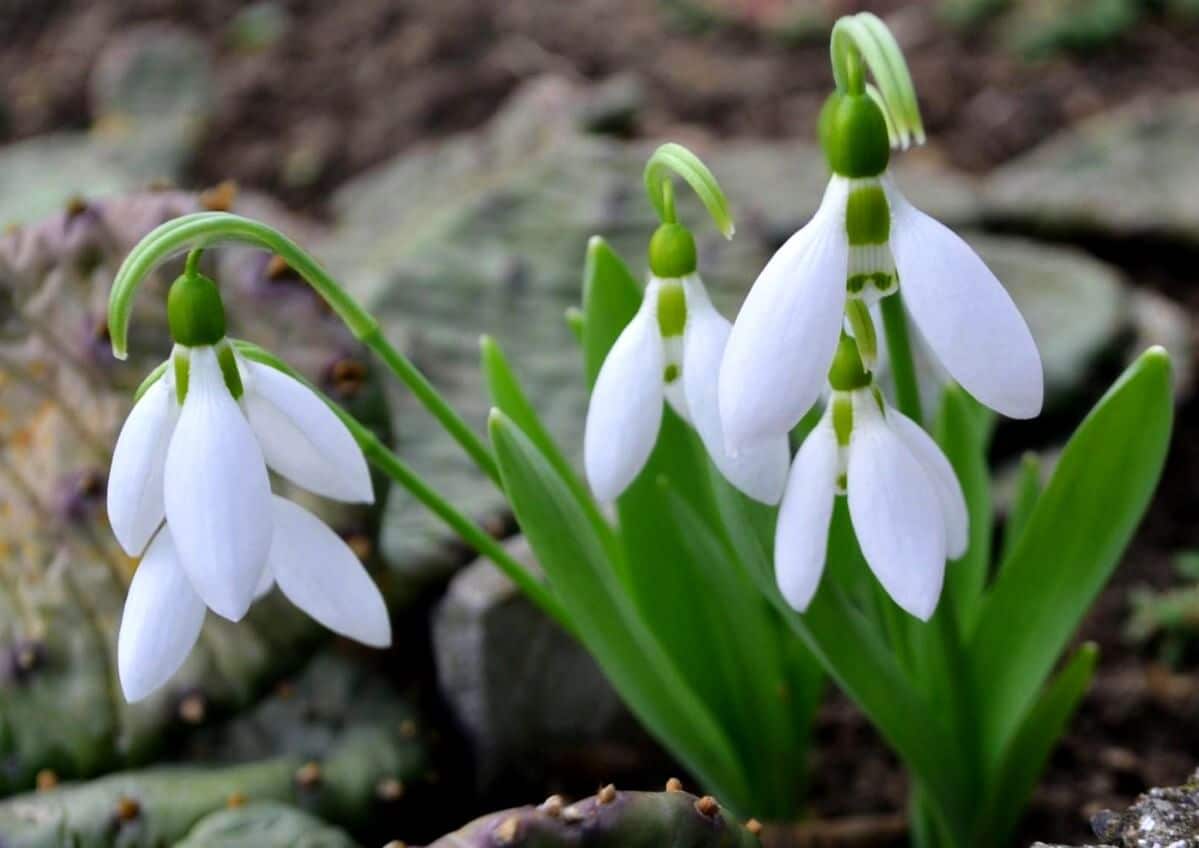 A sweet and elegant early spring bloomer, Snowdrops look like their name. Small, dainty, nodding flowers grow on short stems above the foliage, giving the impression of falling snow. This is a short perennial flower, only reaching 8-10 inches high, but it's quite breathtaking when planted in a large group. Snowdrop foliage is nondescript, arriving before the flowers then fading away after the flowers have bloomed.
Snowdrop flowers are naturally white, and with 20 different species and innumerable hybrids, there are many options. This is the ultimate white perennial flower in our book! It's often the first flower in spring, and a very welcome one at that, even if it does look like more snow.
Snowdrops of note: Greater Snowdrop (G.elwesii), Pleated Snowdrop (G.plicatus), Double Snowdrop (G.nivalis Flore pleniflorus x), Snow White's Gnome (G.nivalis x)
Hardy to zones 3-8
Full sun or partial shade
Rabbit, small animal, and deer resistant
False Goat's Beard (Astilbe sp.)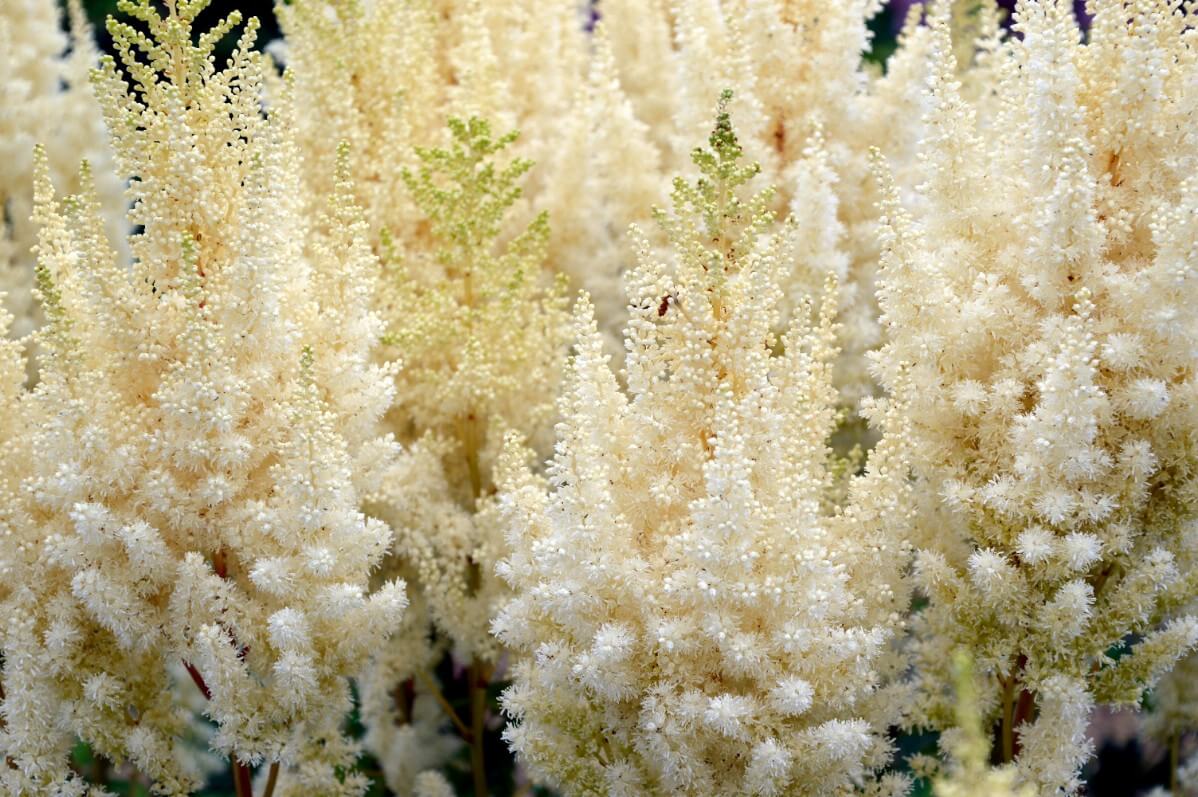 Plumes of feathery white flowers arch up above the foliage like massive snowdrifts, creating a spectacle when it is in bloom. False Goat's Beard is elegant looking yet doesn't require much maintenance to keep its graceful appearance. Butterflies adore the tall spikes of densely packed ivory white flowers which start blooming in early summer.
White-flowered False Goat's Beard cultivars: Bridal Veil, Snowdrift, Deutschland, Vision in White, White Glory, Younique White
Hardy to zones 4-9
Full sun, partial shade, or full shade; very shade tolerant
Rabbit and deer resistant
Sweet Bay Magnolia (Magnolia virginiana)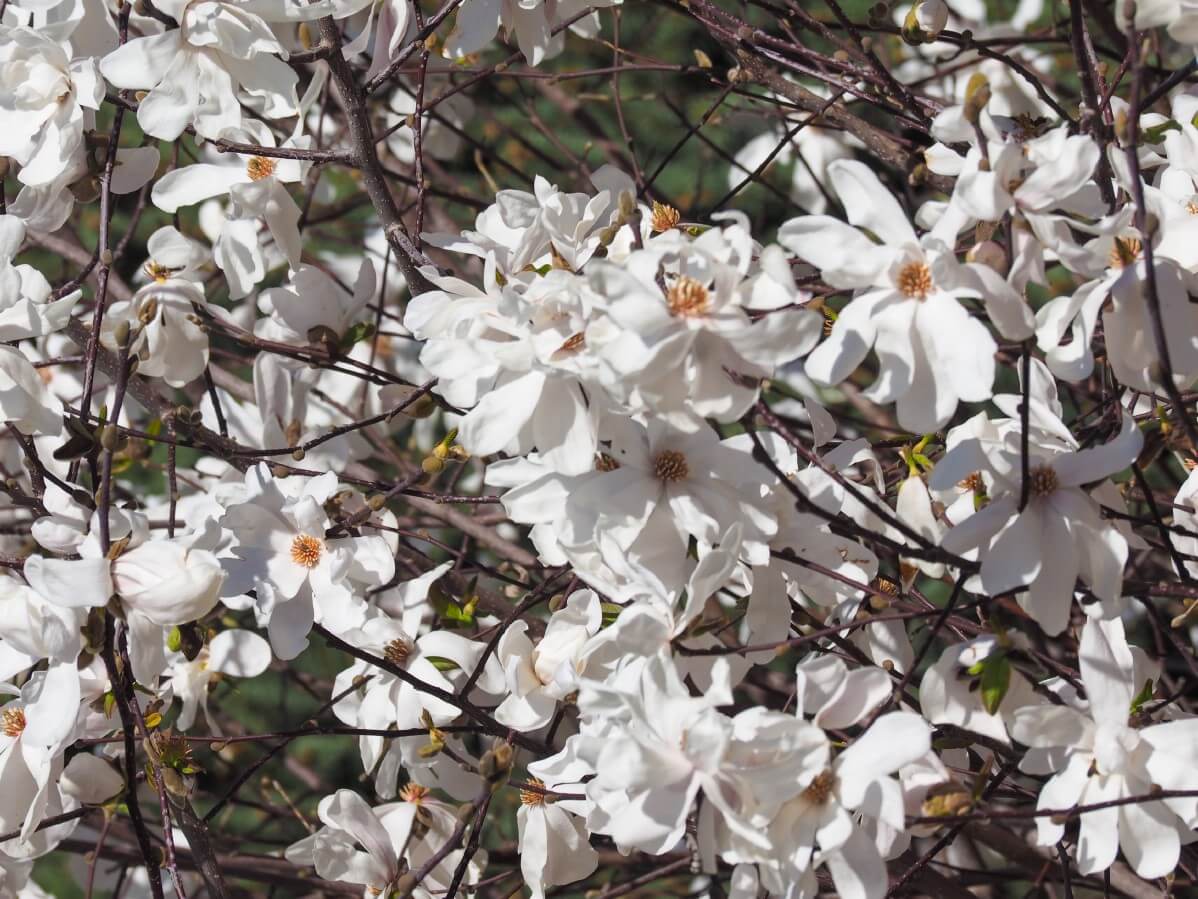 A native tree with gorgeous sweet-lemon scented snow-white flowers, Sweetbay Magnolia is an incredible landscape choice if you have the space. Sweetbay Magnolia grows 10-35 feet tall; you can keep it a small multi-stemmed bush or let it grow to its full height. The flowers are large and cup-shaped with broad velvety petals. At night, the flowers close up, then reopen in the morning to bless your space with color and fragrance.
Hardy to zones 5-10
Full sun or partial shade
Native to the southeastern US
Meadow Rue (Thalictrum aquilegiifolium)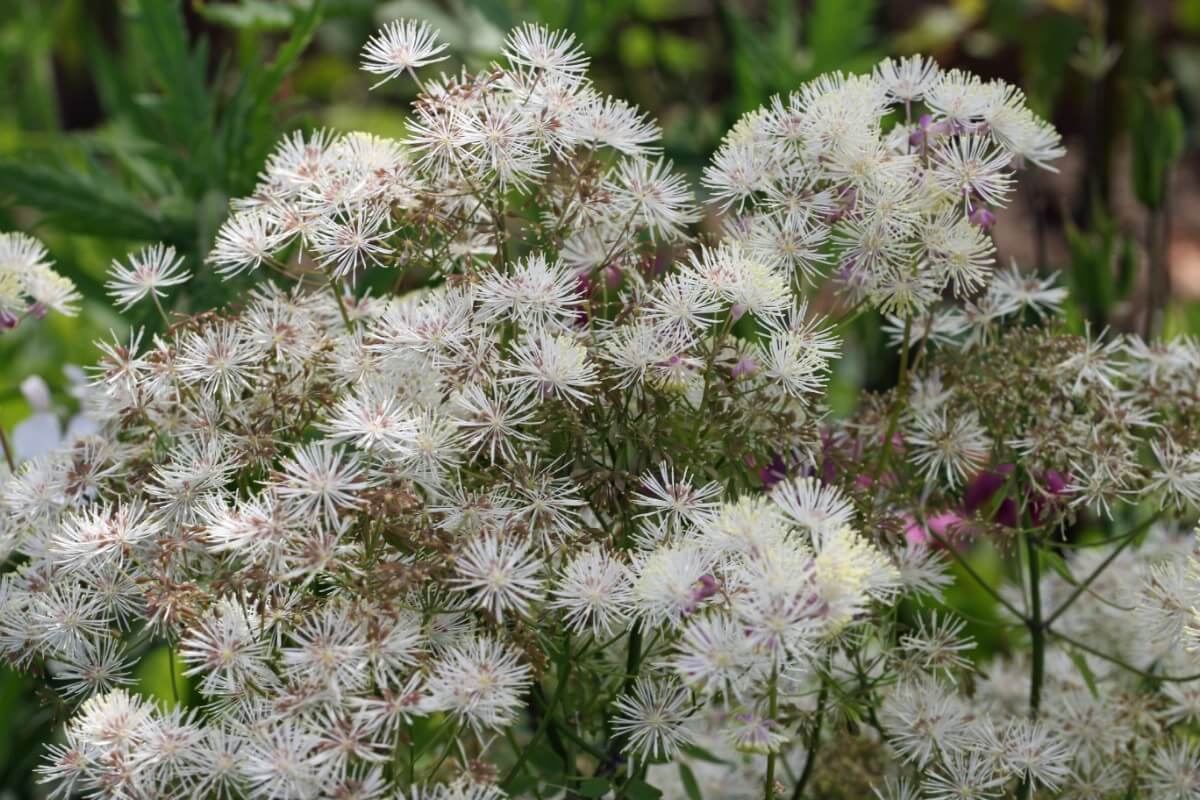 With flowers that look like miniature fireworks at the end of tall, delicate stems, Meadow Rue makes quite the statement in the landscape. This stately perennial flower puts on a show in late spring to early summer. It is exceptionally well suited as a border plant due to its erect, compact growth. Meadow Rue also looks fantastic mixed with other tall perennials, like Echinacea or Coneflower.
White-flowered Meadow Rue cultivars: Album, Nimbus
Hardy to zones 5-8
Thread-like Meadow Rue (T.filamentosum) is another all-white option. The petals are thinner, and it has reddish stems, which provide a nice contrast to the white blooms.
Full sun or partial shade
Meadow Anemone (Anemone canadensis)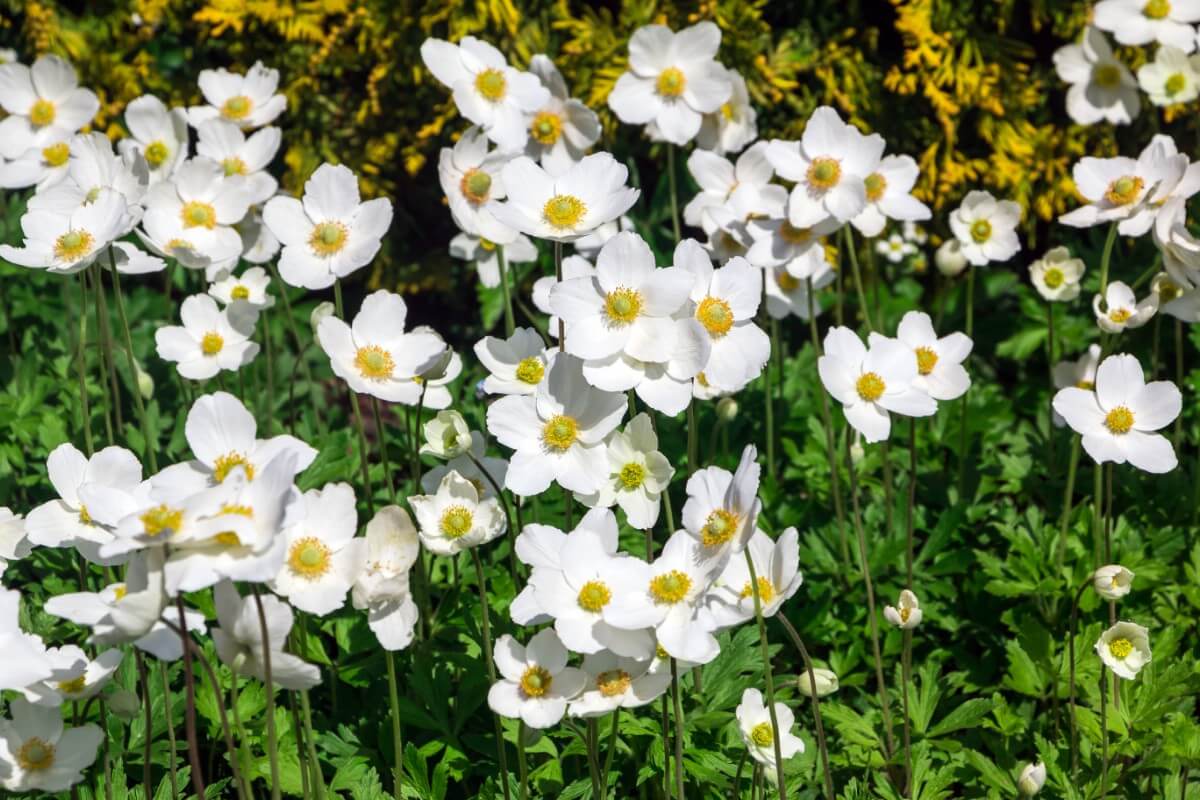 A sweet, low-key perennial, Meadow Anemone produces abundant little white flowers from mid-spring through early summer. The flowers aren't showy, but there are so many when this native flower blooms that they look like hundreds of snowflakes atop the bright green-toothed foliage. Meadow Anemone forms colonies and likes wet spots where it will happily be a groundcover. If you've got a low-lying or boggy area on your property, Meadow Anemone is an ideal perennial.
Hardy to zones 3-8
Full sun or partial shade
Deer resistant
Dianthus (Dianthus sp.)
White isn't the first color we think of when we consider Dianthus; their common name is "Pinks" for a reason. However, Dianthus flowers come in a multitude of colors, including and some truly stunning all-white and bi-color varieties. Dianthus foliage is blue-green and grass-like, allowing the flowers to be the real stars of the show. The fringed petals add an extra layer of elegance and beauty to these abundant bloomers. Bees and butterflies love the gorgeous little flowers, too.
White-flowered Dianthus cultivars: Memories (pure white & double blooms), Frosty (pure white), Key Lime Pie (white with light green center), Itsaul White (pure white and semi-double blooms), Everlast White (white double bloom with a pink center), Coconut Surprise (white double bloom with crimson red center)
Hardy to zones 5-9
Full sun or light shade
Deer and rabbit resistant
Columbine (Aquilegia hybrid "Songbird Dove")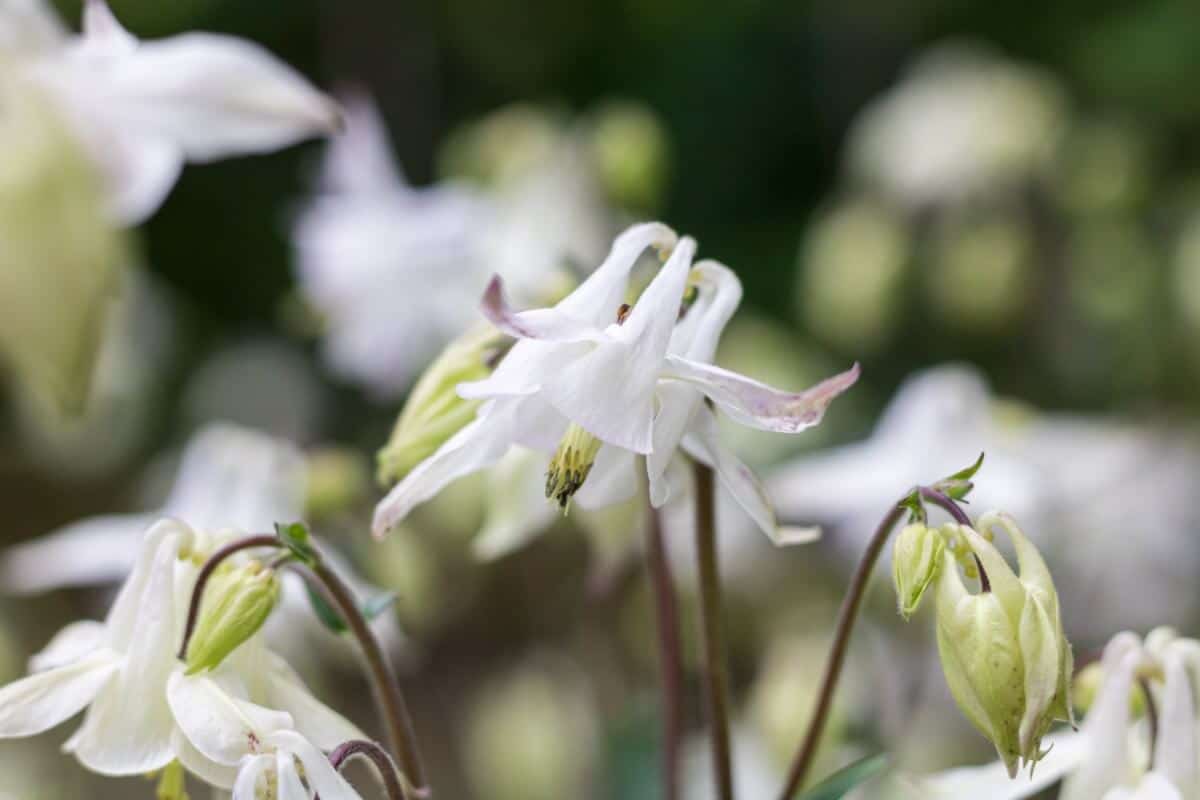 The long-spurred pure white flowers of the Songbird Dove Columbine are graceful and captivating. Columbine flowers are five-petaled with long petal-like spurs that arch downwards, giving the effect that the flowers are leaping forward or launching off the ground into the heavens. We wouldn't be surprised if that's the case! The Songbird Dove hybrid produces blooms abundantly for 4-6 weeks, with the flowers growing on erect stems well above the blue-green foliage.
Hardy to zones 3-9
Full sun or partial shade
Rabbit and deer resistant
Blackhaw Viburnum (Viburnum prunifolium)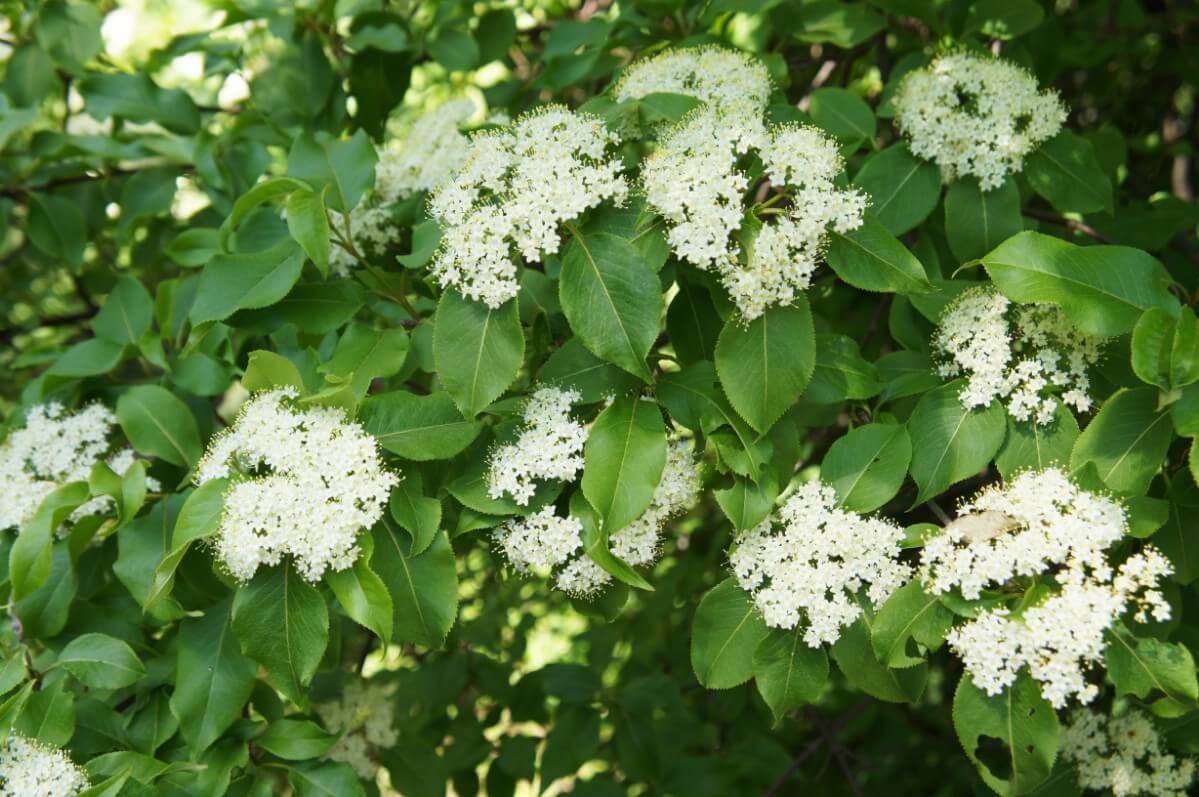 The flat clusters of tiny pure-white flowers on Blackhaw Viburnum look like snowdrifts on this tall shrub. Blackhaw Viburnum is highly adaptable, grows easily, and looks stunning as a hedgerow or border plant. After it finishes blooming, the branches become laden with black berries, which the birds adore. This native Viburnum is an important food source for many species, plus the berries make excellent jams and jellies.
For decades, the most popular landscaped Viburnums have been Asian and European cultivars. However, over the years, many of these have turned invasive. Instead of planting the extra-showy non-native Viburnums, try the native species. It's just as beautiful, and all the native pollinators will be extra pleased.
Hardy to zones 3-9
Full sun or partial shade
Drought tolerant and grows in poor soils
White Yarrow (Achillea millefolium)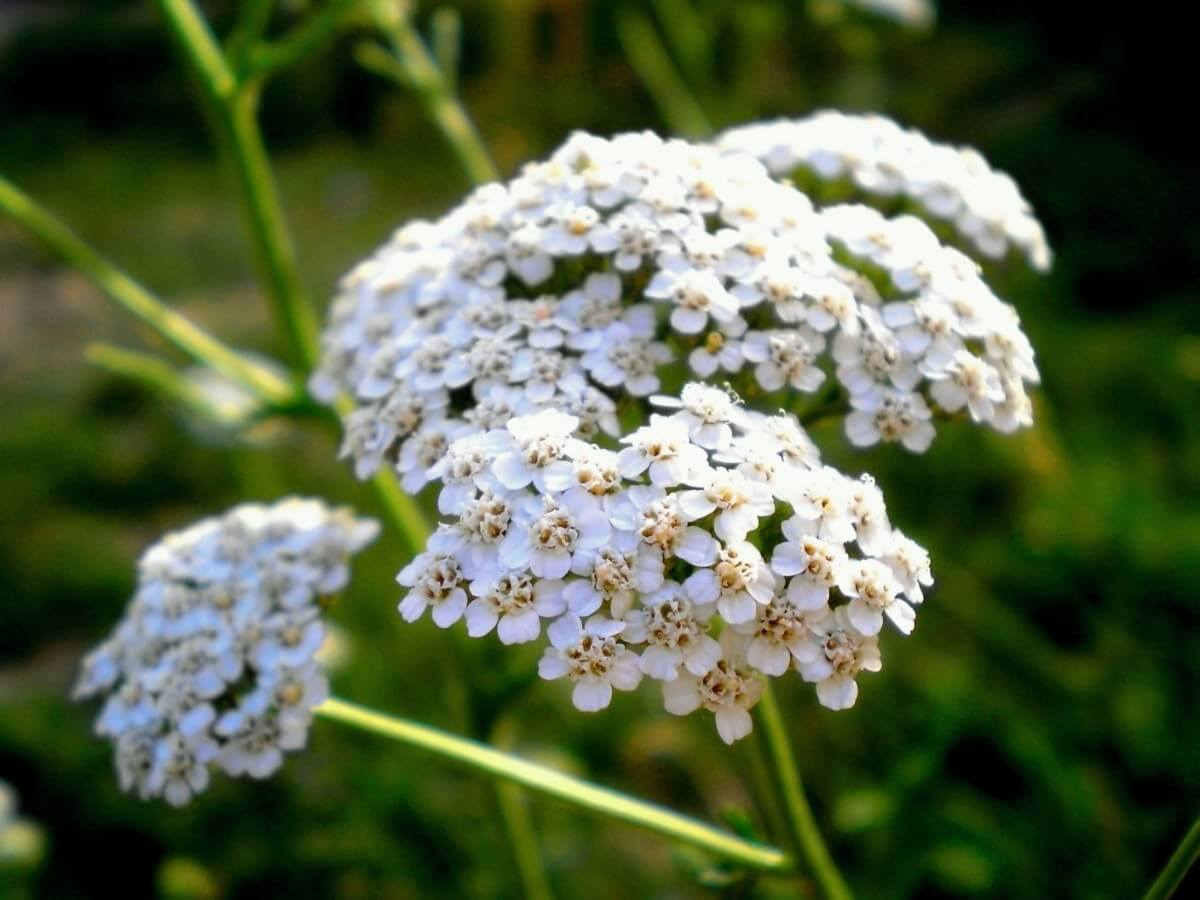 Broad, flat clusters of tiny ivory-white flowers are the trademark of White Yarrow. The blooms are long-lived and grow on tall stems above the deep-green foliage. White Yarrow is distinctive and attractive in full bloom. This is an essential native wildflower for attracting butterflies; they flock to it, literally!
Hardy to zones 3-9
Full sun or light shade
Drought resistant
Deer and rabbit resistant
White Wild Indigo (Baptisia alba)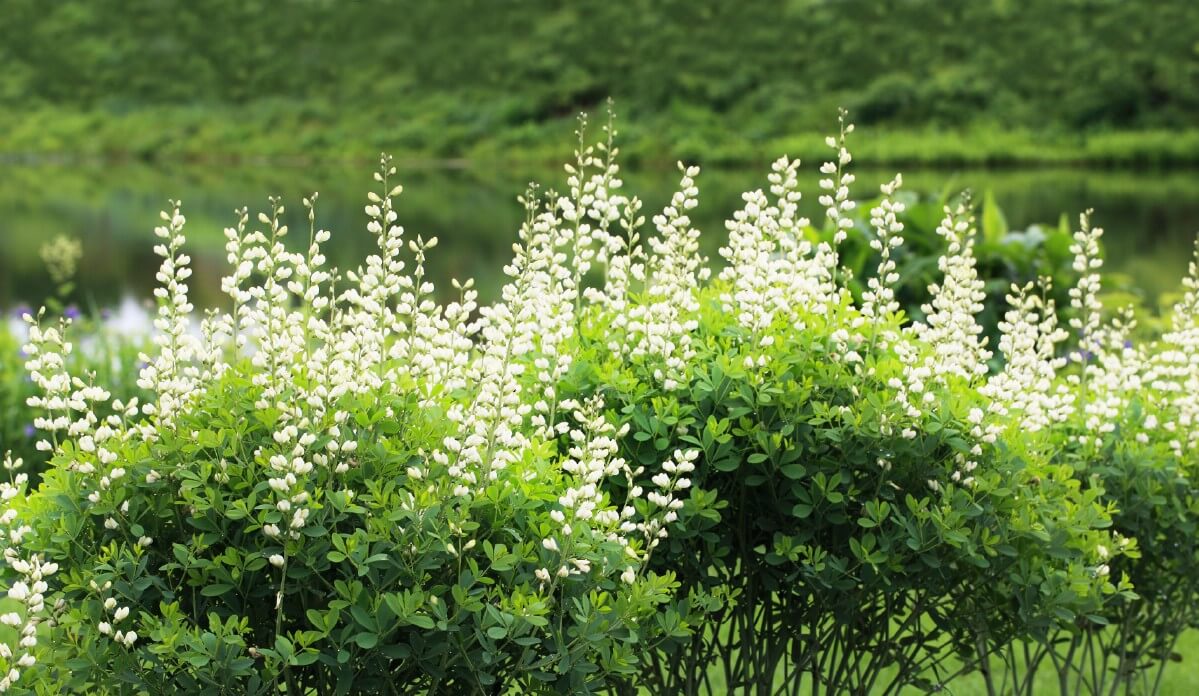 This southern native wildflower produces prolific pea-shaped flowers on tall spikes above the blue-green foliage. Wild Indigo flowers resemble Lupine blooms but aren't quite as dense. This native perennial is striking in grouped plantings or as a centerpiece. White Wild Indigo is one of those plants that truly looks good with everything, making it a very valuable landscape plant.
Hardy to zones 5-8
Full sun or partial shade
Drought tolerant, adaptable to poor soils
Deer resistant
Native to the southeastern US
White Meadowsweet (Spiraea alba)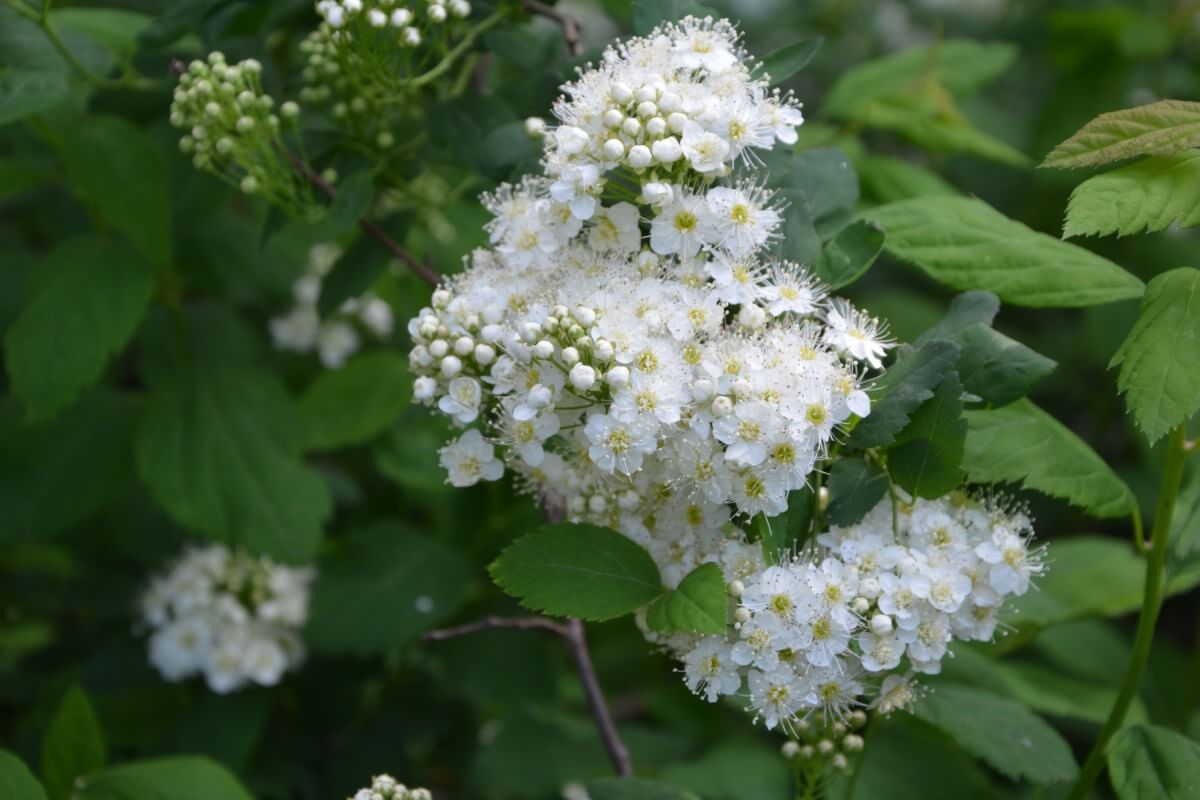 In early summer, the branches of White Meadowsweet are packed with dense clusters of little white five-petaled flowers. This native shrub is a boon to pollinators like bees, butterflies, and moths. In the fall and winter, birds feast on the seeds. The flower blooms last for 6-8 weeks and are quite the sight. Meadowsweet is a marsh plant and likes wet feet; plant it in the soggy part of your yard, and you won't be disappointed. This shrub averages 3-4 feet tall and makes an excellent border plant.
Hardy to zones 3-7
Full sun or partial shade
Deer resistant
Evergreen Candytuft (Iberis sempervirens)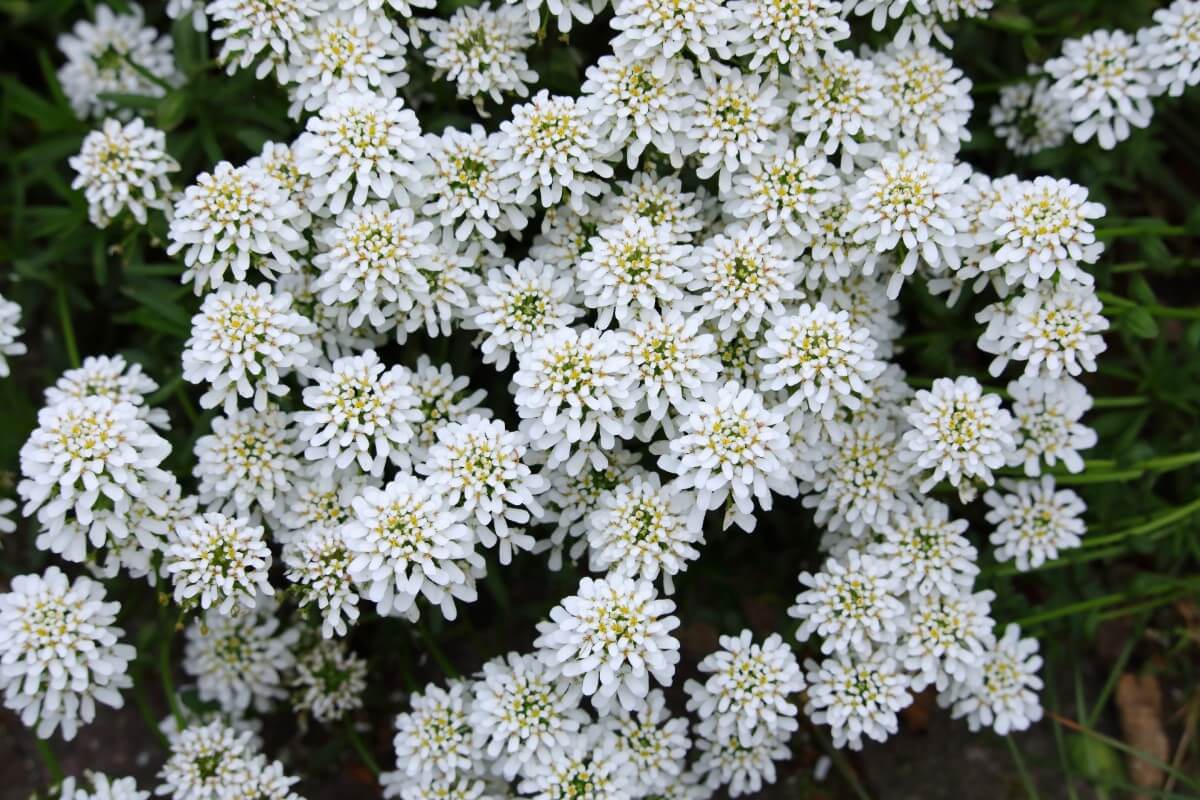 Like freshly fallen snow on the spring ground, the low-growing Candytuft is pure and breathtaking when in full bloom. It looks absolutely stunning as ground cover for a rock garden, between flowerbeds, walkways, and around taller perennials. Candytuft flowers grow in clusters of tiny 4-petaled white flowers. Each petal has a single yellow dot which adds to the spectacle and allure of this flower. This is an extremely hardy, low-maintenance plant that actually thrives on a bit of neglect. Candytuft naturally grows white flowers, but there are cultivars with longer bloom times, bigger flowers, and purer coloring.
White-flowered Candytuft cultivars: Purity, Alexander's White, Snowflake, Snowcone
Hardy to zones 3-9
Full sun or light shade
Drought tolerant
Deer and rabbit resistant
Siberian Iris (Iris sibirica)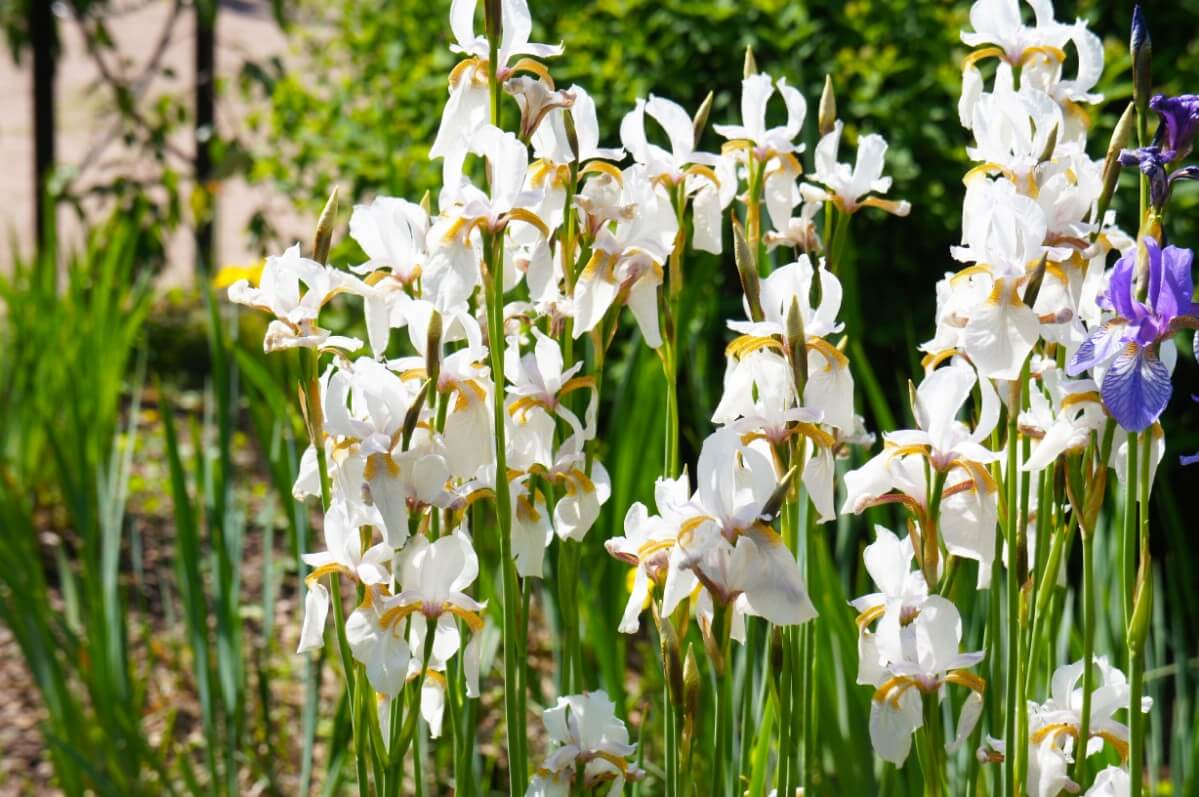 An exquisite landscape choice, white Siberian Irises convey stateliness and splendor. Siberian Iris flowers appear above green blade-like foliage in late spring to early summer. Planted in clumps or along borders, this perennial flower really puts on a show. The Siberian Iris blooms for a long time, so you enjoy the show for many weeks. When planted in groups, the flowerbed will look like a blanket of white.
White-flowered Siberian Iris cultivars: White Swirl, Swans in Flight, Snow Queen (white with yellow highlight), Fond Kiss (white with a pink blush), Butter and Sugar (white with yellow accents)
Hardy to zones 3-8
Full sun or partial shade, drought tolerant
Deer resistant
Shasta Daisy (Leucanthemum x superbum)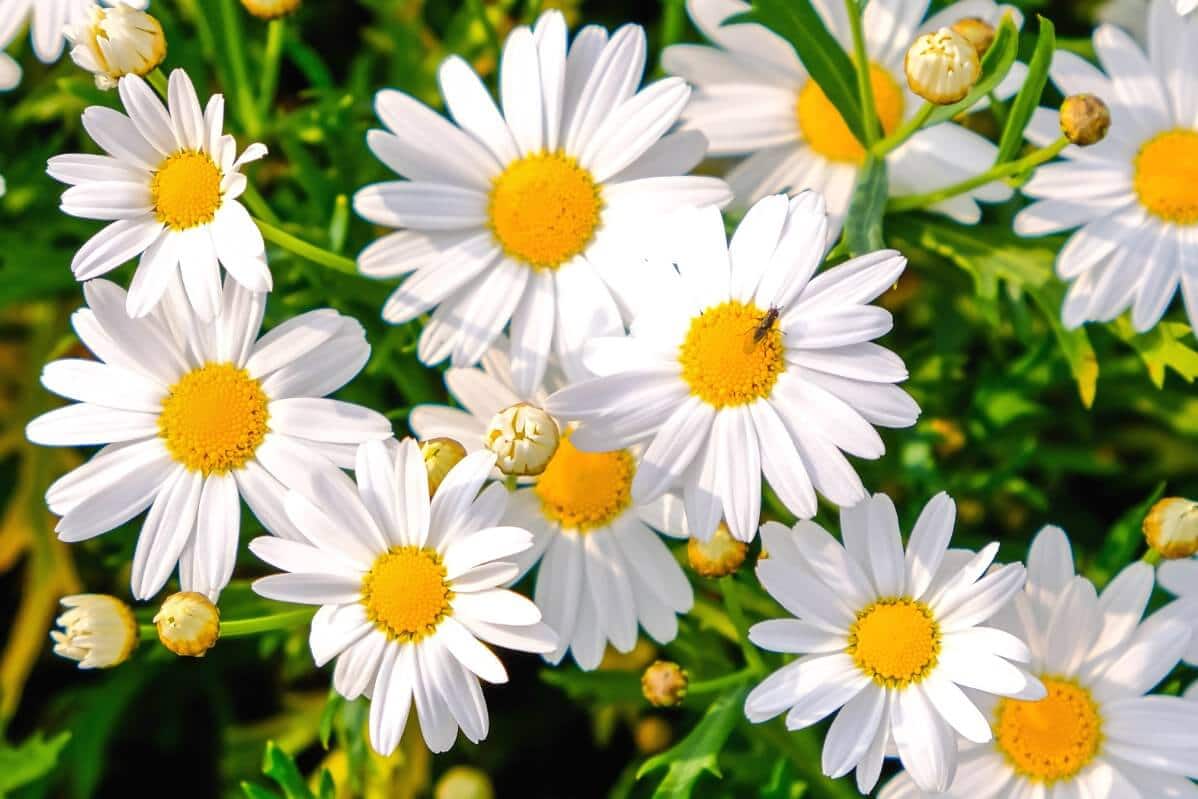 Nothing quite celebrates summer like a vast bloom of ivory white Shasta daisies with their bright golden-sun yellow centers. Shasta Daisies are incredibly low-maintenance, put on a spectacular floral show, and bloom for weeks unending. Butterflies, bees, and other pollinating insects flock to the cheerful flowers in droves. There are tons of Shasta options for gardeners, varying in size, single or double blooms, and bloom time.
White-flowered Shasta Daisy cultivars: Snowcap, Snow Lady, Alaska, Becky, Silverspoon, Crazy Daisy, Christine Hagemann, Aglaia, Ice Star
Hardy to zones 5-9
Full sun, drought tolerant, grows in poor soil
Deer and rabbit resistant
Culver's Root (Veronicastrum virginicum)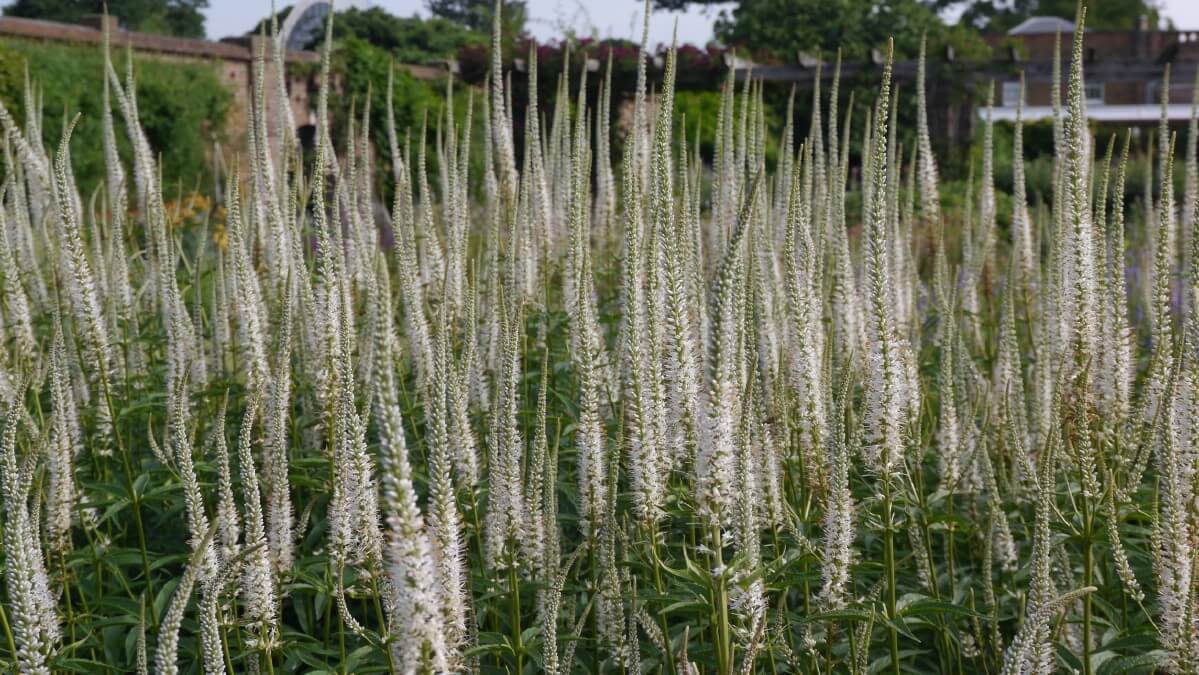 The common name doesn't even begin to do justice to this showy candelabra-looking native perennial. Dense rows of tiny white flowers grow on tall upward arching spikes that look like arms reaching for the skies. Culver's Root easily reaches 3-6 feet tall and spreads out 2-4 feet wide, making a big statement in the landscape. Best of all, though, this northeastern native plant is exceptionally hardy, low-maintenance, and beloved by pollinators. And, the flowers last a long time, from mid-summer all through fall.
Hardy to zones 3-9
Full sun or partial shade
Deer and rabbit resistant
Christmas Rose (Helleborus niger)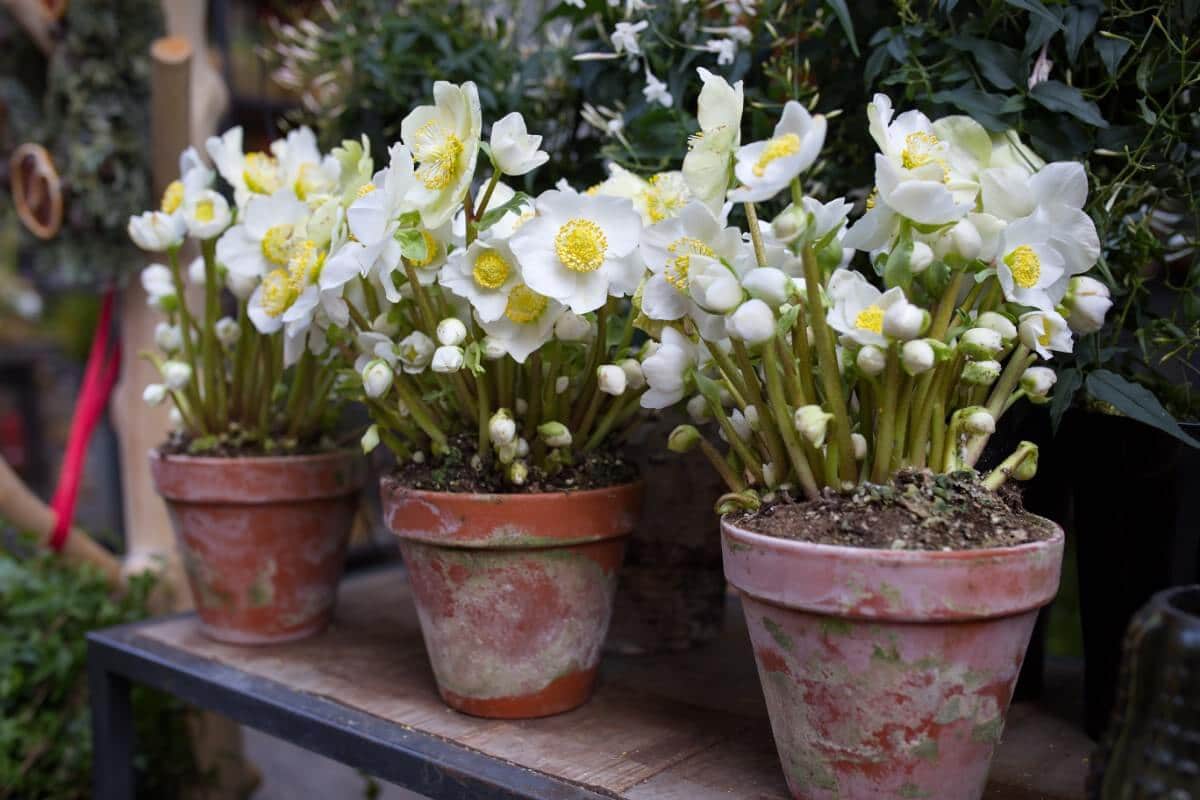 The early-blooming Christmas Rose is a real treat when it's cold and dreadful outside. The Christmas Rose blooms around Christmas in warm climates, while in cold climates, it blooms in early spring. The brilliant white rose-shaped flowers with bright yellow stamens lift the spirits when not much else is blooming. Christmas Rose is bushy but not large, averaging 8-12 inches high and 12-18 inches wide. Plant this perennial near doors, windows, or anywhere it is easy to see. It makes an excellent groundcover.
Hardy to zones 3-8
Partial to full shade
Deer resistant