While you can buy blueberries at the grocery store, if you want the best-flavored berries and lots of them, you need to try growing your own blueberries! Unlike apple trees and pear trees, blueberry bushes are easy to slip into urban gardens and other small spaces, and they're relatively low-maintenance plants too. But once you've decided to plant blueberries, how do you know which blueberry variety will grow best in your garden?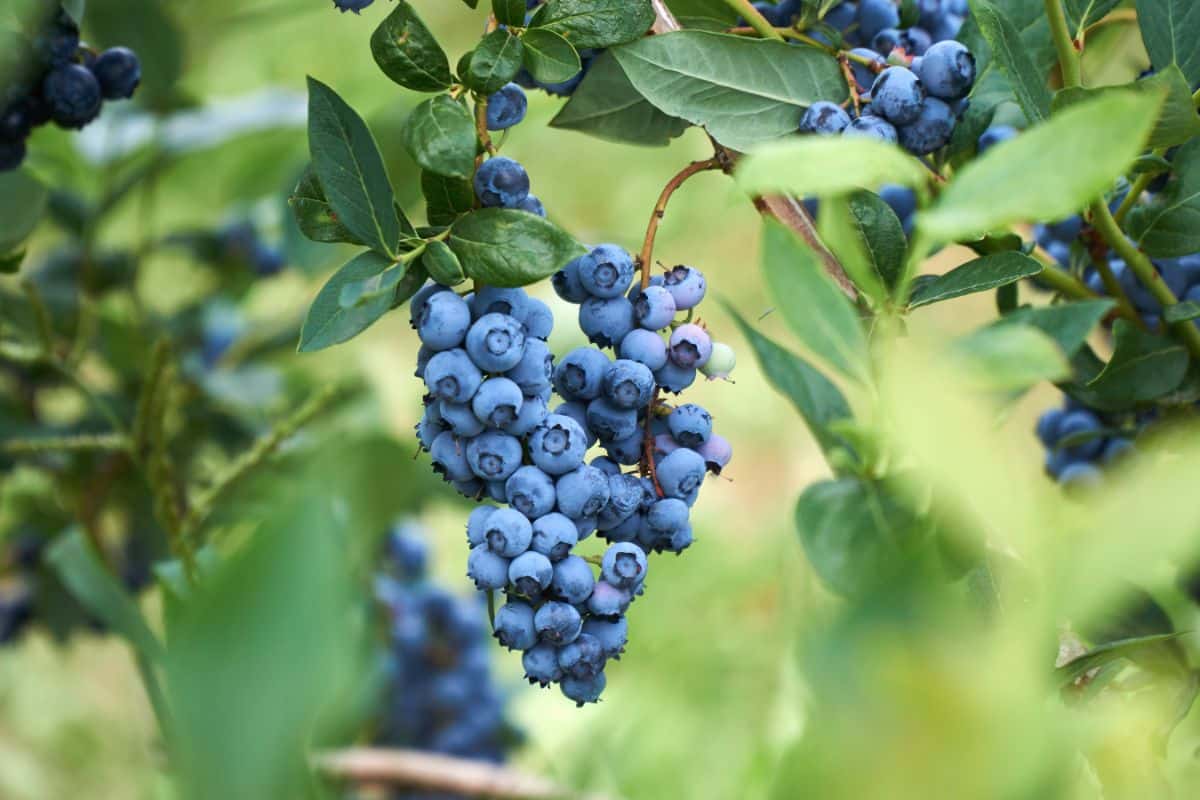 Today, there are many different blueberry cultivars to choose from, but what exactly do terms like "highbush," "lowbush," and "rabbiteye" mean? And how do you know which blueberry variety is appropriate for your growing zone? In this guide, we'll help you navigate the intriguing world of blueberries so you can discover the right blueberry type for your growing region and garden.
Jump to:
How to pick the right blueberry bushes for your garden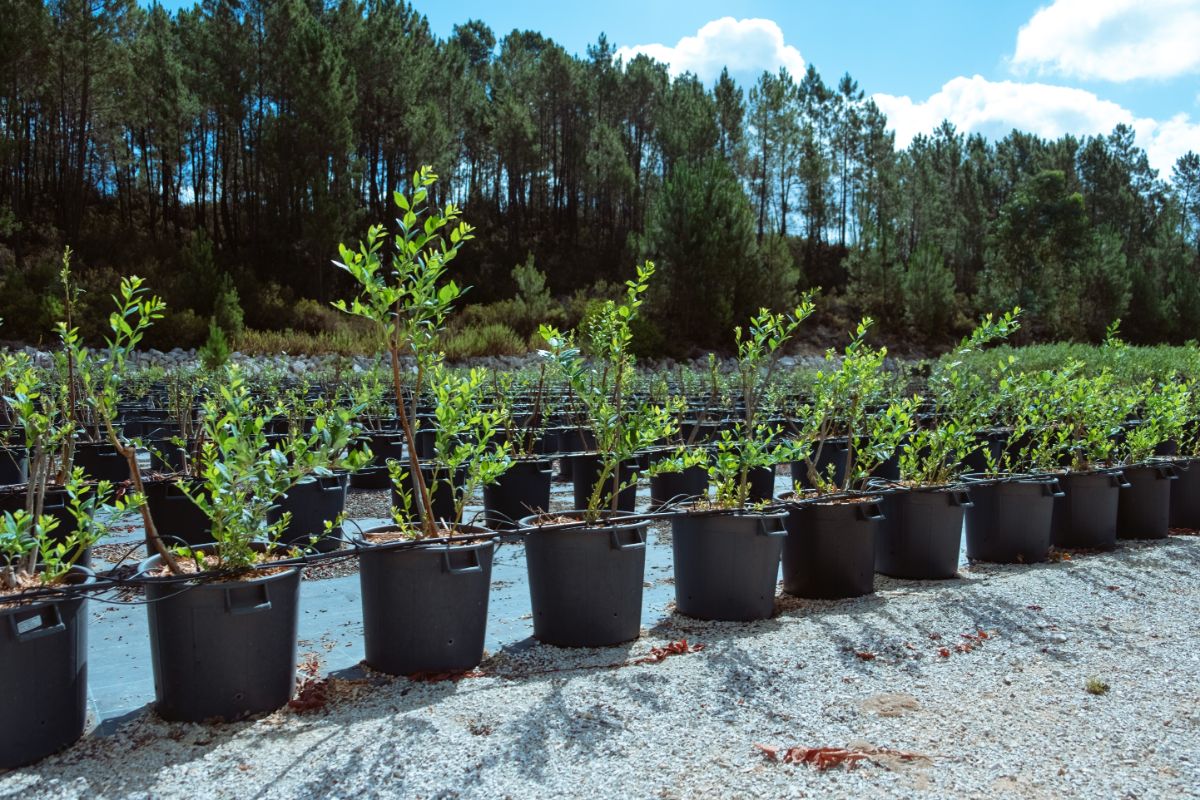 When selecting blueberries, there're a few important things you need to consider. First, you'll want to know your growing zone, as some blueberry varieties are more cold-hardy than others. It's also important to consider the size of your garden and how many plants you'd like to keep.
Lowbush blueberries, for instance, are the best plants for small gardens, but they aren't particularly heat tolerant. Rabbiteye blueberries, on the other hand, love hot weather, but they can grow too large for small space gardens.
Some blueberries are also self-fertile, while others require multiple plants to set fruit. Additionally, some blueberries are more productive than others, and certain blueberry cultivars are famous for their wild nature and excellent flavor.
In the list below, we'll detail the main differences between the different blueberry varieties and what makes each so special. But if you can't decide which blueberry plants you'd like to keep, you can always plant a few different varieties just for fun too!
Different blueberry bush varieties explained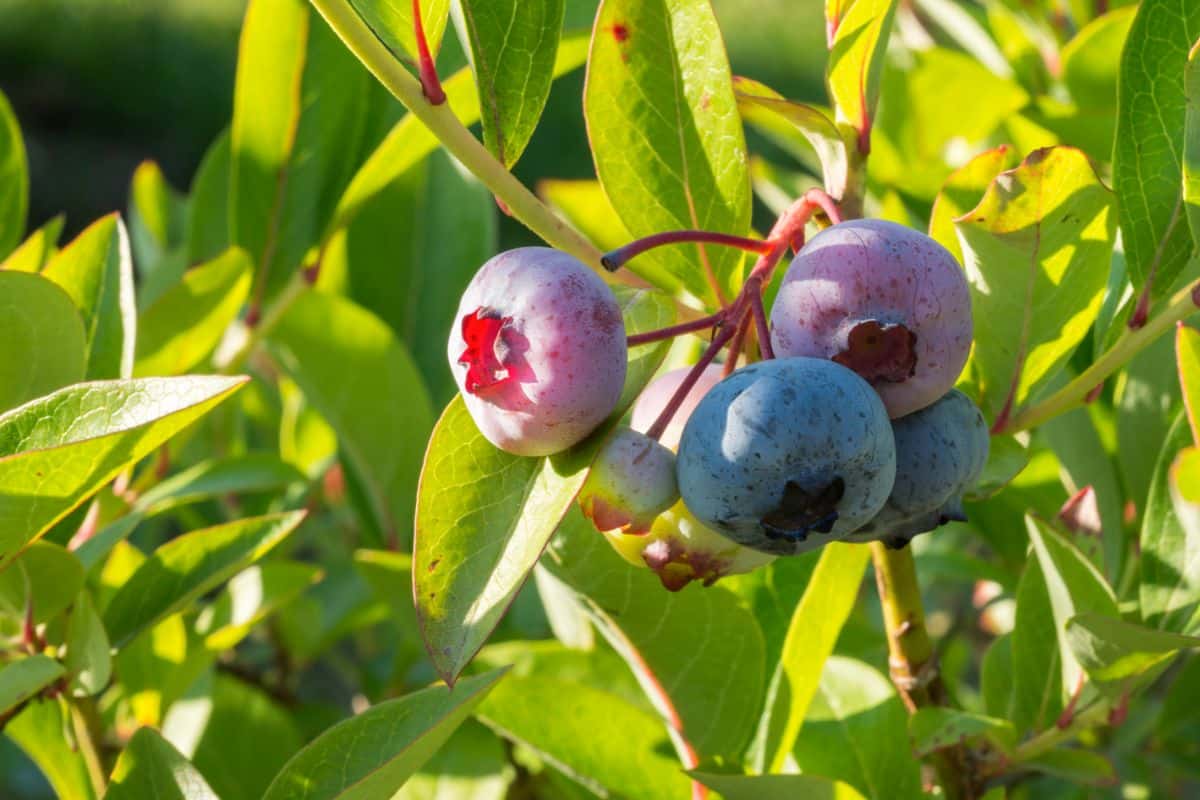 Blueberries are commonly described as either lowbush, highbush, half-high, or rabbiteye. These terms can tell you a lot about blueberry plants, such as where they grow best, how large they get, and how many blueberries they'll produce. Read the descriptions below to decide which variety is best for you!
Lowbush blueberries (Vaccinium angustifolium)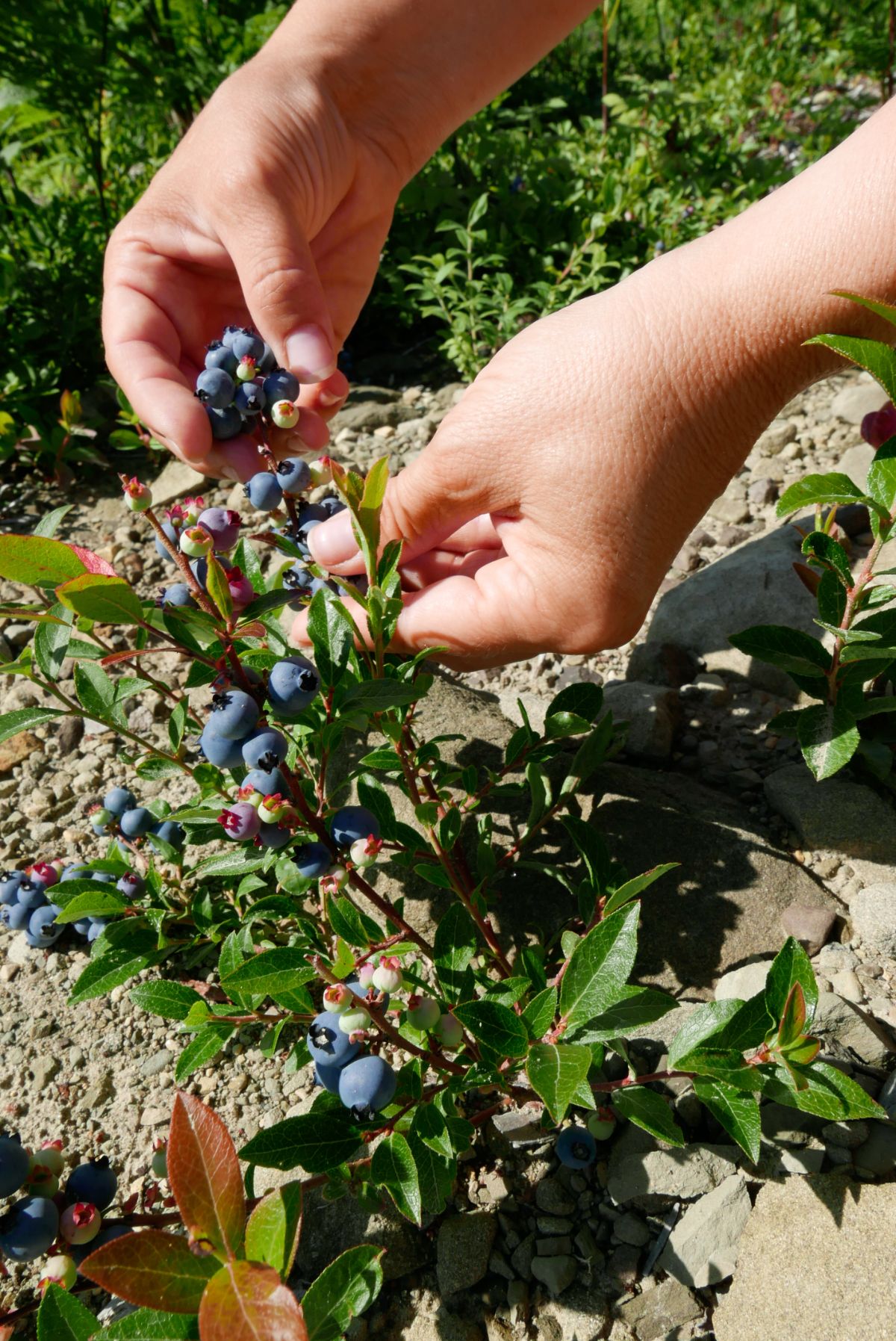 Also known as wild blueberries, lowbush blueberries are cold hardy plants that are native to Canada and the northeastern United States. Many lowbush blueberries are still harvested from wild plants, which can often be found growing as understory plants in pine forests where the soil is naturally acidic. But lowbush blueberries are also cultivated on larger-scale blueberry farms, and they can be grown by home gardeners too!
Unlike highbush blueberries, lowbush blueberries grow quite low to the ground and rarely reach over 24" tall. Their small size makes lowbush blueberries an excellent choice for potted gardens, but they can also be used as a low-maintenance ground cover in ornamental or edible garden beds. As with other blueberry plants, lowbush blueberries are highly attractive to pollinators, and they are a particularly important food source for native bees.
Lowbush blueberries are generally hardy from zones 3 to 6, but some extra cold hardy cultivars can grow in zone 2. When kept in acidic gardens, these plants are quite low maintenance, and they don't need a lot of extra fertilizer or fuss. That said, lowbush blueberries aren't the best choice if you live in a very hot climate.
Compared to highbush blueberries, lowbush blueberries produce a smaller harvest, and their berries are smaller too. But what lowbush blueberries lack in size, they make up for in flavor! Lowbush blueberries are darker, more intensely flavored, and sweeter than highbush blueberries, and they are ideal for fresh eating or jam-making.
Lowbush blueberries are also self-fruitful, which means you can get berries from just one plant. However, you will greatly boost pollination rates and increase your harvest if you grow a few lowbush blueberry plants together.
If you're curious about lowbush blueberries, below are some of the most popular varieties to try in gardens:
'Brunswick'
'Burgundy'
'Top Hat'
'Ruby Carpet'
'Blue Sunset'
'Baby Blue'
'Crispin'
'Jenny'
Northern highbush blueberries (Vaccinium corymbosum)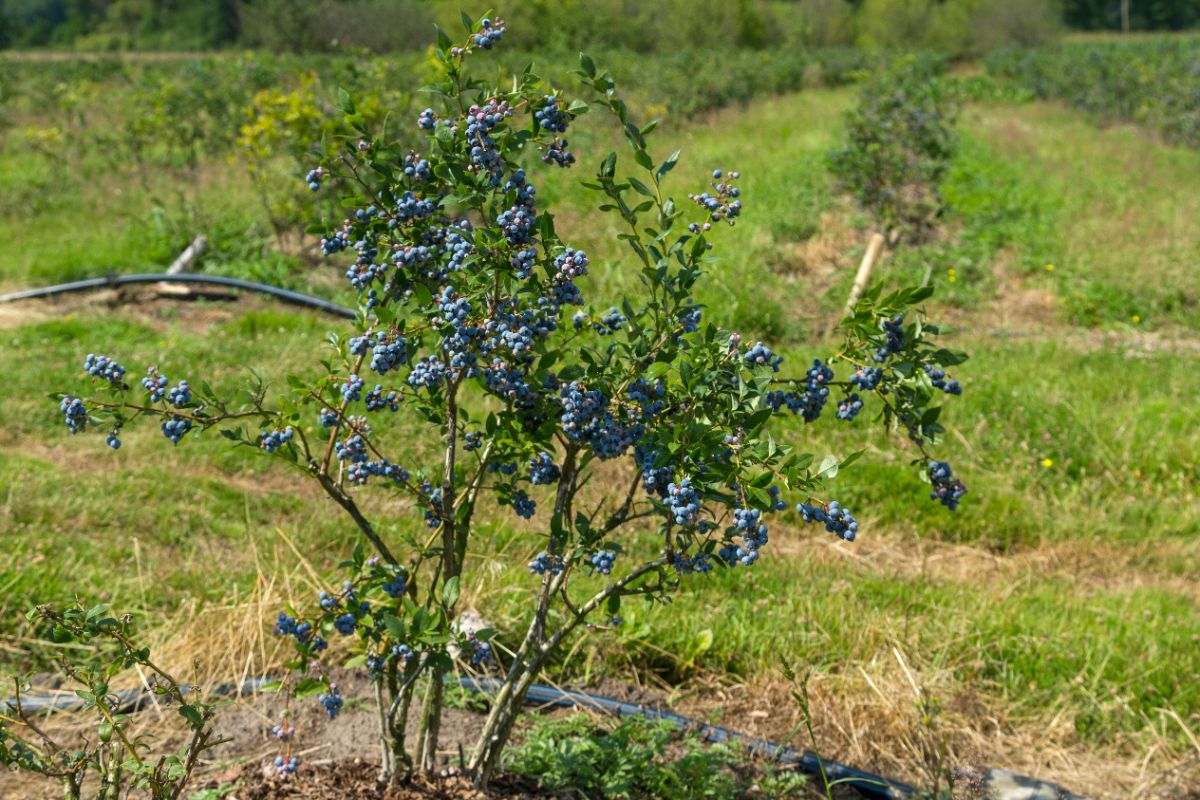 If you purchase blueberries at a grocery store, chances are they came from highbush blueberry plants. Highbush blueberries grow much taller than lowbush varieties, and they typically reach about 8 to 10' tall. Their height makes highbush blueberries useful for landscaping, and they can make stunning ornamental plants, or they can be used for seasonal garden privacy.
Northern highbush blueberries are cold hardy plants, and they can be found growing throughout the northeastern United States and Canada. These plants aren't quite as tolerant of the cold as lowbush varieties, but they are still pretty resilient in the winter, and they can grow in zones 4 to 8. It's best to avoid northern highbush blueberry plants in hot climates, though, because they require a certain number of "chill hours" to fruit properly.
Compared to lowbush blueberries, northern highbush blueberries are more productive plants, and their berries are larger as well. Plus, because they're taller, it's much easier to pick berries from highbush plants since you won't need to bend over as much. But since they get bigger, highbush plants may not be the best blueberries to grow in small spaces and container gardens.
As with lowbush blueberries, northern highbush blueberries are also self-fruitful, but you'll get a larger harvest if you keep multiple plants.
If you'd like to try your hand at growing northern highbush blueberries, here are some popular cultivars to look into:
'Collins'
'Duke'
'Spartan'
'Toro'
'Weymouth'
'Bluejay'
'Northland'
'Nelson'
'Aurora'
'Liberty'
Southern highbush blueberries (Vaccinium formosum)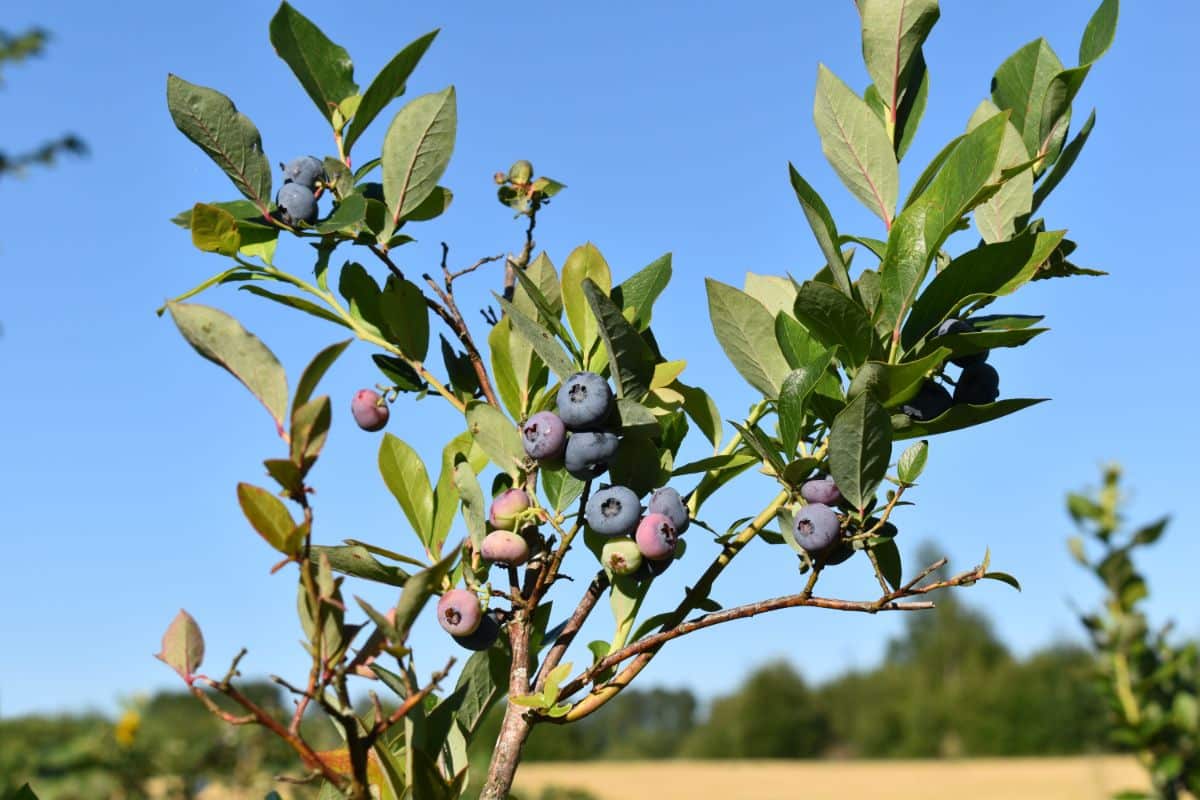 Southern highbush blueberries were created by crossing northern highbush blueberries with a blueberry variety that was native to the southern United States. The resulting southern highbush blueberries have greater heat tolerance than northern highbush plants, but they aren't quite as heat resistant as rabbiteye blueberries. These plants will grow well in zones 5 to 8, and their leaves can remain evergreen in warmer climates.
Like northern highbush blueberries, southern highbush plants are tall, and they can grow up to 12' high. Their height makes southern highbush plants excellent backdrop shrubs in mixed gardens, but they can also be planted en masse to provide extra garden privacy or create living screens around patios and walkways. But like other blueberries, these plants do require acidic gardens, so they may not be suitable for all growing locations.
Southern highbush blueberries are self-fertile, and you can get berries from a single plant, but you'll get a larger harvest if you grow multiple blueberry shrubs. As with other blueberries, southern highbush plants will delight you with their pale, tubular flowers that look a bit like tiny bells when they appear in spring. Later in the season, these plants also blush a brilliant red if they're grown in cooler locations.
If you'd like to pick up southern highbush blueberries for your garden, try out these varieties:
'Suziblue'
'O'Neal'
'Palmetto'
'Jubilee'
'Camellia'
'Magnolia'
Half-high blueberries (Vaccinium corymbosum x Vaccinium angustifolium)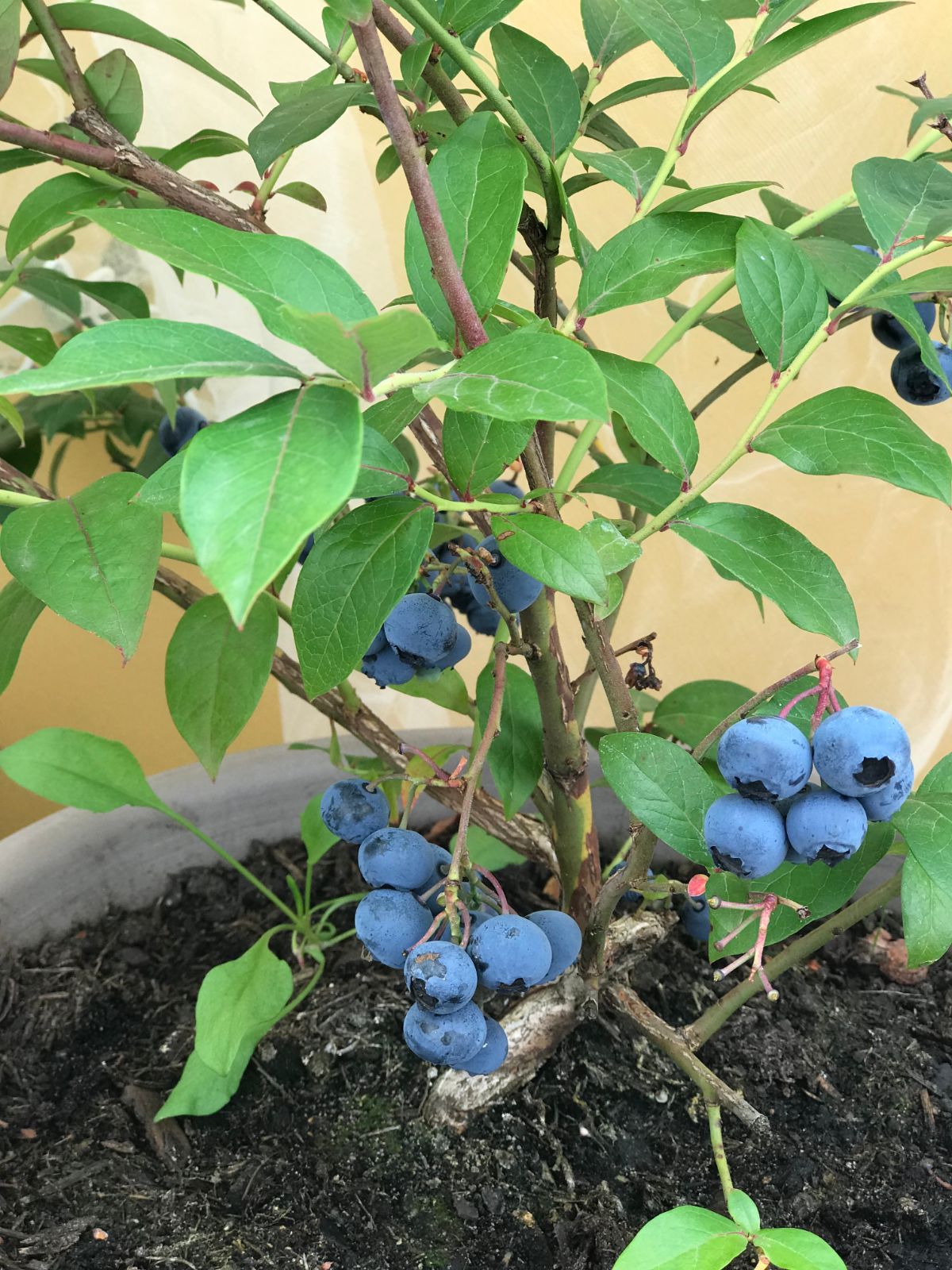 Half-high blueberries are the best of both worlds. These hybrids were created by crossing cold hardy lowbush blueberries with taller and more productive northern highbush blueberry plants. The resulting half-high blueberries are even more cold-hardy than northern highbush shrubs, and they can grow in areas as cool as zones 3 to 5.
Half-high blueberries are taller than lowbush blueberries, but they max out at around 2 to 4' tall. That makes them the perfect size for easy harvesting, and they are also large enough to hold their own in inground gardens, although they can also be grown in containers. Half-high blueberries are self-pollinating too, so you can get berries even if you just have a single plant, although your plants will be much more productive if you grow a few blueberry bushes together.
Because they are so cold-hardy, half-high blueberries are less likely to sustain winter damage than northern highbush plants, and they're a top berry plant to grow if you live in an area with harsh winters. However, these plants don't tolerate heat as well as rabbiteye or southern highbush blueberries.
As with other blueberries, half-high blueberries grow best in acidic gardens, and they need well-draining soil to grow properly. When provided with the right growing conditions, half-high blueberries can be incredibly productive plants, and they can continue to produce fruit for 30 years or more!
If you're interested in growing half-high blueberries in your garden, try out the following:
'Northblue'
'Northland'
'Northcountry'
'Patriot'
'Polaris'
'Chippewa'
'St. Cloud'
'Northsky'
'Bluetta'
Rabbiteye blueberries (Vaccinium ashei)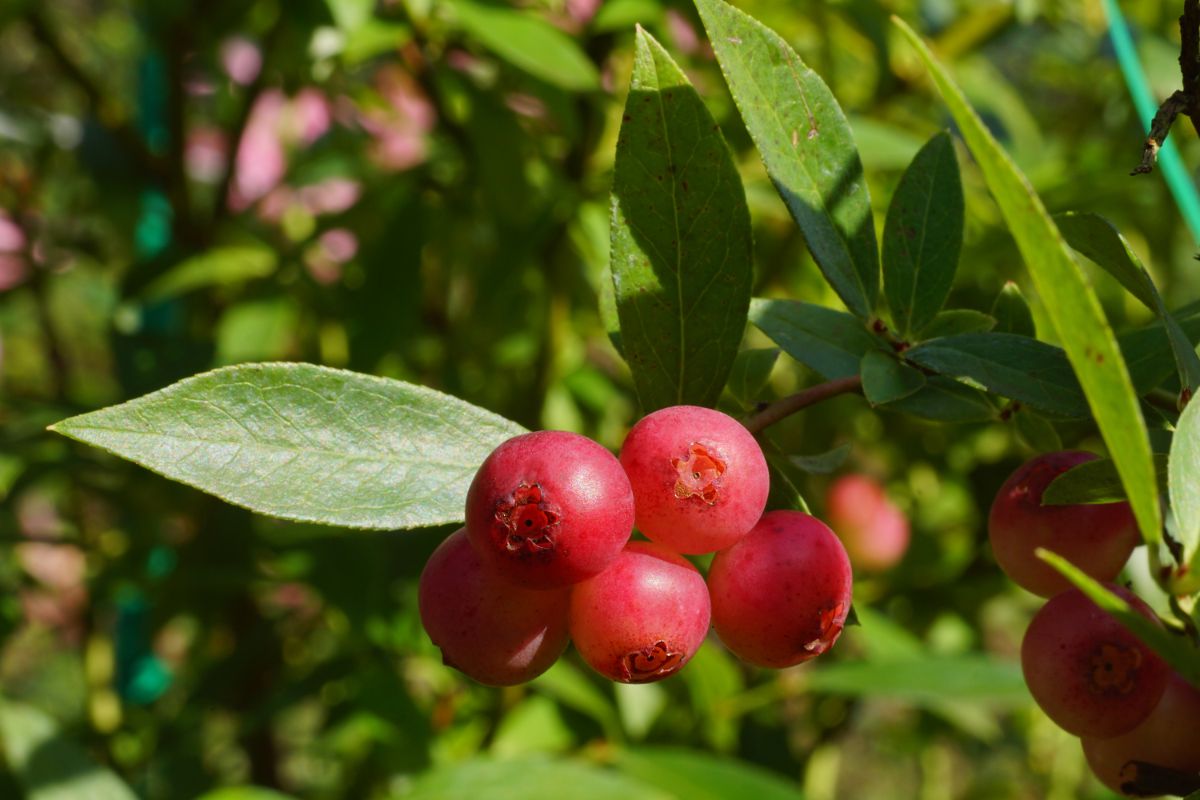 Rabbiteye blueberries are a top choice in southern gardens because they are very heat resistant, but they are only hardy from zones 7 to 10. These plants are native to areas of the southern United States, and they can be found growing in the wild across the Florida panhandle, Georgia and Alabama. Beyond providing luscious edible fruit, rabbiteye blueberries are attractive plants that are often used as ornamentals because of their pretty springtime flowers and colorful autumn foliage, and they grow up to 10' tall when they mature.
Unlike some other blueberry varieties, rabbiteye blueberries are not self-fertile, and you will need to grow more than one plant to produce berries. If you want to increase pollination rates and gather a larger harvest of rabbiteye blueberries, grow as many plants as you can, as this will boost your blueberry yields. Interplanting rabbiteye blueberries with pollinator-friendly plants like dill, azaleas, and borage will also encourage more pollinators to visit your garden, ensuring that your berry flowers are pollinated.
If you provide rabbiteye blueberries with the right soil and plenty of sun, these plants are relatively easy to keep, and they can be quite productive. Rabbiteye blueberries are used by both home gardeners and commercial growers, and they are resistant to a wide variety of diseases. Plus, like other blueberries, these plants will thrive in lower-nutrient soils, and they don't need lots of extra fertilizer either.
While all blueberries need acidic soil to thrive, rabbiteye blueberries are particularly sensitive to alkaline earth, and they won't grow properly unless soil pH levels are between 4.0 and 5.5. These plants are also not tolerant of salt, so they're not the best choice for gardens near the coast.
If you'd like to try out rabbiteye blueberry plants in your garden, check out these popular cultivars:
'Powderblue'
'Tifblue'
'Pink Lemonade' (A pink "blueberry" cultivar!)
'Climax'
'Austin'
'Briteblue'
'Baldwin'
'Sharpblue'
What is the difference between early-season, mid-season, and late-season blueberries?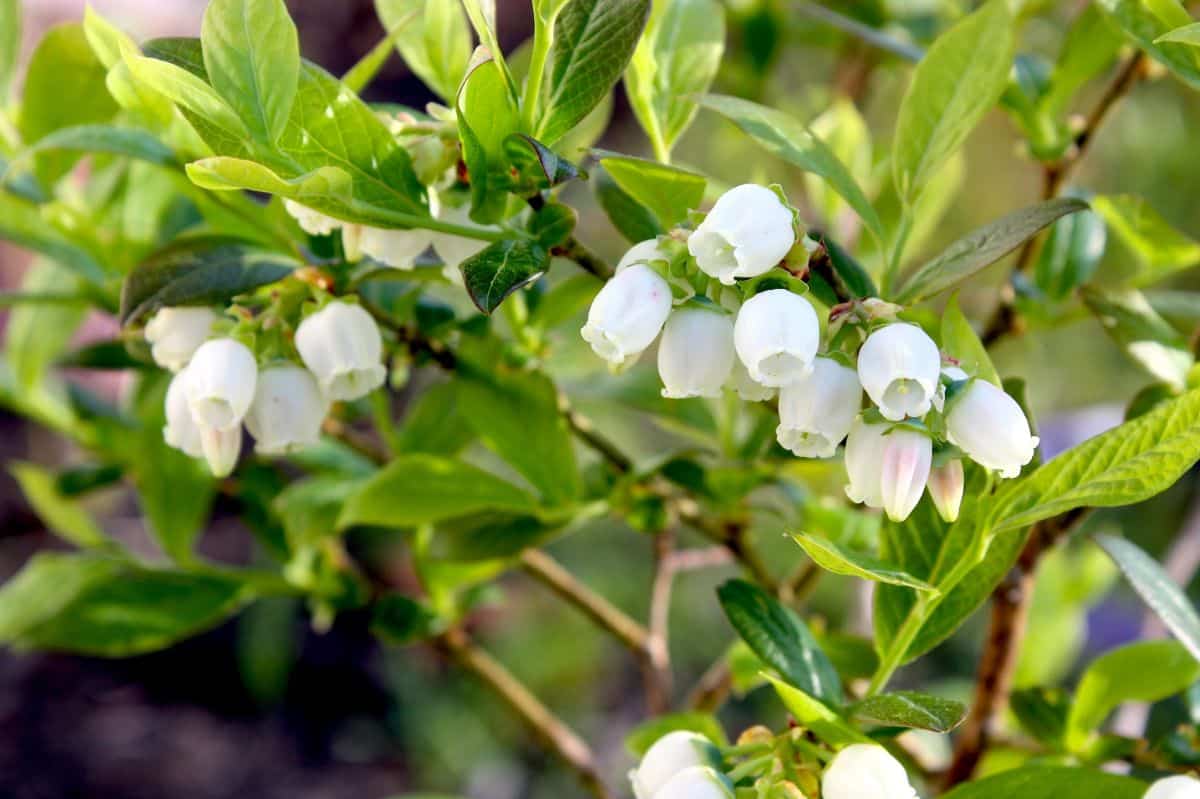 When browsing for blueberry plants at your local garden center, you'll likely find plants that are labeled as "highbush," "lowbush," and so on. But you may see other details on the nursery tag as well, such as harvesting time.
Blueberries are often categorized based on when they produce the majority of their berries. Plants can be either early season, mid-season, or late season. You can grow just one blueberry type, or you can fill your garden with all three types of blueberries to keep your blueberry harvest going throughout the growing season.
Early-season blueberries are the first plants to fruit, and their berries usually ripen by early to mid-June. 'Bluetta,' 'Suziblue,' and 'Austin' are examples of early-season blueberries.
Mid-season blueberries are usually ready to harvest a bit later in the season, and the majority of their berries will be ready for picking by mid-July. Examples of mid-season blueberries include 'Northland,' 'Tifblue' and 'Magnolia.'
Late-season blueberries are the last blueberry plants to ripen, and their berries are usually harvested from mid-July to August. 'Aurora,' 'Baldwin,' and 'Liberty' are all examples of late-season blueberry cultivars.
One thing to keep in mind is that even if you plant self-fertile blueberries, you will have bigger blueberry harvests if you grow multiple plants. So if you want to grow early, mid- or late-season blueberries, make sure you select at least two plants that bloom at the same time. Planting one early and one late-season blueberry may result in lower yields since they won't be in flower during the same month.
What is the difference between bare root (uncontainerized) blueberries and potted blueberries (containerized)?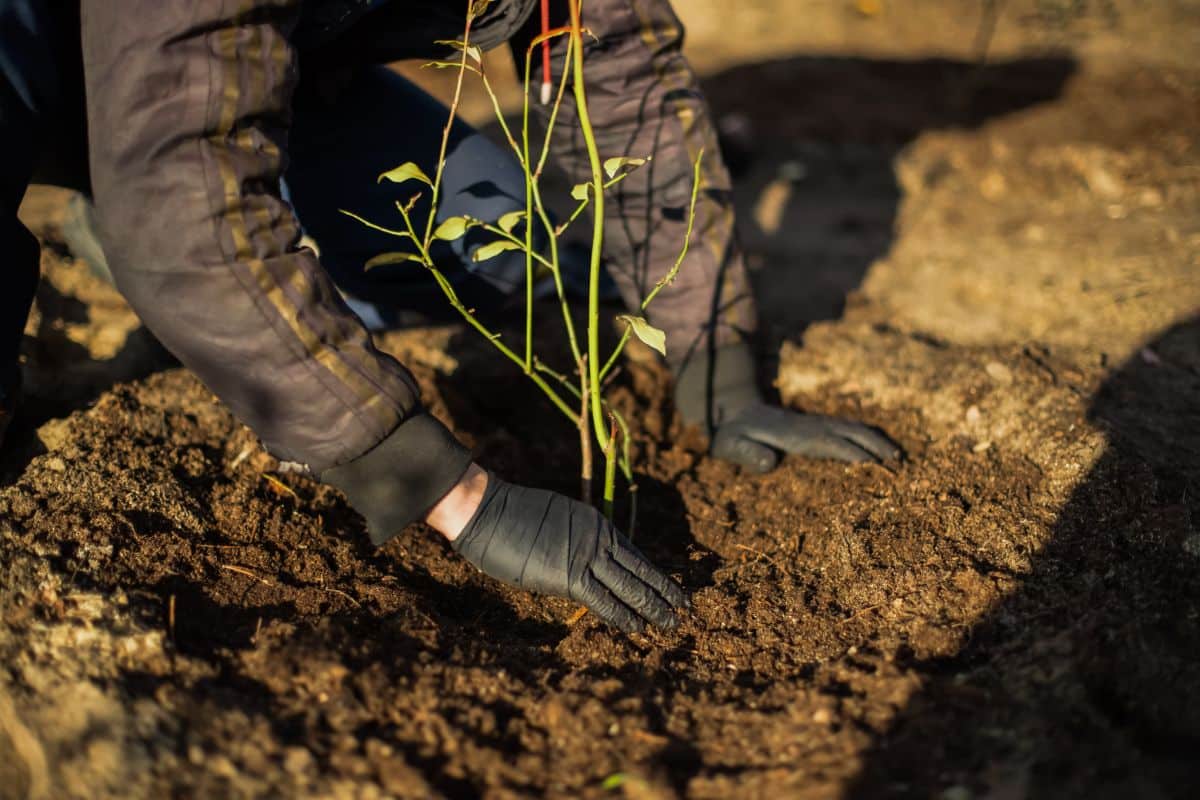 With all the variety in blueberry plants, it's enough to make your head spin! But there is one other thing to consider when buying blueberries. That is whether you want to plant containerized (potted) or bare-root blueberry shrubs.
Both containerized, and bare-root plants can be very productive, and most varieties of blueberries are available in both options. However, containerized blueberry plants are usually a bit more pricey, but they leaf out faster after planting, will fruit earlier, and generally have fewer transplant issues. Bare-root blueberries are usually planted when they're in a state of dormancy, so it takes them a bit more time to begin to grow, but they will eventually grow as vigorously as containerized plants.
Bare-root blueberries can be found at plant nurseries, but you'll usually find a larger selection of cultivars if you order them online or through your favorite seed catalog. Containerized blueberries are more likely to be sold locally at plant nurseries, but you can often find them for sale online too.
Both containerized, and bare-root blueberries can be planted in either fall or spring. Smaller varieties are appropriate for inground beds or small space container gardens, while larger varieties are typically grown in inground gardens.
Frequently asked questions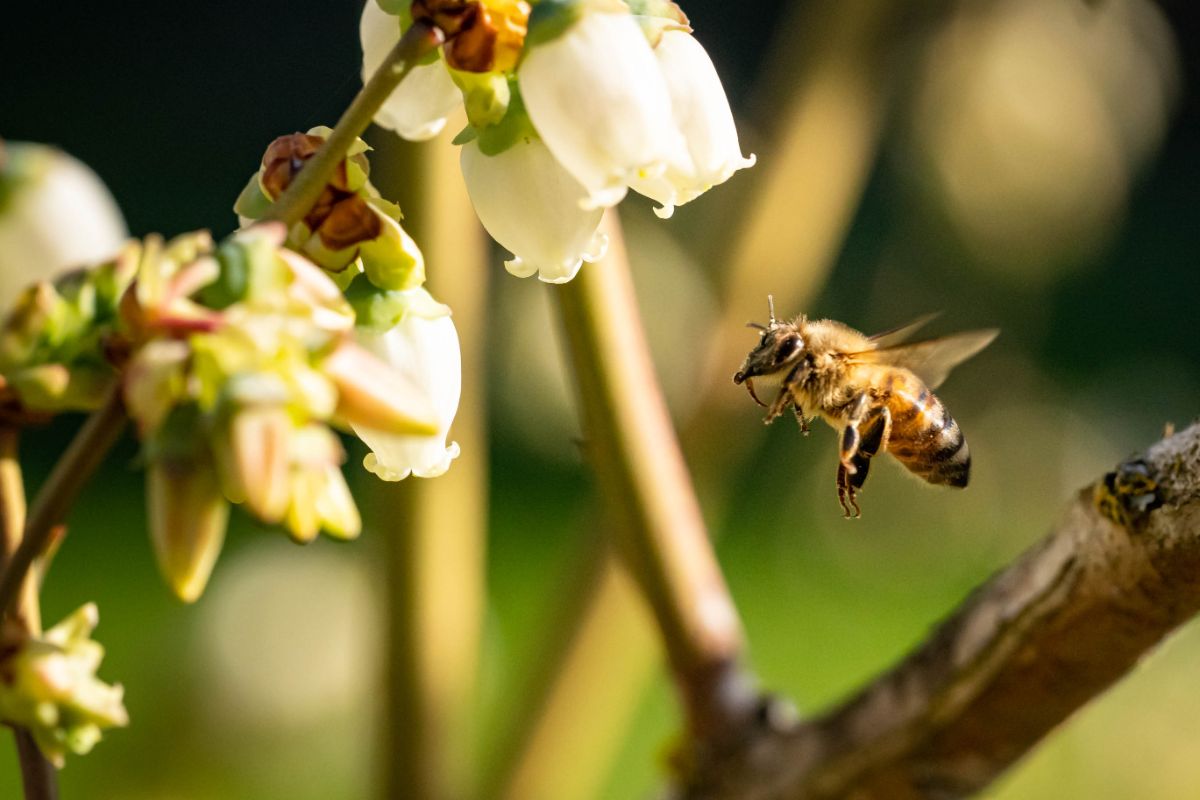 Summary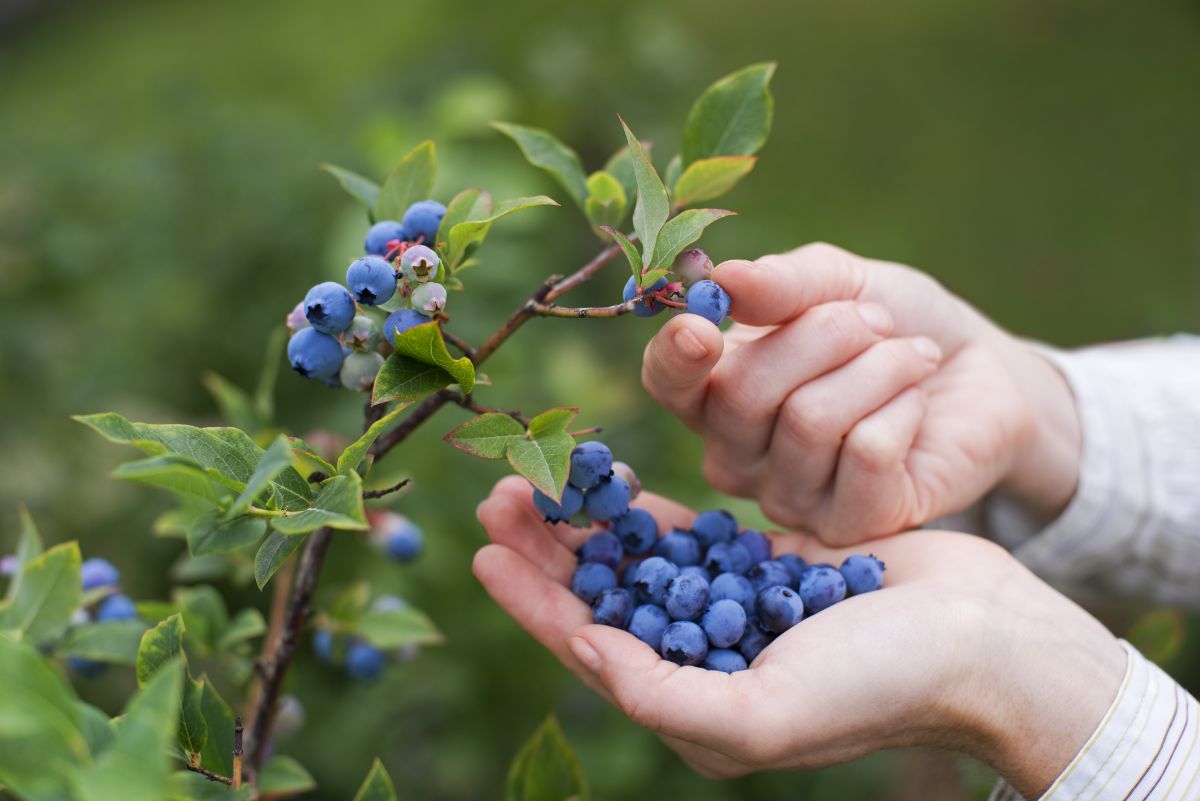 From lowbush blueberries to highbush blueberries, there's an incredible assortment of blueberries on the market today. Modern gardeners can find blueberries that will grow in most climates, as well as plants that are large enough for hedgerows or small enough for pots. But no matter what blueberry variety you settle on, you'll be rewarded with a delicious harvest of homegrown berries that will put any store-bought blueberry to shame!
Blueberries are some of the easiest fruiting plants to grow in backyard gardens, and they are generally good for beginners as long as you have acidic soil. But blueberries aren't just good for eating. They are also exceptional pollinator plants, and they can also provide privacy and seasonal color when their leaves turn red in autumn.
If you'd like to learn more about growing your own fruit, read up on low-maintenance fruit trees or check out these fruit tree-growing tips. Happy planting!