How cool would it be to grow fruit trees in your own backyard? While you might love the idea of being able to enjoy fresh fruit from your own trees, however, you might wonder how difficult it is to grow them. But the answer is, "It's easier than you think." There are a number of low-maintenance fruit trees even a novice gardener can grow.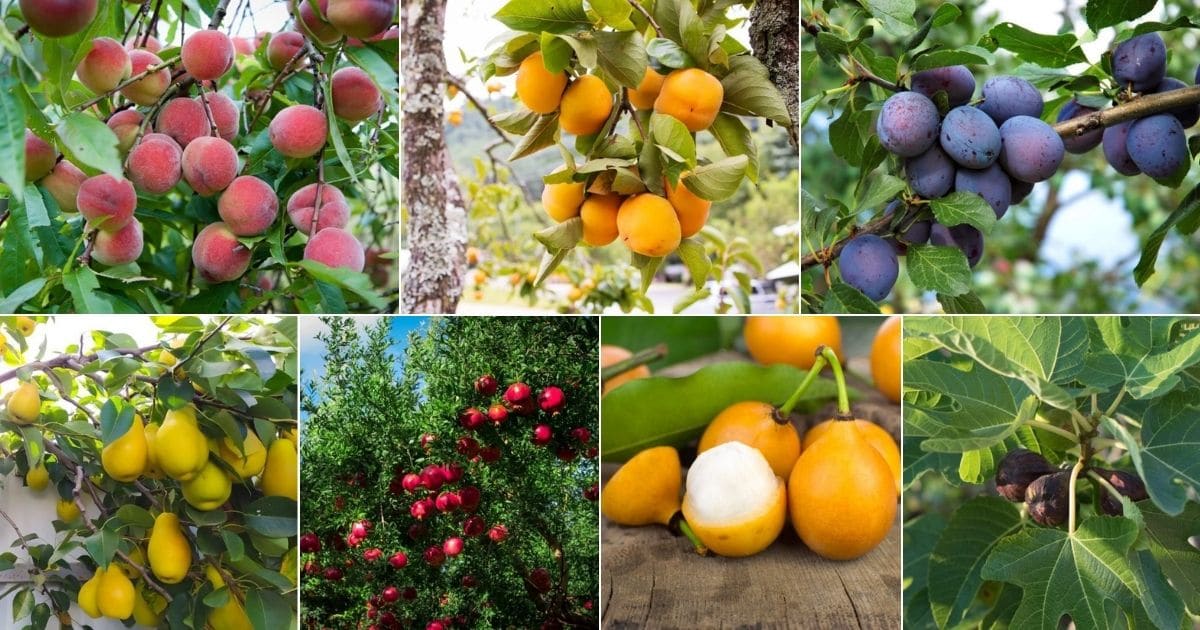 In this guide, we will introduce you to some easy-to-grow fruit trees for your yard. But first, let's talk about some reasons to consider growing fruit trees as well as what to look for in low-maintenance fruit trees.
Jump to:
Why Grow Fruit Trees in Your Backyard?
Here are some of the benefits of growing your own fruit trees:
You get to pick and eat fruit that you grew on your own. It can be incredibly exciting to walk out into your backyard, reach up and pluck a fruit off a branch, take it indoors and wash it, and then enjoy eating it. You literally are indulging in the fruits of your labor! Moreover, you may sometimes prefer the taste of your own fruits to those you can buy in a store.
You can save a little money on fruit. If you buy a lot of fruit, growing your own can help you cut back on your grocery expenses when your fruits are in season.
You may have extra fruit to give to friends, neighbors and co-workers. You might end up growing more fruit than you can end up using yourself. But that just gives you the chance to be generous and share your fruits with others. Your friends, family, co-workers and neighbors may all appreciate being able to enjoy some fresh fruit!
Fruit trees can produce lovely blossoms. Before fruit trees produce their fruits, they can bloom with beautiful flowers. You will enjoy this visual spectacle each season.
Growing any sort of tree can be rewarding. Last but not least, growing trees is always a joy, whether they are fruit trees or not. In a world where human impact on the environment is so negative, it can be a good feeling knowing you are planting trees instead of cutting them down.
What Makes for a Low-Maintenance Fruit Tree?
Now that you have some reasons for growing fruit trees, let's talk about what can make a fruit tree easy to grow and care for.
Suitable for a range of soil types and sun exposure. The more tolerant a fruit tree is of diverse conditions, the less work you will need to do to take care of it. Of course, if you can find a fruit tree that is a perfect match for your particular soil conditions and amount of sun, it does not necessarily need to be tolerant of other conditions.
Hardy for different climate conditions. Trees that can withstand high heat and extreme cold can thrive with less care than those that struggle. Likewise, trees that can put up with drought conditions, high winds, or other severe climate conditions will be easy to grow successfully.
Easy to prune. One of the most intensive tasks involved with tree care is pruning. So, the less you need to prune a fruit tree, the better.
Not prone to pests or disease. If you can, consider planting disease-resistant fruit trees in your yard. Also, look for those that pests are not attracted to when possible.
Doesn't require a lot of watering. There are some plants that you can get away with watering seldom or not at all during certain seasons, depending on how much rain you get and how much water they need.
Fruit in containers. Finally, it can be nice to have the option of growing your plants in containers. That way, you can keep them conveniently on your patio or even indoors. That makes the maintenance you do need to perform fast and easy.
Keep in mind that not every low-maintenance fruit tree will have all of these characteristics. You might find trees that are especially hardy and drought-resistant but require extra work to prune. Or you might find trees that are easy to prune and tolerate a range of conditions, but which tend to get blight.
So, do not look for a tree that is "perfect." Chances are good you will be dealing with trade-offs in some areas. You will need to consider your growing conditions, gardening skills, pests that live in your area, and other factors to decide what features will be most helpful to you when growing fruit trees.
If, for example, there is no such thing as a sheltered location in your yard, and your area is subject to high winds, a sturdy tree that can stand up to those winds might be more important than one that is easy to prune.
As another example, if certain pests are a major problem in your area, you may want to prioritize finding a fruit tree to grow that is pest resistant, even if that means it isn't completely ideal in other respects.
Important: You Should Buy Fruit Trees That Are Already Started to Save Time and Work
When you are growing fruit trees from seeds, it can take years before you can start harvesting fruits to eat.
Plus, caring for seedlings can require more time and effort than caring for more mature plants.
So, you are going to want to consider purchasing plants that are already started and which you can transplant directly into a container or the ground.
That way, you can look forward to harvesting fruits the same season or the next season in many cases.
You also can skip out on the high-maintenance phase of dealing with a seedling.
12 Easy Fruit Trees to Grow in Your Backyard
Now that we have gone over some basics of growing low-maintenance fruit trees, let's check out some plants that are worth considering for your backyard.
1. Pear Trees
One of the most frequently-recommended fruit trees for beginners is the pear tree. Throughout the seasons, your pear trees will be beautiful to behold, and the juicy fruits they bear go well in recipes and taste great on their own.
Ideal Conditions for Growing Pear Trees
If you are in zones 4-8, you should be able to grow pear trees. You might get away with growing pears in zone 3 as well, but not every variety will survive in those conditions.
Ideally, you should have moist, well-draining soil. But if you have somewhat soggy conditions, pears might be able to survive in your yard. A lot of other fruit trees will not put up with soggy soil.
If possible, you should plant pears in full sunlight. Do what you can to protect your pears from early frosts.
What Makes Pear Trees Easy to Grow?
As just mentioned, if your soil doesn't drain well, you might be able to get away with planting pears. That can't be said for every fruit tree.
The other reason pears are worth considering is that they are not prone to nearly as many diseases as apple trees. They also are less popular with pests.
Nevertheless, there are some pests that like pears tree, including mites, caterpillars, midges, and slugworms. Pears can also develop fire blight, blossom wilt, pear rust, brown rot, or pear scab.
So, watch out for those, or choose a type of pear tree that is less likely to suffer from the disease (see below).
Pears are also a good choice if you have a small space for gardening. You can even plant them in containers and enjoy them on your patio.
Recommended Types of Pear Trees
Kieffer pears: The most frequently recommended pear for easy growing is probably the Kieffer pear. This is a crossbreed between the Asian sand pear and the European Bartlett pear. The reason it is such a good choice for beginning growers is that it resists fire blight. Plus, it is self-fertile.
Orient pears: This hybrid pear is another type that is resistant to fire blight. It grows rapidly, is pretty tolerant of different soil conditions, and is drought and flood-resistant.
Moonglow pears: Don't like it when your pears are mushy? You may enjoy the consistency of Moonglow pears. These trees do a good job resisting fire blight and produce large, satisfying fruits.
Bartlett pears: A lot of people enjoy Bartlett pears. They are far more susceptible to fire blight than the other pears on this list, but if you are not worried about that, they are pretty low-maintenance in other respects.
Anjou pears: If you want a type of pear that lasts a long time canned, Anjou pears are great to grow. They also bloom later than some other pears, which could be helpful if you are worried about spring frosts.
The Bottom Line:
Pears are among the easiest fruit trees to grow. They tolerate various soil conditions, and tend to be resistant to both flood and drought conditions. Additionally, they resist most pests and diseases. While fire blight can be a problem, a number of pear varieties resist it well, particularly Asian pears.
2. Cherry Trees
Another easy type of fruit tree to grow is the cherry tree. This is a particularly popular choice, because it rewards you twice—once with breathtaking flowers in the spring, and again with the tasty fruits that follow.
You can grow either sweet cherries or sour cherries. If you are looking for the type that you can pick and eat fresh, you will want to grow sweet cherries. You probably won't enjoy eating sour cherries fresh, but you will find that they still are useful in the kitchen since you can put them in preserves.
You will be impressed by how much fruit you can get from just one cherry tree. You can expect dwarf varieties of cherries to produce anywhere from 10-15 quarts of cherries per year. You can get 30-50 quarts of cherries from a standard-size tree in the same period of time.
Ideal Conditions for Growing Cherry Trees
If you are anywhere in zones 5 through 7, you can grow sweet cherries. If you are in zones 4 through 6, you can grow sour cherries.
You should grow cherry trees in well-drained soil. You can plant them in your yard, or you can grow them in containers.
Your cherry trees will do best if they receive 6-8 hours of direct sunlight every day.
What Makes Cherry Trees Easy to Grow?
Cherry trees do not require a whole lot of maintenance. You do need to prune them during wintertime, but you do not need to worry about thinning them in most cases. As for the pruning, that is generally pretty light.
There are some pests and diseases that can compromise cherries—possible issues include caterpillars, Japanese beetles, aphids, bacterial canker, brown rot, and black rot. Birds also like to munch on them.
That being said, usually, you won't have these problems. In general, cherry trees are just less disease- and pest-prone than many other plants.
Between the two, sour cherries are easier to grow than sweet cherries. So, if this is your first cherry tree, you may want to go with a sour variety. Indeed, you should be able to plant just one tree if you go this route, rather than two for cross-pollinating.
Recommended Types of Cherry Trees
Here are some types of cherry trees you might consider growing:
Early Richmond: If you want a tart cherry tree that is easy to grow and produces fruit sooner than many other varieties, you can consider the Early Richmond Cherry. The fruits from this tree are ideal for preserves and pies. Additionally, this type of cherry tree can tolerate drought to some degree. It can also handle rain and humidity, and can handle colder climates.
Montmorency: According to the Arbor Day Foundation, this is "America's most popular tart cherry for pies and preserves." Since it is self-fertile, you only have to plant one, but if you want more fruits, you should plant a pair. Like Early Richmond Cherry, it produces fruits earlier than some other cherries. Also, it can handle cold and drought.
Meteor: If you are looking for a cherry tree that is compact and produces fruits in mid-summer, you might consider the dwarf fruit tree called the "Meteor." This type of cherry tree can handle a range of growing conditions, which makes it an easy option.
Stella: Prefer to try growing a sweet variety of cherry tree? You may want to give the Stella variety a try. This type of cherry tree is self-fertile, so you do not need to plant multiple trees. Pruning is only necessary during winter. While they do best in moist, well-drained soil and full sun to partial shade, they can adapt to other growing conditions.
What Can You Do About Birds?
If birds keep eating your cherries, you should try draping them with cheesecloth or nylon. You will need to keep your cherry trees well-pruned for this to be manageable.
The Bottom Line:
Cherry trees are low-maintenance options for your yard. Their adaptability and low susceptibility to disease and pests makes them a great option in many locations. You will find it easiest to start with sour cherries.
3. Lemon Trees
If you love the refreshing, sour taste of lemons, you can try growing lemon trees. These citrus trees can be grown in your yard or as potted trees. In fact, you can even care for a lemon tree indoors if you don't have space to grow fruit trees outside!
Lemon trees aren't just low-maintenance—they are insanely easy to grow, even if you are a complete beginner.
Ideal Conditions for Growing Lemon Trees
Lemon trees' favorite soil is sandy or loamy. But they are really flexible, and can thrive in other soil conditions as well. What is most important is just that the soil drains well. You will want to stay away from clay or soil with high salt content.
As far as sunlight goes, full to partial sun is ideal. If possible, they should be south-facing.
What Makes Lemon Trees Easy to Grow?
The flexibility mentioned above with respect to soil types is one feature that makes lemon trees easy to grow. But it is not the only one.
Weekly or bi-weekly watering is important for lemon trees, so if the rain doesn't take care of this for you, you will need to do it. If you do not live in a humid climate, it is also ideal to mist your lemon trees daily. Routine fertilizing and occasional pruning are also necessary.
You should find these maintenance tasks pretty easy to perform, however, especially if your climate is already ideal for lemons.
Another nice thing about lemon trees is that even though they can catch citrus canker or rot, you can usually treat these problems successfully if you catch them fast. The same goes for mites.
Recommended Types of Lemon Trees
We suggest considering any of the following types of lemon trees to enjoy delicious citrus fruits and low-maintenance gardening:
Meyer Lemon: This delicious type of lemon is one you can only grow on your own. Your local grocery store won't stock it because of how easily it can bruise. Growing a Meyer Lemon tree is easy indoors or outdoors, and you will love the delicious fruit it produces.
Eureka Lemon: Trying to find a drought-resistant type of lemon? The Eureka Lemon may be perfect for your climate. Additionally, it is a dwarf variety. So, if your goal is to grow lemon trees in pots, Eureka is one of the first types you should consider.
Pink Variegated Lemon Tree: Another interesting type of lemon tree you can try growing is the Pink Variegated Lemon Tree. It features leaves that are a combination of green and cream, produces lovely flowers, and offers intriguing lemons that are pink inside rather than yellow.
The Bottom Line:
While lemon trees do require some maintenance, it is nothing intensive. They are pretty adaptable and forgiving trees, so growing them is easy at any skill level. The best part of all is that you can plant this type of citrus tree outdoors or indoors. So, even if you have zero outdoor space in which to plant, you can still grow these tart citrus fruits!
4. Plum Trees
Few moments are as satisfying as when you bite into a juicy plum. If that is the way you feel about grocery store plums, wait until you take things to the next level and bite into your own sweet plums rich with flavour.
Plum trees are delightfully easy to grow and maintain, making them among the most popular choices for novice gardeners or those with limited time on their hands.
Ideal Conditions for Growing Plum Trees
The best soil for plum trees is that which is well-drained. Loamy soil is ideal. You should not plant these trees in soggy soil, however, or in clay.
Full sun is preferred for plum trees. They should get a minimum of 6-8 hours of direct sunlight.
A sheltered location will help protect your plum trees. You also will want to pick an elevated spot in your yard if possible to reduce potential problems with spring frosts.
What Makes Plum Trees Easy to Grow?
You do need to put some maintenance into growing plum trees in the form of regular watering and pruning.
But these tasks are not difficult nor terribly time-consuming. And if you put in the effort consistently, chances are good that your plum trees will thrive.
Moreover, the adaptability of plum trees means that they can flourish in varied conditions.
Recommended Types of Plum Trees
Here are some varieties of plum trees to think about:
Damson: If you are worried about frost during the spring, you might want to plant Damson plums. They are less susceptible to it since they blossom later in spring. The plums themselves are produced from August through October. These trees are suitable for zones 5-7, and can live even in heavy soils. You do not need to thin them.
Autumn Rosa: This type of plum can be grown in zones 5-9. It is a type of Japanese plum tree, which means that it produces bigger plums than you would get from a European plum tree. So, if large, juicy fruit are what you are after, this variety is worth considering. It is adaptable to a variety of different types of soil, and can survive drought conditions. But you do need to be ready to doing some extra pruning.
AU Amber: Looking for plum trees you can grow in pots? Consider this variety. While loamy soil is best, you will find it can do well in many soil conditions. If you are dealing with waterlogged soil, this variety may also be a good option.
The Bottom Line:
Although some maintenance is required to take care of plum trees, on the whole, it is less than a lot of other fruit trees require. Moreover, the adaptability of plum trees means that they can do well in many locations without too much effort.
5. Peach Trees (and Nectarine Trees)
Peach trees are part of the Prunus genus—just like plum trees, cherry trees, apricot trees, nectarine trees, and almond trees. So, perhaps not surprisingly, another type of fruit tree to make our list of low-maintenance options is the peach tree.
You will love growing your own peaches because you can reach up and pick a fruit that is completely un-bruised right off the branch. That means no more digging through the peaches at the local grocery store to try and find ones that aren't bruised!
Note that nectarine trees fall into the same category as peach trees for the simple reason that nectarines are peaches. Specifically, they are peaches with a negative allele, a genetic difference that makes them smooth instead of fuzzy to the touch.
So, if you prefer nectarines to fuzzy peaches, you are in luck—because they also are easy to grow!
Ideal Conditions for Growing Peach Trees
You will be able to grow peach trees if you have suitable conditions and are located in zones 5-8. Sometimes, you can get away with growing them in zone 9 as well, but if the weather gets colder than negative 20 degrees Fahrenheit, they won't do well.
You should plant peach trees in well-drained soil with full sun. Choose a location where frost won't be a problem, if you can.
What Makes Peach Trees Easy to Grow?
As with plums, peach trees do need your attention. You'll need to fertilize and prune them. But depending on how much precipitation you get, you might not need to water them regularly.
Recommended Types of Peach Trees
Here are a few types of peach trees to consider planting in your yard:
Honey Babe Miniature: The California Tropical Fruit Tree Nursery explains, "The Honey Babe Miniature Peach is an ideal choice for smaller outdoor spaces and when a low-maintenance tree is desired. Its fruit is superbly succulent and sweet, and is ripe for picking annually in July."
Bonanza II: If you want large fruits and a plant that can handle a range of conditions, the Bonanza II is worth thinking about. It is renowned for its adaptability.
Contender: This type of peach tree is resistant to bacterial spot and can handle cold climates. Both characteristics make it an easy, low-maintenance choice for your garden.
Glohaven: If you are worried about frost in the springtime, the Glohaven variety of peach tree might be a good fit for your yard. It blooms later than other peach varieties.
Harko: This variety is a type of nectarine. It is hardy in cold climates and can resist brown rot and bacterial spot.
The Bottom Line:
Both peach trees and nectarine trees are pretty easy to grow. You can purchase hardy, adaptable varieties that can thrive in many conditions as well as disease resistant types if you want them to require even less work.
6. Dragon Fruit
So far, all of the low-maintenance fruit trees we have recommended have been pretty standard fare: peaches, plums, cherries, and so forth—nothing exotic.
For something a little more unexpected, consider planting dragon fruit trees.
This plant is a type of cactus that looks a bit like a palm. When the cactus blossoms, you'll be able to enjoy foot-long white flowers that smell intoxicating. After the blooms fade, the plant produces its unusual fruits.
These fruits add intense visual interest to any garden. Their hot pink color makes for an eye-catching contrast with the green around them. Their spiky-looking shapes are exactly what you probably picture when you hear the words "dragon fruit."
You might be familiar with dragon fruits already, but not everybody has access to these at their local supermarkets. The flavor is kind of like a melon, but also a bit like a pear. So, if you enjoy either of those, you probably will like the refreshing taste of dragon fruit.
While you can eat dragon fruits fresh, you also will find that they go well in jams, smoothies, or sorbets.
Ideal Conditions for Growing Dragon Fruit Trees
If you live in a warm climate that doesn't get frost, you can plant dragon fruit trees right in the ground. You can grow them if you do get some mild frost, but you will want to keep them in containers.
The best type of soil is sandy and well-drained—not a surprise, considering this is a cactus. Also not surprisingly, dragon fruit trees do best in full sun. Try not to plant dragon fruits in the shade or in soil that might get muddy.
What Makes Dragon Fruit Trees Easy to Grow?
Dragon fruits are low-maintenance and easy to grow because they are cacti. That means that you do not need to give them much in the way of water. In fact, you need to make sure you do not over-water them.
Not only do you rarely need to water dragon fruit trees, but you seldom need to fertilize them either. Overdoing this can also kill them. Once a month or every other month should work.
Pruning dragon fruit trees is necessary, but only every several months.
Recommended Types of Dragon Fruit Trees
Alice: If you want to grow dragon fruits that are not that sweet, you can plant this variety. You will enjoy the almost fluorescent pink hue and the balanced flavor.
American Beauty: This is one of the most popular types of dragon fruits you can grow. It has a sweet flavour, and self-pollinates.
The Bottom Line:
Cacti are low-maintenance plants that you do not need to spend a lot of time watering. That makes dragon fruit cactus trees an excellent option for a location with sandy soil and lots of sun.
7. Fig Trees
Some of the hardiest fruit trees you can plant are fig trees. Figs can be tasty in sweet and savory recipes alike, making them versatile in the kitchen.
Because figs can tolerate all manner of growing conditions, you will find they are a low-maintenance addition to your garden.
Ideal Conditions for Growing Fig Trees
You can grow fig trees successfully if you are in zones 8-11. If you are used to baking in the summer heat each year, you might be in an ideal location for them. But you can grow figs in containers if you are in a cooler location. You will just have to make sure they do not freeze.
So long as your soil is well-draining, your fig trees should grow well. They are not picky about soil type. They do prefer full sun.
What Makes Fig Trees Easy to Grow?
Fig trees can put up with temperatures down to around 10 degrees Fahrenheit, despite being ideal for warmer climates. This flexibility makes them easy to grow in a range of climates. And as just mentioned, they can flourish in many soil types.
You do need to regularly water figs, but you will find that this job is easy to keep up with. Pruning requirements are pretty basic; you have to prune after planting, and then again each winter. Annual fertilizing is important as well.
Something else that is nice about planting a fig tree is that you can expect it to grow pretty quickly. So, you will be able to enjoy fast results for the effort you put in.
Recommended Types of Fig Trees
Here are a few different fig varieties you can think about planting:
Alma: The Texas Agri-cultural Experiment Station came out with this variety of fig tree in 1974. The fruit is prized for its sweetness. Just take care that this plant is not exposed to frost, as that can cause problems for years to come.
Texas Everbearing: This variety of fig tree is also called Ramsey or Brown Turkey. It recovers more rapidly and fully from freeze injuries than some other types of figs, so it is an option worth considering if you are worried about that. If you want milder-tasting figs, it can be a great choice for that as well.
Celeste: Need a cold-hardy fig? Arguably the best choice out there is Celeste. Only light pruning is needed (or advised, for that matter).
The Bottom Line:
Figs can have issues with frost, but they are reasonably cold-hardy. That being said, you'll have the best luck with them in a hot climate. Care and maintenance are straightforward, and these trees grow fast.
8. Achacha Fruit Trees
If you are looking for a plant that is super easy to grow indoors, consider an Achacha tree.
This is a tropical plant, so if you want to plant it outdoors, you will need to be in zones 9-11. But if you are willing to keep it in a pot, you can grow it in zones 4-11. In fact, you can just keep it in your house if you want.
The fruits this tree produces taste most like mangosteen or lychee.
Ideal Conditions for Growing Achacha Trees
These trees do best in warm climates. They can grow well outdoors if you are located in parts of Texas, Florida, or California. But again, indoors, they can be grown in most locations without trouble.
The plant will grow best if it gets as much sunlight as possible. That means indoors, it should go in a sunny location near a door or window. Soil needs to be well-draining for optimum plant health.
What Makes Achacha Trees Easy to Grow?
If you grow this plant outdoors, it might get to be as tall as 20 feet. But if you grow it indoors or on your patio, it won't get bigger than around 5 feet. That means that it is incredibly easy to maintain.
Initially, you'll need to water it every few days after you plant it. But then you can just water it once a week. You can do so half as often during the winter months. So, keeping up with adequate watering is very easy.
While you do need to prune the tree, this is easy, given its compact size.
The Bottom Line:
If you want a low-maintenance tropical fruit tree that you can grow indoors, on your patio, or (potentially) out in your garden, consider the Achacha.
9. Avocado Trees
Still looking for more fruit plants that don't require a lot of maintenance? If you want to get away from sweet fruits, you might try growing an avocado tree.
Everyone knows what a pain it is in the supermarket to try and pick out avocados that are ripe. The fact that avocados generally are not cheap doesn't help, either. It is never fun wasting money on fruits you end up not being able to eat.
But when you grow your own avocado trees, you will have free avocados! You can harvest them at just the right time, increasing your chances of cutting them open when they are ready.
Ideal Conditions for Growing Avocado Trees
To grow this delicious, soft fruit, you will generally need to be in zones 9-11, though some varieties can survive in zone 8 outdoors. You also can plant your avocado in a container indoors.
Just about any well-drained soil should work fine for an avocado tree. But if your soil is really soggy, you can mix in sand to loosen it up a bit and make it more suitable.
Your avocado will need at least 6 hours of sun every day to flourish. So, choose a spot outdoors that receives at least that much direct sunlight, or put your container next to a door or window indoors. Ideally, it should be south-facing.
What Makes Avocado Trees Easy to Grow?
Avocados are popular among novice gardeners due to how easy they are to take care of. You need to water them at least once a week, but they only need to be pruned once a year. You can take care of this chore either late in the winter or at the start of springtime.
The compact size of avocado plants makes it almost effortless to handle maintenance, as does the convenience of being able to keep them indoors or on your patio.
Recommended Types of Avocado Trees
Here are some types of avocados you might want to try growing:
Hass: The most popular variety of avocado is no doubt the Hass avocado that you commonly find for sale in the supermarket.
Cold Hardy Avocado: This variety of avocado tree is specifically designed to be grown in zones as low as 8. So long as temperatures do not drop below 20 degrees Fahrenheit, you can keep it outdoors full-time.
Condo™: If you plan on growing your avocados indoors, you might consider this variety, which was specifically grown for that purpose. By the time it is 3 feet tall, it will already be producing delicious fruits to enjoy.
Lula: This type of avocado is a good choice if you need one that is cold-hardy. Just be aware that fungus can get at it more easily than some other types of avocados.
Bacon: This type of avocado is one to try if you want one with a particularly mild taste.
The Bottom Line:
If you want a fruit tree that is easy to grow indoors, it is hard to beat avocados. Even if you do not have any room to plant them outside, you can plant them indoors. They do not need much in the way of maintenance, and can save you money at the grocery store (and frustration).
10. Mulberry Trees
Have you ever wondered why you can't find mulberries at your grocery store? The reason is that these fruits go bad really fast. So, you basically need to eat them right after they pick them. And that means that if you want to enjoy them, you generally need to grow them yourself.
Ideal Conditions for Growing Mulberry Trees
These trees will do best if you give them well-drained, rich soil. But even if the soil quality is not ideal, they may be able to grow. You can amend it with compost if you need to in order to give them better conditions in which to thrive. They will need full to partial sun.
You can grow mulberry trees in zones 5-10.
What Makes Mulberry Trees Easy to Grow?
Mulberries are pretty low-maintenance. These trees require a little attention in the spring; you will have to fertilize and mulch at that time. In the summer, you might want to prune, and you definitely will want to do so come winter. You will need to make sure they get around an inch of water each week. That might sometimes require you to head out and do it, but rainfall may take care of it at other times.
Birds may like getting into your mulberries, but these trees are not usually targeted by pests.
Another reason mulberries are easy to grow is that they are drought-resistant, and can handle a wide range of temperatures.
Recommended Types of Mulberry Trees
Here are some types of mulberries you can grow:
Big White. If you want mulberries that ripen early, the Big White variety might be worth planting. These trees thrive best in zones 6-9.
Beautiful Day. Ideal for zones 5-9, this type of tree produces small, sweet fruits.
David Smith Everbearing. For a type of mulberry tree that is easy to grow in zones 4-9, look to the David Smith Everbearing Mulberry Tree. You should get a lot of fruits from this tree, and they are a bit larger than what some other varieties produce.
Contorted. If you are looking for a smaller type of mulberry tree, you might consider this variety. It derives its name from the "contorted" shapes of its branches. The fruits are small and black. It can add visual interest to your garden in every season, and is beautiful even in the wintertime.
Florida Giant. This big tree grows in zones 6-10, and also produces large leaves and fruits. The mulberries ripen late in the season.
Downing. Want red or black delicious mulberries? A Downing Mulberry Tree might be the way to go. You can plant this type of tree in zones 5-9.
Kokuso. If you are looking for a type of mulberry tree that can survive in a colder climate in zones 5-9, this variety is worth considering. It also bears very large mulberries.
Illinois Everbearing. Another excellent variety for cold-hardiness, this plant can live in zones 4-9.
Northrop. An even more cold-hardy variety of mulberry tree is the Northrop, which can survive even if the temperature dips below -50 degrees Fahrenheit. You can plant it in zones 4-8. So, if you have cold winters, this could be the right mulberry tree for you!
The Bottom Line:
Mulberry trees are easy, low-maintenance fruit trees to grow. It is hard to find mulberries for sale locally, unless you happen to live near someone who grows them in the area. But that person could be you, if you plant some mulberry trees of your own.
11. Pomegranate Trees
Love the rich flavour and nutrition-packed goodness of pomegranates? Happen to live in zones 7-10? Then you are in luck, because it is actually pretty easy to grow pomegranate trees (Punica granatum).
Ideal Conditions for Growing Pomegranate Trees
Pomegranate trees prefer well-drained soil with a pH of 5.5 to 7. If they have to, they can survive in other types of soil. But you should not plant them in soggy soil. They will be happiest in a sunny spot. But if necessary, they can tolerate partial shade. At least six hours of sun will help to ensure plenty of tasty fruit.
What Makes Pomegranate Trees Easy to Grow?
Along with flexibility with respect to sun and soil conditions, this is a drought-tolerant tree that can stand a lot of hot, dry days.
You do need to water your pomegranate trees if you are not getting a lot of rainfall. Thankfully, this is only necessary every 2-4 weeks. So, it is not a very intensive job.
Just as pomegranate trees do not require much water, they also do not need a lot of fertilizing. You'll want to fertilize twice a year in March and November the first two years after planting your trees. But after that, you will rarely if ever need to fertilize them.
There are a few insect issues and diseases that can affect pomegranate trees. But thankfully, this is relatively rare. So, that also reduces the necessary maintenance.
Some types of pomegranates also can be grown in pots with drainage holes. So, that adds to their flexibility and the ease of their care.
The most intensive maintenance required is pruning in the initial years after planting. Doing so will help you get rid of suckers and control the shape of the tree.
But thankfully, this annual pruning job becomes much less demanding after a few years. You can then reduce the pruning you are doing on the mature fruit trees to getting rid of branches that have become diseased or suffered other damage. That way, you are maintaining tree health.
Recommended Types of Pomegranate Trees
Here are some recommended pomegranate fruit tree varieties:
Golden Globe: One of the varieties of tree worth considering is this one, which grows best on the coast. Interestingly enough, they are not as keen on hot weather as many other pomegranate trees. So, it might be a good option if you are worried your climate is not warm enough, but you are still within the growing zone range that is appropriate.
Ariana: If you live inland, rather than on the coast, you might be better off growing the Ariana variety of pomegranates. These trees love the heat.
Sweet: Wish that the pomegranates you get from the store were a bit sweeter? You may want to try growing this variety of pomegranate, which has a sweeter flavor. The fruits are also a somewhat different color, being closer to pink than deep red. Just be aware that these trees are prone to frost damage.
Punica "Wonderful". This type of pomegranate produces large fruit, and is the type you probably are used to encountering at your local supermarket.
Punica Russian 26'. Here is another option for a pomegranate with some cold hardiness. Indeed, the name reflects its origin, which is Russia. It can survive in climates where winter temperatures drop as low as 3 degrees Fahrenheit. But it also does well with hot and humid summers.
Punica "Nana": This is a dwarf variety of pomegranate that you can grow in a container. Indeed, you can even grow it as a bonsai tree. Just be aware that it is not known for producing delicious fruit, so it is mostly for looks.
Red Silk: This pomegranate doesn't get taller than 8 feet when you plant it directly in your garden plot. So, you can also plant it in a container if you want.
The Bottom Line:
Pomegranates are attractive trees that produce delicious, nutritious fruits. Growing your own is pretty easy if you live in a warm climate with lots of sunlight. Aside from some extra pruning requirements in the first couple of years, they are very low-maintenance.
12. Persimmon Trees
If you enjoy the sweet, honey-like taste of persimmon fruits, why not try growing your own persimmon trees? Indeed, these are considered to be easy, low-maintenance plants, and they can do well in a wide range of climate zones.
Ideal Conditions for Growing Persimmon Trees
You can grow persimmons in zones 4-9. They like full sun, but if there is a bit of shade in the afternoon, that should not be a problem.
As far as soil goes, well-drained, loamy, and acidic soils are ideal for these trees, but they can put up with other soil types as well. But you should try not to plant them in soggy or salty soil.
What Makes Persimmon Trees Easy to Grow?
These low-maintenance trees usually only require watering while they are getting established. After that, you generally can let Mother Nature take care of them. But while they are relatively drought-resistant, you should still water them once a week during dry times.
If you have poor soil, you should amend it before you plant these trees. But after that, fertilizing isn't necessary in most cases.
What about pruning? In the first couple years after you plant your persimmon tree, you might need to do some pruning. But after that, you will seldom need to prune.
The cold-hardiness of persimmon trees makes them easy to care for as well. Even if your temperatures drop down to -25 degrees Fahrenheit during winter, they should be okay. They'll tolerate heat pretty well too. Try to put them in a sheltered spot from wind, however.
Recommended Types of Persimmon Trees
There are actually thousands of cultivars of persimmon trees! Here are some types of persimmons to consider planting in your garden:
Eureka: This type of astringent persimmon features orangey-reddish skin and dark flesh. If you are looking for a variety that will ripen late, it may be a fit for your yard. It resists both frost and drought conditions.
Fuyu: This late-season non-astringent persimmon features orangey-reddish skin and delicious, seedless fruits. The sweetness is comparable to what you could expect from a typical apple. It grows very well in Florida. But you cannot grow it if you live in an area where the temperature drops down below 15 degrees Fahrenheit.
Great Wall: This type of tree is another one to consider in Florida or anywhere with a similar climate. But it is a little hardier than Fuyu and can survive in temperatures that drop as low as 0 degrees Fahrenheit.
Hachiya: Looking for a persimmon tree variety that will grow a lot of fruit? This Japanese variety may actually grow so much fruit that you need to support the branches since they are weighed down so heavily. The sweet fruits taste great fresh, but you can also enjoy them dried.
Matsumoto Wase Fuyu. If you need a persimmon variety that ripens early, you can try this one. It is also good for compact spaces and tends to max out at around 15 feet tall. The fruits it produces are sweet with a nice, crisp texture.
The Bottom Line:
Persimmon trees are low-maintenance and do well in a wide variety of climates. They can stand heat and cold, and require little effort with respect to watering, pruning, and fertilizing.
Start Growing Low Maintenance Fruit Trees Now
Now you know some fruit trees that are easy to grow! Ready to start growing your own fruit in your backyard? Click the link below to shop for low-maintenance backyard fruit trees now.