Making homemade tomato sauce does not have to be hard. It does not have to be back-breakingly labor intensive. In fact, you don't even have to peel the tomatoes!
On top of that, one of the biggest advantages of this roasted tomato sauce recipe is that there is no cooking down the sauce for hours on end, risking scorching and sucking up your utilities. (You'll see why.)
And yes—this tomato base and sauce recipe can be preserved. Freezing and canning (aka jarring) are both options.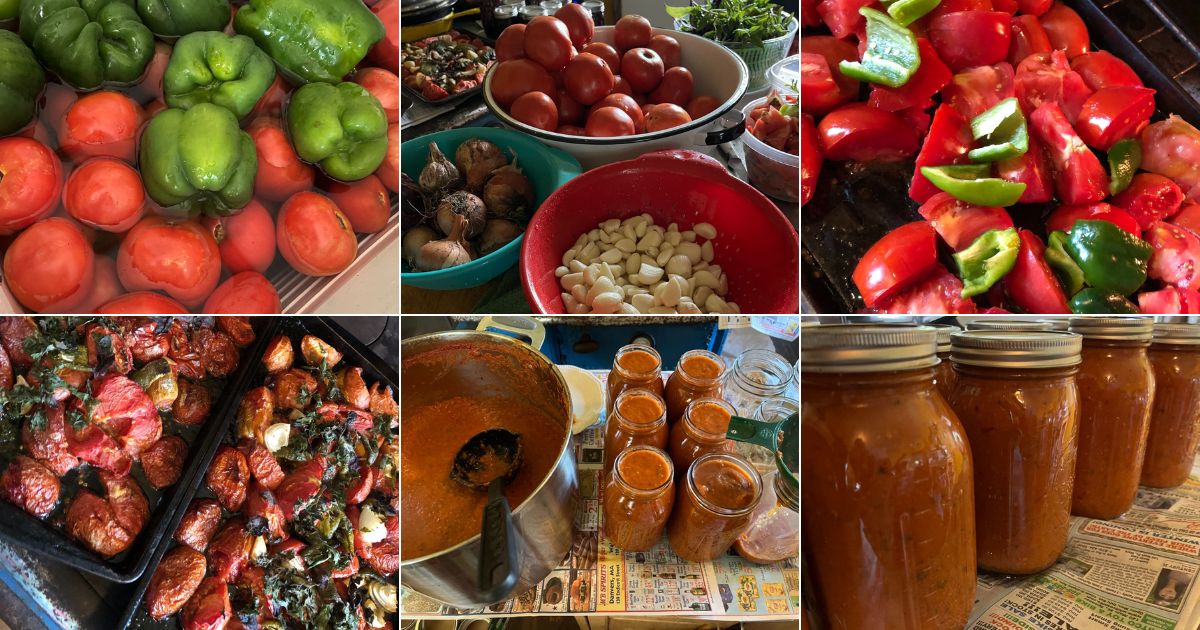 Jump to:
Out with the Old (Method)
You don't need to give up that classic homemade flavor to make this sauce (though you might truly find that the roasting improves the depth and flavor). You do need to give up some of your ideas, if you have them, about how tomatoes need to be prepped and handled.
Mainly, that means doing away with the hours of tedious scalding, seeding, and peeling. In this recipe, the skins and seeds are left in. But the seeds aren't very noticeable, and you won't even know the skins are there.
How is this possible? Because after roasting, all the vegetables and tomatoes get blended with a food processor, immersion blender, or kitchen blender. Because our modern appliances are so good at what they do, the skins are pulverized and disappear. This gives the sauce more substance, a better yield (practically no tomato waste!), more fiber, and it enhances nutrition, too—there's a lot of good in a tomato skin!
If You Insist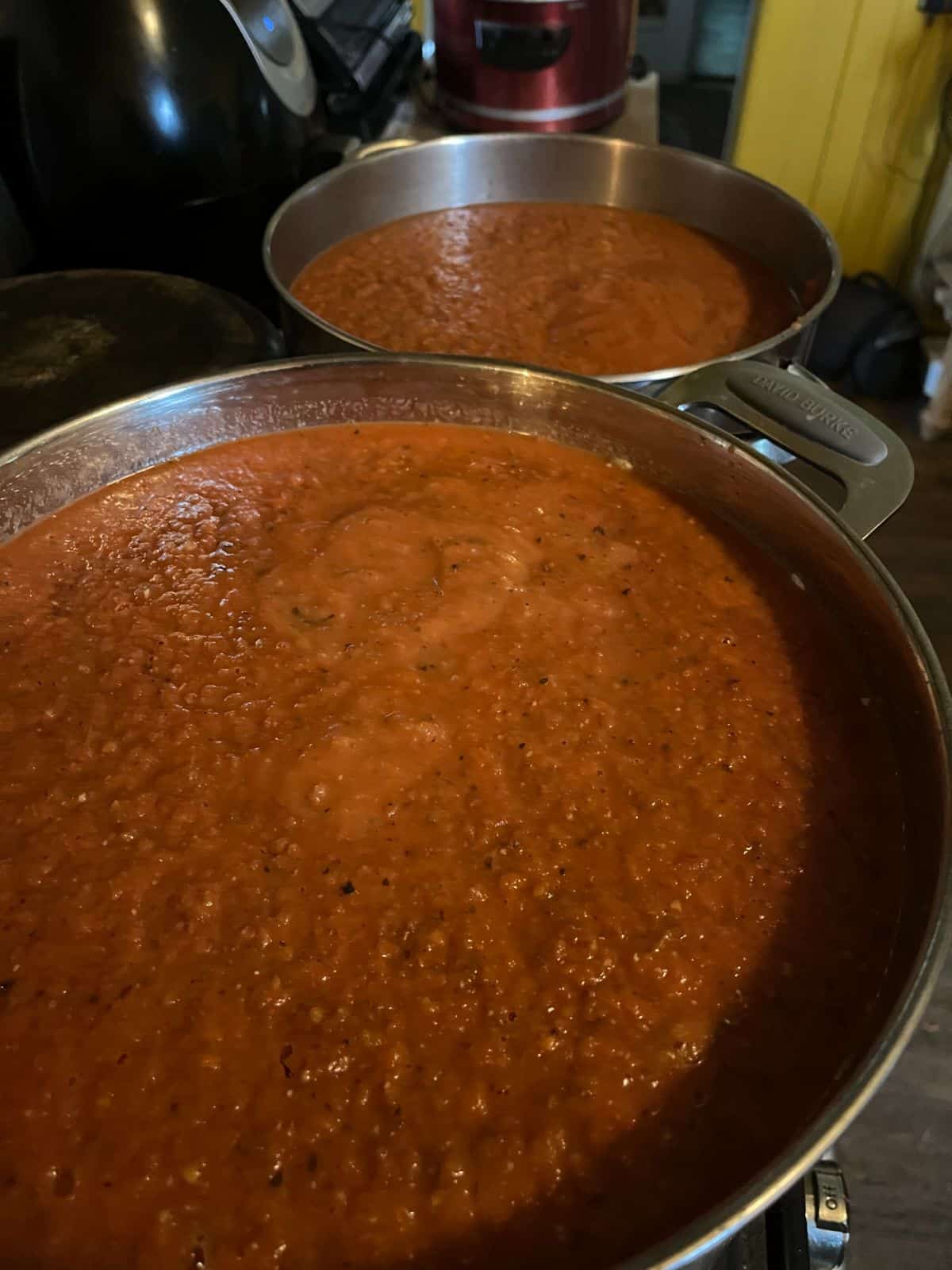 HOWEVER...
If you really can't stand the thought of tomato skins or seeds in your sauce, you still have the option of removing them after roasting. It just adds a couple of extra steps.
One option is to give the tomatoes a squeeze to release most of the seeds. You can do this before or after roasting.
As for the skins, after roasting, they will easily slip away from the "meat" of the tomato. Just pull them off after the tomatoes have cooled a bit.
A second option is to run all of your roasted tomatoes and vegetables together through a food mill with a fine screen—similar to how you would in a more traditional sauce preparation. You'll add that step back, but you'll still save time in the prepping and roasting and in NOT cooking the sauce down for days.
But Save The Tomato Skins!
If you do skin or mill your tomatoes, it's a great idea to save the tomato skins and dehydrate them. Dried tomato skins can then be pulverized (using a food processor or blender) into a fine powder.
Tomato powder makes a great thickener for tomato sauce and a replacement for tomato paste. It can also be added to soups, stews, chili, roasted vegetables, smoothies, dressings, spice blends...all sorts of things. Maximize your food use—whether you grew it or bought it—and step up your dishes a notch or two.
Now that you know your options, let's move on to how to make this roasted tomato sauce. Then we can talk about options for using it and for preserving it.
What You'll Need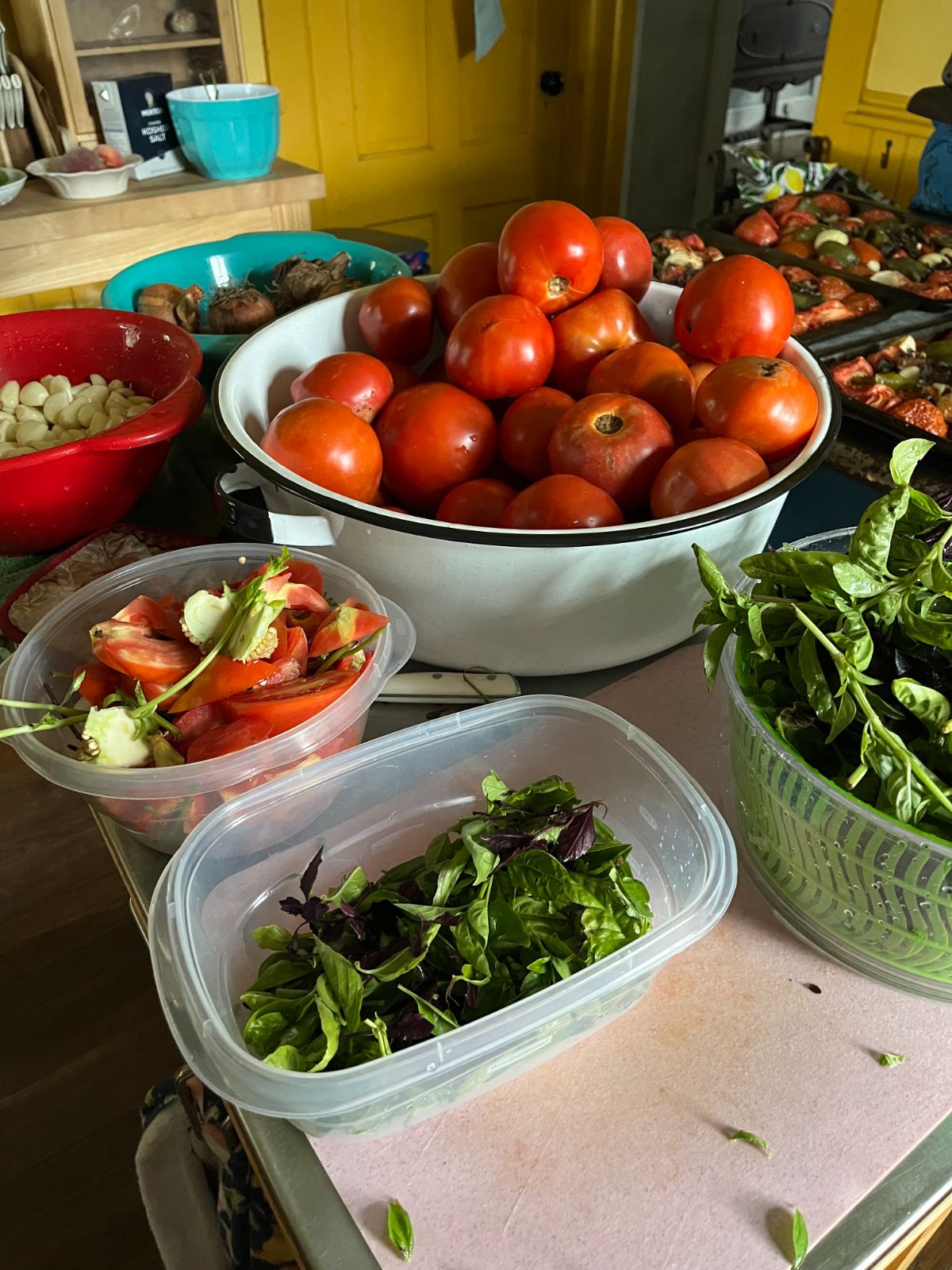 Ingredients for this sauce are:
Tomatoes (Roma or sauce types are best, but do use ANY type of tomatoes you have, including cherry and slicing tomatoes—waste not!)
Green peppers (or red if you prefer; they're great, too; bell peppers or Italian types work well)
Onions
Fresh garlic cloves
Basil (fresh preferred, dry is okay to use—use ¼ the basil if using dry)
Salt and Pepper to taste
Other herbs and spices if desired
How Much of Each Ingredient Do You Need?
This recipe is highly flexible, and the idea is that you can make it with almost any amount of tomatoes you have available to you. Instead of a set amount or measurement of ingredients, we will "measure" the ingredients by the pan.
You will roast your ingredients all together on a standard baking sheet. Use a sheet that is close to the standard 18 x 13-inch baking or cookie sheet. Use a pan that has raised sides, not a flat baking sheet. The tomatoes will release a fair amount of juice as they cook, and you don't want that to run off into your oven.
For each sheet you will need enough tomatoes, cut in halves or quarters, to fill the baking sheet in a single layer. This is about 2.5 pounds of tomatoes (depending on the type and size).
For each sheet of tomatoes (for every two to three pounds of tomatoes), you will need one onion (average size), one pepper (average size), about ¼ cup of fresh basil leaves (whole leaves are fine—if using dry, use one tablespoon), and five to seven cloves of garlic (more to taste).
Onions, peppers, garlic, and basil are optional but highly recommended. If you have an allergy or do not like one of these ingredients, you are free to leave it out.
Each baking sheet will yield approximately one quart of finished sauce.
Approximate Ingredient Amount for One Quart of Finished Sauce: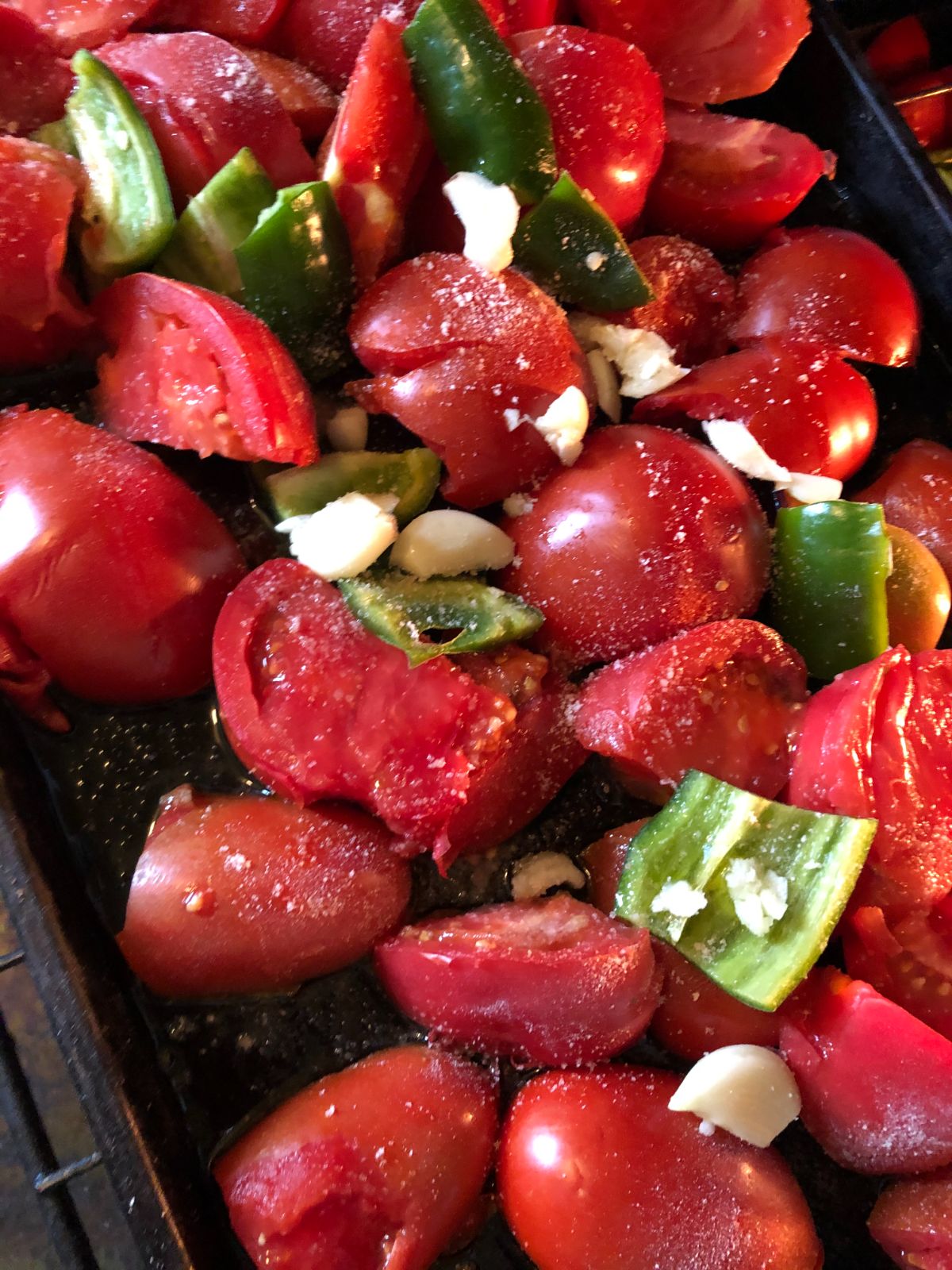 To sum it up, for each 18 x 13-inch baking sheet, to make about one quart of finished sauce, you will need:
3 to 5 pounds of tomatoes
1 onion
1 green pepper
¼ cup fresh whole basil leaves (1 tablespoon dry)
6 cloves of garlic
Salt and pepper to taste
How to Make Easy Oven-Roasted Tomato Sauce or Tomato Base
1. Wash and Prep Tomatoes.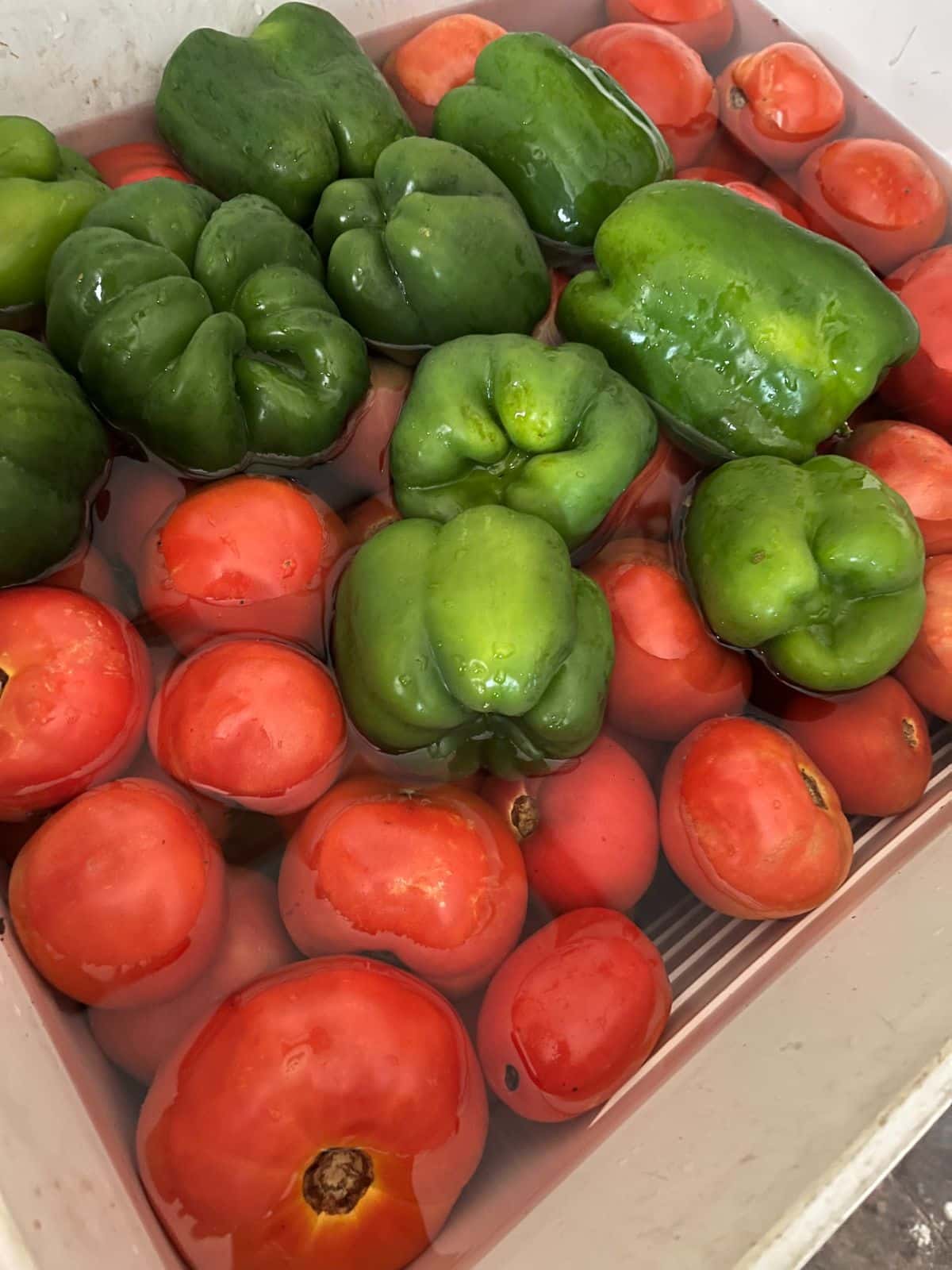 Wash the tomatoes, rubbing off any dried leaves, vegetation, or dirt. Cut the stem/core section out, and cut off the blossom end. Cut tomatoes in half (or a quarter if large—to about the size of a Roma tomato that is cut in half).
2. Wash and Prep Other Vegetables.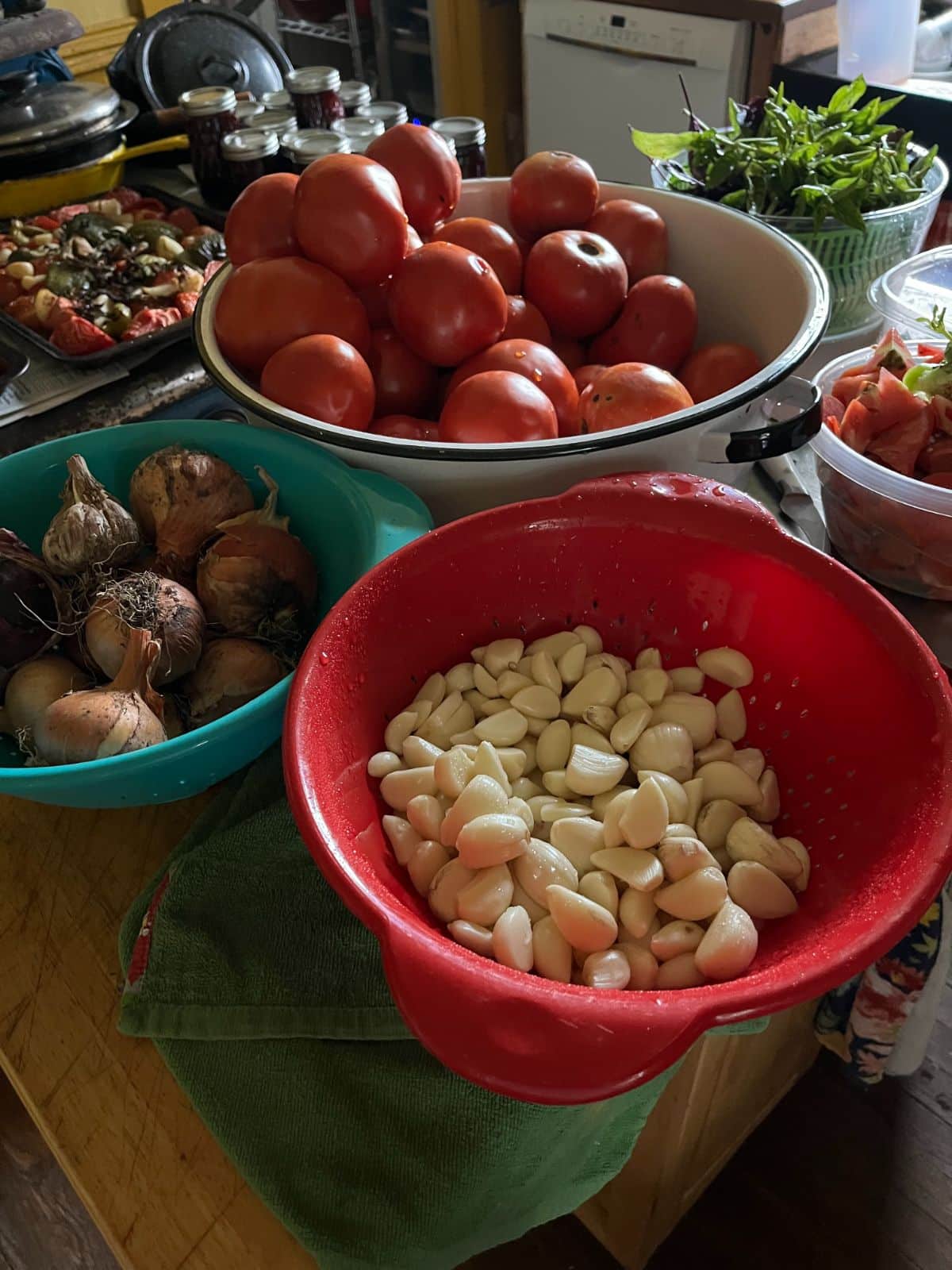 Wash peppers and cut the stems and cores out of them. Cut peppers into quarters.
Peel the onions and cut them into quartered sections.
Peel the garlic cloves. Leave whole.
Rinse the basil and remove the whole basil leaves from their stems.
It's easiest to prep each type of vegetable into its own bowl. Then you can quickly assemble the roasting pans.
3. Coat the bottom of the pan with olive oil (or other vegetable or cooking oil).
Pour a light layer of olive oil over the surface of the pan to keep the vegetables from sticking. Be sure to coat the entire surface.
4. To each pan, add enough tomatoes to make a single layer over the bottom.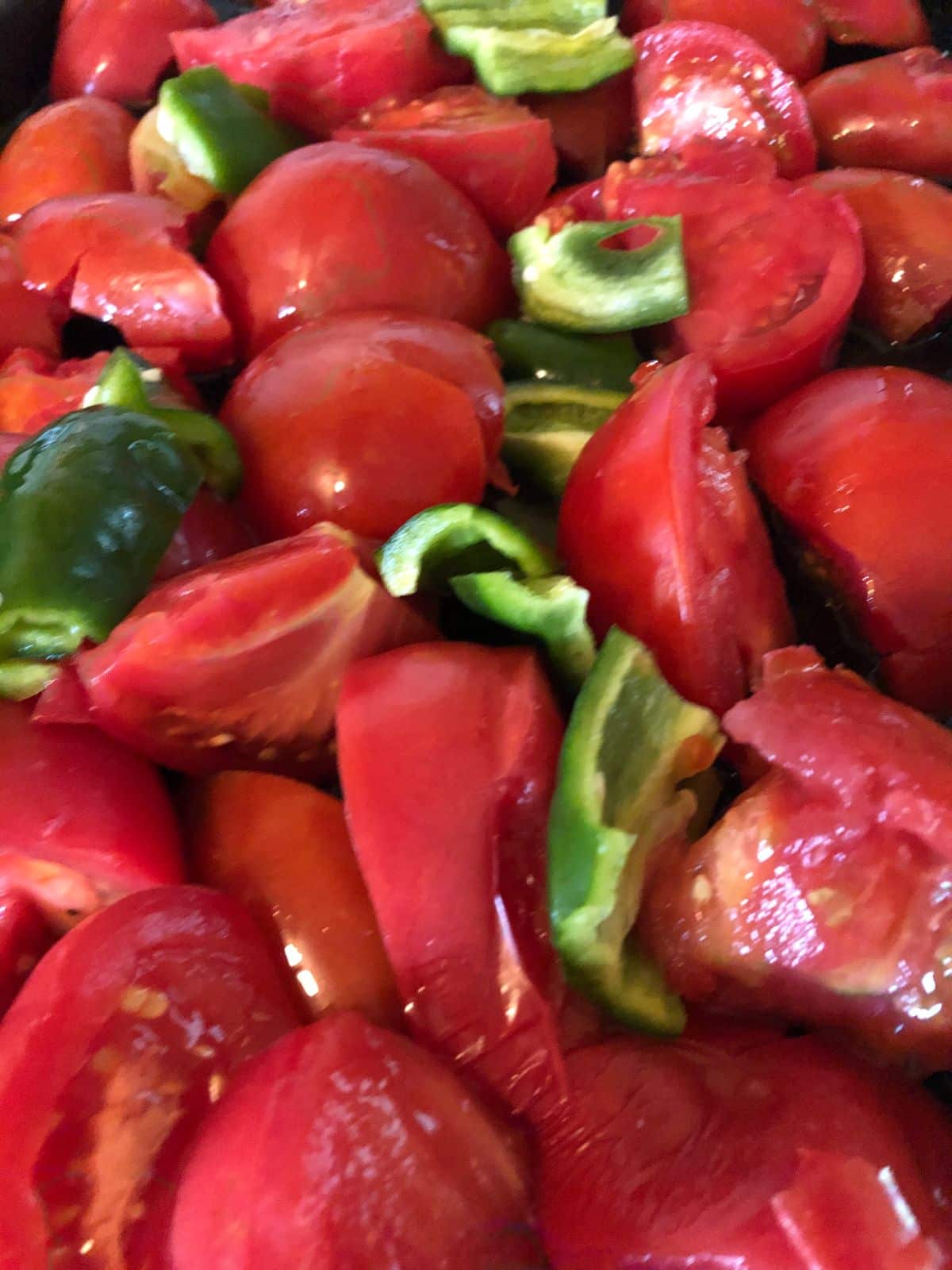 Spread the cut tomatoes out to mostly cover the pan's bottom.
5. Add onions, peppers, and garlic cloves.
To each sheet of tomatoes, add one quartered onion (the equivalent of one whole onion, cut into quarters; one onion per pan).
Add one pepper's worth of quartered pepper pieces (the equivalent of one whole pepper per pan).
Add five or six whole garlic cloves to each pan.
When adding these vegetables, disperse them evenly between tomato chunks around the pan.
Tuck the basil leaves around between tomatoes and vegetables.
6. Salt and Pepper to taste.
Sprinkle salt and pepper to taste over the pan of vegetables. Be conservative—you can always add more later.
7. Repeat.
Repeat for each sheet until you have used all of your tomatoes.
8. Roast.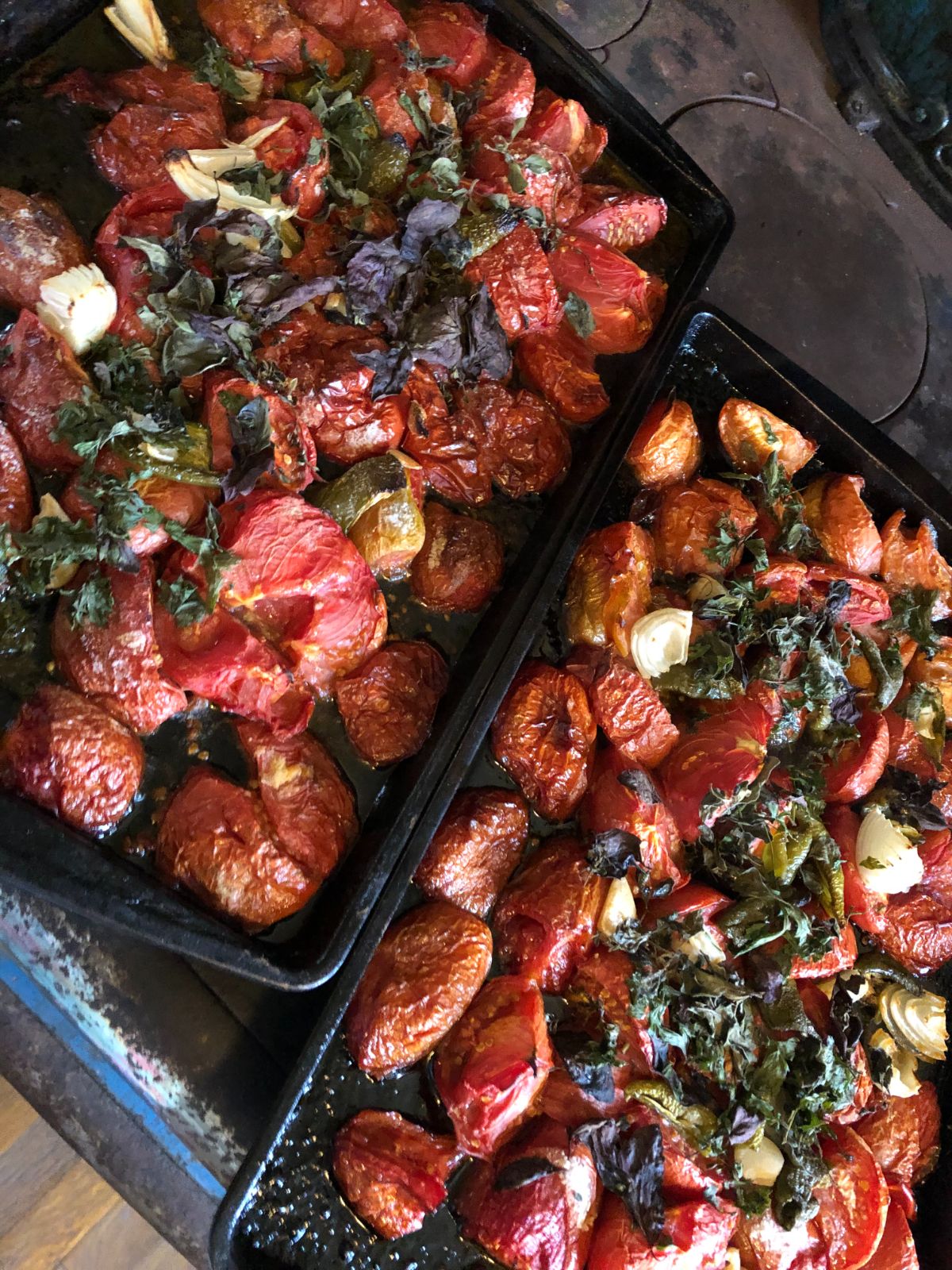 Roast the pans of vegetables in a 400F oven (200C) for 45 minutes, or until tomatoes are soft and some of the skins just start to darken to brown. Remove from oven and let cool slightly until you are comfortable handling them.
9. Blend the vegetables into the sauce.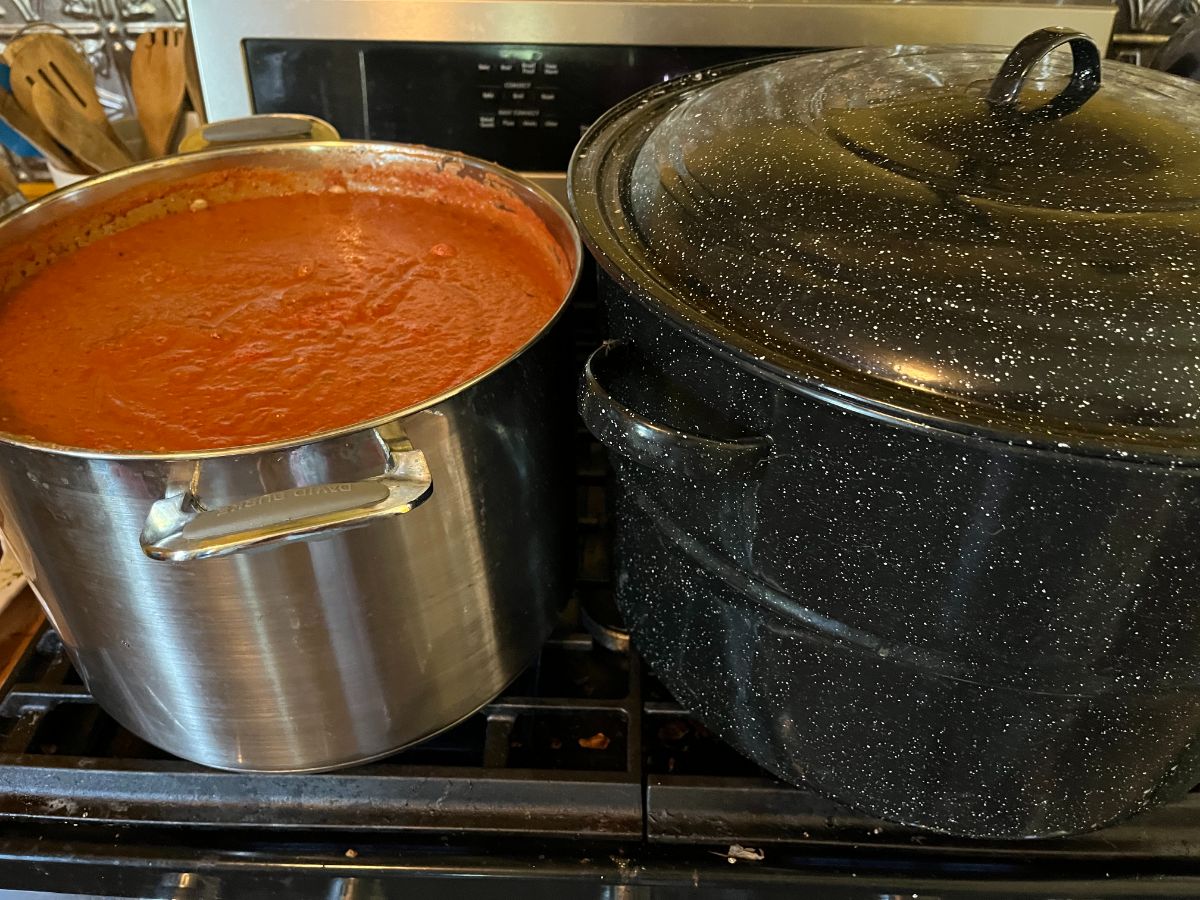 Using a slotted spoon, spoon the vegetables into a large bowl or saucepot (if you are using an immersion blender) or into a blender or food processor. Do not pour the watery juice into the pot—only take the vegetables and herbs.
Process on medium-high speed until smooth and of uniform consistency. If you see large chunks of any of the vegetables or noticeable skins, process a bit longer.
Taste the sauce. If you think it needs more salt or pepper or seasoning, you can add it now. However, consider that you can always add that later when you use your preserved sauces. You might want to keep your sauce on the milder and plainer side for now and add to it when you use it to suit the dish you are preparing.
10. Package or preserve.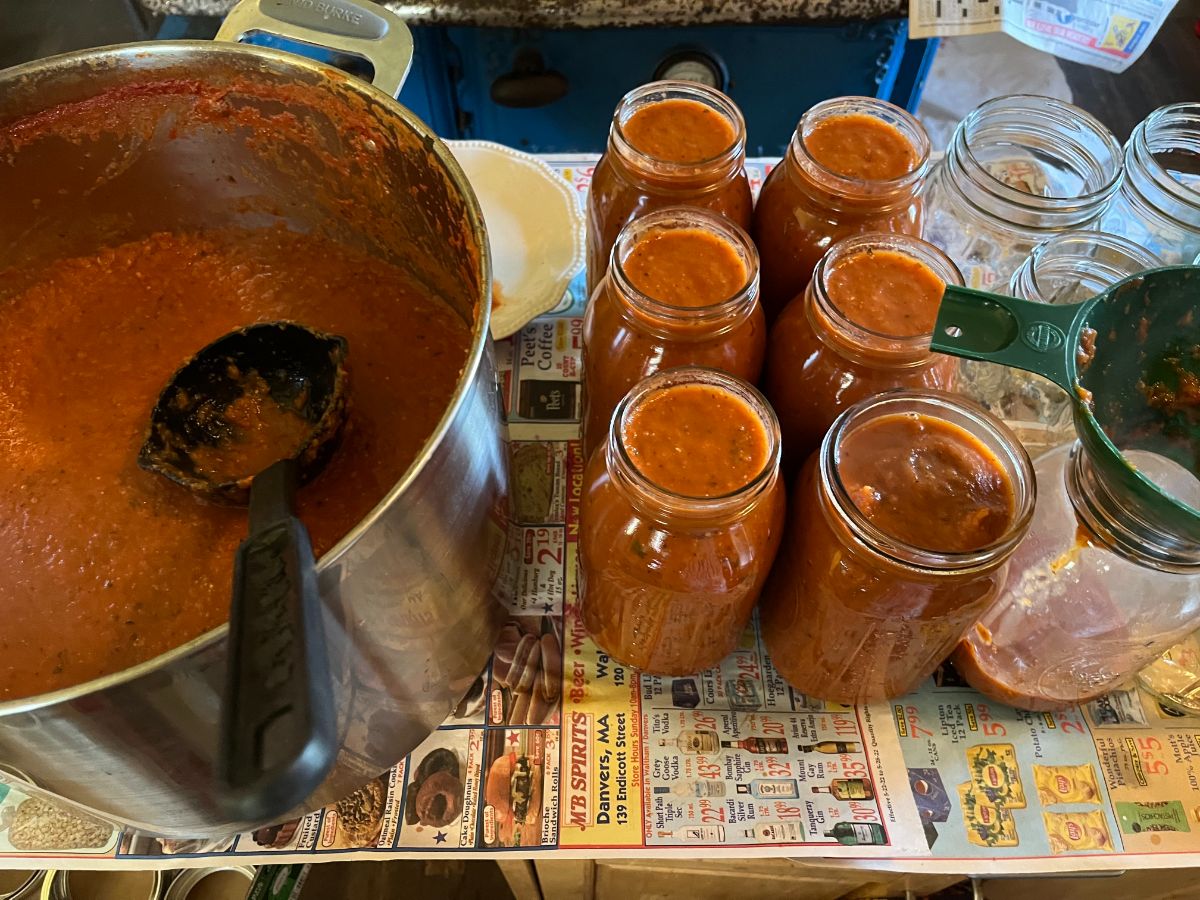 At this point, your sauce is finished and is ready to be packaged for preserving (or eaten and enjoyed!). It will not need to be cooked down further because the excess water and juice will have released onto the pan during the roasting process. By lifting the tomatoes and vegetables off that juice and leaving the juice behind, you have already done what simmering does, which is to remove the excess water.
This sauce can be frozen or canned for long-term storage. See the options and instructions below.
Tip: Save the Juice
When you remove the roasted vegetables to blend into a sauce, save the juice that is left behind. This can be used within one week or frozen for future use.
The juice is quite drinkable, similar to a vegetable juice cocktail. It is also a delicious addition to soup broth or used for cooking pasta, rice, vegetables, etc.
How To Preserve Roasted Tomato Sauce
The work of prepping vegetables, roasting, and finishing the sauce can take a lot of time if you are making a large batch of sauce. If it's too much work for one day, you can refrigerate the finished sauce and package it and preserve it on the next day. If you have the time, you can certainly package and can or freeze it on the day it is made, too.
If you are freezing your sauce, package and freeze it cold straight from the refrigerator.
If you are canning (aka "jarring") your sauce to make it shelf stable, you will need to heat the sauce through to simmering. Stir often as the sauce is heating to prevent scorching.
Freezing to Preserve Tomato Sauce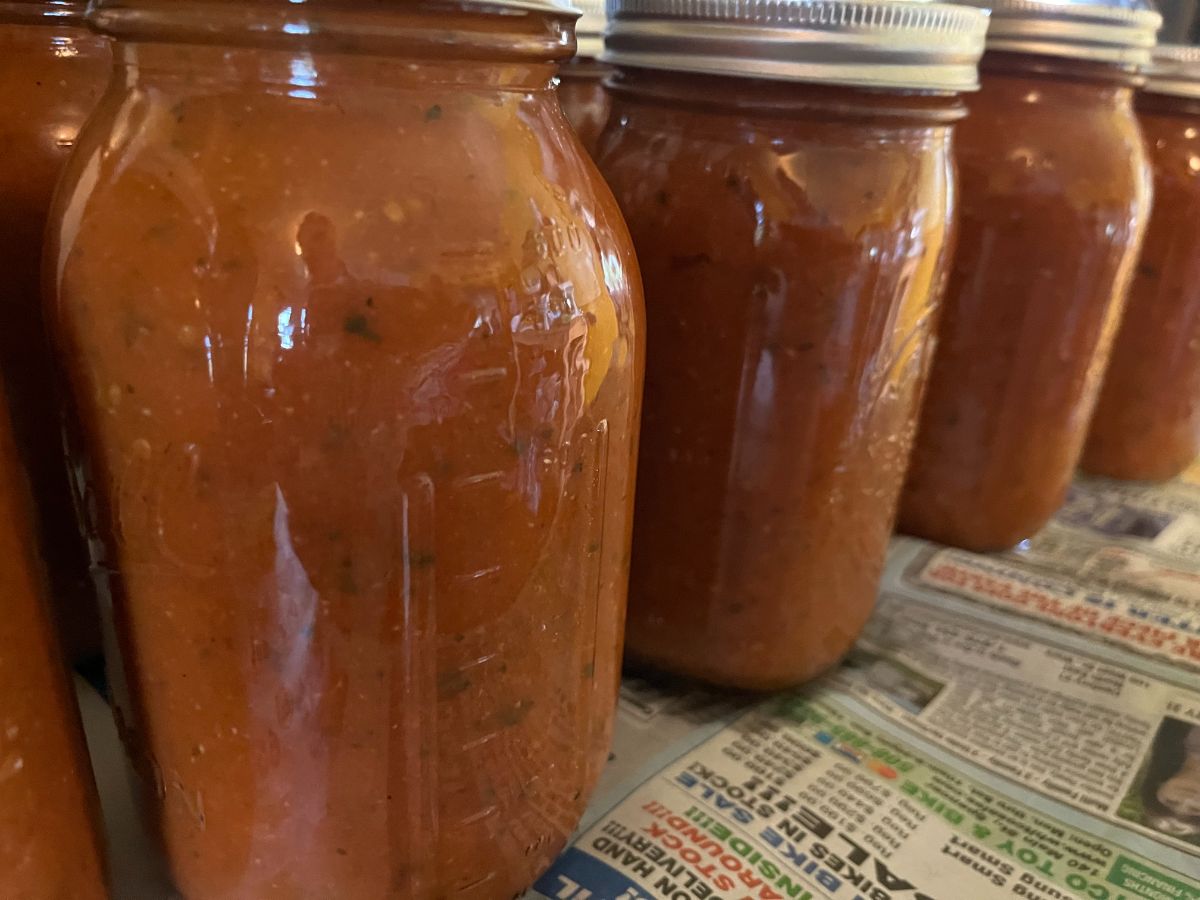 Freezing is a fast and easy way to preserve tomato sauce.
Mason or canning jars can be used and are considered freezer-safe, but you do risk breaking jars and wasting sauce.
Plastic zipper freezer bags can also be used. They are a little difficult to fill, but once filled and sealed, they lay flat and do not take up a lot of freezer space. They are also cheap and easy to find. There is a stand holder that will keep the bags upright as you fill them, which you can find here. Use a canning funnel to fill them. It will make the job easier.
Another excellent option is to buy sleeves of plastic deli containers (which can also be reused for this and other storage purposes). They are available in eight-ounce, 16-ounce (pint), and 32-ounce (quart) sizes.
When freezing in containers, be sure to leave one inch of headspace (unfilled space at the top of the container). The sauce will expand when it freezes, and if you do not leave the headspace, your container may pop open or break.
Canning to Preserve Tomato Sauce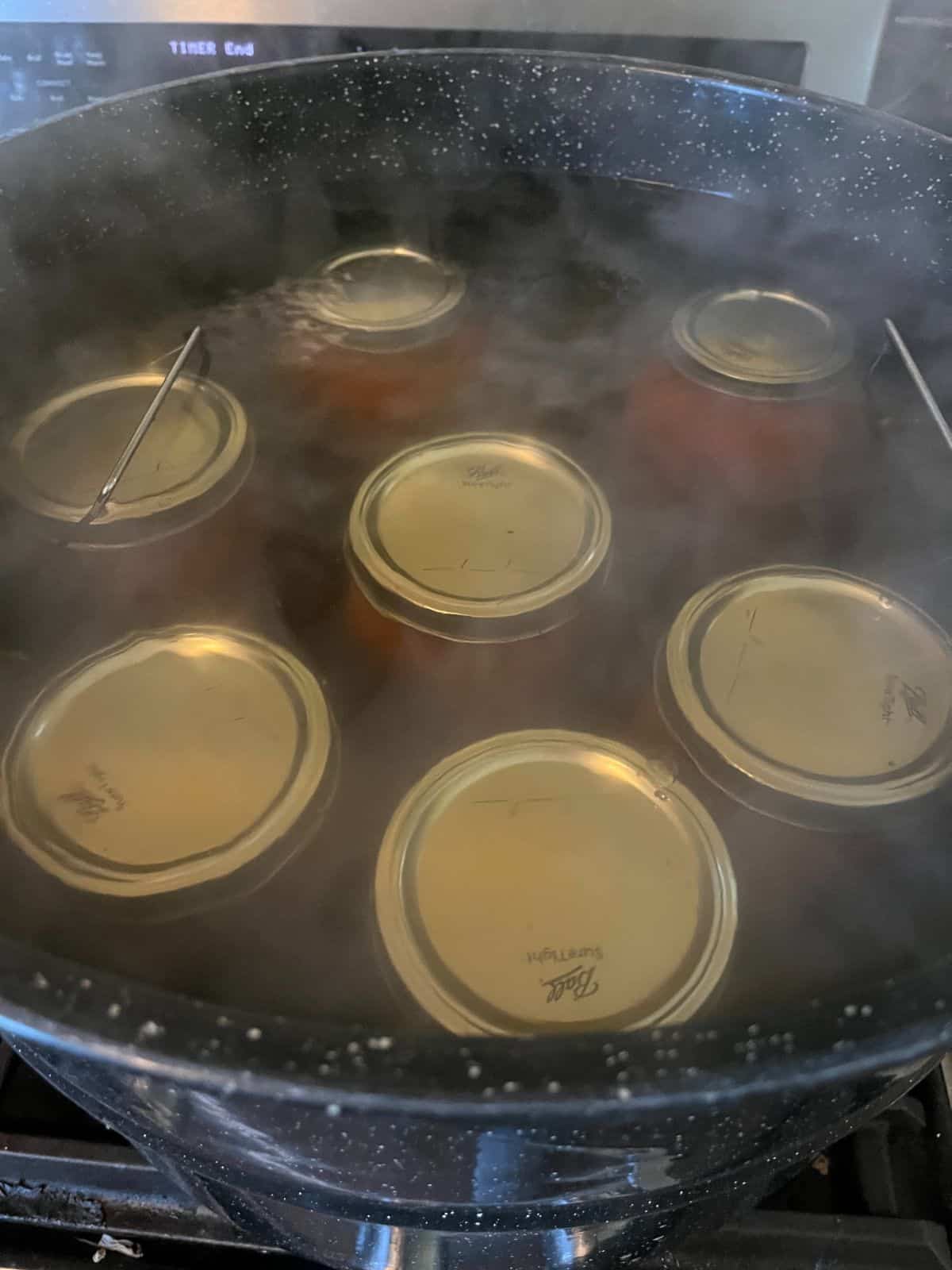 This sauce can be canned as you would any simmered tomato sauce.
The U.S. National Center for Home Food Preservation has moved to a recommendation to can tomato sauce in a pressure canner. In the past, tomato sauces were typically canned in a water bath canner.
In part, the reason for this change is that hybrid tomatoes have a lower level of acidity, which can affect preservation. If you are using heirloom tomato varieties, they may have a "normal" level of acidity, which would make this less of an issue.
If you did not grow the tomatoes and are unsure, assume they are a hybrid variety and treat them as such.
You can also increase the acidity level of canned tomato products by adding acid in the form of bottled lemon juice or citric acid. Add two tablespoons of lemon juice or ½ teaspoon of citric acid per quart. This is not necessary for freezing.
Many home canners use the water bath method of canning to preserve their tomato sauces, including this recipe. In many countries around the world, pressure canning is used infrequently, and perhaps not at all. Therefore, instructions are given here for both canning methods.
It must be said to do your due diligence, research the recommendations, and make your decision according to your own comfort level based on that research. *
To can this roasted tomato sauce, ladle into hot jars, leaving one-half-inch headspace. Wipe rims and fix caps.
Process in a boiling water bath canner for 35 minutes for pint jars, 40 minutes for quart jars.
For pressure canning, process prepared jars at 11 pounds of pressure (adjust for elevation if above 2,000 feet). Process pints for 20 minutes or process quarts for 25 minutes.
Changes You Can Make to the Recipe if Preserving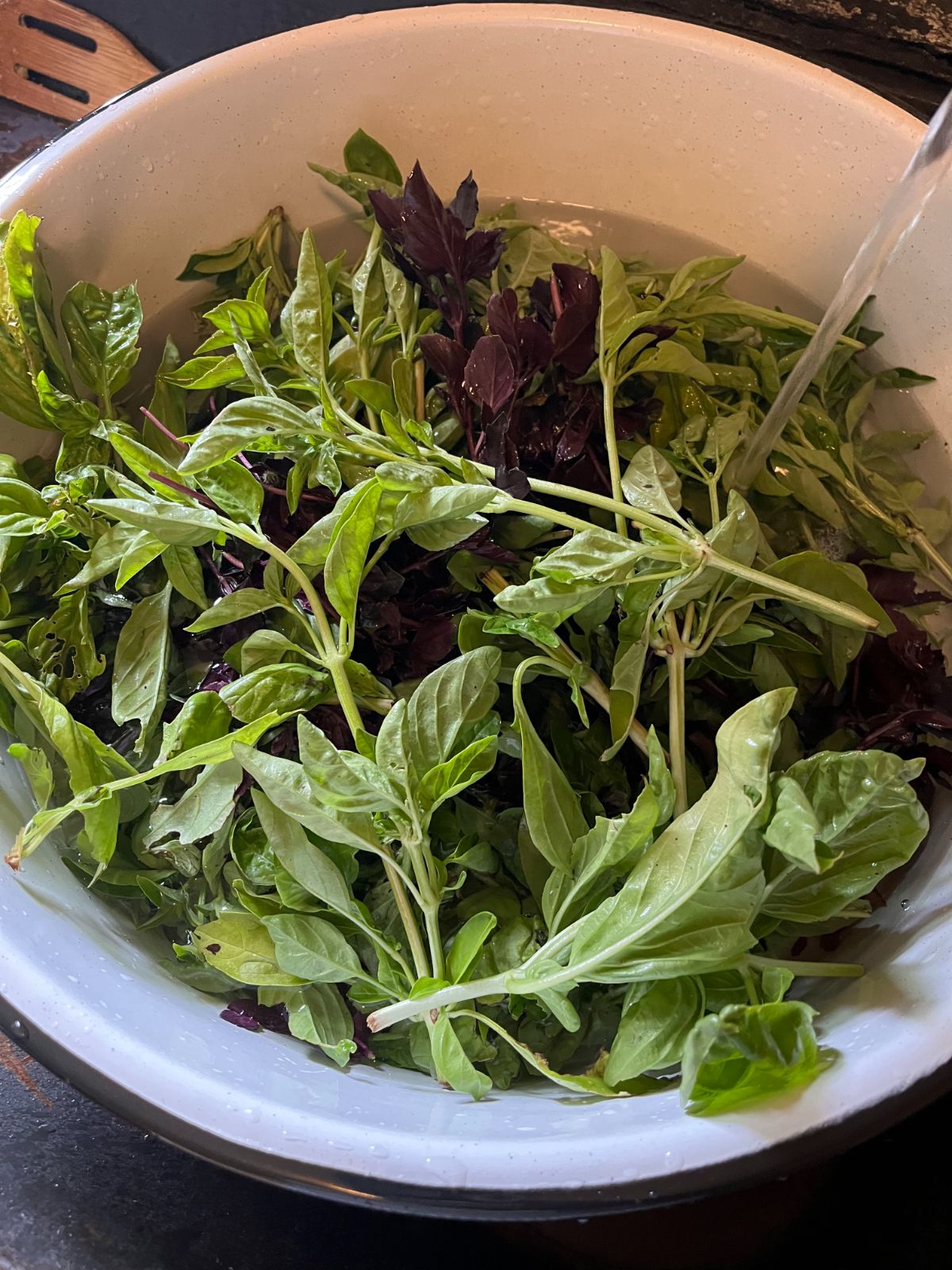 You can adjust this recipe to suit your taste; however, there are some things that you should not change if you are canning or jarring the recipe. If you plan to use the sauce immediately or you plan to freeze the sauce to save it, you can make any changes that you want.
If you will be canning the sauce to store it, you should not make changes that would change the acidity of the finished product. That means do not increase the number of onions and peppers. You can use more herbs and add dried spices in small amounts. You can add more salt or ground-dried pepper. You can, however, any of those ingredients out.
Note that the processing times listed here are not for sauces containing meat. Meat should not be added to this sauce when canning or jarring unless you research and adjust the canning time and method.
Using Your Tomato Sauce in Cooking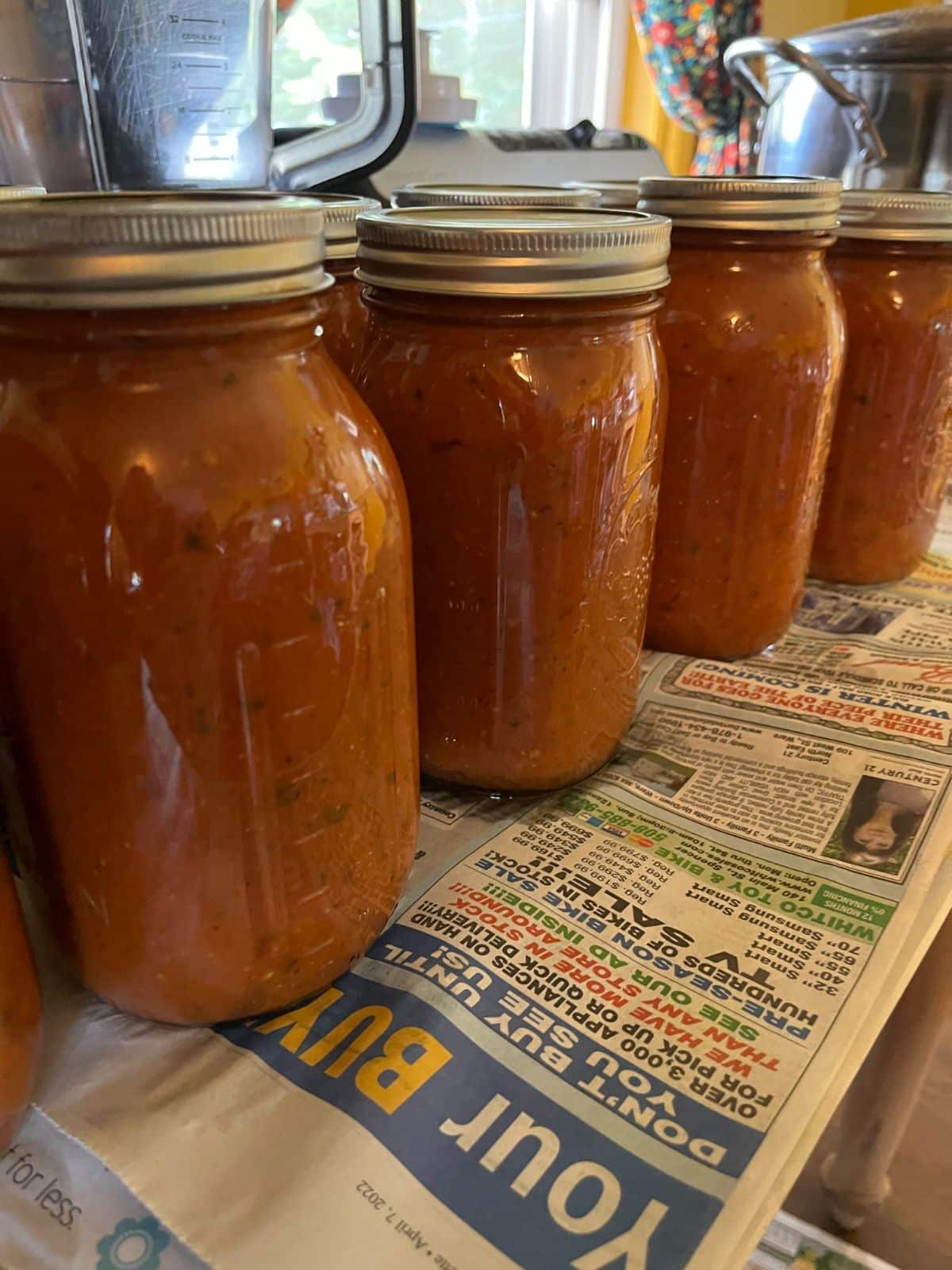 This sauce is very versatile. It is quite flavorful but also basic enough that it can be used for much more than just making spaghetti.
Use this sauce:
As a tomato soup base (just add heavy cream to taste and heat through)
To replace plain tomato puree in recipes
For pizza sauce
As a marinara-style dipping sauce
As pasta sauce for any pasta dish
In lasagna and casseroles
In soups and chili
To create something new! Use your imagination!
If you need the sauce to be thicker for a dish, add some tomato powder or tomato paste.
Once you learn to make this simple roasted tomato sauce, you'll never go back to your tedious old sauce again. It's full of flavor, easy to make, and cuts the work and time down considerably. Try a batch today and enjoy!
*As with all cooking and preserving, the liability for safe preparation, canning, and preserving is yours. The author nor the website hosting and sharing this information cannot be held responsible for illness attributed to unsafe food preparation or consumption thereof.