Grapes are incredibly satisfying and versatile crops to grow, and they can fit in most garden spaces. While you can grow grape vines for winemaking, if you've ever wanted to harvest your own sweet and juicy grapes for fresh eating, you need to try growing table grapes. Table grapes are a tasty summertime treat when eaten fresh, but they can also be processed into jams, jellies, and other mouthwatering dishes.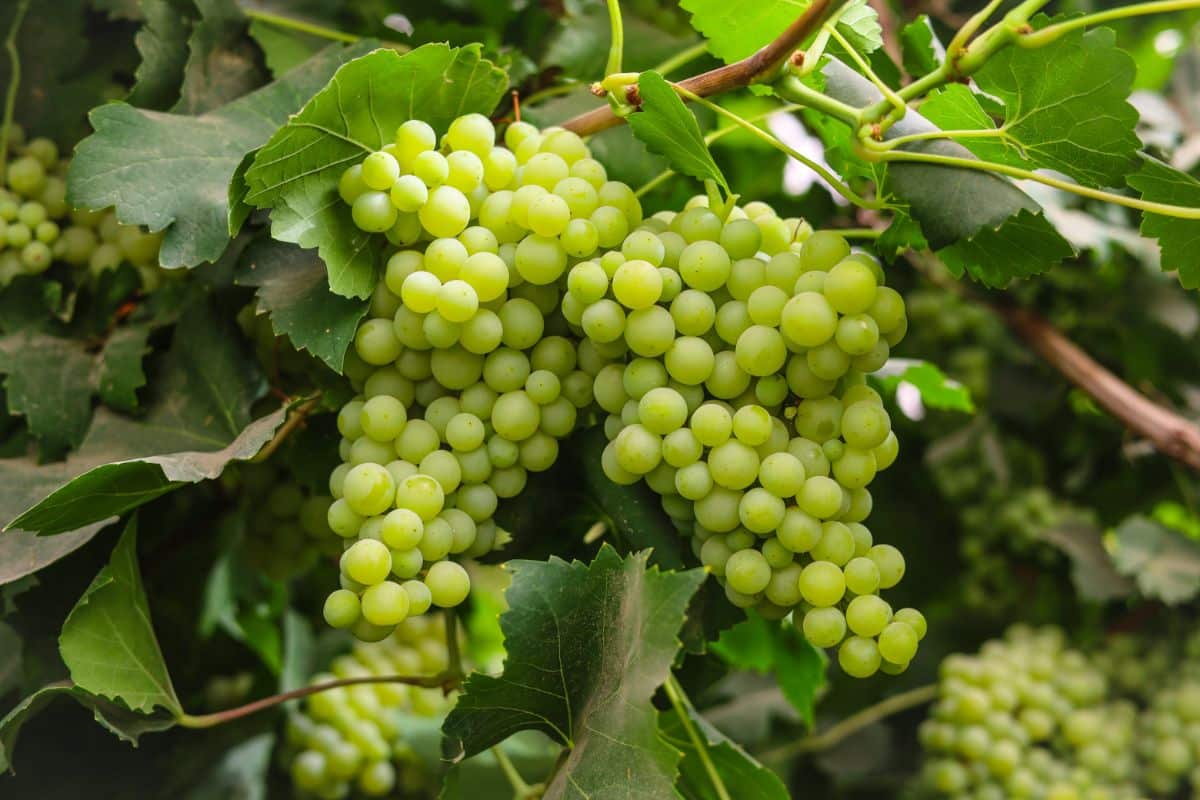 In the list below, you'll find some of the best table grapes to grow in your garden. These grape varieties are noteworthy for their low maintenance needs and fantastic flavor. So, why not add a vine or two to your garden and enjoy your own homegrown grapes this season?
Jump to:
12 table grape varieties to grow for fresh eating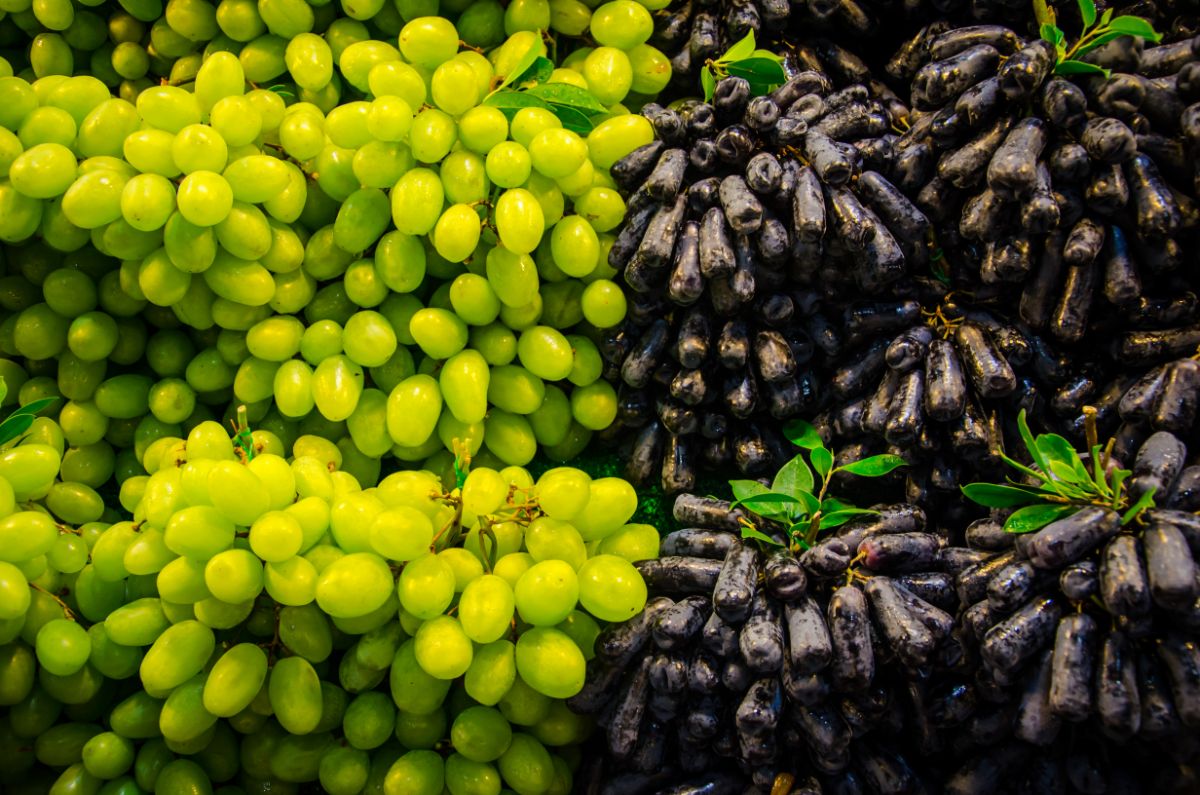 When deciding which table grape vines to plant, it's important to consider what you'd like to get out of your homegrown grapes in terms of sweetness, flavor, and texture. You'll also need to decide if you want to grow red or white grapes and if it's okay for your grapes to have a few seeds or if you'd prefer seed-free grapes only. We've selected a variety of different grapes below to help make the decision a bit easier for you!
1. Crimson Seedless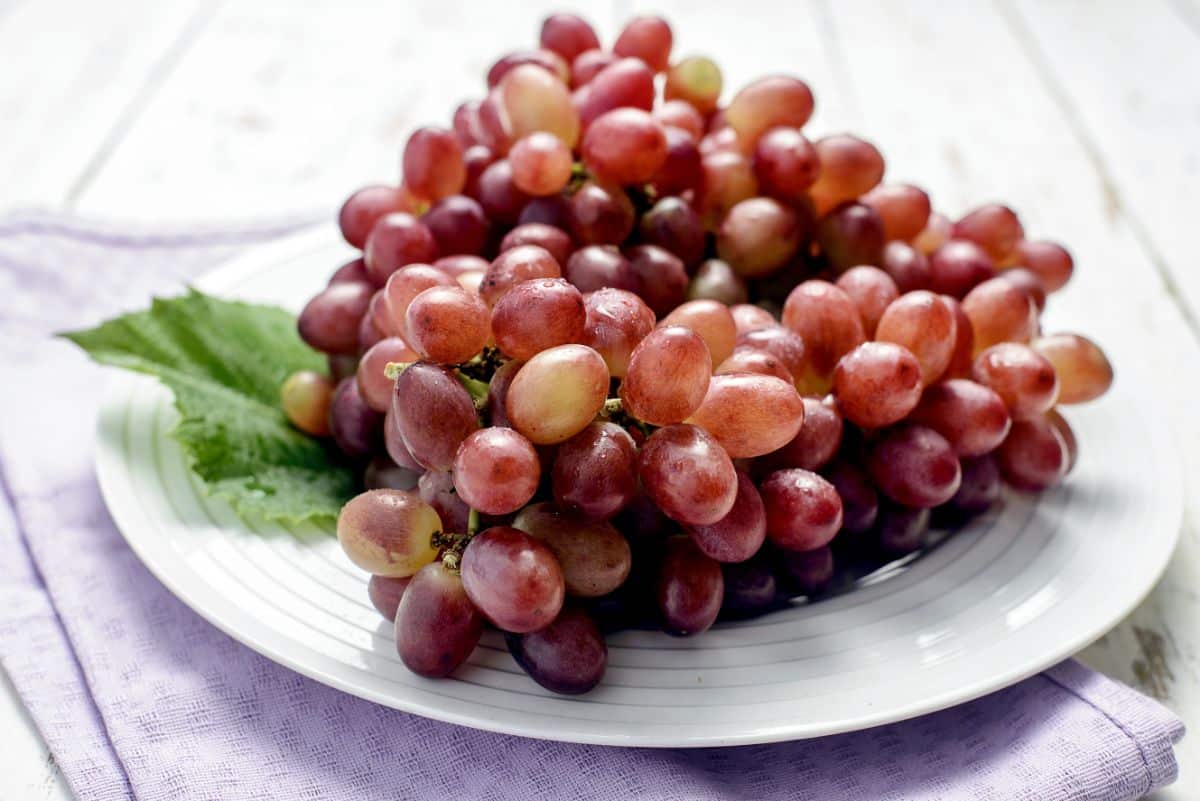 No one wants to bite down on a bitter seed when snacking on a handful of grapes. But you don't need to worry about that if you grow Crimson Seedless grapes since these grapes don't have any seeds! These red-skinned grapes are definitely sweet, and they have a perfectly crisp texture that's just right for eating fresh.
A late-season grape variety, clusters of Crimson Seedless grapes are usually ready to pick in autumn, from October to November. Vines grow to about 12' in length, and they look enchanting when allowed to climb over trellising and arbors. These plants are also self-fertile, but you'll get a larger harvest of grapes if you grow more than one vine.
2. Sultana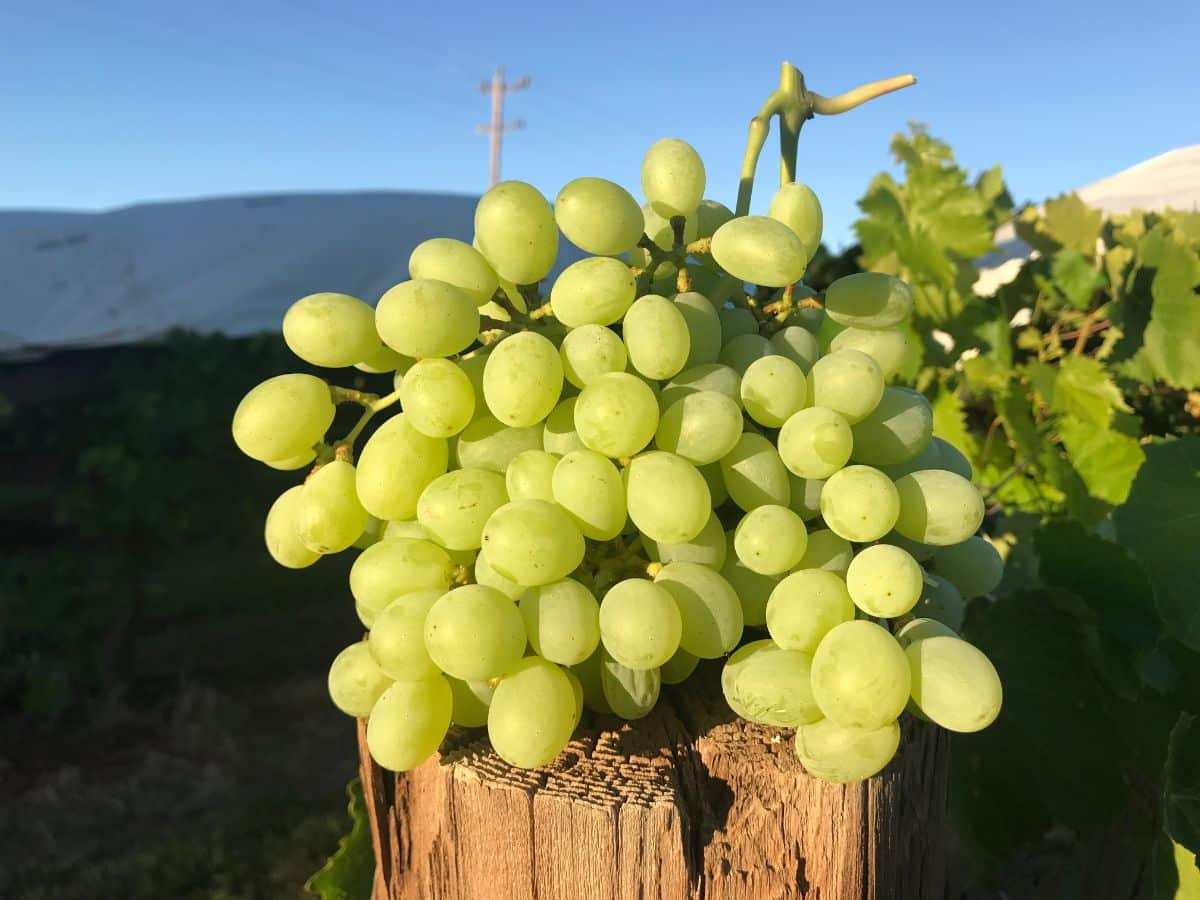 Also known as "Thompson Seedless" grapes, Sultanas are one of the most popular grape varieties. In fact, if you purchase white grapes at the grocery store, chances are they are Sultanas. These grapes are also one of the oldest table grape varieties, but if you take just one taste of them, you'll understand why they've had such staying power!
Sultana grapes have bright green skins and small, oval fruit without seeds. These grapes are very sweet, which is why they are often dehydrated into white raisins, but they are tasty when eaten fresh too. Store-bought Sultanas are commonly grown in California, Australia, and Turkey, and these grapes are typically harvested from July to September.
3. Niagara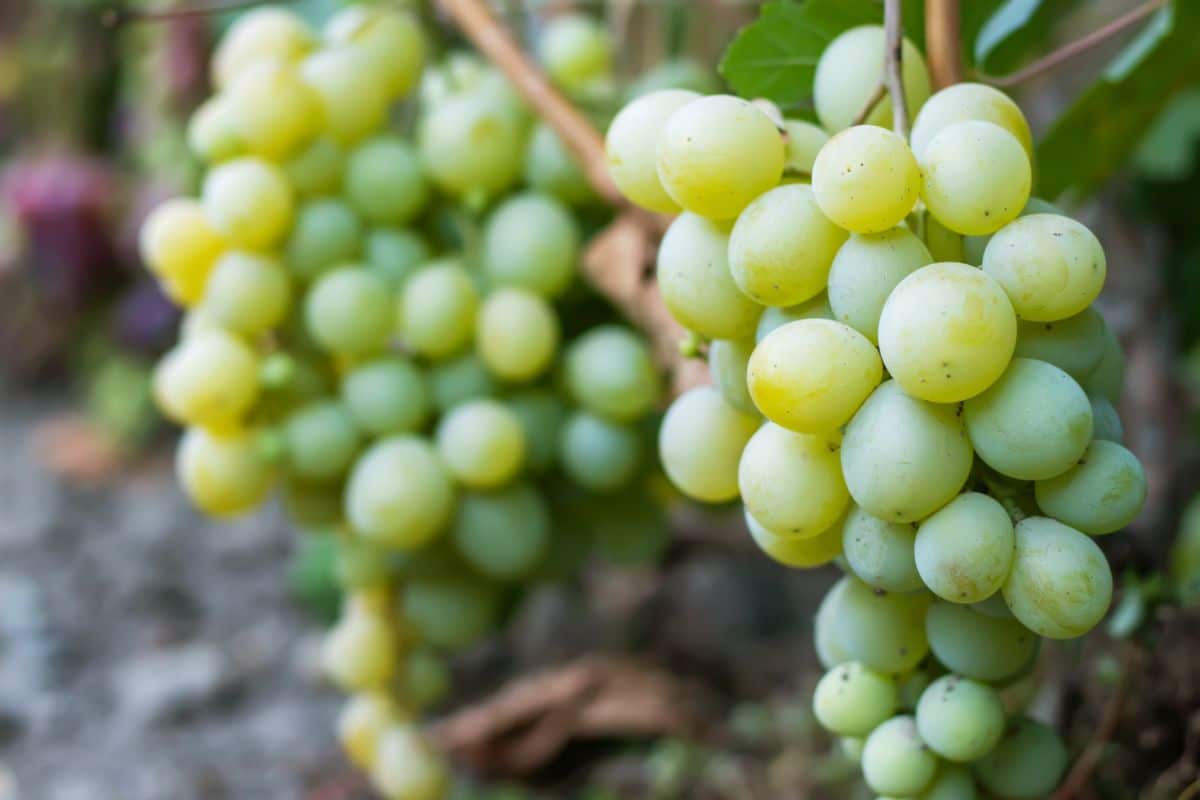 Sometimes called "White Concord" grapes, Niagara grapes were first developed in the mid-19th century in Niagara County, New York. These grapes are known for their bright green skin and sweet, yet tart, flavor that works particularly well for making homemade grape juice or jellies. Niagara grapes can also be turned into fine, homemade wine, but this is less common.
Niagara grapes were developed by blending white Cassady grapes with Concord grapes. The resulting Niagara grape has floral notes with hints of lemon and a thick skin that is reminiscent of Concord grapes. The flesh is juicy and entirely seedless too!
4. Concord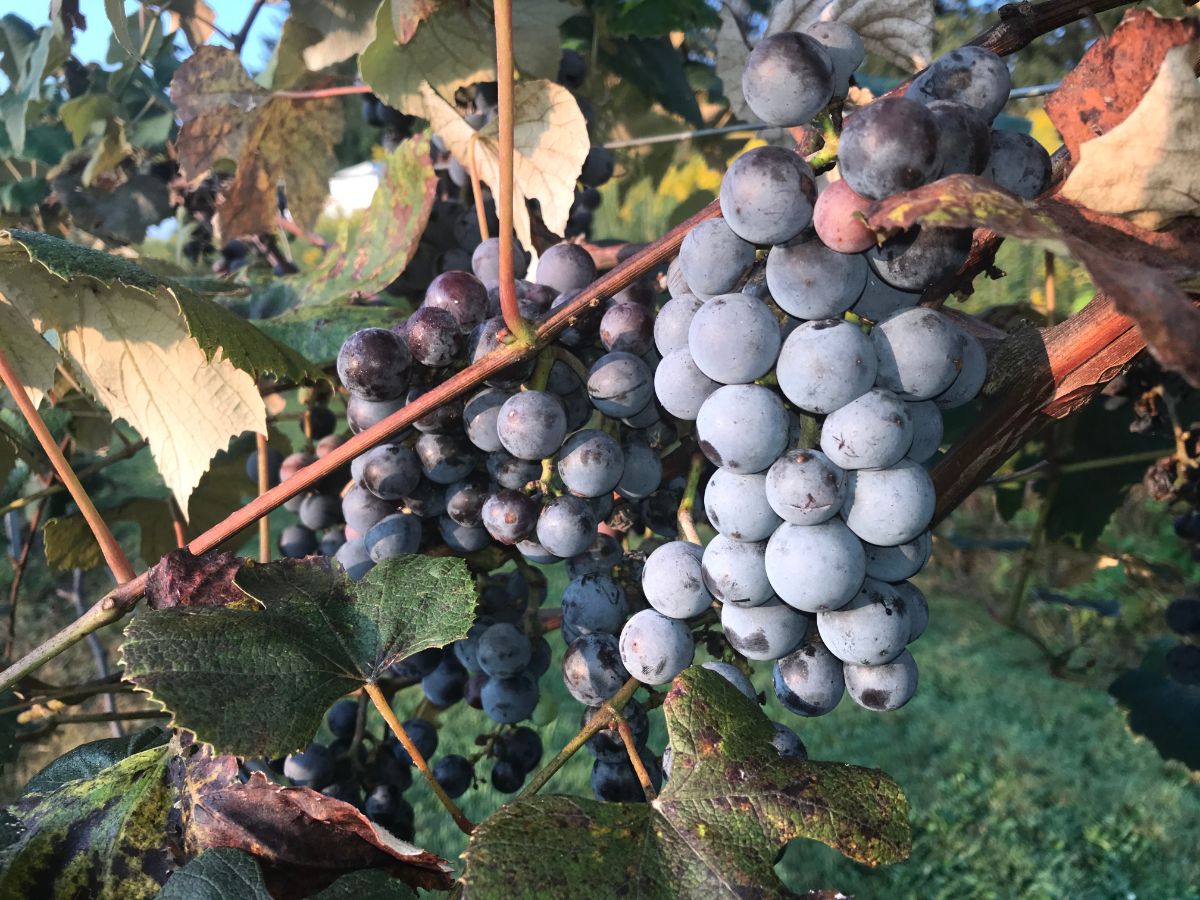 First developed in Concord, Massachusetts in 1843, Concord grapes are commonly grown throughout the northeastern United States, although you can keep them elsewhere. These grapes have just about everything you could want: gorgeous, dark skin and bright, sweet flesh. Grape harvests are typically performed later in the season, from September to October.
While Concord grapes can be eaten fresh, they do have a large seed, which can make them a little less pleasant to bite into. That's why Concord grapes are most often used to make jams, jellies, and pies. These grapes can also be fermented and brewed into a homemade batch of Kosher wine.
5. Black Monukka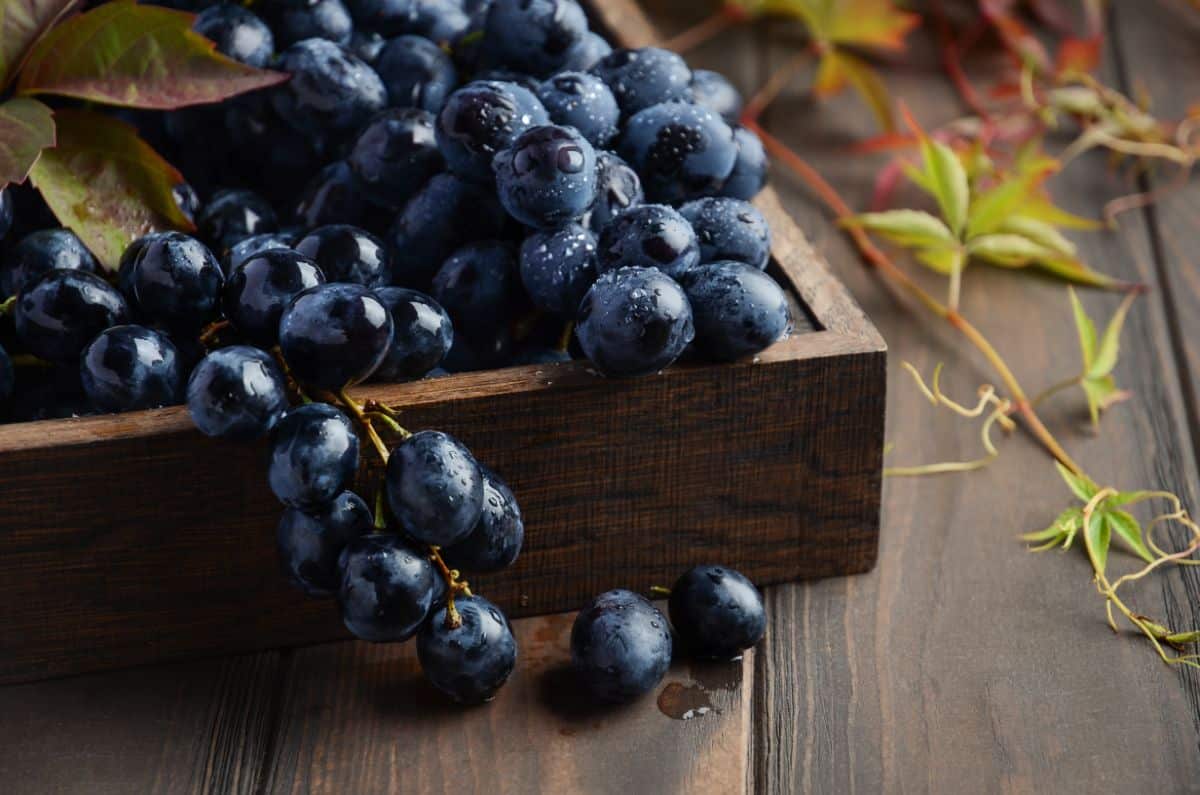 A hardy grape variety from Europe, Black Monukka grapes are richly colored with deep purple skins surrounding seedless berries. Loosely formed clusters of grapes ripen in mid-summer and taste deliciously sweet with a perfect crunch. While Black Monukka can be enjoyed as a snacking grape, these grapes are also useful for winemaking.
Like other grape varieties, Black Monukka grows best in full sun and well-draining soil. Additionally, these plants are self-fruitful, so you only need to grow one vine to get lots of grapes. While vines can handle some heat, they don't need as much hot sun as other grape types.
6. Moon Drop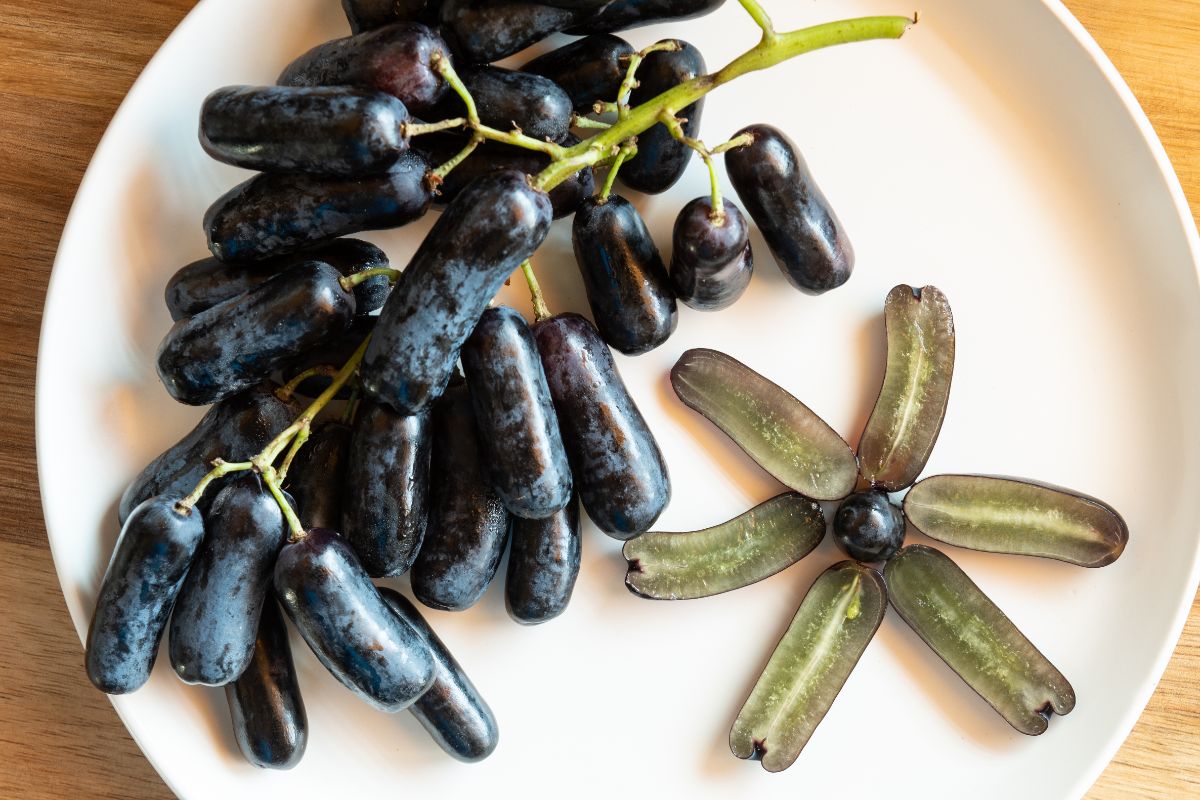 Also known as "Sapphire" grapes and "Moon" grapes, Moon Drop grapes were developed by the same company that brought Cotton Candy grapes to gardeners, so you know they're delicious! Moon Drop grapes were released in 2004 and have been wildly popular among gardeners ever since.
Moon Drop grapes are known for their dark skin and elongated shapes. Grapes are sweet with a bit of tartness too, and the flesh is so crisp it can be easily snapped in two. In addition to eating these grapes fresh, Moon Drops freeze beautifully, and they are an excellent grape variety for cooking as well!
7. Flame Seedless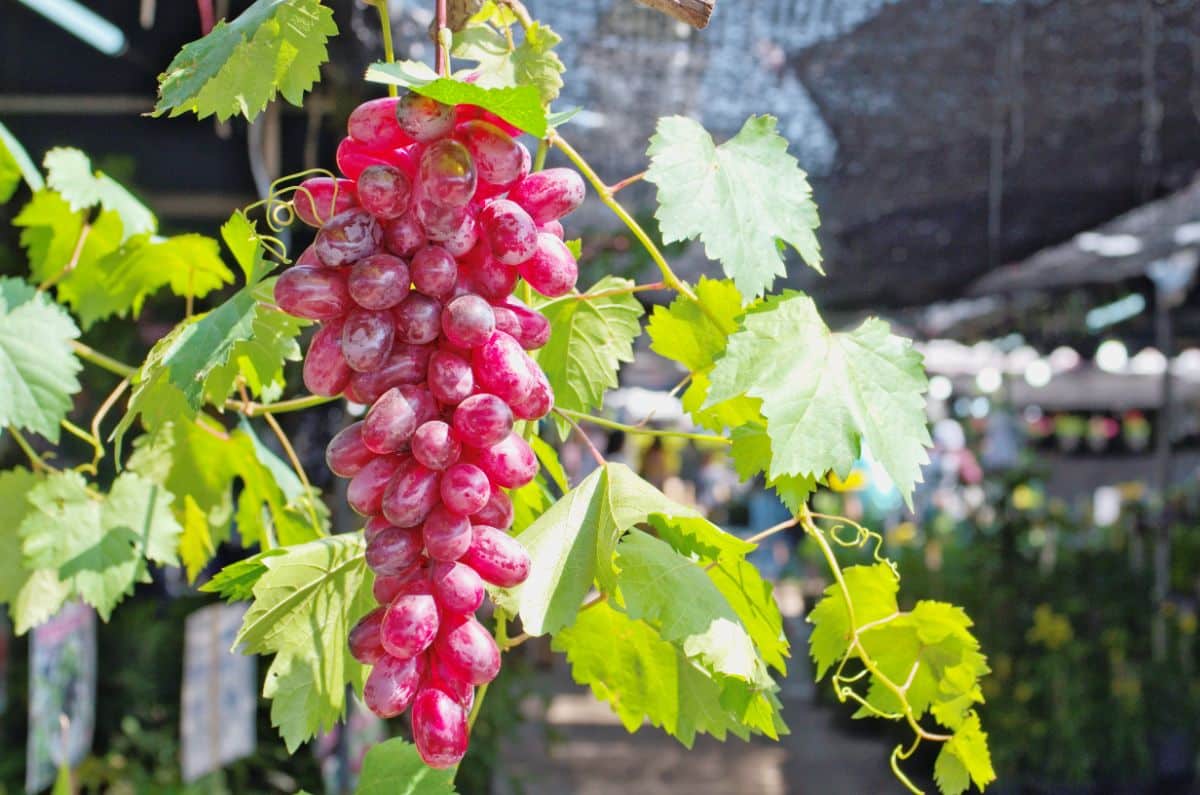 Another popular grape choice, Flame Seedless grapes, were first developed in the 1970s by blending several different grape types together, including "Sultana" grapes and "Cardinal" grapes. The resulting Flame Seedless grape is sweet and crunchy with red skin that has a nice bite to it. These grapes are sturdy and store well too, which helps explain why they are commonly sold at grocery stores!
Flame Seedless grapes are harvested relatively early in the season, and grapes form in medium-sized clusters on vigorously growing vines. For best results, water grape vines when the top 2" of soil is dry to the touch. Vines should also be pruned annually in spring to improve the shape of your plants and to encourage them to produce more grapes.
8. Cotton Candy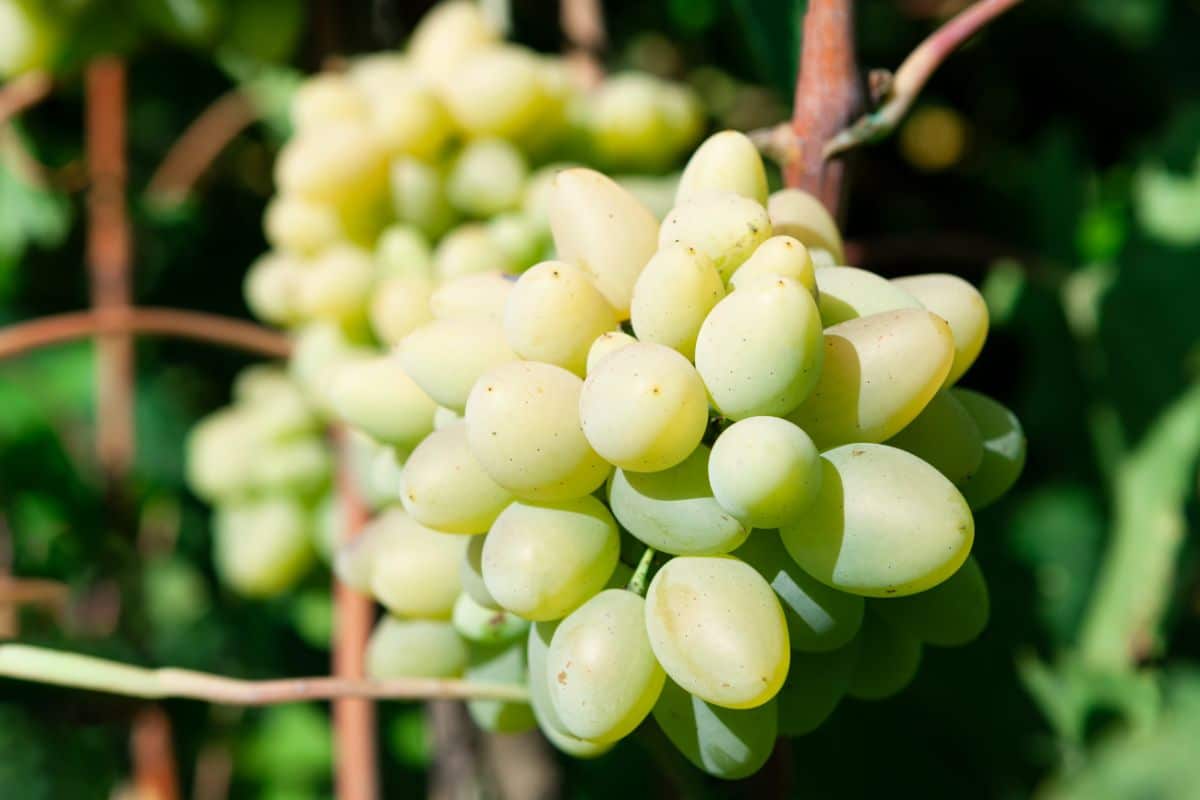 Cotton Candy grapes were developed by the same company that brought us Moon Drop grapes, and, like Moon Drops, Cotton Candy grapes have been a hit with gardeners since they were first released. These grapes are aptly named with a very sweet, candy-like flavor. They also have bright green, near-white skin and a juicy interior.
Although these grapes were developed by scientists, they are not GMO. Instead, Cotton Candy grapes were carefully developed by strict breeding practices that favored the grapes' super sweet fruit. Cotton Candy grapes are irresistible when eaten fresh or when added to sweet treats like grape salads, sorbets, and pies.
9. Red Globe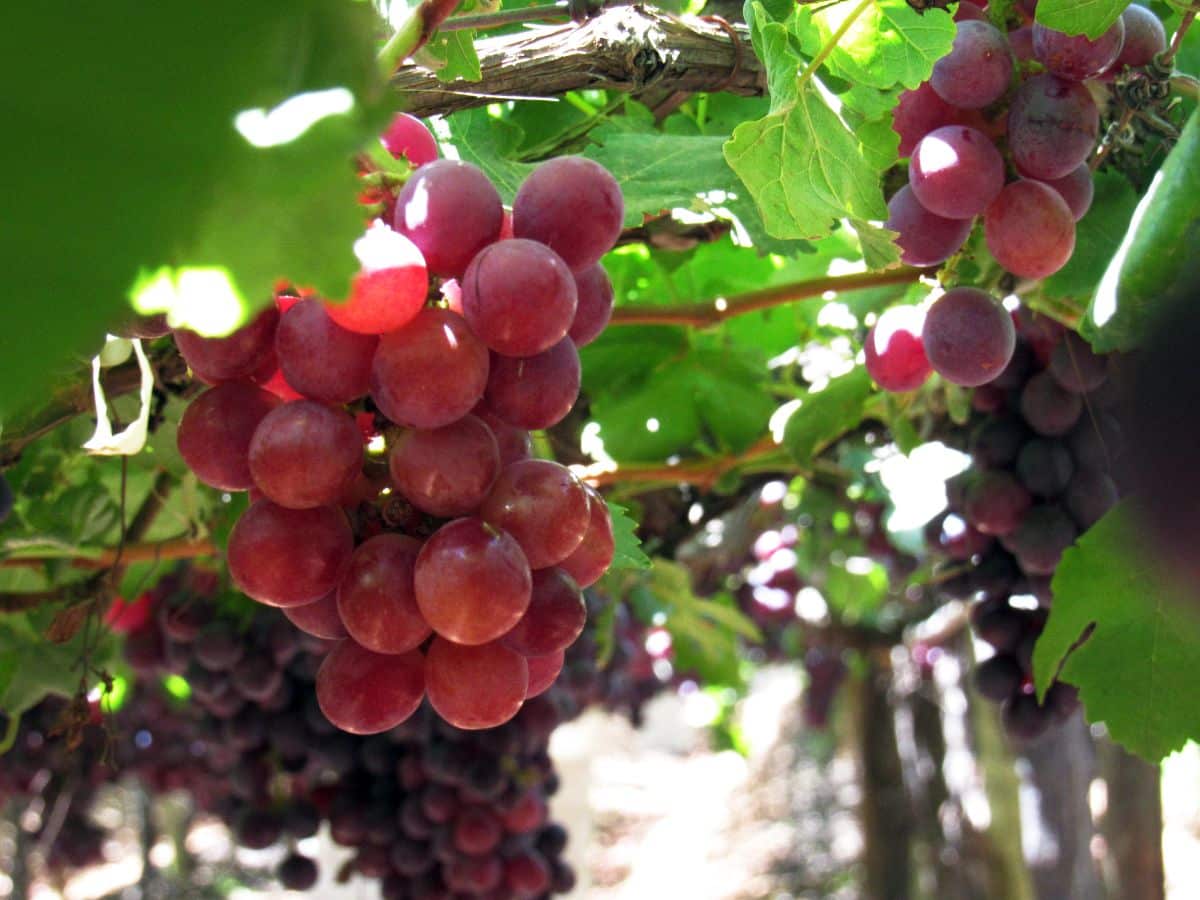 Commonly grown in California, Chile, and Australia, Red Globe grapes are large and round with red skin and some seeds. An excellent table grape, Red Globe grapes also freeze well if you happen to harvest more grapes than you can use right away. Additionally, these grapes can be processed into homemade juice or dried into raisins.
Red Globe grapes produce lush vines that can provide some shade to garden spaces or shelter seating beneath a trellis or arbor. For a fun treat, try freezing Red Globe grapes and then use them as colorful ice cube alternatives in iced teas and cocktails. And don't forget to add fruit protection bags to your grapes to keep birds from eating your harvest before you get to it!
10. Himrod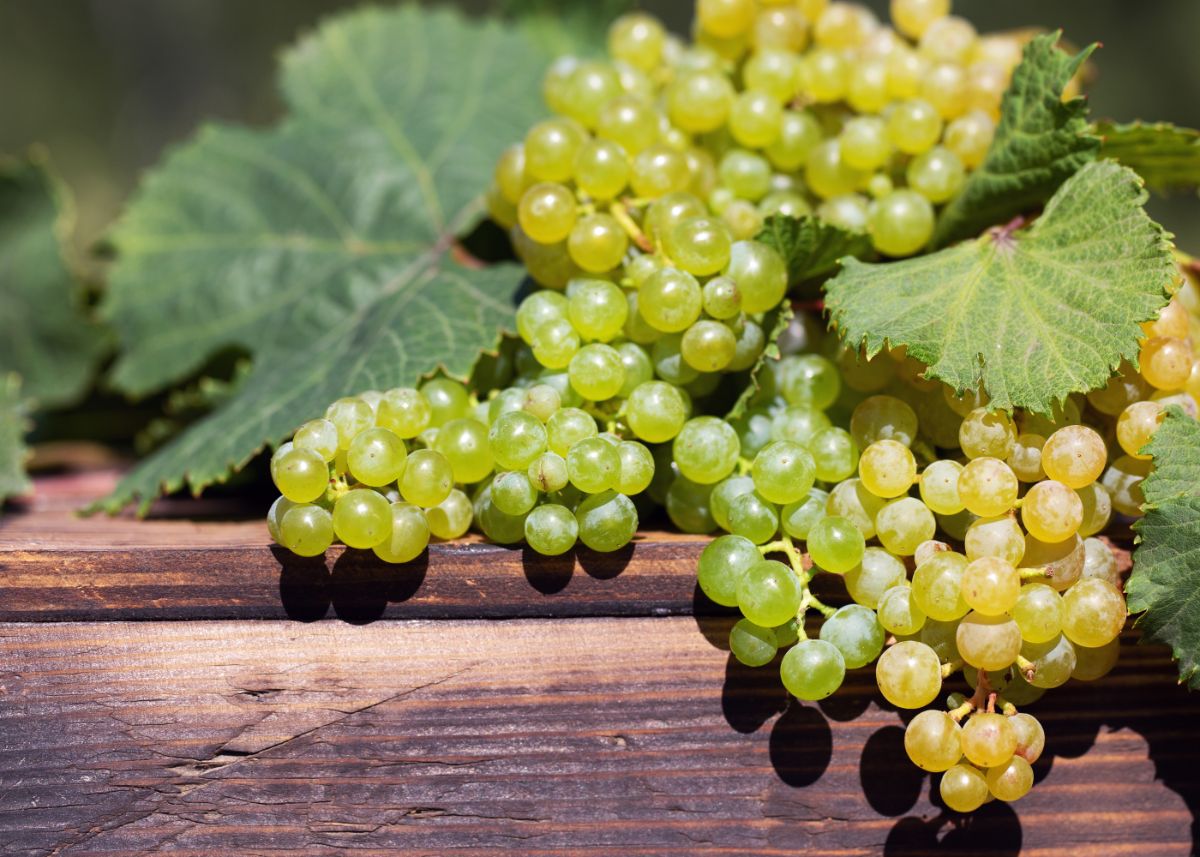 Himrod grapes are simply pretty to look at, with big clusters of bright golden berries that catch the light beautifully. These grapes were first developed in Turkey and Europe, and they have been bred over the years to increase the size of the fruit. When tasting a Himrod grape, you'll notice a crisp texture and a sweet, bright taste.
Himrod is a seedless grape variety, and the vines are quite productive too. These grapes are usually harvested in late August, and one vine will produce about 10 to 15 pounds of grapes. Another self-pollinating grape type, you only need to grow a single Himrod vine to get grapes, but you'll increase your harvest with more plants.
11. Autumn Royal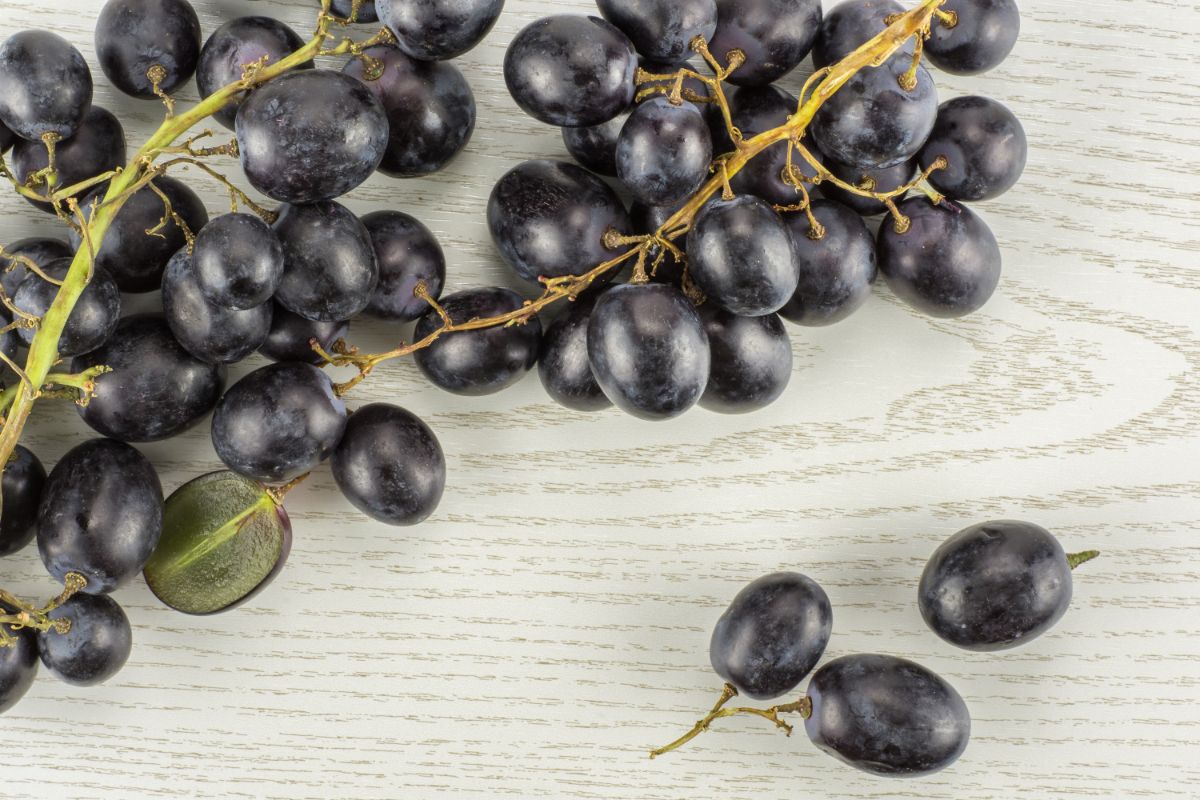 First released in 1996, Autumn Royal was created by blending a handful of black-skinned grape varieties together, including "Black Rose" and "Autumn Black." This resulted in Autumn Royal, which has a deep, dark skin color and bright green interior flesh. These large grapes are some of the biggest you can find and offer a mild, sweet flavor and an excellent crunch.
Autumn Royal grapes are harvested later in the season, so you'll need to have a bit of patience when growing them. They are worth the wait, though. When your grape harvest is ready, you'll be rewarded with some of the best snacking grapes around!
12. Muscat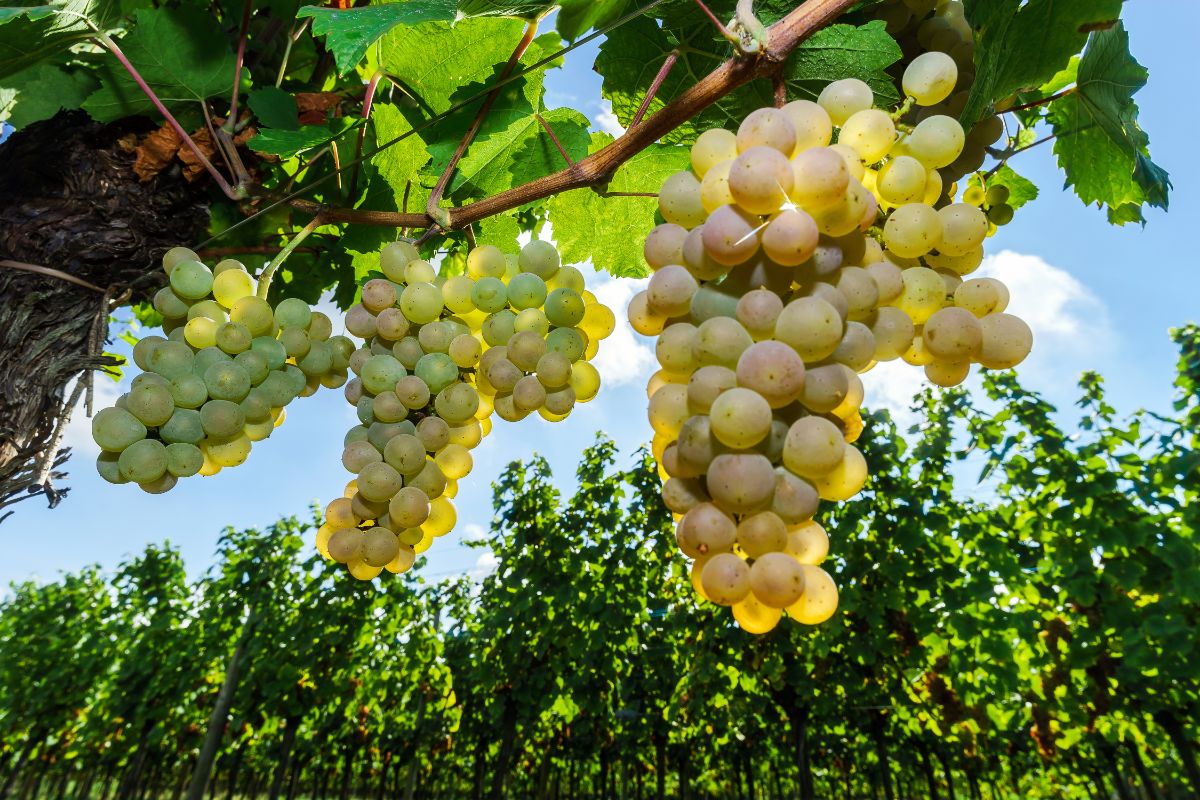 Golden Muscat grapes are known for their finely made, pale gold grapes that form in large clusters. In fact, a single cluster of Muscat grapes can weigh up to 7 pounds! Vines grow vigorously and are highly productive too, so if you just want to grow a single grapevine, Muscat grapes are a top variety to try.
Muscat grapes are a type of "old country" grape, and they have juicy, sweet fruit with a nuanced flavor. While Muscat grapes are commonly used as table grapes, they also make a hearty wine. Processing these grapes into wine is made even easier because the Muscat's slip-skin slides right off the flesh during processing.
Frequently asked questions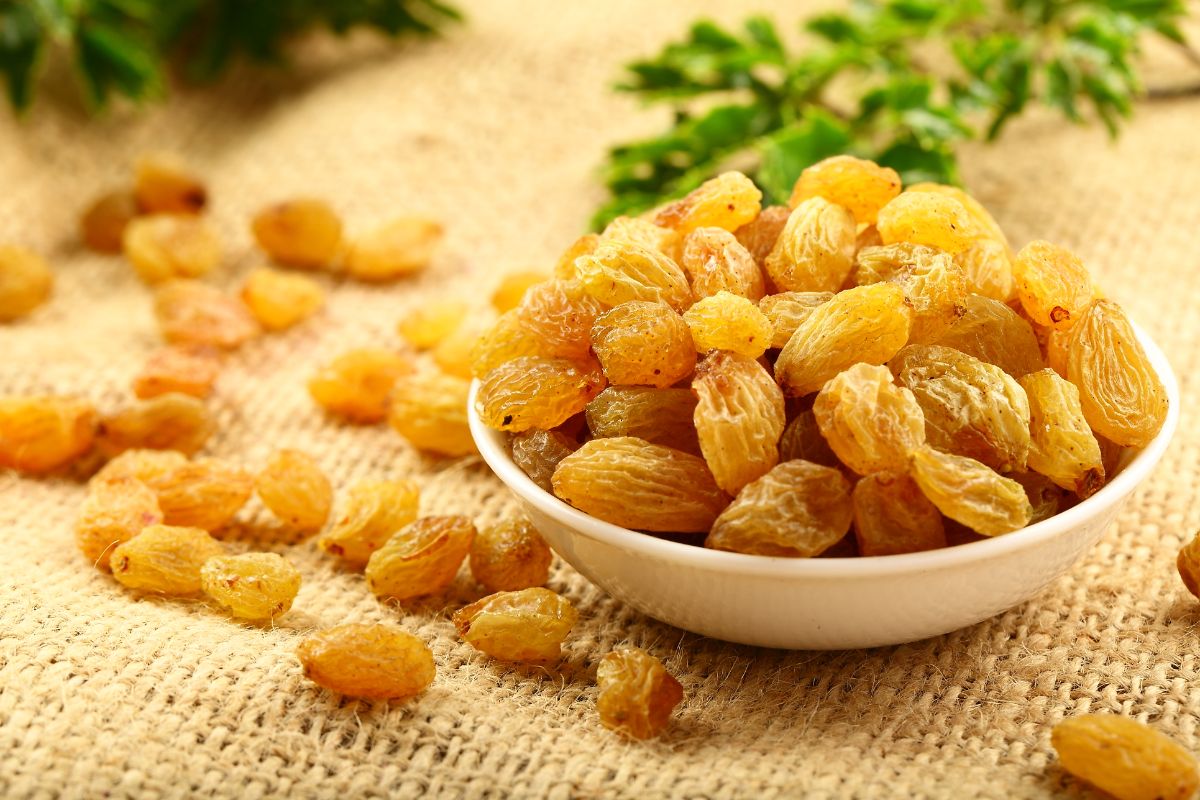 Summary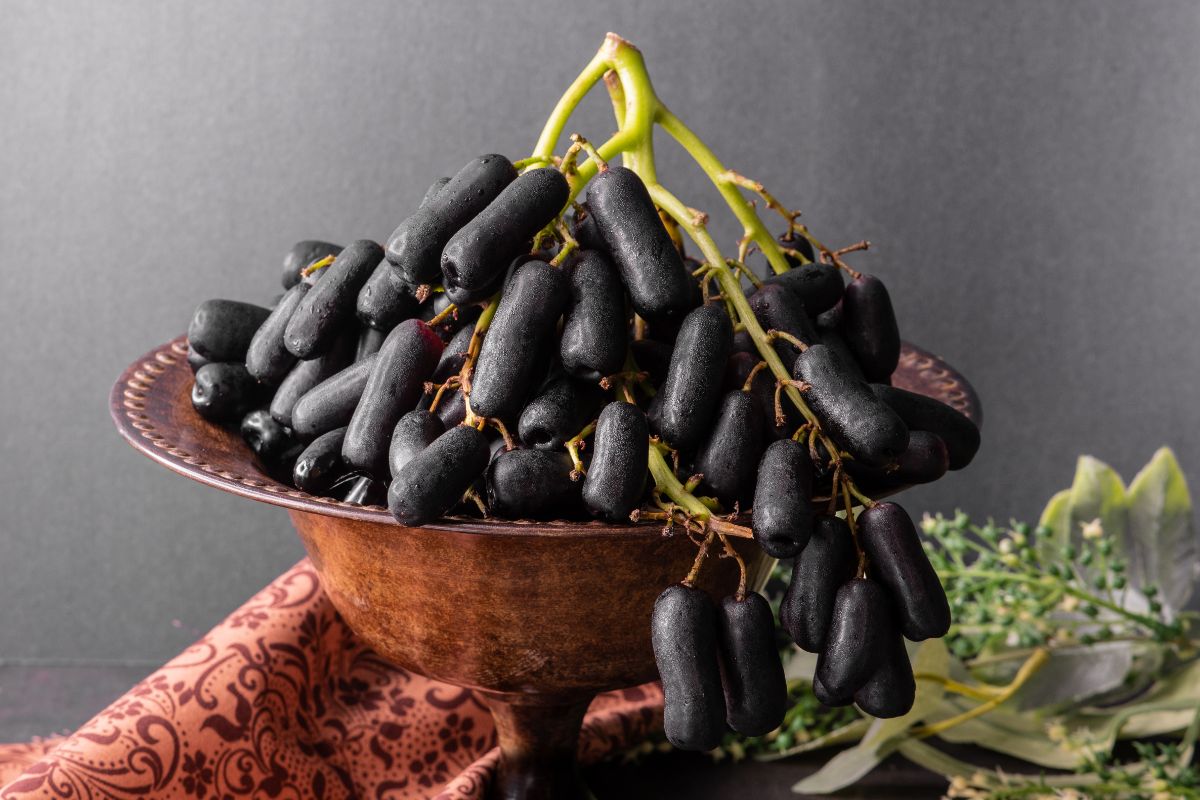 Many edible crops are annuals, and they need to be planted every year. But perennial grapes will come back again and again, providing you with an abundance of tasty grapes for decades. In a way, sowing grape vines is an investment in your garden's future, and the rewards are oh-so-delicious!
Beyond grapes, there are lots of other fruiting plants that you can grow in your yard. Check out our guide on keeping fruit trees for even more inspiration!