Bright lights installed around your garden and outdoor walkways can add visual interest and beauty to your landscape. They can also increase the security of your home and extend the use of your garden even after dark. However useful as they are, there's no reason to use wasteful electric lighting for your outdoor accent lights.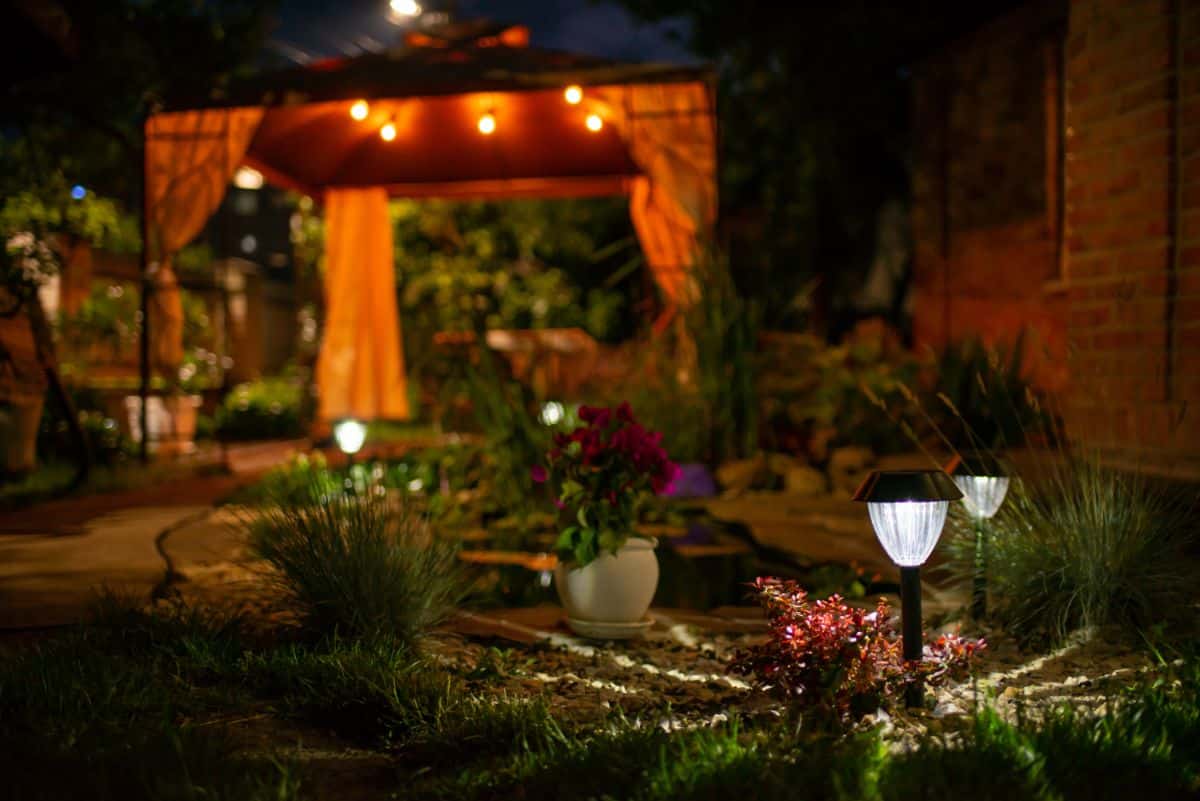 Today, there are many different outdoor solar lights to choose from that are eco-friendly and easy on your budget too. Using the power of the sun, these lights don't consume any electricity and will continue to glow many hours after dark when properly charged.
Below, we've selected some of our favorite outdoor solar lights to inspire you. From string lights to hang from outdoor patios and gazebos to ground-mounted lights to frame walkways, you'll find some of the very best solar lights here.
Jump to:
10 solar lights to brighten up your garden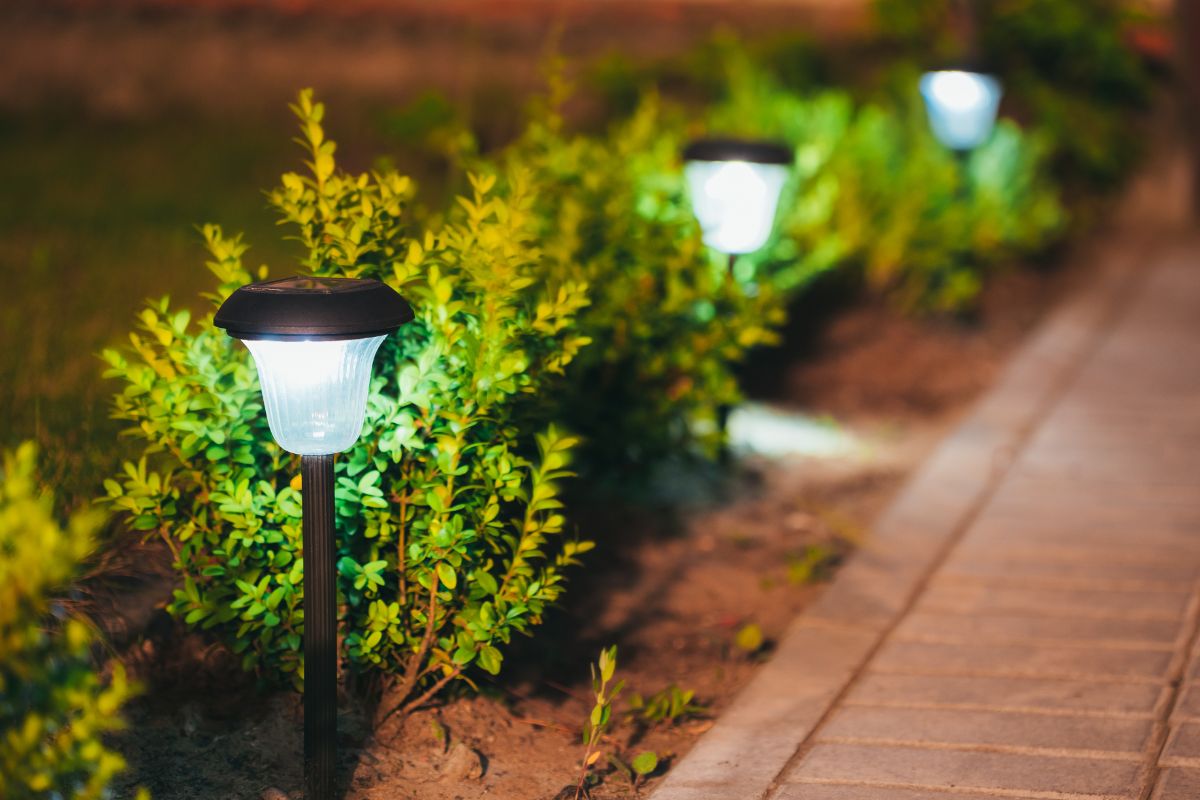 While there are countless solar lights to choose from, below are some of our absolute favorites. These solar lights are affordable, stylish, and easy to install. We've also made certain to include a range of designs so that, no matter your aesthetic, you'll find the right lights for you below.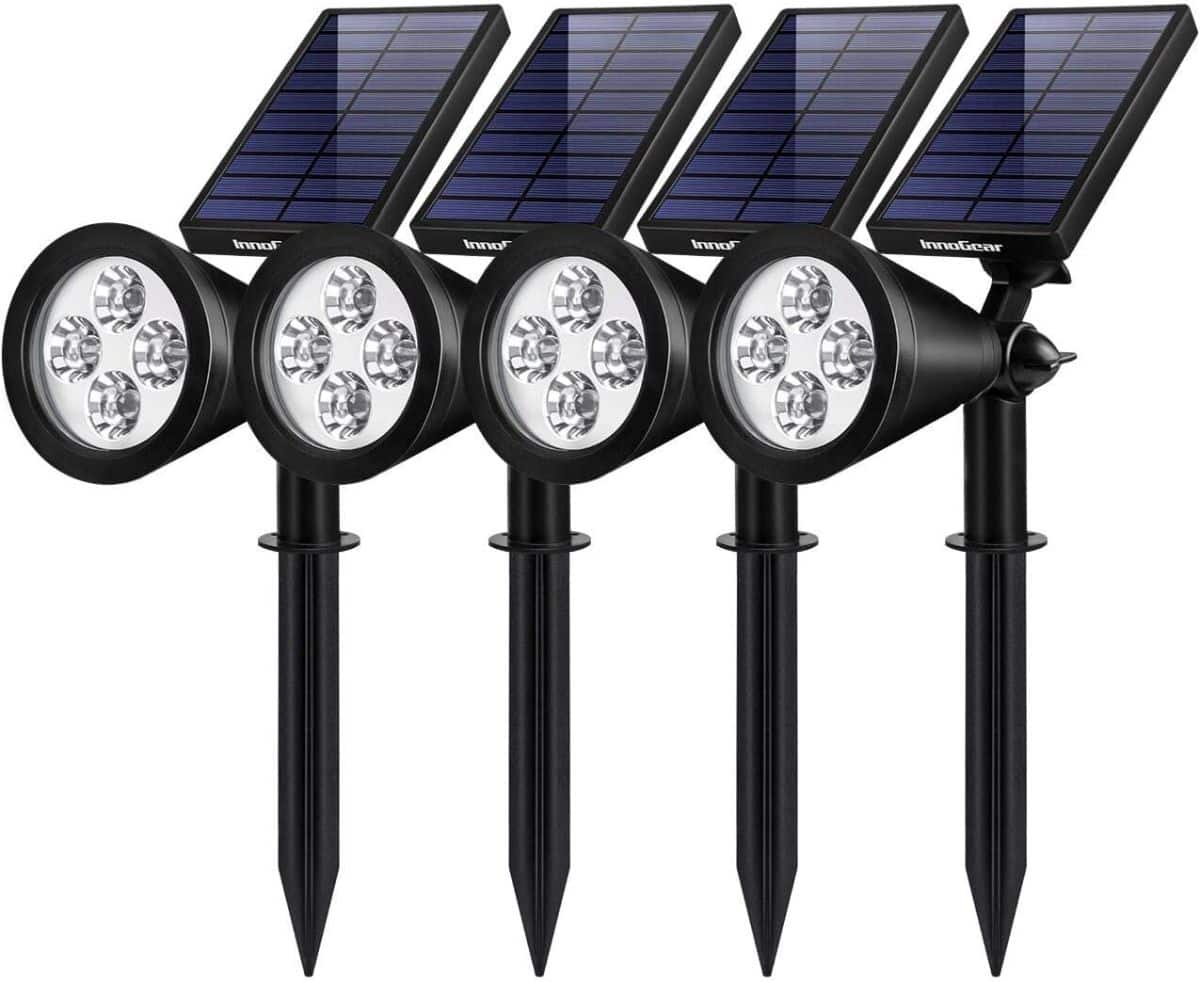 For sheer utility, the garden lights by InnoGear are hard to beat. These utilitarian lights offer a bright, directed beam of light that can be positioned to brighten up dark walkways or highlight a favorite specimen tree in your garden. They are also up to 30% more effective at converting sunlight into power than older models, which translates into brighter light that lasts longer into the evening.
For even more flexibility, these lights come in packs of 2, 4, or 6, so you can choose exactly how many you need. Bright white, yellow, and multicolored options are also available. What's more, these lights can be mounted on the ground with stakes or hung on outdoor walls too!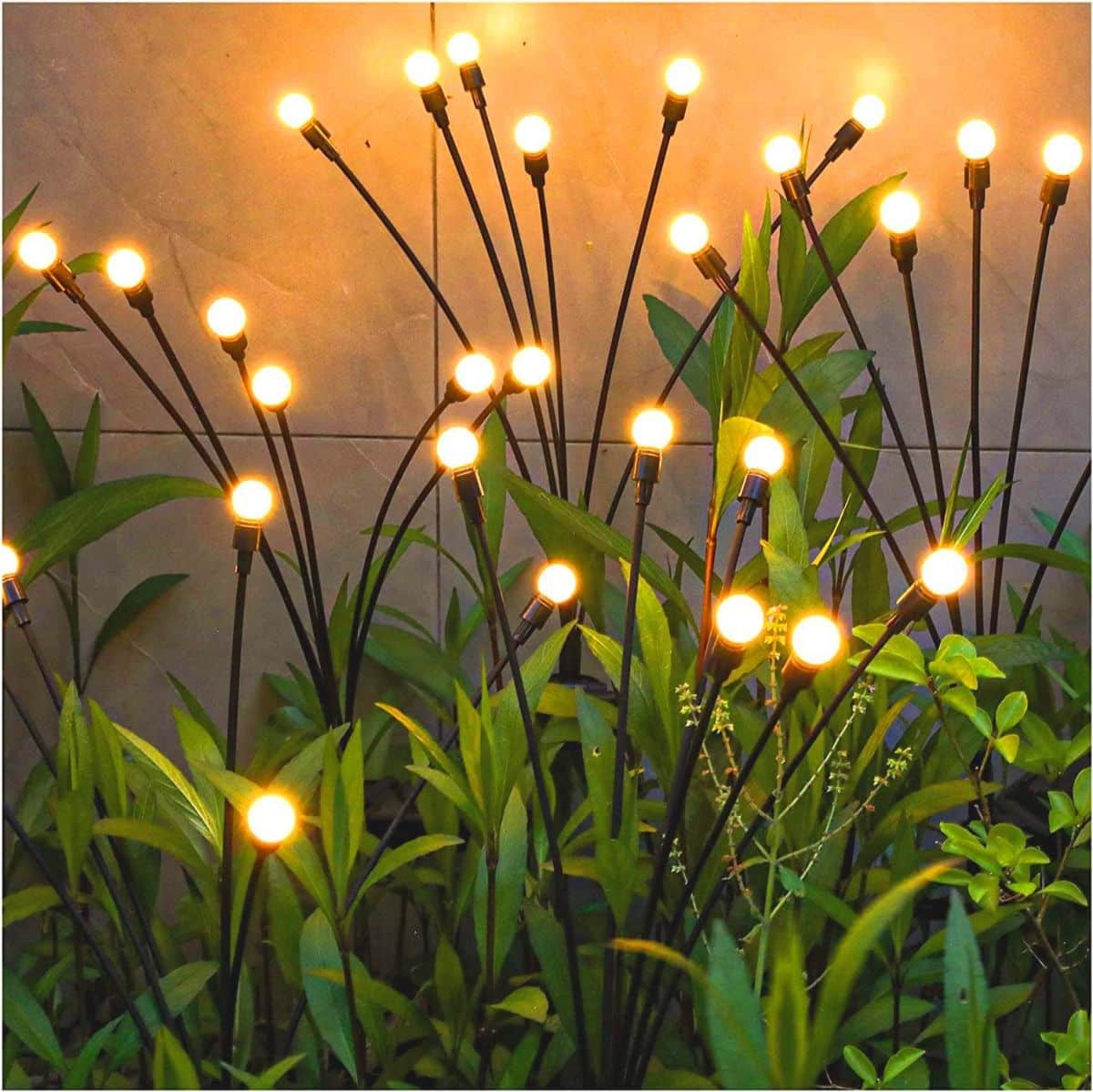 These charming lights can brighten up your garden, but they also offer fun movement that can enhance your ornamental plants when the wind blows. Nicknamed "firefly lights," these slender lights come in packs of 2 that have 6 lights per unit. The bulbs are small and attached to long, slender stems that can move in the breeze like fireflies!
Heat- and weather-resistant, these lights are built to last, and they're super easy to install as well! Try placing them around ornamental grasses or other slender plants that will move in the wind for lots of visual interest, even after dark.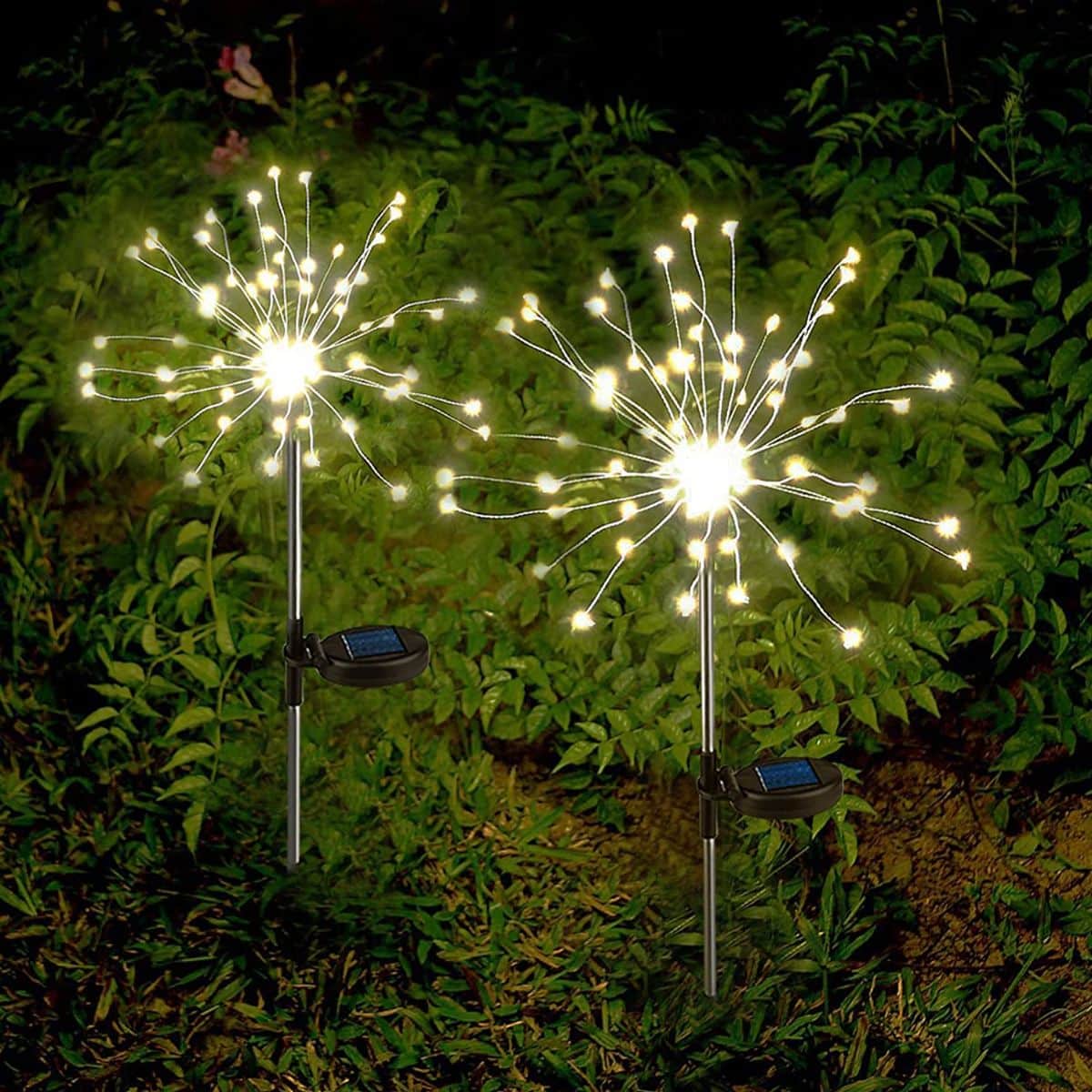 These adaptable lights have small bulbs attached at the ends of long, flexible copper wires that can be moved around as you desire. Spread the copper wires out, and you can create a solar light that looks like a mini firework or flower, or you can twist those wires around to make a heart shape and other fun designs.
With an improved battery, these lights can charge faster than ever before, and they can hold a charge for up to 10 hours. They come in packs of two and have two modes that allow you to leave the lights on or make them twinkle!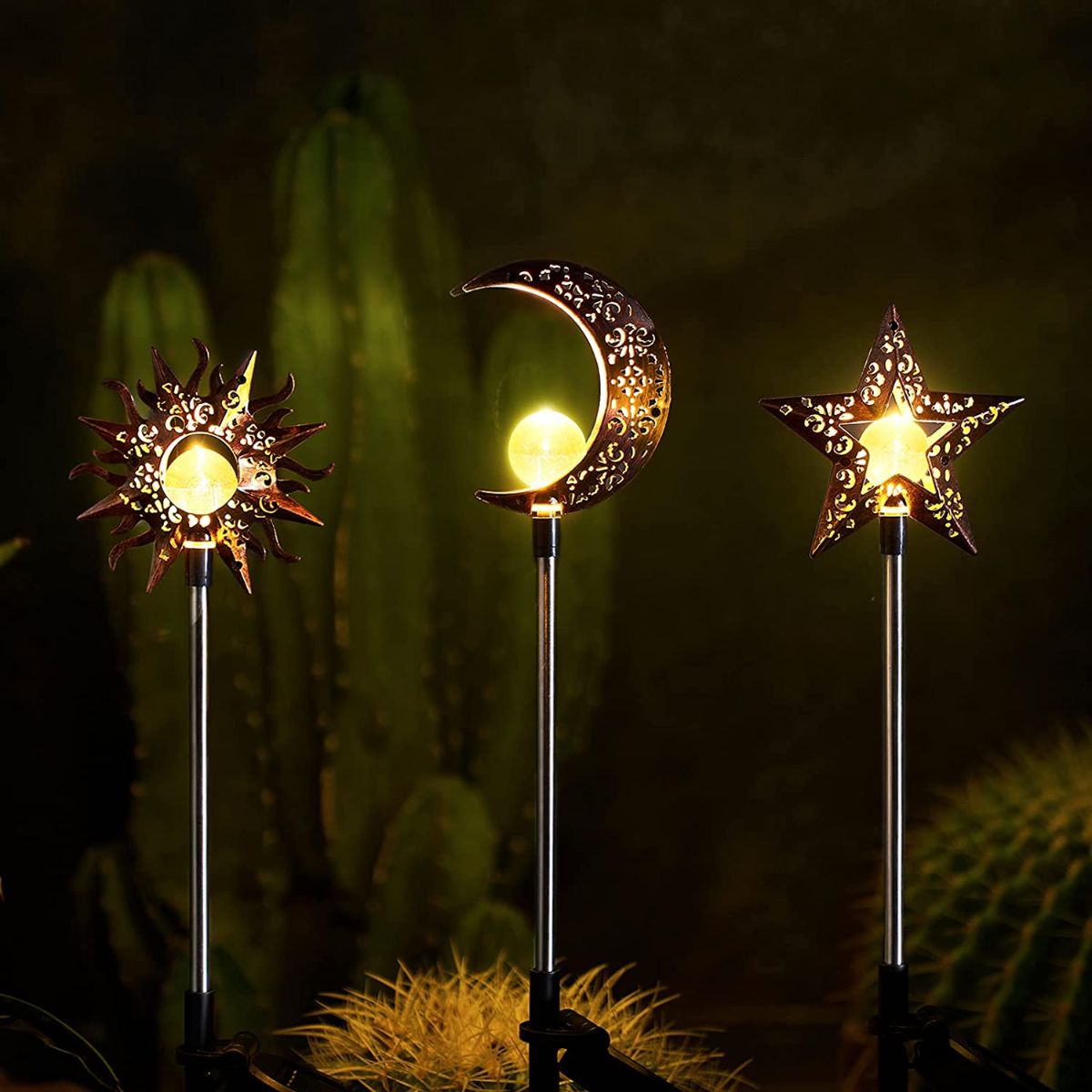 These celestial lights have just the right amount of whimsy and are shaped like the moon, the sun, and a star. Colored in gold, these lights look pretty even when the sun is shining and take on the appearance of garden sculptures. But they really show to their fullest after dark when the solar lights turn on!
Coming in packs of 3, these lights measure in at about 32" high, so they will display well in most garden beds and ornamental plantings. Thanks to their perforated design, they will also scatter lacy shadows across your garden walkways in the evening.
For a more varied look, these lights look particularly stunning when paired with the filigree solar lights by HOMEIMPRO.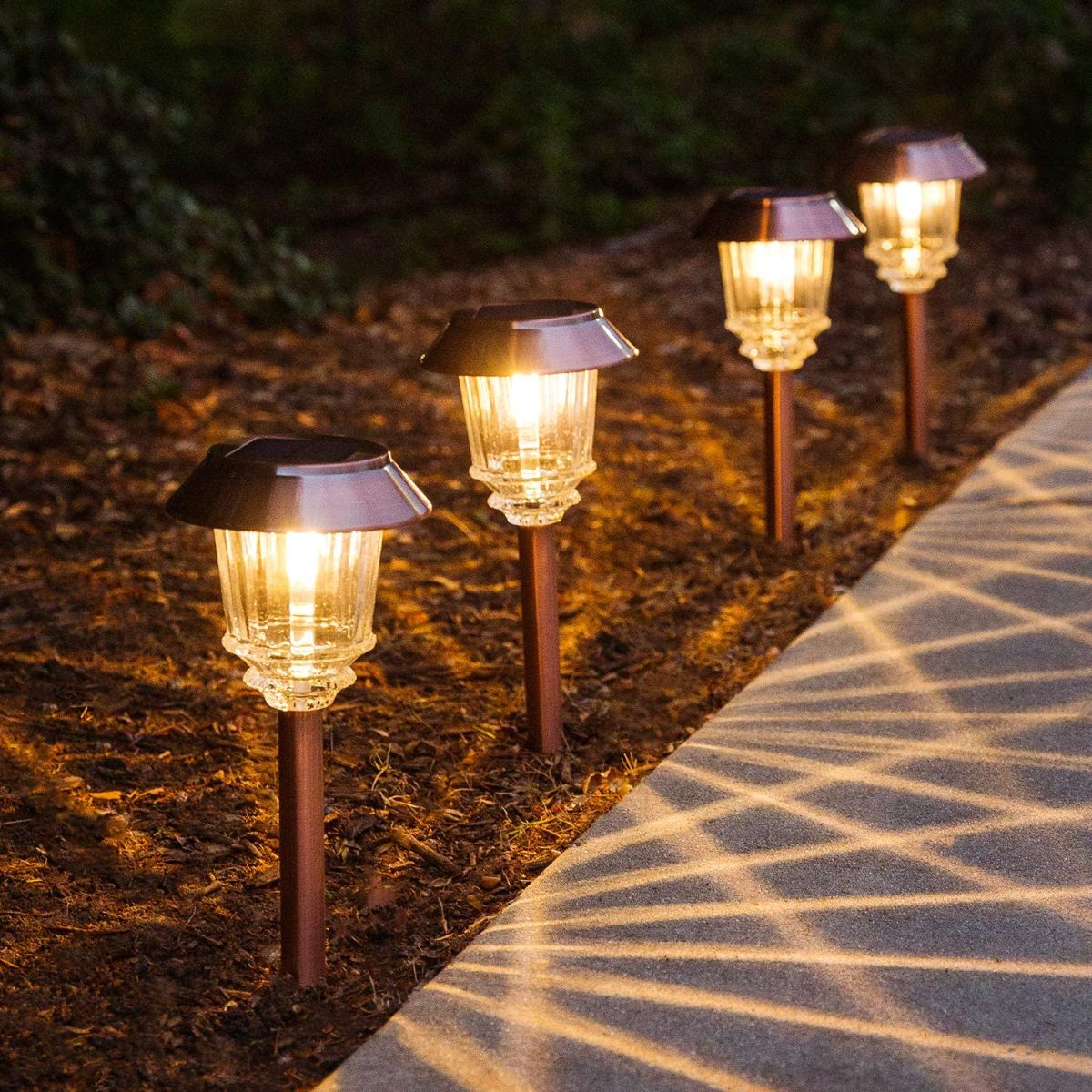 For a classic look, try out the walkway lights by XMCOSY+. These tasteful solar lights look like they're made of copper, and they will still catch the eye during the day. Once charged, they can continue to light up your garden for 10 hours.
If you need more reasons to try out these lights, they are very easy to install and weather resistant too. And, for even more flexibility, their brightness can be adjusted depending on the look you're going for.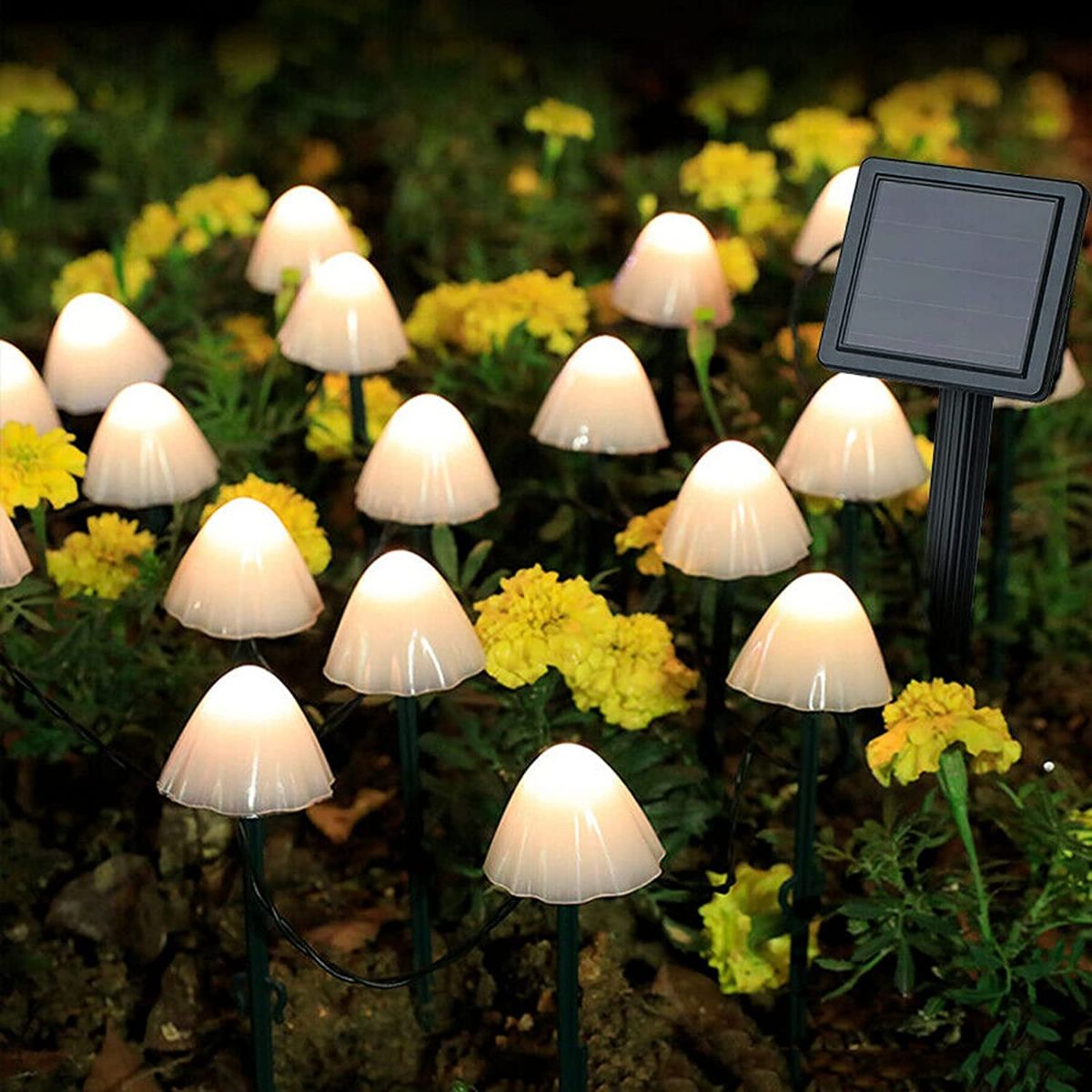 For sheer cuteness, these mushroom lights are must-haves. They come in different shapes and colors, so you have plenty to choose from, and some of the mushroom designs even have adorable little polka dots!
Sold in packs of 15, these mushrooms are attached to each other by a slender power cord and can be installed into garden beds with individual stakes. The lights can also be removed from the stakes if you'd like to use these lights to wrap around outdoor railings and fence lines.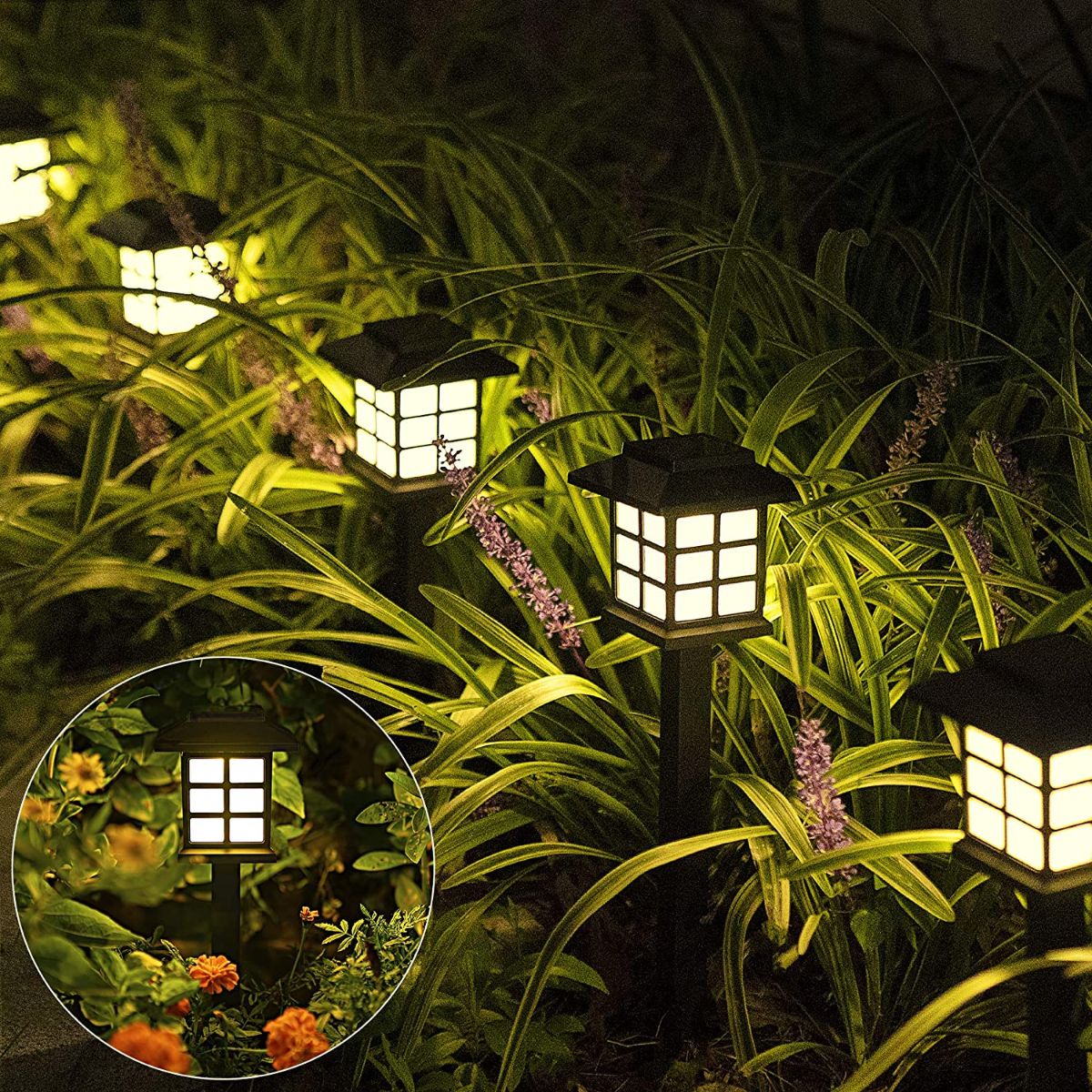 If you like minimalist aesthetics or you have a Mission-style home, these lights may be the choice for you. They are traditionally designed with segmented light boxes that look like tiny windows. Once installed, they are weather resistant and have durable plastic stakes to keep them firmly anchored in your garden soil.
Sold in packs of 12, they are economical choices, and they will continue to shine for about 8 hours once fully charged.
For a new twist on an old favorite, the solar lights by KOOPER have a similar look with a more minimalistic, modern twist.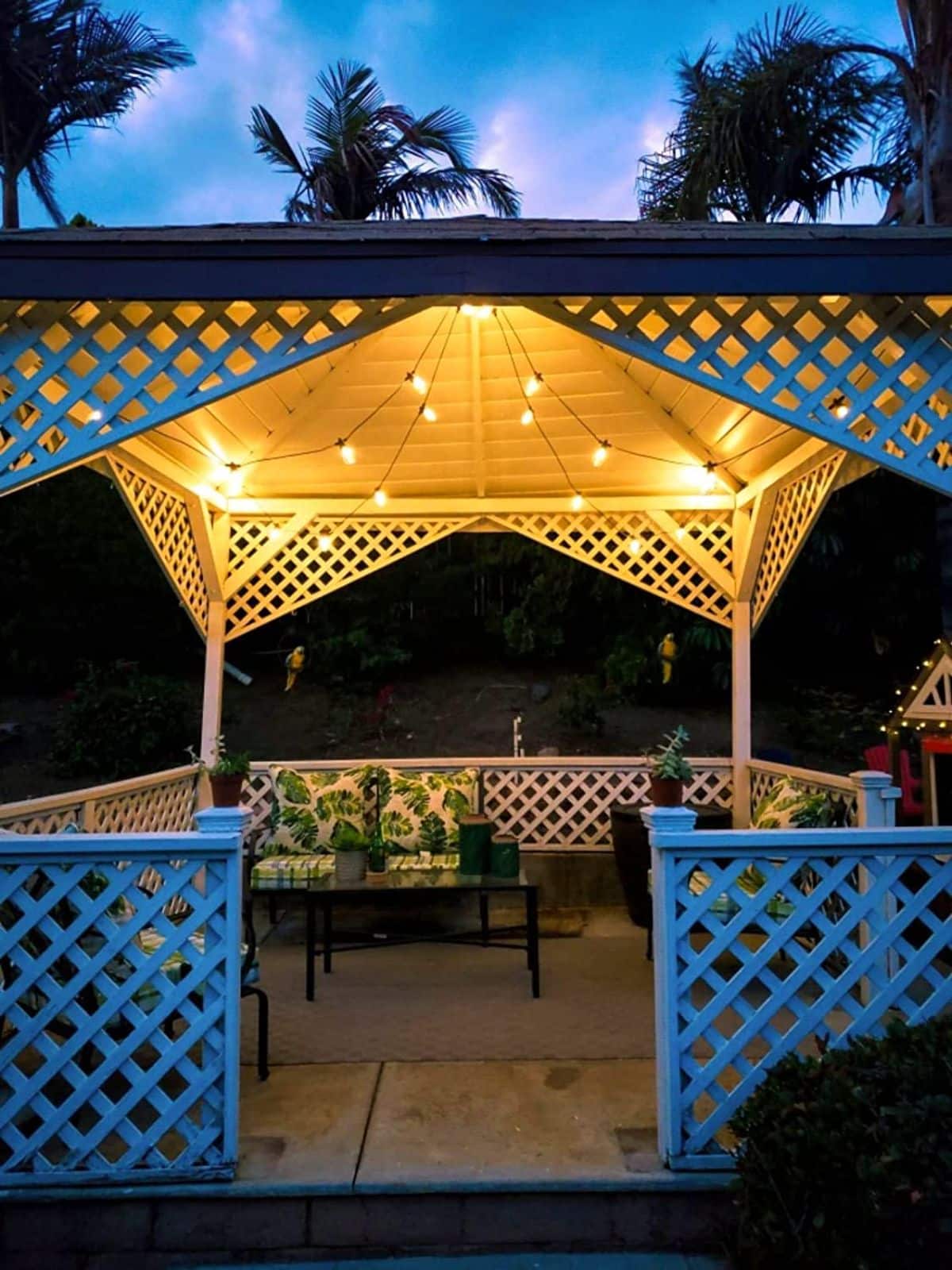 For outdoor parties or late-night dinners under the gazebo, string lights are the type of solar light you need. While there are lots of solar-powered string lights to choose from, Brightech offers a 27' long line of lights that is very popular and elegant too.
Modeled after antique Edison light bulbs, these lights are actually LED and are waterproof and shatterproof as well. Each string contains 12 bulbs, so you may want to pick up a few sets. They are certain to lend a romantic flair to your outdoor space!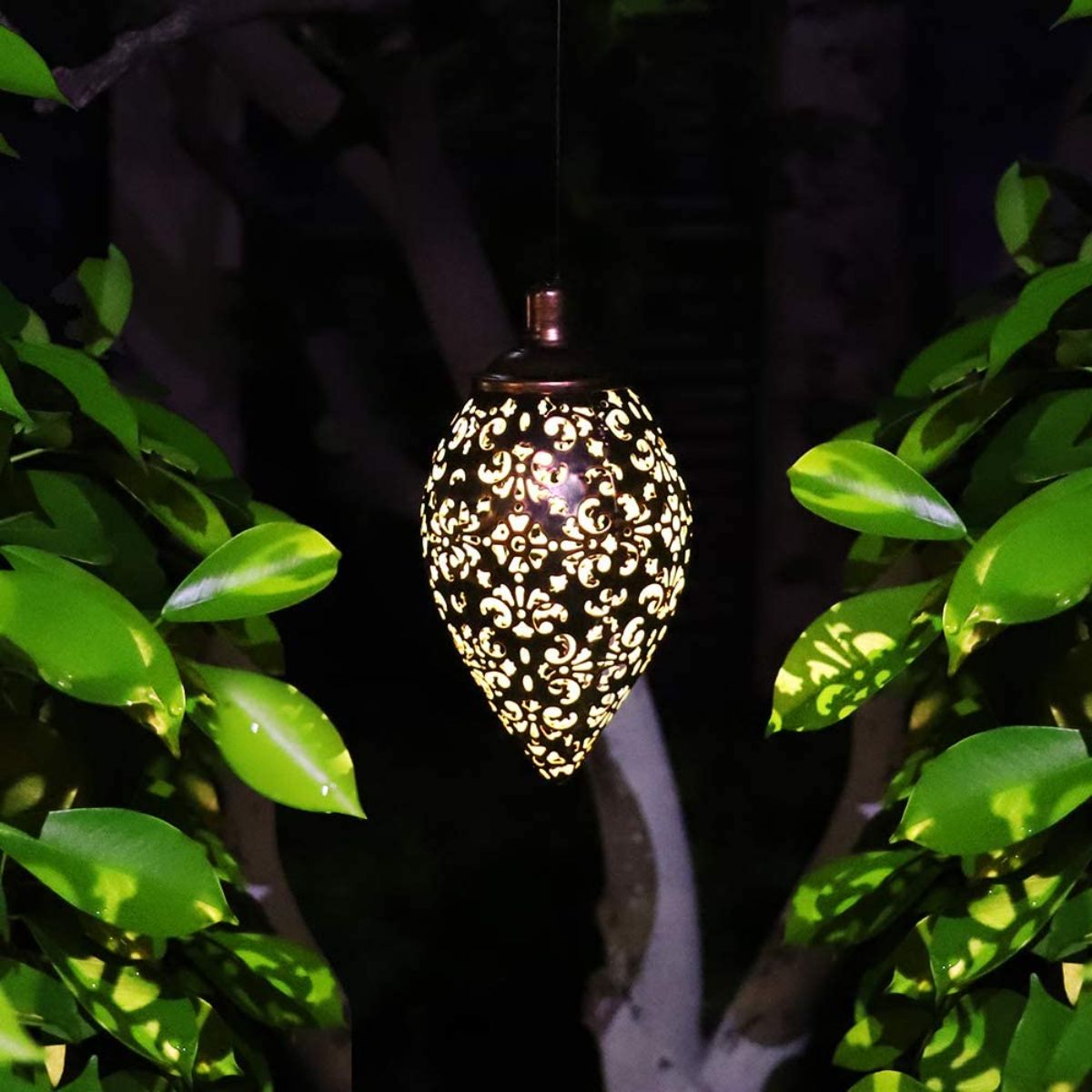 Hanging solar lights can illuminate arbors, gazebos, and back patios, and the lantern offered by Tomshine is one top choice. This elegantly crafted solar light has pierced edges that project patterned light on its surroundings, and it can hold a charge for up to 10 hours.
If you choose to hang this light under a roof, make sure the sun still reaches it throughout the day to guarantee it will charge properly. You can also opt to hang this lantern from a freestanding hook in your garden to illuminate walkways, water features, and other key elements of your landscape design.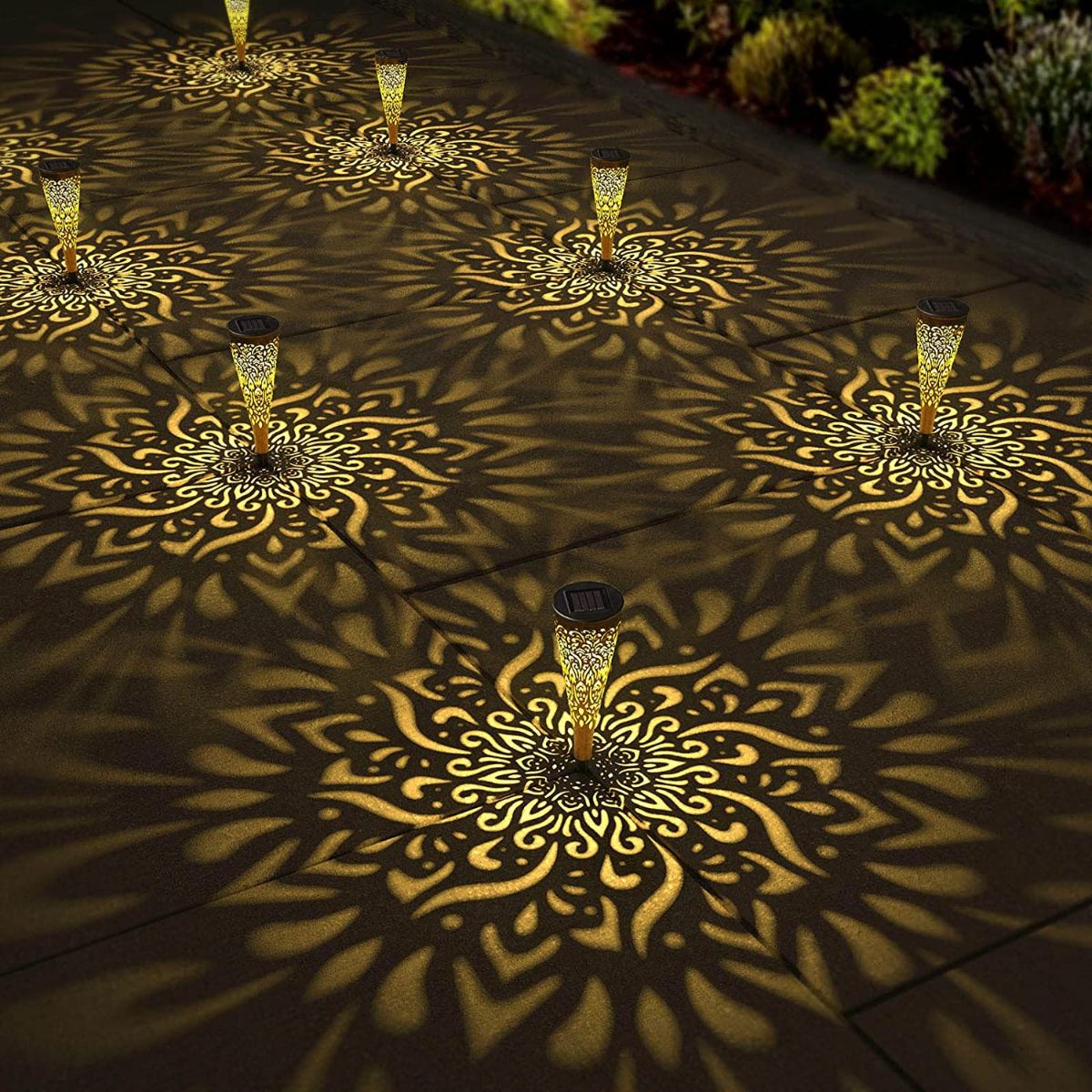 Another top pick if you love the look of patterned light on your garden beds, the solar lights by Gardencave have pierced sides that allow light to penetrate. Once installed in your garden, they exude a warm, bright light that forms a perfect mandala or flower shape around the lights with an elegant curl and twist patterning.
Coming in packs of six, you can choose between gold or black lights, depending on your garden space. They are also weather resistant, easy to install, and durable.
Summary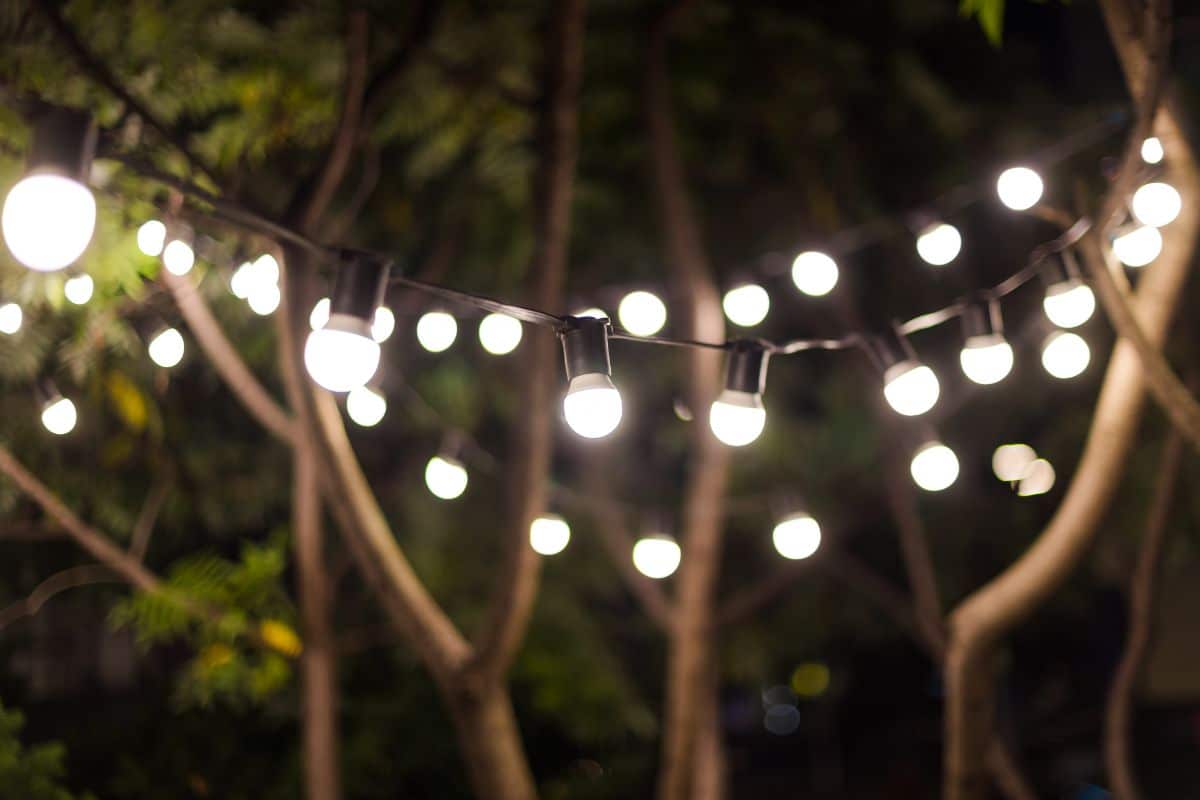 Solar garden lights can add cheer to your outdoor space, highlight favorite plantings and other landscape design choices and extend the use of your backyard long after the sun sets. They can also help delineate particular areas of your garden that you want to draw attention to, and they can counteract the winter blues when the sun sets earlier during the cooler part of the year.
From string lights to inground lights, there are so many choices to pick from, and the lights we've covered today are just some of the most popular solar lights around. So do a bit of investigating, prep your garden space, and install your new garden lights. They will spice up your evening garden and may even be the stars of a future garden party or outdoor evening picnic!
Solar lights are one easy way to decorate your garden. But if you're looking for even more ways to add color and interest to your landscape design, check out our guide on choosing the right bird bath for your backyard.