Adding a bird bath to your backyard space is one of the easiest ways to attract birds and other wildlife to your garden. But what do you do in winter when your bird bath freezes over? Add a heated bird bath, of course!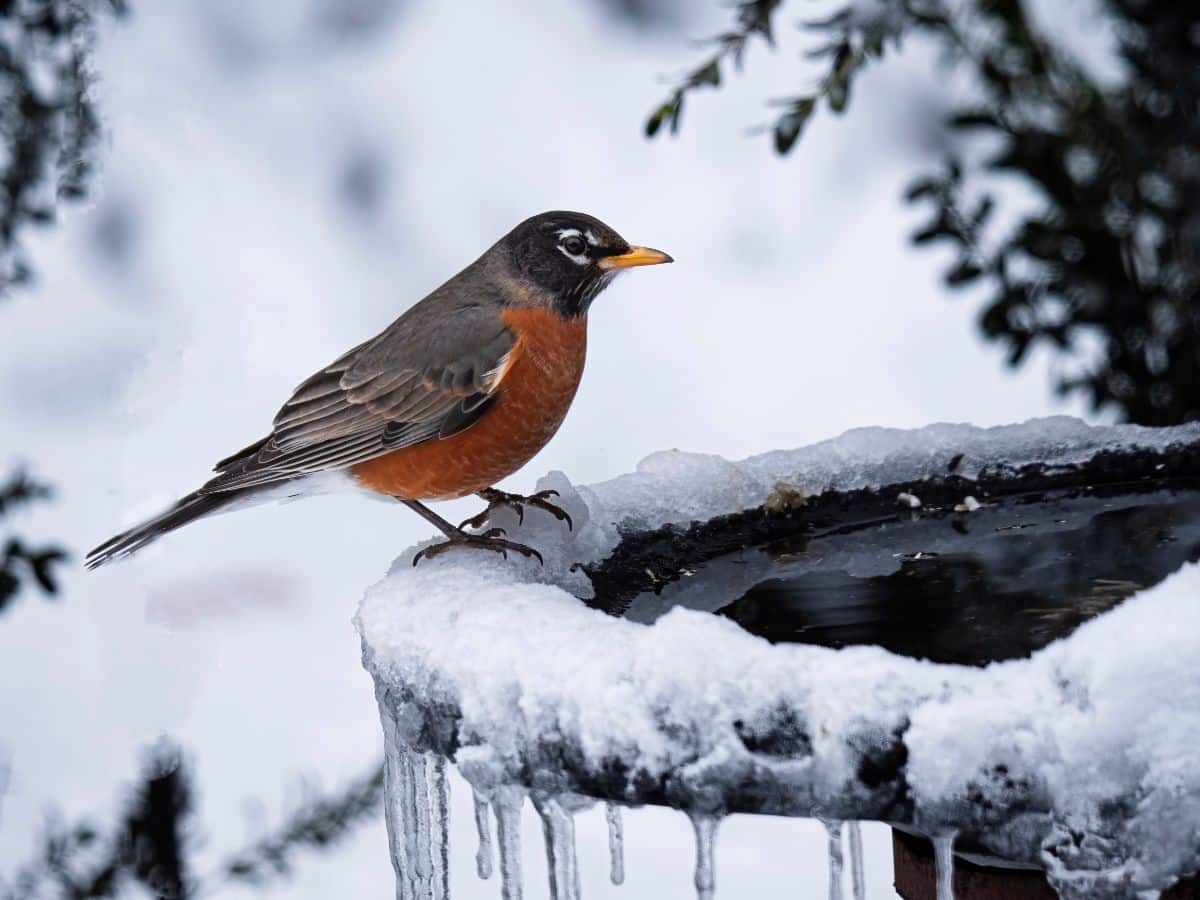 Heated bird baths come in all kinds of classic and stylish shapes and sizes. And, if you have an existing bird bath, handy bird bath deicers can be slipped right into your bird bath basin for ice-free water. Once installed, bird bath heaters will keep your bird bath water fresh and accessible, no matter the temperature or weather.
If you're on the lookout for an easy-to-install and effective bird bath heater, look no further. In this guide, we'll peruse some of the best-heated bird baths and bird bath deicers on the market. We're sure you'll find the perfect bird bath for you in the list below!
Jump to:
12 best heated bird baths for your winter garden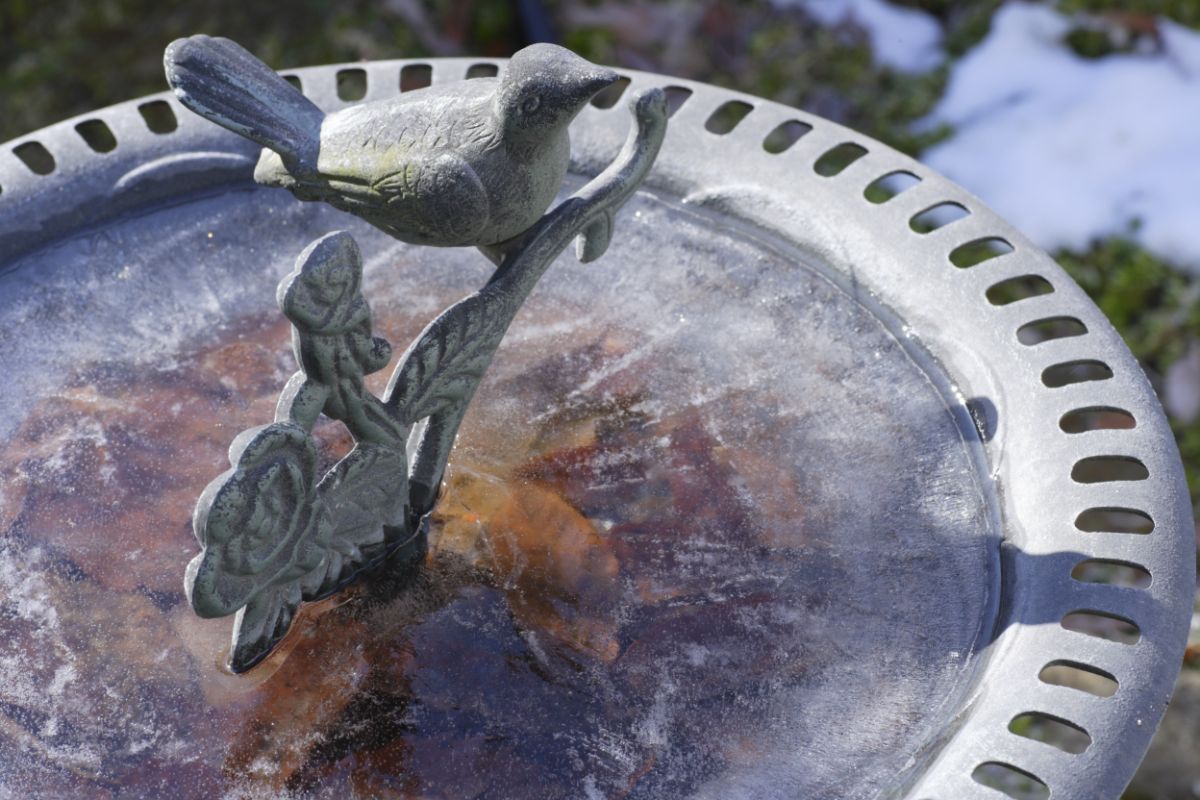 Below are our top 12 picks of the best-heated bird baths and bird bath deicers. We've included a wide range of bird bath styles that should go with any garden aesthetic. We've also selected some bird baths that can be installed on decks as well as the bare earth to give you lots of choices to pick from.
1. GESAIL Habitat Heated Bird Bath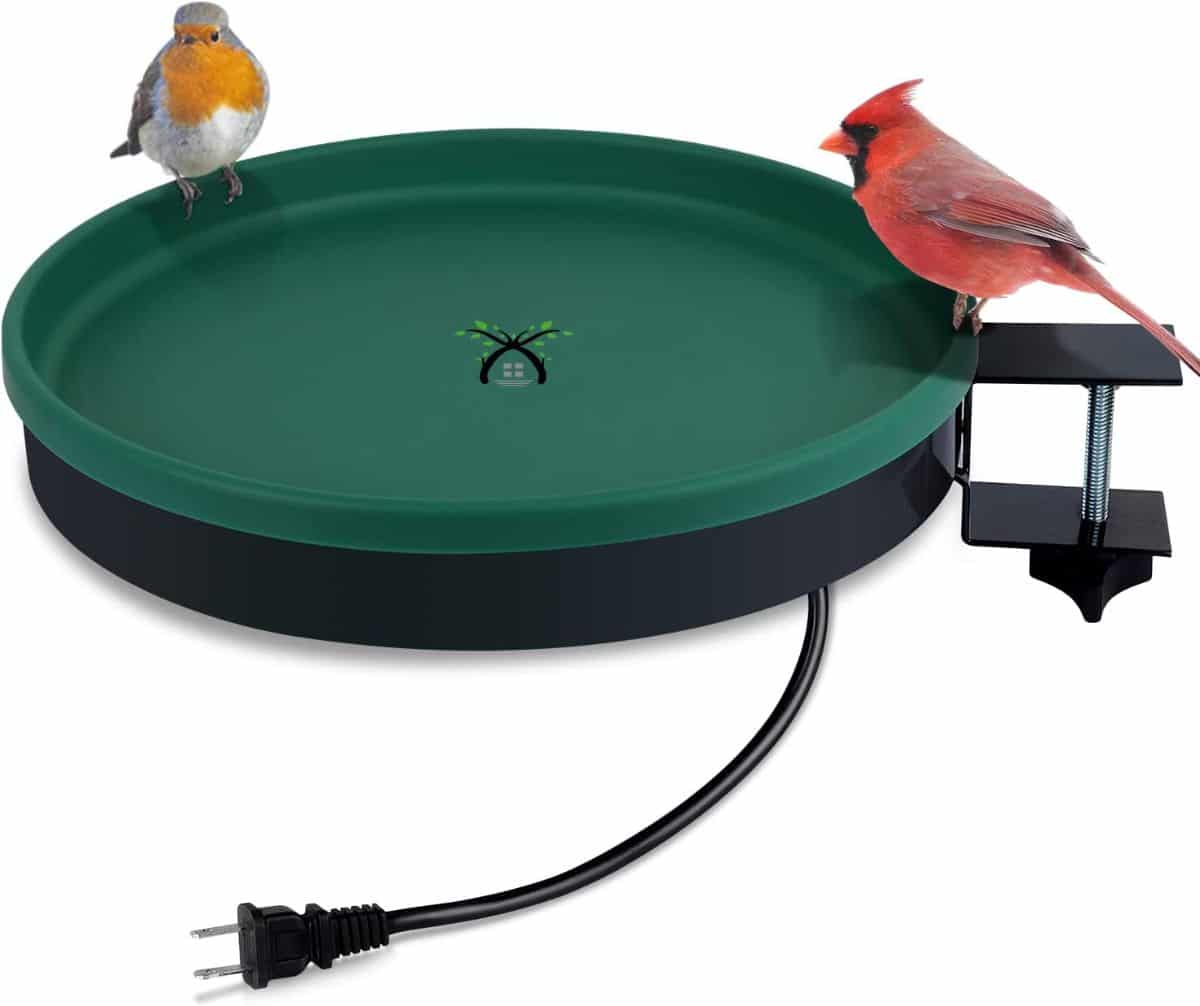 The bird bath by GESAIL is a very versatile option, so it's no wonder why it's so popular. The sleek design is lightweight and compact, making it just perfect for small outdoor spaces or bigger backyard patios. The basin itself comes in 3 different colors, while the design includes 3 separate options: ground mount, deck mount, and clamp mount.
This thermostatically controlled bath only powers on enough to keep water temperatures above freezing, but it shuts off on its own when temperatures climb. This saves energy and helps extend the life of your bird bath. The heating unit is also self-contained for easier cleaning, and the heating cord tucks away, so you can keep using this bath in spring and summer.
2. API Heated Bird Bath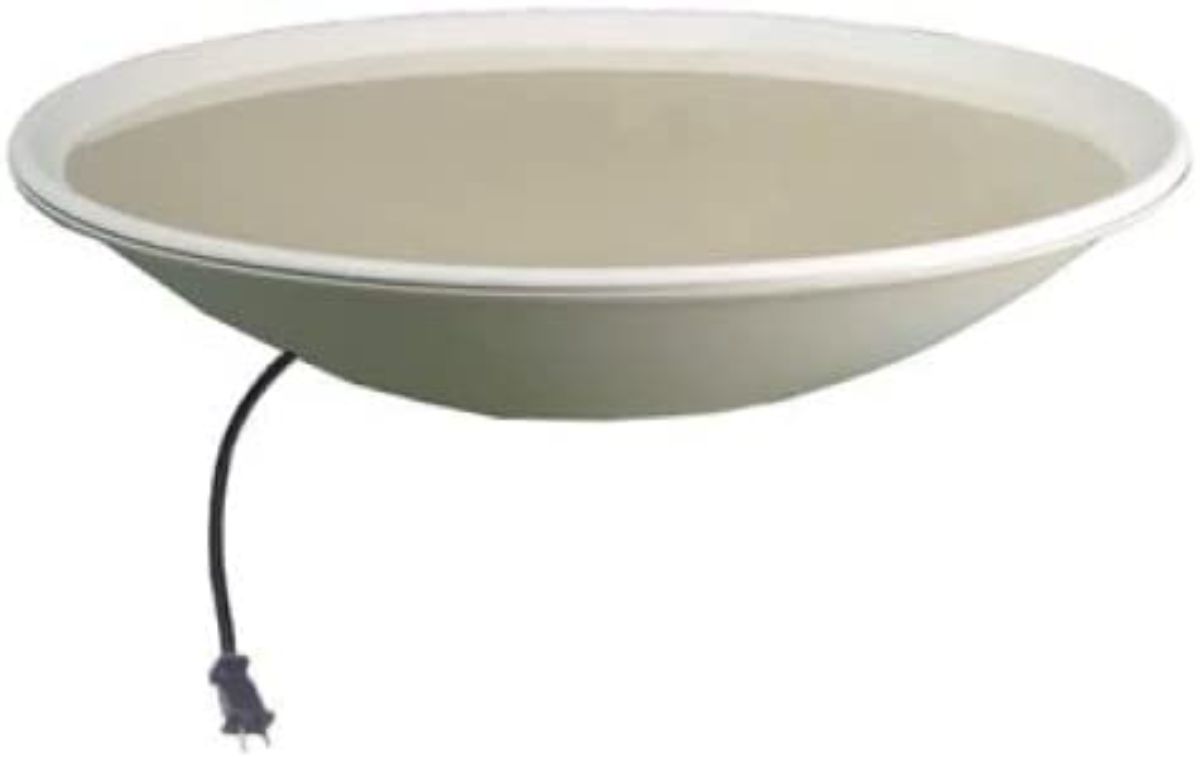 Sale
Made of durable and weather-resistant material, the heated bird bath by API has a fully enclosed heating unit, so it is safe for wildlife and easy to clean. The off-white bowl is 20" in diameter, making it big enough for any songbird to enjoy, and the color will go well with just about any décor.
This bird bath includes a selection of hardware, so it can be mounted on a deck railing or a pole or pedestal (not included). The walls of the bird bath were also specially designed with birds' feet in mind, and the walls are just the right size for small birds to perch on.
3. API Heated Bird Bath with Stand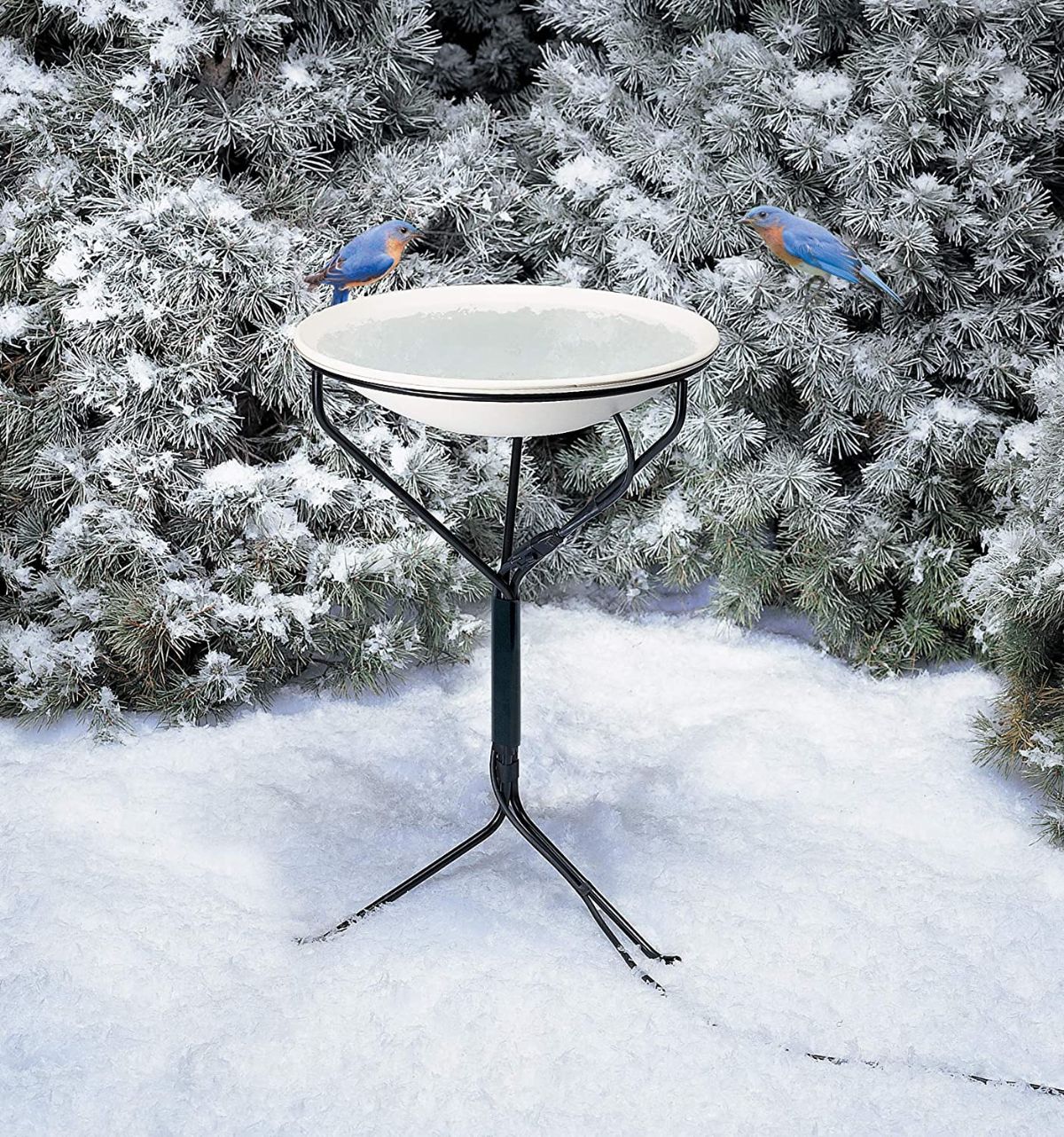 Sale
If you love the API bird bath but you don't want to fiddle around with finding the right stand to use it with, this popular bird bath is also available with a small stand. This setup has all of the useful features of the standard API bath, but it also includes a slender 30" high metal stand. The stand has a simple construction, making it just right for any small outdoor patio or balcony space.
For a different look, API also makes another stand-mounted bird bath with a terracotta-toned basin.
4. Hugeneroy Heated Large Capacity Bird Bath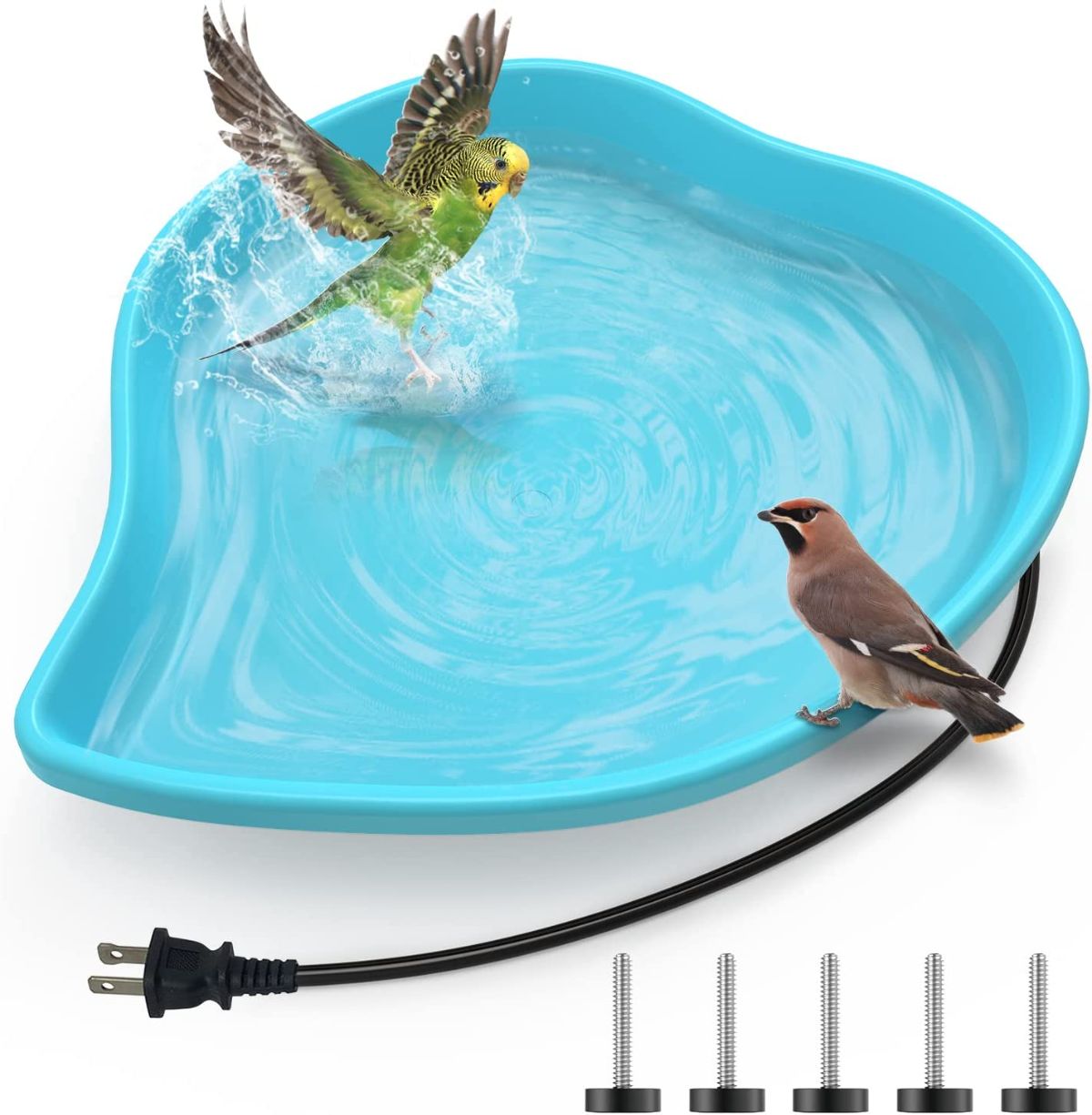 The bright blue color of this popular bird bath looks cheerful in any garden setup. What's more, this is the largest self-enclosed heated bird bath on the market, so it can provide much-needed hydration to big birds as well as smaller songbirds. It also doesn't need to be filled up as frequently, although you'll still want to refresh the water in this bird bath daily for health reasons.
This bird bath comes with four small screw-on feet that are attached to the base of the bath and can be easily adjusted to level the water. The bird bath can be placed directly on the ground too, which makes it useful for providing water for other wildlife, like squirrels and chipmunks.
Like other thermostatically controlled baths, this bird bath keeps water temperatures just above freezing to save energy. And because it automatically shuts off when dry, it's safe to use too!
5. Farm Innovators Four Season Bird Bath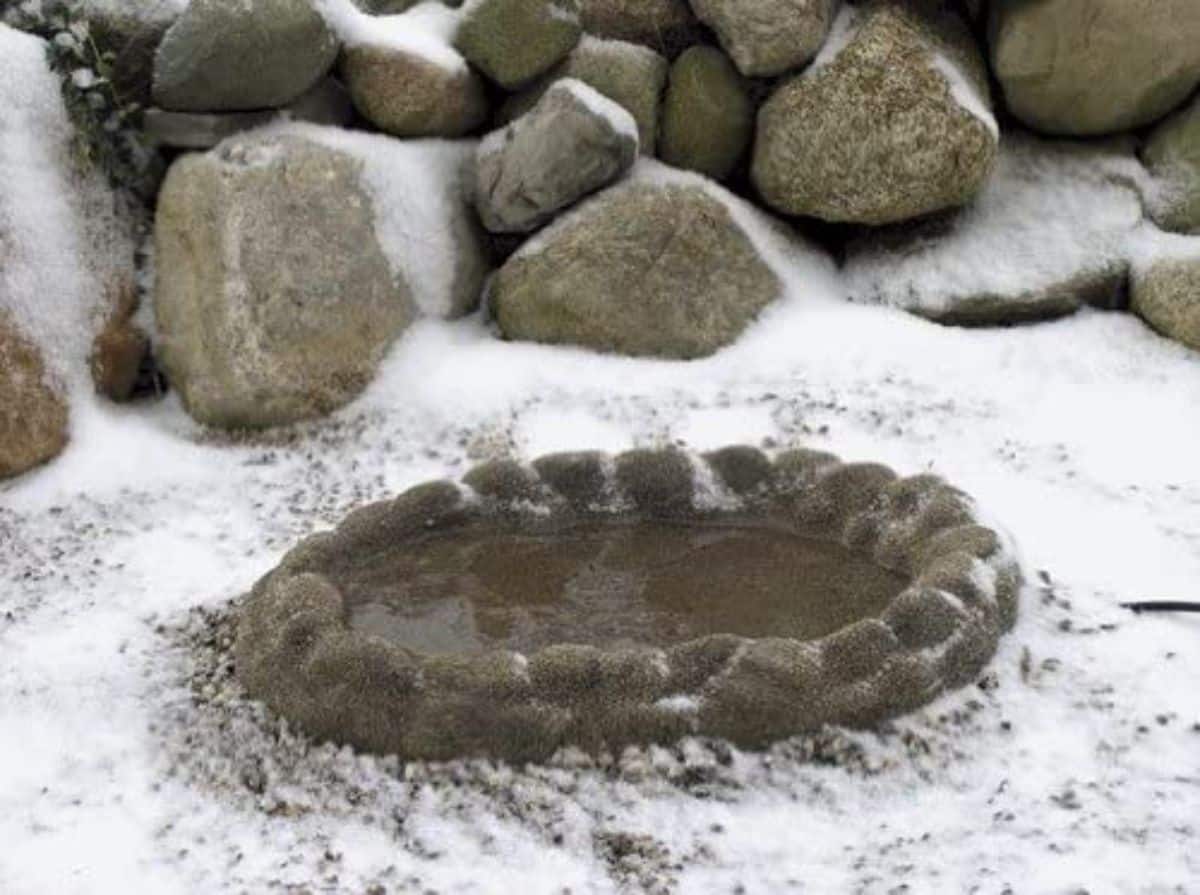 For a more natural look, the bird bath by Farm Innovators is the way to go. This sand-coated bird bath looks like stone, but it is made of a durable and lightweight material that will blend into most garden landscapes. It is also thermostatically regulated and shuts off when temperatures climb, making it cost just pennies to run!
In warmer weather, simply tuck the power cord into the bird bath to conceal it so you can keep using the bath all year round. It is also easy to clean and sits directly on the ground, meaning you won't need to worry about finicky mounts. Measuring in at about 26" long, this bird bath can also serve as a puddling pool for butterflies or a mini frog pond during the warmer months.
6. Farm Innovators Economical Bird Bath De-Icer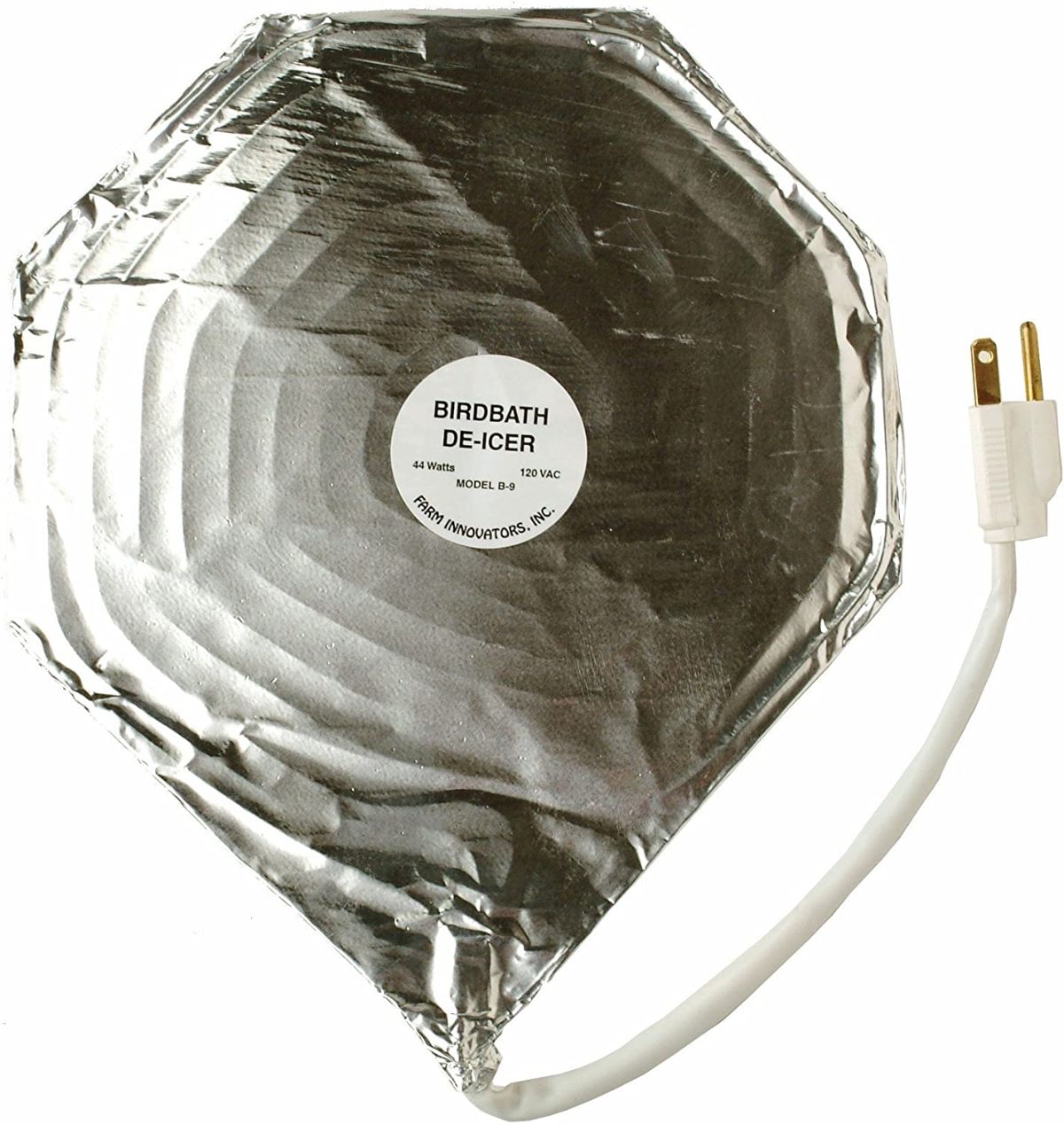 If you want to keep birds happy in winter but you don't want to break the bank, you don't need to buy a new heated bird bath. Instead, compact de-icers can be placed inside most existing bird baths to keep the water nice and warm. The de-icer by Farm Innovators is one good choice that's budget-friendly too.
This de-icer features a unique foil construction and a low wattage, so it won't cost much to run. It also has a grounded cord, making it safe to use outdoors!
7. Allied Precision Bird Bath De-Icer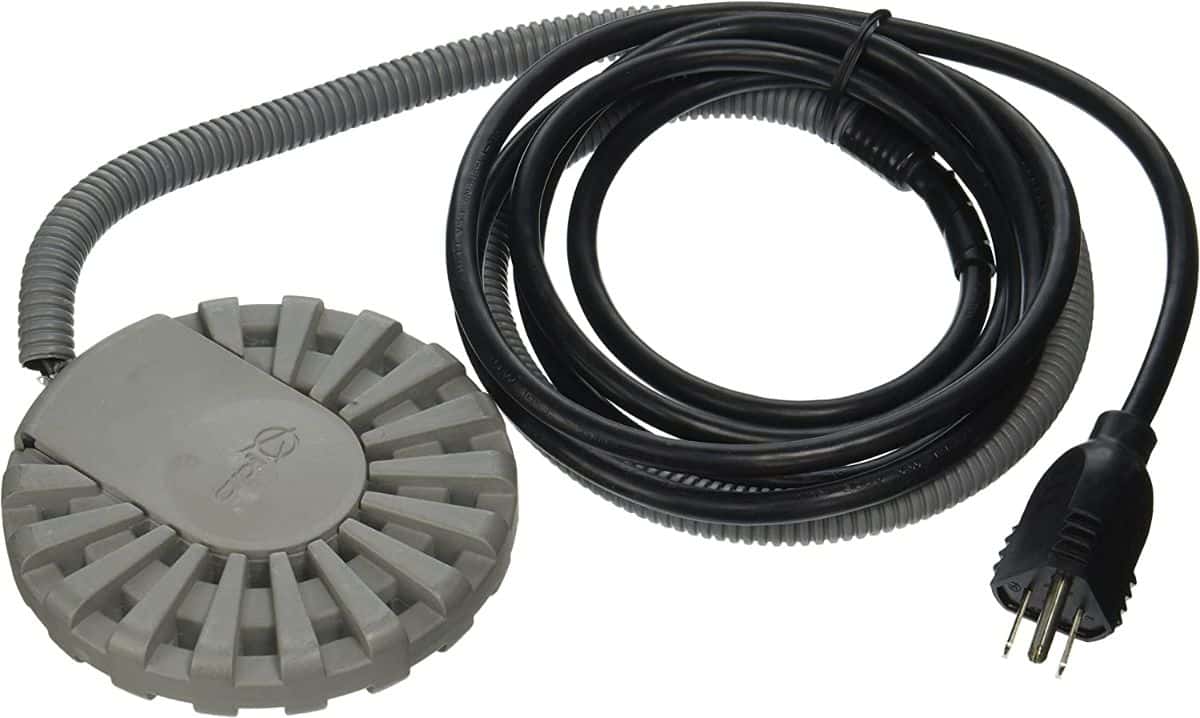 Sale
This deicer is super compact and handy and can be used with your existing bird bath – even plastic ones! The aluminum heating element is durable and has a low profile, so it will fit snuggly into any bath. It also has a large surface area for fast heating and utilizes multiple thermostats for safety.
With 250 watts of power, this heater works well for most standard-sized bird baths.
8. Songbirds Essentials Heated Bird Bath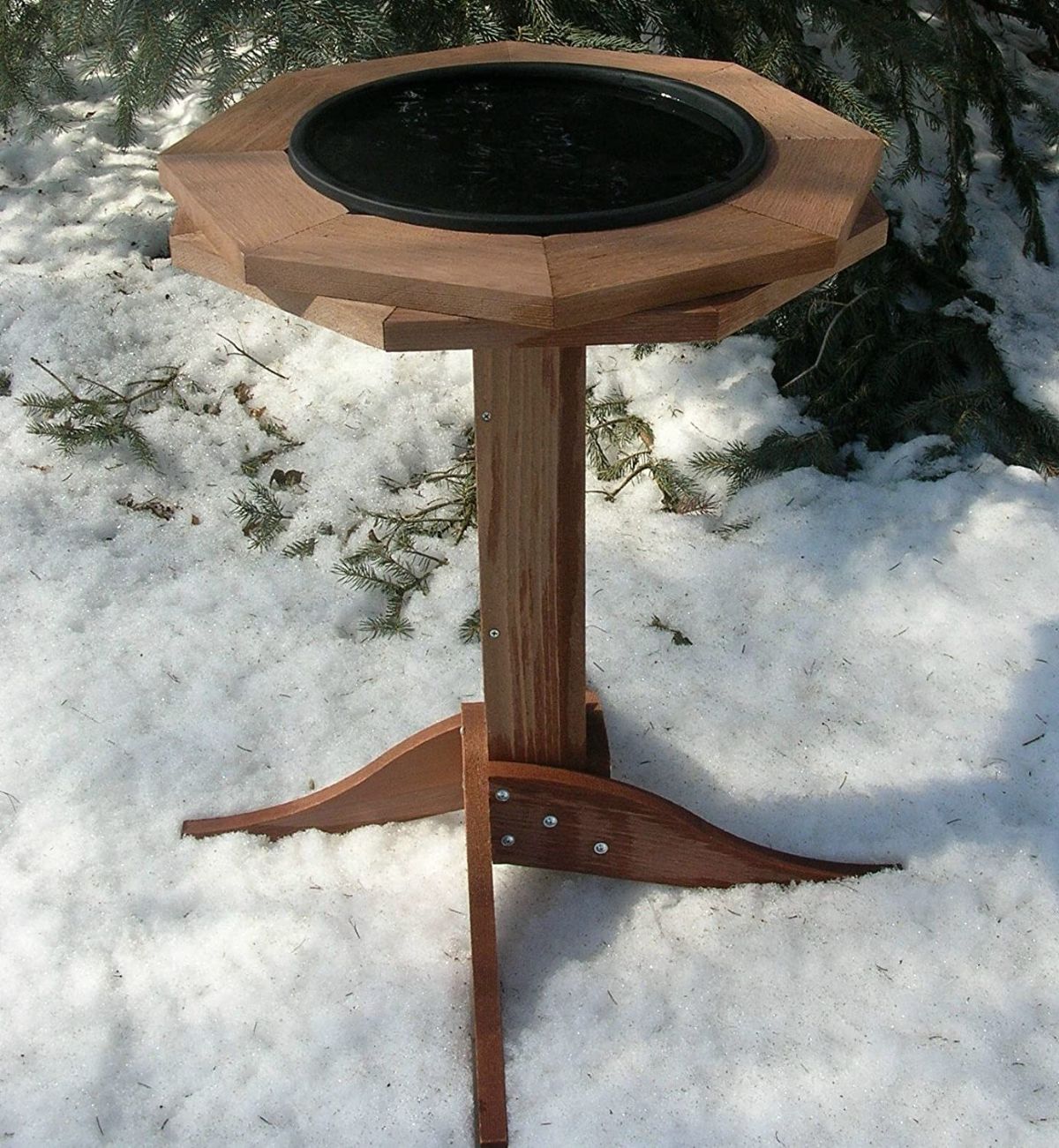 The beautiful, natural construction of this wooden bird bath really makes it stand out. The frame is made of weather-resistant red cedar, while the bath itself can hold about ½ of a gallon of water. The heating unit is thermostatically regulated and turns on only when temperatures drop below freezing.
While some assembly is required when putting this piece together, it is certain to elevate your garden's look once installed. The entire bird bath measures about 32" high and is quite durable too.
9. Erva Heated Bird Bath for Outdoors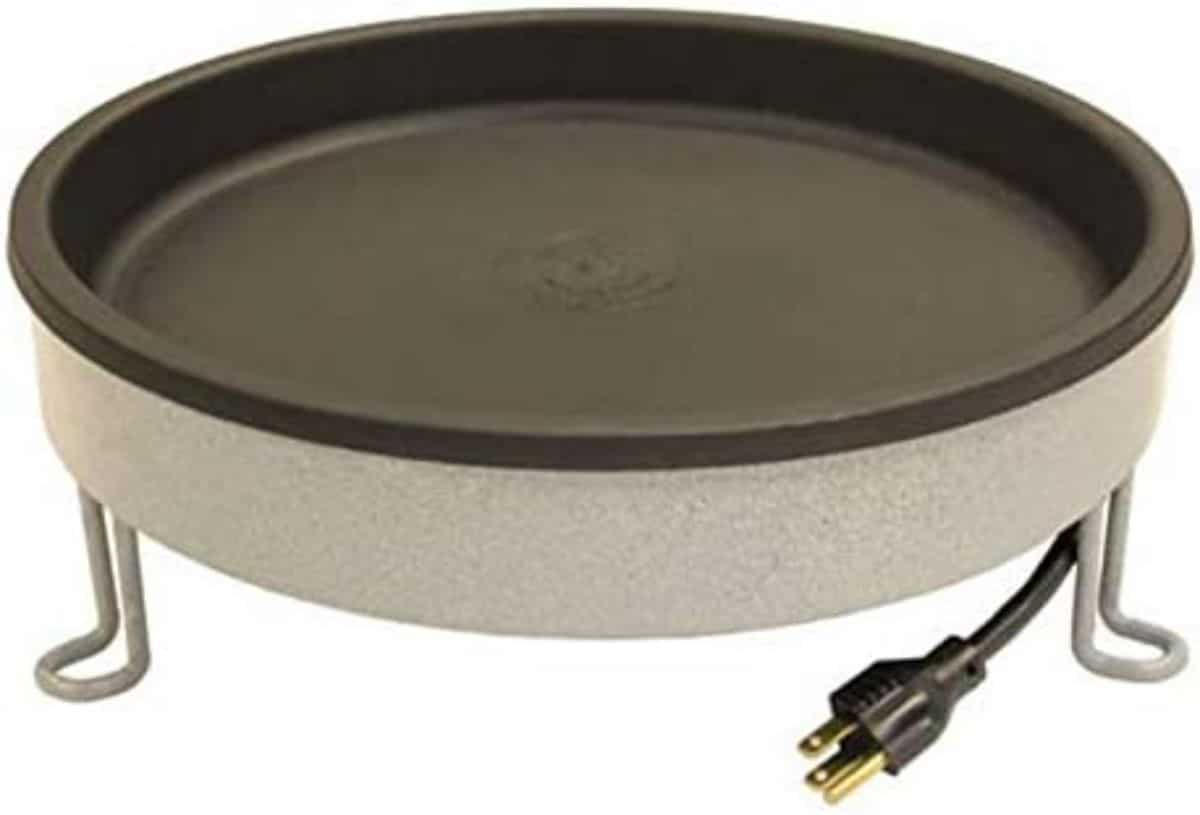 The Erva bird bath is a classic choice. The granite gray exterior looks natural and won't compete with your garden design. The heater is also energy efficient and only powers on when temperatures drop.
The sturdy construction of this bird bath means it will last for years and years. It can be placed directly on the ground or on a back patio, and the short legs keep the bath at just the right height for small animals and birds to drink from. It is also easy to clean and is made of fire retardant and BPA-safe materials.
10. Farm Innovators Scalloped Heated Bird Bath with Pedestal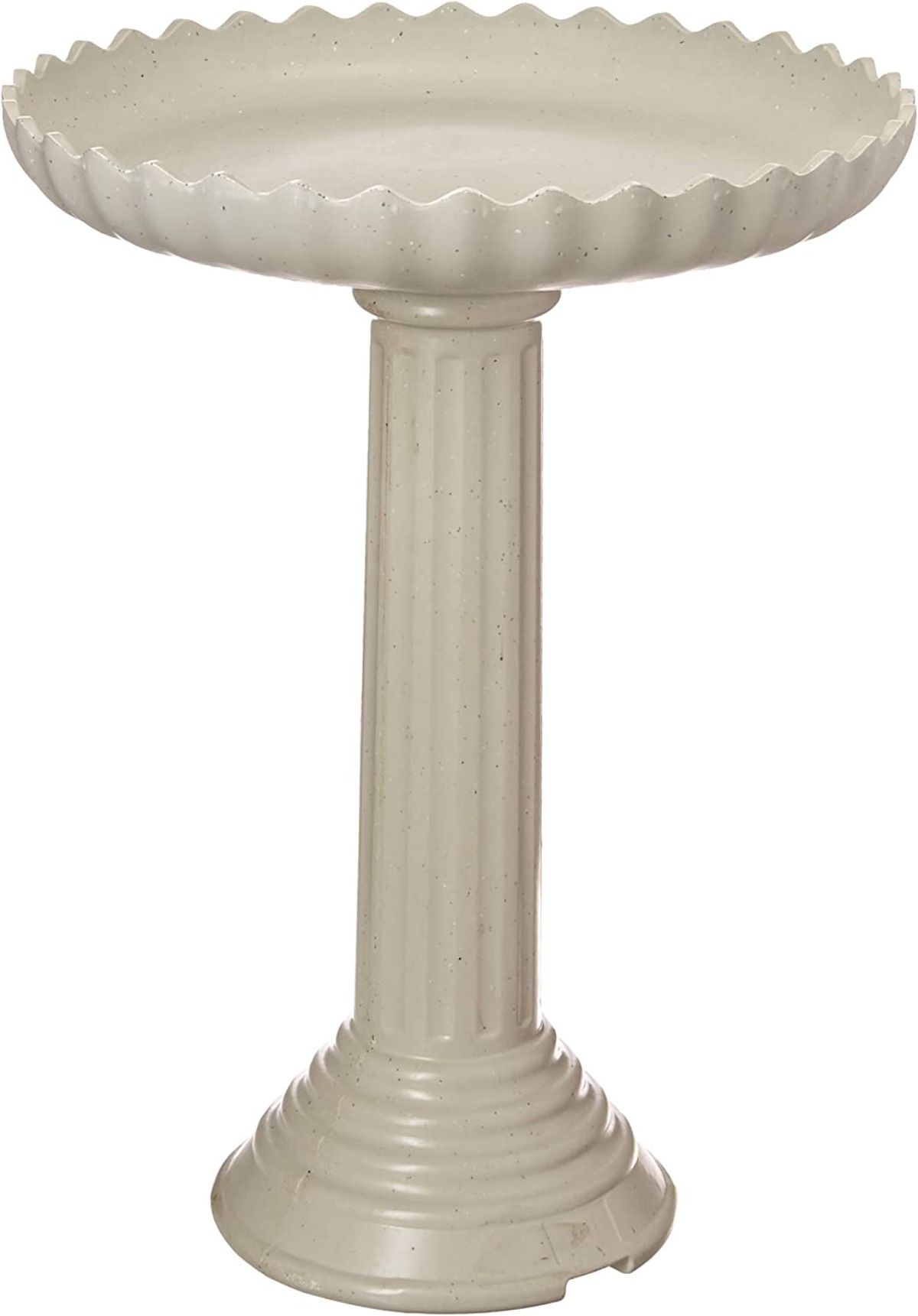 If you like the traditional bird bath look but you want something you can use in the winter, the heated bird bath by Farm Innovators is the perfect solution. The classic pedestal design looks like a standard concrete bird bath, but it is made of a material that is lightweight, durable, and easy to clean.
Able to be used all year long, the power cord tucks away to create cleaner lines when you don't need that extra heat. However, when temperatures drop, simply plug in your bird bath, and the thermostatically controlled heater will get to work. This bird bath also comes with a 3-year warranty, so you don't need to worry about a thing.
11. AISITIN Bird Bath De-icer and Fountain Pump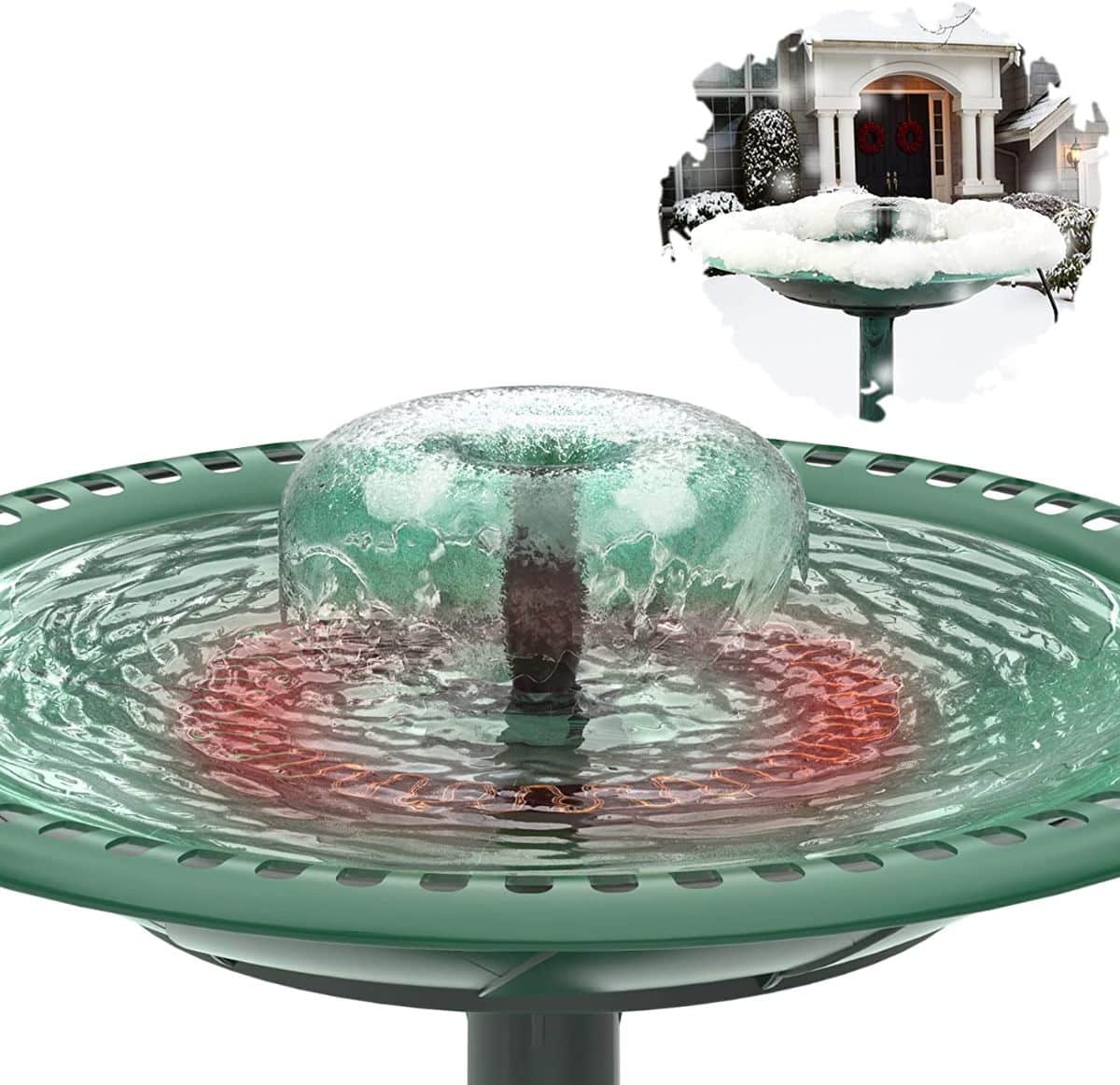 The AISITIN bird bath heater has it all. It has a thermostatically regulated heater that only runs when necessary for energy saving, but it also has a fountain pump to circulate the water in your bird bath too. The pump will help to keep your bird bath nice and fresh, while the heater will make sure your backyard birds have something refreshing to drink, even when it snows!
The heater in this unit automatically shuts off when the basin gets dry, which means you don't need to worry about burning up the motor. It also has a longer power cord than most other units, which will give you more choices where you can locate your bird bath. This de-icer also works in any bird bath type, including stone, glass, metal, and plastic.
12. GESAIL Bird Bath De-Icer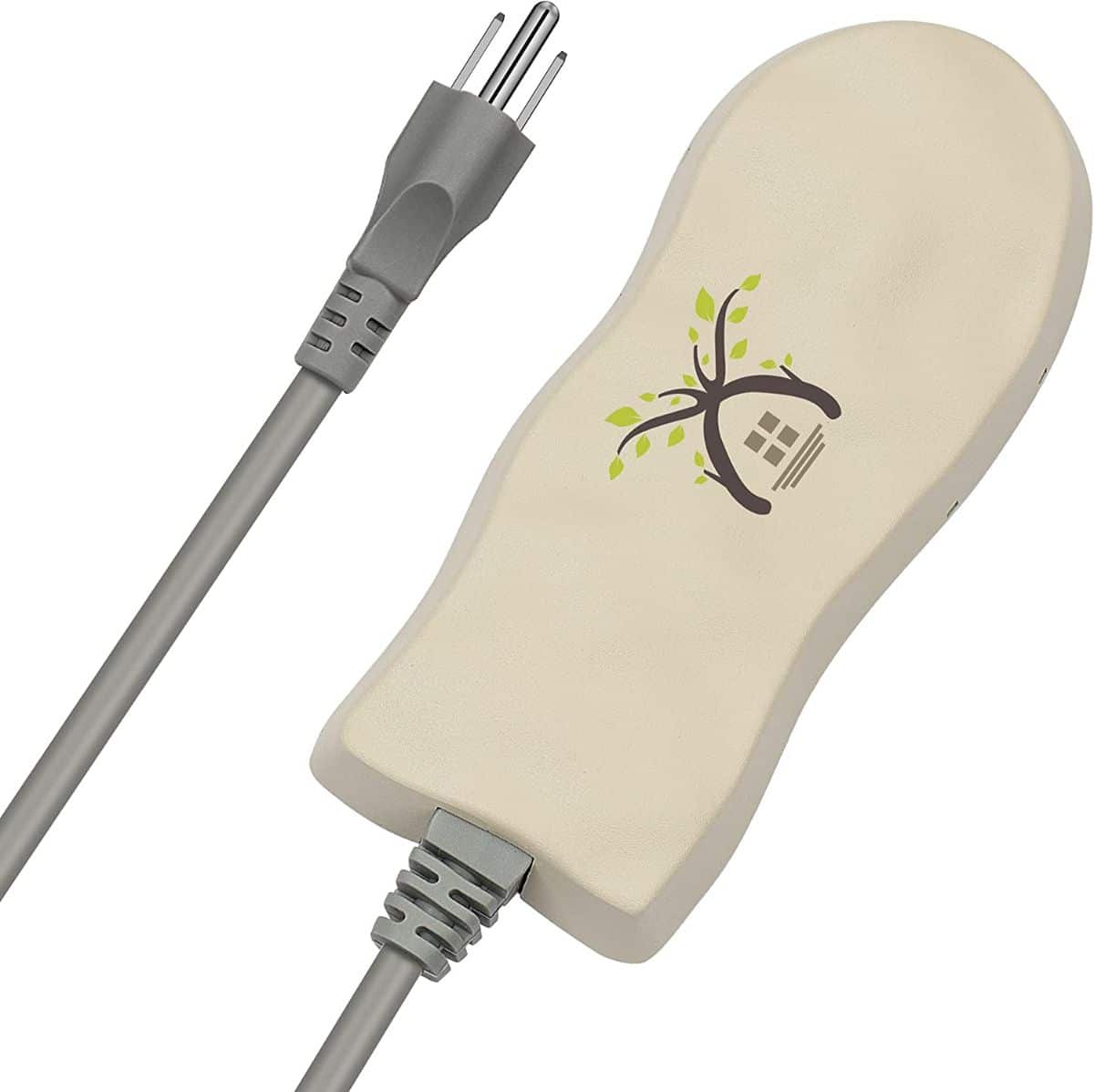 One of the most popular heaters for bird baths, the GESAIL de-icer comes in 3 different shapes and styles, including a leaf-form heater that is oh-so-cute! This energy-saving deicer only runs when needed, and it is made of heavy, cast aluminum that is easy to clean and won't rust. It also works in most standard-sized bird baths and can even be used in glass or plastic setups.
Running at 50 watts, this bird bath deicer can heat up a small amount of water in a short period of time, and it also powers off when temperatures rise. That makes this an energy-efficient heater, in addition to being an adorable one!
Tips for installing your heated bird bath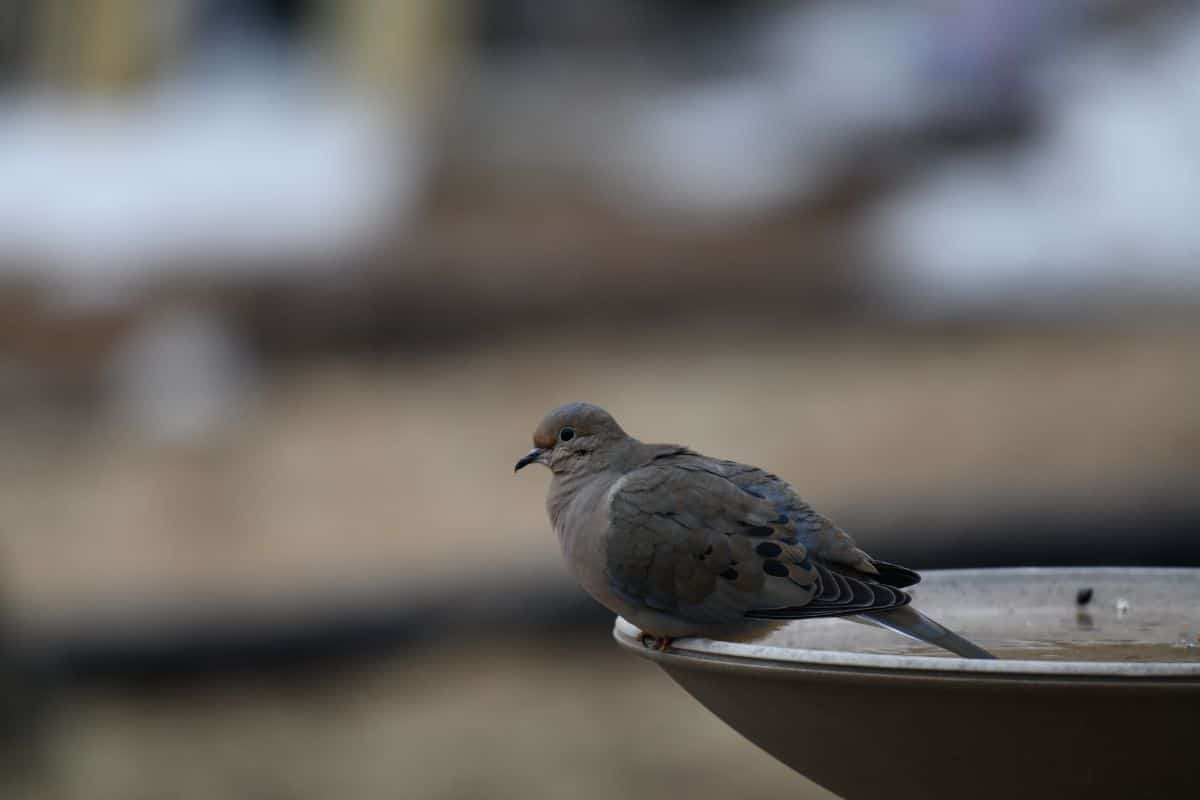 Different bird baths may have different installation requirements, so be sure to follow whatever instructions are included with your bird bath. However, there are a few important tips to follow that work well for most bird baths.
Don't let your bird baths run dry.
Some bird bath heaters will naturally power off when basins run dry, but not all bird bath heaters do this. A dry bath not only wastes energy, but it can possibly pose a fire hazard if heating elements continue to run when the basin is out of water. This can cause your heater or your bird bath to melt, in the case of plastic bird baths.
To prevent this, make sure you check your bird bath water levels daily and refresh as needed. Some bird bath heaters need to be fully submerged to function properly, while others don't. So, be sure to follow the installation instructions carefully for your unit of choice.
Keep your bird baths clean.
In summer or winter, hygiene is important for outdoor bird baths, and it can prevent disease spread and contaminated water. A good rule of thumb is to clean out and refresh the water in your bird bath about 2 to 3 times a week.
Because you'll be using a heating element during winter time, it's even more important to check water levels in your bird bath daily and add more water if you need to.
Take care with deep baths.
The bird baths in the list above are all quite shallow; however, if you're using a deep basin bird bath, it can pose a drowning hazard to small birds and other wildlife. To keep your deeper bird bath safe, consider adding some small stones to the bottom of your bird bath just in case a hapless creature falls in. Stones will provide an easy exit point for any animals to get out of the bird bath.
Since your bird bath will be outside if you need to use an extension cord, make sure you use a weather-resistant cord that is rated for outdoor use.
Make sure you have enough wattage.
50-watt heaters usually have enough power to keep a small bird bath from icing over. However, if you have a larger bird bath or you live in a particularly cold location, you may need a heater with more wattage. If your bird bath is still icing over despite having a heater in it, it means you need to add a bigger heater with more wattage.
Frequently asked questions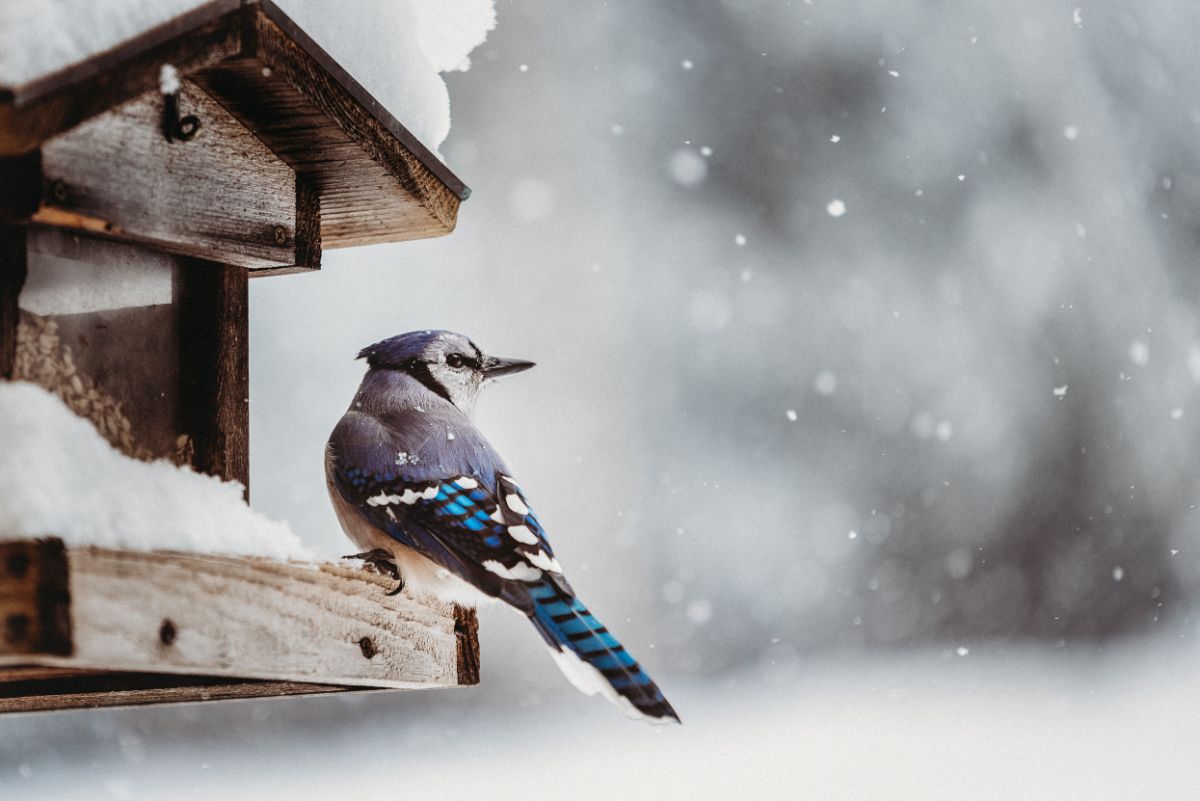 Is a heated bird bath a good idea?
Yes! Adding a bird bath is an easy way to attract birds to your outdoor space, and this holds true in winter too! Finding running water can be tricky when temperatures drop below freezing, and a heated bird bath will provide a ready source of water for wild birds in winter.
How can I heat my bird bath without electricity?
Moving your bird bath to a sunny location in winter can help keep water from freezing. However, the surest way to provide water during winter is with a heated bird bath. Alternatively, if you don't want to use electricity and you don't mind a bit of extra work, you can refresh your bird bath with warm (not hot) water during the day.
How do I keep my bird bath from freezing?
Adding a heater or de-icer to your bird bath will keep it from icing over. A fountain bubbler can also help. Additionally, keeping your bird bath full of water and placing it in a sunny location in winter will help prevent ice.
Should I empty my birdbath in the winter?
Concrete and glass bird baths can break in winter temperatures, so they should be stored away properly. Often, stone or plastic bird baths are the best solutions for winter bird habitats.
Is it better to put a birdbath in the sun or shade?
Placing your bird bath in a shady location is recommended during the summer, as it will keep the water cool and fresh longer. However, in winter, consider moving your bird bath to a sunny spot to help prevent ice.
Do birds like fountains in their bird baths?
Yes, birds are actually attracted to running water. That means that if you can locate a bird bath heater with a fountain pump, birds will find even more to love!
How often should you clean a bird bath?
To help prevent disease spread and ensure the healthiest bird habitat, aim to clean your bird bath and refresh the water about 2 to 3 times a week. You may want to do it even more when temperatures are very hot in summer.
Summary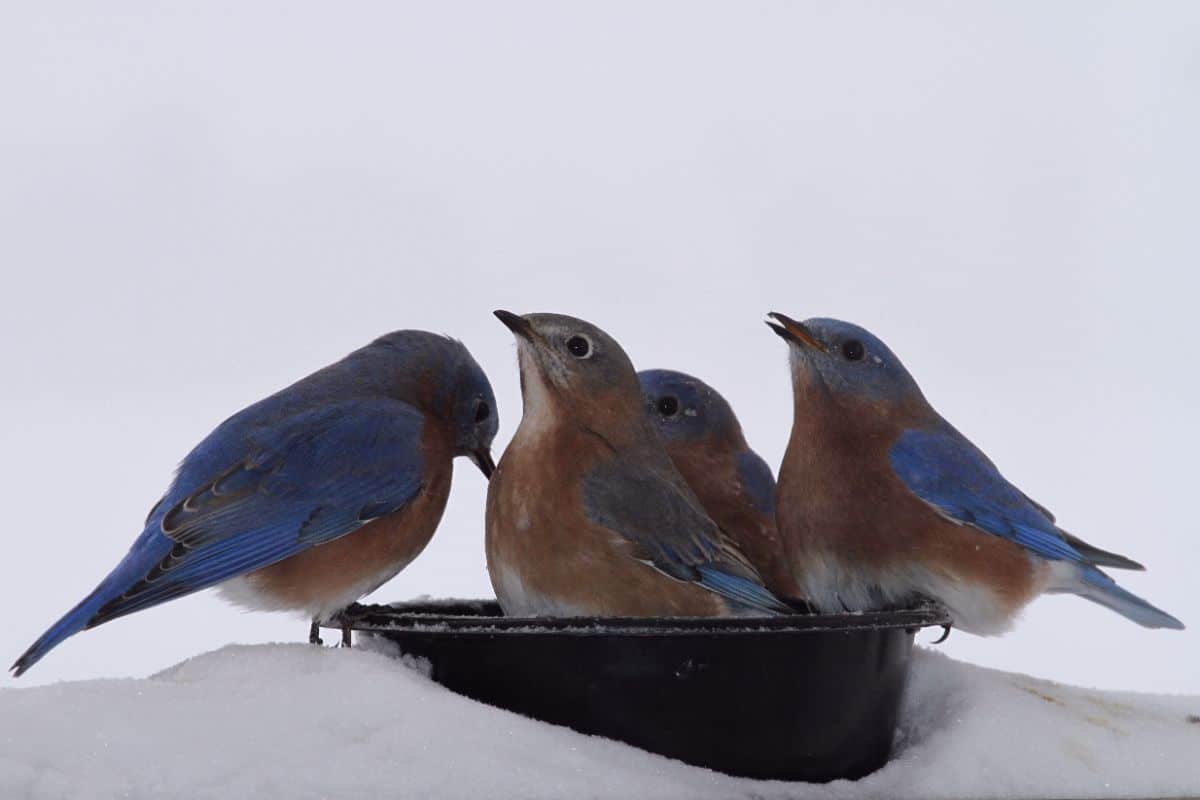 Bird baths are one important element to add to pollinator gardens and bird habitats. However, when temperatures drop, bird baths can ice over, making them completely inaccessible to thirsty birds. The solution, of course, is to add a bird bath heater or a heated bird bath, so no matter the season, your wild birds will have access to fresh water!
We hope you liked this article! If you want to learn more about creating a winter bird habitat, check out this article, which includes even more tips and suggestions to attract lots of wild birds to your winter garden.