For a succulent perennial that thrives in dry locations, consider planting sedum, also known as "stonecrop."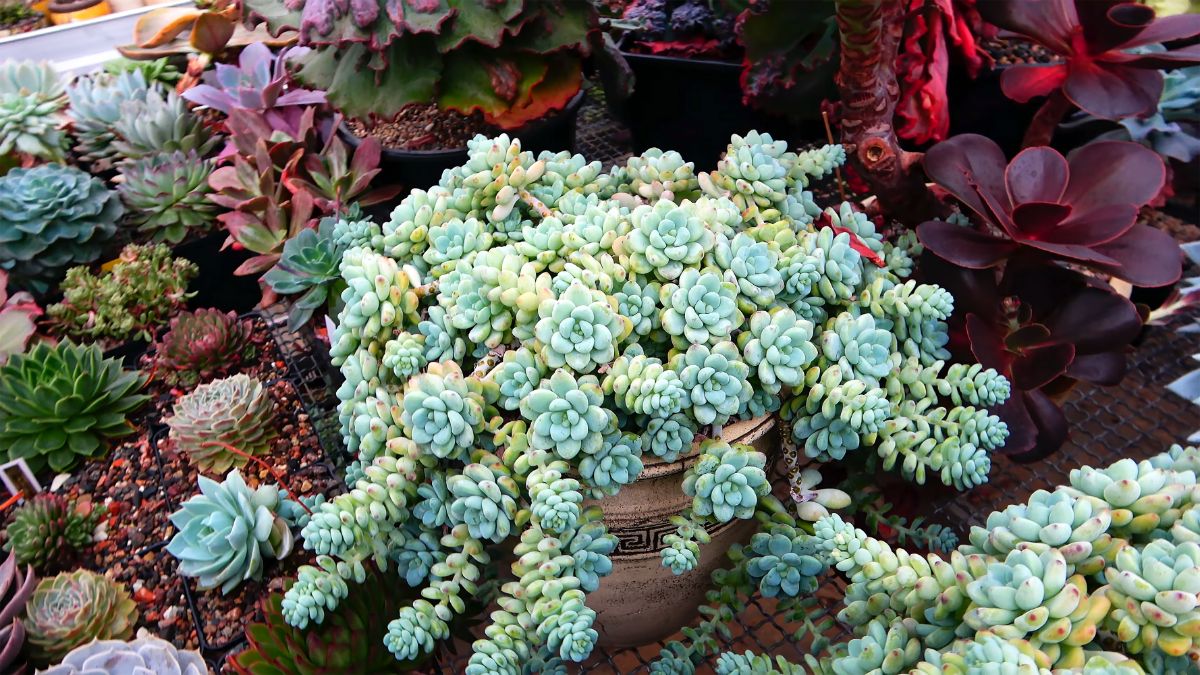 The mat-like growth of stonecrop makes it an excellent groundcover. As the name implies, it also can flourish in rocky soils where other plants might struggle.
In this post, you will learn all about planting and caring for sedum. You can jump to the section you are looking for in the table of contents below, or read on for the entire grow guide.
Jump to:
What Are Sedum Plants?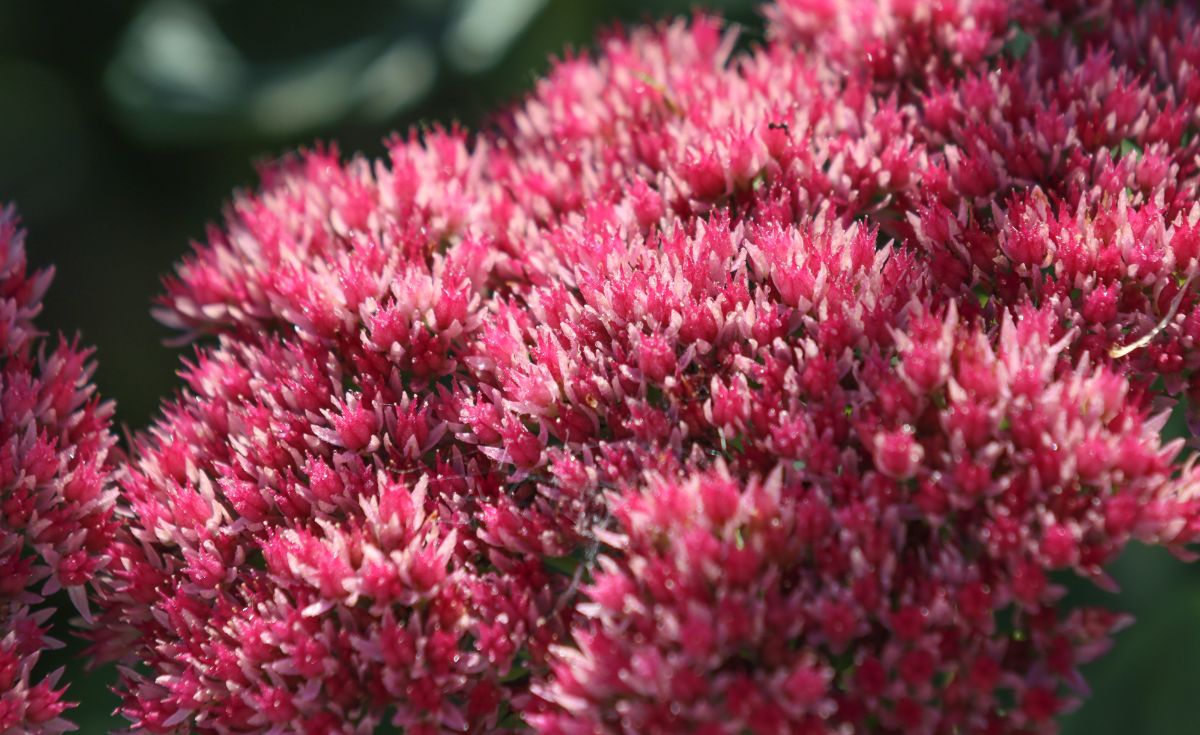 Sedum the name of a genus of plants. Originally, it was said that there were as many as 600 species in this genus, but now the number listed is between 400 and 500. The genus belongs to the Crassulaceae family, also known as the stonecrop family.
On occasion, you might hear these plants referred to as "orpines." Sometimes, "stonecrop" may also be written as two words: "stone crop."
The succulent plants in the Sedum genus fall into two principal categories:
These names describe the growth habits of different types of stonecrops.
Sedum plants are popular for their hardiness as well as the wide variety of landscaping possibilities they offer.
The leaves of sedum plants can sometimes look flat. Other times, they may have a more obvious rounded succulent appearance.
It is most common for each sedum flower to have five petals. But there are some cultivars that produce blooms with four petals or six petals.
Sedum Basics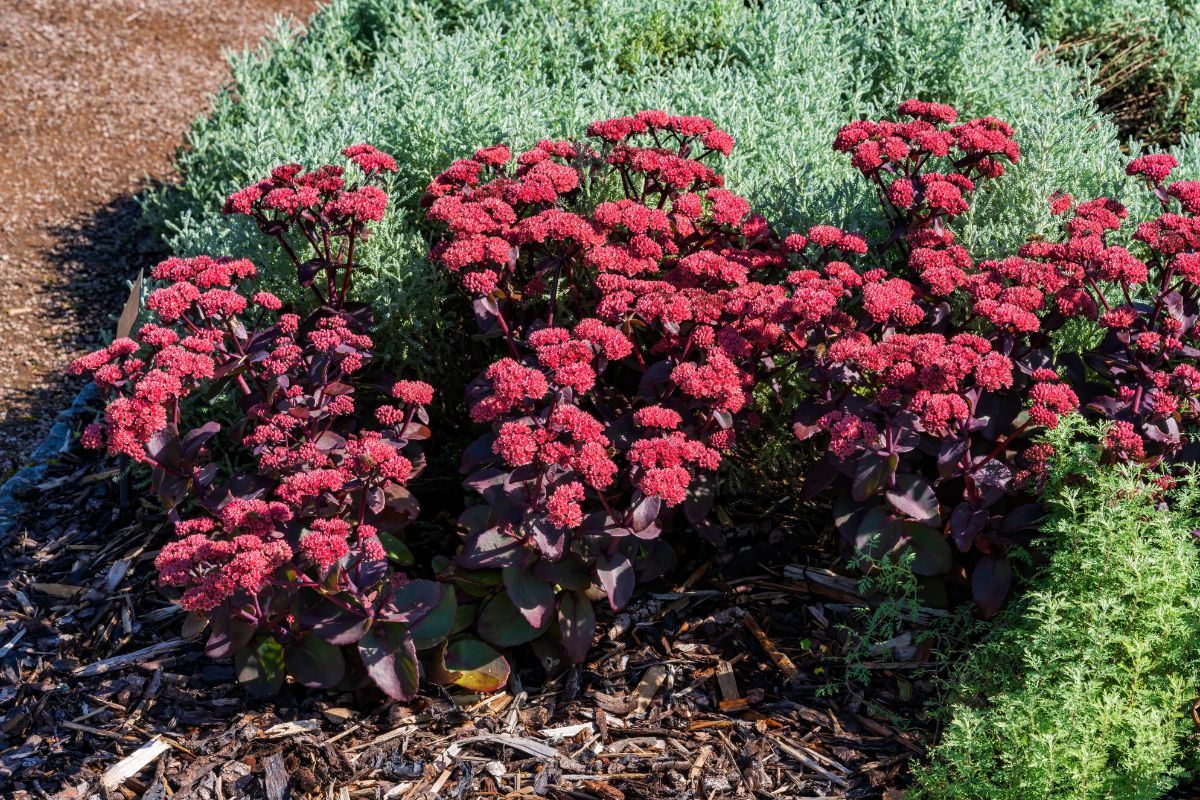 | | |
| --- | --- |
| Zones: | 4-9 |
| Blooming season: | Summer through fall |
| Expected height: | Up to 18 inches |
| Soil: | Well-drained soil |
| Sun: | Full to partial |
Where Do Stonecrop Plants Grow?
Stonecrops have a pretty wide native range. The plant is most readily associated with eastern parts of North America, but there are also members of the Sedum genus that are native to North Africa, Asia Minor and Europe.
Today, stonecrops are cultivated all around the world, including in the regions above as well as Central and South America. That said, it remains most common in the northern hemisphere.
Why Grow Sedum Plants?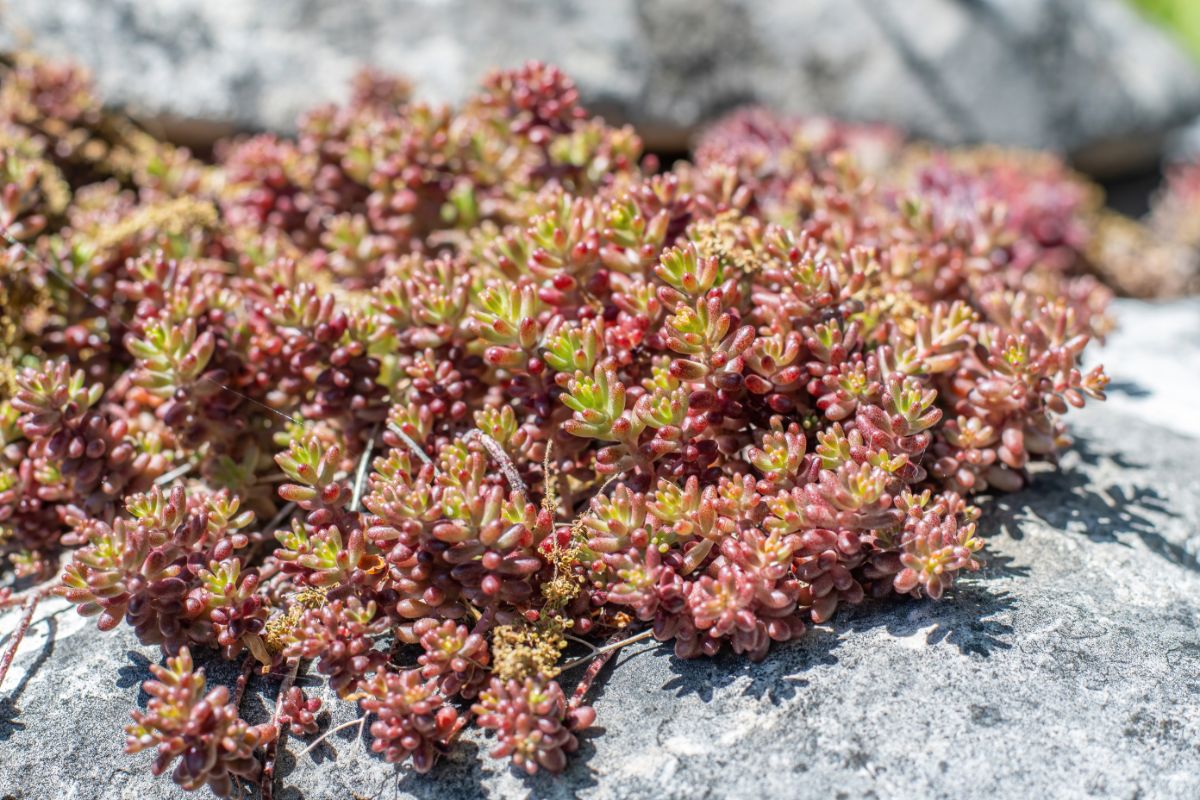 Stonecrops are such beautiful and hardy plants that it would be easier to ask, "Why not grow stonecrops?" Indeed, the Royal Horticultural Society has been so impressed with them that it has given the prestigious Award of Garden Merit to four different cultivars (Autumn Joy, Bertram Anderson, Matrona, and Ruby Glow).
Here are some reasons to grow stonecrops:
Butterflies, hummingbirds and bees will all appreciate your stonecrops. For one thing, these flowers are in bloom later than many others. Food sources for pollinators dwindle in autumn, which makes these perennials particularly enticing. Plus, the shape of the flower heads makes them particularly easy to land on.
Sedums are low-maintenance perennials. Since they are ridiculously easy to care for, they are ideal for novices or for gardeners with limited time and energy to work out in the yard.
There are endless landscaping ideas for stonecrops. Take a look at the section below to discover some of the possibilities.
Stonecrops grow nicely in poor and rocky soils. You might have a hard time finding other perennials that tolerate such soils, but sedums can fill in those areas nicely.
Sedums may be deer-resistant. This depends on the type of stonecrop you plant and how hungry the deer are, however.
It isn't just the beautiful flowers of sedum plants that are alluring. Along with attractive flowers, these plants boast lovely and unique foliage. Indeed, sometimes the succulent leaves form in ways that resemble flowers themselves.
Stonecrops are drought-resistant. If you have been looking for a plant that exhibits excellent drought tolerance for dry conditions, you have found it in stonecrop.
Sedum can be used for green roofs. The low-growing variety of stonecrop is ideal for this purpose.
Sedums are beautiful, come in many exciting varieties and cultivars, and look lovely planted among other pollinating and drought-tolerant plants.
Sedum Landscaping Ideas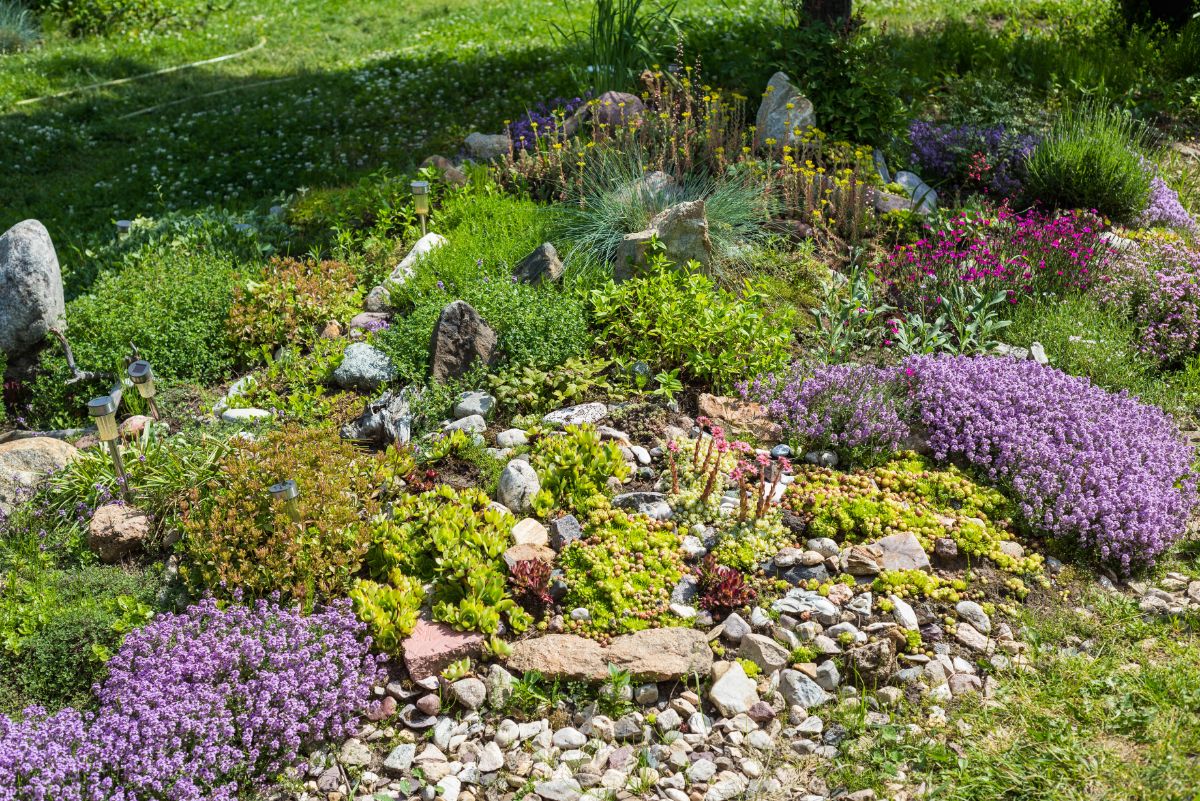 There are so many ways you can use stonecrop to beautify your landscape!
Pollinator garden: Plant sedum alongside other plants that attract pollinators to make your garden inviting to moths and butterflies.
Borders: The upright forms of sedum can make lovely borders.
Rock gardens: One of the best uses of stonecrop is in rock gardens. Either the upright or low-growing forms of sedum can work well in rocky soils.
Line walkways: Try planting low-growing stonecrop alongside your garden paths.
Retainer walls: Low-growing sedum can cascade over retainer walls for a dramatic effect.
Container garden: Stonecrops make awesome container plants for your patio or deck.
Plant sedum on a green roof. The effect is lovely, and a green roof with stonecrop can offer quite a few advantages. Take a look at the FAQ section to discover the benefits of a stonecrop roof.
Where to Buy Sedum Plants
Ready to plant these hardy, fast-growing plants in your rock garden, along your paths or on your retainer walls? Click the link below to shop sedum cultivars online.
Sedum dasyphyllum Major Corsican Stonecrop (4 inch)
We guarantee plant's safe arrival otherwise we will refund or send you a replacement plant
Sedum dasyphyllum 'Minor' is a small, perennial succulent plant, up to 5 inches (12.5 cm) tall when in flower, with blue-green and purple (more purple in part sun), opposite leaves and a creeping...
Recommended Sedum Varieties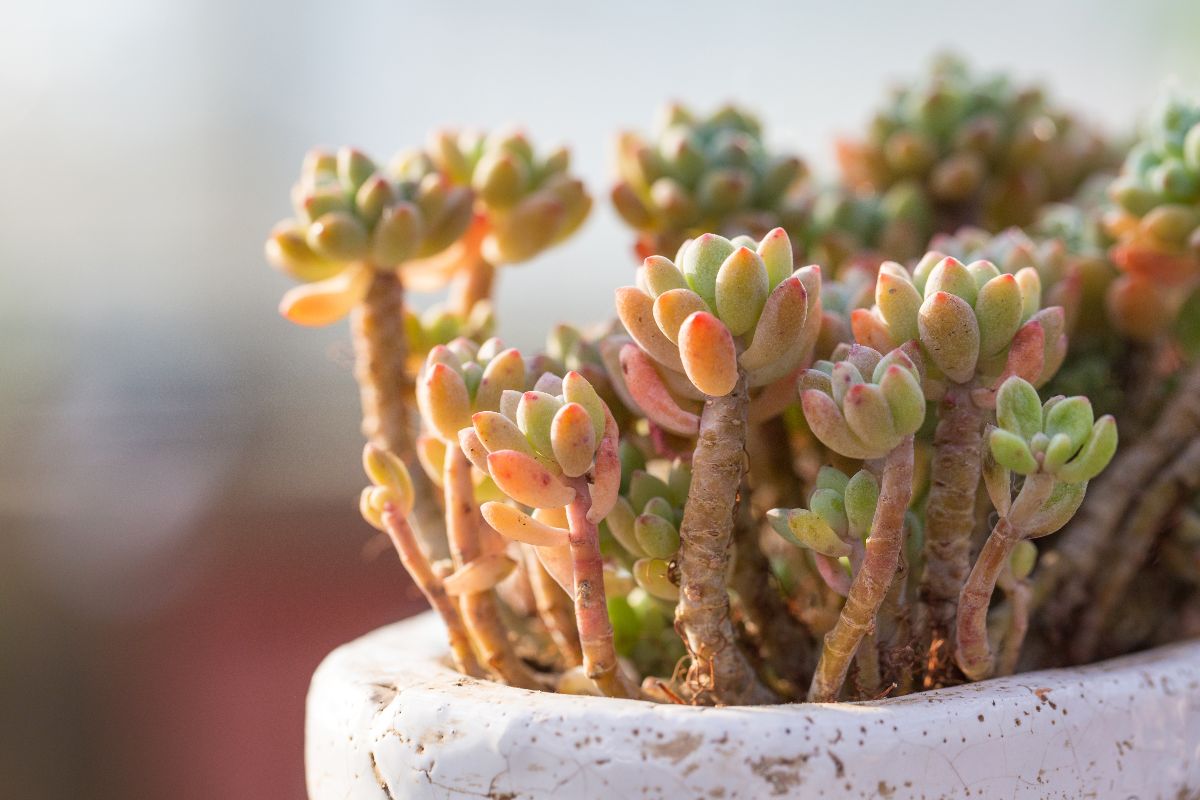 There are many attractive sedum cultivars and varieties you can consider for your garden. Here are a few you will love.
Purple Emperor: The purple leaves of this upright stonecrop cultivar make it a stunning and distinctive addition to any rock garden. But you will also love the pink flowers that blossom every year. It is a favorite among pollinators.
Broadleaf: Each yellow flower on this sprawling cultivar of stonecrop is like a burst of sunlight. The succulent leaves have a silvery hue, making for a nice contrast with the blooms.
White Sedum: This type of stonecrop produces green leaves which gradually take on a reddish hue as summer gives way to fall. The white flowers give these mat-forming sedums their names. If the plant endues dry spells, the leaves might take on a pink tinge.
Pink Mongolian Stonecrop: While sedums like dry soil in general, Pink Mongolian Stonecrop is especially well suited to it. The delicate bright-pink flowers will enchant you.
Back in Black: Looking for stonecrop with black foliage? These upright sedums are part of the ROCK 'N GROW® collection, and are named for their dark leaves. The plant produces stunning cream and red flowers to contrast with the black leaves.
Blue Pearl: This cultivar of stonecrop is named for its distinctive blue foliage. As is typical with plants, the "blue" hue here describes something more akin to purple, but the cool color will certainly put you in mind of blue. The flowers are bright pink.
Sedum hintonii: The fleshy leaves of this type of stonecrop have white "hair" growing on them, giving them a fuzzy look.
Abbey Dore: The upright stems of this cultivar of stonecrop feature stunning mounds of bicolored star-shaped flowers. The petals are pink, but if you look in the centers, you will see the eyes are reddish. The blue-green leaves are also lovely.
Autumn Joy: Perhaps the best-known cultivar of stonecrop is "Autumn Joy." This cultivar takes its name from its bloom season, which begins in August and continues into autumn. The flowers initially bloom in pink, then change toward a bronzy color before finally turning red. Many people leave the flower heads in place during the winter.
Blue Elf: This cultivar of stonecrop will delight you with the contrast between the dark pinkish blooms and the gray-blue foliage.
Fulda Glow: If you want colorful foliage, it is hard to beat this cultivar. The leaves are reddish and turn even more so when fall arrives. It also produces red blossoms.
Blue Carpet: Just as the name implies, this type of sedum grows in a mat-like habit. The foliage is evergreen and has a bluish hue.
Atlantis: The leaves of this sedum cultivar are eye-catching, as are the flowers. The blooms are yellow to match the borders around the green foliage.
Coraljade: This is another stunning variety of stonecrop that will catch your attention. The green buds form tight, ball-shaped clusters, then open to reveal pink blossoms.
Red Wiggle: This unusual type of sedum features lots of little stalks of foliage which are a mix of bright green and red. While you may sometimes spot yellow flowers, it is really the foliage that is the draw.
Harvest Moon: The rosette leaves of this cultivar are a beautiful blend of silvery and rosy hues. The blossoms are yellow.
Lime Zinger: Plant this sedum cultivar if you want spectacular green leaves that are rimmed with deep red. You will also enjoy the long-lasting pink blossoms. It is a popular choice for green roofs since you can use it to achieve a cascading effect.
Bundle of Joy: This beautiful cultivar produces neat domes of blossoms in white.
Touchdown Teak: The vivid contrast between the dark leaves and the rosy flowers makes this cultivar of sedum stand out in any perennial garden.
Pink Bomb: The dramatic name of this cultivar does a great job describing its appearance. The explosions of pink blossoms really do look like gorgeous bombs going off! The foliage has a pleasing green hue.
Cutting Edge: This type of stonecrop takes its name from the serrated appearance of the leaf edges. There are stripes of yellow and green on the foliage, and the flowers have a sunny yellow hue. It is a great option if you want a stonecrop cultivar that deer will not like!
Little Miss Sunshine: Speaking of sunny hues, you cannot beat the bright yellow blossoms of "Little Miss Sunshine." They stand out all the more since the foliage is a deep, dark green.
Night Embers: This poetically-named upright cultivar of stonecrop features dark purplish leaves topped with pink blossoms.
Sedum Thunderhead: The deep reddish-pinkish flowers of this cultivar of stonecrop are captivating atop upright stems with dark gray-green leaves.
Turkish Delight: This cultivar features dark burgundy leaves that are near-black in color. Contrasting brightly with the dark foliage are light pink blossoms. Since it is a dwarf sedum cultivar, you might want to consider it for your container garden.
Those are just a few of the varieties of sedum! Be sure to check out others. You will love discovering the colorful flowers and foliage that make stonecrops so diverse.
When Do Sedum Plants Bloom?
Sedums may bloom as early as July and continue to blossom through autumn.
How Long Do Stonecrops Bloom?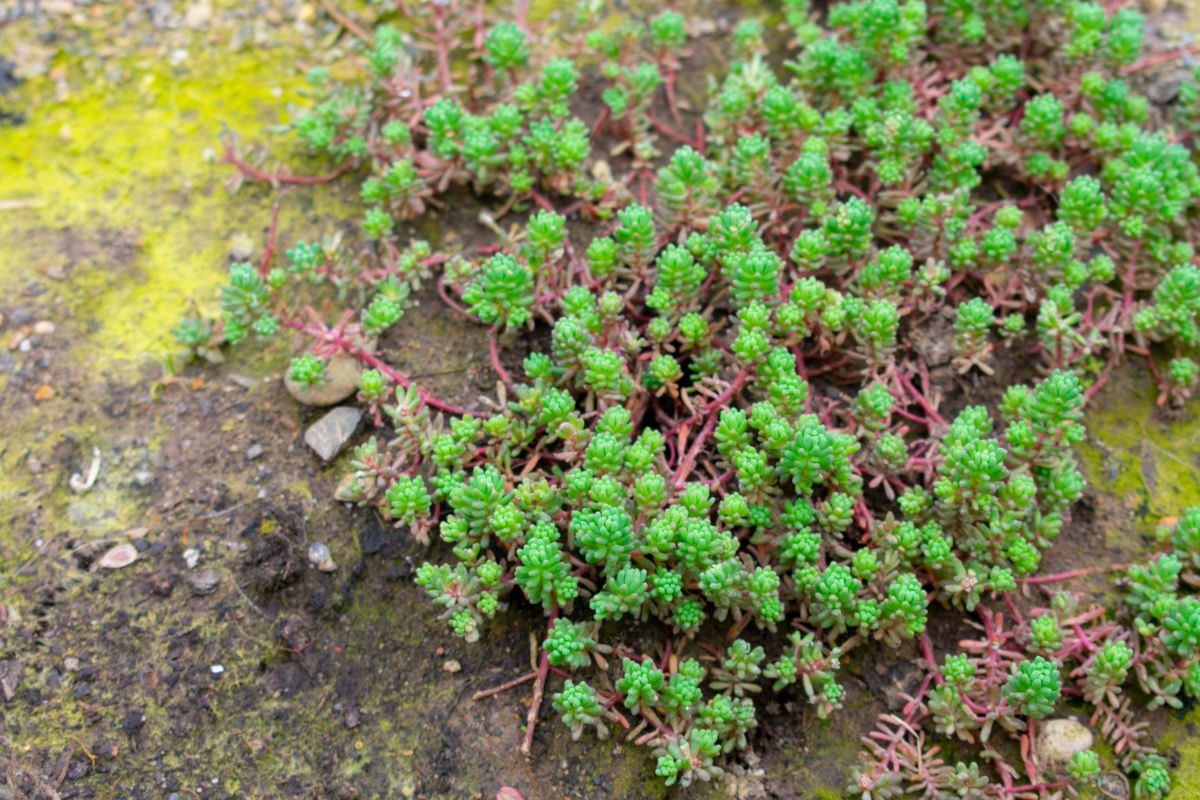 Each individual sedum plant tends to bloom for around 6-8 weeks.
If you want to maximize the total bloom season for your sedums, you can deadhead them. You also can plant more than one variety. Some sedums bloom earlier while others bloom later in the season.
When to Plant Sedum Plants
Wait until the last frost for the year is over and then plant sedum in early spring.
Ideal Growing Conditions for Sedum Plants
To have happy, thriving sedums in your garden, you need to plant them in optimal growing conditions. Let's take a look at the sun, water and soil requirements for stonecrops.
How Much Sun Do Sedum Plants Need?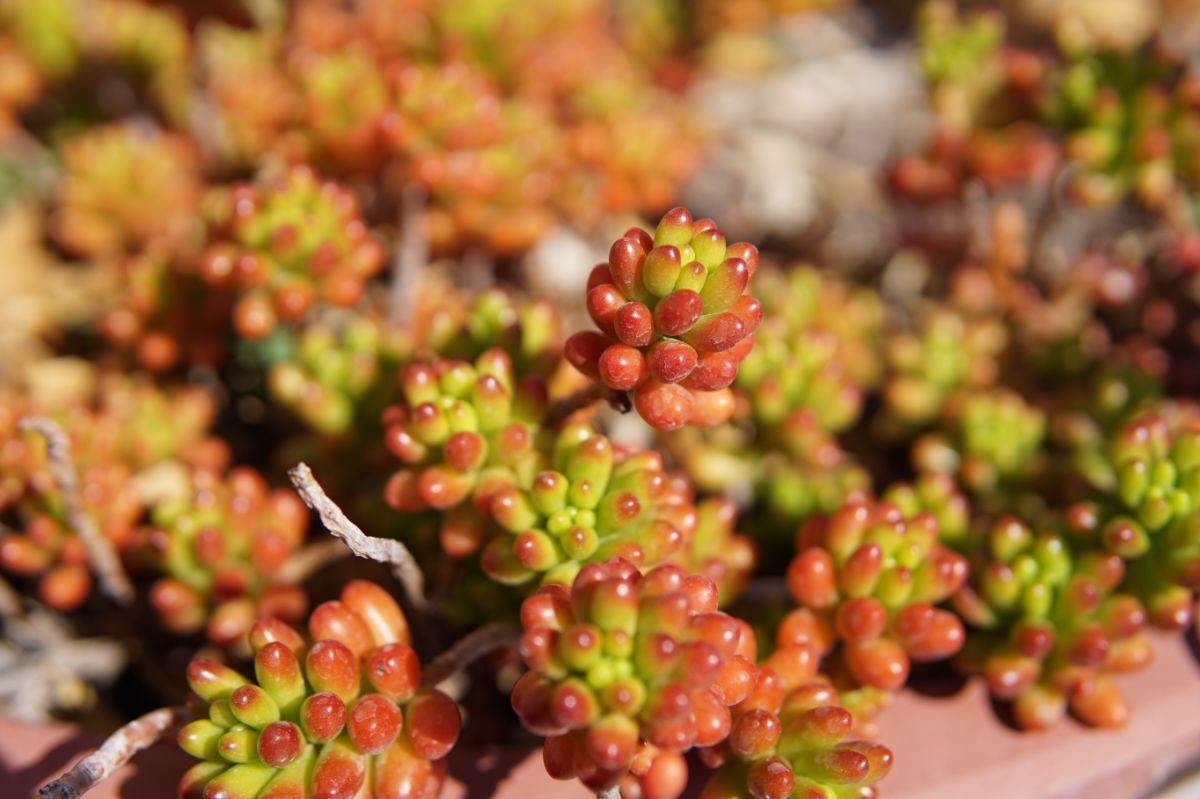 The best way to grow sedums is in full sun. If you must, however, you can get away with growing stonecrops in partial shade.
Wherever you plant your sedums, try and give them at least six hours of direct sunlight. Any less than that, and the color of the leaves may not be as vivid.
What Type of Soil is Right for Sedum Plants?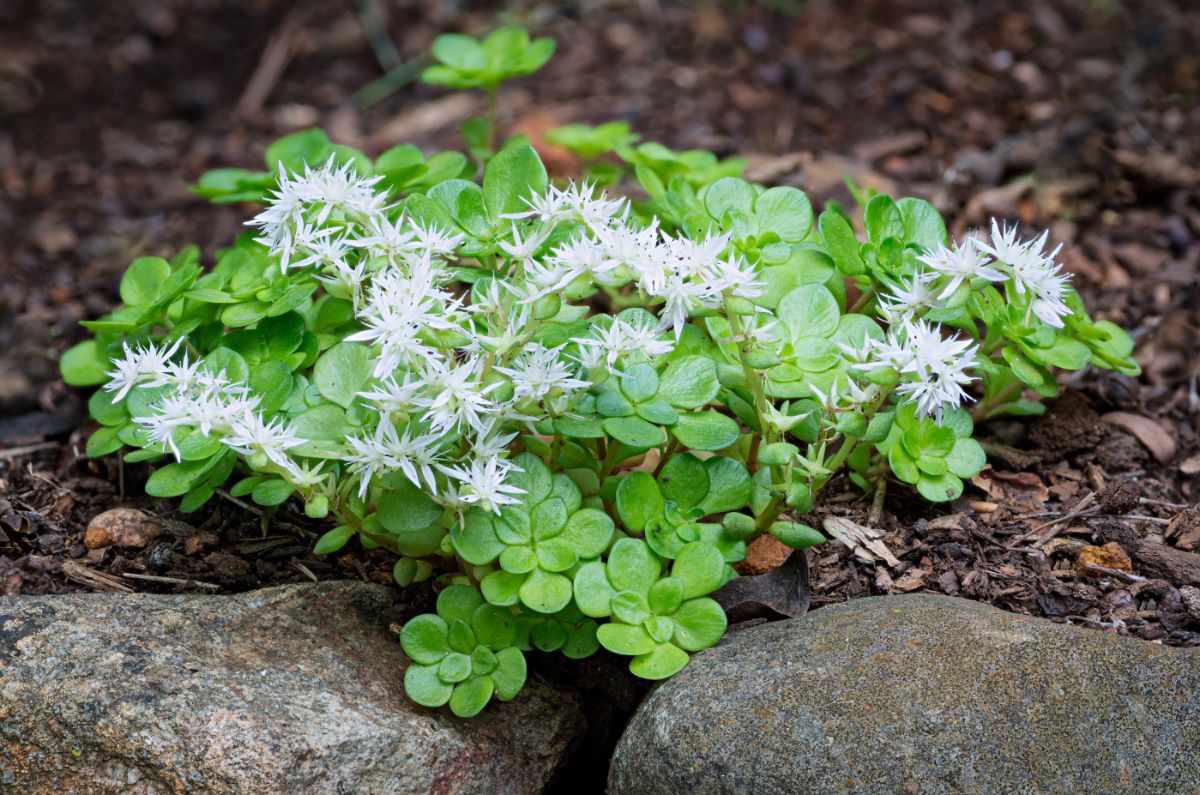 As far as soil goes, stonecrops prefer to be planted in well-draining soil. The pH should ideally be neutral or slightly alkaline.
Wet soil is not good for sedum plants; these succulents require excellent drainage.
If you have poor soil, sandy soil, or rocky soil, your stonecrops will probably love it.
Is your soil too acidic? You can make it more basic by adding lime or dolomite.
How Much Water Do Sedum Plants Need?
Stonecrops are renowned for their drought tolerance. But that does not mean you do not need to water them.
Providing some perspective on watering requirements for hardy succulents such as sedum, Mountain Crest Gardens writes, "Hardy succulents are alpine dwellers and will grow best if you can mimic the environmental conditions of the mountains from which they came. Just as they receive regular rainfall when growing in the wild, hardy succulents will need about 0.5" to 1.0" of water (including precipitation) once a week to look their best in the hottest, driest periods of their summer growing season."
The site also provides some very specific information about the time of day that is best for watering stonecrops.
Mountain Crest Gardens continues, "It's best to water in the early morning or evening to limit water loss to evaporation and prevent beads of water from magnifying the afternoon sun and burning the leaves."
The hotter and brighter your climate is, the more critical the advice above becomes.
How to Plant Sedum Plants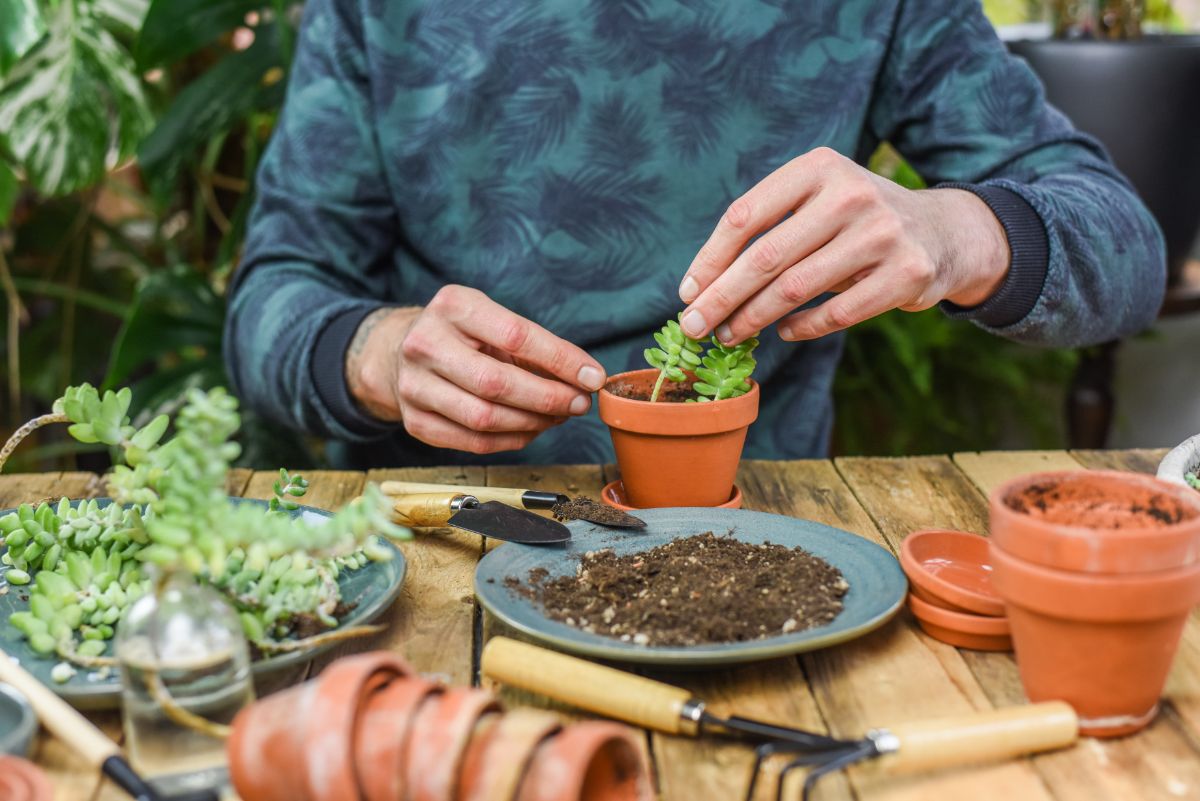 Like other plants, stonecrop can be started using a nursery plant, or you can start it from a seed or cutting.
For our directions below on container and ground planting, we will assume you are using a nursery plant. We will then tell you how to start sedum from seeds or cuttings in the sections that follow.
Container Planting
Here is how you can plant sedum in containers.
Choose the right pot. You not only need a container that is the right size, but also the right material. Stonecrops can be heavy, so a plastic container may not provide the right support. Instead, you should go with clay.
If the container you choose does not have drainage holes, you must add them.
Ground Planting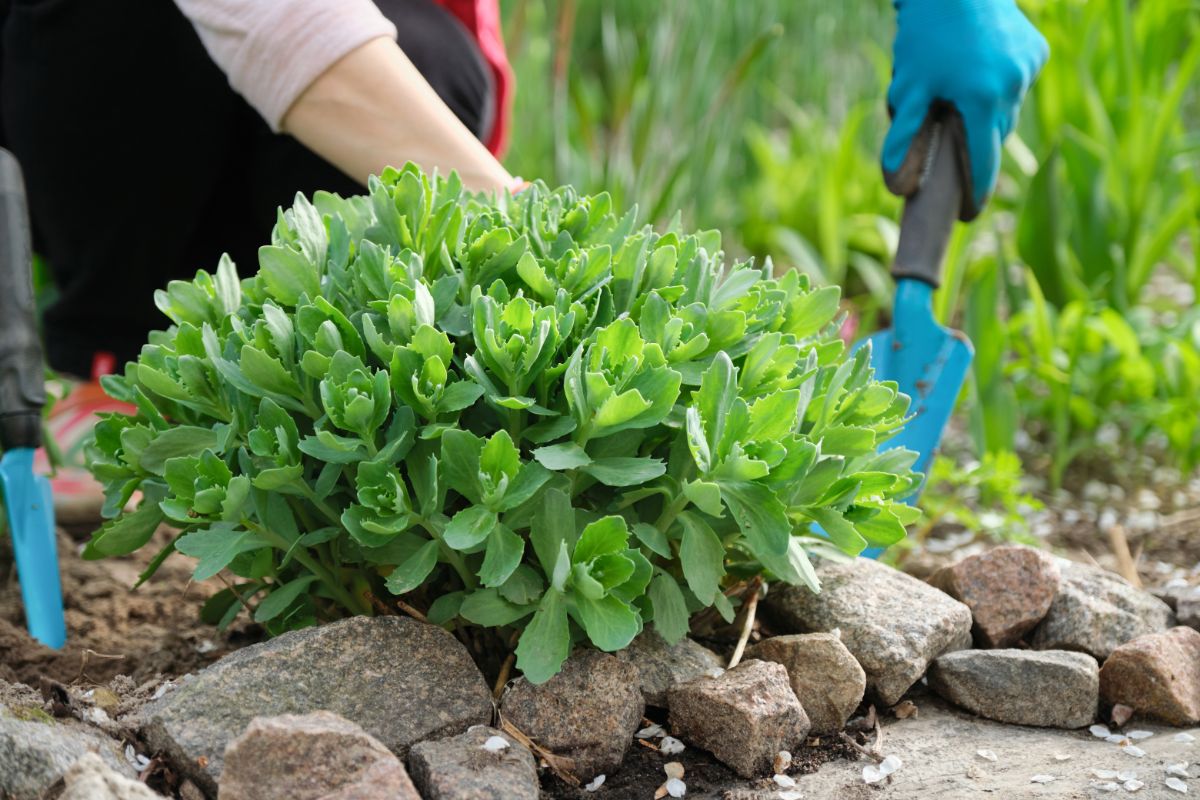 Start by choosing a suitable site in your garden beds for your sedums.
The spacing for sedums depends on the type you are growing. If they are tall varieties, they should have about 1-2 feet of space between them. If they are growing low to the ground, they will require between 6 inches to 1 foot of space.
Starting Sedum Plants from Seed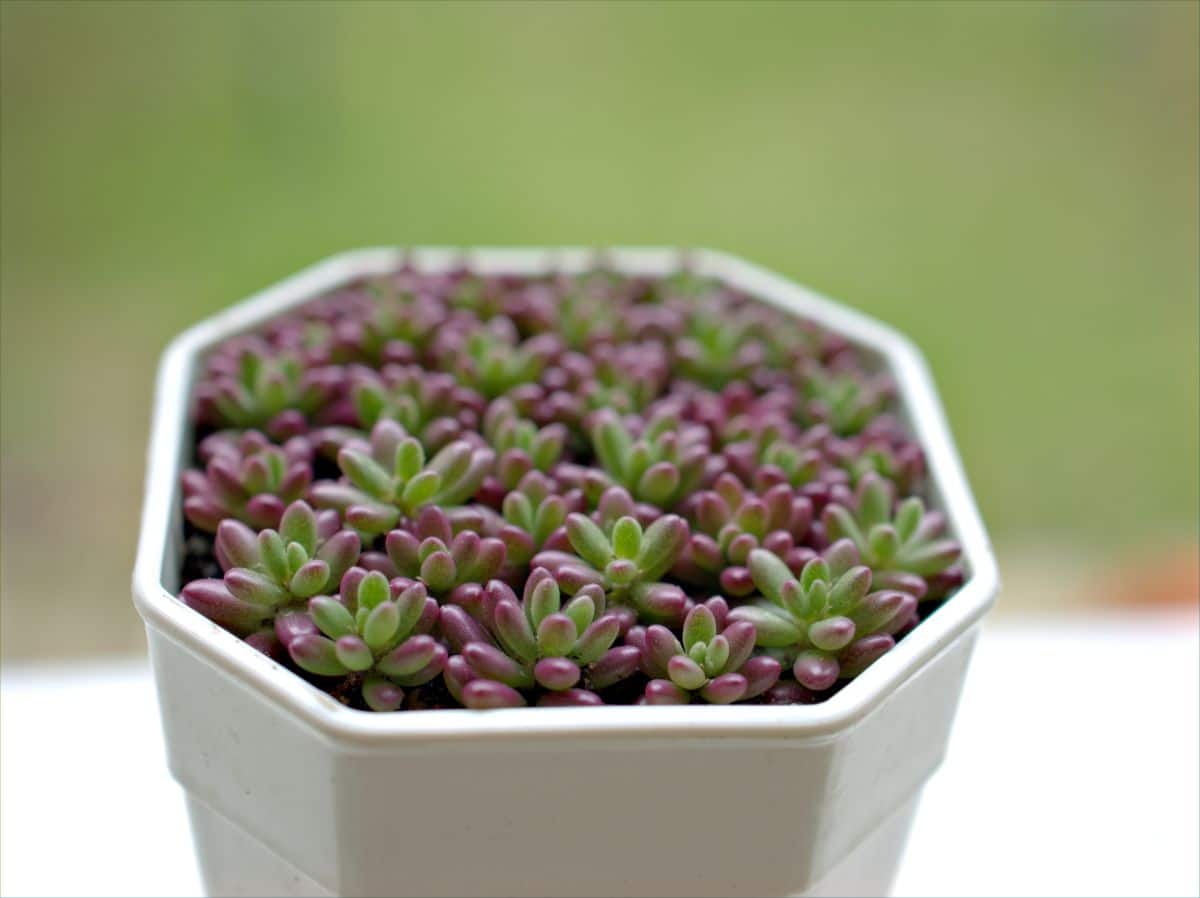 You should begin the process of germinating your stonecrop seeds around 4-6 weeks before you expect the last frost for the year.
Get a pot or tray and add drainage holes if they are not already present.
Fill the pot with seed-starting mix. Moisten it.
After the seed-starting mix is adequately moist, push down on the top of it. It should have a firm consistency.
Place the seeds on top of the soil. Give each one about an inch of space.
Add a thin layer of the seed-starting mix to the top of the seeds.
Lightly press down on the soil, but do not crush the seeds or push them down into the soil. You just want to ensure that the seeds have sufficient direct contact with the soil.
Use a spray bottle to get the top of the soil moist. Do not pour water in directly, or you will wash out the seeds.
You need the soil to stay moist, so cover the container using a lid or plastic wrap.
Choose a warm spot in your home for your sedum seeds to germinate. 65-75 degrees Fahrenheit is ideal.
Check the moisture level of the soil to make sure it is not drying out. Use the spray bottle when you need to, but do not overdo it. The soil should not be wet, just moist.
Within around 2-4 weeks, the sedum seeds should germinate.
You can now take off the cover. Provide lots of sun or artificial light while the seedlings are growing.
Once the seedlings are ready to go outside, harden them. Take them outdoors briefly, then bring them back in. Take them outdoors for longer, then back in. Repeat for longer periods outdoors until they adapt.
After your sedum seedlings are hardened, they are ready to transplant into the ground or their permanent containers.
Starting Sedum Plants from Cuttings
Here is how to start sedum plants from cuttings:
Take a cutting of roughly 6 inches using scissors. Be sure to cut under a leaf node.
You are going to be growing your cutting in water, so you need to trim away the bottom leaves. Otherwise, they will rot.
Fill a jar with water and put the cutting inside. The leaf node that is near the base of the stem should be submerged. The water should not be cold.
Find a bright location for the jar where your cutting will receive plenty of sunlight.
Wait for the cutting to form roots. Do not leave it in the same water for more than a couple of days, however. Doing so will lead to rot.
As the roots develop, continue to change the water and wait for them to grow. You will enjoy watching this process through the jar.
Once several weeks have gone by, you will be able to transplant your stonecrop into a container or your garden bed. If you had it indoors during the rooting process, you will need to harden it. If it was outdoors already, just plant it.
How to Care for Stonecrops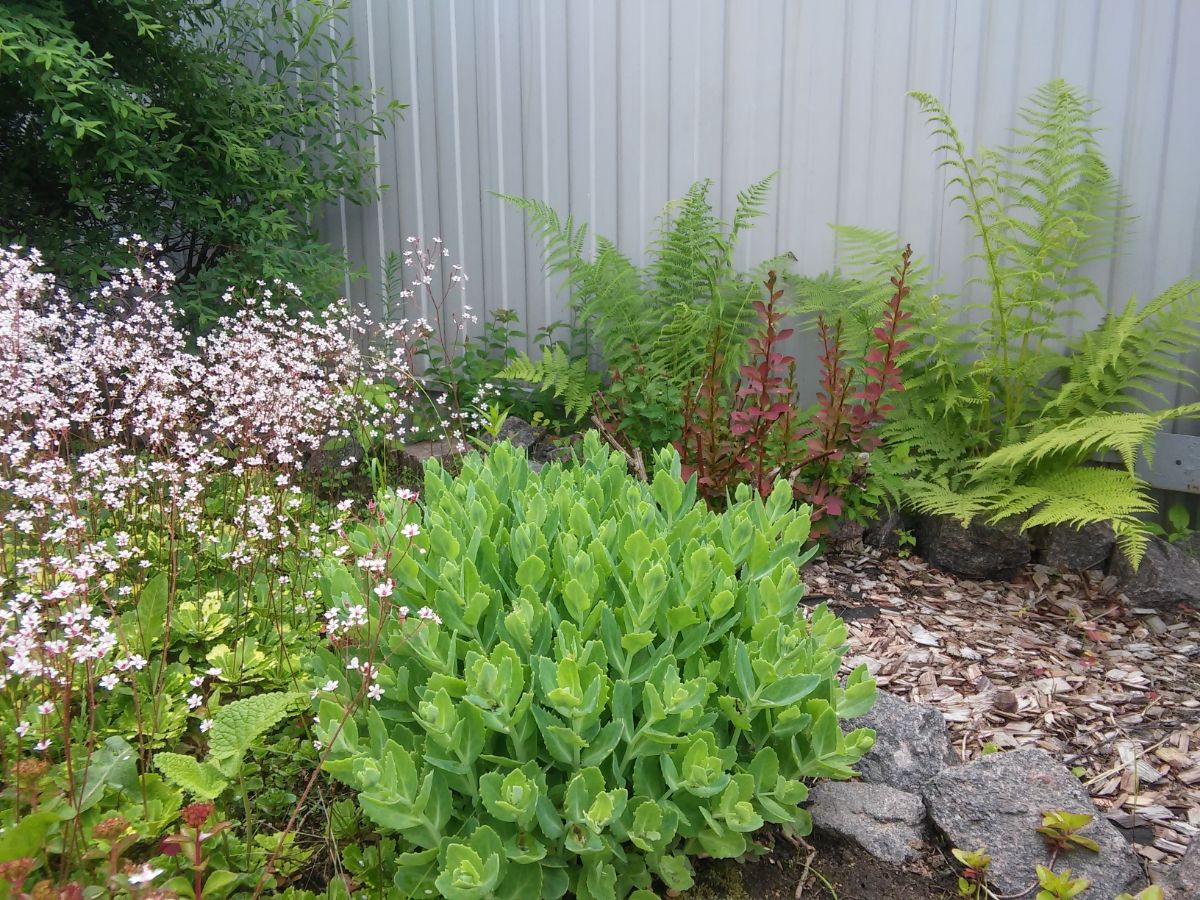 You now know how to plant stonecrops. But how do you maintain them? Below, we teach you how to fertilize, mulch, stake and prune your stonecrops.
How to Fertilize Sedum Plants
Sedum do like fertilizers, but they can be picky about both the type of fertilizer and the timing.
Texas A&M University says, "Avoid high nitrogen fertilizers, using a 1:1:1 analysis. Fertilize during the growth period but withhold fertilizer during the slow growth or rest periods that many of these plants go through … Over fertilization can also cause weak plants."
How to Mulch Sedum Plants
Stonecrop plants usually do fine without any mulch in the summer or winter—one less thing to worry about!
How to Stake Sedum Plants
The types of stonecrops that grow low to the ground do not require staking. But the more upright cultivars can sometimes get a bit floppy.
Staking your sedums is as simple as using twine to attach them to wooden stakes. The best time to do this job each year is typically in midsummer.
How to Prune Sedum Plants
Pruning stonecrops can involve deadheading and trimming. How much you need to do of either is contingent on the effect you are trying to achieve throughout the year. It can be a small amount of work or a moderate amount of work—it is very much up to you.
How to Deadhead Sedum Plants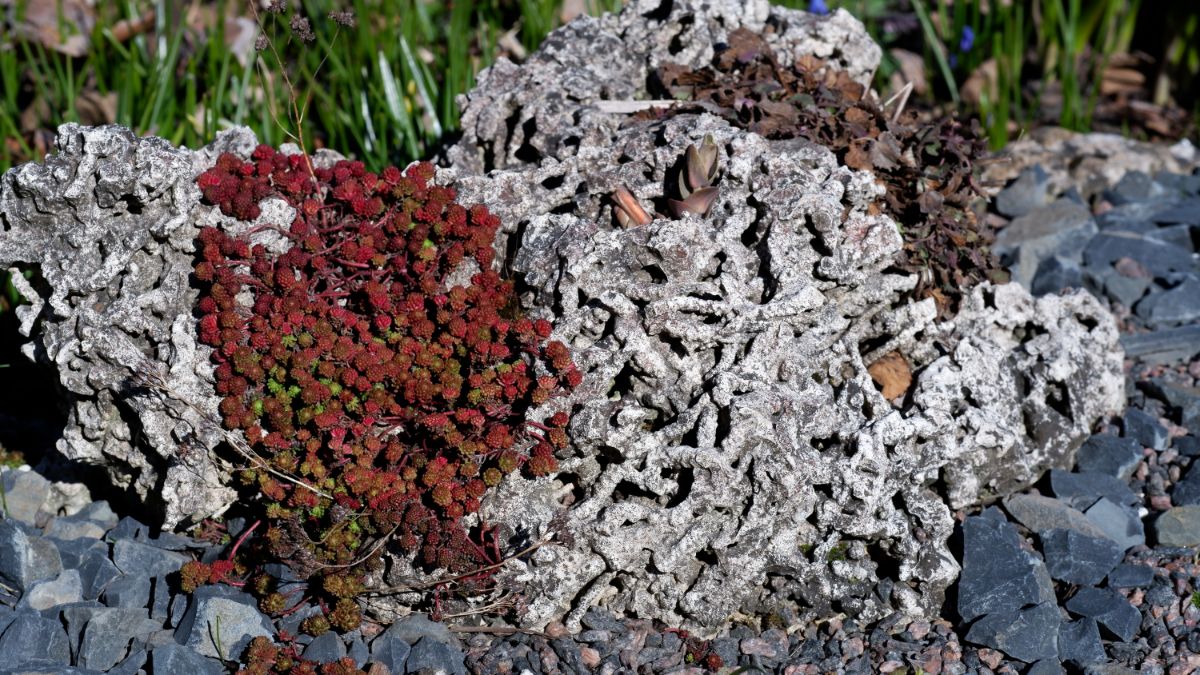 Do you need to deadhead sedums? Removing wilted blooms from your stonecrop plants is optional. You can skip it if you are not feeling motivated. But if you are, you should find that deadheading gives your plant a tidier appearance.
That said, some types of sedum plants produce flower heads that remain attractive even after they wilt. They can add winter interest to your garden. So, you might want to leave them be.
When to Cut Back Sedum Plants
If you notice your stonecrops taking on a leggy appearance, you might want to trim them. Try not to remove flower buds. You can use garden shears for this task, but you might not need them. The stems are easy to pinch off by hand.
You are free to cut back your stonecrop plants in winter, or you can wait until spring to preserve the old flower heads.
How to Divide and Transplant Sedum Plants
Every few years, you should divide your sedums. We have seen some sources say you divide sedums in spring, while others suggest you do it in fall.
The English Garden says, "Many people prefer to do this in spring but the weather is not reliable, and I would rather do it in autumn when temperatures are becoming cooler and there is a better guarantee of rain."
The steps for dividing sedum plants are as follows:
The day before you plant to divide your stonecrop plant, water it.
If you are dividing in fall, trim back dead stems.
Dig down with a space around your sedum. You should give the roots approximately half a foot of clearance.
Push the spade down under the roots. Push upward until you can remove the sedum from the ground.
Dust loose soil from the roots so they are easier to see and work with.
Separate the roots to create your divisions. You usually can do this working entirely by hand.
Transplant the divisions into new holes.
Tamp down the soil. Then, water deeply.
Are Stonecrops Vulnerable to Diseases or Pests?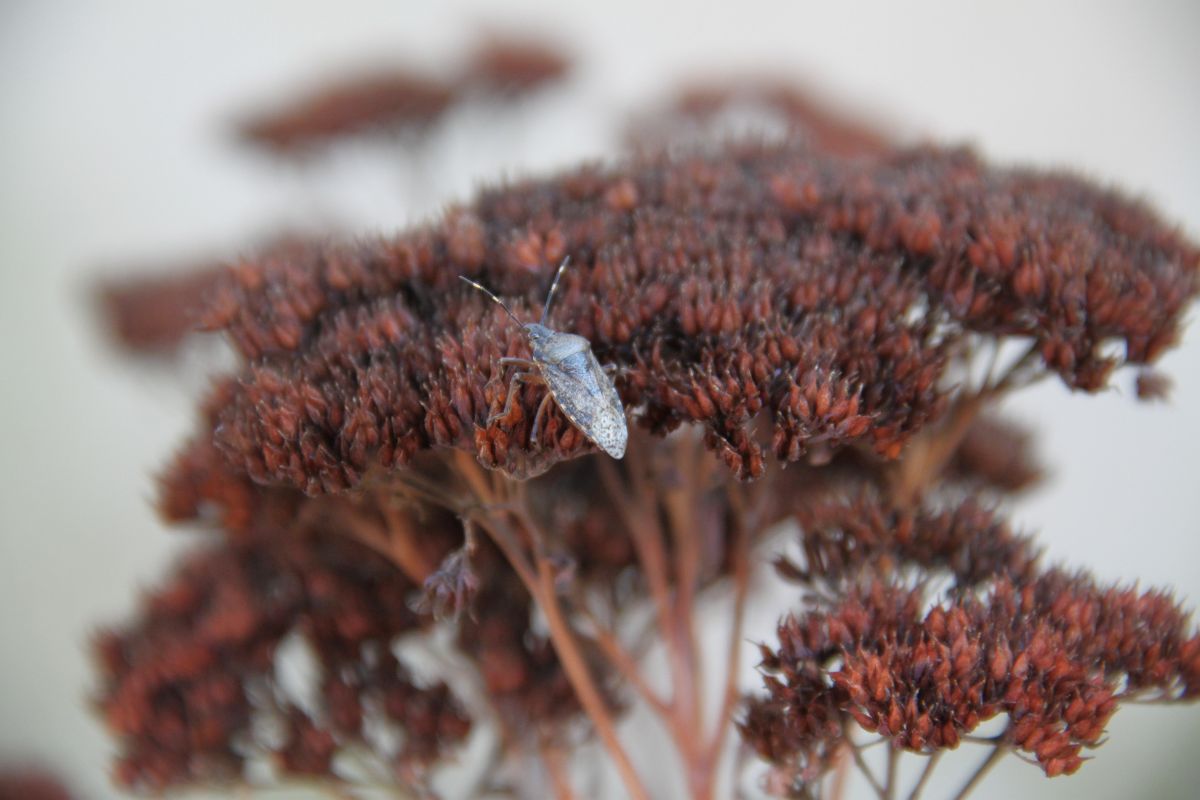 You need to be on the lookout for common pests that infest stonecrops. In the insect department, spider mites, ambush bugs, aphids, scale insects, black vine weevils, and mealybugs may all become problems. Slugs and snails may eat stonecrops. So might deer, voles, squirrels, and even birds.
Stem and crown rot are the most common diseases mentioned to affect stonecrops. Other diseases that can afflict sedum plants include root rot, gray mold, powdery mildew, leaf spots, and rust.
Ensuring that your sedum plants get sufficient air circulation and drainage can help prevent many of these problems.
Recommended Planting Combinations for Sedum
Here are some ideas for what you can plant with sedum in your perennial gardens:
Candytufts: Like stonecrop, candytufts flourish in rocky settings. Just as sedum plants can be evergreen, the same is true for candytufts. They do well in dry conditions, and the dense mounds of flowers make an attractive accompaniment those of stonecrops.
Black-eyed Susans: Thriving in full sun and well-drained soil, these classic blooms look great next to sedums. They may also attract the attention of nearby pollinators.
Yellow alyssum: Black-eyed Susans are not your only option for making your garden feel sunnier. Yellow alyssum flowers look like dappled motes of sunshine, and they grow well in rock gardens near sedum.
Blue fescue: If you are looking for a grass to plant beside sedum, blue fescue is a great choice. It loves full sun, but can tolerate partial shade.
Snow-in-summer: As you might guess, this plant blossoms in summer and produces white blooms. Next to sedums, it can add a dusting of "snow" to your summer rock garden.
Phlox: You probably are not all that surprised to find phlox on this list, are you? Phlox is a favorite companion for a wide range of perennial flowers. But since it loves rocky and sandy soils, it is especially ideal for planting next to stonecrops.
Frequently Asked Questions About Growing Sedum Plants
What eats sedum Plants?
Insects, slugs, snails, mammals and birds are all possible culprits if something is eating your stonecrop plants.
Are sedum plants annual or perennial?
The vast majority of sedum plants are hardy perennials. That means they return every year for you to enjoy.
There are some types of stonecrop plants that are classified as tender perennials. That means in some regions, they come back every year left outside, but in others, they may need to be overwintered indoors to make it to the next year.
Are sedums evergreen?
That depends on your climate and the type of sedum plant you have. If you have one of the taller varieties of stonecrop, it will enter a dormant stage during winter.

But if you have one of the low-growing types of stonecrop plants, it may be evergreen if you do not live in a location with harsh winters. The colors of the leaves may change during winter, however.
How do you overwinter sedum plants?
If you live in a climate that is cold enough for your sedums to fall into the "tender perennial" category, you may need to take steps to protect them from harsh conditions over the winter.

If you are mainly concerned about moisture/precipitation, you could try putting the sedums in pots. The soil in the pots will dry out more quickly than soil in your garden beds. Put the pots in a sheltered spot.

But if you are mainly concerned with the cold temperatures, it may be wise to bring the pots indoors. If you have nowhere to put them and absolutely must keep them outside, try wrapping the containers in an insulating material.
Does sedum spread quickly?
Yes, sedum spreads quickly, which can make it a great option to quickly fill out a part of your garden.
But thankfully, stonecrops are not invasive plants. Not only that, but if you need to transplant them, it is pretty easy to do.
So, they really do offer you the best of all worlds.
Is sedum deer-resistant?
Certain cultivars of this plant are renowned for being off-putting to deer. That said, there are still reports of deer eating stonecrops. In particular, it may become an appealing snack in late autumn or winter.
Is sedum poisonous to dogs and cats?
We did not find sedum or stonecrop on any lists of toxic plants for cats or dogs. Having sedum in your yard should not be a hazard.
Is sedum edible?
Yes, you can eat the leaves of stonecrop plants. Indeed, one type of sedum that is particularly popular for cuisine is yellow stonecrop. The flavor can be described as subtle and peppery.

That said, you should not go overboard eating sedum. If you have too much of it, you might end up with an upset stomach. You also should not eat the toxic flowers.
Does sedum work well for green roofs?
Yes, sedum works very well for green roof applications. Rotunda Roundhouses explains, "The sedum plants on green roofs can capture airborne pollutants and capture CO2. The temperature moderating effects of green roofs can reduce demand on power plants, and potentially decrease the amount of CO2 and other polluting by-products being released into the air."

So, a sedum green roof is an awesome option if you want to do your part to fight climate change.

The same builder lists some additional benefits a sedum roof can offer, including a reduction in storm-water run-off, thermal insulation, advantages for pollinators, and aesthetic beauty.