For a woody perennial that brings dramatic blooms to your garden year after year, consider planting rhododendrons.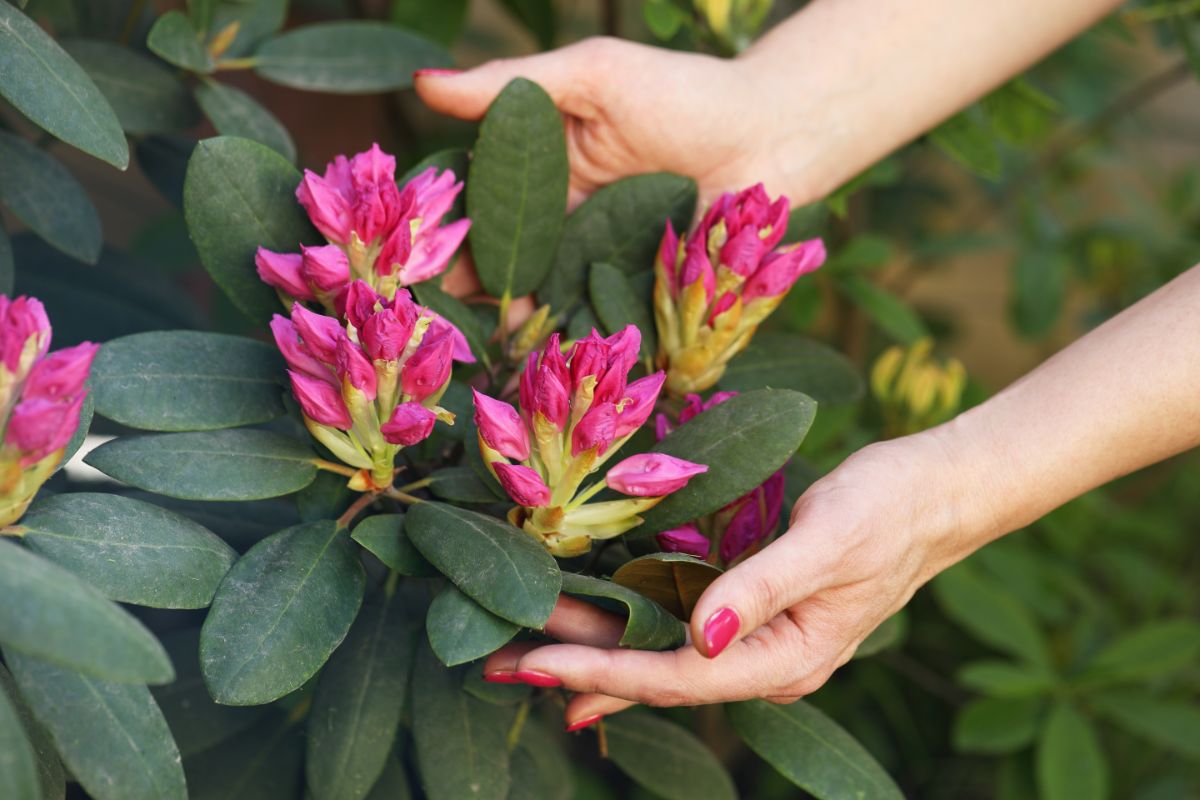 If you are looking to learn about planting and maintaining azaleas, you are also in the right place, since azaleas are types of rhododendrons.
You can skip to any section quickly using our advanced jump below, or read the full guide to become a rhododendron expert.
Jump to:
What Are Rhododendrons?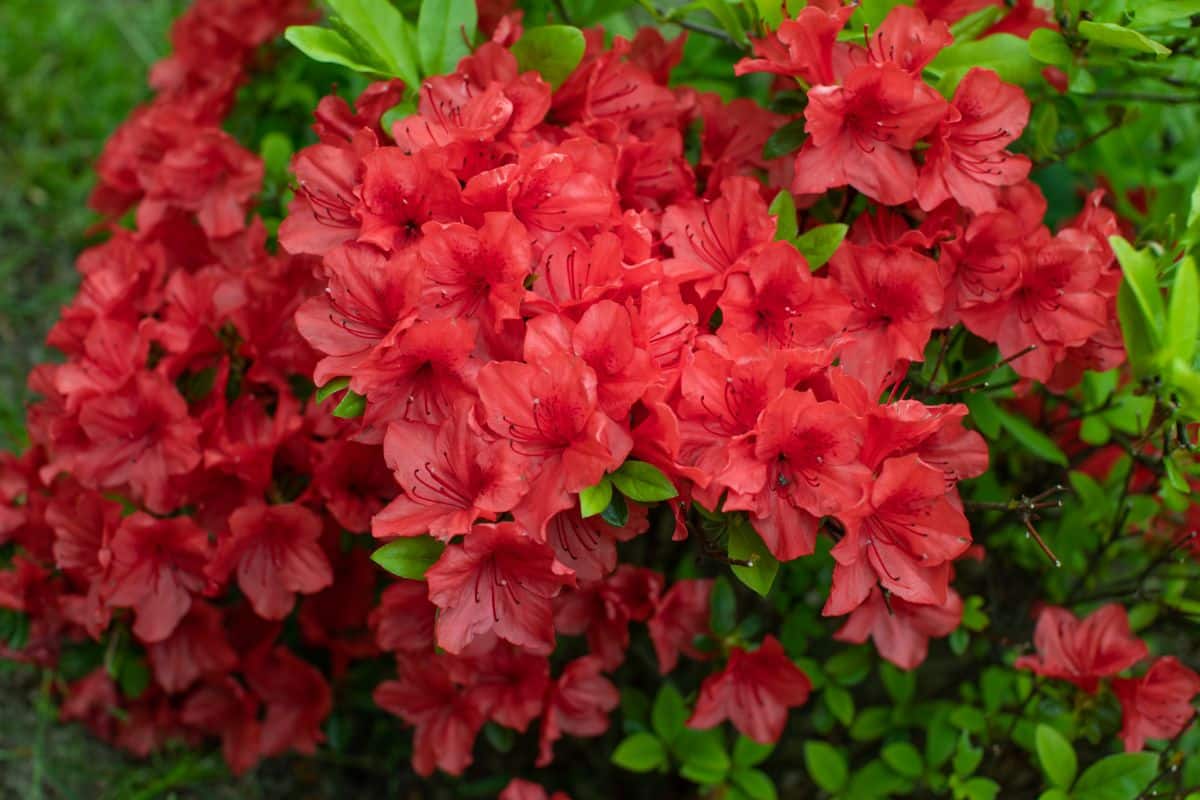 Let's start by answering the most basic question and explaining what rhododendrons are.
Rhododendron is a genus that contains 1,024 species of deciduous and evergreen plants. It is part of the family Ericaceae, which is the heather family.
They can take the form of either large shrubs or (usually) small trees, with their heights varying wildly. Some measure less than half a foot, while others soar up to 100 feet.
If you think rhododendrons and azaleas look alike, you are correct, because azaleas are a subspecies of rhododendron.
So, in this post, we are going to be talking interchangeably about both. Our primary focus will be on rhododendrons as a whole, since that comprises a larger group of plants.
Rhododendron Basics
| | |
| --- | --- |
| Zones: | 4-9 |
| Blooming season: | Spring |
| Expected height: | 1-100 feet (depending on the species) |
| Soil: | Rich, well-draining, acidic soil |
| Sun: | Full to partial (depending on the species) |
Where Do Rhododendrons Grow?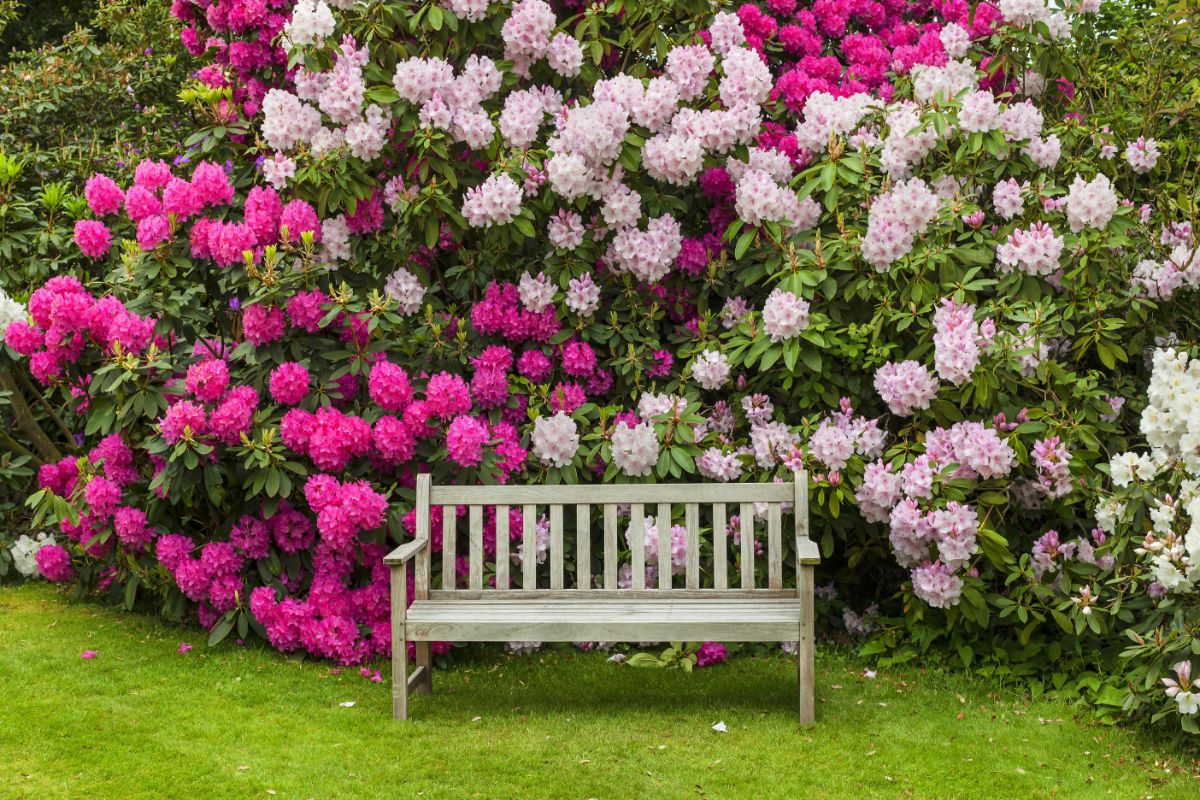 Rhododendrons have a huge native range, comprising parts of North America, Asia, Europe, Russia, and even Oceania.
That is great news for gardeners, as pretty much regardless of where you live, there is a good chance you can grow them.
Why Grow Rhododendrons?
Here are some top reasons to plant rhododendrons and azaleas in your perennial garden:
● Quickly and easily give your landscape a whole new look. Even one rhododendron can help you to restructure your space and attract the eye with bountiful bright blossoms. Indeed, you probably have seen azaleas in formal gardens before. You can enjoy some of that same stately elegance in your own backyard by growing these perennial bloomers.
● Increase your privacy. If you are tired of looking at your neighbor's ugly yard or of them watching you while you are trying to enjoy your outdoor spaces, planting some tall rhododendrons is a great way to screen them out.
● Rhododendrons are often evergreen. That means you can enjoy their privacy-enhancing benefits year-round, as well as keep some color in your yard when other plants die back for winter.
● Find a plant to fit any space. With most perennials, there is a fairly narrow size range to choose from for any given species or genus. But the size range for rhododendrons is huge. Whether you want to fill a massive empty patch in your yard or you just want a compact plant you can squeeze into a container, you will find exactly what you are looking for somewhere in the rhododendron genus.
● Repel thrips and some other insects. If you already are growing other plants, you know what a pain thrips can be. You will be delighted to learn that rhododendrons will not be bothered by them.
● Rhododendrons are drought-tolerant. If your area is subject to dry spells, they should survive them nicely with a little help from you.
● These plants can stand up to heat. Scorching days now and again will not be an issue so long as your rhododendrons have some afternoon shade.
● All in all, rhododendrons and azaleas are low-maintenance plants that are easy even for beginning gardeners to grow.
● Despite not receiving a lot of attention for it, rhododendrons actually make exquisite cut flowers.
● Propagating rhododendrons is easy. So, when you invest in one rhododendron, you will get a lot of value for it. Within a few years, you should have multiple plants, and all of them will live a very long time.
When Do Rhododendrons Bloom?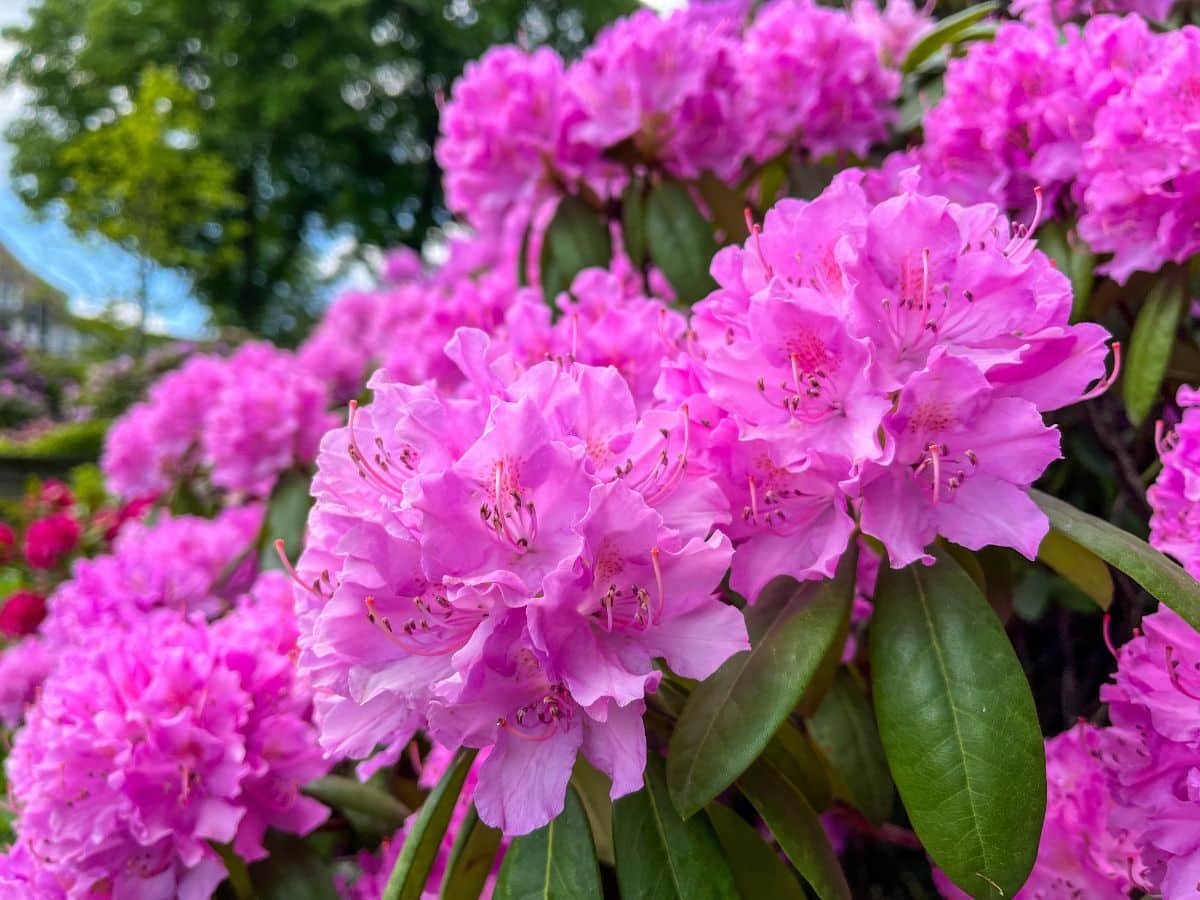 Rhododendrons are spring-blooming plants. The earliest bloomers among them are generally those that are classified as azaleas. Their blooms will usually appear in April.
How Long Do Rhododendrons Bloom?
The blooms on rhododendrons and azaleas are pretty fleeting; they will reward you with their beauty for several weeks before fading.
Some types of rhododendrons can bloom more than once per season. Deadheading may help you to stimulate a second flush of blooms.
You can also try planting multiple varieties of rhododendrons in your garden that have different bloom times. That way, as one plant's blooms begin to fade, another may be coming into its full glory. In this way, you can extend the overall bloom season.
When to Plant Rhododendrons
When you need to plant rhododendrons depends on where you live. If your climate zone is cold, the two best seasons in order are spring and fall. But if your climate zone is more temperate, it really does not matter what season you choose for planting rhododendrons.
Ideal Growing Conditions for Rhododendrons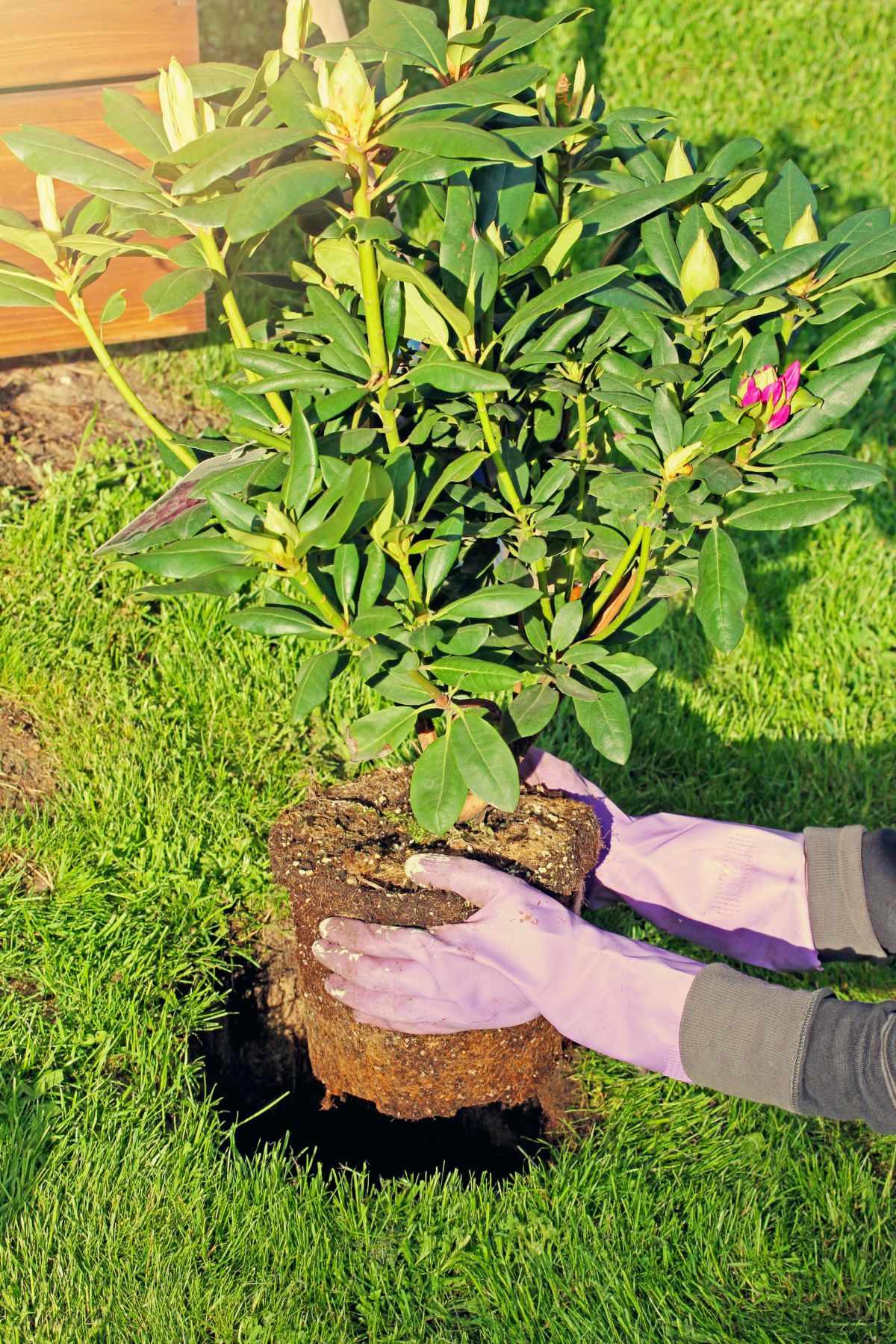 For these ornamental shrubs and trees to stay healthy and reward you with decades of annual blooms, they need to be planted in ideal conditions. Below, we go over the sun, soil, and water requirements for rhododendrons and azaleas.
How Much Sun Do Rhododendrons Need?
Full sun to partial shade is generally suitable for rhododendrons, but the ideal conditions depend on the type of rhododendron you are planting.
For example, while most rhododendrons do best in full sun or dappled shade, there are a few that can flourish in deep shade.
Additionally, the hot afternoon summer sun can have a detrimental effect on the foliage of some rhododendron species. To prevent leaf scorch, you will need them to receive some afternoon shade.
What Type of Soil is Right for Rhododendrons?
While rhododendrons like the soil moist, it should not be waterlogged. So, plant them in well-drained soil. Additionally, you should make sure that it is relatively rich.
One more thing to know about rhododendrons and soil is that these are acid-loving plants. An ideal pH is 4.5-6.0. That is significantly more acidic than what a lot of other plants prefer. So, if you have alkaline soil, you are going to want to amend it so that it becomes acid soil.
What should you do if your soil is too alkaline? The Royal Horticultural Society suggests, "With neutral or slightly alkaline soils, chelated iron can be used. Ericaceous compost, chopped bracken, and pine needles at planting, plus a dressing of sulphur, may also enable rhododendrons to be grown. Aluminium sulphate (found in hydrangea 'blueing' agents) should not be used to acidify soils where rhododendrons are to be grown."
Another option suggested by RHS is simply to set up some raised garden beds. This gives you better control over the soil conditions.
How Much Water Do Rhododendrons Need?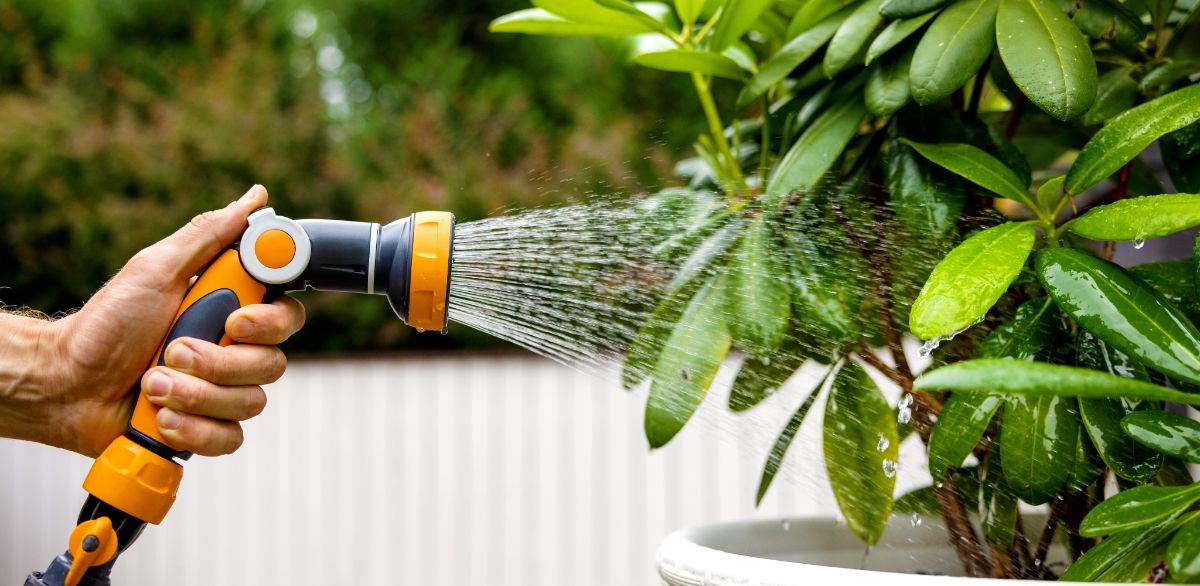 When you first plant your rhododendrons, they will need more water than they will in the long run. For the entirety of the first season, they will still be establishing. So, you will need to water them twice weekly.
In the future, you will discover that rhododendrons rarely need manual watering. If dry conditions persist for 2-3 weeks, then you will need to water them.
How to Plant Rhododendrons
When you plant a rhododendron, you start with a nursery plant. Prices can vary pretty widely for rhododendrons depending on the species and variety you choose. Not surprisingly, they can sometimes be rather expensive, since some of them qualify as trees. But as they will bloom for many years to come and help you to dramatically transform your landscape, they offer you a good value.
Ground Planting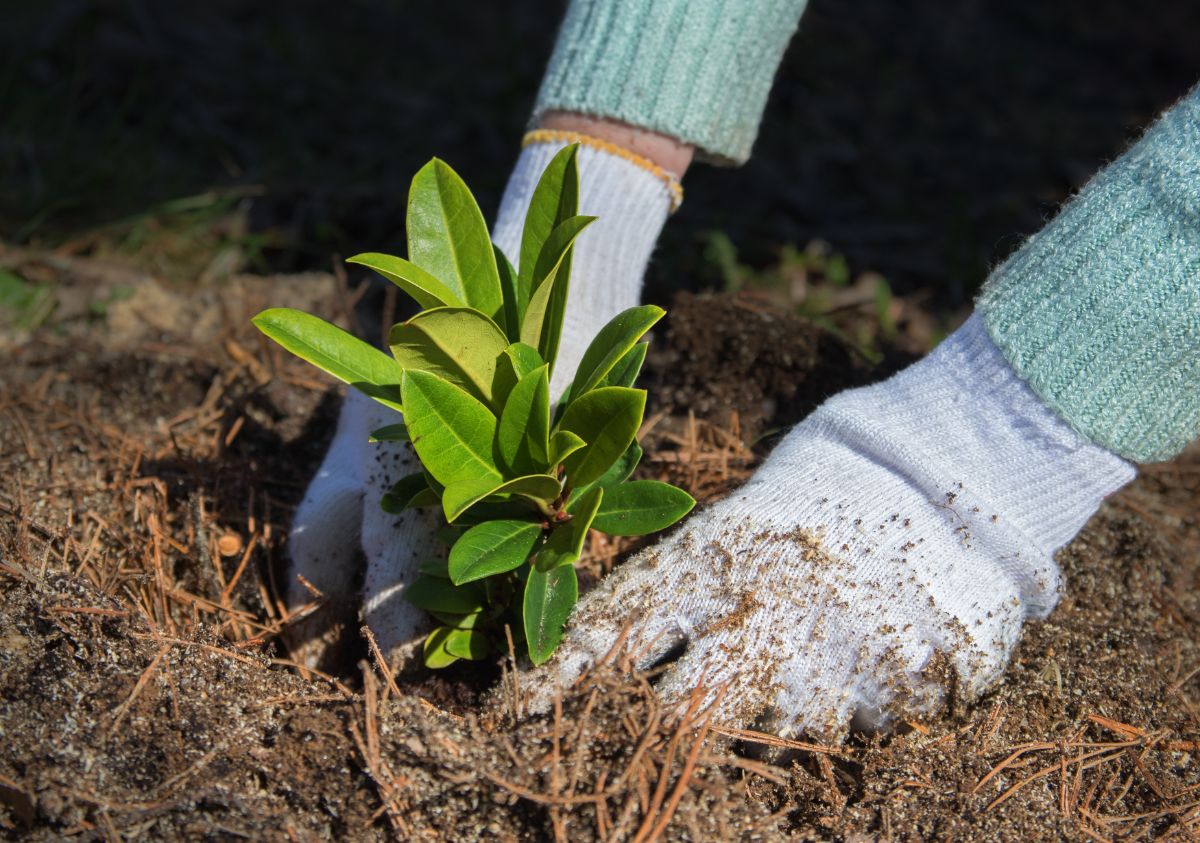 Here are the steps for planting rhododendrons directly in the ground.
1. Pick a location for your rhododendron or azalea plant. Amend the soil as needed (i.e., by mixing in compost).
2. Make a hole for your plant. It needs to be pretty large to accommodate the rhododendron, but keep in mind that it is more important for it to be wide than deep.
3. Place the plant in the hole and backfill the soil. Do not plant it too deep.
4. Water well.
Like many other perennials, rhododendron, and azalea plants can benefit from extra water during the phase where they are establishing.
Container Planting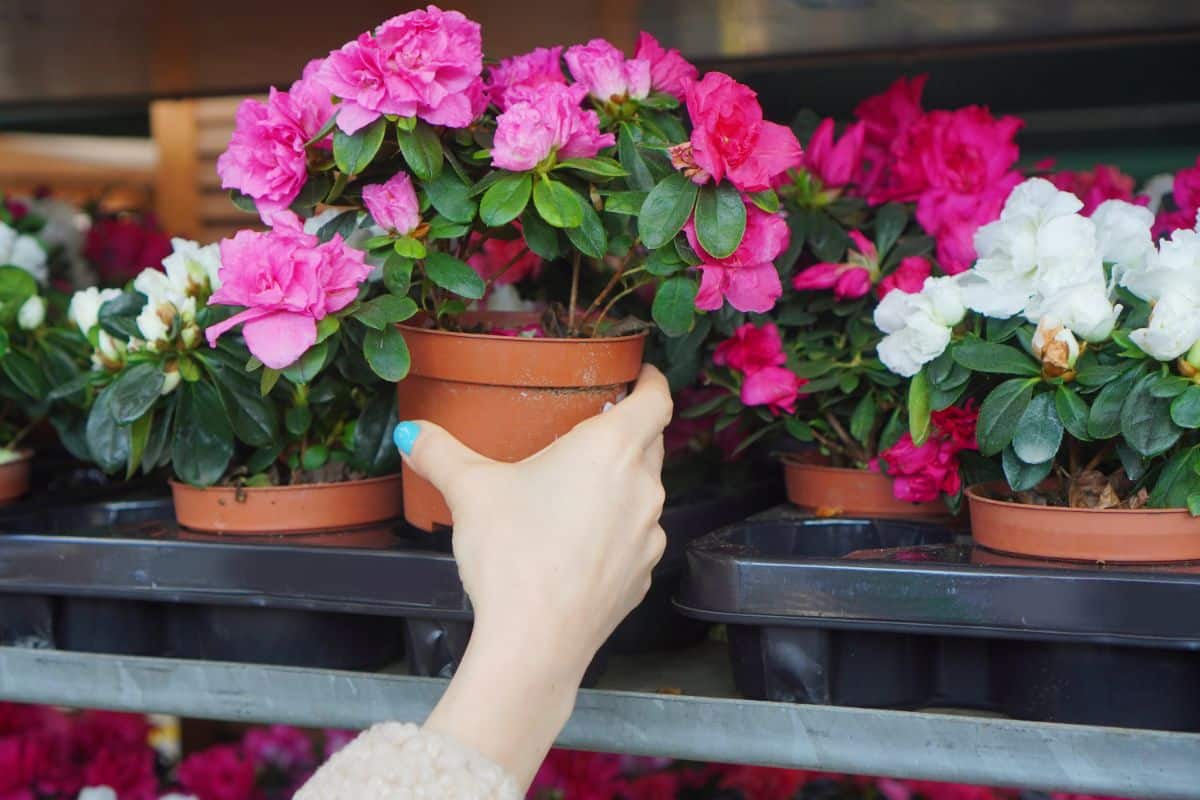 As some rhododendrons are actually quite compact, they can work well as container plants. Let's go over the steps to add a rhododendron to your container garden.
1. First, select a suitable container for your potted rhododendrons.
You can use the size of the nursery container to figure out how big your rhododendron's new home should be. Just add 30% to the size of the nursery container, and that will be ideal.
There are two other important considerations for rhododendron containers. The first, of course, is the presence of drainage holes, which are essential.
The second is the shape of the container. Pick one that is shallow and wide, as this shape is ideal for accommodating the root structures of rhododendrons.
2. Start filling your container with potting mix. In fact, there are actually mixes out there that are sold specifically for rhododendrons and azaleas.
3. Carefully remove the rhododendron from the nursery pot and transfer it into the new container. Fill in the potting mix around it. Do not plant it too deep.
4. After you have finished potting the rhododendron, you should put a little bit of compost on top of the potting mix. Do not push it right up against the plant itself, though.
5. Water well.
6. Move your rhododendron container to where it will receive the right amount of sun.
How to Propagate Rhododendrons
You cannot divide rhododendrons or azaleas, but there are quite a few other options to propagate them. Below, we discuss propagation from seeds, cuttings, and more.
Starting Rhododendrons from Seed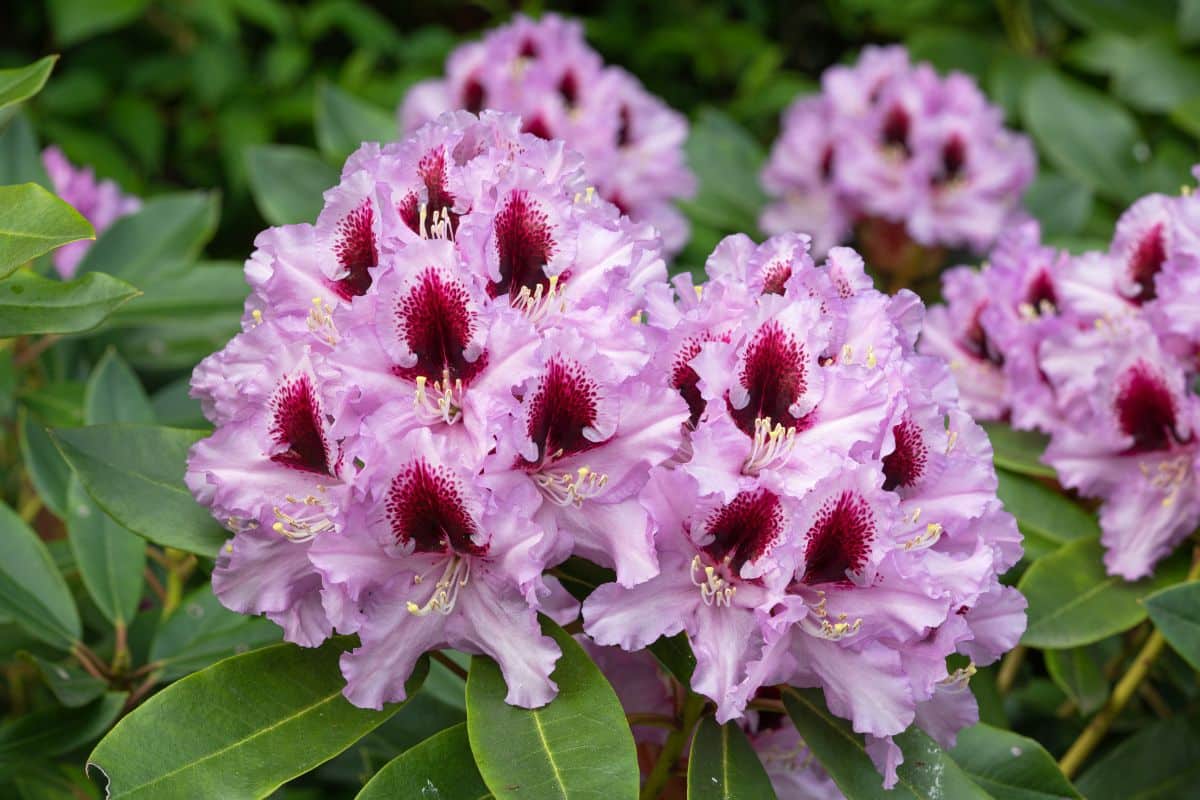 The easiest way to get started with rhododendrons in your garden is with nursery plants. But if you want to propagate them and save money in the future, you can try growing them from seeds.
Be warned, however, that while propagating rhododendrons from seeds is not necessarily "hard," it does require the utmost care and attention to detail. There are quite a few steps involved, and you need precise control over the moisture, heat, and lighting conditions throughout the process.
In fact, going over the directions in detail is a bit beyond the scope of this post. For that reason, we will turn your attention toward this guide by the American Rhododendron Society.
That post describes the exact process that the society uses so successfully. So, if you replicate it, you should also be able to propagate these perennial shrubs and trees using the same techniques effectively.
If you are looking for an alternative set of directions which also features an impressive amount of detail, see this post.
Starting Rhododendrons from Cuttings
Here are the directions for propagating the majority of rhododendrons from cuttings:
1. In early autumn, remove some cuttings from new growth in the morning. Ideally, you should use soft wood, as this will increase your chances of rooting successfully.
2. As usual, you should remove the leaves from the lower part of the cuttings, as you would if you were using the method for most other plants.
3. On both sides of the cuttings, you should carefully strip away the top layer of bark around the bottom inch or so.
4. Dip the ends of the cuttings in rooting hormone. Make sure you use a product that incorporates a fungicide.
5. Fill flats with a 50/50 mixture of milled sphagnum moss and perlite or vermiculite.
6. Insert the cuttings into this mixture.
7. Cover the cuttings with a clear plastic bag or container, but make sure that there is no contact between the cover and the cuttings. That way, you lock in moisture, but do not encourage rot.
8. Find a location for the cuttings to root where they will be exposed to indirect light only. Apply heat at the bottom to maintain a temperature of 70-75 degrees Fahrenheit.
9. It is going to take quite a while for the cuttings to root—anywhere from 6 weeks to 4 months, depending on what type of rhododendron or azalea you are trying to propagate.
During that time, you should regularly check on the cuttings to make sure they are not drying out, adding water as needed. A couple of times weekly, you also should rotate them. This will ensure that they are receiving light evenly while they are developing their roots.
10. Transplant the new plants once they have rooted successfully.
You should be aware that if you want to propagate deciduous azaleas using cuttings, the right time to take the cuttings is in June rather than during fall. Additionally, the process is a little bit different, and a bit harder to succeed with as well.
Other Propagation Techniques
There are a number of other methods that can be used to propagate azaleas and rhododendrons. These include cloning, grafting, layering and tissue cultures.
How to Care for Rhododendrons
One of the best things about rhododendrons and azaleas is how easy these plants are to maintain. You might not expect it, but their needs are minimal with respect to pruning, staking, mulching, and fertilizing.
How to Fertilize Rhododendrons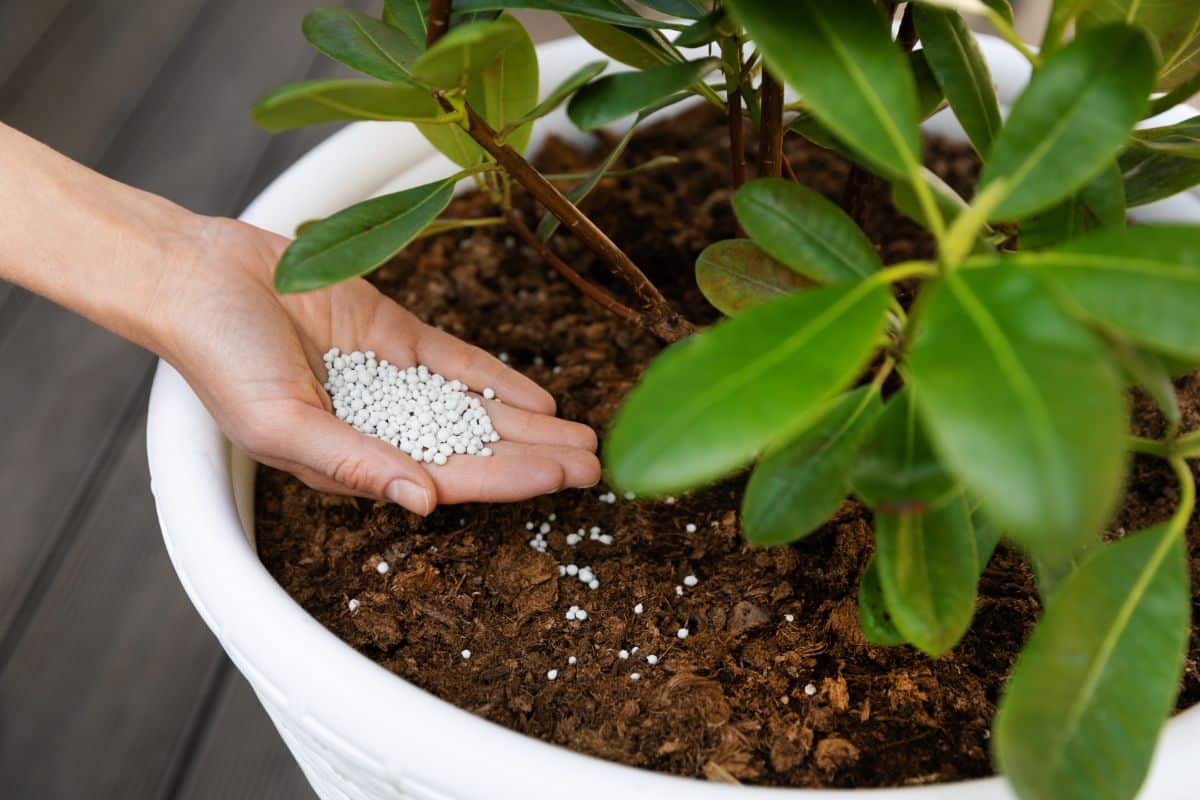 We have seen different advice regarding fertilizing rhododendrons from different sources. So, we will turn to the recommendations from the American Rhododendron Society.
The society says that if you are growing these plants in rich soil, then you do not need to fertilize them. But if the soil is not rich, then it is a good idea to apply fertilizer in early spring. But you should not overdo it. Rhododendron plants are quite sensitive to fertilizer. Applying too much can even be deadly.
The site provides some detailed information about various minerals, so it is worth taking a look if you want to get specific about fertilizing your rhododendrons and azaleas.
How to Mulch Rhododendrons
Mulching rhododendrons and azaleas offers quite a few benefits. You will conserve soil moisture, regulate soil temperature, and reduce the chances of the soil getting compacted by harsh weather.
Organic mulches are great for these plants, because they get the job done while increasing the acidity of the soil.
If your climate is pretty temperate, the best time to mulch around your rhododendrons or azaleas is in spring. Wait for the soil to get warm, and then add your mulch layer before it dries out. You want to preserve the moisture as much as possible. You should mulch again in autumn.
In colder climates, spring/summer mulch is not as important (unless it is particularly dry and/or windy where you live), but autumn mulch to insulate the soil during winter becomes even more vital.
How to Stake Rhododendrons
Good news—rhododendrons and azaleas are sturdy shrubs and trees, and do not require staking in the vast majority of cases.
How to Prune Rhododendrons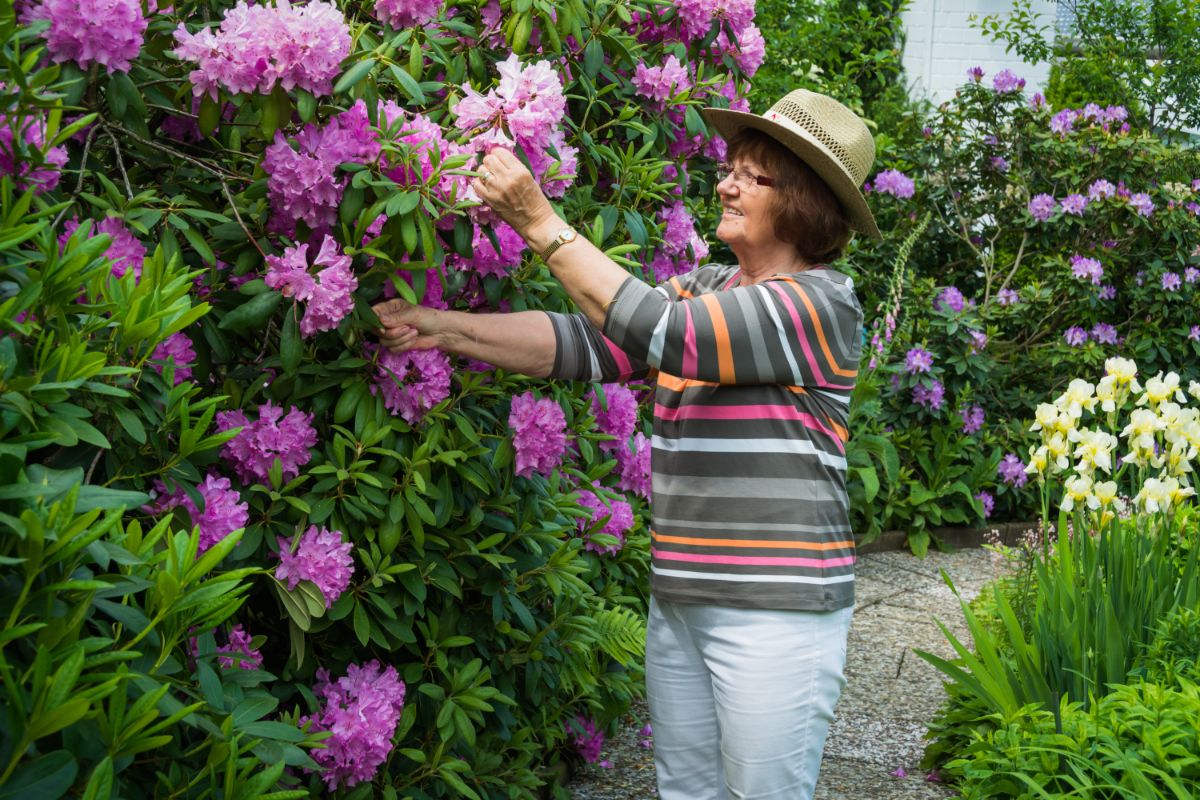 The American Rhododendron Society says, "Pruning of hardened wood can be done at any time except during periods of freezing weather. Early spring generally is best because the new growth then has a full season in which to develop and mature. Pruning immediately after the blooming period is standard practice. However, some rhododendrons that bloom very heavily should be pruned prior to bloom to reduce the number of flowers and thus maintain vigor of the plant. Thinning the flowers also can improve the quality and placement of the ones that remain."
The society continues, "Soft wood pruning, or pinching back, is done during the growing season. Removal of terminal leaf buds and shoots to promote branching should be done early in the season or from late summer on through fall and winter."
How to Deadhead Rhododendrons
Yes, it is worth deadheading rhododendrons. This is true whether you have a repeat-blooming cultivar or not.
The Seattle Times explains that deadheading does not directly result in more blooms. Rather, it results in more branching. This, in turn, generally causes your rhododendrons to produce additional flowers—but it may not happen in every case.
The site adds, "The real reason to deadhead is aesthetic: your rhody will look better. If you've got a small rhody, it's probably worth the effort. Maybe the question should be whether it's worth risking life and limb to climb to the top of your rickety old ladder to deadhead a 15-footer!"
Thankfully, a lot of rhododendrons are not quite this tall, and may be easier to deadhead. So, if you can manage it (without risking life and limb, of course), you may want to go for it.
Are Rhododendrons Vulnerable to Diseases or Pests?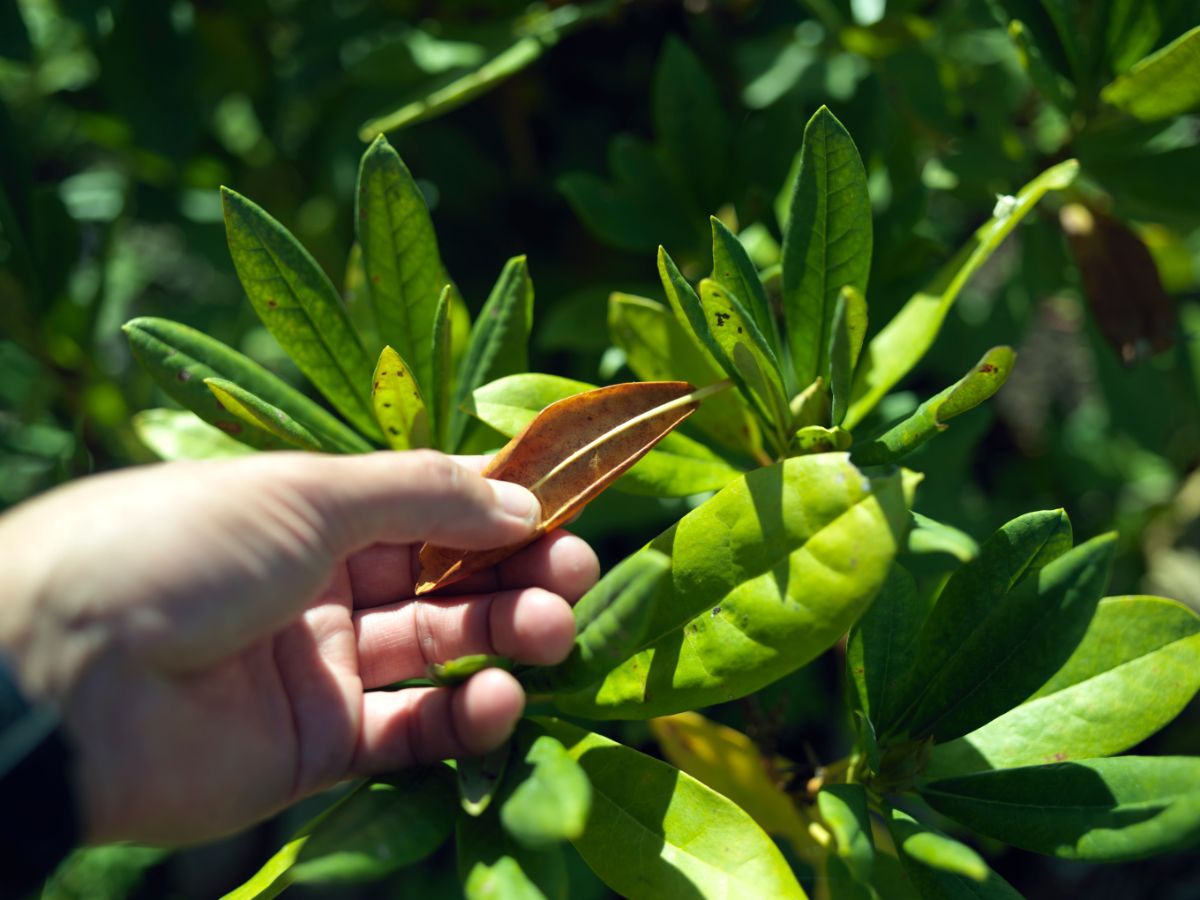 Rhododendrons and azaleas may sometimes contract diseases such as fungal leaf spot, root rot, leaf and flower gall, leaf flooding, oedema, and winter injury. You can read more about these problems here.
Thanks to the poisonous grayanotoxins contained in rhododendrons and azaleas, they are fairly pest-resistant. In fact, this defense mechanism helps to ward off thrips, which are a problem for many other plants in most gardens.
Although many insects will not trouble rhododendrons, you may sometimes run into issues with rhododendron borers, rhododendron leaf bugs, rhododendron tip midges, and weevils. You can read in detail about these pests at this link. Slugs and snails can sometimes eat rhododendrons and azaleas too.
Do mammals eat these perennials? Sometimes. On the whole, they are rabbit-resistant. But deer may try to eat certain types of rhododendrons. If you have a lot of deer, you may want to go with a large-leaf variety, as these seem to be more deer-resistant.
There is another weird issue involving deer and rhododendrons as well, which has nothing to do with eating.
Glynneden Gardens owner Bill Stipe explains, "In the fall, however, male deer will pick out several mature rhododendrons and attack them with their horns. They will also damage any tree with a trunk caliper under 3 inches (7.5 cm). They will continue this attack until there is nothing left but a few leafless stubs. Some experts say the deer are trying to rub the velvet off their horns, but I have a different notion. I believe the bucks are trying to impress the does. This only happens during the mating season."
What can you do about it? The best solution is usually to put a fence around your garden (or that part of your garden, at least) in order to physically keep the deer out.
Recommended Planting Combinations for Rhododendron
The most popular planting combination recommended for rhododendrons is hydrangeas. These plants also enjoy rich soil and partial shade. Keep in mind that if you grow hydrangeas in acidic conditions, their color will be blue. See our Hydrangeas Full Growing Guide.
Another excellent option for a rhododendron companion plant is gardenias. As our Gardenias Full Growing Guide explains, these plants with their classy white blooms like partial shade and acidic soil.
Another evergreen shrub that appreciates acidic soil and which will look lovely alongside your rhododendrons and azaleas is camellias.
Finally, one more idea for companion planting with rhododendrons is to place them near any plants that are especially vulnerable to thrips. The repellent effect of the rhododendrons may be effective enough to provide a degree of pest protection to the other plants.
Rhododendron Landscaping Ideas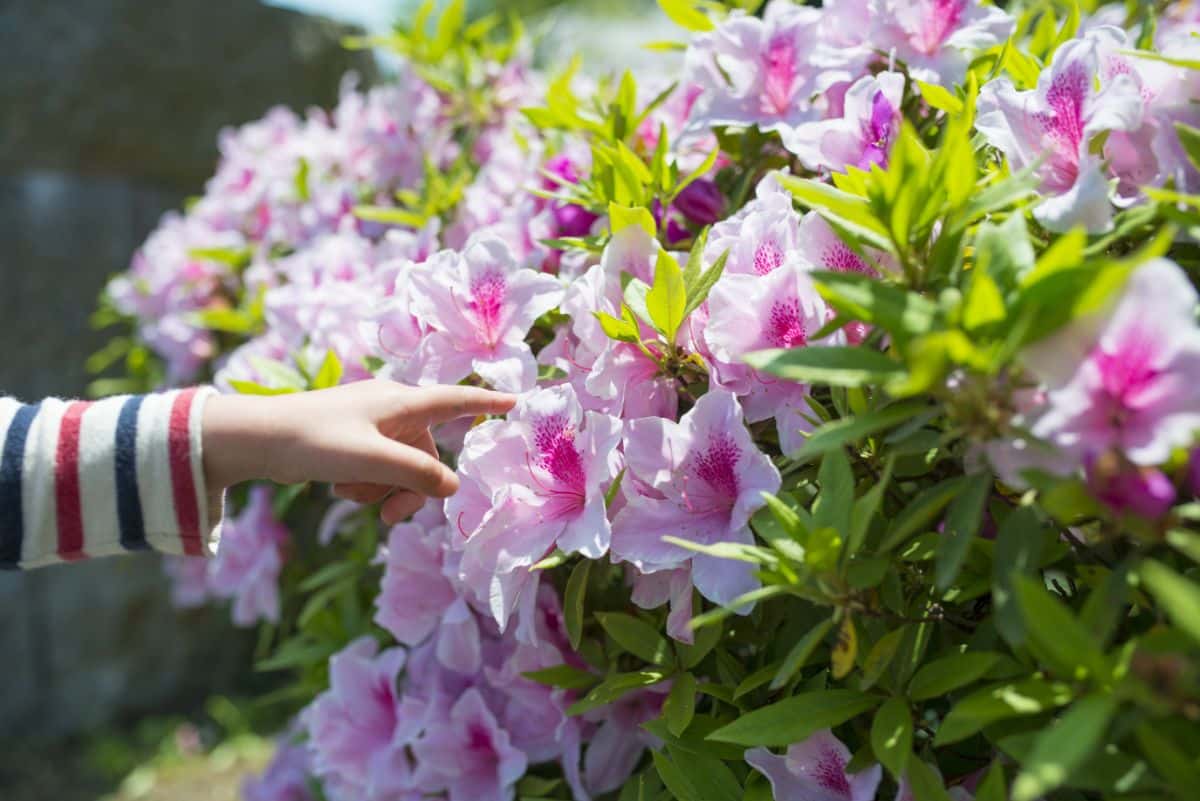 Rhododendron flowers will add so much color and lushness to your surroundings; even a single shrub or tree has an amazing visual impact. Below are just a few ideas for how you can enhance your landscaping with these perennials:
● Borders: If you keep them well-pruned and shaped, you can grow rhododendrons into fabulous borders. Dwarf rhododendrons usually will be most suited to this purpose.
● Rock gardens: Rhododendrons can adapt to rocky soil conditions, which makes them perfect for your rock gardens.
● Privacy screen: Try planting some tall, wide types of rhododendrons and azaleas massed together along the side of your lawn or garden to create a dense privacy screen. The flowers and foliage will do a wonderful job blocking out your view of unsightly surroundings while also keeping your neighbors from spying on you.
● Container gardens: Plant dwarf cultivars of rhododendrons in pots to bring their beauty to your deck or patio.
● Formal beds: Rhododendrons and azaleas make a lovely addition to formal garden beds. There are plenty of ideas for how you can incorporate them. One simple one is to plant a large rhododendron, and then surround it with a border. You could grow this border from compact rhododendrons, or from entirely unrelated plants. The central rhododendron will act as a focal point, while the border will frame it for a beautiful effect.
● Surround a bench: Try growing rhododendrons around a bench to frame it and create a secluded, romantic ambiance.
Recommended Rhododendron Varieties
Here are some varieties of these acid-loving shrubs that will be breathtaking in your garden.
● Black Satin: The name of this cultivar refers not to the flowers, which are pink, but rather to the foliage, which comes in a contrasting hue of dark purple. As a compact type of rhododendron, it is a great choice for a smaller space in your garden.
● Ramapo: This evergreen shrub features lovely purple blooms. It maxes out at just 2 feet tall.
● April Rose: For dark pink blooms, consider this cultivar, which is relatively cold-hardy. It is also compact, growing up to 4 feet tall and 4 feet wide.
● Curlew: The blooms on this type of rhododendron have a creamy yellow hue with brown speckling near their centers. They are beloved by pollinators, and compact enough to fit just about anywhere.
● Geisha Orange: This dwarf cultivar of rhododendron sports blooms that are a deep reddish orangey hue from May through June.
● Elviira: This cultivar, which is spelled with two "i"s, is a lovely evergreen that produces red blooms. You will enjoy the bright colors and subtle yet delightful fragrance that Elviira brings to your garden each spring.
● Blue Peter: This distinctive cultivar of rhododendron produces flowers with a pale purple hue, each marked by a splotch of densely-packed burgundy spots on the top petal. They are hardy in warm and cold climates.
● Yakushimanum: Plant this dwarf cultivar to be rewarded with stunning pink blooms. Initially, they are a vivid hue, but they fade to a whitish color as they age. It is common to see varying shades of pink and white on the same plant simultaneously, and even in the same flower clusters.
● Boule de Neige: An attractive option for white flowers is this cultivar. If you look closely at the blooms, you will see that they have some pale green spots on them.
● Dexter's Orange: The name of this cultivar really does not do justice to the stunning combination of hues that grace its petals: apricot and pink.
● English Roseum: If you want a rhododendron that grows up to 8 feet tall and wide and which produces gorgeous purple blooms, you will love this cultivar.
● Gibraltar: For fiery reddish-orangey blooms, plant the "Gibraltar" cultivar in your garden.
● Golden Oriole: Here is a unique cultivar of rhododendron that flowers each year in a show of vibrant gold. With its 6-foot maximum height, it is a dazzling addition to any garden.
● Gold Prinz: Another option for yellow flowers is this cultivar. The blooms are a cheery hue and are speckled with red on their top petals.
● Loderi King George: For a truly regal rhododendron, plant this cultivar with its pale rosy blooms.
● PJM Elite: One of the most popular cultivars of rhododendrons for purple flowers is this one, growing up to 6 feet tall and producing them in abundance.
● September Song: The ruffled blooms of this cultivar are orange, traced around their edges with pink. The colors will put you in mind of sunset.
Frequently Asked Questions About Growing Rhododendrons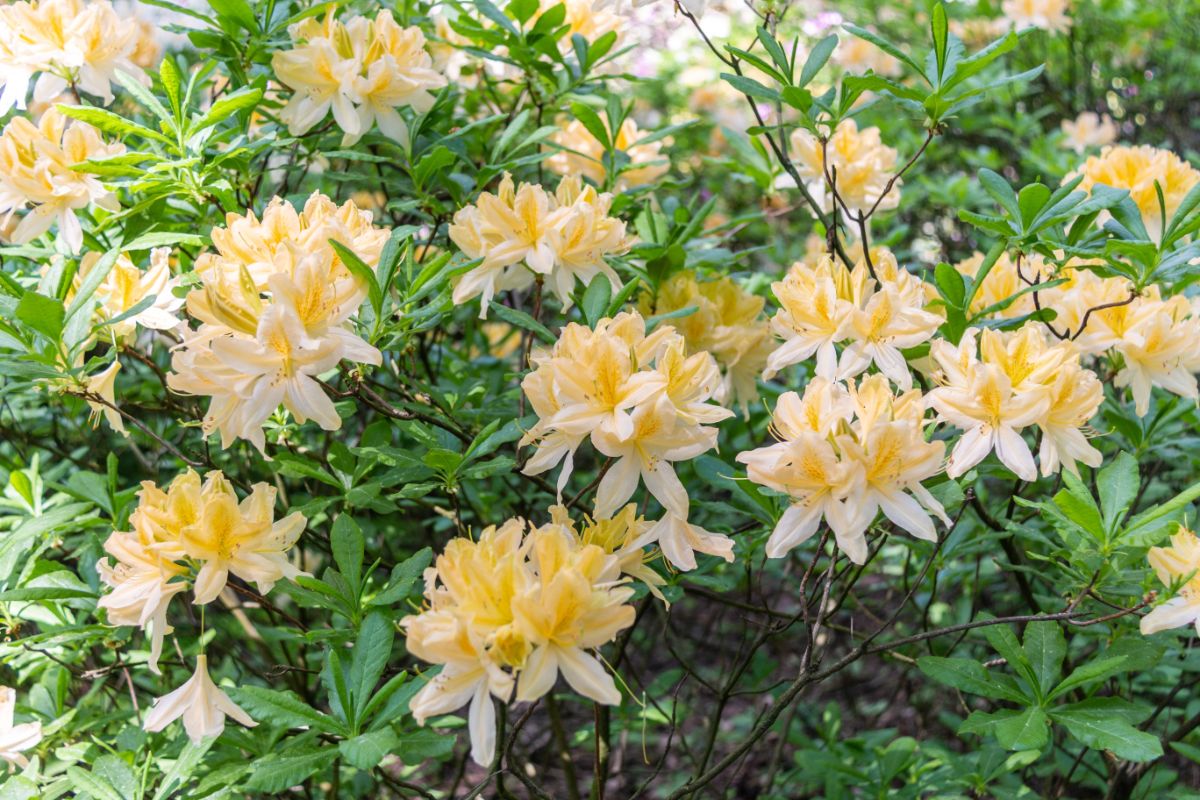 Let's wrap up our rhododendron and azalea growing guide by answering a few common questions about these flowering shrubs and trees.
What eats rhododendrons?
Slugs, snails, some bugs, and sometimes deer may eat rhododendrons.
Are rhododendrons poisonous?
Yes, as beautiful as rhododendrons look, they are quite toxic. Kew Royal Botanic Gardens explains quite dramatically that, "Rhododendrons are responsible for producing the world's first recorded chemical weapons."
Reportedly, in the region that is currently Turkey, past civilizations fed rhododendron nectar to bees to get them to produce a poisonous substance called "mad honey."
Apparently, King Mithridates VI of Pontus was able to trick the soldiers of Pompey the Great in 65 BCE into consuming this honey, which weakened the army so that he could fend them off.
Chemicals called grayanotoxins are what give rhododendrons their toxicity. Kew has conducted research into these compounds and discovered that the plant uses them as a self-defense mechanism against thrips.
Kew goes on to explain that rhododendrons are somewhat puzzling, however, since the compounds can be found in their nectar. Wouldn't that harm pollinators?
Kew investigated further. They found varying effects of the toxin on pollinators. For honeybees, it is lethal. But it does not harm bumblebees.
The entire article is fascinating and worth a read if you want an in-depth look into this topic.
The most important takeaway here is that rhododendrons are toxic to humans and animals.
So, never eat rhododendrons or azaleas, and never allow your children or pets to eat them either. They can be deadly.
How do you protect rhododendrons in winter?
If you have harsh winters, there are some simple steps you can take to protect your rhododendron and azalea plants.
A good first step is to mulch your plants for insulation and to lock in moisture. Next, you may want to cover the plants.
Toronto Master Gardeners says, "You can create a windbreak if the plants are not too large. To do this, you need to hammer 4 stakes into the ground around each plant. The height depends on the height of your plants. Take a roll of burlap and cut off an appropriate length to go around the stakes. Staple the burlap to each stake in several places or tie around the four stakes with twine to hold everything in place. [This might require two people]. Another method is to take the burlap and wrap it around your plants – no need for stakes. You will need twine to tie around the burlap to stop it from flying away."
Are rhododendrons and azalea plants the same?
Azaleas are subspecies of rhododendrons. So, azaleas are always rhododendrons, but rhododendrons are not always azaleas.
If you want to learn more about how to distinguish an azalea from other types of rhododendrons, you can find some interesting info from Piedmont Master Gardeners. The site lists some typical distinctions involving bloom time, stamens, flowers, and foliage. But the site also is quick to point out that there can be exceptions.
Are rhododendrons invasive?
In some parts of the world, yes, rhododendrons are classified as invasive. The reason is that they may prevent sunlight from reaching other plants and/or they may stifle those plants by taking up their space. Some diseases have spread through rhododendrons as well, and since many animals avoid them, they can produce further ecological disruption.
You should look up whether rhododendrons are a problem in your area or not before you plant them. Take steps to prevent them from spreading.
Do rhododendrons have deep roots?
Actually, the roots of rhododendron plants tend to branch out in a wide, shallow pattern rather than going deep. That can be handy to know when trying to choose a spot in your garden to plant a rhododendron or when selecting a size and shape of container for a potted rhododendron.
Are rhododendrons annual or perennial?
Rhododendron and azalea plants are perennials. They bloom again every year. Not only that, but they can live for decades. So, if you invest in a rhododendron, you can look forward to enjoying its blooms every spring for a very long time.
Where to Buy Rhododendrons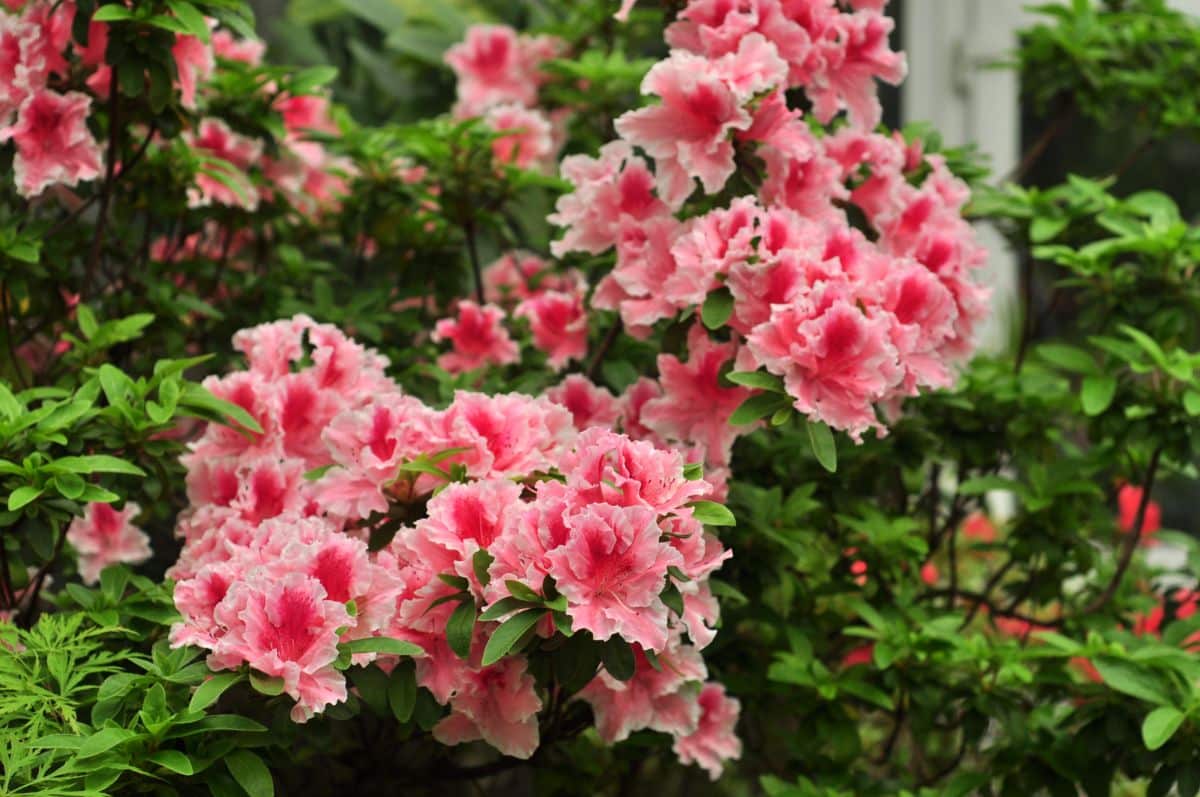 If you are ready to bring the spectacular beauty of rhododendrons or azaleas to your garden, shop for a nursery plant online. This will give you access to the widest selection of species and cultivars in this huge genus of colorful flowering perennial shrubs and trees.